The Champions League's best XI so far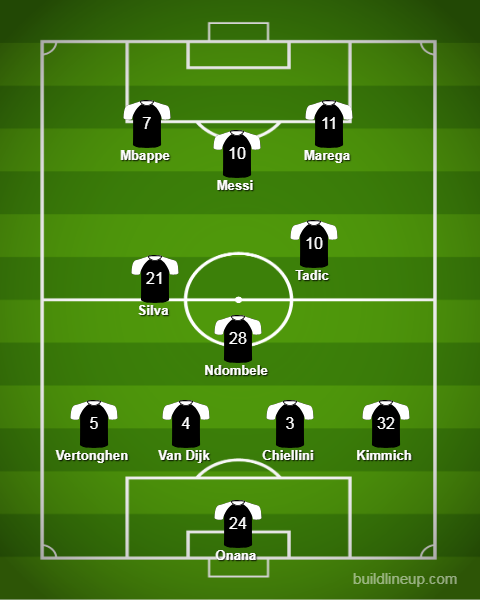 The duels for the Champions League quarterfinal stage have been drawn, but plenty of players have already left their mark on this season's competition.
Here, theScore fashions an XI with the top performers of the 2018-19 Champions League campaign to date, while noting those who just missed out.
The lineup
GK – Andre Onana (Ajax)
One of Ajax's beaten finalists from the 2017 Europa League final has blossomed into a goalkeeper with sharp reflexes and superb command of aerial deliveries. Including the Champions League's qualifying rounds, the 22-year-old Onana's produced six clean sheets this season.
Notable mention: David De Gea (Manchester United)
RB – Joshua Kimmich (Bayern Munich)
The first match Kimmich missed in this Champions League term was Wednesday's defeat in the second leg with Liverpool. He's only 24, but leads Bayern Munich for assists, fouls won, and short passes completed in Europe, and may have vaulted Dani Carvajal as the finest right-back on the continent.
Notable mention: Joao Cancelo (Juventus)
CB – Giorgio Chiellini (Juventus)
Chiellini is often noted for his imposing presence at the back – he wouldn't flinch at the prospect of heading an asteroid – but he's also one of the most intelligent defenders on the planet. The 34-year-old has intercepted the ball more often than any of his Juventus comrades in the Champions League.
Notable mention: Sergio Ramos (Real Madrid)
CB – Virgil van Dijk (Liverpool)
Under "towering header" in a dictionary of footballing terms will now be an image of Van Dijk scaling Javi Martinez and Mats Hummels before nodding past Manuel Neuer. His second leg against Bayern was what we've come to expect from the Dutchman. He is, simply put, Liverpool's most vital player.
Notable mention: Gerard Pique (Barcelona)
LB – Jan Vertonghen (Tottenham Hotspur)
Vertonghen's not on this list just for his assist and goal in the first leg against Borussia Dortmund, or primarily for his masterful defensive showing in the second leg. His performance when Inter visited also merits praise; Vertonghen made seven interceptions and unfussily smashed five clearances at Wembley.
Notable mention: Oleksandr Zinchenko (Manchester City)
DM – Tanguy Ndombele (Lyon)
Like his teammate Houssem Aouar, Ndombele's going to command a huge fee. The French international impressed in two group-stage matches against Manchester City, scored twice against Hoffenheim, and was Lyon's best player over the double-header with Barcelona in the round of 16.
Notable mention: Javi Martinez (Bayern Munich)
CM – David Silva (Manchester City)
The Manchester City veteran was timid by his standards in the two legs against FC Schalke, but he shone in Group F. Silva's already scored the same amount of goals as he did in the previous three Champions League campaigns combined, making Phil Foden wait longer to assume the creative mantle.
Notable mention: Houssem Aouar (Lyon)
AM – Dusan Tadic (Ajax)
Tadic ditching the dreariness of Mark Hughes' Southampton for Ajax has paid off handsomely. Tadic has played the same amount of key passes that Paul Pogba and Luka Modric have between them, and four of his six goals and two of his three assists came in matches against Bayern Munich and Real Madrid.
Notable mention: Hakim Ziyech (Ajax)
FW – Lionel Messi (Barcelona)
Messi and Robert Lewandowski top the scoring chart on eight apiece. The Argentinian has also produced three performances – PSV Eindhoven at home, away at Tottenham, and Wednesday's second leg against Lyon – that were immaculate. Overall, Messi and Tadic have been the best to watch on continental duty.
Notable mention: Raheem Sterling (Manchester City)
FW – Moussa Marega (FC Porto)
Marega showed FC Porto what they were missing when he regained fitness for Tuesday's second leg. He scored and assisted to help topple Roma, lifting his tournament goal tally to six. Before this season, the 27-year-old Malian international had never scored in continental play.
Notable mention: Sadio Mane (Liverpool)
FW – Kylian Mbappe (Paris Saint-Germain)
Mbappe's touch and balance were a little off in the second leg against Manchester United, but he otherwise produced an excellent 2018-19 Champions League term. His pace is undeniable, and the timing of his runs is getting better and better.
Notable mention: Cristiano Ronaldo (Juventus)
4 thoughts from Tuesday's Champions League action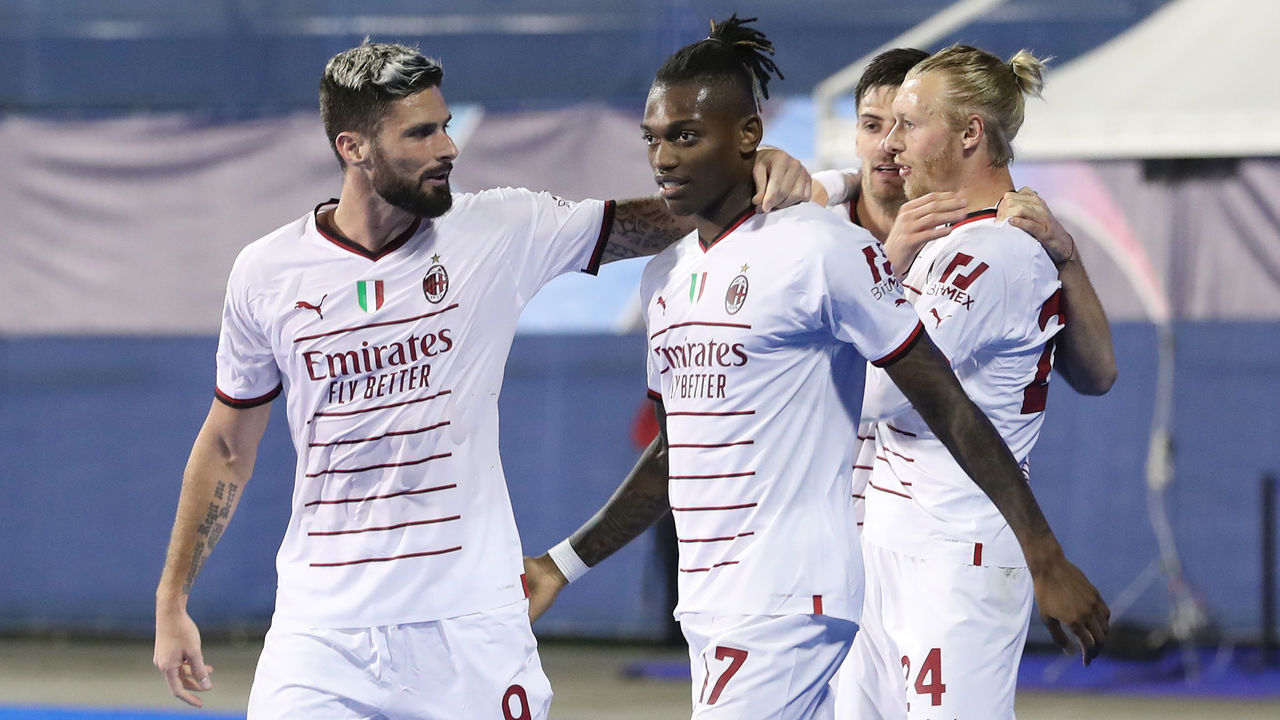 The Champions League rumbles on with Matchday 5 this week. Below, we dissect the biggest talking points from Tuesday's action in Europe's premier club competition.
Unbeaten Potter still has work to do
It took a moment of magic to lift Chelsea into the round of 16, with Kai Havertz popping up out of nowhere Tuesday to add another crucial Champions League goal to his resume.
However, before Havertz broke the deadlock and eased concerns with one swing of his boot, there was legitimate concern that Chelsea's dominating performance would go unrewarded. The same old issues in attack that plagued Thomas Tuchel near the end of the German manager's reign as Chelsea manager seemed alive and well in the team Graham Potter inherited in early September.
Chelsea dictated the tempo throughout the contest but repeatedly came up short in the final third. And it wasn't for a lack of chances – Potter's men produced one of their most dominating halves under the English coach, slicing through Red Bull Salzburg's defense effortlessly in the first half with slick passing and constant movement that made them difficult to mark.
In all fairness, Salzburg 'keeper Philipp Kohn was a major factor in containing Chelsea, making several important stops. But the Blues' end product on many occasions just wasn't good enough – especially for the caliber of stars that they have on the payroll. Pierre-Emerick Aubameyang, for one, had a day to forget. The ex-Arsenal star continued to look conflicted in front of goal on an evening in which he should've scored at least two goals by halftime.
Despite the headaches, Chelsea left Austria with three points against a Salzburg side that hadn't tasted defeat at home since February 2021 – a run of 40 matches unbeaten. And while Potter will be encouraged after his side extended its unbeaten run to nine games under his leadership, the English manager will need to solve what's plaguing his attack if Chelsea are to mount a realistic run at the Champions League title in 2023.
Milan slowly finding their footing
AC Milan didn't exactly get a free ride to start the season. Injuries to key players, including star goalkeeper Mike Maignan and club captain Davide Calabria, disrupted their rhythm. Summer signings Divock Origi and Charles De Ketelaere struggled to make any early impact. Questionable refereeing threatened to block their progress to the knockout round of the Champions League for the first time in nearly a decade. The reigning Serie A champions quickly learned they'd have to prove themselves all over again.
And that's what the Rossoneri are doing. They're just three points behind first-placed Napoli in the Serie A standings, and after Tuesday's 4-0 win over Dinamo Zagreb, they only need a point next week against Salzburg to advance to the round of 16 in the Champions League.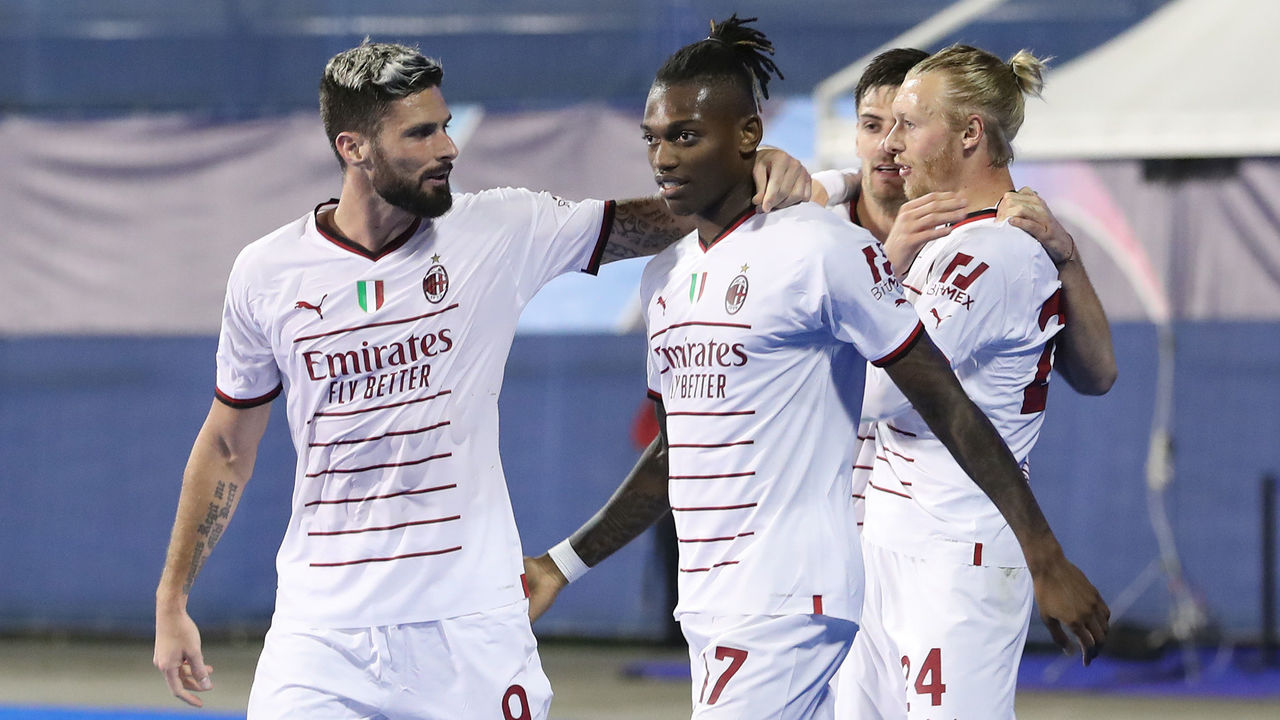 Their performance in Zagreb was as convincing as it was necessary. After losing back-to-back games to Chelsea – and conceding five goals in the process – Milan needed a strong showing to claw their way back into contention in Group E. Despite having only played on a handful of occasions this season, center-backs Simon Kjaer and Matteo Gabbia combined to clear their lines and block shooting lanes. Gabbia even scored his first goal for his boyhood club. Backup 'keeper Ciprian Tatarusanu made all the saves he needed to make, and Rafael Leao created enough chances to double the final score.
Zagreb hadn't lost at home in 31 matches. Milan made them look like they hadn't won at home in 31 matches.
Now on a three-game winning streak of its own – its longest of the season to date – Stefano Pioli's side has powered through weeks of adversity and achieved a level of consistency few thought it could attain with several starters out injured.
Ake earning respect at City
Nathan Ake didn't have much luck in his first two years at Manchester City. He suffered an injury each time he appeared set for a run of games, restricting him to starting just a quarter of the matches across two Premier League campaigns. And when the big fixtures arrived, Pep Guardiola – a manager who appreciates balance in the middle of defense – would pick two right-footers rather than select the left-footed Ake.
How times change. In recent weeks, Manuel Akanji and Joao Cancelo have tired during games while John Stones, Aymeric Laporte, and Kyle Walker dealt with injuries. Ake, on the other hand, is the fittest defender in Guardiola's throng and has become so reliable that he was picked ahead of Ruben Dias for the Manchester derby earlier in October.
"We need a right foot and a left foot," Guardiola explained after the 6-3 win over Manchester United. Ake has won his boss' faith.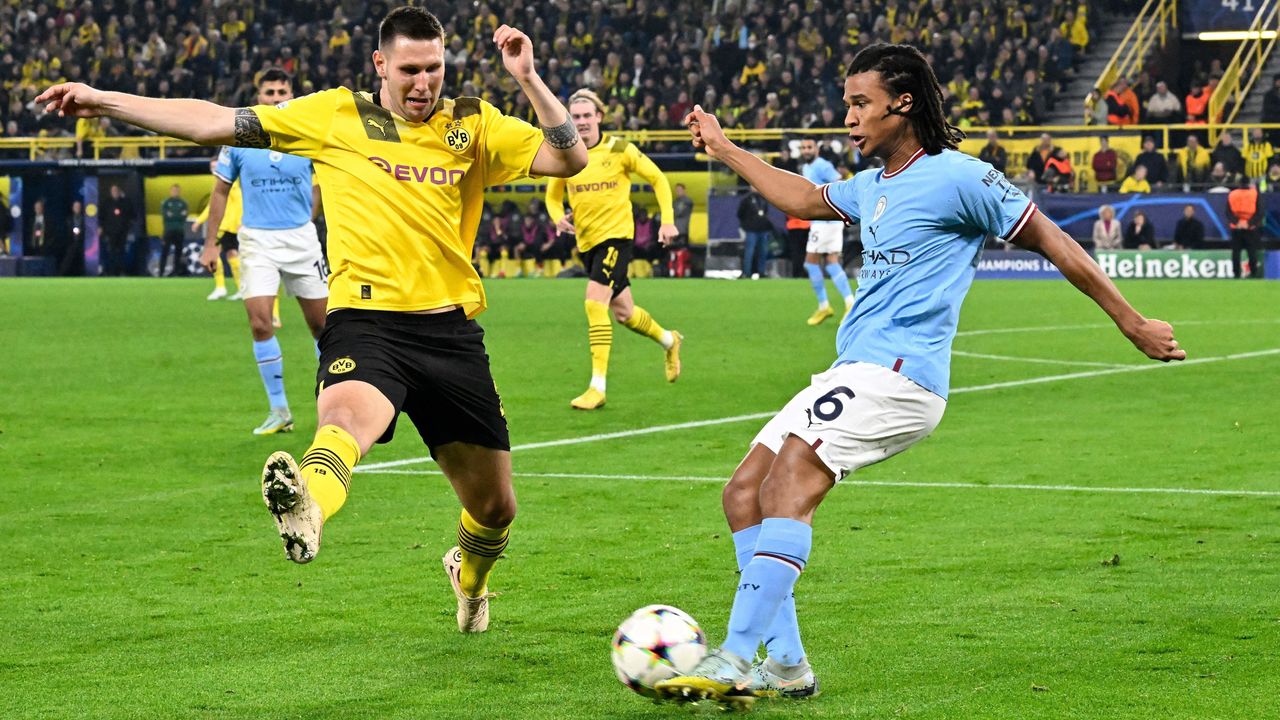 Borussia Dortmund were dangerous down the right flank during the first half of Tuesday's 0-0 draw, but City's biggest weakness on that side wasn't Ake – it was Cancelo, who's lost form in recent matches. Cancelo was substituted, and Ake was moved to left-back at halftime, becoming more influential as the game went on.
What Guardiola likely admires most about Ake is his gait – his back is straight and his head is raised while he strides, always aware of what's going on around him – and his ability to skim well-weighted balls to the midfielders' feet. He led the Group G match in touches (158) and played 20 more passes than Niklas Sule, Mats Hummels, and Nico Schlotterbeck combined. Ake's also a proactive player without the ball and won each of his three attempted tackles at the Westfalenstadion.
In a summer awash with good deals for City, Chelsea's failure to sign Ake appears to be a blessing for Guardiola and a backline troubled by fitness issues and injuries.
Juventus' downfall complete
Since reaching the final, and losing to Real Madrid, in 2017, Juventus have been going backward in the Champions League. They followed that soul-crushing defeat, their second loss in the showpiece match in three years, by faltering in the quarterfinals in each of the next two seasons. Three consecutive ousters in the round of 16, against a trio of underdog opponents, followed. The trend was obvious.
It reached a nadir Tuesday.
Juventus' 4-3 defeat to Benfica – a scoreline that could've, and perhaps should've, been much worse, confirmed that Massimiliano Allegri's team won't even have the opportunity to underwhelm in the knockout stage this time around. The Europa League, at best, beckons.
A humbling defeat to Maccabi Haifa on Matchday 4 meant this was always the likely outcome, but it's still jarring to see the math officially confirm what has looked inevitable since the beginning of the campaign.
Consistent mismanagement, both at the executive and field levels, has consequences. Puzzling transfer decisions add up. Riffling through managers has a destabilizing effect. All of that together, over a period of several years, has left Juventus in their current state. Once on the cusp of winning a trophy that's become an obsession for the club after so many near misses, Juve are now further away than they've been in almost a decade.
This team, and club, is in need of rejuvenation. There was no clearer indication of that than the waning minutes of Tuesday's defeat. Exciting youngsters Fabio Miretti, Matias Soule, and Samuel Iling-Junior, each 19 years old, came off the bench and injected life and verve into the Italian side, turning a lopsided 4-1 deficit into a respectable 4-3 defeat almost single-handedly.
There's a clear path forward for Juventus. Can we trust them to actually take it?
6 thoughts from Tuesday's Champions League action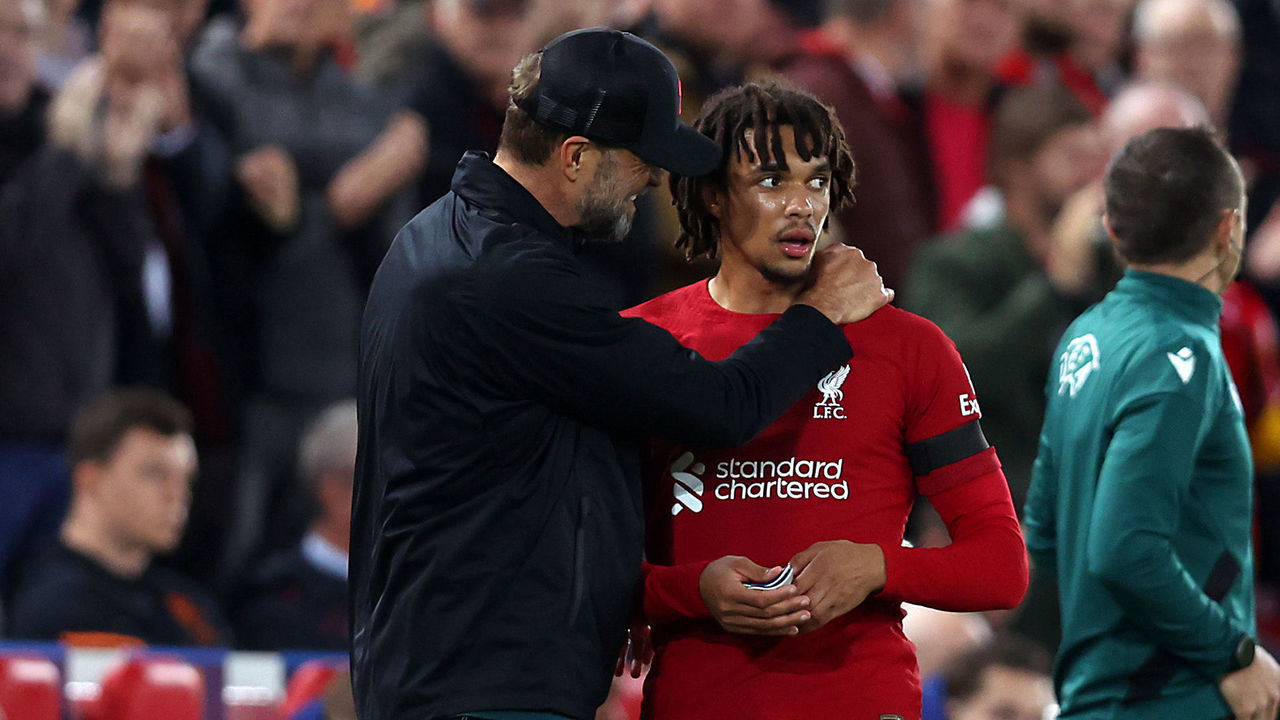 The Champions League rumbles on with Matchday 3 this week. Below, we dissect the biggest talking points from Tuesday's action in Europe's premier club competition.
Red-hot Sane flying under the radar
There's been plenty of uncertainty hovering over Bayern Munich after a few hiccups – domestically, anyway – early on this season. New signing Sadio Mane's lackluster scoring touch hasn't helped, as the former Liverpool star has yet to match expectations less than three months into his Bayern career.
A day after talking about his growing pains at Bayern, Mane helped endear himself to fans with his first Champions League goal for the German club in Bayern's 5-0 victory over Viktoria Plzen on Tuesday. Yet, Leroy Sane is arguably becoming the most important player Julian Nagelsmann has in his bottomless pool of attacking talent.
Jamal Musiala has deservedly received plaudits this season, but Sane's evolution into one of the most lethal wingers in Europe has somewhat gone under the radar. With seven goals in all competitions this season, Sane is establishing himself as Bayern's primary scoring threat.
Sane was pivotal in Tuesday's Group C encounter, again ensuring Bayern Munich's struggles remain limited to the Bundesliga. His brace – which included a stunning strike from outside the box – helped the Bavarians comfortably maintain a perfect start in the Champions League group stage after three games.
It's obviously still early in the season, so Sane experiencing a Mane-like slump is totally possible at some point. Likely, even. But if he can stay healthy, Sane could be on the brink of his best campaign yet and maybe even fulfill the lofty expectations he's struggled to achieve since arriving in Munich from Manchester City.
Redemptive night for Alexander-Arnold
There was no chance anybody but Trent Alexander-Arnold would be in charge of free-kick duties early on in Liverpool's Champions League meeting with Rangers. When the opportunity came, the look of confidence on his face was undeniable for a player who's come under fire after struggling on the defensive side of the ball this season.
Fans around Anfield were on their feet in anticipation of what would come from their fellow Scouse. Alexander-Arnold, who Jurgen Klopp backed to rediscover his form earlier this week, delivered one of his vintage free-kicks to help propel Liverpool to a 2-0 victory.
Although the moment of magic – combined with his efforts in keeping a clean sheet – should help temporarily silence critics, the 23-year-old's ball-striking abilities have never been a concern.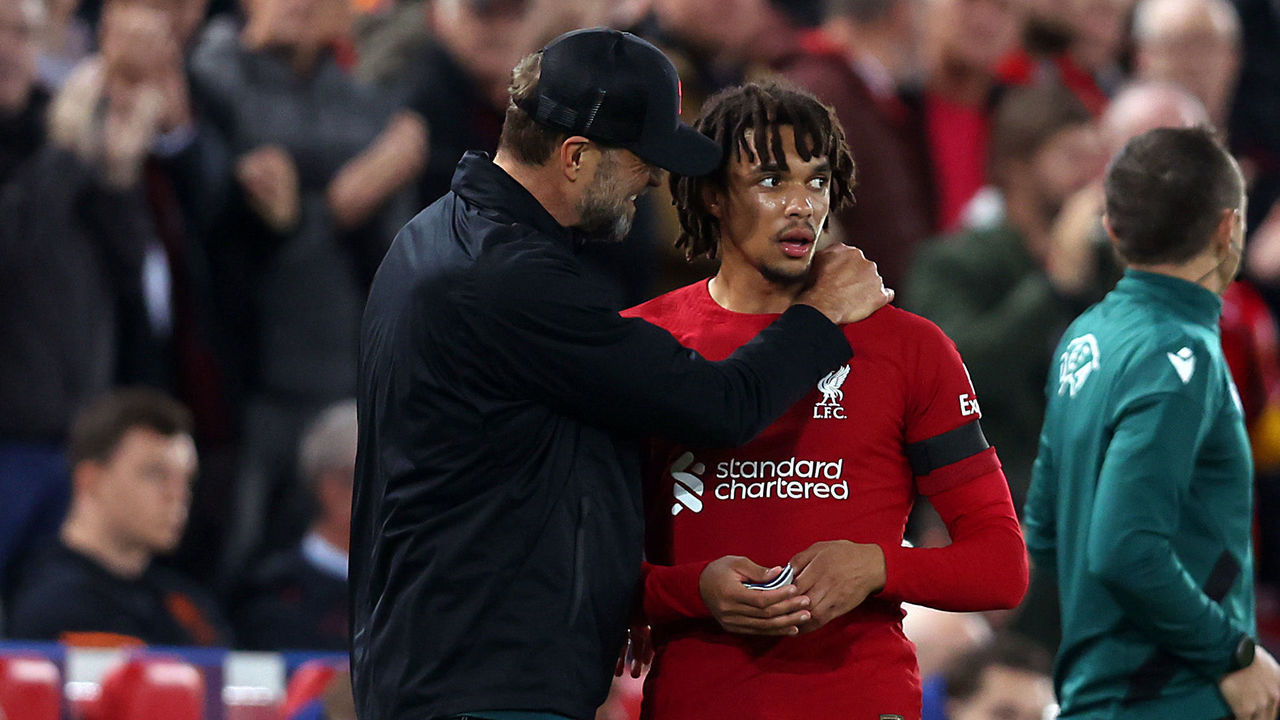 It's indifferent defending that's set off alarm bells, leading to a somewhat tedious debate about whether his place in Gareth Southgate's England squad for the World Cup is under threat. There's no denying his defensive play is a major concern. From failing to track opposing players in dangerous areas to looking disinterested amid Liverpool's early-season struggles, there's no shortage of evidence highlighting Alexander-Arnold's worrying form.
But, in the end, it's quite ridiculous that Southgate would ever consider omitting one of the most gifted players in the world. Especially one who is, as he did Tuesday, capable of deciding matches with one swing of his boot. The real question before the World Cup should be whether he plays regularly or is forced to take a back seat behind the likes of Reece James and Kyle Walker.
Barcelona still a work in progress
Barcelona may be top of La Liga, but they're far from the finished product. Tuesday's 1-0 loss to Inter Milan proved as much. This is a relatively young team with a young coach. While they may have an idea of football in their minds, they haven't quite found a way to make it work in Europe. It's one thing to beat up the Elche and Cadiz; it's another to try the same tricks against Bayern Munich and Inter.
Despite controlling possession 71% of the time, Barcelona rarely threatened Andre Onana's goal, producing just two shots on target. Robert Lewandowski, who leads all scorers in La Liga with nine goals, recorded only two touches in the penalty area and spent most of the time holding up play with his back to goal. Ousmane Dembele couldn't complete a single dribble. He even switched sides midway through the second half, hoping to fare better on the left than he did on the right. That experiment ended after a few minutes.
Barcelona had every right to complain about the penalty they weren't given. Inter wing-back Denzel Dumfries clearly handled the ball during a tussle with Ansu Fati in second-half stoppage time. But the Blaugrana did themselves no favors at San Siro. They moved the ball too slowly to draw Inter's defenders out of position and didn't play the kind of vertical passes Xavi Hernandez wants to see from his players. Over 41% of Barcelona's passes went backward, and you could sense the desperation in each of the 50 crosses they attempted.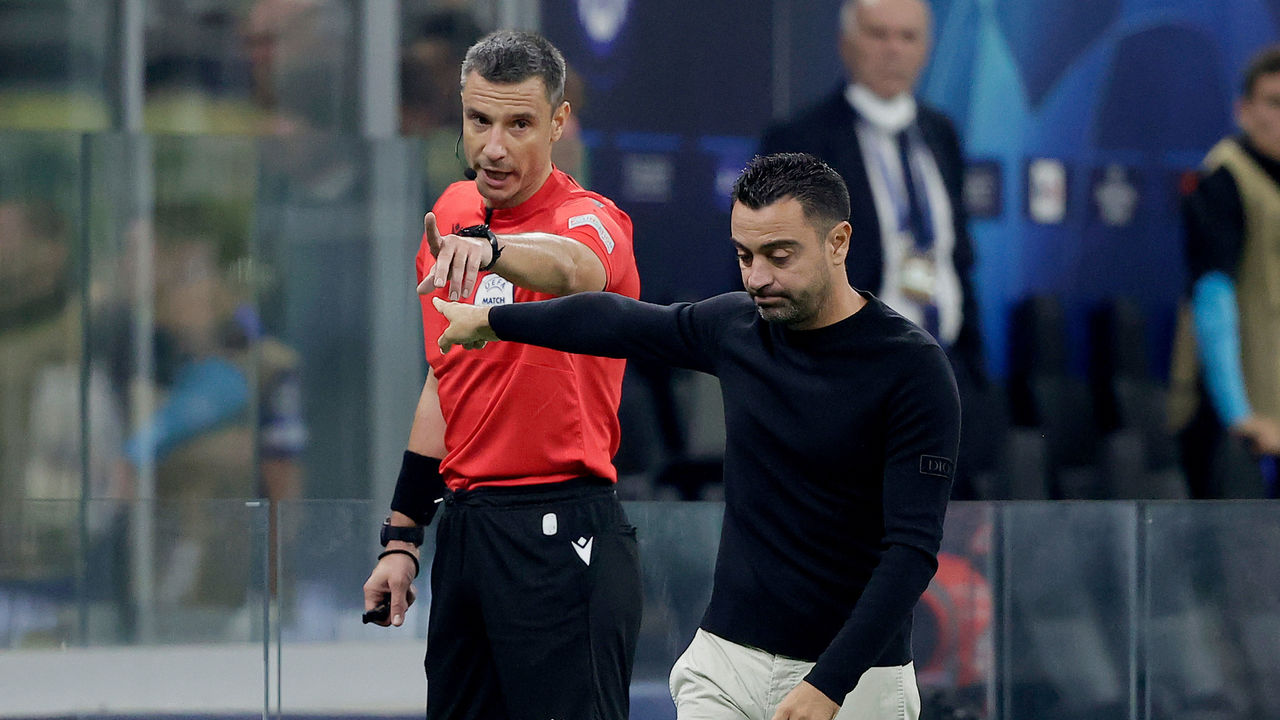 Of course, Inter made it difficult to play any meaningful passes into the final third. Barcelona's failure Tuesday was also Inter's success. Armed with a back five, the Nerazzurri played with men behind the ball, and their midfielders patrolled the half spaces to ensure the likes of Dembele couldn't break into the area. Federico Dimarco, Henrikh Mkhitaryan, and Alessandro Bastoni covered whenever the French winger tried to glide infield. It was a defensive masterclass.
But the Catalan giants can do better. Barcelona played much better in a 2-0 loss to Bayern and could've won that game with better finishing. But they struggled mightily against Inter, not just in attack but also against the counter. Barcelona capitulated every time they lost possession, and that happened a lot. If they can't score, then they have to learn to resist the tide when it inevitably turns.
Ultimately, Barcelona have a long way to go before they can convince the masses they're ready to compete for titles again. They may be in first place in the Spanish top flight, but five of the six teams they've beaten in Spain are currently in the bottom half of the table. Bigger tests await. The next month will reveal what this team can really achieve.
Another strike against VAR
That said, Barcelona could've used at least one of the two calls match official Slavko Vincic and video assistant referee Pol van Boekel somehow missed during another horrific 90 minutes of officiating in the Champions League.
Dumfries' arm was clearly in an unnatural position when the ball struck his hand as he attempted to head it away in the 92nd minute. But after reviewing the footage, Van Boekel not only decided against awarding a penalty but neglected to even instruct Vincic to see the pictures for himself on the pitchside monitor.
Vincic has the right – and, in this case, the obligation – to review controversial incidents for himself. He did when Van Boekel detected Fati had handled the ball in the build-up to Pedri's equalizer and ultimately chalked it off once he saw the clip. Why, then, didn't the match official head back to the monitor when Dumfries committed a similar offense?
Xavi said the referee didn't even offer an explanation at the end of the match.
"I think the referee should be out here explaining these decisions," the Spaniard told reporters. "Today I'm really unhappy. I feel there's real injustice."
That's saying nothing of the red card Vincic could've shown to Hakan Calhanoglu for a sliding tackle that caught the inside of Sergio Busquets' leg. That would've left Inter down a man for the final 20 minutes. Calhanoglu escaped with a yellow card.
Unfortunately, the current system leaves doubt in the minds of coaches, players, and fans. But it's not the fault of the technology. The officials making decisions continue to get it wrong and make no attempt to explain themselves when they do.
Can Napoli maintain rip-roaring pace?
How do you say "bulldozer" in Italian?
Napoli are on an absolute tear to begin the season, demolishing Ajax 6-1 – in Amsterdam, no less – in yet another high-octane attacking display from Luciano Spalletti's insatiable team.
Still unbeaten, they've won nine of their 11 matches in all competitions this season, scoring 31 goals in the process. The high-flying side sits tied for first in Serie A and tops its Champions League group with a perfect record.
They're also the first Italian team to ever score more than 10 goals in the opening three Champions League games of a season.
Those numbers are even more impressive considering how the club was forced to retool in the summer after losing several beloved stalwarts; captain Lorenzo Insigne, all-time top scorer Dries Mertens, defensive anchor Kalidou Koulibaly, and midfield lynchpin Fabian Ruiz all departed.
That type of upheaval, which raised a furor among the fan base, threatened to derail the season before it began. Instead, it turned out to have the opposite impact, rejuvenating the club. The new players, most of them young and hungry, have infused Spalletti's team with more verve and energy, while other incumbents have flourished with added opportunities.
Khvicha Kvaratskhelia, already a beloved figure in Naples, is a sensation. Giacomo Raspadori, who scored twice Tuesday, has hit the ground running. Andre-Frank Zambo Anguissa is having a spectacular season thus far. Kim Min-jae has seamlessly replaced Koulibaly in defense. And arguably their best player, Victor Osimhen, should return from injury soon.
We've seen this before, to an extent. Napoli began last season on fire, winning 10 of their first 11 league matches before hitting a rough patch and falling off the pace in Serie A. But, fuelled by Kvaratskhelia and Co., this feels different. Napoli are a frightening force to be reckoned with.
Club Brugge are for real
Hands up if you expected Club Brugge to roll through their group after three matches. Yeah, neither did we.
The Belgian club made a serious statement of intent Tuesday, brushing aside Atletico Madrid 2-0 to maintain their perfect start to the Champions League campaign. Carl Hoefkens' team sits comfortably atop Group B with nine points, scoring seven goals along the way and, most impressively, not conceding any. Only Bayern Munich and Real Madrid can match that defensive record in this year's competition. Decent company.
This isn't a case of Brugge getting lucky, either.
Yes, Antoine Griezmann wasted a glorious chance from the penalty spot, but Brugge defended stoutly overall. And combine that with explosive attacking players who can break down the opposition at a moment's notice.
Canadian winger Tajon Buchanan tormented Atletico, while the red-hot Ferran Jutgla continued to establish himself as one of the best value signings of the summer transfer window, scoring his eighth goal in 11 matches across all competitions since moving from Barcelona for just €5 million.
With the 23-year-old Spaniard leading the way, and a collection of effervescent talent around him, Club Brugge are making waves.
5 thoughts from Tuesday's Champions League action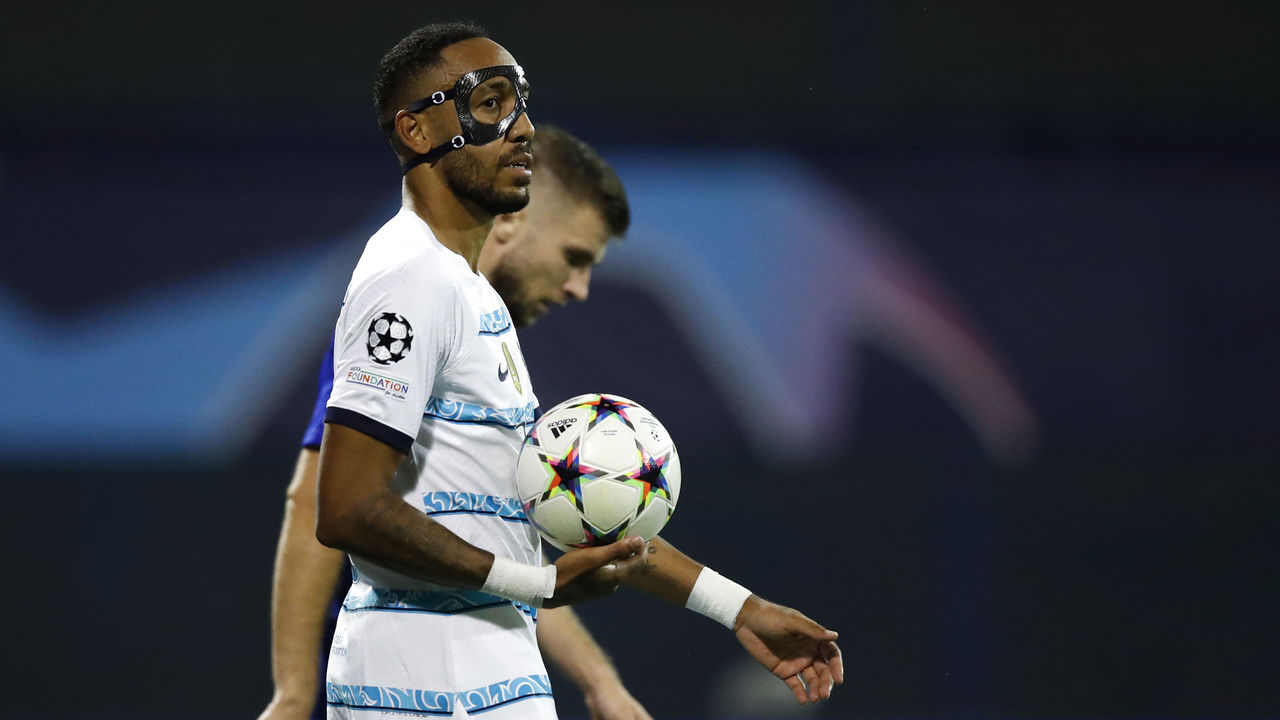 The Champions League is back! Below, we dissect the biggest talking points from Tuesday's action as this season's group stage kicked off in Europe's premier club competition.
The jinxed jersey
Thomas Tuchel hasn't tried to lessen the weight of Chelsea's No. 9 shirt. In fact, it's quite the opposite. The head coach has repeatedly branded the digit a "curse" at Stamford Bridge.
Jimmy Floyd Hasselbaink, Hernan Crespo, and Tammy Abraham are the club's most successful No. 9s this century, but Crespo and Abraham's fruitful spells were only brief. Fernando Torres, Radamel Falcao, Alvaro Morata, and Gonzalo Higuain are among the players who've disappointed while donning the number, which is traditionally reserved for goalscorers.
"We demand a lot from our strikers in terms of defending. We want to be a physical and hard-working group, one that's not shy to make it a physical game and not only a skillful game. That maybe plays a part," Tuchel offered in February of how Chelsea's traditional playing style could contribute to Romelu Lukaku's struggles.
But deadline-day arrival Pierre-Emerick Aubameyang had no problem with inheriting Lukaku's shirt. If the 33-year-old is to break the curse, he'll have to do better than he did in Tuesday's 1-0 loss at Dinamo Zagreb.
Aubameyang struggled to make a positive impact in his debut, showing none of the conviction that Chelsea so desperately need in the center-forward position. Instead, he strayed offside three times and failed to fire a single shot on target. Armando Broja replaced Aubameyang after 60 largely frustrating minutes.
His face mask may have narrowed his vision, and after sustaining injuries during a violent break-in attempt at his home near Barcelona, he may need some time to regain his confidence. But he shouldn't need too much time to adapt to Tuchel's tactics. The 49-year-old coached Aubameyang for two seasons at Borussia Dortmund, and it was in Germany where the former Gabonese international learned how to play his best football, operating as well up front as he would out of possession.
Based on his performance in the Croatian capital, Aubameyang has a long way to go before he can become that player once again.
New season, same PSG?
Now more than ever, there are no illusions about Paris Saint-Germain's aspirations. It's Champions League title or bust.
And, not for the first time, some of the early signs were enormously promising. PSG toyed with Juventus for much of their 2-1 win Tuesday in the French capital. Kylian Mbappe, Neymar, and Lionel Messi seemed to be playing a different sport at times, connecting with intricate tricks and flicks and making a mockery of the Juve backline. Neymar's scooped pass for Mbappe's early goal, and the Frenchman's thunderous volley itself, belong in the Louvre.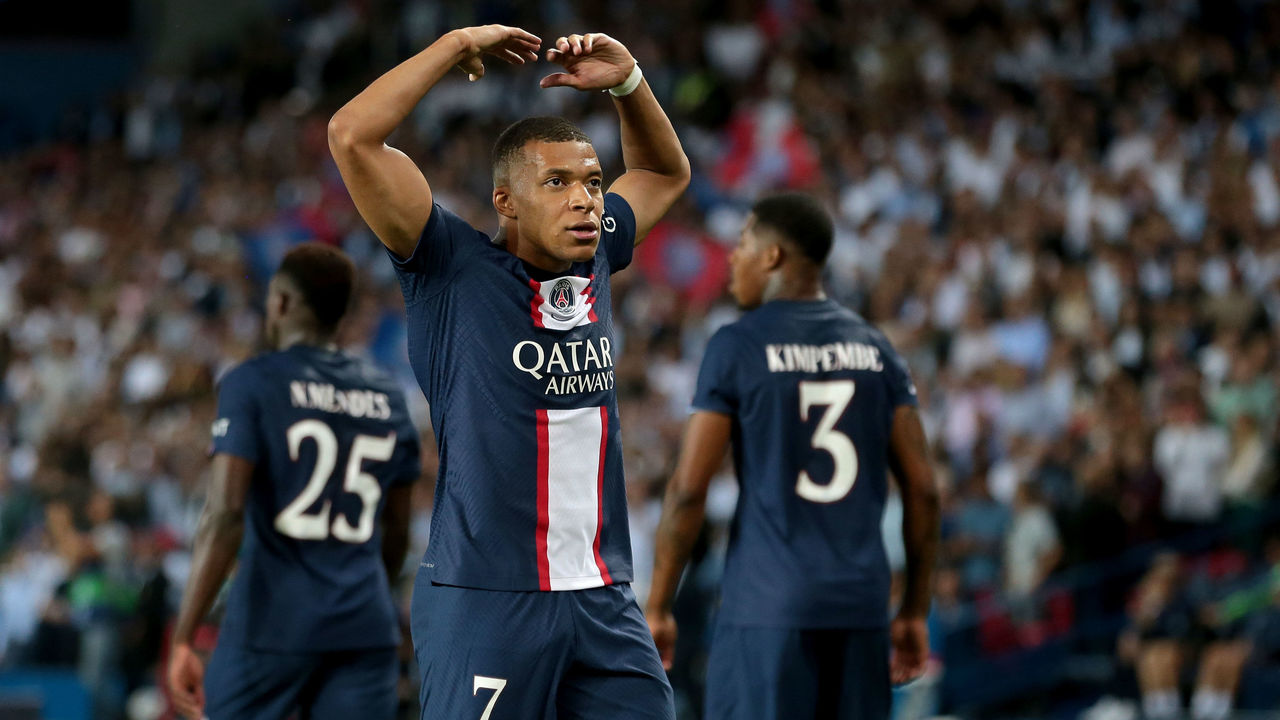 Leading 2-0 after just 22 minutes and in complete control, PSG should've gone for the jugular. They could've blown Juve away and made a huge statement of intent, even if beating this version of the Old Lady isn't quite the accomplishment of previous years. Still, a marker could have been laid down.
Instead, PSG became complacent after the interval. The smooth, slick, devastating unit from the opening 45 minutes disappeared and let Juventus back into the match. PSG were, and are, comfortably the better team, but after Weston McKennie halved the deficit, doubt started the creep in for the hosts. The defense, untested in the first half, looked nervous and susceptible whenever a cross was whipped into the penalty area.
The scenes were somewhat reminiscent of PSG's collapse against Real Madrid last season, only this time, Karim Benzema wasn't there to punish them. A relatively feeble Juventus side worried PSG when it played on the front foot. How will Christophe Galtier's men handle the pressure against better teams in the knockout stages? The question, yet again, lingers.
Allegri holding Juve back
Passive. Timid. Apathetic.
Juventus fans and pundits alike had their thesauruses out after the opening half of Tuesday's eventual defeat to PSG, with Massimiliano Allegri's team completely outclassed and overawed by the pace, skill, and intensity of Mbappe and his teammates. Juve, who have looked turgid in Serie A this season, struggled to string multiple passes together.
The knives were being sharpened for the Italian manager, whose monotonous tactics have come under heavy criticism of late.
Then, suddenly, McKennie's aforementioned goal in the 53rd minute seemed to flip a switch. Juve pressed forward, Leandro Paredes started to dictate the tempo and spray passes across the pitch, and the Italian side found pockets of space between the lines instead of playing repetitive, low-risk balls out wide and simply recycling possession over and over again.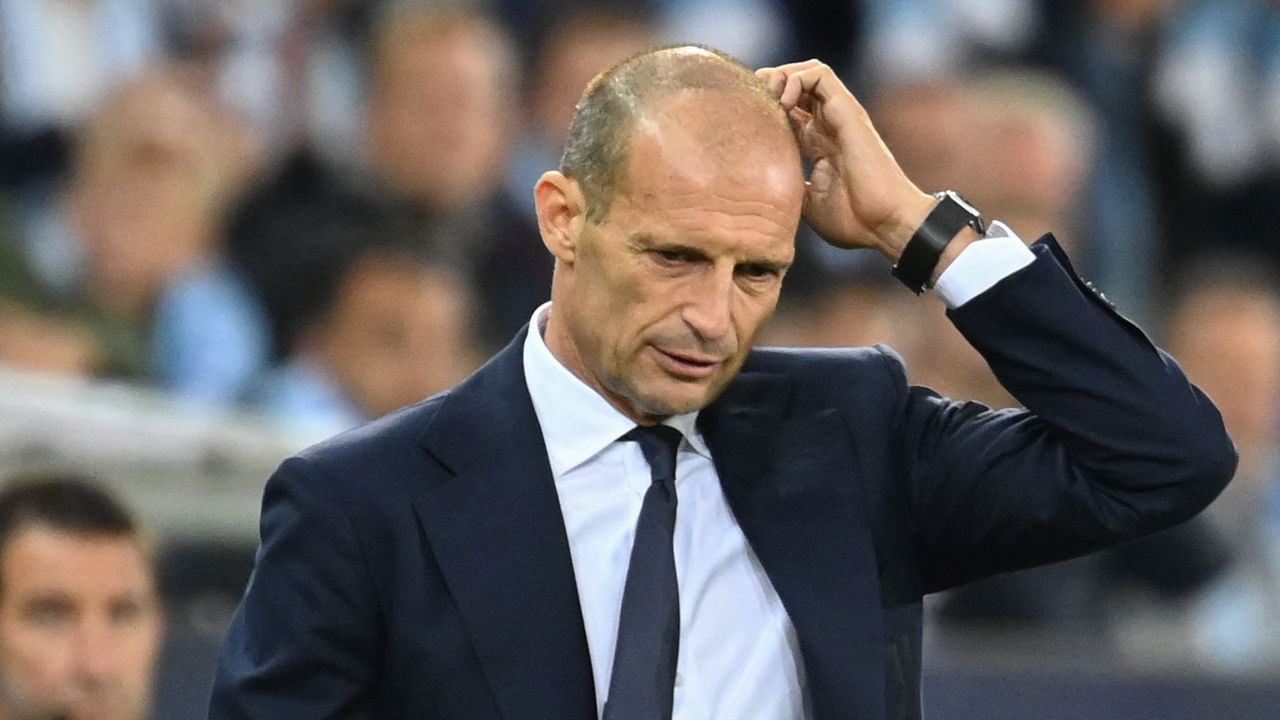 Ironically, that improvement is part of the issue. Juventus can play more aggressive, attractive football. The talent is there, even without the injured star trio of Federico Chiesa, Paul Pogba, and Angel Di Maria. Allegri can't wait for all three to return before he takes the handbrake off; the former pair likely won't be back in full force until January, at the earliest.
The players need to take some responsibility, of course, but Allegri is being paid very handsomely to put his team in a position to win. Being overly conservative, even if it will occasionally deliver results, isn't the right approach to get the best out of his team.
If things haven't changed by the time PSG visit Turin in the reverse fixture in early November, the Tuscan manager could be in trouble.
Is Akanji one of the top summer bargains?
You wouldn't have guessed it was Manuel Akanji's Manchester City debut. He didn't need to do much defensive work in his new side's 4-0 win at Sevilla, but he was unhurried when he had the ball, using both feet as he moved it along to his new teammates. He completed 71 passes, creating two chances along the way.
It all seemed very familiar to Akanji.
Pep Guardiola likes to rotate his lineup, but he prefers to have a set center-back duo for most of his team's matches. Ruben Dias and John Stones were his last regular pairing, but injuries and the occasional off-color performance from the latter have loosened that partnership's hold on two spots in the lineup.
Nathan Ake has improved following some unconvincing displays earlier in his City career, but he seems to get injured just when he's strung together a few starts. Meanwhile, Aymeric Laporte's increasingly common spells on the sidelines may be the main reason City swooped for Akanji on deadline day; the Spaniard might not be back until mid-October after knee surgery.
So, Akanji could be very busy in his first few weeks in Manchester, and, based on his debut display, that's no bad thing. He has the intelligence, awareness, and selflessness that should set him up well for Guardiola football, and at around £17 million, he could prove to be the bargain of the summer.
Well, that's if Erling Haaland – who already has 12 City goals after his double against Sevilla – didn't cost just £60 million.
Salzburg no pushovers in Group E
AC Milan learned Tuesday night that Red Bull Salzburg are a serious threat in Group E.
Salzburg, after all, are playing in the Champions League group stage for the fourth consecutive season. They routinely develop some of the world's most promising talent, most notably Haaland, and press as relentlessly as the very best teams in Europe. It should come as no surprise they held Milan to a 1-1 draw – they managed to do the same against Bayern Munich last season.
Given Chelsea's early struggles, Salzburg can envision a path into the round of 16, especially with Swiss forward Noah Okafor developing into a fine scorer and dribbler and 19-year-old forward Benjamin Sesko showing promise in advance of his move to sister club RB Leipzig.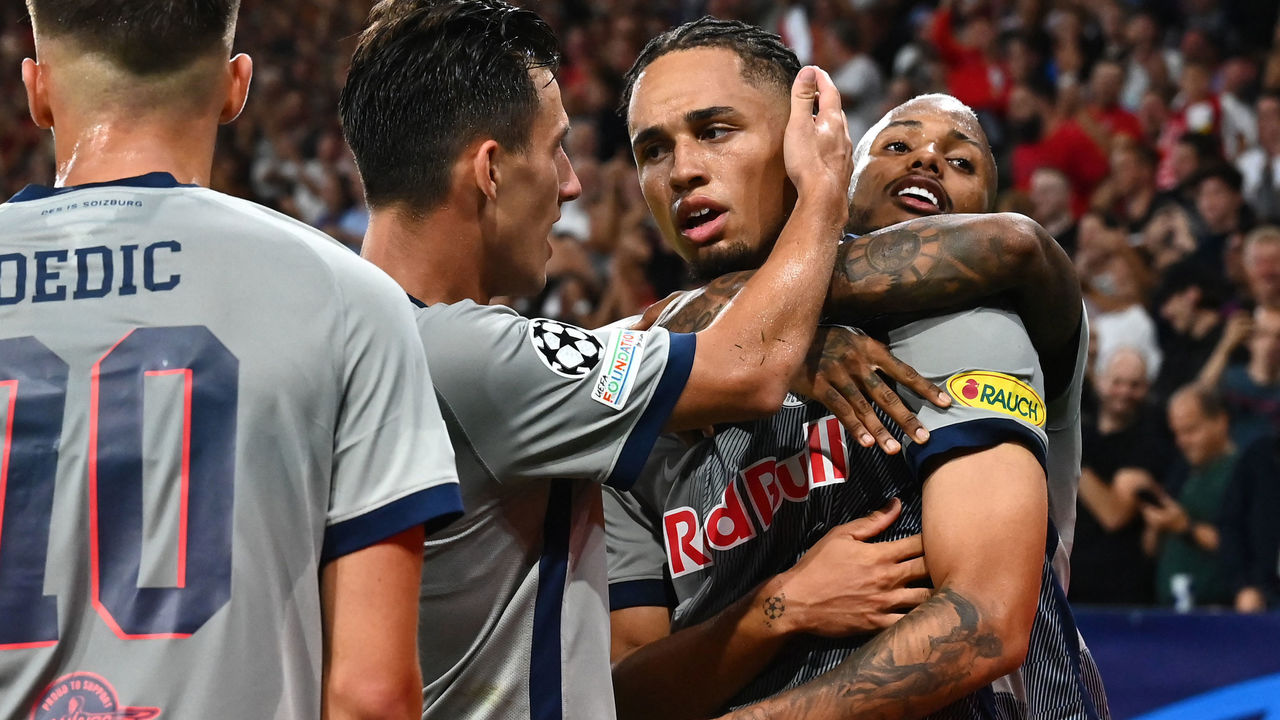 Salzburg took the game to Milan early in the first half, pressing the Rossoneri and limiting their time on the ball. The hosts had a goal and nine shots by the half-hour mark despite only having 35% possession. It was a devastating display that set the tone for the rest of the game. Salzburg's defenders double-marked Rafael Leao, knowing they had to cut off an artery of Milan's attack to stand a chance against the Italian champions. Though the Portuguese winger assisted the equalizer, he could've done a lot more damage.
By the end of the night, Salzburg's players covered an average of 11.09 kilometers, trumping Milan's 10.8 kilometers per outfielder. Even after starting the game so aggressively, the Austrian side sustained itself throughout the 90 minutes, doing the majority of its work off the ball.