10 thoughts after brilliant, bonkers round of 16 at Euro 2020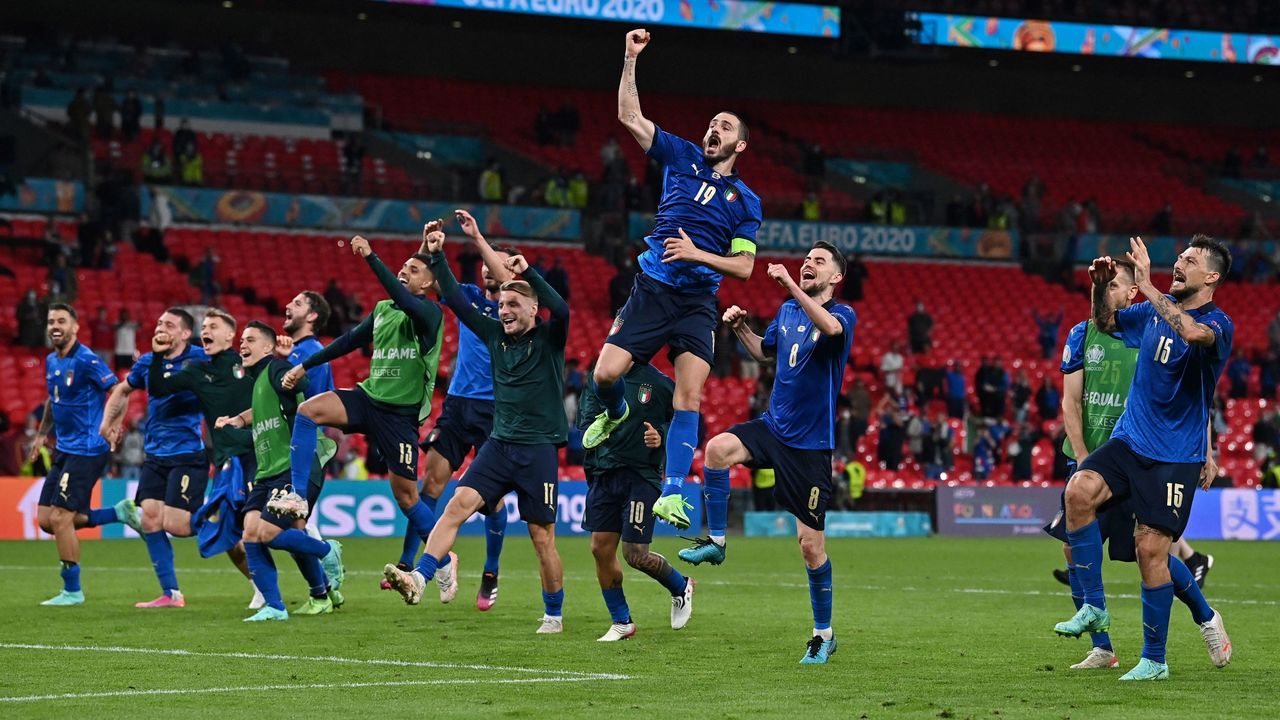 And breathe. The Euro 2020 quarterfinal stage is all set, but we'd be remiss if we didn't spend some time discussing the incredible action on display during the last 16. Below, we examine the biggest takeaways from a truly spectacular round of matches that had a little bit of everything.
There's nothing like tournament football
Club football is great. We all love it. But at times, especially this past season when the fixture list was compressed and players everywhere were pushed beyond their physical limits, it can all feel like a grind. An international tournament was the perfect tonic. Euro 2020 has gone above and beyond, delivering the ideal blend of quality, tension, and drama you can only get at a competition like this. Even "bad" games are good because of the stakes, and the "good" games are true spectacles. This tournament has produced screeches and screams many of us didn't know we had inside.
Monday may go down as the most thrilling day in the history of tournament football. Two matches, 14 goals – both of the stunning and bizarre variety – underdogs grabbing last-gasp equalizers, extra time, penalties, and a heavy favorite being knocked out. You couldn't script it. Here's hoping there's still plenty in the tank for the remaining matches.
A perfect test for Italy
Italy was catapulted to "legitimate contender" status after being the standout performer of the group stage, but the Azzurri's narrow extra-time win over Austria in the last 16 showed that the opening round of the tournament matters little. Everything changes when you reach the knockout stages, and absolutely anything can happen. It was also oddly reassuring to know this adventurous unit that's been rebranded under Roberto Mancini still retains the national team's historic penchant for making everything a little bit more difficult and nervy than it needs to be.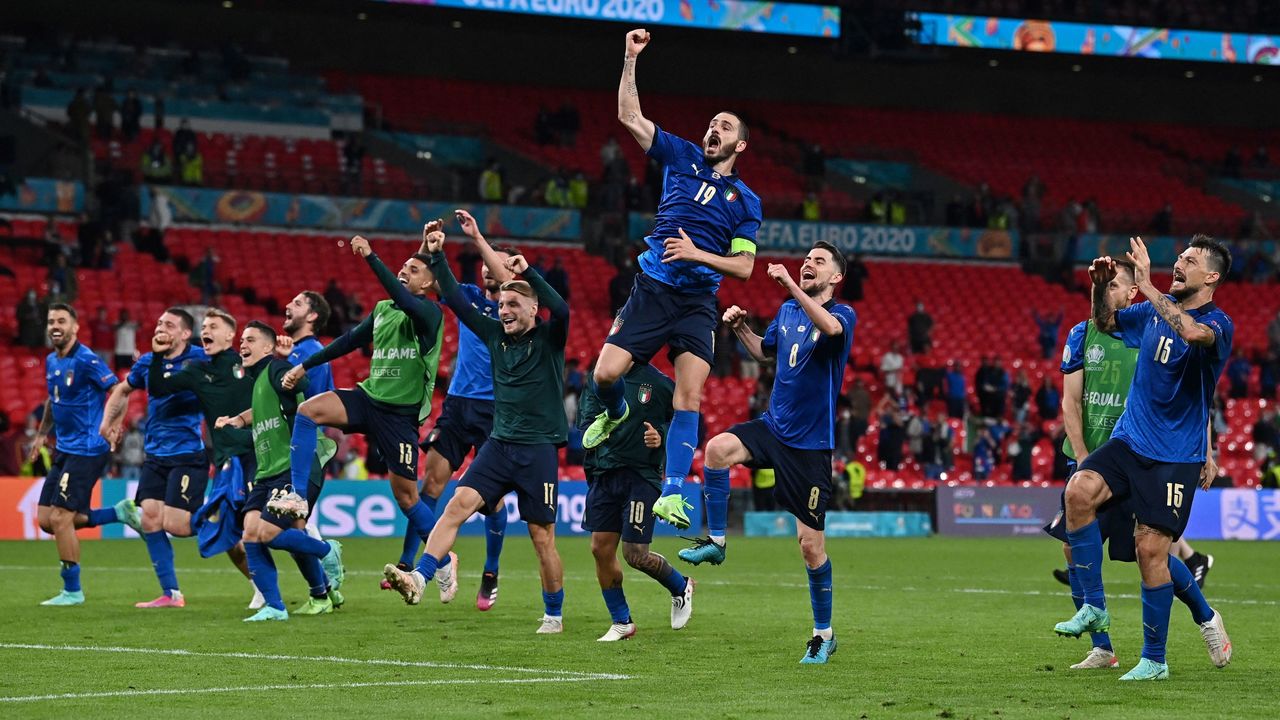 The 2-1 victory at Wembley, against a resolute Austrian side that pressed and harried all over the pitch, should serve Italy well going forward. If the Italians are going to reach the final, the path, starting with Belgium, is daunting. Diving right into the deep end after breezing through the group stage is unnerving – for fans, mostly – so it was important, as many Italian coaches like to say, for the team to "suffer" through a hard-fought win and show some mettle. Nobody rolls through an entire tournament unscathed. Better to learn that now than in, say, the grand finale.
Denmark isn't just a feel-good story
Since the harrowing Christian Eriksen incident in its opening match of the tournament, Denmark's entire run at Euro 2020, unsurprisingly, has been framed around the team's incredible resilience, togetherness, and mental fortitude. And that's all extremely valid. That the players have not only persevered but succeeded is a remarkable accomplishment after so nearly losing a teammate and friend right in front of their eyes.
But it's also important to acknowledge that this is much more than a group just riding an emotional wave, being spurred on by boisterous supporters both in Copenhagen and beyond. Denmark is a legitimately good football team, as it proved in the 4-0 dispatching of Wales in the round of 16. The defense, anchored by Simon Kjaer, is solid, and so too is the midfield pivot in front of it. Mikkel Damsgaard has provided some trickery on the ball, Kasper Dolberg and Yussuf Poulsen are both credible scoring threats, and Joakim Maehle has been one of the standout performers of the competition.
At this point, there's no reason why Denmark, based purely on footballing merit, can't capture a second European crown.
The Netherlands laid an egg
Remember when we considered giving Frank de Boer some credit after the Netherlands looked so explosive in the group stage? Yeah, natural order has now been restored. The ridiculed manager, whose reputation has cratered since leaving Ajax, is once again leaving a job in shame, parting ways with the Netherlands after the team's shocking 2-0 defeat to the Czech Republic in what was the tournament's first big upset. He was an unpopular hire to begin with, and this always seemed the likely conclusion.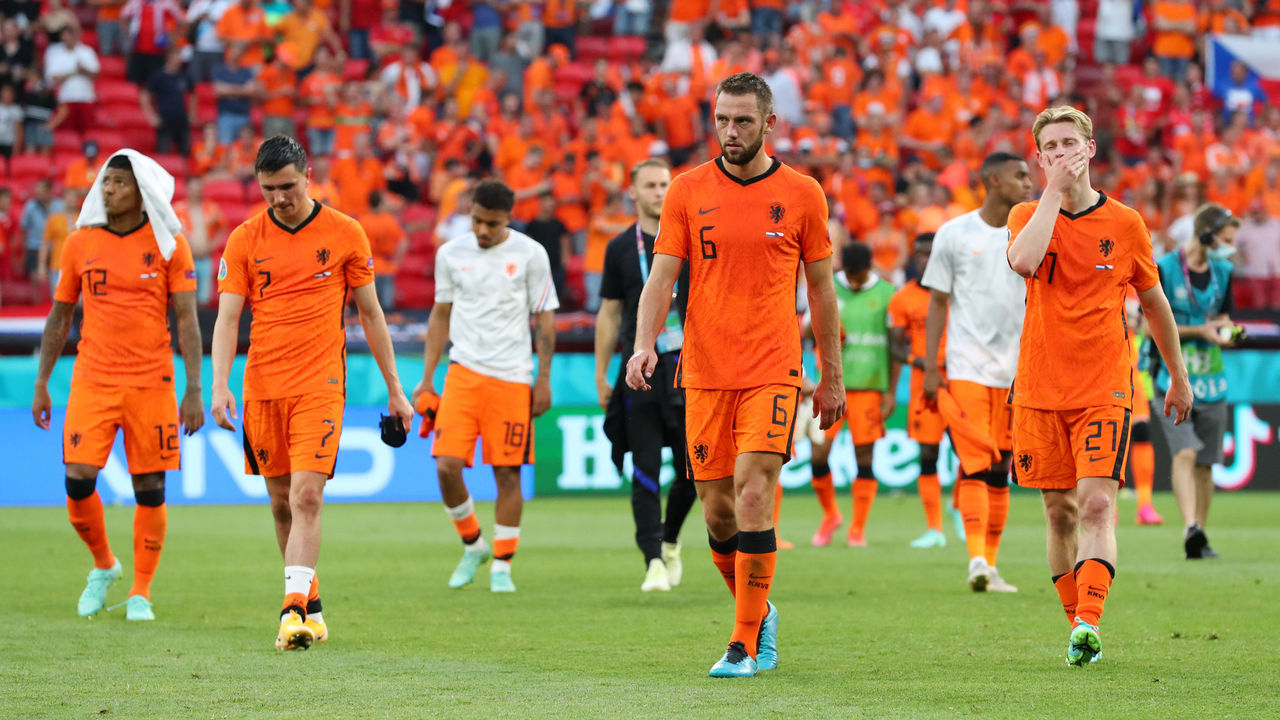 In fairness, the loss wasn't all De Boer's fault; the Netherlands' best players were anonymous, and the match was turned on its head by a whirlwind 30-second spell that, on another day, could have resulted in the Dutch scoring and Matthijs de Ligt not being sent off. Instead, Donyell Malen spurned his big chance and De Ligt, usually so assured, slipped and panicked. De Boer's substitutions afterward were questionable – of course they were – but the Oranje were toast after the red card, and finished the match without a shot on target.
Fernando Santos failed Portugal
Managers' insistence on shackling their extremely talented squads has been a theme of this tournament, and Fernando Santos is arguably the chief culprit. Yes, his defensive scheme and conservative approach delivered Portugal the title five years ago, but you can't always go back to the well and expect the same results. Particularly when you're at the helm of such a talented group of players; the current edition of the Selecao is far more skilled than the victorious 2016 outfit. Someone forgot to tell Santos that, though, and he persisted with his cautious scheme, simply hoping for results rather than pressing the issue and playing on the front foot.
Yes, Portugal outshot Belgium and created better chances, but that big push didn't come until late – when the Belgians were 1-0 up and sitting on their lead. Had Portugal showed that same attacking vigor from the opening whistle, and had the likes of Bruno Fernandes and Joao Felix been on the pitch earlier, we'd likely be talking about what Portugal needs to do to topple Italy right now. Instead, the nation's title defense is over.
Spanish resilience shines through
It would have been easy for Unai Simon to shrivel up and crumble after he allowed one of the most baffling own goals in European Championship history early in Spain's clash with Croatia. Many others would have. That type of bizarre, meme-worthy error could crush any player, but especially a goalkeeper, who spends much of the match standing alone with nothing to do but think. But the 24-year-old, like his team, didn't throw in the towel in the face of adversity and ridicule.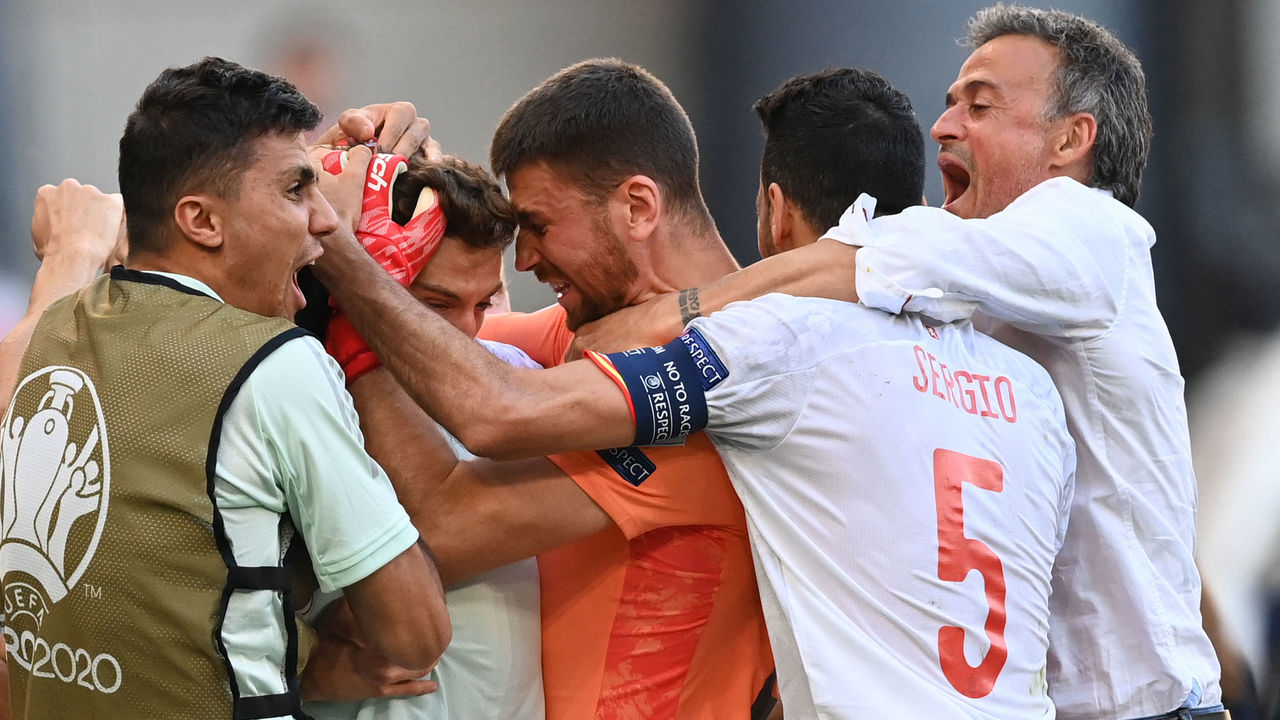 Indeed, it was Simon who ensured that Croatia's madcap comeback didn't bleed into extra time; the netminder made a brilliant reactionary save to keep the contest tied at 3-3 early in the extra frame, and that was the springboard for La Roja to regain control and ultimately earn a wild 5-3 triumph. Alvaro Morata, himself the subject of intense criticism during the tournament, scored a thunderous winning goal, adding another layer to the redemption narrative that underlined Spain's success.
France pays for Deschamps' sins
How do you say "hold my beer" in French?
For all of Fernando Santos' aforementioned failings, Didier Deschamps outdid his Portuguese counterpart, making a drastic lineup decision that was at least partially responsible for France's stunning defeat to Switzerland. His hand was forced by injuries to his two best left-backs, but the shift to an unfamiliar system that shoehorned midfielder Adrien Rabiot into a left wing-back role was, simply put, a disaster. That he ditched it so swiftly during the match was a clear indication Deschamps made a mistake. His decision to start the unconvincing Clement Lenglet as part of a back-three baffled, too.
France recovered – having unrivaled talent can do that – and should have seen out the win after holding a 3-1 lead with under 10 minutes remaining. That part isn't entirely Deschamps' fault. But the primary role of a manager is to set up players, and teams, for success. You need to give them the best possible chance to thrive. Instead, Deschamps set France up for failure, and for once, the most skilled collection of stars on the planet couldn't overcome that. It's a shame, especially for Paul Pogba, who was putting in a tournament performance for the ages that will now be forgotten.
Switzerland hits new heights
As much as the focus has been on France's implosion – and rumblings of discord within the French camp – since Les Bleus' surprising ouster, let's not forget Switzerland's role in all of this. The Swiss have long been a fixture at major tournaments, but are rarely expected to make any real impact; that's been underlined by three consecutive losses in the last 16 at recent tournaments. Solid but unspectacular has been this team's calling card for over a decade. We can throw that description out the window now. The staggering win on Monday was the exact opposite of what we've been accustomed to from Vladimir Petkovic's team over the years.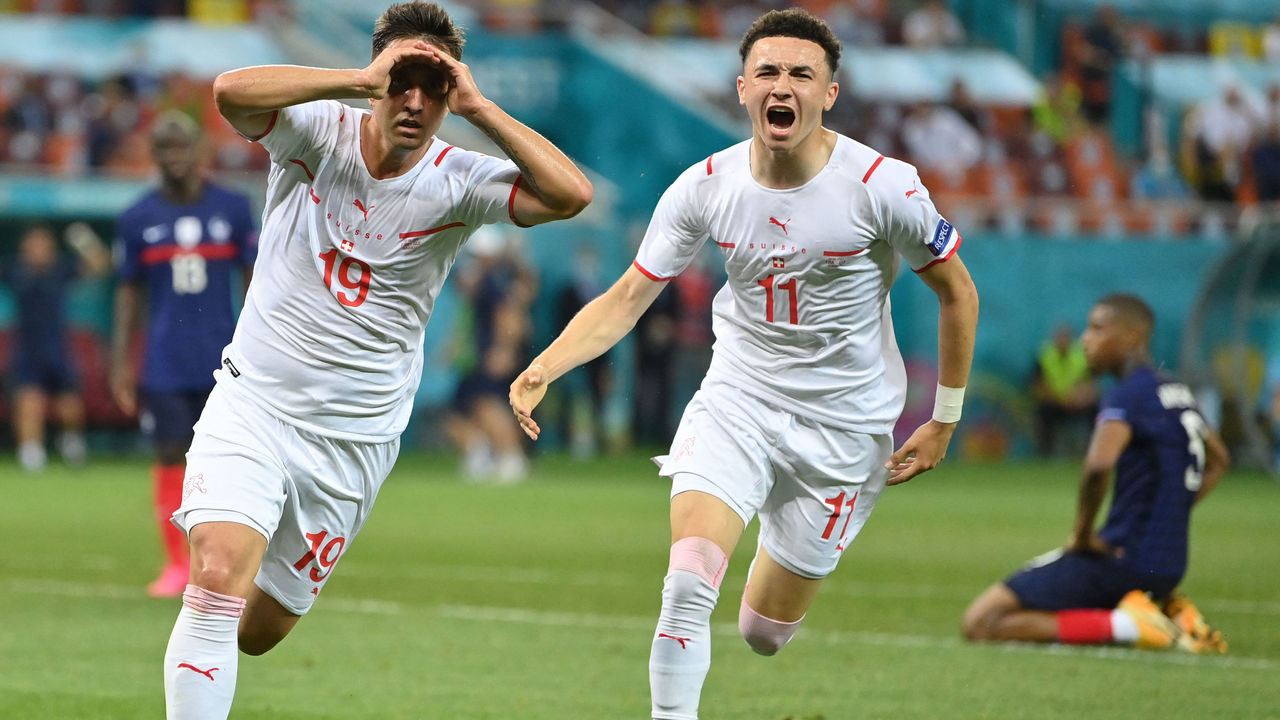 Switzerland took full advantage of France's tactical uncertainty, exploited spaces down the flanks, and, crucially, never backed down even when it seemed all but certain the reigning World Cup champion would coast through the final 10 minutes of the contest. For that, the Swiss, led wonderfully by Granit Xhaka, have been rewarded with a spot in the quarterfinals of a major event for the first time since 1954.
Vindication for Southgate
It actually happened. The curse has been lifted.
England finally beat Germany in a knockout match for the first time since the 1966 World Cup final, thanks largely to Gareth Southgate's conviction and belief in his players.
The manager's decision to shift to a three-man defense for the last-16 clash caused extreme consternation within an already pessimistic fan base, especially as the tactical switch relegated national darling Jack Grealish to the bench. The prematch concern wasn't unjustified – all things being equal, a team should play its best players – but Southgate's decisions were vindicated as the Three Lions earned a famous 2-0 win at Wembley.
Unlike Deschamps, Southgate made his changes with a clear, familiar plan in mind. The England manager had employed it many times before, so a more defensive setup wasn't foreign to his players. That manifested itself on the pitch as England largely shut Germany down. It wasn't swashbuckling football, but it was precisely what Southgate wanted. Grealish made a massive impact off the bench, too, ticking off another box for the manager.
Given England's potential path to the final, it really could be coming home now.
Group of Death, indeed
First Portugal. Then France. And finally, Germany. All three heavyweights emerged from Group F, and all three were sent packing at the next available opportunity. The Germans, in particular, went out with a whimper, ending Joachim Low's long reign in disjointed, disappointing fashion.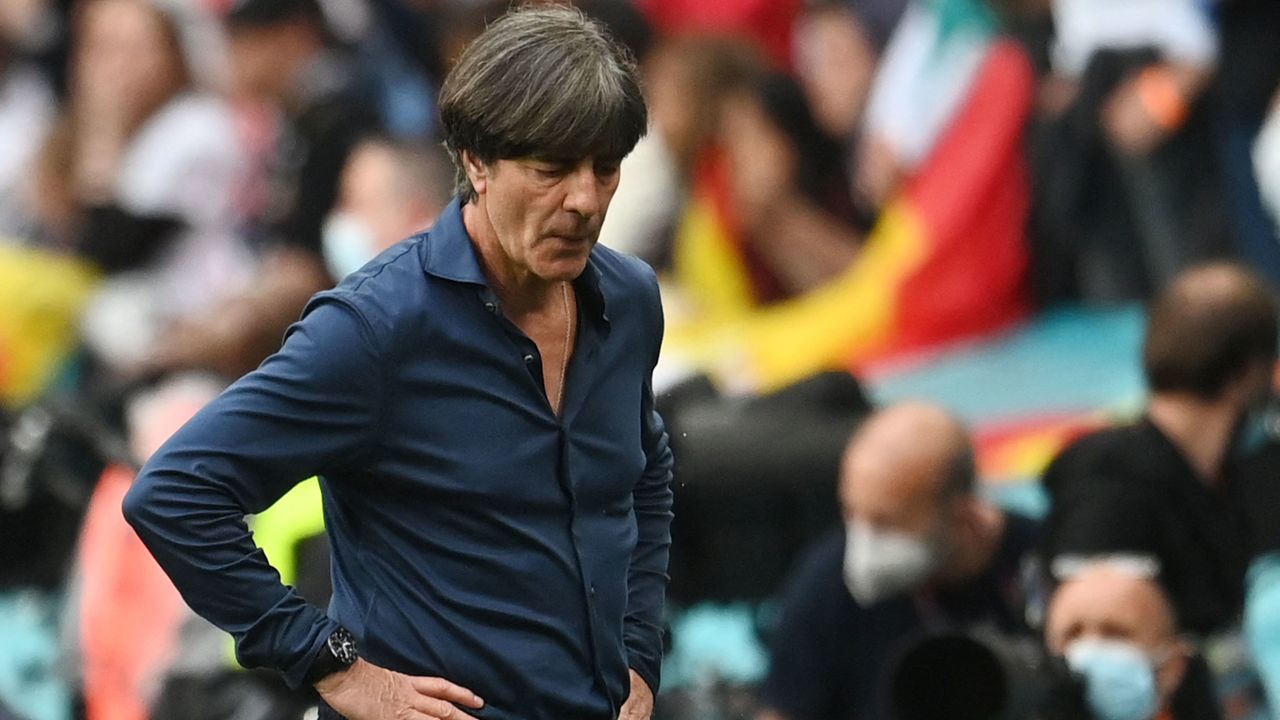 "Group of Death" was almost too apt a description.
20 most memorable moments from Euro 2020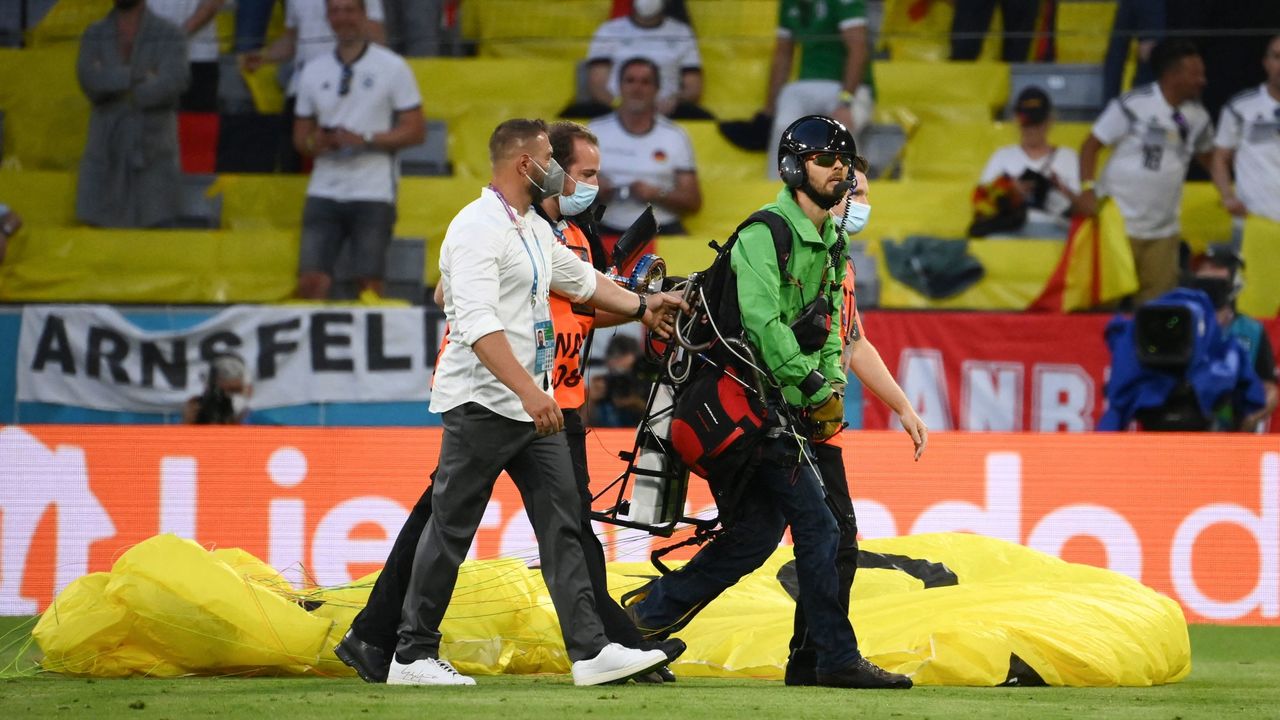 Following a thrilling month of football, Euro 2020 came to an end with Italy's victory over England on Sunday at Wembley. Here's a look at the 20 most memorable moments from a tournament with no shortage of highlights.
Bocelli kicks off proceedings in style
Italian tenor Andrea Bocelli kicked off the tournament opener between Italy and Turkey at the Stadio Olimpico with a stirring rendition of "Nessun Dorma" from Giacomo Puccini's opera "Turandot." Bocelli's crooning proved to be a good omen for the eventual tournament winner. Goosebumps.
It's not delivery, it's Insigne's
After Bocelli's rousing performance, the match ball for the tournament opener in Rome was delivered by a slick remote control car. Jokes that pint-sized Italy attacker Lorenzo Insigne's car had been stolen ensued, claims that have not yet been corroborated – or denied – by the diminutive Italy star.
Schick leaves Scotland in tangled mess
It didn't take long for the leading candidate for goal of the tournament to emerge. Three days into Euro 2020, Patrik Schick virtually ended the debate – and also entered the conversation for the Puskas Award – with an audacious strike of sheer quality in the Czech Republic's win against Scotland.
In the blink of an eye, Schick silenced Hampden Park and turned David Marshall into an instant meme with a 49-yard strike. Schick later cut off speculation that it was lucky, saying he'd planned on having a go from distance after noticing Marshall stray off his line earlier in the game.
Paraglider crashes Group F clash in Munich
Confusion quickly turned to concern when a paraglider descended into the Allianz Arena before Germany's crucial Group F clash with France.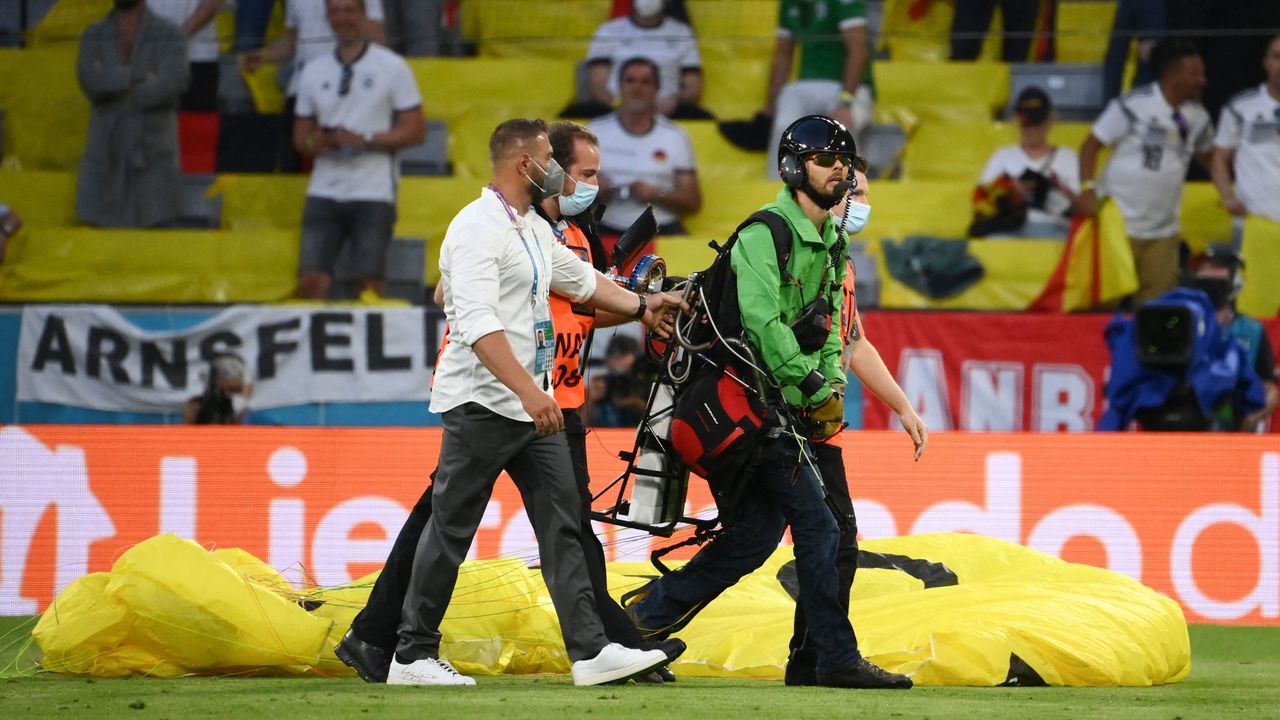 The Greenpeace activist's attempts to protest a Euro 2020 sponsor almost led to disaster when he struck the overhead camera cabling inside the stadium, causing debris to fall on the pitch and stands. Greenpeace apologized for the failed stunt, which left several people injured.
Lukaku pays tribute to Eriksen
Christian Eriksen's terrifying collapse in Denmark's opening match against Finland was, by far, the biggest story at Euro 2020. The football world unanimously shared its well-wishes for Eriksen in the aftermath of his cardiac arrest, and Belgium's Romelu Lukaku paid tribute to his Inter Milan teammate hours later during a win over Russia.
Among several touching tributes to Eriksen from players and fans alike during the tournament, Lukaku's stood out.
No Coca-Cola for Ronaldo
A frustrated Cristiano Ronaldo made headlines for all the wrong reasons five years ago when he tossed a reporter's microphone into a pond after Portugal's early struggles at Euro 2016. The incident was quickly forgotten after Portugal won the tournament.
It wasn't quite as scandalous, but Ronaldo shared his contempt for Coca-Cola during a presser at Euro 2020. He likes water. Good for him. It was enough to inspire countless memes, and the incident was blamed, perhaps questionably, for Coca-Cola's market value plunging by about $4 billion in the aftermath.
Budapest rejoices as Hungary soars
Supporters inside stadiums were a welcome component of Euro 2020, one that had been sorely missed in more than a year of games played behind closed doors or at reduced capacity due to the coronavirus pandemic.
The familiar sound of an entire stadium erupting with joy returned in Budapest when Hungary – the only nation that didn't implement attendance restraints – grabbed an unlikely lead against World Cup holder France courtesy of Attila Fiola's first-half goal. The wild celebrations continued long into the night despite France's eventual equalizer.
Emotional Denmark erupts for 4 goals
Denmark looked like a team destined to go home early following defeats to Finland and Belgium. The odds of progressing out of the group stage were predictably grim heading into the final matchday – nine days after Eriksen's traumatic incident in Denmark's opening game of the tournament.
But Kasper Hjulmand's men put on a show that the supporters in Copenhagen and around the world won't soon forget. Despite leading Russia 2-1, elimination remained a threat until Andreas Christensen and Joakim Maehle broke the game wide open with late goals to seal Denmark's unlikely place in the round of 16. The ensuing emotions on display, from players and fans, were truly moving. What a run for the Danes.
Red card turns Dutch dreams into nightmare
Despite Frank de Boer's best efforts, the Netherlands ransacked Group C before facing a brawny Czech Republic team in the last 16. The contest hung in the balance until the 55th minute when Matthijs de Ligt slipped and went down under pressure from Schick, handling the ball in the process.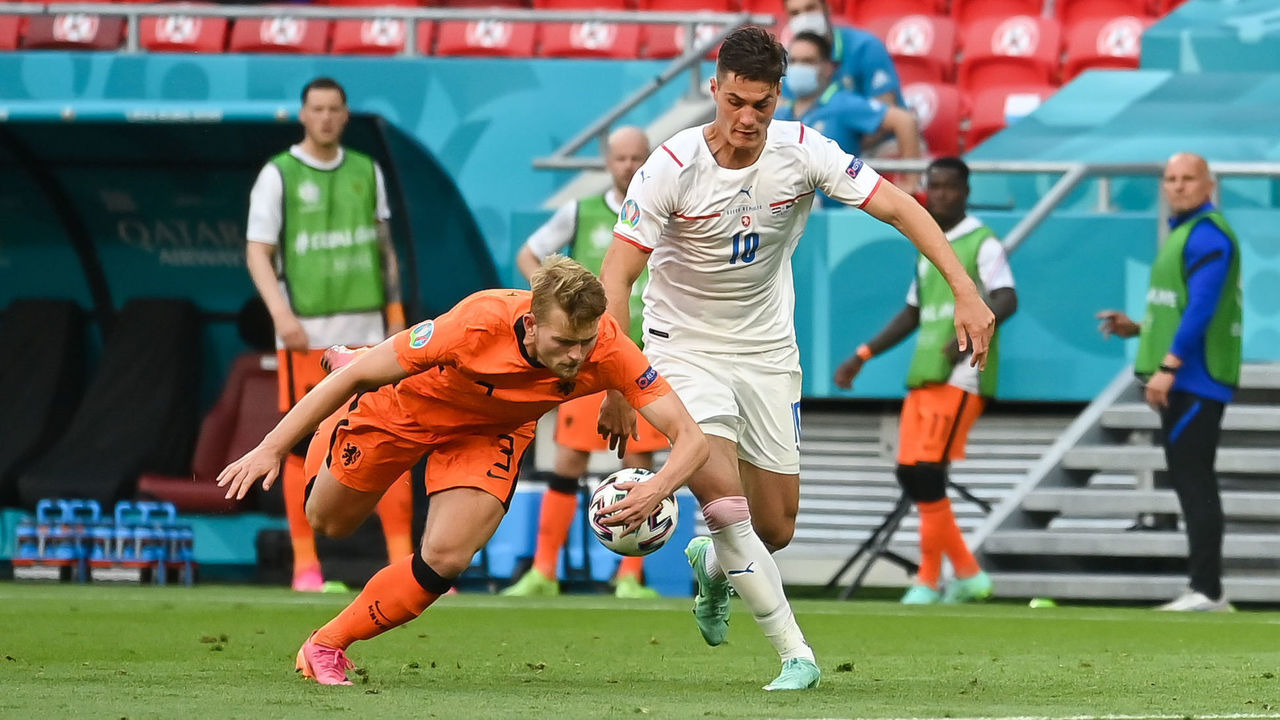 De Ligt was sent off following a VAR check, the Czechs scored twice in the ensuing 25-minute spell, and Dutch tournament hopes – like De Boer's tenure as national team boss – were toast. The Oranje's ouster was the first major shock in a tournament littered with surprises.
Manic Monday
June 28, 2021, may go down as the greatest single day in the history of tournament football: two matches; 14 goals – both stunning and bizarre; incredible late comebacks by unfancied underdogs; extra time; penalties; and the biggest upset of the competition.
None of Spain, Croatia, France, or Switzerland ended up winning Euro 2020, but they each contributed to a breathless several hours of action that we won't soon forget.
Unai Simon's redemption arc
That epic day of action began in truly outlandish fashion, with Spanish goalkeeper Unai Simon making an unbelievable error against Croatia that resulted in one of the most astounding own goals in recent memory. Own goals had a moment at the Euros, and this was the pick of the bunch.
But Simon bounced back. He could have withered after his incredible, meme-worthy blunder, but he redeemed himself by playing hero against Croatia in extra time and then again in the penalty shootout versus Switzerland in the following round. Perseverance in sports can be magical.
Switzerland beats France on penalties
While Spain-Croatia was finishing up in Copenhagen, Switzerland-France got underway in Bucharest, and right from the early stages, hilarity was afoot – Haris Seferovic, of all people, scoring early against the reigning World Cup champion was a signal that this would not be your typical match.
The back-and-forth affair saw Switzerland overturn a two-goal deficit, scoring twice in the final 10 minutes of normal time before Yann Sommer turned hero in the penalty shootout. The goalkeeper swatted aside Kylian Mbappe's decisive penalty in acrobatic fashion to give Switzerland its most famous win.
Swiss fan steals the show
Switzerland supporter Luca Loutenbach probably didn't expect to become the viral sensation of Euro 2020 when he woke up on June 28, but the roller coaster of emotions he experienced during the remarkable Swiss triumph over France was among the defining images of the tournament.
The beautiful game, indeed.
Veronique Rabiot beefs with Mbappe, Pogba families
French international Adrien Rabiot's mother – and former agent – Veronique has earned a reputation in certain circles as an unsympathetic intermediary, to put it kindly. Notable items on her CV include hostile negotiations with Barcelona and a reported tiff with Manchester City that resulted in her son's removal from the club's academy.
During France's last-16 defeat to Switzerland, Rabiot's mom "allegedly" (there's video) picked a fight with Kylian Mbappe's father, Wilfried, when she claimed the PSG star was arrogant, and she feuded with members of Paul Pogba's family after he was dispossessed in the lead up to Switzerland's dramatic late equalizer. The French camp always brings the drama.
Ukraine beats Sweden at the death
Artem Dovbyk and Ukraine manager Andriy Shevchenko danced in joy on the touchline after the former's late goal secured a dramatic victory over Sweden in the round of 16 and an unlikely quarterfinal spot.
With the match seconds away from going to a penalty shootout, Oleksandr Zinchenko delivered a beautiful cross that eluded Swedish defenders to find Dovbyk for the close-range header deep into extra time. The mood would change when Ukraine was played off the park against England, but the tournament's only true last-gasp winner was still invigorating.
England slays German demons
Mercifully, the curse has been lifted.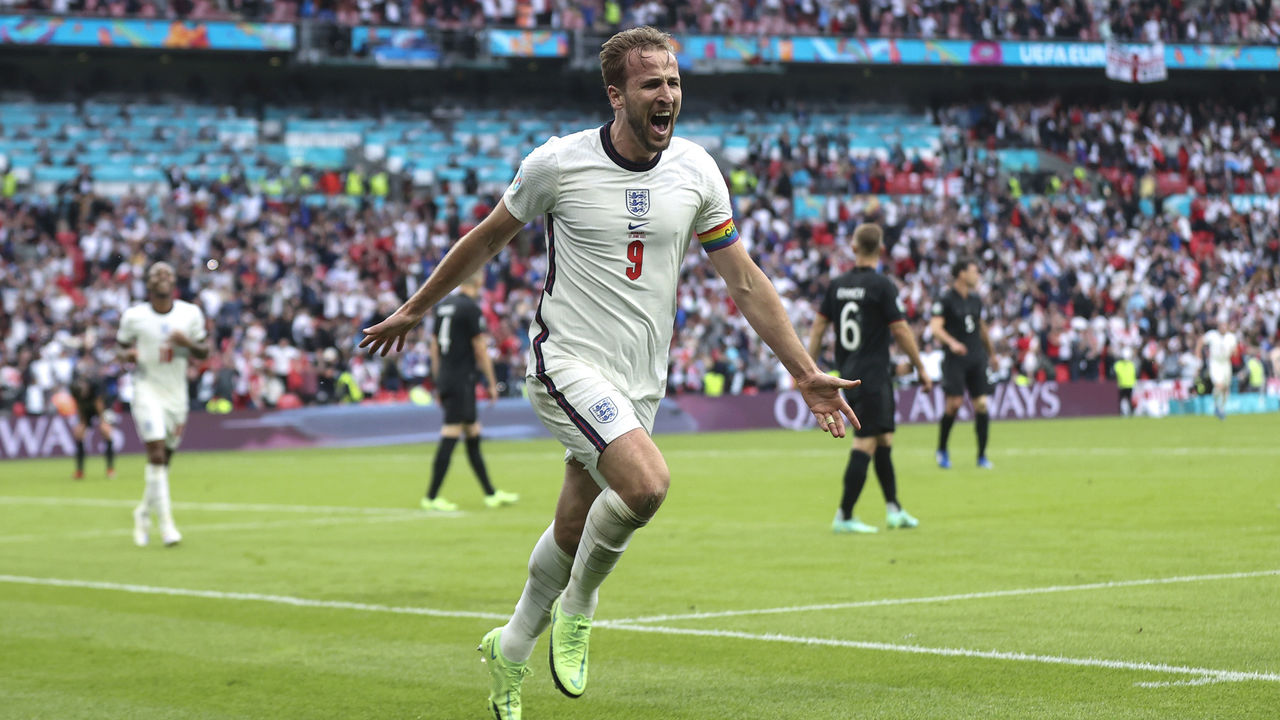 England beat Germany in a knockout match for the first time since the 1966 World Cup final, erasing years of sporting heartache and adding another accomplishment to a growing list for this young, extremely likable generation of English players. A dreaded shootout in the final ended the Three Lions' dreams of hoisting the trophy – breaking two curses in the same tournament was probably asking a bit much – but, difficult as it may be for fans to stay positive right now, the jubilation on display after ousting Germany is the energy that the country needs to take into future competitions.
Chiellini and Alba coin toss
Few players have such contrasting on- and off-pitch personalities as Giorgio Chiellini. The Italy captain is a gruff, uncompromising center-back who enjoys the art of defending more than maybe any human on the planet, but outside the confines of the field, he's as playful a character as you'll find. The transformation is quite spectacular.
Chiellini's zest for life, and football, was on full display ahead of the semifinal shootout against Spain. He seemed totally unfazed by the occasion, basking in the moment at the expense of a nonreciprocal Jordi Alba.
Jorginho's penalty vs. Spain
Coolness personified.
Jorginho's trademark hopping penalty technique doesn't always work – see the final against England – but when it does, it's absolutely glorious, particularly in high-pressure situations. Unai Simon, who apparently didn't read the scouting report, was faked out so badly in the semifinal shootout that Jorginho was celebrating his winning spot-kick the moment it came off his foot. What a way to send your team to the final.
Luke Shaw makes history
Jose Mourinho is pulling his hair out somewhere. Luke Shaw's development into one of the world's standout left-backs continued apace at Euro 2020; the Englishman was a tireless creative force for Gareth Southgate and punctuated an outstanding competition with the fastest goal ever scored in a Euro final when he smashed home a volley in the second minute against Italy.
It ultimately wasn't enough to bring football home, but few players did more to enhance their personal reputation than Shaw over the last month, and that enrapturing strike was a fine way to punctuate his tournament.
'It's coming … to Rome'
After weeks of hearing England supporters claim the European Championship was "coming home," Italy defender Leonardo Bonucci can be forgiven for correcting the infamous adage with an Eternal City spin following Italy's victory over the Three Lions at Wembley.
No great tournament is complete without some shithousery. Bonucci saved it for the very last moment.
Team of the tournament: Best XI at Euro 2020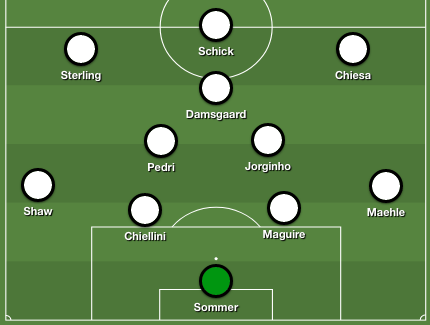 With Euro 2020 coming to an end, theScore assembles the competition's best starting lineup using the tournament's top-performing stars.
The lineup
Yann Sommer (Switzerland)
No goalkeeper was more pivotal to their team's Euro 2020 success than Yann Sommer. Despite failing to register a single clean sheet, Switzerland's magical run to the last eight doesn't happen without Sommer's clutch saves.
After denying Kylian Mbappe's penalty to help the Swiss upset tournament favorites France, Sommer almost slew another giant in the quarterfinals. But despite his record-breaking 10 saves, Switzerland's remarkable journey ended with a heartbreaking defeat against Spain.
Honorable mention: Gianluigi Donnarumma (Italy)
Luke Shaw (England)
Luke Shaw edges Kyle Walker and takes his England teammate's spot – and forces a full-back flip in our lineup – courtesy of a sensational Euro 2020 capped by his volley inside of two minutes in the final versus Italy. It was the quickest goal scored in a European Championship final.
It was a redemptive month of international football for a player who's faced career-ending injury and the public denunciation of a former club manager at Manchester United. Shaw also recorded three assists, the second-highest haul at the tournament. Somewhere, Jose Mourinho is feasting on humble pie.
Honorable mention: Leonardo Spinazzola (Italy)
Harry Maguire
Harry Maguire did a remarkable job making up for lost time after missing the opening two games due to injury. The Three Lions didn't concede a goal from open play until the 67th minute of Sunday's finale with the 28-year-old at the heart of their defense.
The Manchester United captain's standout play re-established him as a world-class defender and helped England reach its first tournament final in 55 years, and his goal seconds after the interval in the quarterfinal win over Ukraine triggered the tournament's most one-sided affair.
Honorable mention: John Stones (England)
Giorgio Chiellini (Italy)
Giorgio Chiellini showed he has plenty left in the tank after helping to shut down some of the world's top forwards during Italy's memorable Euro 2020 campaign, notably making numerous interventions just as England threatened to turn the screw in the early stages of Sunday's final.
The art of defending never looked so sweet, as Chiellini and partner in crime Leonardo Bonucci provided Italy the freedom to push up the pitch knowing that two of the world's best center-backs were still performing at the top of their games.
Honorable mention: Simon Kjaer (Denmark)
Joakim Maehle (Denmark)
After losing talismanic creator Christian Eriksen and their first two contests, Denmark battled back to book a shock semifinal spot in large part due to an attack reliant on the penetrative efforts of Joakim Maehle.
Maehle bagged goals against Russia and Wales, and he had one of the tournament's best assists – a precise curling ball struck with the outside of his right foot – on Kasper Dolberg's eventual match-winner versus the Czech Republic. In a tournament with strong full-back and wing-back play, Maehle stood out.
Honorable mention: Kyle Walker (England)
Jorginho (Italy)
There's a reason Italy midfielder Jorginho has earned the moniker "Radio" from his Azzurri mates. The 29-year-old Champions League winner has swiftly become Roberto Mancini's on-pitch instrument of organization, and was key to their performance against England despite picking up an early knock.
Jorginho, whose virtually faultless display against Belgium was one of the tournament's best individual performances, led all midfielders in completed passes (495) and recoveries (46) at Euro 2020 while governing the tempo of Italy's efforts. Could Jorginho be a long-shot shout for Ballon d'Or?
Honorable mention: Pierre-Emile Hojbjerg (Denmark)
Pedri (Spain)
If Spain's semifinal defeat to Italy is any indication, La Roja may have found Andres Iniesta's heir apparent in the form of 18-year-old midfield whiz Pedri. He completed 65 of 67 passes on the night, a third more than any Italy player, after not misplaying a single ball in the opening 90 minutes.
That performance capped a dominant tournament for Pedri, who led all players for completed passes in the final third (177) and distance covered per match (12.7). He also chipped in elsewhere with 25 successful duels, 11 chances created, and seven tackles. A truly generational talent.
Honorable mention: Paul Pogba (France)
Federico Chiesa (Italy)
Defenders at Euro 2020 had their hands full whenever Federico Chiesa was on the pitch. Appearing in his first major tournament, the 23-year-old evolved into one of Mancini's most important players after a series of fearless performances.
Chiesa, who started just one of Italy's group-stage matches, was virtually undroppable in the knockout rounds. After coming off the bench against Austria to score a stunning winner in the round of 16, the Juventus star was at it again in the semifinals, unleashing a beautiful curling strike against Spain.
Honorable mention: Emil Forsberg (Sweden)
Mikkel Damsgaard (Denmark)
After Mikkel Damsgaard replaced Eriksen in the starting XI for the narrow defeat to Belgium, the Sampdoria attacker was Denmark's best player during its 4-1 Russia romp, scoring a stellar opener as part of a dizzying dribbling display.
Damsgaard was a spark plug for a team that grew into the tournament at the same ascendancy as the boyish winger. Plus, his stunning free-kick in the semifinal against England – the first and only direct free-kick goal of Euro 2020 – was one of the tournament's more intoxicating moments.
Honorable mention: Dani Olmo (Spain)
Raheem Sterling (England)
Raheem Sterling's metamorphosis from scapegoat to national hero at Euro 2020 was nothing short of remarkable, especially after the Manchester City star was largely dropped by Pep Guardiola amid a dire run of form at the tail end of the domestic campaign.
Sterling has been England's creative catalyst at Euro 2020, bagging three match-winners and providing a crafty assist for the Three Lions' opener versus Ukraine. He also forced an own goal and penalty in the memorable 2-1 victory over Denmark.
Honorable mention: Lorenzo Insigne (Italy)
Patrik Schick (Czech Republic)
Without Patrik Schick, the Czech Republic's Euro 2020 campaign could've been an absolute disaster. Instead, the 25-year-old forward had the country partying like it was 1996 after almost singlehandedly guiding the Czechs to an unexpected run to the quarters.
Although his five goals weren't enough to win the Golden Boot, Schick's fan club undoubtedly grew after his otherworldly goal from the halfway line against Scotland in the Czech Republic's opening game.
Honorable mention: Harry Kane (England)
Preview, predictions for Euro 2020 semifinals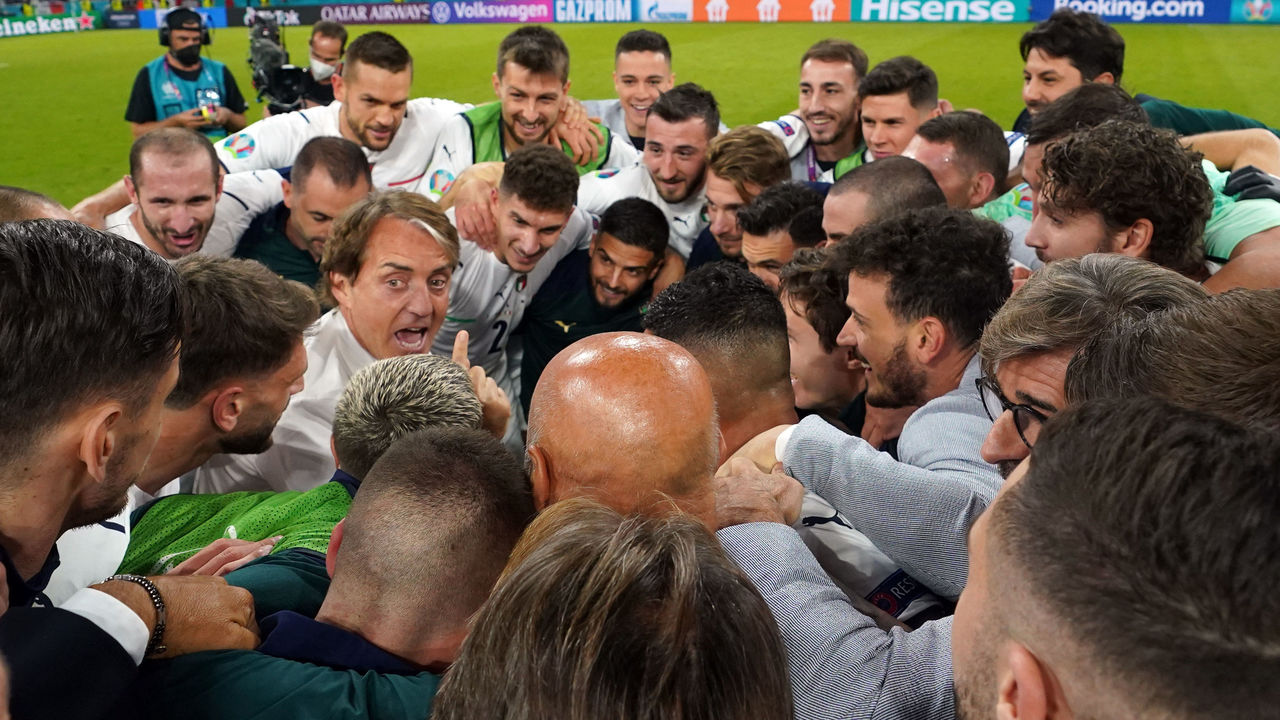 A 24-team field has been reduced to four as the Euro 2020 semifinals get set to kick-off in London. We examine the two contests below, highlighting the key factors that will determine which nations advance and predicting the result for each fixture.
Tuesday, July 6
Italy vs. Spain (3:00 p.m. ET)
Venue: Wembley Stadium (London)
Spain enters Tuesday's contest with a tournament-best 12 goals and have more attacks (365), corner kicks (47), possession (67.2%), and successful passes (3,856 – an astounding 1,182 more than next-best Italy) than any side at Euro 2020.
Dominant stuff from a team that's spent heaps of time in the attacking third, but a deeper look reveals a worryingly toothless frontline. Luis Enrique's charges had 28 shots against Switzerland – with 10 of those hitting the target – but still needed an own goal and some horrendous penalties from their 10-man opponent after two hours of open play to progress. Out of Spain's dozen goals, 10 of those came against Slovakia and Croatia – the latter match also required extra time against an inferior foe – meaning La Roja have managed to score only twice across their other three outings.
Strike tandem Alvaro Morata – who has two goals in 293 minutes played – and Gerard Moreno – who's on zero goals in 197 minutes – have endured the brunt of these failings, and neither offered much against the Swiss. Moreno came on in the 57th-minute for a fatigued Morata and missed four attempts, one of which was a prime chance from close range. Spain's continued wastefulness could prove costly, especially against an Italian side capable in attack.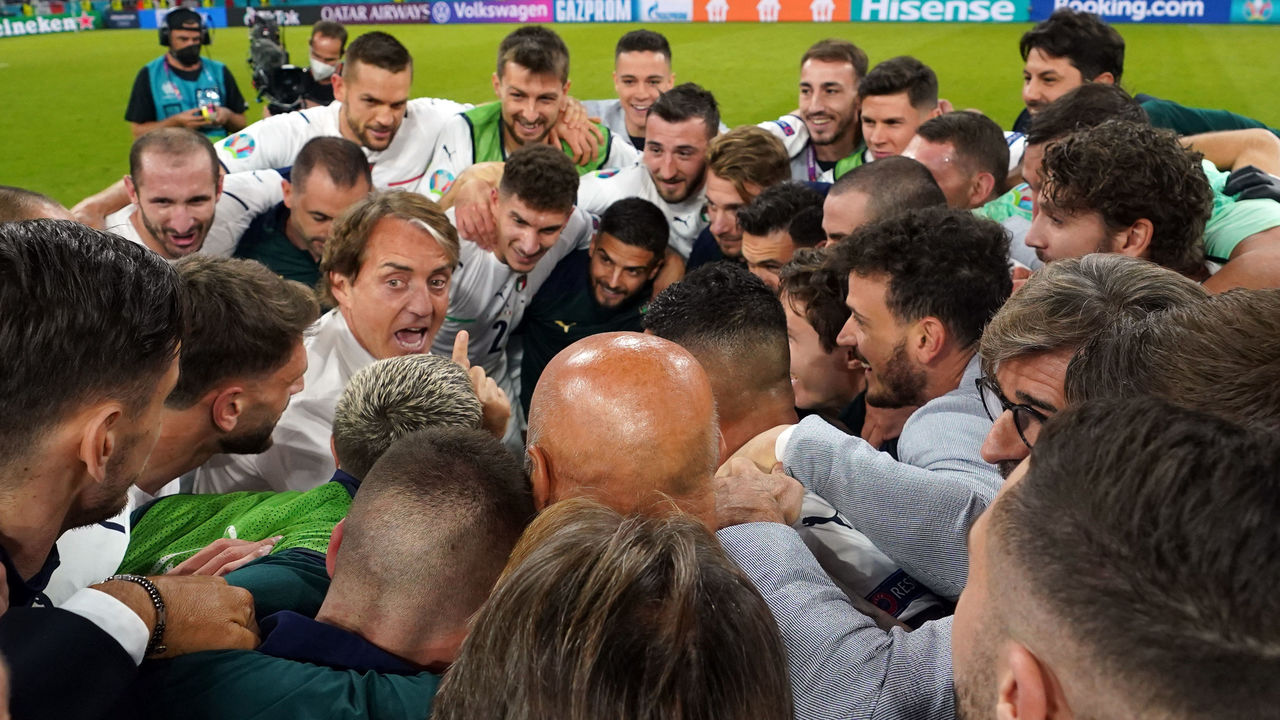 Being capable in attack hasn't always been a hallmark of Italy's best teams, but that's precisely what they are under Roberto Mancini. Even without left-back Leonardo Spinazzola – who was one of the best players at Euro 2020 before rupturing his Achilles in the last-16 win over Belgium – Italy's penchant for probing and relentless attacks should prove a weighty threat against Spain.
Slick interplay and lightning-quick passing sequences have been the calling card of a tactical approach that starkly contrasts Mancini's predecessors. Antonio Conte's counter-attacking brand and Gian Piero Ventura's bumbling and rigid methods that favored back-to-the-wall Catenaccio-inspired defending have been ditched for fluid attacks. It's been a refreshing change.
While it's not without its risks, nobody will argue with the results: Italy has won 13 on the spin, outscoring opponents 28-2 over that spell, and are 33 unbeaten – both national team records. The Spaniards will need to have their best performance of the tournament to snap the Azzurri's stellar streak.
Prediction: Italy wins
Wednesday, July 7
England vs. Denmark (3:00 p.m. ET)
Venue: Wembley Stadium (London)
The trauma of talisman Christian Eriksen suffering cardiac arrest on the pitch and the two defeats that followed seemed to consign Denmark to an early exit – until a remarkable 4-1 victory over Russia started to establish the Danes as one of the tournament's strongest sides.
Mikkel Damsgaard and Joakim Maehle have flourished with the added responsibility in Eriksen's absence, combining for three goals and two assists while wreaking havoc down the left side. Maehle's emergence is perhaps the most surprising after an average first season with Atalanta: Only the Netherlands' Frenkie de Jong has completed more dribbles at Euro 2020 than the wing-back.
This tournament's timing was helpful to Denmark. Conservative coach Age Hareide's contract expired during the one-year delay, and his predecessor, the highly rated Kasper Hjulmand, has since melded his attacking instincts with the defensive solidity that was left behind. Kasper Dolberg has scored more goals in his last two appearances (three) than he did in his previous 12 international outings.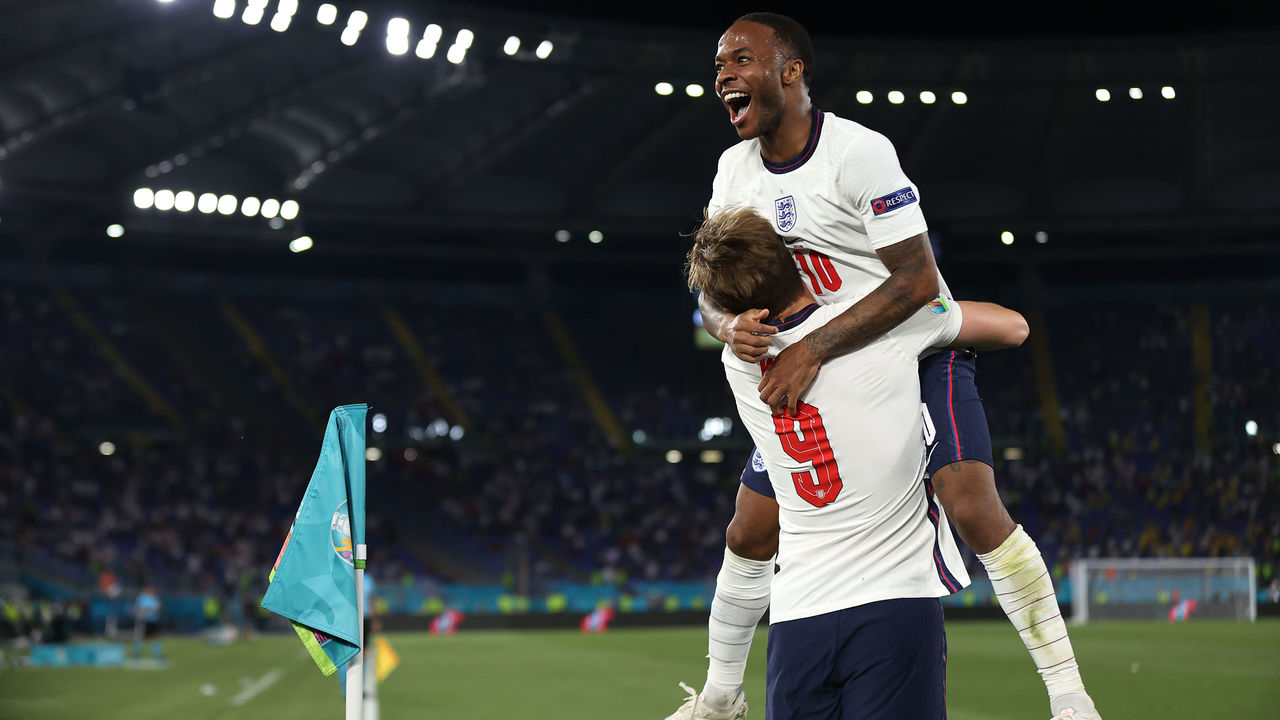 England can also count on a striker in form after Harry Kane caught fire near the end of the Three Lions' last-16 elimination of Germany. The Tottenham Hotspur marksman then notched a brace in the dominant quarterfinal win over Ukraine and has shown a fine understanding with Raheem Sterling throughout the Euros.
But who's joining Kane and Sterling in attack is one of the biggest talking points leading up to this match. The clamor for Jack Grealish to start contests has led to a peculiar situation where his reputation grows each time he's named on the bench, while Phil Foden, Jadon Sancho, and Marcus Rashford's qualities are no secret. Bukayo Saka also impressed over his two starts.
The next conundrum is whether Gareth Southgate opts for a four or three-man backline, with the latter option likely providing the best foundation to deal with Denmark. No team has scored more goals from open play at the tournament (eight) than England's opponent.
Prediction: England wins