Ajax show Juventus that winning requires more than individual quality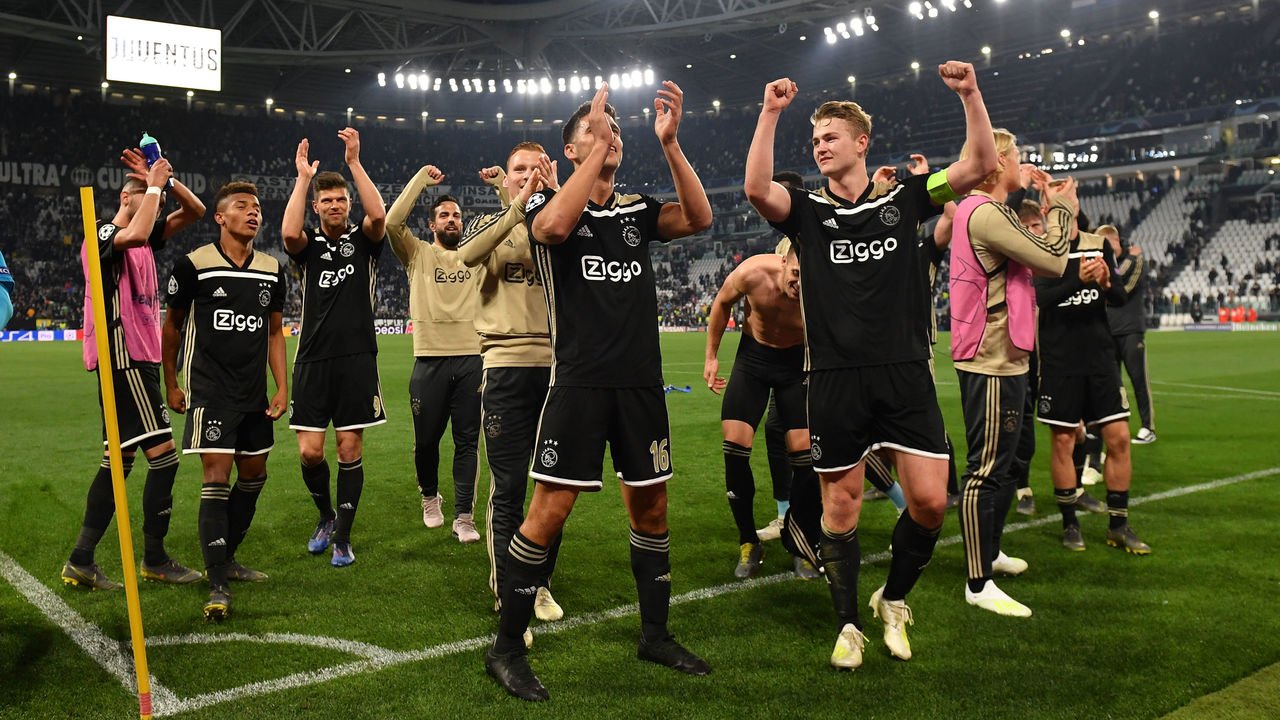 All this time, Juventus thought they needed someone the caliber of Cristiano Ronaldo to reach the next stage of their evolution. But in two matches, Ajax showed them that another way exists.
Ajax were everything Juventus weren't in the Champions League quarterfinals, using the full length of the pitch and all 11 players to dismiss another favorite. They played with a ferociousness and collective mentality that the Bianconeri couldn't match.
Usually, it's a choice between one or the other, but Ajax managed to beat the seven-time defending Serie A champions with a combination of substance and style, a formidable one-two punch that left the Italians without breath and response. Ajax moved in quick sequences, making two or three touches in a flash and regularly ducking out of tight situations. Not even a team as defensively conscious as Juventus could track them.
Ajax didn't bother man-marking Ronaldo; they had bigger plans in mind. They had their own game to execute, and in the end, Juventus had to adapt to them.
Manager Massimiliano Allegri can downplay it all he likes, but the fact is that his Juventus lacked the personality and determination of his Dutch opponents. Juventus played too much of this season with the handbrake on, and on many of those occasions, they relied on individual brilliance to get them across the line.
That didn't work in the Champions League.
Few teams win trophies playing as poorly as Juventus have this season. They're the champions of winning without playing well, but that only lasts so long.
Imagine what Juventus could achieve if they were conditioned, and more importantly, allowed to play like they did in the second leg of their last-16 encounter against Atletico Madrid. Staring down a 2-0 deficit on aggregate, Juventus threw away the shackles and embraced the challenge. They pressed like they hadn't all season and left Diego Simeone's Atletico – the team that never dies – in a heap.
But that was merely an anomaly. Juventus only played that way out of necessity, which, considering the attacking talent at the club's disposal, is a shame.
Ajax can't afford that luxury. They have quality, just not enough to sit around and wait for someone to win the match for them. So they attack in bunches, knowing they're better as a team than individuals. The end product hasn't always been there, but the commitment to their football has given them a chance to win. They wouldn't have the same success if they hoofed the ball forward in the hopes that Hakim Ziyech – the talented winger whose foolhardy shots are his only letdown – scored all the goals.
"What impresses me the most isn't the work rate or the technical ability, both of which are exceptional," Juventus legend Alessandro Del Piero said Tuesday, according to ESPN's Gabriele Marcotti. "It's the way they fill the pitch, their understanding of space and time, their tactical nous … all at such a young age."
It's not even about playing pretty football. The important distinction to make is that Ajax understand how to attack and make an opponent vulnerable. It's about finding solutions to problems on the pitch – and that takes some creativity and cojones.
The Old Lady hardly stoked the imagination in this competition or in Serie A. They came into Tuesday's match with the third-most crosses attempted and the most long balls played in the top five European leagues. If someone didn't get on the end of those hopeful balls, nothing would happen. Ronaldo and Mario Mandzukic can't be expected to convert every single one of those passes.
Ronaldo wasn't even the problem here. He did what he could, converting his side's only two real chances against Ajax over the two-legged affair. Juventus signed him to deliver on the big stage, and that's what he did. They just didn't get the same performance from the rest of the team.
Juventus don't have to entertain the masses to be more successful, but they can't expect to progress if they continue to do the bare minimum. That's worked in Serie A because teams give them too much respect. It's a different game entirely in Europe, where 180 minutes of football can change anything. Ajax went for it – and they were the ones rewarded.
Perfect ? for Europe's biggest soccer clubs this holiday season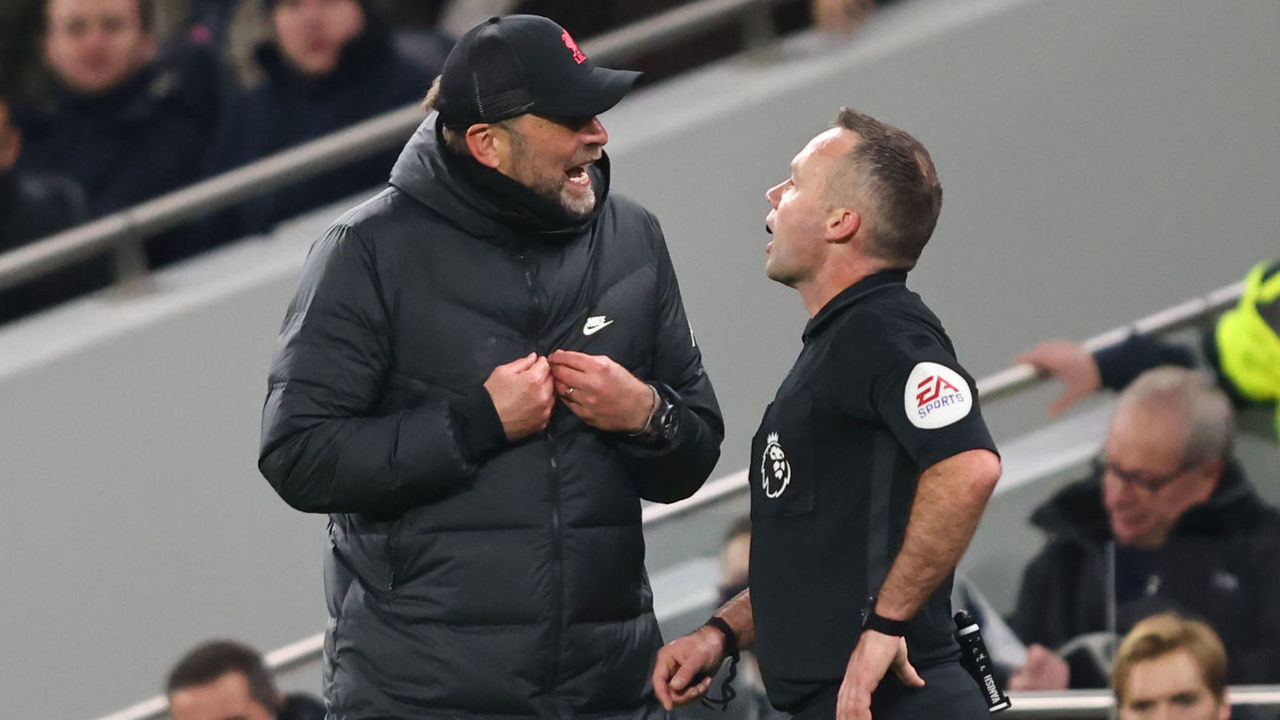 In the spirit of giving, theScore identifies one gift that would benefit each of Europe's biggest football clubs this holiday season.
Arsenal
? A new leader: The captain merry-go-round at Arsenal continued this month with Pierre-Emerick Aubameyang's removal as the club leader. Just over two years after Granit Xhaka was stripped of the captaincy, Aubameyang experienced the same fate as his predecessor because of ongoing disciplinary issues. Now the pressure lies on manager Mikel Arteta to appoint a new leader who can actually lead by example.
Chelsea
? Shooting boots for Timo Werner: There's no denying Romelu Lukaku's quality when fit, but Werner continues to struggle inside the penalty area. He's not a viable alternative to Lukaku, and Chelsea as a whole can be guilty of wasting chances. Either Werner revives his scoring form from RB Leipzig soon, or the Blues' hopes for silverware lean precariously on Lukaku's fitness and unreliable false nines.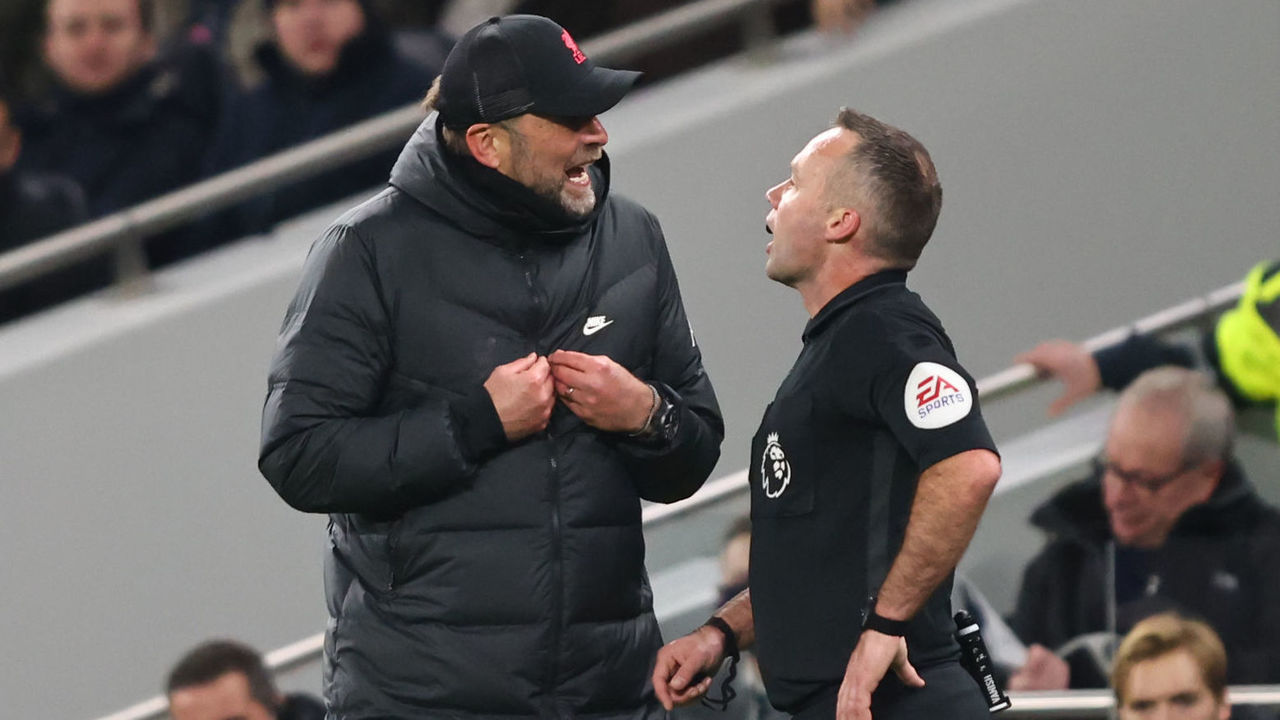 Liverpool
? Stadium ban for Paul Tierney: Jurgen Klopp made it absolutely clear: He has a problem with just one referee, and that referee is Mr. Tierney. Klopp's vendetta has grown since Tierney became responsible for 44% of Liverpool's yellow cards and their one red despite officiating only three of their 18 Premier League matches this term. Will last Sunday's dubious calls at Tottenham Hotspur haunt Liverpool when the title race is over?
Manchester City
? Cotton wool: Following his transformation from ponderous to imperious in under a year, City need to wrap Rodri in cotton wool. Although veteran Fernandinho, the versatile Bernardo Silva, and others can step in at the base of midfield when required, Rodri mops up in front of the backline and dictates tempo like no other player in Pep Guardiola's ensemble. The 25-year-old is key to his team's ambitions.
Manchester United
? A defensive midfielder: In two-plus years as Manchester United manager, Ole Gunnar Solskjaer signed wingers, strikers, and playmakers. But he never pushed for a star defensive midfielder. Rotating Fred, Nemanja Matic, and Scott McTominay, Solskjaer often lost games in midfield. The absence of balance was one of many things that cost the Norwegian his job, and interim replacement Ralf Rangnick should prioritize that position. RB Leipzig's Amadou Haidara is exactly the kind of robust central midfielder who can execute Rangnick's high-pressing style and protect the back four.
Tottenham Hotspur
? Patience: The assignment was never going to be easy for Antonio Conte after inheriting a dysfunctional Tottenham squad midseason. It was a relationship that few envisioned, as Spurs appeared to be punching above their weight when reports linked them with the accomplished Italian manager. But if Conte perseveres through this season and gets the resources he needs to rebuild the squad in the summer, his arrival could be a turning point in the club's history.
Atletico Madrid
? Escape room experience: This gift is tailor-made for Diego Simeone. An escape room is a fun challenge, and, judging from the hair-tugging stress that plagues Atletico Madrid this season, they need some fun. It would also boost the manager's creativity as he tries to work his way out. Forcing Simeone to think outside the box could save Aleti's campaign as it may encourage him to be more flexible with his tactics.
Barcelona
? Money tree: Working off debt can be daunting, especially when the deficit totals around €1.35 billion and a further €1.5 billion is expected to cover renovations of the club's stadium and training facilities. Gift cards or $10 in a card from an unpopular uncle can't remedy such financial hardship. So a good friend of Barcelona needs to visit the garden center and purchase a Pachira aquatica – or money tree – in hopes the plant will bring enough luck to entice a rival into overpaying for Martin Braithwaite. Miracles can happen.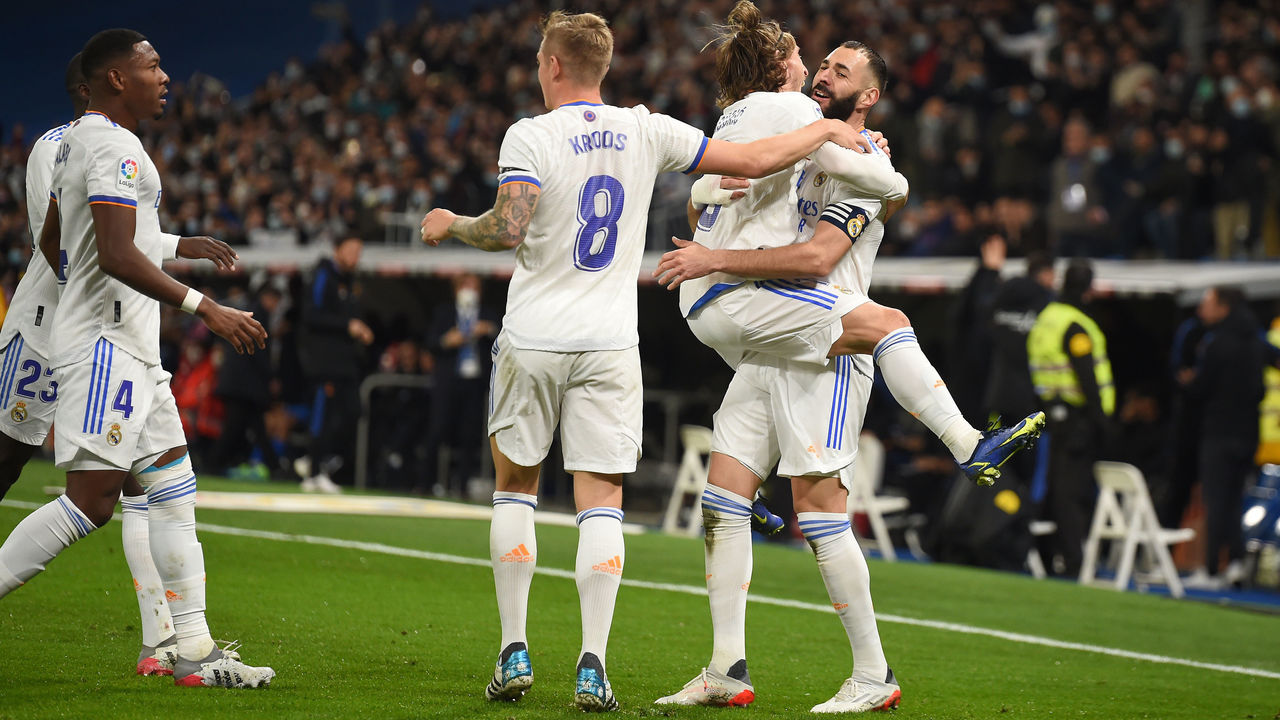 Real Madrid
? Clean bill of health: Real Madrid won't complain, but there's been a serious lack of suspense in the Spanish title race so far. While the downfall of Barcelona hasn't helped, it's been a one-horse race with Los Blancos enjoying their spot atop the table for the vast majority of the season. Unless Sevilla or another contender emerges, injuries are just about the only threat to Real Madrid's quest to win La Liga for a record 35th time.
AC Milan
? Senzu beans: These beans give new life to downed, injured, or entirely defeated characters in "Dragon Ball Z," and AC Milan would do anything to have such a remedy in real life. This team is limping into the second half of the season, just as it did at this time last year, and the injuries keep piling up. The club has lost 187 man games due to muscular injuries since September 2020, more than any other Serie A team and more than double Inter Milan's total, according to Italian outlet Radio Rossonera. It's especially dire now. The Rossoneri have won just three of their last 10 matches across all competitions.
Inter Milan
? Anti-aging supplements: With an average age of 29, Inter are built for the here and now. Conte began the push to sign veterans when he arrived in 2019, and the club won its first Scudetto in a decade largely because of the experience in its ranks. Inter then signed 35-year-old Edin Dzeko to replace Lukaku, and while he's produced so far with 11 goals and three assists, the Bosnian is not one for the future. Half of Inter's squad is 29 and older. Soon, they'll need a refresh.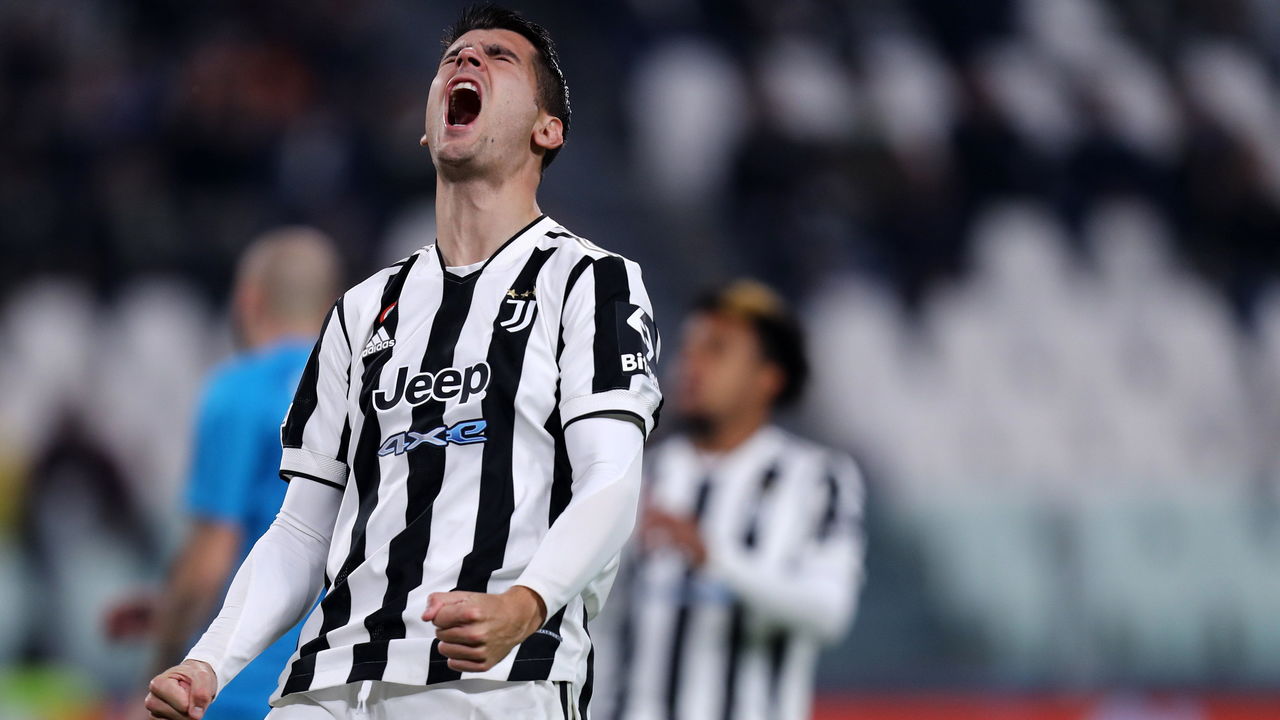 Juventus
? A top striker: After finishing third, fifth, and fourth in goals scored over the last few seasons, Juventus plummeted to 13th in Serie A this campaign with just 27 tallies from 19 matches. It's a mediocre return for a club of its stature, a microcosm of Cristiano Ronaldo's acrimonious departure and Alvaro Morata's inability to stay onside. The Bianconeri need someone who can bang in goals now and for the next several years. Fiorentina's Dusan Vlahovic – who equaled Ronaldo's record of 33 goals in a calendar year – could fill the gap.
Bayern Munich
? New contract for Sule: Bayern Munich will have a huge void to fill in their defense if they can't convince Niklas Sule to stay. The German center-back has reportedly become unsettled at Bayern and could be targetted by top clubs if he departs when his contract expires next summer. It would be a devastating blow for a Bayern squad that might not have the resources to satisfy Sule's financial demands.
Borussia Dortmund
? Promise ring: Next summer could be a defining moment that dictates how the next couple of years unfolds for Borussia Dortmund. While their attempt to hold onto Erling Haaland beyond this season could prove futile, it'll be vital for Dortmund to find a way to prevent other young stars from leaving. Getting Jude Bellingham to commit his future should be at the forefront of Dortmund's summer plans, as the talented teenager is expected to be one of the most coveted players during the summer signing period.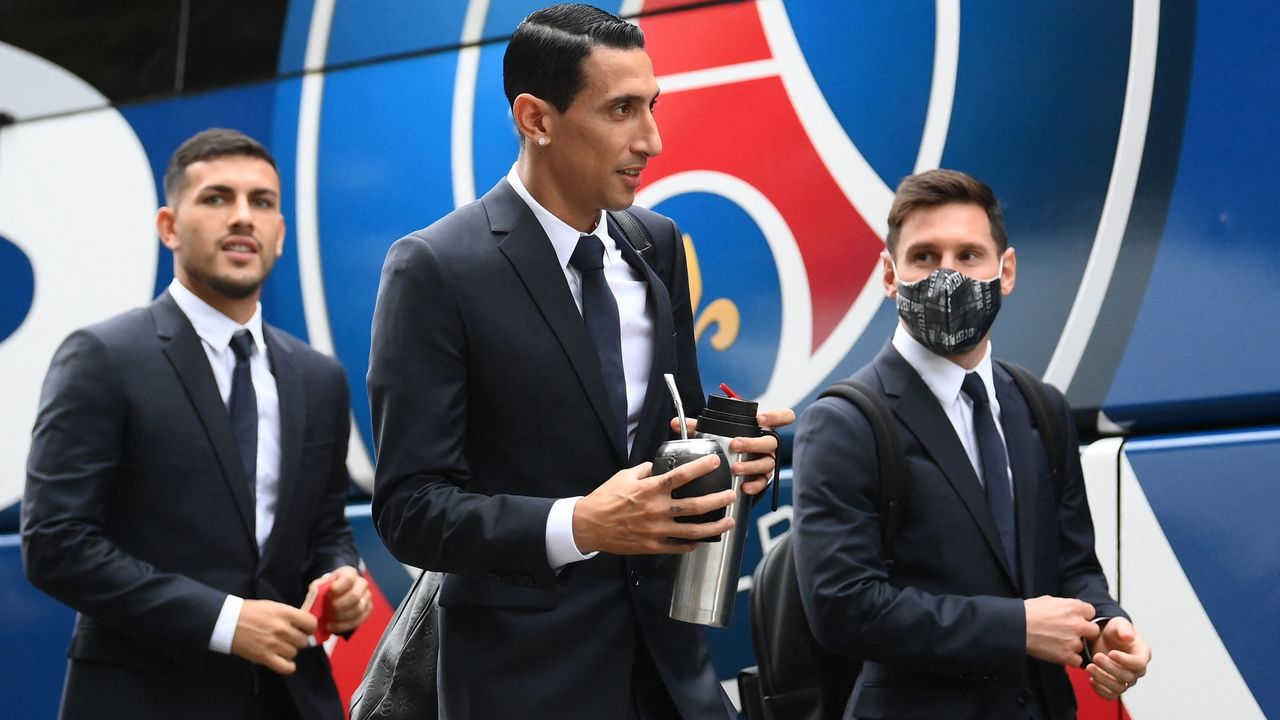 Paris Saint-Germain
? Year's supply of mate: Lionel Messi hasn't shown his best self since joining PSG in the summer. A good dose of home cooking could put the 34-year-old more at ease. Messi loves to drink mate – a beverage infused with dried leaves and caffeine commonly served in his native Argentina – along with manager Mauricio Pochettino and compatriots Angel Di Maria and Leandro Paredes. Neymar often has a sip as well. Maybe a year's supply of this popular drink can bring this group of egos and talent together for the home stretch.
Preview, predictions for Champions League round of 16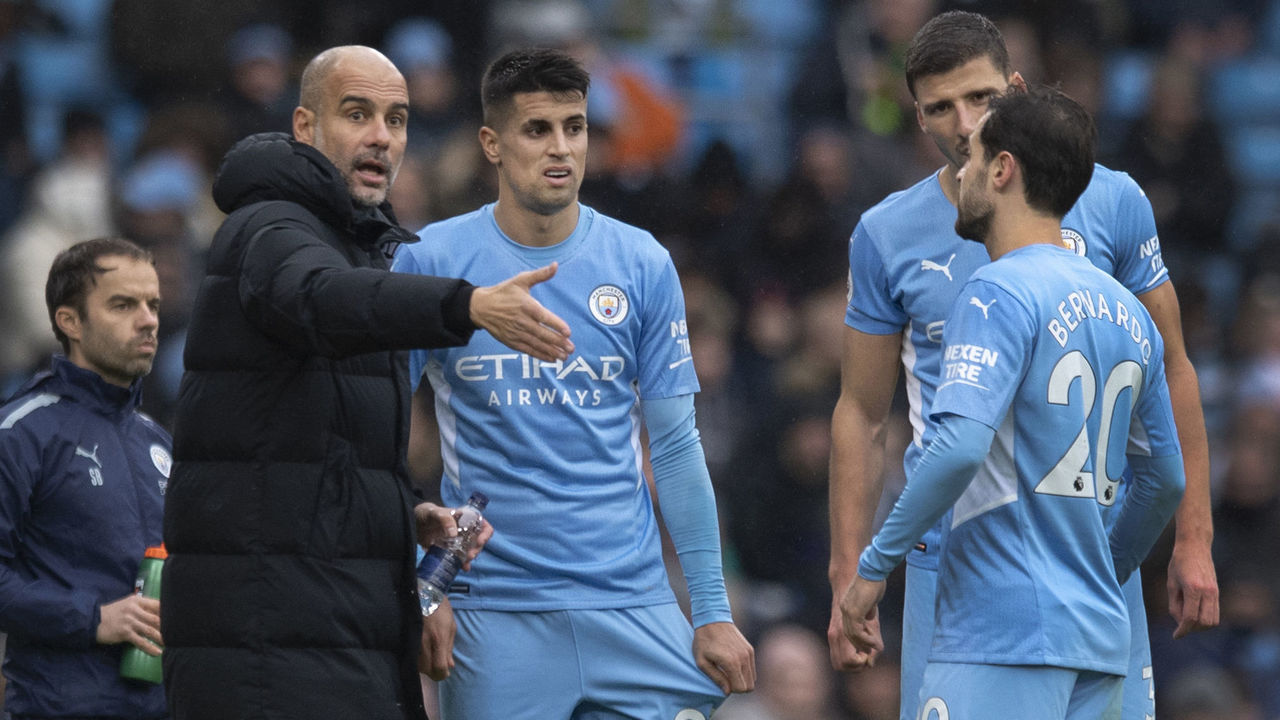 The draw for the last 16 of this season's Champions League is finally complete, but with the first legs not kicking off until February, a lot could change in the intervening months. Here's an early breakdown of each matchup, along with predicted outcomes.
Sporting CP vs. Manchester City
First leg: Feb. 15 at Estadio Jose Alvalade
Second leg: March 9 at Etihad Stadium
Manchester City are clear favorites to win this game – and among the top three most fancied to win the whole tournament – so why should Sporting CP pose any threat? Even if City don't sign a striker in January to ease the goal-scoring burden, Pep Guardiola still has a squad deep enough to compete for every trophy.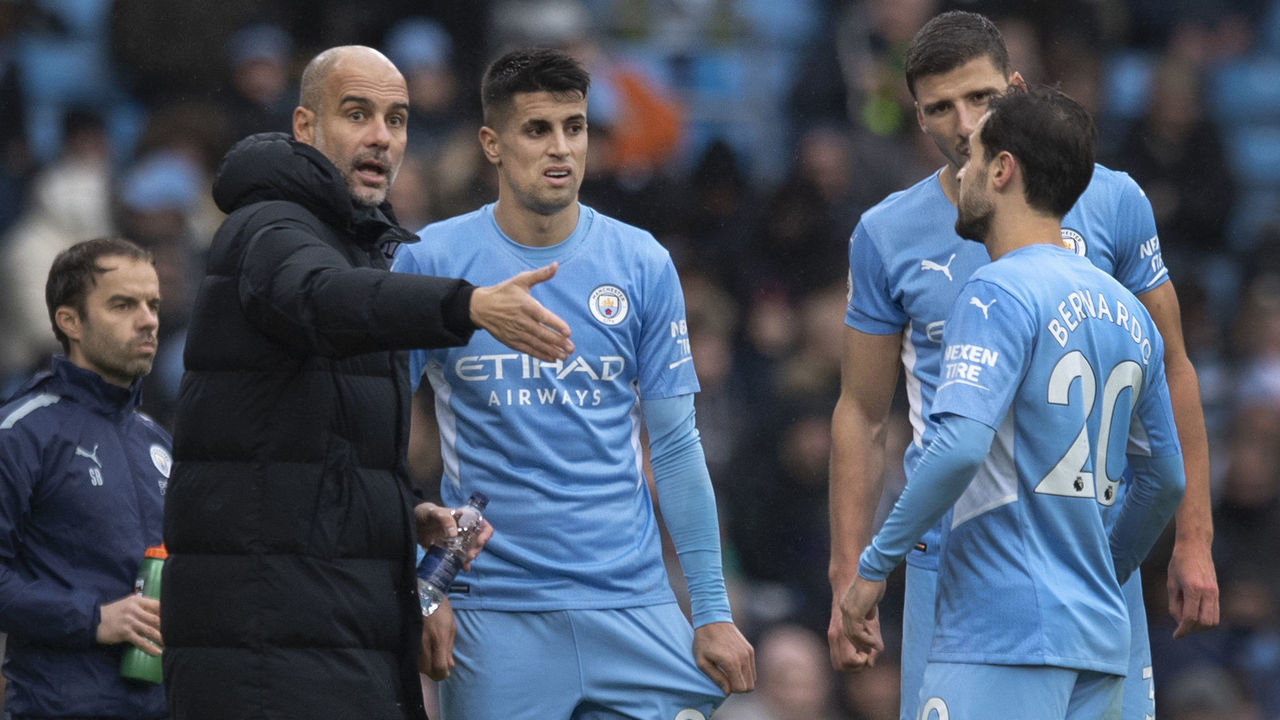 Sporting have a number of good players, including Pedro Goncalves, who has 11 goals from midfield this season, and Joao Palhinha, a defensive midfielder who's earning his keep in the Portuguese national team. However, despite Sporting's relative dominance in Portugal – they're 12-2-0 in the Primeira Liga this season – they've struggled to impose themselves in their first Champions League campaign in four seasons. Given Sporting conceded nine goals in losses to Group C winners Ajax, what on Earth will happen against City's dynamic core?
Prediction: Manchester City advance 5-2 on aggregate.
Paris Saint-Germain vs. Real Madrid
First leg: Feb. 15 at Parc des Princes
Second leg: March 9 at Santiago Bernabeu
This one's going to go down as the most entertaining tie of the lot. Barring injury, Sergio Ramos will return to Real Madrid for the first time since leaving as a free agent last summer. Kylian Mbappe is a free agent in 2022 and could sign a pre-contract with Madrid in January. Imagine Mbappe playing against his future employers. It's too much.
But there's a bigger matter at hand: progressing to the next round. Paris Saint-Germain are quite clearly all in on the Champions League, and an exit at any stage, let alone in the round of 16, would constitute a major failure. You don't sign Lionel Messi, Gianluigi Donnarumma, Achraf Hakimi, Georginio Wijnaldum, and Ramos in one offseason just to participate in the knockout stage. There's much more pressure on Mauricio Pochettino to deliver trophies than there is on Carlo Ancelotti, who's won matches while compensating for injuries to 14 of his players this season. If Karim Benzema can stay healthy, Los Blancos will certainly have a chance to outscore and beat PSG.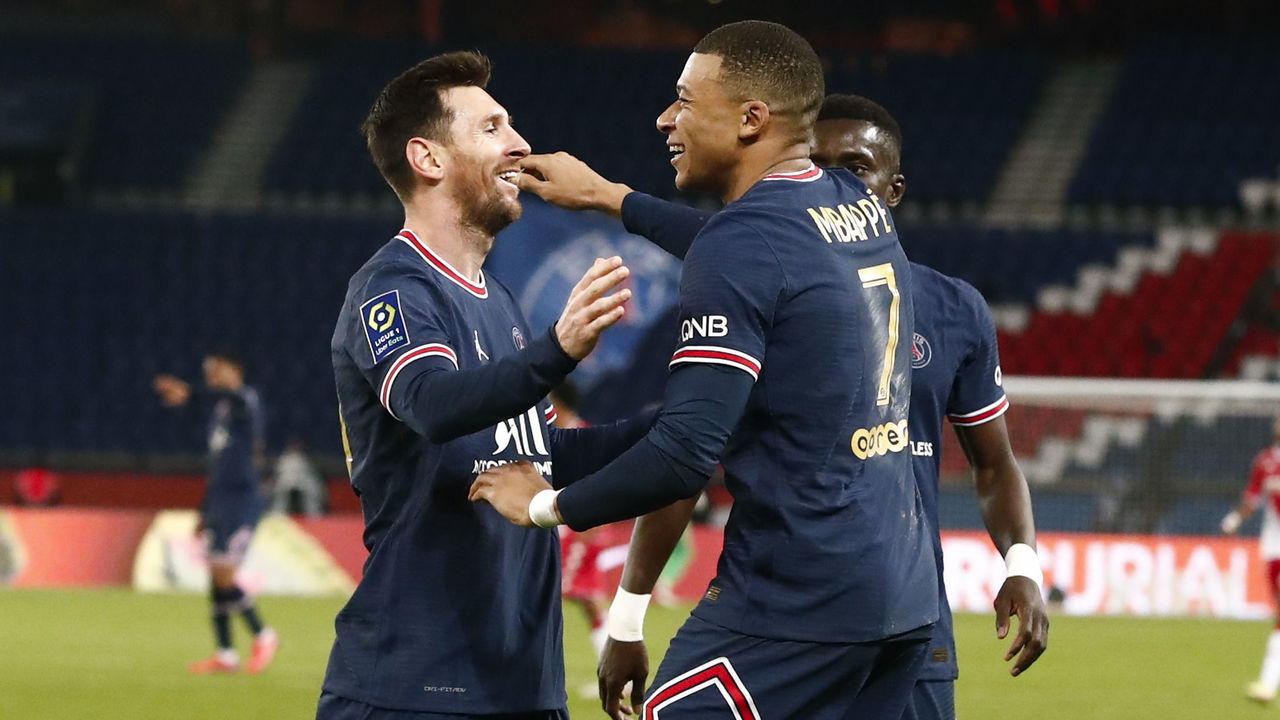 Meanwhile, Les Parisiens are yet to blow the competition away despite ample ammunition. Messi has done just fine in the Champions League, scoring five of his six goals for the club in Europe, but his teammates have struggled under the spotlight. Neymar should return in time from ankle ligament damage, but even when the Brazilian has played alongside Mbappe and Messi, PSG have hardly looked like the attacking juggernaut they promised to be.
Prediction: Real Madrid advance 3-2 on aggregate.
Red Bull Salzburg vs. Bayern Munich
First leg: Feb. 16 at Red Bull Arena
Second leg: March 8 at Allianz Arena
This matchup seems easy enough for Bayern Munich. Red Bull Salzburg are one of just three teams from outside of Europe's top five leagues, and they don't have the same star power as some of the other heavyweights Bayern could have faced, including PSG and Inter Milan.
But there's more to Salzburg than meets the eye. Runaway leaders in Austria's Bundesliga, Die Roten Bullen have won 31 top-flight matches in 2021 – more than any team has managed in a single calendar year since the league's inception in 1974. Their recipe for success includes the same ingredients RB Leipzig incorporated to kick-start their own run up the tiers in Germany: counterpressing, high-energy play, proactive defending, and incredible scouting. Only Chelsea and Leipzig completed more pressing sequences in the Champions League group stage than Salzburg, who conceded just six goals in six games.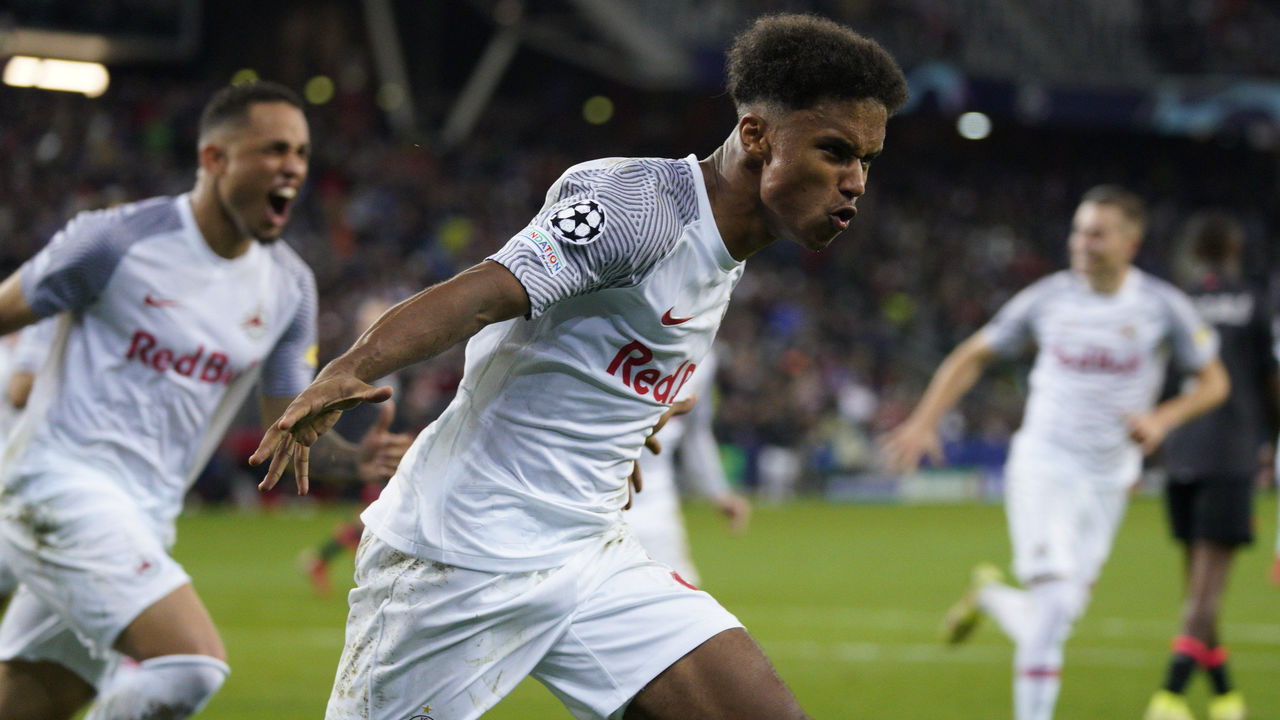 Salzburg launched the careers of Sadio Mane, Erling Haaland, and Bayern's own Dayot Upamecano. Now, they have another star in the making: 19-year-old striker Karim Adeyemi.
Bayern are still favorites, but Salzburg are no pushovers.
Prediction: Bayern Munich advance 4-2 on aggregate.
Inter Milan vs. Liverpool
First leg: Feb. 16 at Stadio Giuseppe Meazza
Second leg: March 8 at Anfield
The trip to Anfield will probably be the biggest test of Simone Inzaghi's coaching career. Last year, Inzaghi took Lazio to the round of 16, only to be embarrassed by Bayern 6-2 on aggregate. While Inzaghi now has a much more talented squad at his disposal, Liverpool are more formidable foes. With 21 goals in 22 matches, Mohamed Salah is playing some of the best football of his career, and the Reds' Premier League-leading goal differential of 33 shows they're finding success offensively and defensively.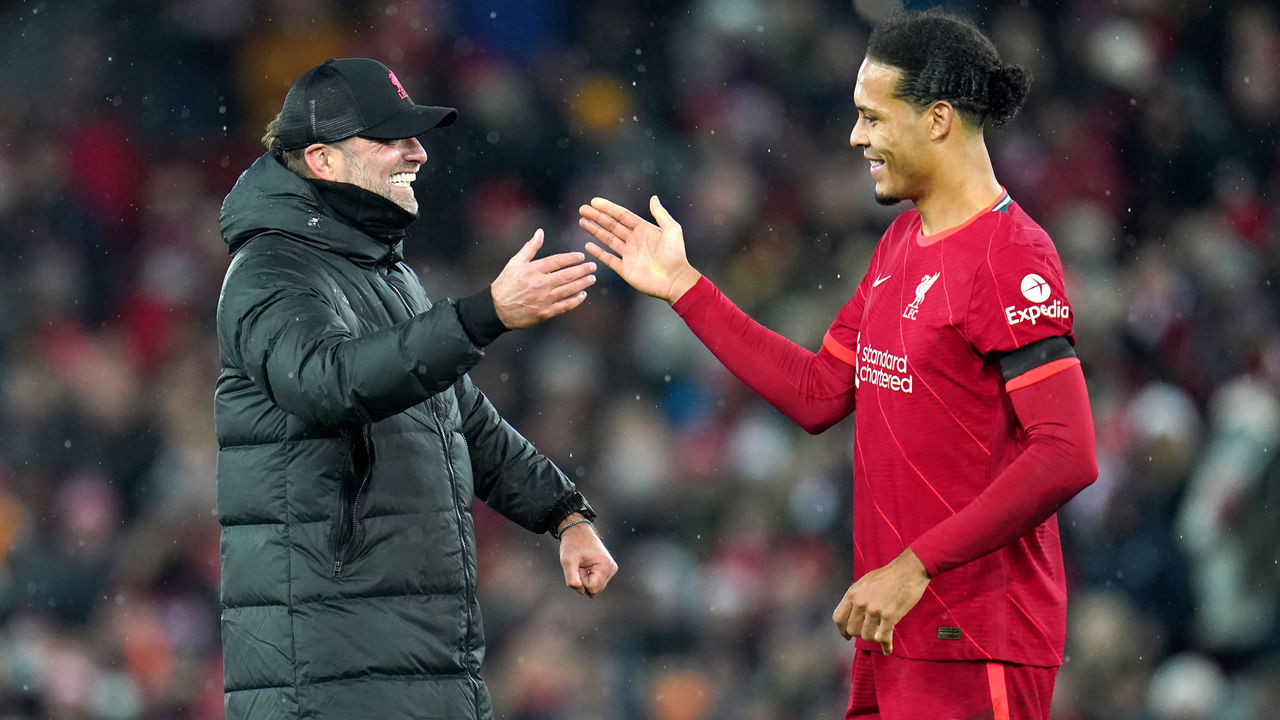 Inter's greatest strength is their play down the middle, and as a side that likes to take shots, they should be able to find a way to create chances, even against the likes of Virgil van Dijk. With Lautaro Martinez and Edin Dzeko combining for 21 goals this season, the Nerazzurri can at least go toe-for-toe in the attacking department.
As ever, the battle will be won or lost in midfield. The strength of Jurgen Klopp's rotation is obvious. Fabinho, Jordan Henderson, Curtis Jones, Naby Keita, Thiago, and Alex Oxlade-Chamberlain are all fit or nearing full fitness, and they should outmuscle Inter's Marcelo Brozovic and Hakan Calhanoglu. Normally, Inzaghi would place a lot of the ball-winning responsibility on Nicolo Barella, but the Euro 2020 winner will miss at least the first leg through suspension.
Prediction: Liverpool advance 4-2 on aggregate.
Chelsea vs. Lille
First leg: Feb. 22 at Stamford Bridge
Second leg: March 16 at Stade Pierre-Mauroy
If the tie kicked off tomorrow, Lille would have a reasonable chance to progress. Chelsea are reeling defensively and manager Thomas Tuchel is dealing with injuries to key players.
However, Tuchel will most certainly find a solution to Chelsea's current malaise over the next two months. Meanwhile, Lille, facing massive losses from their previous ownership, will have to sell one or two players in January. Sven Botman, who stars in central defense, has already been linked with moves to Newcastle United and AC Milan, and Jonathan Ikone is reportedly on his way to Fiorentina. Midfield lynchpin Renato Sanches is apparently in play as well.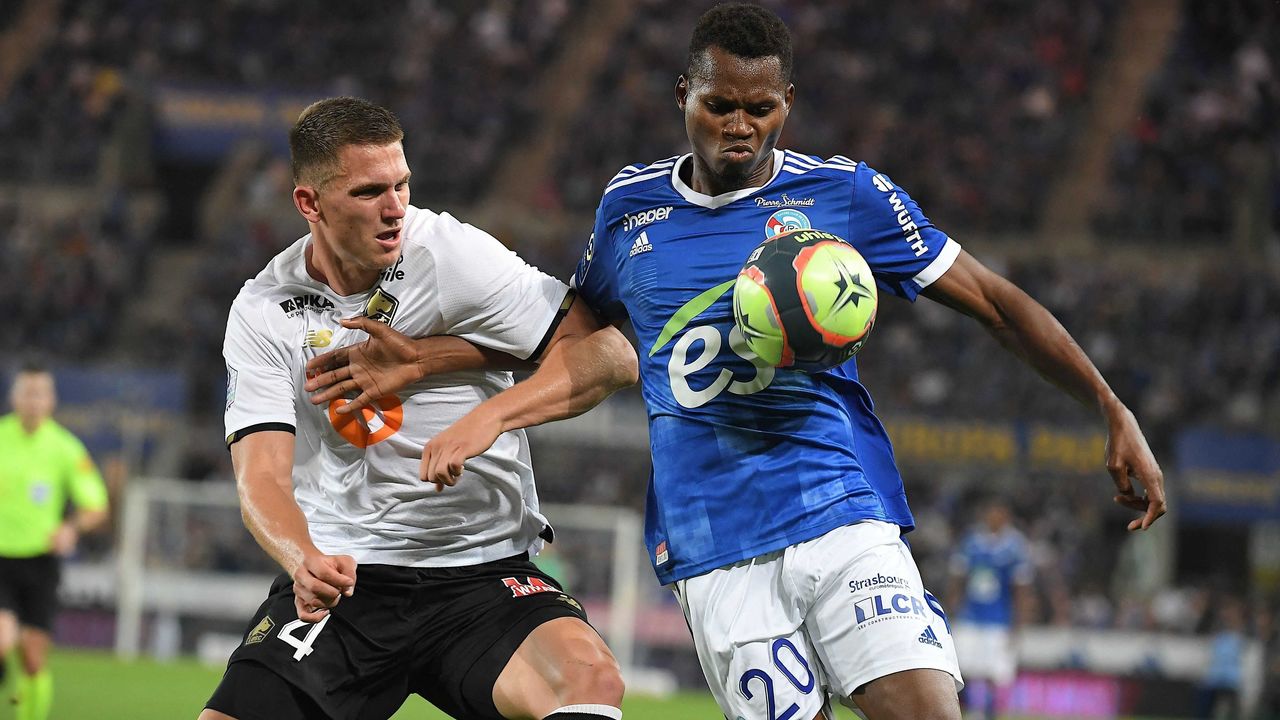 This doesn't bode well for the reigning Ligue 1 champions. If Romelu Lukaku finds his scoring boots and Timo Werner continues to improve, there's no reason to think Lille will pull off the upset.
Prediction: Chelsea advance 5-1 on aggregate.
Villarreal vs. Juventus
First leg: Feb. 22 at Estadio de la Ceramica
Second leg: March 16 at Allianz Stadium
This is one of the more interesting ties in the round of 16. Neither side is having a great season: Villarreal are in 13th place in La Liga, while Juventus sit sixth in Serie A and trail league leaders Inter by 12 points. Based on name alone, Juventus will be under more pressure to advance. But they're only slight favorites to win the tie. The Bianconeri also have a tough run of fixtures before the first leg, with matches away to Milan and Atalanta and a daunting home fixture against giant-killers Hellas Verona.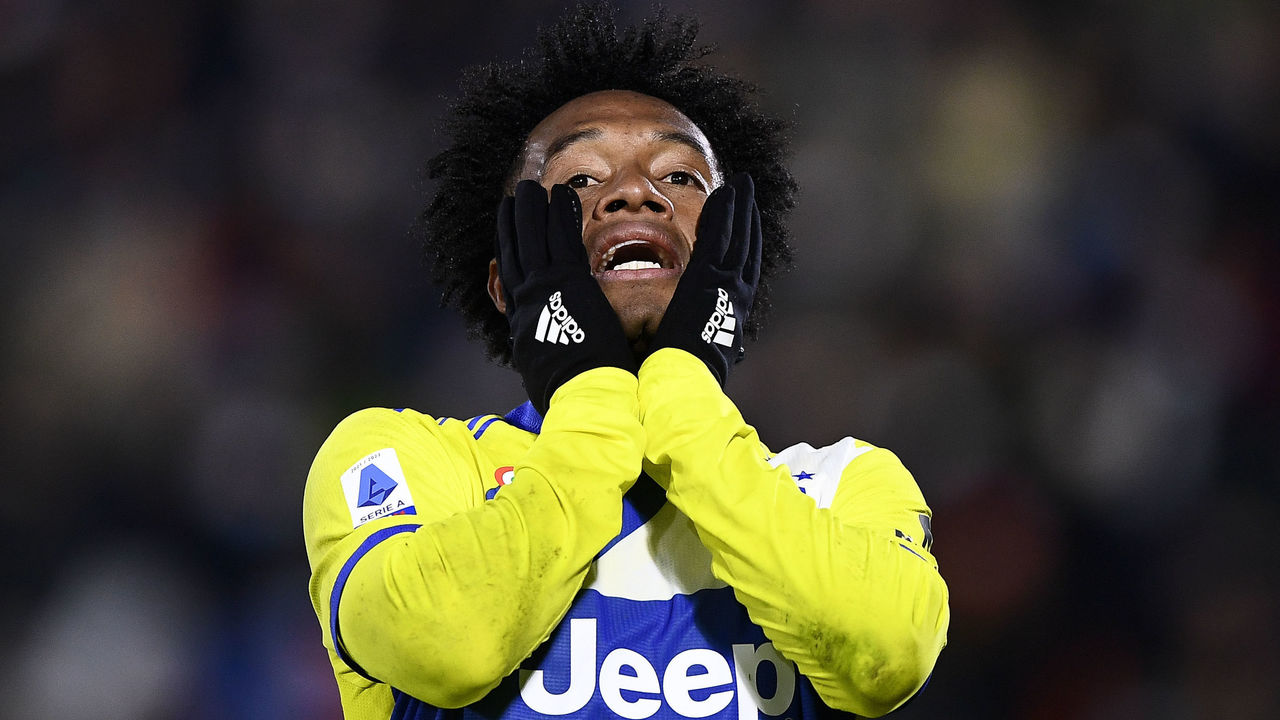 Villarreal shouldn't enter the round with desperation. After all, it's their first trip to the Champions League knockout stage since 2016, and there's no shame in losing to a club like Juventus. The Yellow Submarine is already guaranteed at least €34 million in prize money, plus whatever fraction of TV revenue it manages to generate from this run. That alone would account for more than 30% of the club's annual turnover.
Things could change if Villarreal lose top scorer Gerard Moreno to injury over the next two months. Alternatively, Juventus could lose a couple of players in the transfer window. One way or another, this one will be tight.
Prediction: Juventus advance 3-2 on aggregate after extra time.
Benfica vs. Ajax
First leg: Feb. 23 at Estadio da Luz
Second leg: March 15 at Johan Cruyff Arena
Let's be honest: Benfica are only one of the last 16 because of Barcelona's self-sabotage. The Portuguese outfit earned one more point than the beleaguered Catalans while suffering heavy losses to Bayern and dropping points to Dynamo Kyiv, one of the worst sides to play in the group stage this year.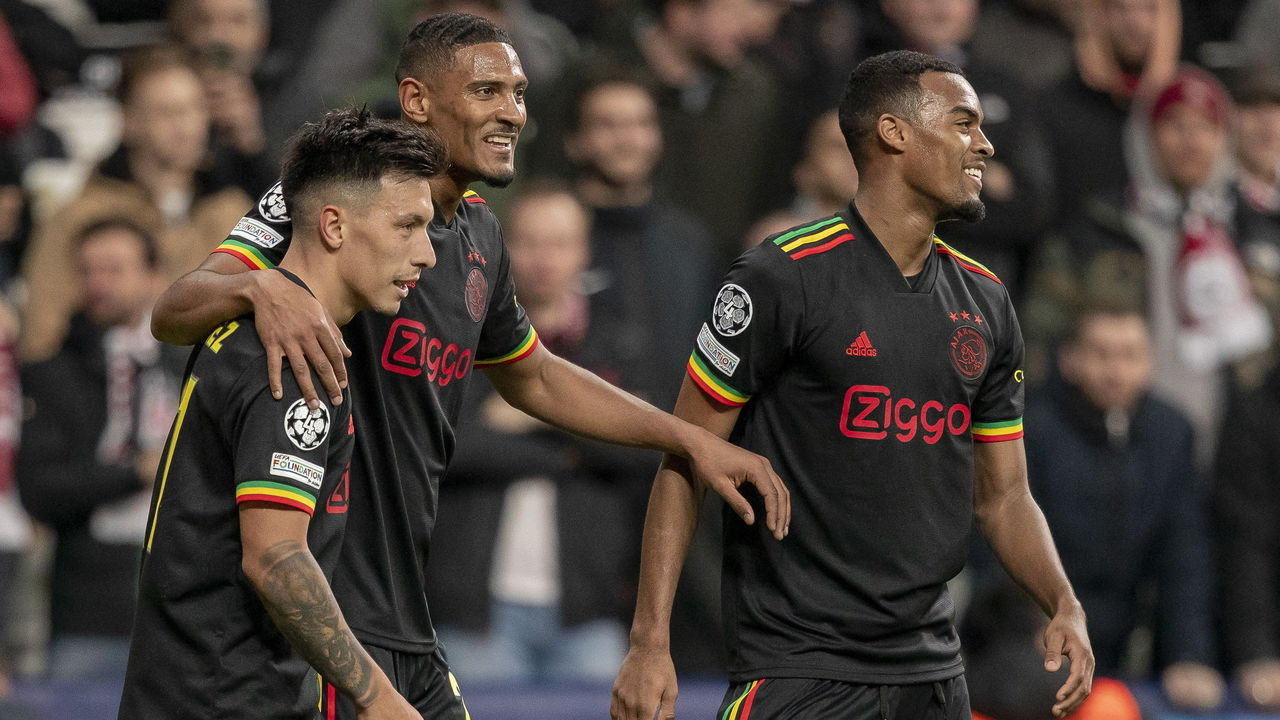 Ajax, on the other hand, demonstrated serious mettle in their first six matches, scoring 20 goals, second only to Bayern. Sebastien Haller accounted for 10 of them, making himself one of just four players in the competition's history to record double digits through the group stage. Ajax have a whopping plus-45 goal differential in the Eredivisie and thrashed current league leaders PSV 5-0 in October. In other words, don't expect a battle in the trenches.
Prediction: Ajax advance 6-2 on aggregate.
Atletico Madrid vs. Manchester United
First leg: Feb. 23 at Wanda Metropolitano
Second leg: March 15 at Old Trafford
Manchester United must be most relieved with the results of Monday's redraw. The initial draw pitted Cristiano Ronaldo's side against Messi's PSG, and while any contest between the two rivals would excite neutrals, it would harm United's own chances of progressing.
The Red Devils have a tough but more manageable task facing Atletico Madrid, who barely did enough to reach the knockout round. Their title defense in La Liga has also fallen apart: Sitting 13 points behind leaders Real Madrid, Atletico have been inconsistent at best, having won back-to-back games just twice this season.
Diego Simeone's men can't seem to find the right balance between attack and defense: Sometimes they allow three goals in a game, and other times they can't score at all. They also finished the group stage with a negative goal differential, which is as unexpected as any statistic when it comes to Atletico.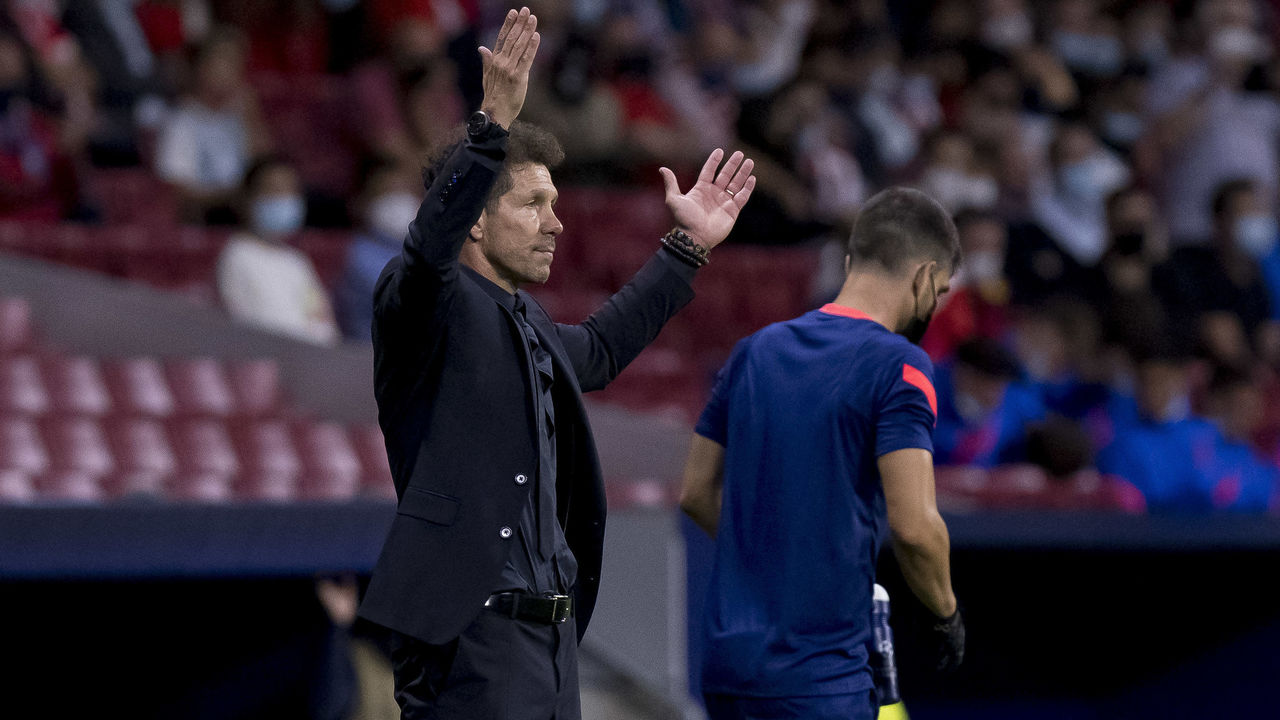 United's transformation under Ralf Rangnick will require patience. Saturday's narrow 1-0 win over Norwich City proved there's still lots of work to do. But United still have Ronaldo. That could be enough, especially in this competition and against this opponent. The 36-year-old recorded 25 goals and nine assists in 35 appearances against Atletico during his time in Madrid.
Prediction: Manchester United advance 4-2 on aggregate.
Way-too-early predictions for the 2022 World Cup in Qatar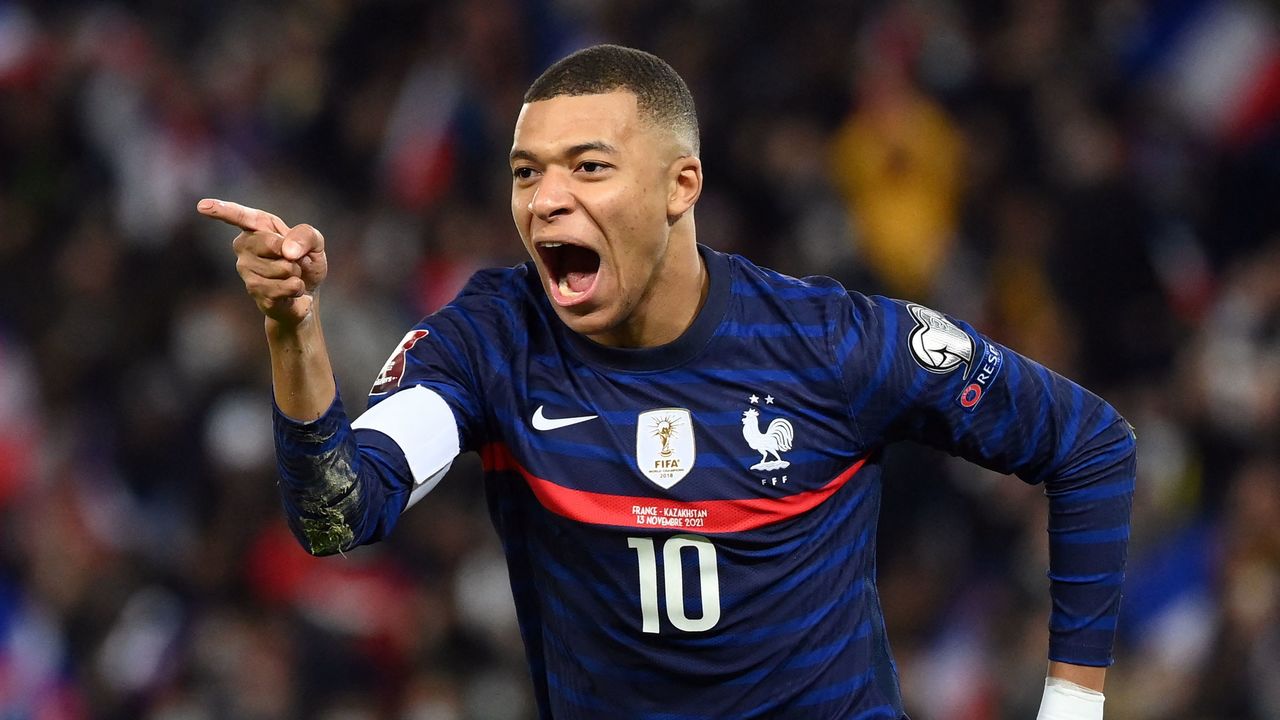 With the 2022 World Cup in Qatar exactly one year away, we're looking ahead. Plenty can change in 365 days, of course, but that isn't stopping us from offering up some predictions for world soccer's showpiece event.
Final four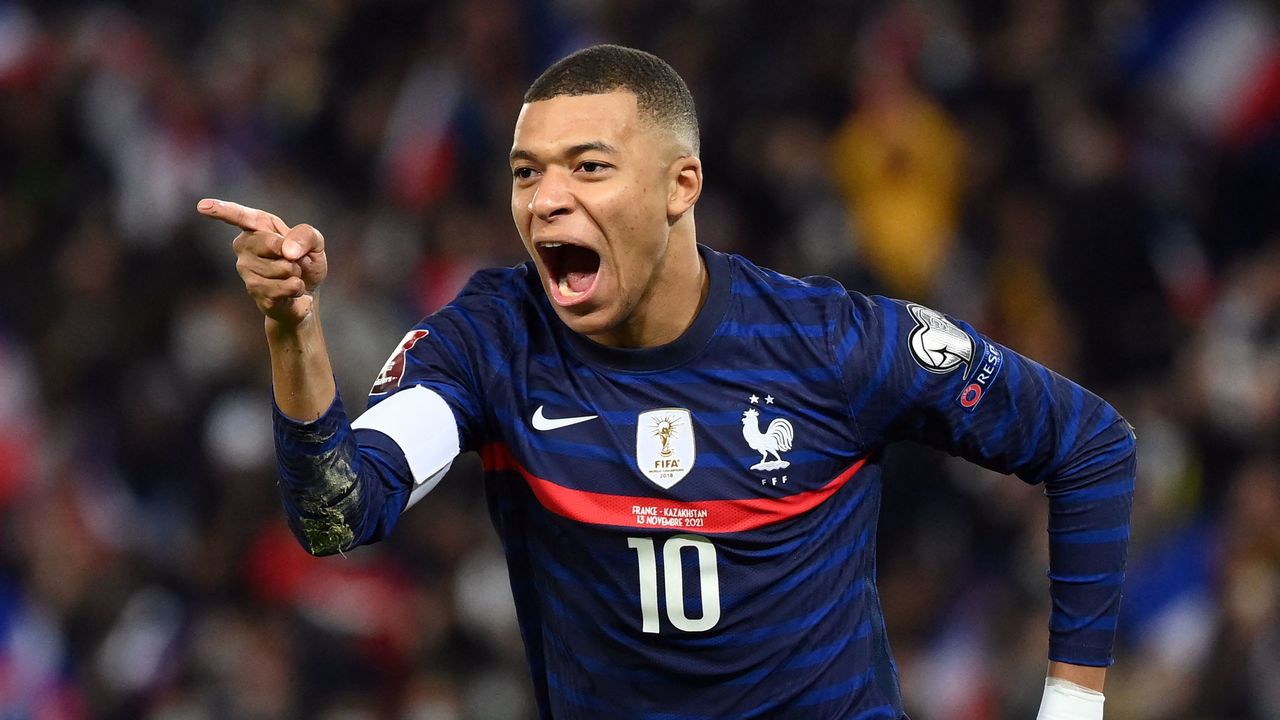 France, Brazil, England, Denmark
Three of the betting favorites going into the tournament – chalk, we know – plus one team that captured the imagination of neutral onlookers everywhere at Euro 2020. Reigning champion France and perennial title contender Brazil are arguably the two most talented teams in the world. Gareth Southgate and England are making strides with each passing tournament. Denmark, so much more than a feel-good story, blasted through qualifying in dominant fashion.
At first glance, the Danes are the surprise addition here, but everything we've seen from Kasper Hjulmand's team in recent months suggests that its semifinal run at Euro 2020 wasn't a fluke or built only on emotion after Christian Eriksen's frightening collapse. Denmark can beat anyone.
World Cup winner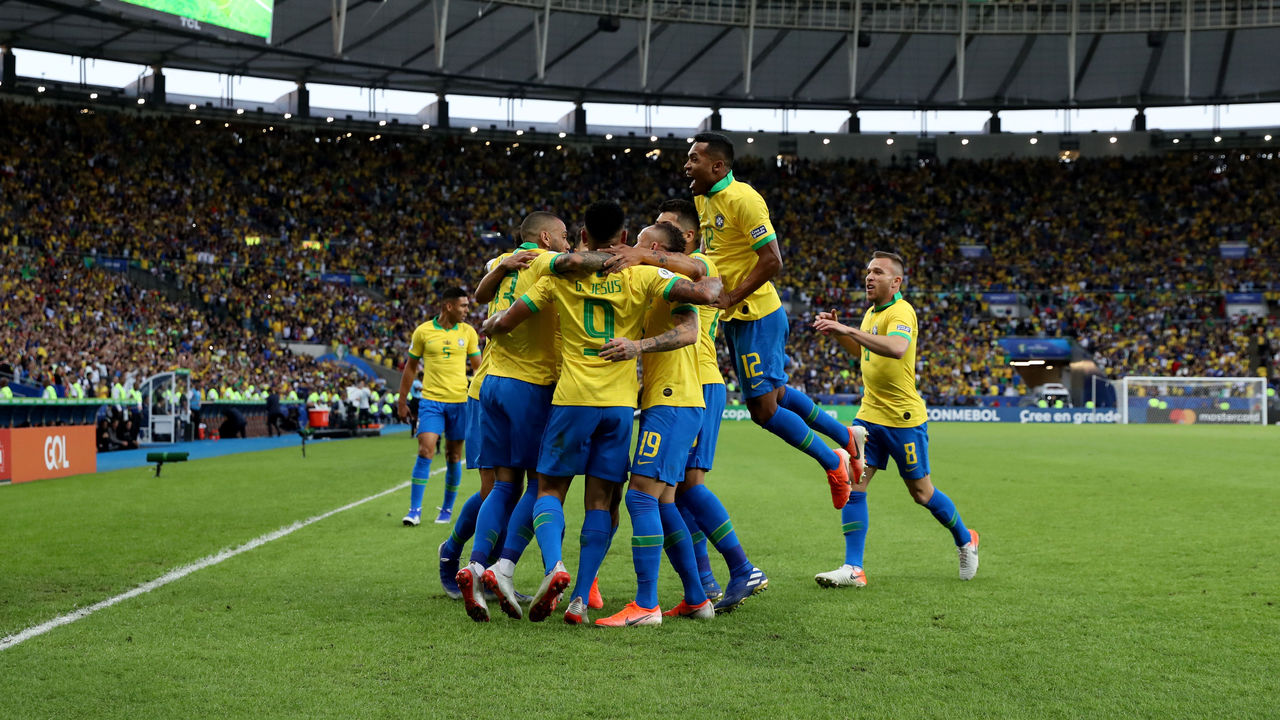 Tite's team looks like the closest thing to a juggernaut in international football right now. Brazil steamrolled through South American qualifying, booking its World Cup berth with ease. This is the most complete version of the Selecao we've seen in years, with attacking firepower balanced out nicely by a solid spine.
The flair is there, of course, because this is still Brazil we're talking about. But the likes of Fabinho and Marquinhos offer another element, ensuring that if the opposition is somehow able to slow down Neymar, Vinicius Junior, and Co., the winningest nation in World Cup history can still grind out victories.
Biggest surprise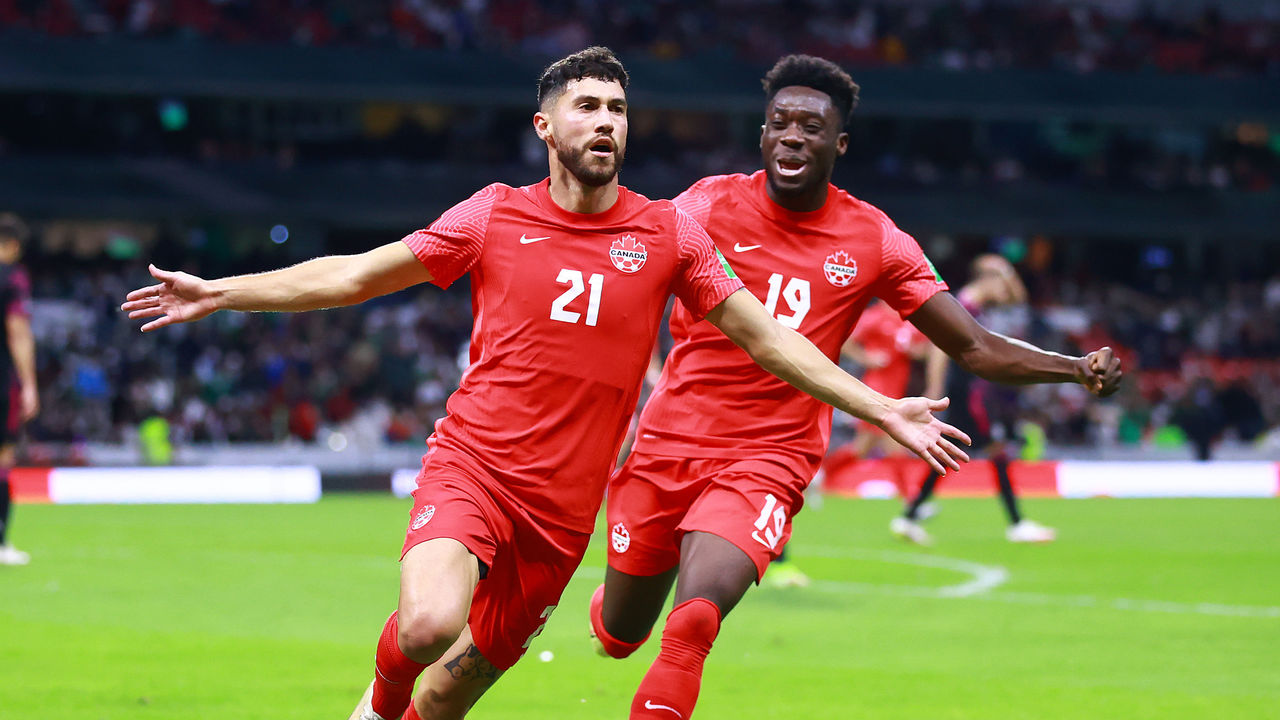 Don't look now, but Canada is for real.
In what feels like the blink of an eye, the Canadians went from a relative afterthought in CONCACAF to undeniably being one of the best three teams the confederation has to offer. Maybe the best right now, full stop. An intoxicating win over Mexico in the previous international window put Canada top of the table with six qualifying matches remaining and put the world on notice: John Herdman's team is skilled, speedy, energetic, and organized.
Crucially, it's not just versatile star Alphonso Davies carrying the squad on his back. The Bayern Munich dynamo has plenty of support from a suddenly loaded group of attackers and a deep midfield contingent. There's quality across the pitch with an ideal blend of youthful exuberance and veteran leadership, all led by a manager who is clearly capable of inspiring his group. As currently constructed, Canada has all the makings of an upstart side capable of catching more high-profile nations by surprise.
Biggest flop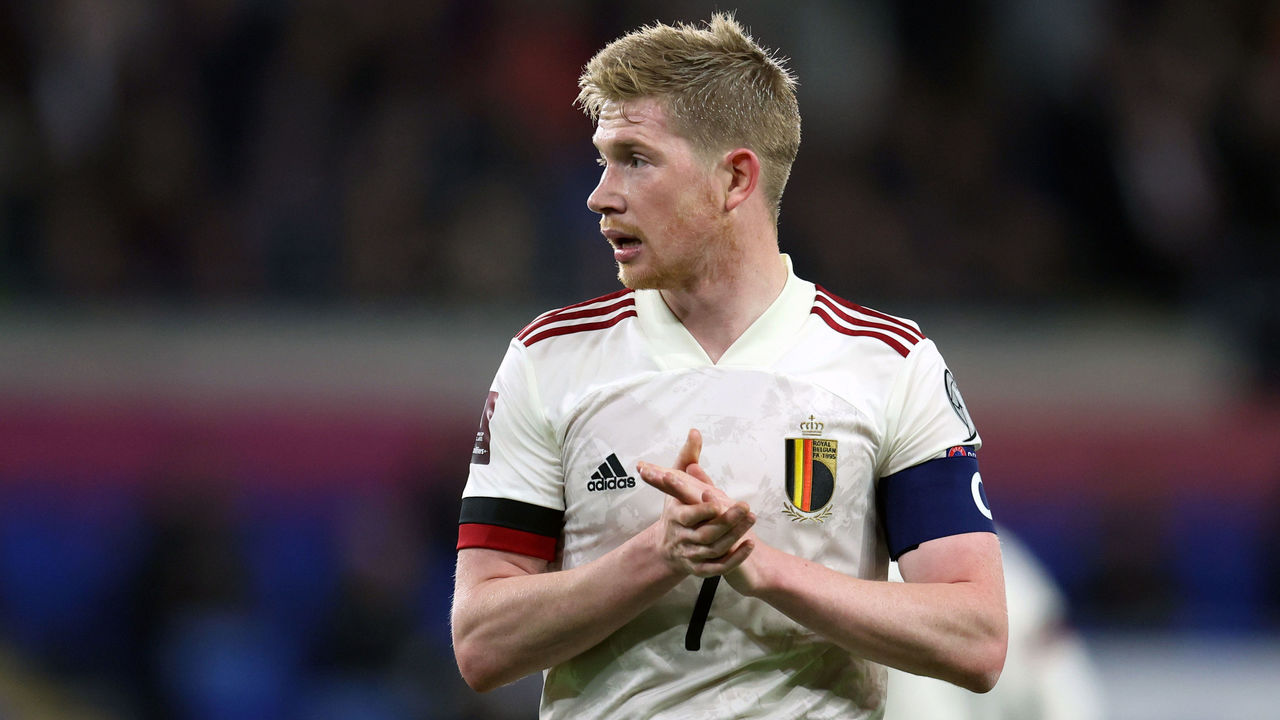 Even if it's unwise to put too much stock in the official FIFA rankings, being the top-rated squad on the planet still means something. Unfortunately for Belgium, it means there's only one direction to go. In what will serve as the final opportunity for the nation's "golden generation" to win a title, Roberto Martinez's side won't be able to replicate its third-place finish from 2018.
When your expectation is to win the whole damn thing, anything less is going to be viewed as a failure. Eden Hazard's drastic decline and Kevin De Bruyne's increasingly worrying injury record will rob the team of a chance to hoist the trophy, despite Romelu Lukaku's best efforts. There's some exciting young talent coming through the pipeline, of course, but it's not coinciding with the current crop's peak. That highlights how important it is for all the stars to align if you're going to capture the World Cup. Luck, as always, plays a huge role.
Unexpected absentees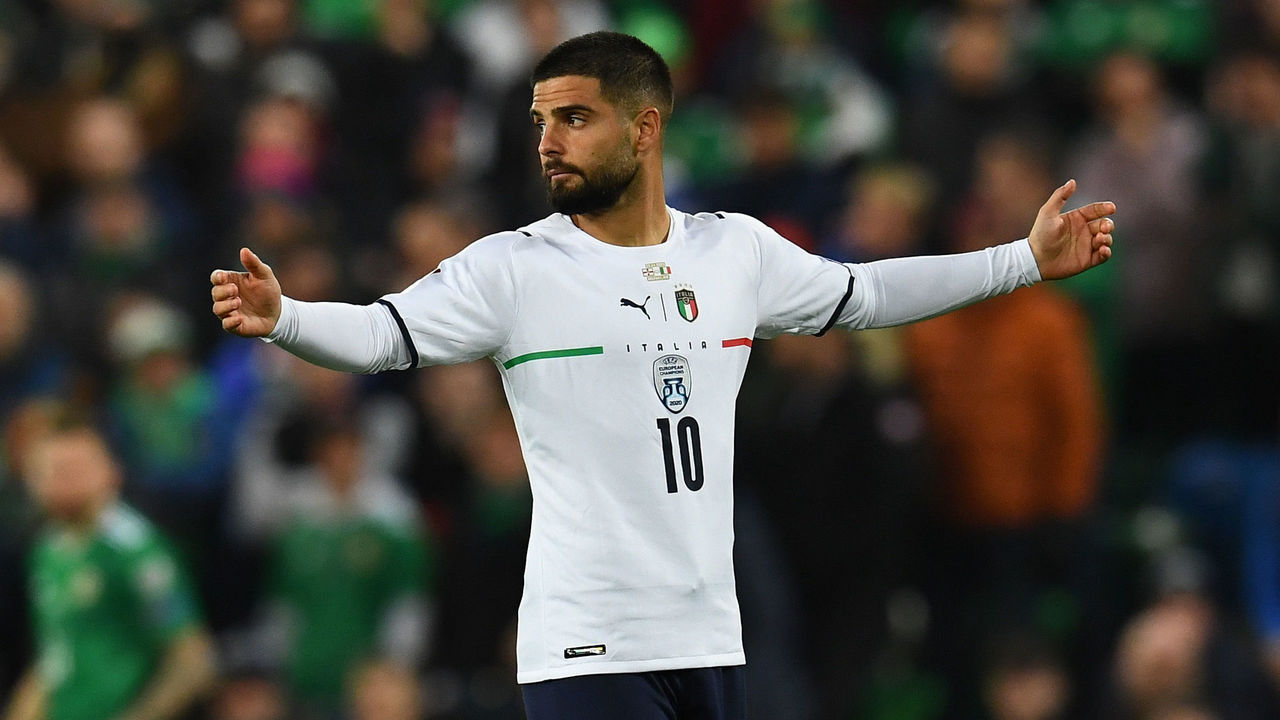 We've already lost some big names in qualifying, including Erling Haaland's Norway and traditional African power Ivory Coast, and more high-profile nations are likely to join them. In particular, the new format for Europe's qualification playoffs promises unpredictability, surprise, and – for some rabid football nations – outrage.
Italy, just months removed from being crowned European champion, looks in serious danger. An untimely injury crisis didn't help, but even a return to fitness won't guarantee the Azzurri a place in Qatar. There's an unease around the team right now and the sense of deja vu from the 2018 debacle is palpable.
Meanwhile, Uruguay has lost four consecutive qualifying matches, just fired iconic manager Oscar Tabarez, and continues to rely on a core of aging stars. Sitting a lowly seventh in the CONMEBOL qualifying table, it looks like the tiny nation's incredible era of footballing success is coming to an end.
Golden Boot winner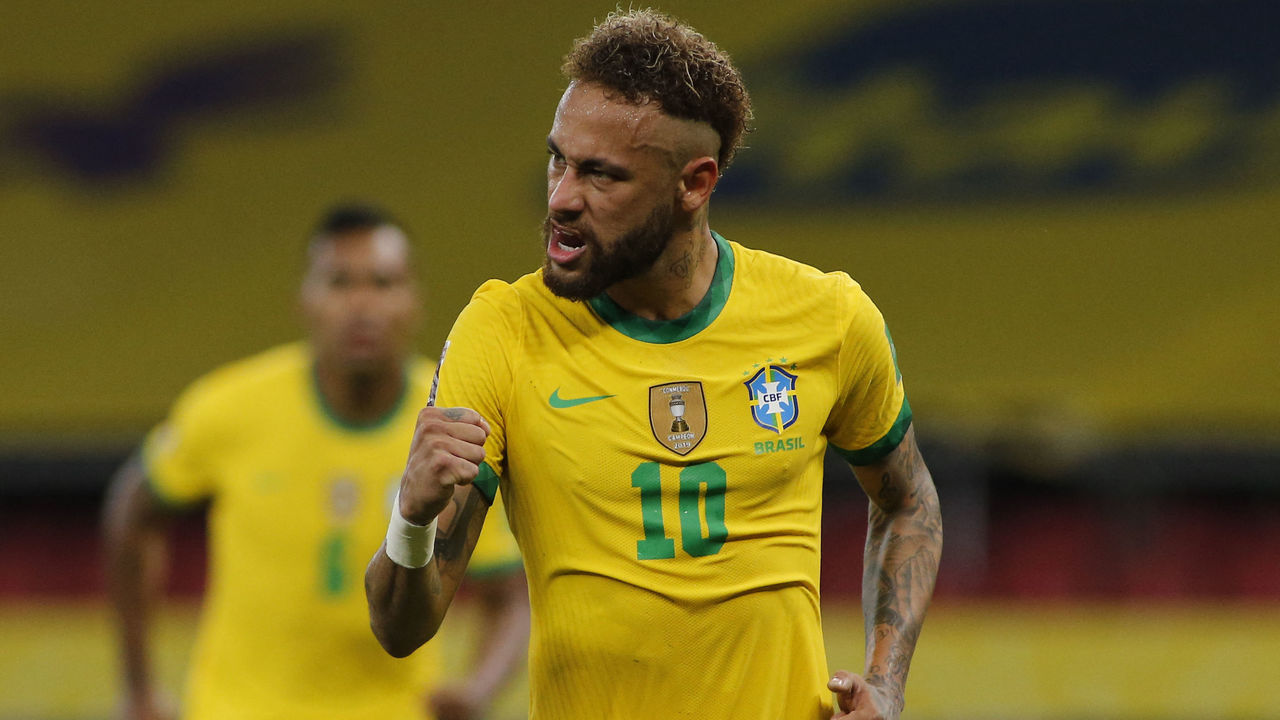 As a rule of thumb, you should always throw your support in the Golden Boot race behind someone who is likely – at least in your mind – to play the full complement of matches at a given tournament. Having picked Brazil to go all the way and hoist the trophy, Neymar is the clear choice here. The fact that he takes penalties certainly helps, too. Although it seems inconceivable, the Selecao fulcrum will be 30 when next year's tournament rolls around. This is another prime opportunity – perhaps the last – for Neymar to deliver the defining World Cup display that every icon of the sport has on their resume.
Breakout star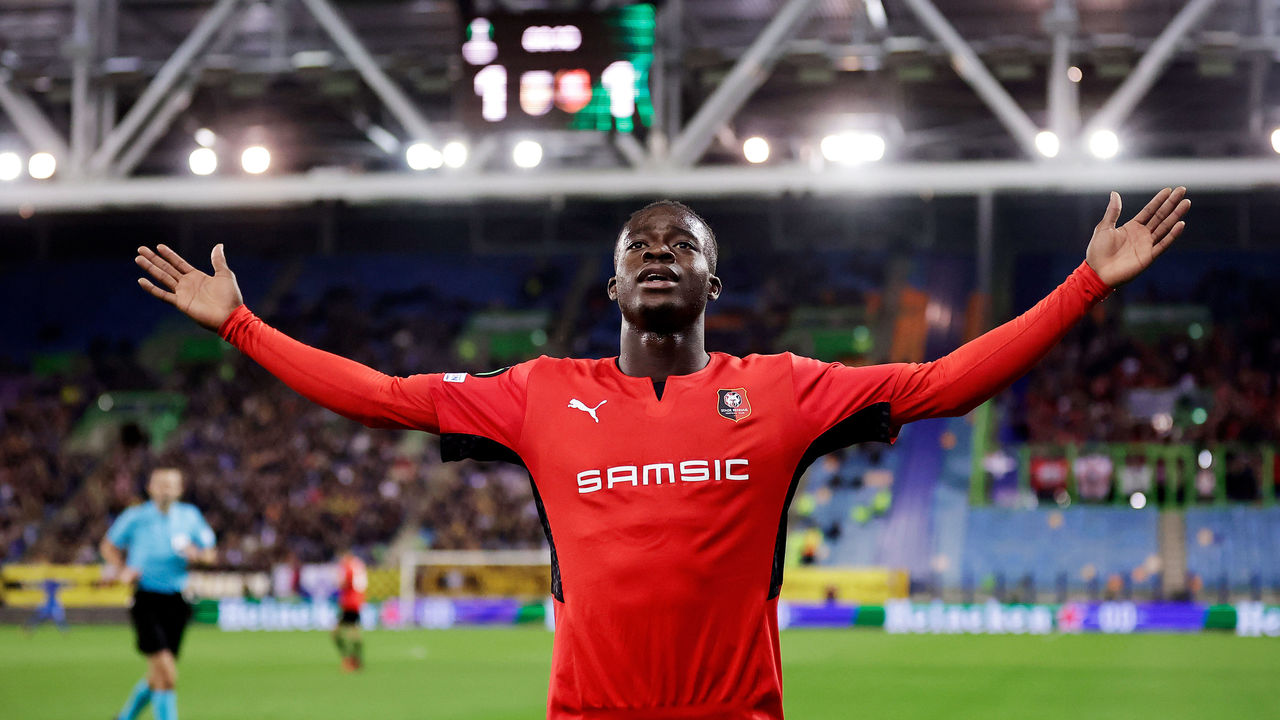 Much can and will change 365 days from now, so we're taking a leap of faith to some degree with any young player here. We also need to find someone who, at the time of writing, has yet to truly break out. That eliminates several electrifying young stars who are making waves on a global scale.
All that said, we're going with Kamaldeen Sulemana, the 19-year-old Ghanaian winger who's among the most explosive dribblers in the world. The blossoming Rennes star is putting up an absurd 4.8 successful dribbles per 90 minutes in Ligue 1 this season, eclipsing even Neymar in the category. Ghana still has to qualify for the tournament, but Sulemana will turn heads in Qatar if given the chance.
Honorable mentions: Yunus Musah (United States), Florian Wirtz (Germany)