35 stars who will define the summer transfer window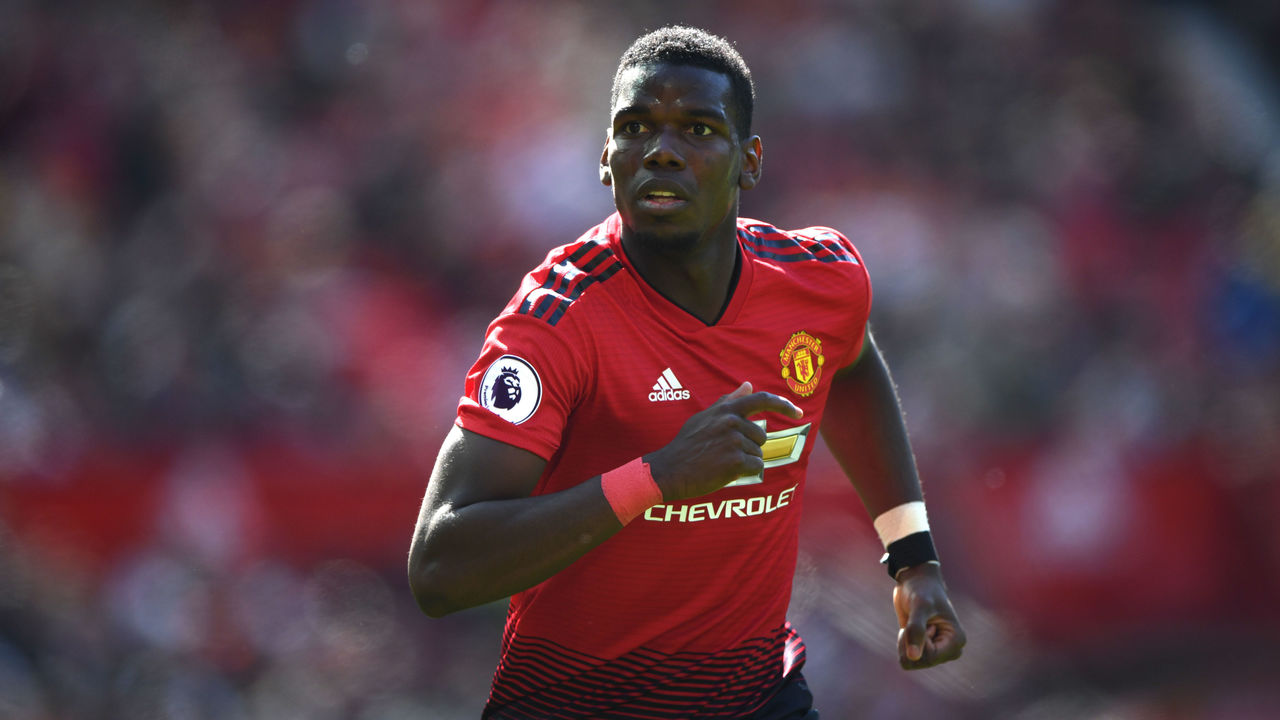 With the Champions League final closing the book on the 2018-19 European club campaign, focus now shifts to the summer transfer window, which promises to feature a bevy of high-profile deals and obscene fees being splashed about.
Here are 35 players who could be on the move in the coming months.
Premier League
Eden Hazard (Chelsea)
This one is all but done. Eden Hazard's protracted switch to Real Madrid – where he'll join new signing Luka Jovic – is only missing the signatures. He's already bid farewell to Chelsea, and it's just a matter of time now.
Paul Pogba (Manchester United)
The Juventus and Real Madrid rumors aren't going away. The Red Devils would be wise to keep hold of their best and most explosive midfielder, but an opulent offer could tempt them to sell Paul Pogba.
David De Gea (Manchester United)
An ongoing contract standoff leaves Manchester United in a precarious position. The club can either cash in on the Spaniard this summer and wave goodbye to one of the best 'keepers on the planet, or hold on to David de Gea and risk watching him leave for free at the end of next season.
Toby Alderweireld (Tottenham)
Toby Alderweireld was the backbone of Tottenham's excellent campaign. With an ideal blend of strength, positional awareness, and ball-playing ability, the Belgian is the epitome of the modern center-back.
Leroy Sane (Manchester City)
Bayern Munich want to sign Leroy Sane – they've admitted as much – but whether a deal actually gets done is another matter. The Manchester City winger with blistering speed is still only 23 years old, and he would cost a "crazy" amount of money.
Mesut Ozil (Arsenal)
A pitiful performance in the Europa League final may have been the last straw for Mesut Ozil at Arsenal. The midfielder, who's often unfairly maligned for a perceived lack of effort, gave his detractors plenty of ammunition by sleepwalking through the loss to Chelsea. Can anyone stomach his wages, though?
La Liga
Antoine Griezmann (Atletico Madrid)
Antoine Griezmann's summer transfer is a matter of when, not if. The only question mark is the destination. The Frenchman has confirmed he's leaving Atletico Madrid, but while many assumed he'll hop over to Barcelona, that may no longer be a slam dunk.
Gareth Bale (Real Madrid)
Despite helping deliver multiple titles to the Real Madrid faithful – and scoring some of the most memorable goals in club history – Gareth Bale looks set to be sacrificed as part of Los Blancos' summer rebuild. Madridistas have never truly appreciated the Welshman's talents.
Philippe Coutinho (Barcelona)
Barcelona paid a small fortune to acquire the tricky Brazilian playmaker from Liverpool, but he's become a poor tactical fit at the Camp Nou. The club is already looking to ship him off in a bid to recoup some of the reported £142 million (!) it coughed up to get Philippe Coutinho.
Saul Niguez (Atletico Madrid)
The trail has somewhat disappeared of late, but for a long time Saul Niguez was the Atletico Madrid star that every other European powerhouse had its eyes on. Already assured of losing Griezmann and captain Diego Godin, Atleti will surely battle to keep the 24-year-old midfielder.
Giovani Lo Celso (Real Betis)
Real Betis look destined to make out like bandits on this one. After plucking the superb Argentine midfielder from Paris Saint-Germain for a modest fee, the Seville club could now flip Giovani Lo Celso to any number of suitors for serious cash.
Carlos Soler (Valencia)
Tottenham have been sniffing around the Mestalla for some time, keeping tabs on the impressive Carlos Soler. The 22-year-old midfielder was pivotal in helping Valencia turn a potentially dreadful season into one that ended with both a Champions League berth and Copa del Rey title.
Serie A
Alex Sandro (Juventus)
Both PSG and Chelsea tried to bring the Brazilian aboard last summer, but it remains to be seen if they're still interested after a season in which Alex Sandro lacked the explosiveness and attacking impetus of years past.
Paulo Dybala (Juventus)
Coming off the back of a bitterly disappointing campaign, swirling rumors suggest Paulo Dybala isn't long for Juventus. The Argentine has said he wants to remain with the club, but selling him and repurposing the funds to secure a big-name midfielder is a legitimate option for the Old Lady.
Kalidou Koulibaly (Napoli)
Arguably the best central defender in the game right now, Napoli will almost certainly shun any offers for Kalidou Koulibaly that don't exceed the €100-million mark. The list of clubs that can afford the Senegalese superstar is short.
Mauro Icardi (Inter Milan)
The soap opera that is Mauro Icardi's relationship with Inter rumbles on. The striker is undoubtedly lethal on the pitch, but after numerous sagas involving everything from contract demands to clashes with fans, perhaps it's finally time for a move.
Alessio Romagnoli (AC Milan)
In an ideal world, AC Milan wouldn't even consider selling their young captain. But after the potentially crippling blow of missing out on the Champions League again, financial concerns may dictate the club's transfer plans.
Nicolo Zaniolo (Roma)
A relative unknown at this time last year, teenage sensation Nicolo Zaniolo turned heads across Europe with a series of spectacular performances, both domestically and on the continent. Roma quickly need to tie him down with a new contract.
Bundesliga
Timo Werner (RB Leipzig)
That Timo Werner hasn't already left RB Leipzig is a surprise with the hoopla around the young German forward in recent years. He's no longer the hottest name during the transfer window, but any club that can secure his signature will be ecstatic.
Kai Havertz (Bayer Leverkusen)
Bayer Leverkusen are going to make bank whenever they decide to sell Kai Havertz. The 19-year-old attacking midfielder scored 17 Bundesliga goals this season, and he's been linked, naturally, to Bayern Munich.
Renato Sanches (Bayern Munich)
The 21-year-old midfielder's stock has fallen off a cliff since he moved to the Allianz Arena, and the only way to resurrect his career is to get some minutes on the pitch. Bayern Munich may not be the place for that to happen.
Jadon Sancho (Borussia Dortmund)
Manchester United have reportedly taken a step back in their pursuit of the dynamic teenage winger, with Borussia Dortmund CEO Hans-Joachim Watzke categorically ruling out a summer sale of any kind. Next summer, though …
Jerome Boateng (Bayern Munich)
Once considered among the best central defenders in the world, Jerome Boateng has been told, in no uncertain terms, that he should leave Bayern Munich in the coming months. The 30-year-old shouldn't struggle to find a new club.
James Rodriguez (Bayern Munich)
With confirmation that his loan spell in Bavaria is over, James Rodriguez will return to Real Madrid. Where he ends up from there, though, is anyone's guess. His breakout showing at the 2014 World Cup feels like a lifetime ago.
Ligue 1
Kylian Mbappe (Paris Saint-Germain)
It seems like a foregone conclusion that Kylian Mbappe will end up at Real Madrid eventually, but this summer's window may be too soon. The all-world French attacker will single-handedly shift the balance of power in world football if – when? – he leaves the French capital.
Tanguy Ndombele (Lyon)
Honestly, Lyon could populate the entire Ligue 1 portion of this list because of the club's renowned ability to churn out young talent. The gem of their current crop is do-it-all midfielder Tanguy Ndombele, who will command a monstrous transfer fee if he leaves Les Gones.
Thomas Meunier (Paris Saint-Germain)
Manchester United and Arsenal are reportedly interested in signing the Belgian full-back, who saw his role in Paris diminish this season due to the presence of veteran Dani Alves. Entering the final year of his contract, he'll reportedly cost around €30 million.
Houssem Aouar (Lyon)
While not expected to be as costly as Ndombele, versatile 20-year-old midfielder Houssem Aouar won't exactly be sold for a pittance, either. Lyon owner Jean-Michel Aulas is a notoriously tough negotiator, so any club interested in Aouar will need to reach deep into its pockets.
Nicolas Pepe (Lille)
Only Mbappe scored more goals in Ligue 1 this season than the 22 that Lille star Nicolas Pepe bagged. When you're mentioned in the same breath as the French phenom, people take notice. The 24-year-old Ivorian has been linked to clubs in both England and Germany.
Ferland Mendy (Lyon)
Real Madrid are circling Ferland Mendy. Get used to hearing that this summer. With Marcelo aging and Sergio Reguilon looking solid but unspectacular, Mendy, an exciting young left-back, has reportedly been tabbed as the long-term solution.
Elsewhere
Matthijs de Ligt (Ajax)
It was long thought that the Ajax captain would follow teammate and compatriot Frenkie de Jong to Barcelona, but the Blaugrana have reportedly hit a snag in their approach for the commanding 19-year-old center-back. Manchester United and Juventus hope to be the benefactors of Barca's misfortune.
David Neres (Ajax)
Amid a squad loaded with exciting young talent, David Neres was forced to wait before getting the recognition he deserves. It finally came pouring in after he dominated Real Madrid in the Champions League. The Brazilian winger is now one of the transfer window's most sought after players.
Hirving Lozano (PSV Eindhoven)
"Chucky," as he's affectionately known, continues to bide his time. A host of European superpowers have expressed interest in the Mexican winger, but there's yet to be a clear indication he's on the verge of leaving PSV.
Joao Felix (Benfica)
Widely tipped as the future of Portuguese football, 19-year-old prodigy Joao Felix is going to net Benfica an ungodly sum when he's sold. The two Manchester clubs are said to be in an arms race to acquire his services.
Ruben Dias (Benfica)
Though the constant talk of De Ligt's future is overshadowing him, Ruben Dias, Benfica's other prized piece, could emerge as the best young defender to switch clubs this summer.
Italy completes transformation from abject failure to Europe's finest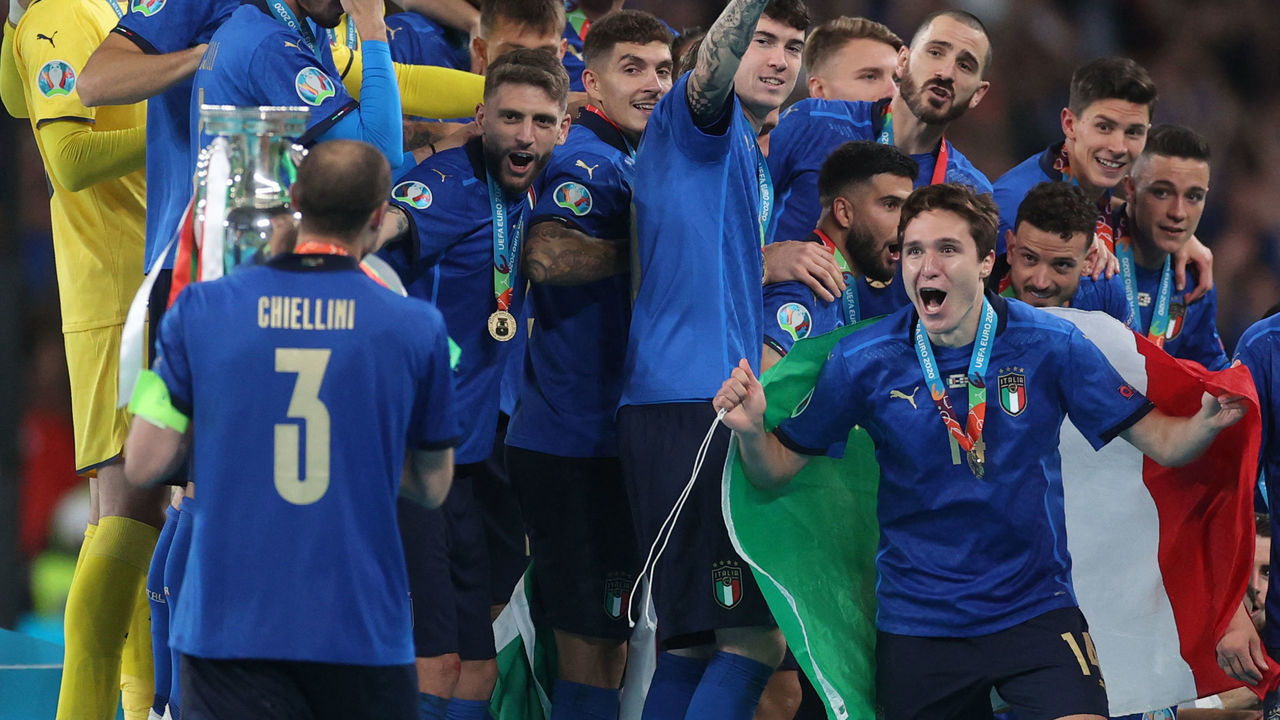 Luke Shaw's goal two minutes into Sunday's final was a gut punch that would've, in another time, knocked the confidence out of Italy. It could've led to more heartache. But this team was forged through hardship. A single goal was never going to ruin this moment.
To win Euro 2020, Italy first needed to walk through the fire. Go back to Nov. 13, 2017, the night Italy missed out on the 2018 World Cup. An inquisition began at all levels of public life, tearing at the very soul of the people's country for an answer to an impossible question.
How can something like this happen?
If the Italians couldn't quite face the reality before – the reality that they had lost relevance in one of the few pursuits that brings them together – it hit them hardest on that fateful night in Milan, when a goalless draw against Sweden knocked the country out of the world's favorite tournament.
Then something changed. Roberto Mancini, who came in from the wilderness to take Italy's top job in May 2018, saw and nurtured the potential that previous coaches ignored. He noticed there could be another, and perhaps better, way of playing. Italy didn't need to defend a 1-0 lead – not with the quality of players coming through.
Mancini's side proceeded to dominate matches. It thrashed teams it should've thrashed. It gave no freebies to the minnows of international football. It showed a ruthless streak against the likes of Liechtenstein and Armenia that Italy hadn't shown before, and confidence grew in a program and a team that had lost so much of it.
A few decisive wins later, Italy didn't look like Italy again but like something new entirely, proving it didn't need to play defensively to be successful again. Italy could score goals at will and play with possession and flair, and it could still defend when situations called for calm. Except defending would only be an option, not a necessity. And it was a viable option, too, with veterans Giorgio Chiellini and Leonardo Bonucci ready for any call to action.
To get the best out of pacy wingers like Federico Chiesa and Lorenzo Insigne, and energetic midfielders like Marco Verratti and Nicolo Barella, Mancini gave them the freedom to show their personality. Shackling or forcing them to fit into some rigid system would've harmed their development, and crucially, their production. Mancini's preference for attacking football was a choice rooted in pragmatism rather than idealism.
He simply made sure he didn't get in the way. Predecessors Gian Piero Ventura and Antonio Conte shoehorned aging and limited players into fixed formations, hoping to squeeze out results. It worked at Euro 2016, when Conte relied on sound tactics to get a rag-tag group to the quarterfinals. But Ventura's blatant misuse of players like Insigne – who remained on the bench throughout that disastrous showing against Sweden – left scars that needed healing.
Mancini's XI rarely followed a specific blueprint. Full-backs played like wingers. Midfielders scored goals. The ball was something to cherish, not to bludgeon out of bounds.
If he was a stubborn ideologue, Mancini would've forced his players to adopt the conservative counterattacking principles that brought success earlier in his coaching career. He won trophies with Inter Milan and Manchester City not by throwing caution to the wind, but with measured performances.
Instead, he adapted to the team at his disposal, and Italy started winning again. The Azzurri went unbeaten for 33 games, all the way to Sunday's final. And with a wonderful mix of attacking brilliance, midfield tranquility, and defensive solidity, they beat England 3-2 on penalties at a hostile Wembley Stadium. Chiesa created chance after chance, and midfielders Verratti and Jorginho maneuvered out of tight quarters to keep the game at their tempo.
Everyone on the team played for each other, and that was Mancini's hope from the start. The manager forged close bonds with the unit that he formed in 2018, and as a non-playing member of Italy's 1990 World Cup squad, he made sure no one would feel as excluded as he once did.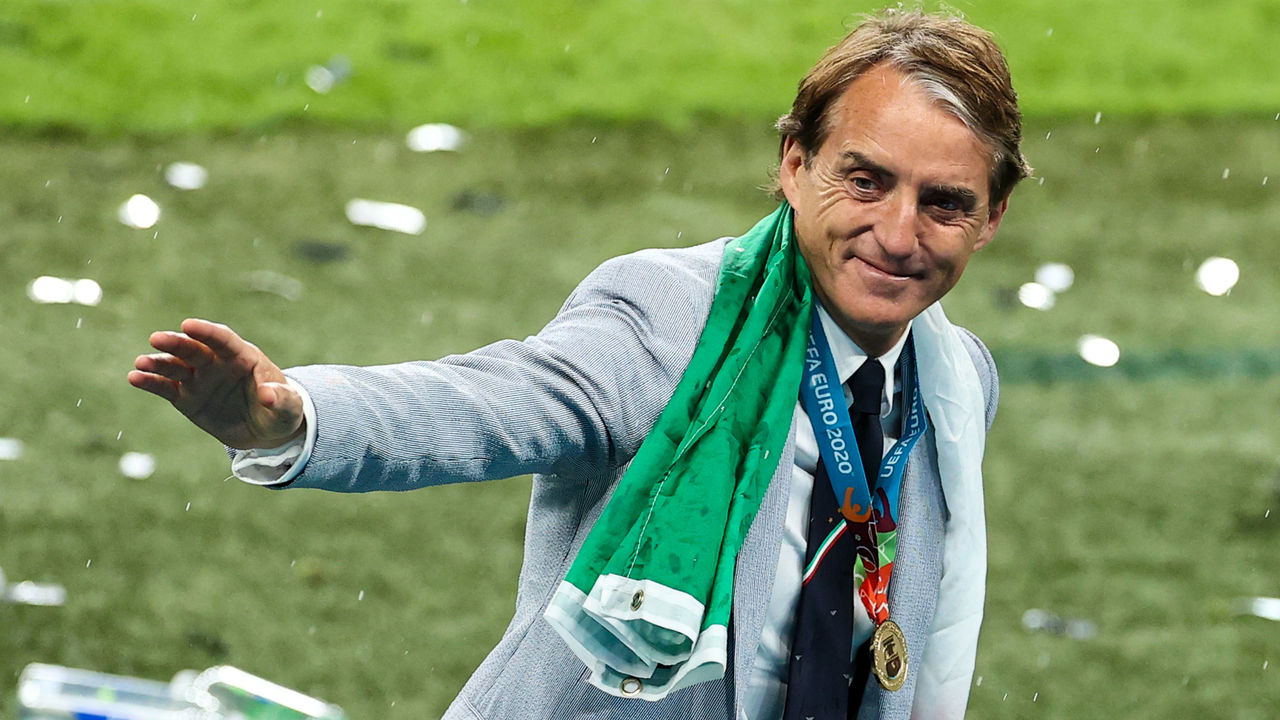 So in the last group-stage encounter against Wales, the 56-year-old gave time to players who had yet to appear in the tournament. Goalkeeper Salvatore Sirigu, midfielder Gaetano Castrovilli, and 21-year-old forward Giacomo Raspadori played for a few minutes in an otherwise inconsequential game, just so they could take part in the start of something special.
That sense of togetherness powered Italy throughout four grueling knockout matches. It dug deep in extra time to ward off Austria before denying Belgium's comeback attempt and beating Spain on penalty kicks. Italy's belief grew with every result.
That's why Shaw's goal on Sunday was just a blip, not a crushing blow. It was a test Italy had passed before. Even as roughly 60,000 people booed its every touch, the team regained its equilibrium, controlling more and more of the ball, and the game.
"You all know where we started from," goalkeeper Gianluigi Donnarumma, who saved two of England's penalty kicks, told Rai Sport afterward. "That early goal could've killed us, but that's not who we are. We are the ones who never give in."
4 key questions that will determine who wins Euro 2020 final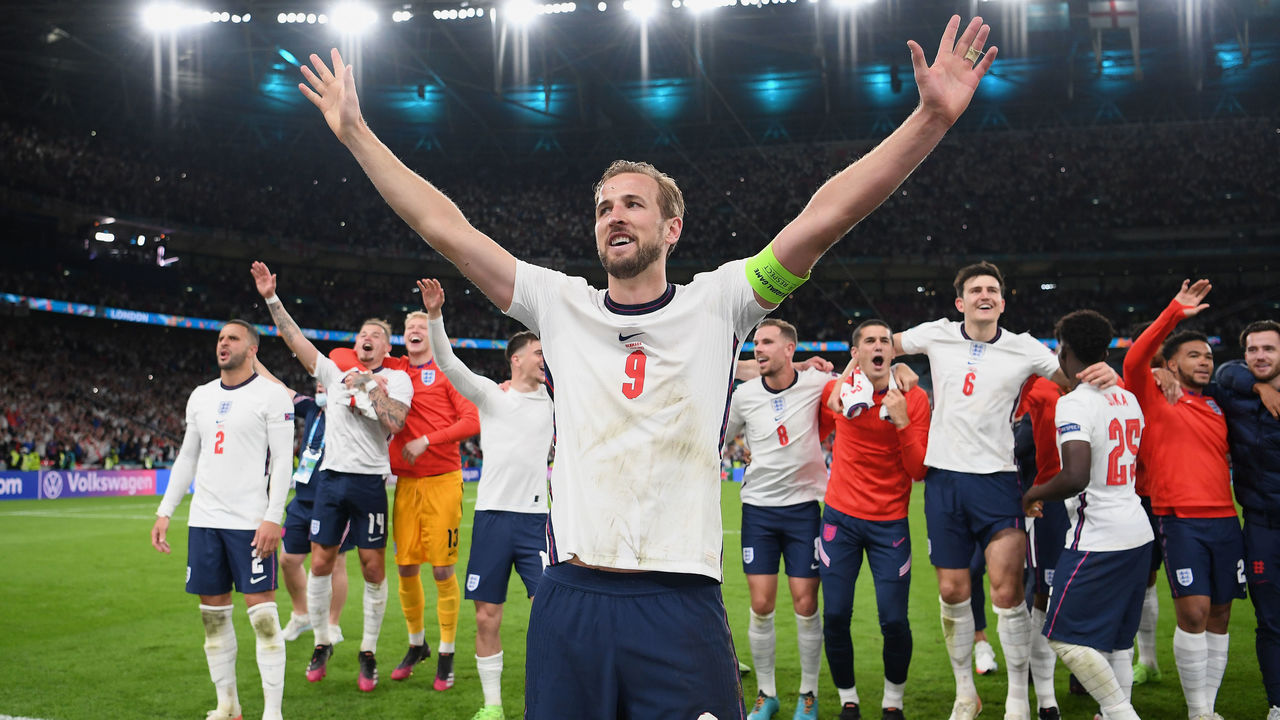 With the Euro 2020 final between Italy and England on the horizon, we're examining the key factors that will help determine whether football is heading home on Sunday, or if it's going back to Rome.
Can Italy handle Kane's movement?
One of the most intriguing tactical wrinkles from Italy's semifinal victory over Spain was Luis Enrique's surprise usage of Dani Olmo in a false nine role; Spain using a non-traditional center forward isn't new, but few expected to see it against the Azzurri, especially after the manager's staunch defense of Alvaro Morata all tournament long. It was interesting, primarily, because of the way Italy's veteran defenders struggled to react to it. Olmo was able to drag Giorgio Chiellini and Leonardo Bonucci out of position and create big gaps for his fellow forwards to run into. It didn't result in a goal, but it's a tactic that could serve England well in the final.
English fulcrum Harry Kane is by no means a false nine, but he's proven countless times – for both club and country – that he's extremely comfortable dropping deep and facilitating the attack with his outstanding passing range. Chiellini is well aware, too, dubbing the matchup with the Tottenham star "extremely tough."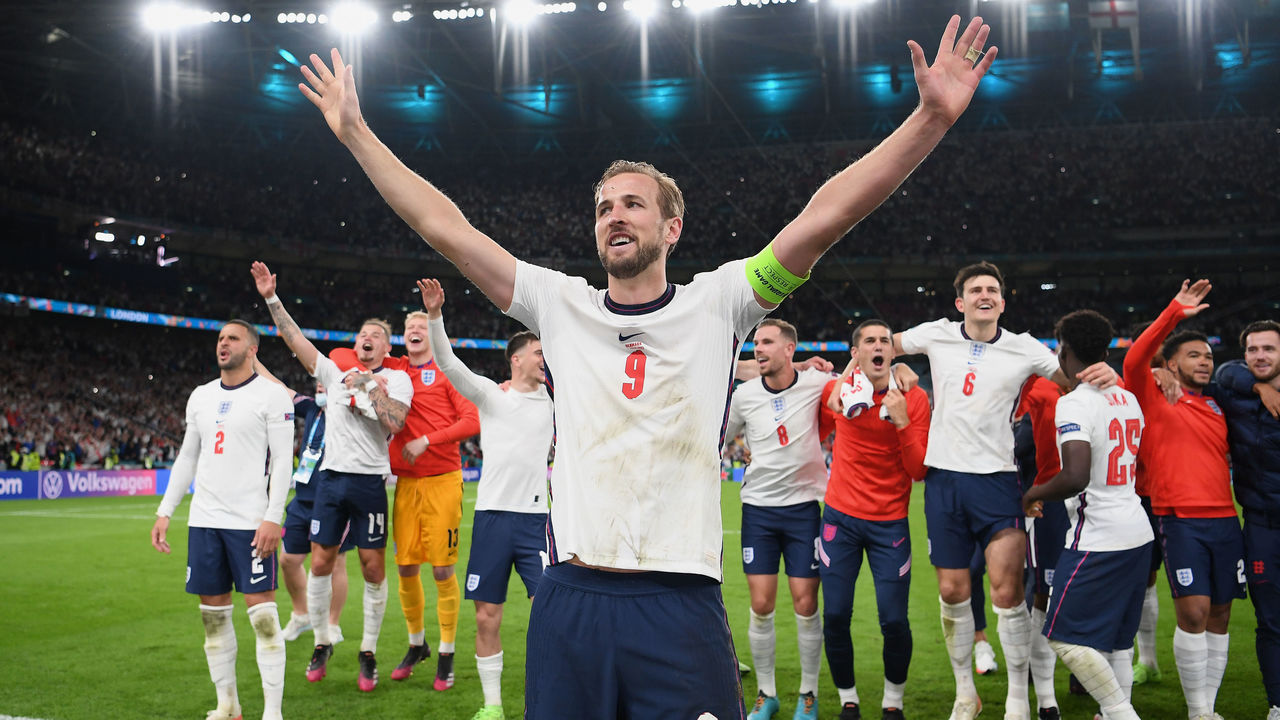 "I have always liked (Kane) a lot. I still remember one of his first matches with England, when we played against them in Turin," the Italian captain said. "Even then he made a huge impression on me. … He knows how to play deep and how to play a defense-splitting pass for a teammate."
If Kane can find pockets of space behind Italy's midfield and in front of the defense, then he could do some serious damage setting up chances for Raheem Sterling, who has been the Three Lions' most consistent scoring threat throughout the competition.
Who will dominate the midfield?
The vaunted Italian midfield trio of Jorginho, Marco Verratti, and Nicolo Barella will be looking to dictate the tempo on Sunday after chasing shadows for much of the semifinal win over Spain. In theory, they should have more time on the ball in the showpiece match at Wembley; England will likely be content to sit in its solid defensive structure and allow the Azzurri to exchange short passes in unthreatening areas.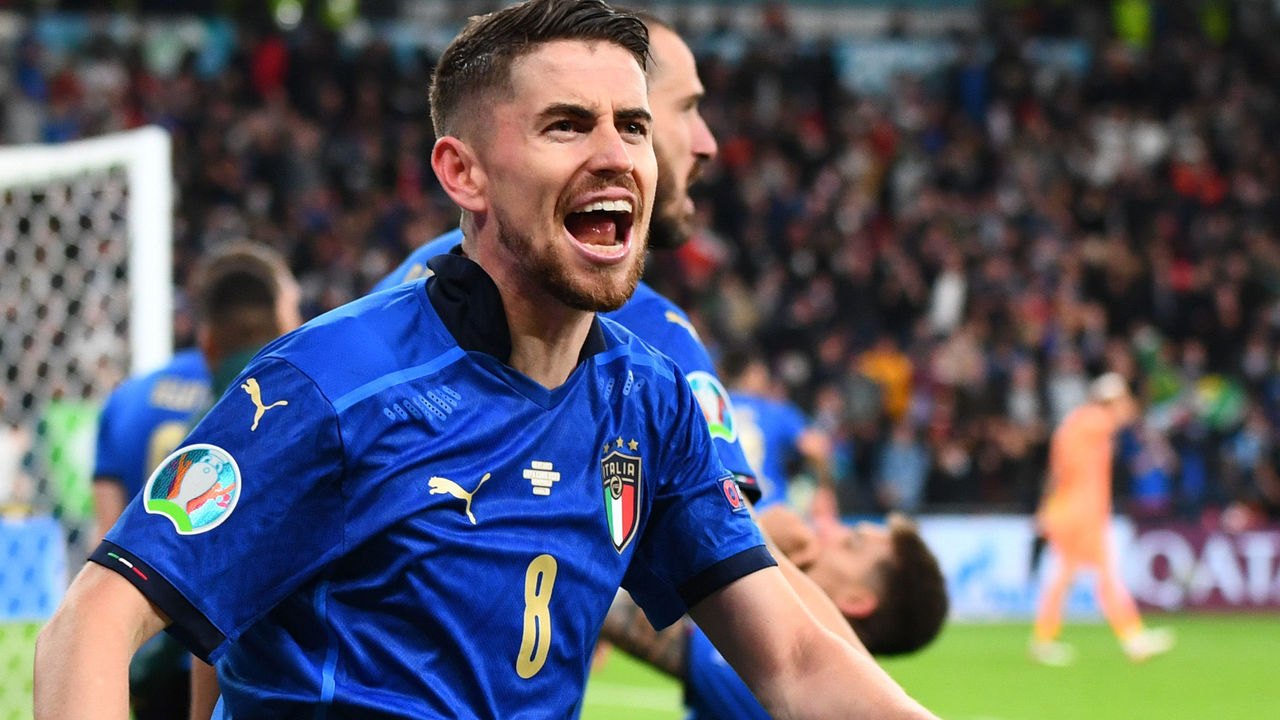 For Italy to avoid simply having sterile possession, Barella's darting runs into the penalty area – a trademark of his game – will be of the utmost importance. That's the type of movement that can unsettle a sturdy English backline that hasn't conceded a goal from open play in the tournament. Declan Rice and Kalvin Phillips will need to be cognizant of the Inter Milan star's positioning at all times, and communication with the center-backs when Barella does spring forward has to be quick.
England also has the option to be more proactive and cut off progression through the midfield before it can even begin. Mason Mount may be tasked with denying supply into club teammate Jorginho to make sure England isn't overrun in the center of the pitch. Doing so would force Bonucci and Chiellini to bypass Jorginho and force passes into tight areas, or hit long balls over the top for Ciro Immobile to chase down. If that's how the contest plays out, England will be extremely content.
How adventurous will Southgate be?
This is one of the most critical questions heading into every England match. Gareth Southgate has found the perfect balance at every turn thus far, making the necessary tactical tweaks to outplay and outwit the opposition. His base system always remains intact – a mid-to-low defensive block that relies primarily on Kane and the wide forwards to create chances in transition – but he's been able to make slight, decisive adjustments along the way. What does he have in store for Roberto Mancini and Italy?
Reverting to three central defenders and utilizing wing-backs – as he did against Germany – seems unlikely for the final, mainly because it would only heighten the numerical advantage that Italy is already likely to enjoy in midfield. Some version of the 4-3-3 / 4-2-3-1 hybrid that England used against Denmark figures to be the approach on Sunday, with Mount being a vital defensive contributor, as outlined above.
The other key question, as always, is who plays on the right wing. Bukayo Saka has done nothing to warrant being dropped from the lineup, but without having to track and worry about the injured Leonardo Spinazzola down that flank, maybe Southgate can afford to be a little more adventurous and start one of Jadon Sancho, Jack Grealish, or Phil Foden. At the very least, he has game-changing options on the bench, and at the end of a long tournament when everyone is a little weary, that could make all the difference.
Can Immobile offer … anything?
Reaching the final of any major tournament is an accomplishment in its own right. Doing so in spite of your primary goalscorer is even more impressive. Immobile, so prolific at club level with Lazio, has always had detractors when it comes to the national team, and they may feel vindicated following a pair of shocking performances against Belgium and Spain. His showing in the quarterfinals was particularly woeful.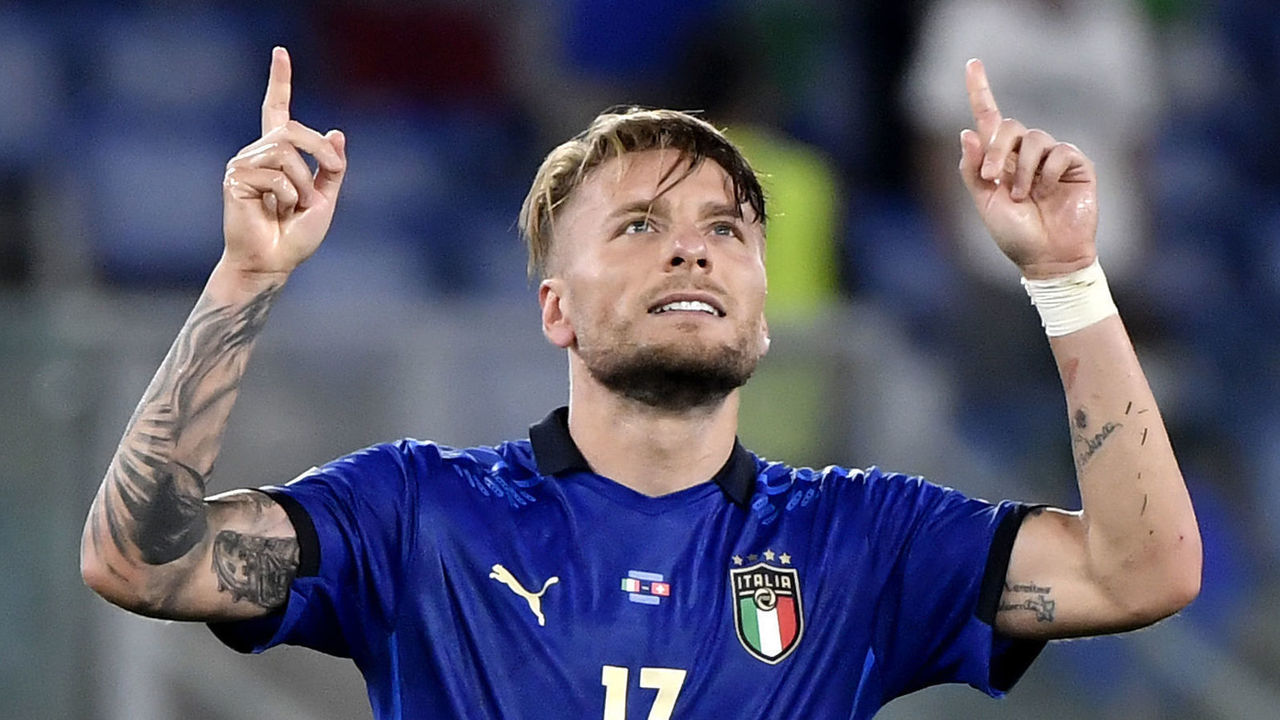 Despite what his name suggests, Immobile always works hard, constantly hassling and harrying defenders; his willingness to run into the channels and chase down long balls played a key role in creating Federico Chiesa's goal against Spain. But, after scoring twice in the group stage, that one sequence has been the extent of his impact in the knockout matches. His most notable involvement from Italy's recent wins was feigning injury before immediately popping off the ground to celebrate Barella's goal against Belgium. It was absolutely hilarious, but his lack of actual attacking involvement is a serious issue.
Immobile struggled to hold the ball up against Spain, meaning when the Azzurri did finally gain possession, it often ended with a pass that ricocheted off his foot and wound up right back with the opposition. Without Spinazzola in the lineup, Italy needs to progress the ball through the middle to make headway, and having someone who can often look like he's wearing cinder blocks for boots is an obvious impediment. Of course, it's absolutely possible that the 31-year-old has a career-defining moment Sunday at Wembley and silences his critics. Given the lack of suitable replacements – backup No. 9 Andrea Belotti is a gritty workhorse but not exactly a prolific threat – Mancini and Italy will be desperate for Immobile to deliver on the big stage.
Preview, predictions for Euro 2020 quarterfinals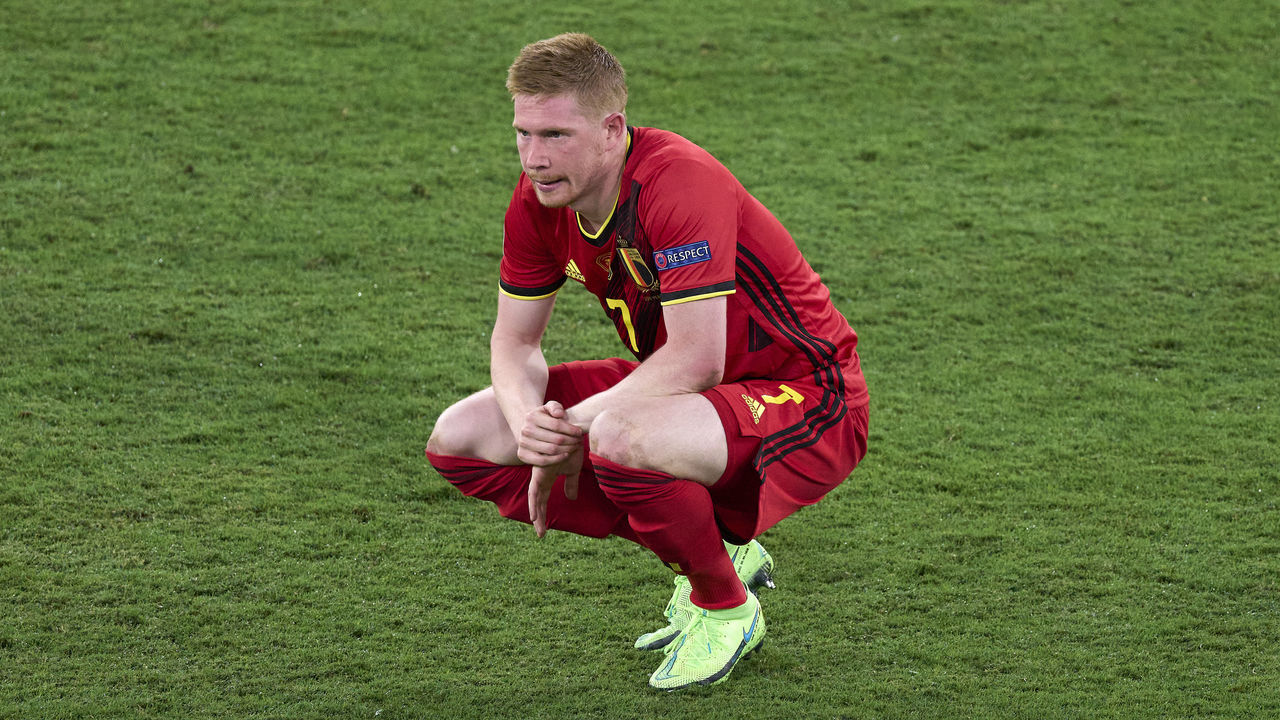 It's time for the quarterfinals at Euro 2020. Here's hoping the tournament saved some drama after an epic round of 16. Below, we examine the four matches on tap this week, highlighting the key factors that will determine which nations advance and predicting the result for each fixture.
Friday, July 2
Switzerland vs. Spain (12 p.m. ET)
Venue: Krestovsky Stadium (St. Petersburg, Russia)
It's fitting that the winners of the two most scintillating last-16 matches now get the chance to replicate those performances against one another. Conventional wisdom suggests that after such explosive encounters, fans should expect fewer fireworks in the ensuing game. That's down, in part, to simple mental and physical fatigue; riding the rollercoaster as Spain and Switzerland did before coming back to do it all over again a few days later is taxing. The respective managers will also surely be hammering home the importance of defensive solidity after both sides conceded three goals in their last fixtures.
But at this point, who knows? Maybe Luis Enrique and Vladimir Petkovic will decide that their best chance to succeed is actually to go for broke. After slow starts to their respective tournaments, these two teams have combined for 16 goals in their last four outings; Spain's attack is purring, and the Swiss, so long a risk-averse unit, have found joy in trying to take the initiative and play on the front foot.
Switzerland can cause problems for an unconvincing Spanish backline – even if Unai Simon doesn't hand out any gifts this time – but Spain's depth should prove the difference for La Roja. Unlike Didier Deschamps and France, Enrique won't tie one hand behind his team's back from the opening whistle.
Prediction: Spain advances
Belgium vs. Italy (3 p.m. ET)
Venue: Allianz Arena (Munich, Germany)
Based on sheer star power, this should be the most enticing match of the quarterfinals, at least on paper. In reality, though, Friday's second tilt could be defined more by who isn't on the pitch than by who is. All indications are that Belgium will be without creative force of nature Kevin De Bruyne and captain Eden Hazard after both suffered injuries in a slim last-16 win over Portugal. Romelu Lukaku is more than capable of taking over matches by himself, and he may be tasked with doing just that if neither De Bruyne nor Hazard is fit enough to feature in Munich. How Roberto Martinez lines up his team to mitigate the likely absences of his marquee playmakers – and ensure Lukaku isn't isolated up front – will be fascinating.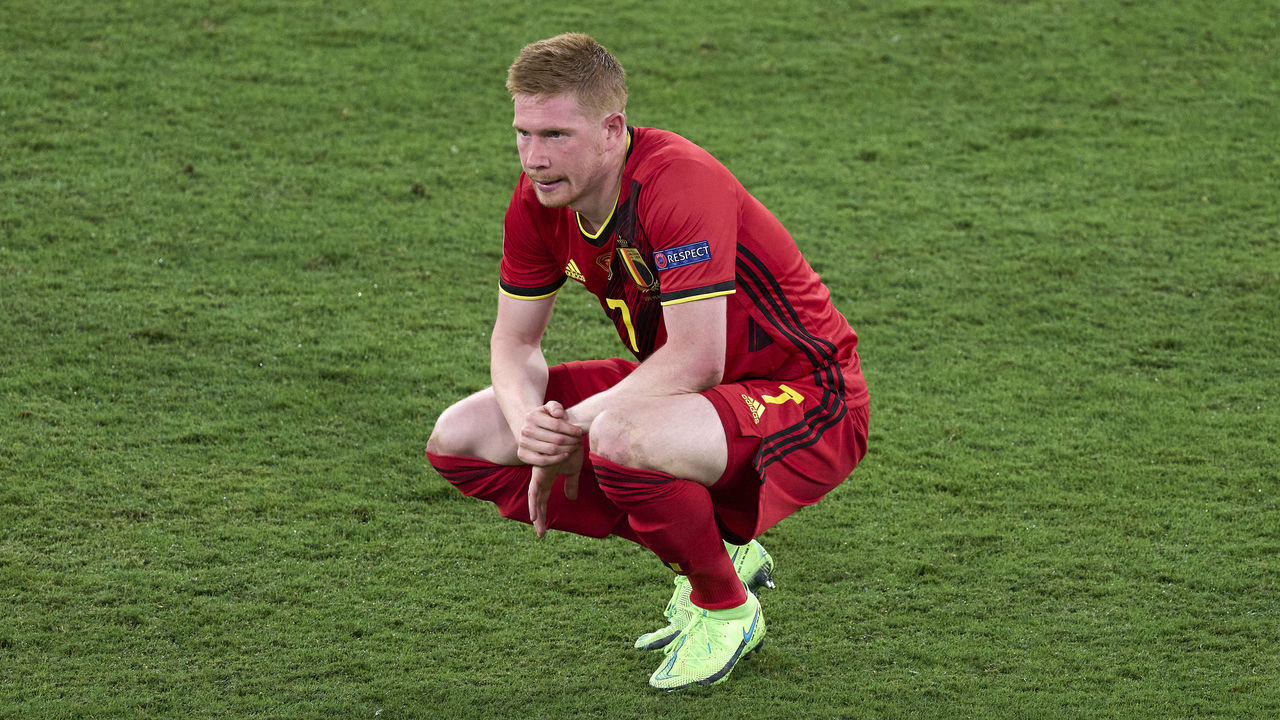 His counterpart on the opposite touchline, Roberto Mancini, also has some important decisions to make. There are growing calls for Mancini to insert the electrifying Federico Chiesa into the starting lineup over Domenico Berardi after the Juventus winger's dynamic performance off the bench in Italy's extra-time triumph against Austria. Influential captain Giorgio Chiellini, meanwhile, is progressing toward recovery after suffering a muscle injury earlier in the tournament and could return for the Azzurri.
The individual battles across the pitch are tantalizing here. Who will win the midfield scuffle? Who will grab the upper hand down the flank between Leonardo Spinazzola, perhaps Italy's standout player thus far at the Euros, and the rampaging Thomas Meunier? Can aging center-backs on both sides handle the prolific strikers they'll be tasked with slowing down? Expect a tight affair that could require more than 90 minutes.
Prediction: Italy advances on penalties
Saturday, July 3
Czech Republic vs. Denmark (12 p.m. ET)
Venue: Baku Olympic Stadium (Baku, Azerbaijan)
Denmark arrives in Baku as the favorite to reach the semifinals after transforming adversity into achievement following the collapse of creative fulcrum Christian Eriksen and defeats in its first two outings.
Since those losses to Finland – which was entirely understandable considering the circumstances – and Belgium, the Danes have been an irrepressible attacking force. Kasper Hjulmand's men are joint-second in the tournament with Italy on nine goals scored, tied with Spain for top spot in shots on target per match (7.3), and third in successful dribbles (11.5). Much of the attacking impetus comes from the left side, where wing-back Joakim Maehle and Eriksen stand-in Mikkel Damsgaard have been penetrative threats and the team's best source of service for the suddenly in-form Kasper Dolberg.
Like Denmark, the Czech Republic has legitimate claims to the "Team of Destiny" mantle after stunning the Netherlands in a comprehensive last-16 victory. Patrik Schick's four goals have helped plenty, as has the play of West Ham duo Tomas Soucek and Vladimir Coufal. But the Czechs will have to be tidier against a Denmark side that can break on the counter in the blink of an eye. Jaroslav Silhavy's team has completed just 75.3% of its passes – the lowest among the 24 teams at Euro 2020 and nearly 10% worse than its opponent Saturday in Azerbaijan.
Prediction: Denmark advances
Ukraine vs. England (3 p.m. ET)
Venue: Stadio Olimpico (Rome, Italy)
England the overwhelming favorite in the quarterfinal of a major tournament? What a time to be alive. After ending the nation's curse against Germany, the Three Lions are superbly positioned to reach the final and will meet a Ukraine side coming off a punishing, potentially Pyrrhic last-16 victory over Sweden. Can Andriy Shevchenko's team – full of faces very familiar to England players and supporters – find the energy to go again after expending so much of it just to reach this point?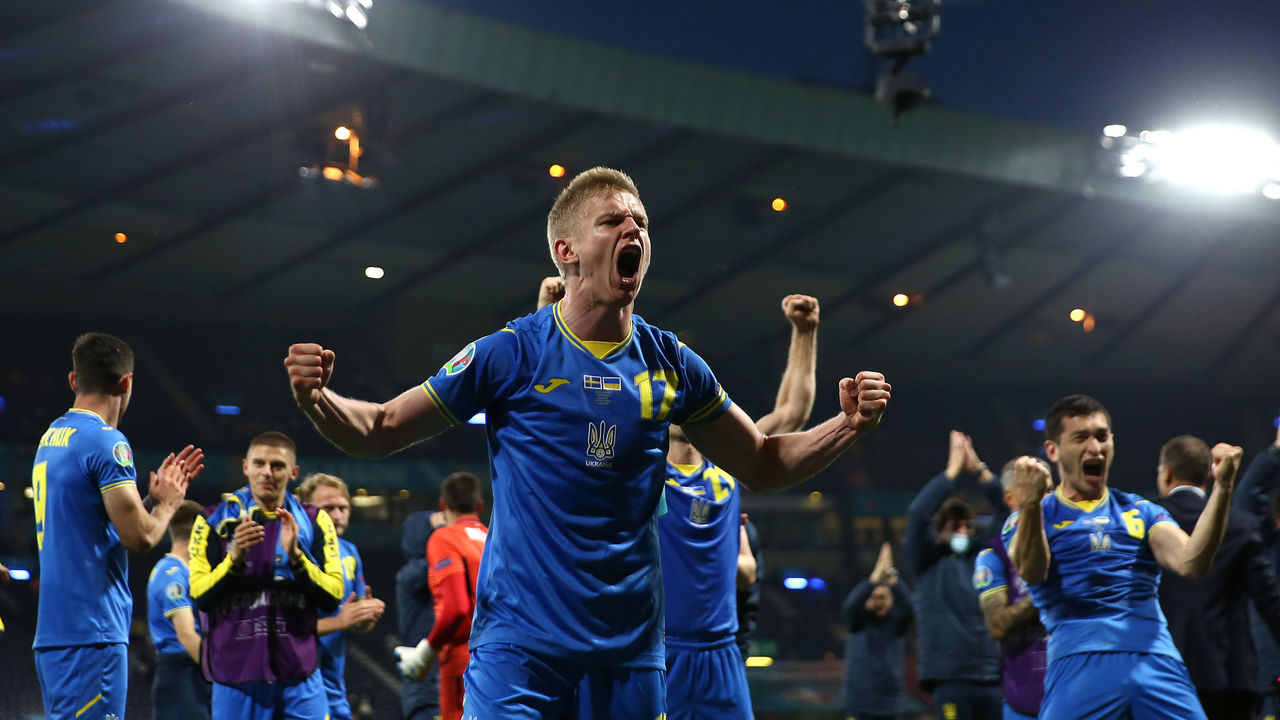 The biggest question surrounding England, meanwhile, hinges on a potential formation shift from Gareth Southgate. After he reverted to a three-man defense against Germany, this contest may call for a more offensively minded approach; four across the back, with newfound national hero Jack Grealish reinserted into the starting lineup for more attacking impetus, seems the obvious move. Southgate's ethos has always been to keep things tight defensively – boring football is perfectly fine by him if it delivers results. But he can still accomplish that while lining up his team to take the initiative against a beleaguered opponent that figures to sit back and cede possession. England, the only team yet to concede a goal in this tournament, can grind out the win if necessary. But it really shouldn't have to.
Euro 2020 has served as a stark reminder to never rule out the underdog. But actually predicting the favorite to fall – against all evidence – is another matter entirely.
Prediction: England advances in extra time