20 overreactions to the Premier League's opening weekend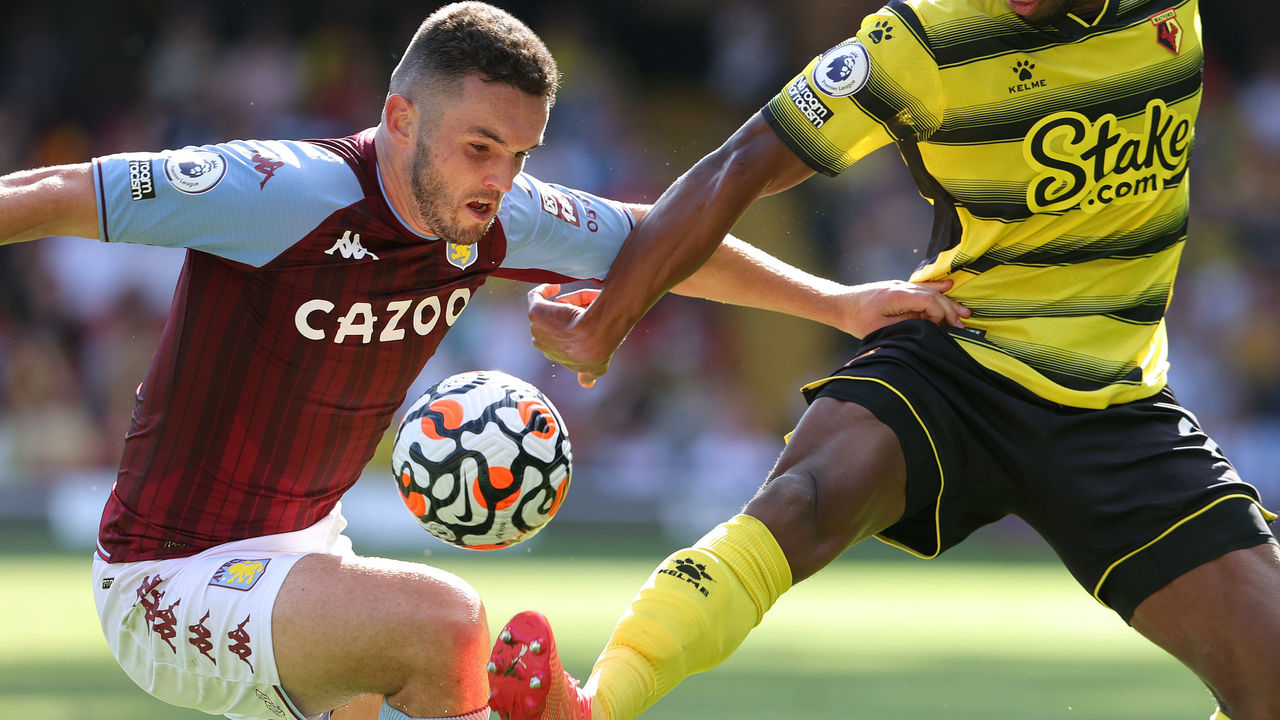 The opening weekend of the 2021-22 Premier League season is over, so naturally, it's time to overreact about the state of each team. Below, theScore tips some sides for glory and others to rival last term's Sheffield United for ineptitude.
Arsenal
Arsenal's new £50-million signing Ben White could end up costing manager Mikel Arteta his job. Arsenal were missing a pair of superstar attackers against Brentford, but that doesn't excuse White's uninspiring display in his debut against a team that had zero Premier League experience heading into Friday's game.
Aston Villa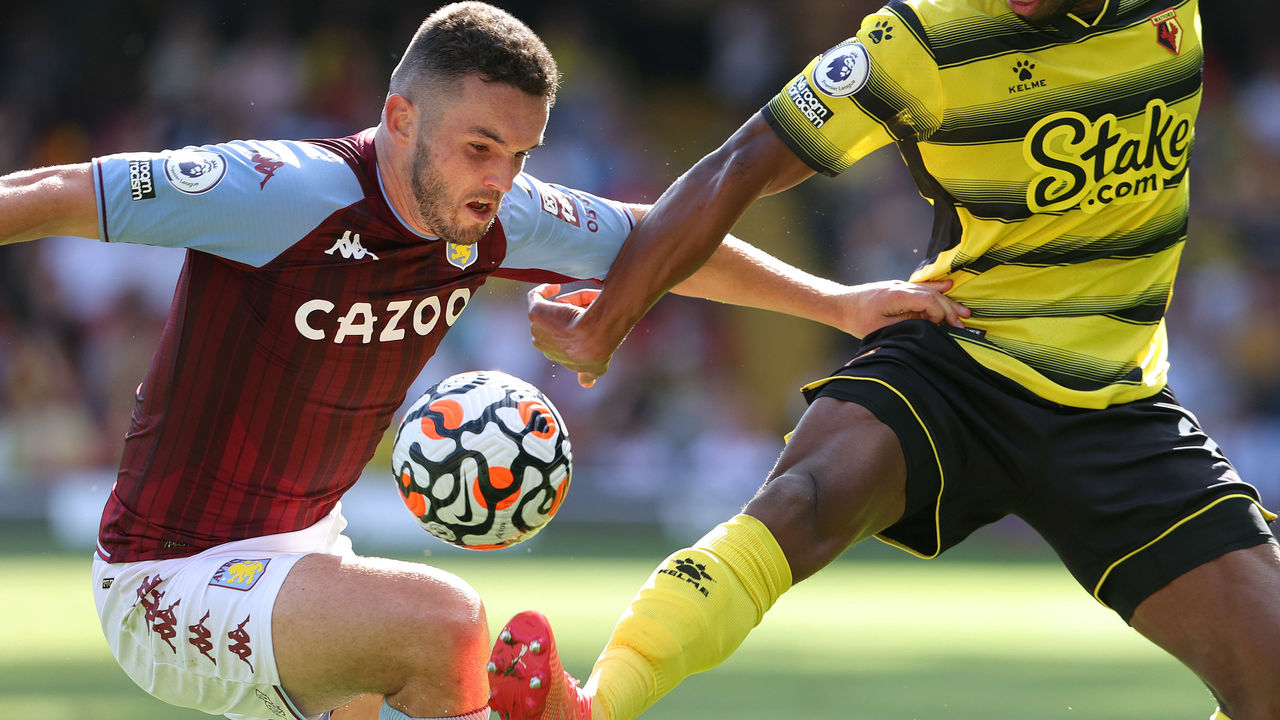 Life after Jack Grealish was already going to be difficult, but now it's looking grim after Aston Villa's atrocious display against newly promoted Watford. Even the infusion of talent brought in to help offset Grealish's departure failed to offer a spark for an Aston Villa side that could be involved in an intense fight to avoid relegation.
Brentford
Brentford's win over Arsenal could be the start of something special. The club's first top-flight victory in 74 years was proof that Thomas Frank's team has the quality to not only stay up but also make life difficult for Premier League opponents. They can start to dream about an odds-defying run to the title after they get a season of Premier League football under their belt.
Brighton & Hove Albion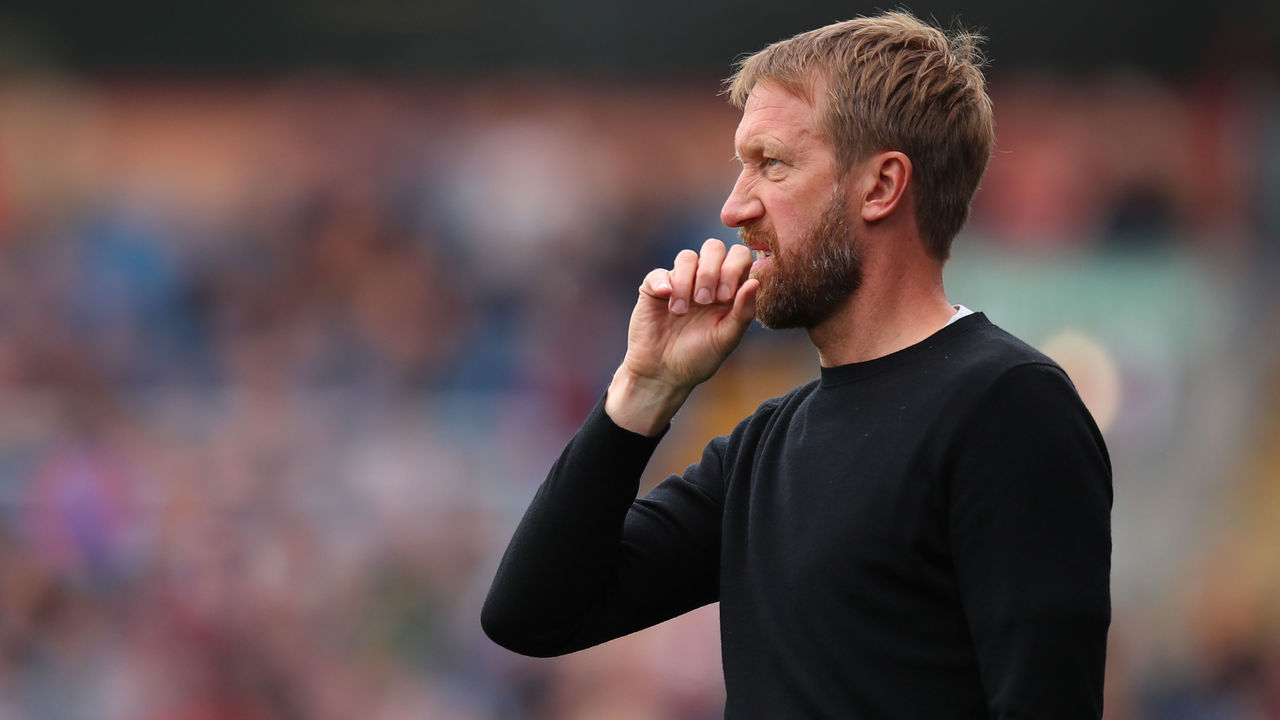 Graham Potter is on course to become the most sought-after manager in English football. He showed his tactical prowess by introducing Jakub Moder and Alexis Mac Allister when his side was 1-0 down at Burnley on Saturday; the former quickly assisted Neal Maupay while the latter notched a 78th-minute winner.
Burnley
The recent workload of Burnley's most reliable striker, Chris Wood, seems to be a real problem this season. The Kiwi frontman's ball retention and movement were below par against Brighton as his play appeared labored following his Olympic commitments with New Zealand. Jay Rodriguez, Ashley Barnes, and Matej Vydra must step up.
Chelsea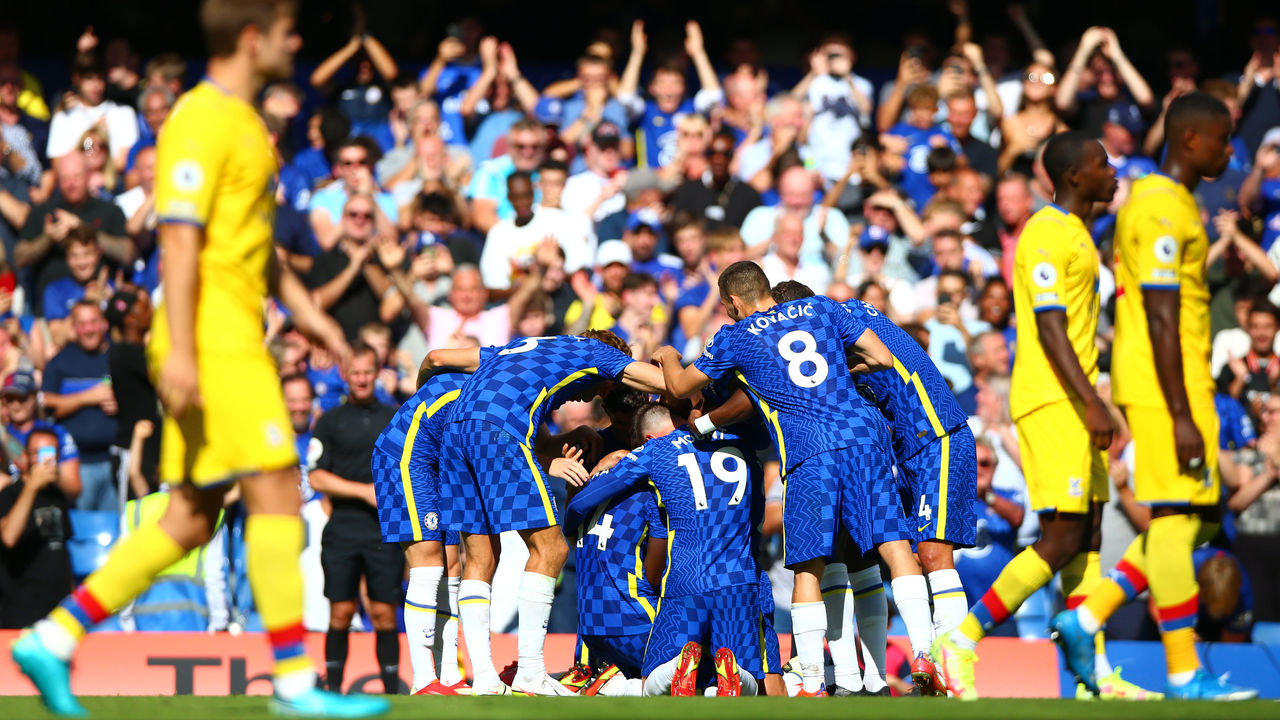 Plan the parade, Chelsea fans. The Blues put on a show for the Stamford Bridge faithful, welcoming fans back with a dominant performance that reinforced belief over Chelsea's title aspirations. Just imagine how much more dangerous Thomas Tuchel's side will be when Romelu Lukaku links up with the attack.
Crystal Palace
Patrick Vieira is the wrong man for the job at Crystal Palace. Optimism over Vieira's reign was short-lived, as the Eagles were badly outplayed by city rivals Chelsea. The Frenchman has ambitious plans to rebuild the club, but the task could prove to be too overwhelming for a manager with no experience in engineering such a drastic overhaul.
Everton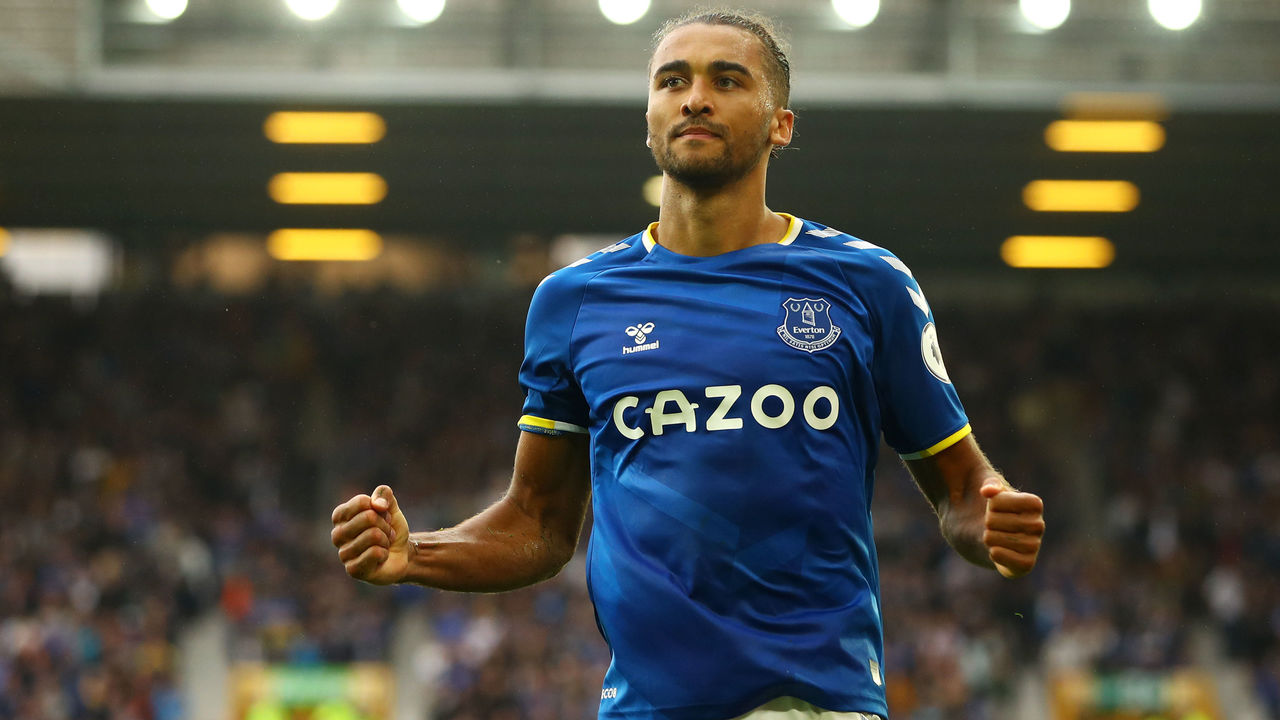 Everton's strikers are set for a fruitful term. Dominic Calvert-Lewin feasted on crosses from new boys Demarai Gray and Andros Townsend while Richarlison expertly stretched the Southampton rearguard from a new central role. This attacking setup and Rafa Benitez's trademark defensive organization could combine for the most balanced Everton side we've seen in years.
Leeds United
Expectations were rightfully high for Leeds United coming off an impressive season in which they defied expectations to finish ninth. But, 90 minutes into the new campaign, it's obvious Leeds have regressed – Marcelo Bielsa's men kicked off the 2021-22 campaign with a devastating 5-1 drubbing to rivals Manchester United.
Leicester City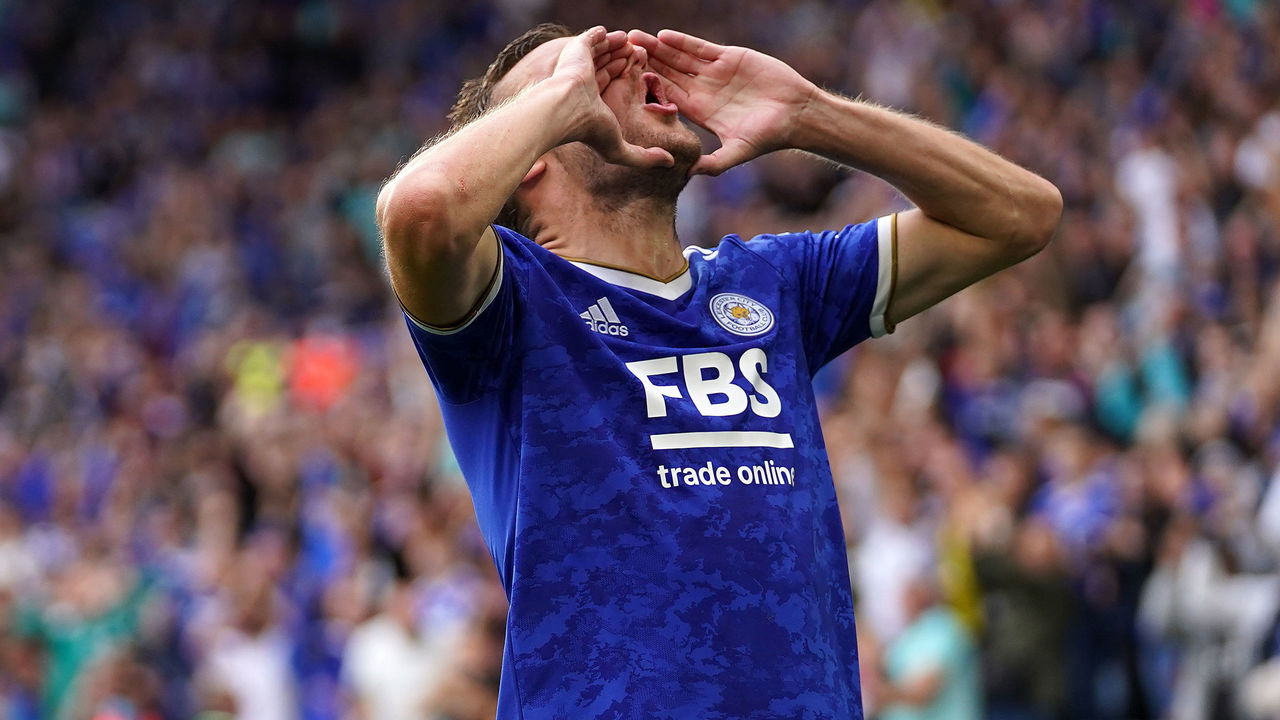 Leicester striker Jamie Vardy is going to be in contention to win another Premier League Golden Boot award. He may be 34, but Vardy proved against Wolverhampton Wanderers that he can still be entrusted with leading Leicester's attack. With quality distribution from Youri Tielemans and James Maddison, Vardy could potentially bag 20 goals this season.
Liverpool
Liverpool are back to being a defensive juggernaut now that Virgil van Dijk is back in the fold. Sure, it was just a routine victory over a vastly inferior Norwich City side, but the fact the imposing Dutch defender made it through 90 minutes while helping keep a clean sheet should put the Reds back in contention for the Premier League title.
Manchester City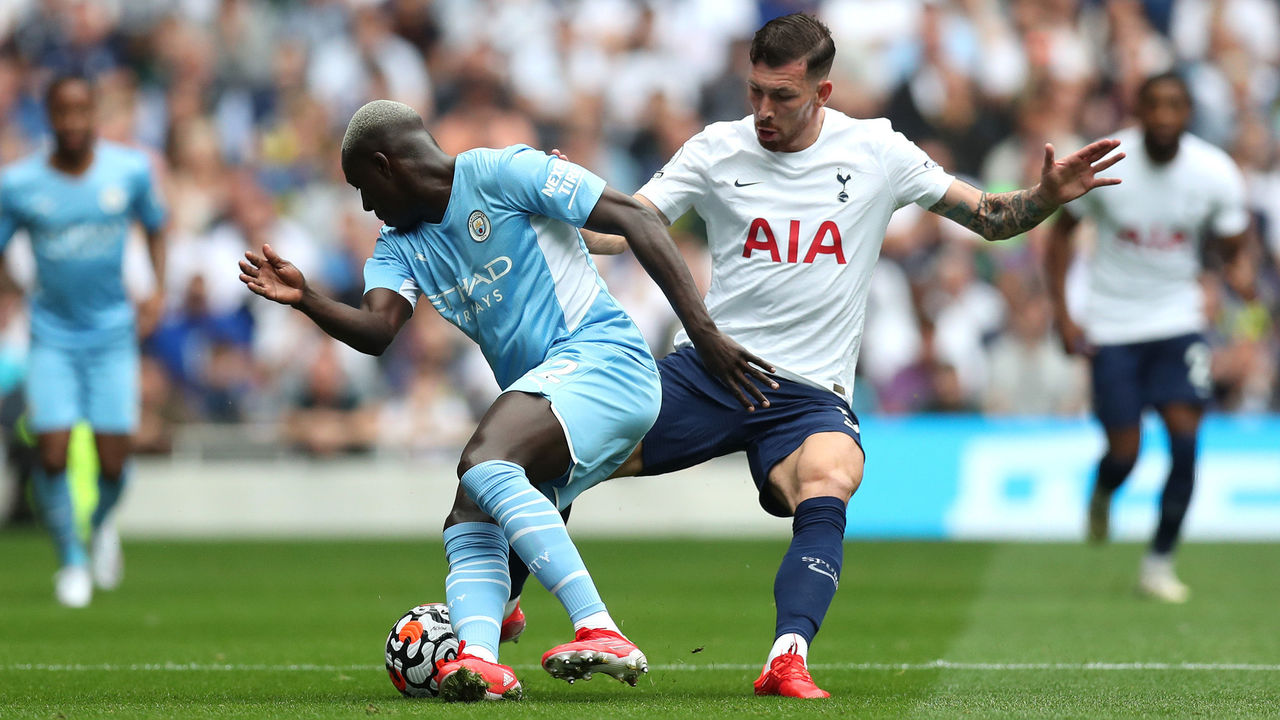 Asteroids could pummel the earth, pulverizing humankind as we know it, but still, somehow, Benjamin Mendy would be dressed in his training kit, preparing for another season with Manchester City. Why does Pep Guardiola accept that his best player at left-back is an attacking midfielder in Oleksandr Zinchenko? It's a peculiar situation for a club of seemingly infinite resources.
Manchester United
Bruno Fernandes and Paul Pogba have emerged as the most lethal combination in football. The Manchester United star is an obvious shoo-in for the PFA Player of the Year award after recording a hat-trick against Leeds. Meanwhile, the liberated Frenchman's four assists Saturday will help his bid to smash the Premier League's assists record (20).
Newcastle United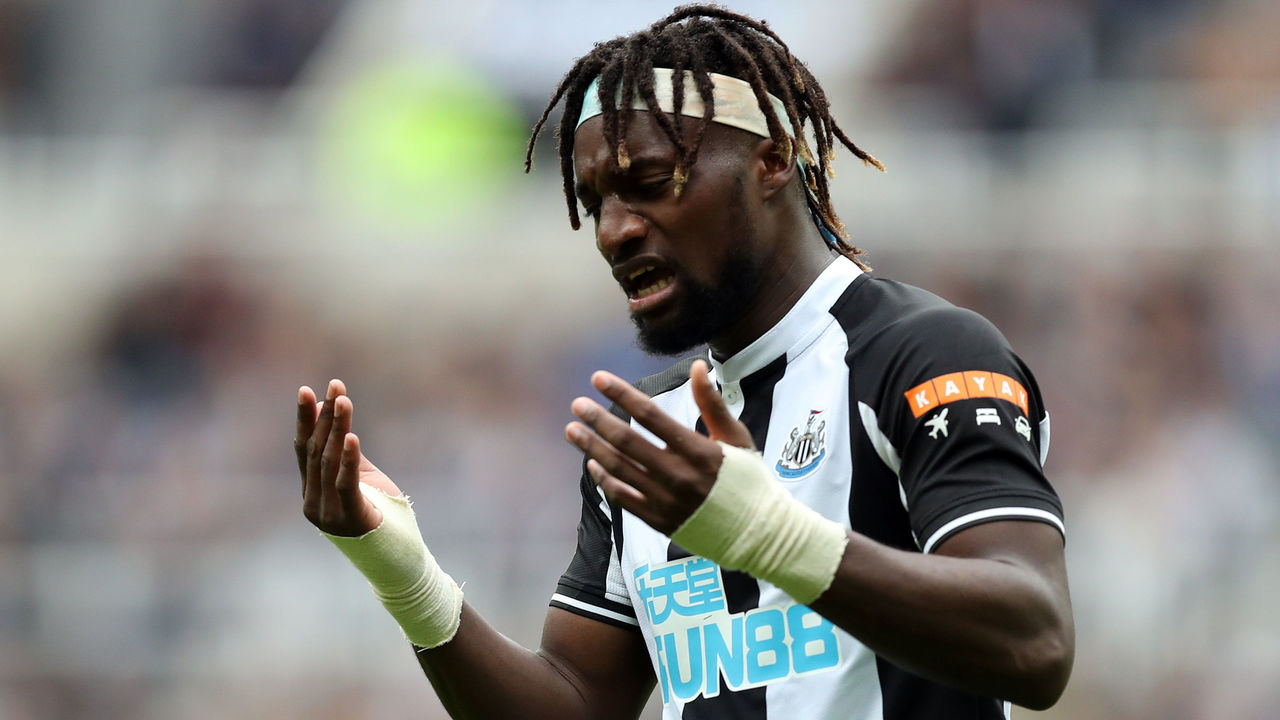 As Allan Saint-Maximin faded – understandably, given his recent illnesses – so did his team. It's imperative that Newcastle carefully return Saint-Maximin to match fitness soon, otherwise they'll be staggering toward the Championship. Callum Wilson's finishing and Matt Ritchie's deliveries are important, but no one can produce something from nothing like ASM.
Norwich City
They won't be the only team to get thumped by Liverpool this season, but Norwich have obvious vulnerable areas that need to be addressed. Oliver Skipp is back at Tottenham Hotspur after an excellent season on loan with Norwich, and his presence in defensive midfield was missed. Left-back Dimitrios Giannoulis also looked to be way below Premier League quality.
Southampton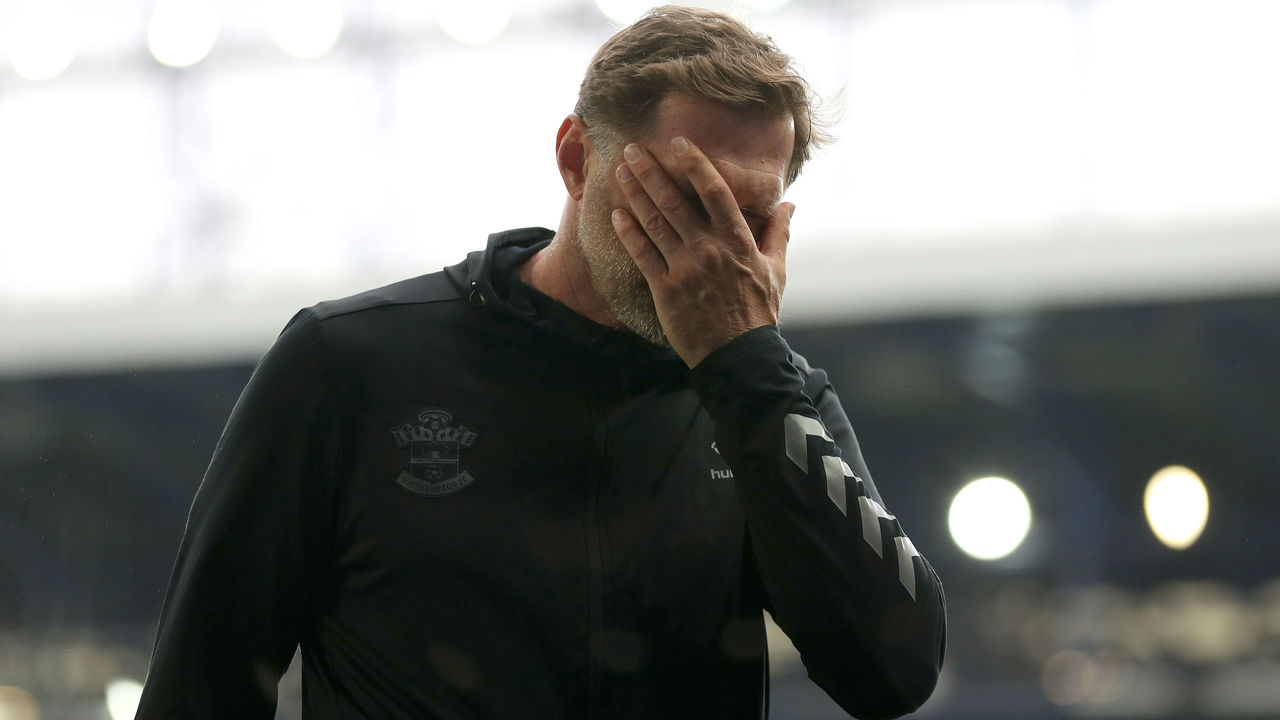 The Saints are producing one of the worst transfer windows in Premier League history. Adam Armstrong confidently picked out the top corner on his debut, but it's asking a lot of him to cover the goals lost by Danny Ings' departure to Aston Villa. Also, allowing Jannik Vestergaard to leave has further unsettled a scatterbrained defense. Southampton are in serious danger of relegation.
Tottenham Hotspur
Tottenham fans can believe. The Harry Kane hubbub has distracted everybody from Spurs' wealth of young talent. Japhet Tanganga was colossal as he kept Raheem Sterling and Jack Grealish quiet, Oliver Skipp continued his magnificent form from last season's loan at Norwich City, and there were nine other starters or substitutes aged 25 or under. The future's bright.
Watford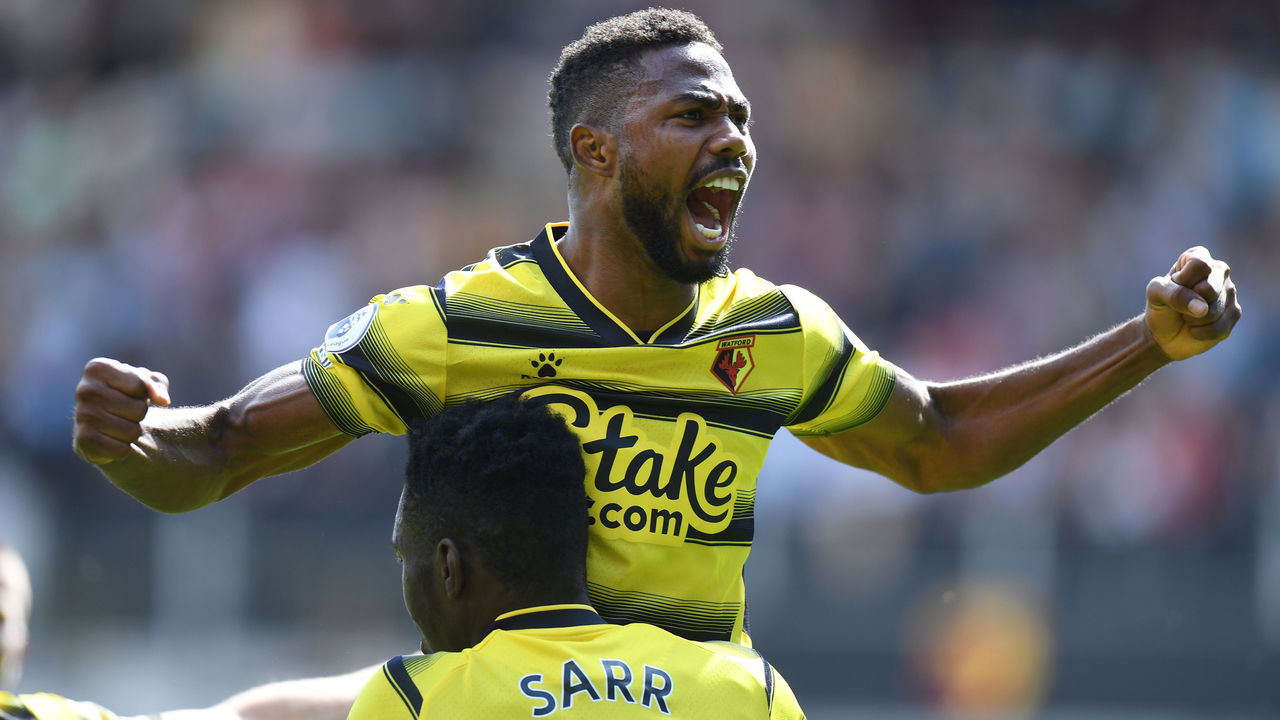 Watford pulled off one of the signings of the season with the arrival of Emmanuel Dennis. The attacker has been dubbed an immature and difficult character during his career and was dropped from a poor FC Koln side last season, but his knack of drifting across the frontline complemented the work of Ismaila Sarr. The Nigerian scored and assisted in Saturday's win over Villa.
West Ham United
This is Said Benrahma's year. After struggling with his end product in his first campaign at West Ham, the Algerian playmaker followed an excellent preseason with a goal and an assist against Newcastle. His inventiveness is renowned and his work rate is underrated. Together, those attributes make him a constant threat in a new No. 10 role.
Wolverhampton Wanderers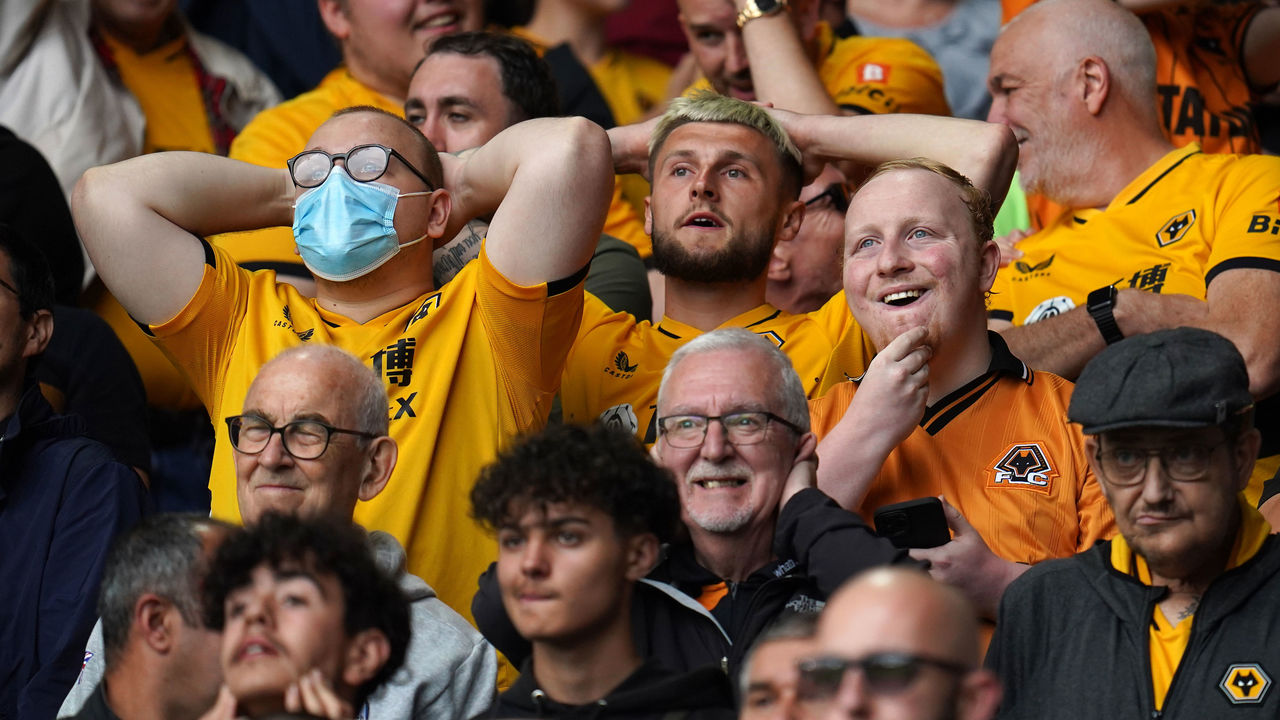 A change in approach had Wolves looking lost in the first official game of the post-Nuno Espirito Santo era. After years of trying to understand and implement the Portuguese manager's reserved tactics, Wolves showed there's going to be a steep learning curve under the attack-minded Bruno Lage.
Copyright © 2021 Score Media Ventures Inc. All rights reserved. Certain content reproduced under license.
Best images from Sunday's snowy Premier League action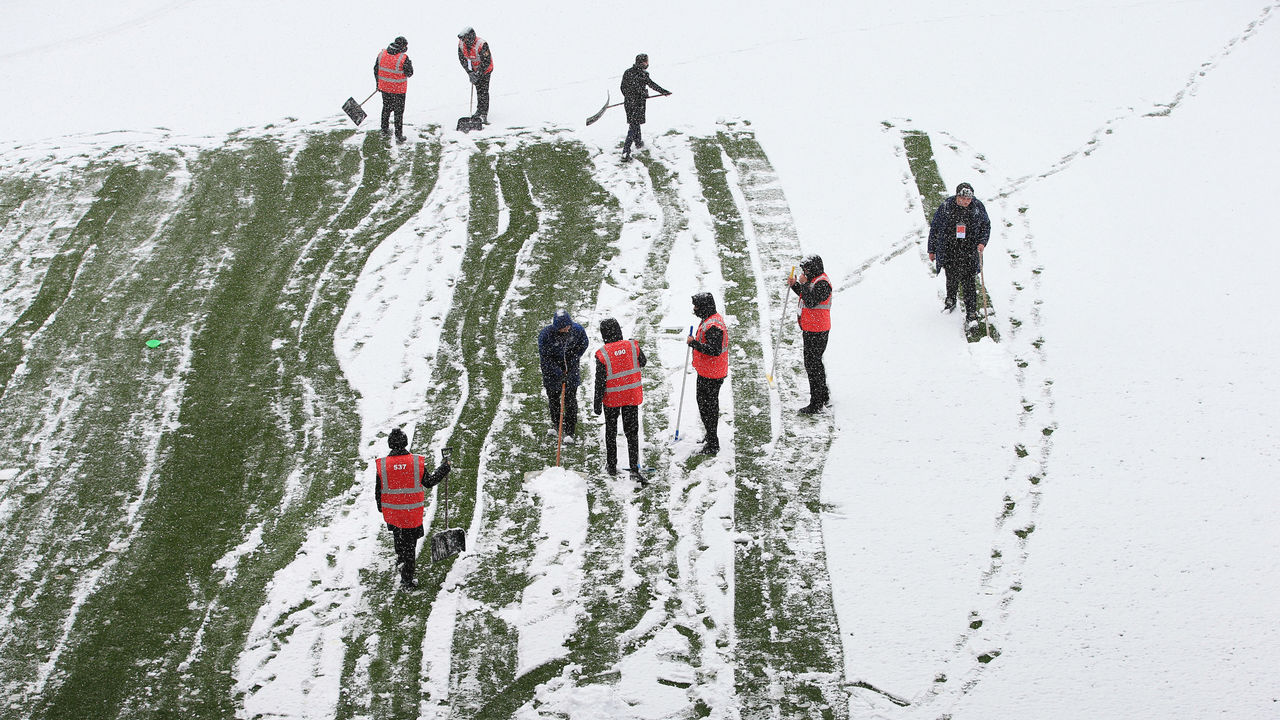 Heavy snowfall blanketed northern England on Sunday, creating wintry conditions for a trio of Premier League matches. Here's a look at some of the best images from a picturesque day in England's top flight:
Burnley vs. Tottenham Hotspur
This one never even got started, as the adverse weather forced a postponement of Burnley's contest with Tottenham. It's no surprise considering the state of Turf Moor.
There's a football pitch under there somewhere – we think: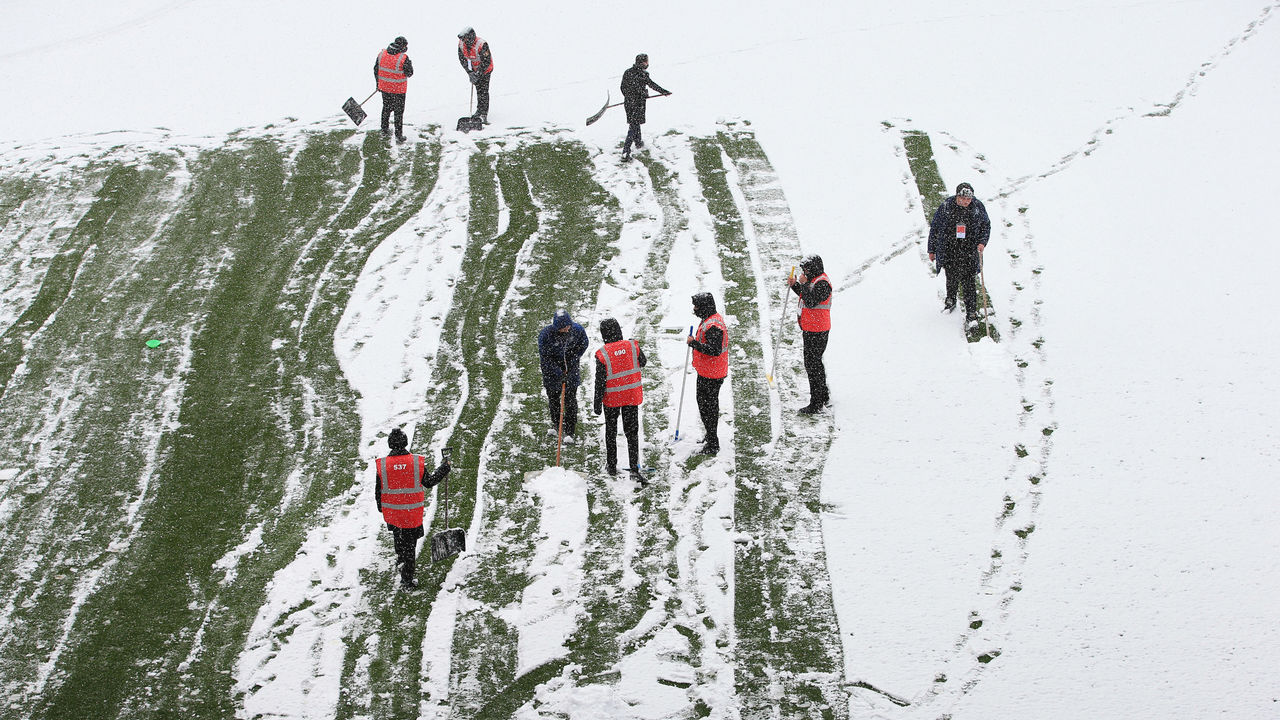 Some Tottenham players made the most of the situation with a snowball fight: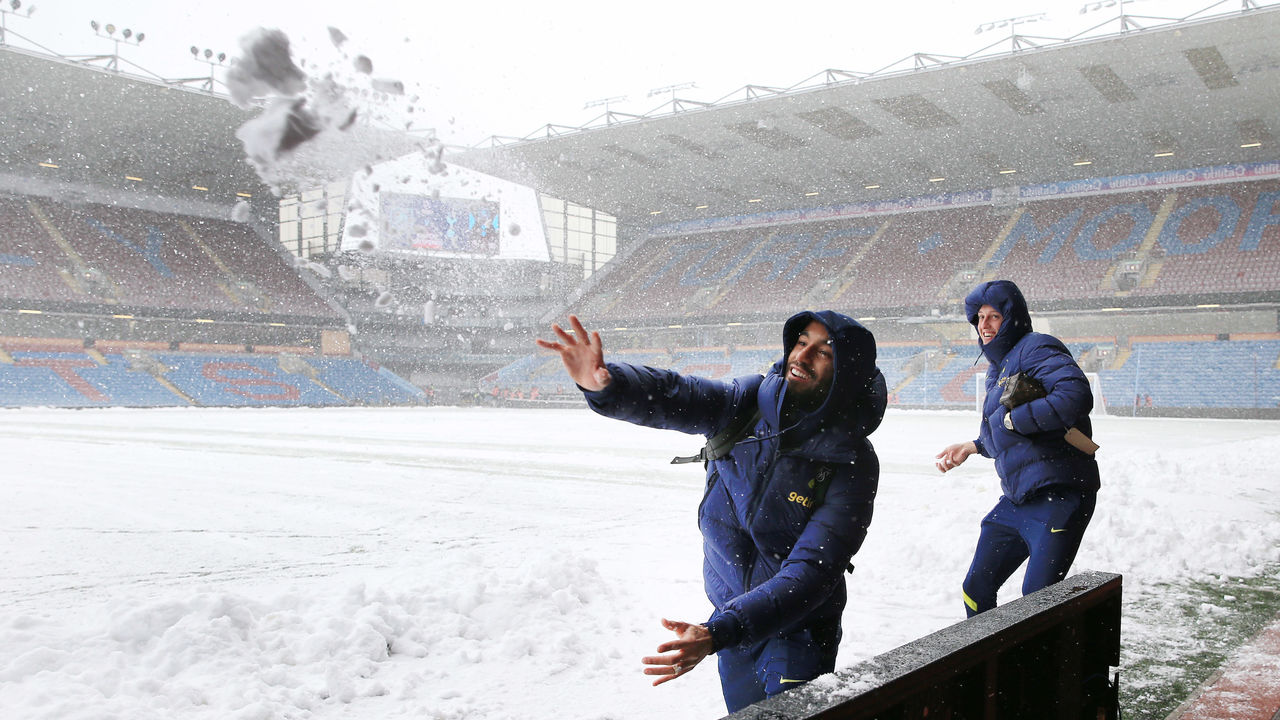 This fan was bundled and ready for the action, blizzard be damned: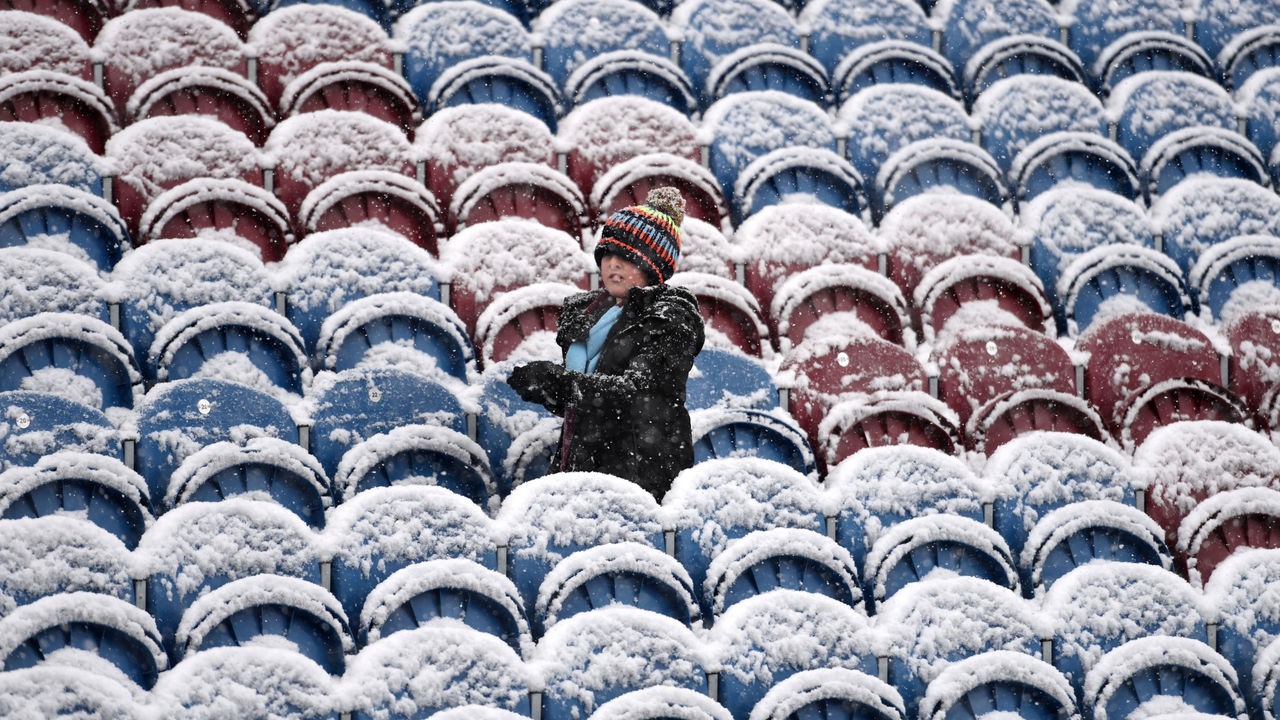 Sadly, there was no cameo from the iconic orange balls: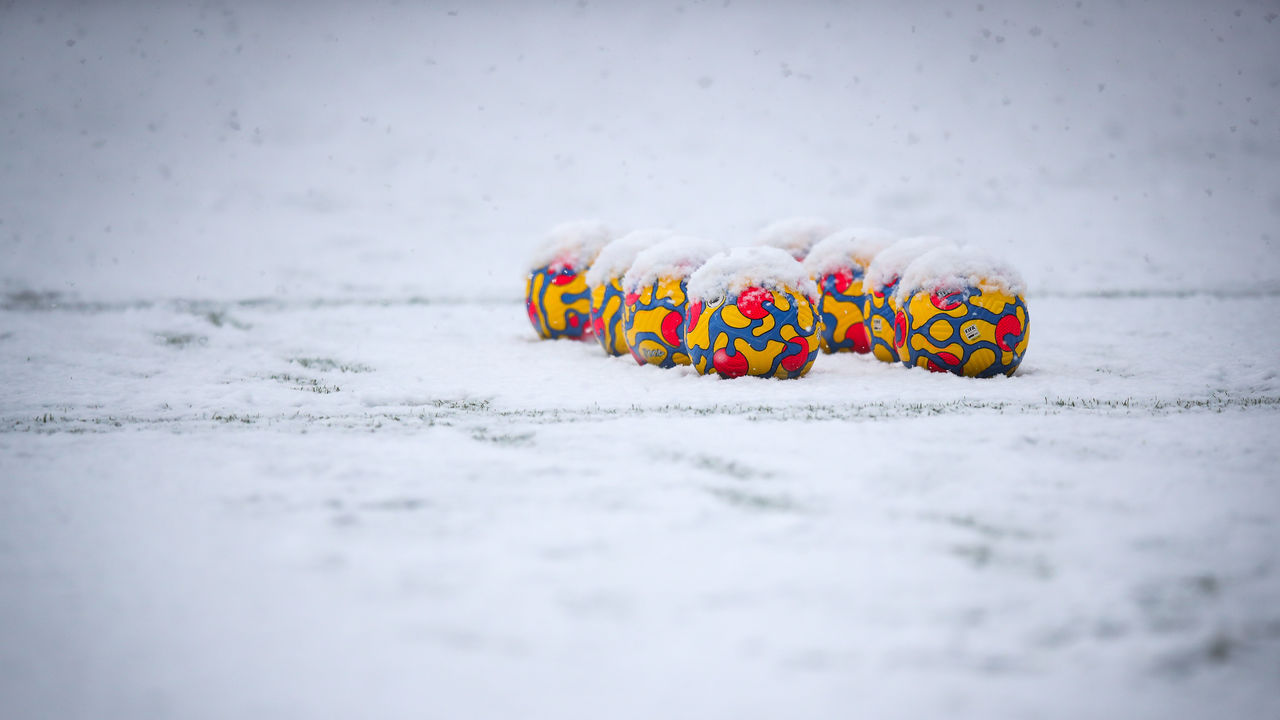 Leicester City vs. Watford
Leicester's 4-2 victory over Watford began like any other contest – the field was actually green – but the scene eventually resembled a winter wonderland.
As is always the case in these situations, members of the grounds crew were the heroes: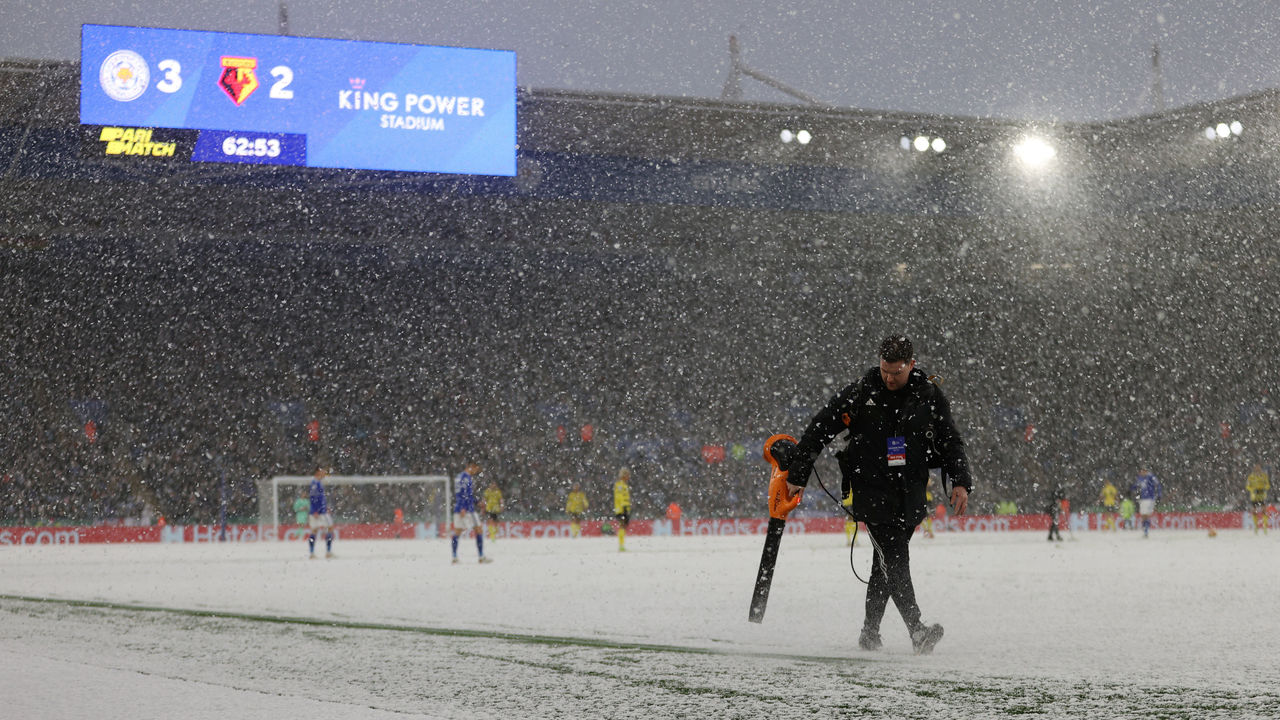 Perhaps they should have kept the sprinklers off for this one: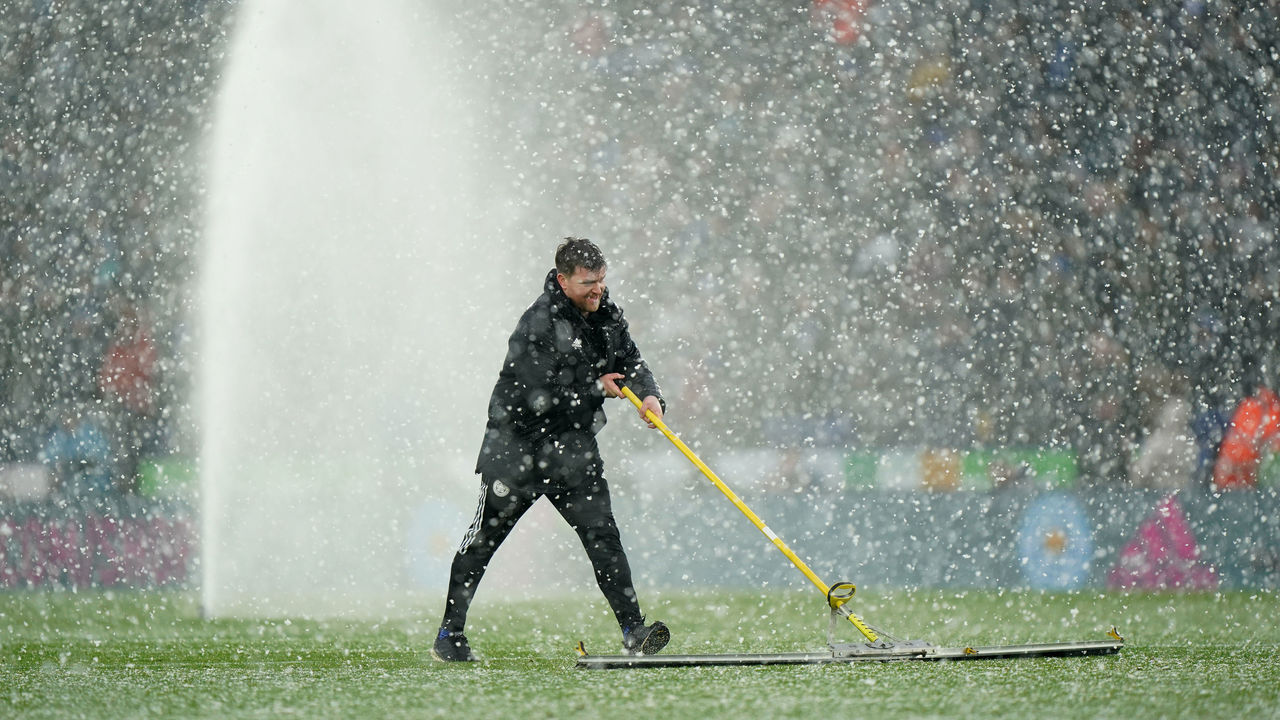 Manchester City vs. West Ham United
Manchester City claimed a 2-1 win over West Ham at the Etihad Stadium, overcoming both the conditions and the dangerous Hammers.
Marking Pep Guardiola's attackers is already difficult, but the weather rendered City's home kits nearly indistinguishable: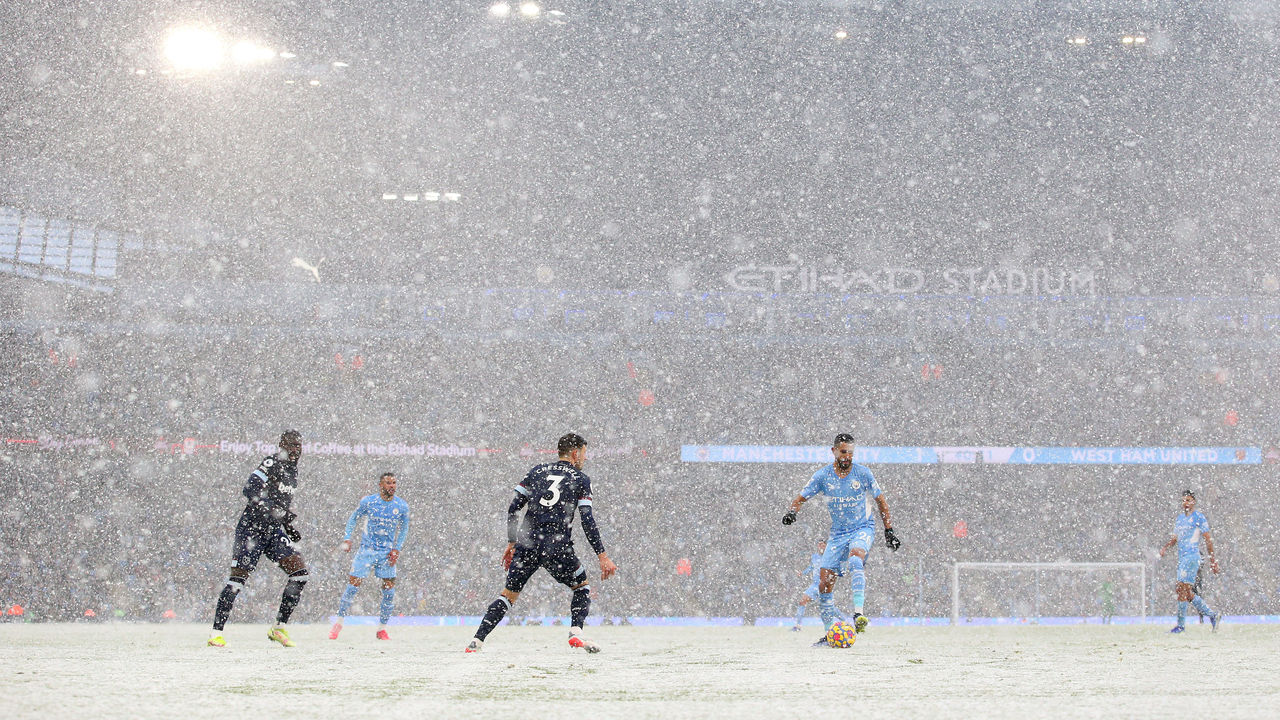 A more cohesive unit: Manchester City in full flight, or the club's groundskeepers?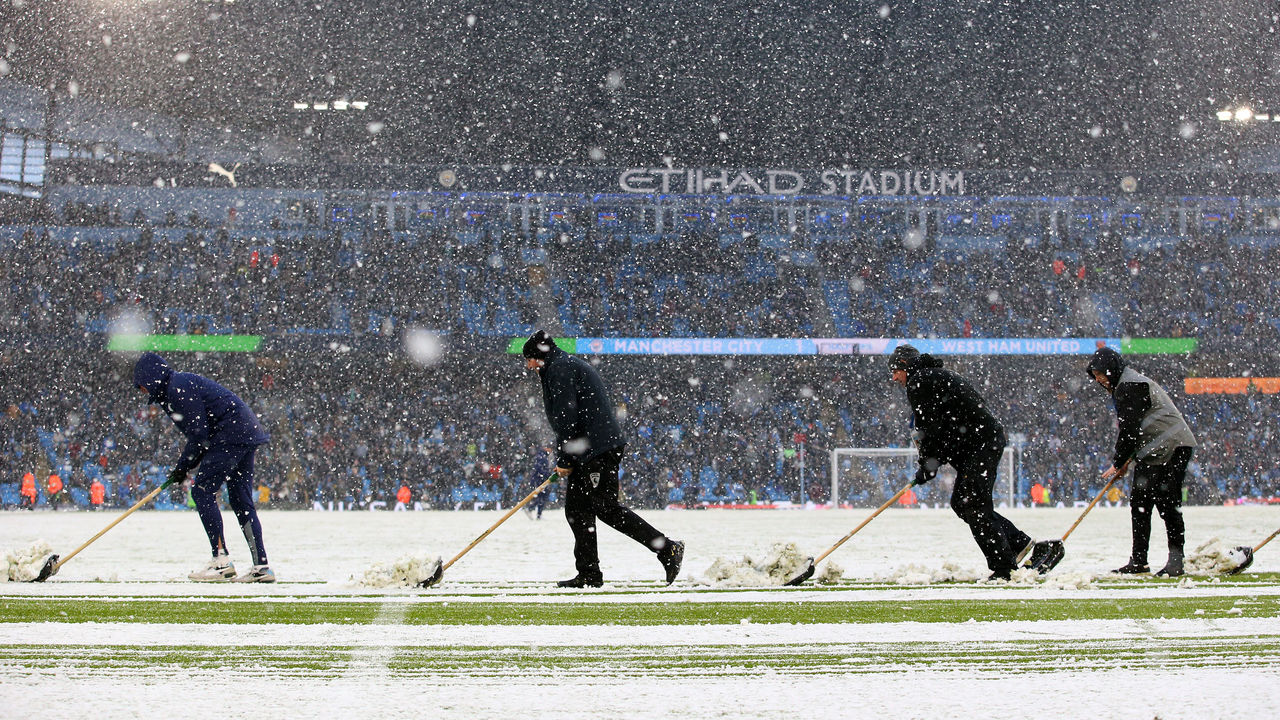 Spare a thought for the goalkeepers in today's snow-filled games; they don't get to run around and stay warm like their outfield peers: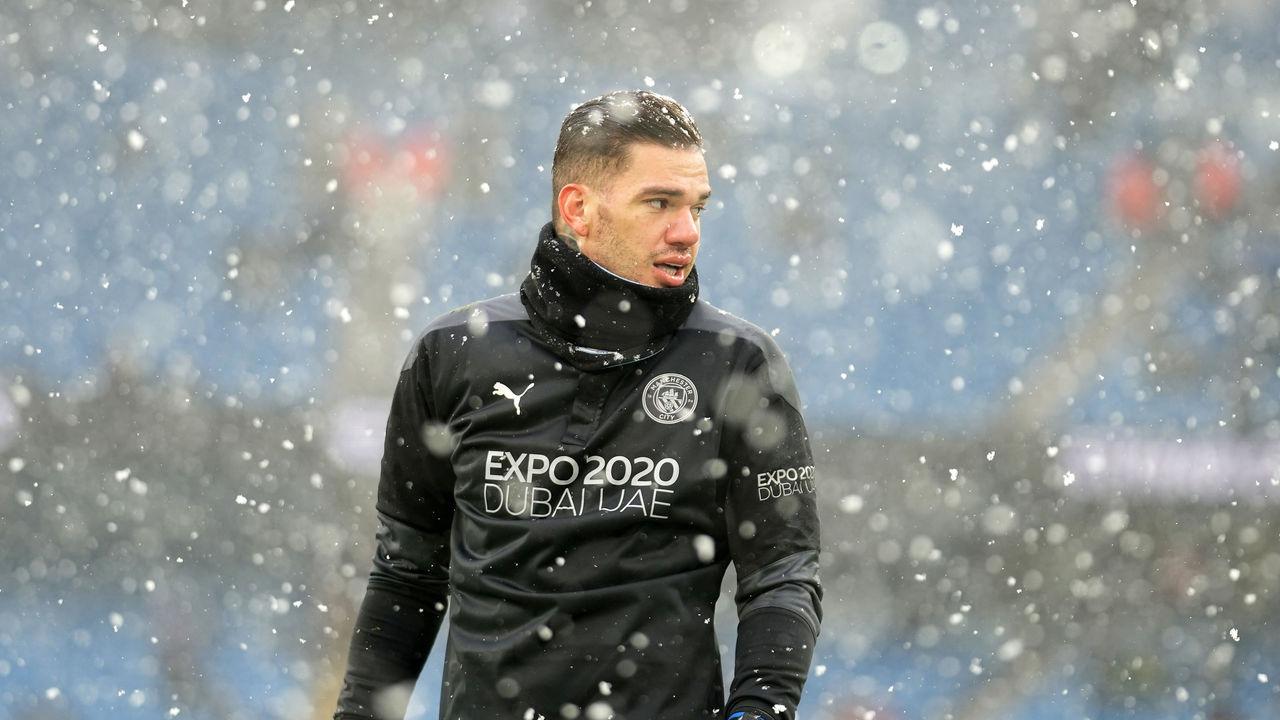 Copyright © 2021 Score Media Ventures Inc. All rights reserved. Certain content reproduced under license.
10 thoughts from the weekend's Premier League action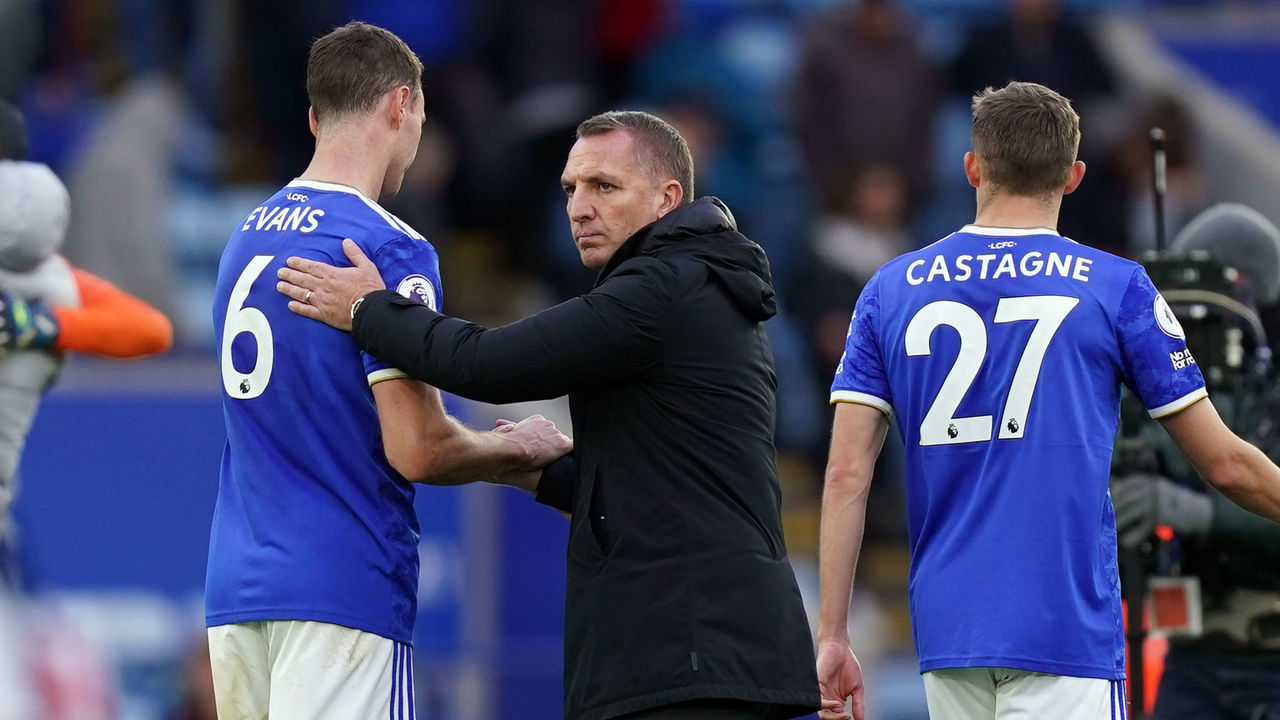 theScore examines the most important Premier League developments from the weekend, dissecting the biggest talking points after a busy slate of action.
Chelsea's marauding defenders wreak havoc
Chelsea didn't need a full squad to produce a complete 3-0 shellacking of Leicester City on Saturday. Even with Romelu Lukaku out, Timo Werner watching on as an unused substitute, and Hakim Ziyech and Christian Pulisic starting on the bench, the Blues produced enough chances to more than double their score.
That's because Thomas Tuchel has coached a system and style of play that relies not just on one player but the entire collective. Tuchel also tasks his defenders with pushing forward and joining the attack. The wing-backs look like de facto wingers out there, almost creating a front five when they enter the opposing half. We've seen Pep Guardiola's Manchester City operate with so-called inverted full-backs, and Chelsea are pulling off something similar. Reece James and Ben Chilwell routinely find themselves in the final third and even in the penalty area.
On Saturday, James had more touches in the 18-yard box than Jamie Vardy, and Chilwell created more chances than any of his teammates. Trevoh Chalobah, one of Chelsea's three center-backs, progressed the ball up the field like a midfielder, and Antonio Rudiger scored off another set piece. Chelsea's defense is so prolific due to Tuchel's aggressive tactics.
Leicester regressing under Rodgers
Leicester slid into the bottom half of the table with Saturday's dismal showing, and the fans let them have it. All the goodwill manager Brendan Rodgers had going for him seems to be evaporating.
It feels very much like the beginning of the end.
The stats read like an obituary: with one clean sheet in 17 league matches and just two wins out of six at home, the Foxes look nothing like the high-pressing, all-action side Rodgers unleashed in his first few months in charge. Vardy's struggling to run off the shoulders of defenders as he usually does, and the midfielders are completely capitulating ground to their opponents. Jonny Evans, an otherwise sturdy presence since joining the club in 2018, can't possibly mistime any more tackles without getting a red card, and Caglar Soyuncu has offered futile resistance to onrushing opponents.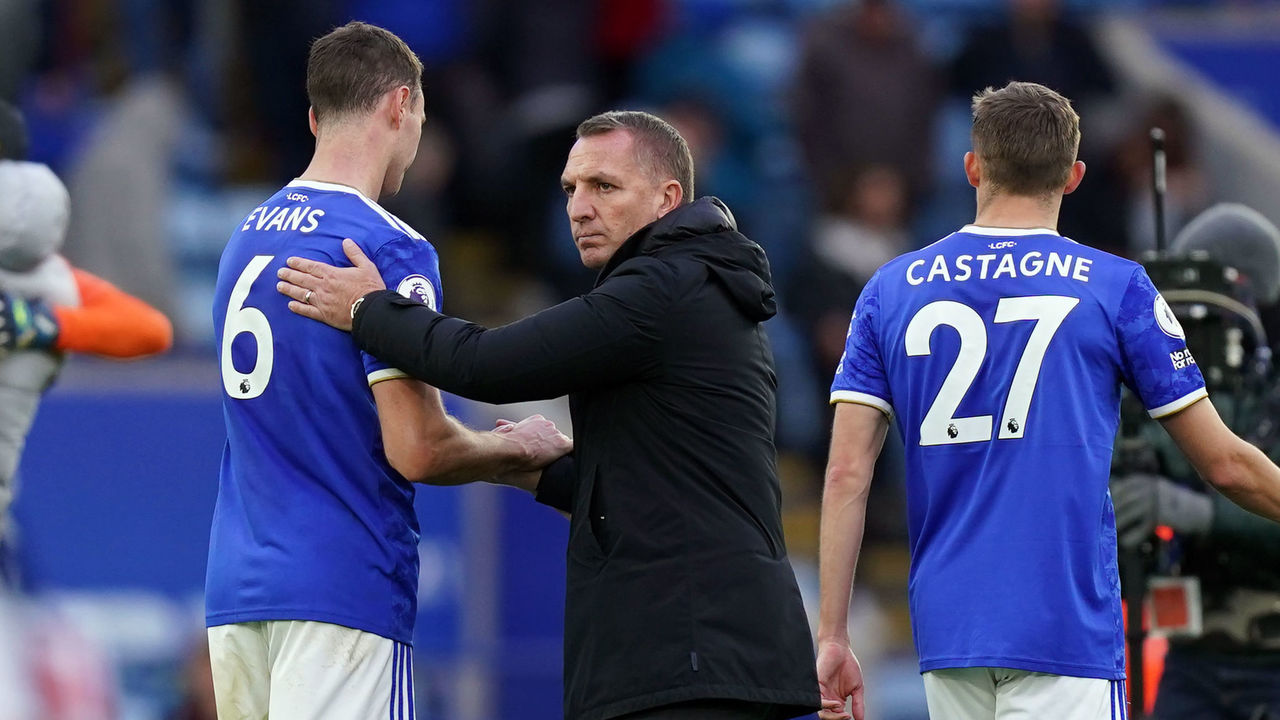 Youri Tielemans' absence certainly took a toll on Saturday – it was the first time he missed a Premier League fixture in nearly two years – as his teammates couldn't cover the cracks. Chelsea had tons of space whenever they ventured forward, and their long balls over the top forced Leicester's slower defenders into foot races that showed them up.
It was also peculiar to see Patson Daka – Leicester's young livewire and author of four goals in last month's Europa League match at Spartak Moscow – sitting on the bench alongside the club's No. 10, James Maddison, while Marc Albrighton started in the year 2021.
Solskjaer's firing long in the making
Nothing was going to save Ole Gunnar Solskjaer this time around, no last-minute push for an equalizer to salvage this lost cause. Last month's 5-0 capitulation to Liverpool was embarrassing, the 2-0 loss to Manchester City humiliating, but Saturday's listless 4-1 defeat to Watford was perhaps the worst of all. Watford had scored just twice in their previous five home fixtures, but the goals came easy against Manchester United, who conceded chance after chance to their relegation-threatened opponent.
Afterward, the Norwegian held up his hands to the traveling supporters in the corner of Vicarage Road, apologizing for his team's lethargic display. Midfielder Bruno Fernandes insisted Solskjaer wasn't to blame. But many of the problems that plagued the team in recent months – the lack of cohesion, the absence of a game plan, the shortcomings in defense – had resurfaced. The manager hadn't found a fix.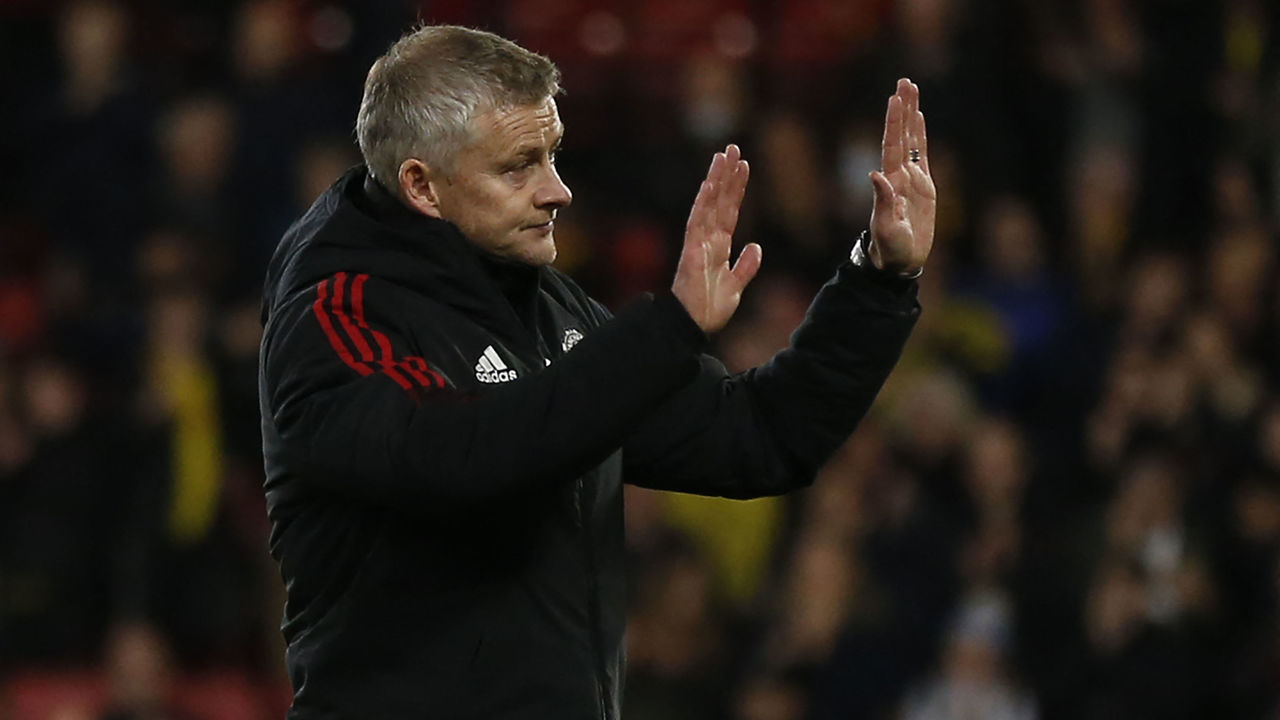 Reeling from their fifth defeat in seven league matches, United had no choice but to fire Solskjaer. The club gave its former player of 18 years every opportunity to succeed, committing over £400 million in transfer fees across the past three seasons. It even awarded him a contract extension in July. But nothing worked. The buzzing positivity that marked the early days of his reign had long evaporated. After 168 matches in charge, Solskjaer failed to establish forward momentum.
Now, the club has to find a capable replacement midseason. Is Michael Carrick really the only interim solution? Did the board not learn its lesson about former players with limited coaching experience? United made a mistake allowing Solskjaer to stay for so long. They could've appointed Mauricio Pochettino last year or Antonio Conte earlier this season. Both are now unavailable. Not even Zinedine Zidane seems interested. So around and around United go, searching for answers in familiar places.
Maguire's fallen off a cliff
What on earth has happened to Harry Maguire?
The England stalwart was legitimately excellent last season for Manchester United. The Red Devils boasted one of the best backlines in the nation and the imposing captain was a critical reason why, anchoring the defense while logging over 3,000 league minutes.
However, he's been a downright liability this season.
It seems obvious that rushing back from injury to feature for England at Euro 2020 has played at least some part in Maguire's downfall. The malaise at Manchester United doesn't help, but some of it comes down to egregious mistakes Maguire simply wasn't making last campaign.
The horrible sequence that led to his sending off against Watford – turning the ball over under absolutely no pressure before lunging wildly in a desperate effort to recover – was another low point for the 28-year-old.
Maybe the suspension-induced absence will be a good opportunity to reset.
Gerrard settles early nerves at Aston Villa
Aston Villa supporters were chanting Steven Gerrard's name by the end of Saturday's victory over Brighton & Hove Albion. Ninety minutes prior, many were unsure how to feel about their new manager. Fans had just bid farewell to "one of their own" in Dean Smith, the man who led Villa back to the Premier League. Gerard is undoubtedly a legend of the English game but is still an apprentice in the coaching department.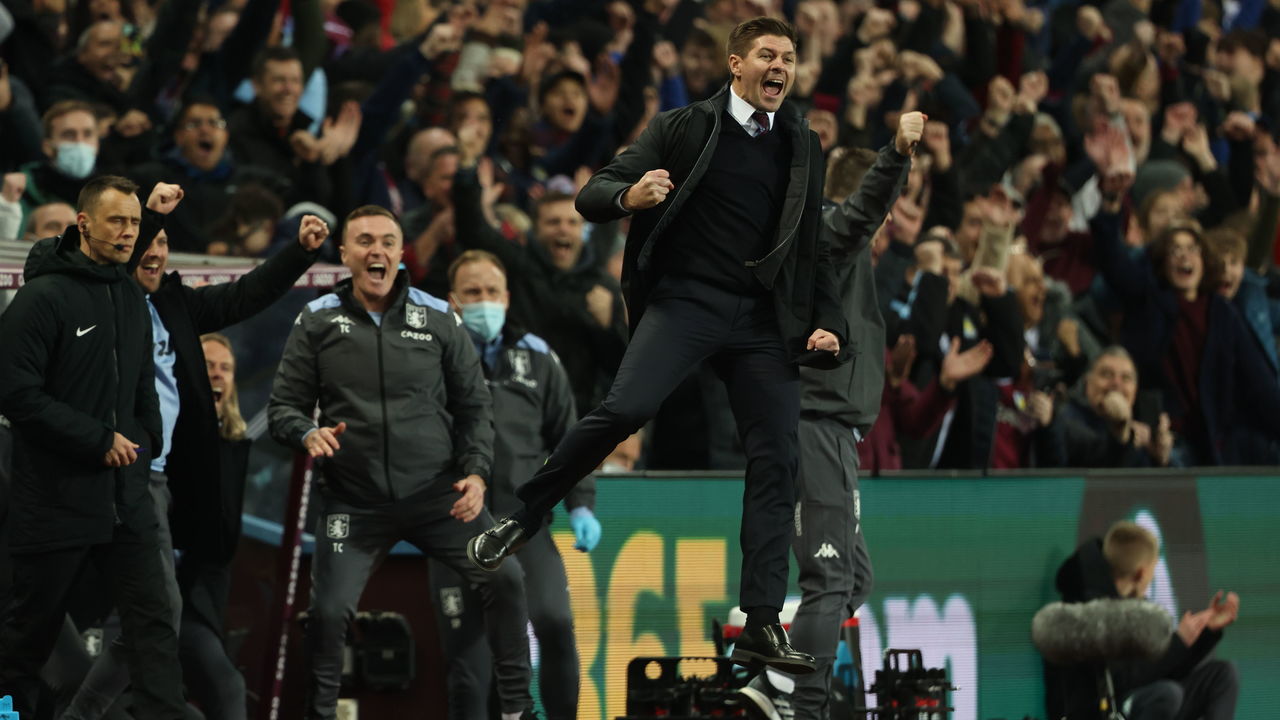 Still, Gerrard inherited a capable squad, and he's fostered some kind of team spirit in the short week-and-a-half he's had in charge. He can be proud of the 2-0 win at Villa Park, his first as a Premier League manager, and he'll be happy with the contribution of veteran Ashley Young, who supplied a superb assist to Ollie Watkins on the counterattack. Gerrard's Rangers played at pace on the break, and the early returns suggest a similar strategy could work at Villa Park as well.
Maybe some would've liked Villa to show more ambition at home – the hosts had less than 40% possession – but the result was paramount. Villa now have their first win in six league matches, and Gerrard has some breathing room as he settles into the club.
Arsenal still a work in progress
Arsenal have made some clear strides in recent weeks – their 10-match unbeaten run was cause for legitimate optimism – but the Gunners were given a harsh reminder of the gap that still exists between themselves and the Premier League's elite on Saturday.
Liverpool steamrolled Mikel Arteta's men in the second half of a dominant 4-0 win at Anfield; the visitors looked overawed as the Reds ramped up the pressure, a telltale sign of a young team still under construction.
"When we had to grow momentum at the start of the second half we gave the game away," Arteta said after the defeat. "We gave the ball away under no pressure and were punished. They had all of the momentum. They were the better team and that is the level. They have been together for six years. We haven't. That is the difference."
There were only two points – and one place in the table – between the two sides before the contest, but that gap was an illusion. That Aaron Ramsdale had an excellent outing and still conceded four goals tells the whole story.
What was in the water on Saturday?
Saturday was hectic in England's top flight.
There were 30 goals scored across the eight matches played, with teams seemingly throwing caution to the wind and going for broke. That was especially true near the foot of the table, with Newcastle United and Burnley playing out relentless 3-3 draws against Brentford and Crystal Palace, respectively.
Was it just a one-off, or a sign of things to come?
Particularly for teams mired in the relegation race, wins are infinitely more valuable than draws. Those sides might be willing to take more chances and risk throwing away one point in their quest for all three.
For the sake of the neutral viewer, hopefully managers don't overreact to this weekend's chaos and revert to conservative tactics.
Rodri integral to City's title bid
Picking the Man of the Match from Manchester City's dominating win over Everton couldn't have been easy, but on a night when a host of City stars could have laid claim to the honor, it was Rodri who stood above the rest.
He was simply unplayable against Rafa Benitez's uninspired side. He capped off his commanding performance with a 25-yard screamer to help seal another three points for City. The goal was a thing of beauty, but it was Rodri's work in the heart of Pep Guardiola's midfield that proved once again why he's one of the best holding midfielders in the world.
Performances like this would have been difficult to forecast earlier in Rodri's career at City. His highly anticipated arrival in 2019 was quickly followed by concerns over his ability to adapt to life under Guardiola.
But, just over three months into the season, the Spaniard has established himself as a stalwart at the Etihad. His development will also give Manchester City supporters peace of mind about a smooth transition when Fernandinho calls time on his legendary career.
In awe of Cancelo's pass
If you haven't yet seen it, do yourself a favor and marvel at Joao Cancelo's otherworldly assist from Manchester City's win over Everton (45-second mark of the video):
Is there anyone in world football who can manipulate the ball with the outside of their foot like the Portuguese star? Eat your heart out, Ricardo Quaresma.
Cancelo had six assists in 76 appearances over the last two seasons for City. He's already matched that total in just 18 matches this term. With passes like that, it's no wonder.
Spurs break out of malaise
Over 250 minutes without testing the opposition is long enough to drive any football fan crazy.
After a dismal first-half performance against Leeds United on Sunday, tempers boiled over among Tottenham supporters who booed the home side off the pitch at halftime. It was a deserved response to an opening 45 minutes that saw Daniel James give the visitors the lead, while Tottenham Hotspur's streak without a shot on target was extended to six consecutive halves.
The second half was a different story.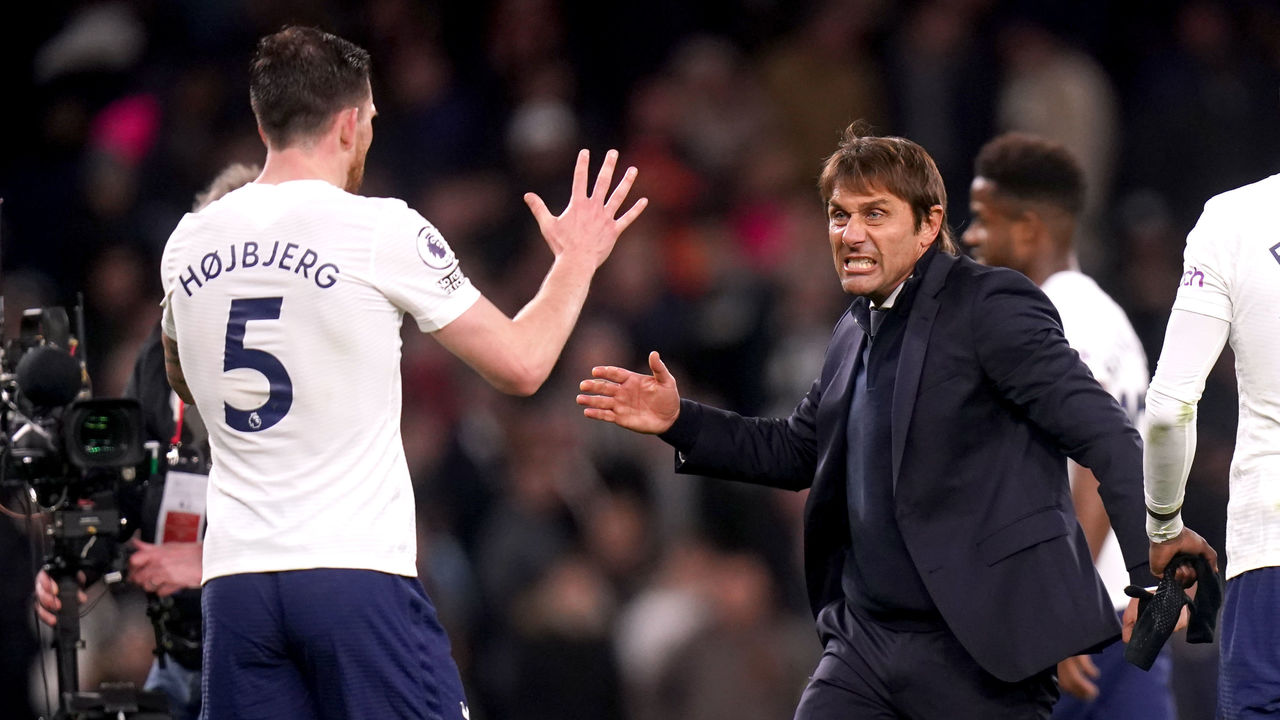 Harry Kane ended the streak a minute after the break for a side that implemented a much more aggressive game plan. Pierre-Emile Hojbjerg brought Tottenham level before Sergio Reguilon scored his first for the club, securing Conte's first Premier League win as Spurs manager.
Now unbeaten in three games as Spurs boss, the manager celebrated the victory in true Conte fashion. When the aggressive fist pumps and hugs were finished, the Italian tactician said he was confident the victory could be a springboard for Tottenham, saying, "This is a point to start for the rest of the season."
Copyright © 2021 Score Media Ventures Inc. All rights reserved. Certain content reproduced under license.
10 thoughts from the weekend's Premier League action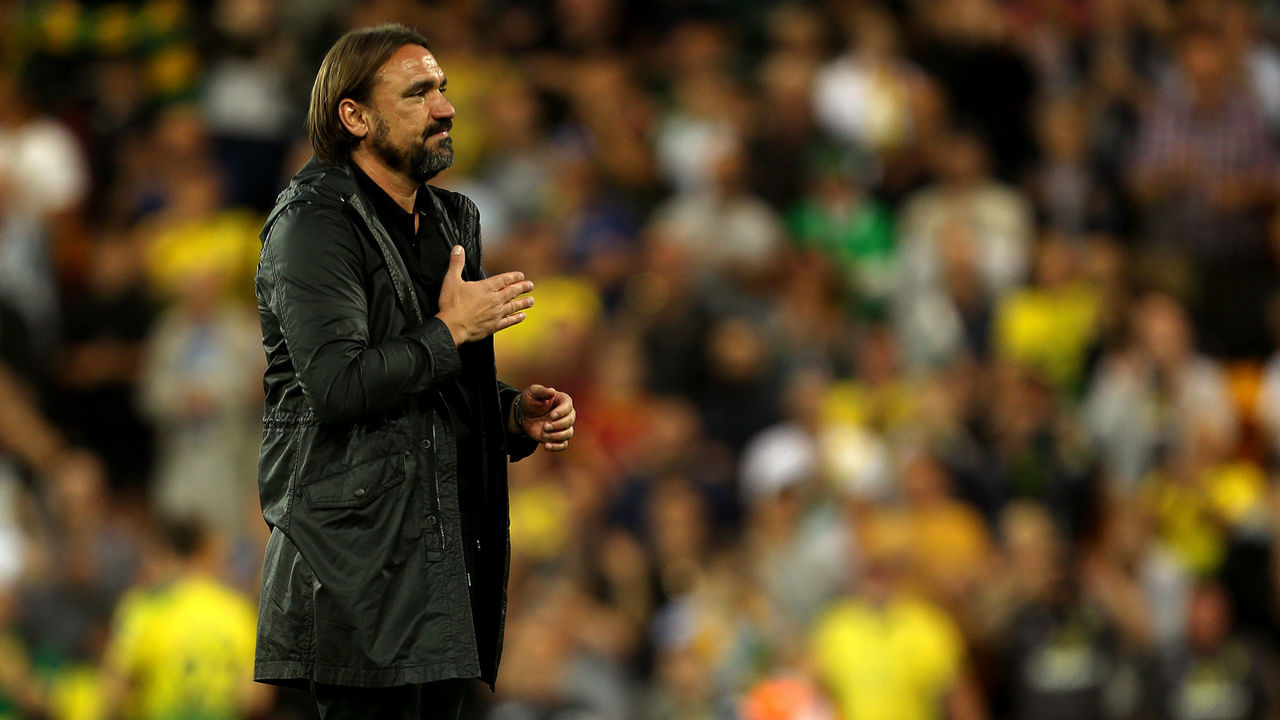 theScore examines the most important Premier League developments from the weekend, dissecting the biggest talking points after a busy slate of action.
Ole's defensive approach backfires
A frustrated Bastian Schweinsteiger summed it up best as his former club was being utterly dominated in the first half of Saturday's Manchester derby: Passive Manchester United versus active Manchester City.
At that point, United looked like they were well on their way to a thrashing similar to the 5-0 thumping they received against Liverpool. But, in the end, Manchester City took their foot off the gas in the second half before claiming a 2-0 victory – a scoreline that was more than flattering for United.
It was a stunning display of ineptitude from both Ole Gunnar Solskjaer and the United players. The Red Devils were pegged back right from kickoff before gifting Manchester City the lead inside the opening seven minutes to set the tone for the remainder of the contest. Pep Guardiola's side doubled the lead just before halftime and continued to dominate en route to an easy win.
The post-match numbers told the miserable story for United.
Going with three at the back was an obvious mistake that led to another catastrophic result for a manager already under extreme pressure. Solskjaer might have thought because that strategy worked against Tottenham Hotspur, it would yield the same result against City, but he was emphatically wrong. It was a failed approach that could ultimately cost him his job, as United – losers of three of their last four Premier League games – will have plenty of time to consider their manager's future before their next match on Nov. 20.
Damning indictment of Solskjaer
We've discussed the need for Manchester United to part ways with Solskjaer ad nauseam, and so has the entire football world by this point. So instead of delving into that discussion again, we'll just leave this stat here and move along:
Everyone can see it except those in positions of power at Old Trafford.
Cancelo on another level
Joao Cancelo has a real claim for the title of world's best full-back right now.
The Portuguese international has shown attacking brilliance going back to his Valencia days, but he's taken an enormous step forward since joining Manchester City from Juventus in 2019, thriving under Guardiola.
"He has been playing incredibly well all season," Guardiola said of Cancelo earlier this week. "Of course, he sometimes has to improve his quality. He has highs and lows, but he has a special ability to do something good."
Cancelo, 27, tore Manchester United apart in Saturday's derby, creating both goals and spending more time on the ball than any other player.
Per Squawka, he now leads Manchester City in the following categories this season:
Most touches
Most passes
Most passes in the final third
Most tackles made
Most interceptions
Most aerial duels won
Most duels won
Most through balls
Mosts shots
Cancelo is a full-back in name only.
Burnley setback exposes Chelsea's lack of cutting edge
The stage was set for Chelsea to strengthen their grip on the Premier League ahead of Burnley's visit to Stamford Bridge. Instead, the visitors escaped with a point to shock the Blues.
A lopsided victory seemed inevitable for a Chelsea side that continuously knocked on the door for a second goal after Kai Havertz gave them the lead in the first half. But Matej Vydra scored a late equalizer to make the Blues pay for wasting countless chances to double their lead.
Predictably, manager Thomas Tuchel was less than pleased about his side's shortcomings after a performance that highlighted Chelsea's lack of cutting edge in attack. "It's our fault. We should have scored more," he said. "We created so many chances.
"… If we played this game 100 times, we'd win 99 times."
Luckily for the Blues, there's an international break on the horizon that should make it easier to forget this minor setback. The break should offer injured attacking stars Romelu Lukaku and Timo Werner enough time to overcome their respective injuries ahead of Chelsea's next Premier League test against Leicester City on Nov. 20.
Right decision, wrong timing for Norwich
Norwich City made the necessary decision to part ways with manager Daniel Farke on Saturday, dismissing the bench boss just hours after their first league win of the season.
The timing was unconventional and caught many off guard, but even Farke himself must have known this was coming at some point. His overall body of work in the Premier League doesn't lie.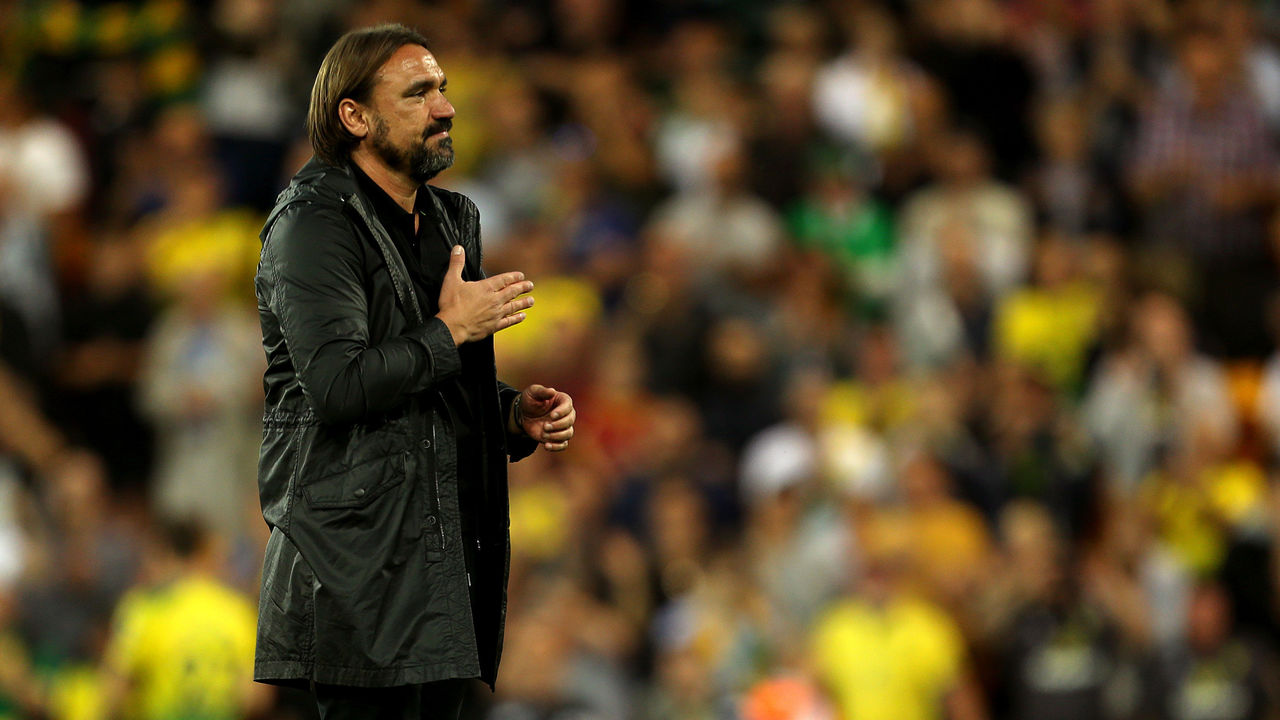 Farke's commitment to his tactical ethos was noble; the likable German insisted on playing the same brand of attractive football that worked wonders in getting the club promoted twice from the Championship – but there was also an element of naivety at play.
Farke watched as his preferred style yielded poor returns and resulted in the Canaries getting relegated from the Premier League in 2020. After immediately bringing them back up and getting another chance – a relative rarity in professional sports – he didn't alter his approach.
Prior to Norwich's 2-1 win over Brentford, they had gone 20 consecutive top-flight matches without a victory. The decision to fire Farke had clearly been made before a ball was kicked on Saturday.
As odd as the timing may have seemed, it's hard to argue with the sacking.
Vieira working wonders at Palace
After some early hiccups, Patrick Vieira has Crystal Palace on a roll.
The Eagles extended their unbeaten streak to six league matches on Saturday, following up last week's shock win over Manchester City with another 2-0 triumph, this time against Wolverhampton Wanderers. Standouts Wilfried Zaha and Conor Gallagher delivered the goals once again.
Palace threw away a pair of late leads – and four potential points – earlier in the season, but Vieira hailed his team's "maturity" after Saturday's win, which was as comprehensive as they come.
The Eagles have climbed into the top half of the table and boast one of the stingiest backlines in the country, as their expected goals against total (11.4) ranks fourth best. Marc Guehi and Joachim Andersen have formed a solid partnership in central defense, while Cheikhou Kouyate shields them and Vicente Guaita backstops the whole operation.
With matches against Burnley, Aston Villa, and Leeds United on the horizon, the good times should keep rolling at Selhurst Park.
Solid defense fueling Arsenal revival
At this time last year, Gabriel was anchoring a three-man Arsenal defense between Kieran Tierney and Rob Holding, with Hector Bellerin and Bukayo Saka at wing-back in a home match against Aston Villa that the Gunners lost 3-0.
Fast-forward to full-time at the Emirates Stadium on Sunday, and the difference is palpable. The Gunners took care of business against Watford to boost Arsenal's reputation as one of the Premier League's top defending teams, after recording their third-successive clean sheet and eighth overall this season.
Ben White, who arrived from Brighton & Hove Albion last summer for £50 million, has rebounded since his rough debut to become an integral part of Arsenal's defense alongside Gabriel. New right-back Takehiro Tomiyasu has been a revelation, while Nuno Tavares' emergence as a more-than-capable replacement for Tierney could give manager Mikel Arteta a difficult decision when the Scottish left-back returns to full fitness.
It's clear that Arteta's defensive vision is taking shape less than two years into the job, but the Arsenal boss will get a true sense of where his team stands when they clash with high-scoring Liverpool after the international break.
Ranieri's anger justified?
Watford manager Claudio Ranieri was incensed with Arsenal after the final whistle of Sunday's 1-0 defeat, complaining that the Gunners didn't return the ball after the Hornets kicked it out of play to allow Ozan Tufan to receive treatment after he went down injured.
Arsenal kept the ball, and after an extended period of play in which Watford never truly regained control, Emile Smith Rowe scored the lone goal of the contest.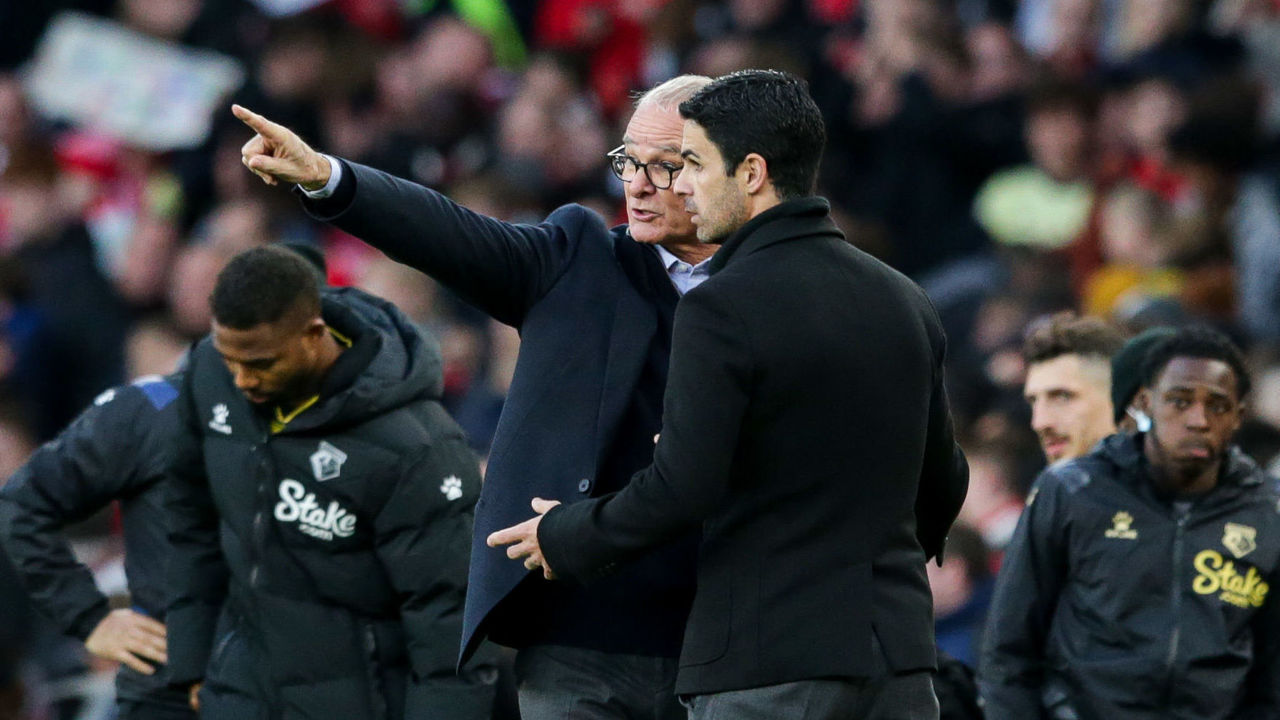 Ranieri confronted Arteta about the incident after the match and addressed it to the media.
"There is only one thing I'd like to know," said Ranieri, according to Jamie Redknapp of Sky Sports. "When there is a man on the ground, everybody expected the ball goes back and it didn't go. There is a respect in that situation. Then we get the ball with (Ismaila) Sarr and go on the counterattack and there is a big foul. It's unbelievable."
He added, "When you put the ball out, you have to give the ball back."
Arteta, of course, had a retort.
"I have to defend my players, team, and club. We are the most honest," he said, per Sky Sports. "At some stages, we can even be naive. I'm sure there was no intention to take advantage."
Your stance on the matter likely depends on which club you support, but the question is simple: Should Arsenal have given the ball back? It's an established gentleman's agreement that is almost always observed, but there's no rule dictating that Arsenal had to give possession back.
Aston Villa raise white flag
It was the end of an era at Aston Villa as the fan-favorite Dean Smith was let go after three years in charge. The decision to part with the English manager was announced after the Claret and Blue dropped yet another match to leave them just three points outside of the relegation zone.
After Smith guided the club back to the Premier League and kept them there last season, the 2021-22 campaign had gotten off to a terribly rocky start. The final straw came after Saturday's contest on the south coast, as Villa slumped to their fifth Premier League defeat in a row with a 1-0 loss to Southampton.
Despite the club's disappointing performances, there are bound to be some fans who view Smith's dismissal as harsh given that Aston Villa had the odds stacked against them after selling superstar Jack Grealish in the summer.
Reds stumble at another crucial point in title race
Matchday 11 was an opportunity for Liverpool to solidify their place in the title race. Instead, Jurgen Klopp's men were left to rue another blown chance to close the gap at the top of the Premier League table.
A week after failing to capitalize on Manchester City's shocking loss to Crystal Palace, Liverpool had a golden opportunity to cut into Chelsea's advantage after the Premier League leaders dropped two points in a draw with Burnley on Saturday.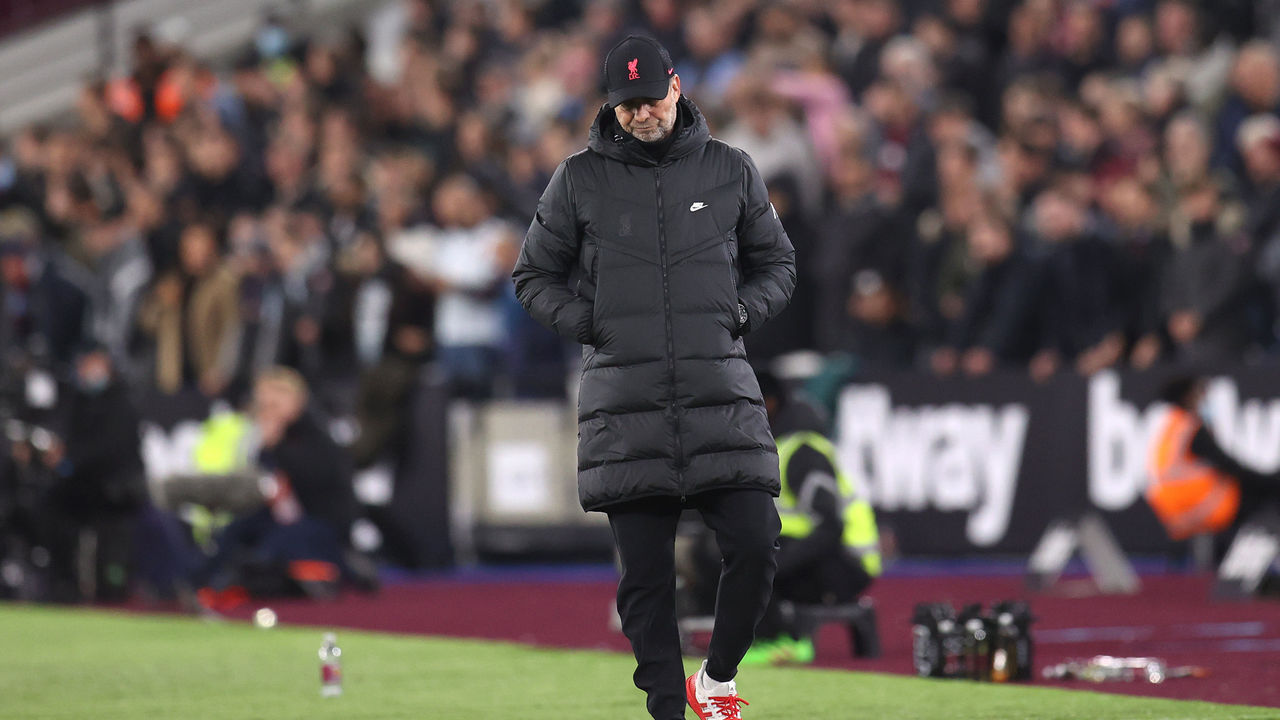 But, when the full-time whistle sounded at London Stadium, the Reds found themselves worse off than they were when the day started. Losing to West Ham United not only ended the club's 25-match unbeaten run, it also resulted in David Moyes' revitalized Hammers leapfrogging Liverpool to take sole possession of third place.
Liverpool's title hopes are far from irreparable – as the Merseyside club sits just four points back of Chelsea – but there's no doubting that Sunday's result was a bitter blow that will sting for the entirety of the upcoming international break.
As for West Ham, well, we warned you last week that the Hammers are for real.
Copyright © 2021 Score Media Ventures Inc. All rights reserved. Certain content reproduced under license.