5 takeaways from Monday's action at Euro 2020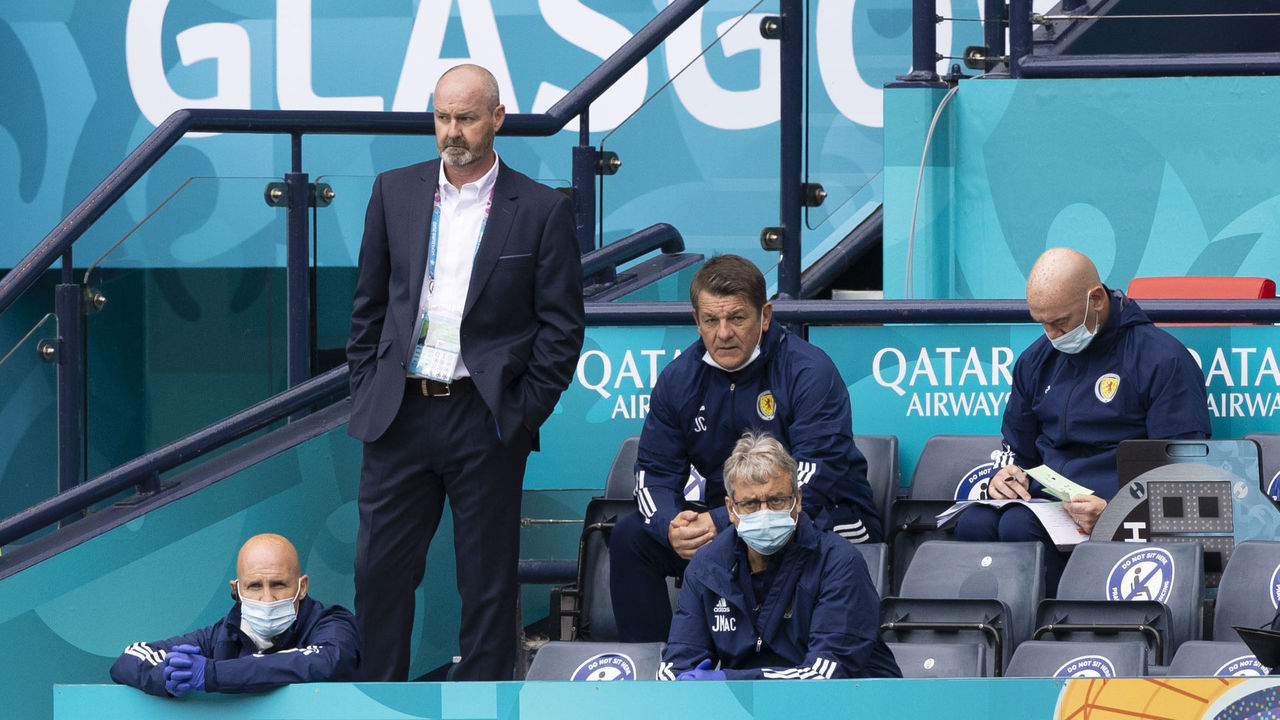 One year later, Euro 2020 is finally underway. At the end of every matchday, we'll be dissecting the biggest talking points from all the action. Below, we look back on Monday's trio of games.
Scotland's Clarke under fire
Scotland manager Steve Clarke is left to reflect on his team selection in the wake of a 2-0 defeat to the Czech Republic at Hampden Park.
Clarke couldn't do anything about Kieran Tierney's injury absence. The Arsenal star would have been an ideal distributor in a back-three that sorely missed his influence. Should Tierney remain sidelined, Clarke might consider shifting midfielder Scott McTominay into a central defensive role to boost Scotland's distribution, potentially giving Chelsea wunderkind Billy Gilmour a chance to start in the middle of the park.
The manager opted to start his former Kilmarnock pupil Stephen O'Donnell at right wing-back, and the current Motherwell defender was very much a passenger to the Czech attacks down that flank. O'Donnell wasn't any better at providing width, either.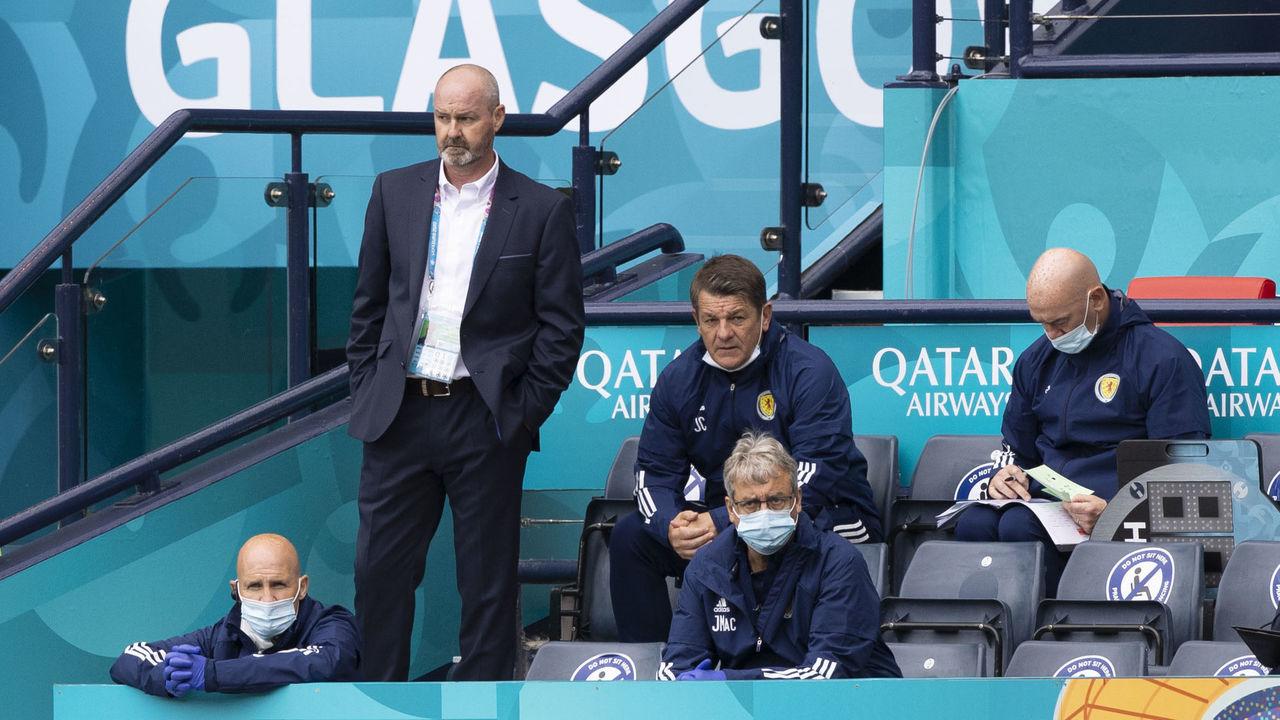 Jack Hendry was poor on the left side of the back-three, and it's little coincidence that Scotland looked better when it switched to a back-four after Callum McGregor replaced Hendry in the 67th minute.
Finally, the decision to start Ryan Christie alongside Lyndon Dykes in a two-man attack left a lot to be desired. Christie's best moment on the day was a skilled run past two Czech markers before being unwittingly tackled by his own teammate O'Donnell in the penalty area. It was that kind of day for Christie, though neither he nor Dykes made a good account of themselves, displays made worse by Southampton striker Che Adams' omission from the starting XI.
Clarke is his own worst enemy ahead of Thursday's pivotal clash with neighboring England, and there's little room for favoritism during his side's first major tourney in 23 years.
Czechs look primed to surprise
Patrik Schick will get all the plaudits for his standout performance against Scotland, which included a 50-yard wonder goal to cap off a 2-0 victory. But that shouldn't take away from the overall impressive display by the seemingly forgotten Czech Republic team.
Most of the focus heading into Euro 2020 revolved around the storylines in Group D; England's rematch with Croatia after the heartbreak at the 2018 World Cup, and the revival of football's oldest and fiercest rivalry on the international stage between the Three Lions and Scotland.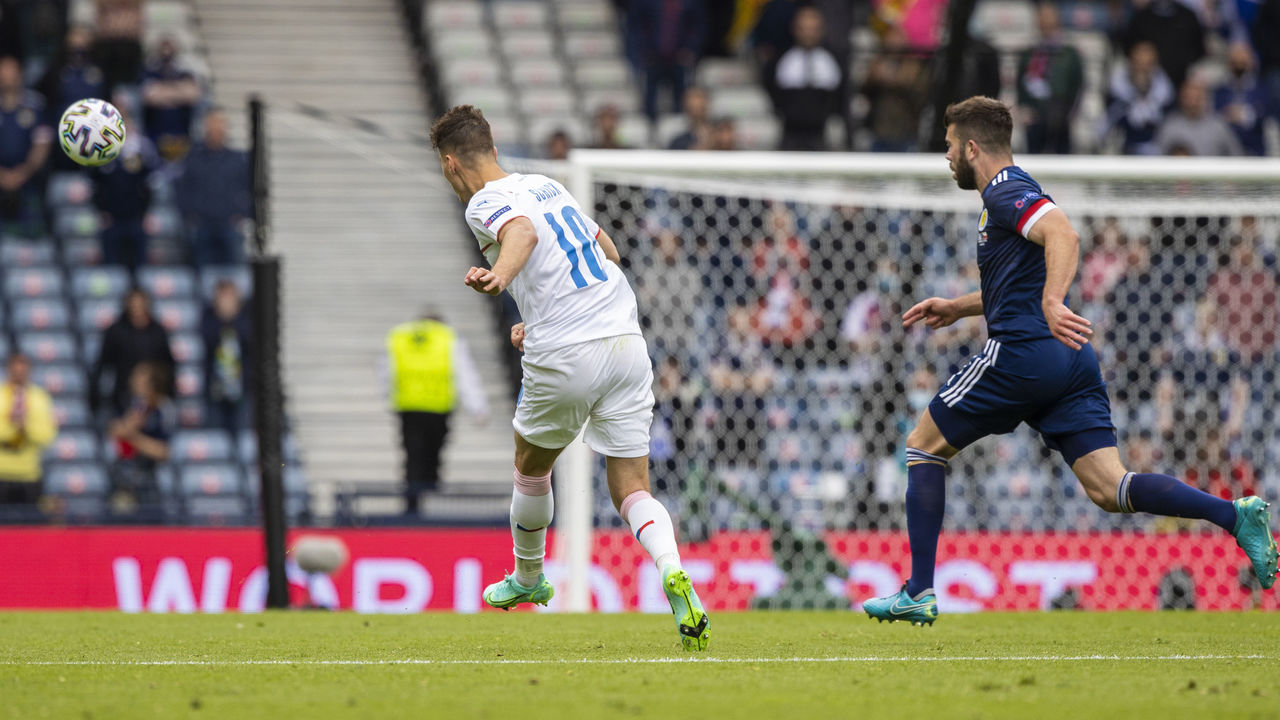 Meanwhile, the Czech Republic was treated as somewhat of an afterthought.
Fast forward to the final whistle at Hampden Park, and suddenly the Czech Republic finds itself atop the group ahead of its meeting with an aging Croatia side looking like a shell of the team that finished runner-up at the World Cup three years ago. Even if they fail to see off Croatia, the Czechs will like their chances of nicking a result against England and possibly beating Gareth Southgate's team for the second time in under a year.
Poland the master of its own demise
Poland did little to help fulfill its pre-tournament dark horse designation in a 2-1 defeat to Slovakia in St. Petersburg.
Slovakia opened the scoring in the 18th minute when Robert Mak's close-range effort pinged off the near post and ricocheted off Wojciech Szczesny's back and into the net. The Juventus netminder became the first 'keeper to score an own goal in European Championship history.
Then, 16 minutes after Karol Linetty equalized seconds after the interval, midfield mainstay Grzegorz Krychowiak got his marching orders when he picked up a daft second yellow. Poland was in the ascendancy at that juncture in the contest, a momentum that was effectively zapped when the Lokomotiv Moscow veteran caught the first train to the locker room.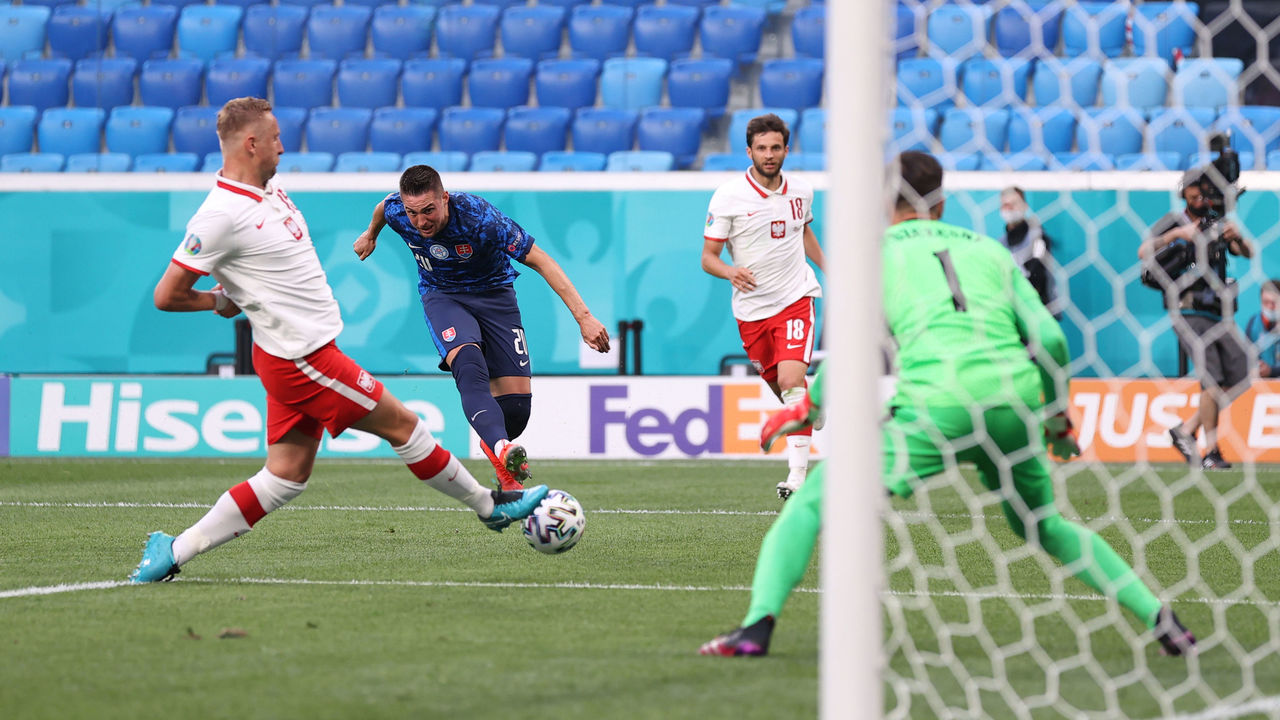 With that sending off, Poland became just the second side in tournament history to score an own goal and have a player sent off in the same match. The only other team to manage that distinction was Czechoslovakia in 1976 against the Netherlands. The Czechs went on to win that tournament, something Poland has no chance of doing if it keeps shooting itself in the foot.
How far can this approach carry Sweden?
Nobody expected Sweden to be adventurous going into Euro 2020; being stingy at the back and taking the few created chances has long been a staple of this team, particularly since Janne Andersson took over behind the bench. That same approach, built around a solid 4-4-2 formation, got the Swedes all the way to the quarterfinals of the 2018 World Cup, after all.
And there's nothing wrong with that. You needn't look further than Portugal, which conquered the Euros five years ago with a conservative plan of its own, for proof that unadventurous tactics can deliver success.
The losses of Zlatan Ibrahimovic and Dejan Kulusevski – the first to a knee injury, the latter to a positive COVID-19 test – made it even more likely that Andersson would opt for a reserved setup, especially in the team's opener against a Spain side boasting superior talent.
But what we got was probably a step too far. Spain deserves credit for imposing its will and having almost complete autonomy of the ball, of course, but Sweden needs to show some desire to attack if it's to accomplish more than simply emerging from the group stage.
By the end of the first half on Monday, Spanish center-back Aymeric Laporte had completed more passes than the entire Swedish team to that point.
Again, there's nothing wrong with approaching matches this way if you think it gives you the best opportunity to succeed; there's no "right" way to win games. Ask Portugal. Or Greece in 2004. Or Italy in 2006. Style points are fun, but they don't really matter.
Ultimately, you can argue the approach worked in Seville; Sweden nicked a point against the group favorite without conceding a goal.
But such a defensive setup does mean Sweden will be relying on absolutely clinical finishing, some slices of luck, and heroic goalkeeping all tournament. With Marcus Berg missing a sitter and Alexander Isak seeing a deflected effort come back off the post, the Swedes didn't get the first two. Robin Olsen was immense between the sticks, but it might be asking too much of him to be impenetrable every game.
No more Morata?
Luis Enrique had plenty of big selection decisions for Spain's opener. Unai Simon or David De Gea in goal? Simon. Eric Garcia or Aymeric Laporte to partner Pau Torres in central defense? Laporte. Give youngsters Pedri and Ferran Torres their debuts at a major tournament? Of course.
But the pick at the top of the lineup will likely face the greatest scrutiny over the next few days. Does Alvaro Morata, possibly the planet's most prolific striker when he's in an offside position, deserve to spearhead this latest Roja generation?
He did little to justify his place in the starting XI in the 0-0 draw with Sweden. Morata's work off the ball was reasonable – he put in two tackles to assist Spain's possession obsession – but he needed to be clinical when Sweden was determined to keep chances at a premium in Seville.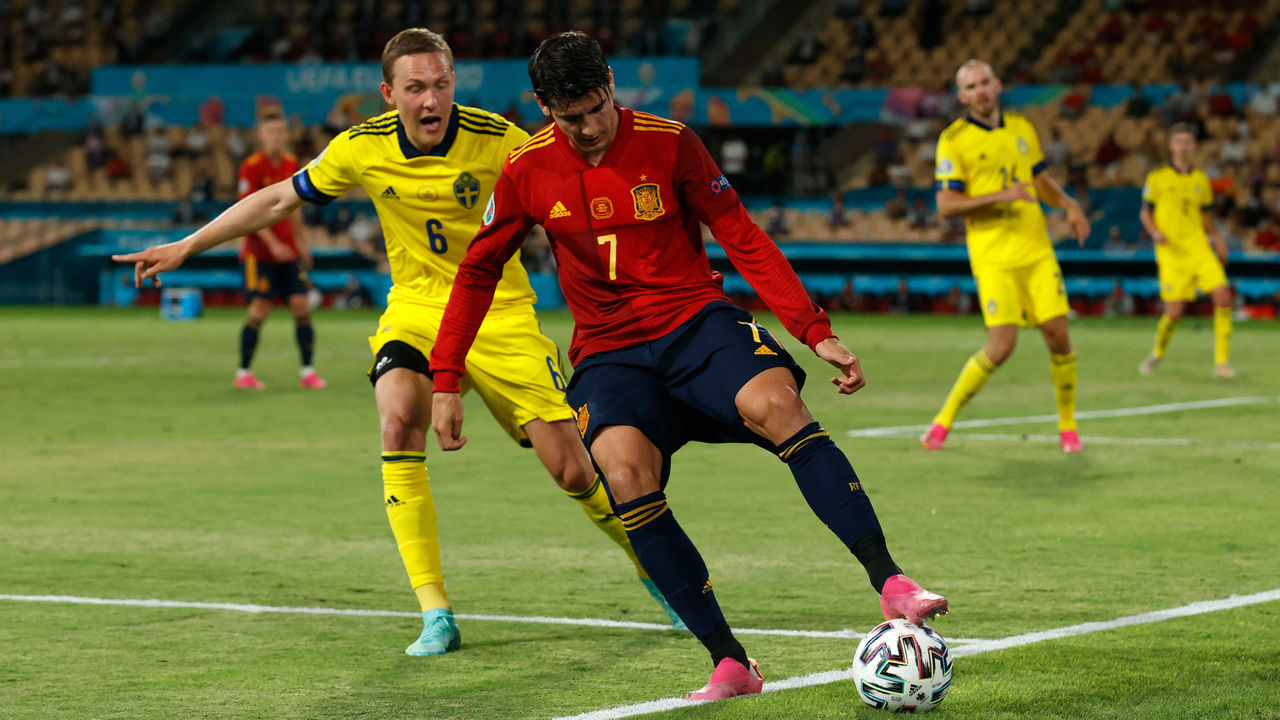 And Morata couldn't hit the target with each of his three shots, including when Marcus Danielson's missed interception gifted the Juventus forward a one-on-one that he inexplicably rolled wide of the far post.
Morata's natural replacement is Gerard Moreno, who's just concluded the finest season of his career with Villarreal. The 29-year-old was thwarted by the impenetrable Robin Olsen with a late header after his 74th-minute introduction and was generally a more combative presence in attack, so he's surely winning the race for a start against Poland on Saturday.
2020-21 club season:
| Player | League apps | Goals | European apps | Goals |
| --- | --- | --- | --- | --- |
| Alvaro Morata | 32 | 11 | 8 | 6 |
| Gerard Moreno | 33 | 23 | 11 | 7 |
After that, the options are limited. Ferran Torres did a commendable job at Manchester City when he filled in at center forward during the Champions League group stage, but it's not the best use of his talents. The other alternative would be for Enrique to thrust one of his many midfielders into a false nine role, similar to how Cesc Fabregas operated during Spain's victorious Euro 2012 run.
Report: Barcelona's Griezmann completes shock loan move to Atletico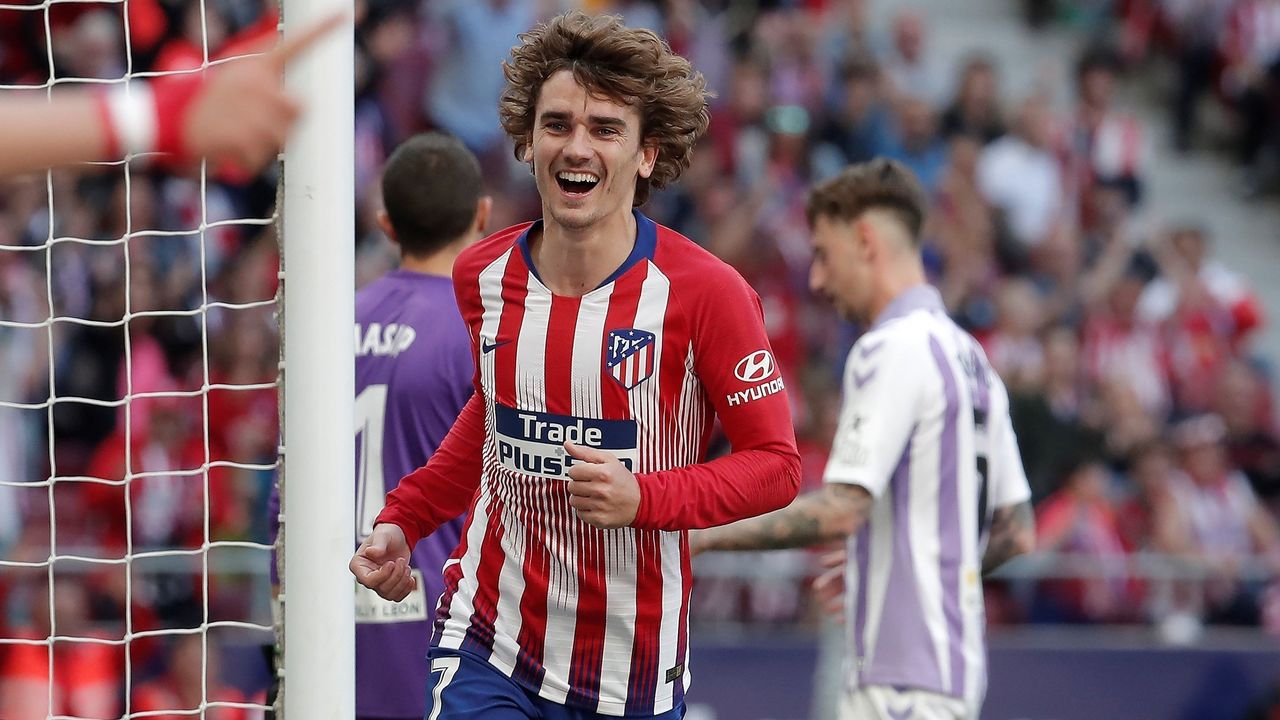 Antoine Griezmann is set to begin a new chapter at Atletico Madrid.
Barcelona and Atletico reached an agreement shortly before Tuesday's transfer deadline that sends the French forward back to the Spanish capital on loan for the upcoming season, according to Fabrizio Romano of The Guardian.
The deal apparently includes a buy option worth €40 million to make the move permanent next summer.
Griezmann reportedly agreed to a two-year contract, with an option to extend the deal an additional year, Romano adds.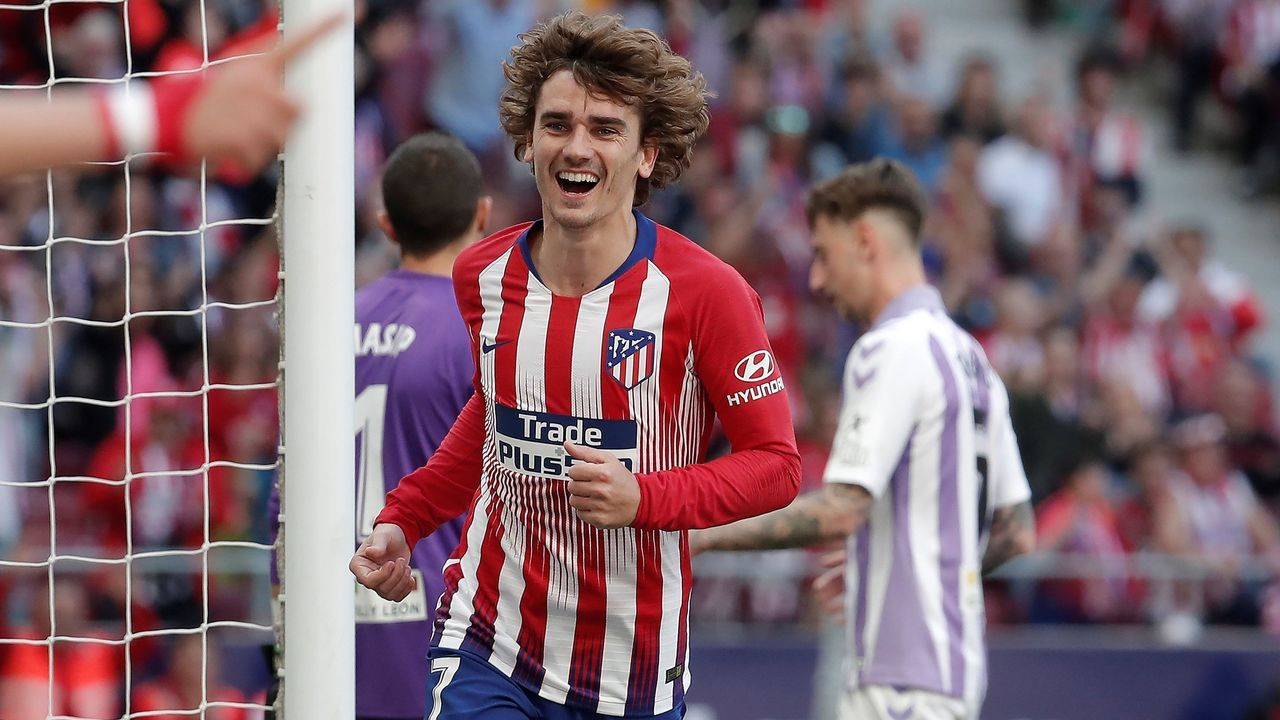 The La Liga rivals reportedly initially discussed a swap deal for Griezmann and Atletico Madrid forward Joao Felix. Barcelona failed in their attempt to sign Felix on loan Monday before returning with a new offer involving Griezmann, who enjoyed a successful five-year spell with the Madrid club before moving to the Catalan capital in 2019.
Barcelona spent €120 million to sign Griezmann, but the club shopped him around this summer. Earlier talks with Atletico reportedly broke down over a potential swap deal involving the French forward and midfielder Saul Niguez, according to ESPN's Sam Marsden and Moises Llorens. Atletico reportedly loaned the Spaniard to Chelsea for €5 million instead.
The 30-year-old Griezmann scored 133 times in 257 appearances at Atletico.
Report: Real Madrid submit improved €180M offer for Mbappe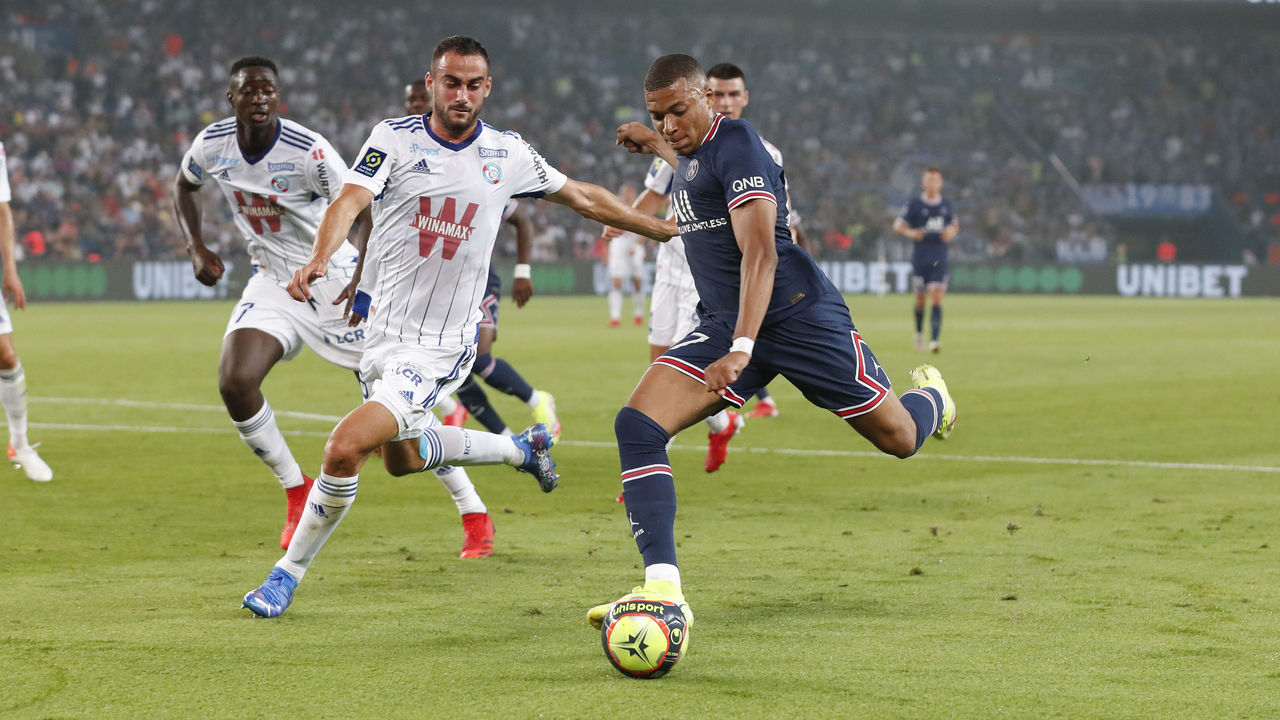 Real Madrid have returned with an improved €180-million bid for Kylian Mbappe after their initial €160-million approach was turned down by Paris Saint-Germain, sources told ESPN's Alex Kirkland and Rodrigo Faez.
The second offer consists of a guaranteed €170-million fee with a further €10 million in add-ons that are apparently "easily achievable."
Real Madrid reportedly appreciate that negotiating such an expensive deal late in the summer window will be difficult but remain hopeful of completing a transfer before Tuesday's deadline.
PSG sporting director Leonardo admitted Wednesday that Mbappe "wants to leave" the Parc des Princes but said Real Madrid's first bid was "very far" from their valuation.
"It's less than what we paid for him in 2017," Leonardo complained.
Though Los Blancos' latest offer would cover the €180-million sum that PSG are committed to paying AS Monaco for Mbappe's move to Paris four years ago, sources told Kirkland and Faez that PSG are likely to reject the bid as they want closer to €220 million for the 22-year-old forward.
Neymar's transfer to Paris Saint-Germain from Barcelona in 2017 remains the most expensive in the sport's history at €222 million.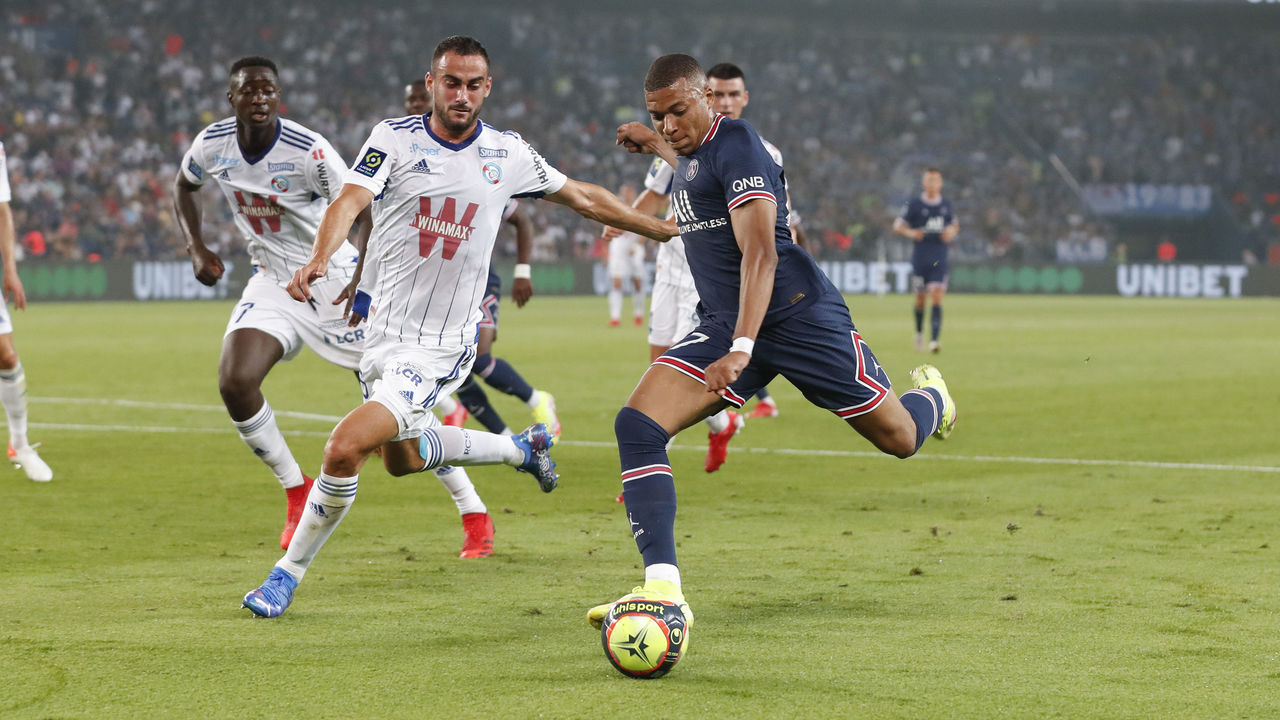 "I think our position is very clear, as Leonardo said yesterday," PSG president Nasser Al-Khelaifi said when asked about Real Madrid's pursuit of Mbappe at Thursday's Champions League group stage draw, as quoted by ESPN. "For Kylian, our position has not changed. Everyone knows it, Kylian knows it. Our position is very clear and honest."
Earlier this month, Al-Khelaifi described PSG as the most competitive force in world football and said Mbappe has "no reason to do anything else (other than stay)." The club chief was speaking at Lionel Messi's official introduction as a PSG player.
To strengthen their bid for an inaugural Champions League crown, Les Parisiens have also signed Sergio Ramos, Gianluigi Donnarumma, Georginio Wijnaldum, Achraf Hakimi, and Danilo Pereira this summer.
Mbappe is the final year of his PSG contract and has scored 133 goals over 174 outings for the club, scooping up three Ligue 1 titles, three Coupe de Frances, and other domestic silverware in the process.
PSG director: Real Madrid target Mbappe 'wants to leave'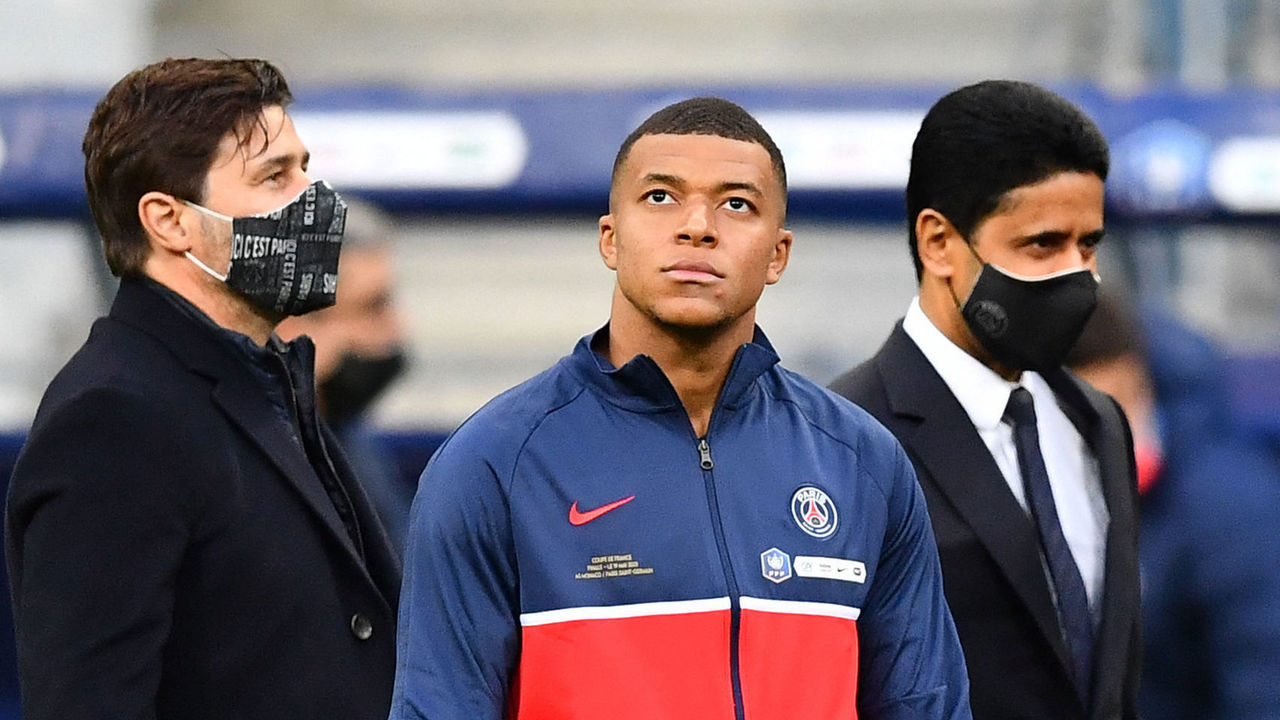 Paris Saint-Germain sporting director Leonardo said Wednesday it's clear that Kylian Mbappe "wants to leave" after the club refused a huge €160-million bid from Real Madrid, according to RMC Sport.
"Real Madrid's official offer is very far from what we want for Kylian," Leonardo said, The Guardian's Fabrizio Romano reports. "Yes, it's around €160 million. It's less than what we paid for him in 2017."
Leonardo described Real Madrid's approach of contacting the player without PSG's permission as "disrespectful, incorrect, and illegal."
PSG have executed one of the most aggressive transfer windows in the sport's history by attracting Sergio Ramos, Gianluigi Donnarumma, Georginio Wijnaldum, Achraf Hakimi, Danilo Pereira, and, most notably, Lionel Messi to the club. Neymar, Angel Di Maria, Marco Verratti, Marquinhos, and other superstars remain at the Parc des Princes.
The frenzied summer activity is designed to propel Qatari-owned PSG to their first Champions League title.
"There's no one more competitive than us. He has no reason to do anything else (other than stay)," club president Nasser Al-Khelaifi said when asked about Mbappe's future earlier in August.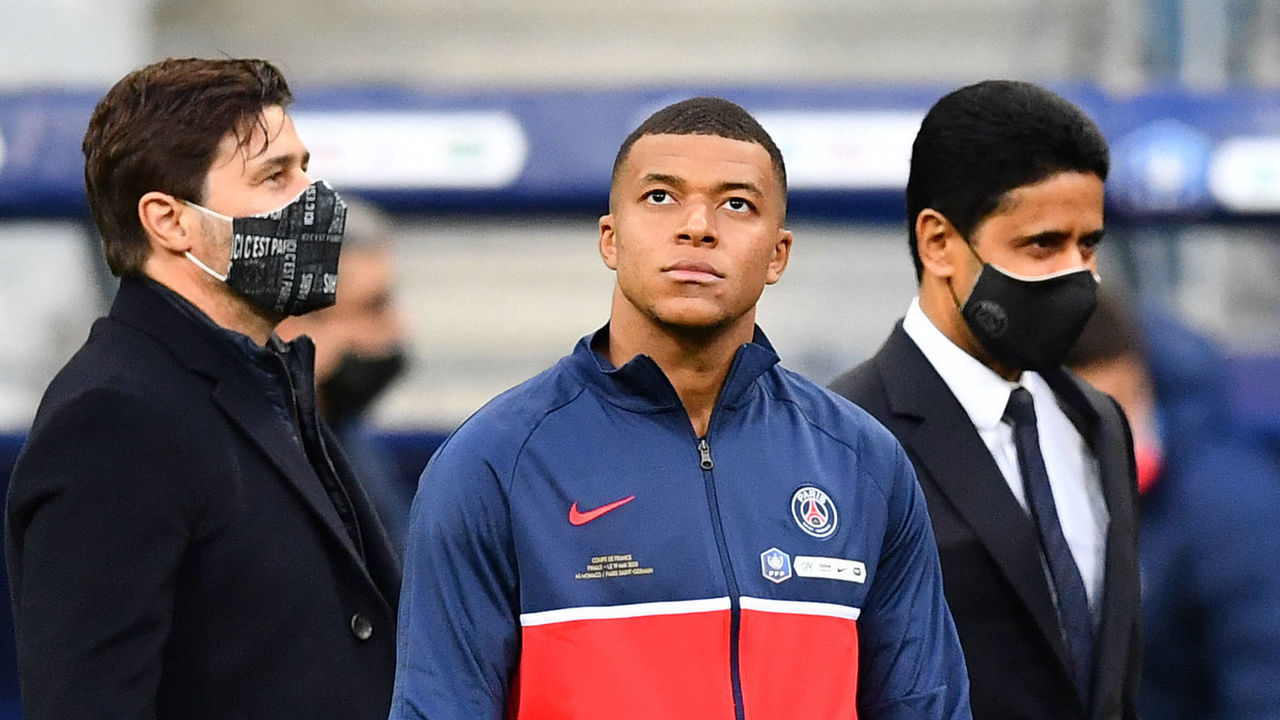 However, that isn't enough for Mbappe. The Frenchman is in the final year of his PSG deal and has reportedly refused three new contract offers from Les Parisiens.
"I want to think about what I want to do in the coming years, where I want to be. That's what I am reflecting on," Mbappe said in January of his reluctance to commit to fresh terms.
Leonardo added that if Mbappe "wants to leave, we will not retain him, but he will leave or stay on our terms," and that "the club, the project, remain above everyone."
Mbappe, who arrived at PSG from AS Monaco in September 2017 for around €180 million, has scored 133 goals over 174 PSG appearances, scooping up three Ligue 1 titles, three Coupe de Frances, and other domestic club honors in the process.