Key thoughts and analysis from Tuesday's Champions League action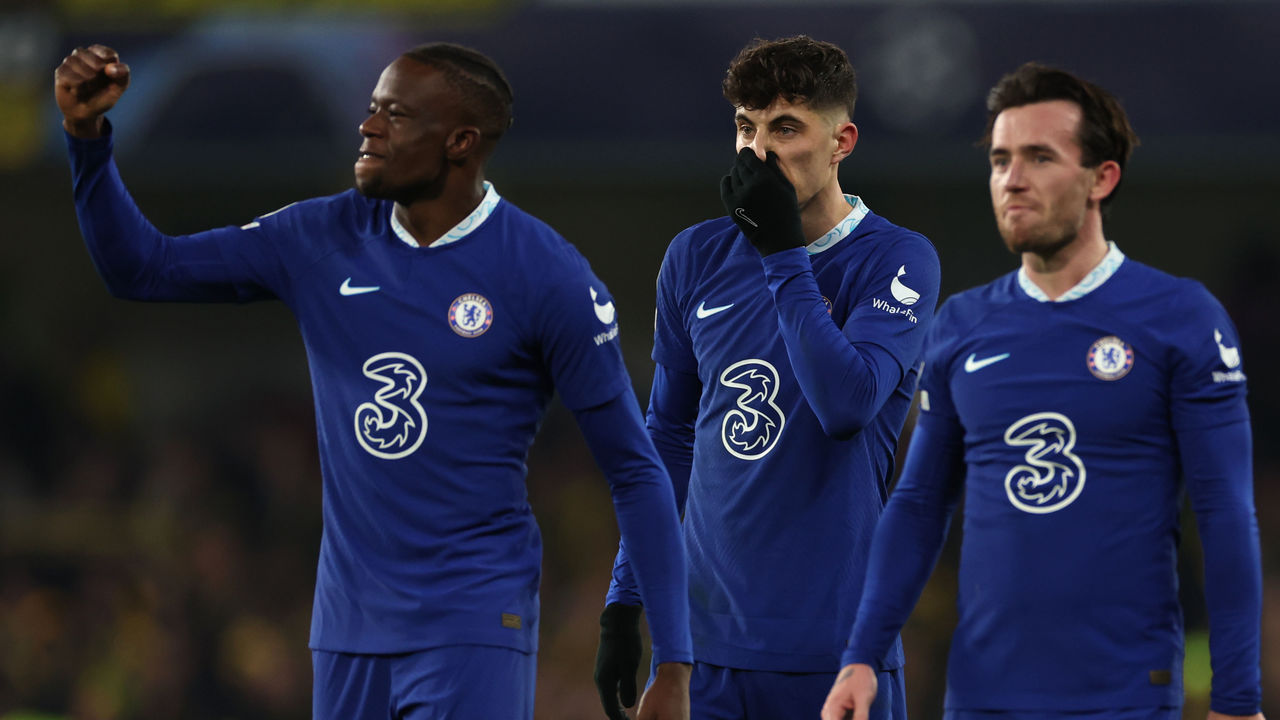 The Champions League last 16 rumbles on this week, as the first four quarterfinalists are being decided. Below, we dissect the biggest talking points from Tuesday's action in Europe's premier club competition.
Chelsea finally find their confidence
For the first half hour of Chelsea's pivotal Champions League clash against Borussia Dortmund, scoring seemed like the most onerous task in the world. Raheem Sterling panicked when sent through on goal, dawdling when more confident strikers would do something – anything – to get the ball out from underneath them. Kai Havertz, who hadn't scored in any of his last seven matches, struck the post, and the ball somehow skipped across the goal line and out of harm's way. Chelsea created chances but couldn't finish any of them.
Then something clicked. Sterling banged one home at what seemed like the 11th time of asking, lifting the heaviness around Stamford Bridge. Havertz retook the penalty he had missed, picking out the same bottom right corner he targeted with his first attempt.
In that half-hour stretch, Chelsea were a blur of motion. All they wanted to do was score. Even Marc Cucurella and Kalidou Koulibaly joined the rush. You could hardly tell this side from the one that toiled to get on the scoresheet in previous fixtures. If not for a couple of marginal offside calls, they'd have won 4-0.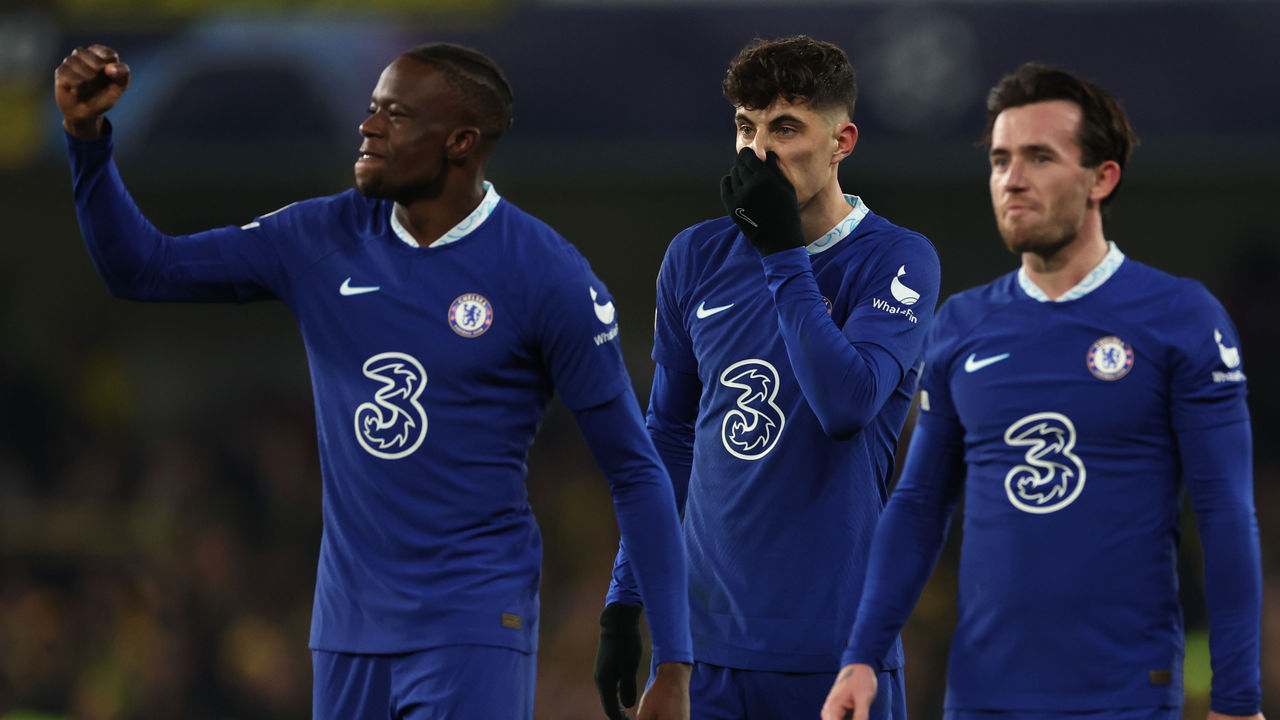 This was a long time coming. Chelsea hadn't scored multiple goals in any match since Dec. 27. Injuries certainly played a part, but for the longest time, the west London side had no attacking impetus. The players didn't create particularly much or defend particularly well.
But head coach Graham Potter stayed the course. He managed to keep spirits high in training – even while dealing with death threats sent to him and his family. You could tell his players were up for this game. Potter's back three pressed high, choking Dortmund's attack before it could really get going. Cucurella was particularly aggressive, playing the kind of defense-splitting passes few expected him to play from the left center-back position.
Chelsea could of course revert to their old habits over the coming games. But that flurry of action in the middle of the game promised better things to come.
Handball rule continues to divide
What exactly is a handball offense? The International Football Association Board, which issues the laws of the game, says a "deliberate" offense occurs when a player moves their hand or arm toward the ball. A player is also at fault if they make their body bigger when their hand or arm is in an unnatural position.
Neither of these things seemed absolutely, undoubtedly true when Chelsea's Ben Chilwell struck Dortmund defender Marius Wolf's hand just inside the penalty area. Wolf was turning away when the shot was taken, his head looking in the opposite direction, ruling out deliberate handball. His hand wasn't necessarily in an unnatural position, either. The German full-back wasn't flailing his arm or stretching it out to make his body bigger. He was turning away, and his arm was still reasonably close to his body. But because Chilwell shot a yard away, Wolf couldn't pull his entire arm in time.
Ultimately, match official Danny Makkelie reviewed the footage on the pitchside monitor and determined enough was there to award a penalty. Was Wolf's arm out? Yes, undoubtedly so, but the circumstances here created reasonable doubt. The original non-call was not, by definition, a clear and obvious error.
The biggest issue here is enforcement. ESPN's de facto rules official, Dale Johnson, tweeted that "competitions differ" when these calls are made. "I doubt the VAR would give it in the Premier League," Johnson added.
Former FIFA referee Manuel Grafe expressed frustration at the call as well, saying these interpretations cause a kind of "injustice." Sometimes they're given, and other times not.
Quick free-kicks
Chelsea's Kepa earning his keep in goal
Kepa Arrizabalaga is redeeming himself one save at a time. It has been a strange and confusing year and a half for Chelsea's beleaguered goalkeeper, who's gone from afterthought to undisputed starter without fuss or fanfare. The club had no choice but to turn to Kepa once Edouard Mendy fractured his finger in January. But Mendy was losing his grip on the job before that. The world's best goalkeeper in 2021 made a series of errors over the following year, and his confidence plummeted. Kepa stepped in and performed reasonably well as the rest of his teammates struggled and made two key saves Tuesday to keep Dortmund at bay when they threatened to take a foothold in the match. The world's most expensive goalkeeper is in his second act as Chelsea's No. 1, and it's worth watching.
Injuries catch up to Dortmund
You can only overcome key injuries for so long. Eventually, they catch up to you. That's not the sole reason Dortmund were beaten by Chelsea on Tuesday – the Blues, as outlined above, delivered their best performance in months – but, clearly, Dortmund's list of absentees loomed large at Stamford Bridge. Missing Youssoufa Moukoko and Karim Adeyemi zapped Dortmund of any spark up front or ability to stretch the field and get behind the Chelsea backline. The latter, in particular, lit up the first leg with his spectacular solo goal. That type of gamebreaking ability was absent Tuesday as Dortmund were largely contained by Chelsea's defense. Losing Julian Brandt in just the fifth minute to an apparent hamstring issue only compounded the matter; the creative German international was one of Dortmund's best players during their now-snapped unbeaten run to start 2023. As a result, Sebastien Haller was mostly a non-factor in the match, touching the ball just once inside the Chelsea penalty area as Koulibaly neutralized his impact before he was taken off for the more mobile Donyell Malen in the 77th minute.
Benfica can beat anyone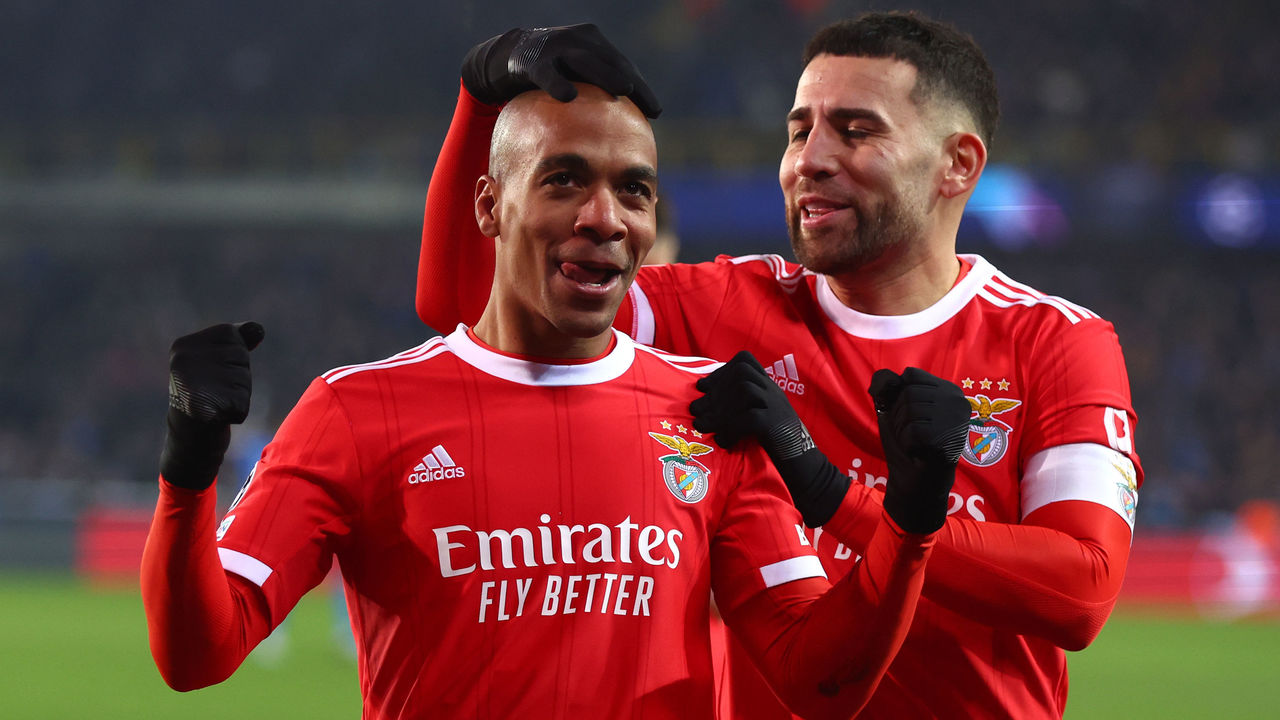 Sleep on Benfica at your peril. Roger Schmidt's team has been a bulldozer this season, the latest impressive outing coming in a 5-1 romp against Club Brugge that capped a dominant 7-1 aggregate triumph. As a result, the Portuguese giants are off to the Champions League quarterfinals for the second consecutive season. Benfica haven't missed a beat since selling star midfielder Enzo Fernandez to Chelsea in January; Goncalo Ramos is establishing new records seemingly every time he steps on the pitch, Joao Mario has scored in five consecutive Champions League matches, and the machine that Schmidt has built just keeps chugging along. Benfica, eight points clear at the top of the table in Portugal, will fancy their chances of beating absolutely anybody in the next round, especially at the Estadio da Luz, where they're unbeaten this season, having won 16 of 18 matches across all competitions.
Parker's time almost up
Scott Parker has been an unmitigated disaster at Club Brugge. The Belgian side fired Carl Hoefkens in late December despite a stirring run to the Champions League knockout stages, citing poor domestic form as the reason behind the decision, and then made the surprising decision to appoint Parker as his replacement. They would surely like a mulligan right about now. The Englishman has won just two out of his 12 matches at the helm, with the 7-1 aggregate hammering against Benfica the latest humbling setback. Benfica have been steamrolling nearly everything in their path this season, but the meekness of Brugge's performance Tuesday signified a team totally lacking in confidence right now. Parker's squad has tumbled to fourth in the Belgian top flight, a whopping 21 points adrift of first place, and the brightest point of the season – the inspiring Champions League run – ended with a harsh thud. The former Fulham and Bournemouth manager may have already overseen his final match with the Belgian outfit.
Stat of the day
Decent company for Graham Potter.
Tweet of the day
It's been a tough season for Parker all around.
Report: USMNT's Reyna was almost sent home from Qatar over lack of effort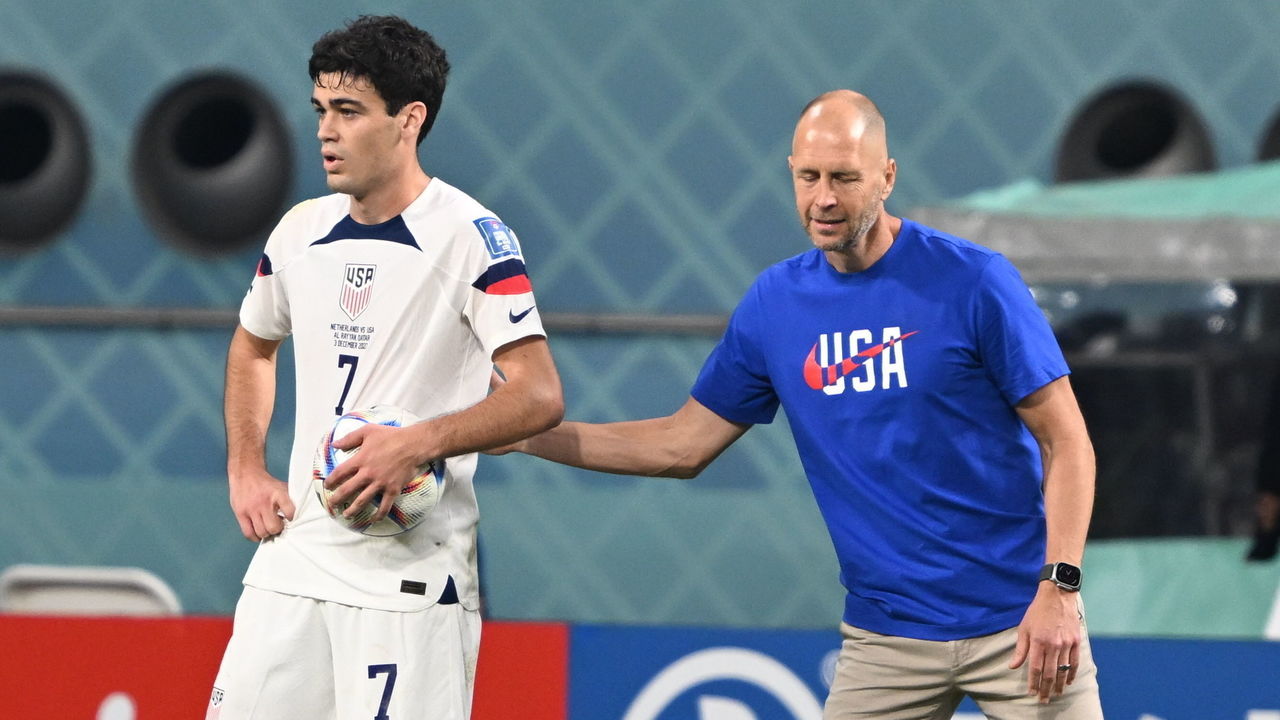 The mysterious lack of playing time for Giovanni Reyna was one of the major talking points before and after the United States men's national team was knocked out of the 2022 World Cup.
Just over a week after the USMNT lost to the Netherlands in the round of 16, it's been revealed that the Borussia Dortmund midfielder was nearly sent home during the tournament due to his alarming training performances, sources told The Athletic's Paul Tenorio and Sam Stejskal.
The 20-year-old reportedly showed a lack of effort as the United States trained for its World Cup opening game against Wales in November. His perceived disinterest continued in a pre-tournament scrimmage when Reyna was reported to have walked around for the majority of his time on the field.
U.S. teammates, including DeAndre Yedlin and Aaron Long, addressed their concerns with Reyna after his disinterested body language continued in a post-Wales training session, The Athletic added. His teammates urged Reyna to change his attitude and involve himself more moving forward.
Reyna eventually addressed the situation during a video session when he apologized to teammates and coaches for his actions. The issue was thought to be resolved within the team after the apology, and Reyna returned to training as normal.
Gregg Berhalter seemingly referenced the situation during his appearance at the HOW Institute for Society's Summit on Moral Leadership in New York last Tuesday.
"In this last World Cup, we had a player that was clearly not meeting expectations on and off the field," the USMNT head coach said. "One of 26 players, so it stood out.
"As a staff, we sat together for hours deliberating what we were going to do with this player. We were ready to book a plane ticket home, that's how extreme it was. And what it came down to was we're going to have one more conversation with him, and part of the conversation was how we're going to behave from here out. There aren't going to be any more infractions.
"As a coach, the way you can deal with things most appropriately is going back to your values. Because it's difficult to send a player home. It was going to be a massive controversy. You would have been reading about it for five days straight. But we were prepared to do it because he wasn't meeting the standards of the group, and the group was prepared to do it as well."
Reyna's agent told The Athletic it was "disappointing" that the situation has been made public.
"Gio obviously did not have the experience anyone hoped for at the World Cup," agent Dan Segal said. "The situation, relationships, and interactions among parties are far more complicated than what has been reported.
"It is disappointing and disrespectful for certain parties to be commenting on private team matters publicly, especially when some do so without full knowledge of the facts and others do so in a self-serving manner."
Reyna finished the 2022 World Cup with two substitute appearances against England in the group stage and the Netherlands in the round of 16. The attacking midfielder has two goals in 10 Bundesliga games for Borussia Dortmund this season.
Biggest winners and losers from wildest World Cup group stage ever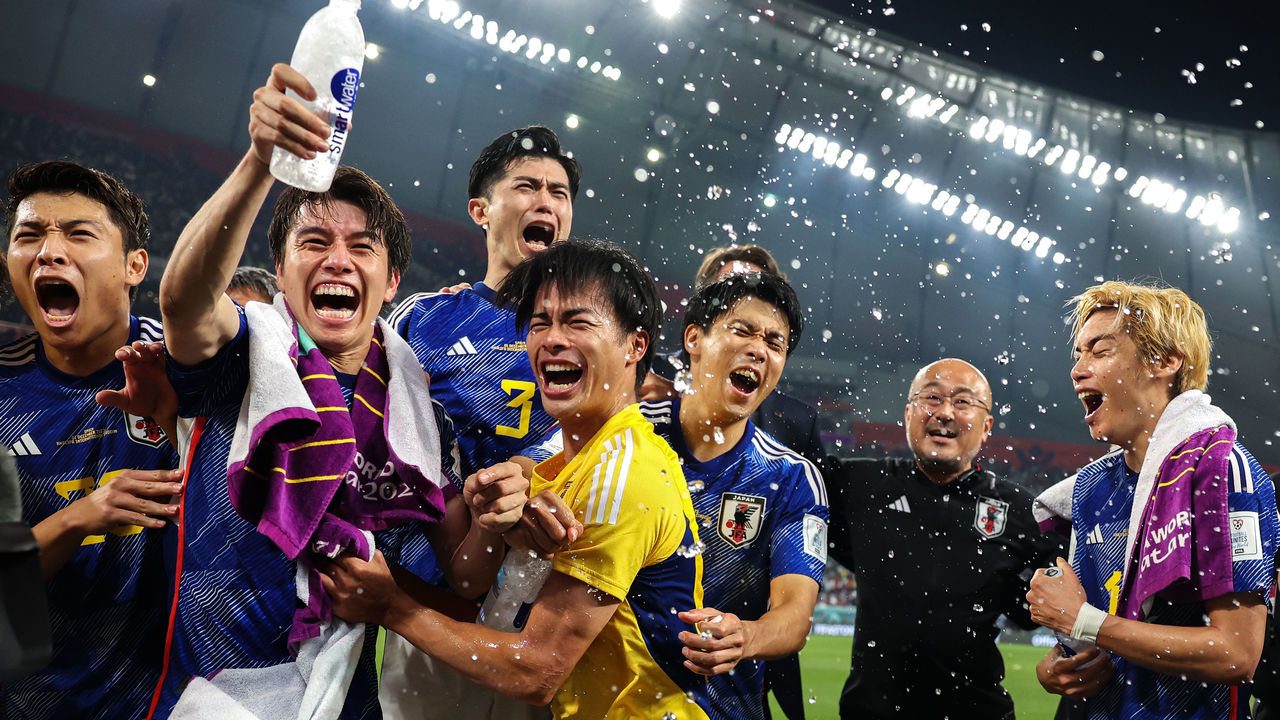 Everyone, take a breath. A most remarkable World Cup group stage came to an appropriately thrilling conclusion on Friday, as the knockout round was solidified following several days of non-stop drama. Below, we look back on the opening round of the tournament in Qatar by examining the biggest winners and losers from the past fortnight.
Winners: Plucky underdogs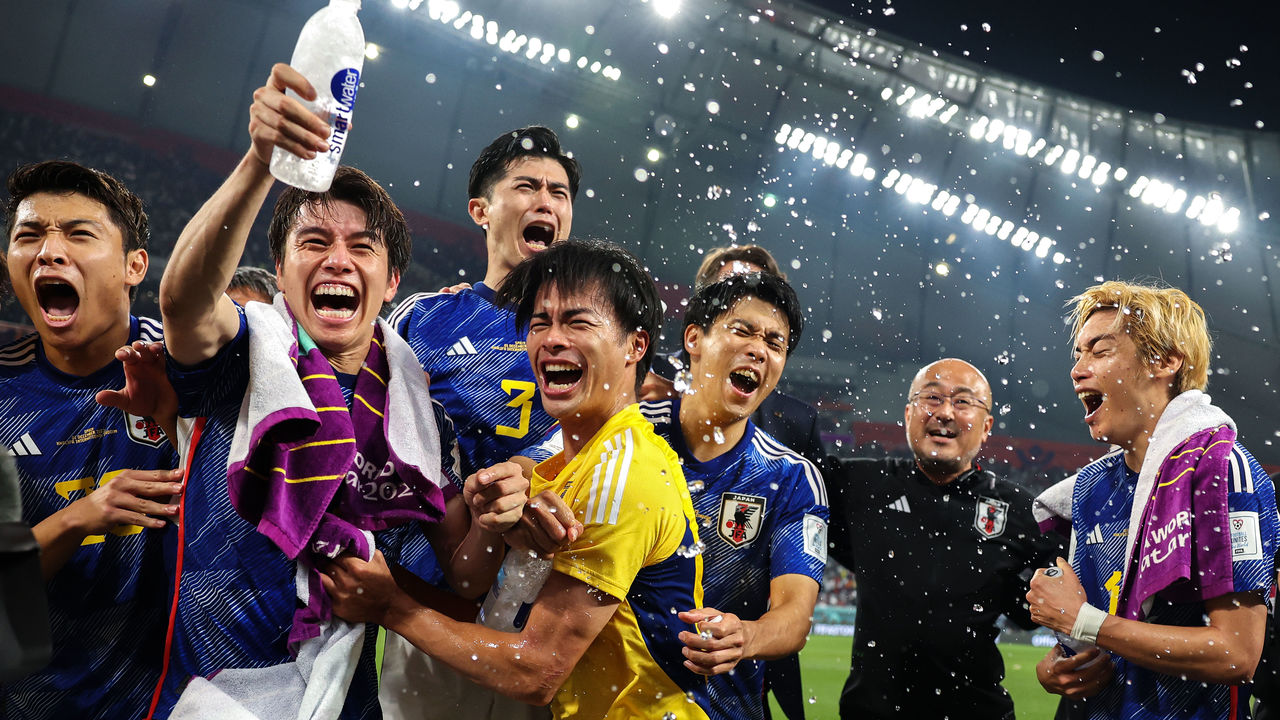 Who had Australia, Japan, Morocco, and South Korea on their bingo card?
Few outsiders gave these underdog nations a chance, and not just because of their chequered form heading into the tournament. Each of them drew opponents ranked inside the top 15, giving them little hope of advancing from – let alone topping – their groups, but they each found their own inner strength. Australia beat Denmark, Japan upset Germany and Spain, Morocco ousted Belgium, and South Korea stunned Portugal with a goal in the 91st minute. Those wins set them on their way to the round of 16.
Each of them relied on a strong defensive foundation to make history and scored goals off counters and high-pressing moves. But Japan stood out most from the chasing pack. Drawing strength from his substitutes, coach Hajime Moriyasu made in-game tactical adjustments to help his side knock off its heavily favored opponents. Japan ended up winning the group, and the team now has a chance to continue its unexpected run against Croatia.
Loser: Qatar
Strictly on the pitch, Qatar entered the competition widely viewed as the worst host nation the World Cup had ever seen – and it proved to be so. The Qataris set several unfortunate benchmarks during their brief tournament debut, becoming the first host to lose its opening game and, eventually, finish the group stage without a point. Qatar, with three defeats and a minus-six goal differential, officially finished last of all 32 competing sides.
Myriad issues off the field, both before and during the event, created a dark cloud around this tournament. Organizers were hopeful the action on the pitch – and ideally, a surprise showing from Felix Sanchez's team – would distract the world and change the conversation. It didn't. Not in the slightest.
Winner: FIFA (as always)
The World Cup that banned alcohol inside stadiums turned out to be the drunkest tournament of all. You can't make this up. Australia over Denmark. Poland hanging on by a thread in Group C. The absolute madness of Group E. South Korea's last-gasp win that simultaneously created tears of joy for Heung Min-Son and despair for Luis Suarez and Uruguay. Nothing can match the drama of the World Cup, particularly during the final round of group matches when permutations are being scoured and fortunes are changing every minute with each goal. Anyone rooting for chaos was more than satisfied this week.
No matter what, we're hooked. And FIFA knows it. Hopefully, football's governing body realizes that the current format – with four-team groups – shouldn't be tinkered with going into the expanded 2026 event. Asking FIFA to do the right thing may be a fool's errand, but after seeing the unrivaled excitement this format generated over the past few days, surely Gianni Infantino and his cronies won't ruin it. Right?
Losers: Belgium and Germany
Belgium, a rickety team very clearly on the decline coming into the World Cup, was always going to struggle, but few expected the Red Devils to be this bad. Roberto Martinez's tenure – and the "Golden Generation" – came to an unceremonious end with a group-stage exit. Kevin De Bruyne wasn't himself. Eden Hazard ran out of gas. Romelu Lukaku barely played. There were rumors of infighting and disharmony within the squad. Any way you slice it, Belgium's ouster after scoring just once in three games was humbling.
Germany, on the other hand, can count itself somewhat unlucky. The Germans dominated against Japan but lost, tied Spain, and racked up four goals in a hectic victory over Costa Rica. And yet, Hansi Flick's team still went home despite compiling the best expected goal difference of any side in the group stage. Undeserved? Possibly. But this is now the second consecutive World Cup in which Germany has fallen at the first hurdle. For a once-vaunted team, this was another sobering failure.
Winner: Marcus Rashford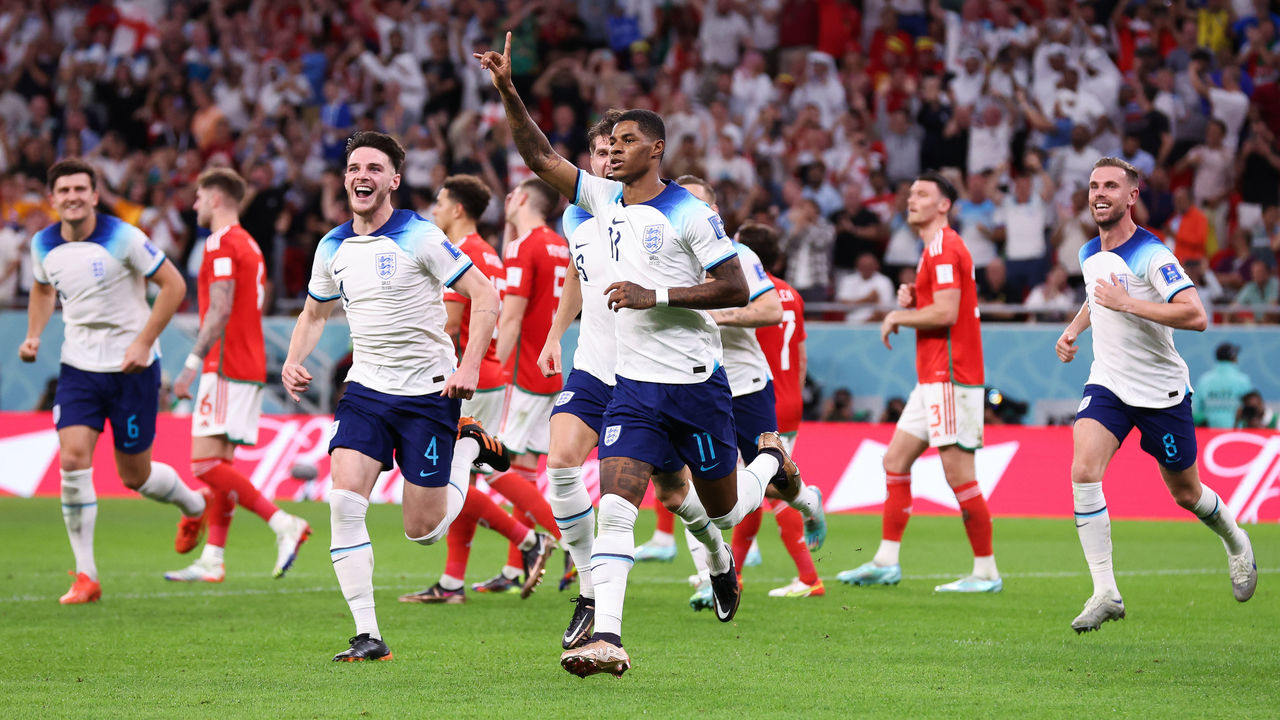 With three goals thus far, Rashford enters the knockout round as one of the World Cup's top scorers. While his efforts may have come against beatable opponents in Iran and Wales, the 25-year-old can nonetheless count himself as one of England's most important players in Qatar.
Rashford's come a long way over the last 12 months. His campaign against child hunger won him plaudits off the pitch, but his form at Manchester United dropped significantly. He only played a bit role in England's run to the Euro 2020 final, appearing mostly as a substitute, and faced racist abuse in the aftermath of his country's defeat on penalties to Italy. Now, Rashford's back to scoring goals, and given Harry Kane's only struggles, that's a very welcome development.
Loser: Gianni Infantino
FIFA president Infantino tried his best to defend Qatar, but he only made things worse. In his opening remarks, Infantino feigned sympathy for marginalized fans who felt unwelcome in Qatar and lashed out against the West over criticism of the host nation's human rights transgressions. "Today, I feel gay," the 52-year-old said in a flippant display that only inflamed tensions between FIFA and marginalized people. "This moral lesson-giving – one-sided – is just hypocrisy," the Swiss added.
Infantino stood by as Qatar's regime enforced a stadium ban on alcohol days before the start of the tournament, and FIFA then barred captains from wearing a rainbow-colored armband in support of the LGBTQ community. It all happened on Infantino's watch. For a man who initially ran for president on a promise of "change," he's ensuring the governing body stays stagnant in its ways.
Winners: Ajax and PSV's bank accounts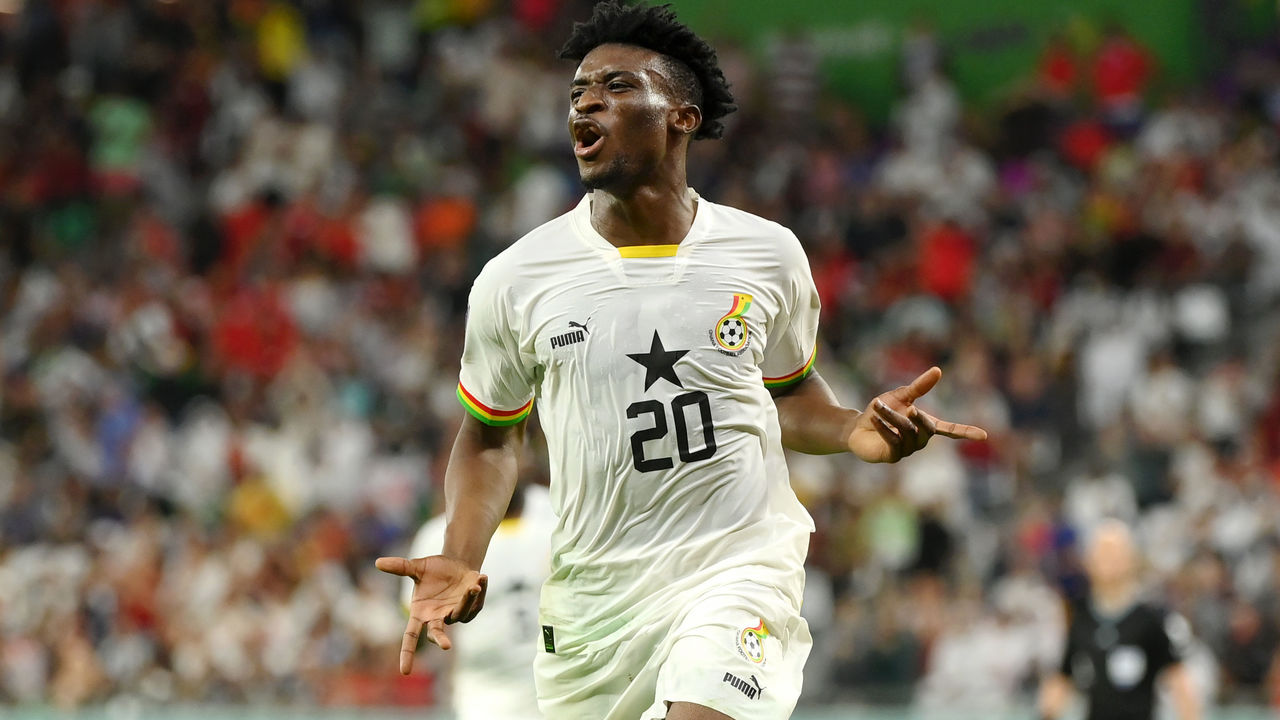 Ajax and PSV Eindhoven are laughing all the way to the bank right now. Their respective decisions not to sell Mohammed Kudus and Cody Gakpo are about to pay off – quite literally – very handsomely within the next six months. Both players were already in demand this past summer, with Premier League sides particularly expressing interest, but a move didn't materialize. Now, on the back of standout showings at the World Cup, the Dutch and Ghanaian stars have both boosted their stock.
Gakpo is carrying the Netherlands' attack, as the angular forward is tied for the tournament lead with three goals heading into the knockout stage. Kudus, meanwhile, provided a spark for the Black Stars. No player in Group H completed more take-ons or scored more goals than the 22-year-old. The price tag for both players is only going in one direction.
Loser: Denmark
Denmark built up a lot of goodwill after its run to the Euro 2020 semifinals, but it couldn't justify its dark-horse status in Qatar. The team finished last in its group with just a single point and goal scored. Kasper Hjulmand's team couldn't produce any offense, making several uncharacteristic errors in the process. The Danes also missed an early opportunity to take three points against Tunisia, which ultimately set the tone for their disappointing group-stage exit.
Denmark could've afforded a loss to France but not Australia, which needed a shootout win over Peru in the intercontinental playoffs just to get to Qatar. The Danes managed only three shots on target against the Aussies and ultimately conceded the goal that eliminated them off an avoidable counterattack.
Winner: Alvaro Morata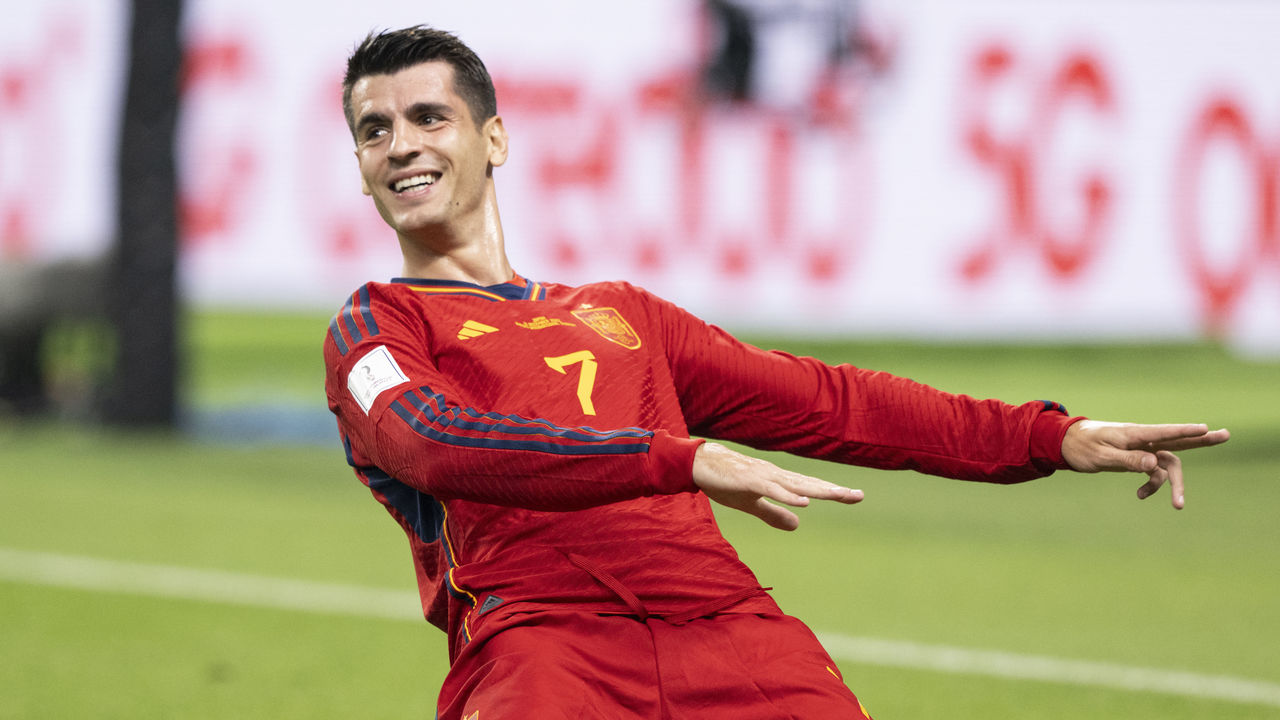 Morata often finds himself as the butt of jokes. Critics laugh at the scoring record of a player whose cost clubs an estimated €189 million in transfer fees and scoff at the number of times he strays offside. He's never scored more than 15 times in a single league season, yet he's played for some of the biggest teams in Europe.
However, he's shown he's indeed a quality striker during the World Cup. Morata came off the bench to score Spain's only goal against Germany, and his header against Japan ended up being one of La Roja's only worthwhile plays in an otherwise uninspiring 2-1 defeat on Wednesday.
World Cup roundup, Day 12: Belgium and Germany flop, Canada takes notes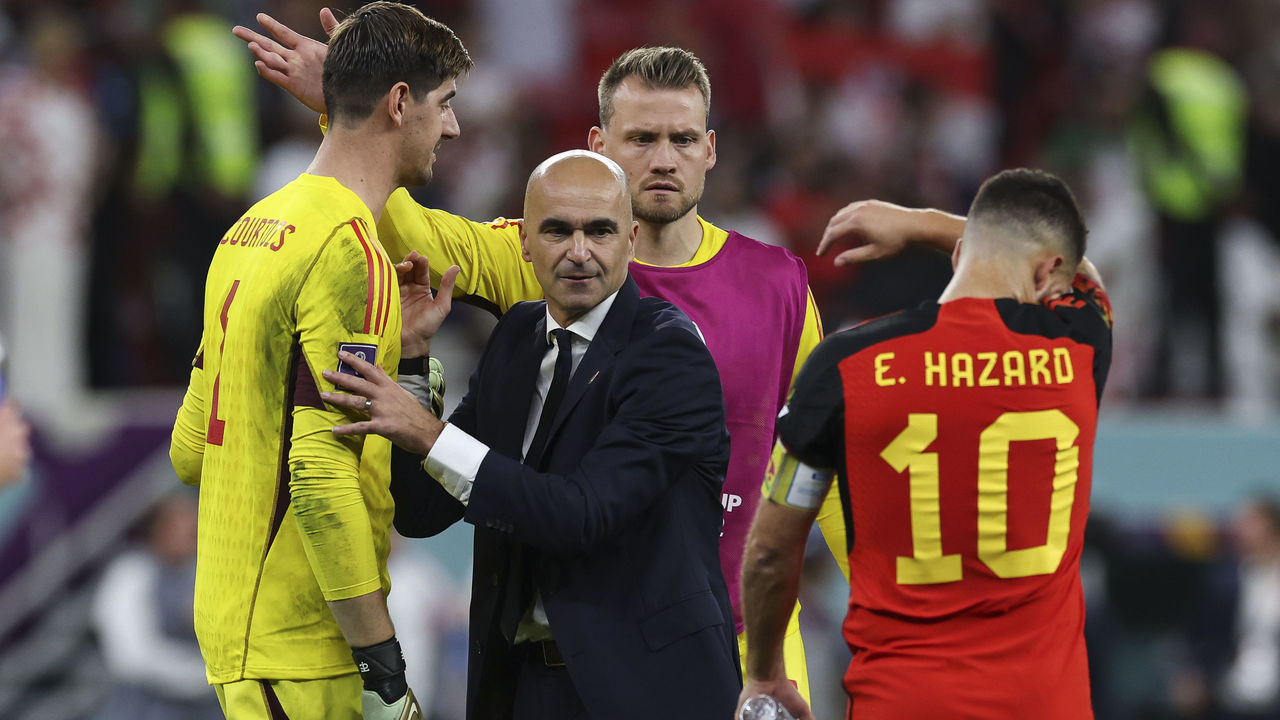 The 2022 World Cup is in full swing. At the end of every matchday, we'll review the biggest talking points emanating from Qatar and break down all the action on the pitch. Below, we look back on Day 12 of the tournament.
Das Reboot 2.0?
There was once an aura of invincibility around the German national team. One way or another, Germany would always find a way to grind out results, particularly in a tournament setting. Mentally, it provided a huge edge and was an obstacle every other team had to contend with.
That has evaporated.
Despite a topsy-turvy 4-2 win over Costa Rica on Thursday, the Germans bowed out in the group stage for a second successive World Cup. Prior to the unlikely failure four years ago, Germany had made it beyond the first round at every World Cup dating back to 1954. Combined with a last-16 ouster at the recent European Championship, the former juggernaut is in disarray.
Veteran Thomas Muller dubbed the situation an "absolute catastrophe."
"We have players who play with top clubs, and we do have the quality, (but) I believe that for the future of German football, we need to do things differently in training," manager Hansi Flick said after the dispiriting exit. "It will be very important to focus on the new generation of footballers. There are good players for the future, but for the next ten years, it is very important that we make the right steps now."
A total revamp from the ground up helped German football recover from the gloominess of the late '90s. That revival culminated with a World Cup title in 2014. A similar reboot probably isn't necessary this time around. There's always an appetite for sweeping change in the wake of significant setbacks, but this doesn't feel like the same situation. As Flick said, there's young talent emerging, headlined by Jamal Musiala, who shone brightly in Qatar despite his team's failure. Blowing everything up and starting from scratch isn't the path forward for Germany.
Belgium's golden generation flames out
For years, Belgium was the envy of almost every country. By the 2014 World Cup in Brazil, the Red Devils were routinely being tipped to compete for continental and global trophies thanks to a talent pool so deep that it seemed like a decade of glory was inevitable.
Instead, Belgium's trophy cabinet remains bare after one of the poorest showings at a World Cup in the European nation's history.
The widespread optimism born from the development of stars such as Kevin De Bruyne, Eden Hazard, Thibaut Courtois, and Romelu Lukaku has been slowly fading for years. All three blossomed into world-class players and won countless trophies at the club level.
But it's been a completely different story on the international stage for the quartet and Belgium. And now that story is on the brink of ending on a sour note without any silverware.
With De Bruyne, Hazard, Courtois, and Lukaku on the back end of their respective careers and without comparable talents coming from the youth system, the hype around Belgium may never be as high again.
Martinez's departure was inevitable, too late
Officially, it wasn't Belgium's colossal failure at the 2022 World Cup that cost Roberto Martinez his job. It seemed Martinez initially had stepped down on his own accord in the aftermath of Belgium's miserable World Cup campaign. But it appears there was an unofficial understanding between the Spanish coach and the Royal Belgian Football Association that it was time to go their separate ways.
With Martinez's contract set to expire after the tournament, hoisting the World Cup in Qatar was likely the only way he was coming back. After more than six years at the helm, it became crystal clear that the Red Devils desperately needed a new voice in the locker room.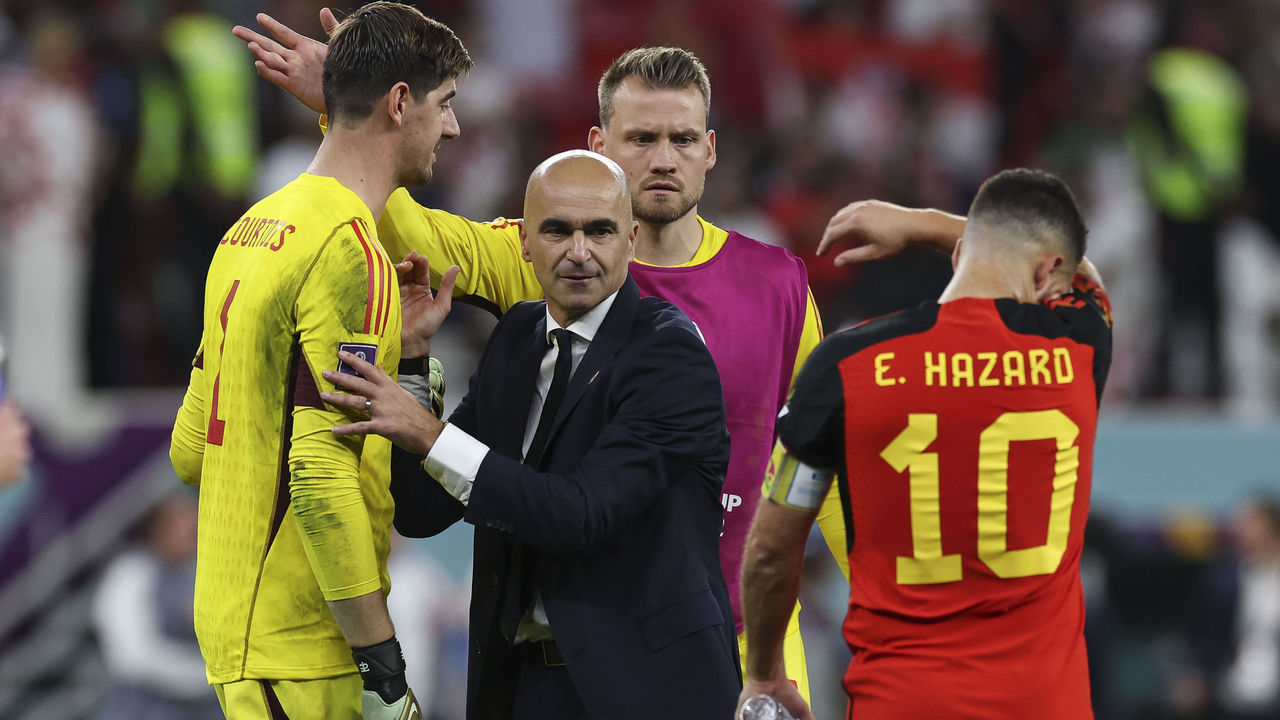 But a change in leadership may have come too late with the country's best years – and chances of winning a major trophy – in the rearview mirror before the 2022 World Cup even kicked off.
Despite Belgium reaching the quarterfinals in four previous major tournaments and entering the 2022 World Cup as FIFA's second-ranked nation, doubts over Martinez's ability to lead this crop of superstars steadily grew. So did the cloud of pessimism hovering over the Belgian camp.
Belgium's hopes of challenging for the sport's most coveted trophy were wiped out almost immediately. And the team's dreadful performance in Qatar validated De Bruyne's ominous prediction that the Red Devils were "too old" to win the tournament.
Morocco fooled us all
The headlines about Morocco didn't inspire much confidence in its ability to compete at the World Cup.
It lost to Egypt in the quarterfinals of the 2021 Africa Cup of Nations before suffering a chastening 3-0 defeat to the United States in a summer friendly. Three months before the tournament started, the country's football federation fired Vahid Halilhodzic, the coach who helped the national team qualify for the World Cup, because of personal disagreements. Leading striker Youssef En-Nesyri, who plays for Sevilla, hadn't scored in 12 La Liga appearances, and a pre-tournament injury to Amine Harit robbed Morocco of one of its most creative midfielders.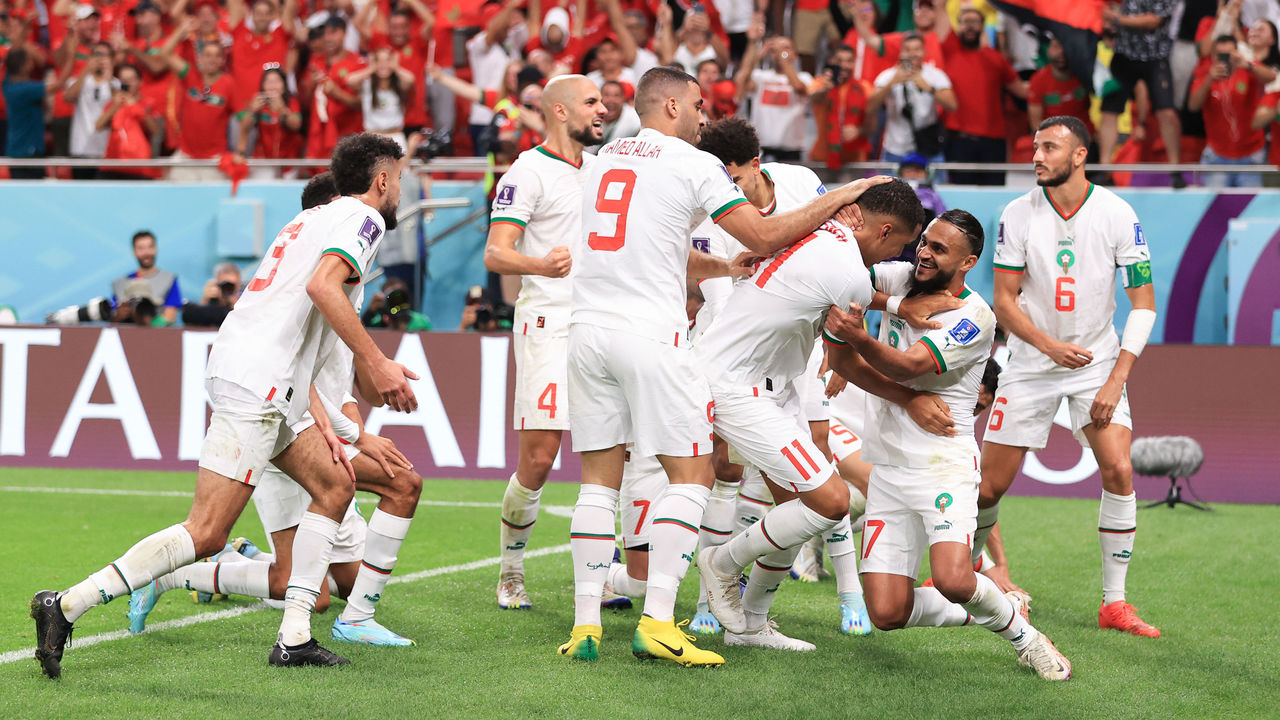 But Halilhodzic's successor, Walid Regragui, moved quickly to unify the group. He immediately recalled Chelsea's Hakim Ziyech, one of the players the previous coaching regime had forced into exile, and put a greater emphasis on playing solid, defensive football.
The world should've taken more notice.
Morocco's shutout streak lasted 662 minutes. And although Regragui's team conceded in Thursday's 2-1 win over Canada, it largely frustrated the Canadians, denying them a first point at the World Cup. Morocco showed similar resolve in a goalless draw against Croatia and held off Belgium long enough to run off with a 2-0 win.
Morocco played smart, assured football at the right time. It put all the negative headlines aside and earned first place in Group F as its reward. Though the North Africans now face Spain in the knockout round, they've shown they can handle opponents of any size. Count them out at your own peril.
Important lessons learned for Canada
On paper, Canada's World Cup was an objective failure. Three matches played, three defeats, no points, and a goal difference of minus-five; Canada will finish the tournament 31st out of 32 teams. Officially, only host nation Qatar, with its three losses and minus-six differential, was worse. Harsh, considering some of the exciting moments John Herdman's team delivered in the desert. The Canadians pushed Belgium to the brink – even if that's not quite the accomplishment it appeared to be about a week ago – and had Croatia briefly on the ropes for 15 magical minutes. They also left with their heads high after an admirable finish in the defeat to Morocco.
There's plenty of room for optimism, and it's important to acknowledge and celebrate this team's accomplishments right now. Competing at the highest level and making the world take notice after the men's program was an afterthought for nearly four decades is no small feat.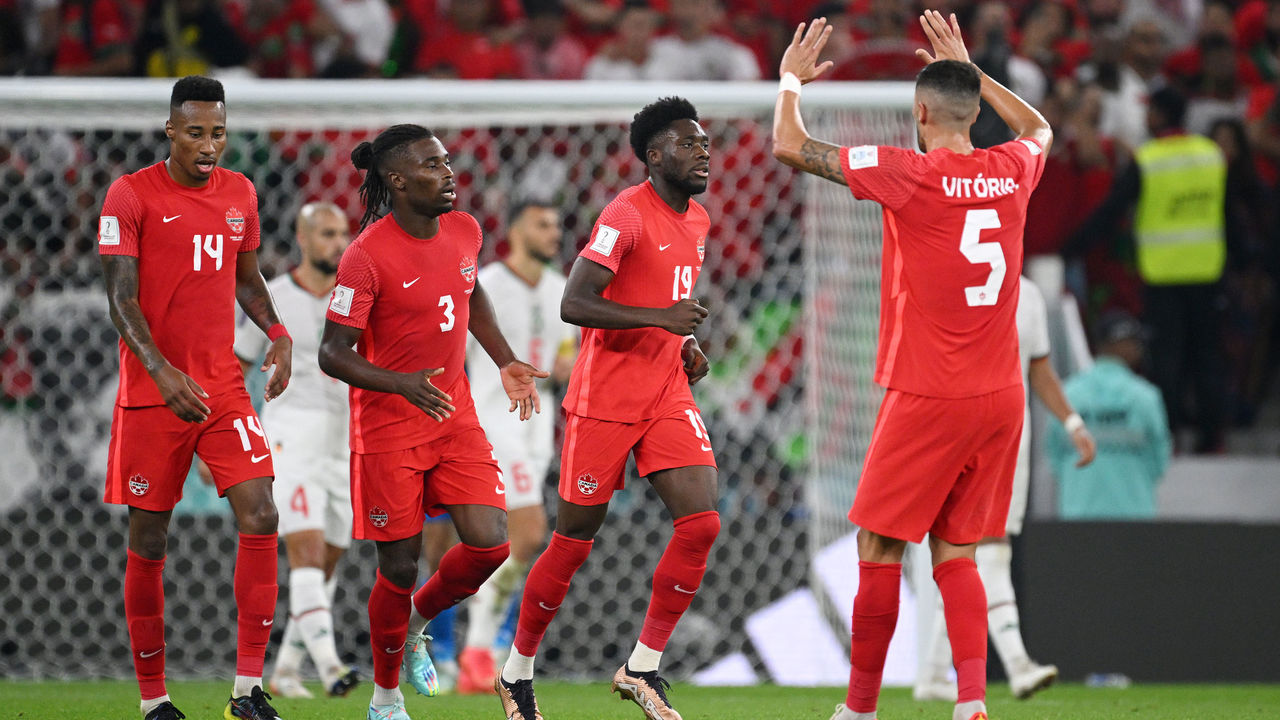 "We belong on this world stage," defender Alistair Johnston said after Thursday's 2-1 loss to Morocco. He's right.
But now it's time to take the lessons learned in Qatar and apply them going forward. There's still a gap in quality that needs to be closed before Canada assumes co-hosting duties for the 2026 World Cup. The final result was disappointing, especially after the memorable qualifying run created genuine expectations throughout the country. But, in hindsight, perhaps the outcome wasn't entirely surprising. This isn't CONCACAF anymore. This is another tier. Canada isn't quite there just yet.
Herdman and his team need to ensure the harsh lessons learned in Qatar aren't in vain as it aims to reach that next level.
Quick free-kicks
Moriyasu the master
Japan had never beaten a former champion at the World Cup coming into this year's tournament. In the blink of an eye, the Samurai Blue have now done it twice in 10 days. Manager Hajime Moriyasu was the architect of two incredible – and incredibly similar – victories, making in-game tweaks and personnel changes that helped overturn 1-0 deficits against Germany and Spain, two of the most vaunted sides in world football. Moriyasu's halftime formation change against Germany altered the course of that contest, and his substitutes were decisive. His changes at the interval had the same impact Thursday, as Ritsu Doan and Kaoru Mitoma came off the bench against Spain. The former grabbed the equalizer shortly after the restart, and an incredible effort just minutes later from the latter created the match-winning goal. Should the surprise Group E winner need a spark at some point in its last-16 match against Croatia, Moriyasu's magic touch could turn the tide again.
What to make of Spain?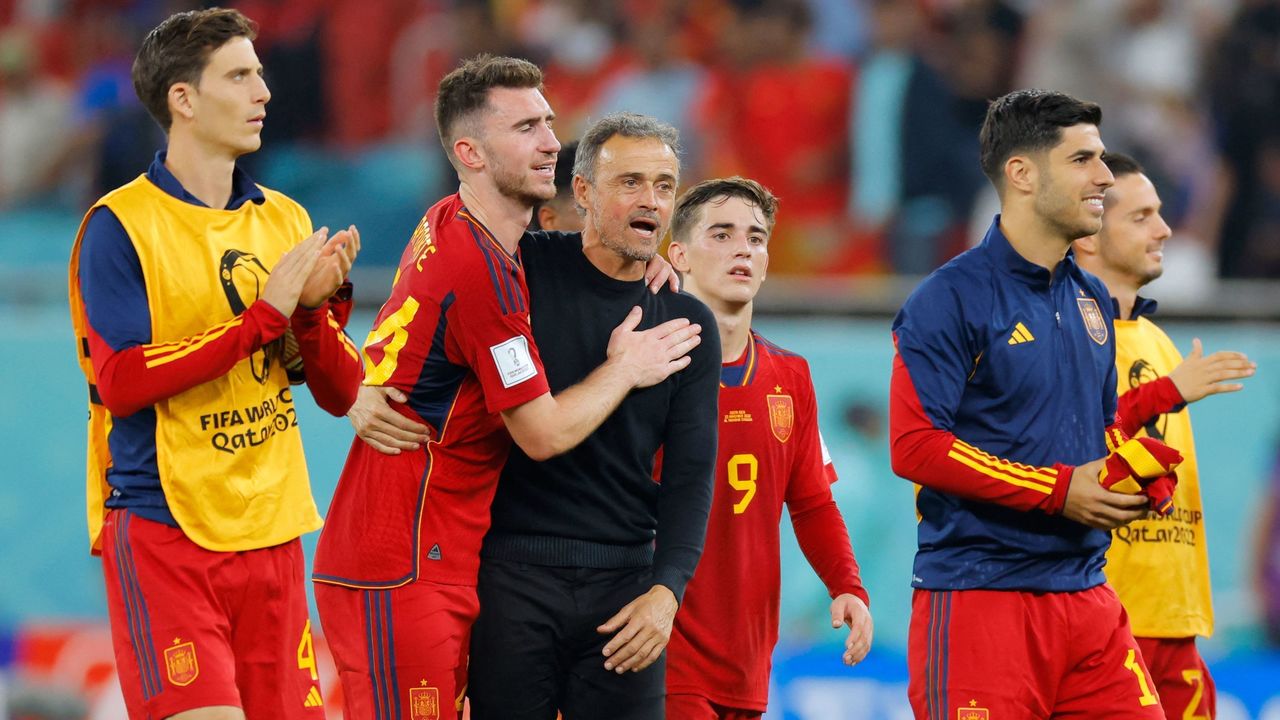 At any moment, Spain can look either like the most fluid, enchanting team on the planet or a defensively frail unit that's only capable of passing the ball sideways and becoming bogged down. No other team at the World Cup is so duplicitous. Thursday was a prime example. At times, Spain zipped the ball around the pitch and didn't let Japan have even a whiff of possession. Rodri, for instance, became the only player to attempt (and complete) over 200 passes in a World Cup match since that data started being collected in 1966. But for all the apparent control, La Roja crumbled in a hectic three-minute spell just after halftime and ultimately couldn't recover. Spain has looked spellbinding at times in this tournament and inept at others. And sometimes both within the same game. Trying to predict what Luis Enrique's team will do in the knockout stage is a fool's errand. Spain could easily make the final. It could also – just as easily – fall to Morocco in the next round.
Changes coming to 2026 World Cup format?
The benefits of overhauling the current format for the 2026 World Cup are reportedly being discussed behind the scenes in Qatar. With the expansion from 32 to 48 contestants, the current plan for the North American World Cup is to have 16 groups of three teams. But organizers have apparently engaged in "corridor chats" in Doha to get FIFA officials to consider the benefits of going with 12 groups of four teams instead of the format agreed upon in early 2017. The shakeup would result in a 104-game World Cup – 40 more than in Qatar – if group winners, second-place teams, and the eight best third-place teams progress. Such a proposal would likely interest FIFA and sponsors given the increased revenue. But fears over player safety throughout a jam-packed schedule could present an obstacle if FIFA adopts the change. Stay tuned, as stakeholders could formally discuss the change in the coming months.
Stat of the day
Possession? Pfft. Who needs it?
Tweet of the day
The streets will never forget.