Why English football may be at the start of an Asian revolution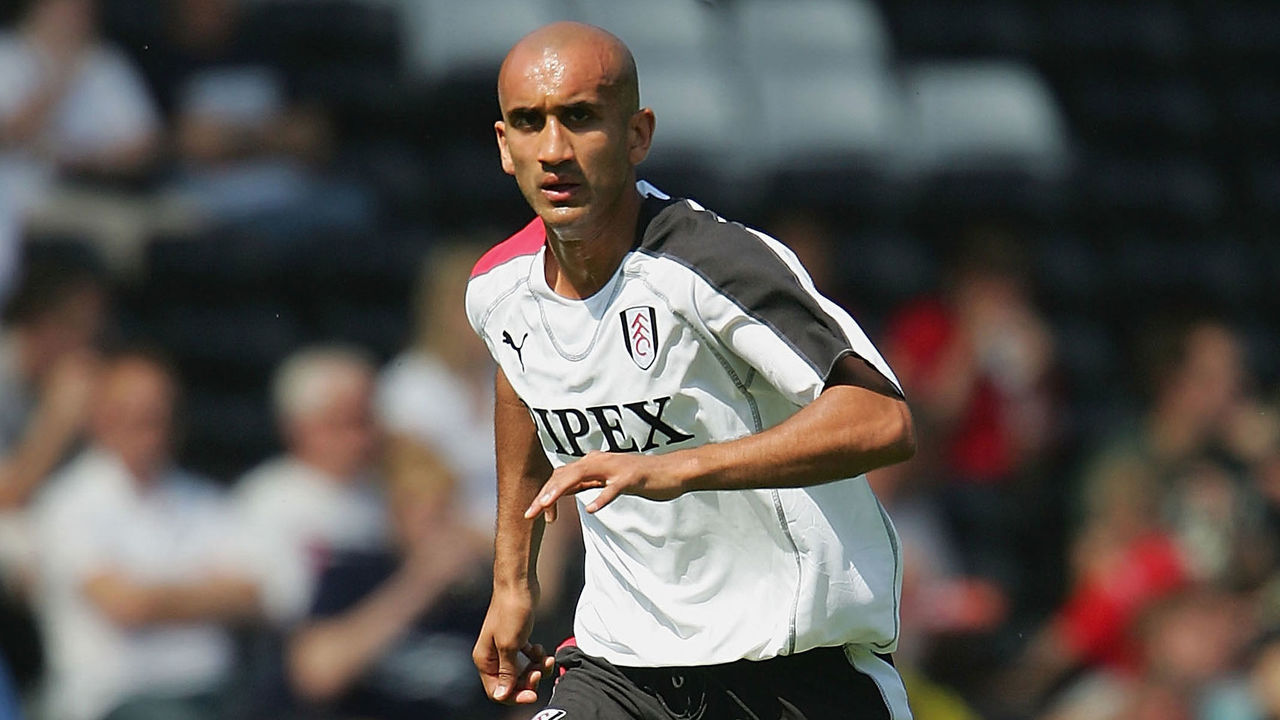 Zesh Rehman's full debut was more memorable than most. The defender helped subdue Tottenham Hotspur's Jermain Defoe and Robbie Keane in a 2-0 win, but what and who he represented far outweighed Fulham's three-point haul.
He'd become the first British-born Pakistani to start a Premier League match.
"It wasn't just in the U.K., but across the world as well, specifically in Pakistan," Riz Rehman, the Professional Footballers' Association's Player Inclusion Executive, told theScore of the attention that greeted his brother's appearance in 2004.
"It inspired a lot of kids abroad and in the U.K. He was just inundated with emails, phone calls. The club was inundated with the media wanting to talk to him about his journey."
Zesh Rehman is a trailblazer for British Asians – particularly South Asians – who harbor aspirations of becoming professional footballers, but his landmark didn't trigger a landslide.
Asian and British Asian people make up almost 7.5% of the U.K. population, but during the 2019-20 campaign, just eight players hailing from those backgrounds made first-team appearances across England's top four divisions, according to the PFA. A report commissioned by Football Supporters' Association and Beyond Entertainment in November 2020 stated only 0.25% of professional footballers were British Asian.
"There's an untapped market out there," Riz Rehman said.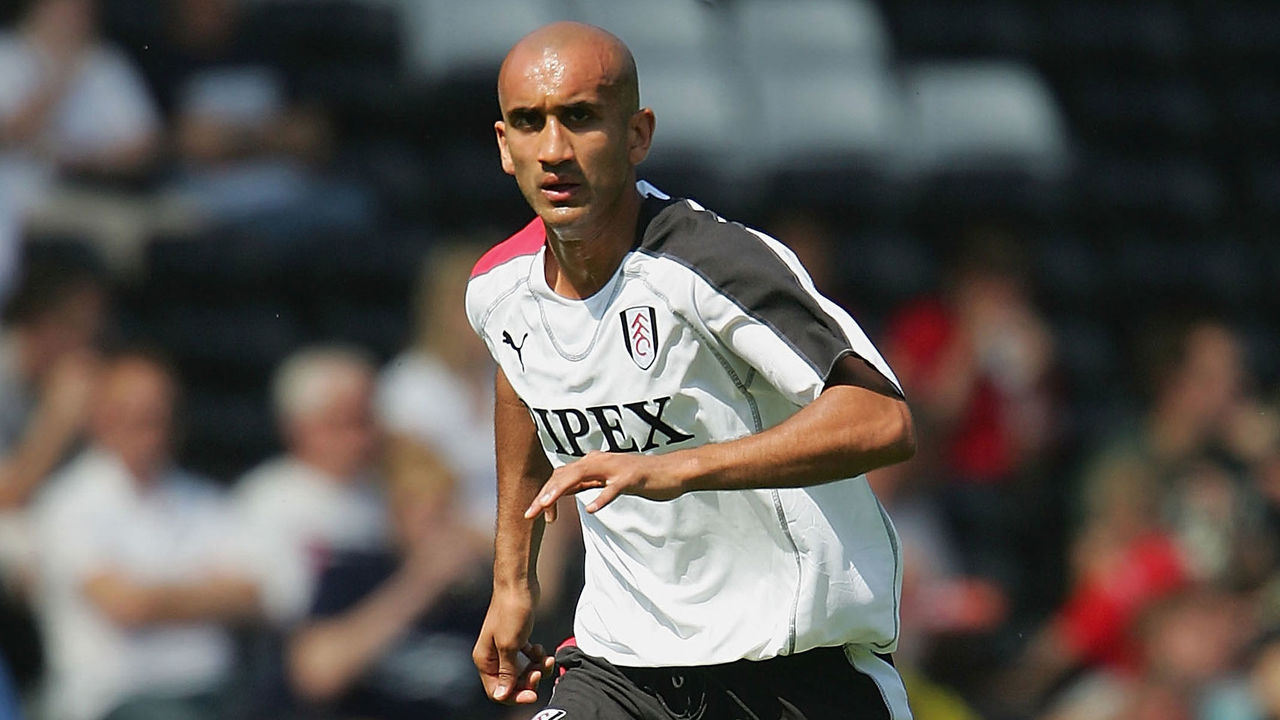 Nearly two decades on from his brother's historic appearance, Rehman is actively addressing English football's long-overlooked demographic as head of the PFA's Asian Inclusion Mentoring Scheme. The initiative officially launched in February 2021 following an extended trial period.
Rehman's role is to meet with clubs to discuss their recruitment strategies and guide them toward communities and programs that fall below their radar.
"It's not about blaming the clubs," he explained, "it's also looking at the community and the current setup. What leagues are players playing in? Where do scouts go?"
In addition to improving the visibility of football in Asian communities, the AIMS provides support that was scarce while the Rehman brothers were emerging at Brentford and Fulham. Welsh international Neil Taylor, Sunderland center-back Danny Batth, and other former and current players of South Asian heritage are among those mentoring the next generation through the program.
Rehman himself talks to players on a daily basis. He estimates he's engaged with around 80 players from an academy system comprising approximately 15,000 promising youngsters. Rehman can't imagine he's missed as many as 20 youth-team footballers from Asian backgrounds, but even if he should be keeping tabs on 100 players, that still represents under 0.7% of the footballers in clubs' production lines.
"They're playing just as much as their Black and white counterparts," Rehman said. "So why not look at them?"
Children's football participation in England
| Kids aged 5-16 | Share of young population | Share of football participation |
| --- | --- | --- |
| White | 68.4% | 67.1% |
| Asian | 9.6% | 10% |
| Black | 4.6% | 5.3% |
Source: Sport England, January 2020
Asian youngsters' appetite for the game is unquestionable, yet it's not being reflected in England's professional game. This presents an opportunity for clubs to knock down biases in the nation's No. 1 sport and uncover nascent talents amid relatively little competition from their rivals.
The hunger for a South Asian player to "make it" is also huge, offering clubs potentially lucrative marketing windfalls.
Manchester United's teenage midfielder Zidane Iqbal is a media sensation. He was born in England and could've also donned a Pakistan kit on the international stage, but he instead opted to play for his mother's homeland of Iraq. He made his debut in a World Cup qualifier in January.
"He's the second-most requested player at United for media requests after Cristiano Ronaldo," Rehman said. "He's only played five minutes of Champions League football. So, that's the kind of interest there is."
Reflecting the community
Queens Park Rangers are ahead of the curve. Director of football Les Ferdinand and head of coaching Chris Ramsey are at the forefront of the club's vision, and its implementation – which began when Ferdinand was hired in 2015 – didn't require the scouting department to be overhauled or other expensive amendments to QPR's day-to-day operations.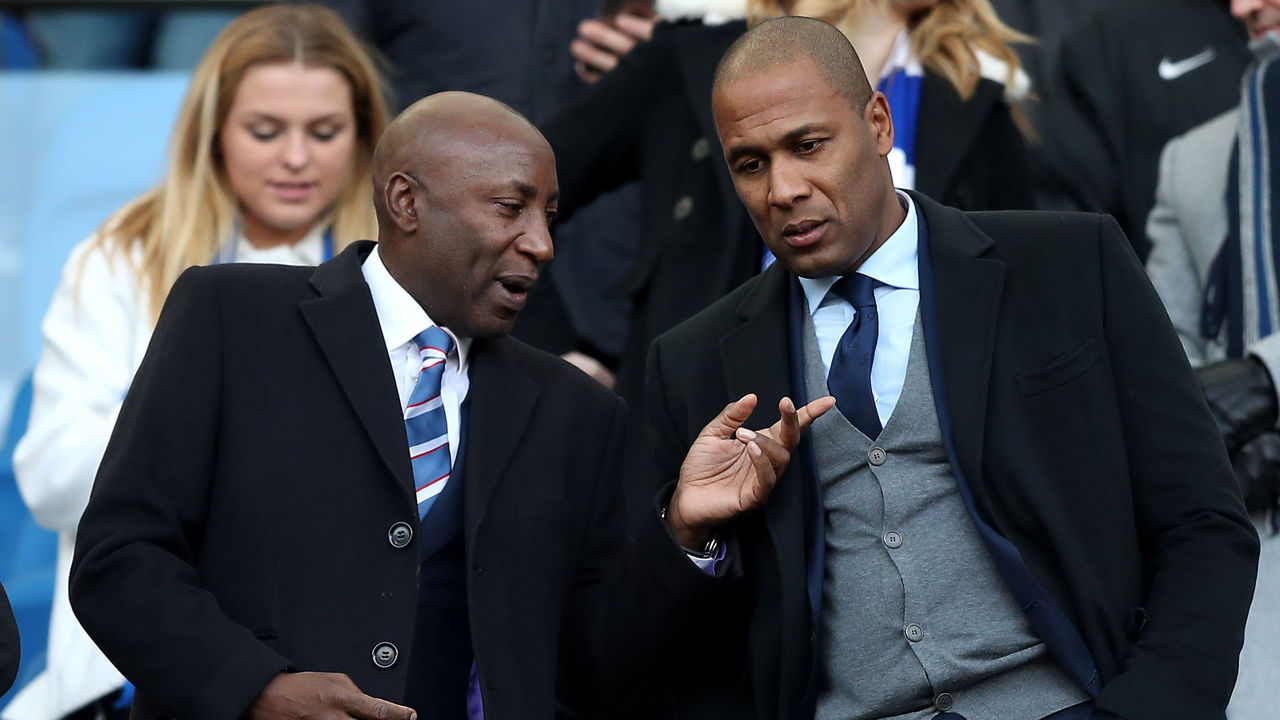 They simply looked around the streets cradling Loftus Road.
"One of the remits (Ferdinand) set the club was to try and make the club's players or the academy players – any players that we work with on the football front – look like our local community," football development manager Danny Harrigan, who's been with the club for 12 years, told theScore.
Harrigan recently helped strike up a relationship with Indian Gymkhana, a multi-sports club based in Isleworth, west London, that's expanded its football program. Youth coaches at Indian Gymkhana were invited to QPR's academy, where they met with staff and watched some of their training drills. The visiting coaches then sat down to discuss possible career pathways for their own promising players.
Through simply reaching out, QPR forged a link that could make players from minority backgrounds at Indian Gymkhana – membership isn't restricted to people of Indian origin – feel a part of British football. Indian Gymkhana and QPR have long been part of the same community, and now it feels that way.
QPR's inclusive approach extends beyond player recruitment. Manisha Tailor is forging a path for people from diverse backgrounds in her position as QPR's assistant head of coaching. She's the first woman and first person of South Asian heritage to occupy such a prestigious coaching role in the men's game in England.
Tailor was a latecomer to football – only giving up teaching at a primary school in 2011 – who could've been involved earlier if there were hints of full-time opportunities in the sport. Role models were in short supply. "I didn't see people like me in that space," she said.
It was when she stepped away from full-time employment to finish a qualification and care for her mother that she gradually became acquainted with a "new world." Upon learning Tailor had stopped teaching, former England attacker Rachel Yankey, whom Tailor had worked with in education, encouraged her friend to join her grassroots program on a part-time basis. Tailor was now making steps in the sport she loved, and it was through football that she met Ramsey at two events relating to diversity.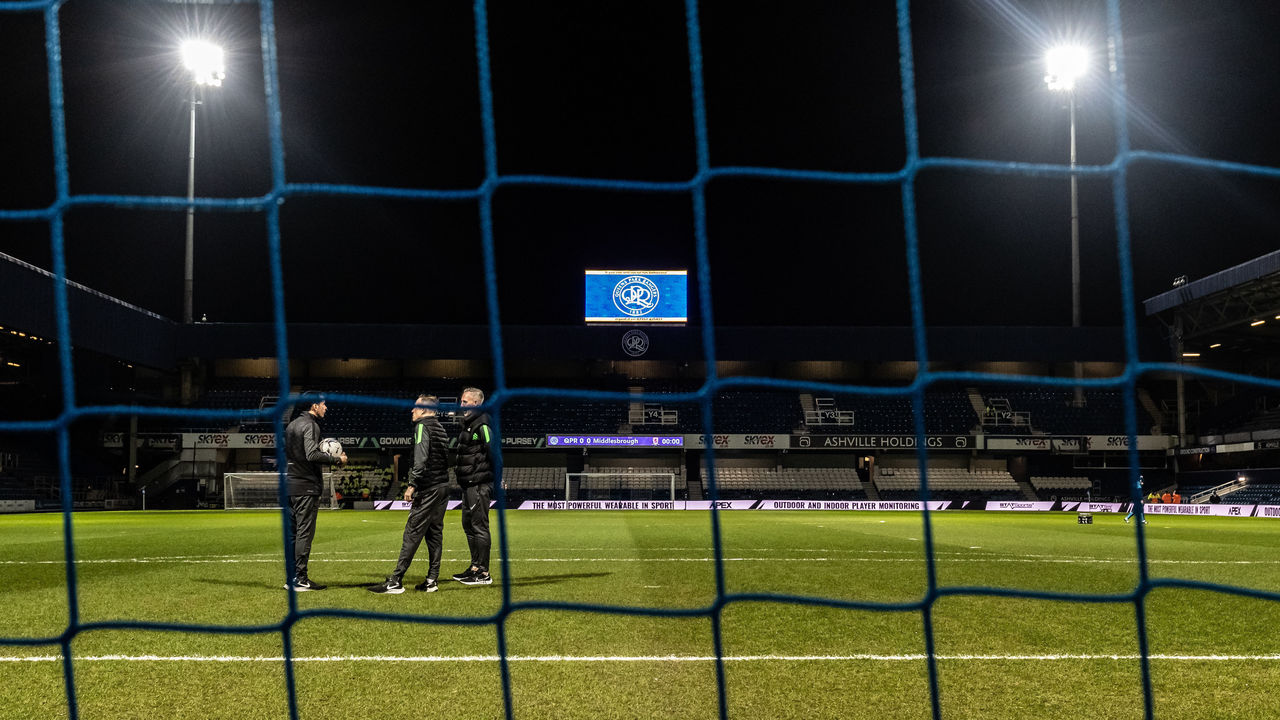 Ramsey told an inquisitive Tailor that she needed to hone her craft with minutes on the training pitches and attain a UEFA B license to further her career when they first met in 2014, advice she took. Ramsey, who'd identified Tailor's aptitude and unbridled work ethic, offered her a volunteer role at QPR during their second encounter two years later.
Tailor recognizes that her mentor, who is Black, had a strong sense of empathy after dealing with adversity himself. The vastly experienced Ramsey's nine-month spell in charge of QPR in 2015 is his only managerial stint in England's professional leagues.
"He understands what it's really like to be the best person for the job but not necessarily get the job," Tailor said. "He gets what it's like to go time after time, fill in job applications, but not even get an interview."
During their visit to QPR, the Indian Gymkhana coaches noted there had been more activity around their players in recent years. But progress is steady. To expedite the process, a quota system could be introduced to ensure clubs are training children in numbers that better reflect the participation rates of ethnic groups in their local areas.
However, there is progress. For a long time, English football couldn't say that about Asian involvement – especially as it pertains to South Asian players.
The clubs already gaining a presence in previously ignored neighborhoods stand to benefit for years to come. By uncovering players in a less-farmed section of the British football landscape, they can attract a new generation of fans with various outreach projects, such as supporting charitable causes and visiting local schools.
And with more fans come new generations of followers who want to play for the club that represents them.
"There's a lot more to what we do than just what people see on the Saturday," Harrigan said. "We are a community club."
Copyright © 2022 Score Media Ventures Inc. All rights reserved. Certain content reproduced under license.
20 overreactions to the Premier League's opening weekend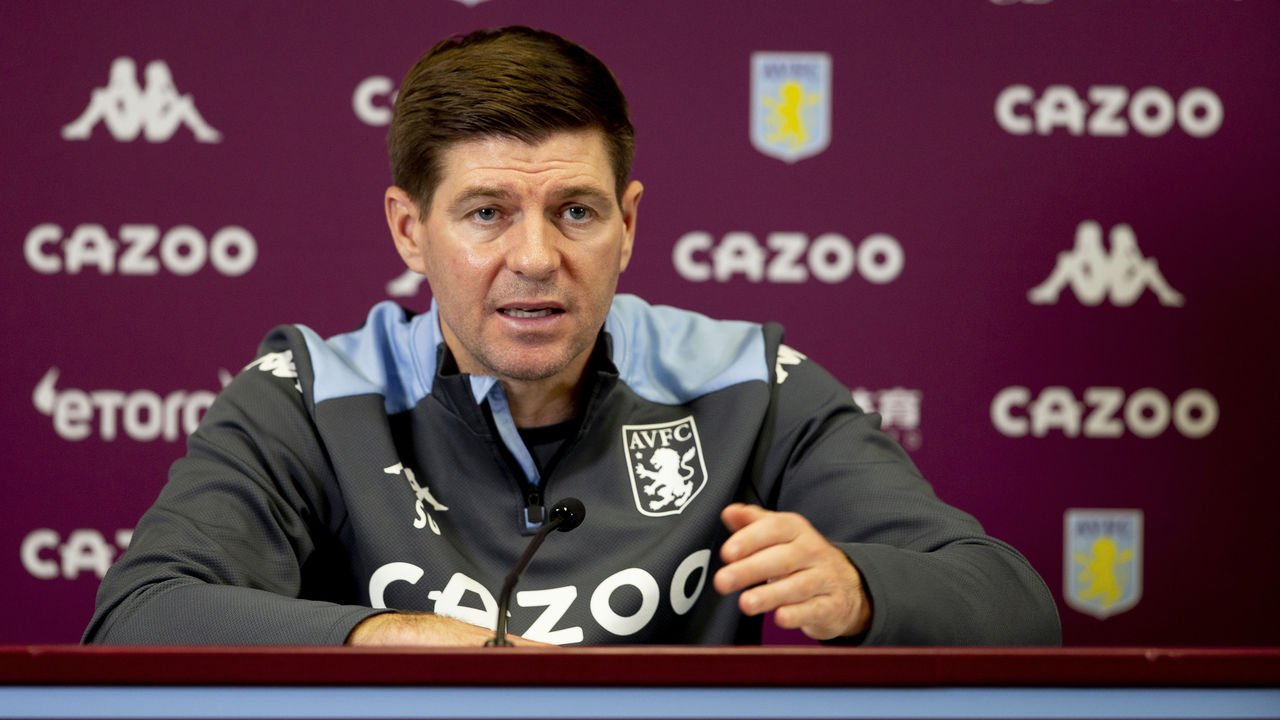 The dust has settled on the opening weekend of the 2022-23 Premier League season. So, naturally, it's time to overreact about the state of each team. Below, theScore tips some for glory and others for ruin.
Arsenal
Saliba is already the league's best defender
William Saliba waited three long years to make his Premier League debut. No one at Arsenal will forget it. The 21-year-old, who played on loan at Saint-Etienne, Nice, and Marseille before rejoining the Gunners this summer, put in a man-of-the-match performance during Friday's 2-0 win over Crystal Palace. He dominated the area with a team-high seven clearances and committed no fouls while boxing out his opponents. A physical center-back with in-game intelligence, Saliba has what it takes to become one of the Premier League's top defenders.
Aston Villa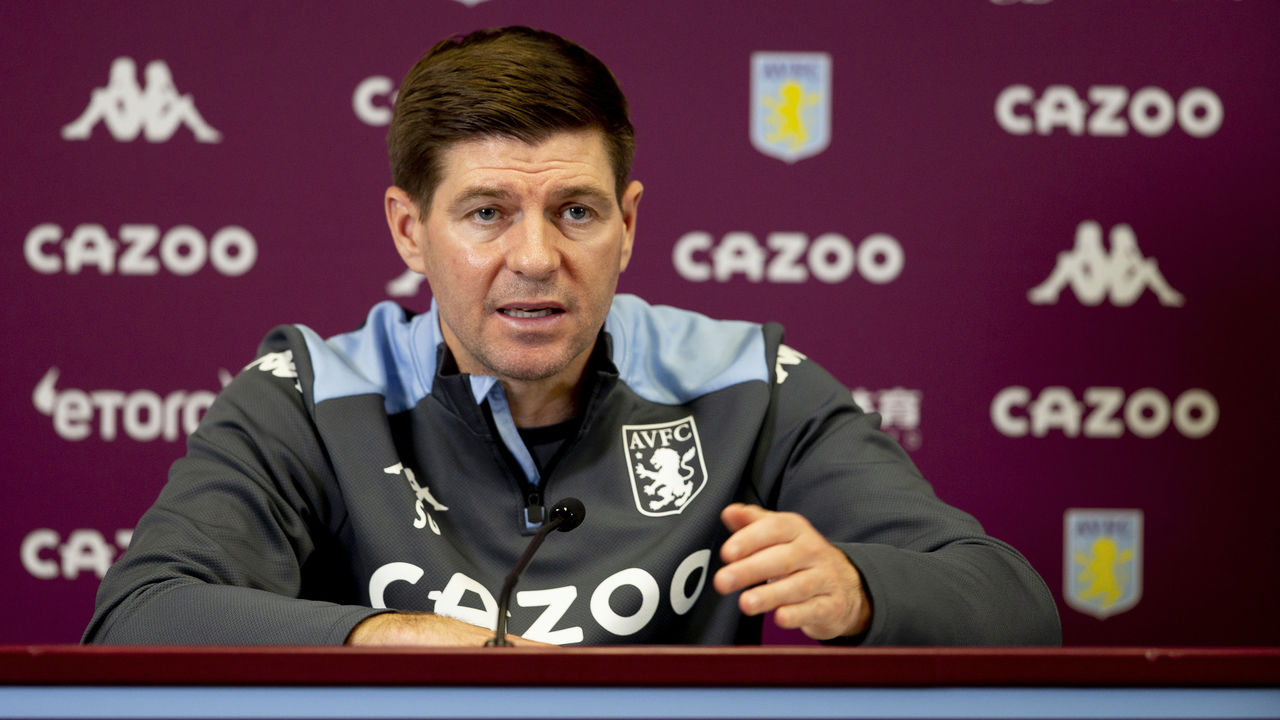 Gerrard will be the first manager sacked
Despite signing Philippe Coutinho, Lucas Digne, and Calum Chambers in January, Steven Gerrard went 10-5-12 at Villa last season after replacing Dean Smith in November. Villa have to improve on their 14th-place finish, but that remains a tall order. Promising midfielder Carney Chukwuemeka and left-back Matt Targett left the club this summer, and newly promoted Bournemouth issued Villa a sobering reminder of their deficiencies Saturday.
Bournemouth
Relegation is far from a certainty
Many understandably consider Bournemouth to be a lock for relegation. The Cherries haven't spent much since returning to the Premier League, and manager Scott Parker has enjoyed little success outside of the Championship. But there's enough in this team to survive the season. Dominic Solanke kick-started his career with 29 goals in Bournemouth's promotion campaign, giving the club confidence he can lead the line in the top flight. 6-foot-4 midfielder Philip Billing and 6-foot-3 center-back Chris Mepham form a solid foundation. Summer signing Marcus Tavernier adds style. Incoming defender Marcos Senesi brings confidence on the ball. With all of that, Bournemouth have the tools to stay up.
Brentford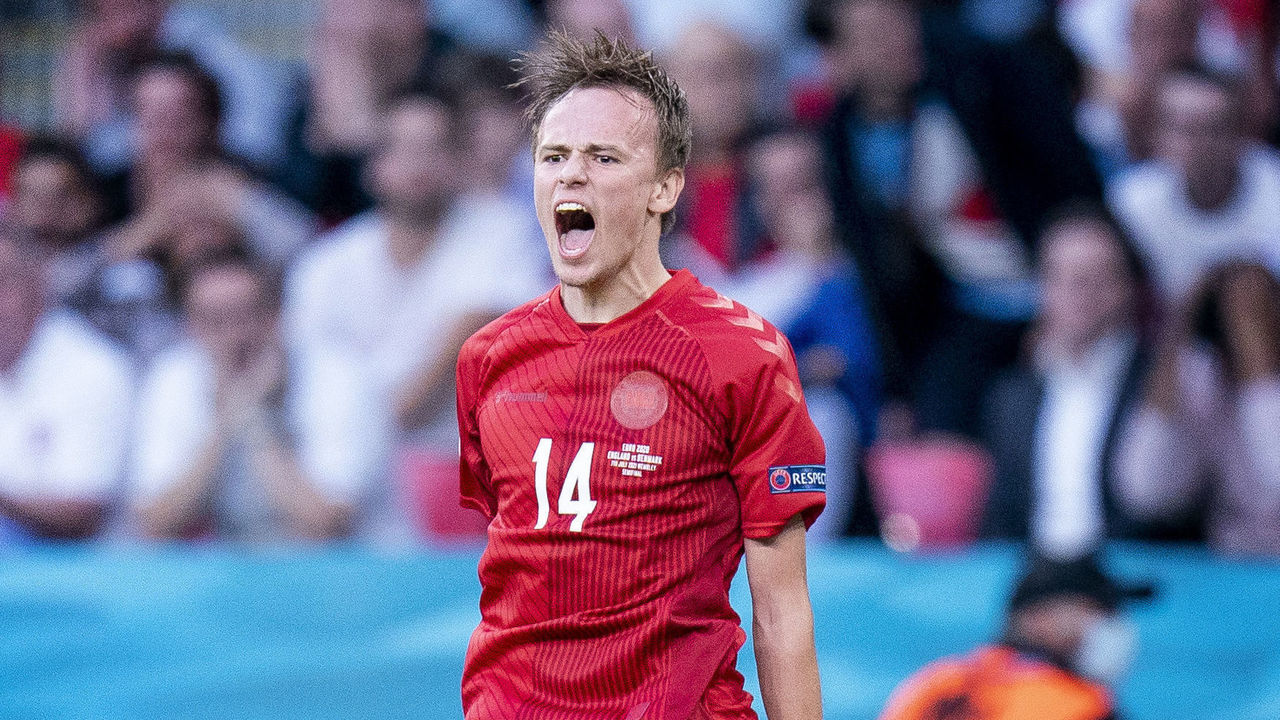 Damsgaard is a worthy heir to Eriksen
Mikkel Damsgaard is the perfect choice for Brentford. Counting Christian Eriksen as one of his idols, Damsgaard has molded his game around the visionary Danish playmaker. So, naturally, he's a worthy heir. The 22-year-old is just as accurate as Eriksen from set-pieces and even shiftier on the ball than his predecessor. Brentford are excellent at identifying successors, transitioning from the likes of Ollie Watkins to Ivan Toney without a hitch. Damsgaard could even be considered a long-term upgrade on Eriksen. And, at a reported £16 million, he fits the budget.
Brighton & Hove Albion
Who needs Cucurella?
Brighton had no reason to sell Marc Cucurella. That's why they wouldn't accept anything less than £50 million. But he wasn't indispensable, either. When Chelsea agreed to stump up the cash, Brighton accepted. They knew they could live without him. The Seagulls proved as much Sunday at Old Trafford, outfoxing Manchester United in every category. Tactically, Brighton were at their fluid best, rotating between multiple formations while targeting open space on the counterattack. Even if manager Graham Potter needed Leandro Trossard and Solly March to do the job of one on the left flank, where Cucurella shined last season, it worked. Potter's team has always been a collection of moving parts. Losing one won't make a difference.
Chelsea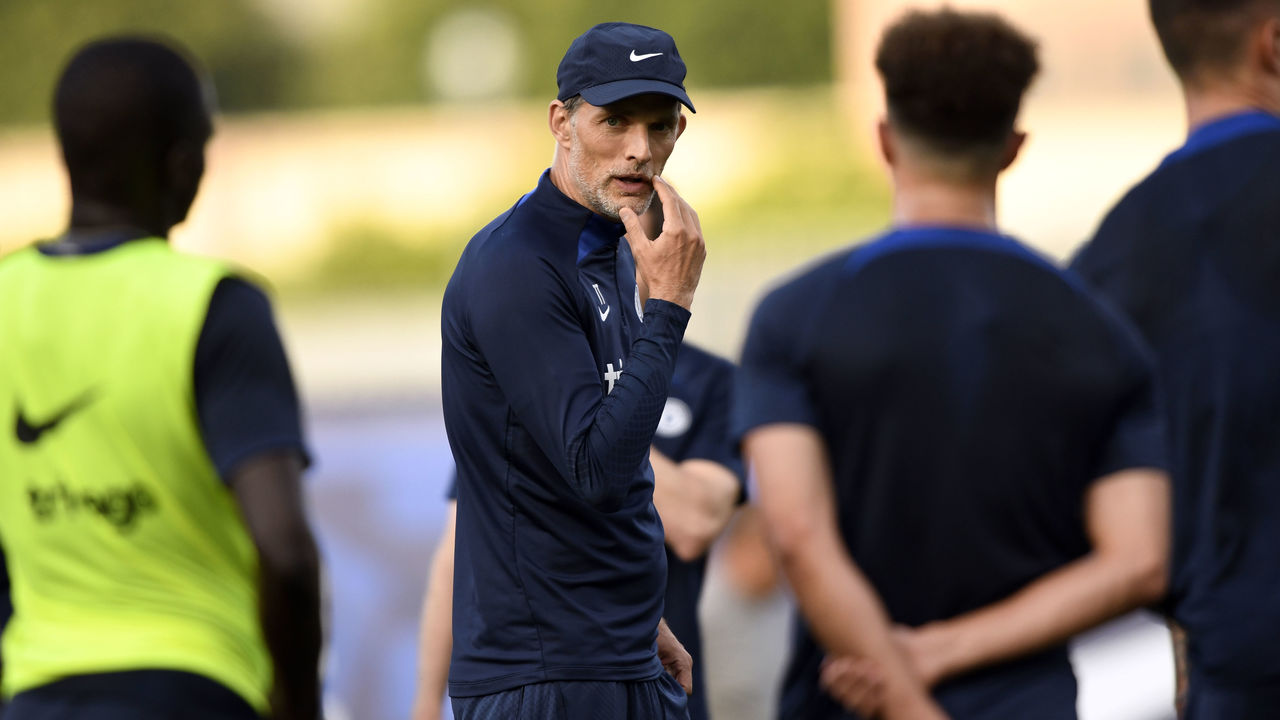 Chelsea are going backward
Chelsea aren't any better than they were last season. Despite Kalidou Koulibaly's arrival from Napoli, the Blues still lack quality defensive options. An even bigger concern lies up front. With Romelu Lukaku out on loan, Timo Werner on his way back to RB Leipzig, and Armando Broja still learning his trade, manager Thomas Tuchel is missing a reliable goalscorer. Chelsea's 1-0 win over Everton exposed more problems than solutions, with Kai Havertz looking lost and Raheem Sterling struggling to connect with his teammates. If the west London side doesn't make at least one more splash in the summer window, it'll finish outside of the top four for the first time since 2018.
Crystal Palace
Doucoure is going to run out of steam
Cheick Doucoure should feel daunted by the task that lies ahead after Friday's rather forgettable debut against visiting Arsenal. Those remaining in Crystal Palace's stable of deep-lying midfielders are poor. Wideman Jeffrey Schlupp was uncomfortable alongside Doucoure in a central role, and the Eagles' other deputies for that position – Luka Milivojevic, Will Hughes, and James McArthur – are uninspiring. Doucoure, a £20-million recruit, could be one of England's most overworked players this season.
Everton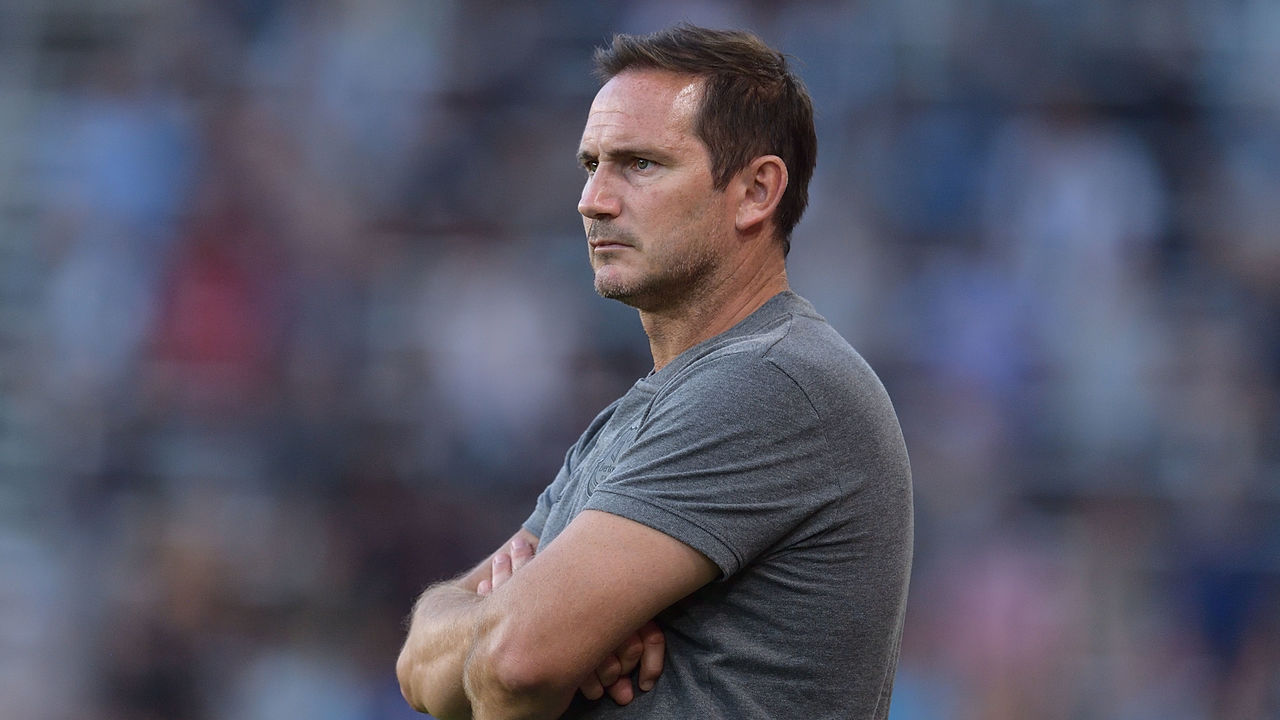 Everton on the path to relegation
Frank Lampard has a big problem on his hands. Everton are already in the throes of a full-blown injury crisis a week into the new season. Richarlison is long gone, oft-injured striker Dominic Calvert-Lewin remains vulnerable to setbacks, and center-backs Ben Godfrey and Yerry Mina are out long term. Even with the addition of Conor Coady, there are too many holes to plug. The club barely recovered from last season's sluggish start, and it hasn't made enough signings to ensure that doesn't happen again.
Fulham
Mitrovic can win the Golden Boot
Ahead of kickoff Saturday, Aleksandar Mitrovic's ability lay somewhere between the Championship and Premier League. His second-tier record stands at 85 goals in 126 outings, while his top-flight return was 24 goals across 104 appearances. Then, Liverpool visited and Mitrovic was a constant nuisance. Aside from his two goals, the Serb won 11 aerial duels, ranked third for touches by a Fulham player, drew four fouls, and completed three clearances. With form like this, Mitrovic can easily lead the Cottagers to safety, and maybe even collect some individual hardware.
Leeds United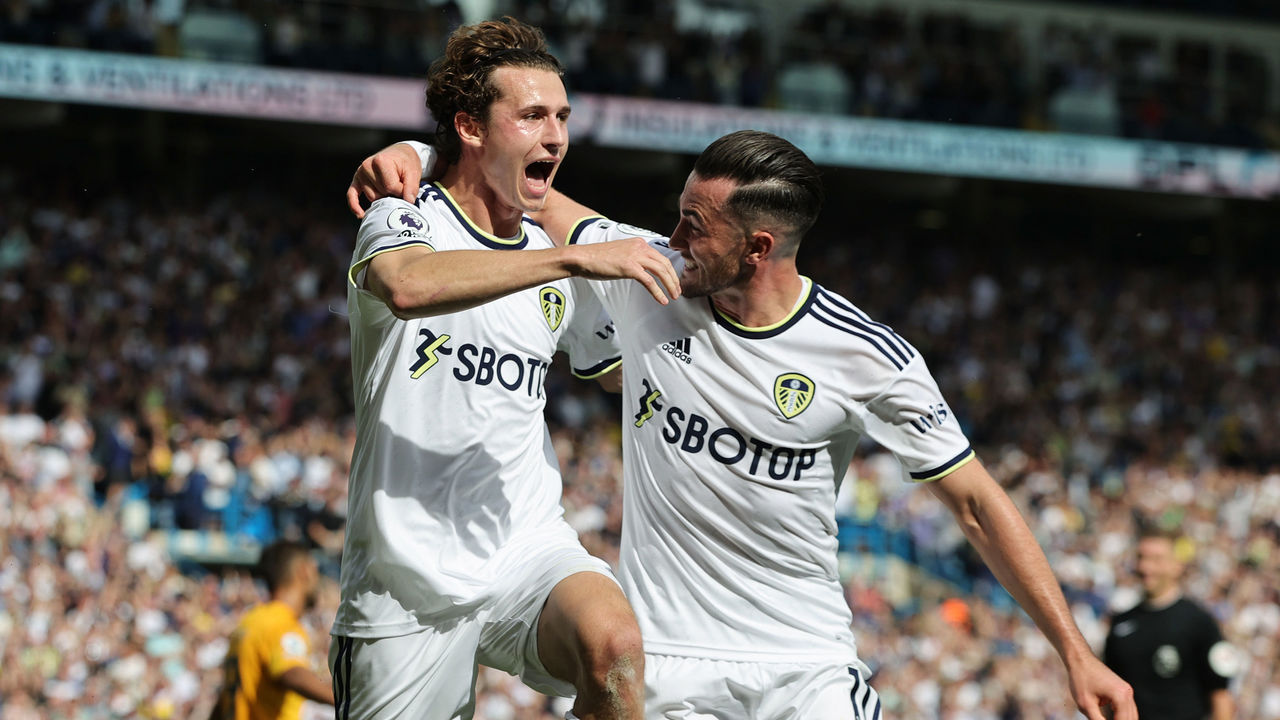 Aaronson and Adams > Raphinha and Phillips
The American revolution at Leeds United is underway, and the early returns are extremely promising. Brenden Aaronson and Tyler Adams stood out for all the right reasons in Leeds' win over Wolverhampton Wanderers. The USMNT pair fit into compatriot Jesse Marsch's system like a glove, excelling when they're tasked with putting pressure on the opposition and forcing turnovers that can then be turned into scoring opportunities. Aaronson, in particular, looks set to have a breakthrough campaign. Replacing Raphinha and Kalvin Phillips is a gargantuan task, but Aaronson and Adams are up for it.
Leicester City
Sell Maddison, give Dewsbury-Hall the keys
There's been much consternation this summer over Leicester City's lack of activity in the transfer market. While others have splashed serious cash, the Foxes are yet to sign a new senior player to their squad. Against that backdrop, allowing James Maddison to depart for Newcastle United seems ill-advised. But if Maddison's potential sale – which could fetch over £50 million – allows Kiernan Dewsbury-Hall to become the conductor of Leicester's midfield, Brendan Rodgers' team might actually be better for it. The 23-year-old ran the show in a season-opening draw with Brentford, and his slick goal was the exclamation point on a distinguished performance.
Liverpool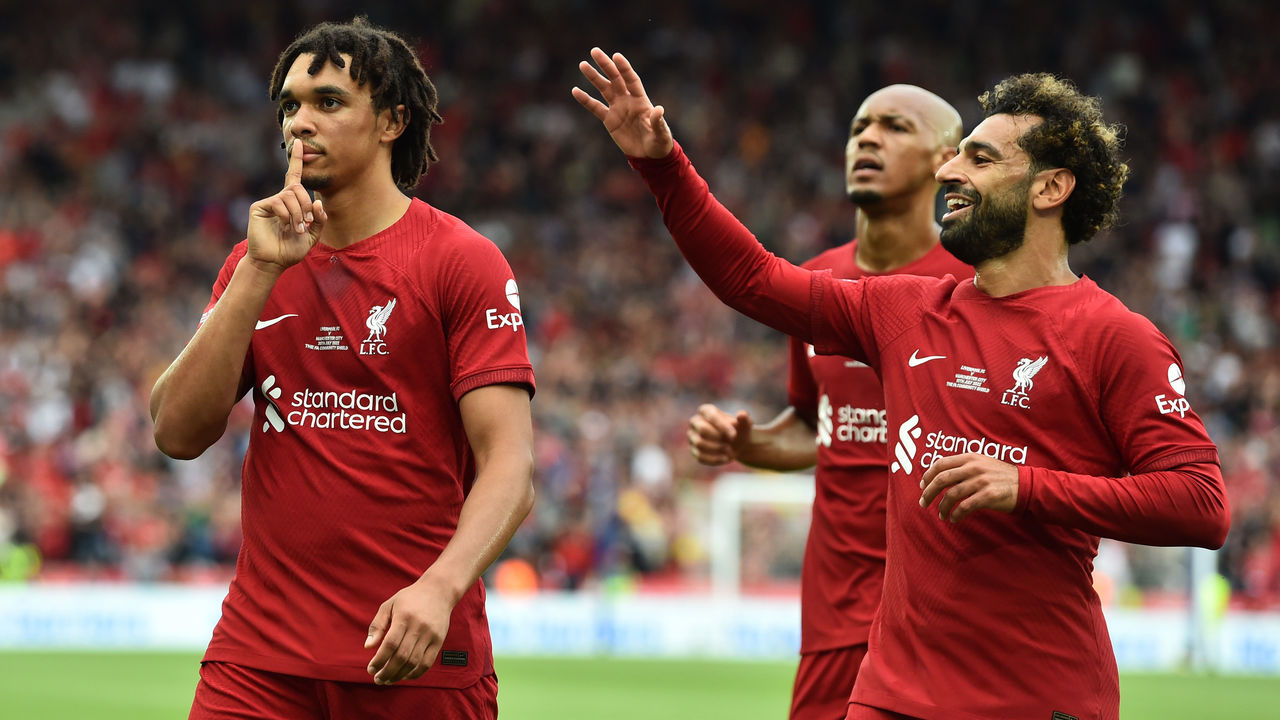 TAA needs to play further forward
Trent Alexander-Arnold is a superlative attacking right-back. He's inarguably one of the elite players at his position, if not the best. However, his defensive shortcomings were again on display in Liverpool's 2-2 draw with Fulham. There's no shame in losing a contested header to Mitrovic, especially when the hulking Serbian has forward momentum coming in at the back post to meet a cross. But Alexander-Arnold, not for the first time, put himself in a suboptimal defensive position that handed the opponent the upper hand. Obviously, the good (far) exceeds the bad with the English international, but with such tight margins expected in the title race, these little moments are enough to make a huge difference come season's end.
Manchester City
Haaland will score 40 goals this season
Haaland is going to terrorize the Premier League for years to come. No other center-forward in the game possesses the same combination of pace, technique, and strength as the monstrous Norwegian international. Now, imagine pairing a player who can time runs to perfection with a team of licensed assassins who can pick passes like locks. Manchester City have some of the best playmakers in the league, and if the likes of Kevin De Bruyne, Jack Grealish, and Phil Foden can release Haaland into open space, watch out. Haaland's going to break the Premier League's single-season scoring record with ease.
Manchester United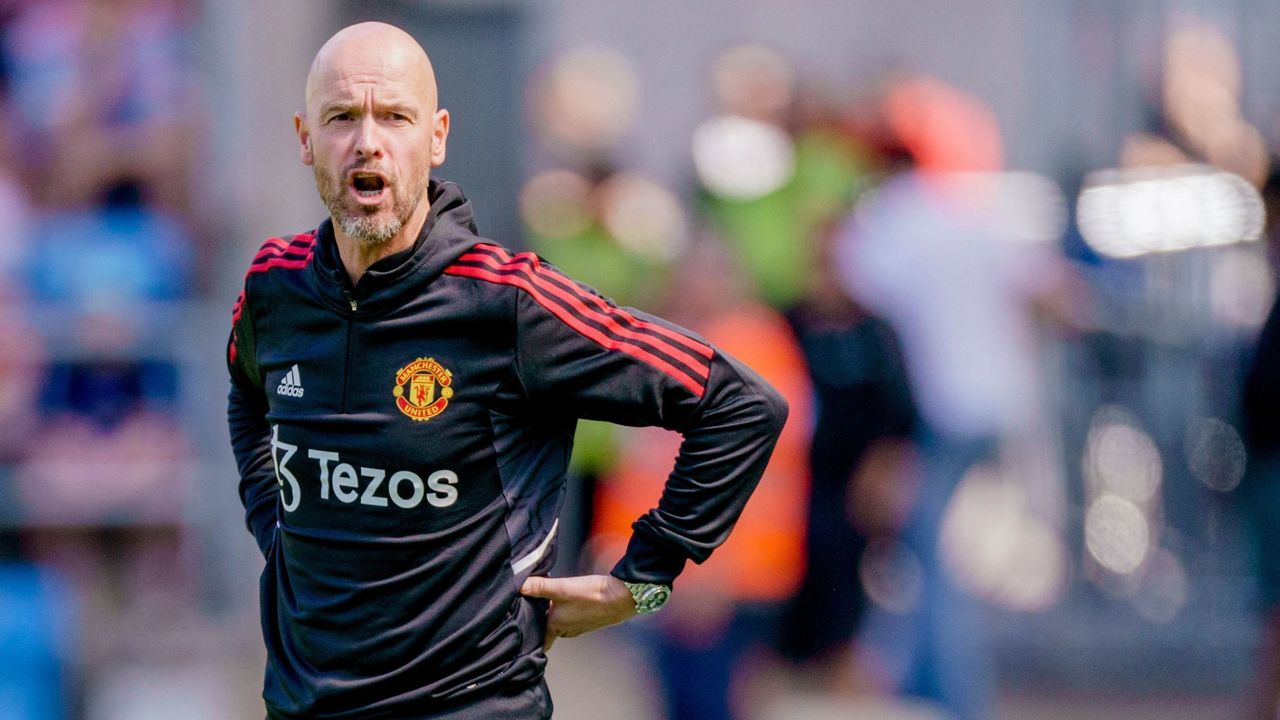 The Ten Hag era will be fleeting
Deep inside, if just a little, Erik ten Hag may have some regrets right about now. The Dutch tactician left Ajax, a club that plays beautiful, cohesive football and develops talent like few others can, for a dysfunctional Manchester United outfit that's deep in the doldrums. If he didn't know the full extent of the issues at Old Trafford, he got an immediate dose of reality in Sunday's home defeat to Brighton. The Red Devils have deep-rooted personnel problems that'll take multiple transfer windows to fix, and his preferred style of play could take even longer to properly implement. Will he be around long enough to see it through?
Newcastle United
Champions League, here we come
Maybe we were all too modest with our preseason prognostications for Newcastle United. Most pundits expected the Magpies to build on their strong finish to last season and take a moderate leap forward in '22-23, pushing for a European place in Eddie Howe's first full campaign behind the bench. But Saturday's 2-0 win over Nottingham Forest suggested there may be even more room for optimism on Tyneside. Yes, this all comes with the caveat that a home opener against a newly promoted team isn't exactly a litmus test for European credentials, but Newcastle were absolutely dominant, outshooting Forest 23-10 and not conceding a single effort on target. Matches against Manchester City and Liverpool later this month will be a better indicator of just how high this team should be aiming this season.
Nottingham Forest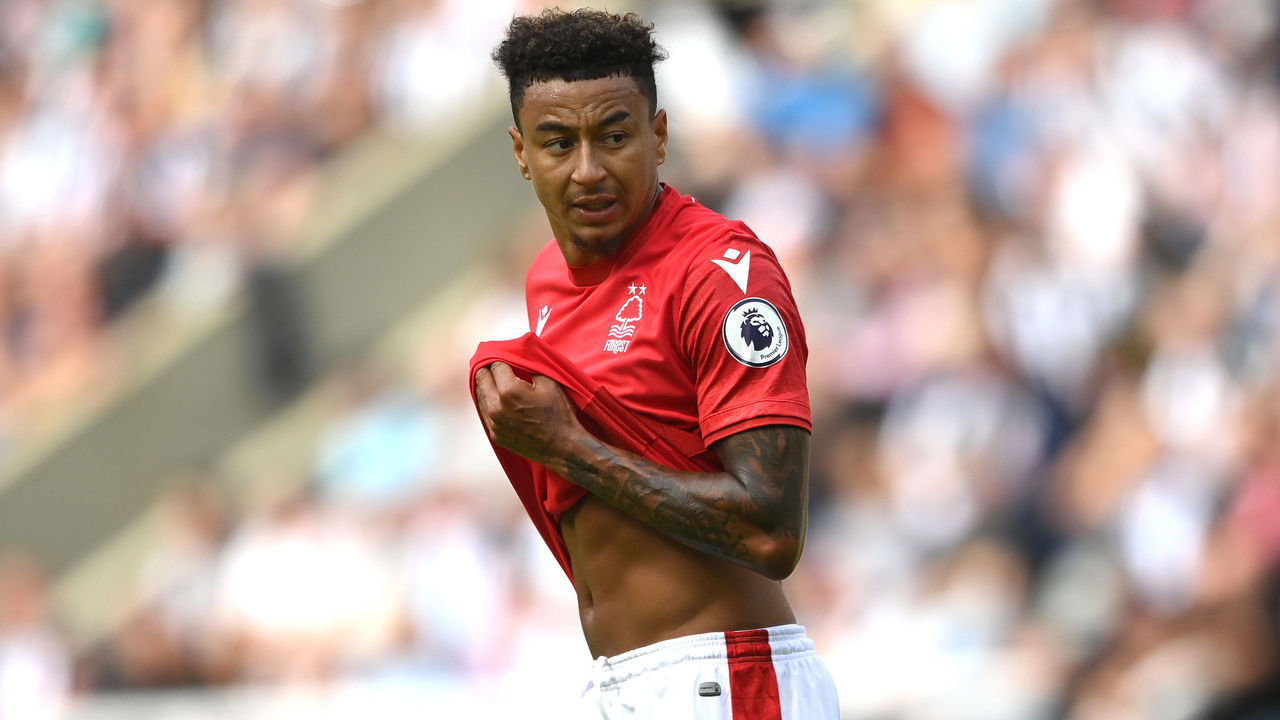 We need even more signings to compete
Six of Nottingham Forest's 12 (!) summer signings started in the loss to Newcastle, with two more new recruits being introduced as substitutes. At times, it looked as though the players, many of whom have just met, weren't on the same page. Not surprising, considering the wholesale changes made during the transfer window. That type of upheaval can have a destabilizing impact. Forest, who are expected to bring in at least a couple of more new faces before deadline day, would be wise to instead try and forge connections and understanding amongst the players already brought in.
Southampton
The transfer strategy has already backfired
After Southampton's heavy defeat to Tottenham Hotspur, Ralph Hasenhuttl said it was "frustrating" to see the gap in quality between the two teams. He may have to get used to it. Encouraging showings from Romeo Lavia and Joe Aribo aside, there were very few positives to emerge for the Saints, and plenty to be nervous about. Southampton couldn't cope, eventually getting overrun. "It felt like the opponent switched in the next gear after the first 20 minutes, and we could not follow," Hasenhuttl added. Relying on so many young players to all deliver at once can be exciting, but this is the other side of the coin. An inexperienced group is being thrown right into the deep end. It's sink or swim.
Tottenham Hotspur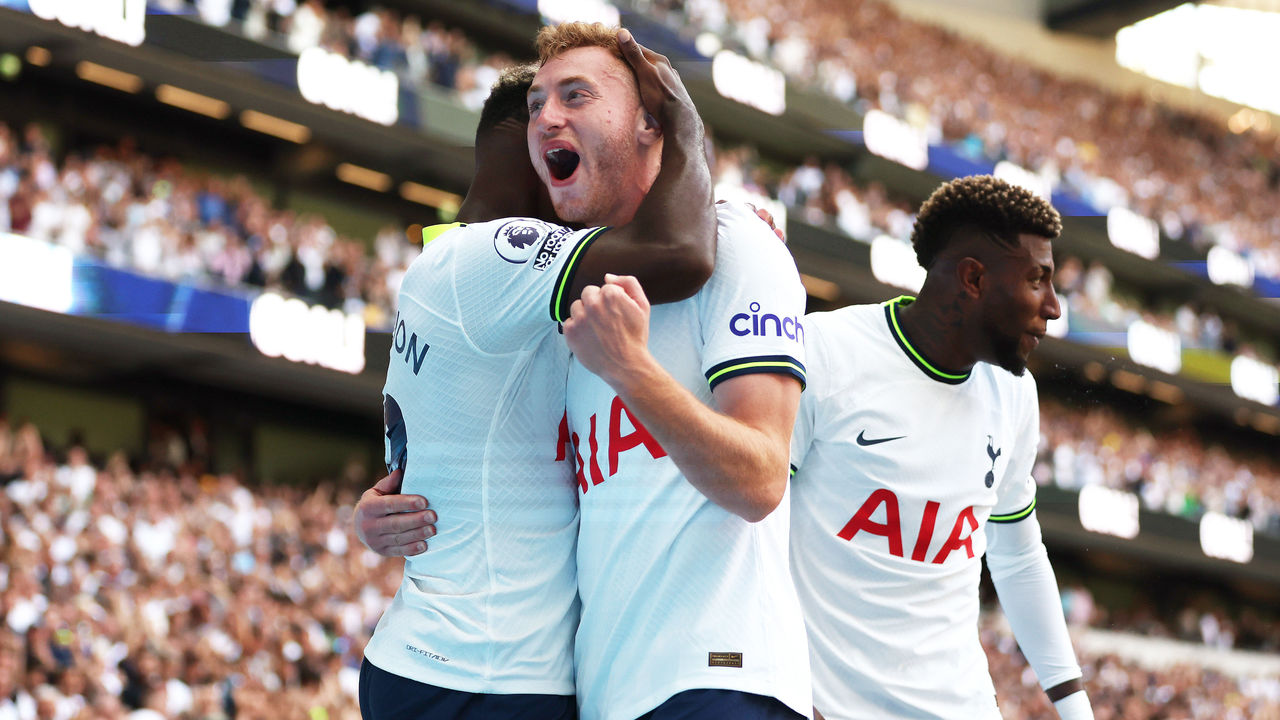 Conte has already built a title-winning team
Antonio Conte loved what he saw during Saturday's 4-1 thrashing of Southampton. His players pressed high, won possession in dangerous areas, and scored for fun. Tottenham fired in a whopping 24 crosses, and not of the speculative kind. Emerson Royal and Ryan Sessegnon stretched Southampton's back five, and Dejan Kulusevski's quick footwork made mince meat of what was left of it. Conte's teams are at their best when they're swarming the pitch. In almost a year at the helm, he's now achieving his vision at Tottenham. Forget a place in the top four: Tottenham have what it takes to challenge City and Liverpool for the title.
West Ham United
Antonio and Scamacca can't co-exist
West Ham United had the unfortunate honor of providing the opposition on Haaland's Premier League debut. Spoiler: It didn't go well. But they'll get over that. What's of more lasting concern is their own striker situation. Much is expected of angular Italian Gianluca Scamacca, who made his own debut when he replaced Michail Antonio in the second half. Therein lies the problem. Antonio has been a revelation at center-forward for the Hammers, but he'll be displaced, in some way, to accommodate Scamacca, who arrived in London with a hefty price tag. Getting the best out of his two physical forwards could prove challenging for David Moyes, who'll need to make concessions elsewhere on the pitch if he plans to play them together.
Wolverhampton Wanderers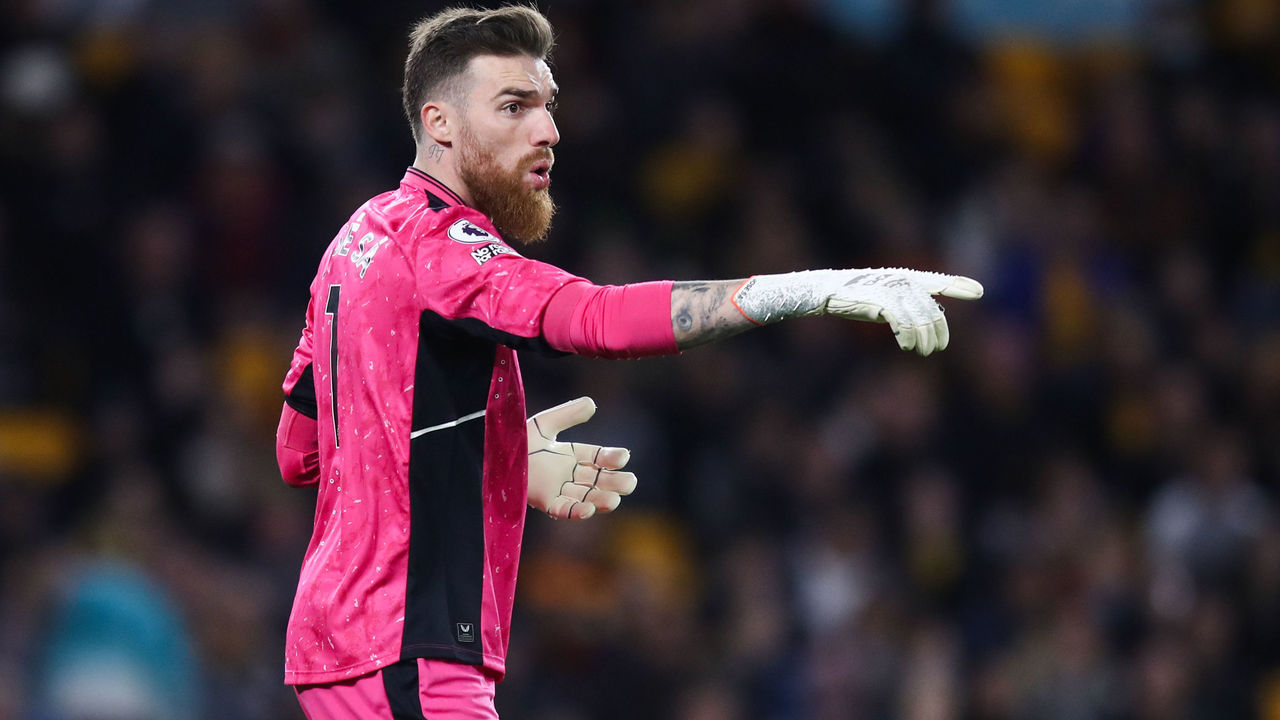 Regression coming for Jose Sa
Much of Wolverhampton's success last season can be attributed to the excellence of Jose Sa between the sticks. Underlying metrics suggested the Portuguese netminder wasn't merely good in 2021-22, he was the best pure shot-stopper in England's top flight. His outstanding track record was the main reason why it was so surprising to see him concede from a bad angle against Leeds; Rodrigo's low shot had some fizz on it, but the goalkeeper's dismayed reaction to the goal told the story. He knew he should've kept it out. If Sa isn't at his absolute best, it's going to be a very long year for goal-shy Wolves and Bruno Lage.
Copyright © 2022 Score Media Ventures Inc. All rights reserved. Certain content reproduced under license.
By the numbers: Standout stats for each EPL club on opening weekend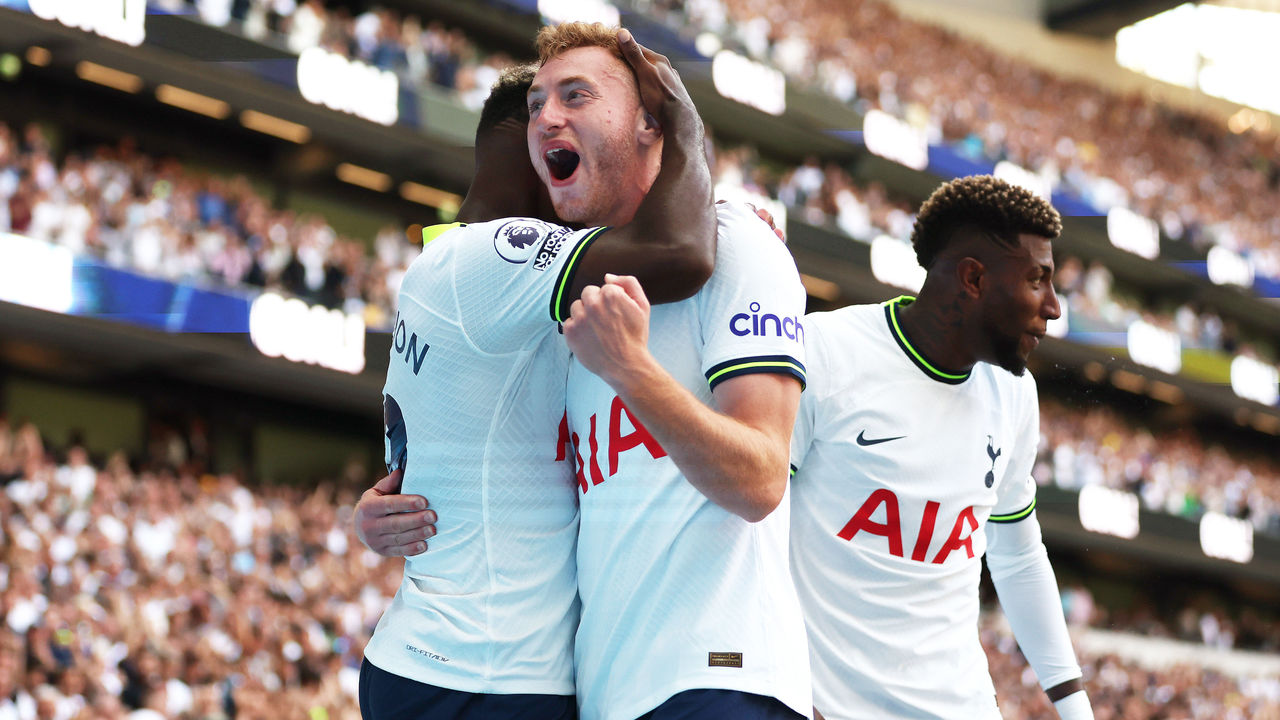 theScore picks out the best stats and facts to surface following an entertaining opening weekend of the new Premier League season.
0 – It was a rather ineffectual Nottingham Forest debut from Jesse Lingard. The former Manchester United man recorded no shots on target, completed no dribbles, and didn't draw a single foul during Saturday's 2-0 defeat at Newcastle United.
1 – Southampton have won just one Premier League match since February (a 1-0 victory over Arsenal in April). They lost their 10th game over that span with Saturday's 4-1 slump at Tottenham Hotspur.
3 – Callum Wilson has scored in Newcastle's opening game in each of the three seasons he's been with the club. He's the second to complete three in a row since Alan Shearer after his deft finish in the win over Nottingham Forest.
6 – Pascal Gross' goal tally against Manchester United. Only eight players have scored more goals against the Red Devils in Premier League history. It's twice as many as Gross has mustered against any other team, and the most a Brighton & Hove Albion player has scored against a single opponent in the Premier League. Brighton shocked United with a 2-1 win at Old Trafford on Sunday.
7 – Jesse Marsch wants his team to gamble in possession. Winger Jack Harrison provided seven key passes for his Leeds United teammates in Saturday's 2-1 win over Wolverhampton Wanderers while ending the game with just 64% passing accuracy. His colleague Rodrigo's passes were only accurate 61% of the time.
8 – No player has scored more goals than Mohamed Salah during Premier League opening weekends. The Liverpool superstar is level with Shearer, Wayne Rooney, and Frank Lampard on eight after his close range finish in Saturday's 2-2 draw at Fulham.
9 – Spurs' Dejan Kulusevski has set up nine goals since making his Premier League debut in February. No player has made more assists in that time.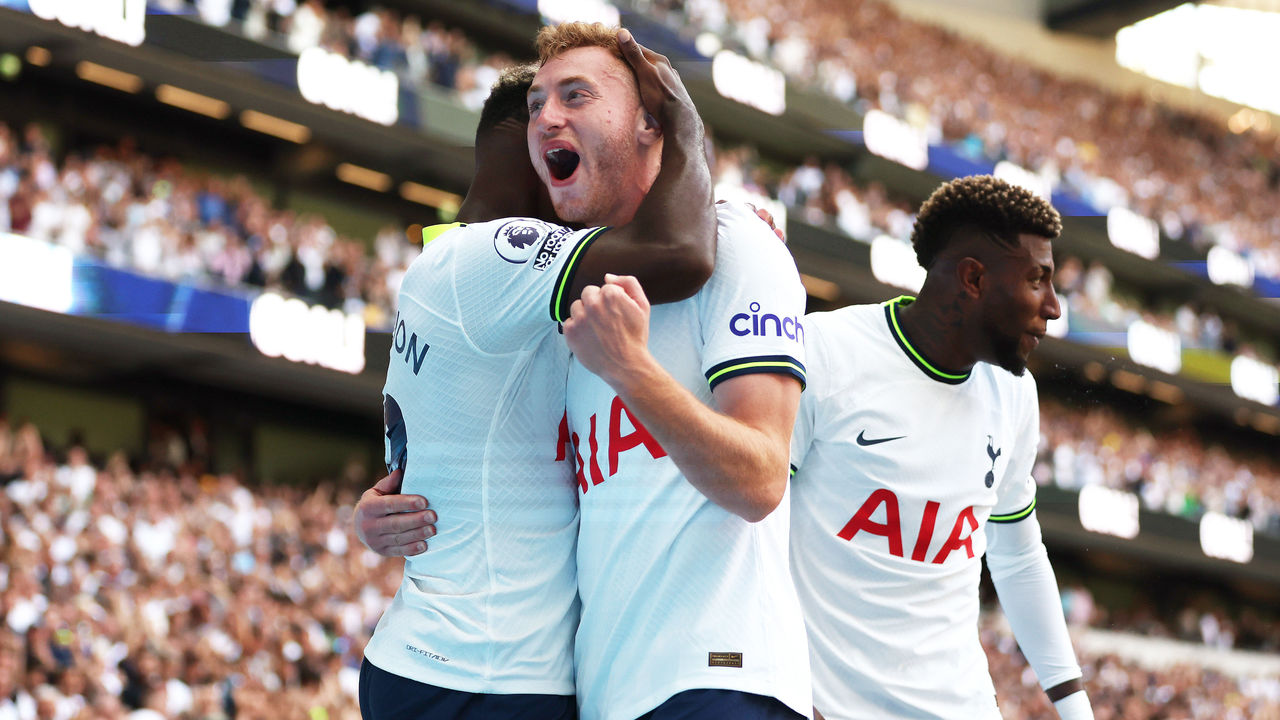 11 – Everton's 1-0 loss to Chelsea marked their first defeat in a Premier League opener since 2011. Tim Cahill, Tim Howard, Phil Neville, and Louis Saha played for the Toffees in that 1-0 setback to Neil Warnock's Queens Park Rangers.
12 – Number of teams that didn't use their full allocation of five substitutes per game. Out of those to take advantage of the move from three to five, Brentford perhaps used their subs most effectively as they scored two second-half goals to draw 2-2 at Leicester City on Sunday.
15 – Fulham striker Aleksandar Mitrovic has netted 44 times in 45 league matches since the start of last season following Saturday's brace against Liverpool. That's 15 more than any other player in England's top four leagues.
20 – West Ham United need to find their frontmen. Michail Antonio touched the ball 11 times and his replacement Gianluca Scamacca had nine touches in Sunday's 2-0 defeat to Manchester City.
21 – Crystal Palace defender Joachim Andersen started as he means to go on this season with 21 attempted long balls during Friday's 2-0 home defeat to Arsenal. When you've got runners like Wilfried Zaha and Eberechi Eze in your lineup, it's a sound tactic.
23 – Total points collected by Steven Gerrard's Aston Villa in their last 22 Premier League outings. Falling 2-0 at newly promoted Bournemouth on Saturday was a new low point in his short tenure.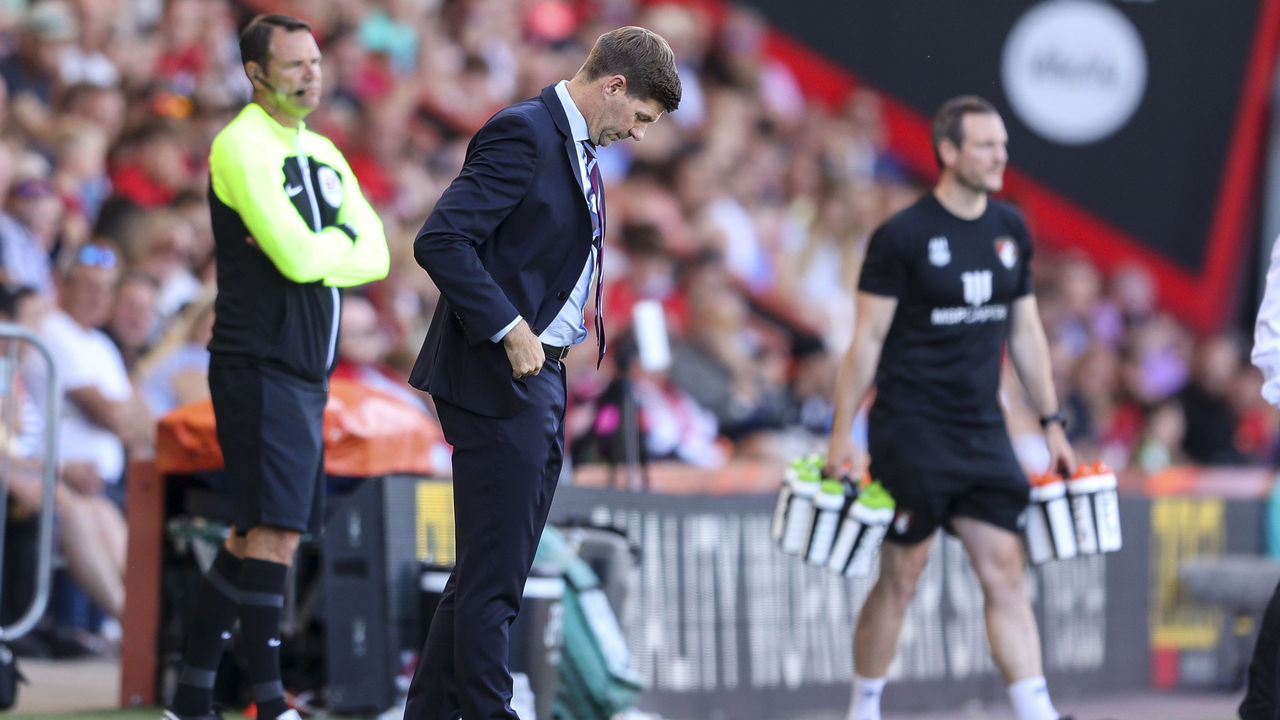 29 – Bournemouth goalscorer Kieffer Moore made his Premier League debut two days before his 30th birthday. His career started with sixth-tier Truro City in 2012. Bournemouth is his 12th club.
50 – Mikel Arteta is the second-quickest manager to reach 50 Premier League wins with Arsenal (98 matches). It took Arsene Wenger four fewer matches.
79% – With six shots and five chances created, James Maddison was involved in 79% of Leicester's attempts on goal against Brentford.
90% – Eighteen of Jorginho's 20 Premier League goals have come from the penalty spot. The Chelsea midfielder's percentage is the highest of any player with at least 10 tallies in the competition.
1,929 – Conor Coady was an unused substitute in Wolves' loss at Leeds, marking the first time he missed a start for something other than injury or suspension since April 25, 2017. That's a run of 1,929 days. The defender is set to move on loan to Everton, according to The Times' Paul Joyce.
2014 – You don't have to go back too far to find a Manchester United manager who lost his first Premier League game. Louis van Gaal did it eight years before Erik ten Hag when his United side lost 2-1 to Swansea City.
Copyright © 2022 Score Media Ventures Inc. All rights reserved. Certain content reproduced under license.
5 thoughts from opening Saturday of new Premier League season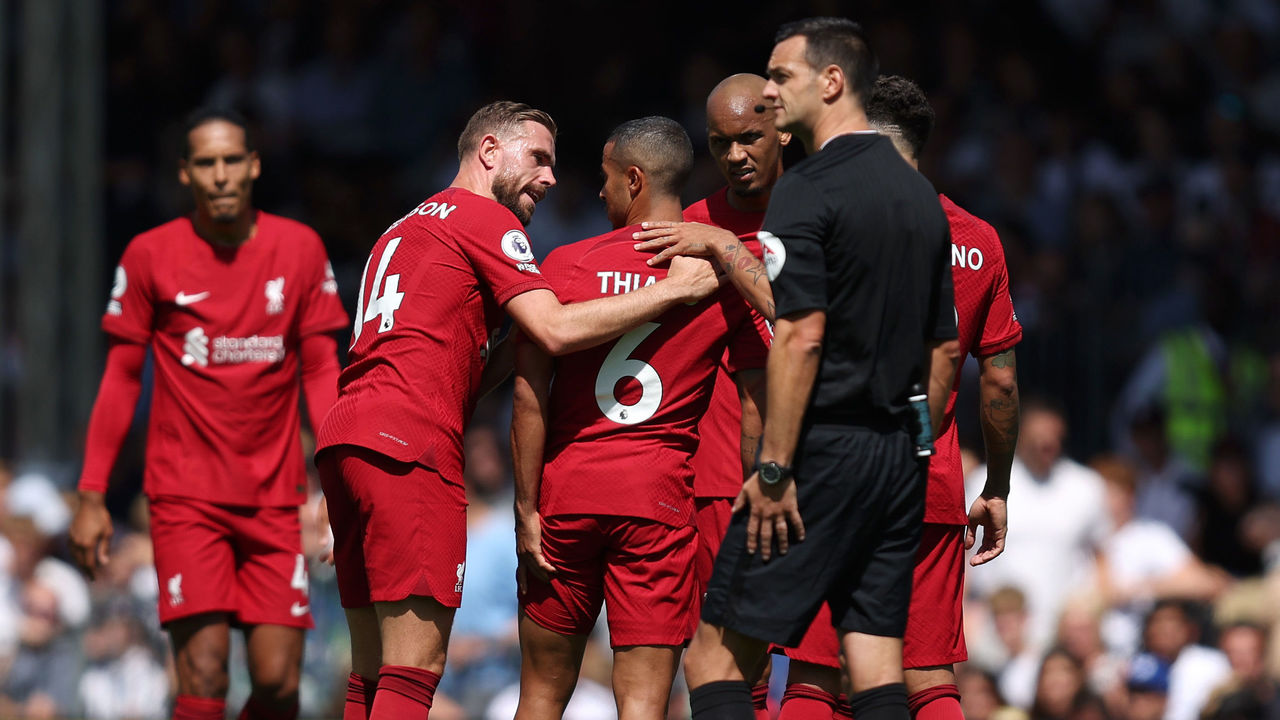 The Premier League is back! theScore examines the most important developments and discusses the biggest talking points from Saturday's busy slate of action in England's top flight.
Is there enough energy in Liverpool's midfield?
Fulham's attackers diligently tracked back while Harrison Reed and Joao Palhinha, positioned in front of the defense, frustrated Liverpool and kick-started attacks. Crowd favorite Tim Ream was committed at the back. It was a studied and industrious performance, one which suggested this iteration of the Cottagers is more assured and settled than other Fulham teams that reached the Premier League in recent years.
But this was more than an earned point for Fulham; there were some issues with Liverpool's midfield that led to a disappointing 2-2 draw to begin the Reds' title challenge.
True, Liverpool are currently short-handed. Alex Oxlade-Chamberlain, Curtis Jones, and Naby Keita were already dealing with injuries before Thiago Alcantara joined them after suffering a hamstring problem during the second half. However, even before these ailments, there were legitimate concerns over the fitness and consistency of Thiago, Jordan Henderson, and the rest who play in front of Fabinho in midfield.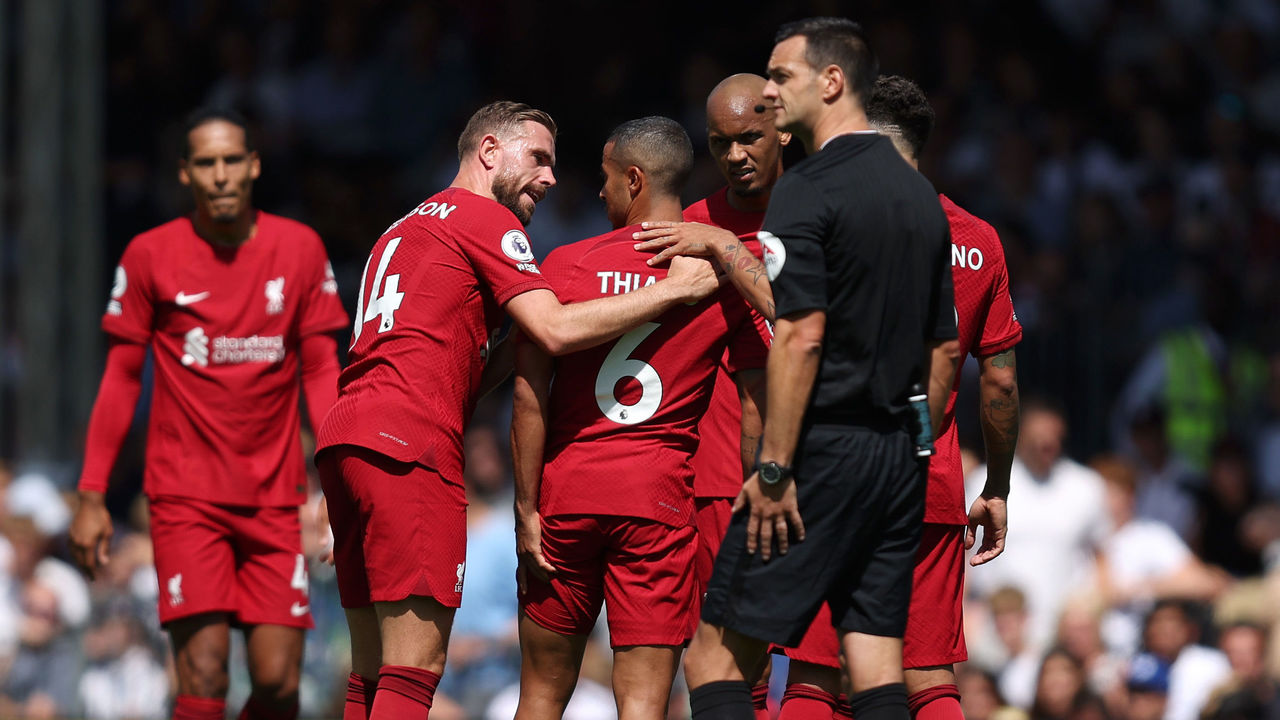 Before his 50th-minute substitution, Thiago was overrun and unable to orchestrate attacks in his usual unruffled fashion. He attempted just one through ball, and that failed. Meanwhile, Henderson was once brutally exposed by the excellent Aleksandar Mitrovic. He did almost pinch a win for Liverpool with a smash against the crossbar in injury time, but he was otherwise too frantic and didn't always appear in the right positions.
It was a game where Liverpool needed more energy. It was a game where they would've benefited from more midfield exuberance. It was a game where Harvey Elliott would've been more useful playing as a No. 8 from the start, rather than coming off the bench to team up with Mohamed Salah and Trent Alexander-Arnold down the right flank.
Major Leeds Soccer
There was a North American flavor to Leeds United's 2-1 victory over Wolverhampton Wanderers.
It was evident in Leeds' match-winning tally. Rayan Ait-Nouri's own goal in the 74th minute was a culmination of New York Red Bulls product Tyler Adams' involvement and pressure from ex-Philadelphia Union standout Brenden Aaronson. Former Montreal Impact and Red Bulls boss Jesse Marsch high-fived his coaching staff after the final whistle, while former New York City FC winger Jack Harrison lapped up Elland Road's applause on the pitch.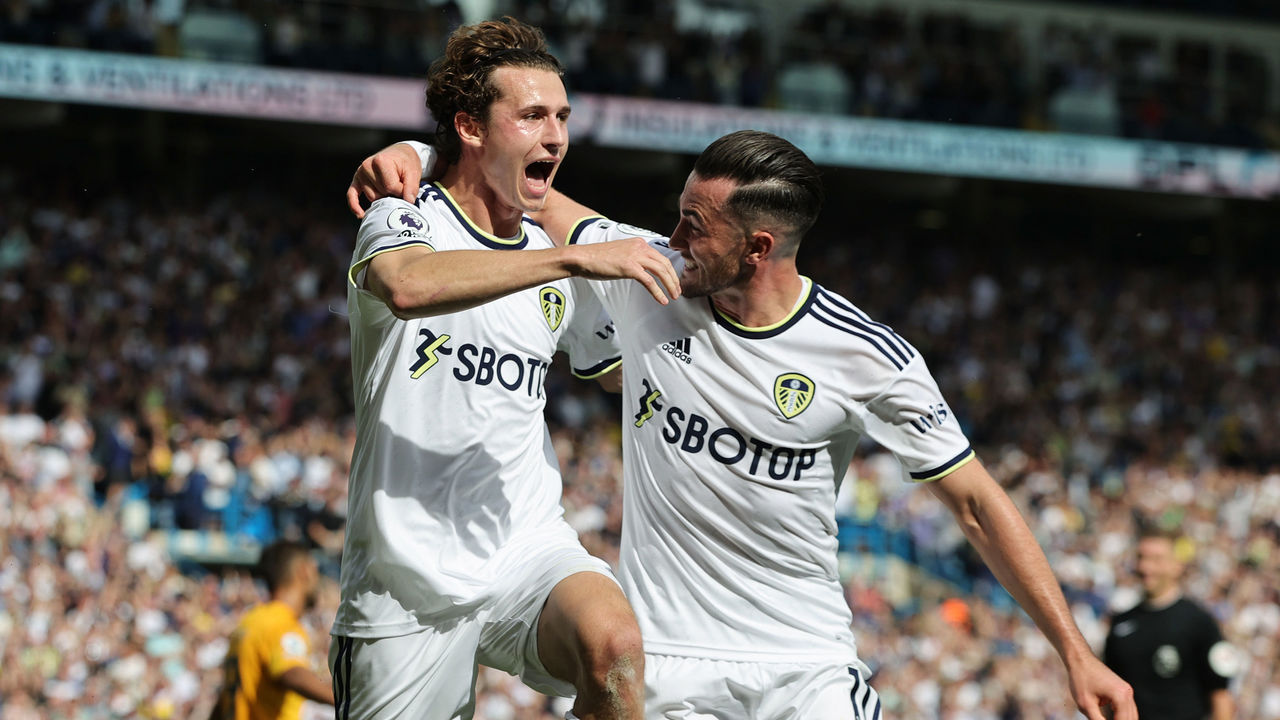 There no doubting it: Major League Soccer is an established breeding ground of top-end talent.
Aaronson and another summer arrival from Red Bull Salzburg, Rasmus Kristensen, were among Leeds' best performers. Aaronson faded a little in the second half, but that was understandable given his all-action performance. His pressing helped squeeze out the opportunity that resulted in Rodrigo's equalizer, he held up the ball well, and he was generally the most threatening attacker in Marsch's ensemble. It was no surprise Aaronson was breathing down Ait-Nouri's neck during the full-back's own goal.
It's doubtful that any current Leeds player will reach the high standards of Raphinha – who joined Barcelona this summer – but the ease in which Aaronson has slotted into Marsch's side is extremely promising. He's on course to earn himself a starting berth for the United States at the World Cup.
Kulusevski thriving in Conte's system
Southampton had no answer for Dejan Kulusevski. The 22-year-old posed a threat every time he collected the ball. Southampton's Moussa Djenepo tried his best to contain Kulusevski's runs on the right flank, dropping deeper every time his opponent picked up the ball. Every time, Kulusevski left Djenepo behind.
Tottenham Hotspur's 4-1 win Saturday offered ample evidence of Kulusevski's individual brilliance. He stretched play and switched gears to accelerate into open space, and he spotted teammates on the run by playing with his head up. His Premier League-leading ninth assist of the calendar year came off of a brilliant cross-field pass to Ryan Sessegnon in the first half, a bullet of a cross that met his opposite number as he ran into the box. Kulusevski then scored a goal of his own, opening up his body in the area before firing into the far corner.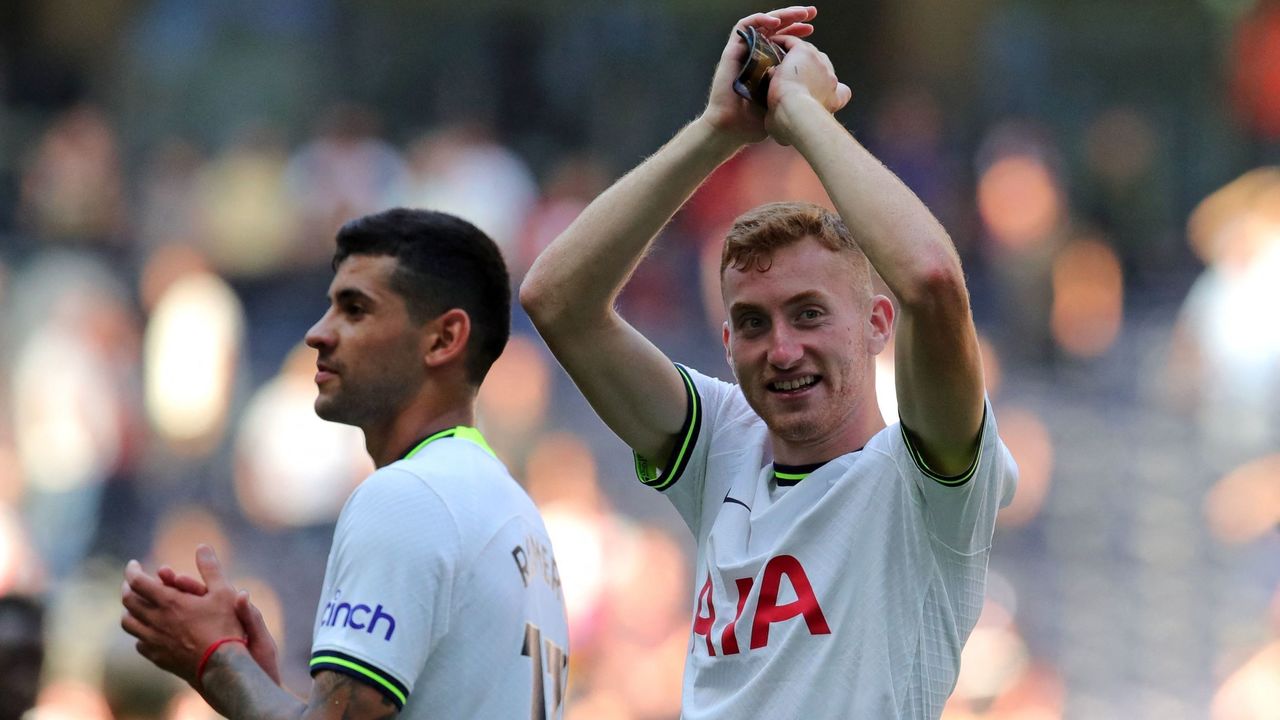 He was simply too much for Southampton. Because the visitors lacked the pace to handle Kulusevski's constant change of speed, they had no choice but to backpedal to cover the space behind them. Kulusevski accepted the trade-off, cutting inside to deliver balls with incredible pace and accuracy.
Antonio Conte's system allows Kulusevski to do all of the things he does well. With a wing-back to his side, the Swede can focus on making darting runs without worrying about tracking back. Not that he doesn't do the dirty work. Kulusevski attempted a team-high seven tackles, including five in the opponent's half.
"Dejan made a big impact (Saturday), but also last season," Conte told the BBC. "He and Rodrigo (Bentancur) integrated really good with the squad. Dejan has continued in this way, but he has to continue to work in this way with his behavior and ambition. He has a lot of ambition, he wants to become one of the best players in his role. I think this ambition is good, if he is humble and works … he can do that."
Gerrard could soon feel the pressure
Steven Gerrard can't blame any of Aston Villa's failings on a lack of support from the boardroom. Following a January window that included a loan deal for Philippe Coutinho and moves for Lucas Digne and Calum Chambers, Gerrard welcomed Coutinho (this time permanently), Diego Carlos, Boubacar Kamara, and others to Villa Park this summer for over £45 million total.
But the Villans' 2-0 defeat at Bournemouth shows there's still a lot of work to do for Gerrard. The Cherries deserved their three points and gave Carlos and Kamara tough introductions to English football. Villa's big-name players were outclassed by Marcus Tavernier, the midfielder whose move to Bournemouth from Middlesbrough last week was lost amid the transfer chaos.
Gerrard had a strong six games to start his Aston Villa tenure, but his team finished the rest of the 2021-22 season with a worse record than relegated Burnley.
Now, his summer recruitment has significantly lifted exceptions. This is his squad, and an improvement on last season's 14th-placed finish is needed. Two-goal defeats to newly promoted teams shouldn't be part of the script.
It won't take long for fans to get on the Scouser's back if results don't improve. His recruitment drive has forced previously established – and largely popular – first-team players like Emiliano Buendia, Douglas Luiz, Tyrone Mings, and Ollie Watkins onto the bench. Some of those changes seemed unnecessary. The Coutinho signing was arguably a huge waste of resources given Buendia's ability to influence games with more consistency than the Brazilian. Mings often draws plenty of criticism, but is the impulsive Carlos really that much better?
If Gerrard's signings don't work out quickly, the fans will be on his back and, by extension, be questioning the work of chief executive Christian Purslow.
Everton limping from the get-go
Everton are already looking worse for wear just 90 minutes into the new season.
The Toffees took the pitch Saturday against Chelsea without Dominic Calvert-Lewin, their only recognized striker. They then lost defender Ben Godfrey to a gruesome-looking ankle injury midway through the first half. Fellow center-back Yerry Mina also went off with an ankle issue.
Manager Frank Lampard could now have a serious shortage of options in defense and attack. Everton don't even have the funds to go out and sign replacements. That doesn't bode well for a team many had regarded as relegation fodder before kickoff.
"When it rains," Lampard said afterward, "it pours."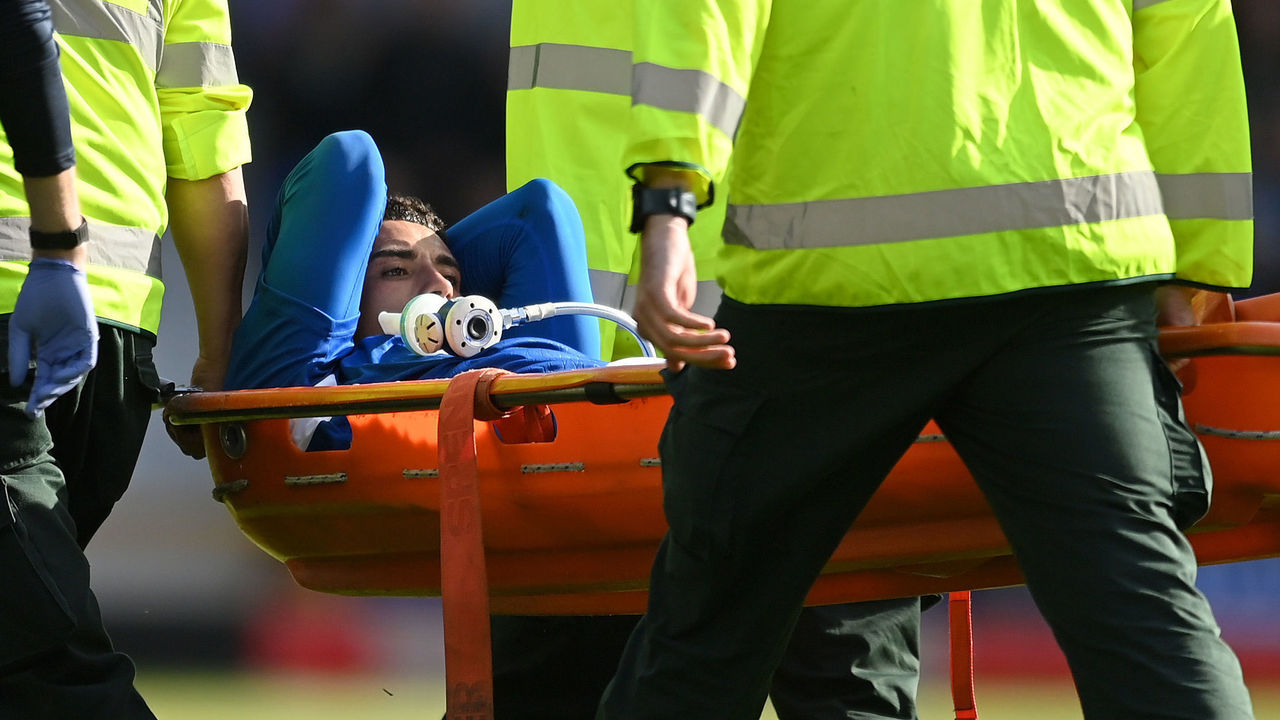 The players, however, don't seem as short on spirit. They hustled for possession all game and only lost because of a penalty kick midfielder Abdoulaye Doucoure conceded toward the end of the opening period. Anthony Gordon won tackles in his own half, and left-back Vitaliy Mykolenko made crucial blocks. Gordon, Demarai Gray, and summer signing Dwight McNeil ran nice passing sequences. The effort was there, and the game was for the taking. Everton were just missing a presence up front.
There's some irony here. Despite the obvious lack of depth, the club allowed Ellis Simms, one of the only other center-forwards in its ranks, to leave on loan. The 21-year-old, who's at Sunderland for the rest of the campaign, served up a timely reminder of his ability with a two-goal performance earlier Saturday.
Unfortunately, Lampard likely knows the deal by now. He's not going to get much help from majority owner Farhad Moshiri, who's shown no desire to reinvest the funds from Richarlison's £50-million transfer to Tottenham. Everton suffered pre-tax losses of £372 million over the last three years, severely handicapping what they can spend on the transfer market. Solutions will have to come from within.
Copyright © 2022 Score Media Ventures Inc. All rights reserved. Certain content reproduced under license.