10 thoughts from the weekend's Premier League action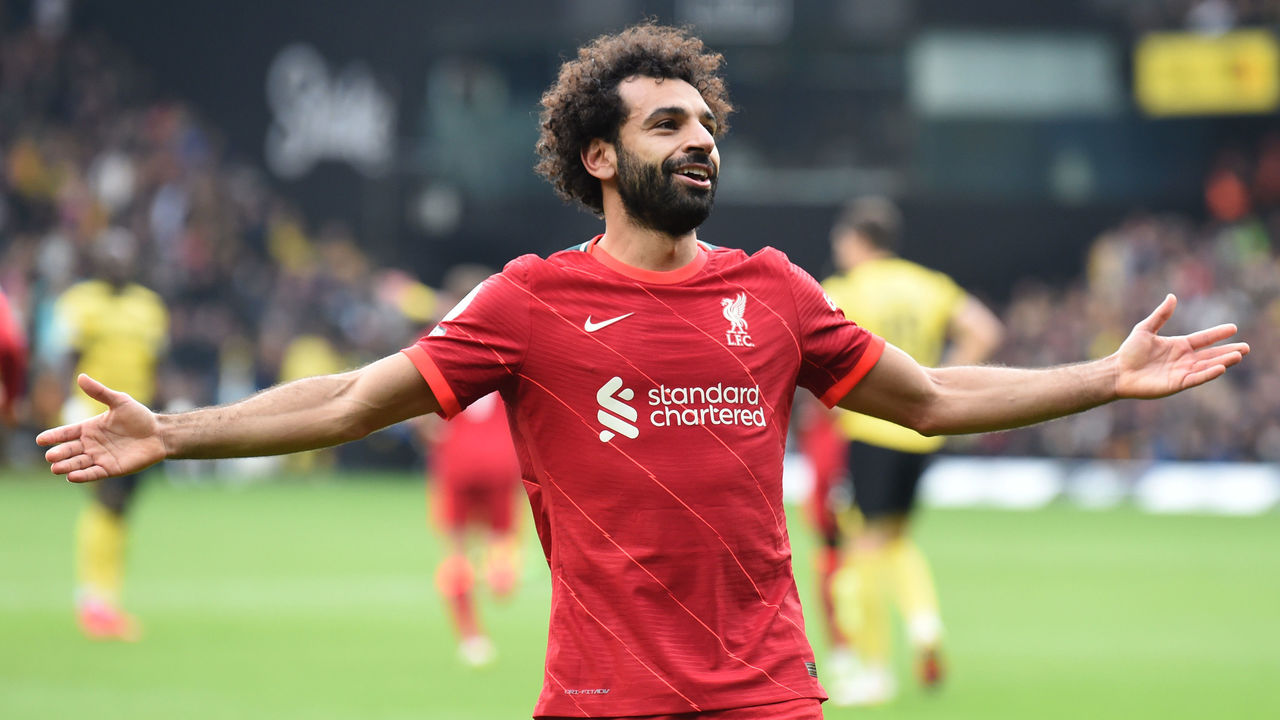 theScore examines the most important Premier League developments from the weekend, dissecting the biggest talking points after a busy slate of action.
Give Salah the money he wants
If Mohamed Salah truly wants £500,000 a week to sign a new contract with Liverpool, well, hand it over. He's earned the right to be the Premier League's highest-paid player – and he proved it again this weekend.
Salah's goal against Watford on Saturday was just the latest display of his world-class ability. Just as he did against Manchester City two weeks ago, the Egyptian dangled and weaved his way into Watford's penalty area before curling a perfect shot into the far corner. Earlier in the first half, Salah delivered a spectacular assist to Roberto Firmino with the outside of his left foot.
"Come on, who is better at the moment than him?" manager Jurgen Klopp asked BT Sport following the game.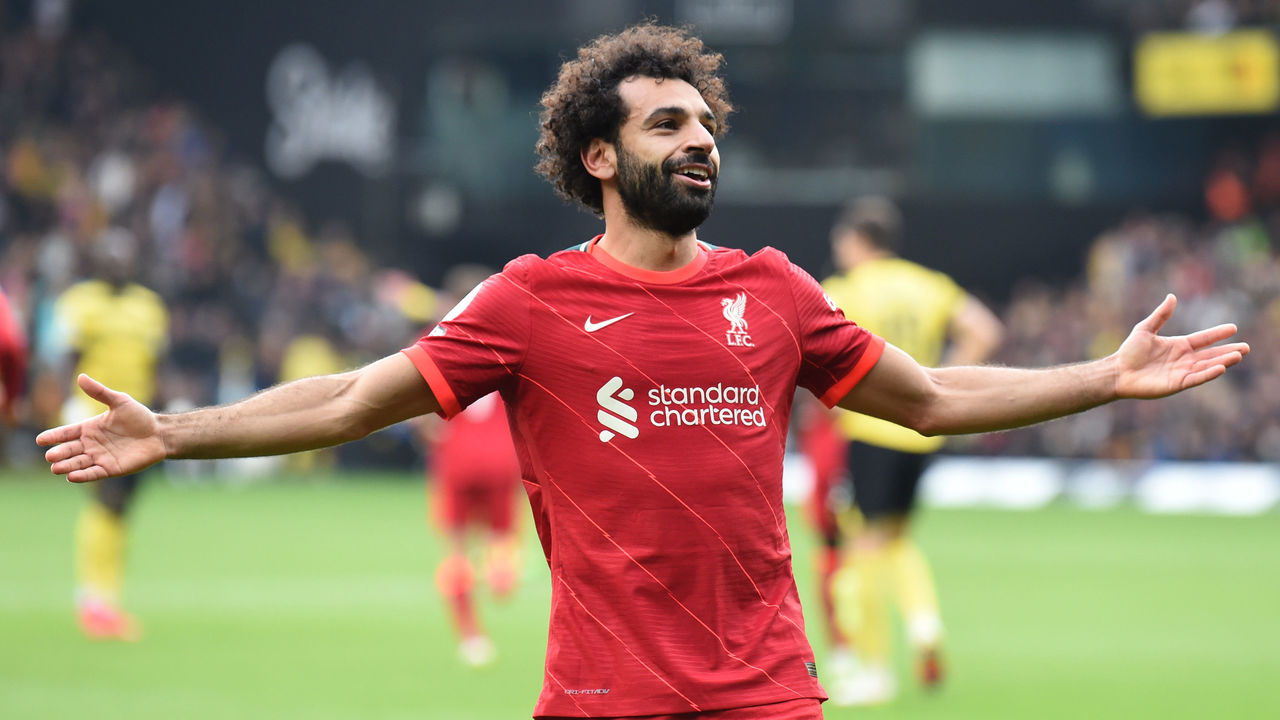 Salah's performance Saturday isn't an anomaly. He's scored in eight consecutive matches across all competitions and against all sorts of opponents, including Chelsea, AC Milan, and City. But the stats only tell half the story. Salah has dominated matches by taking on defenders and stretching lines, and he's helped to restore the ruthless streak Liverpool lost down the stretch last season.
Now, his contract, which expires in June 2023, needs to be sorted out. Liverpool usually loathe handing big deals to players over 30, and Salah, along with star teammate Sadio Mane, will be over that threshold next year. But Salah is so clearly an exception that Liverpool have almost a fiduciary responsibility to re-sign him. He takes good care of his physical well-being and there's no sign he'll slow down.
Watford show signs of life in final minutes
Claudio Ranieri smirked as he assessed the damage from Watford's 5-0 loss to Liverpool. He knew he had a tough job on his hands when he accepted the gig, just maybe not this tough. Watford looked completely out of sorts – with free-agent signing Danny Rose completely out of shape – as Liverpool ran circles around them.
Still, Ranieri mentioned he saw something good on Saturday. He might've been referring to the final 15 minutes at Vicarage Road when Watford finally broke into Liverpool's end and started creating chances. The crowd even applauded when the club won their first corner of the match in the 78th minute. But the play of midfielder Moussa Sissoko and attacker Cucho Hernandez must've encouraged Ranieri most. They buzzed around the left flank, and Hernandez nearly snuck a goal past the otherwise idle 'keeper Caoimhin Kelleher with a shot that soared just wide. Ismaila Sarr also hit the upright with a close-range effort.
Ranieri also gained knowledge about his team after losing so convincingly. Now, he'll know all of Watford's weaknesses and what exactly he has to fix. And the examination has to start in defense. The Hornets conceded two goals after losing possession in the first half alone and allowed Firmino to score a trio of tap-ins.
How much longer will Solskjaer last?
Manchester United kicked off a tricky run of fixtures on the worst possible note, and manager Ole Gunnar Solskjaer didn't really have an answer for it.
"Lately we have not been in great form and lost too many points. Something may have to change. Do we need more legs in there? What do we need?" Solskjaer told Sky Sports after Saturday's chastening 4-2 defeat to Leicester City.
That's a pretty unconvincing diagnosis from a man who should have answers to the questions he's asking. It's almost like he wants someone else to come up with the solutions.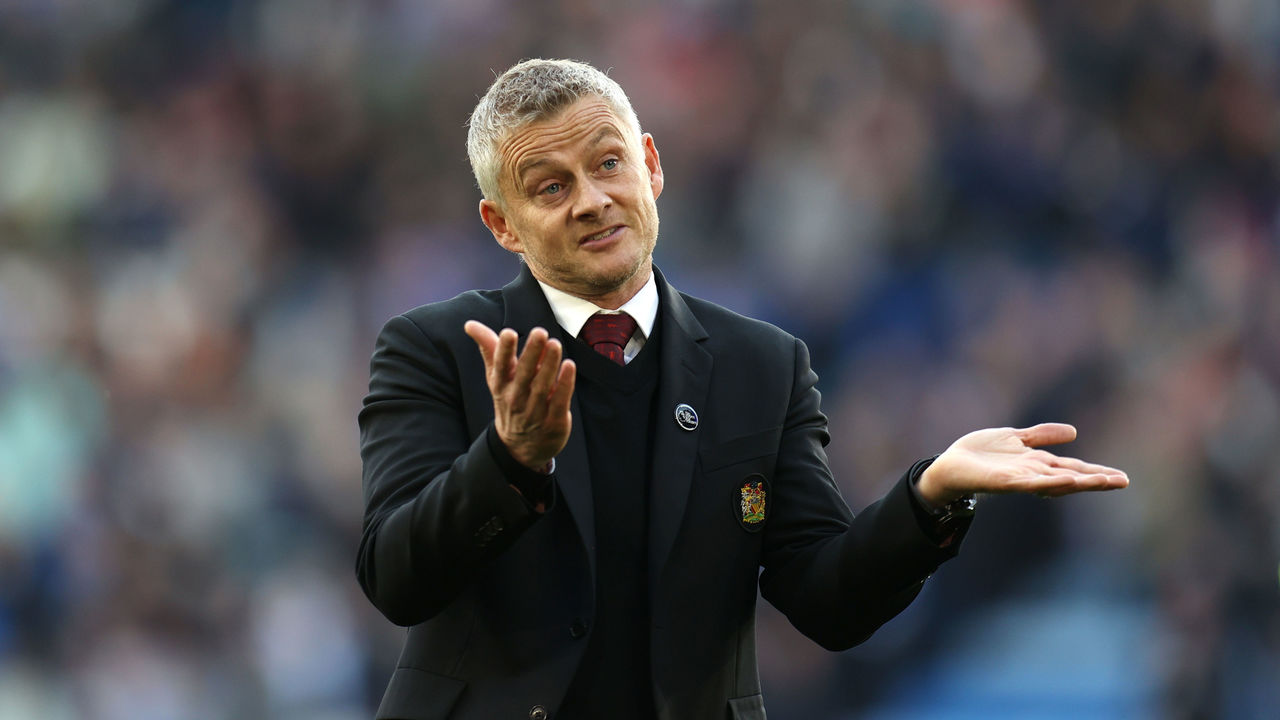 And the problems – and there are several – are clear to the average spectator. United approach matches without a cohesive strategy, and they don't play with any particular structure. There's nothing linking this group of talented individuals.
"The most damning aspect of this sorry performance from Manchester United is that Leicester City simply looked like the better-coached team," The Guardian's Jacob Steinberg wrote. "Ole Gunnar Solskjaer had Cristiano Ronaldo, but (Leicester boss) Brendan Rodgers had a plan."
And Rodgers' plan worked. Leicester took advantage of United's lack of intensity by playing through the middle. Jamie Vardy and Kelechi Iheanacho pressed high and forced a clearly unfit Harry Maguire into compromising positions. Even when United went ahead 2-1, they looked like a team that had merely found temporary relief.
Solskjaer's side has now earned just a single point in its last three Premier League matches. The schedule gets no easier, with upcoming contests against Liverpool, Tottenham Hotspur, Atalanta, and City.
Wolves finally find scoring boots
Wolverhampton Wanderers manager Bruno Lage remained optimistic even after his team slumped to a third consecutive 1-0 defeat at the start of the Premier League season. Wolves didn't exactly play poorly in any of those losses – they outshot their opponents in all three defeats – but struggled to convert their chances.
However, Lage took solace in the offense Wolves were creating.
"From the past, the team didn't score too many goals," the 45-year-old tactician said in September. "They have maybe one or two per game, so the average of the goals is not big, so we're trying to play a different way, trying to create more chances to raise that average."
Now, they can't stop scoring. Wolves put three goals past Aston Villa in the final 10 minutes on Saturday to win 3-2 – their fourth victory in five matches. Though Wolves struggled to produce the kind of offense Lage had previously promised, they showed a much more clinical edge than they had in the past, and did so with star striker Raul Jimenez starting on the bench. They needed a bit of luck, too; Ruben Neves' last-gasp free-kick took a fortuitous deflection on its way in, but the west Midlands side still showed a side of their game they lacked in earlier encounters.
All three of Wolves' goals came off set pieces, and while scrappy, they managed to turn around a game Villa had dominated up until the 80th minute.
Southampton can kick on from here
Southampton ended a nine-match winless run dating back to last season with a 1-0 result against a depleted Leeds United side. Southampton were also missing captain James Ward-Prowse, who missed the match through suspension, and still managed to impose themselves against Marcelo Bielsa's usually repellent XI, firing 19 shots to the visitors' three.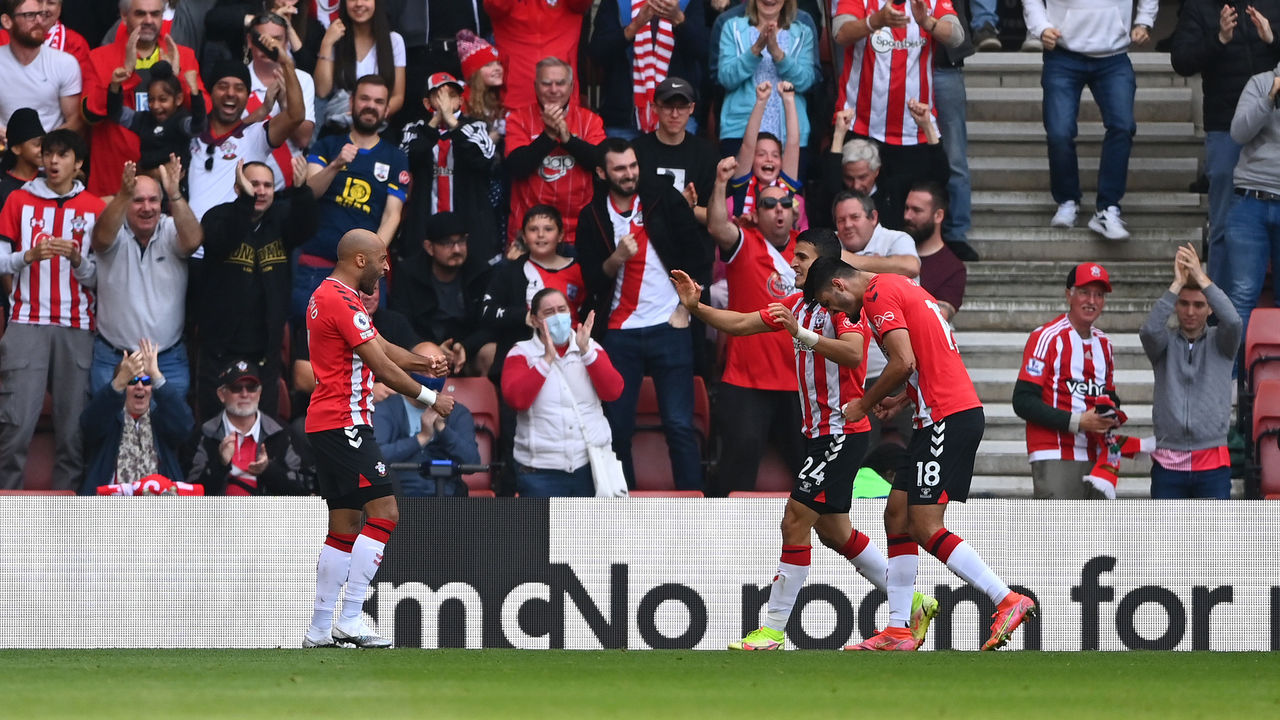 Saints boss Ralph Hasenhuttl has always found solutions in the most trying times, and he struck again with the inspired decision to start Armando Broja, Chelsea's on-loan striker who made his full Premier League debut Saturday. Broja scored the only goal of the game off a counterattack facilitated by the tricky Nathan Redmond.
With upcoming matches against winless Burnley and Norwich City and struggling Watford, Southampton can build on this victory.
City off rhythm against favorite opponent
If you were watching them for the first time, you'd never know Manchester City scored 30 goals in their previous eight matches against Burnley. Their last four meetings at the Etihad Stadium ended 5-0 to the reigning Premier League champions, but Saturday's win required far more effort.
City struggled to find their rhythm in between goals from Bernardo Silva and Kevin De Bruyne, and Burnley themselves looked far more interested in a result, pressing the hosts when out of possession. Josh Brownhill nearly equalized in the 35th minute when he lashed a shot that skidded just wide of the far post, and Maxwel Cornet threatened after Burnley boss Sean Dyche moved him over to the left flank. It was fairly inspired stuff from a club that usually defends in blocks of four, and it had to be, with the Clarets still without a win this season.
"It was a better performance here. It's been tough in recent times," Dyche said afterward, according to The Lancashire Telegraph. "We didn't do much wrong but got punished."
Mendy proves he's one of world's best 'keepers
Chelsea goalkeeper Edouard Mendy didn't have a save to make until the 73rd minute against Brentford. And yet, it ended up being the first of many.
Mendy singlehandedly ensured Chelsea escaped Brentford's Community Stadium with all three points, making six stops to pick up his 20th clean sheet since joining Chelsea in 2019. Only three goalkeepers have reached the mark quicker in the Premier League.
Clearly, Chelsea would've dropped points without the 29-year-old, who compensated for the absences of Thiago Silva and Antonio Rudiger with proactive and aggressive goalkeeping. Mendy exerted great control over his area, coming out to cut down angles, sweep up loose balls, and deal with crosses into the six-yard box.
It was an important showing from someone who's struggled to be the sweeper-keeper many expected him to be.
Maybe that's why he's not mentioned in the same breath as Ederson, Alisson, and his other top-tier peers. Mendy's not the most confident passer of the ball, and when he does release it, he prefers to ping it 40 yards forward. But his performance Saturday should remind everyone he possesses the most important quality a goalkeeper should have: pure shot-stopping ability.
West Ham's set-piece prowess
Don't concede free-kicks or corners against West Ham United.
The Hammers prospered from yet another dead-ball situation Sunday, with a flicked header from Angelo Ogbonna holding up as the lone goal in an otherwise drab victory over Everton at Goodison Park.
The Italian's tally was largely down to ineffectual Everton marking, but West Ham's set-piece prowess is no fluke: assistant coaches Paul Nevin and Kevin Nolan have worked extensively on the training ground to optimize these situations since taking their respective posts alongside David Moyes, and it's clearly paying dividends.
Set-piece coaches have grown in popularity of late, and for good reason. With such thin margins, especially in games with little action from open play, free-kicks and corners can make all the difference. It would be foolish not to have a deep repertoire of routines at your disposal.
Everton supporters were outraged over the awarding of the corner that led to Ogbonna's goal – Michail Antonio appeared to get the final touch on the preceding play – but, if anything, that adds more ammunition to the argument that you should focus heavily on set pieces in training; there aren't many other situations in the game where you can immediately turn a contentious call into a goal. Every little edge is extremely valuable.
Combine the work West Ham are doing with a squad boasting several players who are dominant in the air, and you have a recipe for success.
How we discuss Newcastle matters
Sunday's match against Tottenham Hotspur was heralded as the start of a new era for Newcastle United supporters. After watching the club flounder under Mike Ashley's 14-year reign, fans are well within their right to be excited about the despised businessman's departure.
However, what they can't do is blindly ignore the ethical questions being raised about the association with Saudi Arabia's sovereign wealth fund; the kingdom's Public Investment Fund (PIF) is now the majority owner of the storied English club.
It's true that Newcastle supporters aren't responsible for the actions in Saudi Arabia. They can't control who purchases the club, of course.
But they can control how they exhibit their feelings about the newfound attachment to a nation accused by Amnesty International of using Newcastle to "sportswash" its "appalling" human rights record. Waving Saudi Arabian flags and wearing mock Arab headdresses are decisions many fans made Sunday.
Members of the media can control how they discuss the purchase, too. It's important to be aware of what's being said about Newcastle's takeover and by whom in the coming weeks. How we handle these types of discussions, which are far more important than sports, matters.
Heroic actions from Tottenham players
For more reasons than one – see directly above – Tottenham's 3-2 victory at St. James' Park was a stark reminder that football is a secondary concern in the grand scheme of things.
The match was temporarily suspended late in the first half after the players were alerted to an urgent medical issue involving one of the fans in the East Stand. Had Sergio Reguilon not acted quickly to inform the referee, and had Eric Dier not done the same to ensure that medical personnel raced over with a defibrillator, the welcome news that the supporter was eventually stabilized may never have arrived.
The situation evoked instant memories of Christian Eriksen's frightening collapse earlier this year at Euro 2020; Danish captain Simon Kjaer was widely praised for his role in saving his compatriot's life that day. Reguilon and Dier's actions Sunday deserve similar praise, as do those of the fans who quickly made the players aware of the incident and ensured the match was halted so proper medical attention could be administered.
Copyright © 2021 Score Media Ventures Inc. All rights reserved. Certain content reproduced under license.
Best images from Sunday's snowy Premier League action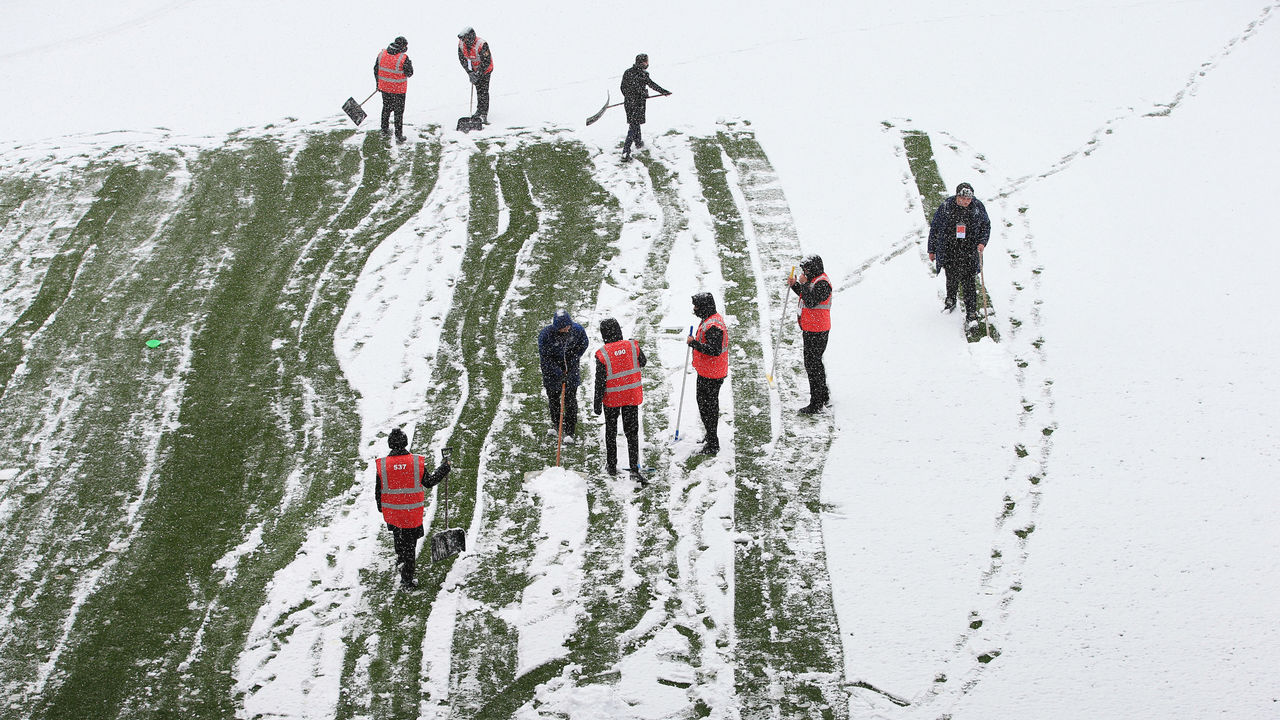 Heavy snowfall blanketed northern England on Sunday, creating wintry conditions for a trio of Premier League matches. Here's a look at some of the best images from a picturesque day in England's top flight:
Burnley vs. Tottenham Hotspur
This one never even got started, as the adverse weather forced a postponement of Burnley's contest with Tottenham. It's no surprise considering the state of Turf Moor.
There's a football pitch under there somewhere – we think: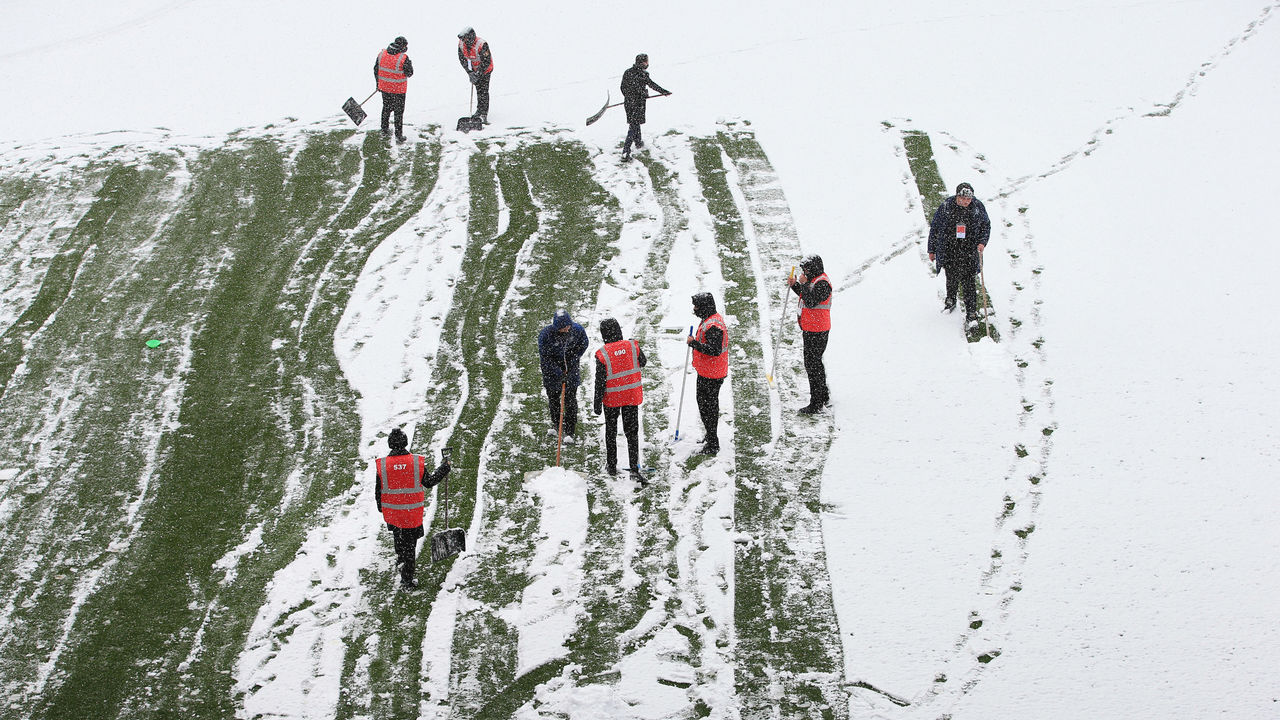 Some Tottenham players made the most of the situation with a snowball fight: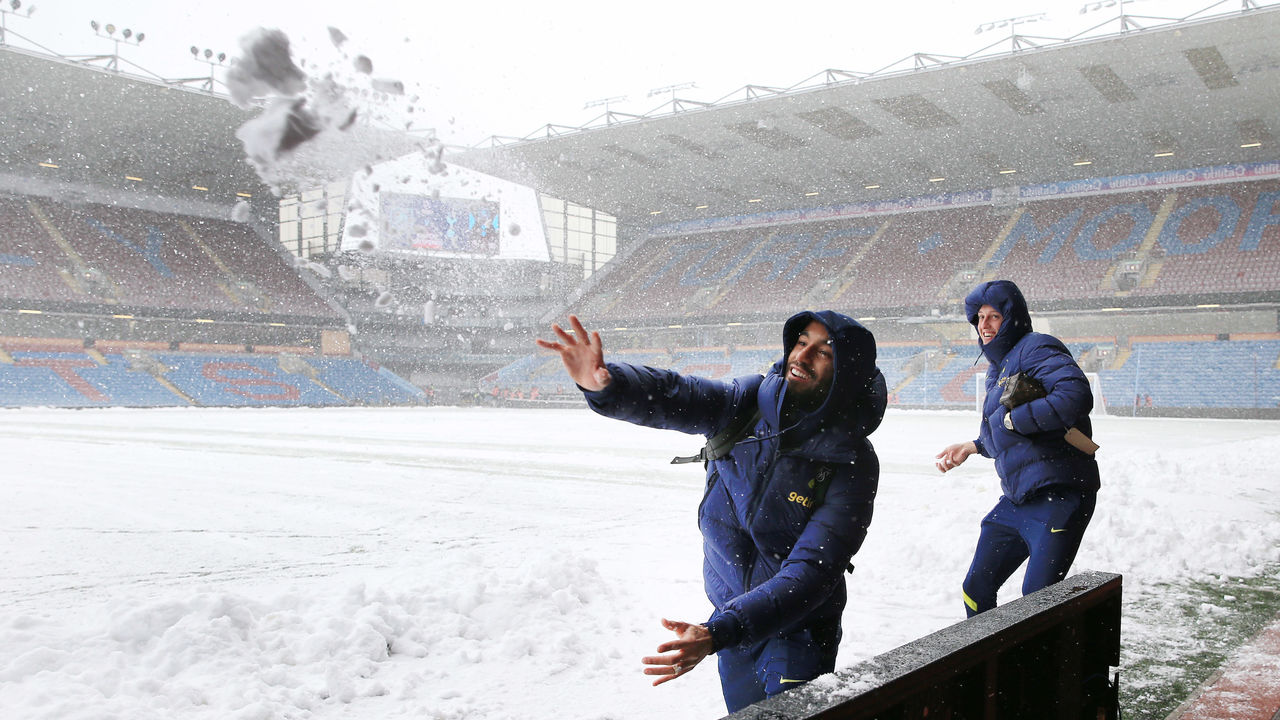 This fan was bundled and ready for the action, blizzard be damned: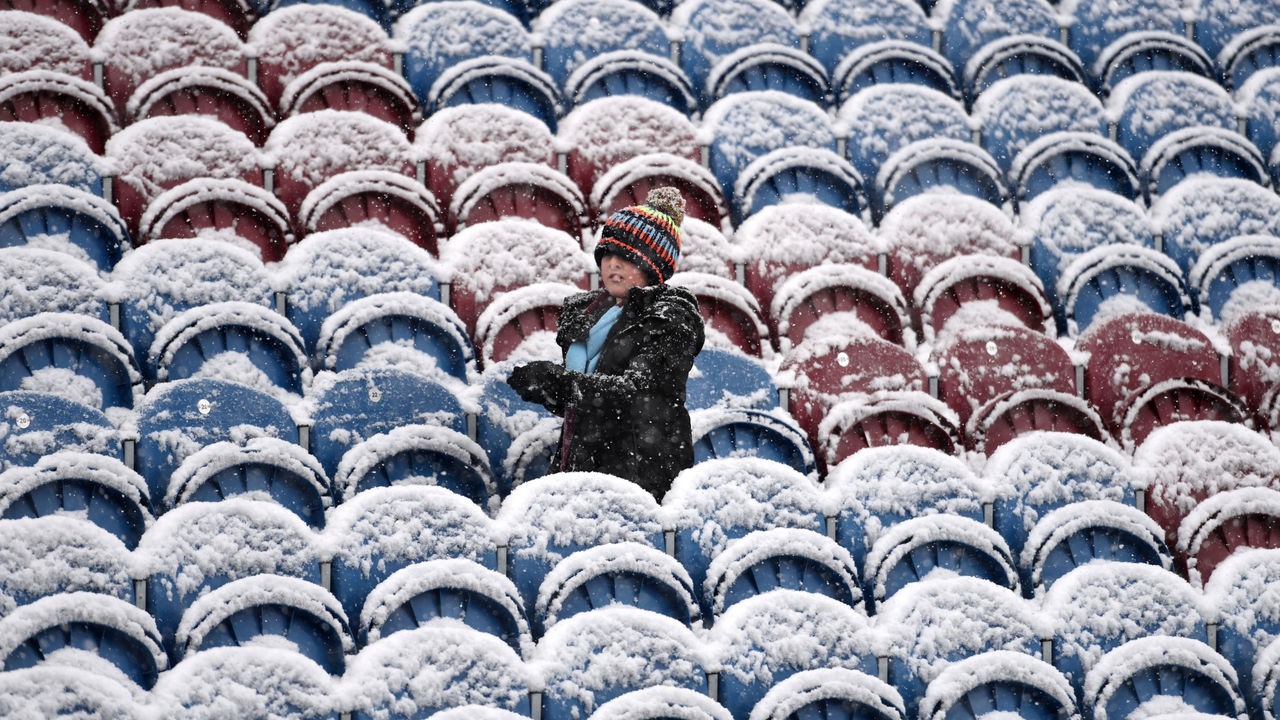 Sadly, there was no cameo from the iconic orange balls: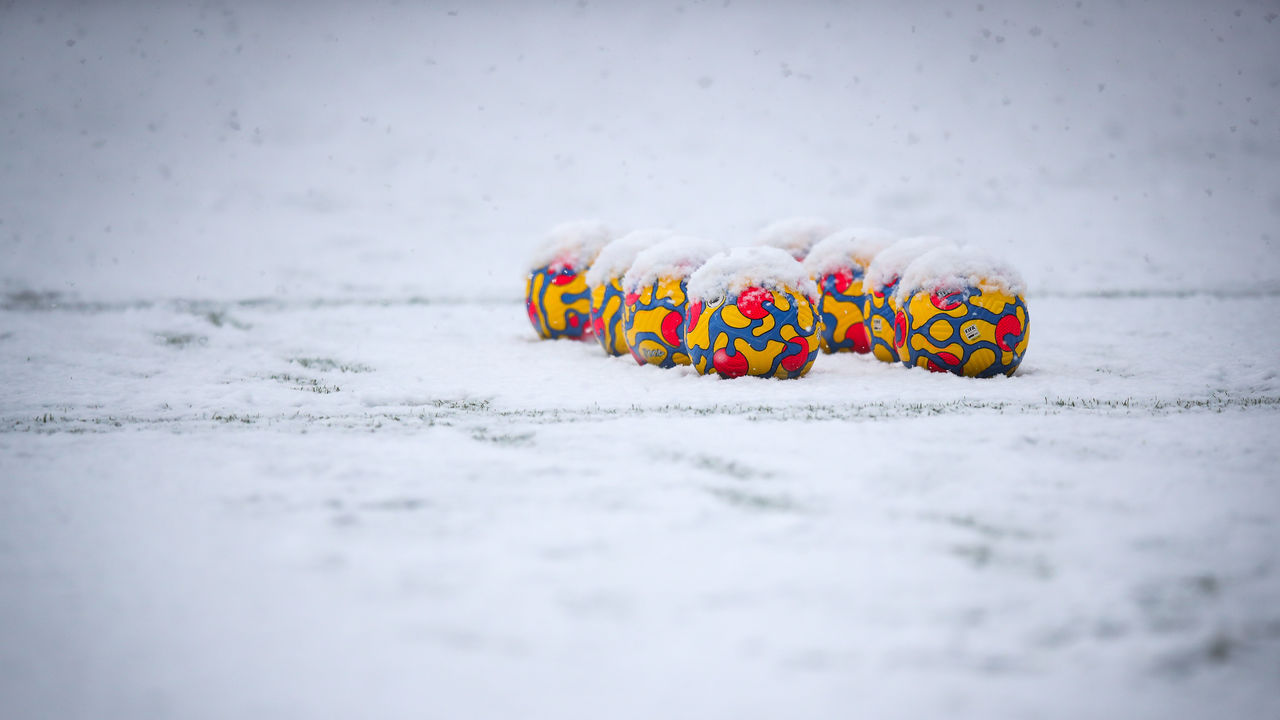 Leicester City vs. Watford
Leicester's 4-2 victory over Watford began like any other contest – the field was actually green – but the scene eventually resembled a winter wonderland.
As is always the case in these situations, members of the grounds crew were the heroes: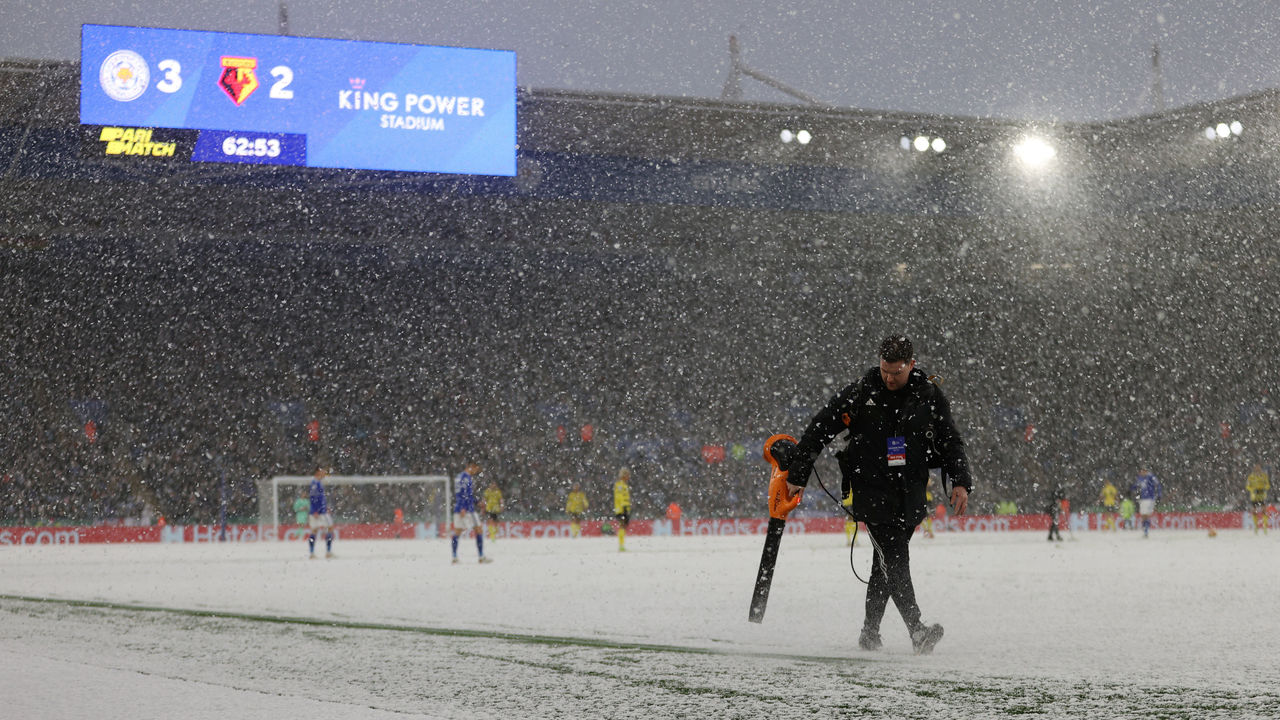 Perhaps they should have kept the sprinklers off for this one: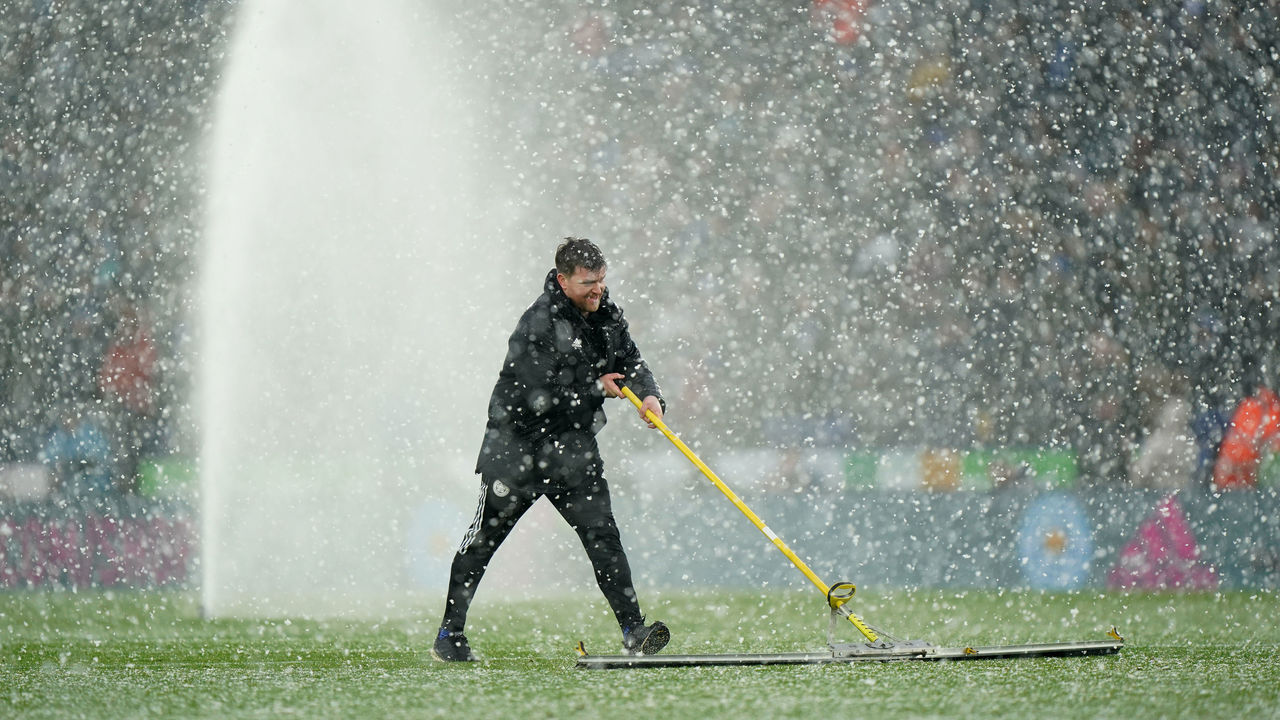 Manchester City vs. West Ham United
Manchester City claimed a 2-1 win over West Ham at the Etihad Stadium, overcoming both the conditions and the dangerous Hammers.
Marking Pep Guardiola's attackers is already difficult, but the weather rendered City's home kits nearly indistinguishable: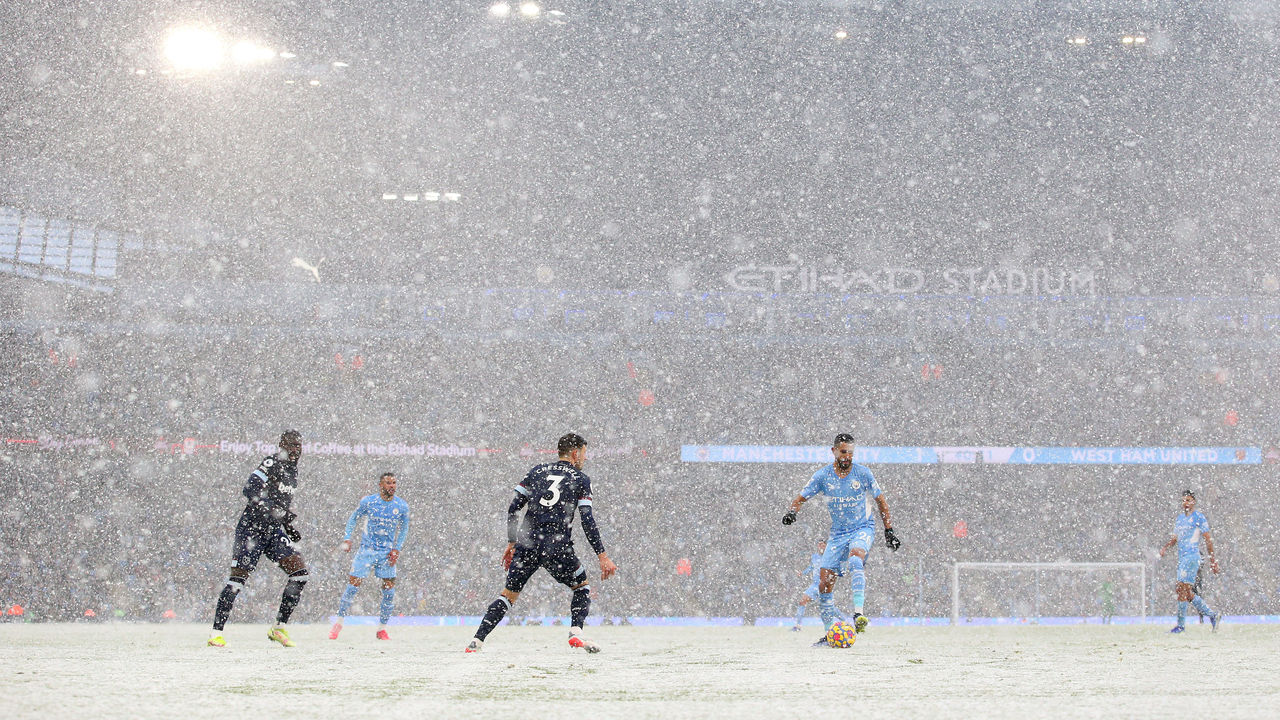 A more cohesive unit: Manchester City in full flight, or the club's groundskeepers?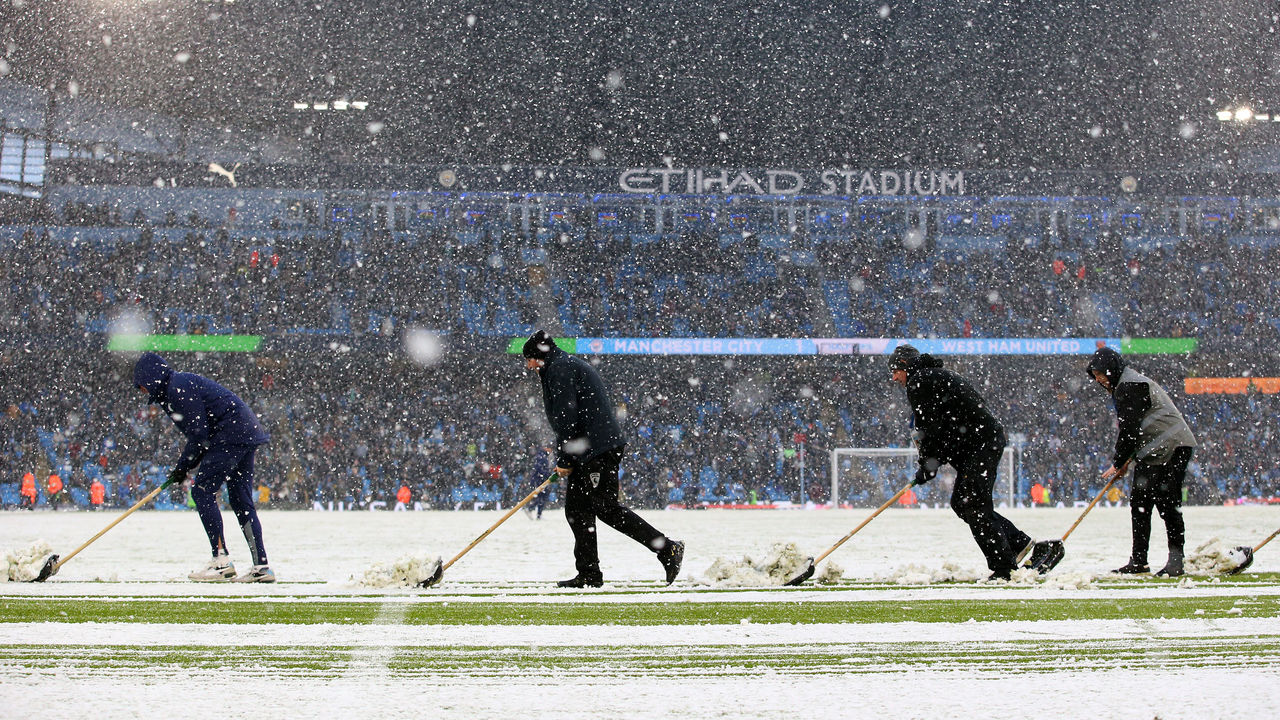 Spare a thought for the goalkeepers in today's snow-filled games; they don't get to run around and stay warm like their outfield peers: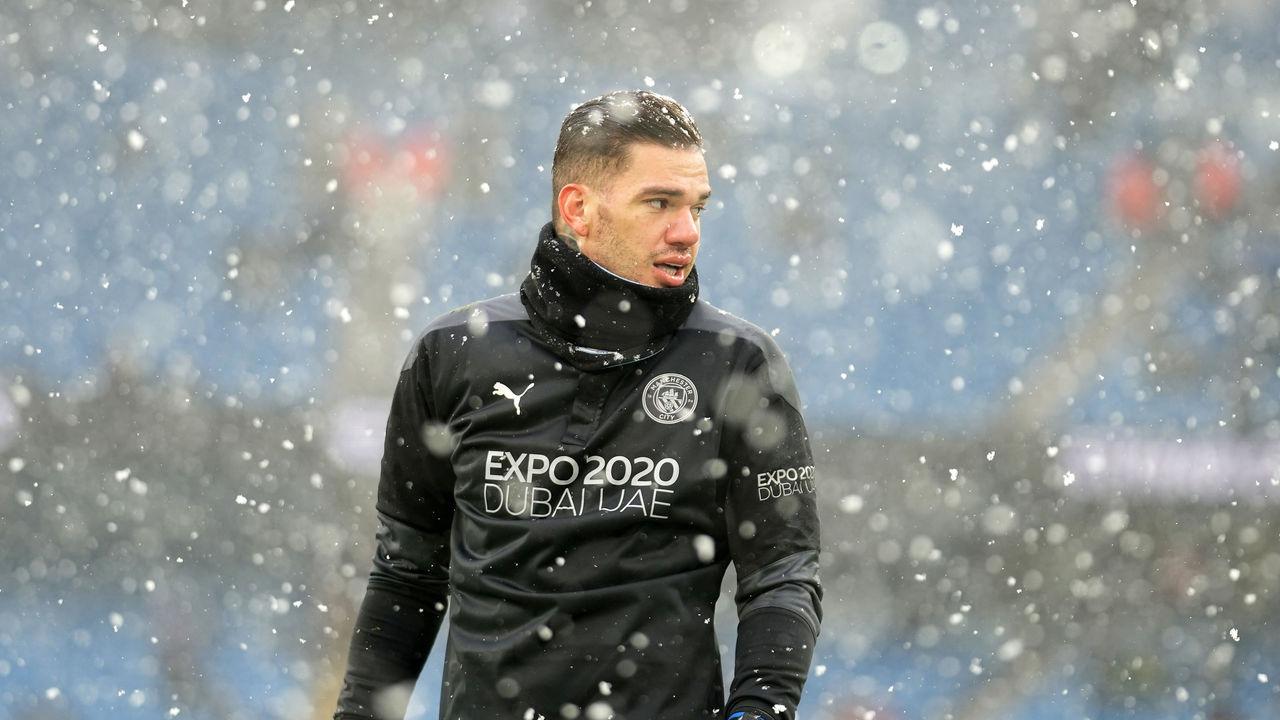 Copyright © 2021 Score Media Ventures Inc. All rights reserved. Certain content reproduced under license.
10 thoughts from the weekend's Premier League action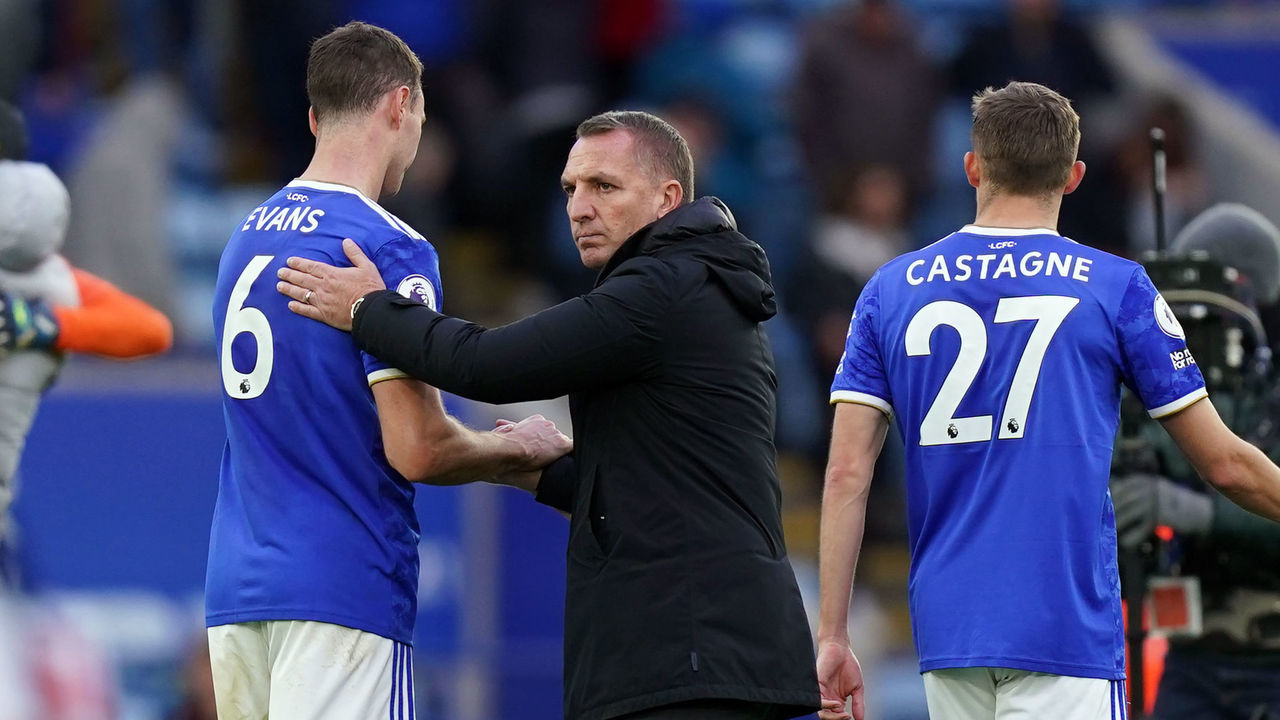 theScore examines the most important Premier League developments from the weekend, dissecting the biggest talking points after a busy slate of action.
Chelsea's marauding defenders wreak havoc
Chelsea didn't need a full squad to produce a complete 3-0 shellacking of Leicester City on Saturday. Even with Romelu Lukaku out, Timo Werner watching on as an unused substitute, and Hakim Ziyech and Christian Pulisic starting on the bench, the Blues produced enough chances to more than double their score.
That's because Thomas Tuchel has coached a system and style of play that relies not just on one player but the entire collective. Tuchel also tasks his defenders with pushing forward and joining the attack. The wing-backs look like de facto wingers out there, almost creating a front five when they enter the opposing half. We've seen Pep Guardiola's Manchester City operate with so-called inverted full-backs, and Chelsea are pulling off something similar. Reece James and Ben Chilwell routinely find themselves in the final third and even in the penalty area.
On Saturday, James had more touches in the 18-yard box than Jamie Vardy, and Chilwell created more chances than any of his teammates. Trevoh Chalobah, one of Chelsea's three center-backs, progressed the ball up the field like a midfielder, and Antonio Rudiger scored off another set piece. Chelsea's defense is so prolific due to Tuchel's aggressive tactics.
Leicester regressing under Rodgers
Leicester slid into the bottom half of the table with Saturday's dismal showing, and the fans let them have it. All the goodwill manager Brendan Rodgers had going for him seems to be evaporating.
It feels very much like the beginning of the end.
The stats read like an obituary: with one clean sheet in 17 league matches and just two wins out of six at home, the Foxes look nothing like the high-pressing, all-action side Rodgers unleashed in his first few months in charge. Vardy's struggling to run off the shoulders of defenders as he usually does, and the midfielders are completely capitulating ground to their opponents. Jonny Evans, an otherwise sturdy presence since joining the club in 2018, can't possibly mistime any more tackles without getting a red card, and Caglar Soyuncu has offered futile resistance to onrushing opponents.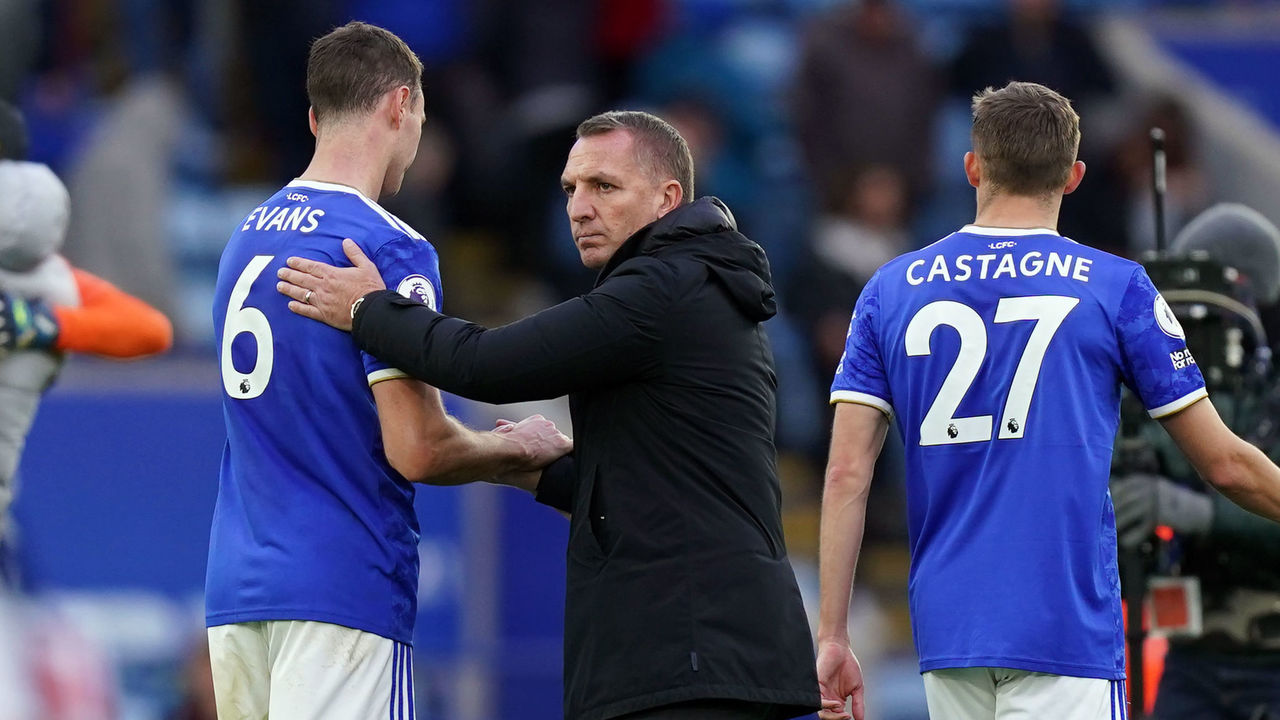 Youri Tielemans' absence certainly took a toll on Saturday – it was the first time he missed a Premier League fixture in nearly two years – as his teammates couldn't cover the cracks. Chelsea had tons of space whenever they ventured forward, and their long balls over the top forced Leicester's slower defenders into foot races that showed them up.
It was also peculiar to see Patson Daka – Leicester's young livewire and author of four goals in last month's Europa League match at Spartak Moscow – sitting on the bench alongside the club's No. 10, James Maddison, while Marc Albrighton started in the year 2021.
Solskjaer's firing long in the making
Nothing was going to save Ole Gunnar Solskjaer this time around, no last-minute push for an equalizer to salvage this lost cause. Last month's 5-0 capitulation to Liverpool was embarrassing, the 2-0 loss to Manchester City humiliating, but Saturday's listless 4-1 defeat to Watford was perhaps the worst of all. Watford had scored just twice in their previous five home fixtures, but the goals came easy against Manchester United, who conceded chance after chance to their relegation-threatened opponent.
Afterward, the Norwegian held up his hands to the traveling supporters in the corner of Vicarage Road, apologizing for his team's lethargic display. Midfielder Bruno Fernandes insisted Solskjaer wasn't to blame. But many of the problems that plagued the team in recent months – the lack of cohesion, the absence of a game plan, the shortcomings in defense – had resurfaced. The manager hadn't found a fix.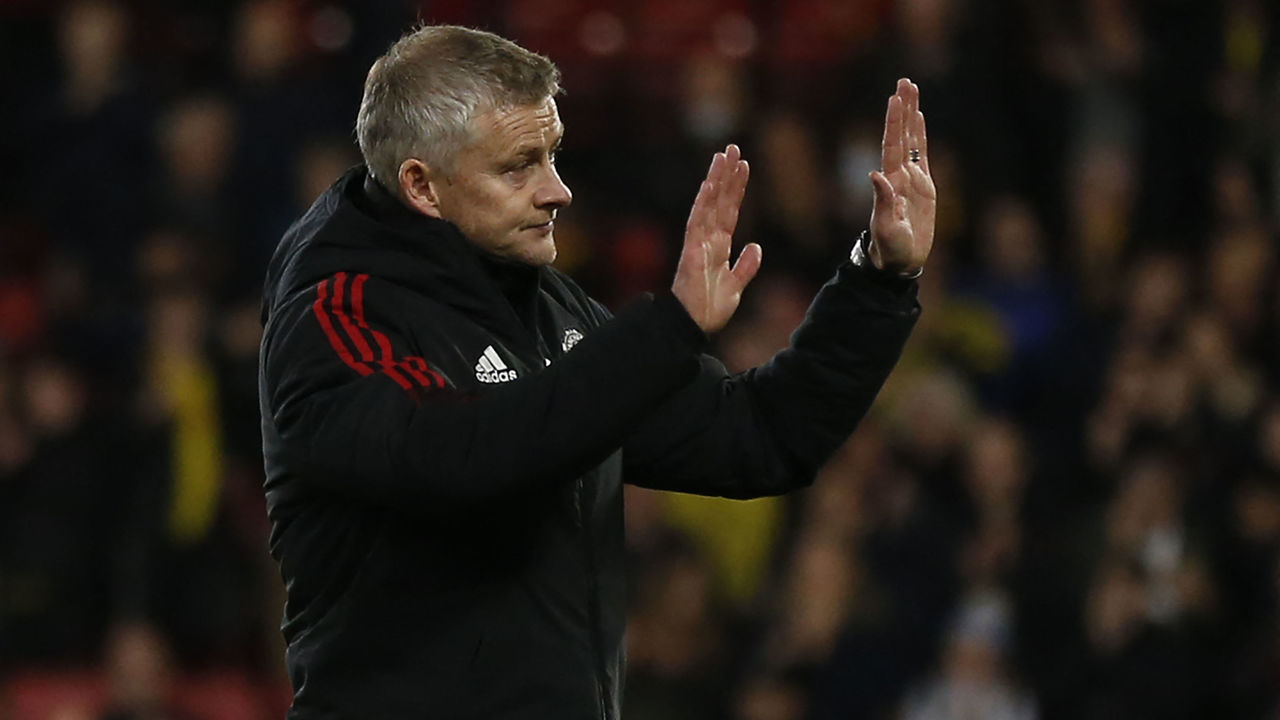 Reeling from their fifth defeat in seven league matches, United had no choice but to fire Solskjaer. The club gave its former player of 18 years every opportunity to succeed, committing over £400 million in transfer fees across the past three seasons. It even awarded him a contract extension in July. But nothing worked. The buzzing positivity that marked the early days of his reign had long evaporated. After 168 matches in charge, Solskjaer failed to establish forward momentum.
Now, the club has to find a capable replacement midseason. Is Michael Carrick really the only interim solution? Did the board not learn its lesson about former players with limited coaching experience? United made a mistake allowing Solskjaer to stay for so long. They could've appointed Mauricio Pochettino last year or Antonio Conte earlier this season. Both are now unavailable. Not even Zinedine Zidane seems interested. So around and around United go, searching for answers in familiar places.
Maguire's fallen off a cliff
What on earth has happened to Harry Maguire?
The England stalwart was legitimately excellent last season for Manchester United. The Red Devils boasted one of the best backlines in the nation and the imposing captain was a critical reason why, anchoring the defense while logging over 3,000 league minutes.
However, he's been a downright liability this season.
It seems obvious that rushing back from injury to feature for England at Euro 2020 has played at least some part in Maguire's downfall. The malaise at Manchester United doesn't help, but some of it comes down to egregious mistakes Maguire simply wasn't making last campaign.
The horrible sequence that led to his sending off against Watford – turning the ball over under absolutely no pressure before lunging wildly in a desperate effort to recover – was another low point for the 28-year-old.
Maybe the suspension-induced absence will be a good opportunity to reset.
Gerrard settles early nerves at Aston Villa
Aston Villa supporters were chanting Steven Gerrard's name by the end of Saturday's victory over Brighton & Hove Albion. Ninety minutes prior, many were unsure how to feel about their new manager. Fans had just bid farewell to "one of their own" in Dean Smith, the man who led Villa back to the Premier League. Gerard is undoubtedly a legend of the English game but is still an apprentice in the coaching department.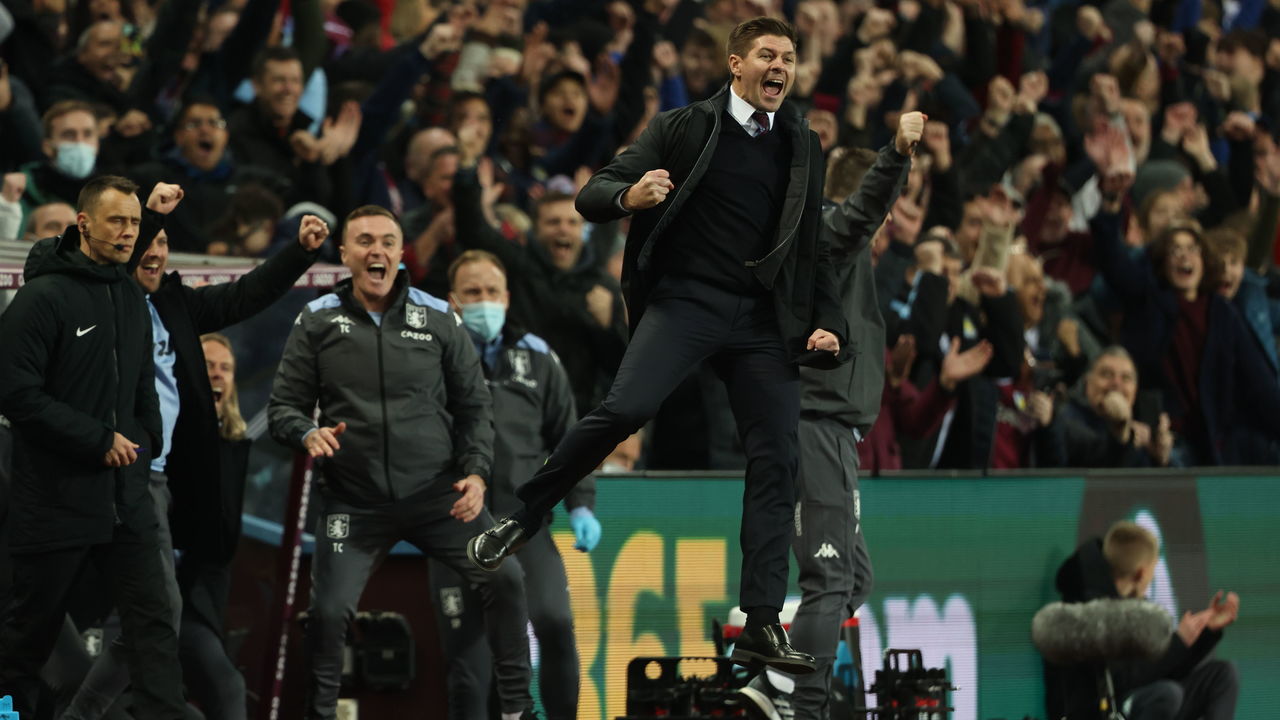 Still, Gerrard inherited a capable squad, and he's fostered some kind of team spirit in the short week-and-a-half he's had in charge. He can be proud of the 2-0 win at Villa Park, his first as a Premier League manager, and he'll be happy with the contribution of veteran Ashley Young, who supplied a superb assist to Ollie Watkins on the counterattack. Gerrard's Rangers played at pace on the break, and the early returns suggest a similar strategy could work at Villa Park as well.
Maybe some would've liked Villa to show more ambition at home – the hosts had less than 40% possession – but the result was paramount. Villa now have their first win in six league matches, and Gerrard has some breathing room as he settles into the club.
Arsenal still a work in progress
Arsenal have made some clear strides in recent weeks – their 10-match unbeaten run was cause for legitimate optimism – but the Gunners were given a harsh reminder of the gap that still exists between themselves and the Premier League's elite on Saturday.
Liverpool steamrolled Mikel Arteta's men in the second half of a dominant 4-0 win at Anfield; the visitors looked overawed as the Reds ramped up the pressure, a telltale sign of a young team still under construction.
"When we had to grow momentum at the start of the second half we gave the game away," Arteta said after the defeat. "We gave the ball away under no pressure and were punished. They had all of the momentum. They were the better team and that is the level. They have been together for six years. We haven't. That is the difference."
There were only two points – and one place in the table – between the two sides before the contest, but that gap was an illusion. That Aaron Ramsdale had an excellent outing and still conceded four goals tells the whole story.
What was in the water on Saturday?
Saturday was hectic in England's top flight.
There were 30 goals scored across the eight matches played, with teams seemingly throwing caution to the wind and going for broke. That was especially true near the foot of the table, with Newcastle United and Burnley playing out relentless 3-3 draws against Brentford and Crystal Palace, respectively.
Was it just a one-off, or a sign of things to come?
Particularly for teams mired in the relegation race, wins are infinitely more valuable than draws. Those sides might be willing to take more chances and risk throwing away one point in their quest for all three.
For the sake of the neutral viewer, hopefully managers don't overreact to this weekend's chaos and revert to conservative tactics.
Rodri integral to City's title bid
Picking the Man of the Match from Manchester City's dominating win over Everton couldn't have been easy, but on a night when a host of City stars could have laid claim to the honor, it was Rodri who stood above the rest.
He was simply unplayable against Rafa Benitez's uninspired side. He capped off his commanding performance with a 25-yard screamer to help seal another three points for City. The goal was a thing of beauty, but it was Rodri's work in the heart of Pep Guardiola's midfield that proved once again why he's one of the best holding midfielders in the world.
Performances like this would have been difficult to forecast earlier in Rodri's career at City. His highly anticipated arrival in 2019 was quickly followed by concerns over his ability to adapt to life under Guardiola.
But, just over three months into the season, the Spaniard has established himself as a stalwart at the Etihad. His development will also give Manchester City supporters peace of mind about a smooth transition when Fernandinho calls time on his legendary career.
In awe of Cancelo's pass
If you haven't yet seen it, do yourself a favor and marvel at Joao Cancelo's otherworldly assist from Manchester City's win over Everton (45-second mark of the video):
Is there anyone in world football who can manipulate the ball with the outside of their foot like the Portuguese star? Eat your heart out, Ricardo Quaresma.
Cancelo had six assists in 76 appearances over the last two seasons for City. He's already matched that total in just 18 matches this term. With passes like that, it's no wonder.
Spurs break out of malaise
Over 250 minutes without testing the opposition is long enough to drive any football fan crazy.
After a dismal first-half performance against Leeds United on Sunday, tempers boiled over among Tottenham supporters who booed the home side off the pitch at halftime. It was a deserved response to an opening 45 minutes that saw Daniel James give the visitors the lead, while Tottenham Hotspur's streak without a shot on target was extended to six consecutive halves.
The second half was a different story.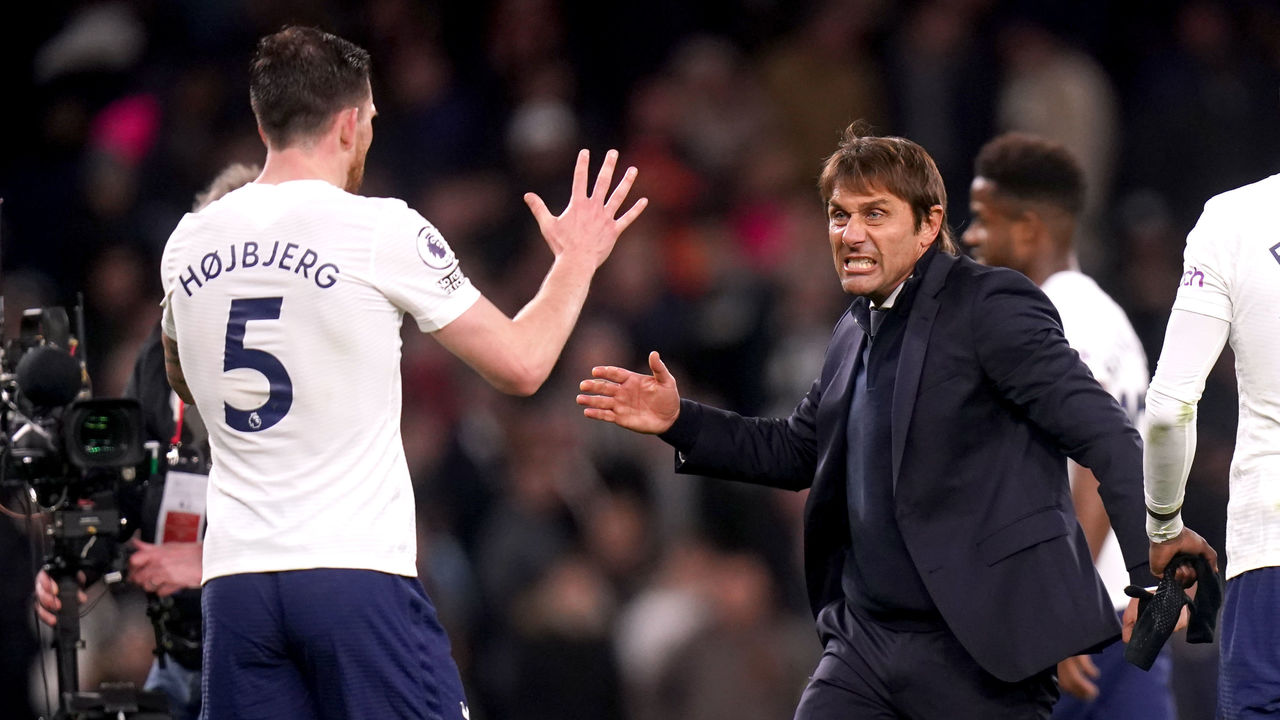 Harry Kane ended the streak a minute after the break for a side that implemented a much more aggressive game plan. Pierre-Emile Hojbjerg brought Tottenham level before Sergio Reguilon scored his first for the club, securing Conte's first Premier League win as Spurs manager.
Now unbeaten in three games as Spurs boss, the manager celebrated the victory in true Conte fashion. When the aggressive fist pumps and hugs were finished, the Italian tactician said he was confident the victory could be a springboard for Tottenham, saying, "This is a point to start for the rest of the season."
Copyright © 2021 Score Media Ventures Inc. All rights reserved. Certain content reproduced under license.
10 thoughts from the weekend's Premier League action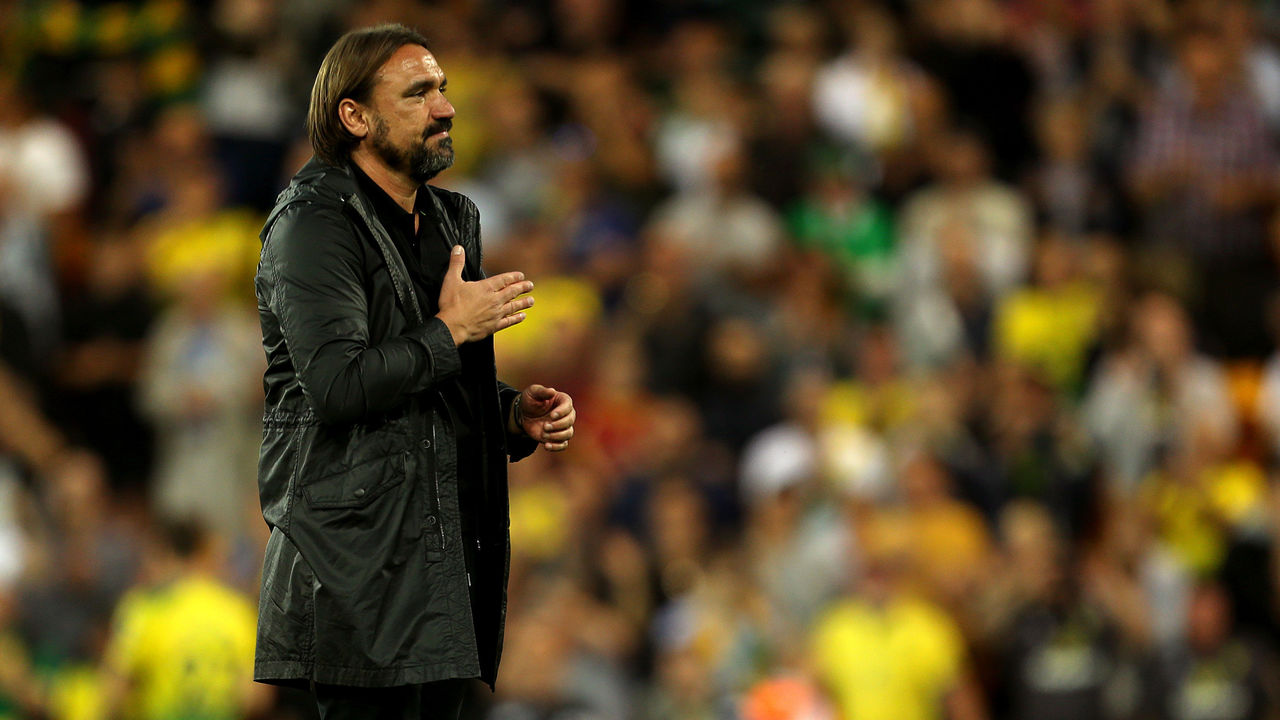 theScore examines the most important Premier League developments from the weekend, dissecting the biggest talking points after a busy slate of action.
Ole's defensive approach backfires
A frustrated Bastian Schweinsteiger summed it up best as his former club was being utterly dominated in the first half of Saturday's Manchester derby: Passive Manchester United versus active Manchester City.
At that point, United looked like they were well on their way to a thrashing similar to the 5-0 thumping they received against Liverpool. But, in the end, Manchester City took their foot off the gas in the second half before claiming a 2-0 victory – a scoreline that was more than flattering for United.
It was a stunning display of ineptitude from both Ole Gunnar Solskjaer and the United players. The Red Devils were pegged back right from kickoff before gifting Manchester City the lead inside the opening seven minutes to set the tone for the remainder of the contest. Pep Guardiola's side doubled the lead just before halftime and continued to dominate en route to an easy win.
The post-match numbers told the miserable story for United.
Going with three at the back was an obvious mistake that led to another catastrophic result for a manager already under extreme pressure. Solskjaer might have thought because that strategy worked against Tottenham Hotspur, it would yield the same result against City, but he was emphatically wrong. It was a failed approach that could ultimately cost him his job, as United – losers of three of their last four Premier League games – will have plenty of time to consider their manager's future before their next match on Nov. 20.
Damning indictment of Solskjaer
We've discussed the need for Manchester United to part ways with Solskjaer ad nauseam, and so has the entire football world by this point. So instead of delving into that discussion again, we'll just leave this stat here and move along:
Everyone can see it except those in positions of power at Old Trafford.
Cancelo on another level
Joao Cancelo has a real claim for the title of world's best full-back right now.
The Portuguese international has shown attacking brilliance going back to his Valencia days, but he's taken an enormous step forward since joining Manchester City from Juventus in 2019, thriving under Guardiola.
"He has been playing incredibly well all season," Guardiola said of Cancelo earlier this week. "Of course, he sometimes has to improve his quality. He has highs and lows, but he has a special ability to do something good."
Cancelo, 27, tore Manchester United apart in Saturday's derby, creating both goals and spending more time on the ball than any other player.
Per Squawka, he now leads Manchester City in the following categories this season:
Most touches
Most passes
Most passes in the final third
Most tackles made
Most interceptions
Most aerial duels won
Most duels won
Most through balls
Mosts shots
Cancelo is a full-back in name only.
Burnley setback exposes Chelsea's lack of cutting edge
The stage was set for Chelsea to strengthen their grip on the Premier League ahead of Burnley's visit to Stamford Bridge. Instead, the visitors escaped with a point to shock the Blues.
A lopsided victory seemed inevitable for a Chelsea side that continuously knocked on the door for a second goal after Kai Havertz gave them the lead in the first half. But Matej Vydra scored a late equalizer to make the Blues pay for wasting countless chances to double their lead.
Predictably, manager Thomas Tuchel was less than pleased about his side's shortcomings after a performance that highlighted Chelsea's lack of cutting edge in attack. "It's our fault. We should have scored more," he said. "We created so many chances.
"… If we played this game 100 times, we'd win 99 times."
Luckily for the Blues, there's an international break on the horizon that should make it easier to forget this minor setback. The break should offer injured attacking stars Romelu Lukaku and Timo Werner enough time to overcome their respective injuries ahead of Chelsea's next Premier League test against Leicester City on Nov. 20.
Right decision, wrong timing for Norwich
Norwich City made the necessary decision to part ways with manager Daniel Farke on Saturday, dismissing the bench boss just hours after their first league win of the season.
The timing was unconventional and caught many off guard, but even Farke himself must have known this was coming at some point. His overall body of work in the Premier League doesn't lie.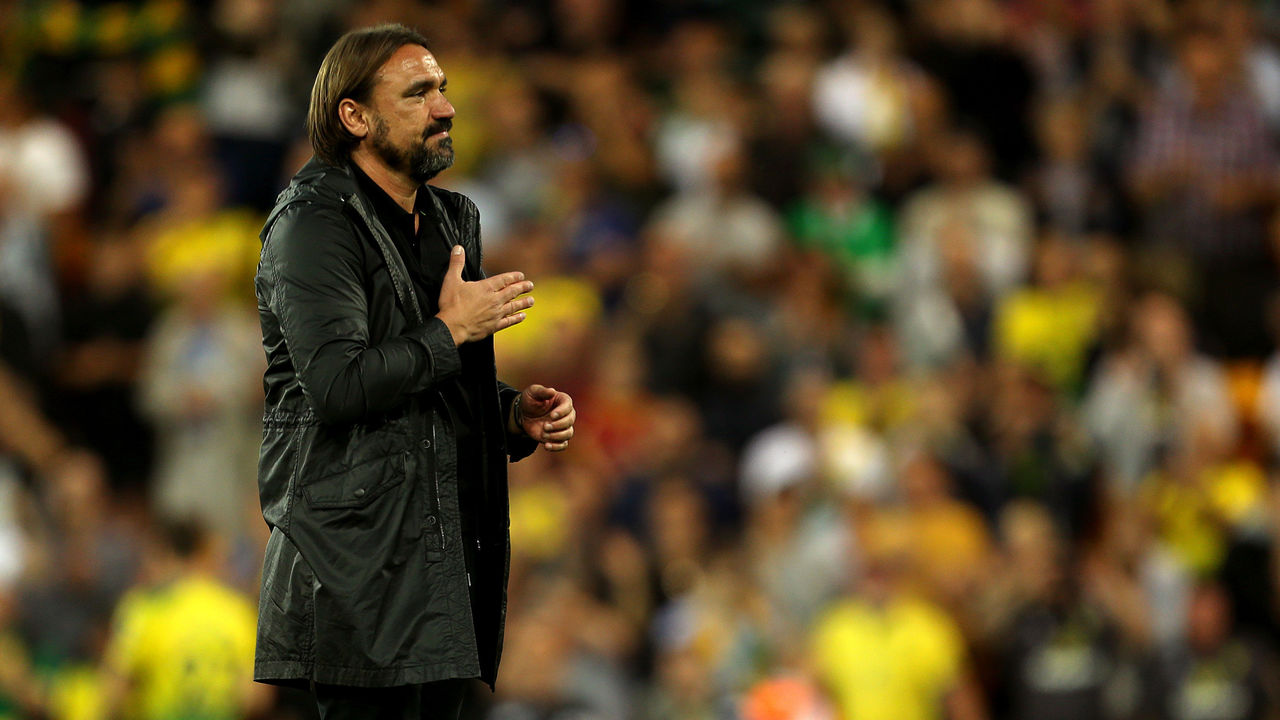 Farke's commitment to his tactical ethos was noble; the likable German insisted on playing the same brand of attractive football that worked wonders in getting the club promoted twice from the Championship – but there was also an element of naivety at play.
Farke watched as his preferred style yielded poor returns and resulted in the Canaries getting relegated from the Premier League in 2020. After immediately bringing them back up and getting another chance – a relative rarity in professional sports – he didn't alter his approach.
Prior to Norwich's 2-1 win over Brentford, they had gone 20 consecutive top-flight matches without a victory. The decision to fire Farke had clearly been made before a ball was kicked on Saturday.
As odd as the timing may have seemed, it's hard to argue with the sacking.
Vieira working wonders at Palace
After some early hiccups, Patrick Vieira has Crystal Palace on a roll.
The Eagles extended their unbeaten streak to six league matches on Saturday, following up last week's shock win over Manchester City with another 2-0 triumph, this time against Wolverhampton Wanderers. Standouts Wilfried Zaha and Conor Gallagher delivered the goals once again.
Palace threw away a pair of late leads – and four potential points – earlier in the season, but Vieira hailed his team's "maturity" after Saturday's win, which was as comprehensive as they come.
The Eagles have climbed into the top half of the table and boast one of the stingiest backlines in the country, as their expected goals against total (11.4) ranks fourth best. Marc Guehi and Joachim Andersen have formed a solid partnership in central defense, while Cheikhou Kouyate shields them and Vicente Guaita backstops the whole operation.
With matches against Burnley, Aston Villa, and Leeds United on the horizon, the good times should keep rolling at Selhurst Park.
Solid defense fueling Arsenal revival
At this time last year, Gabriel was anchoring a three-man Arsenal defense between Kieran Tierney and Rob Holding, with Hector Bellerin and Bukayo Saka at wing-back in a home match against Aston Villa that the Gunners lost 3-0.
Fast-forward to full-time at the Emirates Stadium on Sunday, and the difference is palpable. The Gunners took care of business against Watford to boost Arsenal's reputation as one of the Premier League's top defending teams, after recording their third-successive clean sheet and eighth overall this season.
Ben White, who arrived from Brighton & Hove Albion last summer for £50 million, has rebounded since his rough debut to become an integral part of Arsenal's defense alongside Gabriel. New right-back Takehiro Tomiyasu has been a revelation, while Nuno Tavares' emergence as a more-than-capable replacement for Tierney could give manager Mikel Arteta a difficult decision when the Scottish left-back returns to full fitness.
It's clear that Arteta's defensive vision is taking shape less than two years into the job, but the Arsenal boss will get a true sense of where his team stands when they clash with high-scoring Liverpool after the international break.
Ranieri's anger justified?
Watford manager Claudio Ranieri was incensed with Arsenal after the final whistle of Sunday's 1-0 defeat, complaining that the Gunners didn't return the ball after the Hornets kicked it out of play to allow Ozan Tufan to receive treatment after he went down injured.
Arsenal kept the ball, and after an extended period of play in which Watford never truly regained control, Emile Smith Rowe scored the lone goal of the contest.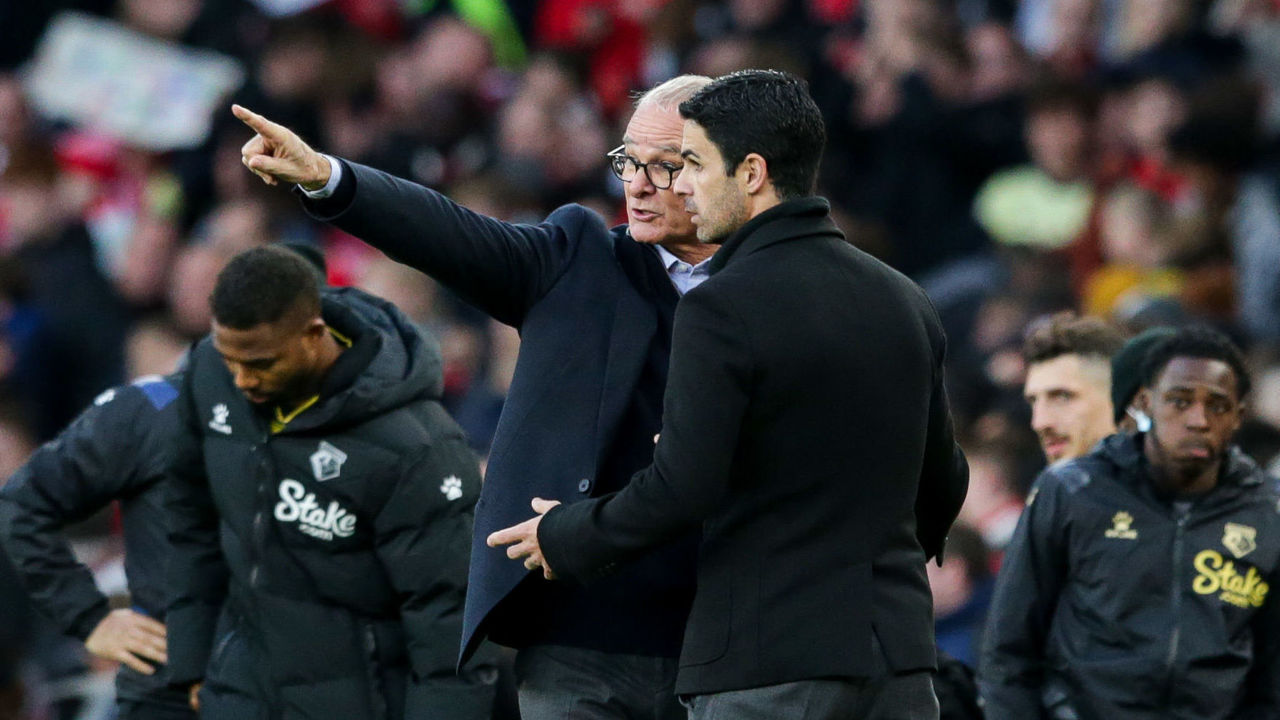 Ranieri confronted Arteta about the incident after the match and addressed it to the media.
"There is only one thing I'd like to know," said Ranieri, according to Jamie Redknapp of Sky Sports. "When there is a man on the ground, everybody expected the ball goes back and it didn't go. There is a respect in that situation. Then we get the ball with (Ismaila) Sarr and go on the counterattack and there is a big foul. It's unbelievable."
He added, "When you put the ball out, you have to give the ball back."
Arteta, of course, had a retort.
"I have to defend my players, team, and club. We are the most honest," he said, per Sky Sports. "At some stages, we can even be naive. I'm sure there was no intention to take advantage."
Your stance on the matter likely depends on which club you support, but the question is simple: Should Arsenal have given the ball back? It's an established gentleman's agreement that is almost always observed, but there's no rule dictating that Arsenal had to give possession back.
Aston Villa raise white flag
It was the end of an era at Aston Villa as the fan-favorite Dean Smith was let go after three years in charge. The decision to part with the English manager was announced after the Claret and Blue dropped yet another match to leave them just three points outside of the relegation zone.
After Smith guided the club back to the Premier League and kept them there last season, the 2021-22 campaign had gotten off to a terribly rocky start. The final straw came after Saturday's contest on the south coast, as Villa slumped to their fifth Premier League defeat in a row with a 1-0 loss to Southampton.
Despite the club's disappointing performances, there are bound to be some fans who view Smith's dismissal as harsh given that Aston Villa had the odds stacked against them after selling superstar Jack Grealish in the summer.
Reds stumble at another crucial point in title race
Matchday 11 was an opportunity for Liverpool to solidify their place in the title race. Instead, Jurgen Klopp's men were left to rue another blown chance to close the gap at the top of the Premier League table.
A week after failing to capitalize on Manchester City's shocking loss to Crystal Palace, Liverpool had a golden opportunity to cut into Chelsea's advantage after the Premier League leaders dropped two points in a draw with Burnley on Saturday.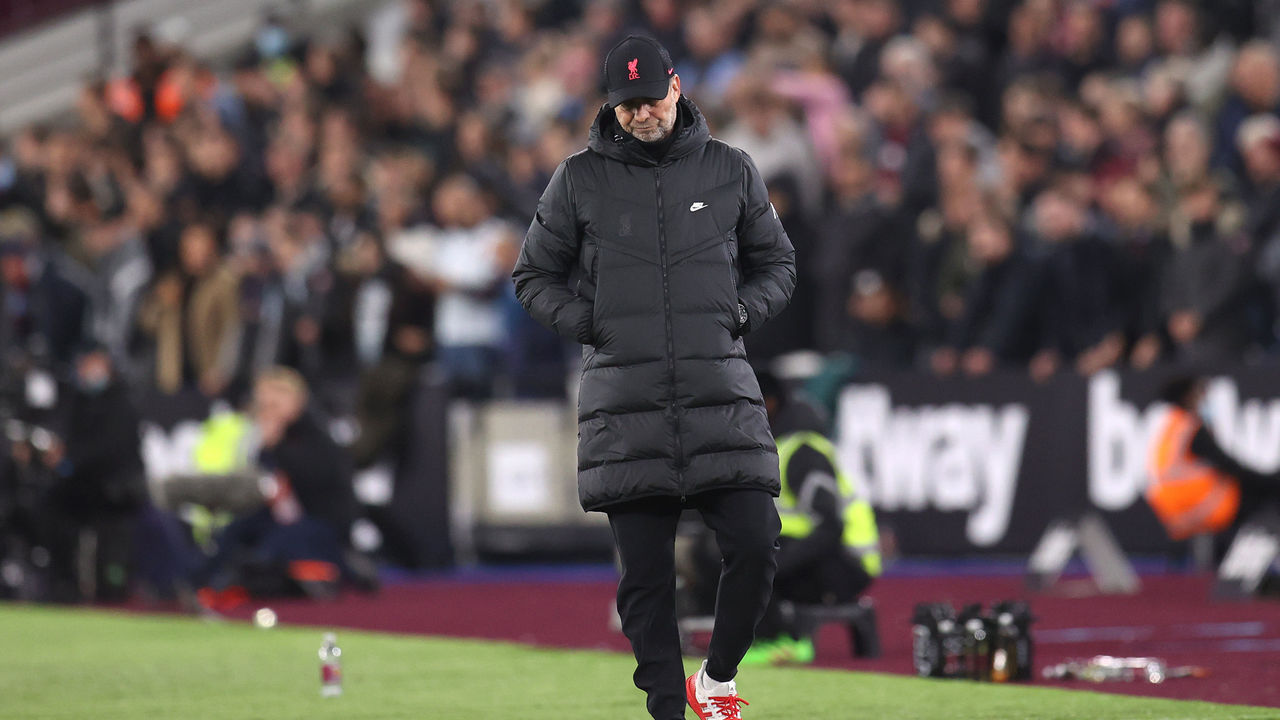 But, when the full-time whistle sounded at London Stadium, the Reds found themselves worse off than they were when the day started. Losing to West Ham United not only ended the club's 25-match unbeaten run, it also resulted in David Moyes' revitalized Hammers leapfrogging Liverpool to take sole possession of third place.
Liverpool's title hopes are far from irreparable – as the Merseyside club sits just four points back of Chelsea – but there's no doubting that Sunday's result was a bitter blow that will sting for the entirety of the upcoming international break.
As for West Ham, well, we warned you last week that the Hammers are for real.
Copyright © 2021 Score Media Ventures Inc. All rights reserved. Certain content reproduced under license.