The Champions League's best XI so far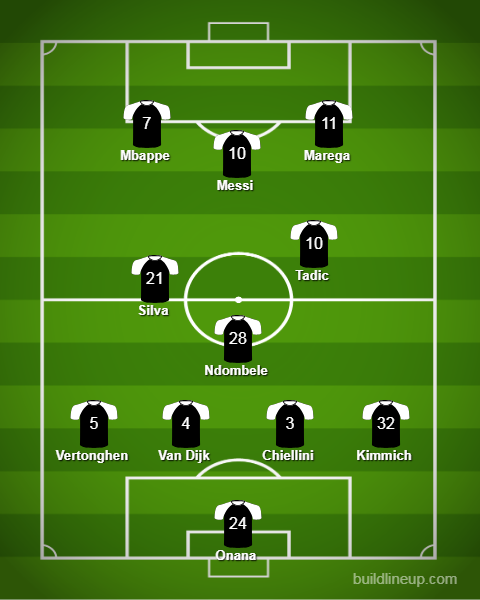 The duels for the Champions League quarterfinal stage have been drawn, but plenty of players have already left their mark on this season's competition.
Here, theScore fashions an XI with the top performers of the 2018-19 Champions League campaign to date, while noting those who just missed out.
The lineup
GK – Andre Onana (Ajax)
One of Ajax's beaten finalists from the 2017 Europa League final has blossomed into a goalkeeper with sharp reflexes and superb command of aerial deliveries. Including the Champions League's qualifying rounds, the 22-year-old Onana's produced six clean sheets this season.
Notable mention: David De Gea (Manchester United)
RB – Joshua Kimmich (Bayern Munich)
The first match Kimmich missed in this Champions League term was Wednesday's defeat in the second leg with Liverpool. He's only 24, but leads Bayern Munich for assists, fouls won, and short passes completed in Europe, and may have vaulted Dani Carvajal as the finest right-back on the continent.
Notable mention: Joao Cancelo (Juventus)
CB – Giorgio Chiellini (Juventus)
Chiellini is often noted for his imposing presence at the back – he wouldn't flinch at the prospect of heading an asteroid – but he's also one of the most intelligent defenders on the planet. The 34-year-old has intercepted the ball more often than any of his Juventus comrades in the Champions League.
Notable mention: Sergio Ramos (Real Madrid)
CB – Virgil van Dijk (Liverpool)
Under "towering header" in a dictionary of footballing terms will now be an image of Van Dijk scaling Javi Martinez and Mats Hummels before nodding past Manuel Neuer. His second leg against Bayern was what we've come to expect from the Dutchman. He is, simply put, Liverpool's most vital player.
Notable mention: Gerard Pique (Barcelona)
LB – Jan Vertonghen (Tottenham Hotspur)
Vertonghen's not on this list just for his assist and goal in the first leg against Borussia Dortmund, or primarily for his masterful defensive showing in the second leg. His performance when Inter visited also merits praise; Vertonghen made seven interceptions and unfussily smashed five clearances at Wembley.
Notable mention: Oleksandr Zinchenko (Manchester City)
DM – Tanguy Ndombele (Lyon)
Like his teammate Houssem Aouar, Ndombele's going to command a huge fee. The French international impressed in two group-stage matches against Manchester City, scored twice against Hoffenheim, and was Lyon's best player over the double-header with Barcelona in the round of 16.
Notable mention: Javi Martinez (Bayern Munich)
CM – David Silva (Manchester City)
The Manchester City veteran was timid by his standards in the two legs against FC Schalke, but he shone in Group F. Silva's already scored the same amount of goals as he did in the previous three Champions League campaigns combined, making Phil Foden wait longer to assume the creative mantle.
Notable mention: Houssem Aouar (Lyon)
AM – Dusan Tadic (Ajax)
Tadic ditching the dreariness of Mark Hughes' Southampton for Ajax has paid off handsomely. Tadic has played the same amount of key passes that Paul Pogba and Luka Modric have between them, and four of his six goals and two of his three assists came in matches against Bayern Munich and Real Madrid.
Notable mention: Hakim Ziyech (Ajax)
FW – Lionel Messi (Barcelona)
Messi and Robert Lewandowski top the scoring chart on eight apiece. The Argentinian has also produced three performances – PSV Eindhoven at home, away at Tottenham, and Wednesday's second leg against Lyon – that were immaculate. Overall, Messi and Tadic have been the best to watch on continental duty.
Notable mention: Raheem Sterling (Manchester City)
FW – Moussa Marega (FC Porto)
Marega showed FC Porto what they were missing when he regained fitness for Tuesday's second leg. He scored and assisted to help topple Roma, lifting his tournament goal tally to six. Before this season, the 27-year-old Malian international had never scored in continental play.
Notable mention: Sadio Mane (Liverpool)
FW – Kylian Mbappe (Paris Saint-Germain)
Mbappe's touch and balance were a little off in the second leg against Manchester United, but he otherwise produced an excellent 2018-19 Champions League term. His pace is undeniable, and the timing of his runs is getting better and better.
Notable mention: Cristiano Ronaldo (Juventus)
Report: Pogba considering offer to return to Juventus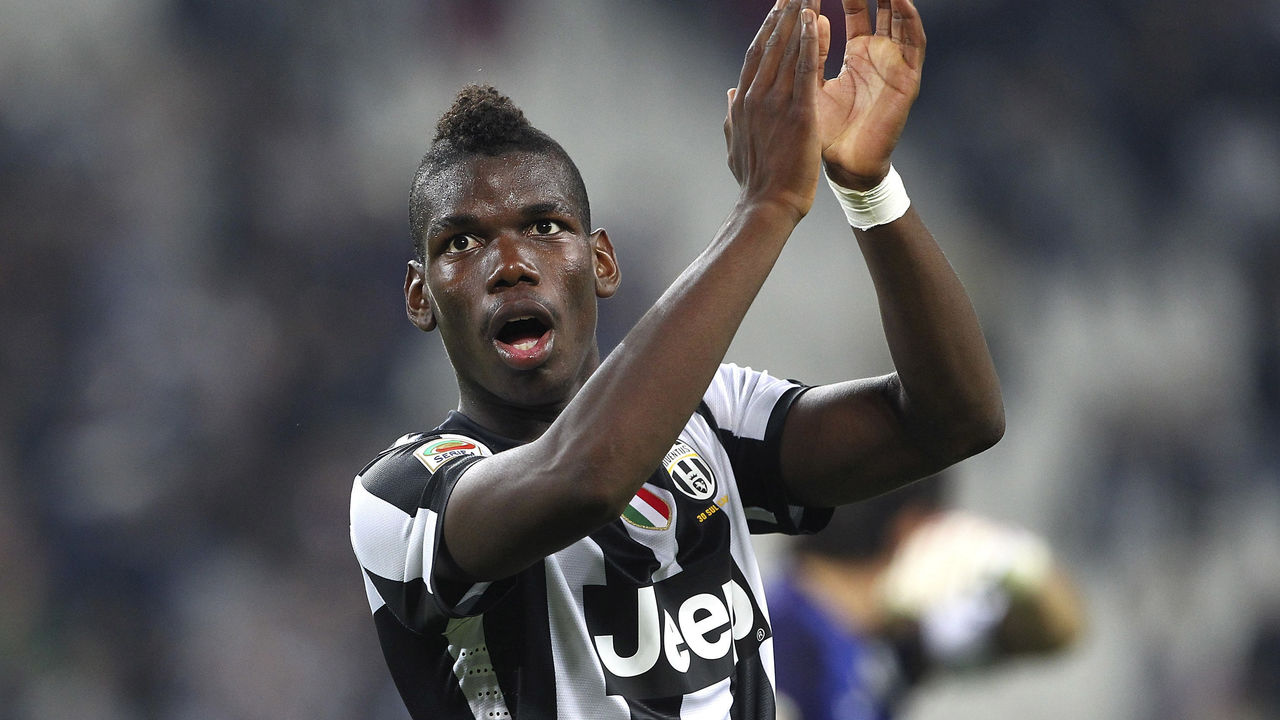 History could repeat itself for Paul Pogba.
The French midfielder is considering an offer to reunite with Juventus after his Manchester United contract expires at the end of June, reports Rob Dawson of ESPN.
Pogba left United for Juventus in 2012, establishing himself as an elite midfielder during a spell in Italy that lasted until 2016. He then rejoined United for an £89.3-million fee – a world record at the time.
He's now contemplating a return to Serie A after receiving a "concrete proposal" that puts Juventus in the lead to sign the World Cup winner, Dawson adds.
The French international has yet to make a final decision, according to Dawson.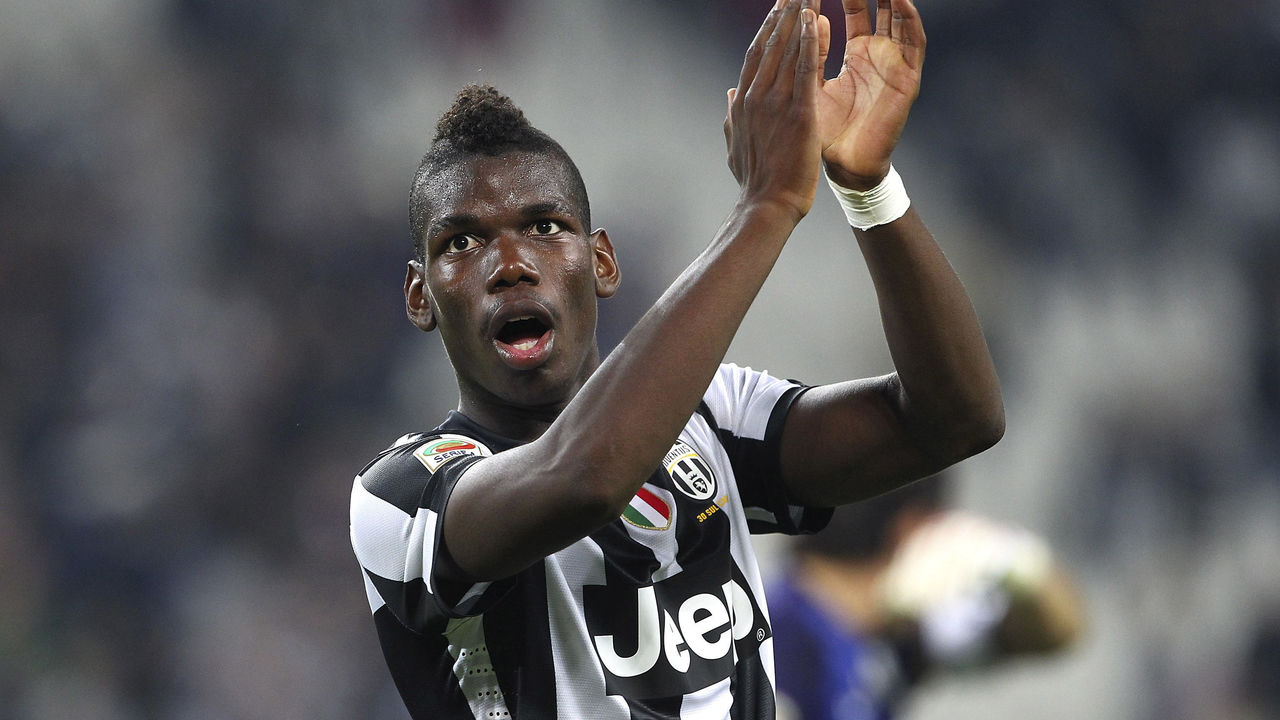 Paris Saint-Germain are also reportedly in contention and could attract Pogba with an offer to play in his home country.
Manchester City were surprise contenders, but Pogba rejected an offer to join Pep Guardiola's squad due to reported concerns about backlash from Manchester United supporters.
Pogba has struggled to consistently replicate the form that made him a star at Juventus in the six years since he returned to Old Trafford; frustrated fans booed him in his last two games against Norwich City and Liverpool.
The 29-year-old recently admitted to experiencing depression, which began during Jose Mourinho's volatile spell as Manchester United manager.
Pogba, who has missed the last four matches with a calf problem, could be in contention to play his final match for Manchester United on Sunday after returning to training.
4 thoughts from Manchester City's breathless win over Real Madrid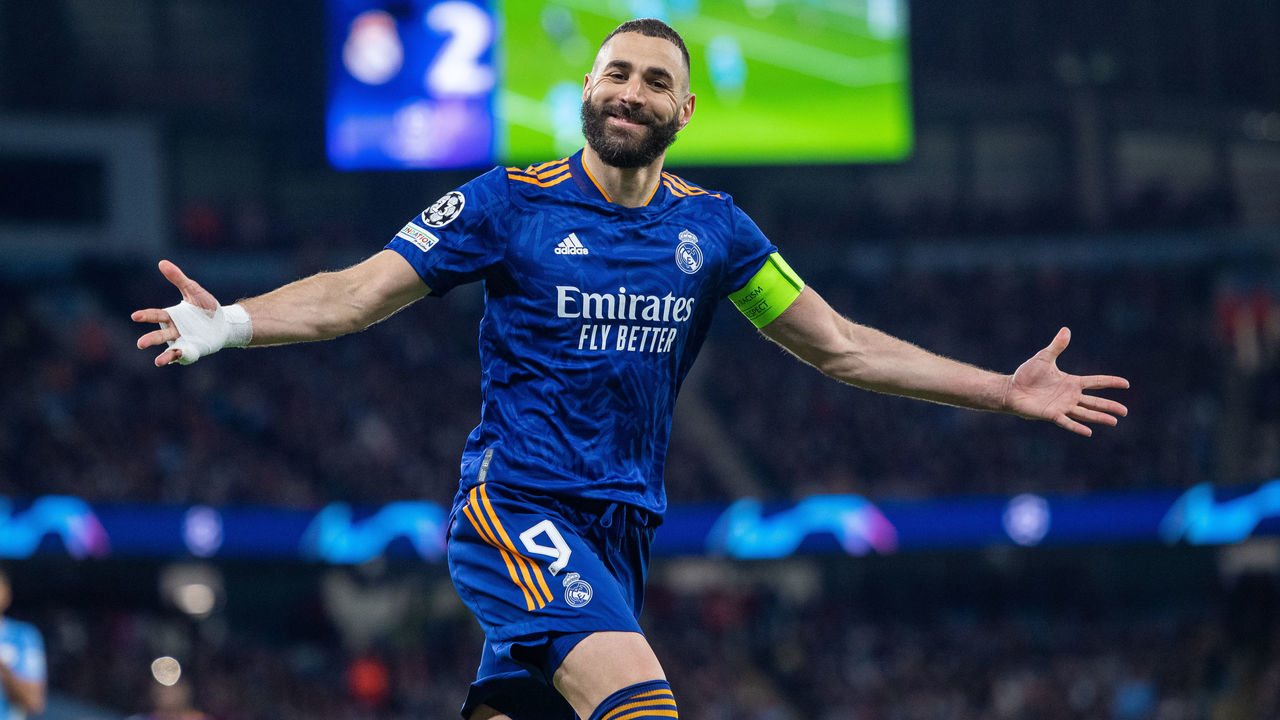 The Champions League semifinals kicked off with an absolute classic, as Manchester City defeated Real Madrid 4-3 in Tuesday's first leg at the Etihad. Below, we dissect the biggest talking points from a truly incredible match.
Real Madrid embrace the chaos
Real Madrid conceded twice in the first 11 minutes of Tuesday's Champions League semifinal first leg at Manchester City and capitulated again eight minutes after the interval. They allowed the first goal in three of the four knockout matches that preceded the topsy-turvy contest at the Etihad Stadium, and yet, they progressed each time.
Madrid responded on Tuesday as well. Karim Benzema produced an unbelievable touch to make it 2-1, Vinicius Junior ran unabated to make it 3-2, and Benzema's beautifully executed Panenka made it 4-3. Madrid didn't play well at all – City could've scored another three or four goals – but they again found success amid chaos. Two pieces of individual brilliance kept them in the game, and a penalty kick kept them in the tie, but it felt like Madrid enjoyed the contest more than City did. Every time City scored, Madrid had an answer.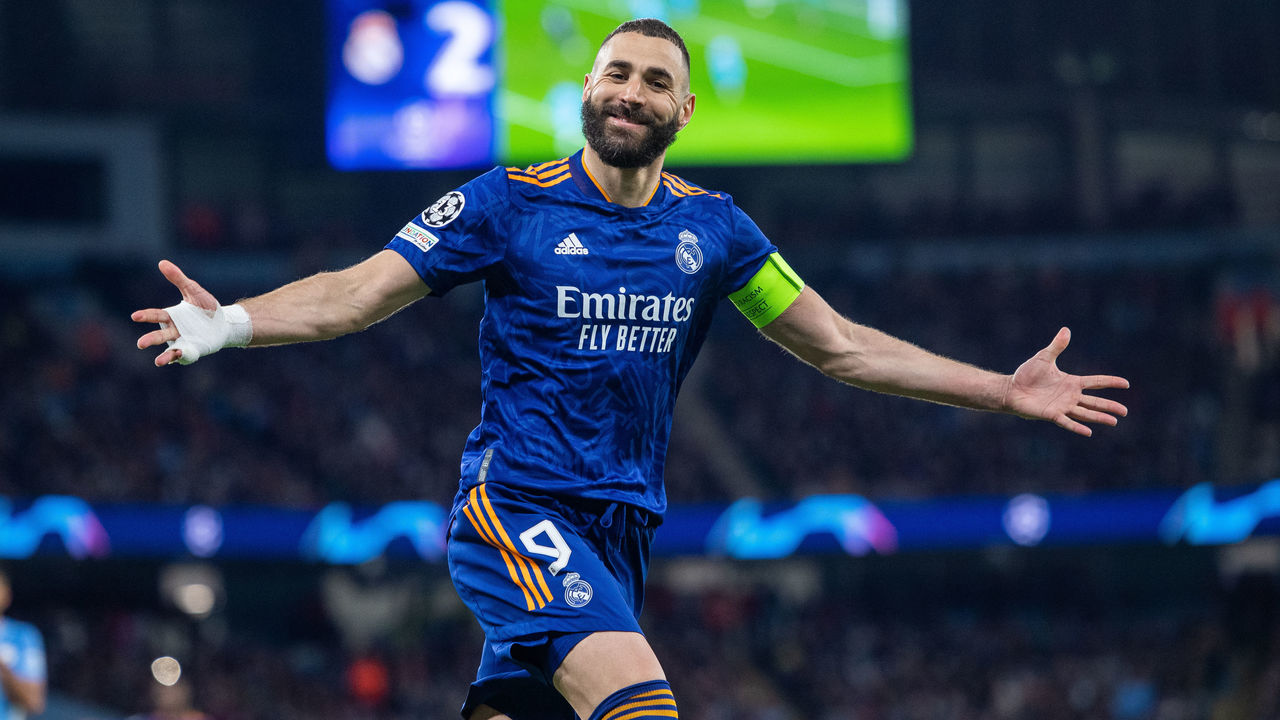 In previous matches, Madrid needed a substitution or two to spring back to life. But manager Carlo Ancelotti didn't do much to influence Tuesday's encounter. He just allowed Madrid's best players to do their thing. Benzema hurried to take a corner kick, Toni Kroos and Dani Carvajal sent in dangerous free-kicks and crosses, and Luka Modric surged into the penalty area. They wanted to find the quickest way into the final 18 yards, and they did. It was all instinct, a phenomenon of muscle memory.
"I have a squad who knows these types of games very well, knows what has happened, and knows what can happen," Ancelotti said earlier this month, according to The Athletic's Dermot Corrigan.
Los Blancos are still fighting in this competition because their players have such a sense of occasion, such opportunistic qualities, and such a pedigree in the Champions League that no game ever seems lost. Just imagine how good they'd be if they didn't need to fight back in the first place.
City tend to panic in Champions League
Manchester City's short history in the competition reads like a drama. It's unusual: City rarely break stride in the Premier League, showing few nerves, but as soon as the Champions League anthem rings out, they take on a different personality. It's true that Pep Guardiola, one of the greatest managers of all time, routinely overthinks European matches, but that's not what happened on Tuesday. The pressure of expectation is the culprit here, not any tactical oversight.
Benzema said it best afterward, per Mirror Football's Colin Millar: "It's confidence, nothing more. It's all mental."
Add the whacky 4-3 win over Madrid to the 6-6 defeat on away goals to Monaco in 2017, the 4-4 defeat on away goals to Tottenham Hotspur in 2019, and the 3-1 shocker at the hands of Lyon in 2020. City have been all over the place in this competition, and that's why they've failed thus far to win it.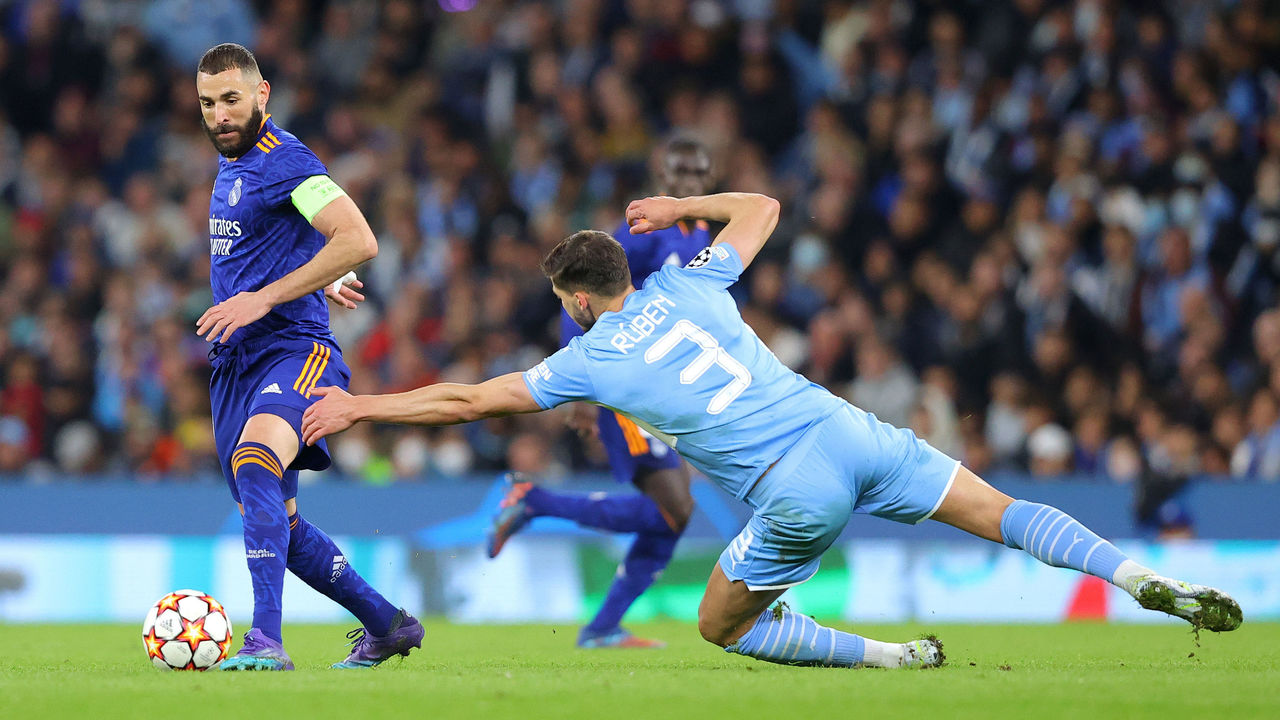 In reality, City created enough chances to ice the semifinal tie on Tuesday. They could've had a multi-goal cushion heading into next week's second leg at the Santiago Bernabeu, which, given Madrid's seeming immortality, could've come in handy. Instead, Oleksandr Zinchenko narrowly missed wide, Riyad Mahrez hit the post, and Aymeric Laporte shot straight at Thibaut Courtois from six yards away.
Now the Premier League champions need to approach the second leg with caution. They have it within themselves to play a more reserved game. They've used possession as a form of defense against Liverpool – and came away with decent results. It's time for City to be pragmatic. They're ahead on aggregate, and all they have to do is keep it that way.
Fernandinho giveth and taketh away
Real Madrid's plan of attack was painfully obvious on Tuesday.
With Guardiola facing a full-back shortage through a combination of injury (Kyle Walker) and suspension (Joao Cancelo), the Spanish strategist was forced to deputize John Stones at right-back, despite admitting before the match that the Englishman, a central defender by trade, was also a "doubt" due to an undisclosed muscle issue.
Vinicius sought to take full advantage down his left wing; Madrid made a concerted effort to attack Stones before his injury flared up and forced him to leave the pitch in the 36th minute. Fernandinho, the 36-year-old midfielder, took his place. There was no classic Guardiola tinkering this time. The veteran slotted right into Stones' vacated spot. What choice did Pep have, really?
The decision seemed inspired when Fernandinho left Vinicius sliding on his backside with his first touch of the match and even better when, early in the second half, he lofted a sumptuous cross onto Phil Foden's head to help City grab what was then a commanding 3-1 advantage.
He then proceeded to undo his good work almost immediately, falling – quite horribly – for a wicked dummy near the touchline. Vinicius, who in his sleep could beat his compatriot in a sprint, turned on a dime and raced roughly 60 yards after the nutmeg, eventually slotting home a sensational goal.
He's not the first player to get posterized by the electrifying young winger, but his midfield instincts came back to bite him in this instance. In the center of the pitch, often a congested area, if you try to jump a pass and miss, there should be someone backing you up. You have more liberty to take those risks. Isolated one-on-one out wide, though, there's nowhere to hide. Laporte didn't cover himself in glory on the play, either, oddly refusing to come across and engage with Vinicius as he approached the penalty area. But it was Fernandinho's overzealousness that created the opportunity.
Tuesday's madcap contest brought back memories of Manchester City's similarly frenetic 5-3 win over Monaco in this same competition back in 2017. Playing at full-back that night? Fernandinho.
Some praise for the referee
Let's face it: being a referee at this elite level simply cannot be fun. You're constantly maligned. Half of the people watching are upset with every decision you make, and the only time you garner significant attention is when you've made a mess of things. Nobody remembers a flawless officiating performance, but everyone recalls the terrible ones.
We're flipping the script this time, though. Istvan Kovacs deserves plenty of praise for the way he handled the buildup to Manchester City's fourth goal of the match. Bernardo Silva's quick-witted rocket was the result of a fantastic advantage played by Kovacs, who didn't rush to blow his whistle when Zinchenko was hacked down by Kroos on the edge of the area.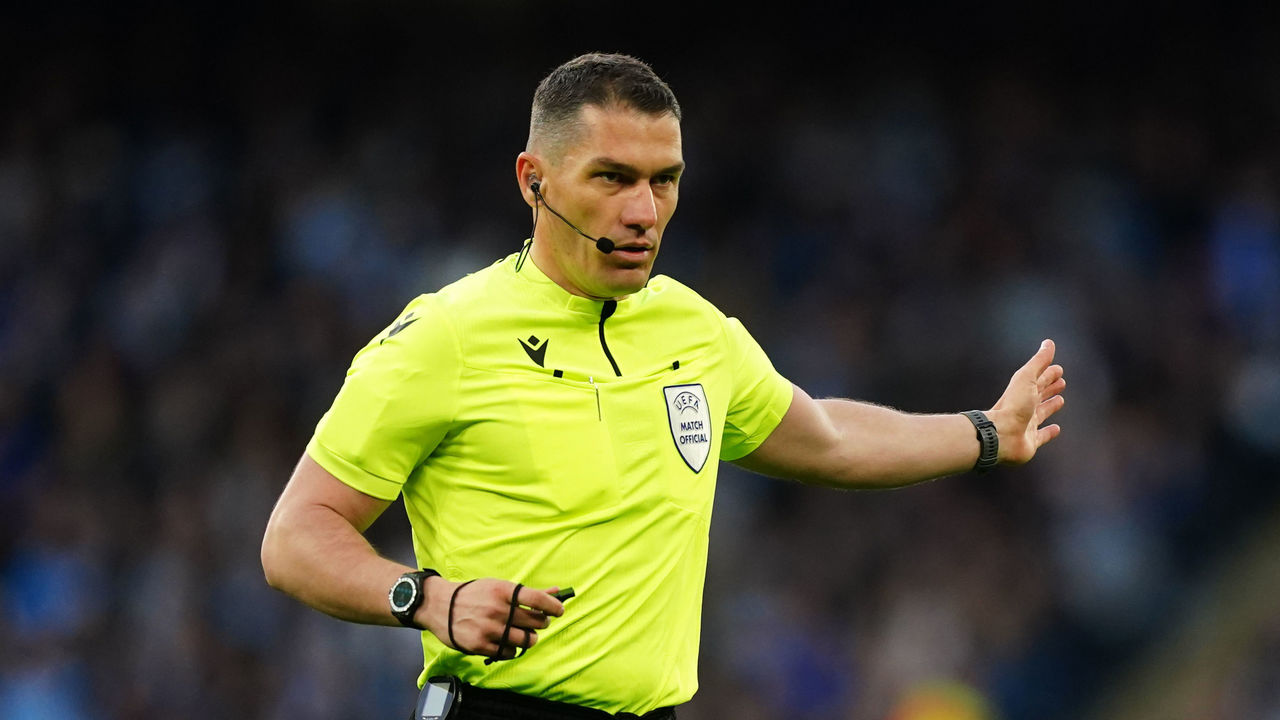 Instead, with Silva picking up the loose ball, Kovacs allowed play to continue. Carvajal stopped for a moment, expecting the whistle to sound. That split-second gave Silva the space he needed to uncork a shot that flew past a surprised Courtois. At the highest level of the sport, the tiniest hesitation makes all the difference.
That goal stood as the one to ultimately separate the two teams, and Kovacs' part in it was paramount. Well done, referee.
4 thoughts from Tuesday's Champions League action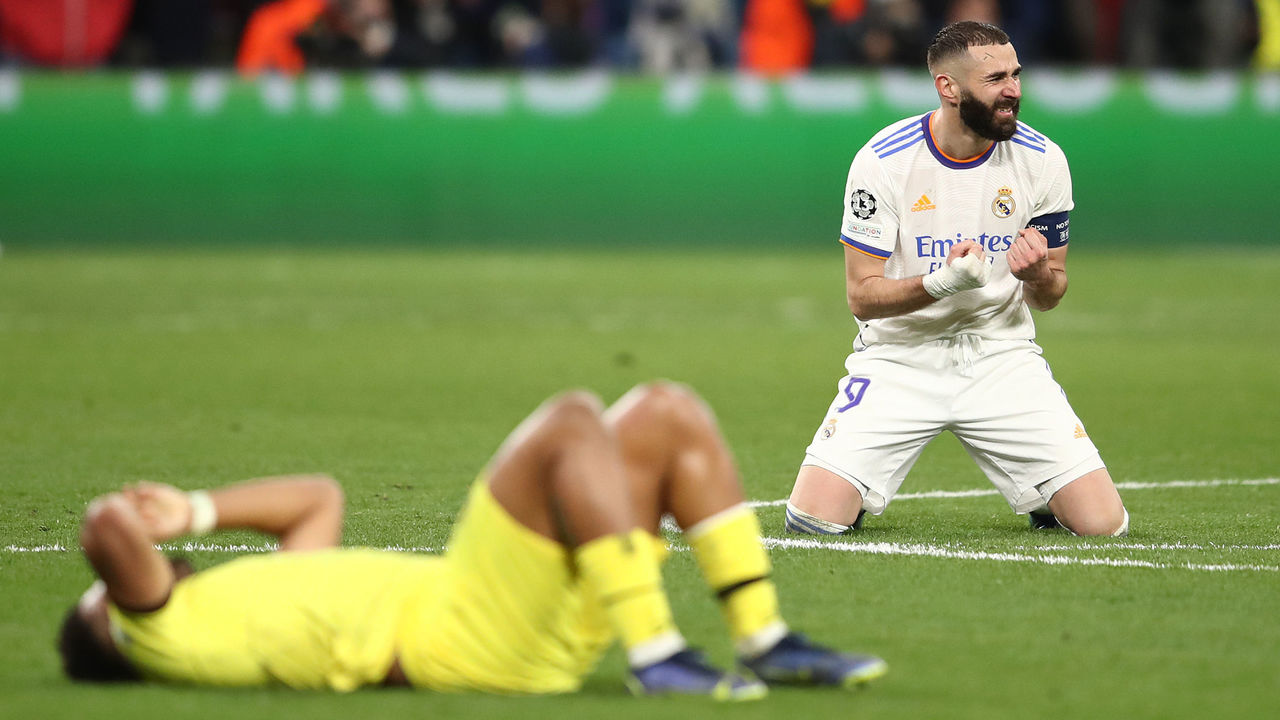 The Champions League quarterfinal stage concludes this week. Below, we dissect the biggest talking points from Tuesday's games in Europe's premier club competition.
Madrid always make it hard for themselves
Carlo Ancelotti's conservative tactics nearly backfired in the round of 16 against Paris Saint-Germain, and with a 3-1 lead to protect on Tuesday, Real Madrid nearly blew it again.
Ancelotti's side lined up at the Santiago Bernabeu with the sole intention of seeing out a boring draw against Chelsea. Even a narrow loss would've suited Madrid just fine. They showed little ambition – until the visiting Blues forced them to change their minds. Chelsea scored once and then twice, and when Timo Werner made it 3-0 on the night – and crucially, 4-3 on aggregate – Madrid suddenly found themselves in need of a goal. Ancelotti threw on Brazilian winger Rodrygo for defensive midfielder Casemiro, and with minutes remaining, the 21-year-old sent the match to extra time, firing home from Luka Modric's beautiful searching ball.
Karim Benzema scored in extra time to kill off Chelsea once and for all, keeping Madrid in the competition by the narrowest of margins. Benzema did the same against PSG, scoring a hat trick in 17 minutes to overturn a 2-0 deficit. It's just what he does.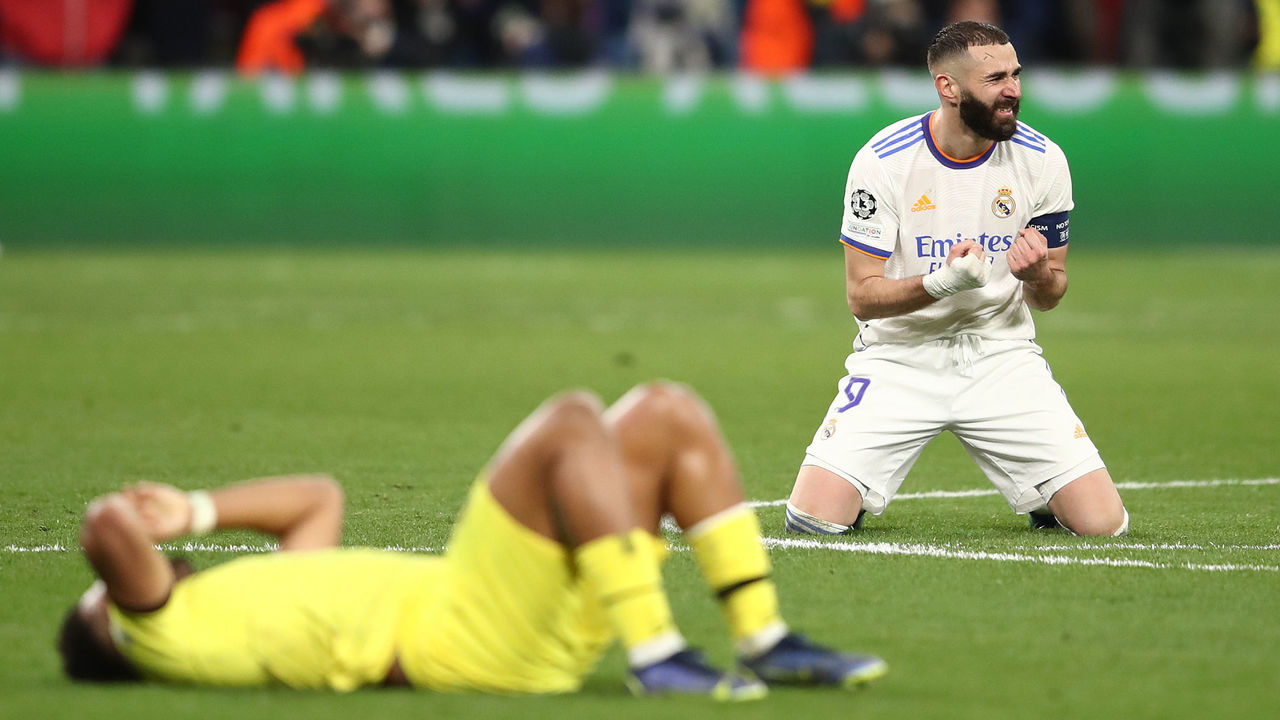 And this is what Madrid do: They save their best football for the most desperate of situations. They wait until they're facing elimination to come alive. They're in the Champions League semifinals because of individual heroics, not a sound and consistent game plan. Critics have skewered Ancelotti for his conservative tactics all season, and they have more ammunition after Tuesday's near-collapse.
Madrid can quite clearly feast on teams when they choose to go on the attack, which makes Ancelotti's tactical decisions all the more confusing. He's undoubtedly a brilliant manager, and his substitutions Tuesday swung the course of the tie back in Madrid's favor, but he wouldn't have to take these kinds of corrective measures if he had prepared his side to win in the first place.
Maybe he knows his players will find a way to progress. Maybe he knows his team will find the answers if his game plan goes awry. After all, his players can always fall back on their attacking instincts. He doesn't need to coach that.
"I have a squad who knows these types of games very well, knows what has happened, and knows what can happen," Ancelotti said before kickoff.
All of it happened. And in the end, Madrid advanced.
Chelsea respond to Tuchel's call to action
Thomas Tuchel laid into his players during a closed-door meeting last week, challenging them to take accountability for a pair of losses against Brentford and Madrid. Chelsea responded with a 6-0 drubbing at Southampton on the weekend, and his players showed similar composure in the second leg on Tuesday.
The Blues didn't get "hammered" at Bernabeu as Tuchel had predicted. They even made the impossible look possible. There's no shame in losing 5-4 on aggregate, especially after trailing the first leg 3-1. Tuchel knew it was "unlikely" his team would overturn the tie. But it was, as he added, "worth trying," and try they did, right to the end, winning, as it happened, 3-2 on Tuesday. Chelsea couldn't do much more.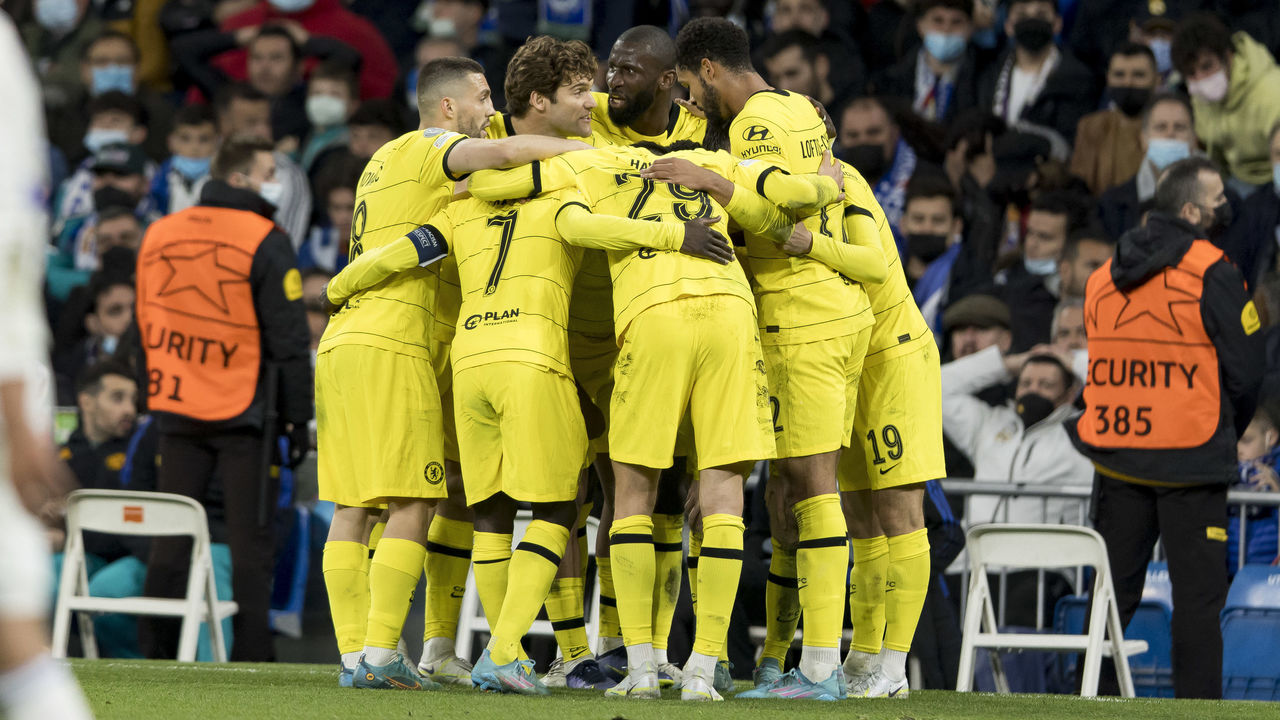 The damage was done in the first leg. Sometimes, a brutal giveaway can mean the end of a title defense. Those are the margins. Mistakes like that can and will happen. Tuchel can and will look at this quarterfinal not as proof his team is short of today's best teams but as evidence that Chelsea can bounce back from disappointment. He quite clearly has the players' confidence, no matter who's on the pitch.
Chelsea played exactly as Tuchel likes his teams to play: They pressed Madrid, hassled them out of possession, and maintained composure on the ball. The Blues took their time, waiting for opportunities to pass into space. There was little sign of panic from a team that had every reason to heave the ball forward in desperation.
Take the passage of play that resulted in Marco Alonso's disallowed goal: Kai Havertz nicked the ball off of the dawdling Ferland Mendy deep in Madrid's half, and his teammates worked it quickly to Alonso, who fired a bullet into the top corner. If he hadn't handled the ball ever so slightly, Chelsea would've sealed the comeback.
The margins worked against Tuchel's side, but the performance told him everything he needed to know about his team.
Albiol, Villarreal willing to 'suffer'
Thomas Muller was perplexed. The Allianz Arena was in a stupor. Bayern Munich, despite outshooting Villarreal 45-16 over two legs, saw their Champions League run come to an unexpected end at the hands of Unai Emery's Yellow Submarine on Tuesday. Villarreal had just two shots on target in 180 minutes of quarterfinal action. Both of them ended up in the net, with Samuel Chukwueze's 88th-minute strike on the counterattack proving to be the decisive blow in the club's latest high-profile upset.
"If you take just this game into account, without the first game, we should have gone through convincingly," Muller, still trying to wrap his head around the result, said. "It's difficult to accept this; I don't know what to say."
There's only one thing to say: Well done, Villarreal.
Nursing a 1-0 lead from the first leg last week, Emery knew that his team would be forced to defend for most – if not all – of Tuesday's encounter in Bavaria. Some sides would cower at that prospect. Most would deflate after conceding to Robert Lewandowski; the floodgates have opened many times before for Bayern and their Polish superstar under similar circumstances.
But not Villarreal. And certainly not Raul Albiol. The 36-year-old captain, a decorated defender at club and international level, steadied the ship after Lewandowski's second-half goal leveled the tie at one apiece. He ensured his teammates didn't shrink when it mattered most, marshaling the backline, winning tackles and aerial duels, and providing the type of calming presence needed in high-pressure situations. This isn't his first rodeo, after all. A predominantly counterattacking team, Villarreal were always going to weather a storm in Germany.
"We suffered against Juventus, we suffered against Bayern, but we are now in the semifinals," said the grizzled Albiol, who was named Player of the Match. "Now we can dream of going even further."
Should Liverpool finish the job against Benfica on Wednesday and advance to the semis, Villarreal will once again be heavy underdogs. They'll need to "suffer" to have any hope of reaching the final for the first time in club history. If their run has taught us anything so far, that's just the way they like it.
Super League-esque revamp faces fresh opposition
The division between UEFA and English fans widened during Tuesday's Champions League quarterfinals after Premier League supporters' groups slammed the body's controversial plans to revamp the competition.
"We are united in opposition to proposals to reform the Champions League that are a back door attempt at a return to the discredited idea of a European Super League," the Football Supporters' Association's Premier League Network statement read.
European football's governing body, backed by national associations, wants to allow four extra teams into the Champions League from the 2024-25 campaign and is set to ditch the current group format in favor of a 36-team league. Each participant will play five home and five away games, with the top eight moving on to the last 16 and the other half of that draw determined by two-legged playoffs between teams positioned ninth to 24th.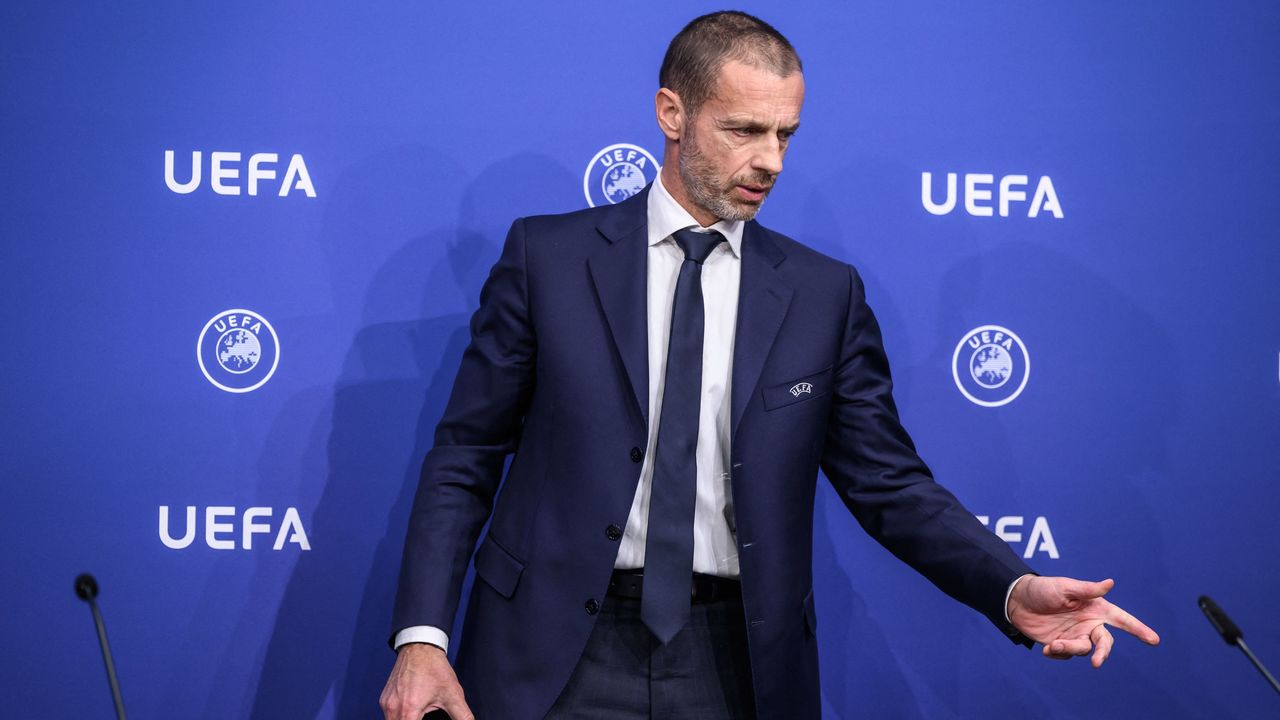 Perhaps most controversial of all, UEFA has vowed to reserve two qualification places for teams on historical merit rather than their performances in the previous season.
UEFA's executive committee will make a final decision on the plans on May 10, six days after the end of this campaign's Champions League semifinals. Expect the proposals to become a bigger talking point in the coming weeks as fans in England and on the continent urge UEFA to rethink.
"We've been in communication and (have explained) our position to UEFA, but obviously we are facing a powerful force in the world of football, and they have different interests to the ones of the fans," Ronan Evain, the executive director of Football Supporters Europe, told theScore.
"We hope that UEFA will make the right decision, which is to take into consideration the past mistakes that led to the Super League and (to consider) the demand from fans and society in general for a more balanced system of European club competitions," Evain added.