The Champions League's best XI so far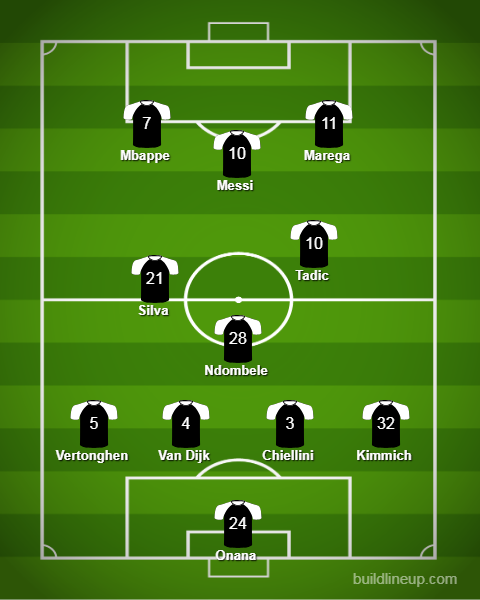 The duels for the Champions League quarterfinal stage have been drawn, but plenty of players have already left their mark on this season's competition.
Here, theScore fashions an XI with the top performers of the 2018-19 Champions League campaign to date, while noting those who just missed out.
The lineup
GK – Andre Onana (Ajax)
One of Ajax's beaten finalists from the 2017 Europa League final has blossomed into a goalkeeper with sharp reflexes and superb command of aerial deliveries. Including the Champions League's qualifying rounds, the 22-year-old Onana's produced six clean sheets this season.
Notable mention: David De Gea (Manchester United)
RB – Joshua Kimmich (Bayern Munich)
The first match Kimmich missed in this Champions League term was Wednesday's defeat in the second leg with Liverpool. He's only 24, but leads Bayern Munich for assists, fouls won, and short passes completed in Europe, and may have vaulted Dani Carvajal as the finest right-back on the continent.
Notable mention: Joao Cancelo (Juventus)
CB – Giorgio Chiellini (Juventus)
Chiellini is often noted for his imposing presence at the back – he wouldn't flinch at the prospect of heading an asteroid – but he's also one of the most intelligent defenders on the planet. The 34-year-old has intercepted the ball more often than any of his Juventus comrades in the Champions League.
Notable mention: Sergio Ramos (Real Madrid)
CB – Virgil van Dijk (Liverpool)
Under "towering header" in a dictionary of footballing terms will now be an image of Van Dijk scaling Javi Martinez and Mats Hummels before nodding past Manuel Neuer. His second leg against Bayern was what we've come to expect from the Dutchman. He is, simply put, Liverpool's most vital player.
Notable mention: Gerard Pique (Barcelona)
LB – Jan Vertonghen (Tottenham Hotspur)
Vertonghen's not on this list just for his assist and goal in the first leg against Borussia Dortmund, or primarily for his masterful defensive showing in the second leg. His performance when Inter visited also merits praise; Vertonghen made seven interceptions and unfussily smashed five clearances at Wembley.
Notable mention: Oleksandr Zinchenko (Manchester City)
DM – Tanguy Ndombele (Lyon)
Like his teammate Houssem Aouar, Ndombele's going to command a huge fee. The French international impressed in two group-stage matches against Manchester City, scored twice against Hoffenheim, and was Lyon's best player over the double-header with Barcelona in the round of 16.
Notable mention: Javi Martinez (Bayern Munich)
CM – David Silva (Manchester City)
The Manchester City veteran was timid by his standards in the two legs against FC Schalke, but he shone in Group F. Silva's already scored the same amount of goals as he did in the previous three Champions League campaigns combined, making Phil Foden wait longer to assume the creative mantle.
Notable mention: Houssem Aouar (Lyon)
AM – Dusan Tadic (Ajax)
Tadic ditching the dreariness of Mark Hughes' Southampton for Ajax has paid off handsomely. Tadic has played the same amount of key passes that Paul Pogba and Luka Modric have between them, and four of his six goals and two of his three assists came in matches against Bayern Munich and Real Madrid.
Notable mention: Hakim Ziyech (Ajax)
FW – Lionel Messi (Barcelona)
Messi and Robert Lewandowski top the scoring chart on eight apiece. The Argentinian has also produced three performances – PSV Eindhoven at home, away at Tottenham, and Wednesday's second leg against Lyon – that were immaculate. Overall, Messi and Tadic have been the best to watch on continental duty.
Notable mention: Raheem Sterling (Manchester City)
FW – Moussa Marega (FC Porto)
Marega showed FC Porto what they were missing when he regained fitness for Tuesday's second leg. He scored and assisted to help topple Roma, lifting his tournament goal tally to six. Before this season, the 27-year-old Malian international had never scored in continental play.
Notable mention: Sadio Mane (Liverpool)
FW – Kylian Mbappe (Paris Saint-Germain)
Mbappe's touch and balance were a little off in the second leg against Manchester United, but he otherwise produced an excellent 2018-19 Champions League term. His pace is undeniable, and the timing of his runs is getting better and better.
Notable mention: Cristiano Ronaldo (Juventus)
Key thoughts and analysis from Matchday 5 in the Champions League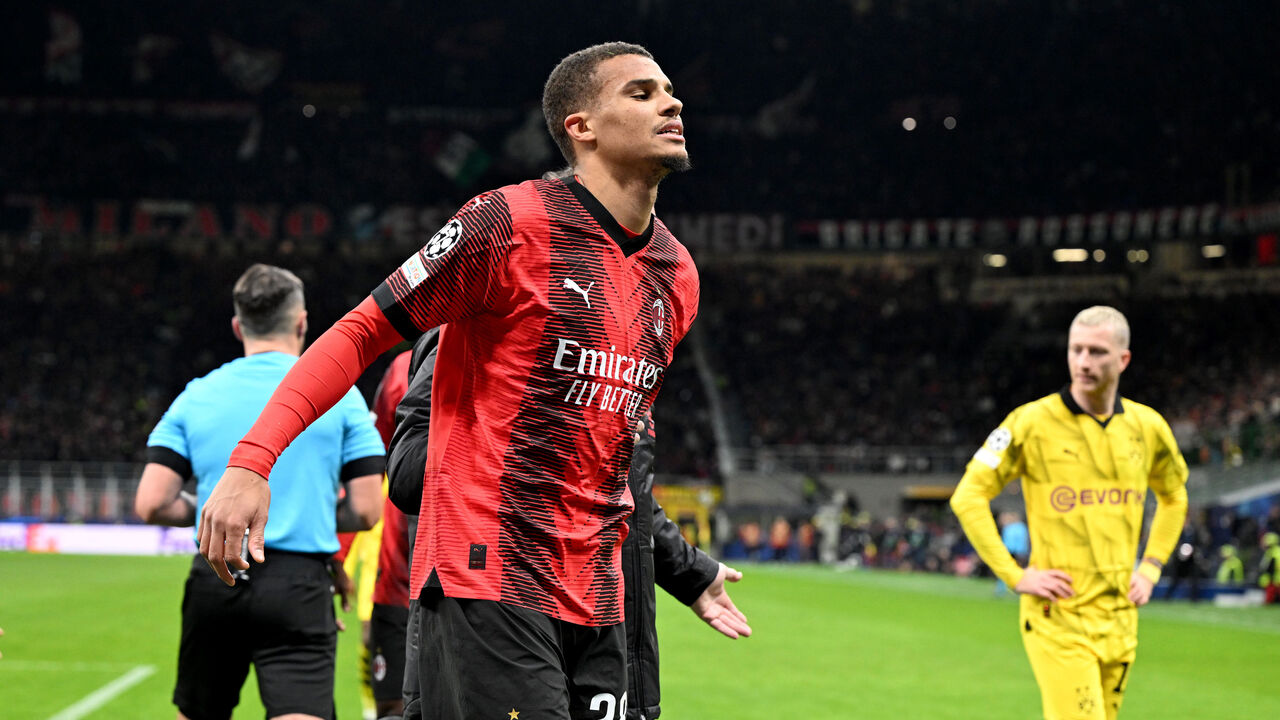 The Champions League rumbled on this week. Below, we dissect the biggest talking points from a critical Matchday 5 in Europe's premier club competition.
UEFA 'apology' falls on deaf Newcastle ears
UEFA has all but acknowledged that the decision to award Paris Saint-Germain a penalty deep into stoppage time of Tuesday's eventual 1-1 draw with Newcastle United was incorrect. Tomasz Kwiatkowski, the video assistant referee who advised experienced compatriot Szymon Marciniak to review Tino Livramento's 96th-minute handball and overturn his initial on-field decision, was scheduled to act as the VAR for another match on Wednesday but was swiftly removed from duty after the contentious incident in France.
That's as close to an "oopsie" as you'll ever get from the haughty organization.
It does nothing to help Newcastle, of course, and once again calls into question the understanding of the handball rule, one of the most mystifying regulations in all of sports. Marciniak and his Polish peer Kwiatkowski are among the most esteemed officials in world football; they both worked the 2022 World Cup final in the same roles they carried out on Tuesday at the Parc des Princes.
If even they can't get it right, who can?
It also provides yet another example that UEFA's Football Board, an advisory group comprised of former players and coaches, was right when it recommended in April that handball incidents involving deflections off a player's body shouldn't result in spot-kicks. That suggestion wasn't implemented by UEFA, though. And here we are.
It's certainly true that, on the basis of play, PSG probably deserved at least a point from Tuesday's match. The French side dominated the second half, launching wave after wave of threatening attacks. Only some horrid finishing – Bradley Barcola was the main culprit – and brilliant goalkeeping kept them out before Kylian Mbappe stepped up to accept the gift from Marciniak in the waning seconds.
But the manner in which they were finally breached will leave Newcastle with a bitter taste, especially as Mbappe's goal and the 1-1 result it secured took their Champions League fate out of their own hands. A 1-0 win would've left Newcastle in second place in the proverbial "Group of Death" and in complete control of their own destiny heading into Matchday 6. Instead, they now need to win and get some help to advance.
Kwiatkowski getting a one-day reprimand won't soften that blow. – Gianluca Nesci
AC Milan's cycle is effectively over
Tuesday's 3-1 defeat at home to Borussia Dortmund leaves Milan with a snowball's chance in hell of reaching the Champions League knockout round. That's a huge blow for a club that only recently turned a profit for the first time in nearly two decades, due in large part to last season's run to the semifinals of the competition.
But the fact is that Milan have been trending downward for the better part of the calendar year. Last season's Champions League run masked significant issues, including a lack of scoring, significant frailties in defense, and a debilitating injury bug that continues to wreak havoc on the squad. Milan wouldn't have even qualified for this season's Champions League if Juventus weren't docked points for false accounting. At various points, they've leaked up to five goals per game and failed to ignite their attack, sometimes going 20 chances before burying one.
A fix has so far eluded manager Stefano Pioli. Even with the help of a robust transfer campaign, in which he reportedly had a considerable say, he's ultimately failed to restore any kind of balance to this squad. And it's arguably the deepest squad he's had since taking over in October 2019.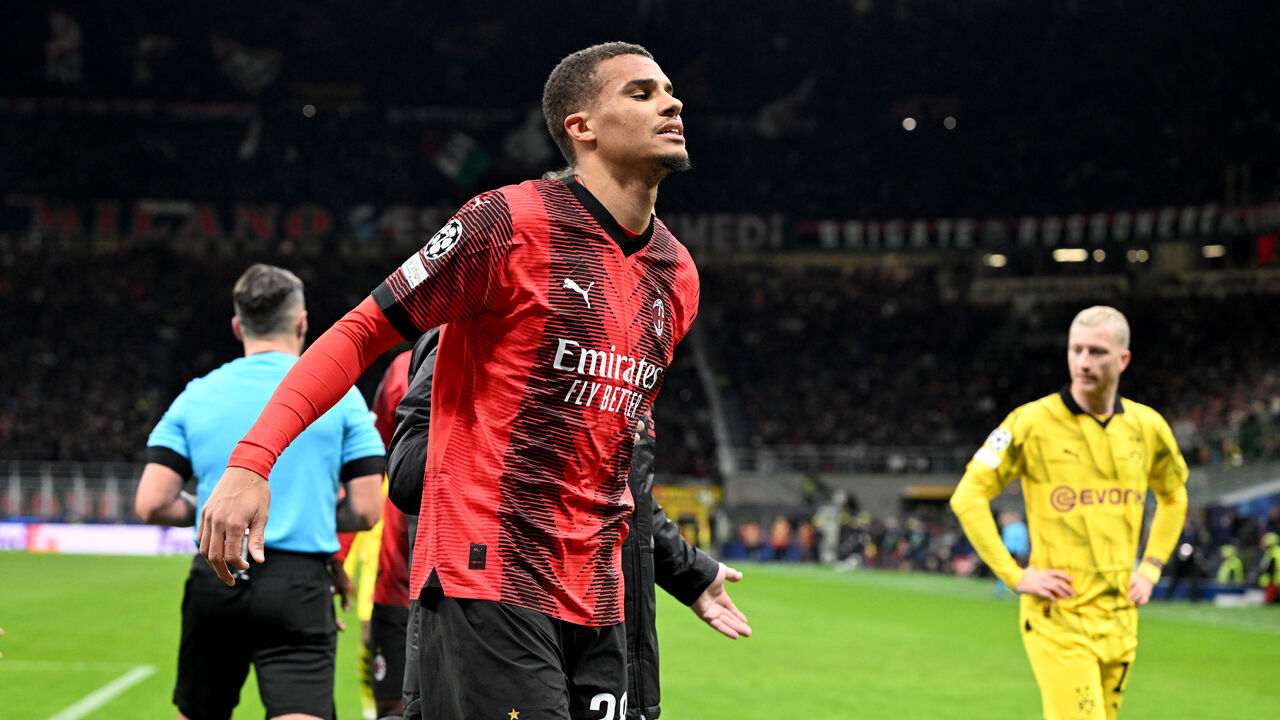 Though there's enough blame to go around – left-back Theo Hernandez, for one, has looked like a shell of the player who bombed forward with gusto last season – Pioli is the one responsible for keeping these players in playing condition. That hasn't happened, and it isn't just because of the sheer number of games in succession. Milan have racked up 25 injuries in four months alone – far more than any other Serie A team – and lost 89 man games to those injuries.
On Tuesday, Malick Thiaw became the fourth defender to join Milan's bloated infirmary when he pulled his hamstring in a seemingly winnable footrace. Without any other center-backs at his disposal, Pioli had to play midfielder Rade Krunic out of position. It was no surprise to see a 1-1 game slip away from the Rossoneri. That's how their entire season is slipping away.
An argument can be made that Milan stand to benefit from playing the rest of the season without Champions League obligations. How could they possibly remain competitive on multiple fronts without a fully functioning roster? But to say that is to undermine all the progress they've made in recent years. They should be competing on multiple fronts. They are built for it. They have the players for it. They have proved they can do it. So if they aren't competing, then what exactly are they doing? – Anthony Lopopolo
Quick free-kicks
Cancelo accepts invitation to shine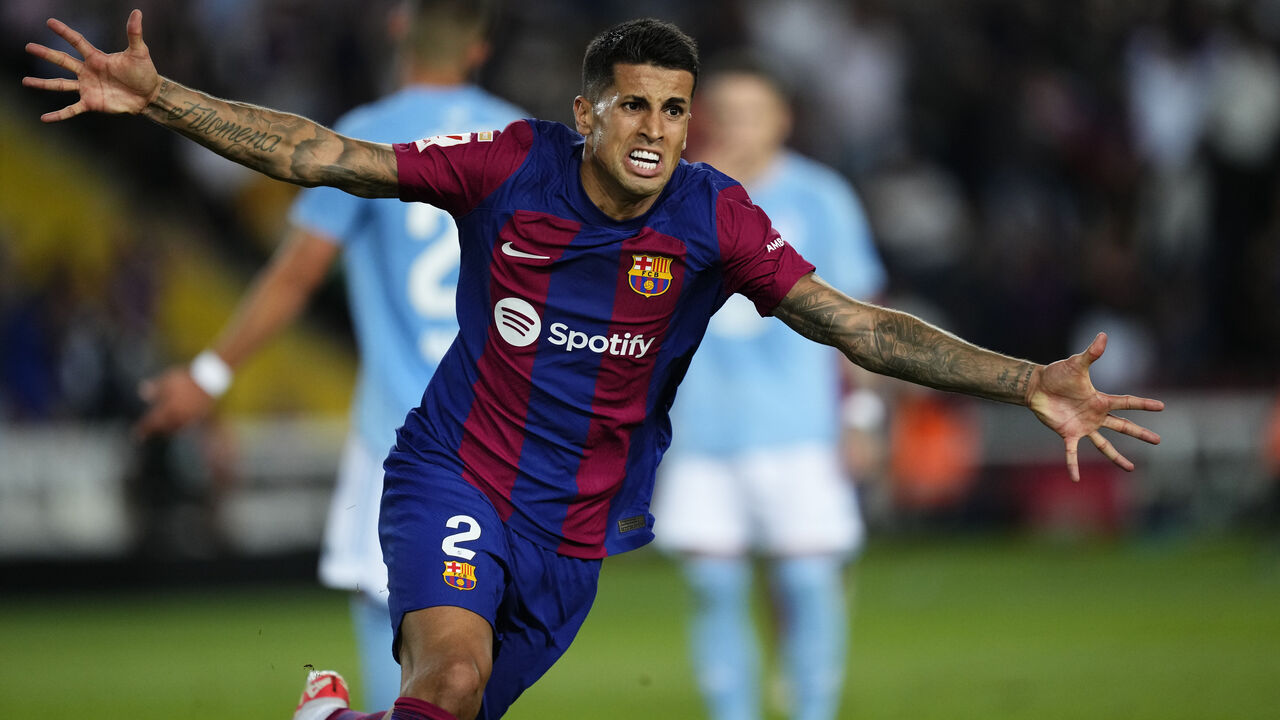 Joao Cancelo is an unpredictable and slick dribbler, but he didn't need to dig deep into his repertoire of tricks to dupe FC Porto right-back Joao Mario. The right-footed left-back switched the ball to his stronger foot – as right-footed left-backs tend to do – and easily exposed Joao Mario's poor body shape and anticipation as he moved into the box and excellently slotted in Barcelona's equalizer. The Porto youngster didn't learn his lesson, allowing Cancelo to cut inside minutes after the break to set up a Joao Felix chance and also take a shot himself. And one of the few times Joao Mario blocked Cancelo's route onto his right trotter, the relentless Barcelona star used his left peg to stab a cross under Joao Mario's foot and to Felix, who duly netted the decisive strike in Barca's 2-1 win. Cancelo had an excellent game – he even performed a wonderful trivela pass later in the second half – but he should reserve special thanks to Joao Mario for ensuring his evening was so enjoyable. – Daniel Rouse
Dortmund have a gem in Bynoe-Gittens
Jamie Bynoe-Gittens had to wait a couple of years before he could start for Borussia Dortmund. While Jadon Sancho and Jude Bellingham made the transition to German football seem easy, Bynoe-Gittens had to overcome torn knee ligaments and a spell at youth level before he could earn a shot at first-team football. That happened last season, and his case to start only strengthened after his performance in Milan on Tuesday. Bynoe-Gittens made mincemeat out of Davide Calabria, turning the Italian right-back inside out in ways Mbappe couldn't quite manage earlier in the group stage. Bynoe-Gittens, who's still just 19, won the penalty that gave Dortmund the lead and arrowed an accurate shot inside the left post for the winning goal. Expect more from the English talent, who's one of Dortmund's bravest dribblers and mature enough to handle more minutes in the Champions League. – Lopopolo
Onana errors leave Man Utd on brink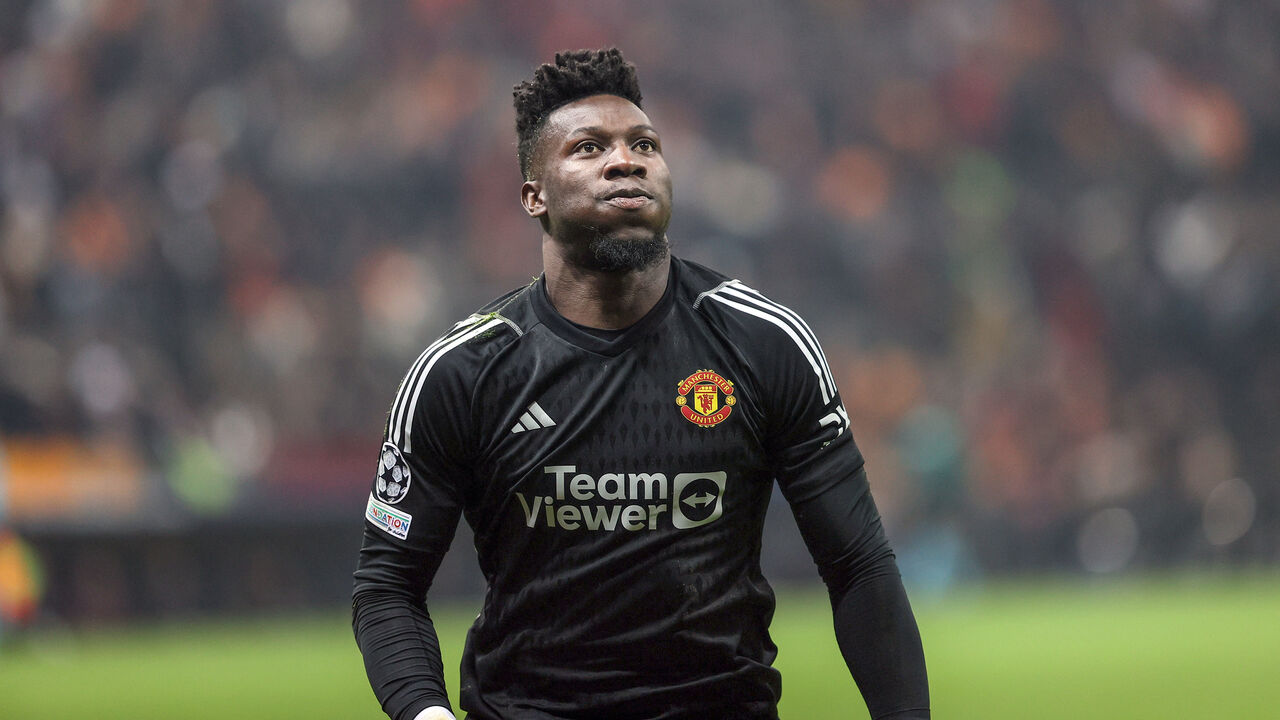 Andre Onana didn't do anything to ease the pressure on himself in Istanbul. The unsettled goalkeeper has been deservedly questioned after several suspect errors this season, but his latest shocker will sting the most if it ends up costing Manchester United a spot in the Champions League knockout rounds. Victory seemed inevitable after Scott McTominay made it 3-1 for United in the second half on Wednesday. But then, disaster struck again for a United outfit fresh off coughing up a two-goal lead in a losing effort in its last Champions League outing. After letting in a soft goal off Hakim Ziyech's free-kick in the first half, Onana outdid himself on another set piece from the Moroccan that should've been comfortably saved. Onana clumsily batted the ball into his own net, paving the way for Galatasaray to score an equalizer shortly after. Now that he's conceded a club-record 14 goals in the group stage, one has to wonder if Erik ten Hag is considering a change heading into Manchester United's most important game of the season to date against Bayern Munich on Dec. 12. – Gordon Brunt
No parting gift from Monchi
Sevilla fans give Monchi the kind of reverence usually reserved for an all-time top scorer or a defensive stalwart who captains the club for most of their career. The former sporting director is viewed as the architect of the glory years, the man whose transfer deals at the Estadio Ramon Sanchez-Pizjuan created serial Europa League winners. However, since he departed Sevilla for a second time last summer, joining Aston Villa as president of football operations, it's clear that there wasn't a great deal of succession planning in the squad he left behind. The average age of the starting XI that faced PSV Eindhoven on Wednesday was the oldest in Champions League history at 32 years and 19 days. Sevilla led 2-0, but Lucas Ocampos' red card changed everything, and PSV eventually took a 3-2 away win. The Andalusians are positioned 15th in La Liga and might not even drop into the Europa League due to their disappointing Champions League group campaign. "The team loses out on a lot today," Sergio Ramos said. – Rouse
Inter spoil Joao Mario's big day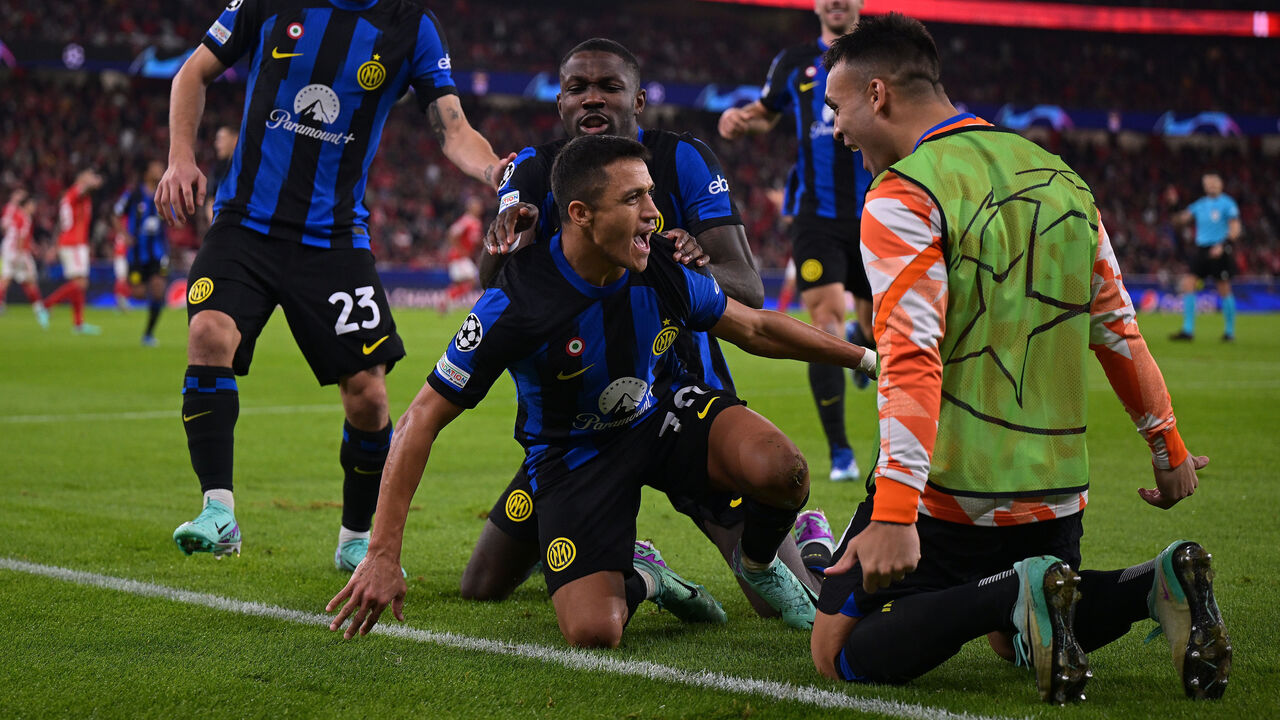 For 34 minutes, it felt like we were watching the Benfica of last season again. With the major caveat that Inter Milan rested several key starters – including talisman Lautaro Martinez – between league matches against Juventus and Napoli, Benfica, already eliminated from knockout-stage contention after losing all of their previous Group D matches, scored three times in just over half an hour at the Estadio da Luz on Wednesday. Former Inter midfielder Joao Mario, of all people, notched all of them. Benfica were moving the ball quickly, and Inter's second-string XI was making defensive blunders all over the place. But the home fans (who were likely asking, "Where has this been all season?" in the first half) saw their team revert to type after the interval. Benfica lost their shape and, eventually, their three-goal lead, too. Last season's finalists came all the way back for a 3-3 draw and nearly snatched the win when Nicolo Barella struck the post in stoppage time. Unfortunately for fans of the Portuguese side, this was more like what they've seen from their team in this season's Champions League. The stalemate was Benfica's first point of the group stage, but it felt like another defeat. – Nesci
Post-miracle slumps
Royal Antwerp likely never expected to progress from a group with Barcelona, Porto, and Shakhtar Donetsk. But since Antwerp earned their first league title in 66 years courtesy of Toby Alderweireld's stoppage-time goal on the final day of the 2022-23 Belgian season, the dip has been considerable. Following Tuesday's dreary 1-0 loss to Shakhtar, they've collected zero points from five group-stage matches, and they're nine points adrift of league-leading Royale Union Saint-Gilloise in the Belgian Pro League. The comedown at Union Berlin has been worse: They've suffered 13 defeats and three draws over their last 16 outings after Wednesday's 1-1 draw at Braga, leaving them with two points at the bottom of Group C, eliminated from the DFB-Pokal, and in the Bundesliga's relegation zone. Still, were Antwerp's miraculous title triumph and Union's incredible rise after near-extinction worth it, considering what's happening now? Of course, they were. – Rouse
Stat of the week
Considering some of the one-sided games the Champions League has offered up over the years, this is an impressive accomplishment from Arsenal, who qualified for the knockout stages with a 6-0 hammering of Lens.
Tweet of the week
Poor Louis van Gaal. Still catching strays during Manchester United matches.
Everything you need to know about the 2023 Champions League final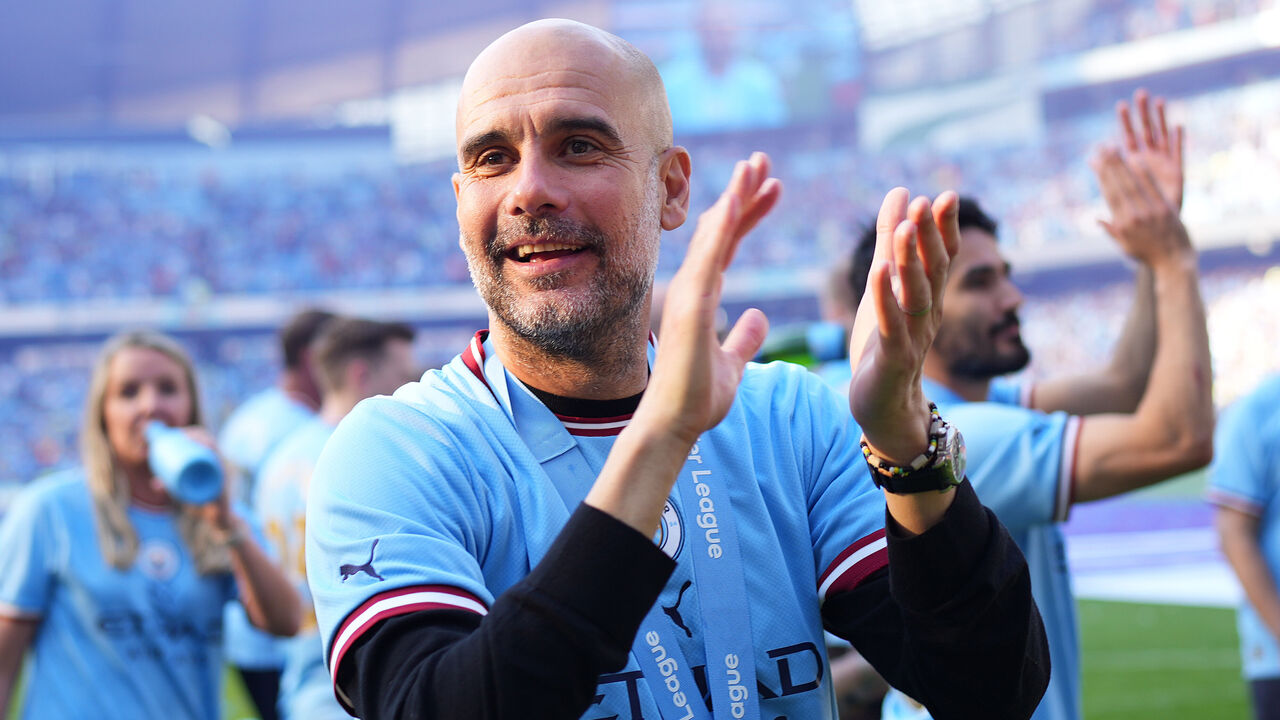 This season's Champions League final, the first competitive meeting between treble-chasing Manchester City and underdogs Inter Milan, is finally here. Get ready for Saturday's match with theScore's comprehensive preview package.
The lowdown ?
Who: Manchester City vs. Inter Milan
What: 68th European Cup final
When: Saturday, June 10 at 3:00 p.m. ET
Where: Ataturk Olympic Stadium (Istanbul, Turkey)
Referee: Szymon Marciniak (Poland)
VAR: Tomasz Kwiatkowski (Poland)
How to watch ?
TV: CBS, Univision, TUDN (U.S.)
Stream: Paramount+ and fuboTV (U.S.), DAZN (Canada)
Betting odds ?
Odds via theScore Bet.
Manchester City: -220
Draw: +340
Inter Milan: +550
The latest news ?
Analysis ?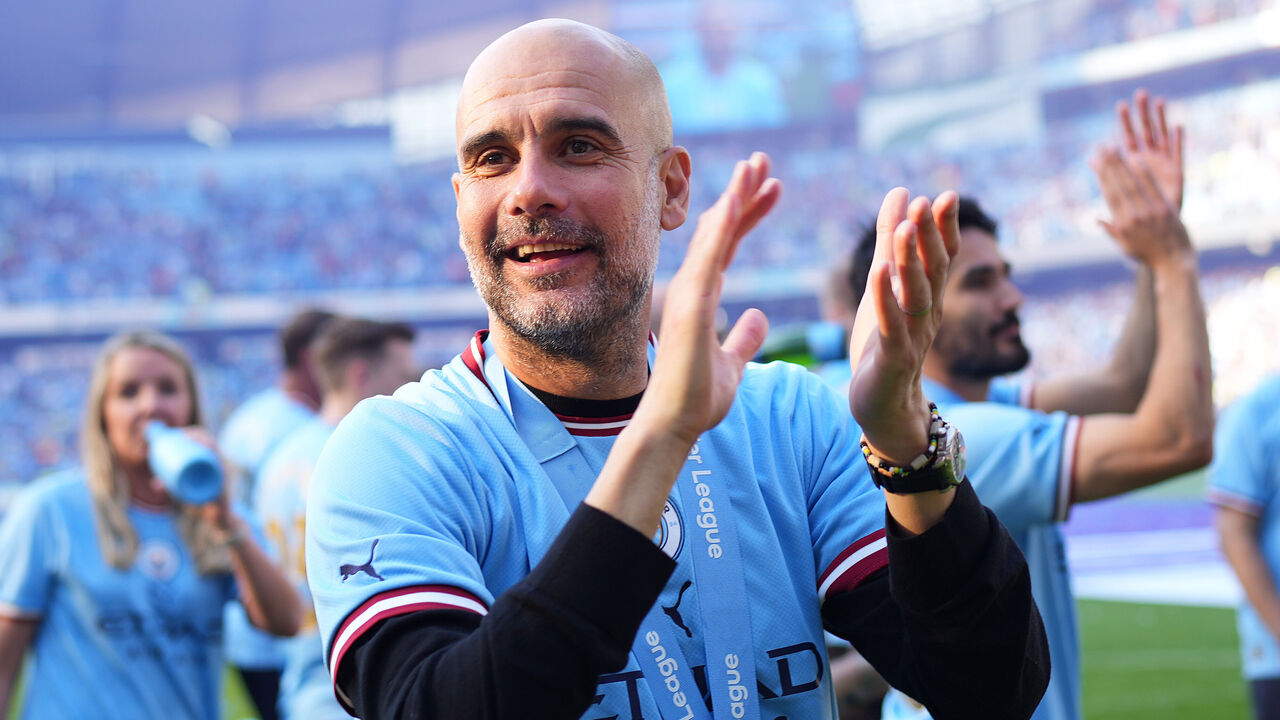 Tactics, key questions, and a prediction in our in-depth preview.
"The fundamentals of Manchester City's approach haven't changed. This season, they still led the Premier League in the usual metrics – such as possession and time in the opponents' half – and remained bottom in statistics such as frequency of long passes and speed of attacks. Continuity is what makes this version of City most different from others during the Pep Guardiola era. There are fewer question marks about what the Spaniard will do for the big matches: Overthinking – a lazy media critique that leaned on the few instances a novel approach went wrong and disregarded the many times a Guardiola tweak paid off – has been increasingly unlikely as the season progressed." Read more.
Further reading ?
Dive into some of the storylines surrounding the contest.
Injury updates ?
The latest on the lingering lineup questions.
| PLAYER | INJURY | STATUS |
| --- | --- | --- |
| Kyle Walker (Manchester City) | Back | Expected to be fit |
| Henrikh Mkhitaryan (Inter) | Thigh | Expected to be fit |
| Joaquin Correa (Inter) | Calf | Expected to be fit |
| Milan Skriniar (Inter) | Back | Doubtful to play |
Predicted lineups ?
Manchester City (3-2-4-1): Ederson; Kyle Walker, Ruben Dias, Nathan Ake; John Stones, Rodri; Bernardo Silva, Kevin De Bruyne, Ilkay Gundogan, Jack Grealish; Erling Haaland
Inter Milan (3-5-2): Andre Onana; Matteo Darmian, Francesco Acerbi, Alessandro Bastoni; Denzel Dumfries, Nicolo Barella, Hakan Calhanoglu, Henrikh Mkhitaryan, Federico Dimarco; Lautaro Martinez, Edin Dzeko
The kit matchup ?
Path to the final ?
Reviewing how both teams got to Istanbul.
Manchester City
Group stage: First place in Group G
Round of 16: Beat RB Leipzig (8-1 on aggregate)
Quarterfinals: Beat Bayern Munich (4-1 on aggregate)
Semifinals: Beat Real Madrid (5-1 on aggregate)
Inter Milan
Group stage: Second place in Group C
Round of 16: Beat Porto (1-0 on aggregate)
Quarterfinals: Beat Benfica (5-3 on aggregate)
Semifinals: Beat AC Milan (3-0 on aggregate)
By the numbers ?
This season's raw Champions League statistics for the two finalists.
| MANCHESTER CITY | | INTER MILAN |
| --- | --- | --- |
| 7-5-0 | Record | 7-3-2 |
| 31 | Goals Scored | 19 |
| 5 | Goals Against | 10 |
| Erling Haaland (12) | Top Scorer | Edin Dzeko (4) |
Looking into some advanced metrics.
| MANCHESTER CITY | | INTER MILAN |
| --- | --- | --- |
| 25.5 | Expected Goals (xG) | 16.2 |
| 8.9 | xG Against | 14.1 |
| +1.39 | xG Difference per 90 | +0.18 |
Tournament pedigree ?
Best European Cup finish for both clubs.
Manchester City: Runners-up (2021)
Inter Milan: Champions (1964, 1965, 2010)
Manchester City, this season's Premier League and FA Cup winners, have hoovered up silverware since Guardiola's arrival but continue to chase the big-eared trophy that has, thus far, proven elusive. They'll be making their second appearance in the final after their narrow defeat to English peers Chelsea in 2021. Inter, meanwhile, have featured in club football's showpiece match five times before, emerging victorious on three occasions. Simone Inzaghi's men are also aiming to finish the campaign with multiple trophies after retaining their Coppa Italia crown last month.
Fun facts ?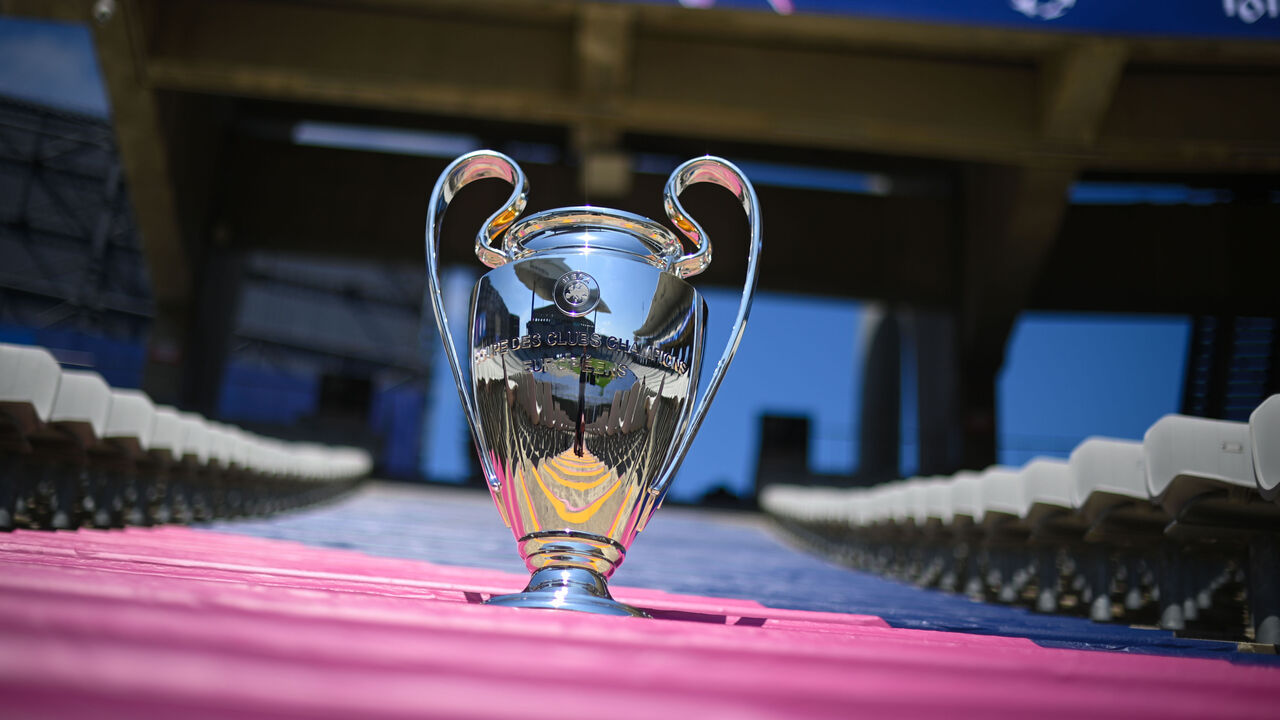 Manchester City: Guardiola has an opportunity to enter rarefied territory on Saturday. With a victory, the Catalan manager would join Carlo Ancelotti, Bob Paisley, and Zinedine Zidane as the only men's coaches to win the European Cup three times; Ancelotti is the lone bench boss to hoist it on four occasions. Guardiola, 52, led Barcelona to glory in 2009 and 2011, but hasn't been able to repeat the feat since. He'll look to end that drought in Turkey.
Inter Milan: Inzaghi is looking to become the first Italian coach to lead the Nerazzurri to European success. Inter's previous triumphs were engineered by iconic tactician Helenio Herrera, the Argentine-French coach who oversaw the club's "Grande Inter" era in the 1960s, and decorated Portuguese manager Jose Mourinho. Mourinho's 2010 triumph included a famous semifinal victory over Barcelona, then coached by none other than Guardiola.
What they're saying ?
Guardiola: "Of course we are confident, so optimistic, but at the same time I cannot deny the difficulties and qualities of the opponents … We know a final is about how you behave for 95 minutes. It's not about history, for history they are better than us. It doesn't matter what you do in the group stage, last 16, quarterfinals, Premier League, or FA Cup. It's one single game you have to be better than the opponent."
Inzaghi: "For us it was a dream but we have always believed in it. I'm proud to be here. Nobody has given us anything, we deserve everything that we have achieved. And now the dream to play the final has come true. It has been an extraordinary path and winning a derby in the semifinal brought particular satisfaction."
Key thoughts and analysis from riveting draw between Real Madrid, Man City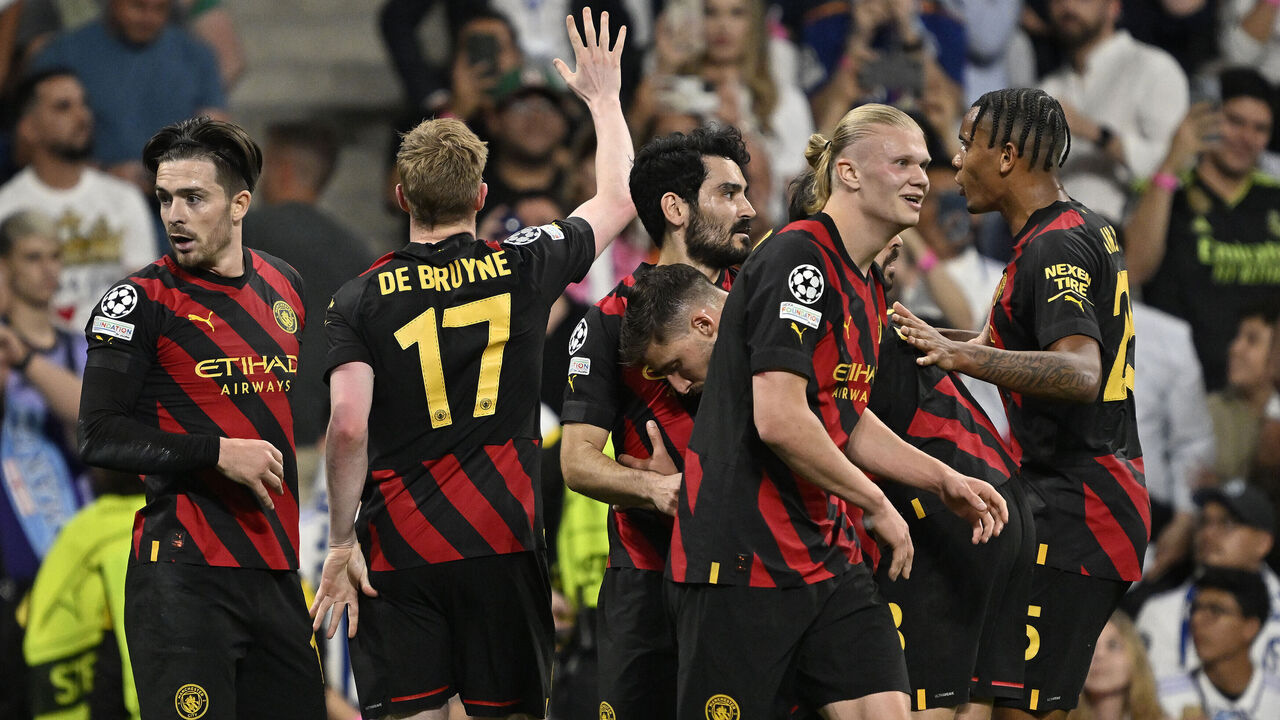 Real Madrid and Manchester City treated everyone to a thoroughly enjoyable 90 minutes of football Tuesday, playing out an absorbing 1-1 draw in the first leg of their Champions League semifinal tie. Below, we dissect the biggest talking points from the contest at the Santiago Bernabeu.
Man City channel their inner Madrid
About halfway through Tuesday's semifinal first leg, Manchester City's focus turned to survival. Real Madrid's confidence was surging, and so was their time on the ball. Before City could get back into the tie, they had to make sure they could stay in it.
The first half was all about City's dominance. And yet they stared at a 1-0 halftime hole. It paid little to have the ball for 70% of the opening stanza. Madrid needed just one chance to score. If City hadn't learned their lesson last year – when Los Blancos flipped a two-goal deficit with a pair of last-minute goals from Rodrygo – they must've understood now that the only thing that matters in the Champions League is surviving long enough to lift the trophy.
Just like that, City went from poetic to pragmatic in the second half. They managed the game well enough after Kevin De Bruyne's piledriver of a finish to see out a 1-1 draw. Like Vinicius Junior's opener, De Bruyne's equalizer came against the run of play, punishing Eduardo Camavinga for a giveaway in midfield. Suddenly, Madrid were the ones toiling in possession and City the ones defending resolutely. Suddenly, Madrid were showing all the emotion, the players flailing their arms at every missed call and Carlo Ancelotti, usually the coolest manager on Earth, collecting a yellow card for a rare outburst of frustration.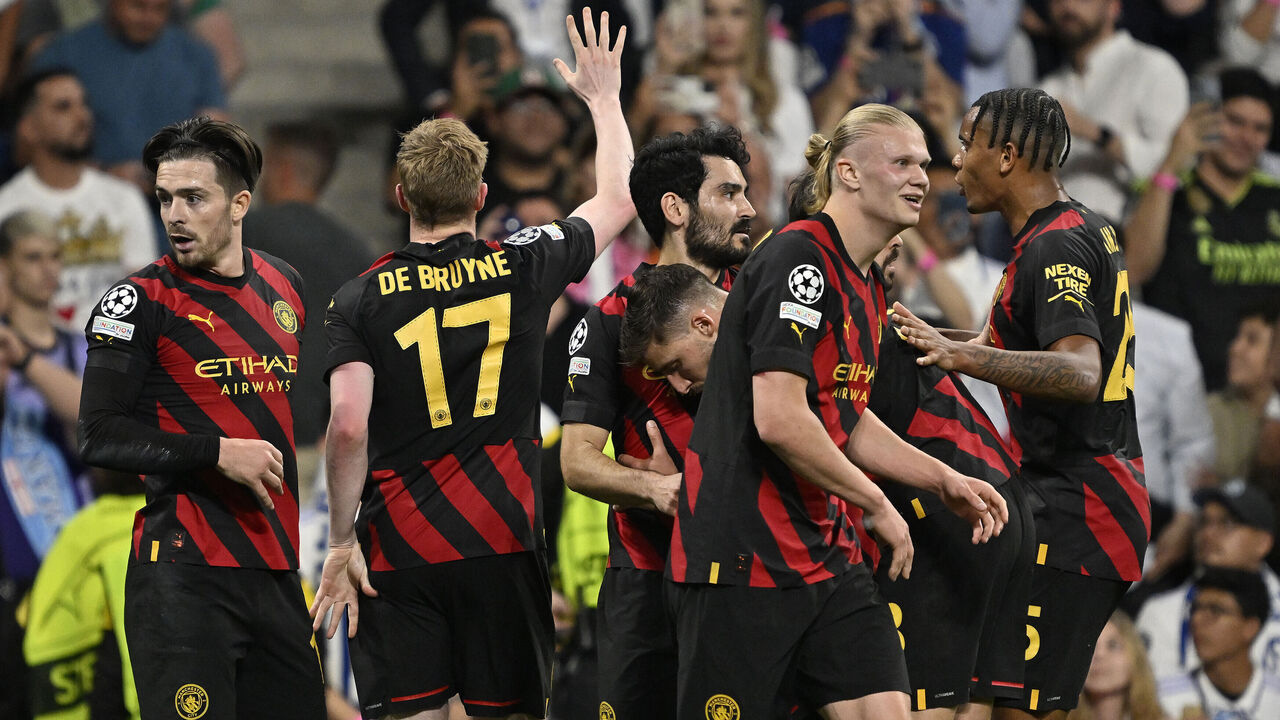 The role reversal was quite extraordinary. But then, so are Pep Guardiola's City. Despite falling short of winning the Champions League on more than one occasion, Guardiola has always had the capacity to adapt. He hasn't imposed the same style of play on every team he's coached. He learned quickly after a first trophyless year in England that his usual pass-first, metronomic football would have to accommodate more dynamic and direct sequences of play.
He changed tactics and approach here, too. Guardiola made no substitutions Tuesday – and not for the first time in this competition. He did the same thing against RB Leipzig in the round of 16. That game finished 1-1 as well, and Guardiola's priority then was the same: to avoid making a tricky situation even worse. City were under tons of pressure in the first leg. They hammered Leipzig 7-0 in the second.
Had City pushed for a comeback here and left space in an aggressive pursuit of goals, Madrid would've had even more of a chance to hurt them on the counterattack. The tie may have been over by then. Instead, Guardiola turned cautious and relied on one of his best players to produce a moment of astonishing technique.
City did to Madrid what they so often do to other teams. They have life because of it.
Camavinga making left-back role his own
Camavinga is a manager's dream.
The pliable Frenchman, still only 20, continues to excel in an unorthodox left-back role, filling a big hole in Carlo Ancelotti's squad with aplomb. He was, yet again, one of the standout performers for Real Madrid on Tuesday. Camavinga showed both his continued defensive growth and the ball-carrying instincts that make him such a unique and difficult matchup for the opposition when he lines up in the ostensibly defensive position, something he's doing with increased frequency since the World Cup.
Camavinga, a natural midfielder, was a force in both directions against City; he had the most touches, final-third entries, chances created, and fouls won of any Real Madrid player on the pitch. He also recorded the most tackles and successful duels for his side.
He already has many of the qualities needed to thrive at the full-back position. His elasticity allows him to make a variety of tackles – something Bernardo Silva learned Tuesday – and his instincts are solid, deciding when to vacate his position to pounce on a loose pass and when to be more conservative and drop in line with his fellow defenders.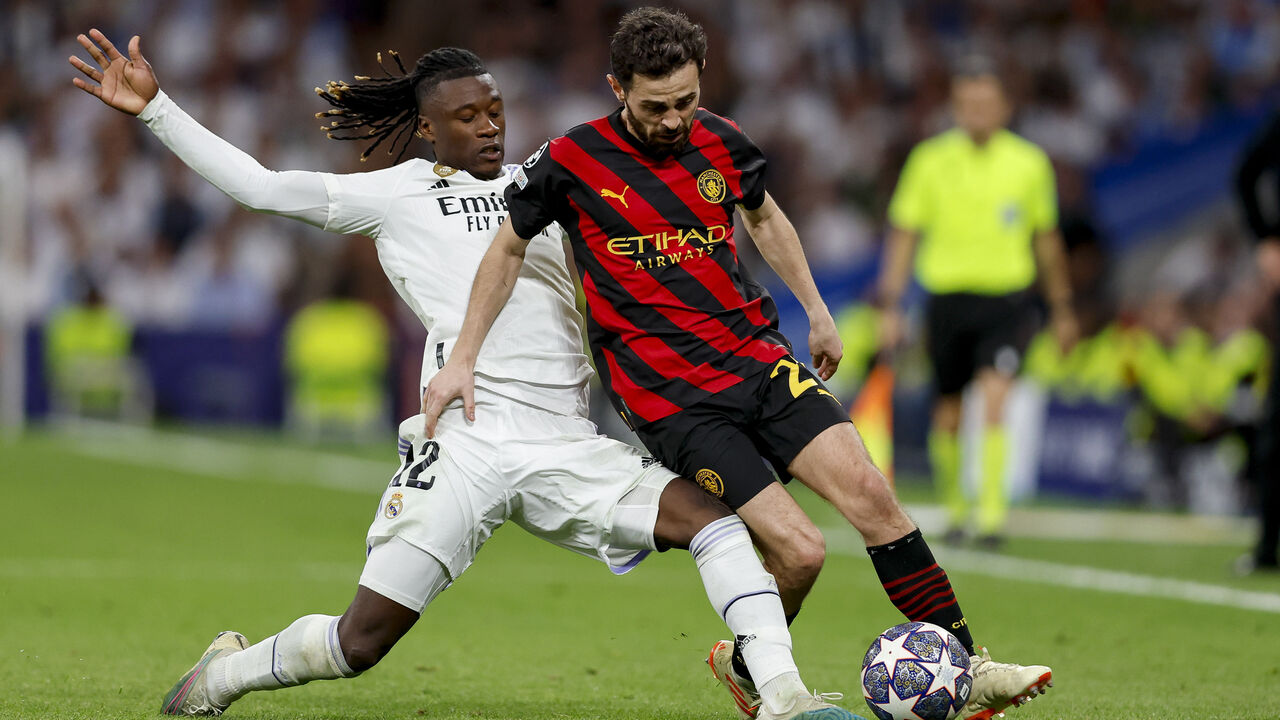 His comfort on the ball in tight spaces was crucial to helping Madrid play out of pressure when City pressed them deep in their own end, and he often tucked inside into familiar midfield spaces to give his teammates a passing lane during the buildup phase. His dribbling ability and top-flight speed came into focus, too, when his bursting run created Vinicius' goal. Silva was simply a spectator as Camavinga raced forward from inside his own half and forced the City defenders to retreat, thus creating space for Vinicius to uncork the opener from outside the box.
And all this from someone who's admitted, on multiple occasions, that he doesn't particularly enjoy playing the position. Imagine if he did. There'll be some growing pains along the way – his wayward pass that ceded possession to City ultimately led to De Bruyne's goal – but with Ferland Mendy constantly sidelined by various injuries, Madrid need Camavinga just as much as they need Vinicius, Benzema, or any of their celebrated veteran midfielders. It's no coincidence he's appeared in more matches than any Real Madrid player this season across all competitions. Ancelotti trusts him fully.
"I'm so happy with him, whether he plays at left-back or in midfield," the Italian coach said earlier this year. How could he not be?
Quick free-kicks
De Bruyne is Man City's true MVP
As prolific as Erling Haaland has been this season, Manchester City's most important and valuable player remains De Bruyne. On top of scoring the tie-saving equalizer Tuesday, the Belgian midfielder showed incredible fight off the ball, conducting City's press and contributing to it when he saw fit.
"I think Kevin's brain is the best I've seen," Thierry Henry said on CBS Sports Golazo. "We're talking about the way he sees the game. I don't know what he thinks about sometimes. You look at him, and it's almost like he's not with us. That can sometimes be a problem because you're not at his level. I think he's the most clever player I've seen."
Guardiola has recently offered De Bruyne the license to roam around the pitch, and he's been responsible with that freedom, stepping into space his teammates create with brilliant runs of the ball. He's also been unpredictable when he has the ball. His shot from distance seemed to surprise Thibaut Courtois in goal, and that's because he's so tough to read.
Individual quality through the roof
Football was the biggest winner today.
So many times, matches of this magnitude fail to deliver. This one didn't. Even though only two goals were scored, Tuesday's affair was totally captivating. The finesse from both teams stood out, especially as they each took turns playing out from the back, coping with intense pressure by knocking the ball around quickly, smoothly, and with supreme confidence. Kyle Walker, with a smile beaming across his face, saluted Vinicius after the final whistle to commemorate their intense battle over the 90 minutes. The mutual respect was evident. Both sets of players, and their managers, enjoyed this one.
With no disrespect to either AC Milan or Inter, the two combatants in the other semifinal, this matchup was befitting of the tournament's showpiece match. Maybe it's better that it wasn't, though. Otherwise, we wouldn't get to see them do it all over again in the second leg next week.
Rudiger, Alaba neutralize Haaland
You wouldn't know that Real Madrid were without their first-choice central defender Tuesday based on the way they largely kept Haaland quiet. In the absence of Eder Militao through suspension, Antonio Rudiger and David Alaba were outstanding against the prolific Norwegian. The German embraced the physical battle with the imposing striker, trying to make his presence known early and often, while the Austrian was always there in support to sweep up whenever Haaland was able to break free.
He had some looks on goal – of course he did – but his best chance was erased by a superb diving block from Alaba. Overall, Madrid defended deeper to ensure there was no space behind the backline for Haaland to exploit, an approach that helped limit Manchester City's record-breaking forward to just 21 touches all game, fewer than even Ederson.
"Defensively we were good. Rudiger against Haaland did really well. The midfield covered well the position in front of the defense," Ancelotti explained. "We are satisfied. Sometimes the result doesn't give you credit, but the performance was really good."
Carvajal knows every trick in the book
Dani Carvajal learned from the very best. For years, Sergio Ramos and Casemiro's unrivaled mastery of the dark arts gave Real Madrid an edge over their opposition. Since the decorated duo's departure, Carvajal has assumed the mantle as Madrid's chief instigator of commotion, using whatever nefarious means are necessary to rankle his foes.
He subtly knocked Haaland over inside the penalty box early in the match and had Jack Grealish fuming after some persistent fouling. Then, rather blatantly, he sent the Englishman flying into the advertising boards before trying to bamboozle the referee into thinking he was the wounded party in the altercation. That Carvajal wasn't booked on Tuesday was a minor miracle. He got away with all of it. Ramos and Casemiro would be proud.
Carvajal's been viewed as the weak link in this Madrid side, and there's some merit to that – the Spaniard, now 31, isn't the indefatigable presence down the flank that he once was. But Tuesday was a reminder of the intangibles he brings to the table, and why the coaching staff and club still trust him to perform in the biggest matches and moments.
Stat of the day
De Bruyne is absolutely lethal from long range.
Tweet of the day
Remember when there were critics of the Vinicius signing? That feels like a lifetime ago now.