The Champions League's best XI so far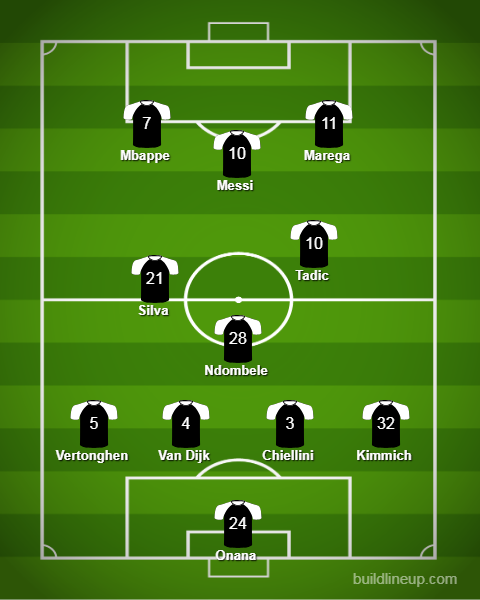 The duels for the Champions League quarterfinal stage have been drawn, but plenty of players have already left their mark on this season's competition.
Here, theScore fashions an XI with the top performers of the 2018-19 Champions League campaign to date, while noting those who just missed out.
The lineup
GK – Andre Onana (Ajax)
One of Ajax's beaten finalists from the 2017 Europa League final has blossomed into a goalkeeper with sharp reflexes and superb command of aerial deliveries. Including the Champions League's qualifying rounds, the 22-year-old Onana's produced six clean sheets this season.
Notable mention: David De Gea (Manchester United)
RB – Joshua Kimmich (Bayern Munich)
The first match Kimmich missed in this Champions League term was Wednesday's defeat in the second leg with Liverpool. He's only 24, but leads Bayern Munich for assists, fouls won, and short passes completed in Europe, and may have vaulted Dani Carvajal as the finest right-back on the continent.
Notable mention: Joao Cancelo (Juventus)
CB – Giorgio Chiellini (Juventus)
Chiellini is often noted for his imposing presence at the back – he wouldn't flinch at the prospect of heading an asteroid – but he's also one of the most intelligent defenders on the planet. The 34-year-old has intercepted the ball more often than any of his Juventus comrades in the Champions League.
Notable mention: Sergio Ramos (Real Madrid)
CB – Virgil van Dijk (Liverpool)
Under "towering header" in a dictionary of footballing terms will now be an image of Van Dijk scaling Javi Martinez and Mats Hummels before nodding past Manuel Neuer. His second leg against Bayern was what we've come to expect from the Dutchman. He is, simply put, Liverpool's most vital player.
Notable mention: Gerard Pique (Barcelona)
LB – Jan Vertonghen (Tottenham Hotspur)
Vertonghen's not on this list just for his assist and goal in the first leg against Borussia Dortmund, or primarily for his masterful defensive showing in the second leg. His performance when Inter visited also merits praise; Vertonghen made seven interceptions and unfussily smashed five clearances at Wembley.
Notable mention: Oleksandr Zinchenko (Manchester City)
DM – Tanguy Ndombele (Lyon)
Like his teammate Houssem Aouar, Ndombele's going to command a huge fee. The French international impressed in two group-stage matches against Manchester City, scored twice against Hoffenheim, and was Lyon's best player over the double-header with Barcelona in the round of 16.
Notable mention: Javi Martinez (Bayern Munich)
CM – David Silva (Manchester City)
The Manchester City veteran was timid by his standards in the two legs against FC Schalke, but he shone in Group F. Silva's already scored the same amount of goals as he did in the previous three Champions League campaigns combined, making Phil Foden wait longer to assume the creative mantle.
Notable mention: Houssem Aouar (Lyon)
AM – Dusan Tadic (Ajax)
Tadic ditching the dreariness of Mark Hughes' Southampton for Ajax has paid off handsomely. Tadic has played the same amount of key passes that Paul Pogba and Luka Modric have between them, and four of his six goals and two of his three assists came in matches against Bayern Munich and Real Madrid.
Notable mention: Hakim Ziyech (Ajax)
FW – Lionel Messi (Barcelona)
Messi and Robert Lewandowski top the scoring chart on eight apiece. The Argentinian has also produced three performances – PSV Eindhoven at home, away at Tottenham, and Wednesday's second leg against Lyon – that were immaculate. Overall, Messi and Tadic have been the best to watch on continental duty.
Notable mention: Raheem Sterling (Manchester City)
FW – Moussa Marega (FC Porto)
Marega showed FC Porto what they were missing when he regained fitness for Tuesday's second leg. He scored and assisted to help topple Roma, lifting his tournament goal tally to six. Before this season, the 27-year-old Malian international had never scored in continental play.
Notable mention: Sadio Mane (Liverpool)
FW – Kylian Mbappe (Paris Saint-Germain)
Mbappe's touch and balance were a little off in the second leg against Manchester United, but he otherwise produced an excellent 2018-19 Champions League term. His pace is undeniable, and the timing of his runs is getting better and better.
Notable mention: Cristiano Ronaldo (Juventus)
10 thoughts from this week's Champions League action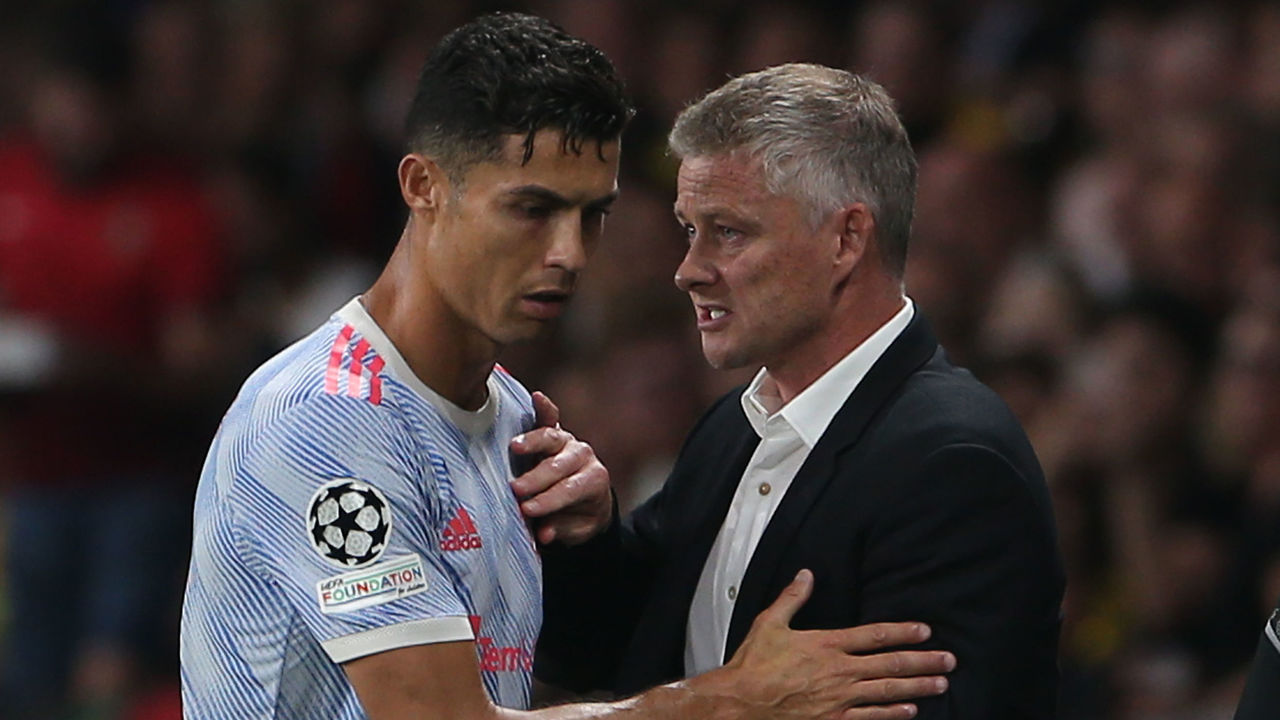 The Champions League returned with a bang this week. Below, we dissect the biggest talking points from Matchday 1 in Europe's premier club competition.
Solskjaer's reactive tactics lead to defeat
Aaron Wan-Bissaka's red card certainly left Manchester United with the unenviable task of protecting a 1-0 lead with 10 men in hostile territory for 55 minutes. Even still, the Red Devils' poor game management, coupled with manager Ole Gunnar Solskjaer's reactive tactics, invited Young Boys to secure a famous come-from-behind victory in Bern.
Solskjaer has fumbled many a game during his coaching tenure. He oversaw lethargic losses away to Istanbul Basaksehir and at home to RB Leipzig in the Champions League last season, results that ultimately condemned United to the Europa League and drew widespread criticism from former players.
"It's like under-10s football. Embarrassing. What the defense were doing I have no idea," former United midfielder Paul Scholes said after the 2-1 defeat to Basaksehir.
On Tuesday, the Norwegian played right into Young Boys' hands, opting for a back five at halftime even though the hosts hadn't threatened all that much in the aftermath of Wan Bissaka's dismissal. Removing both Cristiano Ronaldo and Bruno Fernandes with the score tied at 1-1 was another head-scratcher that left United without any presence up front.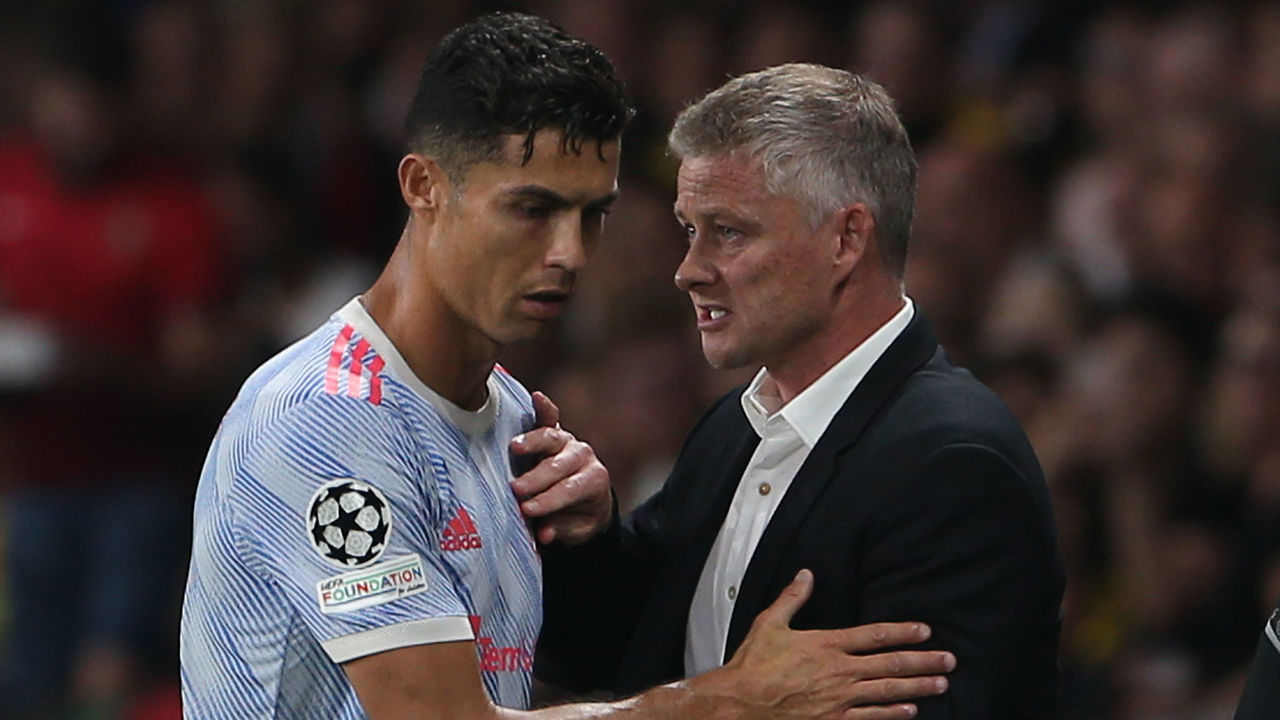 So, what's the verdict? Solskjaer has never had a better team at his disposal in two-and-a-half years in charge, and the stakes have never been higher. If he can't figure out solutions on the go, maybe he's not the man for the job.
By the numbers: Sevilla and Salzburg's wild meeting
While most viewers watched Manchester United unravel in Switzerland, Sevilla and Red Bull Salzburg played out a scrappy yet eventful 1-1 draw in Andalusia.
There were four penalties in the opening period, a red card early in the second half, and a ridiculous 34 fouls across the 90 minutes. Here are more standout stats from the Ramon Sanchez-Pizjuan.
1 – Sevilla became the first team in Champions League history to concede three penalties in one match and not lose. FC Twente, Anderlecht, and Borussia Monchengladbach are the three other sides to give away three spot-kicks in a game, and they lost by scores of 4-1, 3-1, and 3-0, respectively.
3 – Karim Adeyemi, 19, won each of Salzburg's three penalties at Sevilla. Since detailed data was collected from the 2003-04 season, the most penalties drawn by a single player in a full Champions League campaign is four (Bayern Munich's Arjen Robben in 2013-14).
33% – Salzburg's success rate from their three penalties. Teenager Luka Sucic goaded the home crowd when he netted his side's second spot-kick but proceeded to hit the post with Salzburg's third attempt just 16 minutes later.
100 – Ivan Rakitic's converted penalty was Sevilla's 100th goal in Champions League/European Cup matches, including qualifiers.
Hunting for positives at Barcelona
The club's debts total €1.35 billion. Lionel Messi is gone. Luuk de Jong is playing up front.
Given Barcelona's state, losing to Bayern Munich seemed an inevitability before the game even kicked off. So, what many Barcelona fans would've looked for in Tuesday's match is a semblance of hope to cling onto; they would've wanted a hint that someday – not today or next month, but someday – their beloved, bumbling behemoth will be feared on the European stage once more.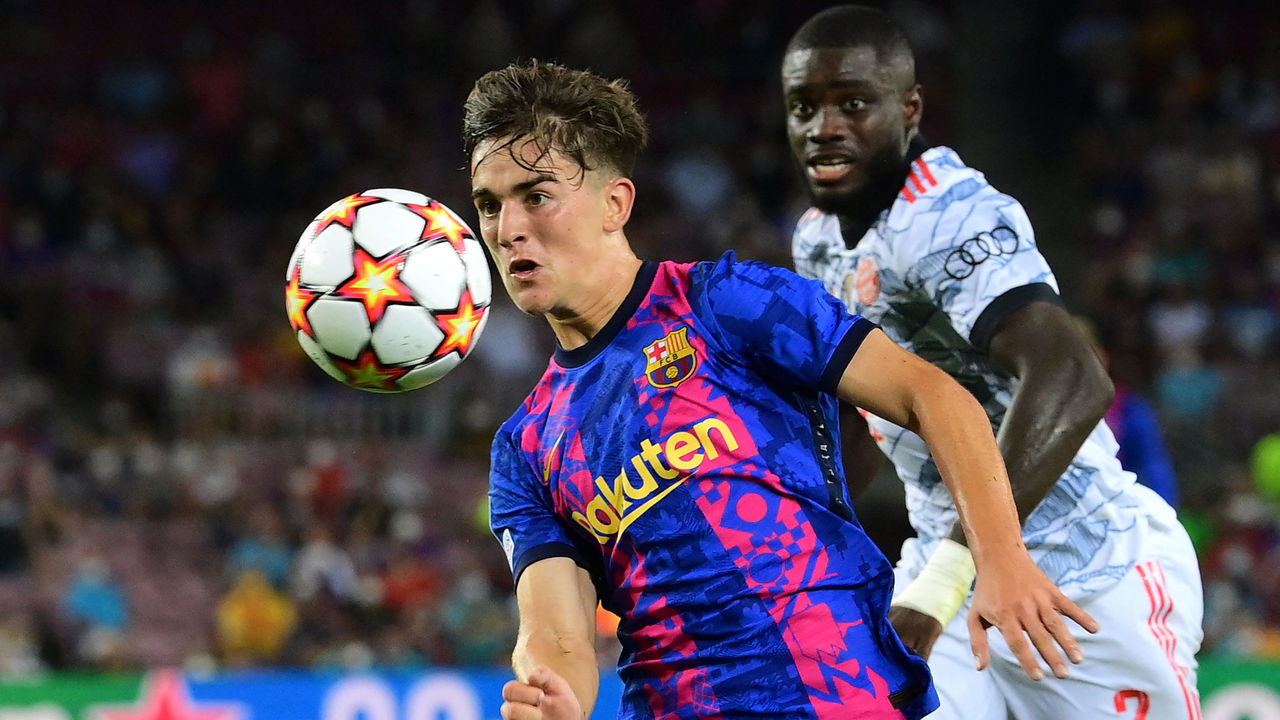 But such evidence was scarce. The 3-0 defeat flattered Barcelona, as they hushed an initially raucous Camp Nou with no shots on target and an inadequate response to Bayern Munich's high press and patient passing. Barcelona's greatest source of urgency came from Gavi, the 17-year-old who came on in the 58th minute and logged his team's second-most completed tackles (three) and was the game's dirtiest individual with four fouls. At least he gave it a go.
Perhaps that's where Barcelona supporters can uncover one positive: their team finished the game with four teenagers on the pitch. Though that's likely down to the shallowness of Ronald Koeman's squad rather the emergence an immense, impossible-to-ignore generation.
Lukaku fills void in Chelsea's attack
Thomas Tuchel's Chelsea didn't bludgeon their way to the Champions League title, with chests out, weapons firing, and all the offensive ammunition in the world. The west London side finessed win after win, defending with supreme quality and concentration. The only thing Chelsea lacked was consistent scoring, and though they managed enough in Europe, it affected their performances in the Premier League.
No such problem exists with Romelu Lukaku in the side.
Lukaku's header delivered a narrow 1-0 victory over Zenit St. Petersburg on Tuesday, a rare glimpse at goal in a match that ran low on chances. Chelsea's expected goals average sat at a lowly 0.82, meaning they didn't create enough chances to realistically expect a single goal. Lukaku did the work with a lot less at his disposal.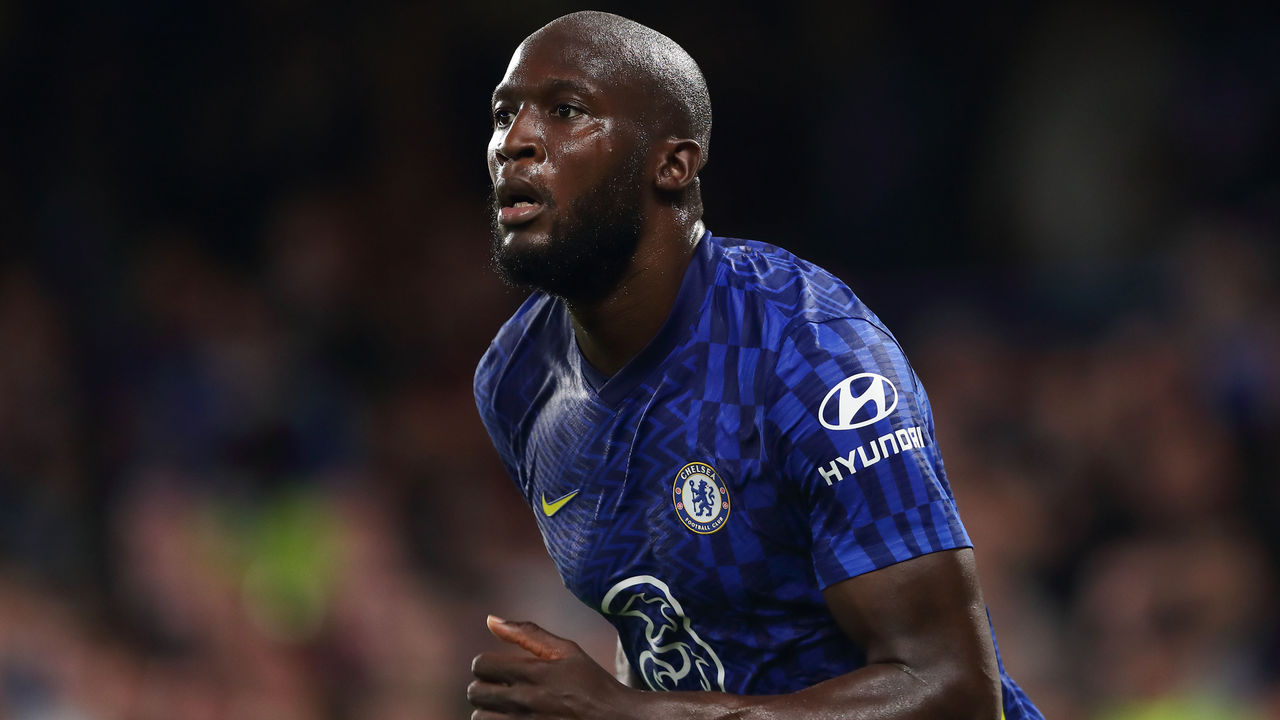 "The performance for Romelu was not easy. We did not create many chances for him, but he does not lose confidence and belief. That's why he's here and why he's a world-class striker," Tuchel said afterward.
Mason Mount and Hakim Ziyech struggled to produce anything going forward, and if Antonio Rudiger hadn't made a decisive block in the second half, Chelsea would've been forced to play catchup. Lukaku restored order shortly after, and the reigning European champions avoided a setback as they began their title defense.
How will Juve replace Ronaldo's goals?
Juventus finally got off the schneid this week, recording their first victory of the season against Malmo. The comfortable 3-0 triumph eased some of the concerns that had supporters ready to hit the panic button after the Bianconeri kicked off the new campaign with three limp performances – and just a single point – in Serie A.
The biggest question facing Massimiliano Allegri is one he probably didn't expect to be dealing with heading into his second stint at Juve: how do you replace Ronaldo's production? The obvious answer involves getting Paulo Dybala back to the scoring form he showed under Maurizio Sarri in 2019-20 when the Argentine was named Serie A MVP. But asking one player to replicate Ronaldo's shot volume and goalscoring isn't practical; it'll take multiple contributors, and some of them may be unconventional.
Tuesday against Malmo offered a prime example.
Left-back Alex Sandro popped up in the center of Malmo's penalty area multiple times, and that aggressiveness helped him open the scoring in the contest. With Ronaldo occupying that space last season, it wasn't necessary for the likes of Sandro to get into those areas. That changes with the Portuguese star back in Manchester. Considering, too, that Dybala likes to drop deep in an effort to facilitate play, it's even more vital for others to take chances getting forward. Allegri needs to find the right balance to make it work. On Tuesday, that meant using Adrien Rabiot in a hybrid wide midfield role to cover for Sandro's forays. Different – and more challenging – opposition will force the tactician to keep innovating as the season goes along.
Have Atalanta peaked?
At some point, Atalanta are going to fall short of the incredible heights they've established in recent seasons. We might be witnessing that right now.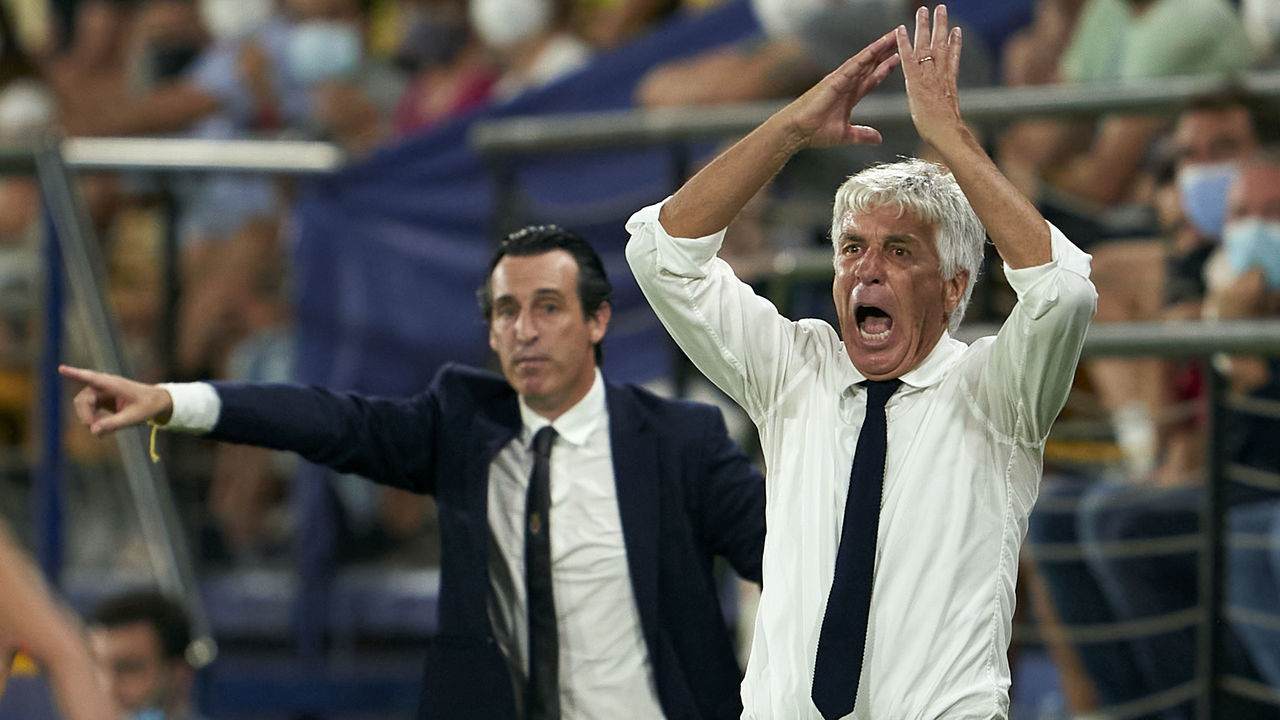 The plucky Italian side, now firmly established as a European darling thanks to its modest budget and swashbuckling brand of football, has looked ragged to start the new season. Gian Piero Gasperini's men have just one win from four matches in all competitions, and even that took an injury-time goal from 20-year-old Roberto Piccoli against Torino. Not exactly inspiring.
Tuesday was yet another tough outing, as Atalanta were lucky to escape with a 2-2 draw against Villarreal; goalkeeper Juan Musso was the hero with a pair of stellar close-range saves on the night at the El Madrigal, while Robin Gosens provided a late leveler.
Have other teams figured out how to combat Gasperini's uber-aggressive, man-marking approach, or is this simply a case of dwindling talent catching up? Atalanta were able to withstand the absence of Papu Gomez immediately after his January move to Sevilla, but that, combined with the waning influence of Josip Ilicic, is starting to look decisive. For all of his attributes, Matteo Pessina can't replicate the inventiveness of the aforementioned playmakers, which then hampers Duvan Zapata and Luis Muriel up front. Perhaps the magic is simply running out.
Poch has plenty of work to do
Lionel Messi, Neymar, and Kylian Mbappe took the pitch together for the first at PSG on Wednesday, and the early returns were feeble. The attacking trio, perhaps unsurprisingly, didn't combine with any great consistency in the 1-1 draw with Club Brugge. There were some bright moments that involved Messi picking out Mbappe and using some trademark one-twos to make progress around the penalty area, but on the whole, Brugge did an excellent job shutting PSG down.
"I didn't really have much work to do. We played very well collectively," Brugge goalkeeper Simon Mignolet correctly pointed out. "I made two, three saves, not very difficult ones at that."
PSG finished the match with four shots on target. If anything, the vivacious Belgian side, spurred on by a roaring crowd, deserved to come away with all three points. Brugge brought an intensity that PSG didn't look interested in matching.
That wasn't entirely the fault of the newly-minted "MNM" triumvirate, of course. In fact, the unit didn't even share the pitch for an hour, as an apparent ankle injury forced Mbappe off in the 50th minute. The larger issue that Mauricio Pochettino needs to sort out is everything that happens behind his attacking trio. PSG's midfield was sluggish and overrun, and the full-backs were left isolated too often. There's plenty of work to do before this super team looks the part.
Milan will grow from loss to Liverpool
AC Milan's first Champions League match in seven years was a lesson in intensity. Liverpool swarmed the Rossoneri in the opening 30 minutes with a high press that forced several turnovers. Milan lost themselves in the sea of red and barely escaped that hellish half-hour with a 1-0 deficit.
But the courage they showed in a cauldron-like Anfield was encouraging. Milan continued to play dangerous vertical passes despite the obvious risk of losing possession to an opponent that can decimate the best teams on the counterattack. Eventually, Milan scored, and then they scored again to take a 2-1 halftime lead.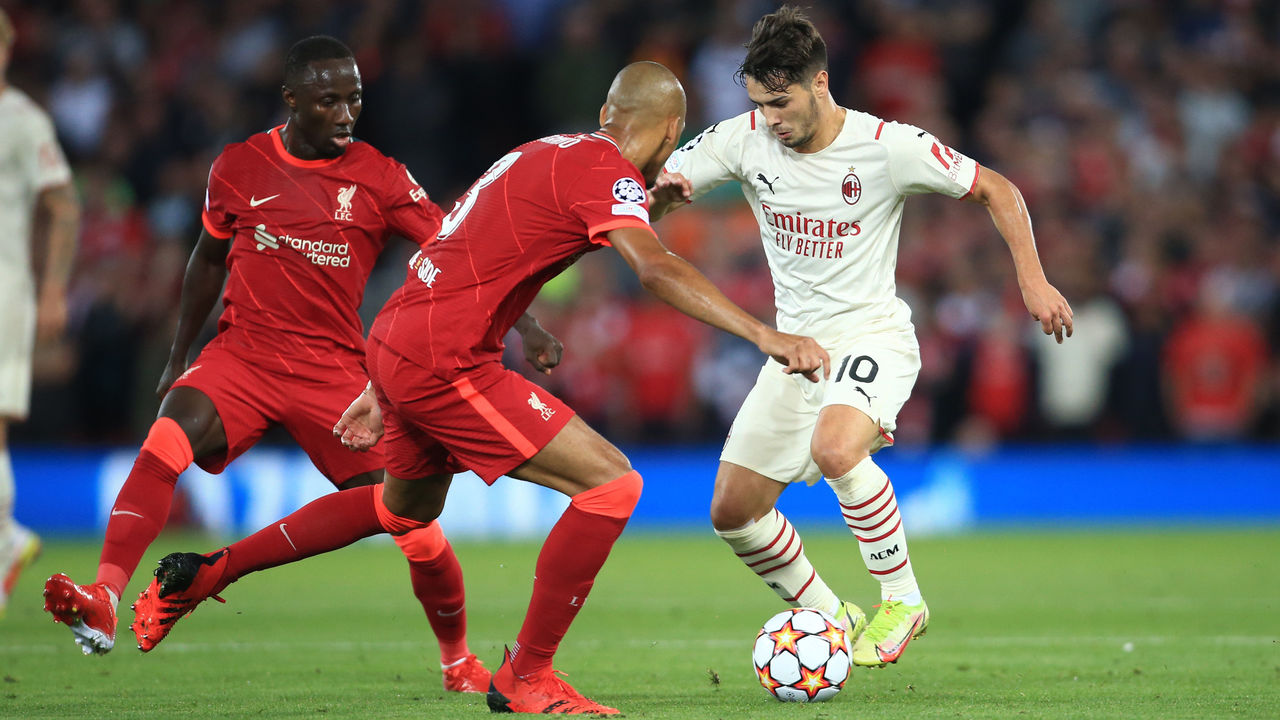 Ultimately losing 3-2 will sting for Milan. Head coach Stefano Pioli will note his players' numerous mistakes under pressure and the gaping hole in midfield that they couldn't fill. But the fact his side competed in such difficult circumstances, with a bunch of Champions League rookies and debutants, should boost confidence. That the players themselves believed they could win – and are disappointed not to – speaks to the team's mentality.
Milan are still a work in progress, but they've already shown they won't simply roll over in the worst of times. Wednesday's trip to Anfield may be their toughest test of the season, and it's best it happened early on when lessons can be learned and applied.
Ake still yet to impress
There's a common factor to the three games Manchester City conceded this season: Nathan Ake started.
Ake was a notable weakness in his first two appearances this campaign. He gave up the decisive penalty in the Community Shield defeat to Leicester City and was overrun in the Premier League loss to Tottenham Hotspur. It should be noted that he suffered the misfortune of playing alongside the hapless left-back Benjamin Mendy in the latter match.
The 26-year-old then seemed to get a much-needed boost when he headed the opener in Wednesday's 6-3 win over RB Leipzig. But then it went wrong. There was little movement under crosses – an issue that hinted at poor communication between the Dutchman and Ruben Dias – while Ake absent-mindedly stepped forward from the defensive line on a few occasions, opening up space for Leipzig's Christopher Nkunku to fill.
Nkunku, who seemed to target Ake at various points in the game, scored a hat-trick.
Ake's unfortunate run of injuries can take some blame for a rather forgettable 2020-21 campaign after his £40-million transfer from Bournemouth, but he's only harming his chances of regular minutes with his performances so far this term.
A surprise in Group D?
Antonio Conte may have left the club, but Inter Milan made sure to honor their former coach by conspiring to somehow lose a Champions League match they thoroughly controlled. Despite crafting several quality chances and limiting Real Madrid to two shots on target, the Nerazzurri were rocked by an 89th-minute goal from Rodrygo, slumping to a disheartening 1-0 defeat.
That wouldn't be too much cause for concern over the course of a league season. But, as Inter proved with their group-stage elimination last campaign, every point counts, and missed opportunities quickly come back to haunt. Wednesday's result at the San Siro has, incredibly, opened the door for Sheriff Tiraspol in Group D. The unfancied minnows from Transnistria, a tiny Moldovan separatist state, sit top of the quartet on goal difference after opening their campaign with a win over Shakhtar Donetsk.
If Sheriff get anything from their games against Inter, this group could be flipped on its head.
Champions League preview: Predictions, players to watch, and more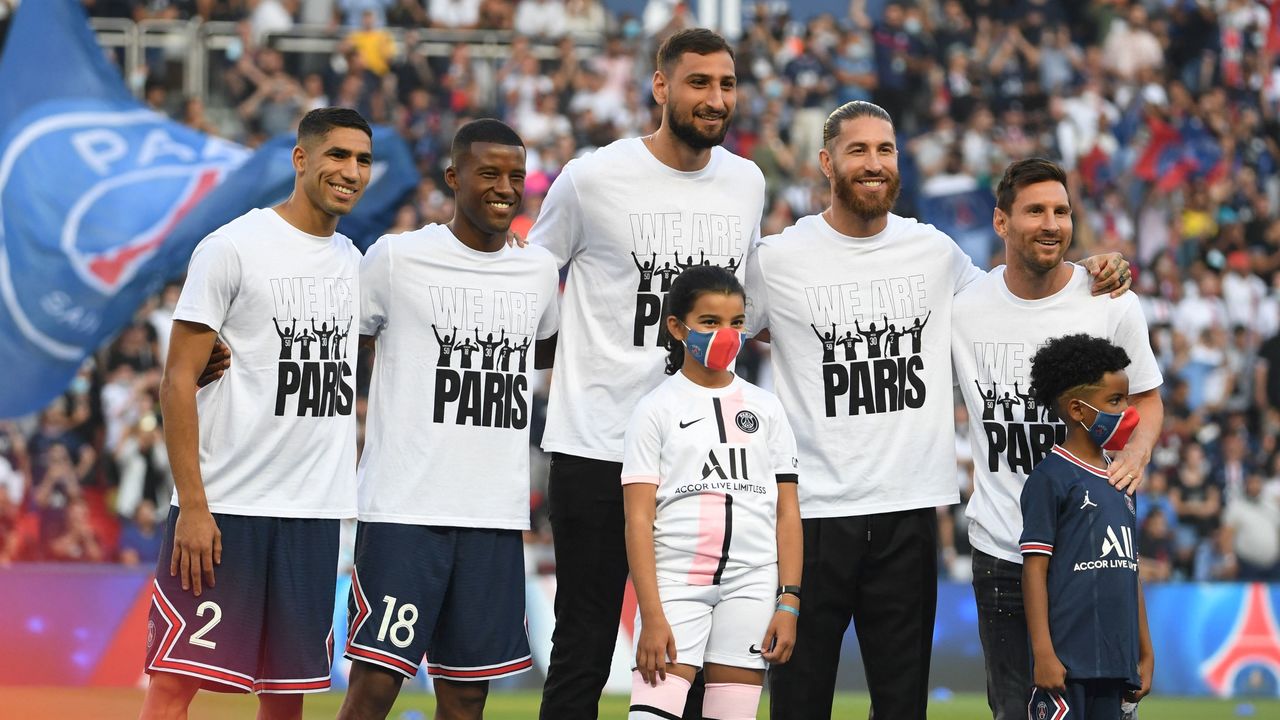 With the Champions League making its anticipated return this week, we peer into our crystal ball to predict what will happen in Europe's premier club competition this season.
Predicted group standings
How will the eight groups unfold in the coming months? Here's our best guess at the final standings, and by extension, the knockout-stage participants:
Group A: PSG, Manchester City, RB Leipzig, Club Brugge
Group B: Liverpool, AC Milan, Atletico Madrid, FC Porto
Group C: Borussia Dortmund, Ajax, Sporting CP, Besiktas
Group D: Real Madrid, Inter Milan, Shakhtar Donetsk, Sheriff
Group E: Bayern Munich, Barcelona, Benfica, Dynamo Kyiv
Group F: Manchester United, Atalanta, Villarreal, Young Boys
Group G: Wolfsburg, Sevilla, RB Salzburg, Lille
Group H: Chelsea, Juventus, Zenit St. Petersburg, Malmo
Champions League winner
Paris Saint-Germain. Anything less than finally capturing the elusive Champions League crown would be considered a massive failure in the French capital. It's the very highest of bars, but that's what happens when you sign arguably the greatest player of all time and add several other elite contributors to a team that already boasts Kylian Mbappe and Neymar.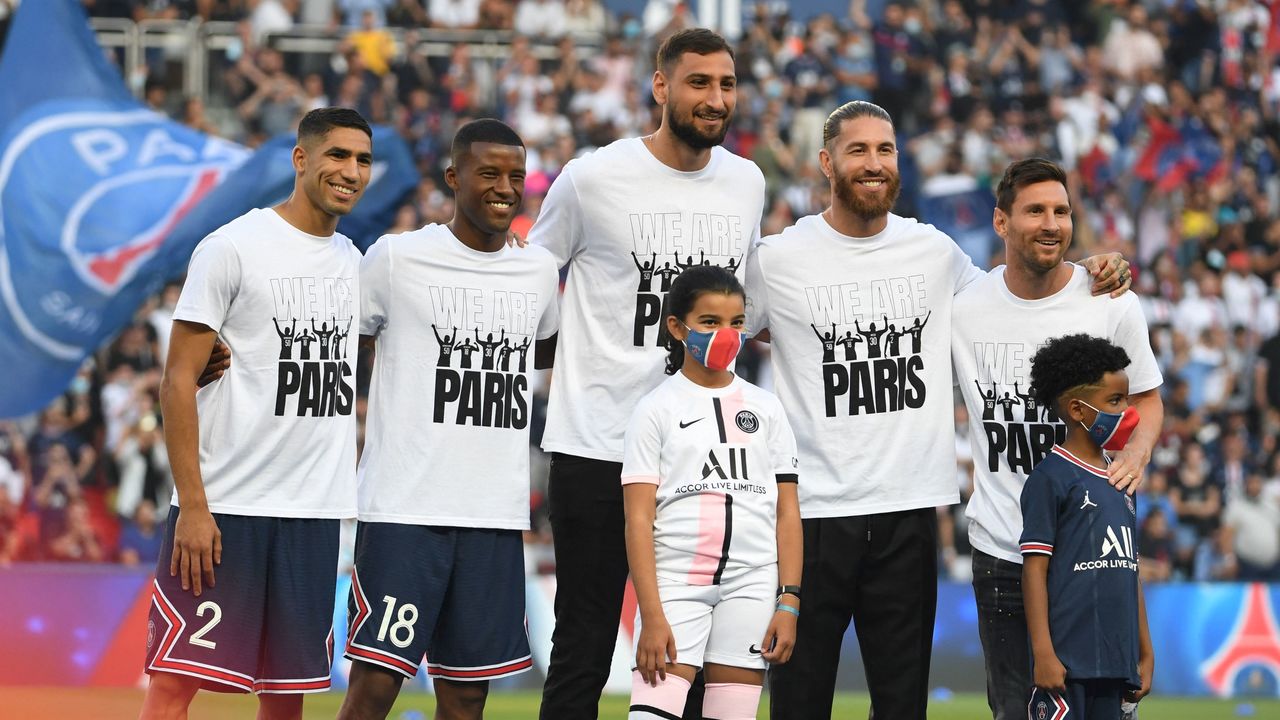 PSG appear to be hitting the sweet spot needed to win any knockout tournament. The club is loaded, of course, but also battle-hardened after reaching the final and semifinals over the past two campaigns. The latter can't be underestimated – "learning" to win is a skill only acquired after near misses.
A difficult group – headlined by an exhilarating matchup with fellow contenders Manchester City – should serve PSG well, especially considering they're unlikely to get the same kind of consistent tests in league play. If Mauricio Pochettino can figure out a system that allows all his superstars to thrive in unison, watch out. Ill-timed injuries and plain old bad luck can render all of this moot, but all things being equal, PSG are best placed to claim the big-eared trophy this season.
Champions League runner-up
Chelsea. This was a toss-up between the reigning champions and last campaign's vanquished finalists, Manchester City. Thomas Tuchel's team is probably the more balanced unit overall, especially after Romelu Lukaku's arrival, and for that reason, we're giving Chelsea the edge.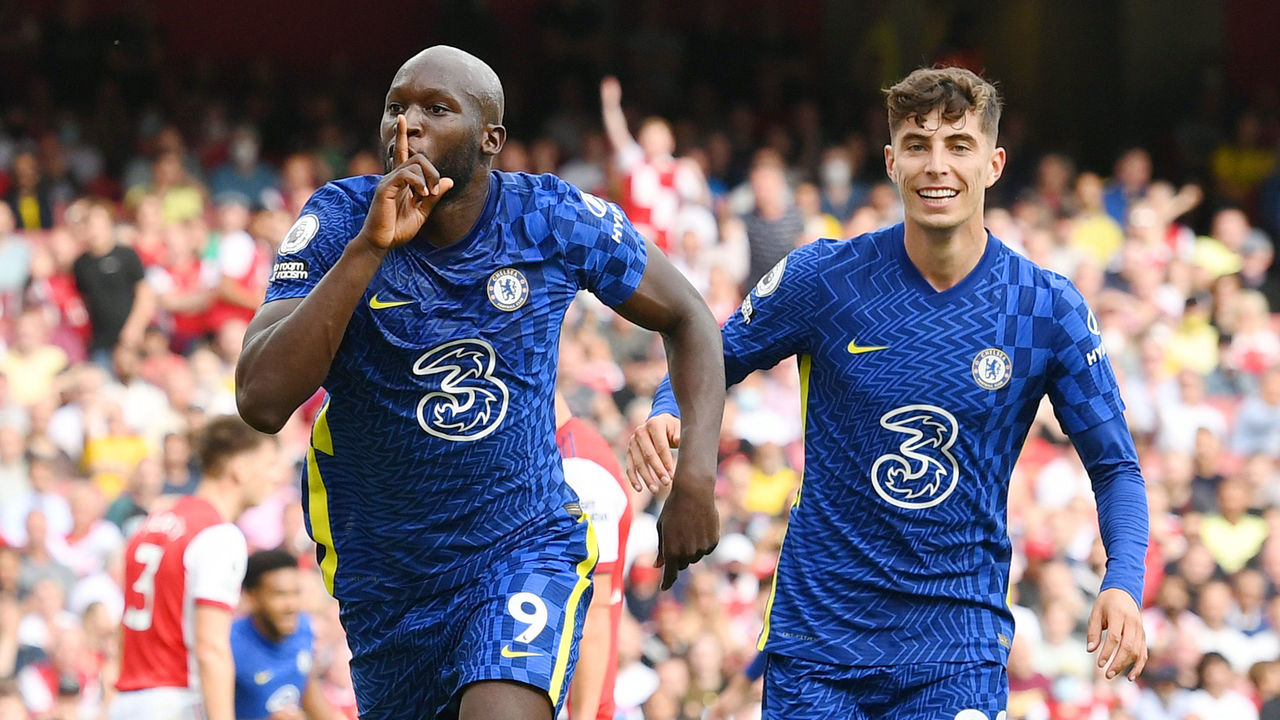 Things may have been different had City successfully recruited Harry Kane – or even Cristiano Ronaldo – in the summer, but for all of Pep Guardiola's undeniable genius, you're likely going to rue not having a bonafide No. 9 to capitalize on the bounty of chances your elite playmakers create at some point.
Tuchel himself is also a huge factor. After replacing the underwhelming Frank Lampard and leading the Blues to glory last season, the German tactician now has a deeper, more talent-rich squad to help implement a footballing philosophy that has already proved capable of winning silverware.
Biggest surprise
Sheriff Tiraspol. This is not to say that the Moldovan club will make a Cinderella run to the latter stages of the tournament or even reach the last 16. In the current age of separation between the mega-wealthy and everyone else, that simply doesn't happen anymore – at least not on this scale.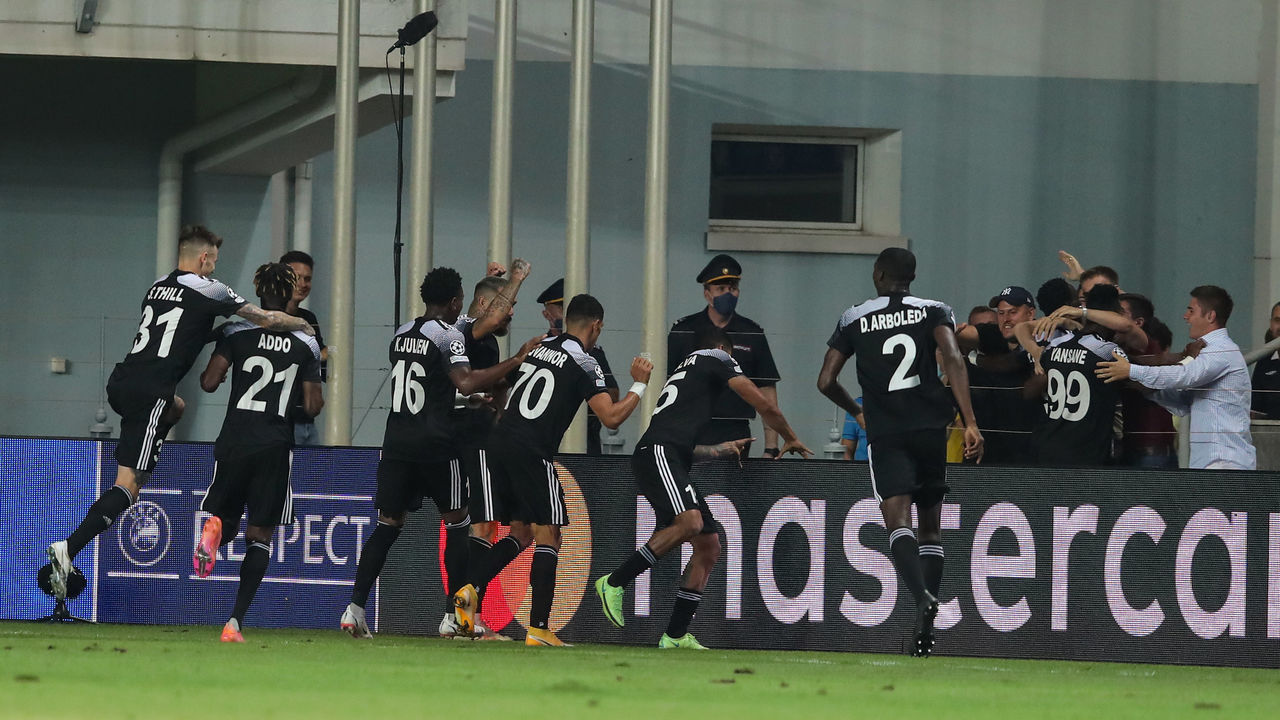 But Sheriff, after pulling off several upsets just to reach the competition's group stage in the first place, aren't going to easily roll over against Real Madrid, Inter Milan, or Shakhtar Donetsk in Group D.
If Sheriff's 3-0 destruction of Dinamo Zagreb in the first leg of their playoff tie demonstrated anything, it's that Adama Traore and Dimitris Kolovos – their scorers in that contest – are skilled enough to take advantage of any opportunities that may arise against the aforementioned trio. Taking points off Real Madrid may be too tall a task, but Inter have been chronic underachievers in this tournament of late, while Shakhtar are looking a little unsure of themselves thus far under new manager Roberto De Zerbi. Sheriff will keep things competitive.
Biggest flop
Atletico Madrid. There's optimism around the Wanda this season after Atletico Madrid further bolstered a squad that captured the La Liga title last term – Rodrigo De Paul's addition, in particular, was a masterful deal.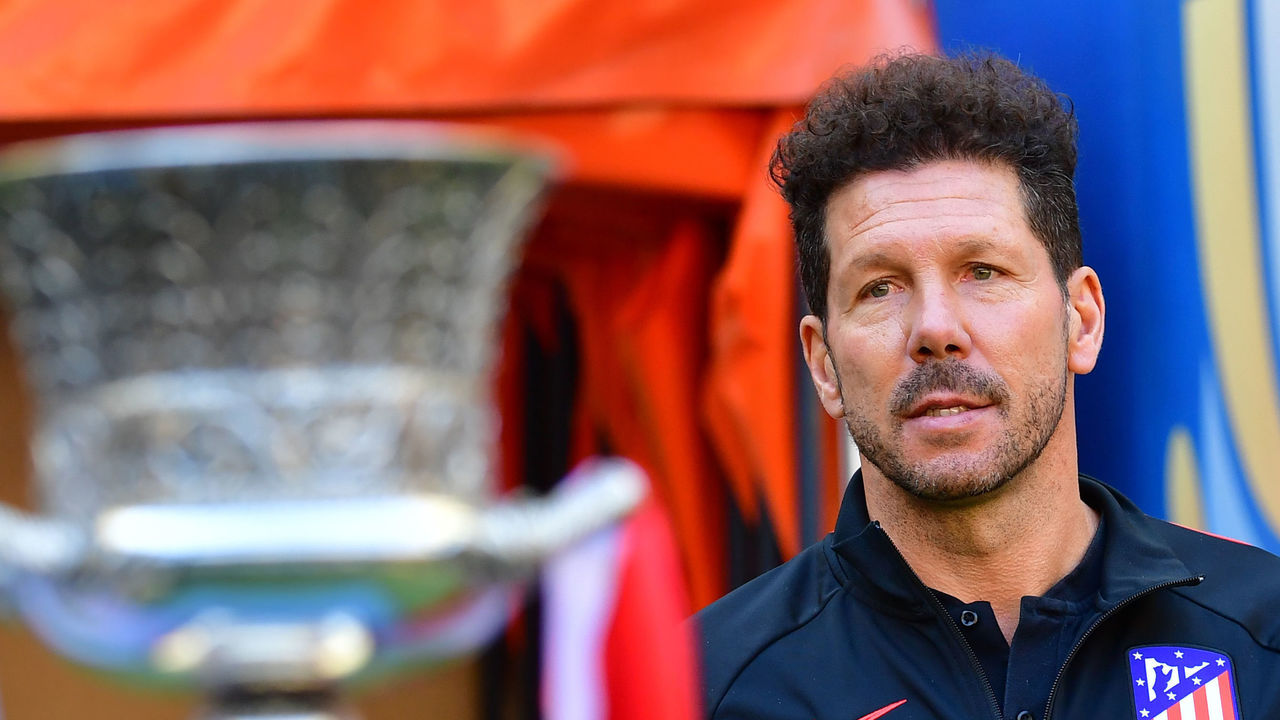 But there have been signs of vulnerability in the opening weeks of the new campaign, with some extremely late goals against Villarreal and, more recently, Espanyol delivering points that so nearly slipped away. Diego Simeone undeniably has more attacking firepower at his disposal than at any other point in his hugely successful Atleti tenure, but that comes with added expectations on how to properly use those resources. It's a tricky balancing act for any team, not least of which one that has been so heavily predicated on a stingy defensive approach for the better part of a decade.
Simeone doesn't have the luxury of time to figure things out, either. Liverpool, AC Milan, and FC Porto are all more than capable of taking the Spanish champions down in Group B if they are disjointed coming out of the gate.
Top scorer
Erling Haaland. The (bonkers) numbers speak for themselves. Just about everything Haaland has touched since making his Champions League debut has found the back of the net. The Norwegian phenom has 20 goals in 16 tournament appearances, becoming the quickest player in history to reach the 20-goal benchmark in Europe's showpiece event.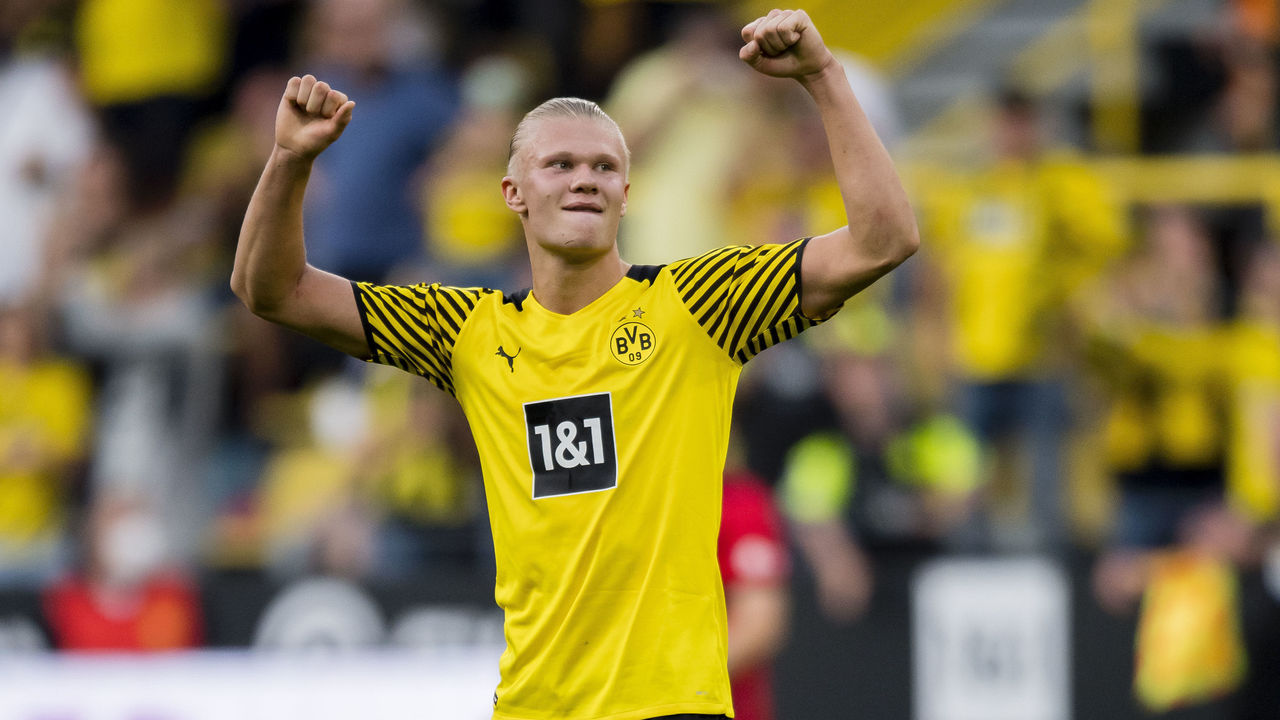 Explosive, almost unmatched goalscoring skill isn't the only determining factor when selecting a Golden Boot winner, though. Penalty-taking opportunities and group stage opposition play a key role, too. Luckily for Haaland, both play in his favor.
The 21-year-old has assumed spot-kick duties for Borussia Dortmund in the wake of Jadon Sancho's departure, and, crucially, Haaland will have the chance to bolster his numbers against Ajax, Besiktas, and Sporting Lisbon in arguably the most forgiving group of this season's Champions League. Competition for the crown will be fierce – Ronaldo, Lukaku, and Robert Lewandowski will be in the running – but the fact that three potential winners from PSG will have to share the wealth also gives Haaland an edge.
Breakout star
Karim Adeyemi. For the most part, anybody playing in the Champions League is already on the radar. It's hard to be a true "breakout" star if your side is competing in the most celebrated club competition in the sport. But some still manage to sneak up on us, at least to a certain degree.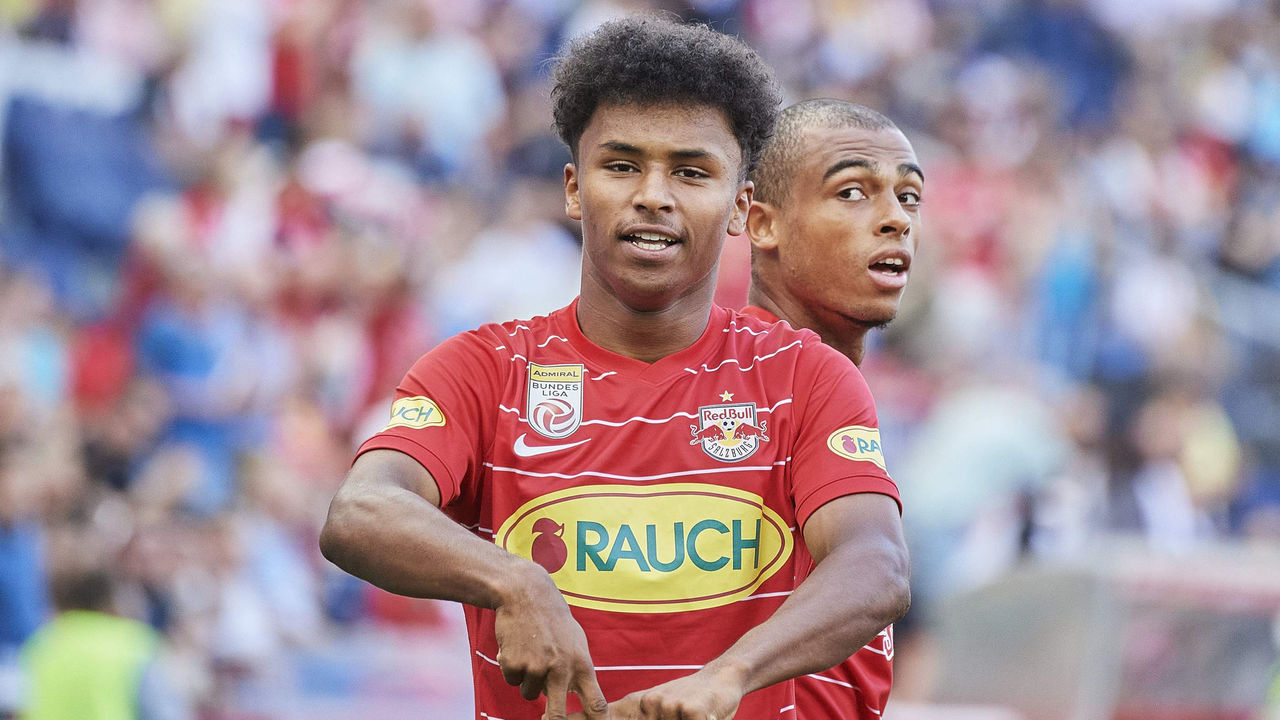 Adeyemi, the 19-year-old forward for Red Bull Salzburg, fits that bill, even if he's already a full German international. Off to a blistering start with six league goals through seven matches in Austria's top flight, the speedy teenager is already being linked with Liverpool ahead of the upcoming January transfer window. Naturally.
If recent history with the likes of Haaland, Dominik Szoboszlai, and Patson Daka has taught us anything, it's to buy stock early when a talented youngster shows some promise in Salzburg. Adeyemi is next in line.
Most excited about …
Upset potential … and the anthem. Despite the enormous chasm that has developed between football's richest teams and the rest of the field, there is always an upset of some kind in the Champions League, and that's part of what makes this tournament so riveting.
Porto, Lyon, Ajax, and Roma have all been responsible for memorable – and in some cases, epic – results in the knockout stages of late, while last season's competition saw Manchester United fail to emerge from the group stage. It's becoming increasingly rare, but it still happens. Someone will inevitably throw a spanner in the works at some point, creating another collection of players who will go down as heroes in the eyes of their fans. Any way you slice it, that's exciting and good for the health of the sport.
And, in a far more trivial observation, hearing the famous Champions League anthem – and singing along with it no matter where you are or who you're around – is undeniably one of the most intoxicating things about the tournament. When the iconic tune comes over the stadium speakers for the first time on Tuesday, everyone will be fired up.
Transfer Deadline Day: Live analysis of all the major deals, rumors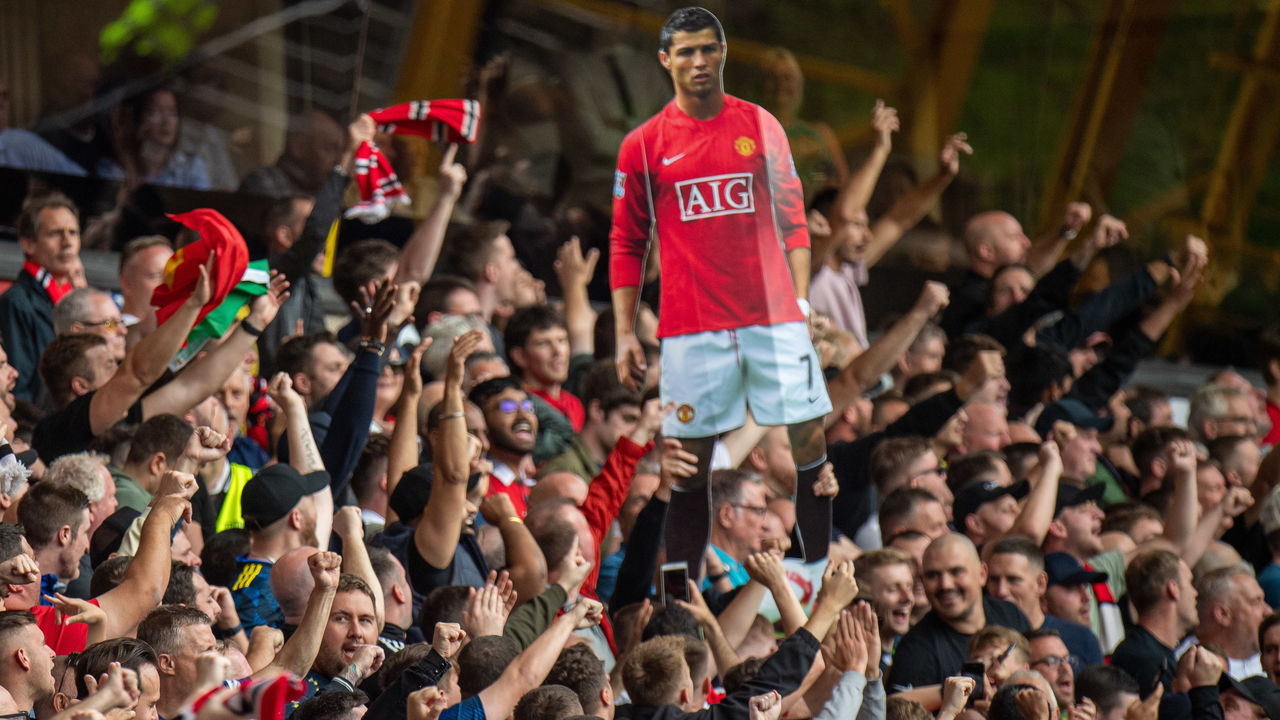 Transfer deadline day is in full swing. We're providing live, quick-hit analysis of the biggest deals – and rumors – until tonight's 6 p.m. ET deadline.
DONE DEAL: Ronaldo returns to Manchester United ?
Details: CR7 joins from Juventus for potential €23M fee

(Read more)
Cristiano Ronaldo and Manchester United used deadline day's early hours to put the final touches on the transfer that still has the football world in a frenzy.
The 36-year-old was seemingly on the verge of joining local rivals Manchester City after their pursuit of Tottenham Hotspur's Harry Kane collapsed. However, a chaotic few hours culminated with United announcing the return of Ronaldo from Juventus on Friday, pending an agreement of personal terms, the receipt of a visa, and the Portuguese forward completing a medical.
Some reports suggest City pulled the plug on a deal, allowing United to swoop in. Other accounts claimed the allure of United – and persuasive phone calls from former teammates such as Rio Ferdinand – encouraged Ronaldo to turn his back on City. There was even speculation that Ronaldo's agent, Jorge Mendes, used City as a pawn to tempt United into an approach, though that would seem unlikely as some of Mendes' top clients play for the reigning Premier League champions.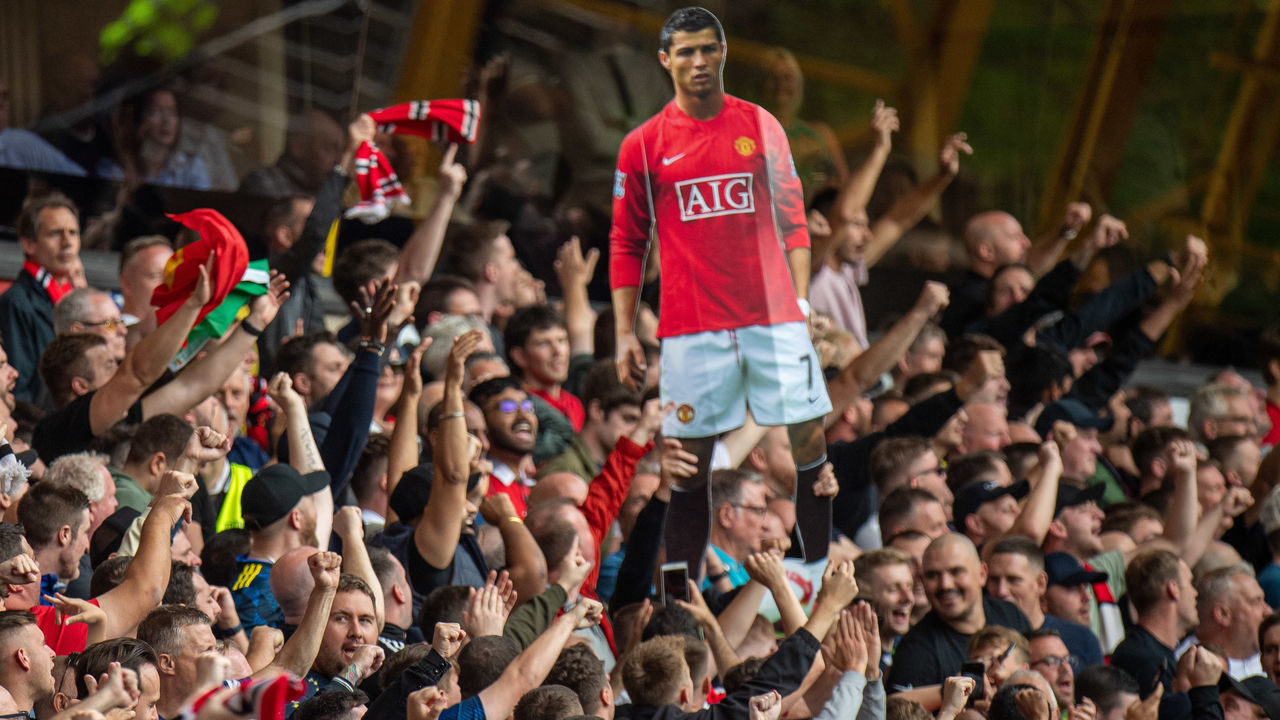 Perhaps the biggest debate around Ronaldo's return is United's motivation. Was this primarily an emotional decision, one designed to stop a club icon from moving to City and instead bring him back to Old Trafford? Or does Ole Gunnar Solskjaer believe the Madeiran maverick is the crucial final piece in a title-winning team?
There's no doubting the supreme quality and influence of Ronaldo, but the riches United already had in attack and their vulnerabilities in defensive midfield may suggest their money was best spent elsewhere.
Camavinga on verge of Real Madrid move
This could be one of the signings of the summer:
Will Manchester City get their No. 9?
It's gone a little quiet at City HQ since Ronaldo moved to their cross-town foes, and there's still a vacancy for an out-and-out striker in Pep Guardiola's squad.
Winger Ferran Torres has impressed at center-forward while Gabriel Jesus, who's flourished in his recent outings on the right flank, remains City's most natural striking option, but there will inevitably be rumors linking the club to the likes of Borussia Dortmund's Erling Haaland and Fiorentina's Dusan Vlahovic on transfer deadline day.
City's No. 9 hunt isn't necessarily over.
DONE DEAL: Moise Kean re-joins Juventus ?
Details: Bianconeri could pay up to €38M after initial loan (Read more)
Kean signed off from Everton duty with a red card in a League Cup match at Huddersfield Town. It was a fitting way for him to end a disappointing spell on Merseyside.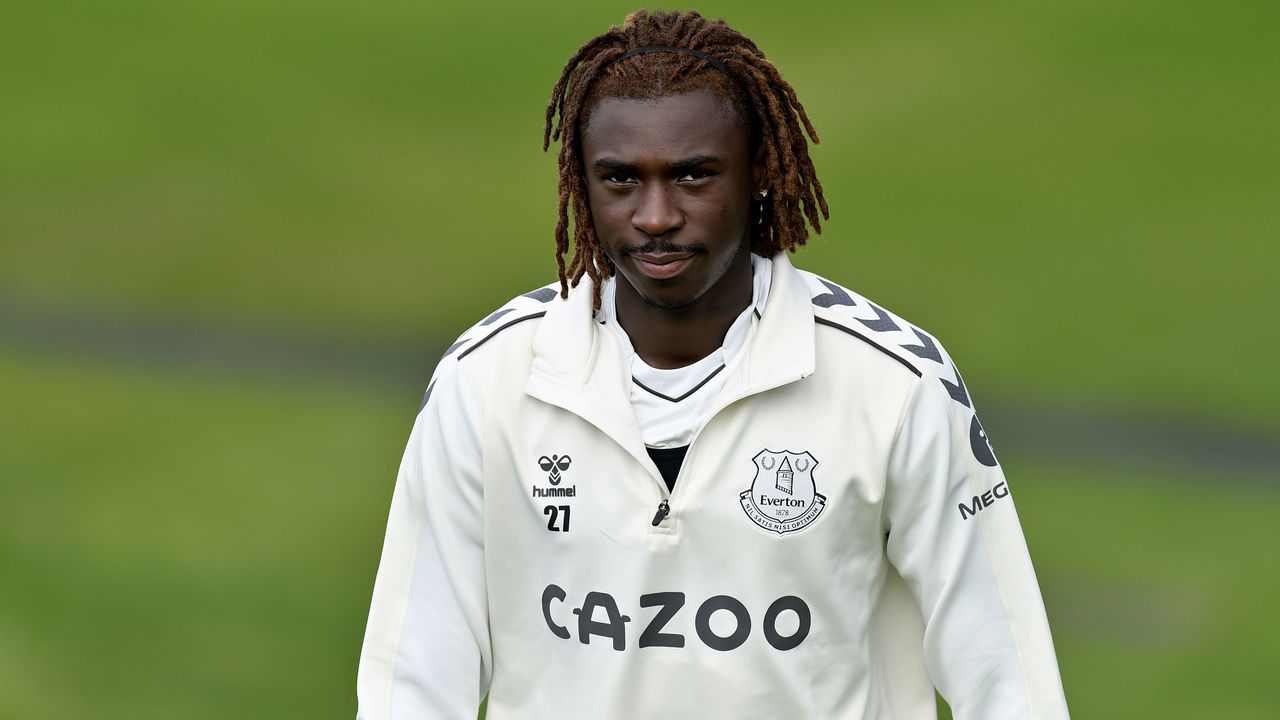 With Dominic Calvert-Lewin establishing himself as the main striker at Everton and roving forward duties left to Richarlison, Kean struggled for minutes with the Toffees. The 21-year-old only once started in back-to-back Premier League matches and completed 90 minutes just twice: a 2-0 home defeat to Sheffield United and a cup win over League Two's Salford City.
So, Everton potentially receiving even more than what they paid two years ago isn't a bad return at all.
At Juventus, Kean is widely recognized as Ronaldo's replacement. It's a burdensome tag. But Juve should take confidence from his haul of 13 goals from 26 Ligue 1 appearances on loan at Paris Saint-Germain last season and his exploits as a teenager during his previous spell in Turin.
Kean has often thrived as a support striker or when being one of a few forwards, and Juventus can certainly play to those strengths when Massimiliano Allegri has the likes of Alvaro Morata, Federico Chiesa, and Paulo Dybala to call upon.
Best under-the-radar signing
Brighton & Hove Albion could be one of the most exciting Premier League teams to watch following the addition of Marc Cucurella.
Cucurella, a £15.4-million arrival from Getafe, will wreak havoc on the left flank while a fit-again Tariq Lamptey will raze everything in his path down the right. It promises to be a thrilling watch.
The 23-year-old addresses an area of need for the Seagulls after midfielders Pascal Gross, Solly March, and Jakub Moder have played at left-back or left wing-back during the opening three matches of the Premier League season. Cucurella could also feature to the left of the striker, with Leandro Trossard playing on the right.