10 thoughts from this week's Champions League action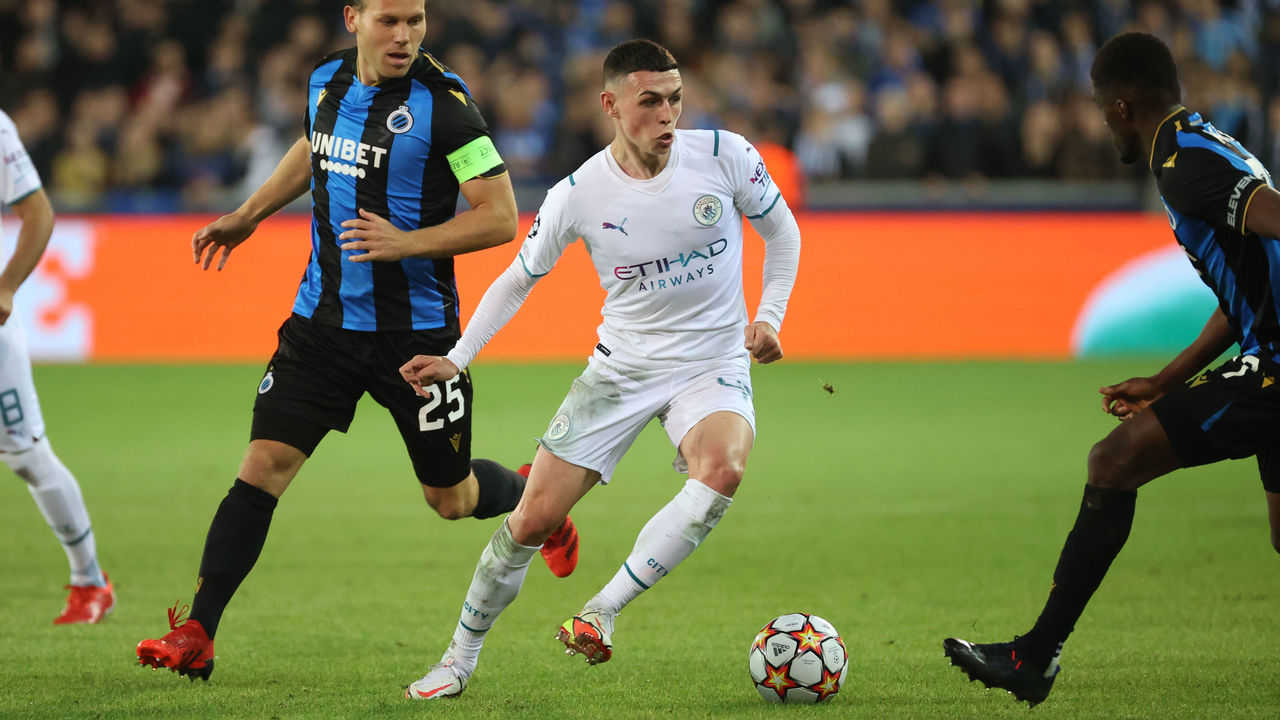 The Champions League rumbled on this week with an entertaining slate of action. Below, we dissect the biggest talking points from Matchday 3 in Europe's premier club competition.
What happens if goals dry up for Liverpool?
Liverpool's exhilarating 3-2 win over Atletico Madrid at the Wanda Metropolitano on Tuesday was arguably the best match of the competition this season. It had a little bit of everything: an electric atmosphere, great goals, a red card, a penalty, and wild swings in momentum.
And though Jurgen Klopp should be enthused by Mohamed Salah's sizzling form and his team's continued ability to fill the net (Liverpool have now scored 18 goals in their last five matches across all competitions), it wasn't all positive for the German tactician.
After a ferocious start in which the Reds rocked Atletico during the first 15 minutes, Diego Simeone's side steadied the ship and was the better team over the remainder of the contest. Looking beyond all the noise – the excellent finishing, Antoine Griezmann's red card, and the late penalty incidents – Atleti probably should have come away with three points; Alisson was forced into some stellar saves on both sides of the halftime interval as Liverpool afforded an uncharacteristic amount of space, especially out wide, to the hosts.
Klopp, who correctly pointed out that winning "dirty" is an important attribute of successful teams, isn't blind to the issues facing his squad at the moment.
"We are not that confident, to be honest," he said after the match. "We know our struggles, we know our problems but we try to ignore them very often."
In their last eight games in all competitions, Liverpool have conceded two or more goals in four of them, looking wobbly at the back against AC Milan, Brentford, Manchester City, and now Atletico. With Salah absolutely destroying his opponents right now, Liverpool can outscore their defensive issues, but at some point, they'll have a spell when the goals don't flow quite so freely. Hopefully, Klopp will have sorted out a suddenly susceptible backline by then.
PSG still lack a clear plan
With seven points from their opening three matches, Paris Saint-Germain are well-positioned to emerge from Group A and reach the knockout stages of the competition. But, not for the first time this season, the star-studded French side lacked cohesion and coherence, relying instead on individual quality from Lionel Messi and Kylian Mbappe to claim a 3-2 comeback win over RB Leipzig on Tuesday.
Mauricio Pochettino obviously has a plan for his team, but outside of scoring early and then using their elite attackers to wreak havoc on the counter, it's been difficult to discern what, exactly, PSG want to do this season. Case in point: PSG had an open-net tap-in on the goal line – Messi's first goal of the match – and still lost the overall expected goals (xG) battle when you exclude penalties from the equation.
Give the ball to Messi and Mbappe, and get the hell out of the way is, in fairness, an approach that will work more often than not. It was enough on Tuesday, after all. Conventional wisdom suggests that plan should be even more fruitful when Neymar is fit and involved, but something is still missing.
Great attacking tridents can carry a team very, very far – we've seen it happen in the past – but more than most sports, football truly is a team game. There needs to be balance all across the pitch, or the system crumbles. Barcelona's famed "MSN" triumvirate, for example, was aided by an elite supporting cast, including a brilliant midfield.
Messi, Mbappe, and Neymar will deliver goals, but what Pochettino does with the rest of his squad will likely determine how successful PSG are this season.
Foden makes Manchester City tick
Amid doubts this season over Manchester City's ability to get results without a traditional No. 9, victory in Belgium was proof that the Premier League club is doing just fine without a center forward in the fold.
In what was another example of Pep Guardiola's tactical prowess, Manchester City produced one of their best attacking performances of the season in Tuesday night's lopsided away win over Club Brugge.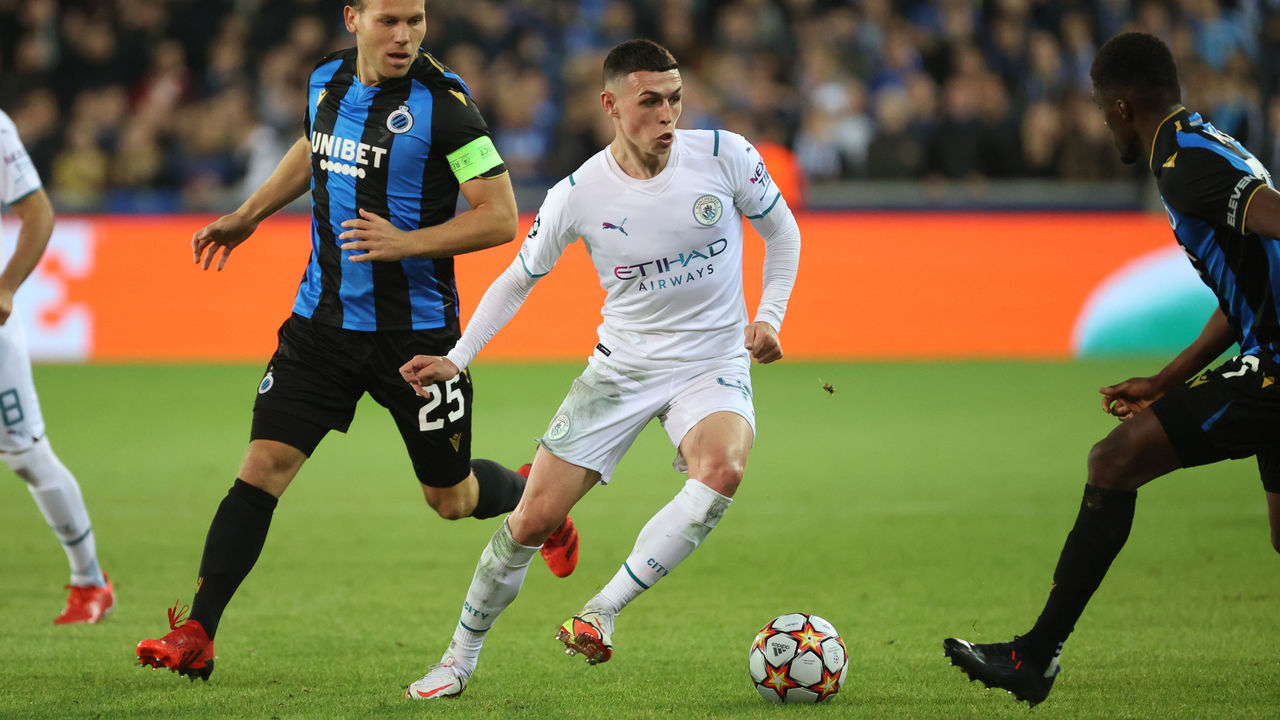 With Phil Foden deployed as a false nine, City dominated en route to a 5-1 victory. The versatile 21-year-old was on another level, as his vision, passing, and movement off the ball caused problems for defenders all night long. This is a quality Brugge side that beat RB Leipzig and held PSG to a draw in its previous Group A matches, so such a thorough hammering is nothing to scoff at.
Foden's confident display was one that City fans have come to expect from the exciting English international – and one that would be nearly impossible for just about any "traditional" striker in the world to replicate. With Ferran Torres out injured and Gabriel Jesus' continued struggles with consistency in front of goal, Foden could be the target man of the future for Guardiola.
Toothless Milan on brink of humbling exit
AC Milan's return to the Champions League has been nothing short of a disaster. Despite their impressive start in Serie A, the Rossoneri have struggled to get their Champions League campaign off the ground and now face the threat of an embarrassing exit after another frustrating night.
Stefano Pioli's men arrived in Portugal with their best opportunity yet to secure their first Champions League point since 2014. Instead, a controversial goal from Luis Diaz lifted FC Porto to victory over the seven-time European champions, who were also the victims of very dubious officiating decisions that factored into their loss to Atletico Madrid on Matchday 2.
Regardless of their poor luck with the officials, Milan now have a mountain to climb just to avoid finishing last in Group B after losing their opening three matches; they sit four points back of Porto and Atletico, and nine behind leaders Liverpool.
The assignment was always going to be difficult given the strength of the quartet. But toothless displays such as the one on Tuesday night – when Milan managed only one shot on target – are likely to result in a humiliating departure from the tournament that fans were so desperate to see the club compete in again.
Just how far can Ajax go this season?
After years of consistently developing prodigious talents and selling them at huge profits, Ajax have often been relegated to underdog status during their recent Champions League endeavors. Based on some of their upsets, it's a role the young Ajax teams of late have cherished.
But Tuesday felt like a turning point.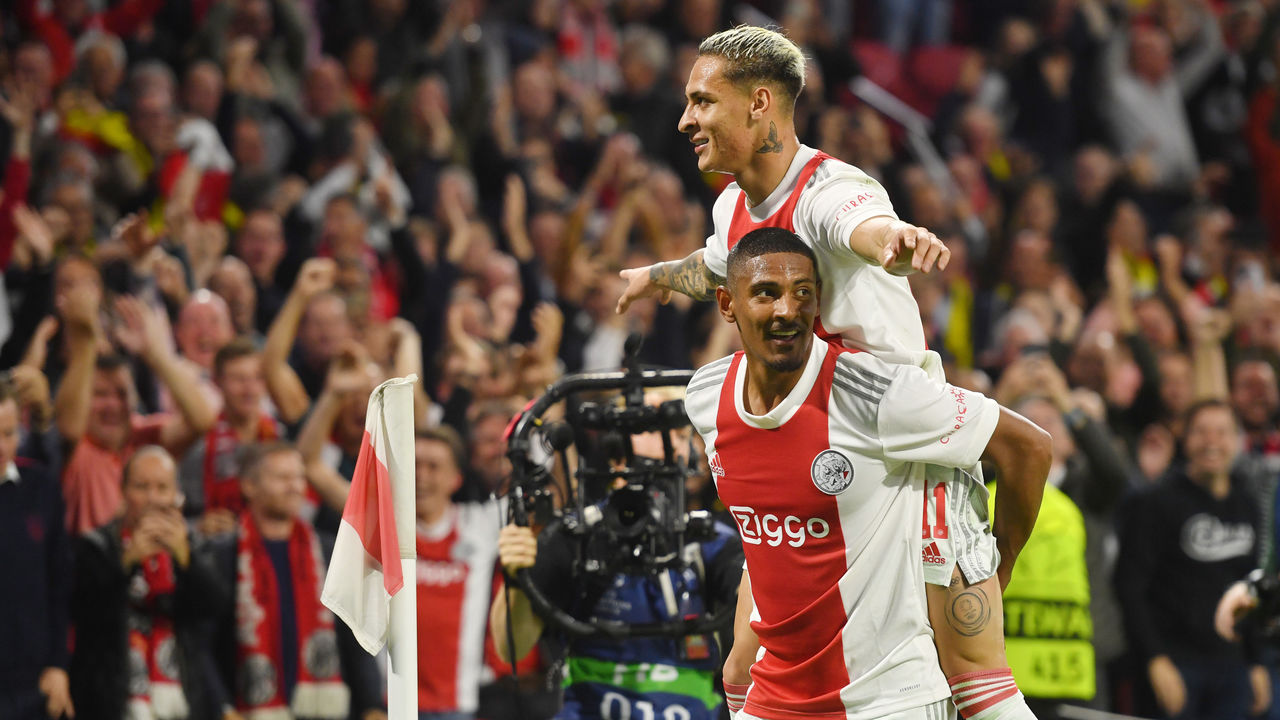 Ajax thwacked Borussia Dortmund, claiming a resounding 4-0 win befitting of a juggernaut, not an underdog. That's exactly what the Dutch side has looked like this season; between the Eredivisie and Champions League, Ajax have racked up 43 goals in 12 games, conceding only three times.
Erik ten Hag's team is supremely skilled in virtually every area on the pitch, and the imposing Sebastien Haller offers a change of pace up front that is, somewhat surprisingly, jiving perfectly with his more technical teammates.
FiveThirtyEight's Soccer Power Index (SPI) has the usual suspects rated as the best teams in this season's Champions League: Manchester City, Bayern Munich, and Liverpool occupy the top three spots at the moment. However, Ajax are fourth.
Until we see evidence to the contrary, the storied club should be viewed as a legitimate candidate to make serious noise in the tournament.
Barca's unspectacular win papers over cracks
It took them until Matchday 3, but Barcelona got their Champions League campaign up and running with a 1-0 win over Dynamo Kyiv on Wednesday.
But the path to victory was rougher than it should have been against a team Barcelona would have historically been heavy favorites to beat. Less than a year after winning 4-0 on a trip to Ukraine, Barca had to grind their way to victory at the Camp Nou.
On an evening when the hosts struggled to generate scoring opportunities, it took the heroics of a defender to decide the match. Gerard Pique scored the winner and became the first player to register a Champions League goal for the club since Lionel Messi's departure.
Despite getting the three points, it was a brutal performance that won't fill fans with confidence ahead of the season's first edition of El Clasico this weekend. If Koeman can't inspire his men ahead of the showdown with Real Madrid, it could spell the end to the Dutchman's time in charge.
Ronaldo rescues Solskjaer … again
Of course.
For the second consecutive Champions League match, Cristiano Ronaldo saved the blushes of Manchester United and manager Ole Gunnar Solskjaer, delivering a late header to cap a stirring 3-2 comeback win over Atalanta.
Villarreal know the feeling, too.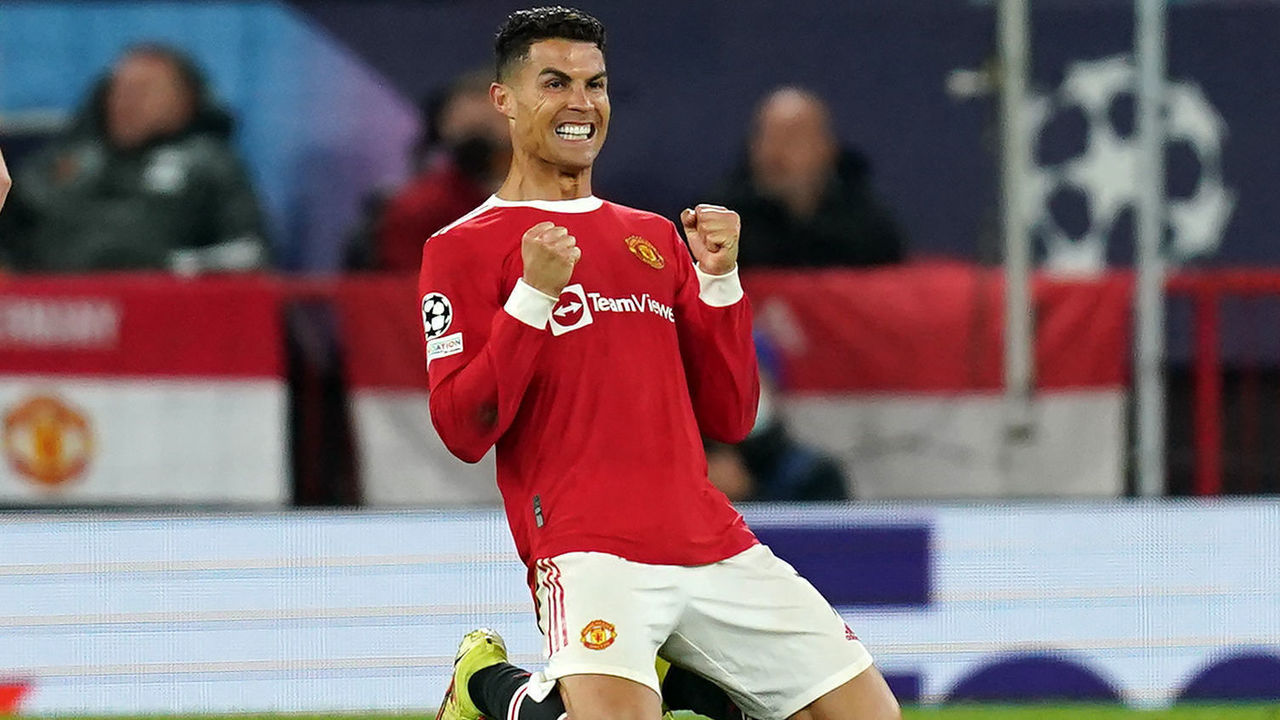 Solskjaer, who has come under increasing pressure amid the club's poor run of form, was surely the most relieved person inside Old Trafford as he watched Ronaldo's header hit the back of the net in the 81st minute. Though United created some chances in the first half, they again looked disorganized in defense and cumbersome overall, and the team, down 2-0 at halftime, was jeered off the pitch. The home crowd was growing restless.
Such a thrilling comeback will surely placate some – being able to turn that game around was no small feat, and praise is warranted – but getting into that situation in the first place should keep the alarm bells ringing. All is not solved, and the same pressing questions remain.
Does Solskjaer have the tactical nous to fix what's ailing the team? Or, as has long been suggested by his detractors, is he more of a cheerleader who needs to make way for a more celebrated tactician who can get the best out of a very talented squad?
Welcome to the De Sciglio renaissance?
Mattia De Sciglio was an afterthought for many Juventus supporters following his return from a loan spell with Lyon, but the versatile Italian has shown in recent matches why Massimiliano Allegri continues to have faith in him.
The 29-year-old, never the most buccaneering full-back, has directly contributed to Juventus' last two goals, whipping in delicious crosses against Roma this past weekend and Zenit St. Petersburg on Wednesday. Juve claimed 1-0 victories in both contests.
De Sciglio is often afforded plenty of space by the opposition, who have clearly identified him as the Bianconeri's least threatening outlet, regardless of which flank he takes up. It's not an unwarranted approach, to be fair, but if he continues to make worthwhile attacking contributions, opposing teams will eventually need to account for a player who some didn't expect to see wearing a black and white shirt at all this season.
Time for Tuchel to get creative
Chelsea cruised to a 4-0 win over Malmo on Wednesday, but any delight was tempered after watching strikers Romelu Lukaku and Timo Werner both leave the contest in the first half with worrying injuries.
Thomas Tuchel said after the victory that the Belgian star twisted his ankle, adding that the German speedster sustained a hamstring issue. He suspects the duo will miss "some games," according to James Olley of ESPN. The extent of their ailments will be learned later this week.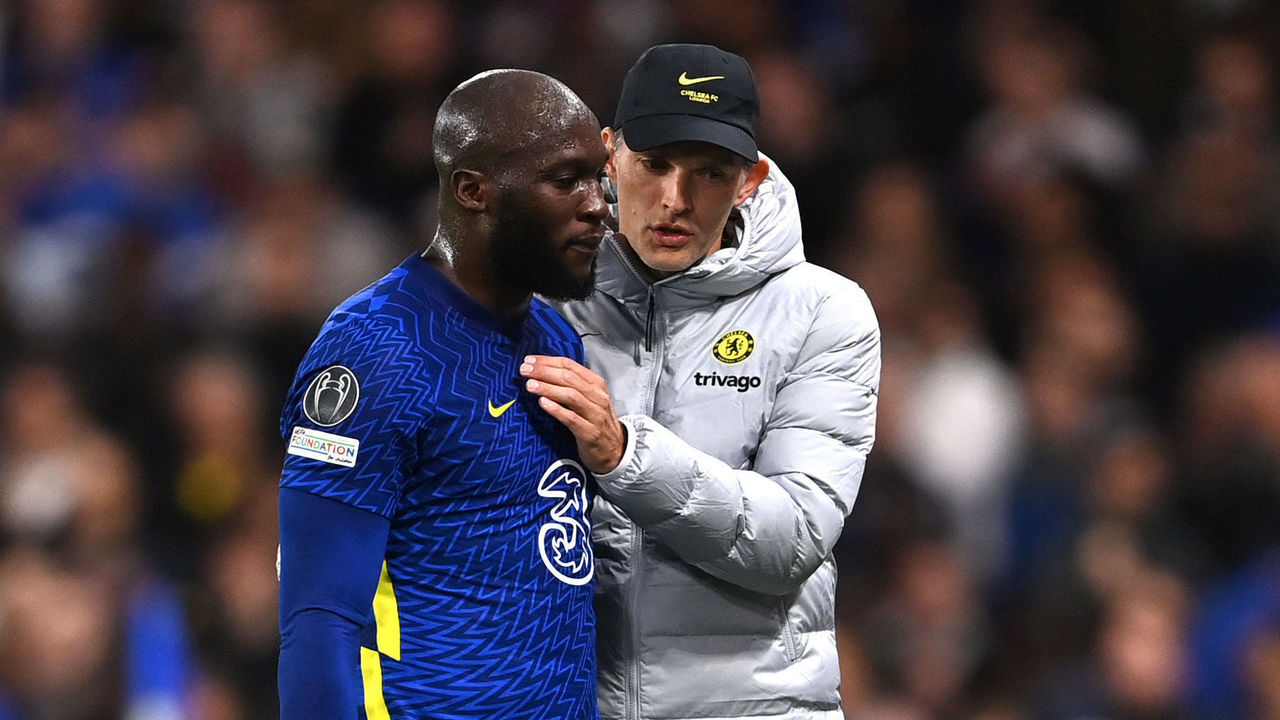 Barring a rapid recovery, Tuchel will need to get crafty with his lineup selections in the coming weeks. Kai Havertz, who found the net in Wednesday's rout, figures to see some time as a false nine.
There's never a good time for injuries, but the Blues will take solace in the fact that Lukaku and Werner's setbacks come during the most favorable portion – at least on paper – of Chelsea's schedule.
Adeyemi ready for big move
Karim Adeyemi will very likely be the subject of a bidding war in January.
The Red Bull Salzburg forward, 19, brought his tally to three goals in as many matches in this season's Champions League, scoring an early marker in his side's 3-1 triumph against Wolfsburg. The Austrian club is now sitting pretty atop Group G and will fancy its chances of reaching the knockout stage.
The German international's explosiveness has been central to Salzburg's success. In addition to his scoring prowess, the teenager has won four penalties in three games. Defenders can't handle him.
Manager Matthias Jaissle should probably enjoy the next couple months while he's able to call upon Adeyemi; a handful of Europe's top clubs are apparently eyeing an opulent transfer for the youngster, who looks destined to be the next big star to come through the vaunted Red Bull pipeline.
4 thoughts from Real Madrid's epic comeback against Manchester City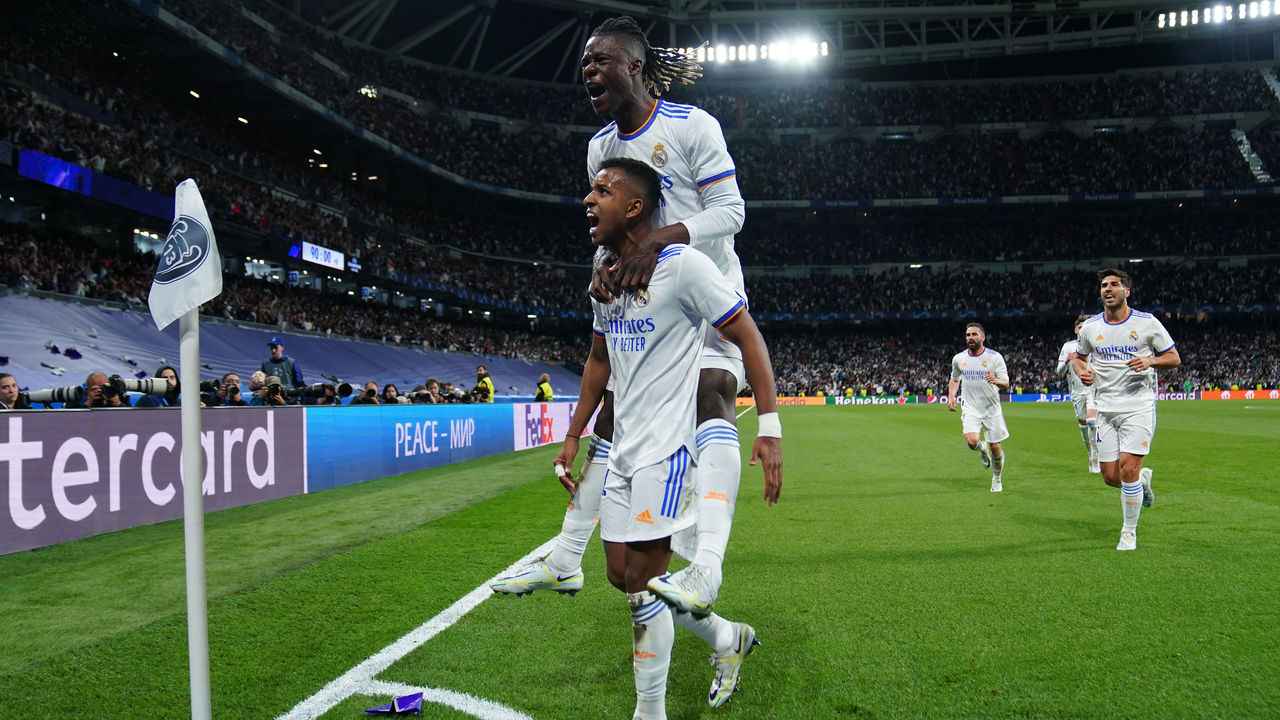 The Champions League served us another classic. Below, theScore examines the biggest talking points from Real Madrid's unlikely victory against Manchester City on Wednesday.
Ancelotti's subs make the difference
When Real Madrid need a spark, Carlo Ancelotti always looks to his bench. And more often than not, he finds the answer.
For all the talk of Ancelotti's unyielding loyalty to Madrid's most tried-and-true players, it's his willingness to thrust youngsters into the most critical situations that stands out. His substitutions turned the tide against Paris Saint-Germain and Chelsea, and they did the trick again on Wednesday. As he did in the round of 16 and quarterfinals, Ancelotti tapped the shoulders of midfielder Eduardo Camavinga and winger Rodrygo. They delivered, inspiring a late, scarcely believable, 3-1 comeback win over Manchester City.
Camavinga restored order in midfield when he replaced Toni Kroos with Madrid trailing PSG by two goals on aggregate. Los Blancos then scored three goals in 17 minutes to advance to the quarterfinals. The 19-year-old brought the same level of composure off the bench in the quarterfinal second leg against Chelsea, helping Madrid see off the Blues' comeback attempt.
On Wednesday, Camavinga stretched City's defense with wonderful balls over the top, offering more creativity than Casemiro and, crucially, setting up the play that led to Rodrygo's first goal.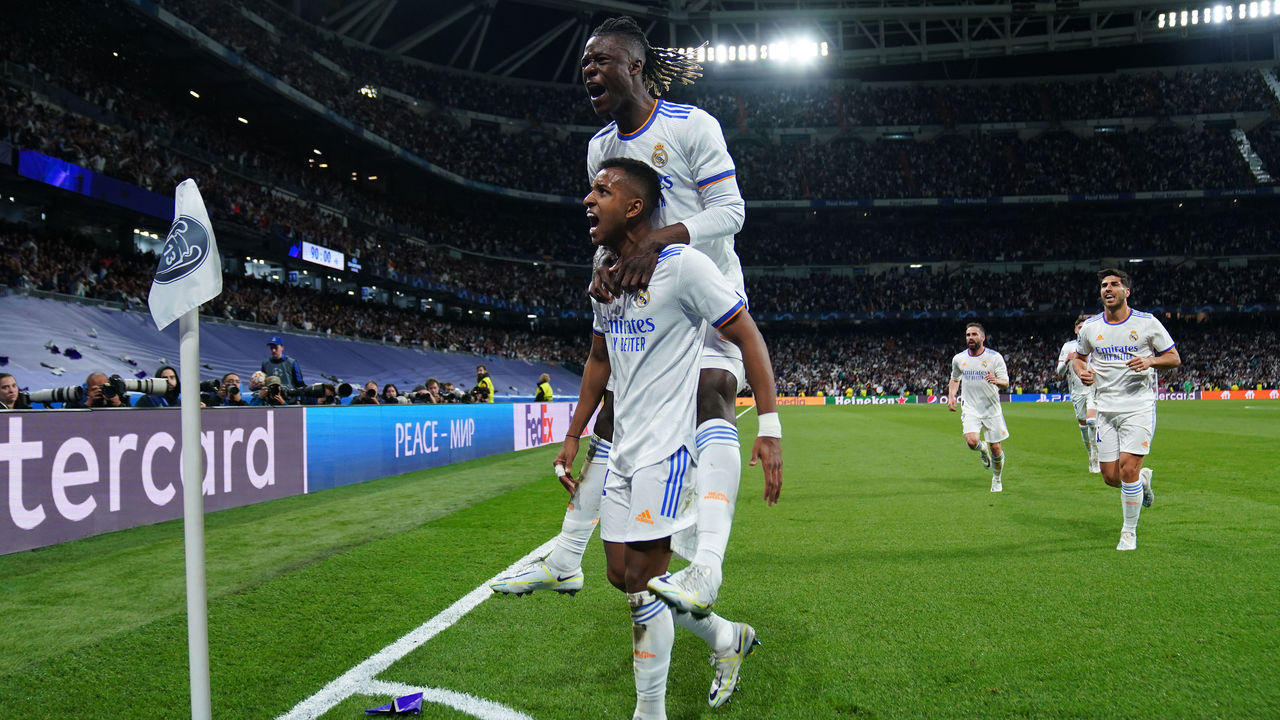 Rodrygo himself is 21 years old and in the middle of his third season with Madrid. He hasn't scored or played often, but when he does, it matters.
The Brazilian sent the match into extra time with the kind of header you'd expect from Karim Benzema: Packed with power and accuracy, it froze goalkeeper Ederson in place, leaving him moored to the ground. Rodrygo forced extra time in the quarterfinals as well, scoring two minutes after replacing Casemiro. Recently, in La Liga, he secured a 3-2 comeback win over Sevilla with a goal and an assist off the bench.
It's just what he does. Taking after many of Madrid's great players, Rodrygo has come alive in the business end of the season, scoring six goals in his last six appearances. He had just four in the 79 matches prior to that.
Ancelotti may not give his youngest players all the minutes they deserve – preferring experience from the start – but he values the youth in his squad, and when the going gets tough, there's nowhere else he'd rather look.
Casemiro to the rescue
"The collective is most important, to move together, to be compact," Ancelotti said ahead of Wednesday's extraordinary match, according to Dermot Corrigan of The Athletic. "We have worked on that, improving defensively, and I believe you will see that tomorrow."
Manchester City created chances – of course – but, for the most part, the Italian tactician was absolutely right. Casemiro was an enormous reason why Real Madrid looked more stout than they did at the Etihad Stadium.
The 30-year-old midfielder has an uncanny ability to avoid bookings for offenses that, committed by literally any other player, would be automatic yellow cards. The Brazilian was arguably lucky to still be on the pitch at halftime after scything down Kevin De Bruyne and then blatantly hauling Phil Foden down by the collar to halt a City attack later on. He was let off the hook by Daniele Orsato for the first challenge, and then, using the oldest trick in the book, expertly weaseled his way out of the second one by feigning injury after pulling the Englishman to the turf.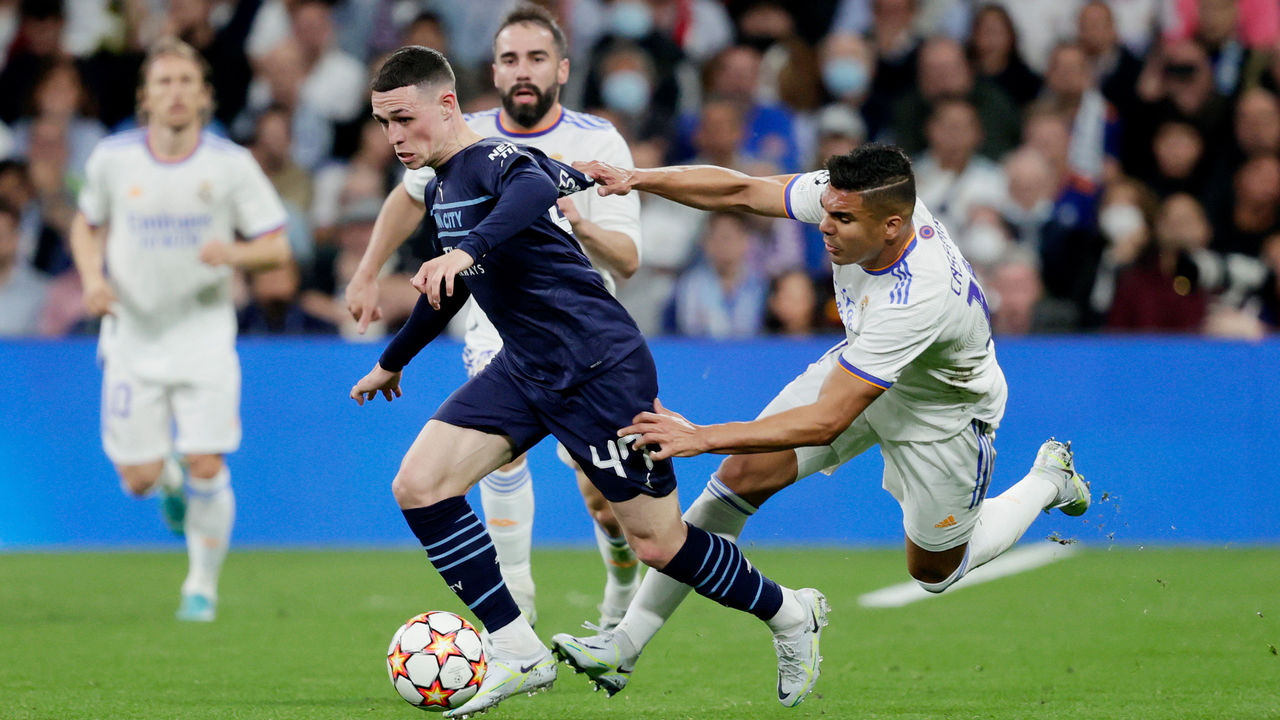 Some players simply have that nous. Casemiro, who, quite incredibly, wasn't booked before being replaced in the 75th minute, is at the top of the list.
He also happens to be a brilliant defensive midfielder. It's not all dark arts – far from it.
There was the usual physicality, which can often cross the line, but there was also the elite shielding of the defense, something that was painfully absent in the first leg with the veteran sidelined by injury. He snapped in when City threatened, intercepted potentially dangerous passes, and instilled calmness in tight spaces when he won the ball back, ensuring that Madrid didn't simply dump it long and immediately get pinned back again as they did in Manchester a week ago. There were even some cheeky nutmegs thrown in there for good measure.
All of his skills were on display early in the second half, when he won the ball on the edge of his own area, dribbled out of a congested zone with a quick body feint, then put his foot on the ball, scanned the field, and sprayed a pass out wide to launch an attack. His ability to combine all those skills, both diabolical and elegant, makes him one of the game's true unicorns and a key reason why Real Madrid have enjoyed so much success with him anchoring the vaunted midfield alongside Luka Modric and Kroos.
"If we are going to look (in the market) for a copy of Casemiro, we'll make a mistake," Ancelotti said of the Brazilian in January. "There are none in world football. He's unique."
Bernardo 2.0
Bernardo Silva twirled and jostled like a fairground bumper car at the Etihad Stadium in 2017; in one run, he willed the ball away from David Silva, used Leroy Sane's challenge to spring him higher up the pitch, and cheekily poked the ball through Yaya Toure's legs.
To further underline his credentials to Pep Guardiola, the fleet-footed winger feigned to shoot when he rolled the ball to Kylian Mbappe for AS Monaco's opening goal in the following month's second leg. The assist kickstarted Monaco's famous comeback win to reach the Champions League quarterfinals.
But the player who City signed two months later is vastly different from the one who repeatedly took the pressure off his teammates in the midweek defeat at the Santiago Bernabeu. Rather than a daring wide man – duping opponents with tricks and flicks – Silva has developed into one of Guardiola's more effective players when his side is under duress.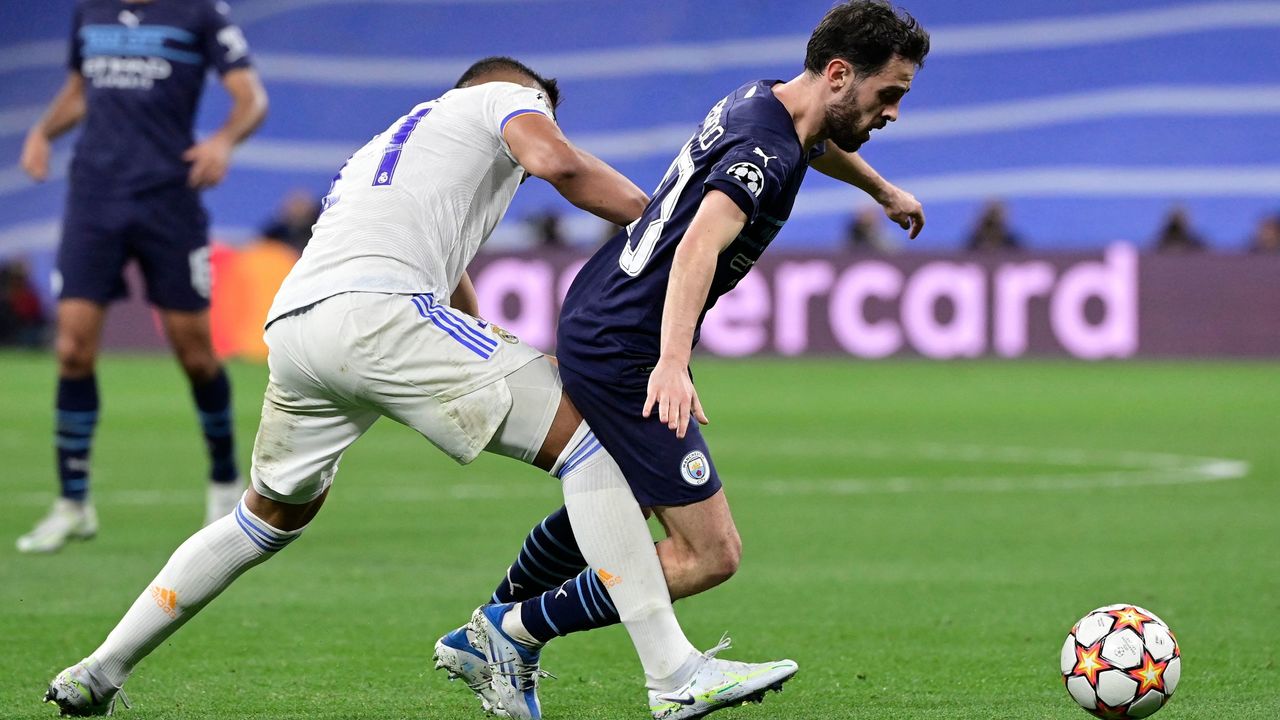 He was omnipresent for much of normal time, often collecting the ball from a deeper position than defensive midfielder Rodri. He intelligently lured white shirts before wriggling free. His natural technical brilliance – regularly utilized in his own half, unlike his time at Monaco – allowed his team to reorganize and, most importantly, retain possession.
In this area of the pitch, it's normally a risk for players to use the ball in that manner. But not for Silva.
It's no coincidence that Rodrygo's late double occurred after Ilkay Gundogan was called off the bench in the 72nd minute. Gundogan's inclusion pushed Silva further up the park. Silva teed up Mahrez's goal soon after that substitution – the strike that appeared to rubber-stamp City's place in the final – but, with the Portuguese in a more attacking role, City had crucially lost their pressure relief valve.
City's improvements a long time coming
Manchester City had regrets after the opening fixture. They'd given Real Madrid, the cloaked assassins of European football, life in the tie that they didn't deserve.
"We started really well and could have killed them off. In these games, we need to take more chances," Foden said after City's 4-3 win. "We are playing a side that have won the Champions League many times, and if we give the ball away, they are going to punish us."
This wasn't unchartered territory for Guardiola's regime. A first-leg lead was surrendered to Monaco in 2017, and there was another gut-wrenching loss to Tottenham Hotspur in 2019. The pain from the collapse to Liverpool (2018), tactical mishap against Lyon (2020), and more Pep overthinking in the final with Chelsea (2021) should've also added fuel to City's fire.
It seemed there were no more lessons City could take from a Champions League defeat, which might make this elimination the most painful of all.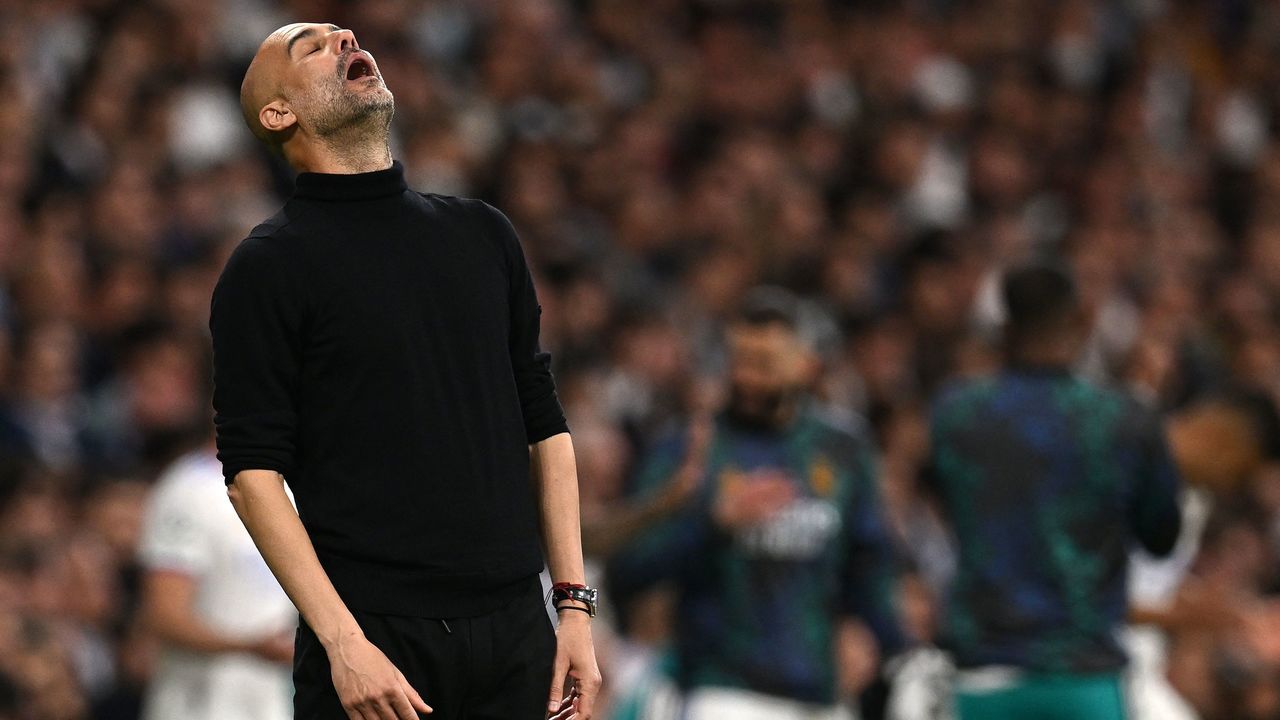 A place in the final was right there. Guardiola's substitutions will be scrutinized, but the most important switches worked. Jack Grealish almost scored twice, while Fernandinho added grit and aerial presence after they were introduced with City two goals ahead. It could be argued that City were just unfortunate, falling victim to the football gods' insistence on Real Madrid winning, whether they play well or not.
That's not to say that this latest devastating setback was unavoidable. While their Premier League title rivals, Liverpool, are immaculately balanced with at least two players of almost identical quality for most positions, City's transfer committee appears content on leaving Guardiola's squad hamstrung.
For too long, City have relied on out-of-position players to fill the left-back slot, such as No. 6 Fabian Delph, attacking midfielder Oleksandr Zinchenko, and right-back Joao Cancelo. The disgraced and oft-injured Benjamin Mendy is the last established left-back that City brought in, and that was five years ago. Re-signing Angelino in 2019 was little more than an experiment gone wrong.
And the most talked-about gap in Guardiola's roster – a No. 9 – wasn't filled before this season. The club wasn't prepared to pursue a different striker when the drawn-out Harry Kane chase spectacularly collapsed.
If City address the simple ways they can improve their squad this summer, it should strike fear in their European and domestic rivals. But right now, it comes as no consolation to their supporters. Those glaring needs should've been sorted out a long time ago.
Preview, predictions for Champions League semifinals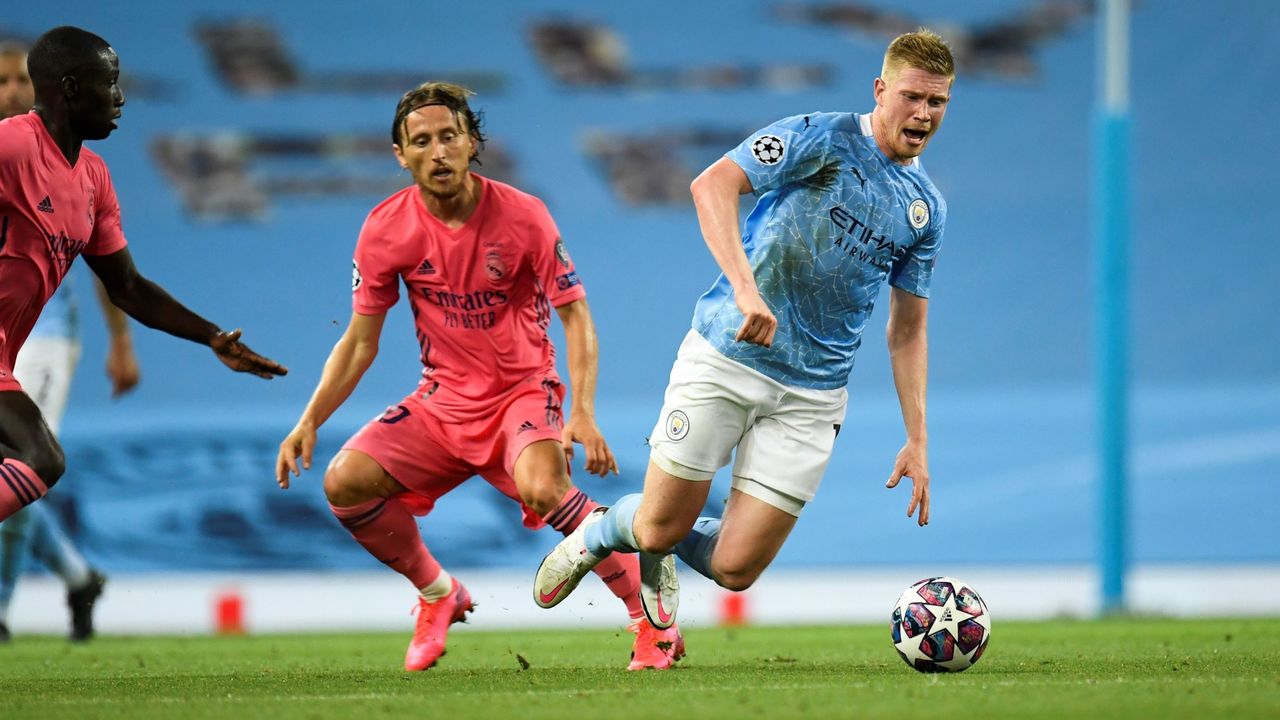 And then there were four. The Champions League semifinals begin this week with a pair of intriguing matchups on deck. Here's a breakdown of each contest, along with predicted outcomes.
Manchester City vs. Real Madrid
First leg: April 26 (Etihad Stadium)
Second leg: May 4 (Santiago Bernabeu)
The 13-time champions, who boast about the European Cup being part of their DNA, against a club that's desperate to validate its project on the continental stage by capturing the famous trophy for the first time.
Real Madrid and Manchester City, coming off equally chaotic but very different quarterfinal triumphs, meet in this round's marquee matchup. It wouldn't really be accurate to dub this the old guard of European football against the new – Manchester City have been the dominant force in English domestic football for the last decade, after all. But the sport's changing financial landscape – and thus its power shift toward England – hasn't yet resulted in City winning their most desired accolade: the Champions League.
"If we had to compete with history, we wouldn't have a chance," Pep Guardiola said of the impending clash. "Their history speaks for itself.
"We have to have the desire to compete against them. To play against Real Madrid is an incredible test. We want to try it. We need to suffer, to stick together, when we have the ball, try to attack."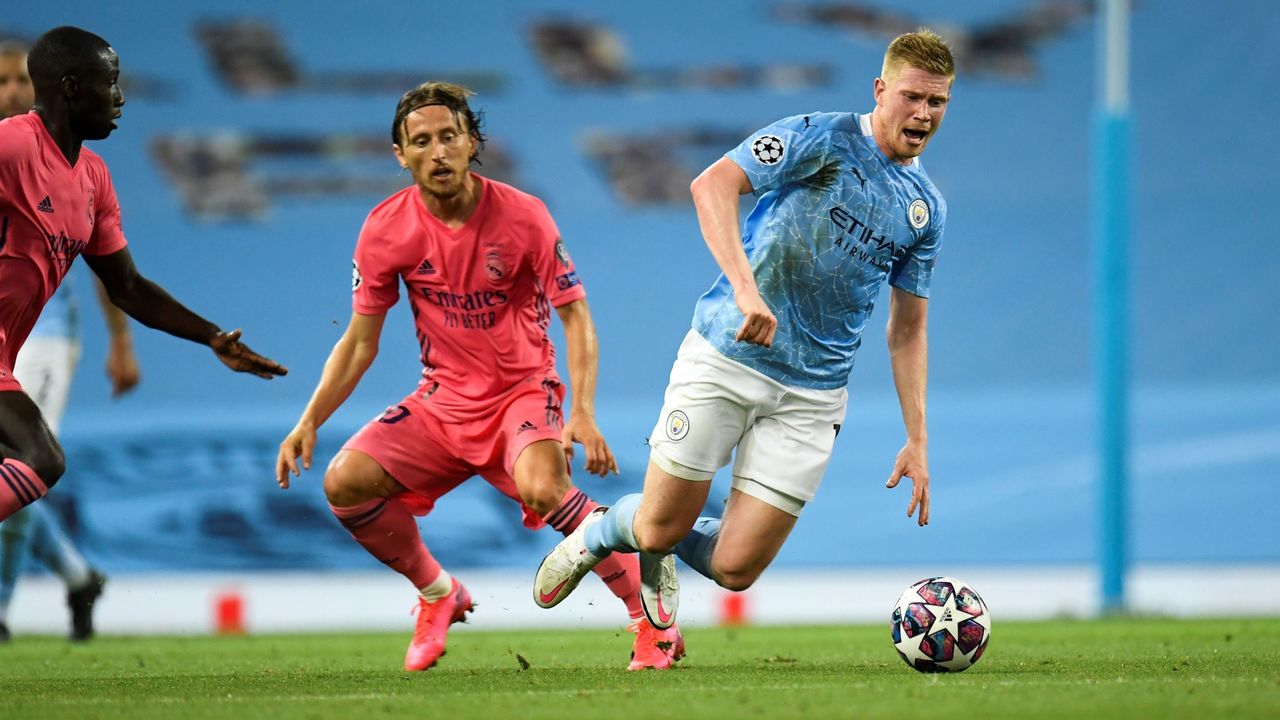 Joao Cancelo's absence looms large over the first leg; the Portuguese full-back, a creative fulcrum from his nominally defensive position, is suspended for Tuesday's affair. There are very few players in the world capable of replicating Cancelo's attacking impact. With respect to the possible replacements in Guardiola's squad, none of them play for Manchester City. Injuries to Kyle Walker and John Stones are concerning, too, especially considering that Vinicius Junior isn't exactly the opponent you want to see when faced with a selection crisis at right-back.
Guardiola, often ridiculed for "overthinking" his lineup and tactical choices in recent Champions League seasons, has no choice but to concoct something unique after admitting that both Walker and Stones are "doubts" for Tuesday.
Absentees aside, Guardiola can – and should – take solace in a simple yet vital fact: Manchester City is the better team. By the Expected Goals (xG) metric, City have both the best attack and defense of the four semifinalists remaining in this year's competition; their xG difference of 12.6 is vastly superior to Real Madrid's mark (4.2). Yes, Madrid has faced tougher opposition in the knockout stages, but City navigated a more difficult group.
Real Madrid, as they did in each of the last two rounds, will have to rely on less tangible factors. It's impossible to measure, but the experience and self-belief that decorated veterans like Karim Benzema, Luka Modric, Casemiro, and Toni Kroos possess means there's never a sense of panic on the pitch, particularly when the second leg is played at home.
"At the Bernabeu, nothing is ever lost," Carlo Ancelotti said after the rousing quarterfinal with Chelsea, which the red-hot Benzema decided in extra time. "I can't explain it, but there is a magic at the Bernabeu that helps you."
By every quantifiable metric, Guardiola's team is superior. If that "magic" is real – and, honestly, after seeing Madrid conjure up seemingly impossible Champions League victories out of the ether on countless occasions, it just might be – they'll need every last drop of it to topple Manchester City.
This time, previous success might not be enough to beget more of it. City, last year's defeated finalists, are on a mission to write their own chapter of history.
Prediction: Manchester City advance after extra time
Liverpool vs. Villarreal
First leg: April 27 (Anfield)
Second leg: May 3 (Estadio de la Ceramica)
Juventus. Bayern Munich. Liverpool?
Villarreal, the modest Spanish club making its first appearance in the Champions League semifinals since 2006, is aiming to pull off yet another upset and extend a remarkable European run that's being savored in an era otherwise dominated by uber-rich "super" clubs with unlimited resources.
This would be their biggest surprise yet, though, and by some margin.
Unai Emery's unflappable unit will have to overcome a Liverpool team that has just one loss in all competitions since Dec. 28. Looking to reach a third Champions League final in five seasons, this is arguably the best squad Jurgen Klopp and the Reds have put forth in that stretch.
"They have probably the most successful cup competition manager in world football, so he knows what he is doing," Klopp said of his opposite number. "Unai Emery is the king of the cups. It is unbelievable what he is doing."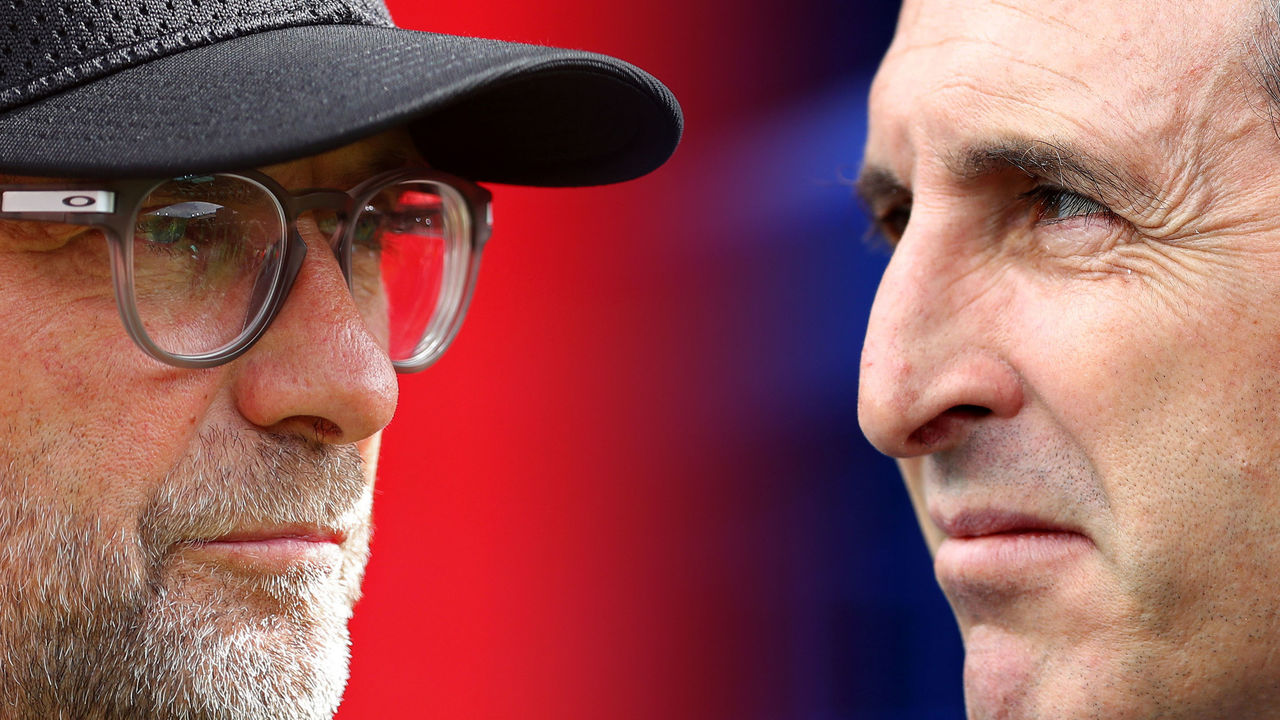 How Emery compensates for the expected absence of injured striker Gerard Moreno will be the most intriguing tactical wrinkle of the first leg, and perhaps the most decisive of the entire tie. Giovani Lo Celso, as he's done on occasion, could play a more advanced position behind Arnaut Danjuma. Having the Argentine in a faux No. 10 role would then allow Emery to pack the center of the pitch by introducing another midfielder, possibly Manu Trigueros or Francis Coquelin, into the lineup in an effort to wrest control. At the very least, it'd offer some resistance against Thiago, who's again at his metronomic best at the heart of Liverpool's midfield.
That conservative option seems most likely, based on Emery's track record in the competition this season. This is a team, remember, that knocked out Bayern Munich despite ceding possession almost entirely and having just two shots on target over the 180 minutes.
Can such a guarded approach work again?
Though unlikely, if Emery wants to be more aggressive, quarterfinal hero Samuel Chukwueze could be inserted into the starting XI, which would potentially help to keep Andrew Robertson more honest down the flank.
But even if the Basque strategist solves that conundrum, he still needs an answer for the other side of the pitch, where Trent Alexander-Arnold and Mohamed Salah will try to overwhelm the sometimes overzealous Pervis Estupinan. Trying to shut down Liverpool is like playing whack-a-mole – if you put out one fire, another immediately springs up.
We've been burned before siding against Emery, but beating this Liverpool team is a different proposition to anything the Yellow Submarine have faced thus far. Villarreal will make it tight, of course, but Klopp's rampant side is simply on another level that only Manchester City can match this season.
Get ready for an all-English Champions League final. Again.
Prediction: Liverpool advance 3-2 on aggregate
Analysis, predictions for every World Cup group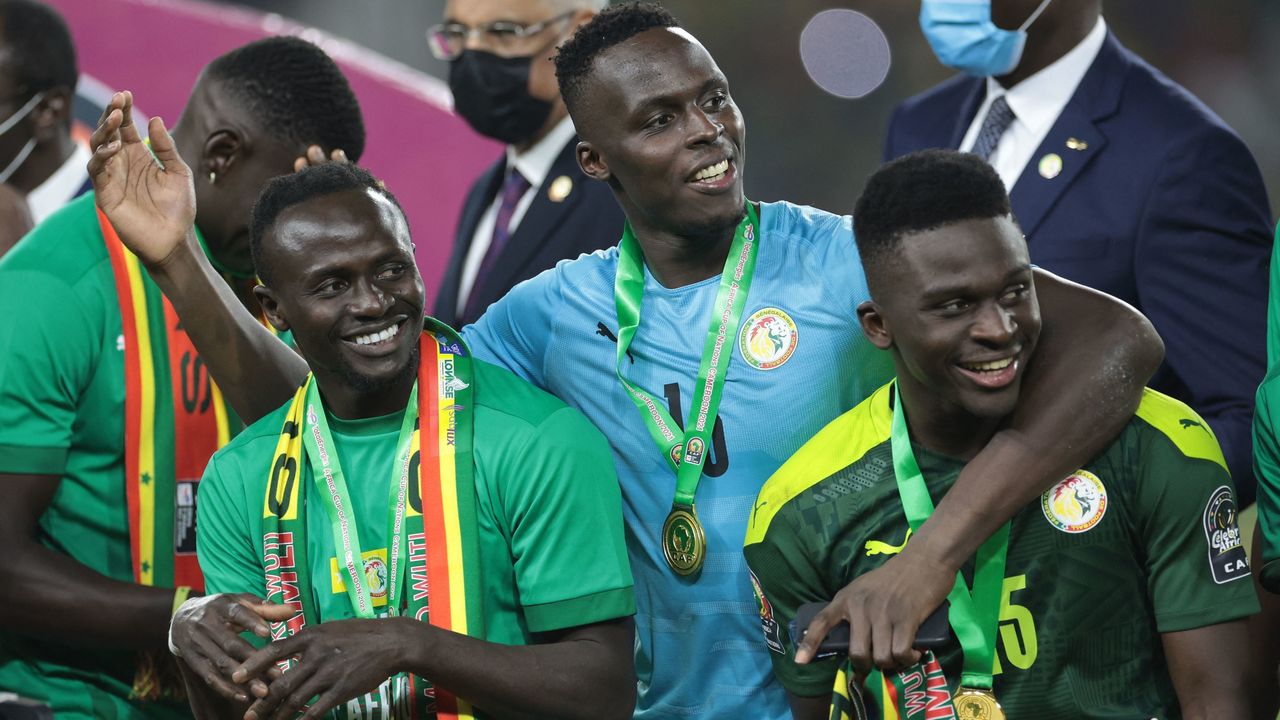 The matchups are set. With the 2022 World Cup draw officially in the books, it's time to dissect the groups. Although much can change between now and November, here's what to expect from each quartet ahead of football's showpiece event later this year in Qatar.
Group A ?? ?? ?? ??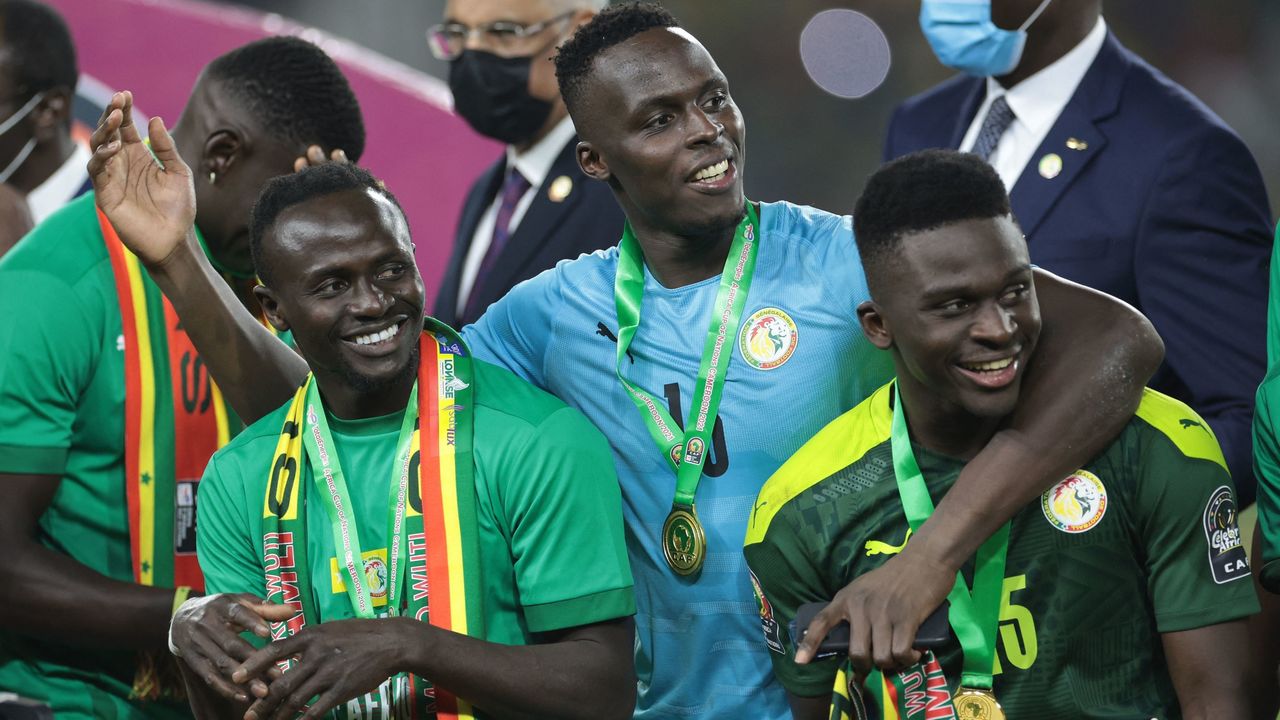 Knowing host nation Qatar was automatically preassigned to Group A, this was always going to be the most desirable quartet; there's something to be said about relishing glory matches against perennial powers, but, ultimately, the most enjoyable outcome for every team and fan base is winning games at the World Cup, and Qatar presents the best opportunity for everyone else to accomplish just that. The Netherlands, Senegal, and Ecuador are the biggest winners of all, then.
The Dutch – seemingly back on track under Louis van Gaal following their perplexing low point – are the class of the field, but reigning African champion Senegal is the more intriguing outfit. Aliou Cisse's team is rife with star power, stout defensively, and has a legitimate game-breaker in the form of Sadio Mane, who will be looking to get one over on clubmate Virgil van Dijk.
Ecuador limped across the finish line in qualifying and will be relying heavily on 32-year-old Enner Valencia – the nation's all-time top scorer – to deliver goals. That doesn't inspire confidence in 2022, unfortunately.
Key question: Will Qatar actually be competitive on the pitch, or is the host nation's involvement in this tournament just an exercise in massaging the country's image across the globe?
Prediction: Van Gaal and the Oranje won't breeze through the group, but superior talent wins out, with Senegal edging Ecuador for the second knockout berth.
Group B ?gbeng ?? ?? (?gbwls/?gbsct/??)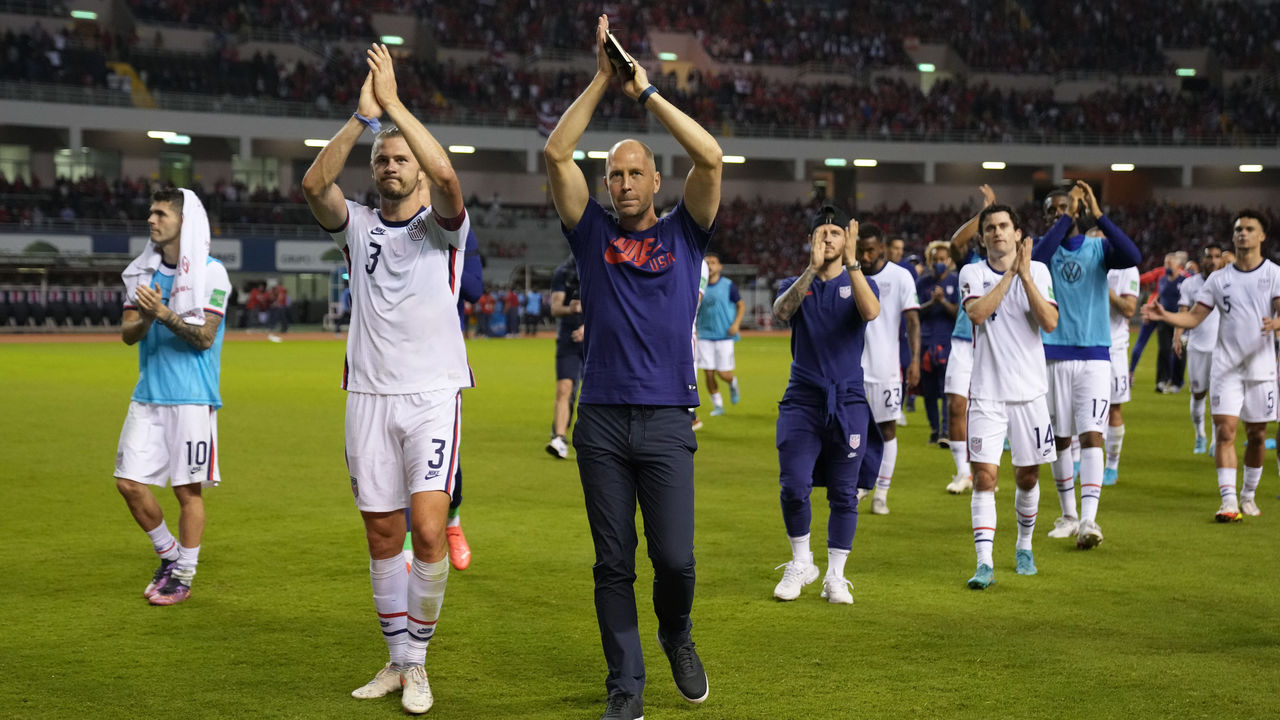 England has made steady progress under Gareth Southgate and will be looking to go one step further after reaching the semifinals of the 2018 World Cup and final at the recent European Championship. The typically conservative tactician is facing increased scrutiny to take the handbrake off and let his young, exciting squad run free.
Speaking of, similar questions have been posed to Gregg Berhalter, who is overseeing arguably the most talented generation of American players the country has ever produced. His side – sometimes hindered by questionable tactics – underperformed in qualifying, but if the United States gels ahead of November, optimism will be high.
As has been the case in previous editions of the tournament, Iran will prove to be a difficult unit to break down; coach Dragan Skocic oversaw a team that conceded only four goals over 10 matches in the final round of qualifying. However, the step up in quality from the likes of Lebanon and Syria might be too much to ask.
Key question: Who comes through the European playoff? Both Wales and Scotland would be hugely motivated to play against England and could spice up a group that may otherwise be a two-horse race. Ukraine would arrive in Qatar with a swell of support.
Prediction: Southgate lets loose, England runs wild, and the Three Lions' match against the United States proves to be one of the most exciting of the entire group stage.
Group C ?? ?? ?? ??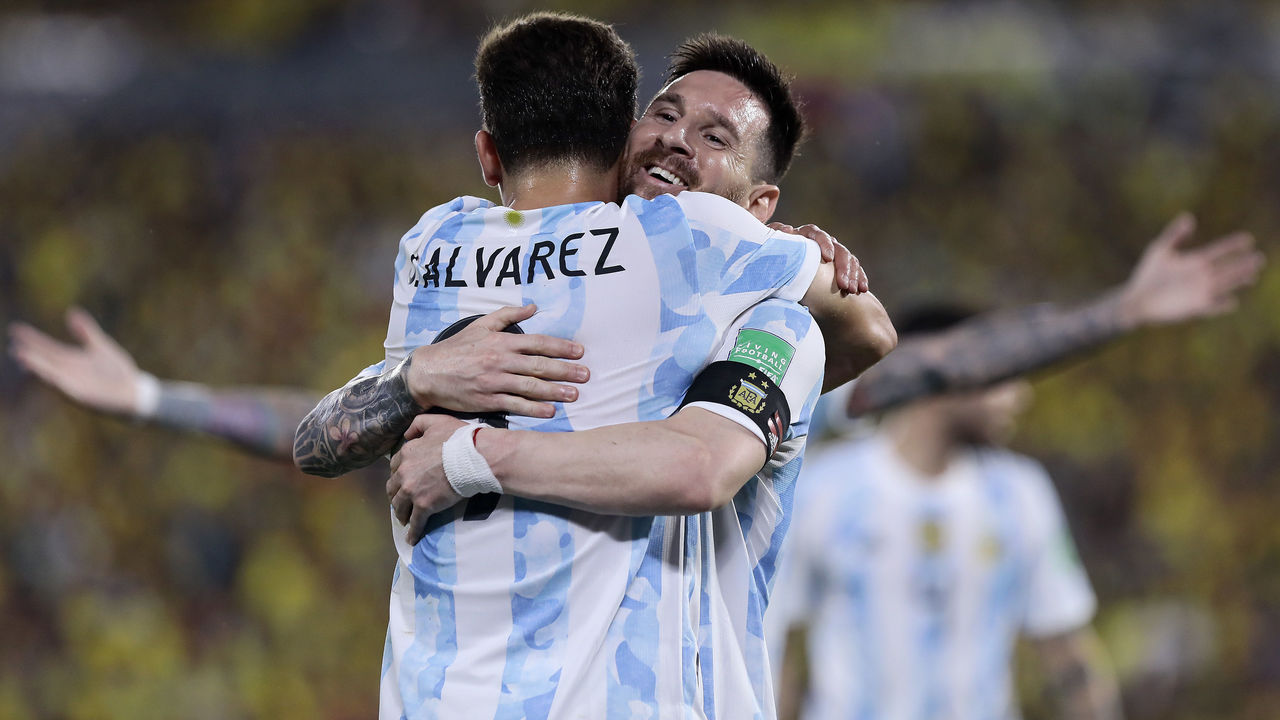 This is likely Lionel Messi's last chance to hoist the World Cup. In an ironic twist, it may be his best. Despite Argentina missing the high-profile names of previous years and tournaments, Messi looks more comfortable with the Albiceleste than ever before, and, contrary to his days at Barcelona, appears far more in tune with his national team than his club. Lionel Scaloni has turned a once fragmented and chaotic group into one with balance. Coming off a Copa America title, the decorated national team is in a good place again.
Mexico is looking to get over the hump after being eliminated in the round of 16 in each of the last seven World Cups, but this is probably the least inspiring team of any in that stretch, at least based on the patchy form in qualifying. Meanwhile, Poland is coming off two horrible major tournament appearances but showed signs it can deliver when needed in its European playoff final.
With seasoned tactician and World Cup veteran Herve Renard on the touchline, Saudi Arabia won't be a pushover in any of its matches, but a lack of overall top-end talent will prove too great an obstacle.
Key question: Can Mexico get its act together? El Tri were disjointed and wildly inconsistent in qualifying, but second place in this quartet is very much up for grabs between the CONCACAF nation and Poland.
Prediction: Messi and Argentina build on their recent success to grab first place. Mexico and Poland both go into the competition with question marks, but the latter has Robert Lewandowski, and he'll make all the difference.
Group D ?? ?? ?? (??/??/??)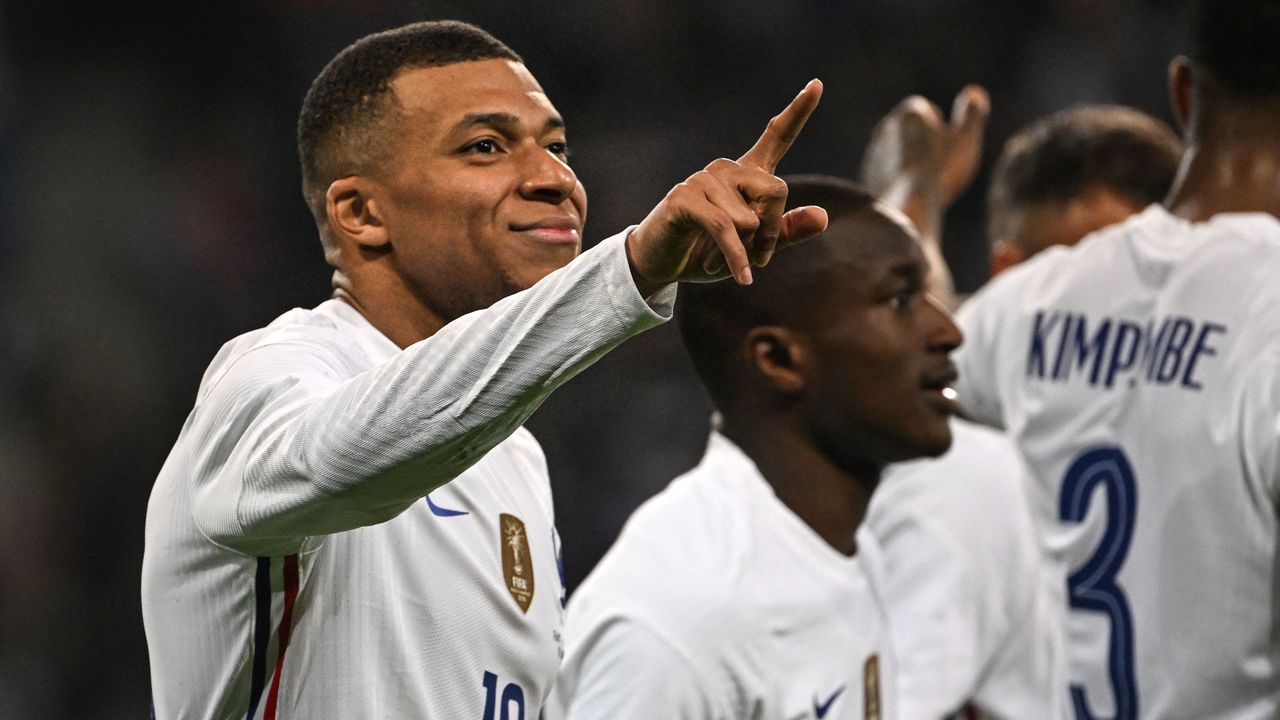 Reigning World Cup champion France boasts the most dominant singular force in the sport today – nobody, not even Messi or Cristiano Ronaldo, can take over a match like Kylian Mbappe. France could probably field two competitive teams at the tournament, such is its talent pool. But even with a World Cup title to his name as a manager, Didier Deschamps' ability to pick the right lineup and system to maximize that obscene collection of players is at the forefront.
Denmark, with Christian Eriksen back in the fold and scoring goals following his harrowing collapse at Euro 2020, is going to be a big problem for the rest of the field. The Danes' run to the semifinals last summer was no fluke.
Tunisia, as evidenced by its gritty performance in the second leg of its decisive World Cup qualifier against Mali, will try to grind out results, but unless teen sensation Hannibal Mejbri takes a big step forward in the coming months, goals will be hard to come by. The winner of June's intercontinental playoff between Peru and either Australia or the United Arab Emirates will round out the group.
Key question: Can Denmark build on its recent success and usurp the top spot? France is the obvious front-runner, but the Danish program is riding a wave of excitement and goodwill right now.
Prediction: France and Denmark put on a pulsating show in the battle for first place in the group, while the other two teams, unfortunately, get overrun by the heavy European favorites.
Group E ?? ?? ?? (??/??)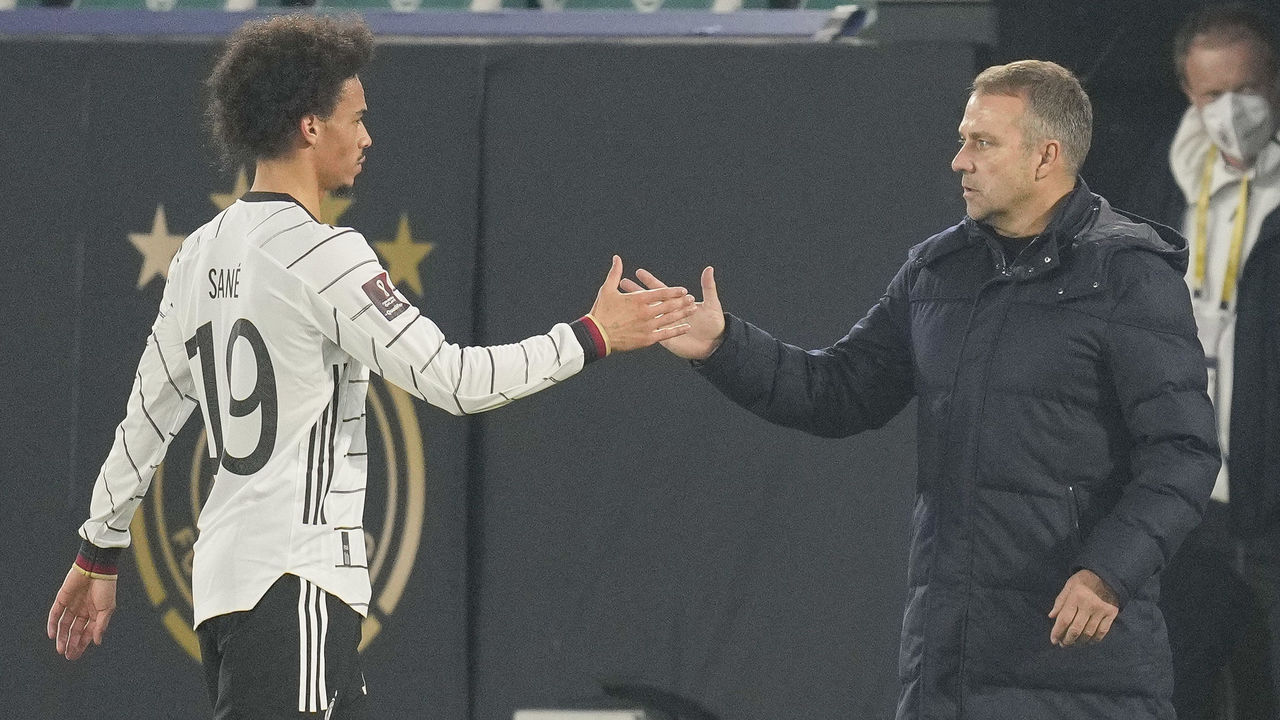 The glamor matchup of the tournament's opening stage comes from Group E. Both Spain and Germany will be looking to bounce back from a dismal World Cup four years ago; the 2010 champion was ousted by Russia in the round of 16, while Germany was stunned by South Korea en route to a humiliating group-stage exit. Both are on the mend thanks to an influx of blossoming youngsters, with Luis Enrique and Hansi Flick seemingly rejuvenating their respective teams.
Perennial World Cup competitor Japan, which has never ventured beyond the last 16, will likely feel aggrieved about the draw. Takefusa Kubo and Takumi Minamino are more than capable of splendid moments, but, on the whole, upsetting the European heavyweights will be a Herculean task. The same goes for either Costa Rica or New Zealand, who will contest an intercontinental playoff in June. If Los Ticos get to Qatar, star shot-stopper Keylor Navas will be extremely busy.
Key question: Who finishes first? With respect to the other participants, Spain and Germany will be focusing on taking top billing and, in theory, ensuring a more favorable path through the knockout stages.
Prediction: Spain will edge Germany for top spot in the group, which theoretically means avoiding fellow UEFA contender Belgium in the next round. Chalk, of course, but it's difficult to envision another outcome here.
Group F ?? ?? ?? ??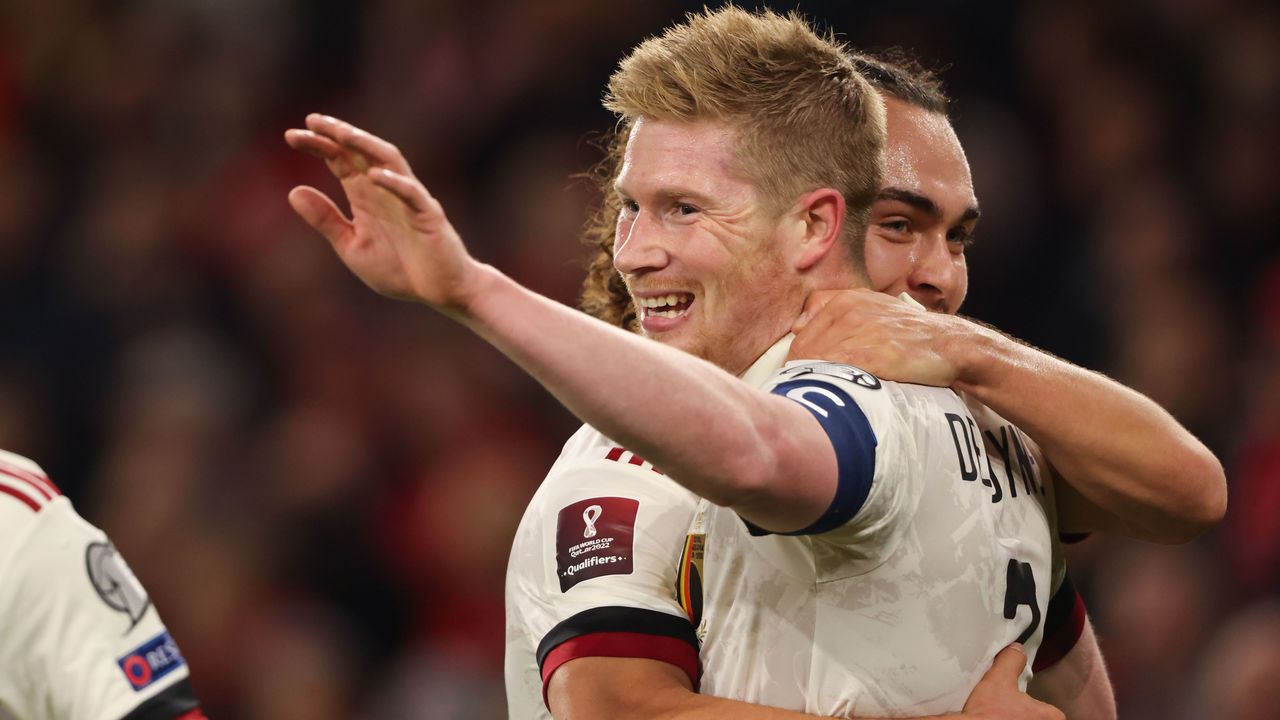 This is the last chance for Belgium's golden generation to deliver and erase memories of all the false dawns. If anything, the Red Devils seem to be on the decline, particularly with an aging backline that will have difficulty containing any opposition with pace. However, Kevin De Bruyne, if healthy, is still one of the most dazzling creative forces in the game and Romelu Lukaku will fill the net if he's in anything close to his best form.
The rest of Group F is truly fascinating. The same criticisms about Belgium's age can be levied at Croatia, the 2018 World Cup finalist. If anyone can continue defying Father Time it's Luka Modric, but for how long? At least another nine months, for Zlatko Dalic's sake. Canada could be the revelation of the competition, with established superstar Alphonso Davies leading a host of up-and-coming players looking to follow in the footsteps of their acclaimed teammate and announce themselves to the world.
Meanwhile, a dispute between manager Vahid Halilhodzic and Hakim Ziyech has robbed Morocco of its most intriguing attacking threat, but Achraf Hakimi provides the type of explosive presence down the right flank that can compensate.
Key question: Will Canada make some noise? Expectations are very high following a remarkable qualifying campaign, and a World Cup opener against Belgium will be a great test for John Herdman's young side right off the bat.
Prediction: Belgium, despite come cracks starting to show, will get another shot at a run in the knockout stages, while Canada builds on the incredible momentum fostered by Herdman to jump Croatia for second place.
Group G ?? ?? ?? ??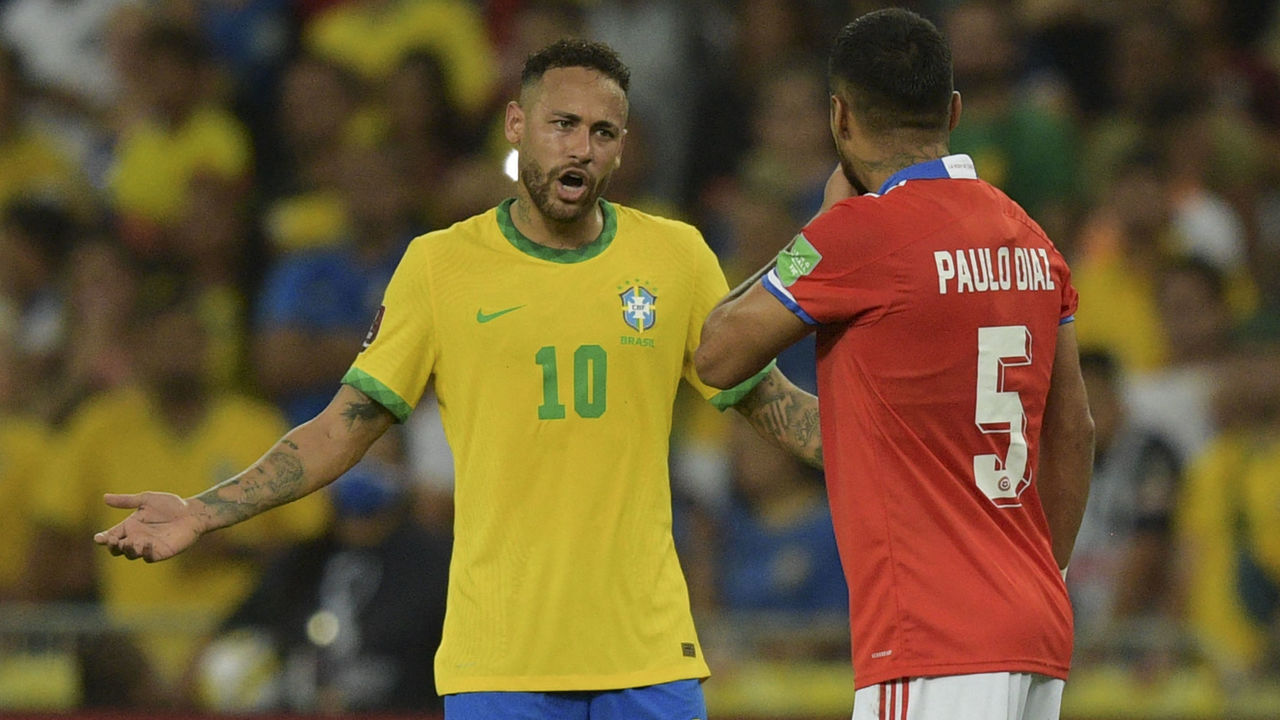 Brazil, fully deserving of its newly minted status as the top-ranked team in world football, has all the makings of a World Cup champion. There's the standard Brazilian flair in attacking positions – and beyond – while Tite's tactics provide structure. As always, much of the focus will be on Neymar, who, almost incomprehensibly, is now 30 years old and running out of time to get his hands on the coveted trophy. The Selecao don't have to rely on him exclusively, but having the PSG star at his best would be an enormous boost.
From there, it's a dogfight for second place.
Serbia, led by two Dusans – Vlahovic and Tadic – are on the rise, while Switzerland is looking to build on an impressive run at Euro 2020 and the fact it was responsible for keeping Italy out of an automatic World Cup berth. Cameroon, after the most dramatic qualifying finale of any country in the event, will lean heavily on Vincent Aboubakar and Eric Choupo-Moting to deliver the goals. Can the Indomitable Lions bottle up the magic from qualifying and keep it primed until November?
Key question: Which of the "other" three teams will pick up points in their opener? Getting off to a good start is always paramount, and it'll be a huge step toward qualification if anyone can get a jump on the competition.
Prediction: Brazil, the favorite to win the World Cup for a record-extending sixth time, will be tested just enough to stay honest, but won't have much issue marching on. The battle will be tight for second, with Serbia advancing by virtue of a superior goal difference.
Group H ?? ?? ?? ??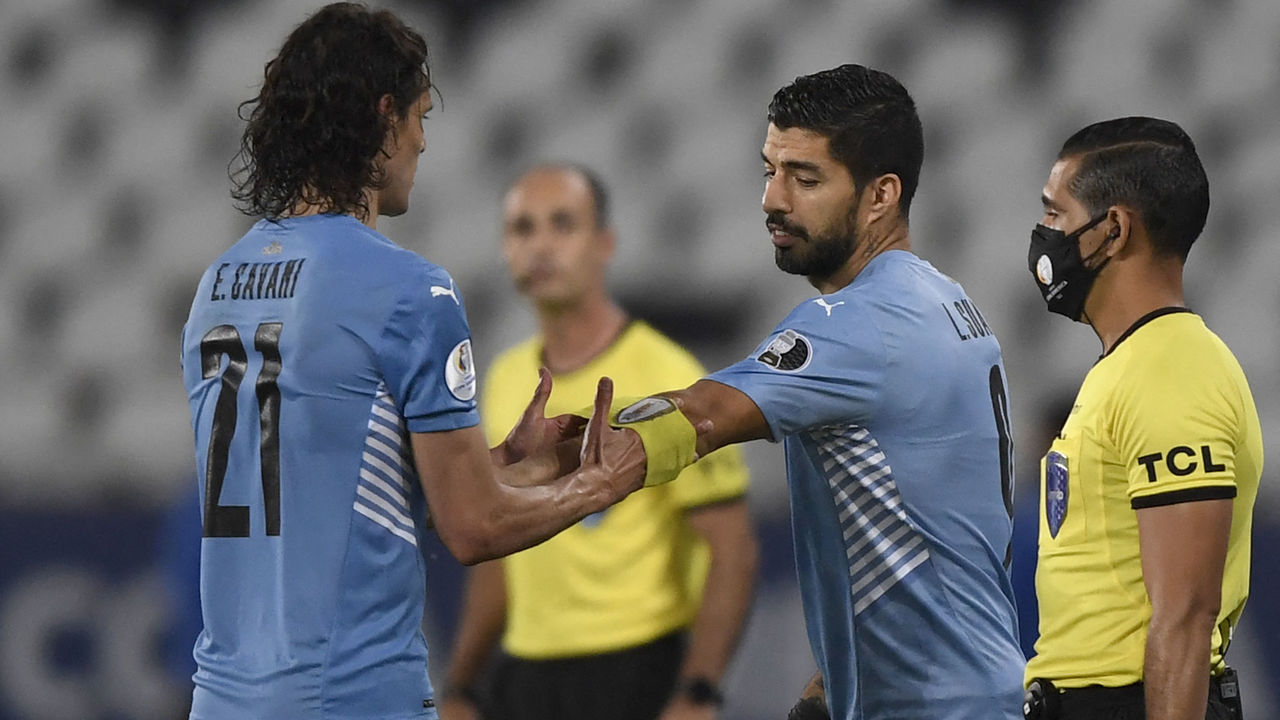 On paper, this looks like a rather straightforward group, but Fernando Santos' pragmatism continues to cause consternation for Portugal fans. Uruguay, though resurgent since Diego Alonso replaced iconic bench boss Oscar Tabarez, will be relying on an aging core that was already creaking in 2018. Four years later, the likes of Diego Godin, Luis Suarez, and Edinson Cavani are still central figures.
South Korea and Ghana will be looking to take advantage of any slip-ups. Former Portugal manager Paulo Bento, now in charge of the Asian side, has built an impressive team that has the ever-present threat of Son Heung-Min and the emerging presence of Hwang Hee-Chan up front. Anybody dismissing the Koreans need only ask Germany about the danger of making that mistake.
Ghana has rebounded nicely from the disappointment of a brutal AFCON campaign, with manager Otto Addo instilling a sense of calmness that was lacking before he took the reins. The Black Stars went into the cauldron of Abuja and knocked off Nigeria to reach the World Cup, and will be looking to accomplish similar in Qatar, particularly against old foes Uruguay and Suarez.
Key question: Can Portugal still thrive if built around Cristiano Ronaldo? The 37-year-old, who will be appearing in his fifth World Cup, isn't the all-conquering force of years past, with some arguing the Selecao would actually be better off without the veteran as the focal point of the team.
Prediction: Portugal and Uruguay both stave off the enthusiastic threats of Ghana and South Korea, who bow out with their heads held high after tight defeats to the favorites.