3 thoughts from Saturday's Premier League action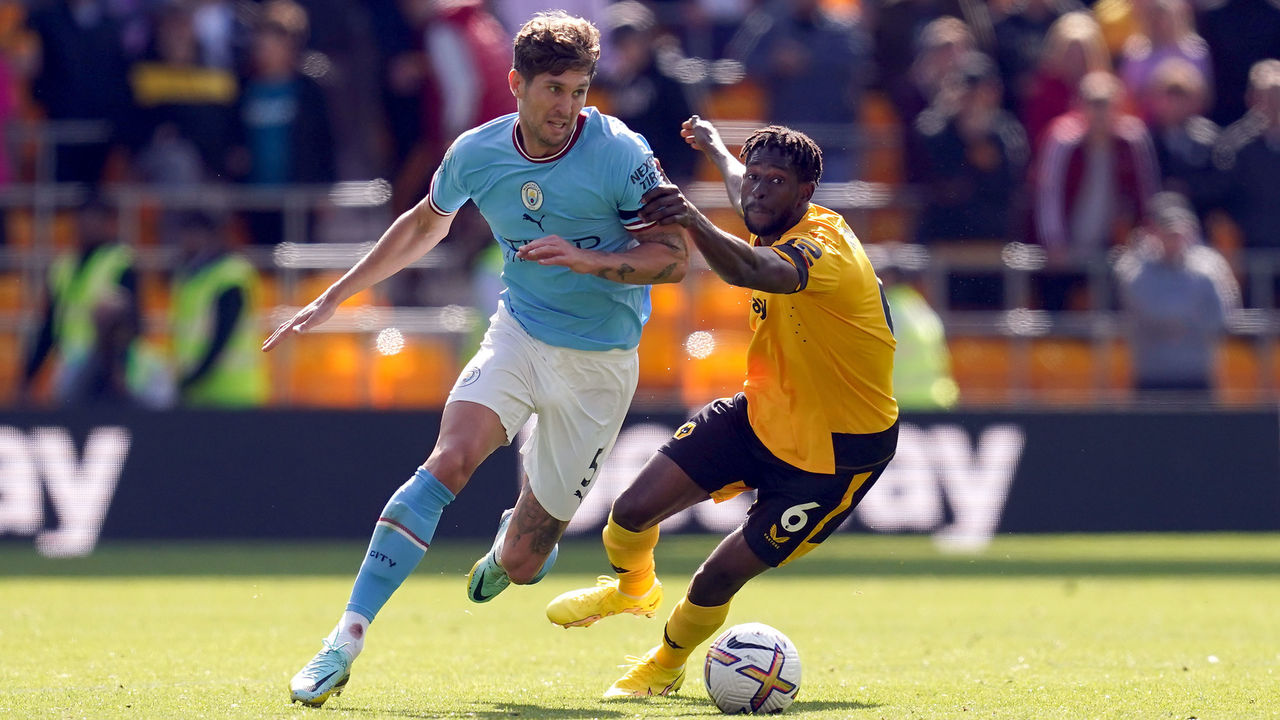 theScore examines the most important developments and discusses the biggest talking points from Saturday's reduced schedule in England's top flight.
Stones is a legitimate right-back option
Maybe this is meant to be a brief thing. While Kyle Walker deals with fitness issues and new left-back Sergio Gomez settles in at the club, John Stones has appeared at right-back in some Manchester City games.
Center-backs filling in at full-back often enact a classic portrayal of the role – Ben White has overlapped Arsenal's right-sided attacker with some success in the season's opening weeks. Stones' interpretation, however, seems more studied. He slides neatly into midfield alongside Rodri when City are in possession, providing protection from counter-attacks and ensuring his side dominates the ball in this area of the pitch. Stones' extra defensive cover on the right also frees up Joao Cancelo for more attacking work down the left.
The ease with which Stones has slotted in as an inverted full-back is impressive. It also indicates that this might be the result of hard hours on the training ground as Pep Guardiola tries to formulate more tactical options for his versatile team.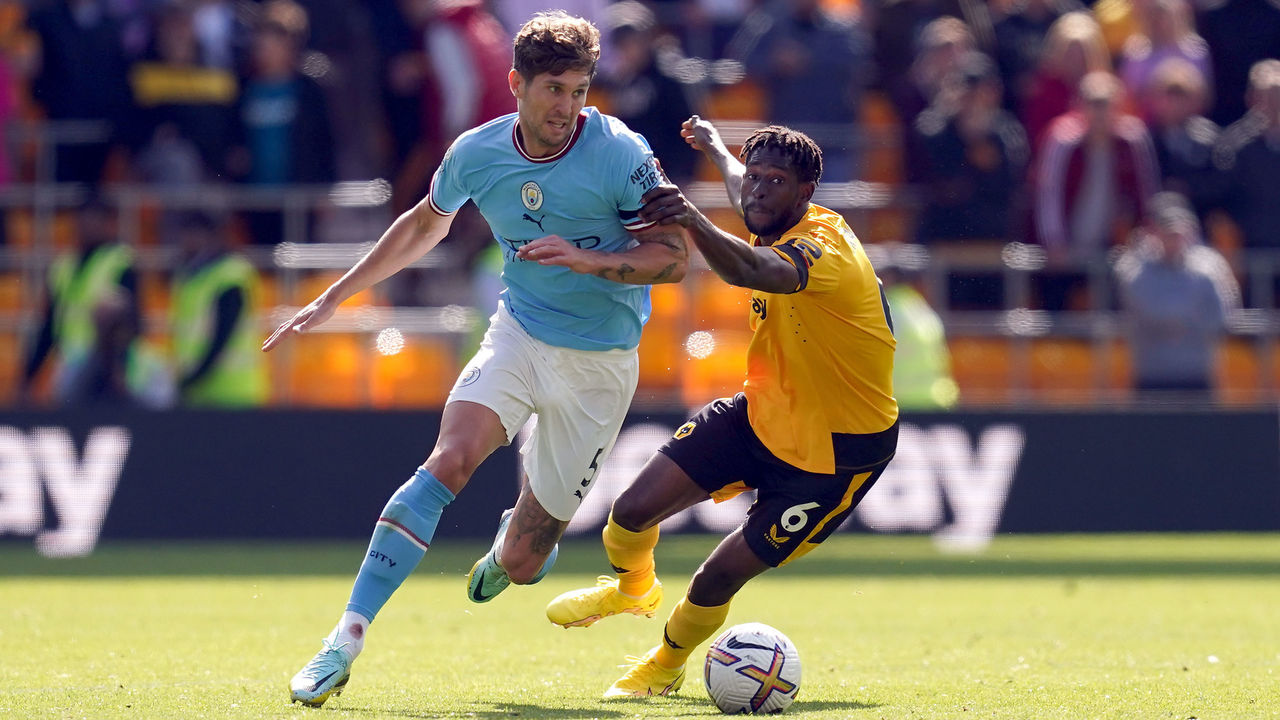 There must be a caveat from Saturday's 3-0 win: it was Wolverhampton Wanderers. This might be the most toothless version of Wolves to play in the Premier League (even less potent than the side that scored a paltry 32 goals, yet still survived, in the 2009-10 season), and their day was made more difficult when Nathan Collins was sent off for a wild challenge on Jack Grealish.
While Stones wasn't overworked at Molineux, he exuded confidence with the ball, linking up the backline and midfield with short passes, and dealt admirably with attacking left-back Rayan Ait-Nouri. He'd already passed a sterner test three days earlier, too. He calmly addressed Borussia Dortmund's threat, which mostly came down his flank, before stepping upfield to unleash a vicious strike that turned the tide of the Champions League group-stage fixture.
And Stones isn't only a viable choice at right-back. He took sole ownership of No. 6 duties when Rodri was substituted in the 81st minute, skipping through challenges and dictating City's tempo with his passing. Given Kalvin Phillips' injury issues, Stones could be asked to deputize for Rodri a few times in the coming weeks.
Newcastle's steep learning curve
Bournemouth were largely negative in their approach at St. James' Park, relying on last-ditch blocks, Neto's goalkeeping, and the woodwork to keep Newcastle United at bay. In the final 10 minutes of the first half alone, the Cherries headed or smashed away seven clearances.
This is what the "big six" deal with most weeks. The Magpies will need to get used to it. They've quickly become one of the division's strongest teams following their Saudi-backed takeover, so opponents have adapted accordingly. The most pragmatic way for bottom-half sides to approach Newcastle matches is to pack bodies in front of their creative players and then try to inflict damage on the break.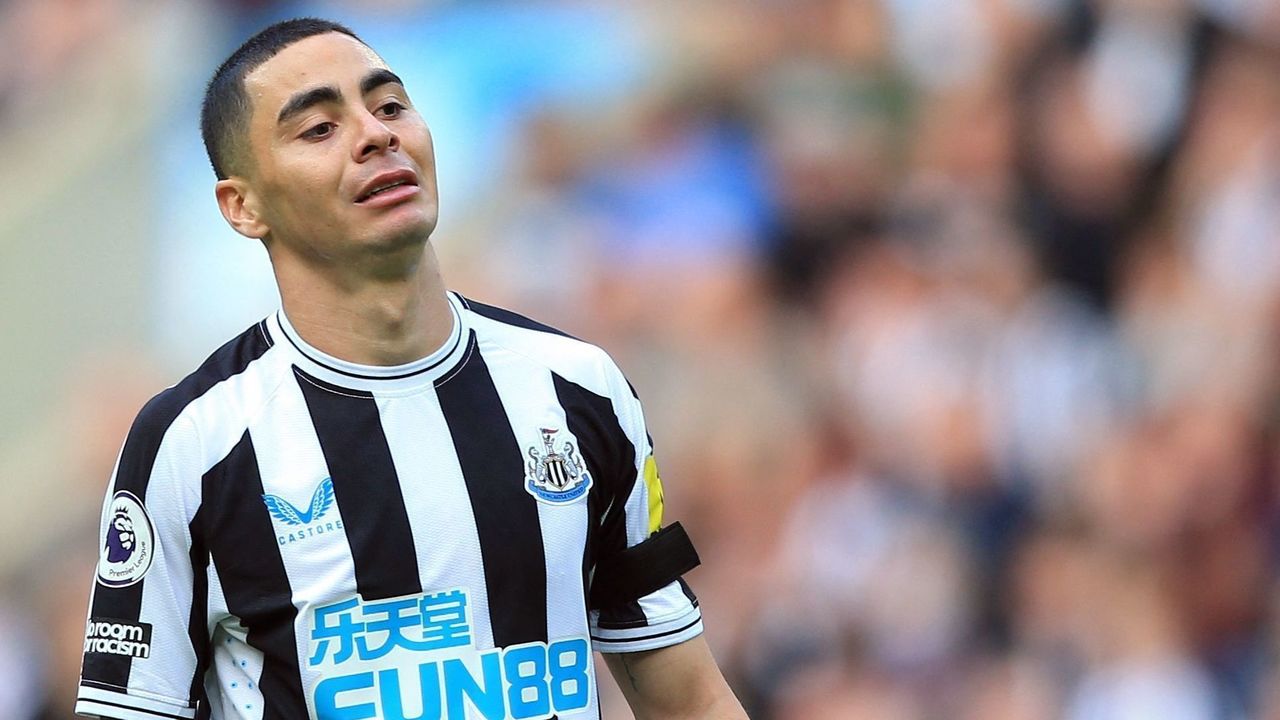 Newcastle's frustrations were beginning to show when Bournemouth took the lead through Philip Billing in the 62nd minute, and they could only respond via Alexander Isak's successful penalty. Eddie Howe's side lacked invention throughout and can't expect a huge uptick in performance when the entertaining yet inconsistent Allan Saint-Maximin returns from injury. The majority of Howe's players appear to lack the guile to unpick low blocks, and the men he called off the bench – Jacob Murphy, Sean Longstaff, and Chris Wood – seemed to be a concession of that weakness. Rather than patiently adhering to their game plan, Newcastle started to play a more direct, cross-heavy game as their desperation grew.
The next stage in Newcastle's transformation has to be signing better playmakers. Miguel Almiron and Ryan Fraser simply don't thrive when their team has the most possession – they're most dangerous in counter-attacks, not against deep-lying defenses – and back-to-back home draws against Crystal Palace and Bournemouth isn't the kind of form that earns top-four finishes.
At long last, the Son is out
"I like that he's a bit angry," Antonio Conte said about Son Heung-Min's goal drought before Leicester City's visit, adding, "he wants to try to change it."
Son was last season's true top scorer. Granted, he did share the Golden Boot with Mohamed Salah, but the Liverpool forward boosted his 23-goal haul with five penalties. Son didn't attempt any throughout Tottenham Hotspur's Premier League campaign, leaving that responsibility to Harry Kane, so reaching his overall tally was an undeniably more impressive feat than Salah's.
The South Korean scored 12 of his goals over his final 10 league appearances of last term, helping Spurs clinch the fourth Champions League place at Arsenal's expense. He was irresistible, marking a stark contrast to his return of no goals from the opening eight matches of this season (in all competitions). Son's alarming dip in productivity threatened to harm his side's ambitions for the campaign.
What an emphatic way to vanquish those concerns.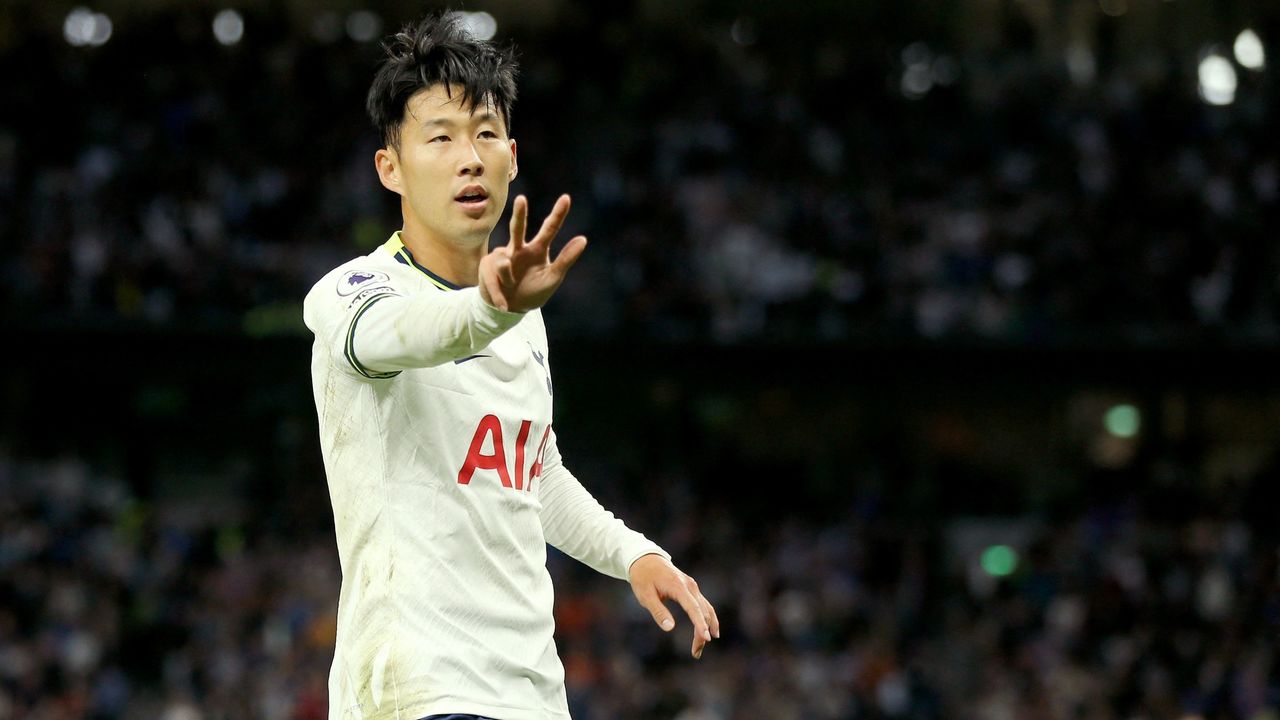 It took around 27 minutes for Son to bag a hat-trick after his introduction on Saturday, making him the first Tottenham substitute to record a Premier League treble. A fine Hugo Lloris save helped Spurs cling on to their one-goal advantage moments before Son was brought on, but the benched forward soon helped his side to a 6-2 victory.
Son's opening goal wasn't the fortuitous, scruffy close-range finish that people tend to associate with a player overcoming a bad run. It was a quintessential Son strike: a powerful run followed by an unstoppable right-footed smash into the top corner from 25 yards. His second was another effort plucked from the archives as he shifted the ball onto his left foot before bending it into the far corner from a near-identical spot as his first goal.
Son rounded off his treble following an exceptionally timed run. His return to form should strike fear into Tottenham's rivals: One of the top flight's deadliest strikers is "angry" and firing, and the proud Korean is also desperate to hit prime condition in time for his country's tough group-stage matches at this winter's World Cup.
Copyright © 2022 Score Media Ventures Inc. All rights reserved. Certain content reproduced under license.
Thoughts and analysis from goal-heavy weekend of Premier League action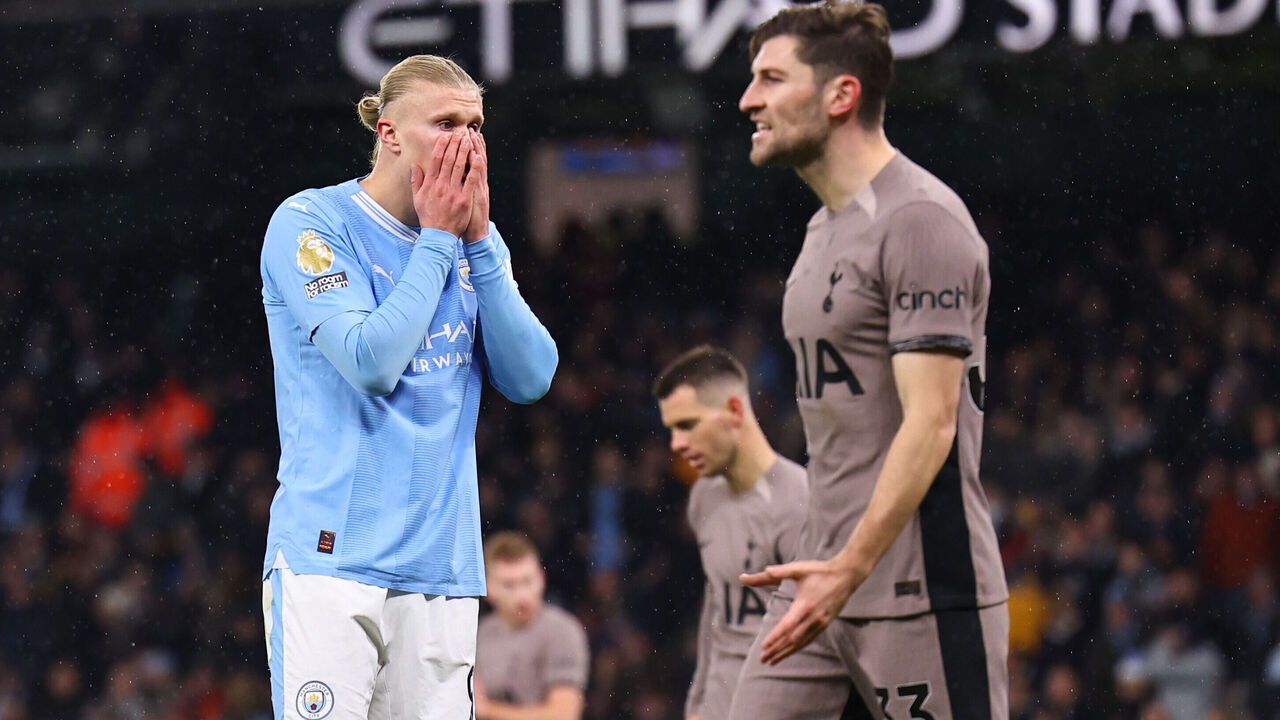 theScore examines the most important developments and biggest talking points from another entertaining weekend of Premier League football.
Pep needs a rethink
Something's amiss at Manchester City.
As a creator, Erling Haaland made telling contributions during Sunday's pulsating 3-3 draw with Tottenham Hotspur. He showed great awareness to cut the ball across for Grealish, who put City back ahead in the 81st minute, and, as the match edged toward its conclusion, set up Grealish on a one-on-one opportunity that could've earned all three points. However, referee Simon Hooper, who initially allowed play to continue, stopped the breakaway to give City a free-kick. It was yet another perplexing decision in a wretched campaign for Premier League officials.
But Haaland was also wasteful. In the first half, he steered the ball wide from 10 yards out with the goal at his mercy and somehow lifted another inviting chance high into the stands. There were some unlucky elements to City's outing – Jeremy Doku and Julian Alvarez hit the woodwork in the opening stanza – but ultimately, City failed to kill Tottenham off. It was the same scenario in their previous Premier League matches against Liverpool and Chelsea.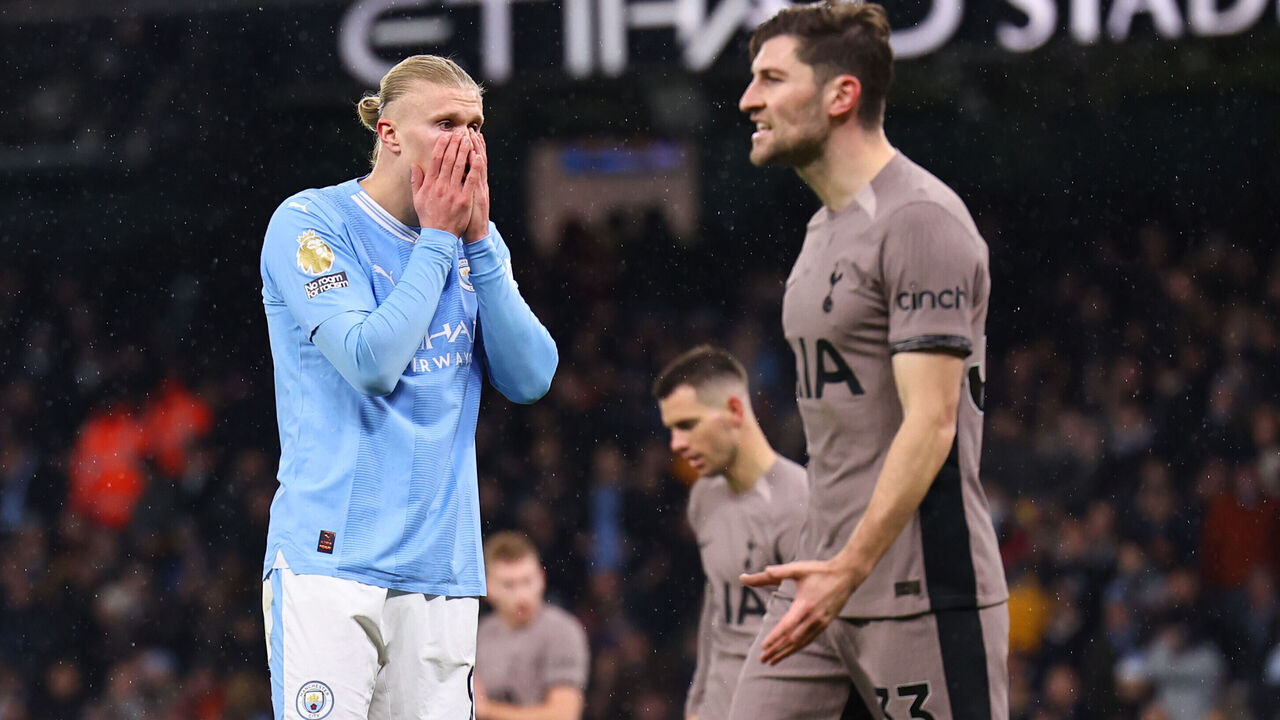 The attack must be more clinical and can lose intensity once they're ahead, the latter of which could hint at complacency but is likelier the result of missing Ilkay Gundogan (now at Barcelona) and Kevin De Bruyne (injured). However, that's still not the biggest issue.
The defense is unraveling.
Josko Gvardiol is taking longer than his fellow summer arrivals to acclimate to Pep Guardiola's game plan and the pace of English football. He can be exposed at left-back; jostling, jinking wingers can outmaneuver him and right-back Kyle Walker is too far away to bail him out with his pace. Guardiola was right to substitute Gvardiol given the freedom Dejan Kulusevski was enjoying down the flank, but his replacement, Nathan Ake, summed up City's defensive problems with Tottenham's third goal. Ake lacked sharpness and aggression when Brennan Johnson's cross sailed over, letting Kulusevski leap above him and head past Ederson.
Sharpness and aggression were also missing for two of Chelsea's four goals, both of RB Leipzig attacker Lois Openda's strikes on Tuesday, and the lethargic passing that preceded Giovani Lo Celso's finish at the Etihad Stadium. Statistically, Manchester City's current defense is only slightly better than the backline deployed during the opening months of Guardiola's tenure, when Aleksandar Kolarov sometimes filled in at center-back and other full-backs, like Pablo Zabaleta and Bacary Sagna, were well past their best.
Last season, playing four center-backs brought more solidity to Guardiola's team. It was the solution that led to City winning the treble. This term, the center-back department – whether it's three or four center-backs fielded – is what must be fixed. Guardiola needs to get creative once again to strengthen his side's charge for trophies.
Liverpool are mentality monsters again
Who expected Liverpool to concede as many goals to Fulham as they had allowed in their previous 10 home matches combined? But when the defending is "awful," as Liverpool manager Jurgen Klopp made clear, the improbable gains a few percentage points.
Defending was optional at various points of Sunday's chaotic match at Anfield, which ended 4-3 in favor of Liverpool following a two-goal outburst at the end of regular time. Trailing 3-2, Liverpool turned the result on its head when substitute Wataru Endo and Trent Alexander-Arnold rifled unstoppable shots in the 87th and 88th minutes.
That it required such heroics may alarm Klopp, whose side had striven so hard to restore the mystique around Anfield after last season's breaches. But the late comeback proved something more important in that Liverpool have reacquired the mental strength that delivered many of their most famous results during Klopp's eight-year reign.
"At 3-3, everyone could see the boys wanted more," Klopp told reporters, including The Guardian's Will Unwin.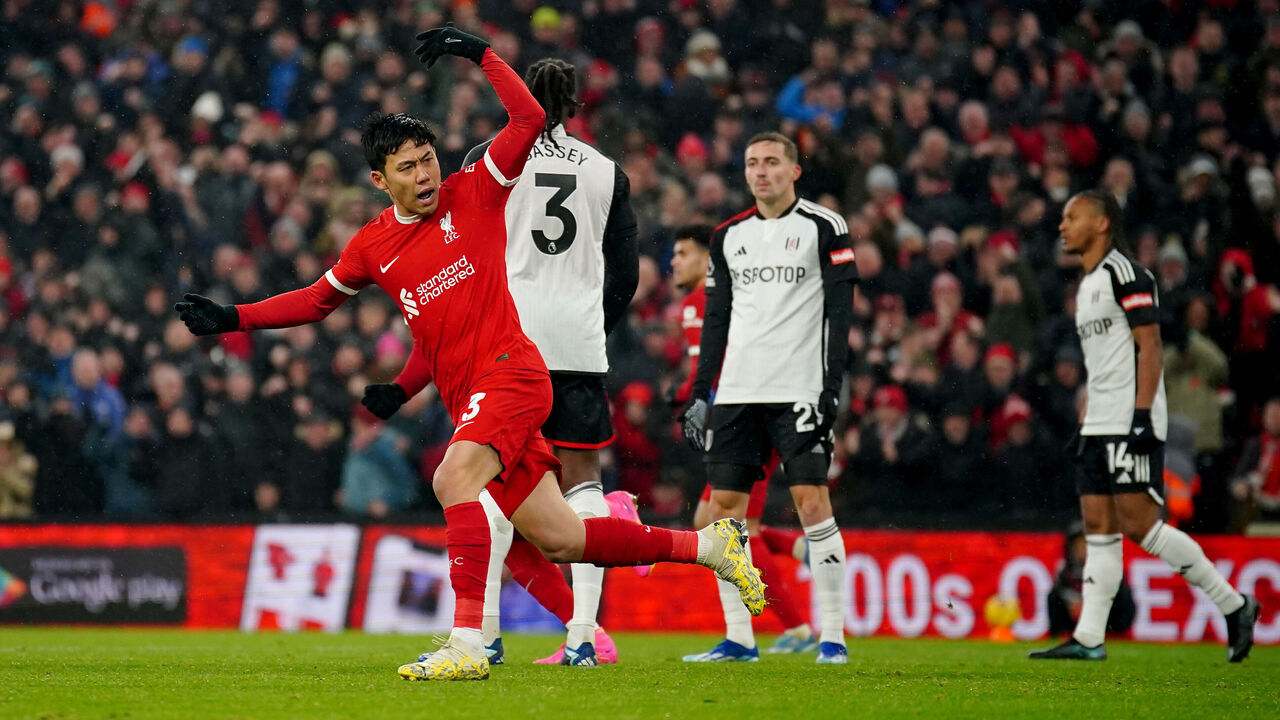 Klopp referred to his players as "mentality monsters" when they were regularly fighting for trophies. After spending a season in the wilderness, the term could apply again. His next-man-up philosophy is back in full force, with Endo showing incredible calm off the bench and Cody Gakpo injecting energy. There is no selfishness in this team or time for the players to get down on themselves. Darwin Nunez had missed enough chances for any striker to throw a tantrum, but he kept his head and kept going, channelling his frustration by urging the crowd to make more noise. Though he couldn't get on the scoresheet, Nunez celebrated hardest of all his teammates when Endo and Alexander-Arnold fired back. That's what Klopp has always demanded: full buy-in from each one of his players in good times and bad.
That sense of self-belief vanished during the 2022-23 campaign, when the Reds dropped points to the likes of Nottingham Forest, Leeds United, Wolverhampton, and Bournemouth. Every setback threatened to derail their season.
Now you get the sense that Liverpool welcome the challenge.
It's not that they just fought back Sunday. They scored some ridiculous goals in the process. All four of Liverpool's goals came from distance, including Alexis Mac Allister's spectacular half-volley. Mac Allister hadn't scored for Liverpool before Sunday's contest, going 16 fixtures without hitting the net. But something had changed.
"Before the game you could see Macca's foot is right today," Klopp said. "He was really into shooting. I thought, 'Wow, you better try it.' And he obviously thought the same."
Shorthanded Newcastle pass another test
It's no secret that Manchester United and Newcastle United aren't on the same level.
The gulf between the two clubs appeared long before Saturday, and recent results and run of form offered a clue as to what may transpire, but the evidence from over 100 minutes of action at St James' Park revealed a Grand Canyon-sized abyss.
The mere suggestion that Saturday's narrow 1-0 result was flattering for Manchester United would be the understatement of the year. Despite missing 13 players through injury, the Magpies still managed to overwhelm in the same fashion by which Tottenham were embarrassed last season in a 6-1 thrashing at the unforgiving stadium on Tyneside in April.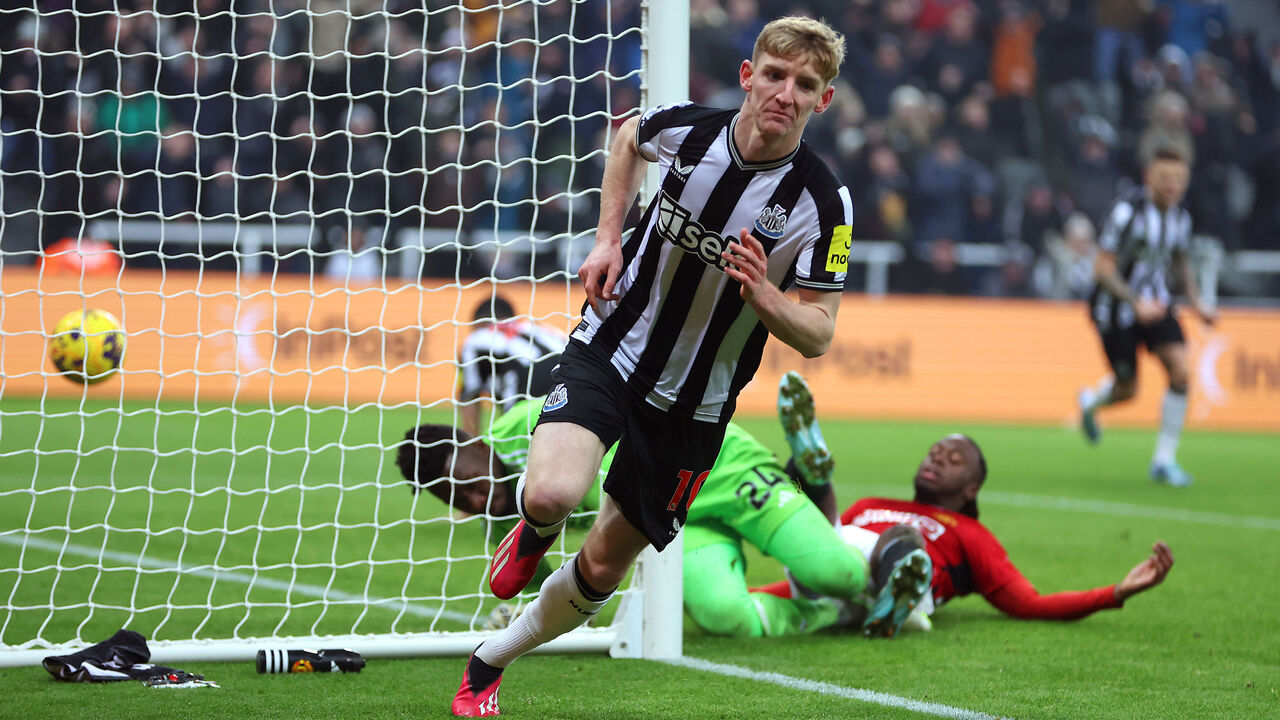 Manchester United were repeatedly under pressure, enduring wave after wave of attack from a Newcastle side that was able to generate countless opportunities without much resistance. In Manchester United's attack, Marcus Rashford and Anthony Martial were rendered useless due to the team's inability to get out of its own half. Rashford tossed his gloves away in anger after being subbed off, while Andre Onana was a fan favorite for all of the wrong reasons. The Cameroonian was relentlessly targeted after his costly blunders against Galatasaray on Wednesday in the Champions League.
But, overall, it was a lack of discipline, leadership, and a disjointed squad that doomed Manchester United and allowed Newcastle to put on a show with their fluid attack.
Newcastle would've obviously liked to have secured three points with a more clinical display after outshooting the Red Devils 22-8, but they won't complain considering they're dealing with an injury crisis that deepened when goalkeeper Nick Pope suffered what appeared to be a dislocated shoulder in Saturday's game. His expected absence will likely pose another obstacle for a Newcastle team that's exceeded expectations without a host of head coach Eddie Howe's first-team regulars, such as Dan Burn, Callum Wilson, and suspended Sandro Tonali.
Quick free-kicks
Arsenal living on the edge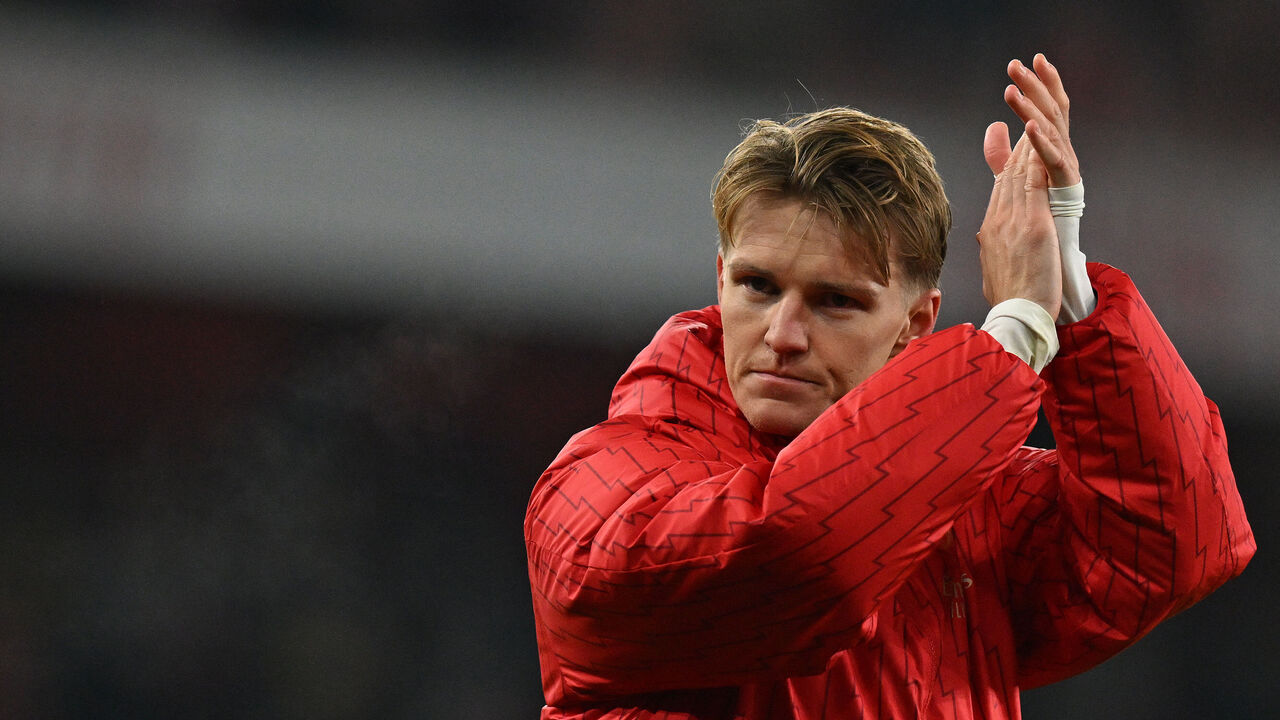 A win's a win. But the way Arsenal ended Saturday's 2-1 victory dulled the shine of what should've been a celebratory outcome against a difficult Wolverhampton Wanderers side. In a match in which the Gunners played well enough for 85 minutes to win comfortably, Arsenal's failure to kill the game off resulted in an unexpectedly intense end to the contest. Instead of putting the finishing touches on a game where they led by two goals after 13 minutes, Arsenal had fans on the edge of their seats after Wolves cut their deficit in half in the 86th minute. It ended up serving as a wake-up call for the hosts, who had seemingly switched off in the second half after dominating the opening 45 minutes. But Mikel Arteta's men eventually saw the game out, with Arsenal registering their fifth victory by a single goal to pad their lead atop the Premier League summit. While it seems silly to suggest that a team coming off a 6-0 rout in the Champions League needs to be more clinical, Arsenal will need to convert their chances in front of goal more consistently if they have any hope of staying in front of the pack.
Yarmoliuk taking his chance
It took a spate of injuries for Yehor Yarmoliuk to be given opportunities to start for Brentford, but the Ukrainian teenager is quickly endearing himself to the club's fans. He's an energetic presence in the Bees' midfield, keenly hassling opponents and sometimes snapping into challenges. The home crowd gave him a warm reception when he left Saturday's 3-1 win over Luton Town in the 69th minute after attempting three tackles, completing over 93% of his passes, and producing three key passes. His promising performance followed his fearless full Premier League debut against Arsenal the previous weekend. Yarmoliuk is quickly dispelling any fears that his torn hamstring toward the end of last season with Brentford's B team harmed his development.
Can Burnley kick on from here?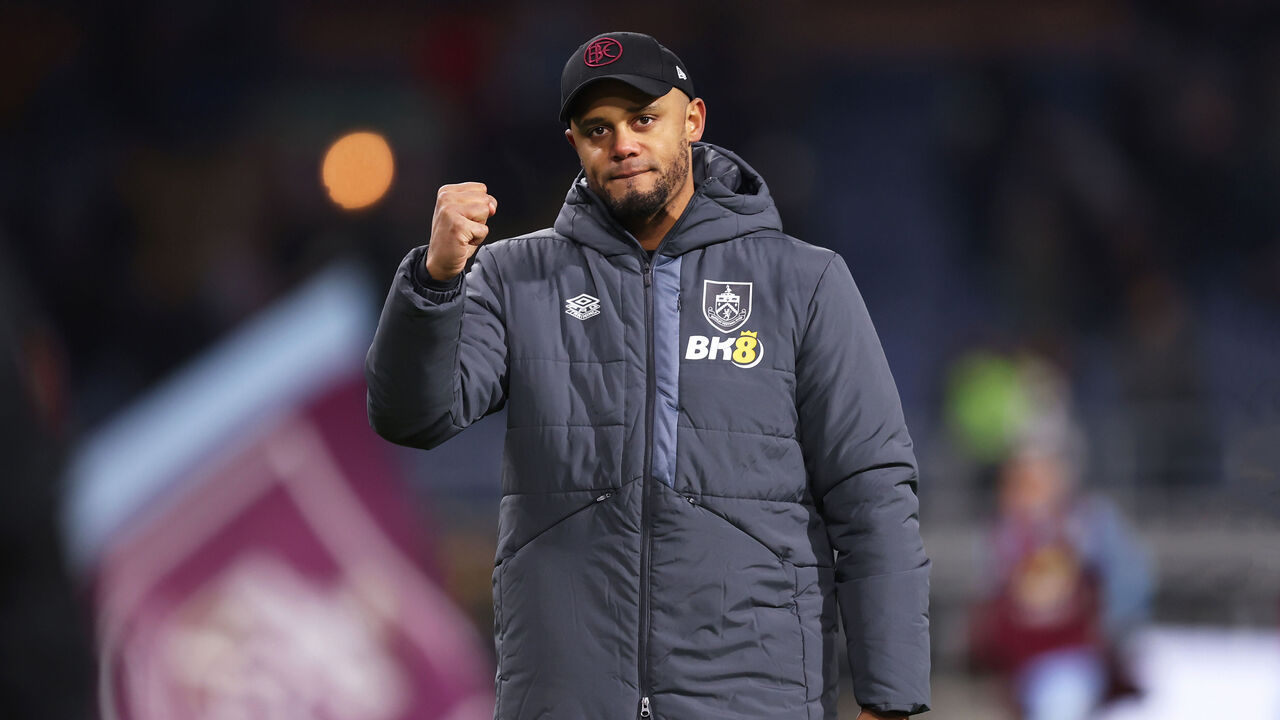 Before thrashing Sheffield United 5-0 on Saturday, Burnley had lost seven straight home matches by a combined score of 19-5. Vincent Kompany's side, which won the Championship at a canter, had suddenly become relegation fodder. They couldn't beat Chelsea, West Ham United, or Crystal Palace – all mid-table fare – so they had to prove they could at least beat the teams around them. That has now happened. The Clarets buried Sheffield United long before Ollie McBurnie was sent off in first-half stoppage time. They genuinely looked good. There were signs of Sean Dyche's old Burnley – Jay Rodriguez's goal after just 15 seconds came from a hopeful cross into the penalty area – and signs of the swashbuckling side that ran the second tier ragged under Kompany. With upcoming matches against Wolverhampton, Everton, and Fulham – all winnable – the Clarets have an opportunity to kick on and pull themselves out of relegation trouble.
West Ham should be more watchable
David Moyes repaired his reputation after returning to West Ham United at the end of 2019. He revived a team that had lost its way under Manuel Pellegrini with astute signings and simple yet effective game plans, with his crowning moment coming courtesy of June's Europa Conference League success. Still, plenty of West Ham fans wouldn't mind a change at the helm. Despite boasting the likes of Jarrod Bowen and Mohammed Kudus in their ranks, the Irons are often hindered by Moyes' caution. James Ward-Prowse eventually hit a succession of balls toward Tomas Soucek and Bowen as they sought a late winner in Sunday's 1-1 home draw with Crystal Palace, but for much of the match, West Ham seemed to fear losing more than they wanted to win. Moyes was given a generous transfer budget last season and has some talented attack-minded players at his disposal, so West Ham supporters have every right to expect more entertainment from their team. The club needs to raise its ambitions.
Stat of the weekend
Son Heung-Min joined an exclusive, though not entirely desirable, club with his performance at the Etihad Stadium.
Tweet of the weekend
Guardiola's reaction says it all after Kulusevski scored a late equalizer for Tottenham in Sunday's 3-3 draw at City.
Copyright © 2023 Score Media Ventures Inc. All rights reserved. Certain content reproduced under license.
Thoughts and analysis from compelling weekend of Premier League action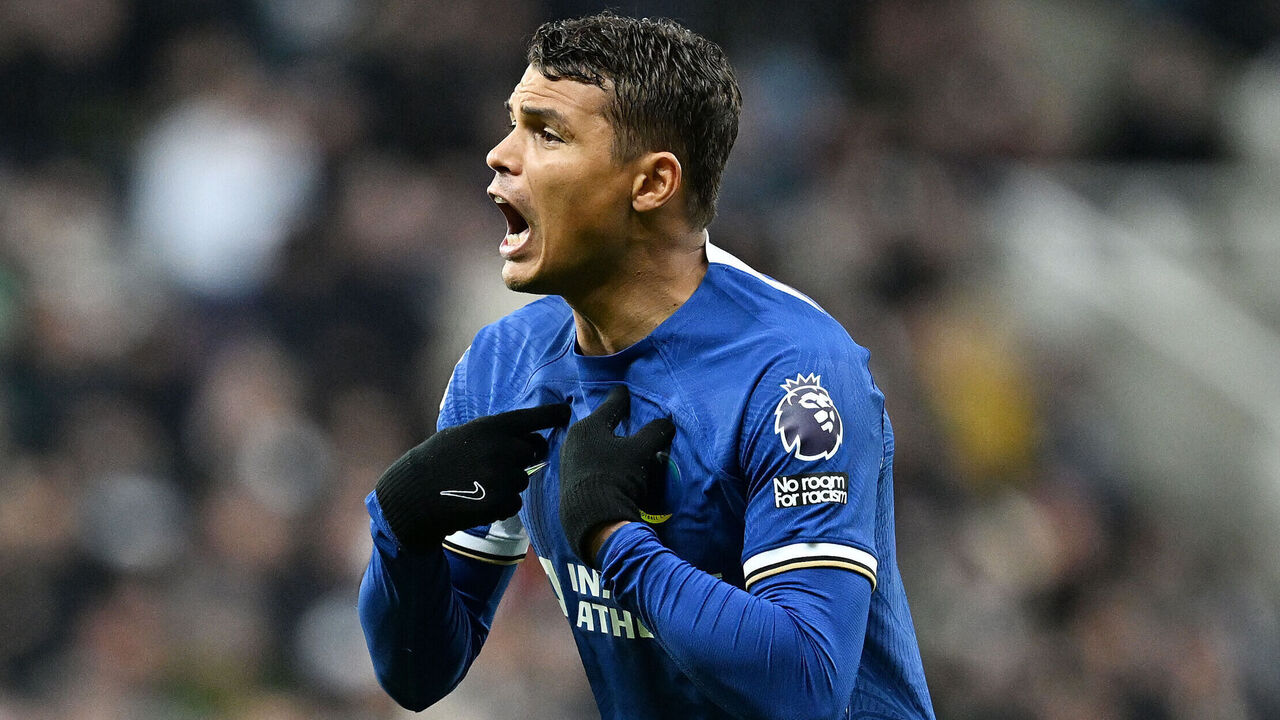 theScore examines the most important developments and biggest talking points from another entertaining weekend of Premier League football.
Chelsea are broken again? Of course they are
Chelsea are smack-dab in the middle of the Premier League table, and that's probably about right. Some days they look like legitimate contenders, others like cannon fodder. They win when they're expected to lose and lose when they're expected – or at least in position – to win.
Saturday was one of those days. You'd think they could take an undermanned and wounded Newcastle United, even without direct assistance from manager Mauricio Pochettino, who had to sit in the stands as penance for a few too many referee lashings. With 11 senior players out injured, Newcastle needed three goalkeepers just to fill out their bench.
But you wouldn't know it watching the 4-1 shellacking at St. James' Park. Chelsea were second best all over the pitch. Newcastle hounded them and bullied them off the ball. Even Chelsea's wisest old head, 39-year-old defender Thiago Silva, made a fatal error, coughing up possession under the breath of the tireless Joelinton.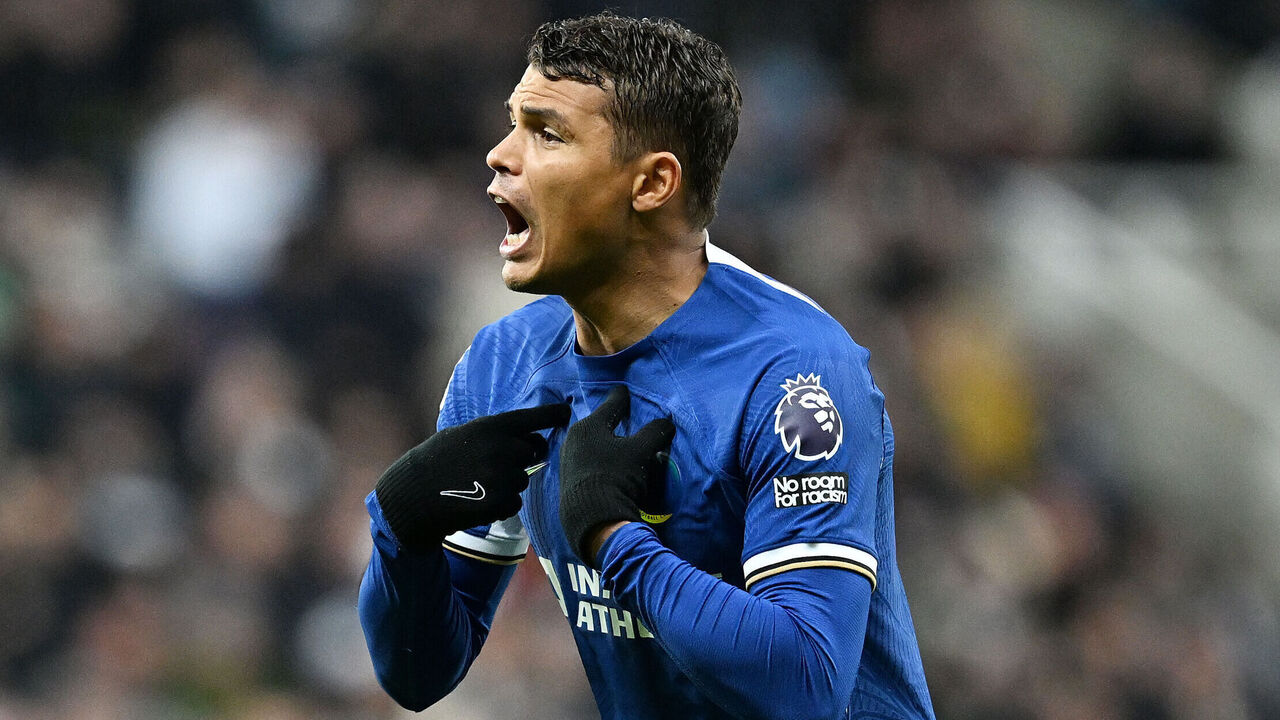 How could such a brutal and heavy defeat follow encouraging performances against Tottenham Hotspur and Manchester City? The truth is that Chelsea have been a work in progress for 18 months, and they'll continue to resemble a construction site for as long as they carry this loosely assembled roster of 30 players. Very little links the players Pochettino has at his disposal, and too many of them have considerable kinks in their games. Benoit Badiashile is very much not ready to start games – how can he be when he's missed so much time? – and Mykhailo Mudryk goes nowhere in a hurry. Marc Cucurella is a full-back, but is he really? Conor Gallagher can't seem to get the ball to settle between his feet, Nicolas Jackson is reverting to the mean, and Enzo Fernandez's performances have barely been worth half of the £107 million that Chelsea paid to sign him.
Raheem Sterling is the only player who's taken any responsibility. While he's never been the greatest decision-maker and often runs himself into dead ends, he's at least shown the appetite to take the game to his opponents.
As battered and bruised as Newcastle are, they're a team in the truest sense of the word, with a clear style of play that Chelsea can only envy. Even as players struggle to meet the demands of Eddie Howe's high-octane system, others can step up and produce. Chelsea have a bunch of passengers who expect someone else to take the wheel. – Anthony Lopopolo
Did international rigors ruin the league's main event?
Jurgen Klopp has complained about Liverpool playing in the early Saturday slot after international breaks in the past, and his side's 1-1 draw at Manchester City certainly lacked the pace and chaos that have defined the teams' meetings in recent years. The Premier League's top match of the weekend – and easily one of its biggest fixtures of the campaign – failed to live up to its billing.
Mohamed Salah, who played two full matches on either side of the African continent for Egypt, assisted Trent Alexander-Arnold's equalizer but failed to register a shot while he was easily subdued by Nathan Ake. Julian Alvarez, usually a bustling attacking presence in Manchester City's midfield, wastefully skied an effort over the bar and generally labored through 90-plus minutes after representing Argentina in two matches. Dominik Szoboszlai scored twice and totaled 220 touches over two appearances for Hungary; at the Etihad Stadium, he seemed to lose energy toward the end of the first half and was eventually substituted in the 72nd minute.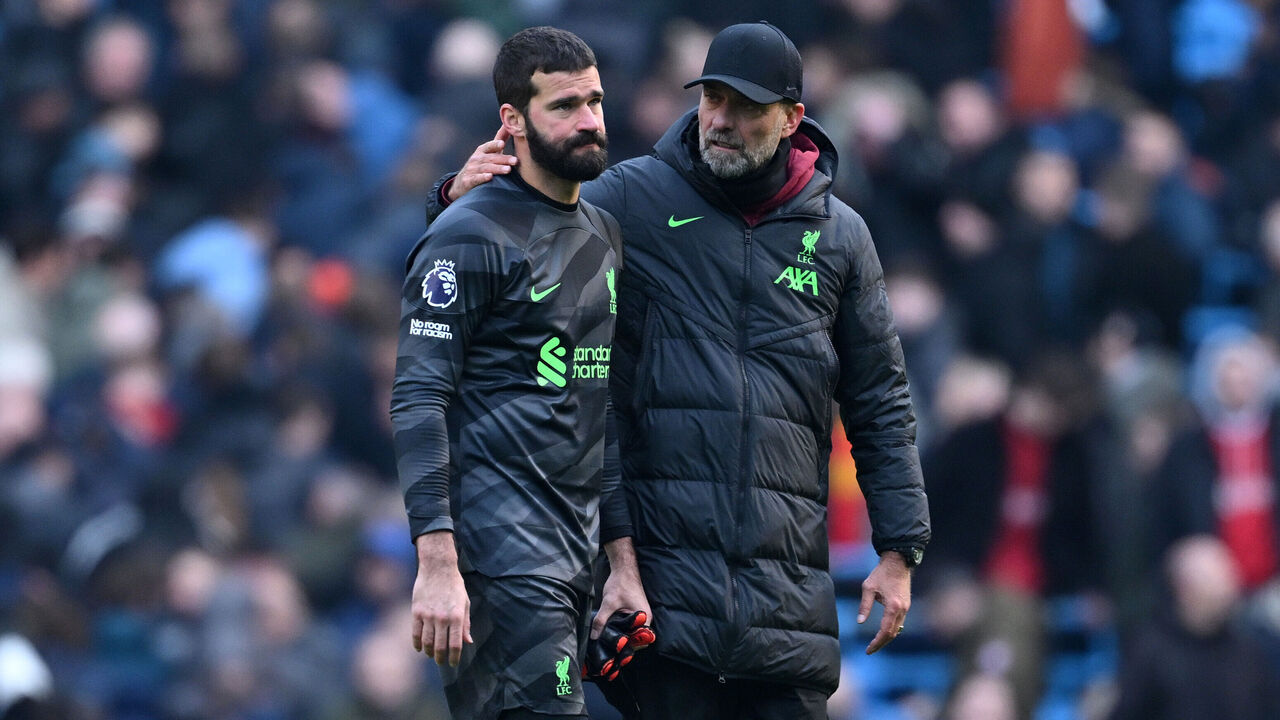 Alisson appeared the most jet-lagged of all. The Liverpool goalkeeper played every minute as Brazil continued its World Cup qualification campaign with two worrying defeats, and his commitments in Rio de Janeiro and Barranquilla, Colombia, clearly took their toll. His sliced clearance in the first half was punished when Ake sauntered through three Liverpool players and set up Erling Haaland for a clinical finish, but the day could've been much worse for Alisson.
His kicking was poor. One attempt to move the ball away from danger went straight to Phil Foden on the edge of the box; the City attacker, perhaps slightly discombobulated after being gifted possession by the league's best goalkeeper, shot tamely at Alisson. The shot-stopper also dallied on the ball for too long and was almost caught out by a lunging Haaland.
Alisson's fortune continued into the second half when Ruben Dias tapped in at the far post. The goal was ruled out when Manuel Akanji was adjudged to have fouled Liverpool's No. 1 while trying to head the ball. In truth, the biggest factor in Alisson's failure to catch the cross was his poor handling. It was a soft decision that went in Liverpool's favor.
His luck ran out when he played through the final minutes with an apparent leg injury.
There seemed to be more tired players in Liverpool's ranks, which hints at how Klopp's side fared. Manchester City missed a huge opportunity to beat their title rivals. However, for the neutral viewer, the game was a little disappointing when compared to previous clashes between the northwest rivals. The Premier League could've scheduled the fixture for later in the weekend to try to get the teams' stars in better condition but, most of all, this was yet another example of players toiling to meet the demands of modern football's grueling calendar. – Daniel Rouse
Youngsters thrive in febrile Goodison atmosphere
It wasn't a setting where players could meditatively drift into positions and calmly nudge the ball around. Goodison Park was a din. Protests against Everton's 10-point deduction and vociferous receptions for Manchester United players created an angry atmosphere inside the ground that would make some footballers cower and cringe.
Some footballers, but not Kobbie Mainoo and Alejandro Garnacho.
Garnacho's performance in Sunday's 3-0 win at Everton will live longer in the memory than Mainoo's due to one moment. The rest of his outing was fairly forgettable as he habitually lost possession (his passing accuracy was a derisory 56.3%) and only completed one dribble, but he etched his name in Premier League folklore with one of the finest goals in the competition's history.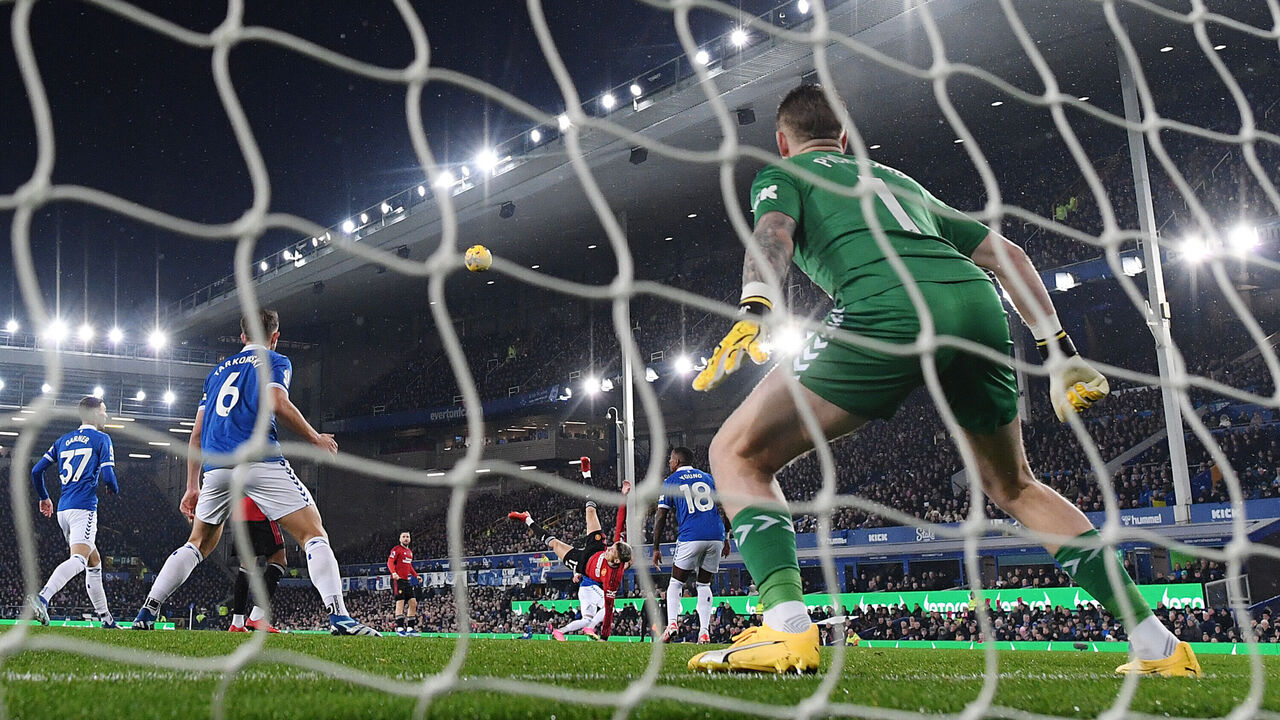 Diogo Dalot's cross was poor. Garnacho and Anthony Martial were nearing the 6-yard box but the delivery floated around 6 yards behind them, forcing the former to retreat and then spring himself into the air to have any chance of connecting with the ball. Garnacho's movement and athleticism for the strike were perfect; the ball sailed out of Jordan Pickford's reach and into the far corner. The winger's goal was comfortably better than Wayne Rooney's iconic overhead kick against Manchester City in 2011.
Mainoo's display lacked the explosiveness of Garnacho's goal but, in his first start for the club, he was the best player on the pitch. The 18-year-old's technical ability and consistency through Manchester United's youth teams have impressed his coaches. His maturity belies his years, and his tactical intelligence has been nurtured through playing a variety of midfield roles in the academy.
Nevertheless, the ease with which he slotted into the midfield alongside Scott McTominay must've defied all expectations.
The Everton supporters' fury intensified as the game slipped away and refereeing decisions went against them, but Mainoo was unflappable in the middle. He made himself available for passes at every opportunity. He was even willing to collect the ball off goalkeeper Andre Onana and then immediately progress play with a smart pass or intelligent turn into space.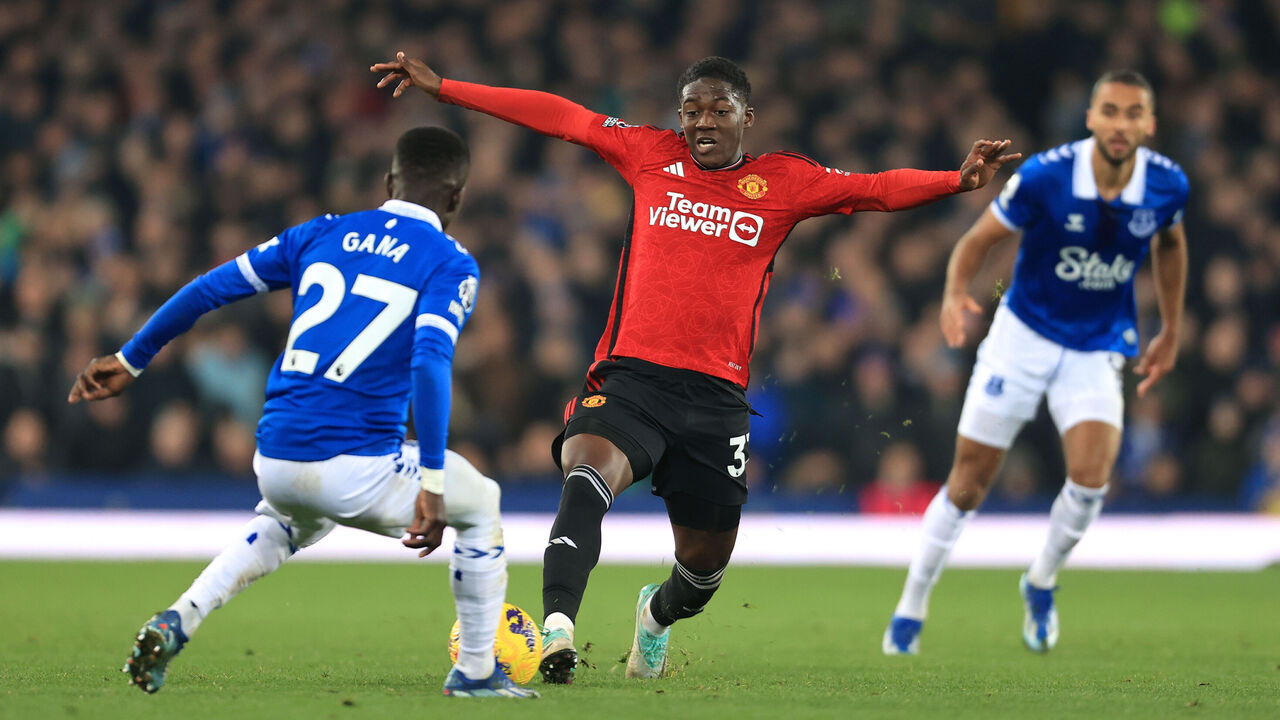 Mainoo was also crucial off the ball. He prevented both Idrissa Gana Gueye and Dwight McNeil from scoring during a prolonged spell of Everton pressure while United led 1-0.
Mainoo was a standout player during United's preseason program but suffered an injury in July that he only recently returned from. If he had stayed fit, one wonders how his team would've fared. Erik ten Hag has wanted more mobility in the No. 6 role for some time, and the local teenager appears tailor-made for that duty. – Rouse
Quick free-kicks
Ramsdale survives rough cameo
Aaron Ramsdale was always going to play against Brentford on Saturday. The terms of David Raya's loan deal prevented Arsenal from playing the goalkeeper against his parent club, leaving Ramsdale as the obvious candidate to fill the void. So he played, not because Arsenal boss Mikel Arteta wanted to see a reaction from the goalkeeper he recently relegated to backup, but because he had no choice. That left Ramsdale as a sort of sitting duck, and he started the game with understandable nerves, nearly gift-wrapping Brentford a goal when he dithered on the ball in the penalty area. Though he eventually collected a clean sheet in the 1-0 win, Ramsdale needed two goal-line clearances to preserve it. Credit must go to his teammates, who seemed legitimately invested in his success, however short term. They embraced him at the end of the match, lapping up an important win as much as the fact that he had escaped another potential setback in a season full of them. Now, he has to bide his time until he gets a chance to leave in January. Allowing him to depart is the humane thing to do. – Lopopolo
Edwards and Luton are the perfect fit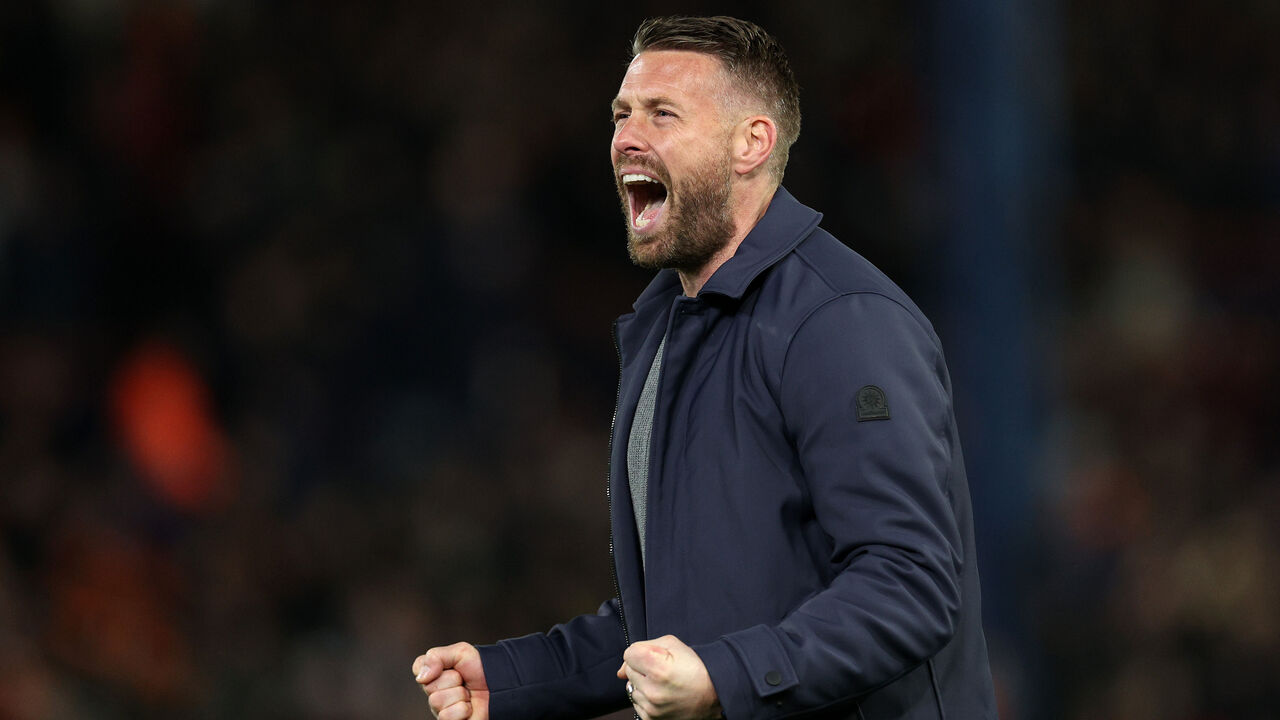 Everything is mapped out at Luton Town. Their decade-long rise from the fifth tier was built on prudent planning rather than short-term fixes, and their restrained summer transfer window demonstrated that. The club's present shouldn't come at the cost of its future; lavish recruitment followed by relegation would've undone years of careful work at Kenilworth Road. The on-pitch expectations are similarly pragmatic. Before the season started, Rob Edwards ensured his squad was equipped to deal with setbacks – a club promoted on a third-tier budget would, of course, encounter them – and that preparation has paid off. Luton have overcome a rough start to climb into 17th place following Saturday's 2-1 win over Crystal Palace. The Hatters are an anomaly in an era where fans crave big-money signings and demand instant results, but their considered approach is their biggest strength. Edwards is the personification of Luton's philosophy. – Rouse
First sacking of the season must be close
At this stage of last season, Scott Parker, Thomas Tuchel, Bruno Lage, Steven Gerrard, and Ralph Hasenhuttl had already been dismissed. There's yet to be a managerial change this term, with Julen Lopetegui's mutual departure from Wolverhampton Wanderers coming a week before the campaign began. That'll change soon. Vincent Kompany's refusal to tweak Burnley's approach has resulted in a naive and error-strewn outfit that, somehow, sits bottom of the table below Everton, who are saddled with a 10-point deduction. Paul Heckingbottom, meanwhile, is a victim of elements outside of his control. He didn't deliberately weaken his squad over the summer – buying and selling are rarely the responsibilities of modern managers. However, there's been little evidence to suggest he has the ability to pull the Blades out of the relegation mire. Both Kompany and Heckingbottom are on borrowed time. – Rouse
Game of the season so far?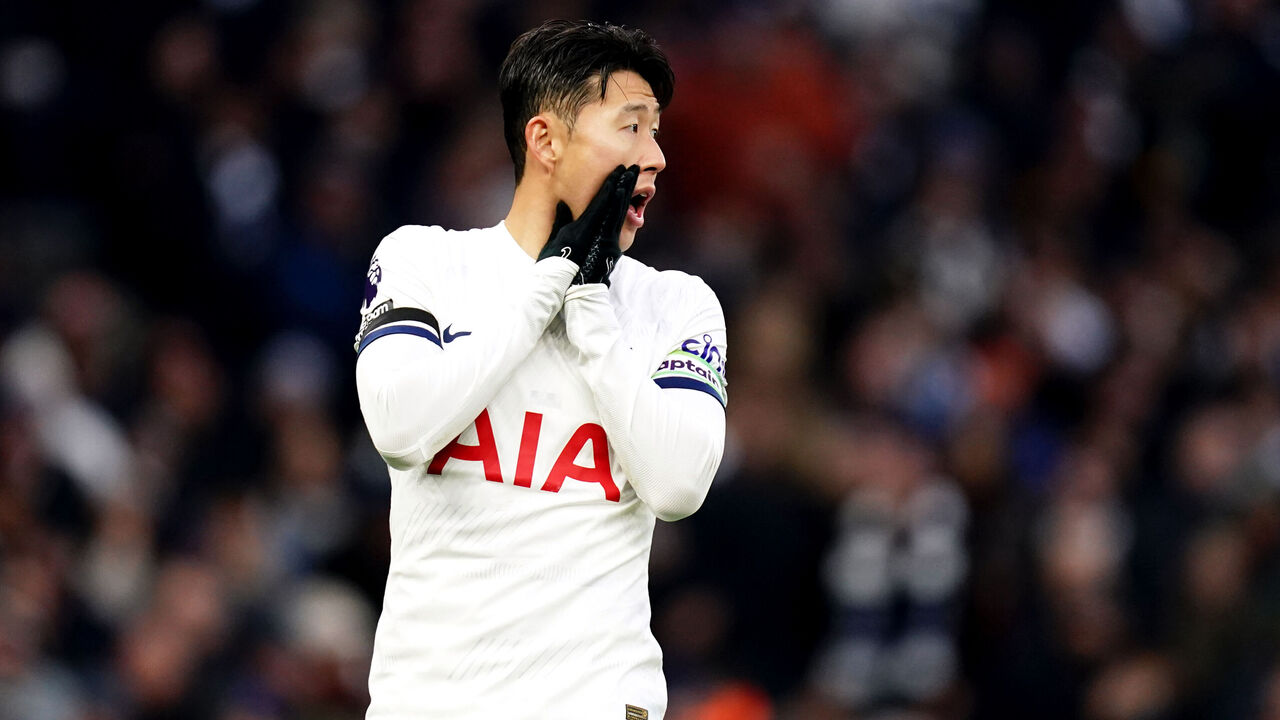 Don't let the modest scoreline fool you. Aston Villa's 2-1 comeback win over an ailing Tottenham on Sunday was arguably the most entertaining contest of the season thus far. The end-to-end action began almost immediately. The two teams, battling for a spot in the top four and playing with aggressive high lines, each had a pair of glorious chances within the opening five minutes of the match. Spurs took the lead through an unlikely source in Giovani Lo Celso, who was making his first Premier League start for the club since Nuno Espirito Santo's reign. Villa answered 60 seconds later, only for Ollie Watkins' goal to be ruled offside by VAR. Pau Torres' equalizer on the stroke of halftime stood, though, and Villa, buoyed by Unai Emery's tactical changes at the interval, went on to claim all three points thanks to a slick winner by Watkins, who wouldn't be denied. Son Heung-min, buzzing all match, wasn't so lucky; he had a hat-trick of tallies chalked off after agonizing reviews. This game had everything and could've legitimately finished level at five apiece on another day. These two sides lock horns in the reverse fixture in early March. Don't miss it. – Gianluca Nesci
Stat of the weekend
Can Ange Postecoglou restore the good vibes at injury-hit Tottenham?
Tweet of the weekend
Liverpool need to sign Alexis Mac Allister's brother, Kevin, just for the memes.
Copyright © 2023 Score Media Ventures Inc. All rights reserved. Certain content reproduced under license.
Thoughts and analysis from dramatic weekend of Premier League action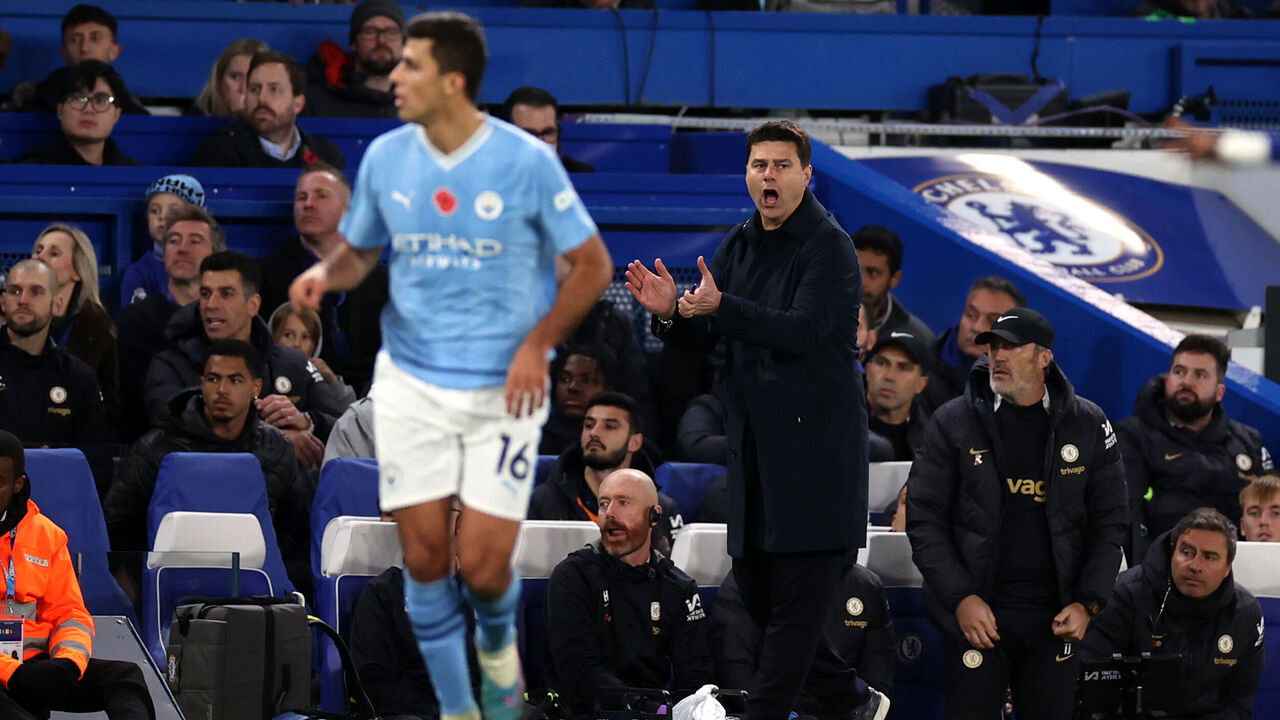 theScore examines the most important developments and biggest talking points from another entertaining weekend of Premier League football.
Pochettino gives Chelsea courage
Go back a few weeks, and heads would've dropped. Manchester City going ahead would've presented a treacherous mountain to climb. Belief would drain from a group of Chelsea players who scored one goal in September. Composure would fray, Nicolas Jackson would hack shots into the stands, and Raheem Sterling would run down dead ends.
But on Sunday, Erling Haaland gave City the lead twice, and Rodri did it once. Chelsea fought back on each occasion.
Mauricio Pochettino is gradually getting a grip on the discordant squad he inherited. Chelsea's press was magnificent in the barmy 4-4 draw at Stamford Bridge, ruining Manchester City's usually precise and pacey buildup play. The ambition among Pochettino's ranks was abundantly clear when, soon after going ahead 2-1, they hounded Rodri in his own defensive third.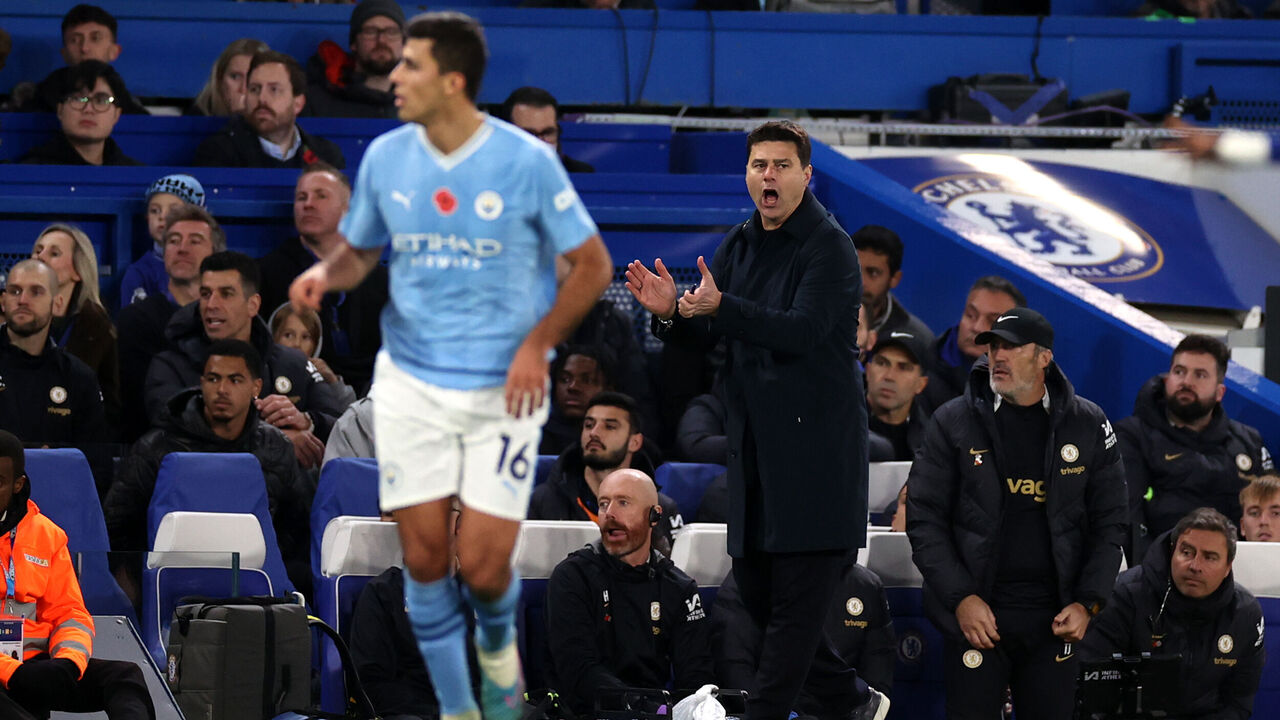 It might be tempting to step off when Rodri has the ball in that area. He can resist pressing with his strength and awareness and quickly flip defense to attack once he works into space. But Marc Cucurella was on his tail. The persistence of Cucurella, clearly not dwelling on conceding the earlier penalty, forced Rodri backward into his own box and toward the corner flag. The City midfielder then jabbed the ball up the line before Chelsea collected the loose ball and attacked again.
Conceding four goals can happen against Manchester City – and that's before you consider the soft penalty given to Haaland and the fortune needed for Rodri's strike to deflect beyond Robert Sanchez. Chelsea could've won this. Ruben Dias was rash with and without the ball while struggling with the home side's relentlessness. Bernardo Silva did well but was stretched when trying to aid the buildup play and support the attacks. The chaos didn't suit City, and Chelsea knew it.
"We feel a bit exhausted, to be honest, after a game with that rhythm," Rodri said after the match. "It wasn't our best performance, and individually, we can look at ourselves because conceding four goals is not normal for us."
Pep Guardiola's side allowed four goals in a match for the first time since a 5-2 defeat to Leicester City in September 2020. It's hard to think of a clearer sign that things are improving for Chelsea under Pochettino.
A very 'Spursy' result
Responding to adversity is one of the hallmarks of title-winning teams.
On the back of their chaotic, incident-filled loss to Chelsea – their first of the season – and missing a handful of critical starters, Saturday's match against Wolverhampton Wanderers was always going to provide excellent insight into Tottenham Hotspur's ability to sustain their outstanding start to the campaign.
Their response, sadly, left a lot to be desired. Tottenham went limp after Brennan Johnson's first goal for the club in the third minute at Molineux. The manner in which Wolves stormed back to claim a 2-1 win was certainly dramatic – two goals in stoppage time – but it was hardly undeserved.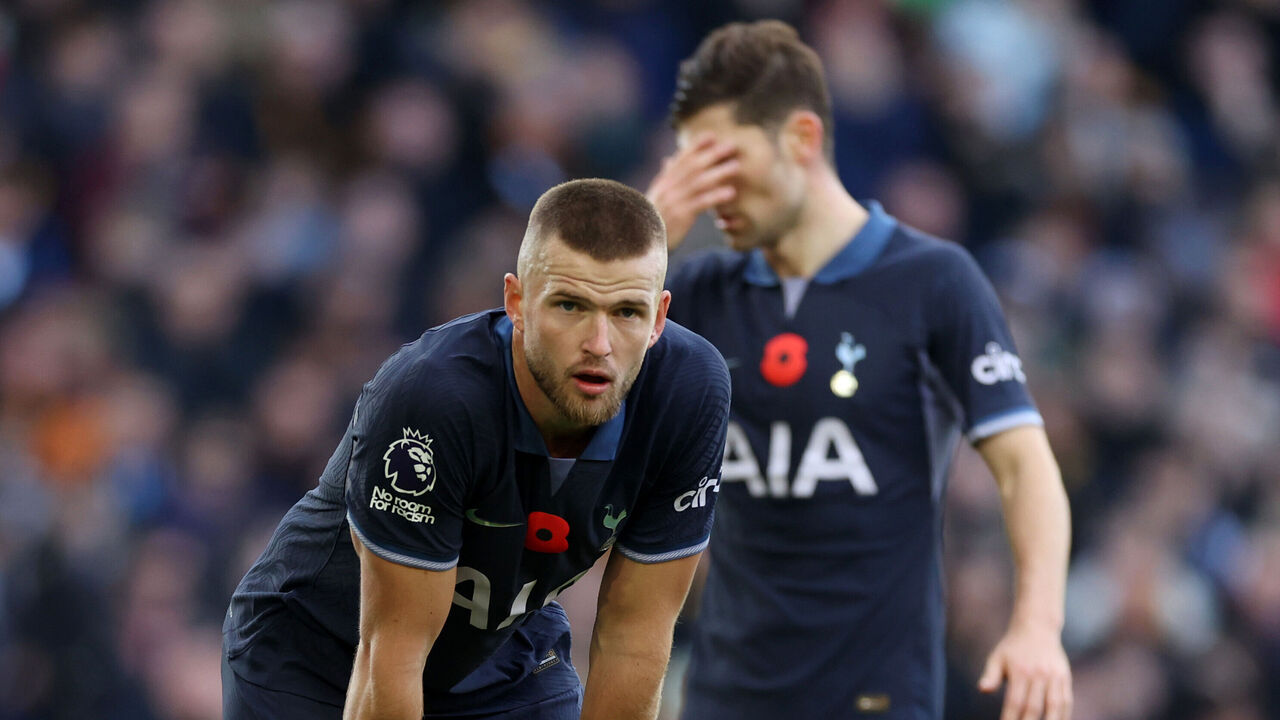 "We probably ran out of a little bit of legs there, which is understandable. A lot of those guys haven't played, and they scored a couple of good goals," Ange Postecoglou said afterward.
How Tottenham would cope without injured playmaker-in-chief James Maddison has, understandably, hoovered up a lot of attention. But Saturday's defeat made it clear that defensive absentees will have a greater impact on the club's fortunes. Micky van de Ven, Cristian Romero, and Destiny Udogie missed Saturday's match through a combination of injury and suspension, forcing Postecoglou to start Eric Dier and Ben Davies in central defense against Wolves. The drop off was stark.
Under no real pressure, Dier carelessly hoofed the ball out of play, giving away possession right before Pablo Sarabia's slick equalizer in the 91st minute – Davies couldn't come across quickly enough to cover for him and block the shot on the play. The entire backline then fell asleep on Mario Lemina's winning tally six minutes later. Tottenham fouled Lemina inside his own half, and the 30-year-old picked himself up, dusted himself off, and calmly jogged straight into the penalty area, totally undetected, to receive a pass and send the home crowd into a frenzy. Two lapses in concentration. Two goals against.
Tottenham's depth will be tested in the coming weeks, especially during the jam-packed holiday slate of matches. The backups failed their first exam.
Magpies down to bare bones
Bournemouth poured forward again and again.
Newcastle United are so ravaged by injuries and worn by their demanding schedule that Emil Krafth, a largely forgotten defender who played one Premier League minute over the previous 18 months, was called off the bench at Dean Court on Saturday. Matt Ritchie hasn't started a top-flight match since December 2021 but played for over an hour. Lewis Miley, 17, was handed his full league debut. Even Kieran Trippier, one of Newcastle's most reliable players, has been uncharacteristically sloppy lately.
A better team than Bournemouth would've scored five, six, maybe more against the Magpies. Their 2-0 win didn't adequately reflect their dominance over opponents limping and wheezing their way into the international break.
Trippier told media following the match that the club can't use the full treatment room as an excuse. Still, he referred to that exact issue when disagreeing with a Newcastle fan immediately after the final whistle. He repeated: "How many injuries have we got? How many injuries have we got?"
The answer is 10, plus two suspensions.
Absentees
| Player | Reason | Expected return |
| --- | --- | --- |
| Miguel Almiron | Injury | Unknown |
| Javi Manquillo | Injury | Unknown |
| Callum Wilson | Injury | Unknown |
| Bruno Guimaraes | Suspended | Nov. 25 |
| Alexander Isak | Injury | Late November |
| Sven Botman | Injury | December |
| Elliot Anderson | Injury | Late December |
| Dan Burn | Injury | January 2024 |
| Jacob Murphy | Injury | January 2024 |
| Harvey Barnes | Injury | January 2024 |
| Matt Targett | Injury | February 2024 |
| Sandro Tonali | Suspended | August 2024 |
At least the international break has come at a good time for Newcastle. Their next match against Chelsea on Nov. 25 will signal the return of Bruno Guimaraes – Newcastle have failed to win all seven league matches the Brazilian has missed since his debut – and could feature Alexander Isak, who has eight goals over 14 appearances in all competitions. Miguel Almiron and Callum Wilson could also be called back sooner than expected.
And besides, this is what Newcastle wanted: the club is competing on three fronts in the Premier League, Champions League, and the League Cup, and will enter the FA Cup in January. Newcastle's transformation since the Saudi Arabian takeover two years ago has been quick and undeniably impressive. They're comfortably ahead of where Manchester City were at the same stage of the Abu Dhabi era.
There are still plenty of reasons to be positive on Tyneside.
"We need to dust ourselves down and come back in strong," manager Eddie Howe said.
Quick free-kicks
Should Kulusevski play centrally?
With an ankle injury expected to sideline primary creator Maddison until January, Tottenham need to get creative to compensate for the extended absence of the team's leader in assists. Shifting Dejan Kulusevski into a more central role is a possible solution. The Swede, who views himself as more of a No. 10 than a winger, thrived operating in that area during his breakout season with Parma. Kulusevski drives the play forward differently than Maddison – the Englishman is second in the Premier League in progressive passes, while Kulusevski sits second in progressive dribbles – but has the necessary creativity to unlock opposing defenses. However, making that switch could create more personnel problems than it solves considering Tottenham's lack of depth on the wing. It's worth at least having the discussion.
No relief for Rashford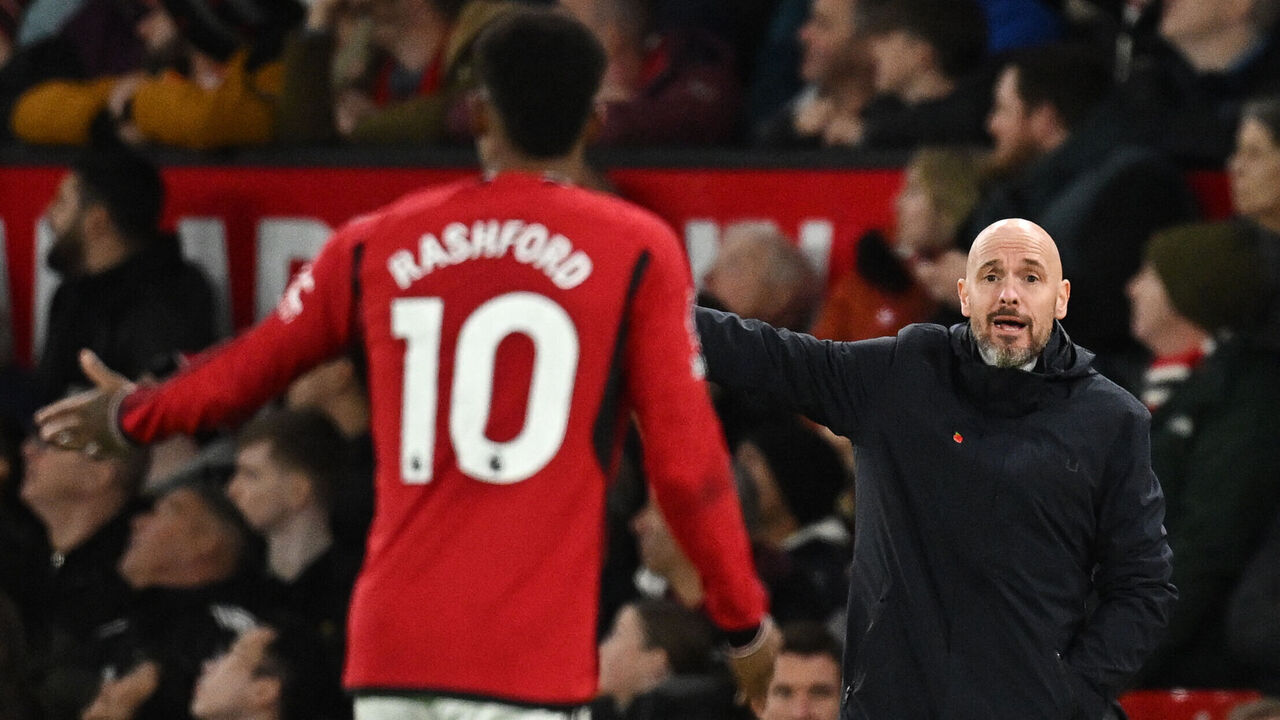 Erik ten Hag's prediction that Marcus Rashford would soon return to form didn't come to pass in the 1-0 win over Luton Town. For the second match in a row, Rashford operated on the right flank, making room for Alejandro Garnacho on the left. He tested Luton with some decent crosses but otherwise labored through a 12th straight outing without a goal. Ten Hag gives the impression that he wants to play Rashford into form. But that may only be due to his lack of trust in who could replace the 26-year-old academy graduate: Antony, Anthony Martial, and Facundo Pellistri.
Everton starting to click
After years of poor recruitment and a conveyor belt of managers with clashing playing philosophies, Sean Dyche is somehow extracting some reasonable performances out of Everton. Three victories, a draw, and one defeat since the start of October have taken the Toffees from being just a single point above the relegation zone to forming a considerable eight-point cushion. Saturday's entertaining 3-2 win at Crystal Palace featured some classic sleeves-up Dycheian defending and promising performances from Vitaliy Mykolenko, Jack Harrison, and super-sub Idrissa Gueye. James Tarkowski was at fault for Palace's second goal but otherwise impressed with five tackles and eight clearances.
VVD is all the way back
Virgil van Dijk has put his 2020 knee injury behind him for good. The Liverpool defender was at his graceful best in the Reds' 3-0 win over Brentford on Sunday, anchoring the defense with the assured, composed performance that was so common prior to his ACL tear. The Dutchman's positional sense always made him a good candidate to make a successful return from one of the sport's most debilitating injuries. Crucially, Van Dijk has also recaptured the physical powers that, combined with his football IQ, made him a colossus at the back during his peak. He's returned to that elite level this season, and Liverpool are much better off for it.
Elanga impressing at Forest
Manchester United were far too hasty in allowing Anthony Elanga to depart. The 21-year-old Swedish winger is taking full advantage of his increased opportunities following his €17.5-million move to Nottingham Forest. He's already played more league minutes for Steve Cooper than he accumulated all of last season with the Red Devils and has turned that into a team-leading three assists. Elanga scored his first goal of the campaign in Sunday's 3-2 defeat to West Ham United, too. Had United exhibited a little more patience with a young player who was showing promise in the early stage of his career, they could have reaped the rewards of Elanga's development. Instead, they're left with minimal options on the wing behind Alejandro Garnacho, who's still growing.
JWP filling the void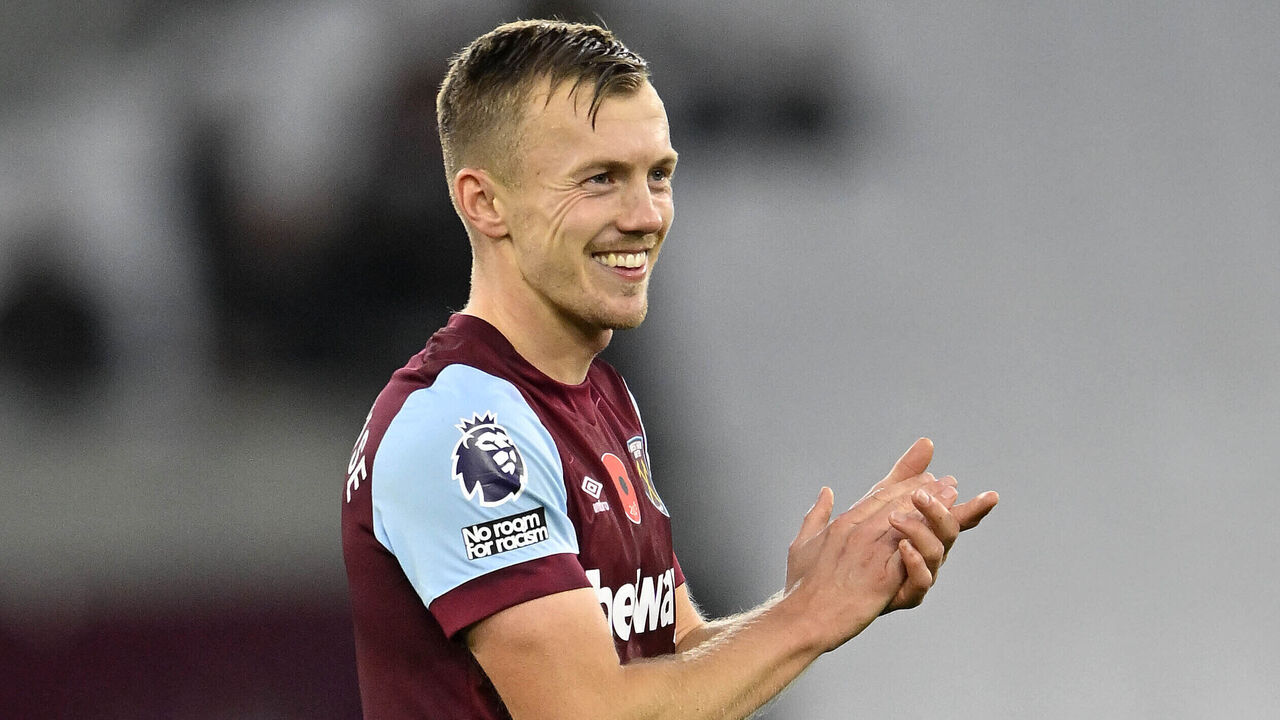 West Ham lost their best player and captain when Declan Rice got his big move to Arsenal this past summer. Replacing him was always going to be an enormous task. James Ward-Prowse is giving it a proper go, though. The set-piece wizard signed for a relatively paltry £30-million fee in August and is a low-maintenance player who provides leadership on the pitch for David Moyes to go along with his unrivaled delivery from dead-ball situations. Ward-Prowse's two assists, both prototypical deliveries from corner kicks, turned a 2-1 deficit into a 3-2 victory over Forest on Sunday. He now has nine helpers across all competitions for West Ham on the campaign. His 17 dead-ball assists in the Premier League since 2020-21 are by far the most in England's top flight. What a weapon to have in your arsenal.
Stat of the weekend
An important reminder to never switch off a Tottenham match before the final whistle blows. There's always the potential for drama.
Tweet of the weekend
"We ain't got no history."
Copyright © 2023 Score Media Ventures Inc. All rights reserved. Certain content reproduced under license.