5 thoughts from Saturday's Premier League action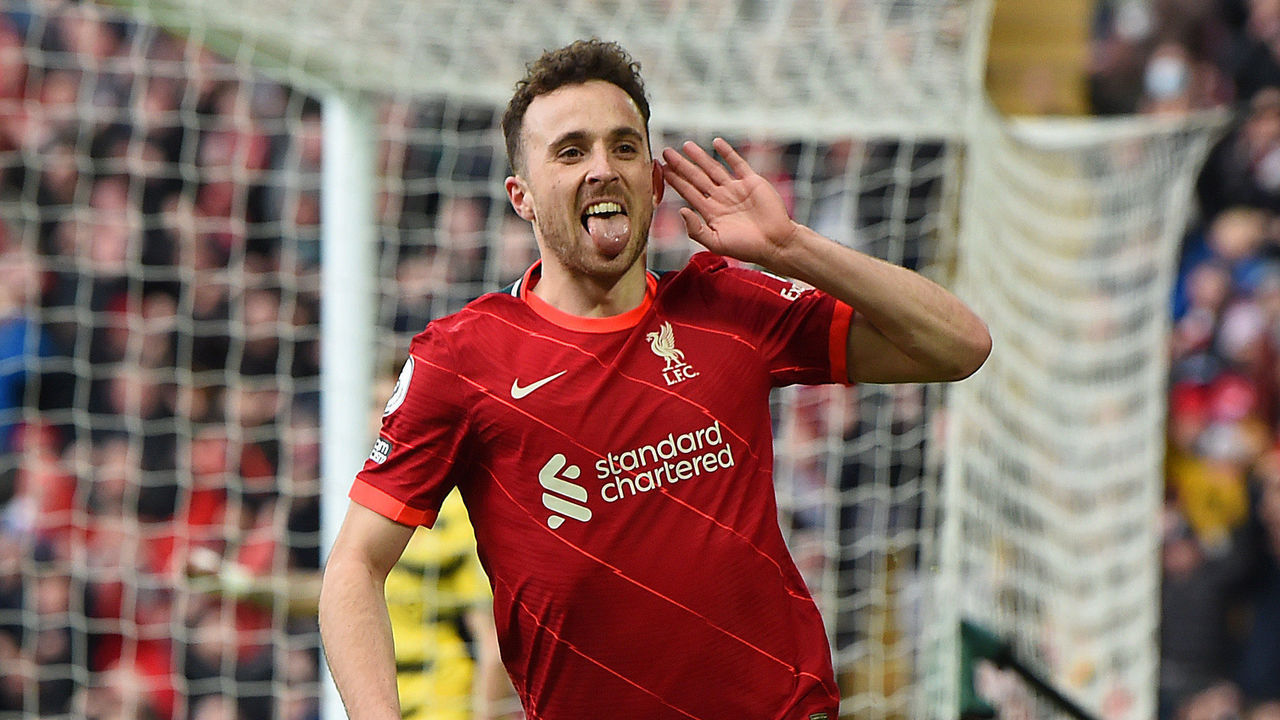 theScore examines the most important developments and discusses the biggest talking points from Saturday's busy slate of Premier League action.
Liverpool manage jet lag in measured win
After an intense couple of weeks of international football, Liverpool manager Jurgen Klopp didn't expect a masterclass of a performance from his players. Whether they were ready or not, Klopp knew the show would go on.
Just days after representing their countries in World Cup qualifiers that ended in both joy and heartbreak, Diogo Jota and Mohamed Salah started in Saturday's match against Watford and put in respectable performances. Jota's header gave Liverpool a slender 1-0 lead that came under threat on multiple occasions and kept the nerves jangling at Anfield.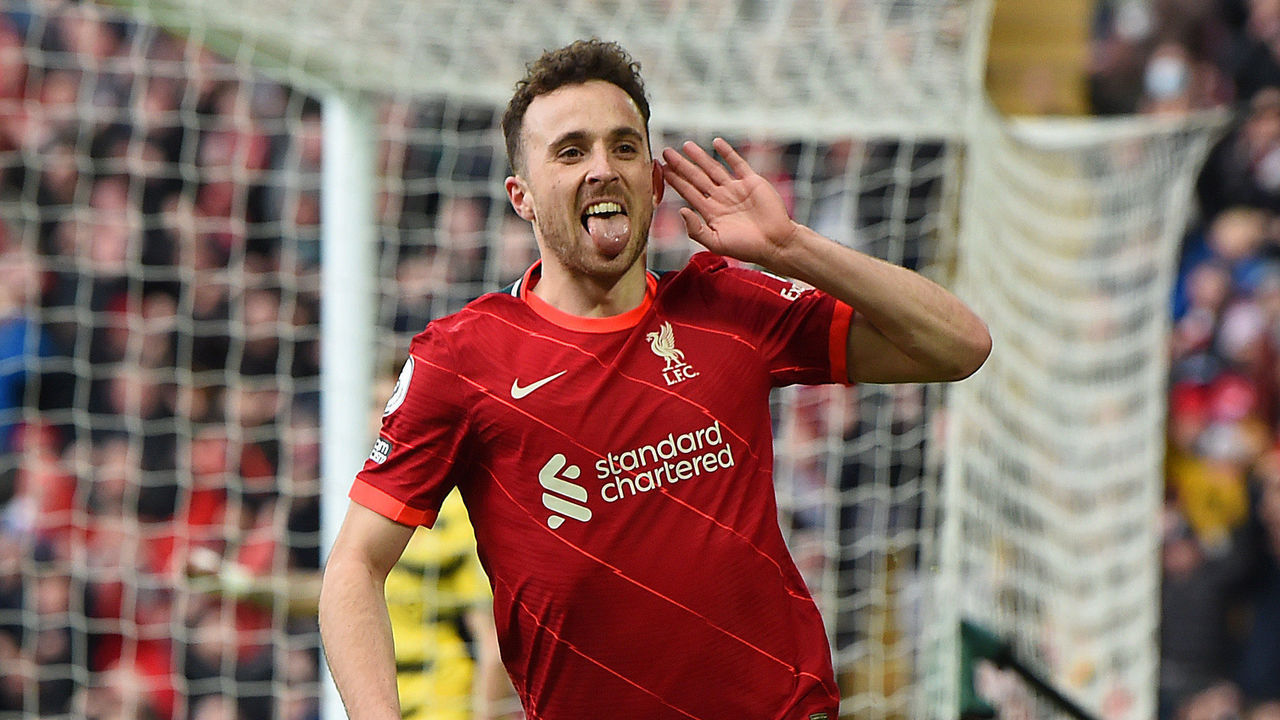 Fabinho's late penalty kick ultimately brought relief, easing fears Watford would end their run of form once again. After all, the Hornets were the ones who broke Liverpool's 18-match unbeaten run in the Premier League in March 2020, and they entered Saturday's fixture in survival mode.
But the Reds managed to pull off their 10th straight Premier League win to temporarily dislodge Manchester City from their perch after 119 days in the driver's seat. Pep Guardiola's side regained the lead with a routine victory over Burnley later in the day, but the threat to its reign became clear ahead of next weekend's season-defining clash at home to Liverpool.
Eriksen brings stability to Brentford
Brentford looked destined to be relegated not one month ago – they lost nine of 11 league matches from the end of December and scored just six times over that soul-sucking span – but everything changed when Christian Eriksen made his debut for the club Feb. 26.
Since emerging as a late substitute in the 2-0 defeat to Newcastle United, Eriksen has led Brentford to three wins in four matches, including triumphs over relegation rivals Norwich City and Burnley and Saturday's 4-1 upset over Chelsea. Eriksen scored his first goal for the club in the shocker at Stamford Bridge, adding to the two he scored for Denmark over the international break.
His creativity from set pieces has made Brentford a threat from all angles, and like clockwork, goals are now coming from multiple areas of the pitch.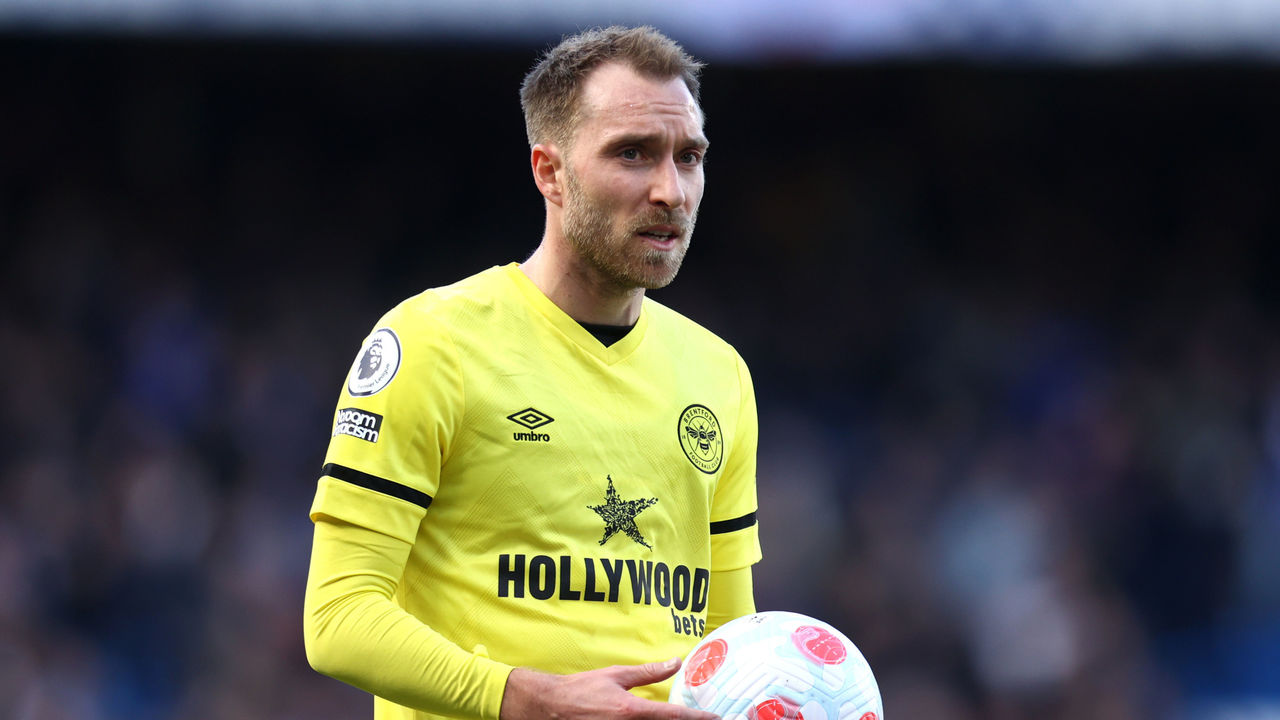 "Every team has 11 players … but sometimes you need some key players that can actually lift the other players both by playing (well) and with their personality, and Christian does that," Brentford boss Thomas Frank told BBC Sport. "He is a very good player, and we're pleased he is playing for us."
No one knew if Eriksen could recover from cardiac arrest, let alone play at such a high standard again, but he's answered both questions unequivocally over the last month of action. The 30-year-old has located the goal with efficiency, showing little rust, and demonstrated the excellent passing range that established him as one of the game's preeminent midfielders.
Thanks to Eriksen's contributions and the atmosphere in the team, Brentford should now have enough in them to stave off relegation. They're deserving of a place, too: Frank's side has played an aggressive style of football while compiling an impressive 5-2-9 record against teams currently in the top 10.
Chelsea can't afford more bad news
Before watching their team capitulate in the second half, a number of Chelsea supporters protested the Ricketts family's bid to take over the club, citing patriarch Joe Ricketts' history of discriminatory behavior toward Muslims as a nonstarter. A telling 77% of fans oppose the bid, according to the Chelsea Supporters' Trust, but the Ricketts still remain on the club's shortlist of suitors.
Up until Saturday's worrying defeat, Chelsea managed to block out the noise around the team, winning the six games that followed the U.K.'s crippling sanctions against owner Roman Abramovich.
"Nobody saw it coming," manager Thomas Tuchel told BBC Sport. "For sure not after we were 1-0 ahead. It was very untypical of us. But we stopped defending. We were not aware enough of the danger, we were sloppy with the defending and got punished."
Every team can have a bad game, but a team as defensively sound as Chelsea rarely shows such carelessness at home. It's a concern, especially with defenders Andreas Christensen and Antonio Rudiger likely to leave in the summer. The west London side needs a positive result at home in the Champions League quarterfinal first leg against Real Madrid to keep the season – and the narrative – from spiraling out of control.
Ward-Prowse closing in on Becks
Another day, another stunning free-kick from James Ward-Prowse.
The Southampton midfielder produced his latest piece of magic Saturday in the Saints' 1-1 draw with Leeds United, scoring a goal that moved him closer to catching one of his heroes.
The 27-year-old now has 13 direct free-kick goals in his Premier League career, five short of the league's all-time record held by set-piece wizard David Beckham. If anything, the gap is an indication of just how brilliant Beckham was from dead-ball situations; discourse around the former England star so often focused – and still does – on his many off-field enterprises, but Beckham probably doesn't get enough credit for his actual footballing talents.
"To beat someone like that I think would be incredibly impressive, but the funny thing is Beckham obviously went on to play in other countries and I've had a long time in the Premier League," Ward-Prowse said in March of the pursuit. "I think it speaks a lot about his quality."
Not including the 1994-95 campaign when, as a teenager, he made four league appearances, Beckham needed just eight full seasons to procure his 18 tallies. Ward-Prowse is in the midst of his 10th year in England's top flight.
"I'd love to meet him one day and have a coffee and a chat and just pick his brains," the Southampton captain added. "Hopefully if I can reach the record then, hopefully, he may reach out. We'll see."
Assuming he remains in England and, crucially, continues to stay healthy, Ward-Prowse should have time to equal the mark and enjoy a memorable cuppa.
Fred is thriving. Yes, for real
Manchester United dropped yet more points on Saturday, a 1-1 draw with Leicester City the latest in a string of poor results that has the Red Devils' top-four hopes dwindling with each passing week.
United looked largely anemic in attack, had moments of truly maddening defending, and required a spectacular David De Gea save and some VAR intervention to earn their point at Old Trafford. Overall, it wasn't great. Again.
And yet, despite all the issues at the club, one bright spot continues to be Fred, the once ridiculed midfielder who has looked reborn under Ralf Rangnick. The Brazilian scored on Saturday and could have had an assist, too, after playing Bruno Fernandes through in the first half.
Playing higher up the field and being tasked with progressing the ball and making late runs into the penalty area has allowed Fred to excel. Under Ole Gunnar Solskjaer, he was often stuck in a double pivot and unable to showcase his talents.
In Rangnick's high-tempo system, the energetic Fred, a Tasmanian devil who's in constant motion on the pitch, thrives. If only we could say the same about his many underperforming teammates.
Copyright © 2022 Score Media Ventures Inc. All rights reserved. Certain content reproduced under license.
3 thoughts from Saturday's Premier League action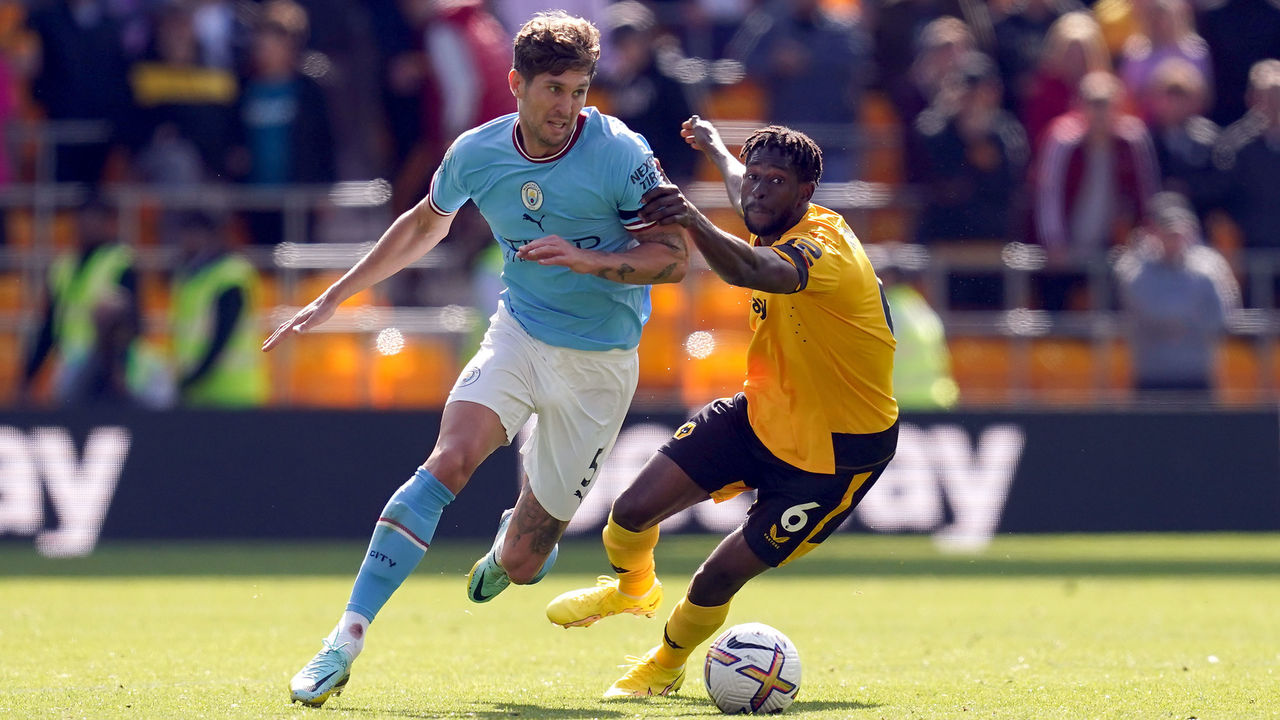 theScore examines the most important developments and discusses the biggest talking points from Saturday's reduced schedule in England's top flight.
Stones is a legitimate right-back option
Maybe this is meant to be a brief thing. While Kyle Walker deals with fitness issues and new left-back Sergio Gomez settles in at the club, John Stones has appeared at right-back in some Manchester City games.
Center-backs filling in at full-back often enact a classic portrayal of the role – Ben White has overlapped Arsenal's right-sided attacker with some success in the season's opening weeks. Stones' interpretation, however, seems more studied. He slides neatly into midfield alongside Rodri when City are in possession, providing protection from counter-attacks and ensuring his side dominates the ball in this area of the pitch. Stones' extra defensive cover on the right also frees up Joao Cancelo for more attacking work down the left.
The ease with which Stones has slotted in as an inverted full-back is impressive. It also indicates that this might be the result of hard hours on the training ground as Pep Guardiola tries to formulate more tactical options for his versatile team.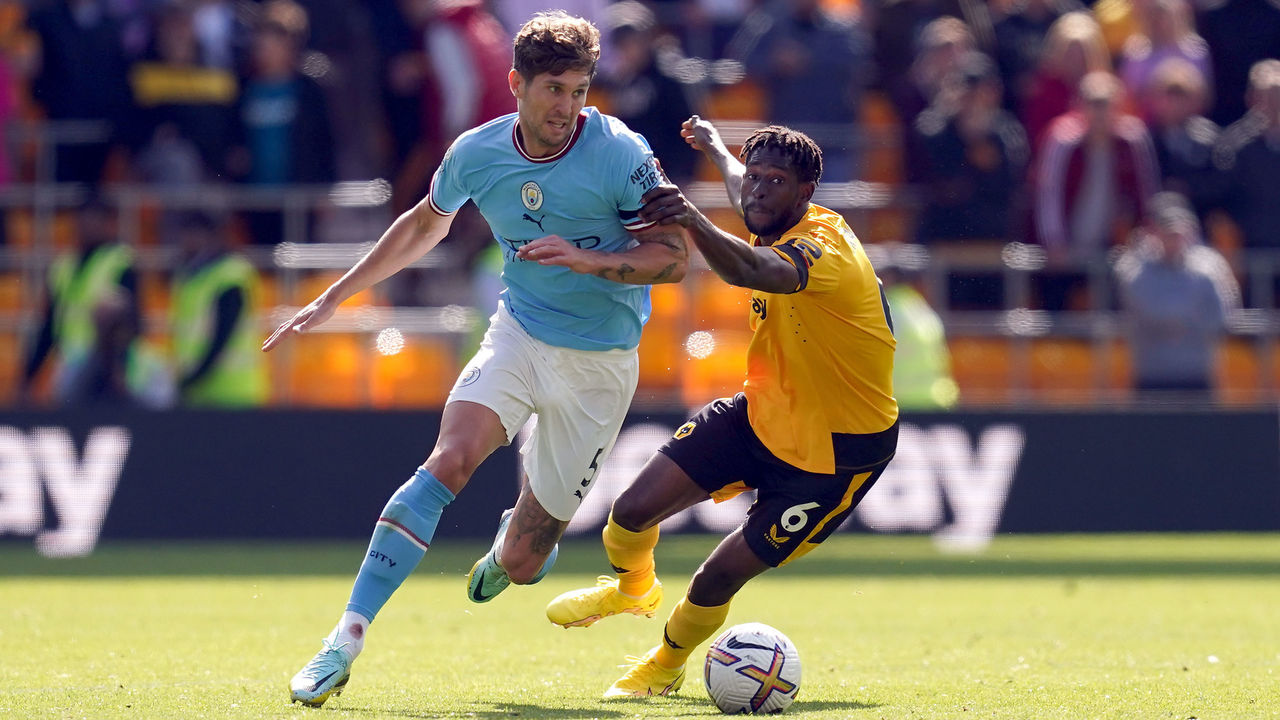 There must be a caveat from Saturday's 3-0 win: it was Wolverhampton Wanderers. This might be the most toothless version of Wolves to play in the Premier League (even less potent than the side that scored a paltry 32 goals, yet still survived, in the 2009-10 season), and their day was made more difficult when Nathan Collins was sent off for a wild challenge on Jack Grealish.
While Stones wasn't overworked at Molineux, he exuded confidence with the ball, linking up the backline and midfield with short passes, and dealt admirably with attacking left-back Rayan Ait-Nouri. He'd already passed a sterner test three days earlier, too. He calmly addressed Borussia Dortmund's threat, which mostly came down his flank, before stepping upfield to unleash a vicious strike that turned the tide of the Champions League group-stage fixture.
And Stones isn't only a viable choice at right-back. He took sole ownership of No. 6 duties when Rodri was substituted in the 81st minute, skipping through challenges and dictating City's tempo with his passing. Given Kalvin Phillips' injury issues, Stones could be asked to deputize for Rodri a few times in the coming weeks.
Newcastle's steep learning curve
Bournemouth were largely negative in their approach at St. James' Park, relying on last-ditch blocks, Neto's goalkeeping, and the woodwork to keep Newcastle United at bay. In the final 10 minutes of the first half alone, the Cherries headed or smashed away seven clearances.
This is what the "big six" deal with most weeks. The Magpies will need to get used to it. They've quickly become one of the division's strongest teams following their Saudi-backed takeover, so opponents have adapted accordingly. The most pragmatic way for bottom-half sides to approach Newcastle matches is to pack bodies in front of their creative players and then try to inflict damage on the break.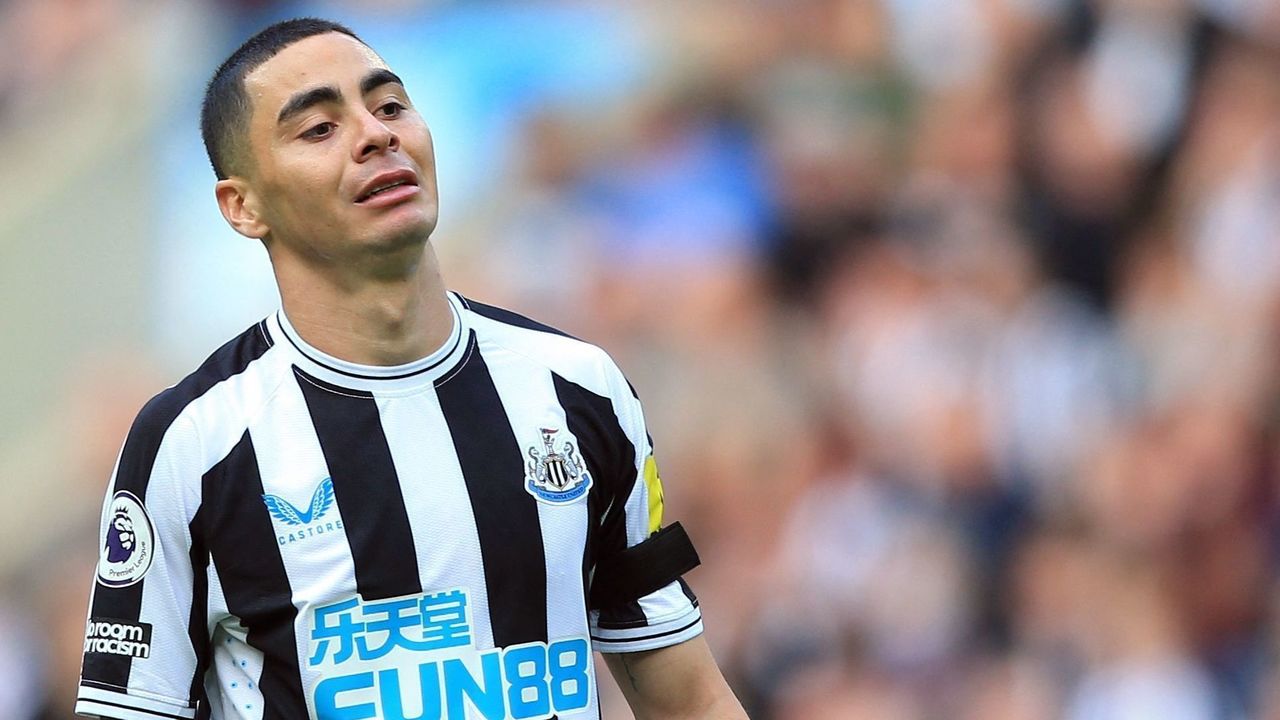 Newcastle's frustrations were beginning to show when Bournemouth took the lead through Philip Billing in the 62nd minute, and they could only respond via Alexander Isak's successful penalty. Eddie Howe's side lacked invention throughout and can't expect a huge uptick in performance when the entertaining yet inconsistent Allan Saint-Maximin returns from injury. The majority of Howe's players appear to lack the guile to unpick low blocks, and the men he called off the bench – Jacob Murphy, Sean Longstaff, and Chris Wood – seemed to be a concession of that weakness. Rather than patiently adhering to their game plan, Newcastle started to play a more direct, cross-heavy game as their desperation grew.
The next stage in Newcastle's transformation has to be signing better playmakers. Miguel Almiron and Ryan Fraser simply don't thrive when their team has the most possession – they're most dangerous in counter-attacks, not against deep-lying defenses – and back-to-back home draws against Crystal Palace and Bournemouth isn't the kind of form that earns top-four finishes.
At long last, the Son is out
"I like that he's a bit angry," Antonio Conte said about Son Heung-Min's goal drought before Leicester City's visit, adding, "he wants to try to change it."
Son was last season's true top scorer. Granted, he did share the Golden Boot with Mohamed Salah, but the Liverpool forward boosted his 23-goal haul with five penalties. Son didn't attempt any throughout Tottenham Hotspur's Premier League campaign, leaving that responsibility to Harry Kane, so reaching his overall tally was an undeniably more impressive feat than Salah's.
The South Korean scored 12 of his goals over his final 10 league appearances of last term, helping Spurs clinch the fourth Champions League place at Arsenal's expense. He was irresistible, marking a stark contrast to his return of no goals from the opening eight matches of this season (in all competitions). Son's alarming dip in productivity threatened to harm his side's ambitions for the campaign.
What an emphatic way to vanquish those concerns.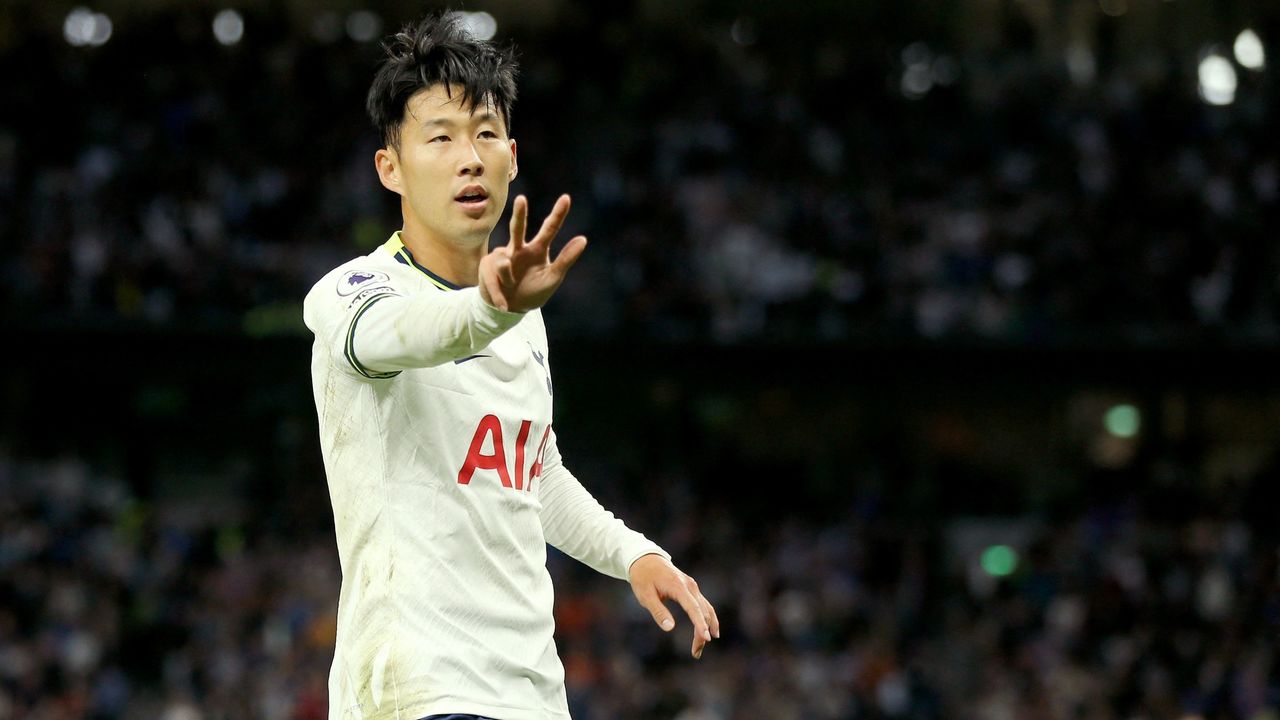 It took around 27 minutes for Son to bag a hat-trick after his introduction on Saturday, making him the first Tottenham substitute to record a Premier League treble. A fine Hugo Lloris save helped Spurs cling on to their one-goal advantage moments before Son was brought on, but the benched forward soon helped his side to a 6-2 victory.
Son's opening goal wasn't the fortuitous, scruffy close-range finish that people tend to associate with a player overcoming a bad run. It was a quintessential Son strike: a powerful run followed by an unstoppable right-footed smash into the top corner from 25 yards. His second was another effort plucked from the archives as he shifted the ball onto his left foot before bending it into the far corner from a near-identical spot as his first goal.
Son rounded off his treble following an exceptionally timed run. His return to form should strike fear into Tottenham's rivals: One of the top flight's deadliest strikers is "angry" and firing, and the proud Korean is also desperate to hit prime condition in time for his country's tough group-stage matches at this winter's World Cup.
Copyright © 2022 Score Media Ventures Inc. All rights reserved. Certain content reproduced under license.
2022 World Cup kits: Bright orange for Netherlands, vibrant look for Brazil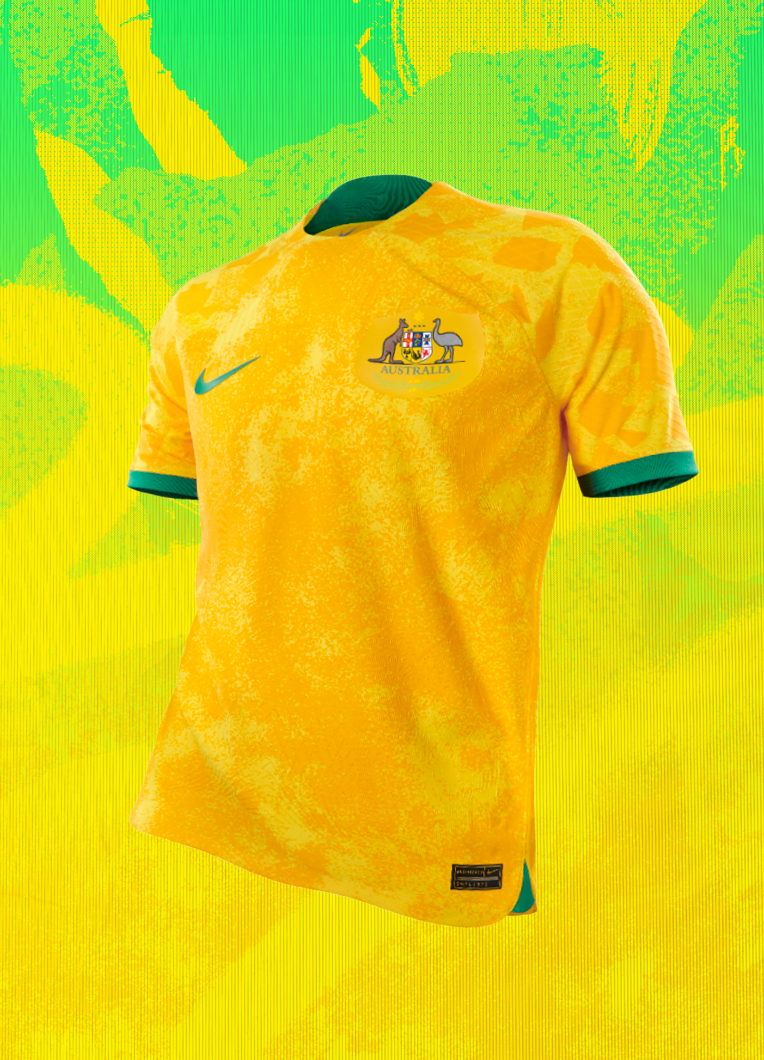 Nike released its line of World Cup jerseys for 12 of its 13 teams Thursday, bringing out vivid colors and an array of designs that characterize the countries they represent.
Nike is the latest manufacturer to reveal outfits for the 2022 World Cup, which begins Nov. 20 in Qatar. Adidas, which supplies seven countries, and Puma, which services six, unveiled their lineups in August.
Fans have criticized the manufacturers for using cookie-cutter designs. Puma came under intense criticism after releasing a lineup of jerseys with the same template, and a number of people have already signed a petition online to protest Nike's USMNT jersey.
England, the only World Cup team in Nike's stable that's yet to officially unveil its uniforms, will reveal its collection on Sept. 21, after the country completes a period of mourning over the death of Queen Elizabeth II.
Here's a closer look at the jerseys Nike revealed Thursday.
Australia
(Courtesy: Nike)
Australia's home shirt takes inspiration from the sandy beaches of the Outback, using a noisy design to convey the coastal vibes that make the country such a hot destination for surfers and oceanographers.
Brazil
(Courtesy: Nike)
Brazil's home shirt is as yellow as ever. Complete with bright green details and a classic collar, it's a stunning representation of the vibrant side of Brazilian life. The jersey also contains hidden symbols, including the nation's flag.
Canada
(Courtesy: Nike)
Canada will wear the same shirts that gave it luck during its historic World Cup qualifying campaign.
Croatia
(Courtesy: Nike)
Croatia's home shirt is unmistakable. But Luka Modric and Co. will wear a variation of the usual chequered pattern we've all come to expect from the Balkan outfit.
France
(Courtesy: Nike)
France dazzles with one of the best collections of the bunch. The away kit features national imagery, while a golden cockerel stands out against the home shirt's deep blue tone.
Korea Republic
(Courtesy: Nike)
South Korea summons the inner tiger in this year's home shirt. The fiery red design, replete with tiger-stripe graphics, gives off a powerful vibe.
The Netherlands
(Courtesy: Nike)
Talk about Orange fever. With perhaps its boldest design in decades, the Netherlands will hit the pitch with a near-gold ensemble that catches the eye. The home shirt also contains a number of subtle symbols and a reference to the country's Total Football tactics.
Poland
(Courtesy: Nike)
Poland's home kit features a feathery design on each sleeve, paying homage to the white eagle that's come to symbolize strength and solidarity in the eastern European nation.
Portugal
(Courtesy: Nike)
Portugal's collection isn't exactly a smash hit. The home shirt includes a diagonal separation of its national colors and aims to mimic the flag as it would sit against the body. The away edition features an off-white tone that offers some separation from the rest of the World Cup's white uniforms.
Qatar
(Courtesy: Nike)
Qatar's logo sits prominently on both of its kits. Classic maroon shading defines the home edition, and the away's sandy design aims to capture the coastal contours of the Gulf nation.
Saudi Arabia
(Courtesy: Nike)
Saudi Arabia truly embraces its national colors. The away shirt comes with a dark green design that packs punch.
United States
(Courtesy: Nike)
Fans and players aren't pleased with Nike's creative input on the United States' World Cup collection. "We just as angry as y'all!!!" forward Tim Weah wrote last month. "Tried to tell them," midfielder Weston McKennie added.
Copyright © 2022 Score Media Ventures Inc. All rights reserved. Certain content reproduced under license.
5 thoughts from Tuesday's Champions League action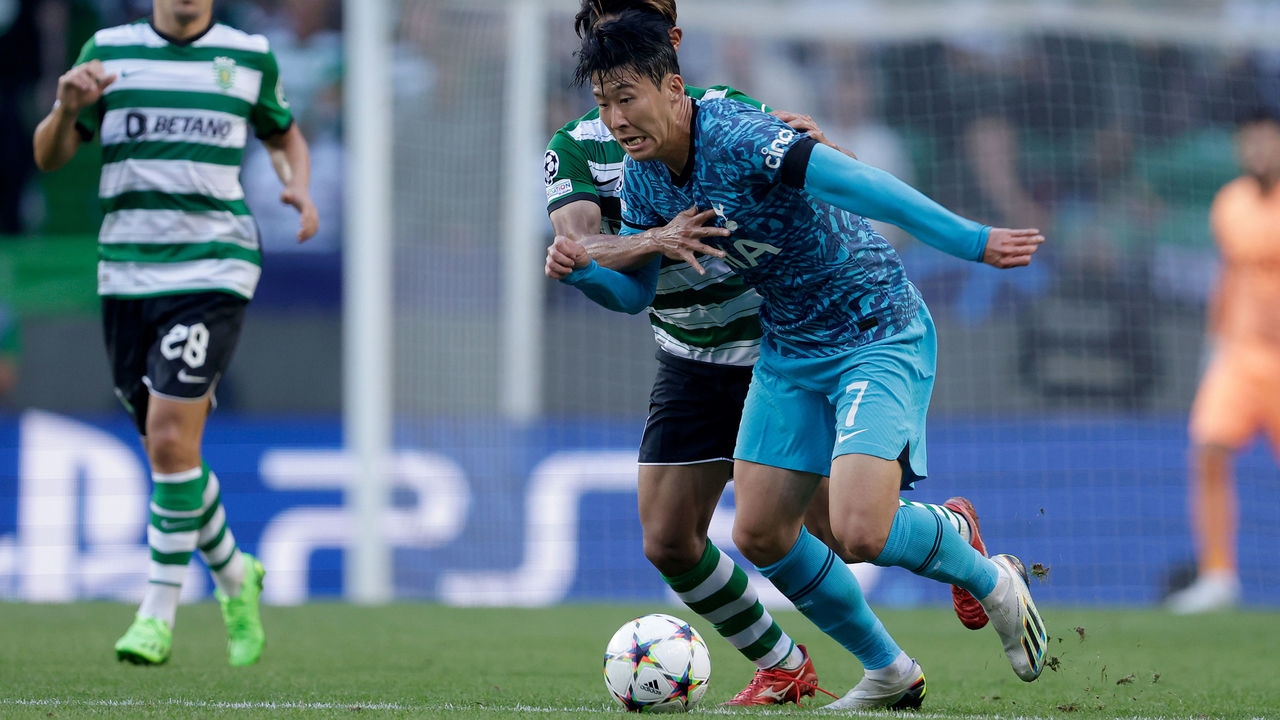 The Champions League rumbles on with Matchday 2 this week. Below, we dissect the biggest talking points from Tuesday's action in Europe's premier club competition.
Son becoming a big problem for Conte
Son Heung-Min has now gone eight games without a goal, and if his performance in Tottenham Hotspur's surprising 2-0 defeat to Sporting CP on Tuesday is any indication, the drought will continue for some time.
Many expected Son to take his game to the next level, and rightfully so. The South Korean forward finished the 2021-22 Premier League season with 12 goals in his final 10 appearances, enough to earn him a share of the Golden Boot award. But his form in front of goal since the start of August has dropped dramatically. Son's failed to convert any of his 18 attempts on goal, and only half of those have been on target.
Son didn't register a single shot Tuesday against Sporting 'keeper Antonio Adan, and one of his only two touches in the penalty area came from an offside position. He just couldn't connect with the rest of his teammates. Clearly frustrated, Spurs boss Antonio Conte replaced him after 72 minutes – and Son's lucky he even lasted that long.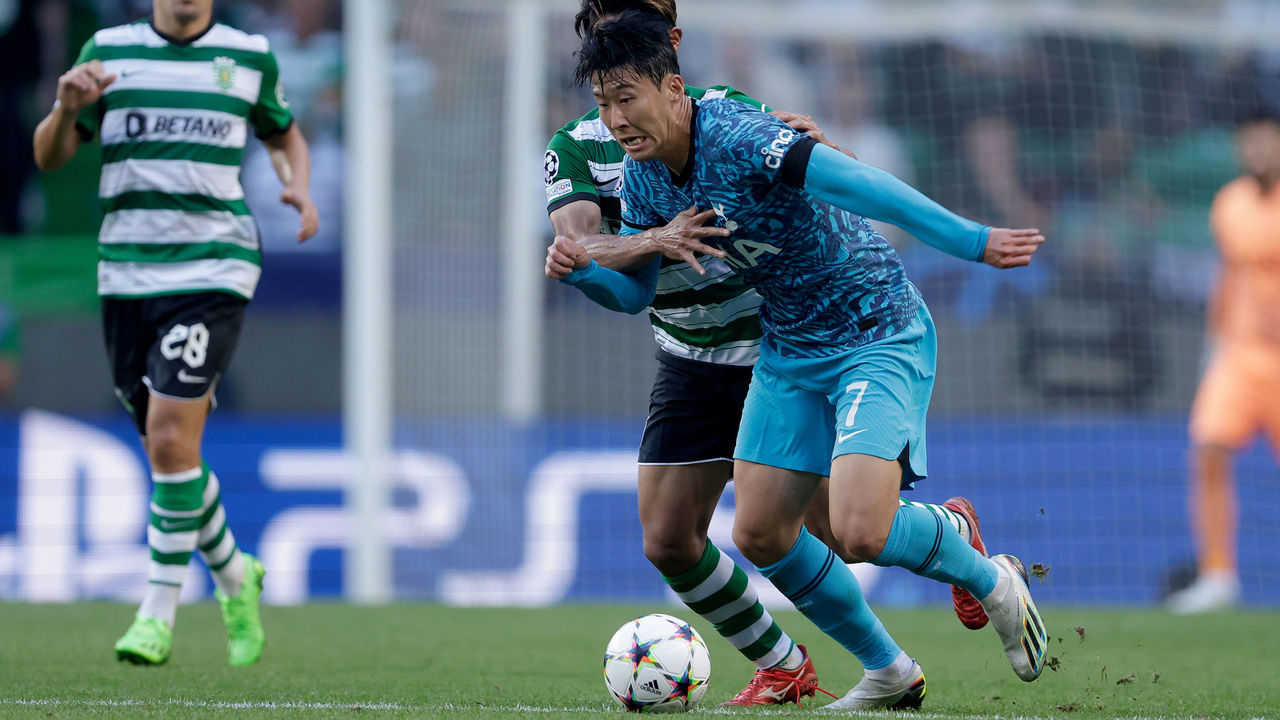 The 30-year-old's substitute Dejan Kulusevski showed much more attacking impetus in the final quarter of an hour, appearing on the left and right to create chances. With Richarlison also comfortable playing on the left wing, Son's place in Conte's starting lineup could, and probably should, come under scrutiny.
Richarlison has played extremely well in his limited time on the pitch, showing greater compatibility with Harry Kane and the will to get into scoring positions. Initially signed to provide depth, the Brazilian forward could now earn a significant run in the team, with Kane up front and Kulusevski returning to his usual place on the right. That spells trouble for Son, whose native South Korea is banking on him to lead the way in the World Cup. But Conte can't afford to wait for anyone – not even one of the Premier League's best players.
That's more like it, Liverpool
Jurgen Klopp got the response he demanded.
In a game Liverpool desperately needed to win after opening their Champions League campaign with an embarrassing defeat, Klopp's men delivered a strong defensive performance on their way to beating Ajax 2-1 and picking up their first three points of the tournament.
The result offered a huge boost for a Liverpool side that was left reeling after last week's abysmal performance in Italy.
In the aftermath of the 4-1 loss to Napoli, there was plenty of uncertainty about the Reds' ability to rebound from what Klopp described as the team's "worst" performance since his arrival. Klopp delivered "four or five days of absolute truth" to his struggling squad.
Although Liverpool's route to victory was anything but direct, the rallying cry seemingly worked. After Mohamed Salah's first-half goal, poor play from Trent Alexander-Arnold and Virgil van Dijk was largely responsible for Ajax's equalizer before halftime. The Reds' attack went sterile after the break until unlikely hero Joel Matip's 89th-minute winner sent Anfield into a frenzy.
Although Liverpool have a ways to go before they're comparable to the outfit that dazzled last season, Tuesday's victory was undoubtedly a relief for a club that's underachieved for much of the season so far.
When heavyweights collide
That was fun.
Bayern Munich and Barcelona, familiar foes in recent seasons, delivered a rousing spectacle in Bavaria on Tuesday. It was only a group-stage affair, but the almost unhinged intensity and elite skill on display were befitting of a final. Both teams pressed fiercely, trying to play on the front foot and not allow their illustrious opposition any time to breathe. Tackles were flying, and bodies were often strewn across the pitch as the two sides went blow-for-blow, racing up and down the field and exchanging rapid attacks peppered with quick, clever passing sequences and exquisite dribbling.
Alphonso Davies and the rejuvenated Ousmane Dembele – and fellow winger Raphinha – engaged in a series of explosive tussles that were as entertaining as the actual match itself. A game within the game. Teenage midfielders Pedri and Gavi were two standout players in the first half as Barcelona, looking to regain their status as Europe's elite footballing institution, played with the incisiveness, inventiveness, and swagger of their peak years. The club's financial future may be tenuous, but things look bright on the pitch.
But Bayern, despite still looking vulnerable defensively when put under pressure, didn't crack. Julian Nagelsmann's decision to introduce Leon Goretzka to begin the second half was vital, and the German juggernaut helped turn the tide in his side's eventual 2-0 victory.
"In the first half we had a lot of chances to score, and when you forgive so much against a team like this, you end up paying for it," Pedri, wise beyond his years, said following the defeat.
Those ebbs and flows are the hallmarks of memorable Champions League nights.
The group stage of Europe's premier club competition has been increasingly neutered as the gulf between football's wealthy elite and everyone else has continued to grow over the years, making it more difficult for Cinderella stories to develop. But Tuesday's clash at the Allianz Arena was a reminder of everything that's still good about the tournament. When heavyweights collide, it's still the most riveting show around.
Lewandowski's rare off night
Captivating as Tuesday's match in Bavaria was, it didn't quite go according to plan for Robert Lewandowski.
The prolific Pole, who scored 344 goals in 375 Bayern appearances before departing for Barcelona this past summer, was given a predominantly warm reception upon his return. But a smattering of boos emanated from a fan base that isn't totally at peace with the acrimonious nature of Lewandowski's departure. Not quite hostile, but there was tension in the air.
"I think for Lewy, it was really an emotional game to come back," said Bayern captain Manuel Neuer after the match. It's impossible to know if that harmed the forward – even the most accomplished veterans can get butterflies – but whatever the reason, Lewandowski was just slightly off at the Allianz Arena. A rare sight over the years.
The 34-year-old spurned two glorious opportunities in the first half, whistling a volley just over the crossbar from inside the box before sending a close-range header at the back post right into Neuer's chest. Another good chance went begging when Noussair Mazraoui made a last-ditch block late in the first half. From there, Bayern's defenders corralled him, and whenever Barca did scamper forward menacingly, Lewandowski couldn't find the right timing and connect with his teammates.
Lewandowski had nine goals in his first six games with Barcelona going into Tuesday's encounter, but his dream start to the season ended with a thud in the one match he was surely more excited about than any other.
What's happening in Group B!?
This comes with the caveat that it's still very early – we're only two games into this campaign's Champions League, after all. But Group B, against all odds, is already shaping up to be a wild ride.
Club Brugge sit atop the quartet with a perfect record after waltzing into the Estadio do Dragao, a typically intimidating venue, and crushing FC Porto on Tuesday. Despite losing Charles De Ketelaere over the summer, the Belgian club certainly wasn't lacking an attacking spark in its 4-0 rout.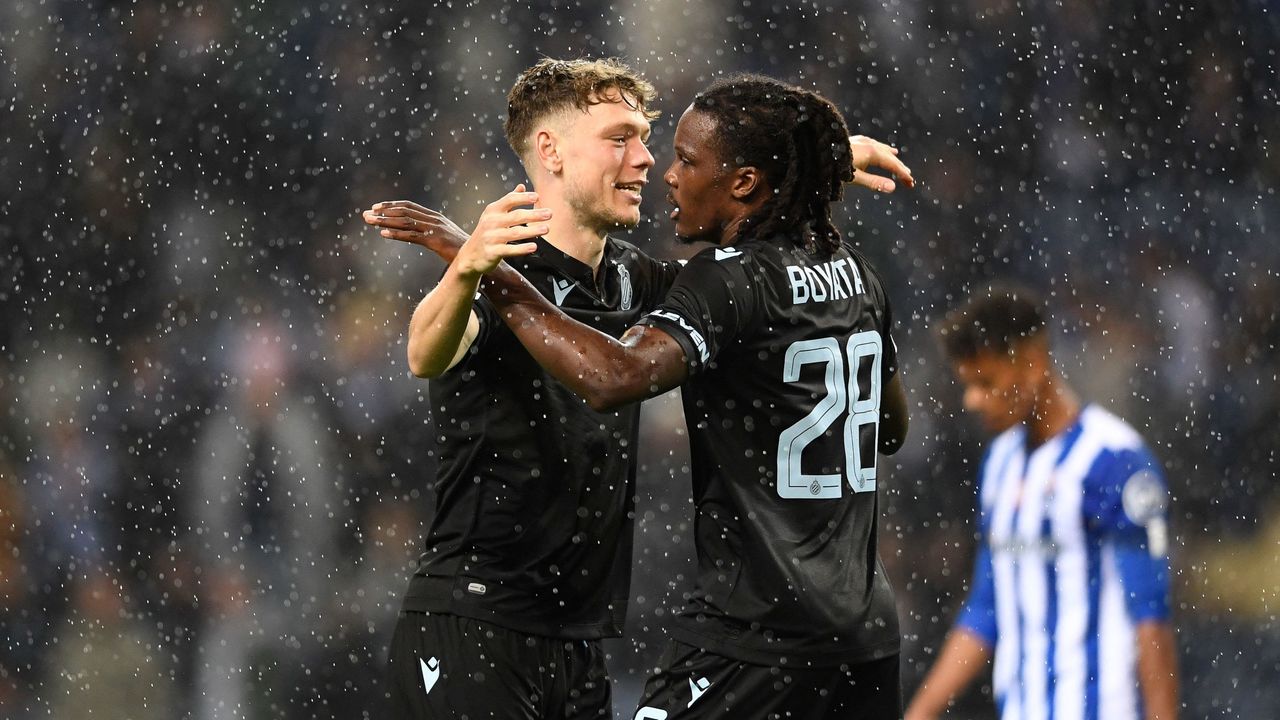 The surprises didn't stop there, though, as Bayer Leverkusen put their woeful early-season form behind them to claim a 2-0 win against overwhelming group favorites Atletico Madrid. Leverkusen went into the match having lost six of their eight games in all competitions to begin the new campaign, so naturally, they shut down Diego Simeone's side. Throw all reason out the window.
Group B, viewed after the draw as lacking much intrigue or excitement, is flipping the script.
Copyright © 2022 Score Media Ventures Inc. All rights reserved. Certain content reproduced under license.