Have analytics gone too far? Author argues we're devaluing human creativity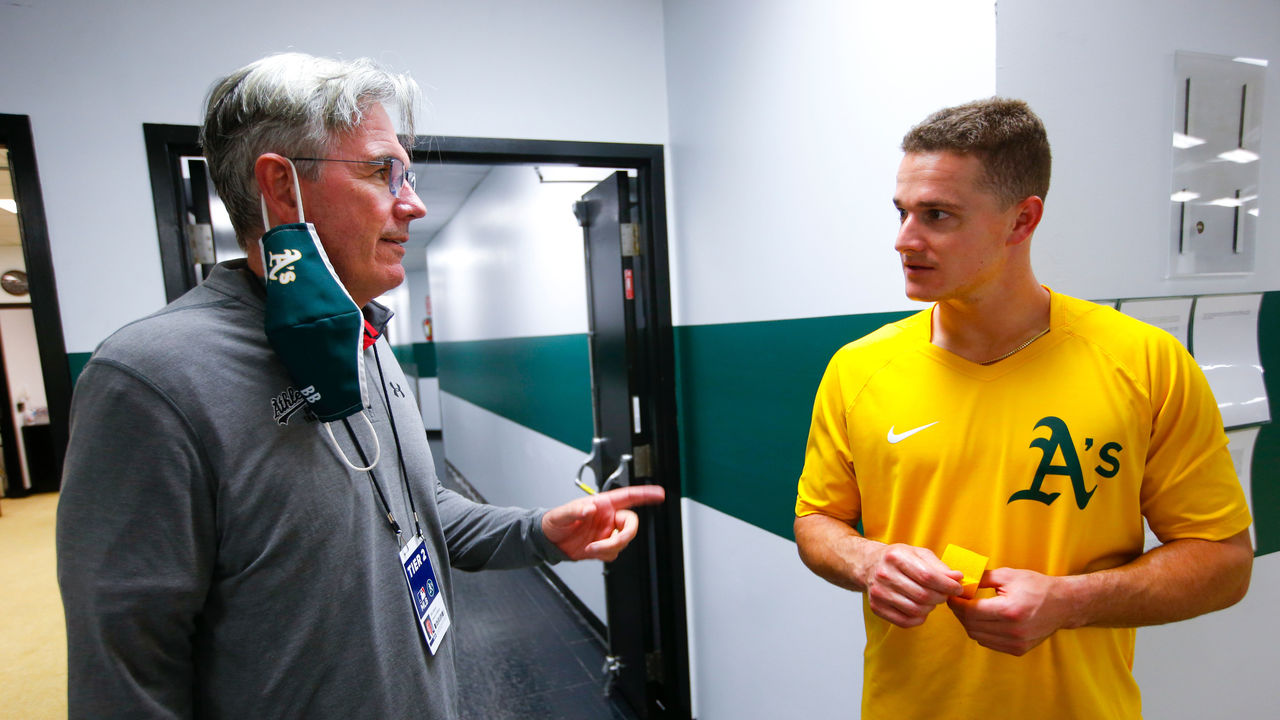 As a magazine storyteller, Chris Jones has written about astronauts, filmmakers, game show winners, magicians, one U.S. presidential nominee, the youngest manager in pro baseball, and Conor McGregor, who put Jones in a rear chokehold at his request. (Certain he could stay conscious, Jones passed out in seconds.)
Jones never profiled Billy Beane, though he tried. When Beane was general manager of the Oakland Athletics, Jones asked to shadow him to learn about his approach to roster-building. Sure, Beane said – just not yet. Another writer was hanging around the A's front office, but Beane doubted the guy would publish anything.
"And then 'Moneyball' comes out," Jones said over the phone last week, referring to Michael Lewis' 2003 book. "Then it became a huge bestseller and the movie, and changed the world."
By spotlighting how Beane ran the A's, Lewis made analytics popular. Crunching baseball's voluminous data helped Beane acquire undervalued players, like batters who got on base a lot, for little cost. Everyone began to look for overlooked opportunities. Baseball teams shift a lot nowadays. The NBA ditched the mid-range jumper to shoot threes in bulk. Win probability models spur NFL coaches to go for it more often on fourth down.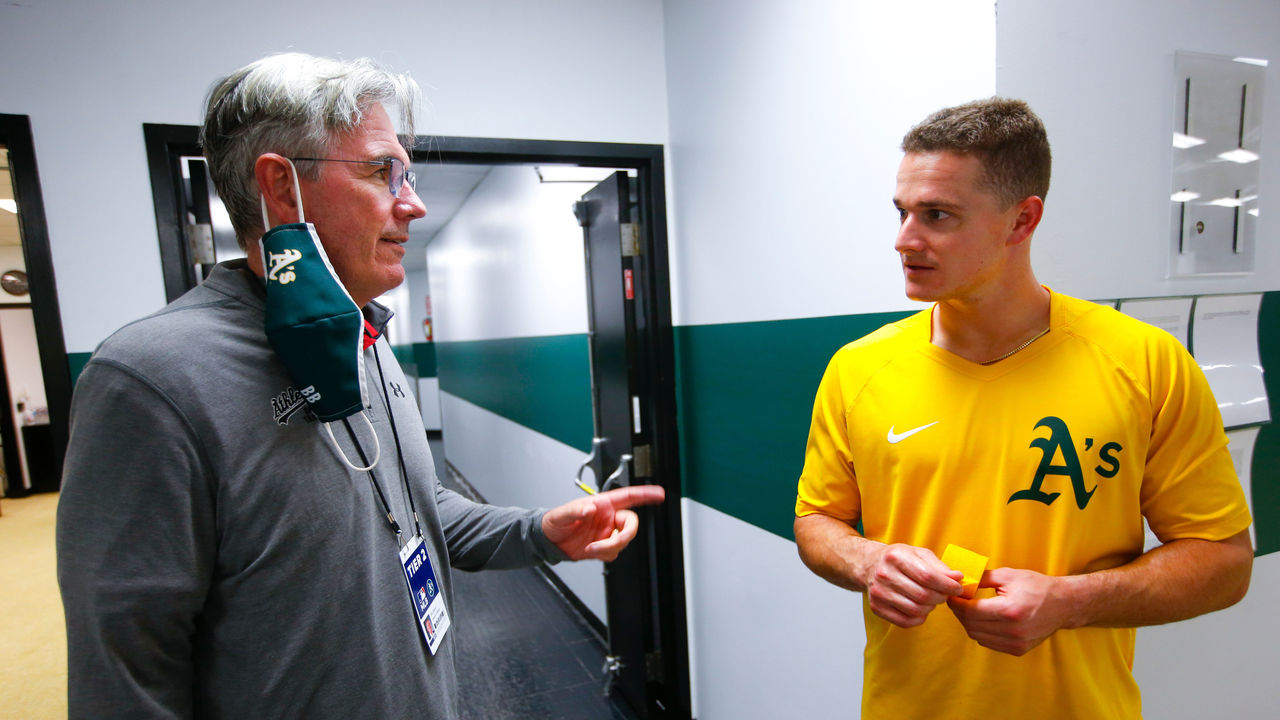 Jones enjoyed "Moneyball" but thinks the movement it inspired went too far. His new book – "The Eye Test: A Case for Human Creativity in the Age of Analytics," out Tuesday – counters the notion that numbers should drive decision-making in all walks of life, sports included. He's met a lot of curious, adaptive, empathetic, expert people. What happens, he wonders, when the world discounts what they see and feel?
"I'm worried that people are going to write that the book is an anti-'Moneyball' book," Jones said. "It's not. I just think data has its limits. And where it has its limits, those are opportunities for people to shine."
Jones, who's written for Esquire, The New York Times Magazine, ESPN, Grantland, and Netflix, lives near Toronto in Port Hope, Ontario. He spoke to theScore about a range of topics that relate to his book, including Derek Jeter's defense, the Tampa Bay Rays' 2020 World Series loss, and the ingenuity of Jason Witten and Mohamed Salah.
The conversation has been edited for length and clarity.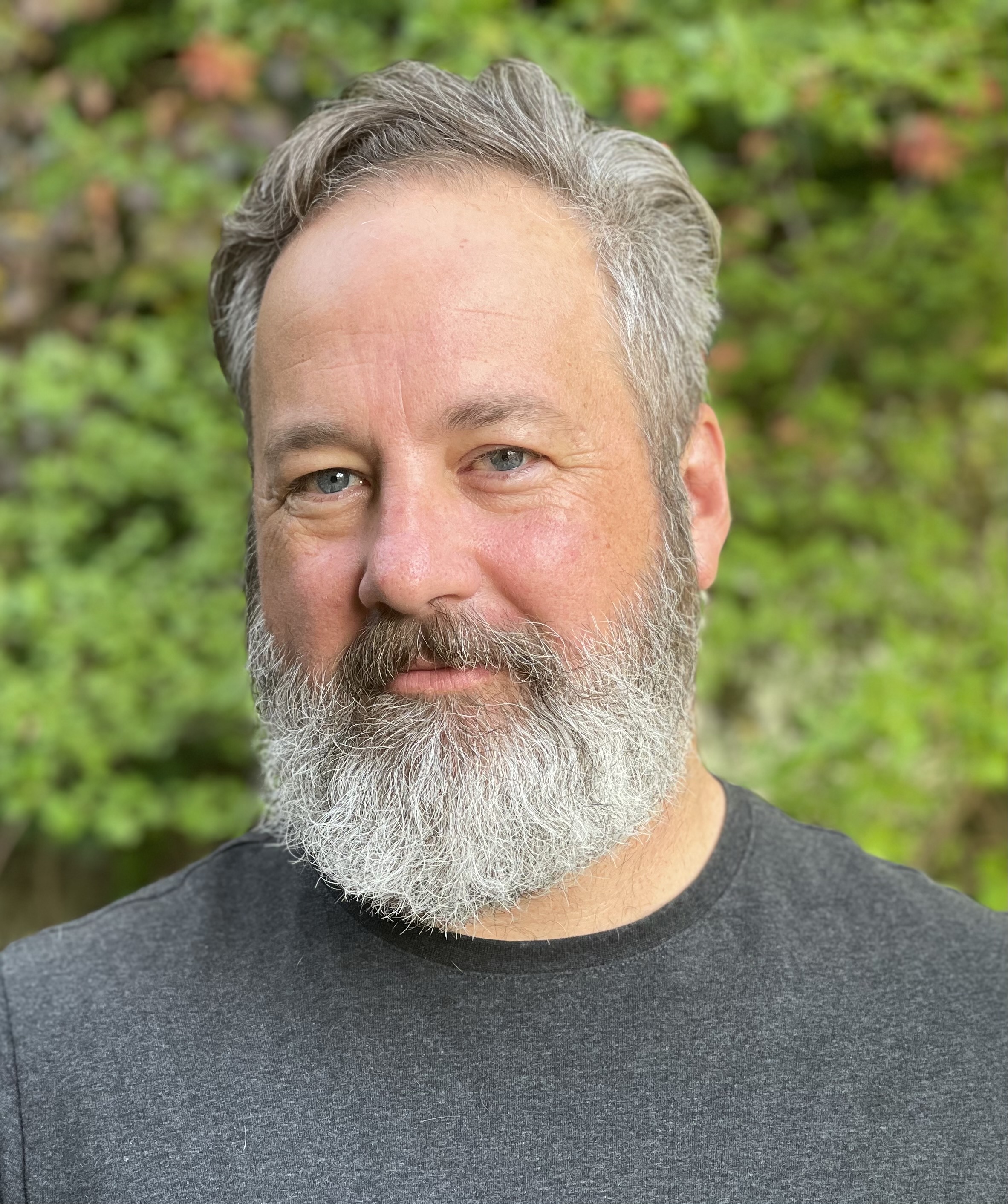 theScore: "The Eye Test" covers a lot of ground: sports, policing, Hollywood, the 9/11 victims compensation fund. Everywhere in life, you argue, problem-solving could stand to be more humane and less reliant on algorithms and spreadsheets. What made you want to mount that argument?
Jones: My first sportswriting job was as a baseball beat writer. I covered the Blue Jays for (Canadian newspaper) the National Post. I learned a ton from old baseball guys. Jim Fregosi was the manager of the Jays. Every Sunday we were on the road, he would sit in the dugout with me and teach me something about the game. I still remember one I got on the changeup in Cleveland. It was 20 minutes on this single pitch.
"Moneyball" came out a few years later. When it came out, I was like, "This is super cool." I think the movie's fantastic. But then I felt like that movement started going too far, and those old guys who taught me stuff in the late '90s were exactly the kind of people who were being ridiculed or dismissed as morons, basically – do you know what I mean? – that they didn't know what they thought they knew.
I think data does provide some useful corrections. I'm not saying I'm anti-data. I'm just saying I think that, like a lot of revolutions, it's gone too far and the collateral damage is starting to be something that we need to reckon with. I think there are claims being made about analytics that are not true, and if you dare to raise opposition, you're cast as a heretic or a moron or you believe in fairy dust.
What I'm trying to say is: No. There's a place for data, but there's also a place for experience. There's still a place for multiple perspectives. Nearly 20 years after "Moneyball" has come out, I think a lot of people will, hopefully, agree they're feeling a little unease about the path that we're on.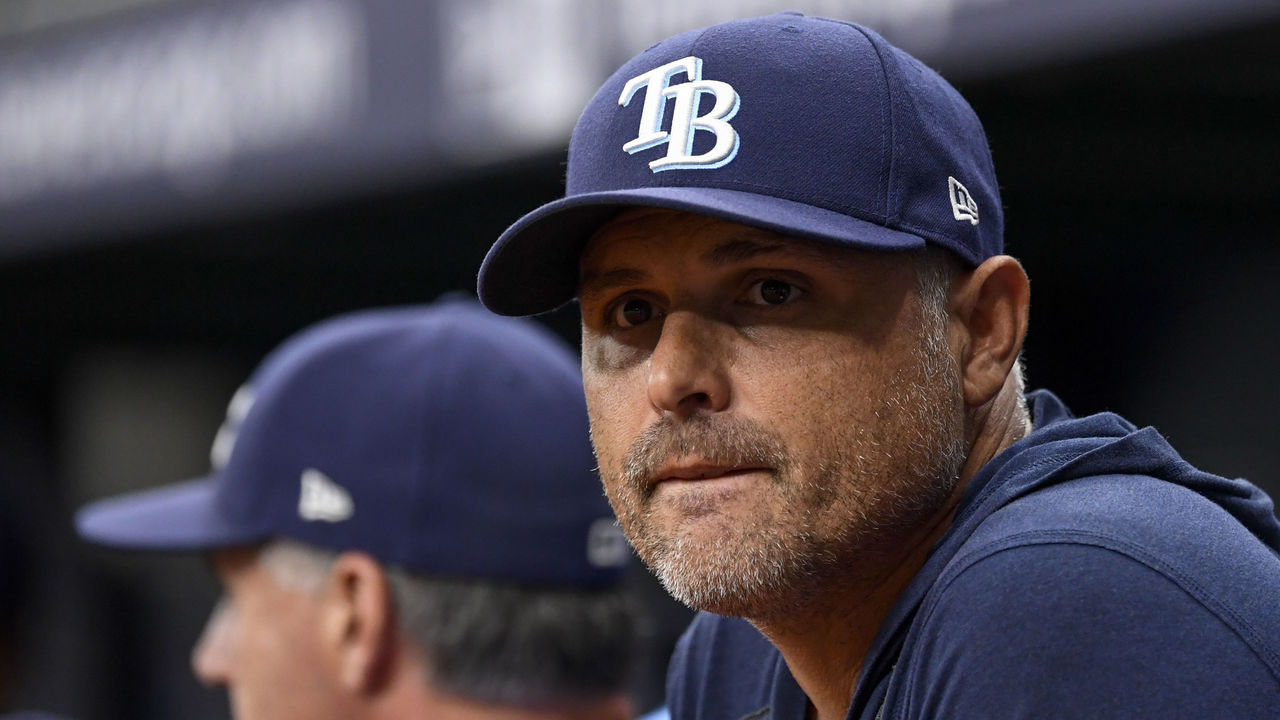 You bring up how Tampa Bay lost the 2020 World Series because of a math decision. Blake Snell was cruising in Game 6, Kevin Cash pulled Snell before the Dodgers batted against him for a third time, and L.A. took the lead. The counterpoint is that the Rays' analytical approach got them to the World Series in the first place. This got me wondering: Where, to you, is the line at which analytics stop being valuable?
I don't know that there is a hard line. I would be a moron to make the case fully against analytics. It works for Tampa Bay. It worked for Oakland to get into the playoffs (under Beane). They're valuable to a point.
But then I think what sometimes happens, human discretion gets cast aside and you always follow the math. There has to be a moment where you trust the guy or you trust your own wisdom. You trust your experience.
Why do we only choose one perspective? Why does analytics become the law? Why can't it be analytics plus our sense of things? The analytics movement will talk about the pre-"Moneyball" time in sports as being blind, archaic. I feel like we're trading one kind of blindness for another.
There's a guy, Ian Graham, who's a physicist. He's a backroom architect at Liverpool. He refuses to watch games because he thinks it taints him – that the emotion of it will make him less objective than he needs to be. I'm like, well, you're just choosing one myopia (over) another. You're trading the pure eye test for pure analytics. Isn't there room for both?
The book opens with an Albert Einstein quote: "Imagination is more important than knowledge. Knowledge is limited. Imagination encircles the world." If sports did more to encourage imagination, creativity, and discretion, what effect would that have on the product?
For me, if you get a really smart person working on something using creativity and imagination, that's now the competitive advantage. There's no baseball team that isn't using analytics now. There's a limit to what they can divine. You might find a new statistic, or you might find a better way to statistically analyze defense. But at some point, you're all using the same figures.
The pendulum has swung in favor of analytics. Again, I'm not against them. But I do feel like it's time for a correction, where you bring it back a little bit. That's your competitive advantage now: It's in finding the right person for the right role.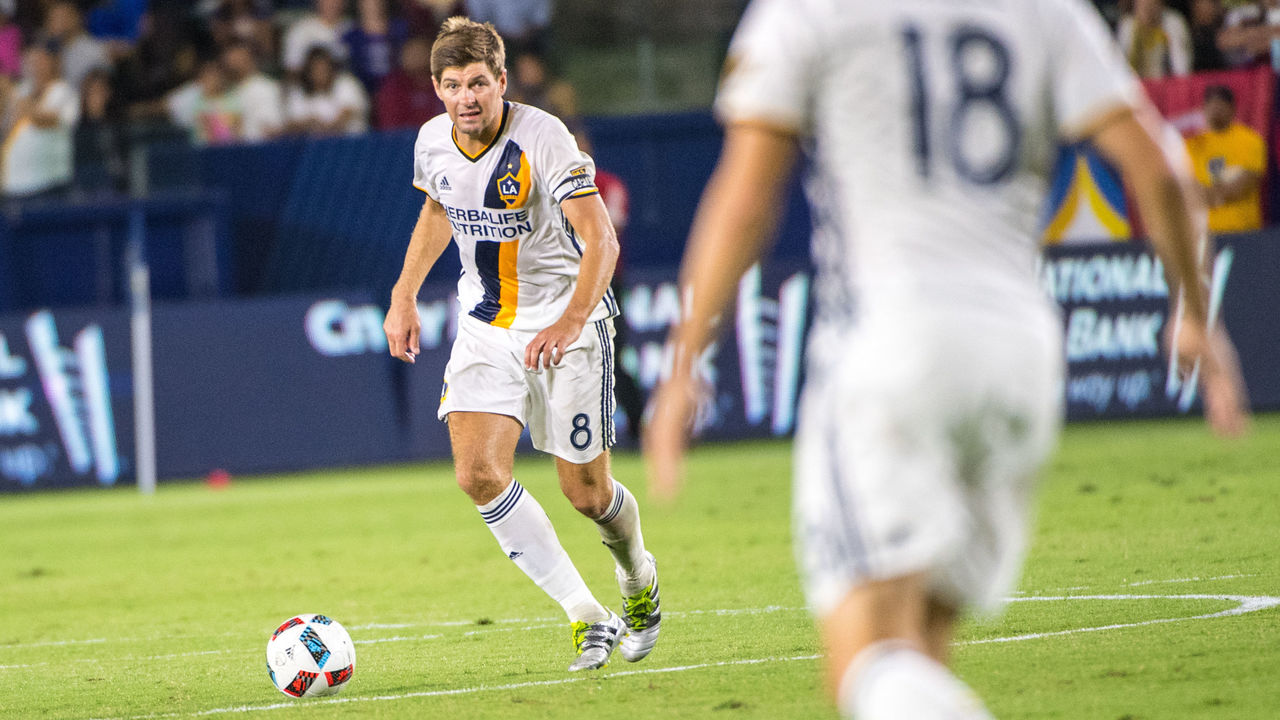 About people who've spent a lifetime in their sport, you write, "their bones can reveal its truths better than any spreadsheet." Who's a person you had in mind when you wrote this?
I did a story (for ESPN The Magazine in 2014) on Mike Jirschele, who was the Kansas City Royals' third base coach. He spent, like, 36 years in the minors before he finally got to the majors. His son, Justin, is the youngest manager in professional baseball. I spent a lot of time with both of them.
When I was with Justin, I closely watched a baseball game that he was managing. After the game, we broke it down. He was telling me things that I didn't even see. For him, these were obvious things. I was like, man, you understand this game because you've grown up with it. Because you've been around this game since you were a baby. And because after every game you've ever played or coached or watched, you and your dad have talked about it.
Steven Gerrard was a major player at Liverpool, and then he moved to the LA Galaxy. I got to watch a game with him. He was doing remarkably accurate analyses of players he'd never seen before. He'd be like, "I don't know who No. 6 is, but blah, blah, blah," and he'd be bang-on about who that guy was.
The book is not a case for random gut or flipping coins. But when you're smart – when you've earned an understanding of something – those people are so valuable. You might have a super good quant on your side, but if you also have someone like Steven Gerrard on your side? That's only an advantage.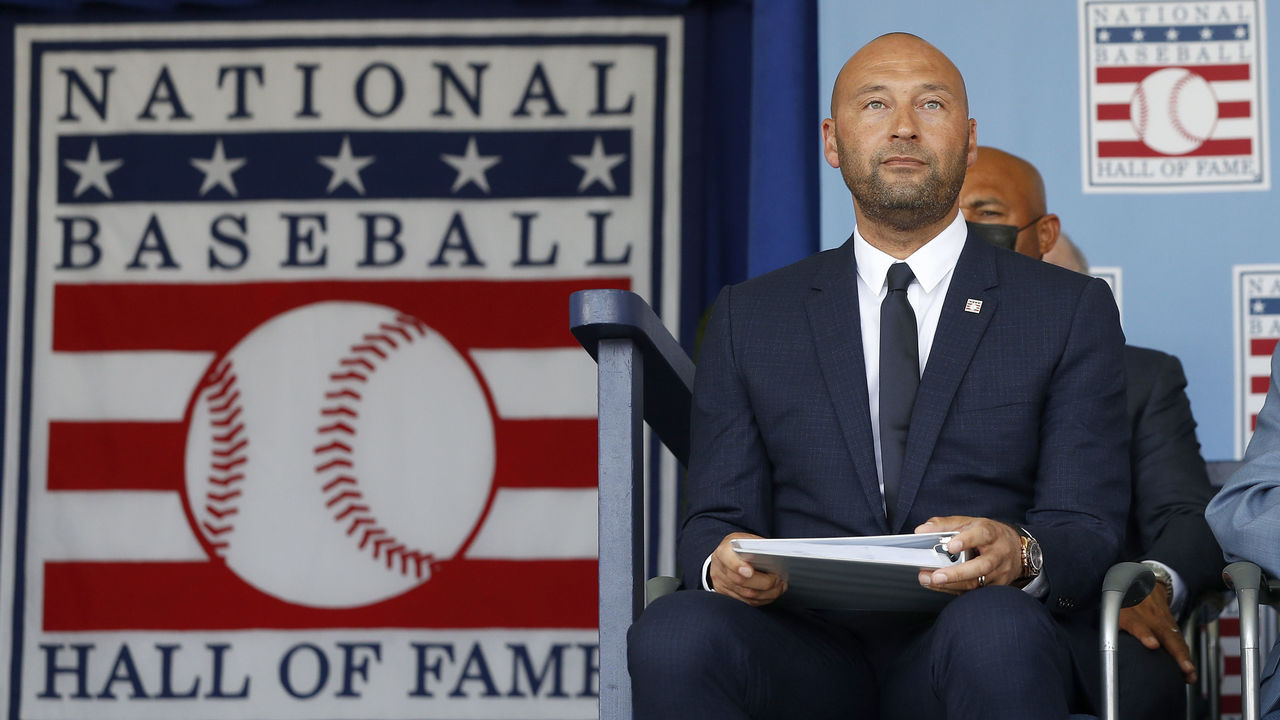 This seems to be where Derek Jeter enters the picture. He won five Gold Gloves, but the metrics show he was a poor fielding shortstop with limited range. Yet he made spectacular plays, like his famous flip in the playoffs against Oakland. To you, what does Jeter represent about the tension between analytics and creativity?
He's always held up as the reason you can't trust your eyes. The truth is the eye test and statistics dovetail pretty nicely when it comes to baseball defense. Ordinary fans are pretty good judges of whether someone is good at defense or not.
Jeter is this exception that's always used as the rule. That's a narrative sin. That's what analytical guys always talk about with narrative: "You're picking and choosing. You can make any argument if you're selective enough." That's what they're doing with Jeter.
If he was a below-average defender, he still made some amazing plays. He was a great shortstop despite some serious limitations. His knowledge, his wisdom, his experience, all of those things allowed him to make a play like the flip. For me, he's an optimistic story; a guy who doesn't have all the physical tools of another player can still rise to greatness given enough passion and attention to detail and practice and time.
He's the embodiment of what I'm talking about. You earned the knowledge. You put the time in. And you see things that other people don't see because you love and understand this game in a different way.
You wrote about a play that Jason Witten made to great effect throughout his NFL career. He'd run upfield on the Y Option and choose to turn left or right. What do you find so compelling about Witten and this route?
It's everything I believe in, which is that you can take a simple, basic, seemingly binary thing and make magic out of it if you understand it better than anybody else. Jason Witten was a huge competitive advantage for the Cowboys because he could do things and saw things that other people couldn't do or see. He could do it with the most basic route.
The Y Option, as he says, it's not sexy. It's left or right. How much thought could go into that? But even that gives you opportunities for greatness and difference and distinction. Imagine a much more complex thing, like policing, like medicine. If you can find a way to be great running the Y Option, imagine the possibilities in other fields of endeavor.
When you spend time around smart, interesting people, you can't help but be inspired by the way they do what they do. Someone like Jason Witten – God, he was awesome. He was awesome at something that you wouldn't think someone could be awesome at. But he was. There's beauty in it.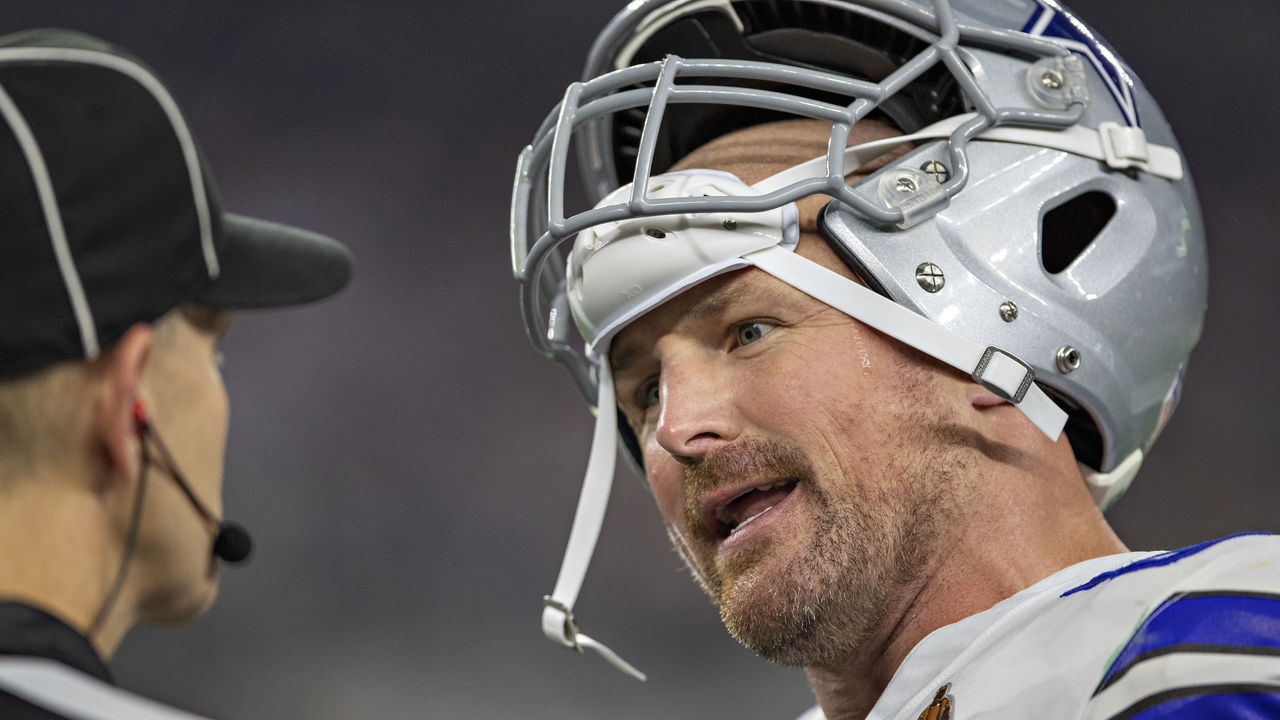 What athlete do you like watching the most these days?
I find him completely confounding: Mo Salah for Liverpool. He had one great season (in 2018), and I wrote a piece that was like, "They need to sell him. He had one great season. It's a fluke." Then he did kind of have a downish year, and now he's arguably the greatest goalscorer in the game. I watch him going, "How did you keep getting better?"
He scored (last) week against Chelsea. I'm a goalkeeper. He made this little fake, (as if) he was going across the net, and instead dumped it short-side. The goalkeeper bit on the fake. I would have bit on the fake. He does stuff that's so subtle and beautiful. That goal is a good example. The statistics will show that he scored a goal from close range. But when you watch how he got the goal, it reveals so much more about him as a player.
It's something that Ian Graham, the Liverpool (analyst) who's looking at his spreadsheets, wouldn't see. He'd appreciate him as a goalscorer, but he wouldn't know exactly what makes him great.
It seems like a good example of how analytics and personal brilliance work in tandem. Liverpool has a data-driven approach and Mo Salah, this transcendent player who helps make them a terrific team.
Why would you ever choose to see things one way? Especially complicated things. This will sound a little weird, maybe, but I think we're all taking in more information at the moment than humans are designed to take in. Because processing information is sometimes hard, we just sort: "I'm on that side. I'm not for that. I am for that."
It's making us black-and-white thinkers. For me, there's so much beauty and possibility in the gray, in the nuance – in where these two things meet. If I had Ian Graham analyzing a football match and I had (Liverpool manager) Jurgen Klopp analyzing a football match, then I think I could really find the truth.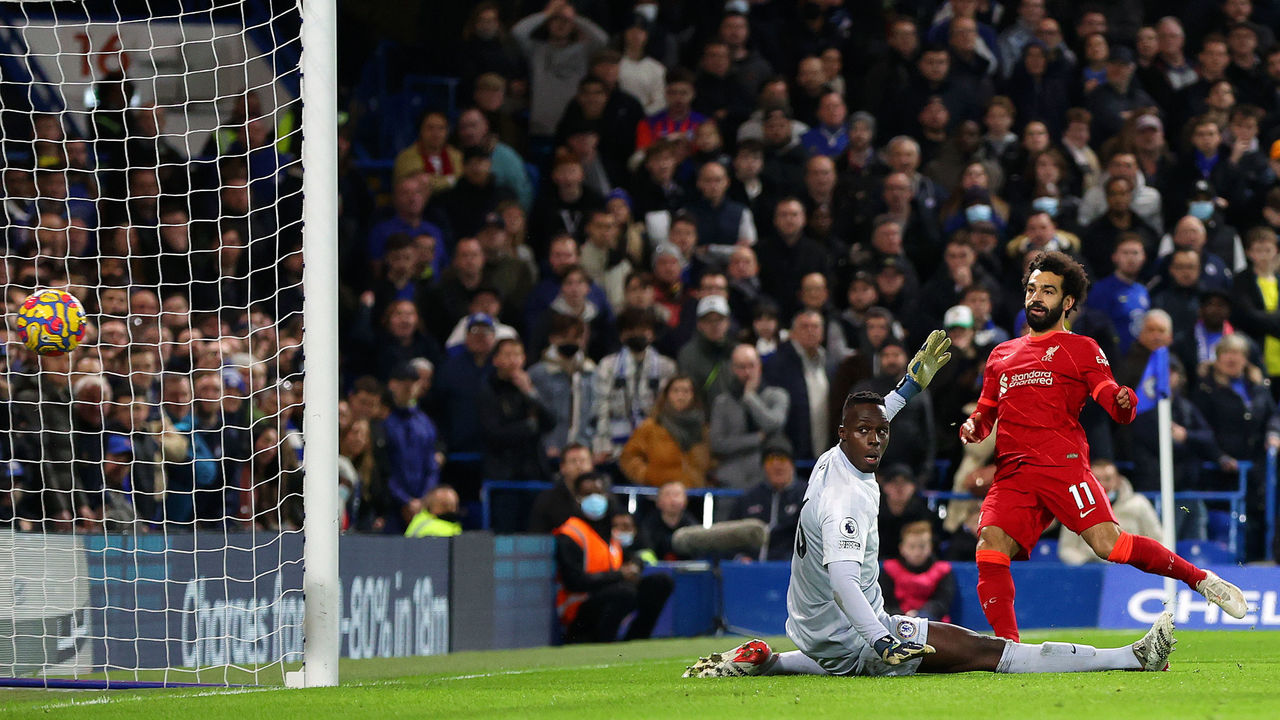 Outside of sports, who's your favorite character in this book?
Teller, the magician. He gave me my favorite quote that I've ever gotten: "Sometimes, magic is just someone spending more time on something than anyone else might reasonably expect."
He does magic that is so confounding, other magicians are completely fooled by him. I went to his house and he gave me a deck of cards. He's like, "I want you to pick a card out of this deck. Don't show me." I cupped the deck. I looked at the card. He's like, "OK, just remember that card." Half an hour later, we went outside. There was a sculpture of a big bear in the yard. The bear starts talking and goes, "Was your card the three of clubs?" And it was.
The answer to how that happens is time. It's loving it more than somebody else. Putting the time in, being careful, always striving toward improvement, watching, learning. He has a voracious appetite for magic and magicians past.
For me, he's the ideal of how you make something beautiful, which is basically what the book is for me. I hope people read the book and are inspired to do something awesome.
Nick Faris is a features writer at theScore.
Copyright © 2022 Score Media Ventures Inc. All rights reserved. Certain content reproduced under license.
Everton survive with nervy victory, Leicester and Leeds relegated on final day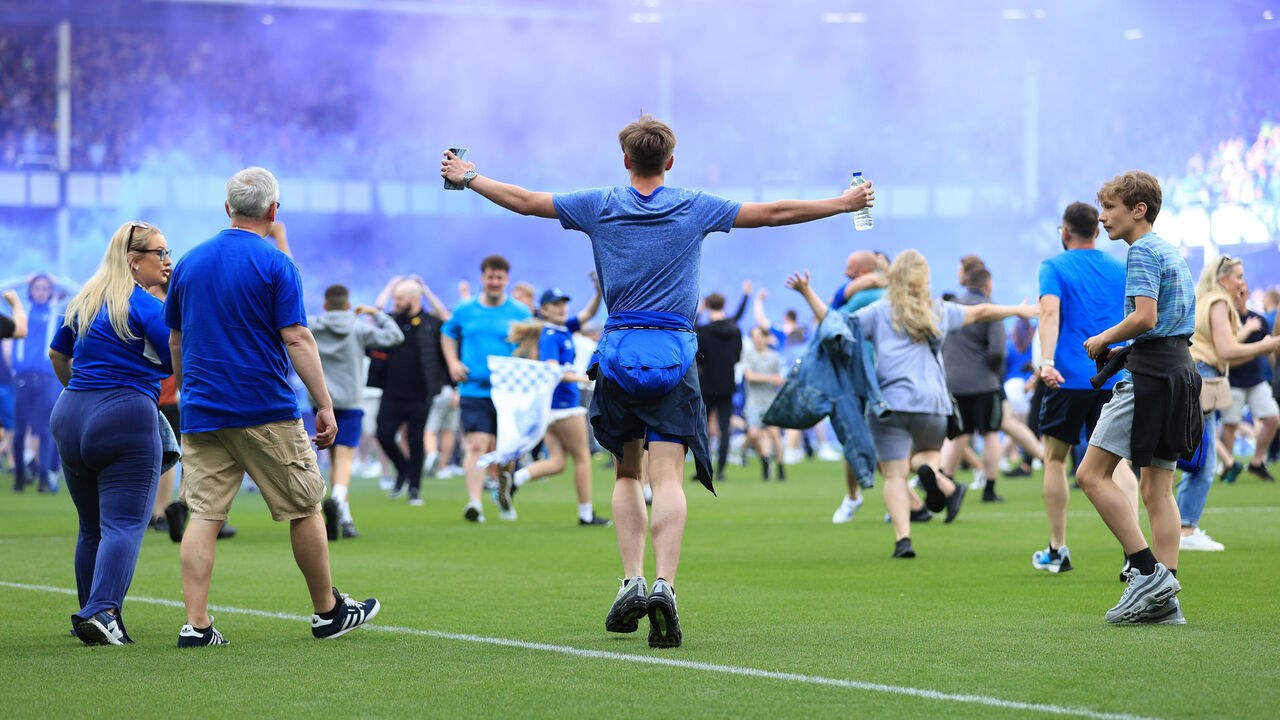 Everton avoided relegation during Sunday's Premier League finale, condemning Leicester City and Leeds United to Championship football next term, but they did it the hard way.
The Toffees were staring into the abyss. The proud Merseyside club was in the relegation zone at halftime of the season's last day; the prospect of its top-flight residency ending after 69 years was very real. The financial implications of demotion, while Everton struggle with the escalating costs of its new stadium being built on Bramley Moore Dock, could've been ruinous.
But then Abdoulaye Doucoure bludgeoned the ball home and Goodison Park erupted. The nervy 1-0 win over Bournemouth was enough to keep Everton afloat.
| # | Team | GD | Points |
| --- | --- | --- | --- |
| 17 | Everton | -23 | 36 |
| 18 | Leicester City | -17 | 34 |
| 19 | Leeds United | -30 | 31 |
| 20 | Southampton | -37 | 25 |
Doucoure is now an Everton icon. The ball bounced toward the midfielder on the edge of the box in the 57th minute and he smashed it into Bournemouth's net. It proved to be the eventual winner and effectively made Leicester's 2-1 triumph against West Ham United redundant.
Leeds dropped into the Championship after finishing in 19th place. Sam Allardyce failed to preserve the West Yorkshire outfit's Premier League status after a 4-1 home defeat to Tottenham Hotspur.
"Loads of pressure but overwhelming relief," Everton defender Conor Coady said after the match. "It's something where you don't want to be part of, this giant of a football club and go down."
"This club has to rise and get better now," he added after noting the Toffees have endured two seasons of struggle.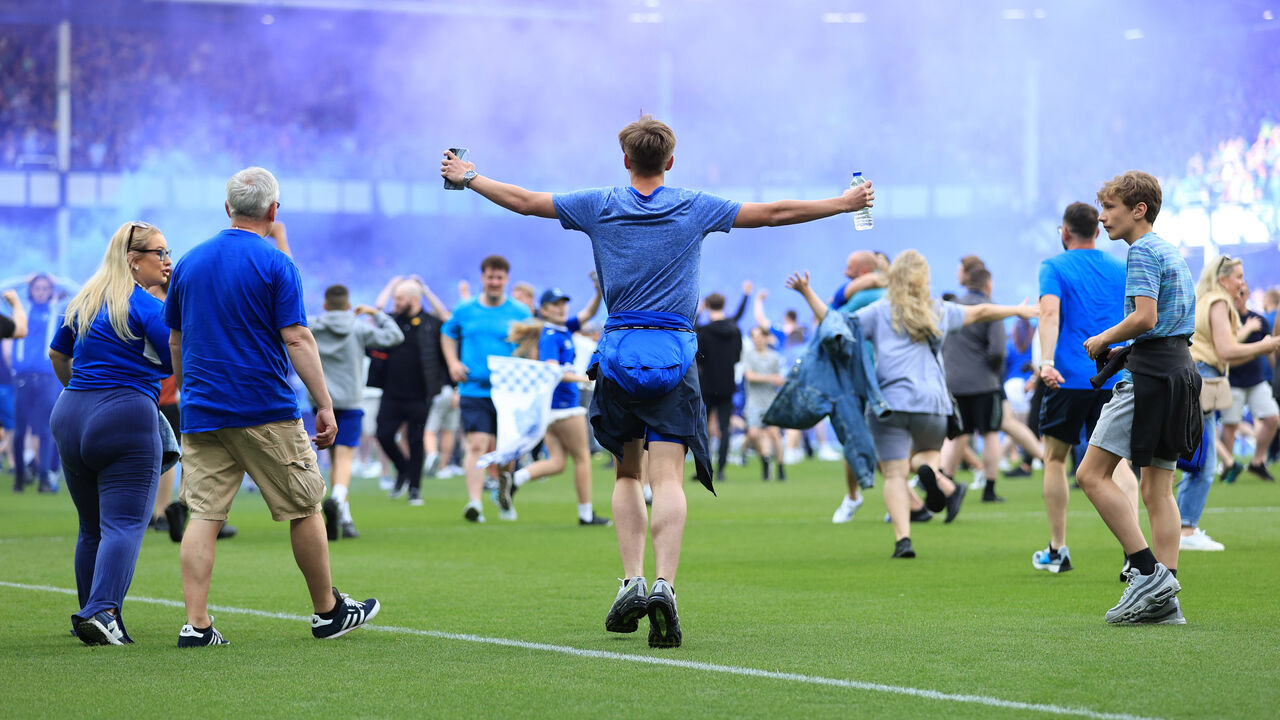 Everton finished 16th in the prior campaign, with Richarlison – who left for Tottenham last summer – the main protagonist of that successful survival bid. Doucoure is the latest hero after his match-winning strike followed his two-goal haul during a win over Brighton & Hove Albion earlier in May.
The hard work isn't over, but Sean Dyche doesn't need to plan for trips to Rotherham United and Plymouth Argyle next season. Everton are still a Premier League side.
"It means a lot to me," Dyche reflected. "I took over what they called a broken club. It's not broken, it's had its cracks but it's not broken. We've shown that. We've shown the fighting spirit that you need."
Copyright © 2023 Score Media Ventures Inc. All rights reserved. Certain content reproduced under license.
Thoughts and analysis from penultimate weekend of Premier League season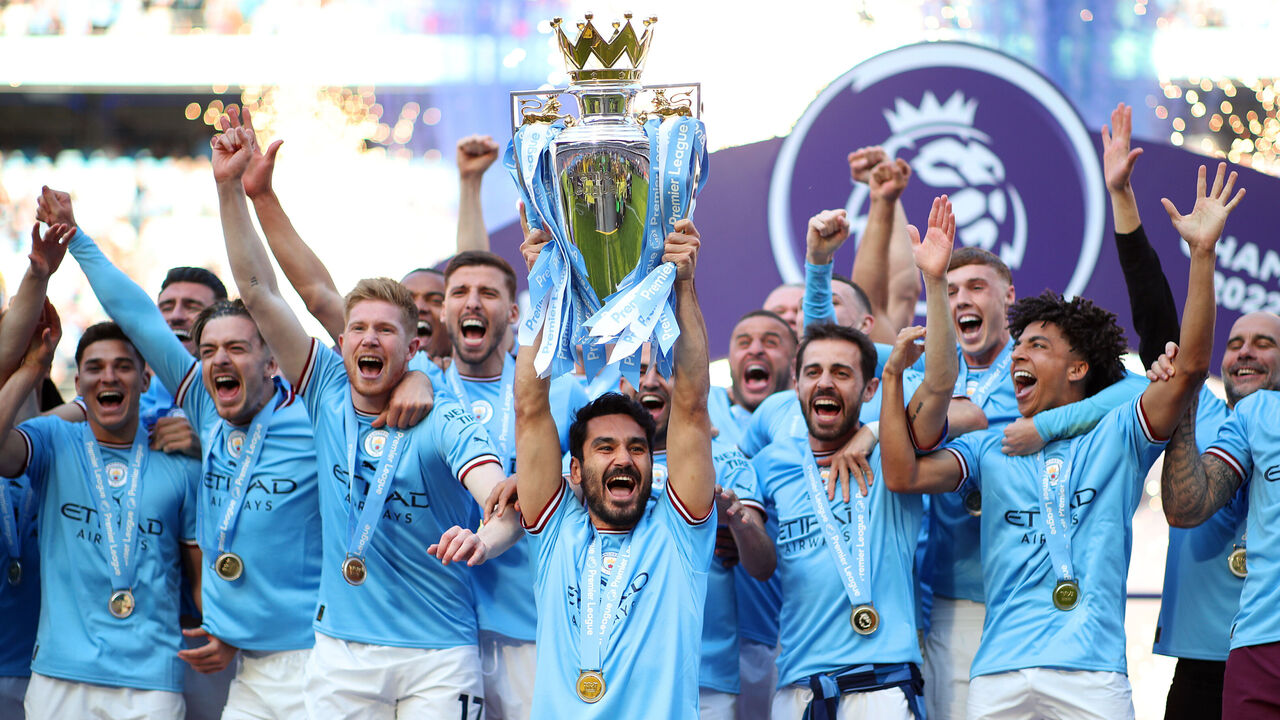 theScore examines the most important developments and biggest talking points from the weekend's slate of action in England's top flight.
Man City assert their dominance
The dynasty continues.
Before even kicking a ball on the weekend, Manchester City were officially crowned Premier League champions for the third successive season, further solidifying their status as English football's domineering force.
Here are some of the most eye-popping numbers in the wake of City's fifth league title in six seasons:
2 – Pep Guardiola joins Sir Alex Ferguson as the only managers in the history of English top-flight football to capture three consecutive league titles. They're breathing rarefied air and likely drinking some decent bottles of wine.
5 – Phil Foden, who doesn't turn 23 until next week, already has five Premier League medals to his name. That's more than some of the league's most notable players, including the likes of Cristiano Ronaldo, Patrick Vieira, Eric Cantona, Frank Lampard, Didier Drogba, and City alum Yaya Toure.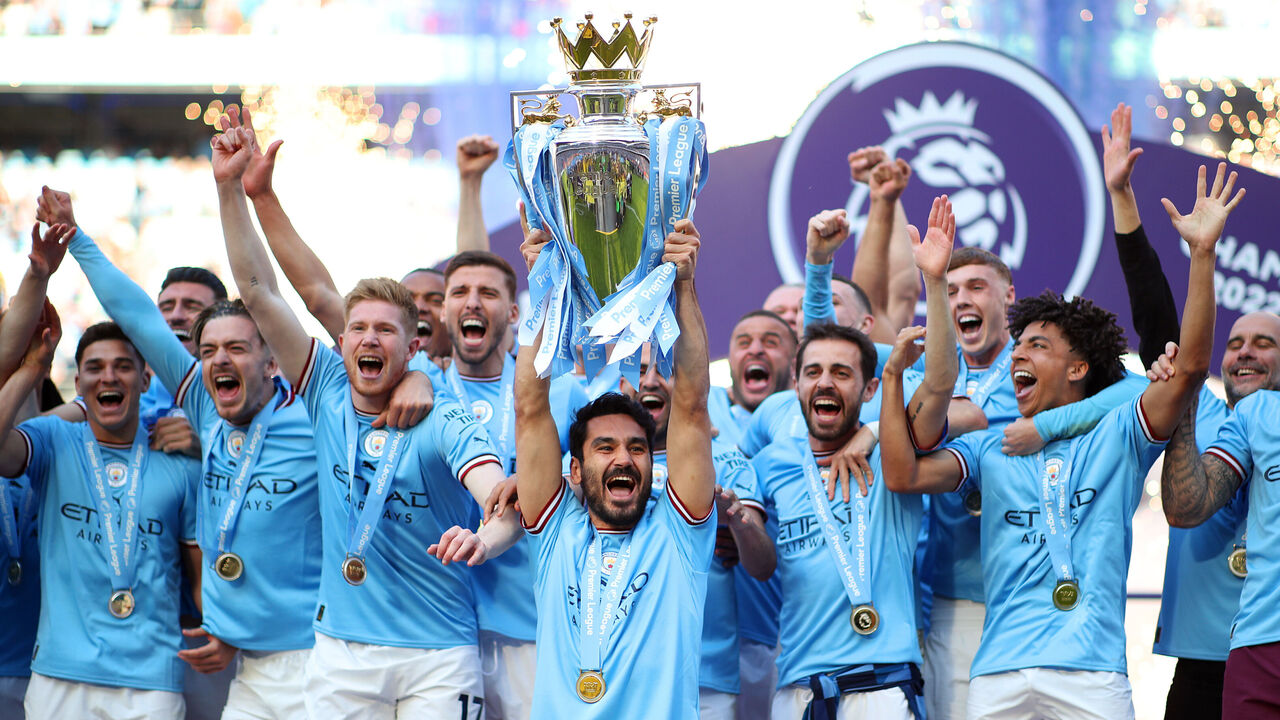 10 – In just seven seasons with Manchester City, Guardiola has won 10 major honors. He'll be hoping to add two more – including the most desirable trophy of all – between now and the end of the season.
14 – It's not how you start but how you finish. Manchester City went on a tear to overtake Arsenal and eventually capture the title. Sunday's victory over Chelsea was City's 14th win in their last 15 league matches; the lone blemish was a draw against Nottingham Forest. Guardiola's juggernaut hasn't tasted defeat in the league since the first week of February.
52 – Since the calendar flipped to 2023, City have collected 52 of a possible 60 points in the Premier League. The freight train couldn't be stopped.
A tale of 2 seasons for Arsenal
Arsenal's rip-roaring start to the Premier League season was unsustainable. No one would've thought they'd have 50 points through the first 19 matches – a feat not even the famous Invincibles side of 2003-04 could manage. There's just no way a team as young and inexperienced as the Gunners could replicate such form over the final 19 fixtures.
But they didn't just suffer a minor dip in form; they became a different team entirely. Gone was the swagger that drove so many of Arsenal's match-winning performances in the opening half of the campaign. Gone was the belief that carried them to comeback wins over Manchester United, Aston Villa, and Bournemouth.
The identity crisis hit Arsenal just as Manchester City found their confidence. With 31 points from 18 games, Mikel Arteta's side fell far of City's standards and ceded the title in relatively meek fashion. As much as the title run exceeded expectations – Champions League qualification was Arsenal's primary objective – the feeling was one of emptiness.
For the second straight season, Arsenal couldn't perform to their abilities in the business end of the campaign. A similar loss of conviction cost them Champions League qualification last season, with late-season defeats to Tottenham Hotspur and Newcastle United keeping Arsenal out of the top four.
Now that they've shown they can compete with the best England has to offer, expectations around Arsenal will increase tenfold. Recruitment is necessary, as is rotation, to prevent another catastrophic loss of form.
But the club should still celebrate what it has achieved. Arsenal will play in the Champions League for the first time in six seasons, and they have a solid foundation, with William Saliba, Bukayo Saka, Gabriel Martinelli, and Martin Odegaard yet to enter their primes.
Leeds deserve to be relegated
Let's be clear: Sam Allardyce isn't the reason Leeds United are on the verge of being relegated. The damage was done long before the 68-year-old came out of quasi-retirement to take the job.
Leeds' tailspin truly started when majority owner Andrea Radrizzani sacked Marcelo Bielsa in February 2022. Bielsa paid the price for a downturn in form largely caused by injuries to key players Liam Cooper, Kalvin Phillips, and Patrick Bamford. Though they saved themselves from the drop last season, Leeds' lack of depth was laid bare.
The squad became even thinner with the sale of match-winner Raphinha to Barcelona and Phillips to City. Radrizzani sanctioned their departures without securing suitable replacements, and the ones who arrived didn't really fit in. Bielsa's replacement, Jesse Marsch, couldn't put his stamp on the team even with fellow Americans in the squad, and like Marsch's successor, Javi Gracia, Allardyce has been unable to stop the bleeding.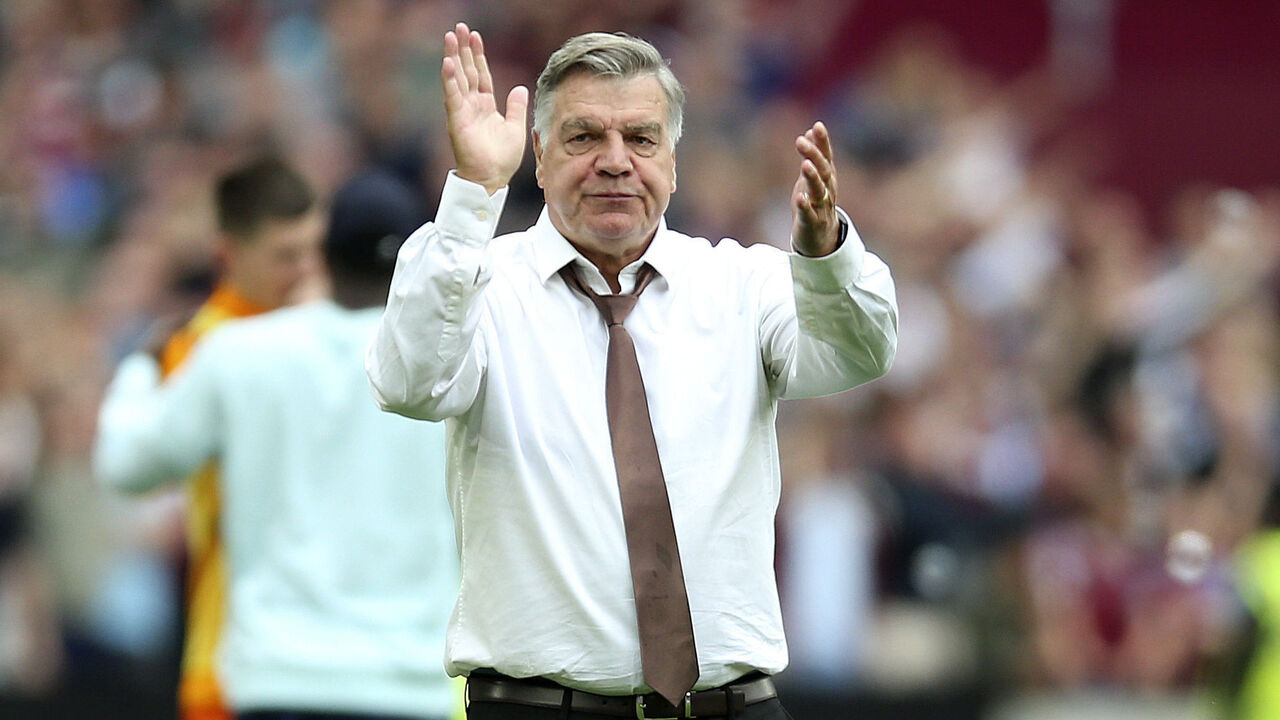 But few managers could have made significant change at Elland Road, even less so Allardyce, who built a reputation as a survival specialist by keeping the ball out of his goal. Leeds' squad wasn't built to play defensively, and it has too many significant holes to compensate for such seepage at the back. Bamford's health has been questionable for some time, and forward Georginio Rutter, signed for a club-record fee in January, has yet to score a single goal in 12 total appearances for Leeds.
The club's scattergun approach to signings, coupled with Radrizzani's poor succession planning, torpedoed the entire project. Now, Leeds have to beat Tottenham next weekend and hope Everton and Leicester City both lose their remaining games to stay up.
Quick free-kicks
Too little, too late for Liverpool
It's a shame that one final moment of Roberto Firmino magic at Anfield will end up being just a footnote for Liverpool. The Brazilian, playing in his final home match for the club, salvaged a 1-1 draw against Aston Villa with a dramatic late goal on Saturday. Ultimately, though, the result all but confirmed that the Reds' late-season push for an unlikely Champions League berth will fall short. A seven-match winning streak gave Liverpool hope of nabbing a top-four spot. But on the evidence of the entire season, in which Jurgen Klopp's team was erratic and defensively frail, a Europa League place is a more appropriate reward. "We were for too long not good enough or ourselves," Klopp admitted. Liverpool are no strangers to remarkable comebacks, but the hole was too deep for even them to climb out.
Forest's faith in Cooper rewarded
Nottingham Forest could've fired Steve Cooper at any point, and the viewing public would've understood why. Even with significant reinforcements – 30 signings, to be exact – Cooper struggled to keep the specter of relegation at bay. But larger-than-life owner Evangelos Marinakis stuck with the man who steered Forest to the Premier League in the first place. The Greek media mogul's faith in Cooper was eventually rewarded Saturday when Forest confirmed their top-flight status with a momentous 1-0 win over Arsenal. As all the teams below them in the standings changed managers, Forest showed that stability can deliver even better results.
Brighton's momentous achievement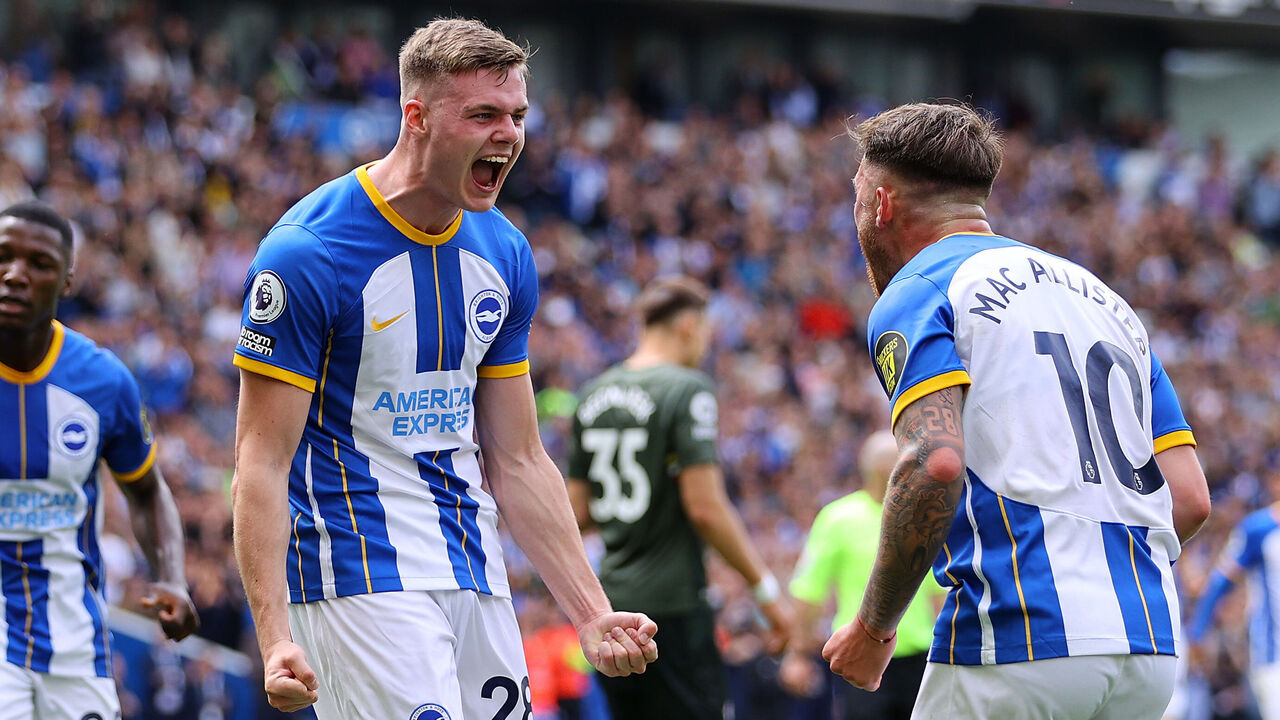 For the first time in their 121-year history, European football beckons for Brighton & Hove Albion. The Seagulls ensured a top-seven finish on Sunday and, in all likelihood, will finish sixth once the final whistle blows on the campaign next weekend. It's a truly remarkable achievement for a club that lost its celebrated manager during the year – Graham Potter likely wants a mulligan on that one – and consistently has its top players poached by "bigger" teams each year; star midfielder Moises Caicedo nearly left in January, and Alexis Mac Allister is likely on his way out in the summer. No matter, Brighton just keep reloading. It's a testament not only to the incredible job Roberto De Zerbi has done since his arrival on the south coast but also to the club's continued ability to unearth young talent and keep the squad stocked with rising stars at all times. This is the model other teams of a similar stature should be trying to replicate.
Hey, look, it's Kalvin Phillips!
Manchester City signed Phillips for £45 million last summer. He only made his full Premier League debut for the club on Sunday, the penultimate weekend of the season. Between being unveiled by City and then finally starting against Chelsea, the England international played a measly 113 league minutes, was called "overweight" by his manager, and experienced what he described as one of the "lowest" points of his career in terms of self-confidence. And, ultimately, it didn't make a lick of difference for City. That's a luxury afforded to few other clubs, if any; City can spend first and ask questions later. And if it never works out for Phillips or any other high-priced signing, they can wipe their hands of the situation and try again. The unlimited riches of the club's majority owners in Abu Dhabi have been a huge factor in City's rise. So, too, has Guardiola's on-pitch genius. Both can be true. Acknowledging City's vast financial resources isn't meant to diminish their accomplishments, but not doing so would be disingenuous.
Chelsea's miserable, no-good season
The end of the season can't come soon enough for Chelsea. Sunday's loss to Manchester City confirmed that Frank Lampard's beleaguered team will finish the campaign in the bottom half of the Premier League table for the first time since 1996 – that's five years before midfielder Enzo Fernandez was even born. It's been a while since the situation was so bleak for the west London outfit, which will surely continue to spend lavishly in the coming months to reverse course. Mauricio Pochettino, reportedly on his way to try to right the ship, has an enormous task on his hands to deliver a tangible return on Todd Boehly and the ownership group's massive investment.
Stat of the weekend
When Guardiola gets his hands on a trophy, he tends to not let go of it.
Tweet of the weekend
The streets of Manchester will be rocking for City's title party.
Copyright © 2023 Score Media Ventures Inc. All rights reserved. Certain content reproduced under license.
Key thoughts and analysis from Saturday's Premier League action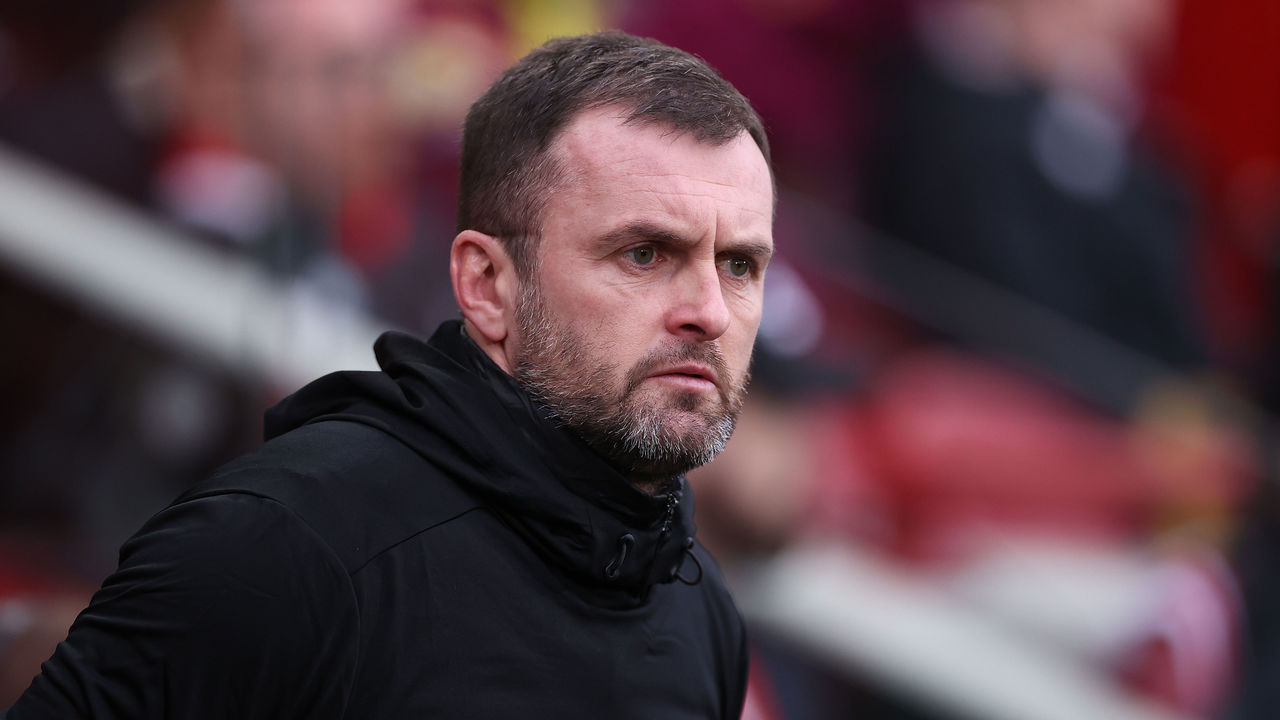 theScore examines the most important developments and biggest talking points from Saturday's slate of action in England's top flight.
Saints sunk by poor transfers, Nathan Jones
Fulham were occasionally guilty of being too casual in possession and lacked creativity in the final third. They still won 2-0 at Southampton.
The defeat confirmed the Saints' descent – a relegation that appeared inevitable in recent weeks. Like many demotions, mistakes from years ago contributed to their demise. But a drastic change to the club's transfer policy – it signed numerous young, inexperienced players last summer – and the appointment of Nathan Jones in November were what left this season in ruins.
Jones discussed his disastrous 14-match spell with Sky Sports News on Saturday and revealed his greatest regret was his post-match comments following a 3-0 defeat at Brentford in February. During that press conference, he dropped huge hints that there were divisions in the dressing room and a difficult relationship between himself and the club executives. Rather than dealing with the club's issues internally, he needlessly exposed the splintered roots of Southampton's struggles.
"It was probably a little bit ill-timed," Jones conceded.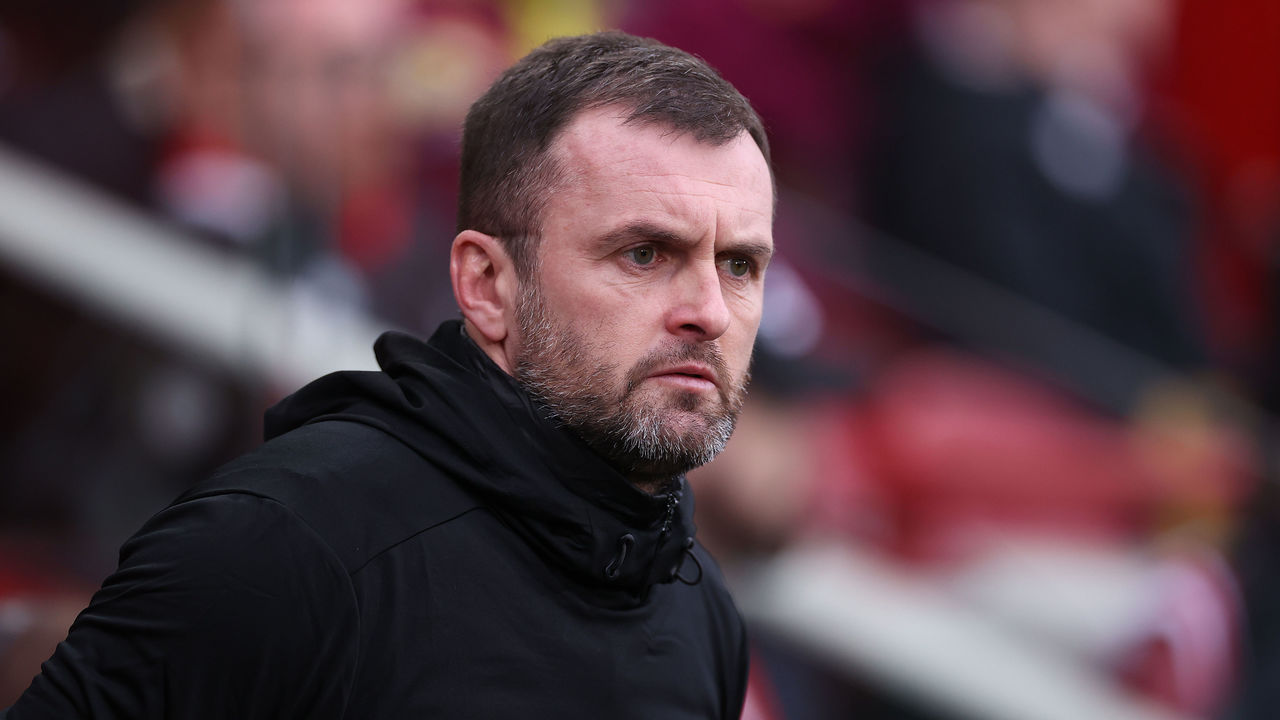 There were obviously other errors over Jones' tenure. He failed to recall Nathan Tella from his loan at Burnley – where the versatile attacker tallied 17 goals and five assists over 39 Championship appearances – and it was hard to identify a playing style while he constantly tinkered. He changed formation five times during a 3-1 home defeat to Brighton & Hove Albion; that might not destabilize the experienced squad members, but Jones used 10 players aged 25 or under in that fixture.
Ruben Selles was left to deal with the mess that Jones left behind. The coach tried to instill discipline that had begun to fray during Ralph Hasenhuttl's time in charge. There were positive moments – the wins over Chelsea and Leicester City and, most notably, the stirring display in April's 3-3 draw at Arsenal – but it was ultimately too little, too late.
Jones is undoubtedly one of the EFL's greatest managers over the past decade – he was instrumental in Luton Town's rise from League Two to the upper reaches of the Championship. But the chasms in Southampton's dressing room and waning confidence in the club's new transfer strategy were made worse by the appointment of an intense figure who constantly and unhelpfully referred back to his prior achievements.
Southampton need to ensure the woeful decisions made this season can never happen again, otherwise earning an instant promotion from the Championship will be near-impossible.
Awoniyi a big part of Forest's survival run
Taiwo Awoniyi missed nearly half the season through injury, and yet Nottingham Forest may have the 25-year-old to thank for preserving their Premier League status.
Awonyi's brace against Chelsea on Saturday helped Forest move three points clear of the relegation zone and crowned a particularly prolific week for the Nigerian striker. His brilliant two-goal performance in Monday's 4-3 win over Southampton gave Forest the belief they could extend their membership in England's top flight, and he showed the same clinical edge at Stamford Bridge, eluding Chelsea's defenders to score off a pair of headers.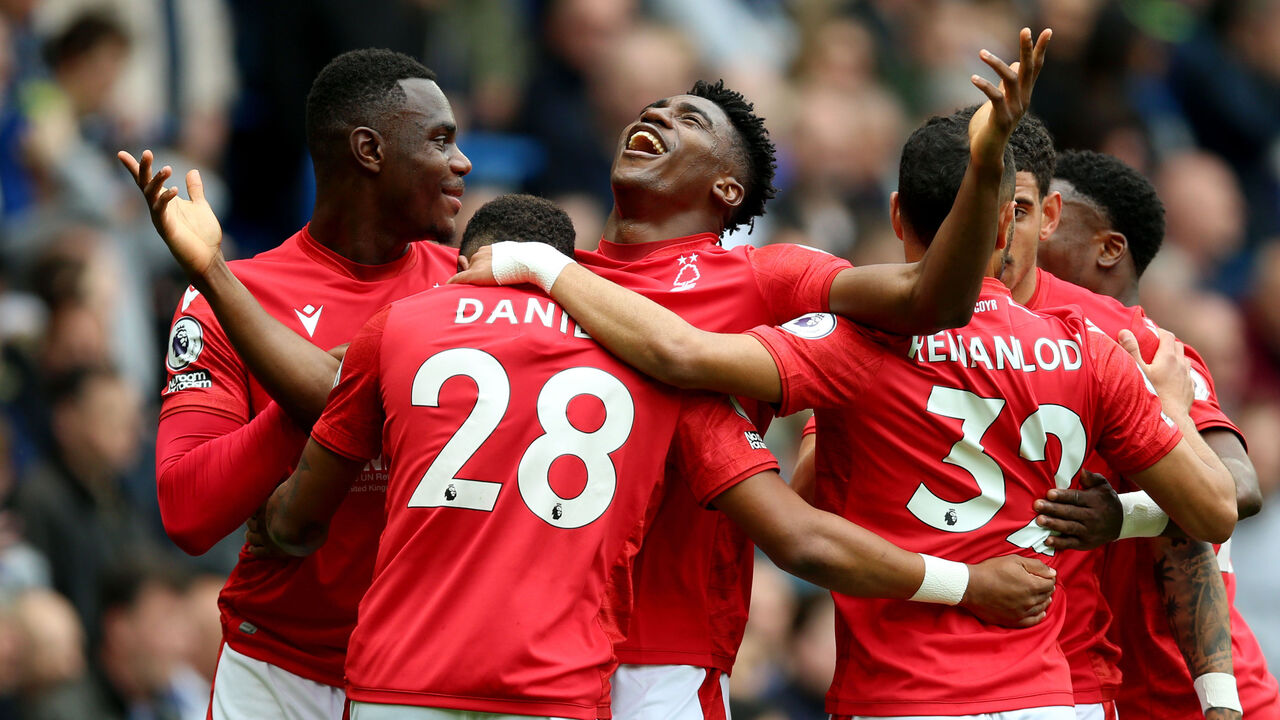 If Awoniyi hadn't missed 15 matches between January and the beginning of April, Forest may not have even been in this mess. His match-winning potential became clear earlier in the season: He scored the only goals in 1-0 wins over West Ham United and Liverpool and showed he can carry attacks with his dribbling ability. But a groin injury derailed his first season in England and left Forest without either a target man or a counter-attacking presence in their lineup. It's no coincidence Steve Cooper's side struggled to score goals during Awoniyi's absence.
The problem now is that Forest are leaking more goals than ever. The last time they kept a clean sheet in the Premier League was Feb. 5 against Leeds United, a whopping 16 games ago.
"We're scoring more goals in this phase than any phase of the season, although we are conceding as well," Cooper said afterward, according to Sarah Clapson of the Nottingham Post. "It feels like we are giving away goals more easily than how we are scoring them."
That makes Awoniyi's recent run of goals all the more meaningful.
Time running out for woeful Spurs
Tottenham fans were annoyed from the get-go. And who could blame them?
Long before Spurs slumped to a 2-1 away defeat against a strong Aston Villa side, fans voiced their displeasure at the club's longtime chairman, Daniel Levy, at the tail end of another lost season. "We want Levy out," shouted supporters just 15 seconds into Saturday's contest at Villa Park.
It was another loud demand for change at a club that has regressed to the point where a European berth isn't certain for next season. Pressure continued to mount on the north London side Saturday against a Villa side breathing down its neck in the Premier League table.
Spurs justified frustrations in the away end less than 10 minutes into the game after conceding the opener to Jacob Ramsey. There was hardly anything to cheer about over the next 35 minutes. In fact, Spurs were lucky to go into halftime trailing by just a goal after Villa missed a pair of golden opportunities to increase their advantage.
After Douglas Luiz's superb 72nd-minute free-kick doubled Villa's lead, Harry Kane offered a glimmer of hope with a late penalty. Then Son Heung-Min scored what he thought was the game-winning goal in injury time, but it was called back because the Korean had roamed into an offside position for the second time in the match. Besides the late surge, it was a limp overall display that offered little encouragement for Spurs' hopes of ending the season on a high note. Defeat ensured the club can no longer qualify for the Champions League.
They're on pace to at least qualify for the Europa Conference League next season. But even that isn't a guarantee given that Brighton are two points back and have three games in hand on both sixth-place Tottenham and seventh-place Villa.
Quick free-kicks
Leeds dodge bullet
It's no wonder Leeds supporters celebrated Saturday's 2-2 draw like a victory. After leaving with a point from a match where they conceded two penalties and finished a man down, fans rightfully let out a collective sigh of relief at full-time. In a game Leeds desperately needed to avoid losing, a series of mistakes quelled optimism at Elland Road and almost cost the relegation-threatened club dearly. After Luke Ayling's opening goal, Patrick Bamford missed from the spot. Callum Wilson then converted a pair of successful penalties, forcing Leeds to go into desperation mode before Rasmus Kristensen's equalizer briefly alleviated concerns. An injury-time red card to Junior Firpo raises the stress levels again in West Yorkshire, but Sam Allardyce's men showed just enough fight to avoid complete disaster. The draw moved Leeds up one place in the table, but relegation fears remain for the 18th-place club with two games left.
Sterling too on and off for Chelsea
Raheem Sterling went four months without scoring a Premier League goal. Injuries aren't to blame for that. He's always been a streaky player, and his indecisiveness on the ball costs him on a regular basis. That's what makes the brace Sterling scored Saturday all the more frustrating: He has all the technical ability to do whatever he wants on the pitch but often gets in his own way. Chelsea can't afford to have any passengers in the team next season, and in his current will-he-or-won't-he state, Sterling just doesn't cut it. It's too late to show up now when the season means next to nothing for the club. Chelsea need a left-winger who can cause more problems for the opposition than he does for himself.
Ten Hag doesn't need to replace Sancho
Jadon Sancho is nearing the end of his second season at Manchester United, and it's been a largely underwhelming spell blighted by subdued performances and 14 weeks away from the first team while he worked on issues with his fitness and attitude. It's getting to the point where his £73-million move from Borussia Dortmund can be labeled a bust. But while Erik ten Hag prioritizes a No. 9 in the summer transfer window, he should refrain from also acquiring a wide attacker to compete with or replace Sancho. Alejandro Garnacho, 18, marked his return from an eight-week injury layoff with a goal off the bench against Wolverhampton Wanderers, confidently declining a pass to Wout Weghorst before bashing the ball in via the post. And then there's 20-year-old Amad Diallo, who's scored 14 goals in the Championship for Sunderland while tormenting defenders with his runs inside from the right flank. Both players deserve plenty of chances in United's starting lineup next season.
Stat of the day
Ashley Young has quietly had an excellent campaign at right-back for Aston Villa.
Tweet of the day
It's been undercooked fare on and off the pitch for Chelsea this season.
Copyright © 2023 Score Media Ventures Inc. All rights reserved. Certain content reproduced under license.