Have analytics gone too far? Author argues we're devaluing human creativity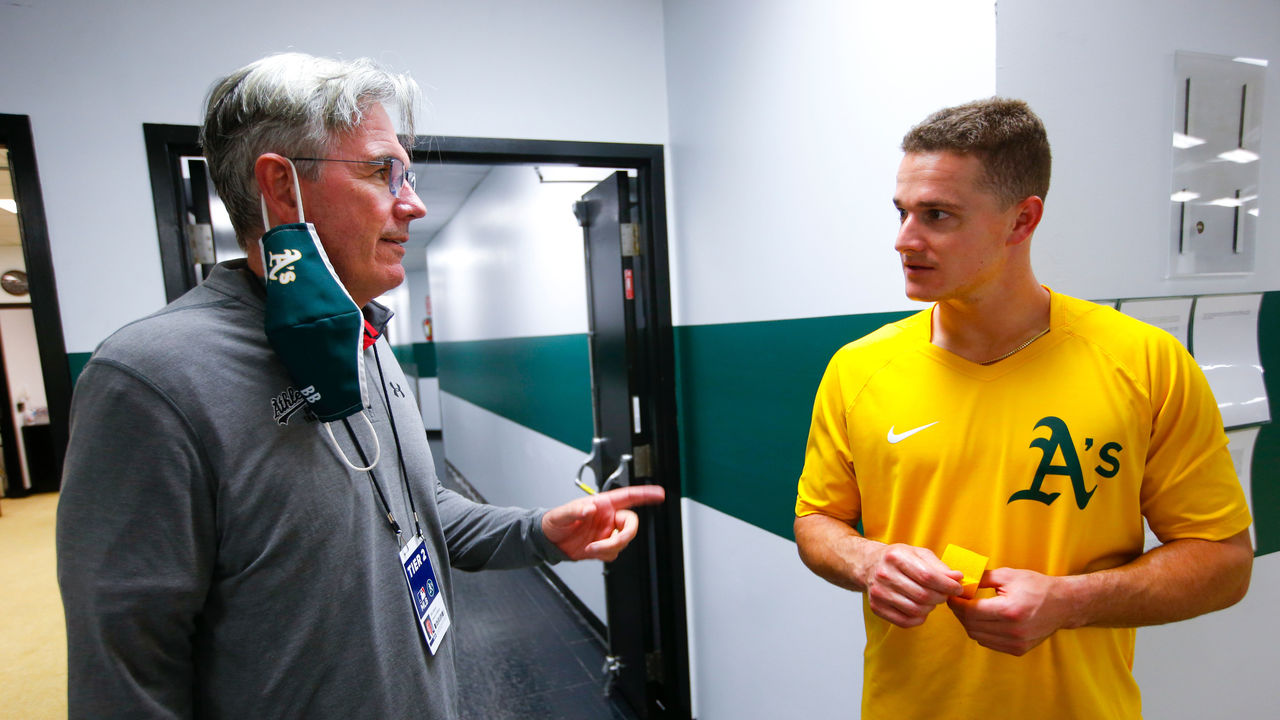 As a magazine storyteller, Chris Jones has written about astronauts, filmmakers, game show winners, magicians, one U.S. presidential nominee, the youngest manager in pro baseball, and Conor McGregor, who put Jones in a rear chokehold at his request. (Certain he could stay conscious, Jones passed out in seconds.)
Jones never profiled Billy Beane, though he tried. When Beane was general manager of the Oakland Athletics, Jones asked to shadow him to learn about his approach to roster-building. Sure, Beane said – just not yet. Another writer was hanging around the A's front office, but Beane doubted the guy would publish anything.
"And then 'Moneyball' comes out," Jones said over the phone last week, referring to Michael Lewis' 2003 book. "Then it became a huge bestseller and the movie, and changed the world."
By spotlighting how Beane ran the A's, Lewis made analytics popular. Crunching baseball's voluminous data helped Beane acquire undervalued players, like batters who got on base a lot, for little cost. Everyone began to look for overlooked opportunities. Baseball teams shift a lot nowadays. The NBA ditched the mid-range jumper to shoot threes in bulk. Win probability models spur NFL coaches to go for it more often on fourth down.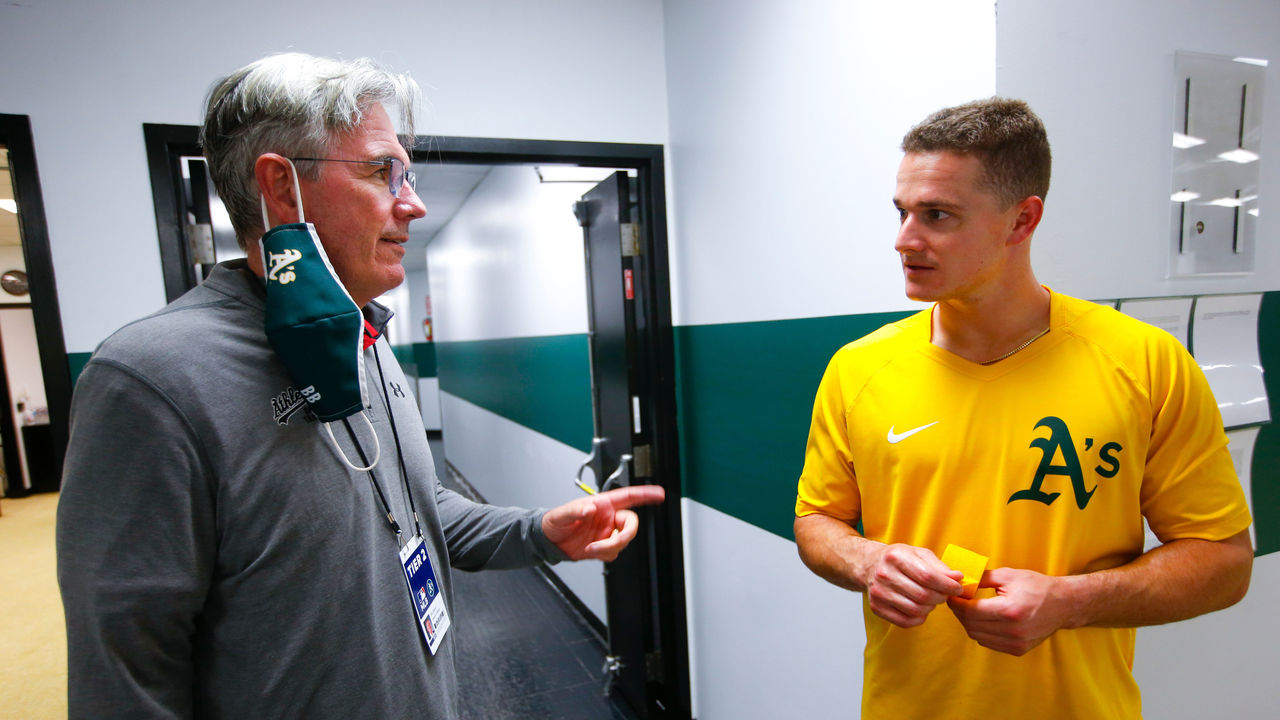 Jones enjoyed "Moneyball" but thinks the movement it inspired went too far. His new book – "The Eye Test: A Case for Human Creativity in the Age of Analytics," out Tuesday – counters the notion that numbers should drive decision-making in all walks of life, sports included. He's met a lot of curious, adaptive, empathetic, expert people. What happens, he wonders, when the world discounts what they see and feel?
"I'm worried that people are going to write that the book is an anti-'Moneyball' book," Jones said. "It's not. I just think data has its limits. And where it has its limits, those are opportunities for people to shine."
Jones, who's written for Esquire, The New York Times Magazine, ESPN, Grantland, and Netflix, lives near Toronto in Port Hope, Ontario. He spoke to theScore about a range of topics that relate to his book, including Derek Jeter's defense, the Tampa Bay Rays' 2020 World Series loss, and the ingenuity of Jason Witten and Mohamed Salah.
The conversation has been edited for length and clarity.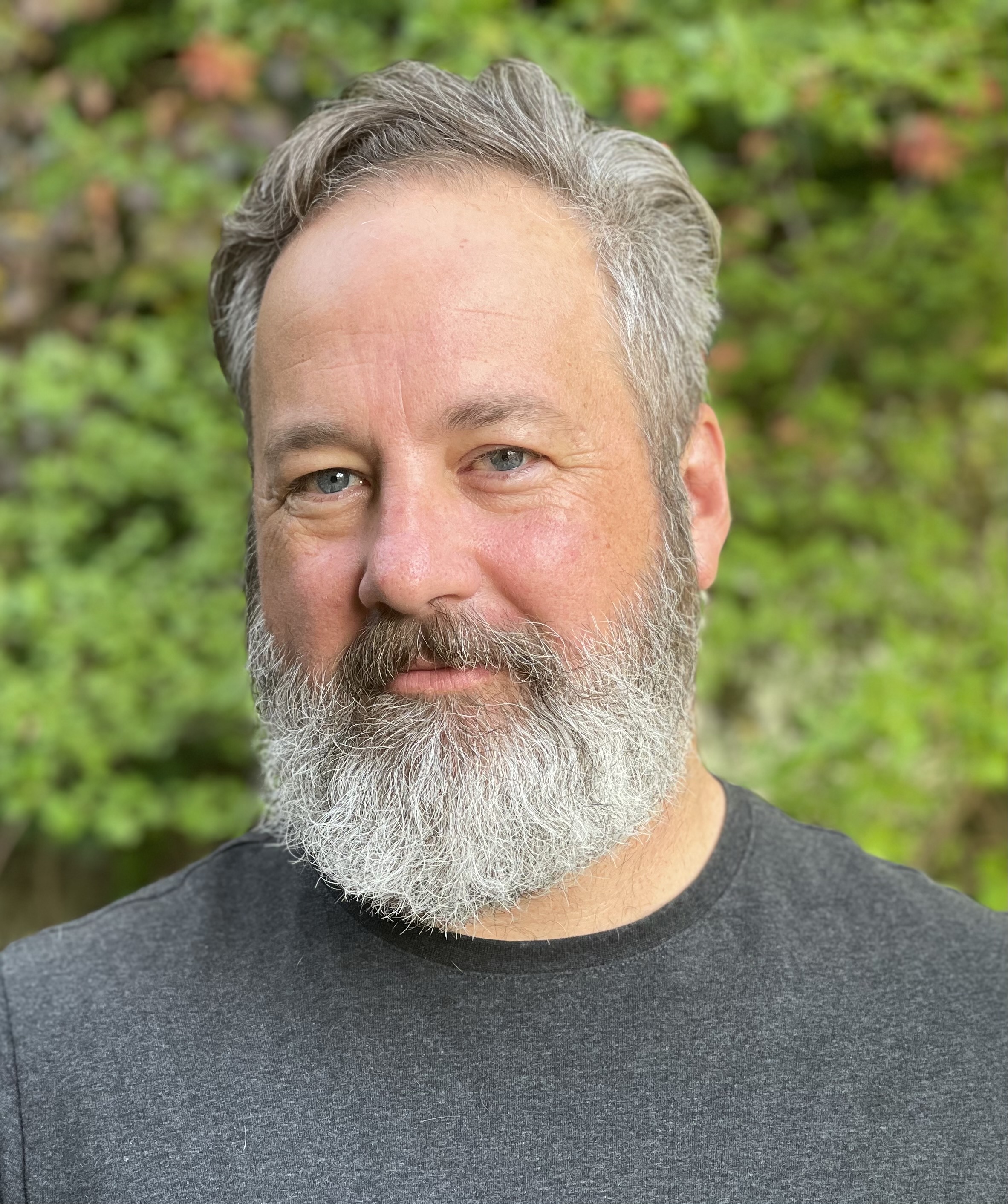 theScore: "The Eye Test" covers a lot of ground: sports, policing, Hollywood, the 9/11 victims compensation fund. Everywhere in life, you argue, problem-solving could stand to be more humane and less reliant on algorithms and spreadsheets. What made you want to mount that argument?
Jones: My first sportswriting job was as a baseball beat writer. I covered the Blue Jays for (Canadian newspaper) the National Post. I learned a ton from old baseball guys. Jim Fregosi was the manager of the Jays. Every Sunday we were on the road, he would sit in the dugout with me and teach me something about the game. I still remember one I got on the changeup in Cleveland. It was 20 minutes on this single pitch.
"Moneyball" came out a few years later. When it came out, I was like, "This is super cool." I think the movie's fantastic. But then I felt like that movement started going too far, and those old guys who taught me stuff in the late '90s were exactly the kind of people who were being ridiculed or dismissed as morons, basically – do you know what I mean? – that they didn't know what they thought they knew.
I think data does provide some useful corrections. I'm not saying I'm anti-data. I'm just saying I think that, like a lot of revolutions, it's gone too far and the collateral damage is starting to be something that we need to reckon with. I think there are claims being made about analytics that are not true, and if you dare to raise opposition, you're cast as a heretic or a moron or you believe in fairy dust.
What I'm trying to say is: No. There's a place for data, but there's also a place for experience. There's still a place for multiple perspectives. Nearly 20 years after "Moneyball" has come out, I think a lot of people will, hopefully, agree they're feeling a little unease about the path that we're on.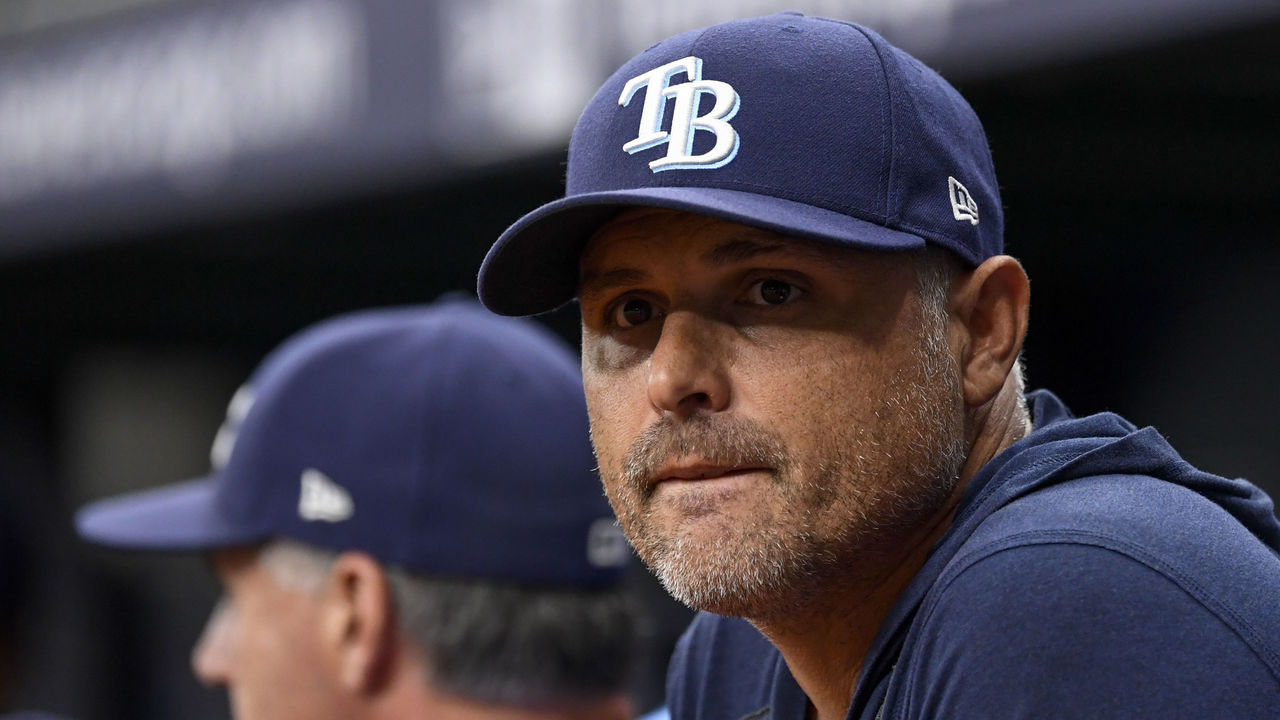 You bring up how Tampa Bay lost the 2020 World Series because of a math decision. Blake Snell was cruising in Game 6, Kevin Cash pulled Snell before the Dodgers batted against him for a third time, and L.A. took the lead. The counterpoint is that the Rays' analytical approach got them to the World Series in the first place. This got me wondering: Where, to you, is the line at which analytics stop being valuable?
I don't know that there is a hard line. I would be a moron to make the case fully against analytics. It works for Tampa Bay. It worked for Oakland to get into the playoffs (under Beane). They're valuable to a point.
But then I think what sometimes happens, human discretion gets cast aside and you always follow the math. There has to be a moment where you trust the guy or you trust your own wisdom. You trust your experience.
Why do we only choose one perspective? Why does analytics become the law? Why can't it be analytics plus our sense of things? The analytics movement will talk about the pre-"Moneyball" time in sports as being blind, archaic. I feel like we're trading one kind of blindness for another.
There's a guy, Ian Graham, who's a physicist. He's a backroom architect at Liverpool. He refuses to watch games because he thinks it taints him – that the emotion of it will make him less objective than he needs to be. I'm like, well, you're just choosing one myopia (over) another. You're trading the pure eye test for pure analytics. Isn't there room for both?
The book opens with an Albert Einstein quote: "Imagination is more important than knowledge. Knowledge is limited. Imagination encircles the world." If sports did more to encourage imagination, creativity, and discretion, what effect would that have on the product?
For me, if you get a really smart person working on something using creativity and imagination, that's now the competitive advantage. There's no baseball team that isn't using analytics now. There's a limit to what they can divine. You might find a new statistic, or you might find a better way to statistically analyze defense. But at some point, you're all using the same figures.
The pendulum has swung in favor of analytics. Again, I'm not against them. But I do feel like it's time for a correction, where you bring it back a little bit. That's your competitive advantage now: It's in finding the right person for the right role.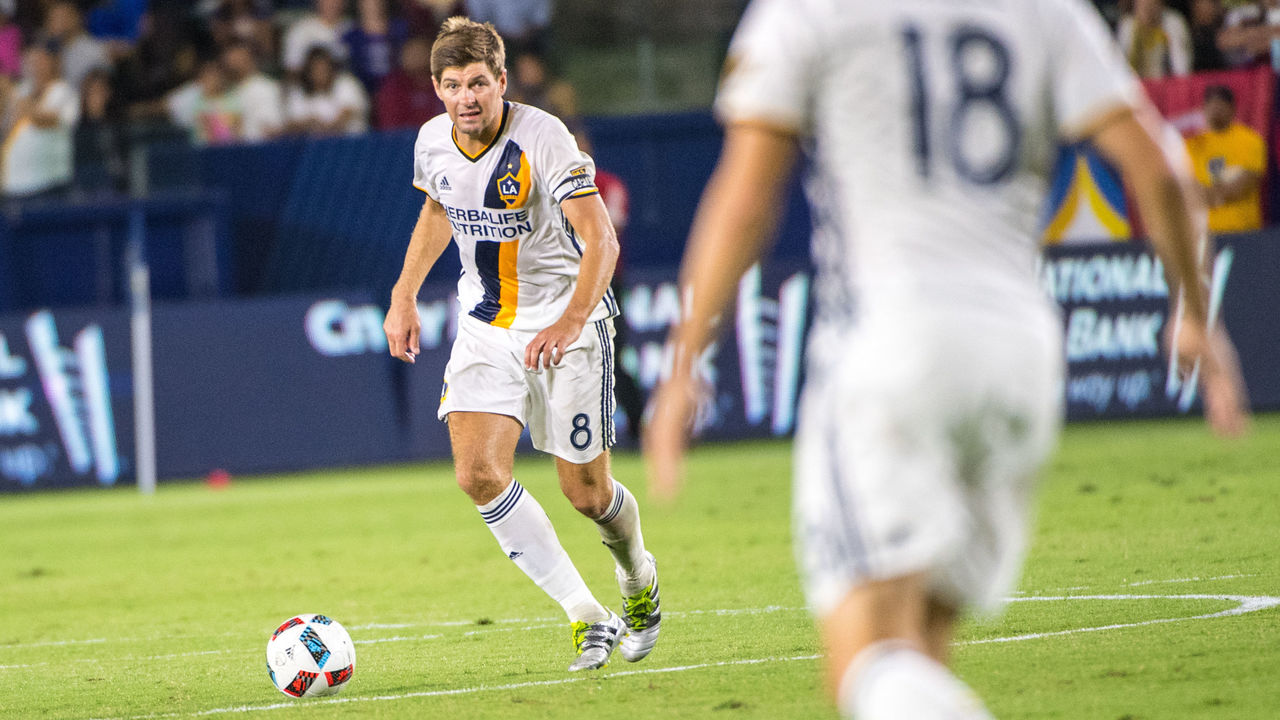 About people who've spent a lifetime in their sport, you write, "their bones can reveal its truths better than any spreadsheet." Who's a person you had in mind when you wrote this?
I did a story (for ESPN The Magazine in 2014) on Mike Jirschele, who was the Kansas City Royals' third base coach. He spent, like, 36 years in the minors before he finally got to the majors. His son, Justin, is the youngest manager in professional baseball. I spent a lot of time with both of them.
When I was with Justin, I closely watched a baseball game that he was managing. After the game, we broke it down. He was telling me things that I didn't even see. For him, these were obvious things. I was like, man, you understand this game because you've grown up with it. Because you've been around this game since you were a baby. And because after every game you've ever played or coached or watched, you and your dad have talked about it.
Steven Gerrard was a major player at Liverpool, and then he moved to the LA Galaxy. I got to watch a game with him. He was doing remarkably accurate analyses of players he'd never seen before. He'd be like, "I don't know who No. 6 is, but blah, blah, blah," and he'd be bang-on about who that guy was.
The book is not a case for random gut or flipping coins. But when you're smart – when you've earned an understanding of something – those people are so valuable. You might have a super good quant on your side, but if you also have someone like Steven Gerrard on your side? That's only an advantage.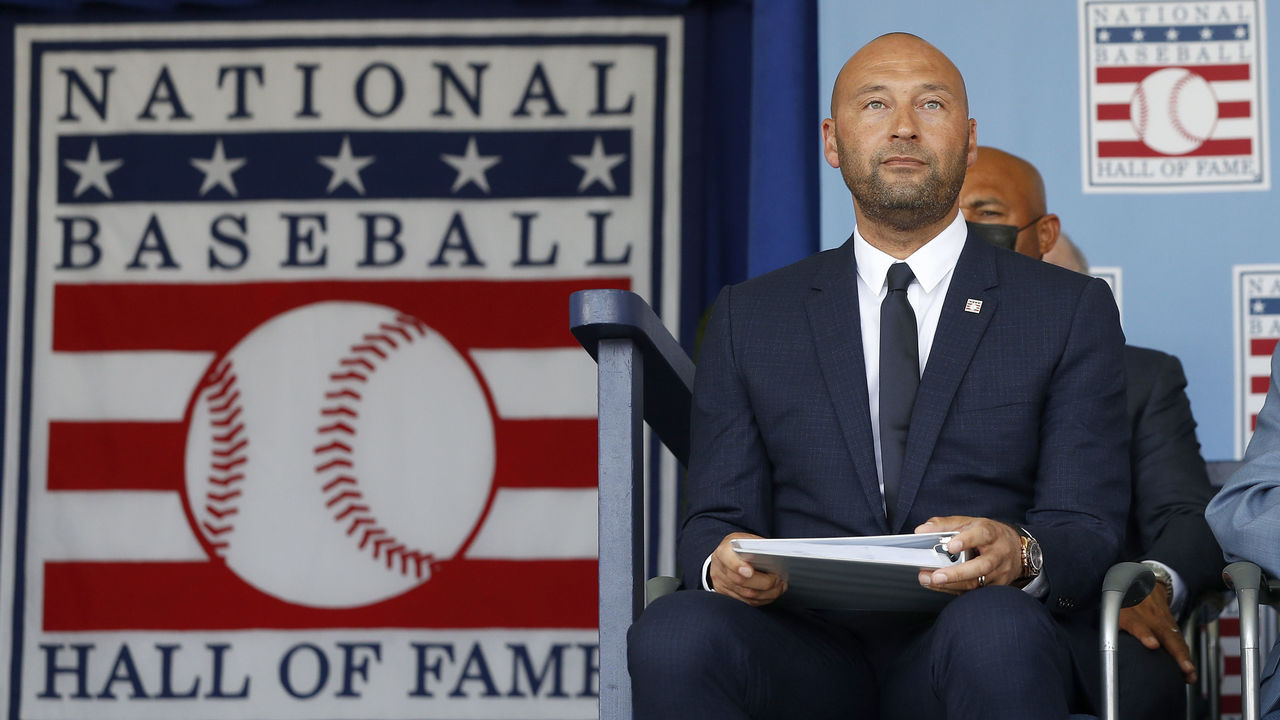 This seems to be where Derek Jeter enters the picture. He won five Gold Gloves, but the metrics show he was a poor fielding shortstop with limited range. Yet he made spectacular plays, like his famous flip in the playoffs against Oakland. To you, what does Jeter represent about the tension between analytics and creativity?
He's always held up as the reason you can't trust your eyes. The truth is the eye test and statistics dovetail pretty nicely when it comes to baseball defense. Ordinary fans are pretty good judges of whether someone is good at defense or not.
Jeter is this exception that's always used as the rule. That's a narrative sin. That's what analytical guys always talk about with narrative: "You're picking and choosing. You can make any argument if you're selective enough." That's what they're doing with Jeter.
If he was a below-average defender, he still made some amazing plays. He was a great shortstop despite some serious limitations. His knowledge, his wisdom, his experience, all of those things allowed him to make a play like the flip. For me, he's an optimistic story; a guy who doesn't have all the physical tools of another player can still rise to greatness given enough passion and attention to detail and practice and time.
He's the embodiment of what I'm talking about. You earned the knowledge. You put the time in. And you see things that other people don't see because you love and understand this game in a different way.
You wrote about a play that Jason Witten made to great effect throughout his NFL career. He'd run upfield on the Y Option and choose to turn left or right. What do you find so compelling about Witten and this route?
It's everything I believe in, which is that you can take a simple, basic, seemingly binary thing and make magic out of it if you understand it better than anybody else. Jason Witten was a huge competitive advantage for the Cowboys because he could do things and saw things that other people couldn't do or see. He could do it with the most basic route.
The Y Option, as he says, it's not sexy. It's left or right. How much thought could go into that? But even that gives you opportunities for greatness and difference and distinction. Imagine a much more complex thing, like policing, like medicine. If you can find a way to be great running the Y Option, imagine the possibilities in other fields of endeavor.
When you spend time around smart, interesting people, you can't help but be inspired by the way they do what they do. Someone like Jason Witten – God, he was awesome. He was awesome at something that you wouldn't think someone could be awesome at. But he was. There's beauty in it.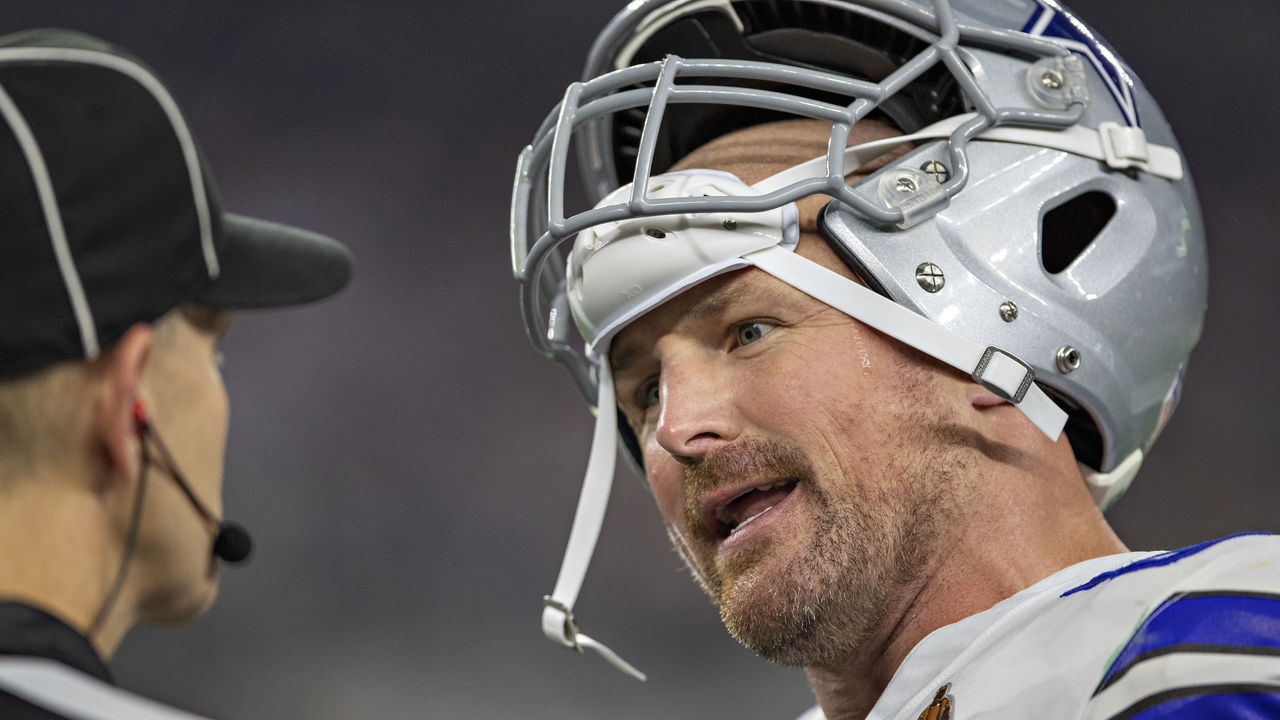 What athlete do you like watching the most these days?
I find him completely confounding: Mo Salah for Liverpool. He had one great season (in 2018), and I wrote a piece that was like, "They need to sell him. He had one great season. It's a fluke." Then he did kind of have a downish year, and now he's arguably the greatest goalscorer in the game. I watch him going, "How did you keep getting better?"
He scored (last) week against Chelsea. I'm a goalkeeper. He made this little fake, (as if) he was going across the net, and instead dumped it short-side. The goalkeeper bit on the fake. I would have bit on the fake. He does stuff that's so subtle and beautiful. That goal is a good example. The statistics will show that he scored a goal from close range. But when you watch how he got the goal, it reveals so much more about him as a player.
It's something that Ian Graham, the Liverpool (analyst) who's looking at his spreadsheets, wouldn't see. He'd appreciate him as a goalscorer, but he wouldn't know exactly what makes him great.
It seems like a good example of how analytics and personal brilliance work in tandem. Liverpool has a data-driven approach and Mo Salah, this transcendent player who helps make them a terrific team.
Why would you ever choose to see things one way? Especially complicated things. This will sound a little weird, maybe, but I think we're all taking in more information at the moment than humans are designed to take in. Because processing information is sometimes hard, we just sort: "I'm on that side. I'm not for that. I am for that."
It's making us black-and-white thinkers. For me, there's so much beauty and possibility in the gray, in the nuance – in where these two things meet. If I had Ian Graham analyzing a football match and I had (Liverpool manager) Jurgen Klopp analyzing a football match, then I think I could really find the truth.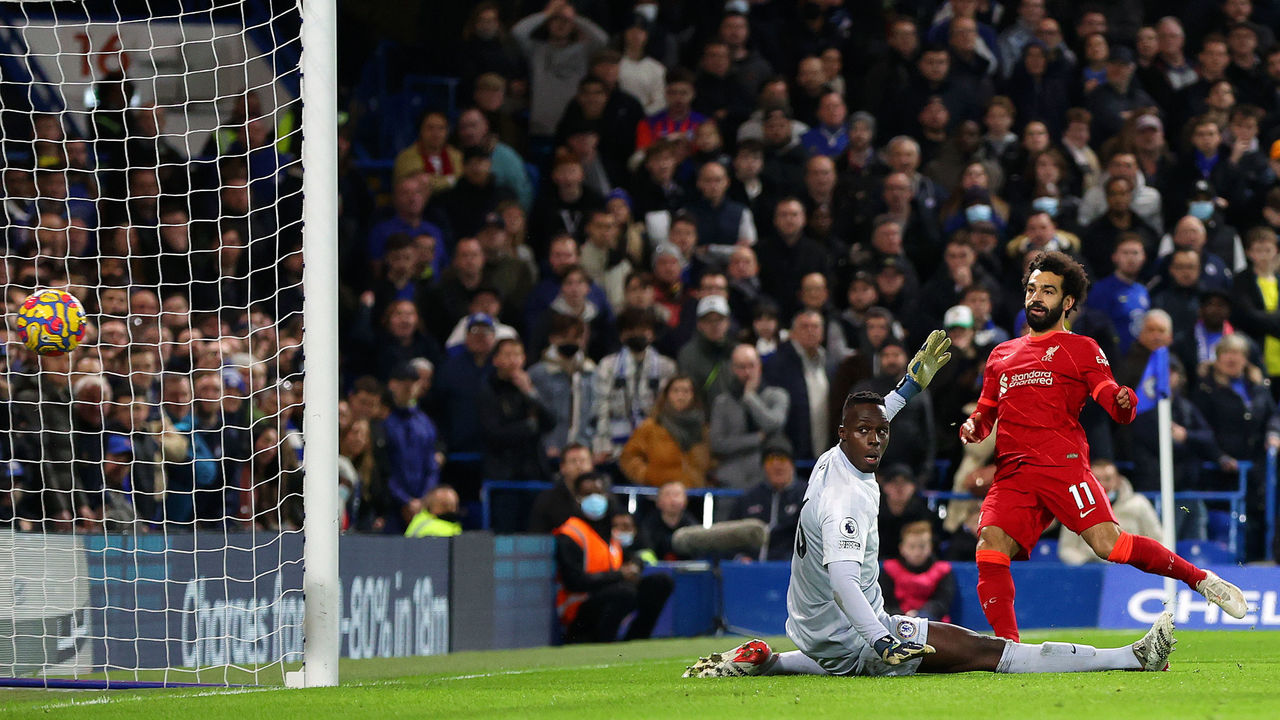 Outside of sports, who's your favorite character in this book?
Teller, the magician. He gave me my favorite quote that I've ever gotten: "Sometimes, magic is just someone spending more time on something than anyone else might reasonably expect."
He does magic that is so confounding, other magicians are completely fooled by him. I went to his house and he gave me a deck of cards. He's like, "I want you to pick a card out of this deck. Don't show me." I cupped the deck. I looked at the card. He's like, "OK, just remember that card." Half an hour later, we went outside. There was a sculpture of a big bear in the yard. The bear starts talking and goes, "Was your card the three of clubs?" And it was.
The answer to how that happens is time. It's loving it more than somebody else. Putting the time in, being careful, always striving toward improvement, watching, learning. He has a voracious appetite for magic and magicians past.
For me, he's the ideal of how you make something beautiful, which is basically what the book is for me. I hope people read the book and are inspired to do something awesome.
Nick Faris is a features writer at theScore.
Copyright © 2022 Score Media Ventures Inc. All rights reserved. Certain content reproduced under license.
World Cup roundup, Day 10: Pulisic leads by example, Senegal brings joy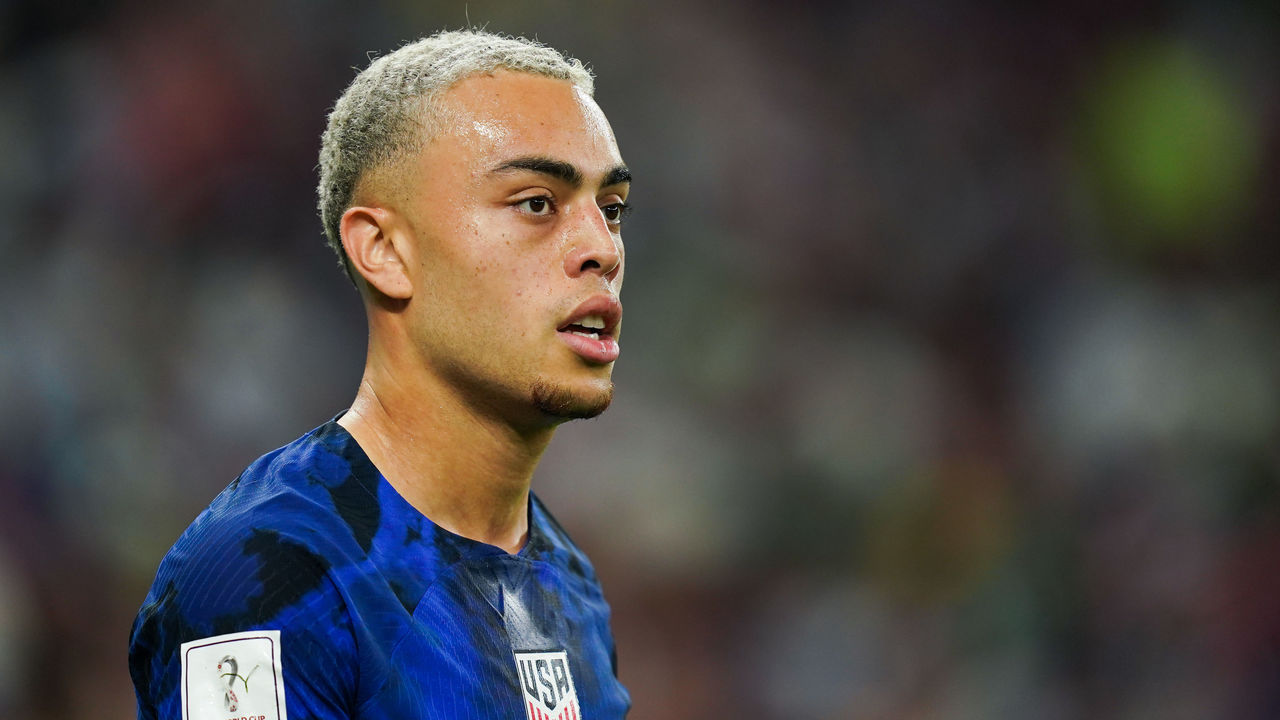 The 2022 World Cup is in full swing. At the end of every matchday, we'll review the biggest talking points emanating from Qatar and break down all the action on the pitch. Below, we look back on Day 10 of the tournament.
Dest growing into tournament
Sergino Dest, with help from Weston McKennie and Timothy Weah, caused England problems in the United States' second group game. There were similar collaborations down the right Tuesday against Iran. However, with McKennie thriving in a more central role in a vital 1-0 win for the U.S., Dest linked up well with Yunus Musah and was a popular target for cross-field switches.
Three of left-sided center-back Tim Ream's four long balls from the middle third were sprayed to the right flank, where Dest's positioning and positivity on the ball stretched Iran. The on-loan AC Milan right-back made slick touches in tight areas, and his off-the-ball movement tired Milad Mohammadi in the first half. Before the break, Dest had the joint-most touches with Tyler Adams (53), two completed take-ons, and three dangerous deliveries into the box.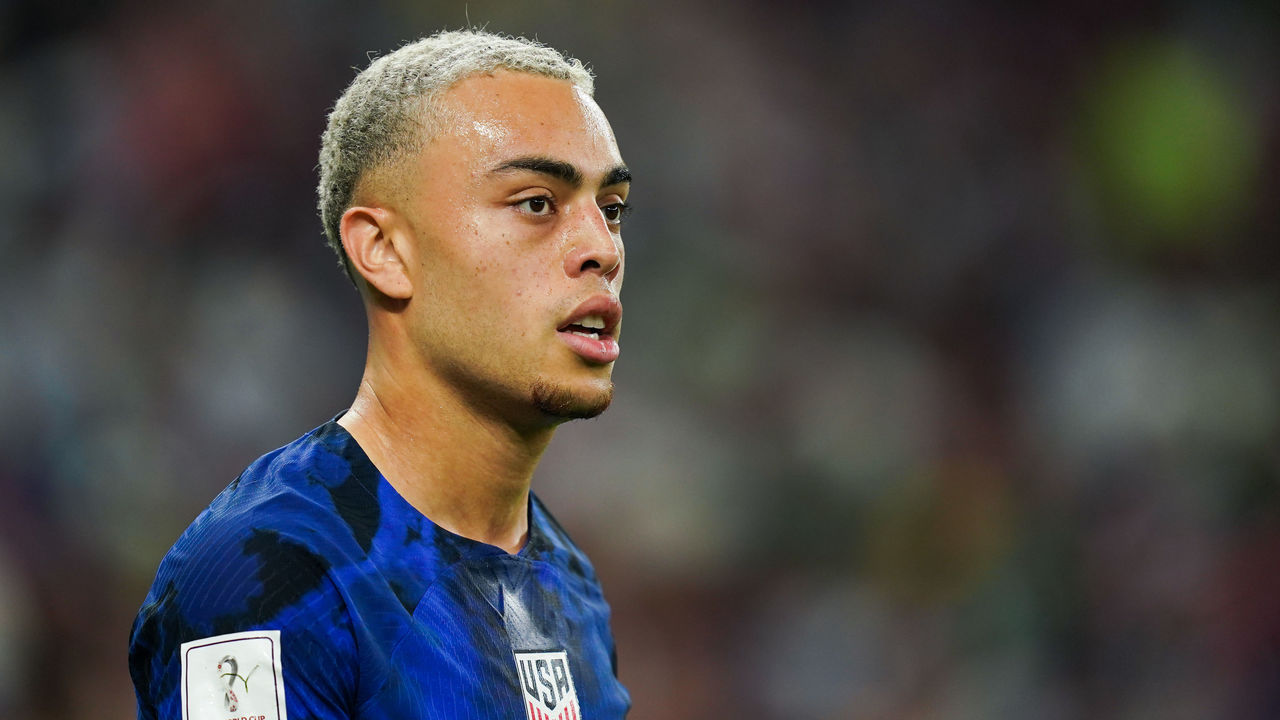 One of those deliveries resulted in Christian Pulisic's match-winning goal. Dest saw McKennie receive the ball in space in front of Iran's deep defensive and midfield lines, and he took advantage of a rare Iranian lapse. Mohammadi and Ehsan Hajsafi were out of position – forward Sardar Azmoun was the closest opponent to Dest – so the full-back ran into the gap and under McKennie's chip before nodding the ball across for Pulisic's close-range finish.
Obviously, the U.S. will have bigger challenges the deeper it goes, and the Netherlands awaits Gregg Berhalter's side in the round of 16. But, while the threat from Cody Gakpo and Memphis Depay is considerable, Dest may have some helpful insight on plenty of Dutch players given his schooling in Ajax's academy.
Pulisic doesn't shy away from spotlight
Pulisic admitted in February that he puts "too much pressure" on himself to "save" the United States while on international duty. The "Captain America" tag certainly hasn't helped.
There have been some below-par performances from Pulisic over his 55 U.S. caps, but there's evidence to suggest he thrives in high-pressure games.
He scored a huge goal against Mexico and pocketed a hat-trick versus Panama during the qualification cycle for Qatar 2022. He knocked two past Jamaica to send the U.S. into the 2019 Gold Cup final and scored a high-pressure penalty to down Mexico in extra time of the 2021 Nations League final.
Pulisic added further proof to the argument that he flourishes on big occasions with his scruffy tally against Iran.
And let's not forget, he's still only 24.
Qatar ends World Cup on historic low
After more than a decade of planning the most expensive World Cup in history, all Qatar's national team has to show for its on-pitch efforts is three dismal defeats. That's hardly the return on investment organizers envisioned after spending approximately $220 billion to host football's showpiece event – smashing the previous record of $15 billion set by Brazil in 2014.
As Qatar attempted to prove it belonged on the sport's biggest stage, it became glaringly obvious that the 2022 World Cup host was way out of its depth. Over 10 days, the Middle Eastern nation tasted nothing but defeat.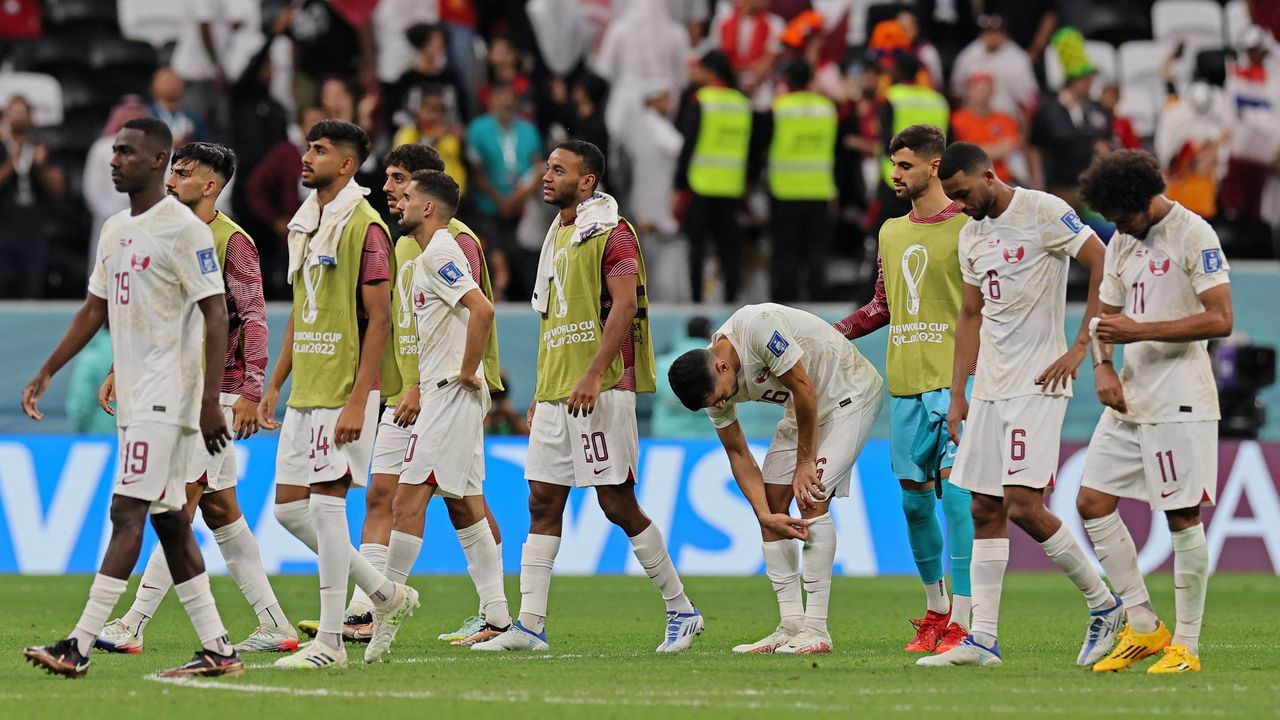 Tuesday's loss to Group A winner, the Netherlands, was the final nail in Qatar's World Cup coffin. The loss ensured that FIFA's 50th-ranked nation, which had already been eliminated, ended the tournament on a historic low note. After becoming the first host nation to lose the opening match, Qatar then became the first host to lose its opening two games. Now, with zero points from three contests, Qatar will forever be remembered as the worst-performing World Cup host of all time.
Aside from Mohammed Muntari recording Qatar's first World Cup goal, there was hardly a reason for home fans to cheer. Perhaps the nerves got the better of a Qatari side that never mounted a credible challenge to suggest it could compete with its Group A opponents.
Qatar coach Felix Sanchez conceded that his squad was "still slightly behind" the competition at the 2022 World Cup. That's a generous verdict for a Qatar side that, even with the expansion from 32 to 48 teams, likely won't be at the 2026 World Cup.
Cisse can bury 2002 heartache
Aliou Cisse carried the disappointment of slamming his decisive penalty against Alioum Boukar's legs during the shootout in the 2002 Africa Cup of Nations final. His miss meant Cameroon won the tournament while Senegal's wait to be crowned king of the continent continued.
Even captaining his country to the World Cup knockout rounds a few months later didn't diminish his desire to make amends. He mentioned it while coaching Senegal to the AFCON final in 2019. His side lost 1-0 to Algeria in that showpiece.
But, at long last, Cisse should now be confident that he's more than atoned for that penalty in Mali. First, he overcame huge pressure to lead Senegal to its first AFCON success earlier in 2022 – over 56 years after the country's inaugural appearance in the tournament.
"We would like to win this for him and our country because he deserves it after everything he went through as a player for Senegal and now as the coach," Sadio Mane said about his national team boss days before he converted the winning penalty in the final.
Then, Cisse took Senegal into its second-ever World Cup knockout appearance courtesy of Tuesday's 2-1 win over Ecuador. Instead of relying on Mane – who was confirmed out with a leg injury just four days before his country's campaign began – Cisse created a stronger team dynamic. Five different players have scored Senegal's goals in Qatar, and the midfield was near-impenetrable against Ecuador.
However, the main concern going into the round of 16 is with Cisse's midfield. Will Senegal's core be as impressive now that Idrissa Gueye is unavailable due to suspension?
Quick free-kicks
Southgate's selection headache
With the entire nation clamoring for Phil Foden to start and England to play a more expansive style after its turgid performance against the United States, Gareth Southgate gave the people what they wanted versus Wales. He did the same with Marcus Rashford. The latter promptly scored twice, including a gorgeous free-kick, while Foden netted the other tally in a comfortable 3-0 triumph that secured top spot in Group B. It was just the Three Lions' second victory in their last nine matches overall. Now the England manager, who's constantly under the microscope, has a selection headache going into the last-16 clash with Senegal. Heavily criticized for being too wedded to certain players, including Raheem Sterling and Mason Mount, the 52-year-old tactician has a big decision to make. Foden and Rashford injected some life back into the England attack and deserve to start in the next round. Meanwhile, Sterling and Mount have consistently performed during Southgate's tenure. Bukayo Saka didn't start Tuesday, either, but has been a bright spot in the tournament. Someone will inevitably be disappointed when left out of the lineup against the African champion. In a way, it's a good problem to have, but it's a delicate situation Southgate needs to manage properly.
Paying tribute to 'The Wardrobe'
Papa Bouba Diop, nicknamed "The Wardrobe" in England due to his imposing stature, was remembered by fans and players during Senegal's final group match. The Lions of Teranga icon died exactly two years prior to Tuesday's meeting with Ecuador. On the international scene, the defensive midfielder was best known for his match-winning goal against defending champion France at the 2002 World Cup. In addition to representing Senegal 63 times, Diop starred for numerous clubs, including Fulham, Portsmouth, and Lens.
LvG finds his best midfield
Marten de Roon isn't the most fashionable player in the Netherlands' squad. Far from it. But he might be one of the most important. The 31-year-old midfielder started his first match of the tournament Tuesday, and the Dutch, so stodgy and underwhelming against Ecuador, looked like a more cohesive unit in a 2-0 victory over Qatar. This comes with the caveat that Qatar is objectively the worst team at the World Cup. However, De Roon's presence at the base of Louis van Gaal's midfield helped liberate Frenkie de Jong, who slid to the left and pushed higher up the field in a No. 8 role, connecting with Daley Blind and Memphis Depay to create slick passing triangles. Reverting to a system that asks De Jong to play deeper in the last-16 meeting with the United States would be a mistake.
Croatia in hot water over fans' Borjan taunt
FIFA opened disciplinary proceedings against Croatia on Tuesday after some of its fans displayed a banner designed to taunt Canada's Yugoslavian-born goalkeeper Milan Borjan. The 35-year-old's hometown of Knin is now within Croatian borders, but it was an ethnic Serb region until conflict in 1995 forced the Borjans and other families to flee. The message unfurled at Khalifa International Stadium on Sunday referred to this victory for Croatian forces.
Curtain closes on Wales' golden generation
Defeat to England may have marked the unofficial end to the golden age of Welsh football. After Wales did brilliantly to end its 64-year wait to reach the World Cup, it became clear after three games without a win in Qatar that big changes could be on the horizon for the aging Dragons. The future of Gareth Bale's international career is bound to dominate headlines in Wales. At 35, it's unlikely that Bale will ever feature in a major tournament for Wales again. If that's the case, it was a sad way to go out, as he touched the ball just seven times before being taken off at halftime against England with an apparent injury. While other members of the team, such as Aaron Ramsey, may also consider their futures, none will be missed as much as Bale. If he does hang up his international boots, Cymru will be forced to rebuild for a future without a player who, despite his recent dip in form, is the true definition of a generational talent.
Stat of the day
Rashford joined a very exclusive club Tuesday.
Tweet of the day
Senegal will have some additional support in its corner against England.
Copyright © 2022 Score Media Ventures Inc. All rights reserved. Certain content reproduced under license.
3 reasons why United States shut down England in World Cup draw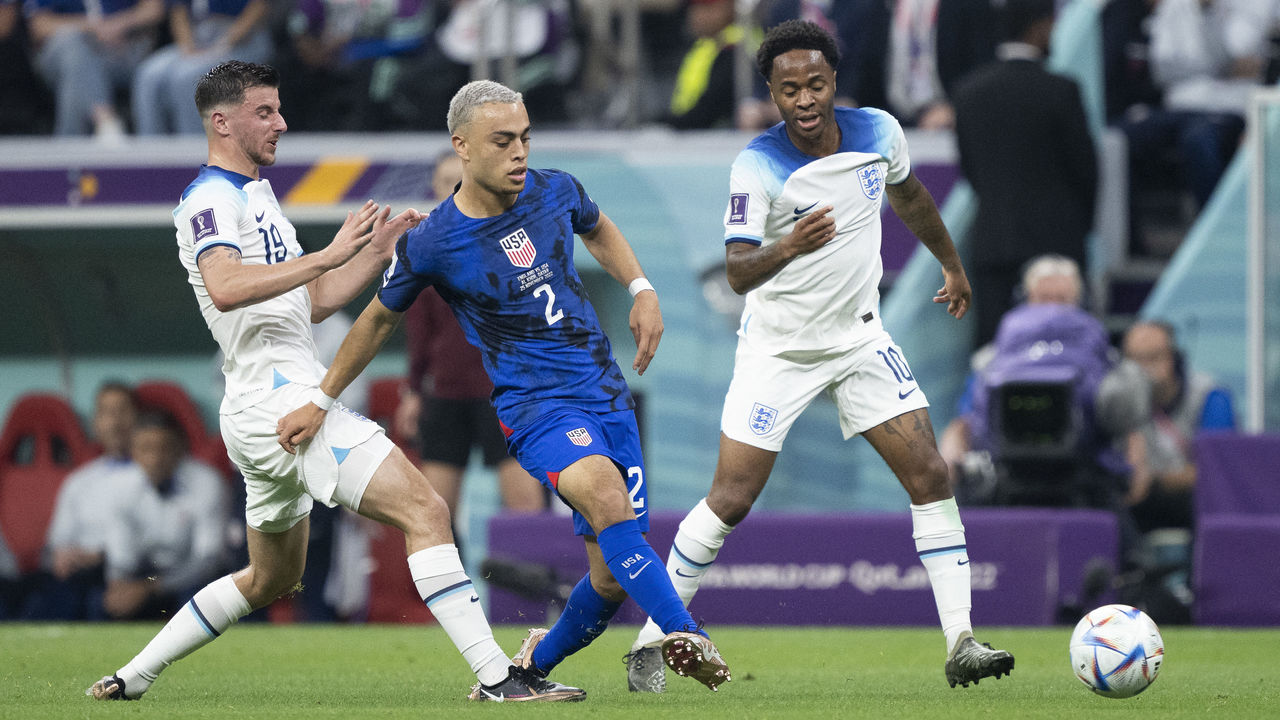 England's and the United States' World Cup group openers didn't hint at this outcome. The Three Lions strolled to a 6-2 triumph over Iran, while the U.S. ran out of steam in a disappointing 1-1 draw with Wales – but their meeting Friday drew a blank.
Nil-nil, but not necessarily a bore draw.
Here are three reasons why the USMNT kept England at arm's length in Qatar.
Ball-playing defenders don't play ball
It started just a few minutes into the first half. Harry Maguire to John Stones, to Maguire, to Stones, to Maguire – the ball lazily clicking back and forth like a metronome in the bedroom of a doom metal artist testing a forlorn, sludgy riff.
In some ways, it was understandable. Declan Rice was often the only player ahead of the defense showing for the ball, and the U.S. midfield was organized and ready to pounce. But it was also ruinously risk-averse and set the tone for an uninspiring England performance. Stones completed all of his 51 passes in his first half, but none were noteworthy.
There was no incisiveness. A few snappy exchanges through the center could've helped turn the tide. England simply needed more ambition from its center-backs.
Long passes in first half
| Player | Attempts | Through the middle |
| --- | --- | --- |
| Harry Maguire | 6 | 1 |
| John Stones | 3 | 0 |
There wasn't a great deal Gareth Southgate could do about Maguire and Stone's tentativeness, so the decision to replace Jude Bellingham with Jordan Henderson in the 68th minute made sense. It wasn't a popular decision – especially after Bellingham's brilliance in the dominant victory over Iran – but it helped link the midfield and defense. Having an extra body in front of the defense reduced the likelihood of another ineffectual sideways pass from the center-back pairing.
But overall, that substitution was more of a reflection of the United States' aggressiveness at Al Bayt Stadium: England wasn't allowed to settle. The ever-steady Henderson at least gave the Three Lions some semblance of control.
McKennie back to his best
Weston McKennie has struggled to find his rhythm with Juventus since fracturing his metatarsal in the last 16 of last season's Champions League. But something – perhaps the occasion, or maybe the additional responsibility he has with the United States – allowed the midfielder to find his groove against England.
The U.S. was regularly set in a 4-4-2 shape. Haji Wright and Timothy Weah were up front, Christian Pulisic was on the left flank, captain Tyler Adams and Yunus Musah took central midfield, and McKennie often appeared on the right. He's familiar with the position – having fulfilled similar duties for Massimiliano Allegri at Juve – and it allowed him to create overloads down that side with Weah and right-back Sergino Dest.
The three-man combination initiated the move leading to the Pulisic missile that smashed the crossbar. The only blemish on McKennie's near-faultless opening period came when he drifted inside, met Weah's cross, and side-footed the ball over from around eight yards out.
It was a quality, two-way performance. He waded in with two tackles and a clearance and troubled his opponents with two completed dribbles and five passes into the final third before he was withdrawn in the 77th minute.
This young team needs to be nurtured, and that's no truer in midfield. McKennie (aged 24), Adams (23), and Musah (19) are an extremely promising core for the U.S. and could all be at their peaks once the 2026 World Cup in North America rolls around.
Brenden Aaronson (22) and Giovanni Reyna (20) were also used off the bench, and unused substitute Luca de la Torre (24) is now playing in Spain's La Liga after impressing in the Netherlands' Eredivisie. The future doesn't look bad at all.
An inexcusable waste
An out-of-form Raheem Sterling is one of the most frustrating players in elite football. When his confidence dips, his indecision soars. Instead of running for something – like the back post or the gap between a full-back and center-back – he seems like he's running from something and, in his panicked state, will stumble down the wrong alleyway or trip over a knotted tree root.
In this instance, at least a trip or slip would've been an event of some kind. He was anonymous in Al Khor and failed to register a shot, key pass, cross, or dribble through 67 minutes.
Far too often, Sterling is a hindrance or a passenger. He shouldn't be a starter for England.
Mason Mount isn't much better when things aren't going his way. Aside from a first-time shot that tested Matt Turner, Sterling's Chelsea teammate outstayed his welcome, somehow lasting the full 90 minutes. Mount failed to offer any creativity or bite.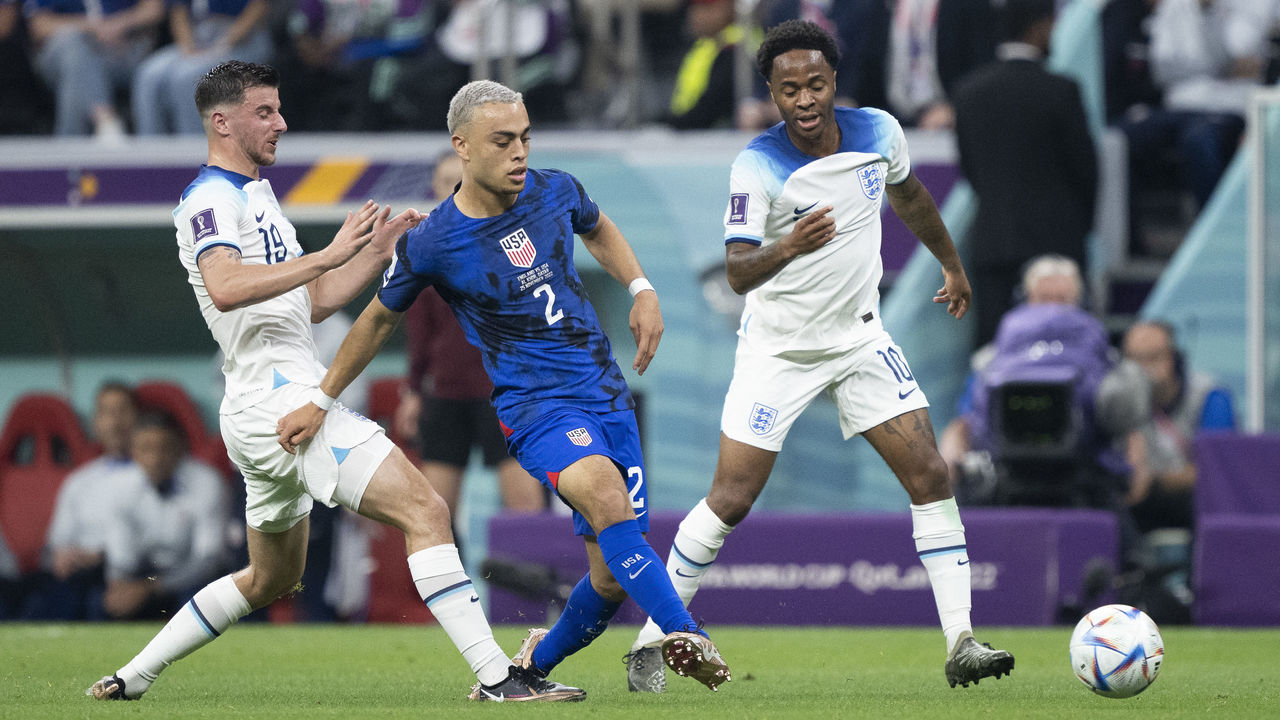 The catalog of below-par performances made the sight of Phil Foden – the most technically gifted and inventive player at Southgate's disposal – sitting on the bench even more maddening. The Manchester City playmaker was charitably introduced with around 20 minutes left of the opener against Iran – with the score already 4-1 in England's favor – and otherwise seems to be an afterthought for Southgate.
It's inexcusable. Harry Kane and Ivan Toney are the only Englishmen with more goals than Foden in the Premier League this season, and the 22-year-old's bewitching footwork, agility, and appreciation of space could've been invaluable in such a congested game.
Foden has a knack of conjuring something out of nothing. And against the U.S., England produced a whole lot of nothing.
Copyright © 2022 Score Media Ventures Inc. All rights reserved. Certain content reproduced under license.
World Cup roundup, Day 6: England and U.S. toil, Qatar bows out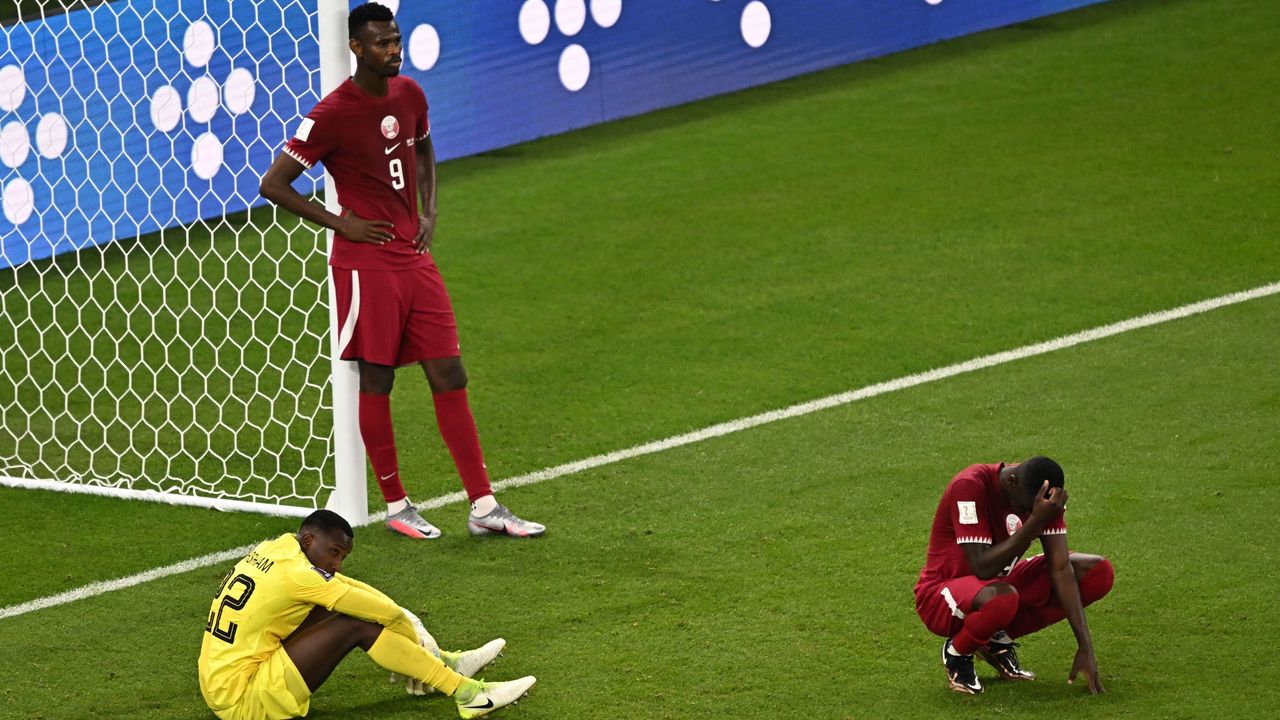 The 2022 World Cup is in full swing. At the end of every matchday, we'll review the biggest talking points emanating from Qatar and break down all the action on the pitch. Below, we look back on Day 6 of the tournament.
Southgate, Berhalter cancel each other out
Watching England and the United States grind out a goalless draw on Friday was, well, a grind. If anything, the banter between the two fan bases on social media was far more entertaining than the "action" on the pitch.
England boss Gareth Southgate and his American counterpart Gregg Berhalter, both of whom have come under intense scrutiny, have often struggled to get the best out of their talented, exciting squads. In-game management has been a point of contention among both sets of fans with regard to the respective managers. Friday only served to add fuel to the fire.
Southgate, almost incomprehensibly, didn't introduce Phil Foden off the bench despite his side looking listless in attack. He didn't even use his full complement of subs. Berhalter, meanwhile, waited 77 minutes to make his first personnel switch despite several members of his team looking totally spent after putting in a huge amount of energy and playing at an aggressive, high tempo for nearly the entire contest. Giovanni Reyna had to wait another six minutes after that to join the fray for the first time in the tournament. It was almost as if the two tacticians were waiting to see who would blink first.
A draw, ultimately, is a fine result for both teams. England is in a comfortable position going into its Group B finale against Wales, while the Americans control their own destiny – beat Iran on Tuesday, and the USMNT will move on. But the lack of desire to take any chances, from both coaches, is coming under fire, and for good reason.
There's too much skill on either side to play such an attritional style.
Qatar playing for pride now
Twelve years of preparation were undone after just five days as host Qatar was officially eliminated from the World Cup on Friday.
An early exit for the Middle Eastern nation was mathematically confirmed after the Netherlands' 1-1 draw with Ecuador. It's undoubtedly a tough blow. However, it's anything but unexpected given the concerns over the nation's inability to produce top footballing talent.
And so, Qatar's fate is sealed with a game to spare, and now the team is teetering on an unprecedented failure.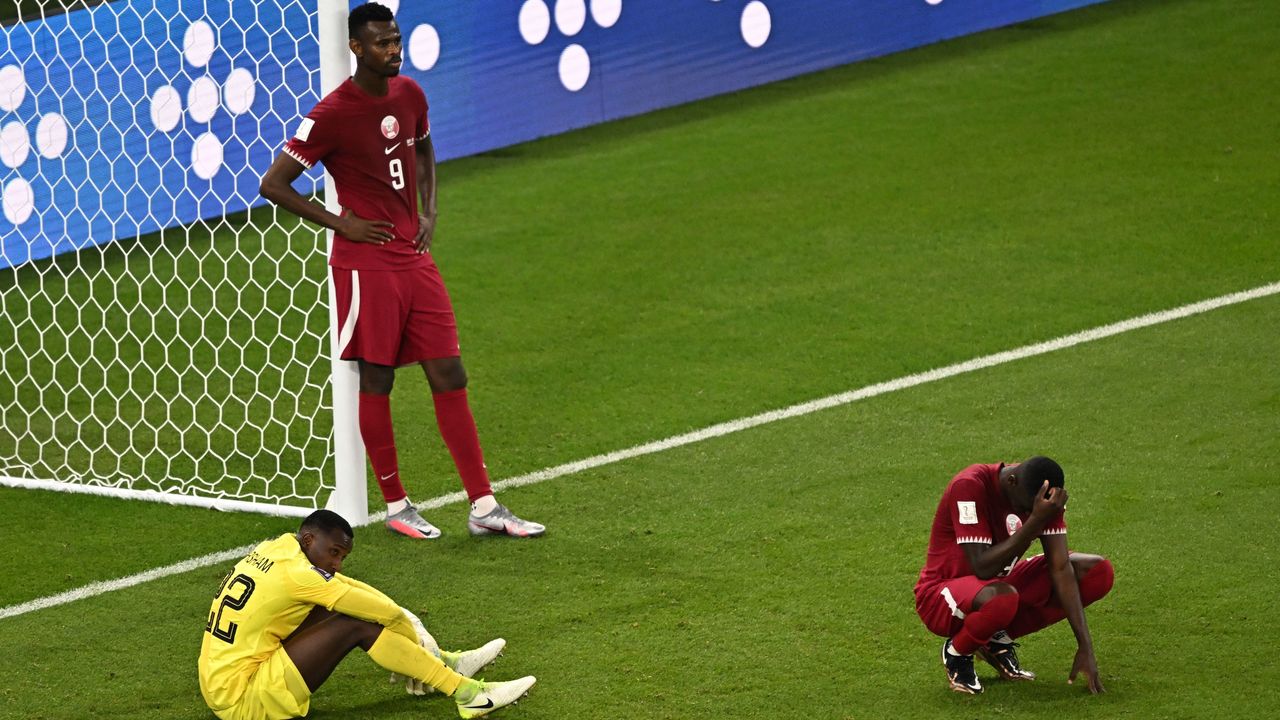 Qatar joins South Africa (2010) as the only hosts to be knocked out in the group stage. The team is now in danger of finishing its World Cup debut without a single point – a misstep no host has experienced.
A pair of uninspiring displays in defeats to Senegal and Ecuador don't offer much hope over Qatar's chances of producing a positive result in its last game against Group A's favorite, the Netherlands.
Gakpo's stock soaring
PSV Eindhoven are loving every minute of the World Cup right now.
Few players, if any, arrived in Qatar enjoying a better season than Cody Gakpo. The 23-year-old, linked with a variety of top European clubs this past summer, was already doing his part to ensure the Dutch team would procure a small fortune for his services whenever he does move on. The price tag is only trending in one direction after Gakpo's first two World Cup games.
Having scored the winning goal in the Netherlands' first match against Senegal – an imposing header that showed off his athleticism – Gakpo followed that up with a sensational tally on Friday, uncorking a thunderous shot in the opening minutes of the draw with Ecuador. He's now compiled 16 goals and 18 assists in just 28 games for club and country this season. Video game numbers.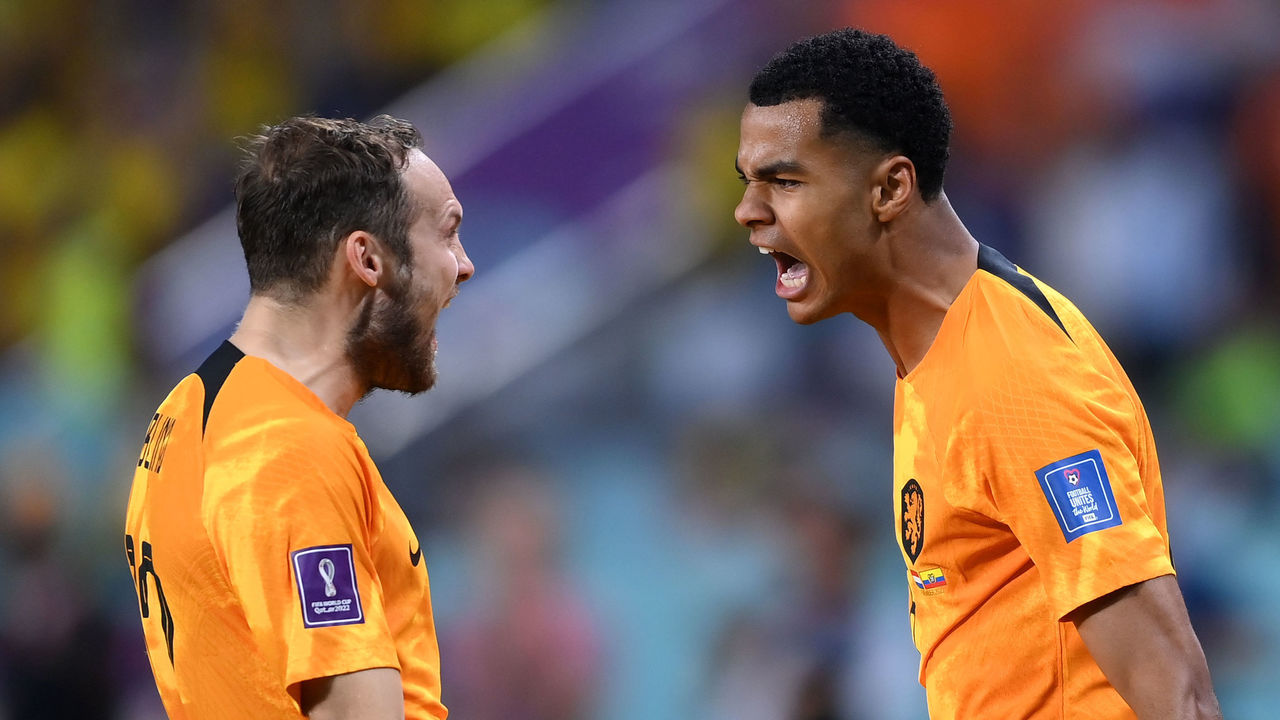 His ability to not only play multiple attacking positions, but thrive in them, makes him a fit for just about any club in world football. With the Netherlands having trouble consistently crafting chances thus far in Qatar – the team attempted just two shots against Ecuador – Gakpo is being asked to carry the attack for Louis van Gaal's surprisingly conservative side.
The more he's able to do that, the more he'll shine, and the more PSV will be able to demand from any club interested in his services. His stock is soaring.
Quick free-kicks
Neymar's absence shouldn't be too costly
Neymar will definitely miss Monday's meeting with Switzerland due to ligament damage in his right ankle, but reports indicate the Brazilian superstar is also doubtful for the conclusion of his team's group-stage commitments against Cameroon next Friday. Neymar's influence is undeniable, but this should be an absence that head coach Tite can handle. In addition to Neymar, starts were handed to Richarlison, Vinicius Junior, Raphinha, and Lucas Paqueta for Thursday's 2-0 win over Serbia. Gabriel Jesus, Antony, Rodrygo, and Gabriel Martinelli were brought on as substitutes, while Flamengo veteran Everton Ribeiro stayed on the bench. Tite's attacking options are the envy of every other team at this tournament.
The team talk that sparked a famous win
Herve Renard drew an incredible response from his Saudi Arabia side in the bowels of Lusail's Iconic Stadium on Tuesday. The Saudis promptly erased Argentina's one-goal advantage to engineer an all-time World Cup upset in a 2-1 victory, which is only slightly more impressive than the translator's speed and gusto when echoing Renard during the halftime address. The video, which emerged Friday, will give you goosebumps.
An unexpected rivalry
All it took was a conventional rallying cry from an emotional coach, but a heated affair is brewing between Canada and Croatia. John Herdman, the Canucks' English boss, ruffled feathers in a certain strip of the Balkan Peninsula when he declared his team would "F" Croatia during an on-pitch speech to his players following his side's 1-0 loss to Belgium on Wednesday. Accusations of disrespect have now snowballed into a grotesque depiction of Herdman in a Croatian tabloid with the headline: "You have the mouth (tongue), but do you have the balls as well?" Maybe Herdman should've kept the content of his speech a secret; Croatia seems fired up.
Valencia in Golden Boot hunt
Hands up if you expected Ecuadorian captain Enner Valencia to be in the Golden Boot conversation going into the World Cup. If your hand is genuinely raised, you're likely alone. Ecuador was viewed as a team that would struggle to score goals in the competition; the last time La Tri bagged more than one tally in a single match was in November … of last year. But Ecuador has been far more aggressive and progressive going forward since arriving in Qatar, and Valencia has been the benefactor. He's now scored Ecuador's last six goals at the World Cup, a record for a South American player. Considering the World Cup icons the continent has produced, that's quite the feat. The leading scorer in Turkey's Super Lig this season – Valencia bagged 13 goals in 12 games before the World Cup break – will need to shake off an apparent knee injury that forced him off against the Netherlands to continue his unexpected Golden Boot pursuit.
Stat of the day
Better late than never for Iran.
Tweet of the day
No winner in the sport's great vernacular war.
Copyright © 2022 Score Media Ventures Inc. All rights reserved. Certain content reproduced under license.