Perfect summer signings for Europe's biggest clubs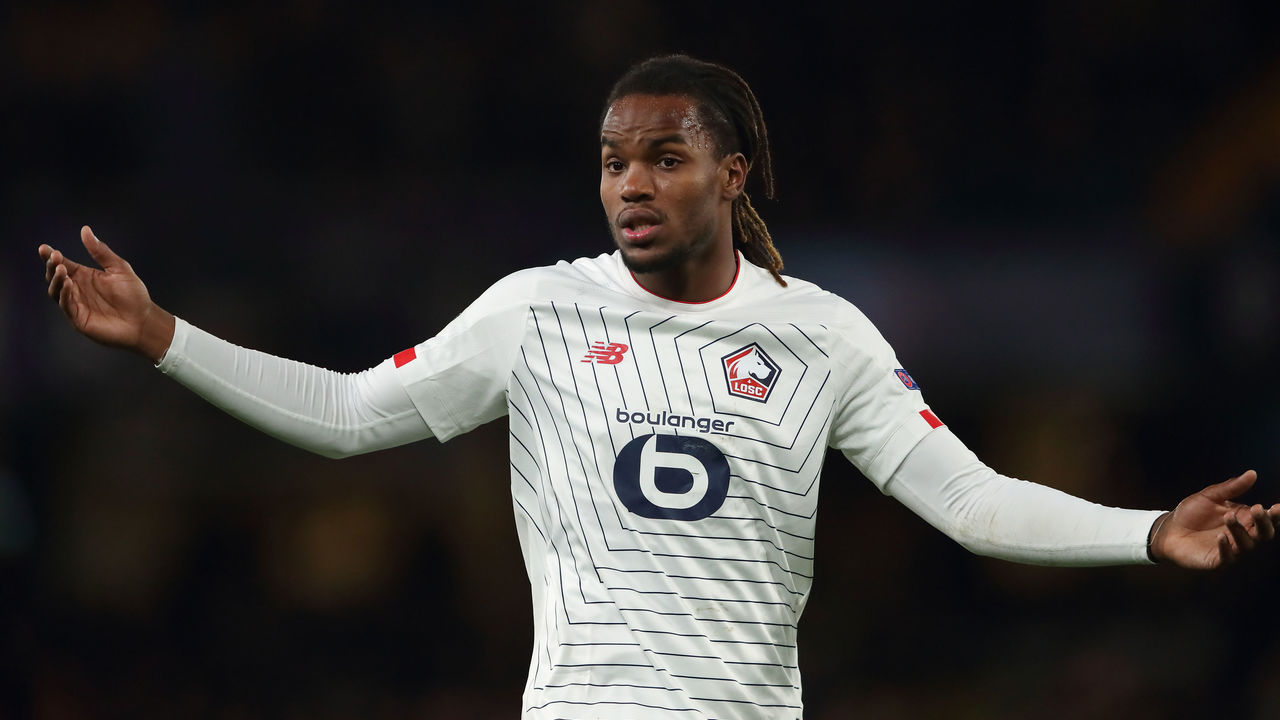 As the biggest clubs in Europe kick off yet another busy summer, theScore looks at one player each side should be targeting in the transfer window.
Premier League
Arsenal: Pedro Goncalves. Among many other things, the Gunners need an injection of creativity in midfield, especially if they can't bring Martin Odegaard back after his loan spell. Having already missed out on Emi Buendia this summer, Mikel Arteta and Co. have to start locking in some reinforcements to recover from another disappointing campaign.
Goncalves, 22, was the driving force behind Sporting CP's title win this past season, scoring 23 league goals as the Lisbon-based club ended its nearly two-decade-long drought.
Chelsea: Erling Haaland. Yes, this is a bit of a cop-out since the Norwegian star would be perfect for just about anyone, but Chelsea's need for more punch up front is painfully obvious; Jorginho was their leading scorer in the Premier League last season with seven tallies, all from the penalty spot.
"We need more goals," Thomas Tuchel admitted in May, adding that his forwards' output is "clearly not enough." Beating the continent's other top sides to Haaland's signature would also free Timo Werner to revert to his more comfortable role playing with a central striker. Two birds with this one.
Liverpool: Renato Sanches. Georginio Wijnaldum's departure on a free transfer leaves a big hole in Jurgen Klopp's midfield. The Dutchman, an energetic cog that did a little bit of everything for the Reds, never made fewer than 33 league appearances in his five seasons at Anfield.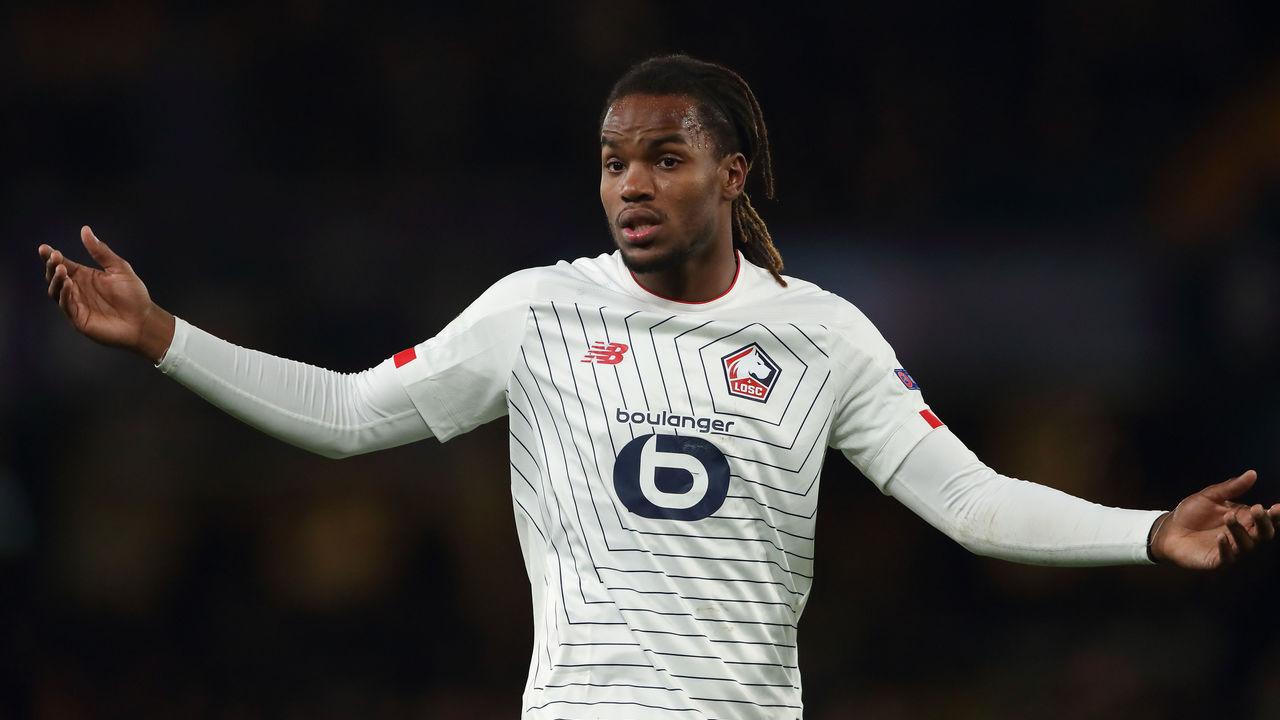 Sanches, back to his vibrant best at Lille after his young career stagnated for a couple of seasons, offers the type of all-action presence Klopp loves and would complement Liverpool's current collection of midfielders. Still just 23, Sanches would also have an opportunity to keep developing.
Manchester City: Harry Kane. Whether Daniel Levy will budge at all in his mammoth valuation of Kane remains to be seen; the Tottenham executive is a notoriously tough negotiator, and Manchester City, despite spending a lot of money cumulatively, don't tend to break the bank for one player.
That said, the England captain would clearly be a fantastic fit in Pep Guardiola's lineup. Aside from the simple fact that a bona fide No. 9 is the team's only glaring need – especially after Sergio Aguero's departure – Kane's playmaking ability would, in theory, mesh wonderfully with the fluid style Guardiola has implemented.
Manchester United: Pau Torres. Rumors about Jadon Sancho continue to swirl, but Manchester United must cement their center-back partnership if they're to become legitimate title contenders once again. Victor Lindelof is a fine depth piece, but nothing more. Eric Bailly can't stay fit long enough to solidify his place in the team. Harry Maguire needs a running mate.
Enter Torres, the blossoming Villarreal defender who is only 24 years old and offers the added benefit of being left-footed. The Spanish international is destined for a big move, and the Red Devils would be wise to make sure Old Trafford is the destination.
Tottenham Hotspur: Marcus Thuram. Everything depends on Harry Kane's future. If the Tottenham talisman gets his desired transfer, Spurs obviously need to bring in another forward. There are other areas to address, but losing the Englishman's 37 Premier League goal involvements without signing someone to help fill that void would be a nightmare.
Thuram wouldn't be able to carry that burden all on his own, but his impressive stint at Borussia Monchengladbach, where he's scored 25 goals across all competitions in the last two seasons, has caught Tottenham's eye. The 23-year-old Frenchman continues to grow and could be an ideal attacking partner for Heung-Min Son.
La Liga
Atletico Madrid: Rodrigo De Paul. Rumors continue to circulate about the potential exit of Saul Niguez, and De Paul has been tipped as an ideal successor to the Spanish international. It's easy to see why. The Udinese star brings plenty of skill and incisiveness to the midfield, and he has the type of edge necessary to thrive under Diego Simeone.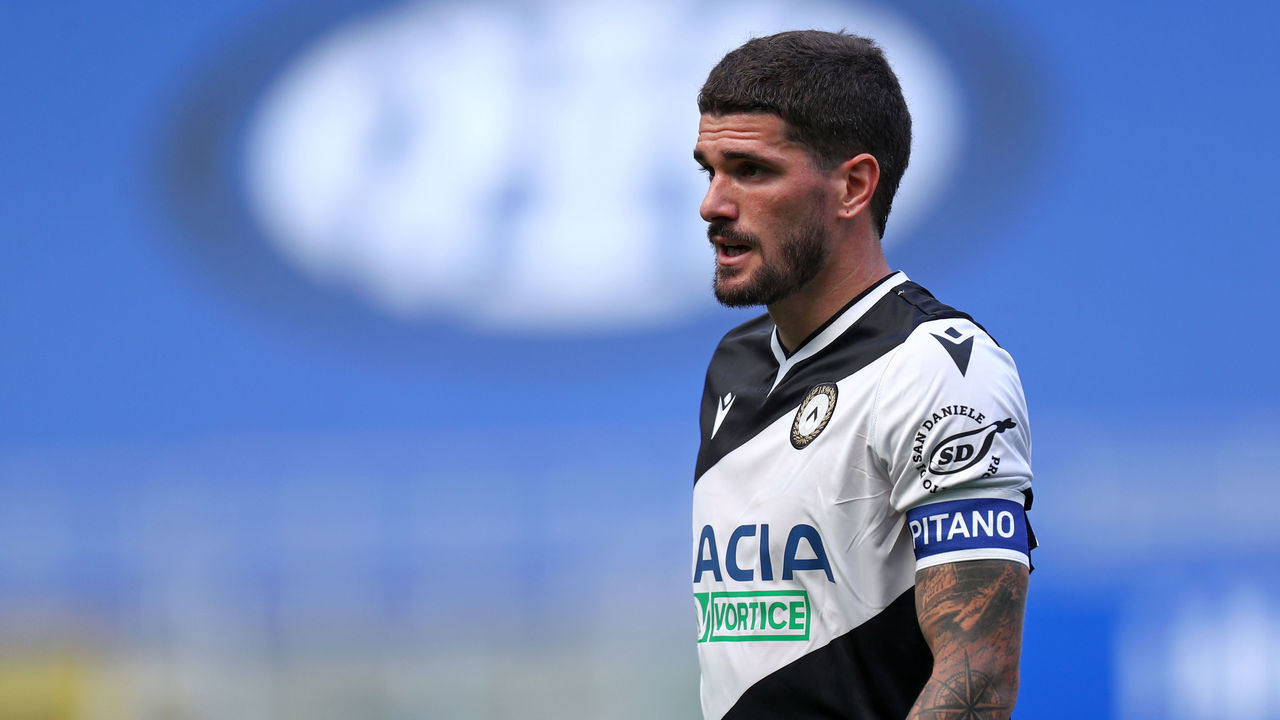 After honing his craft at Udinese since 2016, it feels like the right time for the Argentine to take the next step in his career.
Barcelona: Memphis Depay. Barcelona have been one of the busiest teams in the transfer market thus far, bringing in Sergio Aguero and Eric Garcia on free transfers from Manchester City and recalling Emerson from his loan spell at Real Betis. Bringing players in without putting money down on a transfer fee is the name of the game for cash-poor Barca this summer.
Depay, then, ticks all the boxes. He's a free agent, is coming off an excellent campaign with Lyon, has an existing relationship with Ronald Koeman, and, crucially, isn't over the hill. That's more than can be said of some of the club's signings in recent years.
Real Madrid: Jules Kounde. The circus surrounding defensive stalwart Sergio Ramos continues. The veteran Spaniard would apparently like to sign a new contract and remain at the club, but Real Madrid haven't tabled an offer. There are suggestions that Raphael Varane could be on the move, too.
Losing either would be a big blow, but the club could soften that impact by adding Kounde, who looks destined to be a superstar for many years to come. The 22-year-old Sevilla defender won't come cheap, but Madrid could try to sweeten the pot with any number of players they're ready to ship away.
Serie A
AC Milan: Dusan Vlahovic. Zlatan Ibrahimovic won't be leading the line forever. Milan must keep planning for the post-Zlatan world, which could – and perhaps should – come at the end of next season. Instead of waiting until the influential Swede decides to move on, the Rossoneri need to be proactive and act now.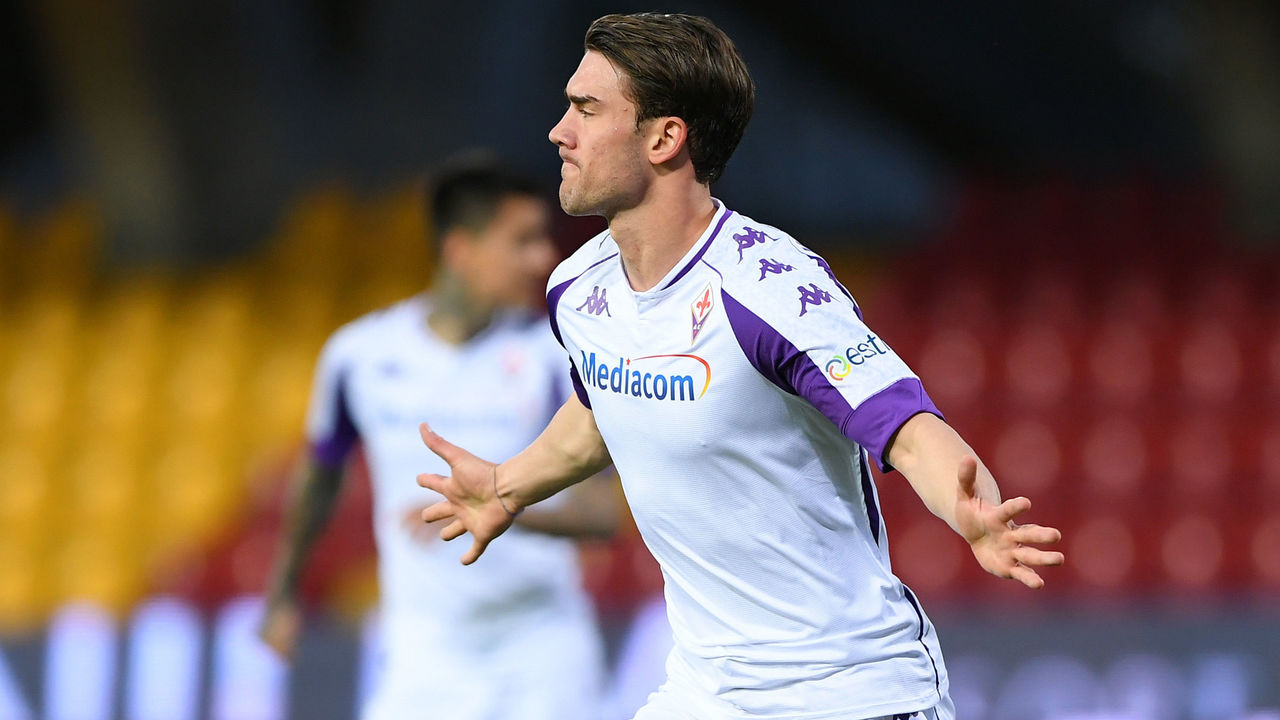 Vlahovic, who just delivered an eye-popping campaign at Fiorentina, offers the perfect blend of physicality and technique – not to mention quickness – that could slot perfectly into Stefano Pioli's side without causing a disruption or forcing a change in approach. The 21-year-old Serbian won't be available for long.
Inter Milan: Manuel Lazzari. Inter are expected to offload at least one key contributor this summer, and the exhilarating Achraf Hakimi – whom we'll get to shortly – appears the most likely candidate. New coach Simone Inzaghi likes to utilize wing-backs in much the same way Antonio Conte did, so the position will remain a focal point for the Nerazzurri.
Lazzari, whose blistering pace down the right flank has been crucial to Lazio's success in recent seasons, is the tailor-made replacement for Hakimi. The Italian could be tempted to follow Inzaghi to Milan after the two forged a relationship.
Juventus: Manuel Locatelli. It's no secret Juventus' midfield is crying out for some help. Returning manager Massimiliano Allegri needs to rebuild that group if he's to lift the Old Lady back to the Serie A summit; the need for significant investment in that area of the pitch is glaring.
Several players have been linked with a switch to Turin, but Locatelli makes the most sense for several reasons. The 23-year-old Sassuolo standout shines in multiple midfield roles and would provide the club with a young Italian talent to market and build around.
Bundesliga
Bayern Munich: Eduardo Camavinga. Bayern Munich are continually refurbishing and making moves with the club's long-term health and sustainability in mind; there's a reason the Bavarians have won nine consecutive Bundesliga titles and show no signs of tripping up. In a sport in which so many top clubs are financially mismanaged, Bayern continue to thrive.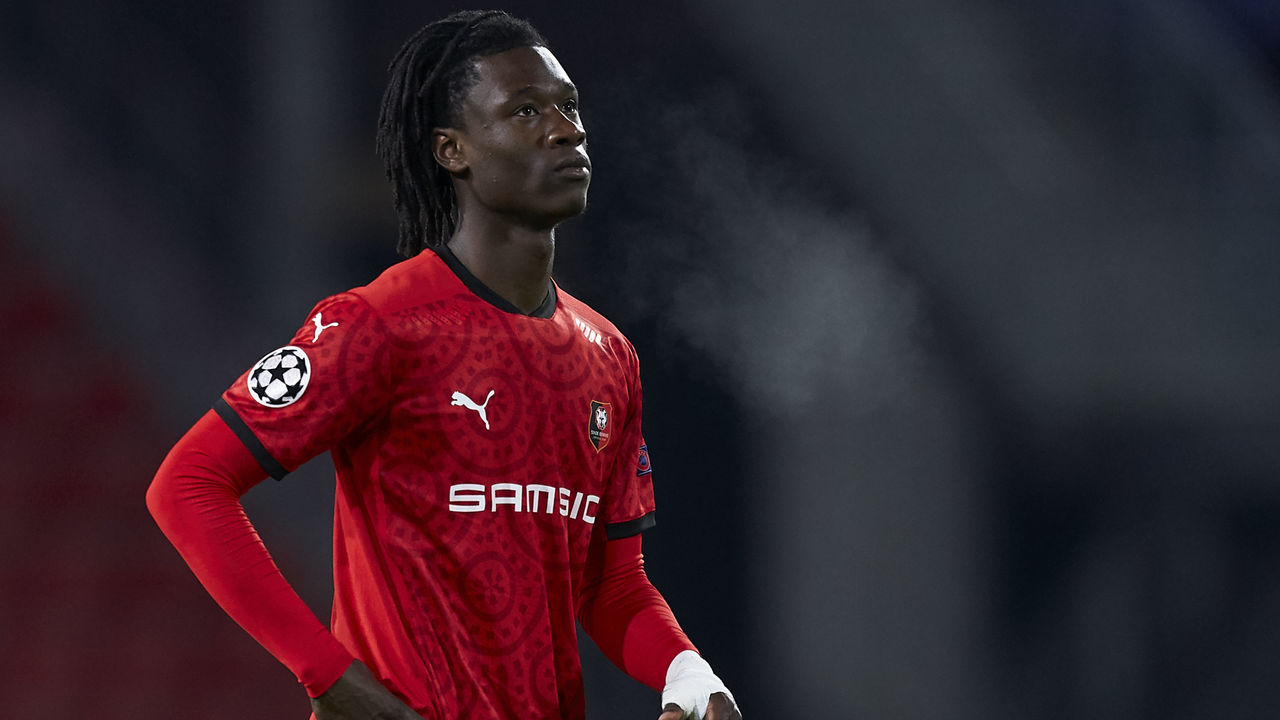 In keeping with that ethos, Camavinga stands out as the clear choice. The French midfielder, 18, would have the opportunity to grow steadily under the tutelage of the club's current stars, offering depth in the immediate term and world-class potential in the long run.
Borussia Dortmund: Donyell Malen. If Jadon Sancho does indeed depart this summer, expect Dortmund to stick with their tried and true model by snapping up a young replacement who can fetch a mammoth transfer fee at some point down the road. Their modus operandi works.
Malen fits that bill. The 22-year-old Dutchman is a versatile forward and could be available for a reasonable fee in today's depressed transfer market. An impressive showing with the Netherlands at Euro 2020 could inflate his value, though; if Dortmund haven't already started talks with PSV Eindhoven, they'd better get moving.
Ligue 1
Paris Saint-Germain: Achraf Hakimi. For all their absurd riches, Paris Saint-Germain started on-loan Alessandro Florenzi, youngster Mitchel Bakker, and the underwhelming Abdou Diallo at full-back over two legs in their Champions League semifinal defeat to Manchester City. Injuries forced their hand somewhat, but that cast simply isn't good enough.
Whether Hakimi's arrival would force a change of system is a worthwhile debate; the flying Moroccan excels in a wing-back role. But whenever a talent of his caliber is available, suitors should move quickly.
10 thoughts from Matchday 5 in the Champions League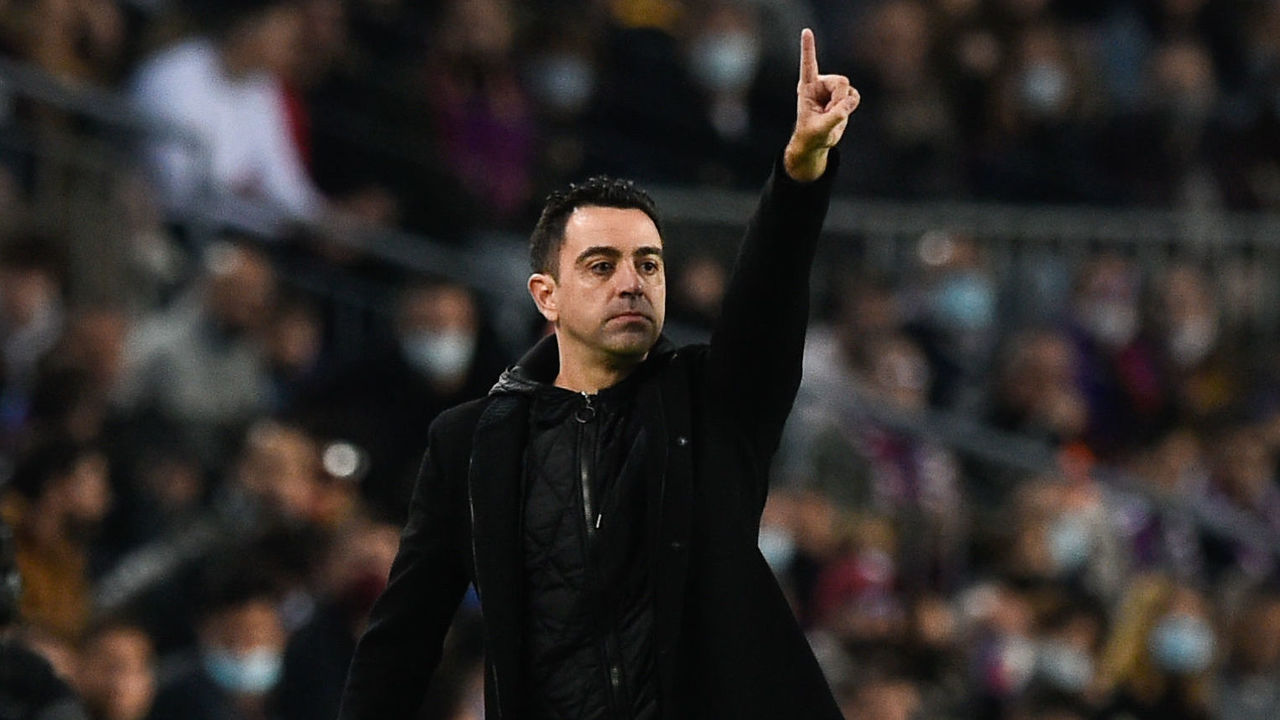 The Champions League rumbled on this week with another entertaining slate of action. Below, we dissect the biggest talking points from Matchday 5 in Europe's premier club competition.
Lewy keeps rolling
Despite the brutal conditions, Robert Lewandowski extended his Champions League scoring streak with a moment of magic. After somehow picking out the orange ball in the snowy sky, the Polish star pulled off an audacious bicycle kick to open the scoring against a stunned Dynamo Kyiv side in Bayern Munich's 2-1 win on a wintry night in Ukraine.
Bayern were missing several quarantining players Tuesday, but concerns were eased after 14 minutes when, out of nowhere, Lewandowski hit the spectacular shot to extend his scoring run to a remarkable nine games in a row in the competition.
Sound familiar? Well, it should, as it was just last year that the 33-year-old treated the football world to a nine-game scoring streak in the Champions League.
Another nine-game run is a nice feather in the cap for a player who's aiming to dethrone the old guard at next week's Ballon d'Or award ceremony and win the honor for the first time in his career.
Manchester United weather the storm
Though Manchester United relied on the usual protagonists to beat Villarreal on Tuesday, they came away with the necessary result to keep an overwhelmingly negative few days from defining their season.
United simply did enough to get through their first match since Ole Gunnar Solskjaer's departure, locking up first place in Group F and a spot in the round of 16 with a 2-0 victory. Cristiano Ronaldo bagged another decisive goal – his fifth winner since rejoining the club in the offseason – and Jadon Sancho broke his duck with a wonderful strike that kissed the crossbar on its way in. David De Gea, who's enjoyed an incredible bounce-back season, made two excellent saves just to keep the score level.
Michael Carrick may not even coach United's final match of the group stage on Dec. 8. But all he needs to do is keep the ship upright. This isn't the time to preach philosophy or create expectations. The next manager will do that, and Carrick knows he's keeping the seat warm for Solskjaer's true successor.
"It's not an important result for me personally," the 40-year-old said afterward. "It's an important one for the players and the club."
If Carrick can insulate these players from all the chatter, he'll have done his job.
Xavi's Barcelona showing improvements
Barcelona may still need a win at Bayern to guarantee a spot in the round of 16, but the takeaways from Tuesday's goalless draw against Benfica are largely positive. Despite clearly lacking finish, the Blaugrana played with the kind of verve and attacking spirit you'd usually expect from the five-time European champions, further separating themselves from the drab and aimless product that dropped to new lows under Ronald Koeman.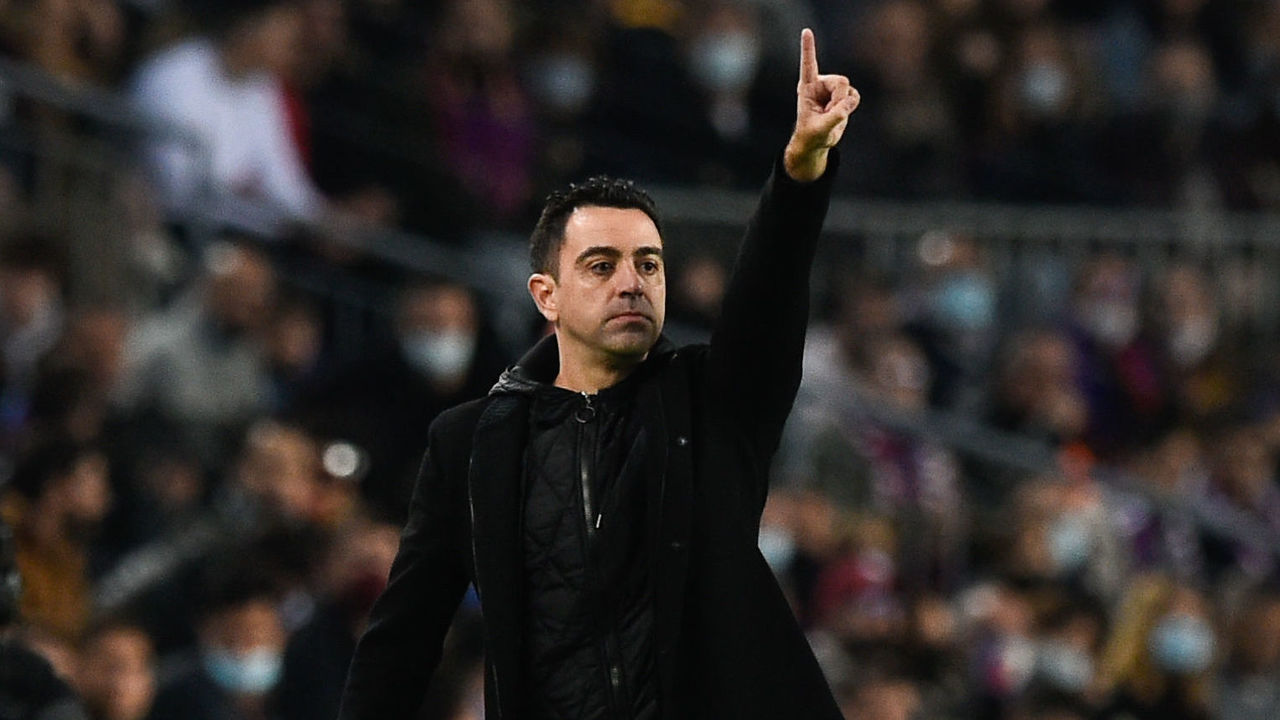 It's too early to say whether Xavi will find success as manager of this storied outfit, but he's off to a good start. With 14 shots, 12 chances created, and 65% possession, Barcelona forced Benfica to spend an overwhelming amount of time in their own half. Yusuf Demir, another promising talent at just 17 years old, rattled the crossbar, and center-back Ronald Araujo, who was excellent throughout, strayed just offside before poking home what would've been the winner.
Xavi's gung-ho tactics weren't risk-proof, however. Benfica forced a number of turnovers, and Haris Seferovic botched a late counterattack when he contrived to miss an open goal. Barcelona still need time to find the right balance. But it's encouraging to see this team move together with an identity.
"We played exactly the game the boss asked us to, pressing high up the pitch in particular," Araujo said. "All we lacked was the crucial goal."
Chelsea's academy shines bright
Chelsea get a lot of flack for their manipulation of the loan system and opulent spending in the transfer market. Both criticisms are valid to some extent. But Tuesday provided an important reminder that the Blues are also adept at developing young talent when they want to.
Academy standouts Trevoh Chalobah, Reece James, and Callum Hudson-Odoi all scored in the 4-0 evisceration of Juventus, the Cobham graduates taking center stage as the Champions League holders assumed top spot in Group H and secured their place in the knockout stages of the competition.
Thomas Tuchel is striking the right balance between youthful exuberance and veteran leadership. He's getting results – emphatic ones, at that – and winning trophies while continuing to give young standouts like the aforementioned trio key minutes in big matches. It doesn't get any better than that, really.
A word on Chelsea's stellar defense
This one will be short and sweet: In the wake of Tuesday's 4-0 win, Chelsea shot-stopper Edouard Mendy has now conceded fewer goals at Stamford Bridge this season (three) than Juventus netminder Wojciech Szczesny.
Let that sink in.
Chelsea's defenders are garnering plenty of headlines for their scoring prowess at the other end – and with good reason – but they're pretty good at keeping the ball out of their own net, too.
Underlying numbers suggest they can't keep this level of stinginess up forever; Chelsea have only conceded five times between league and Champions League play, despite a combined total of 14.5 expected goals against in the competitions. But that shouldn't obscure the fact that Tuchel's side is capable of shutting down anyone, and on the back of a sturdy defense, it should be considered among the handful of favorites heading into the knockout stages of the tournament.
Long way back to the top for Juve
Massimiliano Allegri was expected to restore Juventus to the heights they reached during his first tenure in Turin when he was rehired as manager prior to the campaign.
Coming up on December, things have … not quite worked out that way. Tuesday's shellacking in west London was a harsh reminder that there's a long way to go to reach the top of the mountain again. Juve looked physically feeble, nervous and unsure in possession, and, crucially, totally overwhelmed when Chelsea turned up the intensity in the second half. If anything, the scoreline flattered the visitors a little bit.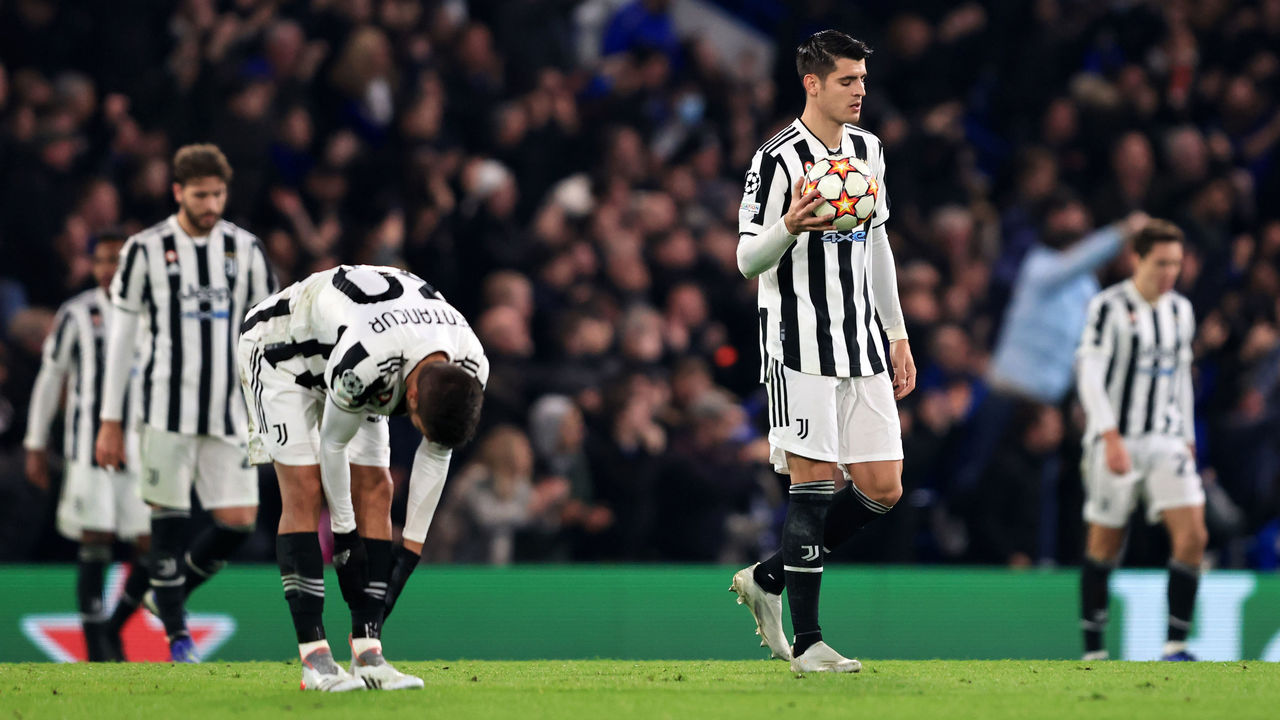 "Unfortunately, tonight we saw the difference between the two teams," a dejected Szczesny told Sky Sport Italia after the defeat, via Football Italia. "They are the best team in Europe, the reigning champions of Europe, and today we were unable to challenge them in any way. It hurts, it really hurts."
The loss, which comes on the back of a solid away victory over Lazio in Serie A, highlights the main issue Allegri is trying to resolve: inconsistency. Some of that is on the 54-year-old tactician, who is still unsure of his best lineup and is struggling to provide continuity for his players.
It will help to some degree if the club's injury issues ease, but both the manager and the players need to take a hard look in the mirror after a humbling setback.
Group G going down to the wire
With one matchday remaining, it's anyone's guess as to which two teams will emerge from Group G. And, perhaps, that shouldn't come as a surprise considering how competitive an evenly matched group featuring Lille, Sevilla, VfL Wolfsburg, and Red Bull Salzburg was predicted to be heading into this Champions League season.
Lacking a true giant or minnow, it's no wonder there are just three points separating the top team from the bottom through five games.
For the second round in a row, Salzburg blew an opportunity to pull away from the pack after kicking off the competition in impressive form. The Austrian side succumbed to its second straight defeat, losing to Lille in a match that resulted in the defending French champions leapfrogging Salzburg to move into first. Meanwhile, Sevilla swapped spots with Wolfsburg after beating the German side 2-0 to jump out of last place.
| Team | Played | Won | Drawn | Lost | Points |
| --- | --- | --- | --- | --- | --- |
| Lille | 5 | 2 | 2 | 1 | 8 |
| Salzburg | 5 | 2 | 1 | 2 | 7 |
| Sevilla | 5 | 1 | 3 | 1 | 6 |
| VfL Wolfsburg | 5 | 1 | 2 | 2 | 5 |
After Matchday 5 failed to solve anything, Group G is going to be an intense showdown going right down to the wire, as Salzburg host Sevilla while Lille travel to Germany to take on Wolfsburg. Get your popcorn ready.
Dzeko making Inter forget about Lukaku
No one is saying Dzeko has replaced Romelu Lukaku at Inter Milan because they're not nearly the same player. Dzeko is 35, Lukaku is 28, and the Belgian is a far more well-rounded center-forward.
Nevertheless, the Bosnian has filled in nicely, offering the Nerazzurri a reliable presence up front.
Now up to 10 goals since joining Inter, Dzeko put the club in a position to advance to the knockout round with a timely brace against Shakhtar Donetsk on Wednesday. Inter were struggling mightily to convert their chances until Dzeko showed up in the second half to bury their demons.
Even if he doesn't offer the same work rate or off-the-ball movement as Lukaku, Dzeko acts as the perfect foil to Lautaro Martinez, his all-action partner up front. When Martinez enters the penalty area, Dzeko can catch defenders off guard with late runs into the box, as he did Wednesday. On that particular play, teammate Ivan Perisic targeted Martinez with a cross from out wide, and after Matteo Darmian missed his follow-up attempt, Dzeko, smelling blood, rushed into the area to finish it off.
Dzeko also has an above-average 23% conversion rate in Serie A and the Champions League this season. As a free transfer, he's likely to go down as one of the year's best signings, too.
Messias saves AC Milan on fairytale debut
AC Milan still have a chance of reaching the round of 16 thanks to Junior Messias' heroics in Wednesday's nail-biter versus Atletico Madrid.
Milan's first Champions League win in seven years followed much toiling at the Wanda Metropolitano, with Atletico determined to foul their way to the final whistle and preserve a draw.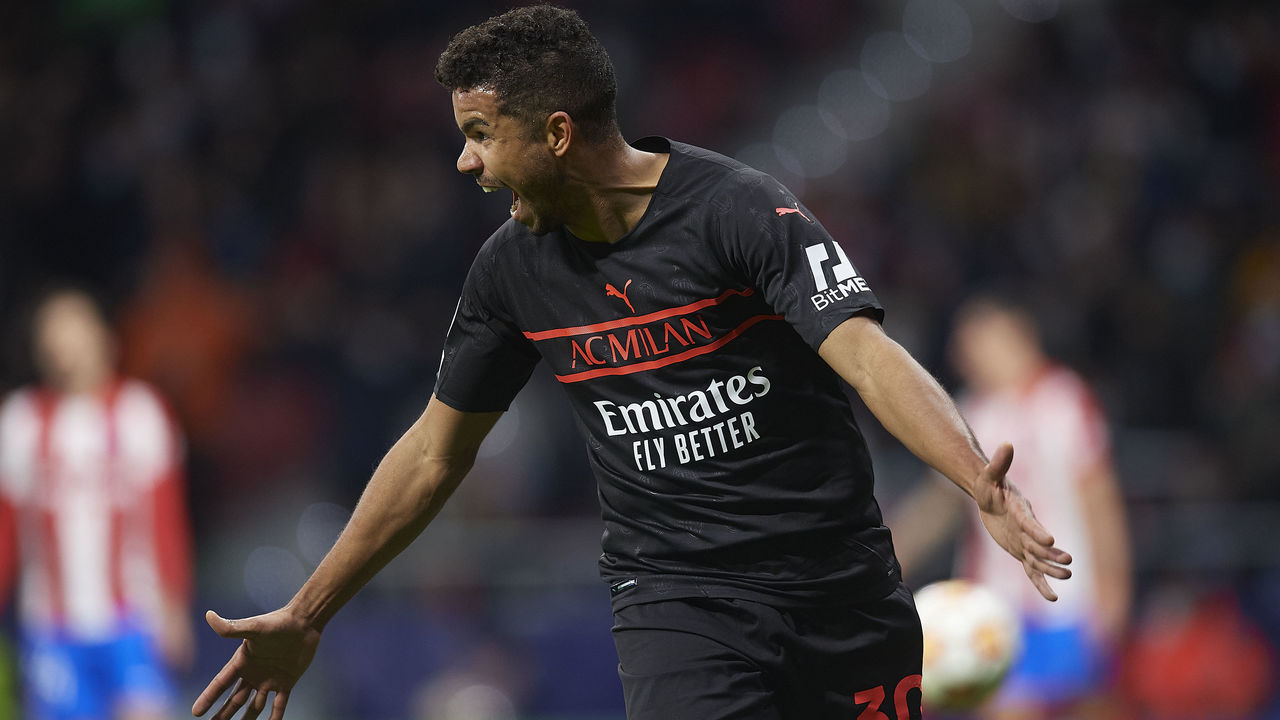 Enter Messias, a summer signing from recently relegated Crotone who had never played in European competition before; the 30-year-old Brazilian hadn't even experienced top-flight football until last year. He moved to Italy with his brother in 2011 and played for fun at the amateur level while delivering refrigerators for a living. But he performed like a veteran of the competition Wednesday, winning fouls in dangerous positions before heading in the winner.
"I need to stay humble," Messias said afterward. "It's the biggest success of my life, but I need to carry on with balance."
To progress, Milan must beat group winners Liverpool at home on Dec. 7 and hope Porto and Atletico settle for a draw. After earning just a single point through their first four matches, the Rossoneri can't ask for much more than a chance on the final day of the group stage.
City and PSG are polar opposites
The scoreline didn't tell the whole story Wednesday at the Etihad Stadium.
Manchester City steamrolled Paris Saint-Germain for large portions of their 2-1 victory, highlighting the difference between a cohesive team with a clear plan and a dissonant collection of stars who don't seem interested in operating as a unit. As City zipped the ball around the pitch, interchanged positions, and exhibited structured play, PSG relied on an isolated Lionel Messi, Kylian Mbappe, and Neymar to work some magic.
It was one-way traffic in the first half as PSG found themselves pinned in their box, yet they somehow reached the interval without conceding. Don't forget, Manchester City did that without Kevin De Bruyne, Jack Grealish, or Phil Foden. It could have been worse for the French side.
Yes, some of this can certainly be attributed to time.
Pep Guardiola, who famously puts a very specific imprint on his teams, has been at Manchester City since 2016; he's had five-plus years to fine-tune his side down to the most minute details. And he has.
Mauricio Pochettino can't replicate that level of detail in just a few short months. Nobody can, in truth. What he can do, however, is implement a plan that will grow and develop over time, and it's still not clear what that plan is. His attacking trio is so absurdly skilled that it won't matter in most matches. But against the Champions League's elite, praying for the "MNM" triumvirate to rescue the cause isn't good enough.
Bonus: No Haaland, no party
With Borussia Dortmund eliminated from the Champions League and condemned to the Europa League at the hands of Sporting Lisbon on Wednesday, there's a very real chance Erling Haaland has scored his last goal for the German giants in Europe's elite competition.
The Norwegian marksman missed Wednesday's 3-1 defeat due to an injury, and he's widely expected to move in the summer transfer window.
On the bright side, though, Thursdays just got a whole lot more exciting for the rest of the season.
10 thoughts from this week's Champions League action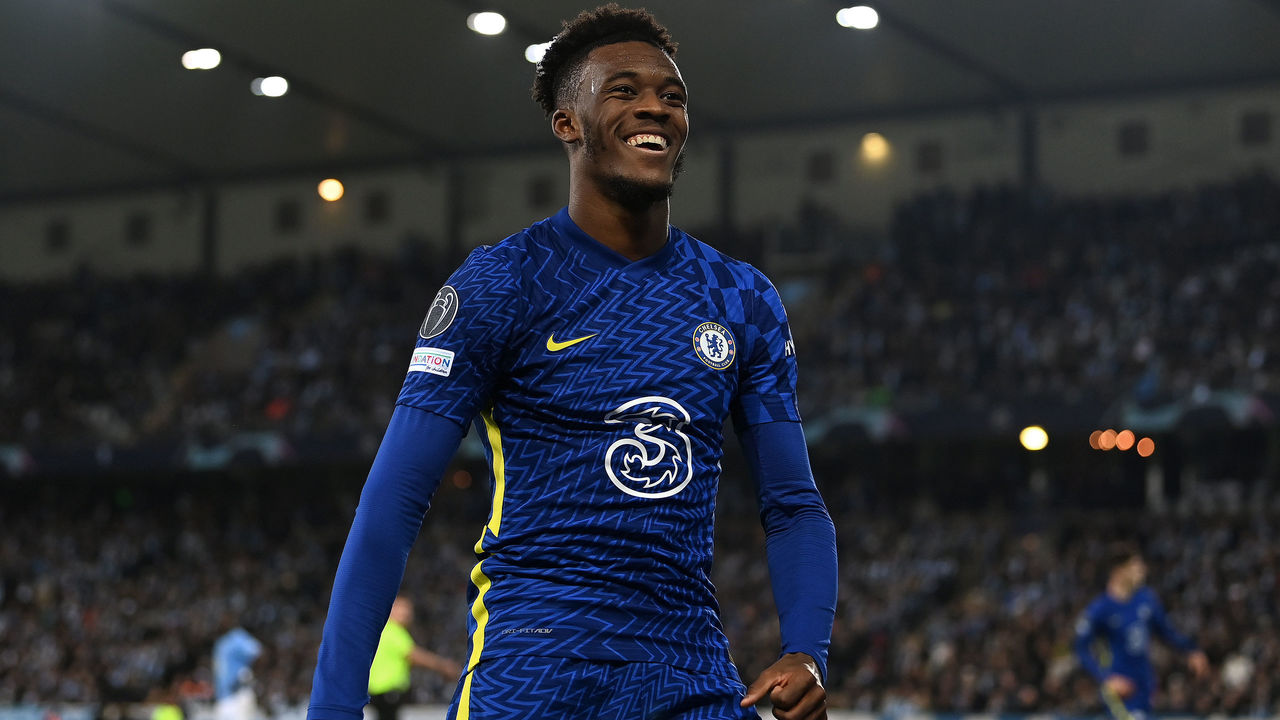 The Champions League rumbled on this week with another entertaining slate of action. Below, we dissect the biggest talking points from Matchday 4 in Europe's premier club competition.
Hudson-Odoi making rare starts count
Chelsea's Callum Hudson-Odoi continued to prove his worth Tuesday with an effective, utilitarian performance against Malmo, setting up the game's only goal with a gorgeous assist from out wide. After switching from the left to the right, Hudson-Odoi stretched Malmo's compact defense, finding space that became sparse in the opening half.
He's done well to bide his time and wait for his chance, which is now in his hands due to injuries to Romelu Lukaku and Timo Werner. The 20-year-old could've easily fled for greener pastures in the summer. Instead, he accepted his role, along with the challenge of fighting his way back into the starting lineup.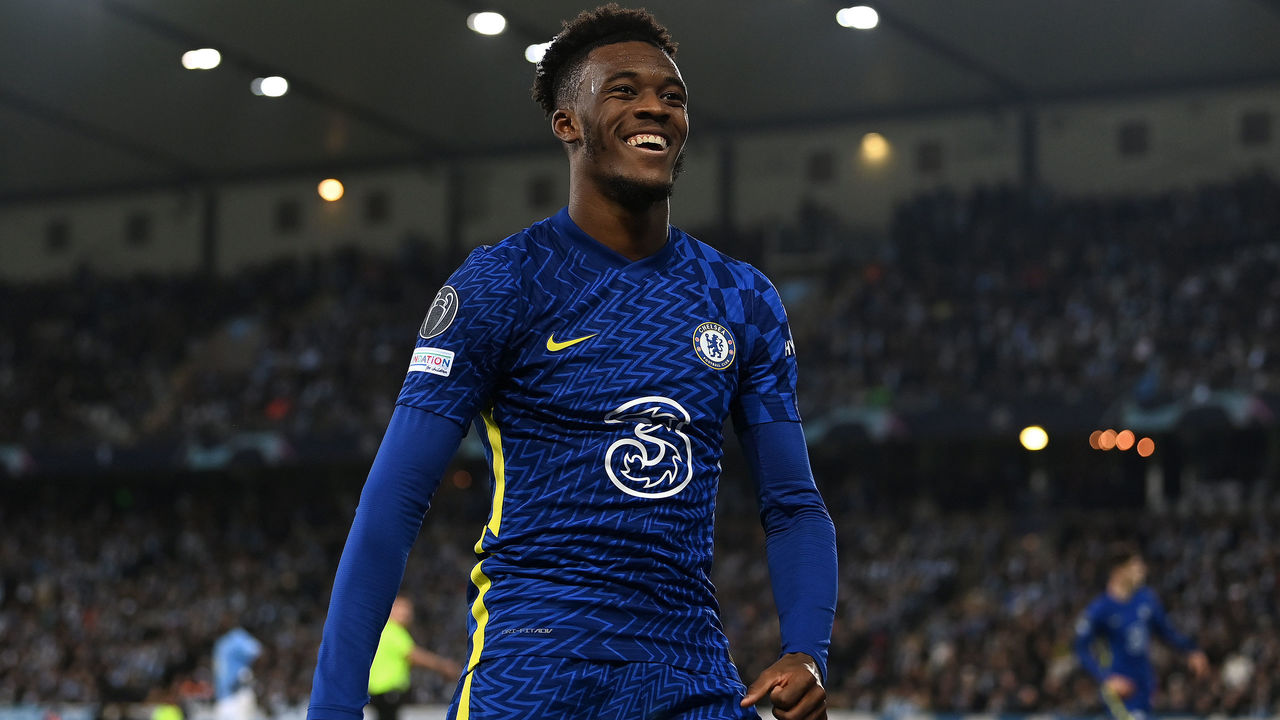 And he's come a long way since manager Thomas Tuchel made an example of him in February by hauling him off just 31 minutes after subbing him on. The difference lies in Hudson-Odoi's commitment to the task at hand. He's made himself available as a right-wing-back, right-winger, and attacking midfielder, filling roles as Tuchel sees fit.
He did it again in Sweden on Tuesday, making an impact within 10 minutes of Tuchel's tactical switch.
Can Ronaldo continue saving United?
If you have to depend on one player to regularly bail you out, it may as well be Cristiano Ronaldo, the greatest scorer of all time.
But just how long can Manchester United go on without paying the piper?
United cheated death once again Tuesday, relying on Ronaldo's heroic interventions to eke out a 2-2 draw away to Atalanta. His match-saving brace – scored via two off-script plays that caught Atalanta's otherwise alert defense off-guard – came as the rest of his teammates struggled to execute anything resembling a game plan. Only center-back Eric Bailly – author of several last-ditch tackles – can also fly home feeling remotely proud of his performance.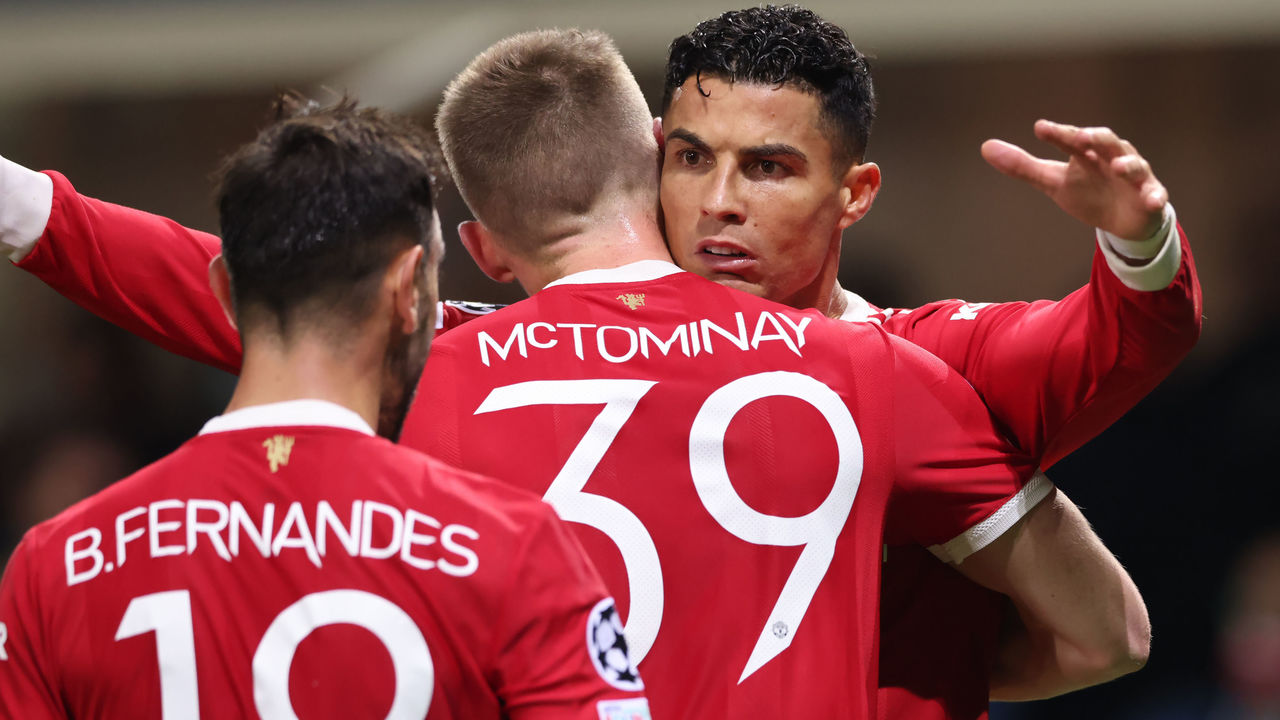 United's erratic football was in direct contrast to Atalanta's slick and stifling style of play. La Dea moved the ball with purpose and hounded United whenever they were in possession. United captain Harry Maguire couldn't cope with Atalanta's speed.
The frustrating thing about this team is it's more than capable of playing good and tidy football. United can even play at high intensity. They just don't do it for a full 90 minutes; the quick exchange of passes that led to Ronaldo's initial equalizer in first-half stoppage time were by far the exception.
At some point, the Red Devils' inefficiencies will begin to outweigh Ronaldo's own individual greatness.
Barcelona don't need to win pretty
A win's a win – even for Barcelona.
At no point during Tuesday's 1-0 victory at Dynamo Kiev did Barcelona look like the juggernaut of old. They played in 25 crosses – many of the speculative variety – and fired a measly four of 15 shots on target. It was up to 19-year-old Ansu Fati to secure the club's first away win of the season, an important hurdle cleared during a forgettable campaign that's been low on style and even lower on substance.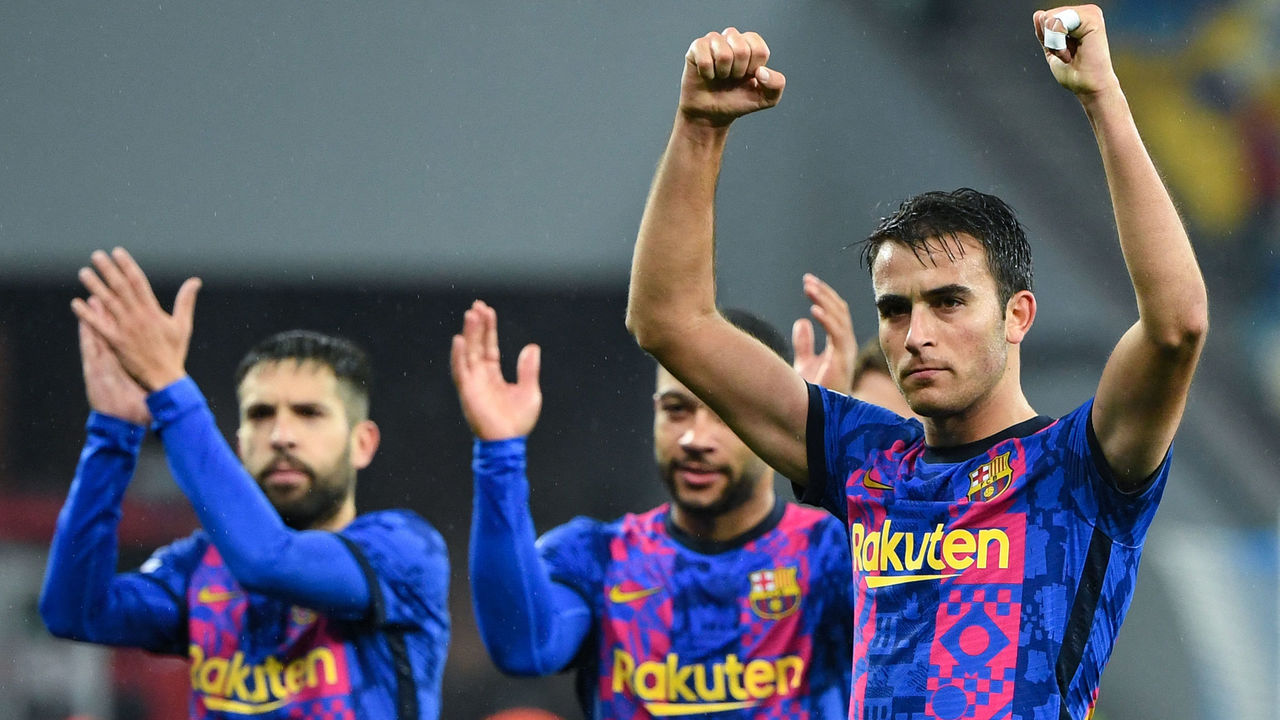 Forget the principles of Cruyffian football. Even with Fati, the promising Gavi, and Pedri in the side, and Xavi potentially coming on board, this team can only dream of playing good football.
Simply put, it needs to find ways to win, if only to bide time until the club can sort itself out. With an interim manager in place, crippling debt, and Camp Nou poised for redevelopment, Barcelona have no time to worry about the sheen of their performances. A win like Tuesday's is exactly what they need to get through this storm, no matter how uncharacteristic it may be for a club and fan base that demands a certain polish on every result.
Lewandowski in the GOAT bracket?
Some food for thought: just how highly would Robert Lewandowski be regarded if he didn't play in the same era as Ronaldo and Lionel Messi?
The same can be asked of a handful of elite stars who have been overshadowed by two of the greatest to ever play the sport, but Lewandowski should arguably be the most aggrieved with having to share the spotlight.
The Bayern Munich scoring machine – who racked up another hat-trick in Tuesday's 5-2 victory over Benfica – now has 81 Champions League goals in 100 tournament appearances; when Messi and Ronaldo reached the 100-match mark in the competition, they had 77 and 64 tallies, respectively.
There's an inevitability about Lewandowski. At this point, it's a surprise when he doesn't score. That rarely happens, by the way; the Polish hitman now has 22 goals in 18 games across all competitions for Bayern this season.
Individual accolades are an imperfect way to evaluate footballers – we put too much stock into them, generally – but Lewandowski is the obvious pick for the Ballon d'Or this year.
Dybala vital to Juve's revival
Juventus' early-season domestic struggles have been discussed ad nauseam, but the Bianconeri are enduring no such problems in the Champions League, joining Bayern in the round of 16 by virtue of an entertaining 4-2 win over Zenit St. Petersburg on Tuesday.
Juve, languishing in ninth place in Serie A and tied on points with the likes of Hellas Verona (against whom they just lost), Bologna, and Empoli, are perfect on the continent after four games, including a win over title holders Chelsea.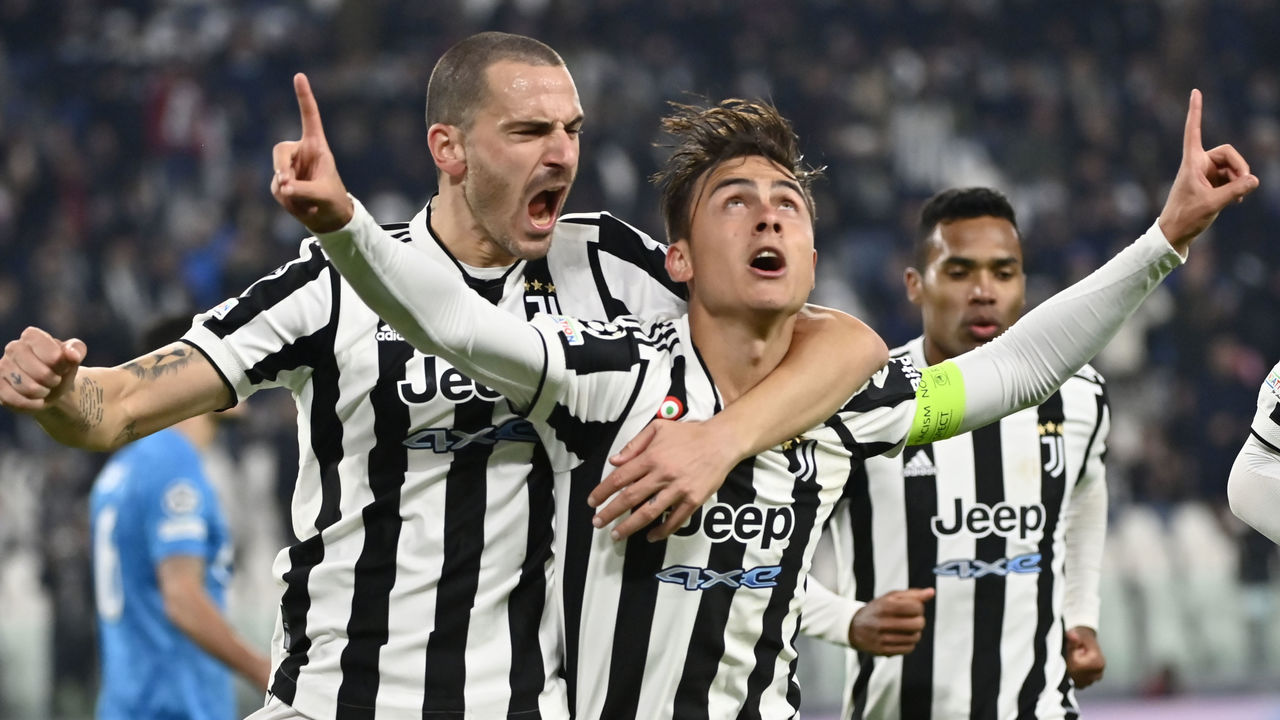 Massimiliano Allegri is still tinkering, searching for the right tactical approach and lineup. One thing is abundantly clear, though: the team needs to accentuate Paulo Dybala's skillset to thrive. The Argentine, along with Federico Chiesa, is capable of elevating the club back to recent heights.
Dybala was at his intoxicating best on Tuesday.
He scored twice (including a penalty), showed off his mazy dribbling ability in tight spaces, linked up sharply with his fellow forwards, and came agonizingly close to sealing a hat-trick with multiple trademark curlers from just outside the area. It was a vintage performance from the 27-year-old, who seems to be getting back up to speed after recovering from a thigh injury.
Whatever system Allegri ultimately settles on as his primary setup, Dybala will be the central figure.
AC Milan lacking something in Europe
AC Milan are undefeated in Serie A after winning 10 of their first 11 matches with 25 goals scored. So why are they still winless in the Champions League?
Sure, one could call it inexperience. Several starters made their Champions League debuts this season – in the Group of Death, no less. One could also highlight the questionable officiating that put the Rossoneri at a disadvantage in otherwise tight contests against Atletico Madrid and Porto; a clear foul on Milan's Ismael Bennacer went unnoticed Wednesday as Porto scored their only goal of a 1-1 game.
But none of that fully explains why Milan can't replicate in Europe the quick, cohesive football they love to play in Serie A.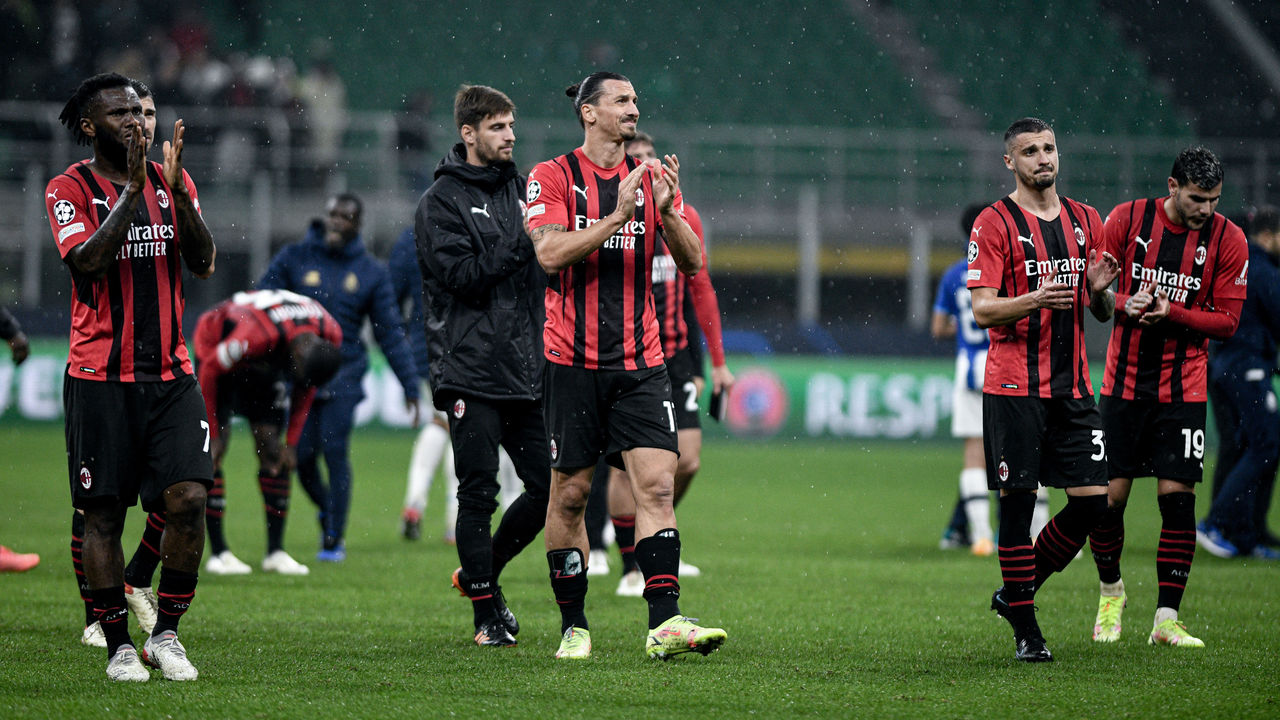 One could forgive Milan for losing to Liverpool in September. It was the club's first Champions League match in seven years and in the cauldron that is Anfield. The loss at home to Atletico, meanwhile, came against the backdrop of a refereeing disaster. But Milan struggled in the air and in midfield in both games against Sergio Conceicao's organized Porto.
Maybe this season will help Stefano Pioli's side understand what it takes to win in the Champions League. Because if Milan continue to perform in Serie A, they'll certainly be back.
Vinicius rewards Madrid's patience
A big-money move to Real Madrid is always accompanied by sky-high expectations – especially for a teenager billed as Brazil's next superstar.
That's precisely what happened to Vinicius Junior when Los Blancos splashed €45 million to acquire him from Flamengo in 2017. Early returns were a source of frustration for Real Madrid supporters before this season, with the young winger showing undeniable promise but failing to find the consistency expected of such an expensive signing.
There have been no such issues this season.
Vinicius, now 21, has been on a tear to begin the campaign, forging a dynamite understanding with attacking fulcrum Karim Benzema. After setting up both of Benzema's goals in Wednesday's 2-1 win over Shakhtar Donetsk, the electrifying Brazilian now has 14 goal contributions (nine goals and five assists) in 13 starts this season.
Vinicius was always going to need some time to make the leap. But, all things considered, it's happened in a flash for the blossoming star, who's well on his way to winning over the famously impatient Real Madrid crowd.
Wijnaldum deserves more chances at PSG
Mauricio Pochettino took Georginio Wijnaldum's plea to heart.
Wijnaldum made clear in October that he was displeased with his lack of playing time since joining Paris Saint-Germain as a free agent last summer. After serving as a vital cog in the Liverpool midfield in recent years, the Dutch international expected a larger role in the French capital.
"The situation is not what I wanted. I have played a lot in recent years, was always fit, and also did very well," the midfielder said at the time. "This is something different, and that takes getting used to. I was really looking forward to the new step, and then this happens. It is very difficult.
"That's football, and I'll have to learn to deal with that. I'm a fighter. I have to stay positive and work hard to turn it around."
Mission accomplished.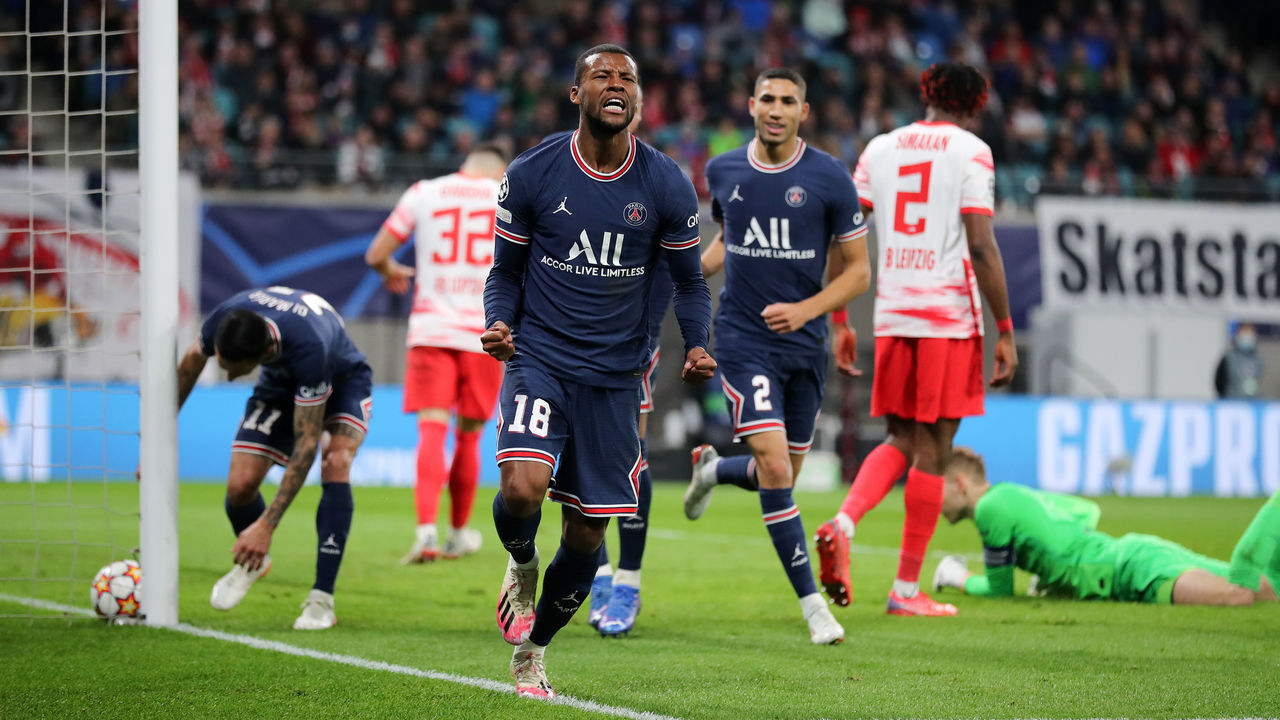 Wijnaldum entered Matchday 4 having played just 87 Champions League minutes this season. He's surely earned more opportunities after scoring twice in PSG's 2-2 draw with RB Leipzig on Wednesday.
It's easy to say in hindsight, but Wijnaldum's lack of action always seemed odd: He profiles as the ideal box-to-box player to link PSG's oft-isolated attackers to the rest of the team, and Pochettino's squad has looked painfully disjointed this season. Wijnaldum's performance Wednesday should help cement his status as a consistent starter, which should give PSG more structure.
Atletico's street smarts don't cut it anymore
Atletico Madrid tried their best to unsettle Liverpool during Wednesday's visit to Anfield. They targeted Sadio Mane from the beginning, knowing they'd have a chance if they slowed down Liverpool's star players.
But Atletico's game plan was obvious from the beginning.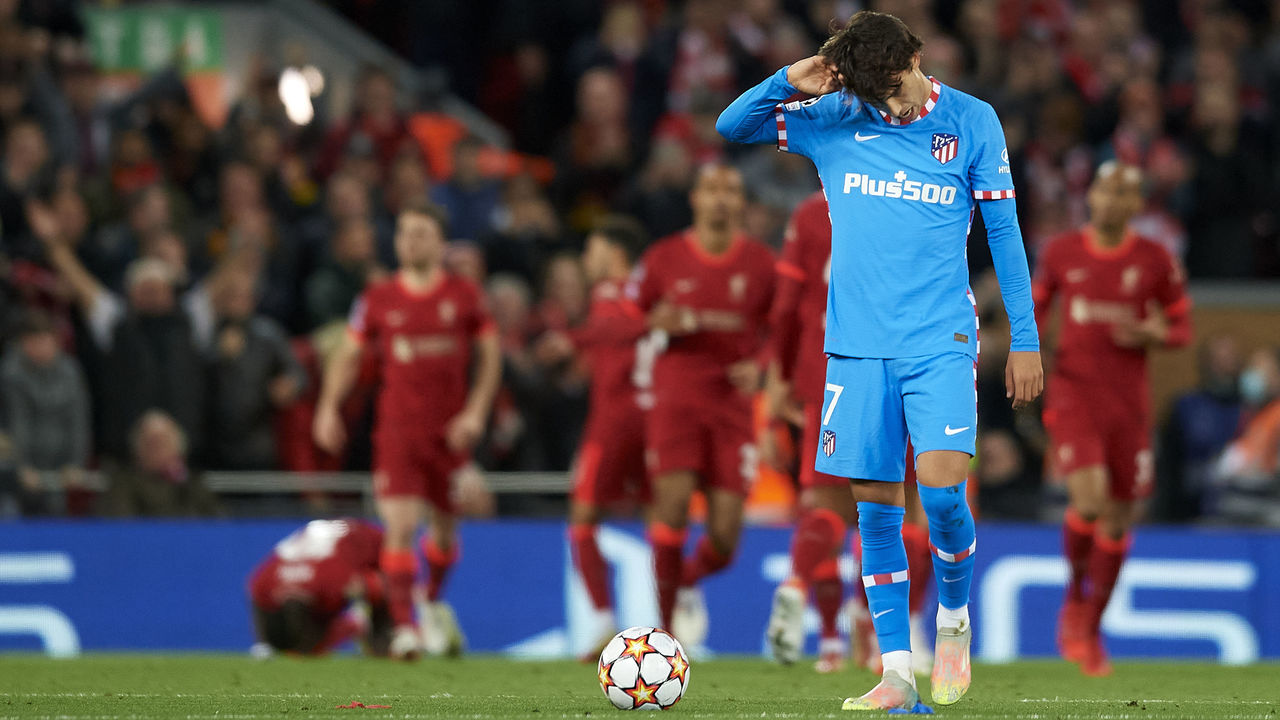 "We know they'll be streetwise and ruthless," Reds boss Jurgen Klopp said before the match. "We have to overcome that."
That they did. Liverpool were already up 2-0 when Atletico's Felipe was sent off for stomping on Mane's heel. Luis Suarez – one of the most streetwise players in the game – barely made an impact. In the end, the score flattered Atletico.
Diego Simeone even went with four attackers, an unusual tactic given his preference for defensive, rough-and-tumble football. The Argentine has struggled to find the right balance with this squad, and it could prove costly with Atletico now sitting third in Group B.
Immutable law of the ex haunts PSG
When a club has Messi, Kylian Mbappe, and Neymar, its brass won't lose too much sleep over the attackers it may have bailed on too early in previous years. PSG certainly don't need more firepower up front.
But it's obvious now that PSG's decision to let academy graduate Christopher Nkunku depart in 2019 for a mere €15 million was a mistake.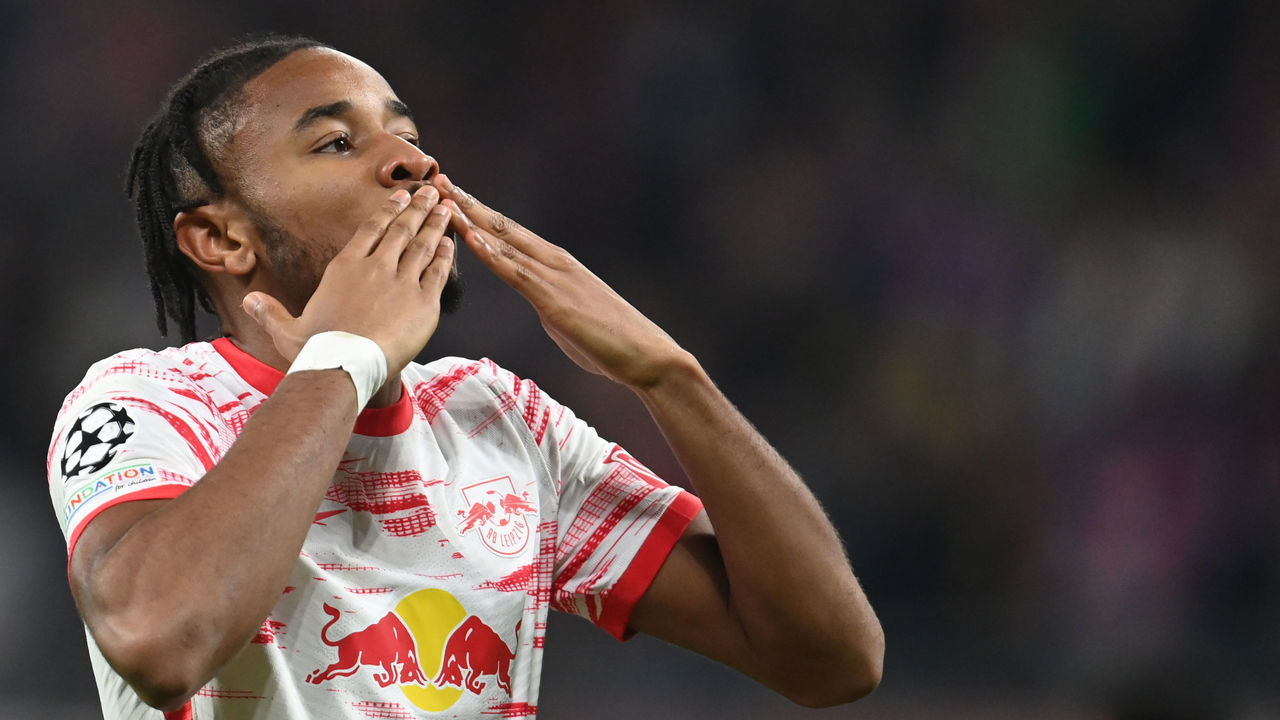 The 23-year-old is enjoying a true breakout campaign, with his exquisite header at the Red Bull Arena on Wednesday giving him five goals in four Champions League matches this season. A constant thorn in the side of his former team over a frenetic 90 minutes, Nkunku also won the penalty that led to Leipzig's last-gasp equalizer.
Nkunku could have been a homegrown success story had PSG exhibited some patience. Instead, he looks destined to become the latest in an ever-growing list of players who secure a mega-money move after a brief stop at Leipzig.
10 thoughts from this week's Champions League action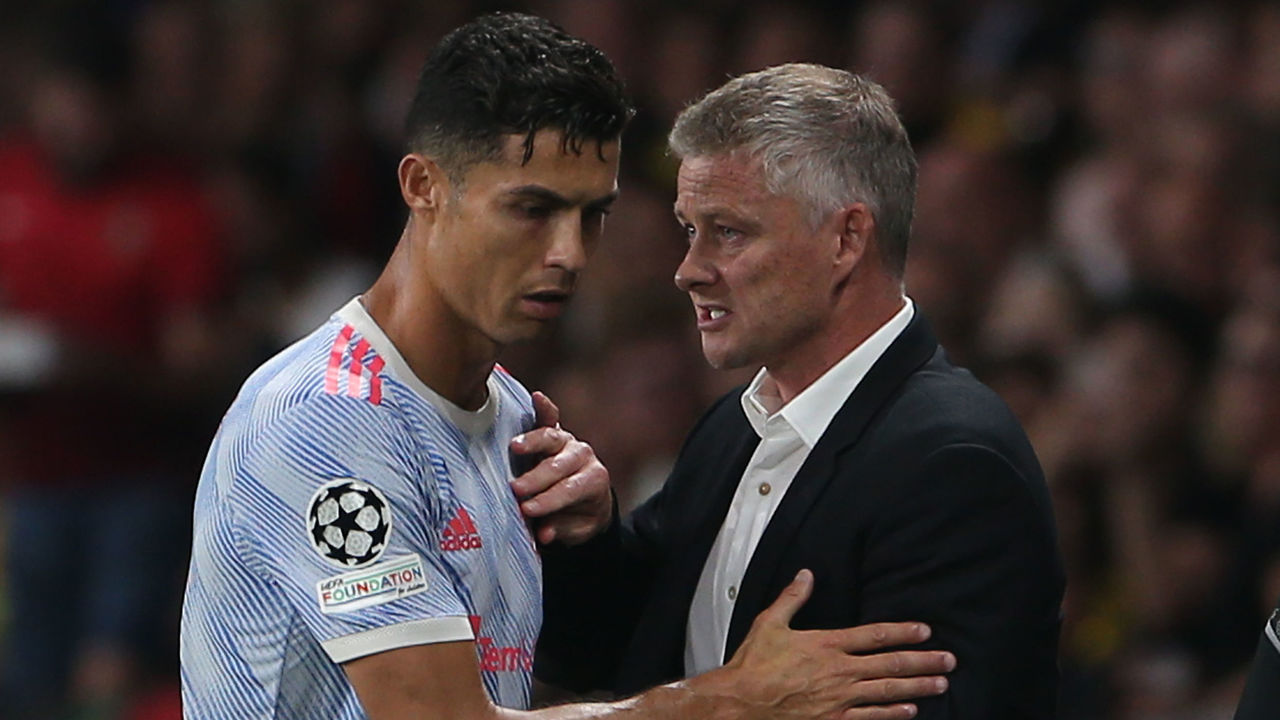 The Champions League returned with a bang this week. Below, we dissect the biggest talking points from Matchday 1 in Europe's premier club competition.
Solskjaer's reactive tactics lead to defeat
Aaron Wan-Bissaka's red card certainly left Manchester United with the unenviable task of protecting a 1-0 lead with 10 men in hostile territory for 55 minutes. Even still, the Red Devils' poor game management, coupled with manager Ole Gunnar Solskjaer's reactive tactics, invited Young Boys to secure a famous come-from-behind victory in Bern.
Solskjaer has fumbled many a game during his coaching tenure. He oversaw lethargic losses away to Istanbul Basaksehir and at home to RB Leipzig in the Champions League last season, results that ultimately condemned United to the Europa League and drew widespread criticism from former players.
"It's like under-10s football. Embarrassing. What the defense were doing I have no idea," former United midfielder Paul Scholes said after the 2-1 defeat to Basaksehir.
On Tuesday, the Norwegian played right into Young Boys' hands, opting for a back five at halftime even though the hosts hadn't threatened all that much in the aftermath of Wan Bissaka's dismissal. Removing both Cristiano Ronaldo and Bruno Fernandes with the score tied at 1-1 was another head-scratcher that left United without any presence up front.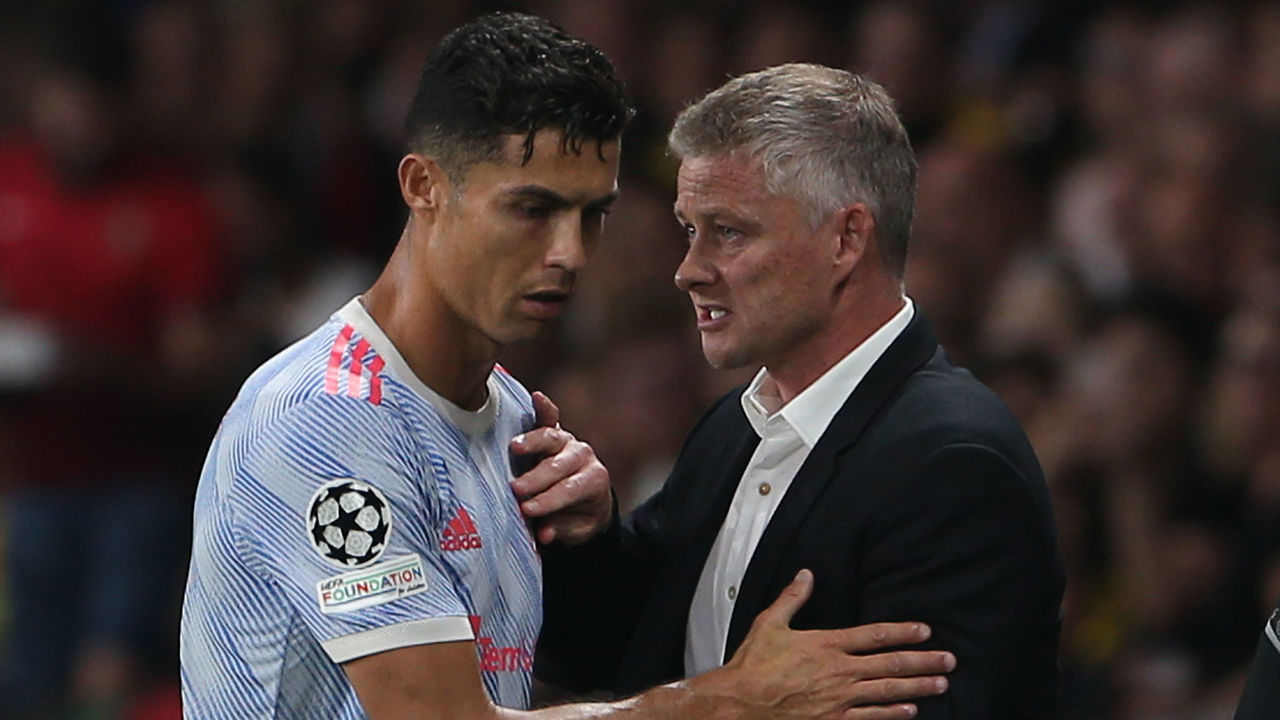 So, what's the verdict? Solskjaer has never had a better team at his disposal in two-and-a-half years in charge, and the stakes have never been higher. If he can't figure out solutions on the go, maybe he's not the man for the job.
By the numbers: Sevilla and Salzburg's wild meeting
While most viewers watched Manchester United unravel in Switzerland, Sevilla and Red Bull Salzburg played out a scrappy yet eventful 1-1 draw in Andalusia.
There were four penalties in the opening period, a red card early in the second half, and a ridiculous 34 fouls across the 90 minutes. Here are more standout stats from the Ramon Sanchez-Pizjuan.
1 – Sevilla became the first team in Champions League history to concede three penalties in one match and not lose. FC Twente, Anderlecht, and Borussia Monchengladbach are the three other sides to give away three spot-kicks in a game, and they lost by scores of 4-1, 3-1, and 3-0, respectively.
3 – Karim Adeyemi, 19, won each of Salzburg's three penalties at Sevilla. Since detailed data was collected from the 2003-04 season, the most penalties drawn by a single player in a full Champions League campaign is four (Bayern Munich's Arjen Robben in 2013-14).
33% – Salzburg's success rate from their three penalties. Teenager Luka Sucic goaded the home crowd when he netted his side's second spot-kick but proceeded to hit the post with Salzburg's third attempt just 16 minutes later.
100 – Ivan Rakitic's converted penalty was Sevilla's 100th goal in Champions League/European Cup matches, including qualifiers.
Hunting for positives at Barcelona
The club's debts total €1.35 billion. Lionel Messi is gone. Luuk de Jong is playing up front.
Given Barcelona's state, losing to Bayern Munich seemed an inevitability before the game even kicked off. So, what many Barcelona fans would've looked for in Tuesday's match is a semblance of hope to cling onto; they would've wanted a hint that someday – not today or next month, but someday – their beloved, bumbling behemoth will be feared on the European stage once more.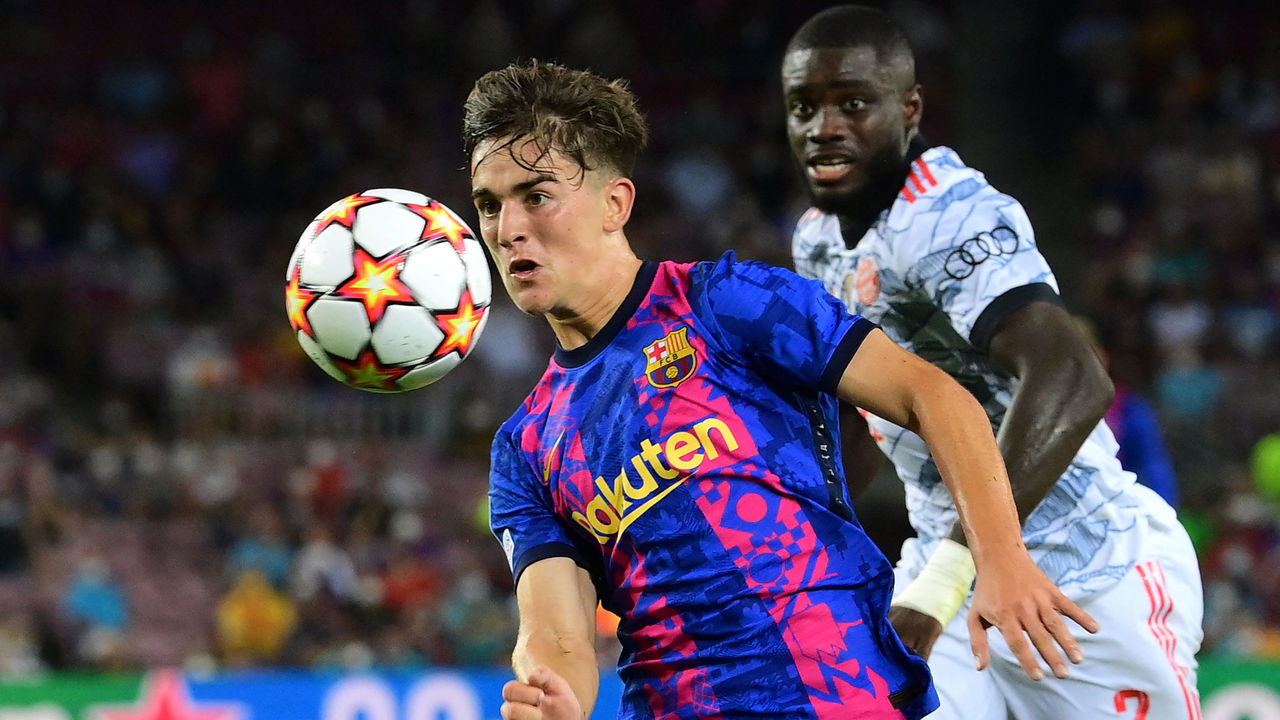 But such evidence was scarce. The 3-0 defeat flattered Barcelona, as they hushed an initially raucous Camp Nou with no shots on target and an inadequate response to Bayern Munich's high press and patient passing. Barcelona's greatest source of urgency came from Gavi, the 17-year-old who came on in the 58th minute and logged his team's second-most completed tackles (three) and was the game's dirtiest individual with four fouls. At least he gave it a go.
Perhaps that's where Barcelona supporters can uncover one positive: their team finished the game with four teenagers on the pitch. Though that's likely down to the shallowness of Ronald Koeman's squad rather the emergence an immense, impossible-to-ignore generation.
Lukaku fills void in Chelsea's attack
Thomas Tuchel's Chelsea didn't bludgeon their way to the Champions League title, with chests out, weapons firing, and all the offensive ammunition in the world. The west London side finessed win after win, defending with supreme quality and concentration. The only thing Chelsea lacked was consistent scoring, and though they managed enough in Europe, it affected their performances in the Premier League.
No such problem exists with Romelu Lukaku in the side.
Lukaku's header delivered a narrow 1-0 victory over Zenit St. Petersburg on Tuesday, a rare glimpse at goal in a match that ran low on chances. Chelsea's expected goals average sat at a lowly 0.82, meaning they didn't create enough chances to realistically expect a single goal. Lukaku did the work with a lot less at his disposal.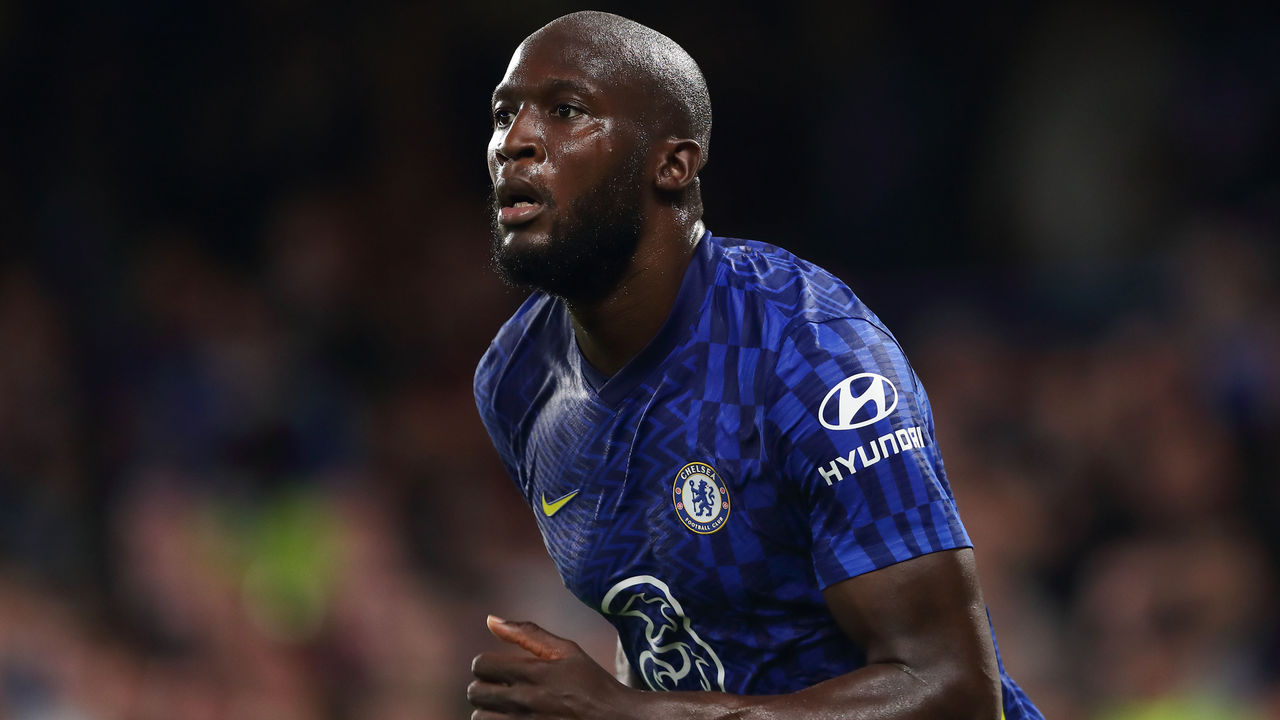 "The performance for Romelu was not easy. We did not create many chances for him, but he does not lose confidence and belief. That's why he's here and why he's a world-class striker," Tuchel said afterward.
Mason Mount and Hakim Ziyech struggled to produce anything going forward, and if Antonio Rudiger hadn't made a decisive block in the second half, Chelsea would've been forced to play catchup. Lukaku restored order shortly after, and the reigning European champions avoided a setback as they began their title defense.
How will Juve replace Ronaldo's goals?
Juventus finally got off the schneid this week, recording their first victory of the season against Malmo. The comfortable 3-0 triumph eased some of the concerns that had supporters ready to hit the panic button after the Bianconeri kicked off the new campaign with three limp performances – and just a single point – in Serie A.
The biggest question facing Massimiliano Allegri is one he probably didn't expect to be dealing with heading into his second stint at Juve: how do you replace Ronaldo's production? The obvious answer involves getting Paulo Dybala back to the scoring form he showed under Maurizio Sarri in 2019-20 when the Argentine was named Serie A MVP. But asking one player to replicate Ronaldo's shot volume and goalscoring isn't practical; it'll take multiple contributors, and some of them may be unconventional.
Tuesday against Malmo offered a prime example.
Left-back Alex Sandro popped up in the center of Malmo's penalty area multiple times, and that aggressiveness helped him open the scoring in the contest. With Ronaldo occupying that space last season, it wasn't necessary for the likes of Sandro to get into those areas. That changes with the Portuguese star back in Manchester. Considering, too, that Dybala likes to drop deep in an effort to facilitate play, it's even more vital for others to take chances getting forward. Allegri needs to find the right balance to make it work. On Tuesday, that meant using Adrien Rabiot in a hybrid wide midfield role to cover for Sandro's forays. Different – and more challenging – opposition will force the tactician to keep innovating as the season goes along.
Have Atalanta peaked?
At some point, Atalanta are going to fall short of the incredible heights they've established in recent seasons. We might be witnessing that right now.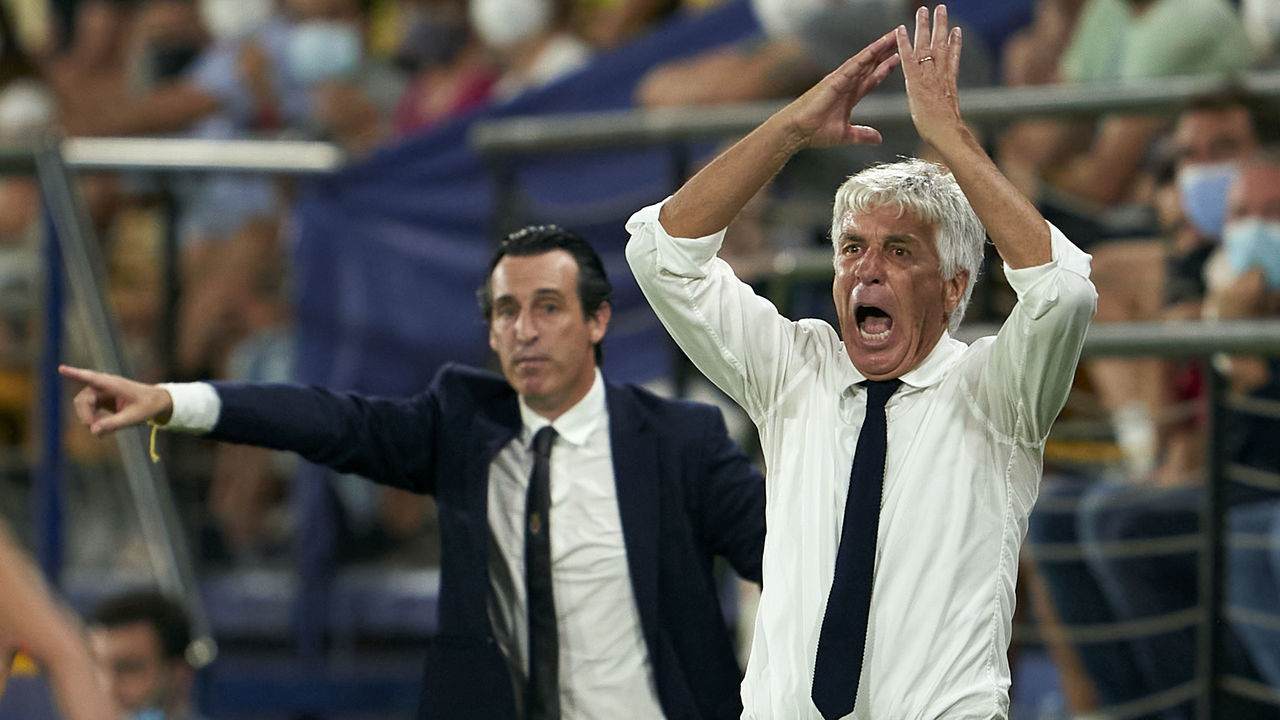 The plucky Italian side, now firmly established as a European darling thanks to its modest budget and swashbuckling brand of football, has looked ragged to start the new season. Gian Piero Gasperini's men have just one win from four matches in all competitions, and even that took an injury-time goal from 20-year-old Roberto Piccoli against Torino. Not exactly inspiring.
Tuesday was yet another tough outing, as Atalanta were lucky to escape with a 2-2 draw against Villarreal; goalkeeper Juan Musso was the hero with a pair of stellar close-range saves on the night at the El Madrigal, while Robin Gosens provided a late leveler.
Have other teams figured out how to combat Gasperini's uber-aggressive, man-marking approach, or is this simply a case of dwindling talent catching up? Atalanta were able to withstand the absence of Papu Gomez immediately after his January move to Sevilla, but that, combined with the waning influence of Josip Ilicic, is starting to look decisive. For all of his attributes, Matteo Pessina can't replicate the inventiveness of the aforementioned playmakers, which then hampers Duvan Zapata and Luis Muriel up front. Perhaps the magic is simply running out.
Poch has plenty of work to do
Lionel Messi, Neymar, and Kylian Mbappe took the pitch together for the first at PSG on Wednesday, and the early returns were feeble. The attacking trio, perhaps unsurprisingly, didn't combine with any great consistency in the 1-1 draw with Club Brugge. There were some bright moments that involved Messi picking out Mbappe and using some trademark one-twos to make progress around the penalty area, but on the whole, Brugge did an excellent job shutting PSG down.
"I didn't really have much work to do. We played very well collectively," Brugge goalkeeper Simon Mignolet correctly pointed out. "I made two, three saves, not very difficult ones at that."
PSG finished the match with four shots on target. If anything, the vivacious Belgian side, spurred on by a roaring crowd, deserved to come away with all three points. Brugge brought an intensity that PSG didn't look interested in matching.
That wasn't entirely the fault of the newly-minted "MNM" triumvirate, of course. In fact, the unit didn't even share the pitch for an hour, as an apparent ankle injury forced Mbappe off in the 50th minute. The larger issue that Mauricio Pochettino needs to sort out is everything that happens behind his attacking trio. PSG's midfield was sluggish and overrun, and the full-backs were left isolated too often. There's plenty of work to do before this super team looks the part.
Milan will grow from loss to Liverpool
AC Milan's first Champions League match in seven years was a lesson in intensity. Liverpool swarmed the Rossoneri in the opening 30 minutes with a high press that forced several turnovers. Milan lost themselves in the sea of red and barely escaped that hellish half-hour with a 1-0 deficit.
But the courage they showed in a cauldron-like Anfield was encouraging. Milan continued to play dangerous vertical passes despite the obvious risk of losing possession to an opponent that can decimate the best teams on the counterattack. Eventually, Milan scored, and then they scored again to take a 2-1 halftime lead.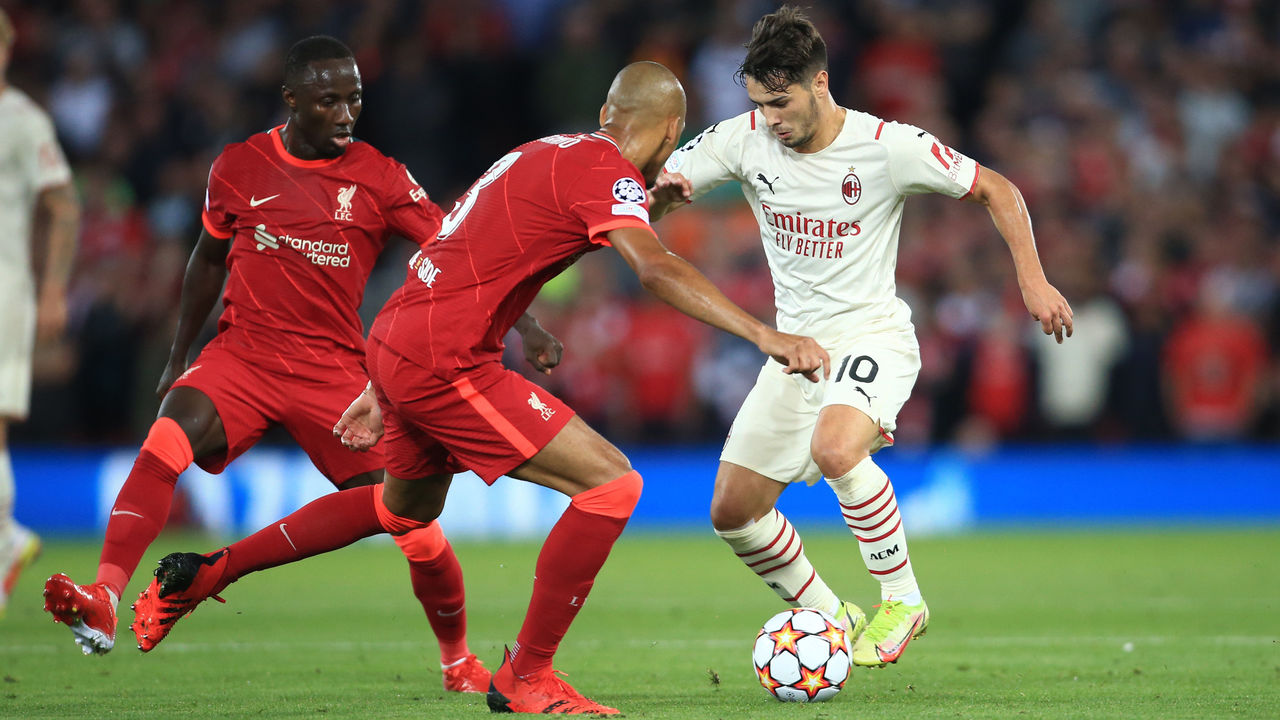 Ultimately losing 3-2 will sting for Milan. Head coach Stefano Pioli will note his players' numerous mistakes under pressure and the gaping hole in midfield that they couldn't fill. But the fact his side competed in such difficult circumstances, with a bunch of Champions League rookies and debutants, should boost confidence. That the players themselves believed they could win – and are disappointed not to – speaks to the team's mentality.
Milan are still a work in progress, but they've already shown they won't simply roll over in the worst of times. Wednesday's trip to Anfield may be their toughest test of the season, and it's best it happened early on when lessons can be learned and applied.
Ake still yet to impress
There's a common factor to the three games Manchester City conceded this season: Nathan Ake started.
Ake was a notable weakness in his first two appearances this campaign. He gave up the decisive penalty in the Community Shield defeat to Leicester City and was overrun in the Premier League loss to Tottenham Hotspur. It should be noted that he suffered the misfortune of playing alongside the hapless left-back Benjamin Mendy in the latter match.
The 26-year-old then seemed to get a much-needed boost when he headed the opener in Wednesday's 6-3 win over RB Leipzig. But then it went wrong. There was little movement under crosses – an issue that hinted at poor communication between the Dutchman and Ruben Dias – while Ake absent-mindedly stepped forward from the defensive line on a few occasions, opening up space for Leipzig's Christopher Nkunku to fill.
Nkunku, who seemed to target Ake at various points in the game, scored a hat-trick.
Ake's unfortunate run of injuries can take some blame for a rather forgettable 2020-21 campaign after his £40-million transfer from Bournemouth, but he's only harming his chances of regular minutes with his performances so far this term.
A surprise in Group D?
Antonio Conte may have left the club, but Inter Milan made sure to honor their former coach by conspiring to somehow lose a Champions League match they thoroughly controlled. Despite crafting several quality chances and limiting Real Madrid to two shots on target, the Nerazzurri were rocked by an 89th-minute goal from Rodrygo, slumping to a disheartening 1-0 defeat.
That wouldn't be too much cause for concern over the course of a league season. But, as Inter proved with their group-stage elimination last campaign, every point counts, and missed opportunities quickly come back to haunt. Wednesday's result at the San Siro has, incredibly, opened the door for Sheriff Tiraspol in Group D. The unfancied minnows from Transnistria, a tiny Moldovan separatist state, sit top of the quartet on goal difference after opening their campaign with a win over Shakhtar Donetsk.
If Sheriff get anything from their games against Inter, this group could be flipped on its head.