Saudi consortium completes controversial Newcastle takeover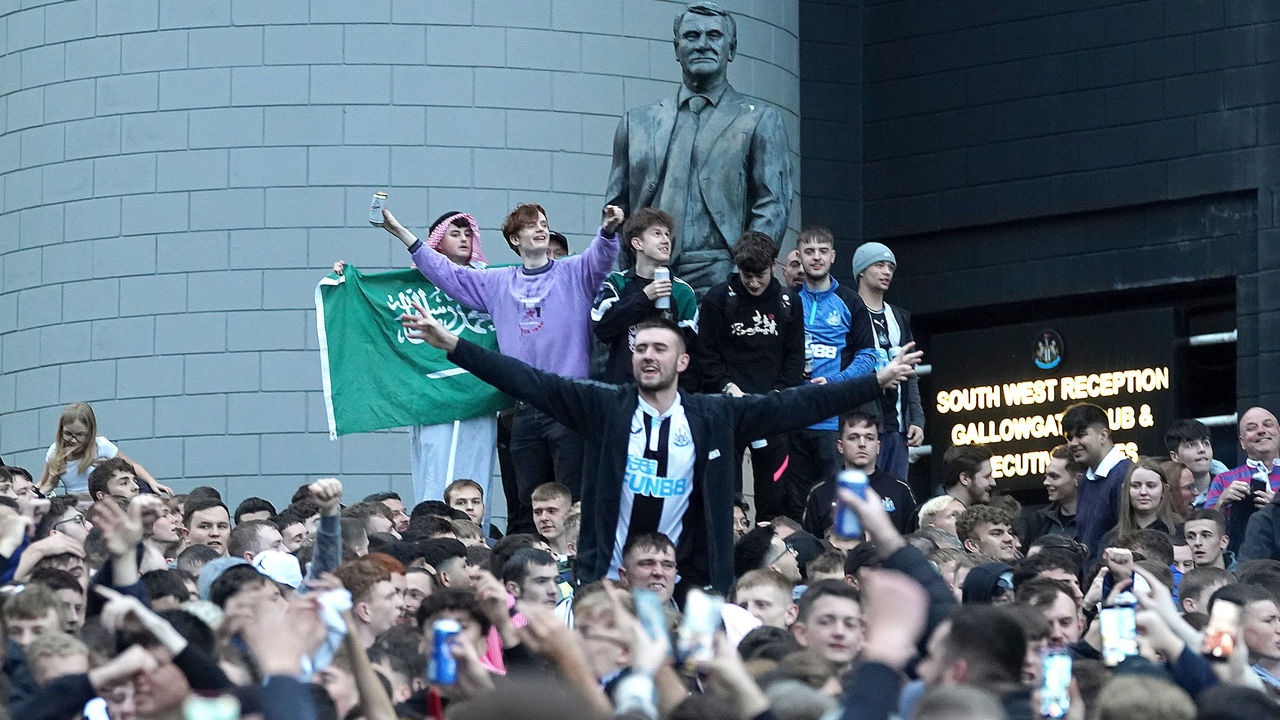 A consortium backed by Saudi Arabia's Public Investment Fund (PIF) finalized a deal Thursday to take over Newcastle United for a reported £300 million, bringing to an end Mike Ashley's unpopular 14 years as owner of the storied Premier League club.
PIF will reportedly have an 80% stake in the club, with PCP Capital Partners and Reuben Brothers sharing the remaining 20%.
Fans celebrated the news at St. James' Park amid an outcry from activist groups over Saudi Arabia's human rights record. Amnesty International accused PIF, the kingdom's sovereign wealth fund, of using Newcastle to "sportswash" its "appalling" history of human rights abuse.
PIF revived its bid to acquire the Magpies after withdrawing from negotiations in July 2020. The Premier League had previously expressed concern that Saudi Arabia's government was directly involved in the bid.
That has now been resolved, according to the Premier League, which said Thursday it has "received legally binding assurances that the Kingdom of Saudi Arabia will not control Newcastle United Football Club."
Fans largely viewed the deal with a renewed sense of hope and relief. Large swaths of Newcastle supporters campaigned for several years for Ashley's ouster, criticizing the retail tycoon for a lack of investment in the first team and using the club to promote his own business interests.
Newcastle suffered relegation from the Premier League in 2009 and 2016 and hasn't won a major domestic trophy since the 1955 FA Cup.
"We are extremely proud to become the new owners of Newcastle United, one of the most famous clubs in English football," PIF governor Yasir Al-Rumayyan added. "We thank the Newcastle fans for their tremendously loyal support over the years and we are excited to work together with them."
The Newcastle United Supporters Trust said a "resounding" 96.7% of its membership supported PIF's takeover.
"We admire your desire and tenacity to buy our football club despite the protracted issues with the Premier League, and we appreciate your clear understanding of the special place Newcastle United holds in our communities, the passion of our supporters, and your commitment to developing Newcastle," read the trust's statement.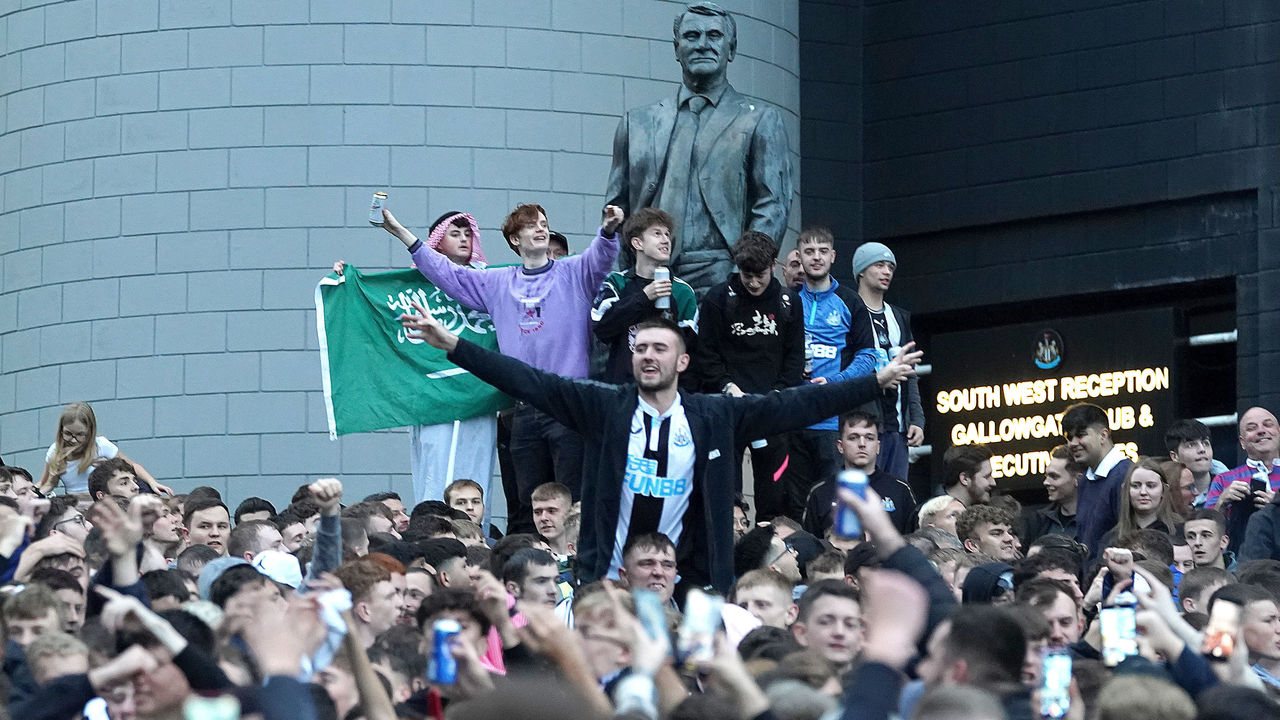 Former Newcastle striker Alan Shearer tweeted: "Yesssssssss. We can dare to hope again."
Negotiations were far from straightforward. While the consortium first struck an agreement with Ashley in April 2020, the club said the Premier League had rejected the offer despite "overwhelming evidence and legal opinions that PIF is independent and autonomous of the Saudi Arabian government."
The Premier League argued that the group had rejected an invitation to appoint an arbitrator to determine who would own the club.
Crown Prince Mohammed bin Salman, PIF's chairman and Saudi Arabia's de facto ruler, reportedly warned U.K. Prime Minister Boris Johnson that the country's diplomatic relations with Saudi Arabia could suffer if he failed to intervene.
Amnesty condemned Prince Mohammed's involvement in the deal, citing a U.S. report that accused him of ordering the killing of exiled journalist Jamal Khashoggi in 2018. Prince Mohammed has denied any wrongdoing.
The bid also came against the backdrop of geopolitical tension between Saudi Arabia and neighbouring country Qatar.
Qatari-backed beIN Sports, a primary carrier of Premier League matches, filed a case against Saudi Arabia with the World Trade Organization over the piracy of its broadcasts in 2018. beIN, which was banned from operating in Saudi Arabia, sought damages totaling more than $1 billion and later asked the Premier League to block the Saudi-backed takeover.
Saudi Arabia reversed the ban this week, according to The Athletic's Adam Crafton and Matt Slater, and the network that pirated beIN's matches has ceased operations.
Copyright © 2021 Score Media Ventures Inc. All rights reserved. Certain content reproduced under license.
10 thoughts from the weekend's Premier League action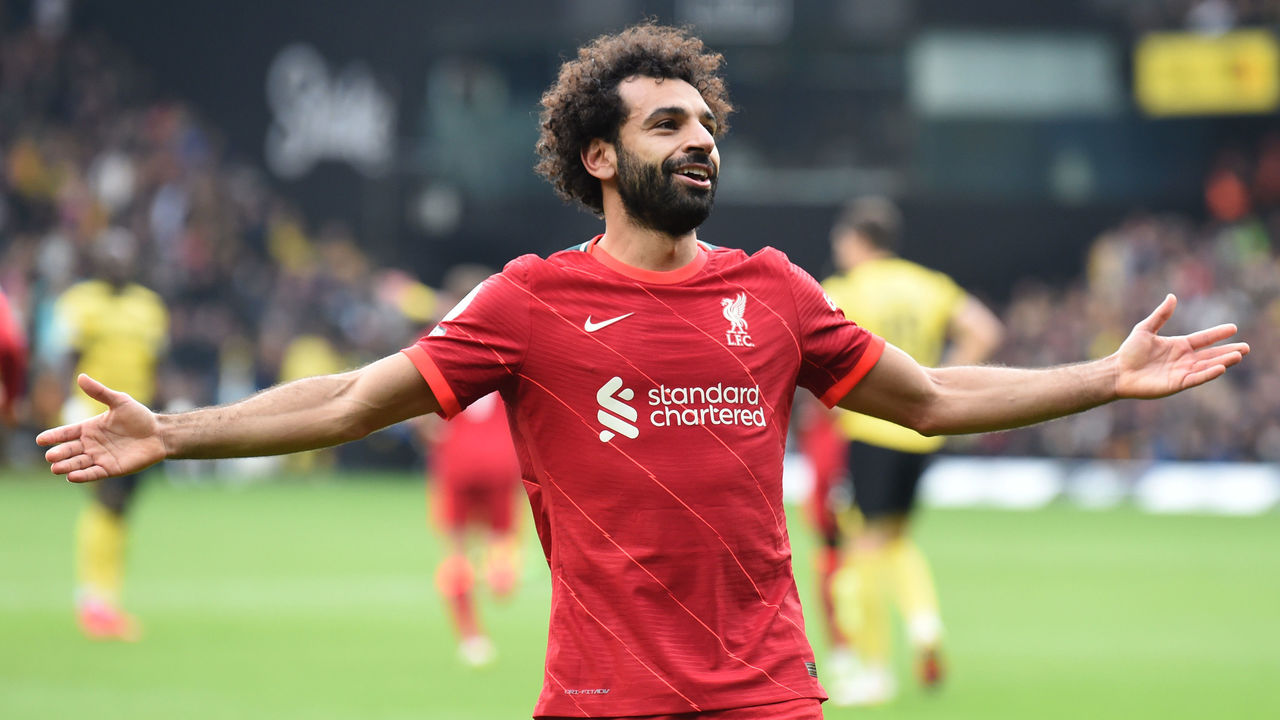 theScore examines the most important Premier League developments from the weekend, dissecting the biggest talking points after a busy slate of action.
Give Salah the money he wants
If Mohamed Salah truly wants £500,000 a week to sign a new contract with Liverpool, well, hand it over. He's earned the right to be the Premier League's highest-paid player – and he proved it again this weekend.
Salah's goal against Watford on Saturday was just the latest display of his world-class ability. Just as he did against Manchester City two weeks ago, the Egyptian dangled and weaved his way into Watford's penalty area before curling a perfect shot into the far corner. Earlier in the first half, Salah delivered a spectacular assist to Roberto Firmino with the outside of his left foot.
"Come on, who is better at the moment than him?" manager Jurgen Klopp asked BT Sport following the game.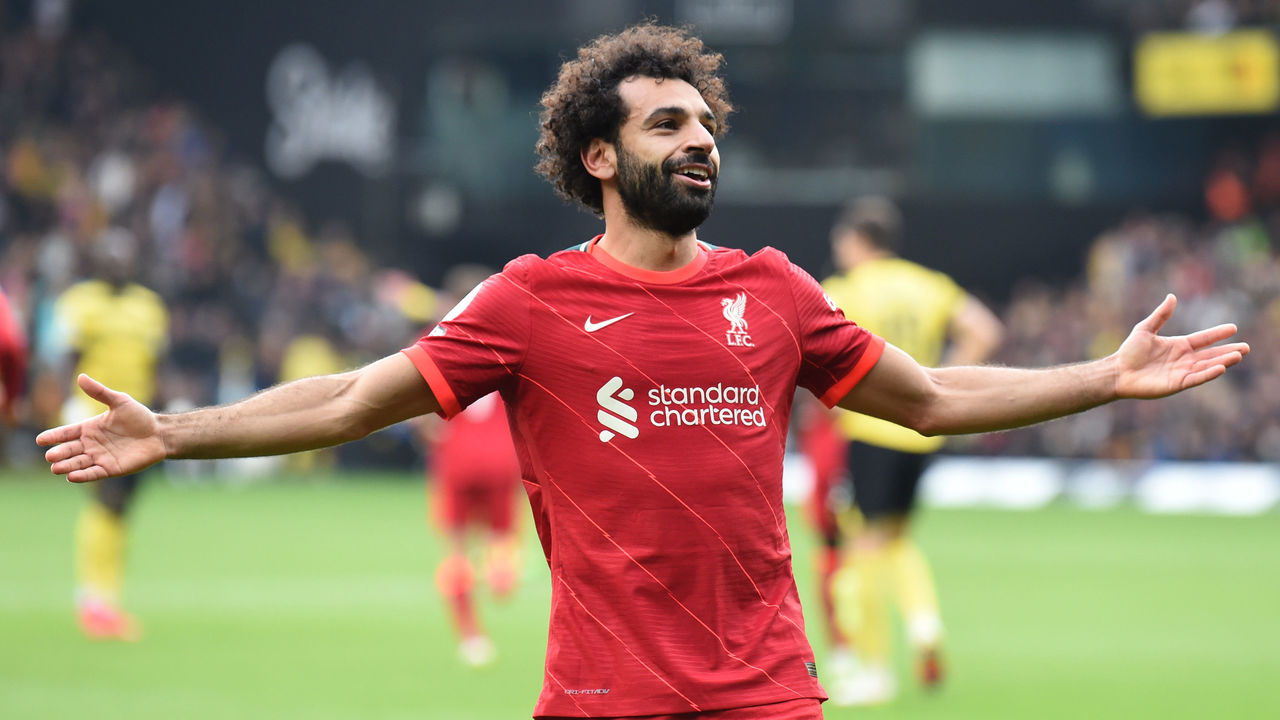 Salah's performance Saturday isn't an anomaly. He's scored in eight consecutive matches across all competitions and against all sorts of opponents, including Chelsea, AC Milan, and City. But the stats only tell half the story. Salah has dominated matches by taking on defenders and stretching lines, and he's helped to restore the ruthless streak Liverpool lost down the stretch last season.
Now, his contract, which expires in June 2023, needs to be sorted out. Liverpool usually loathe handing big deals to players over 30, and Salah, along with star teammate Sadio Mane, will be over that threshold next year. But Salah is so clearly an exception that Liverpool have almost a fiduciary responsibility to re-sign him. He takes good care of his physical well-being and there's no sign he'll slow down.
Watford show signs of life in final minutes
Claudio Ranieri smirked as he assessed the damage from Watford's 5-0 loss to Liverpool. He knew he had a tough job on his hands when he accepted the gig, just maybe not this tough. Watford looked completely out of sorts – with free-agent signing Danny Rose completely out of shape – as Liverpool ran circles around them.
Still, Ranieri mentioned he saw something good on Saturday. He might've been referring to the final 15 minutes at Vicarage Road when Watford finally broke into Liverpool's end and started creating chances. The crowd even applauded when the club won their first corner of the match in the 78th minute. But the play of midfielder Moussa Sissoko and attacker Cucho Hernandez must've encouraged Ranieri most. They buzzed around the left flank, and Hernandez nearly snuck a goal past the otherwise idle 'keeper Caoimhin Kelleher with a shot that soared just wide. Ismaila Sarr also hit the upright with a close-range effort.
Ranieri also gained knowledge about his team after losing so convincingly. Now, he'll know all of Watford's weaknesses and what exactly he has to fix. And the examination has to start in defense. The Hornets conceded two goals after losing possession in the first half alone and allowed Firmino to score a trio of tap-ins.
How much longer will Solskjaer last?
Manchester United kicked off a tricky run of fixtures on the worst possible note, and manager Ole Gunnar Solskjaer didn't really have an answer for it.
"Lately we have not been in great form and lost too many points. Something may have to change. Do we need more legs in there? What do we need?" Solskjaer told Sky Sports after Saturday's chastening 4-2 defeat to Leicester City.
That's a pretty unconvincing diagnosis from a man who should have answers to the questions he's asking. It's almost like he wants someone else to come up with the solutions.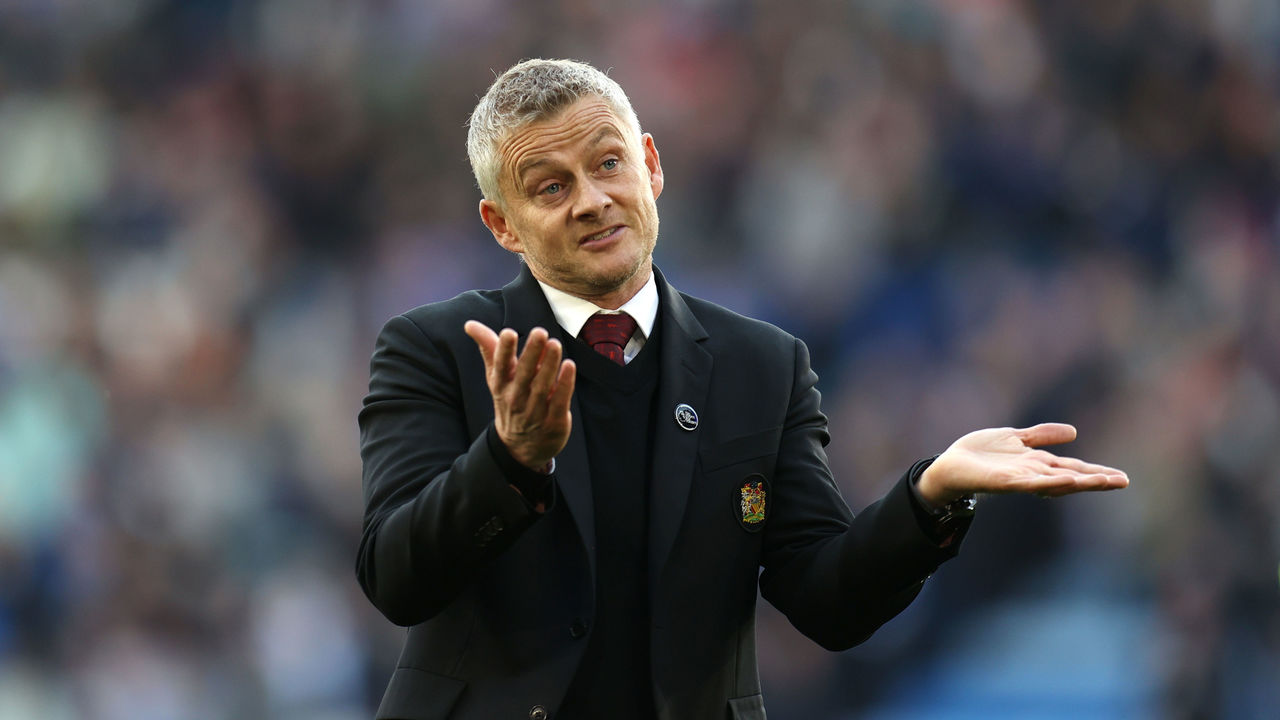 And the problems – and there are several – are clear to the average spectator. United approach matches without a cohesive strategy, and they don't play with any particular structure. There's nothing linking this group of talented individuals.
"The most damning aspect of this sorry performance from Manchester United is that Leicester City simply looked like the better-coached team," The Guardian's Jacob Steinberg wrote. "Ole Gunnar Solskjaer had Cristiano Ronaldo, but (Leicester boss) Brendan Rodgers had a plan."
And Rodgers' plan worked. Leicester took advantage of United's lack of intensity by playing through the middle. Jamie Vardy and Kelechi Iheanacho pressed high and forced a clearly unfit Harry Maguire into compromising positions. Even when United went ahead 2-1, they looked like a team that had merely found temporary relief.
Solskjaer's side has now earned just a single point in its last three Premier League matches. The schedule gets no easier, with upcoming contests against Liverpool, Tottenham Hotspur, Atalanta, and City.
Wolves finally find scoring boots
Wolverhampton Wanderers manager Bruno Lage remained optimistic even after his team slumped to a third consecutive 1-0 defeat at the start of the Premier League season. Wolves didn't exactly play poorly in any of those losses – they outshot their opponents in all three defeats – but struggled to convert their chances.
However, Lage took solace in the offense Wolves were creating.
"From the past, the team didn't score too many goals," the 45-year-old tactician said in September. "They have maybe one or two per game, so the average of the goals is not big, so we're trying to play a different way, trying to create more chances to raise that average."
Now, they can't stop scoring. Wolves put three goals past Aston Villa in the final 10 minutes on Saturday to win 3-2 – their fourth victory in five matches. Though Wolves struggled to produce the kind of offense Lage had previously promised, they showed a much more clinical edge than they had in the past, and did so with star striker Raul Jimenez starting on the bench. They needed a bit of luck, too; Ruben Neves' last-gasp free-kick took a fortuitous deflection on its way in, but the west Midlands side still showed a side of their game they lacked in earlier encounters.
All three of Wolves' goals came off set pieces, and while scrappy, they managed to turn around a game Villa had dominated up until the 80th minute.
Southampton can kick on from here
Southampton ended a nine-match winless run dating back to last season with a 1-0 result against a depleted Leeds United side. Southampton were also missing captain James Ward-Prowse, who missed the match through suspension, and still managed to impose themselves against Marcelo Bielsa's usually repellent XI, firing 19 shots to the visitors' three.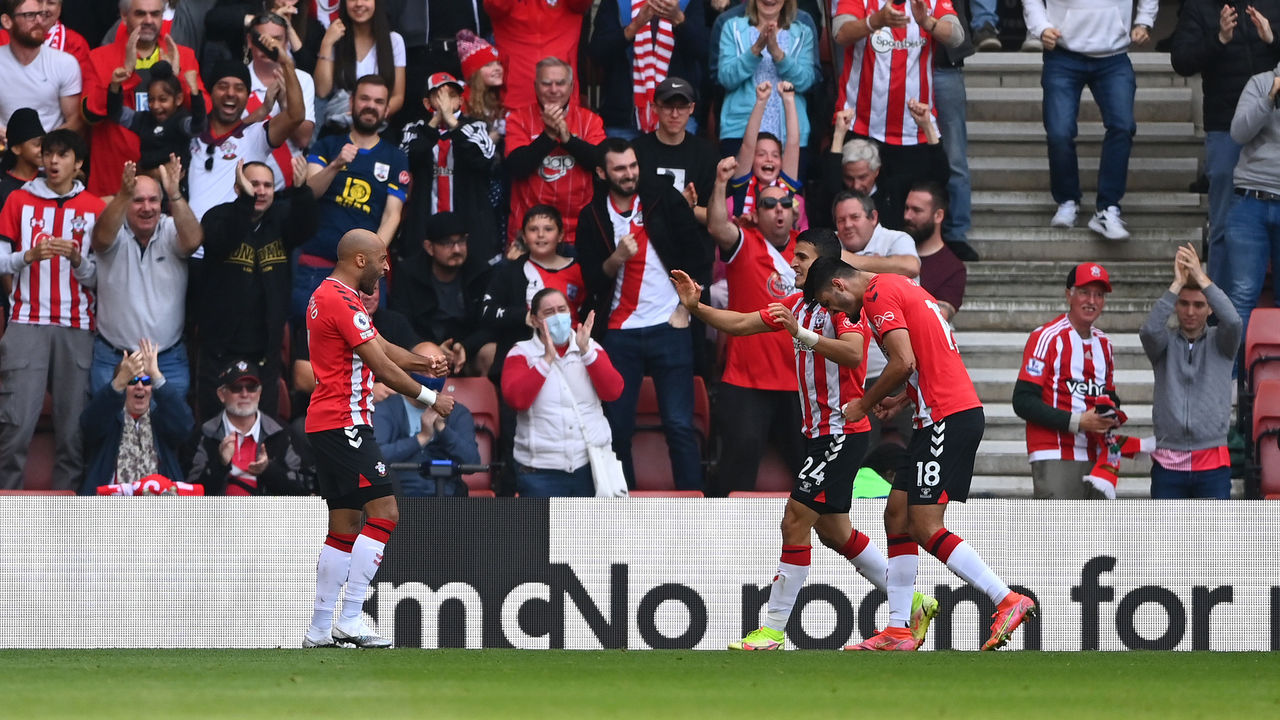 Saints boss Ralph Hasenhuttl has always found solutions in the most trying times, and he struck again with the inspired decision to start Armando Broja, Chelsea's on-loan striker who made his full Premier League debut Saturday. Broja scored the only goal of the game off a counterattack facilitated by the tricky Nathan Redmond.
With upcoming matches against winless Burnley and Norwich City and struggling Watford, Southampton can build on this victory.
City off rhythm against favorite opponent
If you were watching them for the first time, you'd never know Manchester City scored 30 goals in their previous eight matches against Burnley. Their last four meetings at the Etihad Stadium ended 5-0 to the reigning Premier League champions, but Saturday's win required far more effort.
City struggled to find their rhythm in between goals from Bernardo Silva and Kevin De Bruyne, and Burnley themselves looked far more interested in a result, pressing the hosts when out of possession. Josh Brownhill nearly equalized in the 35th minute when he lashed a shot that skidded just wide of the far post, and Maxwel Cornet threatened after Burnley boss Sean Dyche moved him over to the left flank. It was fairly inspired stuff from a club that usually defends in blocks of four, and it had to be, with the Clarets still without a win this season.
"It was a better performance here. It's been tough in recent times," Dyche said afterward, according to The Lancashire Telegraph. "We didn't do much wrong but got punished."
Mendy proves he's one of world's best 'keepers
Chelsea goalkeeper Edouard Mendy didn't have a save to make until the 73rd minute against Brentford. And yet, it ended up being the first of many.
Mendy singlehandedly ensured Chelsea escaped Brentford's Community Stadium with all three points, making six stops to pick up his 20th clean sheet since joining Chelsea in 2019. Only three goalkeepers have reached the mark quicker in the Premier League.
Clearly, Chelsea would've dropped points without the 29-year-old, who compensated for the absences of Thiago Silva and Antonio Rudiger with proactive and aggressive goalkeeping. Mendy exerted great control over his area, coming out to cut down angles, sweep up loose balls, and deal with crosses into the six-yard box.
It was an important showing from someone who's struggled to be the sweeper-keeper many expected him to be.
Maybe that's why he's not mentioned in the same breath as Ederson, Alisson, and his other top-tier peers. Mendy's not the most confident passer of the ball, and when he does release it, he prefers to ping it 40 yards forward. But his performance Saturday should remind everyone he possesses the most important quality a goalkeeper should have: pure shot-stopping ability.
West Ham's set-piece prowess
Don't concede free-kicks or corners against West Ham United.
The Hammers prospered from yet another dead-ball situation Sunday, with a flicked header from Angelo Ogbonna holding up as the lone goal in an otherwise drab victory over Everton at Goodison Park.
The Italian's tally was largely down to ineffectual Everton marking, but West Ham's set-piece prowess is no fluke: assistant coaches Paul Nevin and Kevin Nolan have worked extensively on the training ground to optimize these situations since taking their respective posts alongside David Moyes, and it's clearly paying dividends.
Set-piece coaches have grown in popularity of late, and for good reason. With such thin margins, especially in games with little action from open play, free-kicks and corners can make all the difference. It would be foolish not to have a deep repertoire of routines at your disposal.
Everton supporters were outraged over the awarding of the corner that led to Ogbonna's goal – Michail Antonio appeared to get the final touch on the preceding play – but, if anything, that adds more ammunition to the argument that you should focus heavily on set pieces in training; there aren't many other situations in the game where you can immediately turn a contentious call into a goal. Every little edge is extremely valuable.
Combine the work West Ham are doing with a squad boasting several players who are dominant in the air, and you have a recipe for success.
How we discuss Newcastle matters
Sunday's match against Tottenham Hotspur was heralded as the start of a new era for Newcastle United supporters. After watching the club flounder under Mike Ashley's 14-year reign, fans are well within their right to be excited about the despised businessman's departure.
However, what they can't do is blindly ignore the ethical questions being raised about the association with Saudi Arabia's sovereign wealth fund; the kingdom's Public Investment Fund (PIF) is now the majority owner of the storied English club.
It's true that Newcastle supporters aren't responsible for the actions in Saudi Arabia. They can't control who purchases the club, of course.
But they can control how they exhibit their feelings about the newfound attachment to a nation accused by Amnesty International of using Newcastle to "sportswash" its "appalling" human rights record. Waving Saudi Arabian flags and wearing mock Arab headdresses are decisions many fans made Sunday.
Members of the media can control how they discuss the purchase, too. It's important to be aware of what's being said about Newcastle's takeover and by whom in the coming weeks. How we handle these types of discussions, which are far more important than sports, matters.
Heroic actions from Tottenham players
For more reasons than one – see directly above – Tottenham's 3-2 victory at St. James' Park was a stark reminder that football is a secondary concern in the grand scheme of things.
The match was temporarily suspended late in the first half after the players were alerted to an urgent medical issue involving one of the fans in the East Stand. Had Sergio Reguilon not acted quickly to inform the referee, and had Eric Dier not done the same to ensure that medical personnel raced over with a defibrillator, the welcome news that the supporter was eventually stabilized may never have arrived.
The situation evoked instant memories of Christian Eriksen's frightening collapse earlier this year at Euro 2020; Danish captain Simon Kjaer was widely praised for his role in saving his compatriot's life that day. Reguilon and Dier's actions Sunday deserve similar praise, as do those of the fans who quickly made the players aware of the incident and ensured the match was halted so proper medical attention could be administered.
Copyright © 2021 Score Media Ventures Inc. All rights reserved. Certain content reproduced under license.
Newcastle-Tottenham temporarily halted due to medical emergency in crowd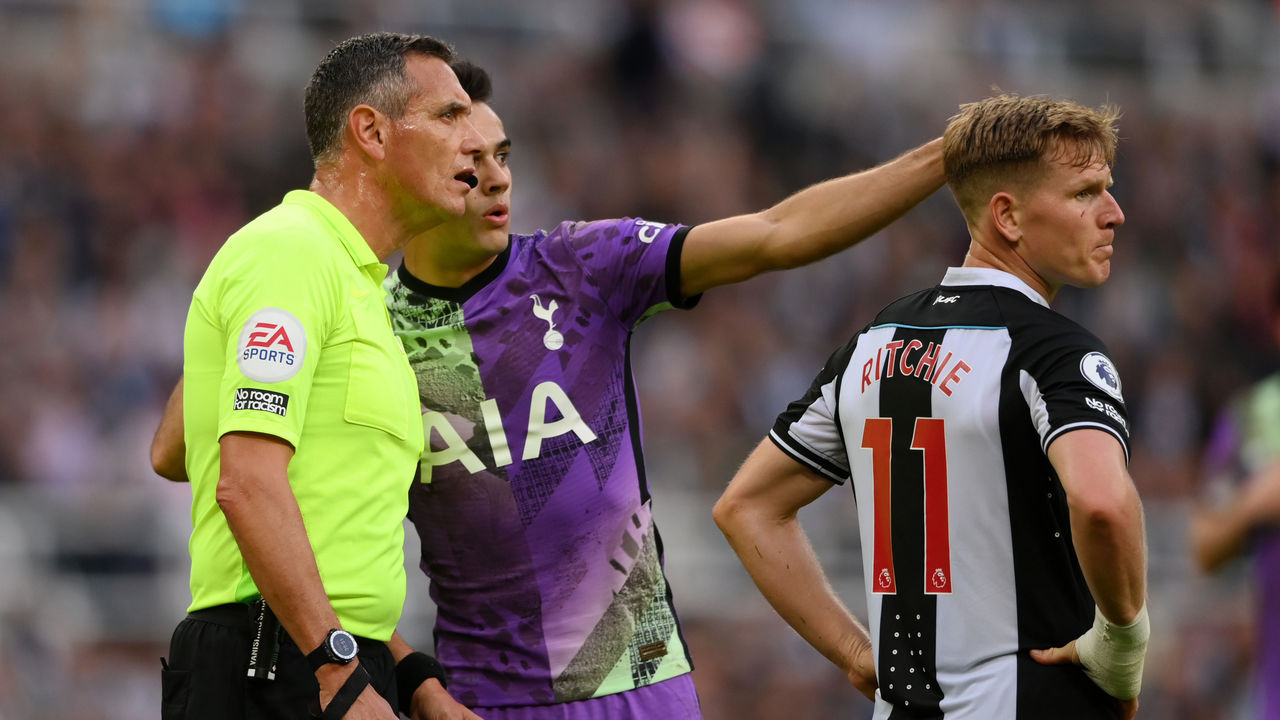 Newcastle United's match against Tottenham Hotspur on Sunday was temporarily suspended due to a medical emergency in the stands.
Tottenham's Sergio Reguilon, at the urging of nearby crowd members, alerted referee Andre Marriner of the situation in the 40th minute of the fixture. Teammate Eric Dier ran over to the Newcastle bench and indicated that a defibrillator was required for a supporter in the East Stand at St. James' Park.
After receiving medical treatment, the fan was stretchered out of the stadium and stabilized on their way to a local hospital, Newcastle confirmed.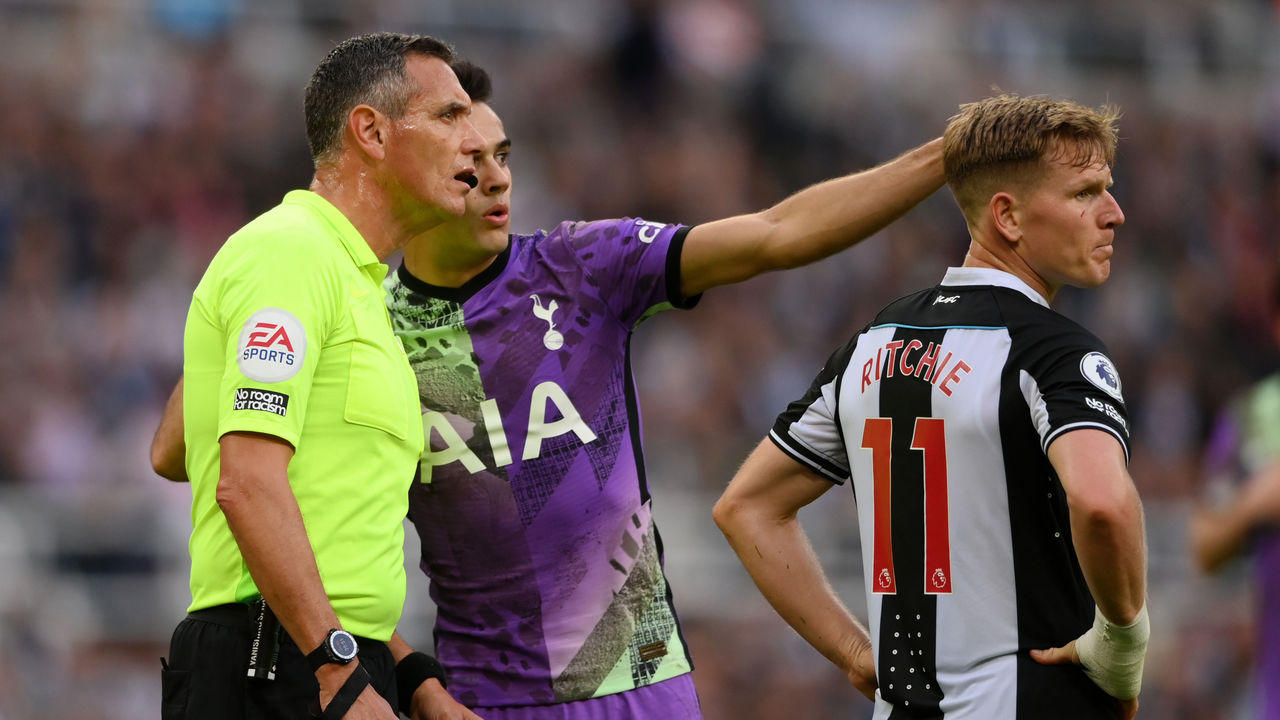 Both teams left the pitch with Tottenham leading 2-1. Play was halted for roughly 20 minutes.
Heung-min Son scored shortly after the action resumed, giving the visitors a 3-1 lead going into halftime.
Copyright © 2021 Score Media Ventures Inc. All rights reserved. Certain content reproduced under license.
The real Ted Lasso: Inside an ex-NFL player's madcap stint in English soccer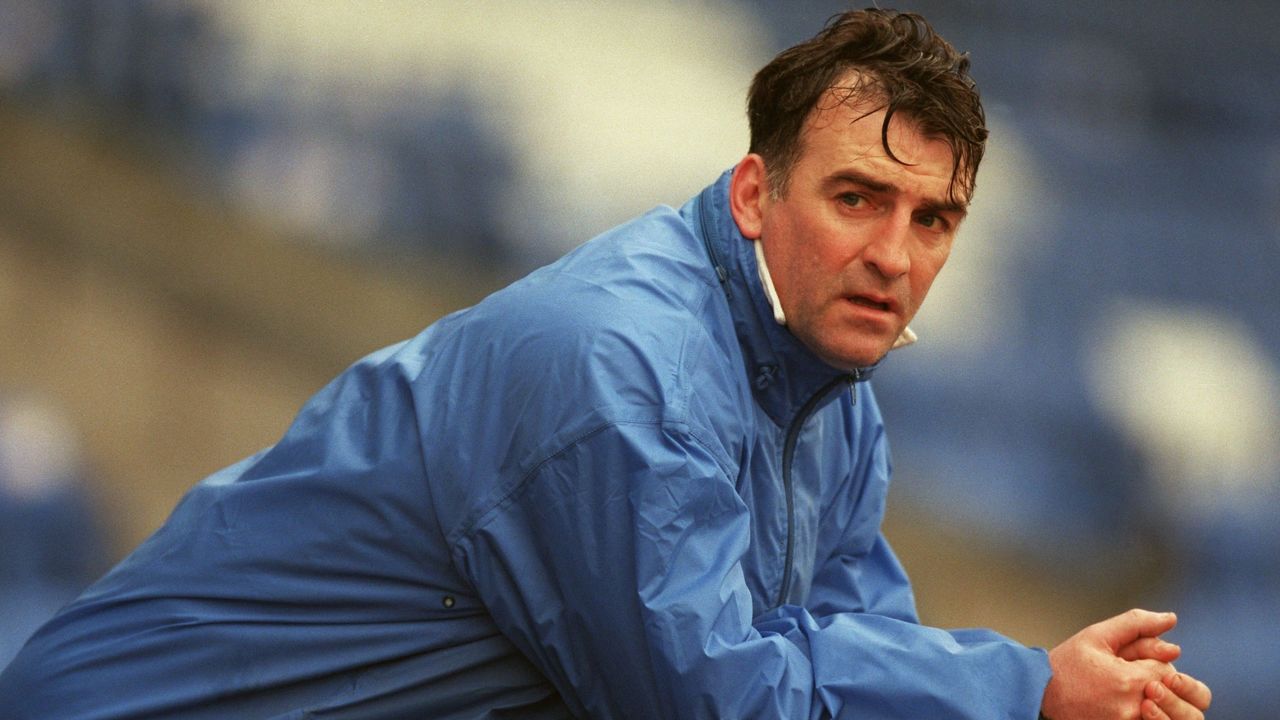 Before Ted Lasso, there was Terry Smith. And English soccer's first American owner appeared to have a Lasso-esque plan ready to roll on day one.
But, as Kevin Ratcliffe, then-manager of Chester City, explained to theScore, there was one problem: Smith didn't have a clue about soccer.
Smith, a former backup for the NFL's New England Patriots, plunged into the world of soccer when he bought debt-riddled Chester City in 1999. He spent more time at the fourth-tier team's training sessions than in his office, filling his notepad while he inquired about the purpose of certain drills.
Ratcliffe was mulling over a season-opening defeat to Barnet in the guts of the club's Deva Stadium when Smith's father Gerald – reportedly a key source of financing for the takeover – asked him for the whereabouts of someone named Keith.
"I said, 'Keith who?' He says, 'Keith, the manager,'" Ratcliffe told theScore.
Ratcliffe thought quickly and mischievously directed Gerald to the dressing room for "Keith." The turn of events bought the actual manager a few more hours until he met the Smiths the following morning.
A former defender who captained Everton during their greatest era, Ratcliffe felt "brain-dead" after that fateful meeting with Terry Smith and Gerald Smith. Ratcliffe irritated the younger Smith when he tried to excuse himself after four hours to spend time with his family on his day off.
"He got this scruffiest bit of paper that I've ever seen," Ratcliffe described, "flattened it out, and proceeded to write on it. He gave it to me and it was a written warning."
Ratcliffe was already plotting his exit from the club, a process that included him safeguarding players' immediate futures with new contracts. The face-to-face encounter simply hastened his departure. He resigned shortly after the start of the 1999-2000 season, ending his first managerial role after over four years.
"If he was on fire on the other side of the road, I'd go and throw a log on him," Ratcliffe said of Terry Smith.
Over his head
Chester City were on life support under their previous owner. Ratcliffe covered a £5,000 bill in 1998 to turn the stadium's water back on and allow a friendly match to go ahead. He paid himself back with the gate receipts.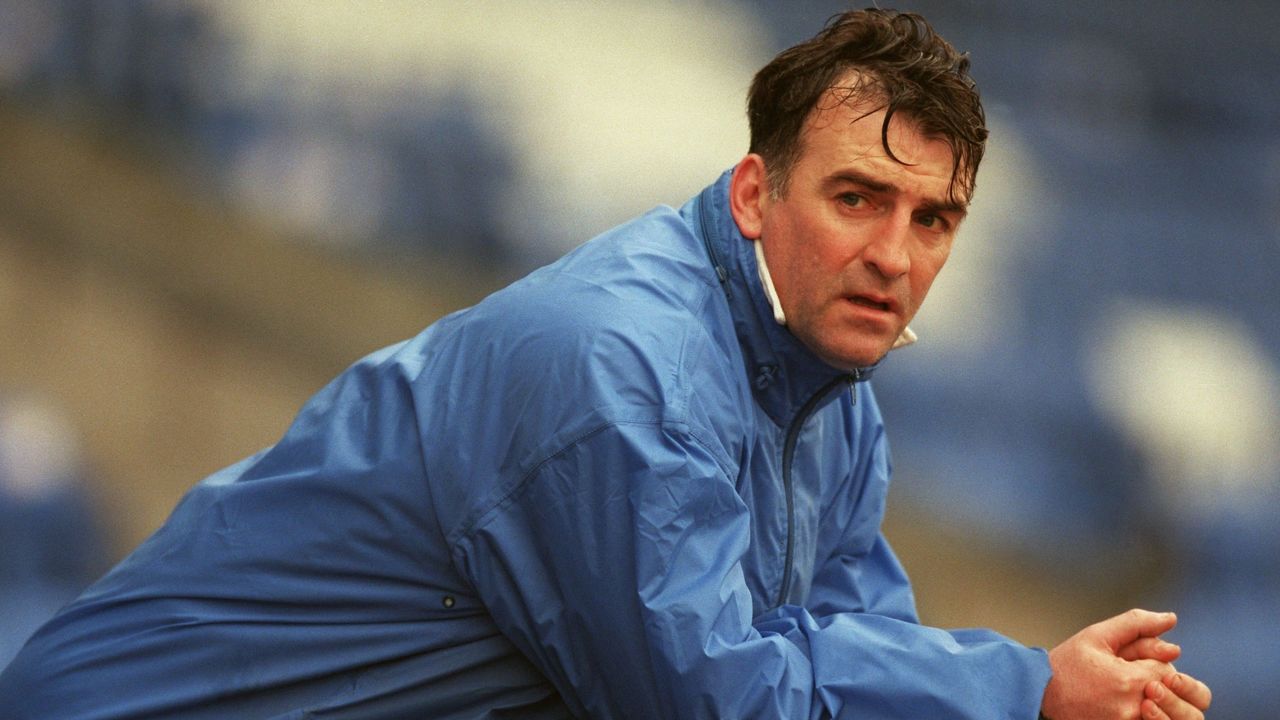 Darren Moss made his debut at 16 due to his obvious talent, but also, he suspects, because he was a cheap first-team option when his youth contract weighed in at just £42.50 a week.
The state of the club's finances and the rather antiquated state of banking around the turn of millennia combined for a Mario Kart-style dash every payday.
"We'd get a cheque from the office after training and we'd all race down to the club's bank branch in the middle of the town center so that we could make sure that you weren't the last person," ex-Chester midfielder Nick Richardson recalled. "Whoever was last one there might not have got paid."
For Smith to deliver his ambitious promise of First Division football, he needed to ensure the club was on surer financial footing. Dan Brooks – a linebacker for one of the successful teams Smith coached in the UK's American football circuit – was at a loose end in his native Canada when Smith invited him "to come and participate" in the Chester project.
"I marketed American football in a country where it really was not a priority. We had some success with that," Brooks explained of his experience before he was named Chester's commercial director. He also noted his position of marketing director for Frontierland, a theme park in the British seaside town of Morecambe that ceased operations in 2000.
Despite the off-field uncertainty, Smith was a regular fixture in training from the beginning. Ratcliffe claims Smith was going over his head to dictate when training started and finished even before his takeover of the club was ratified, and the owner was regularly inviting out-of-contract footballers to try out at Chester's base.
"It was every week you'd get somebody come through the door," Moss said. "You'd be like, 'Fucking hell, who's this now?' And they'd be dreadful."
Ratcliffe remembered an Icelandic trialist who Smith claimed could whip in dangerous crosses, was strong in the air, and was a good finisher.
"I'm thinking, 'What's he doing at Chester if he's got all these qualities?'" Ratcliffe quipped.
Somewhat predictability, the trialist failed at Ratcliffe's basic crossing, heading, and shooting drills while the rest of the squad went through its workouts nearby. Shaun Reid, the younger brother of then-Sunderland boss Peter Reid, watched in disbelief, and delivered a line which riffed on the trialist's home nation sharing a name with a British discount frozen-food chain.
"Shaun shouted over to me, 'So, gaffer. We got the lad in from Iceland, when's the lad from Kwik Save coming in?'" Ratcliffe laughed. "(The joke) was right over Terry's head."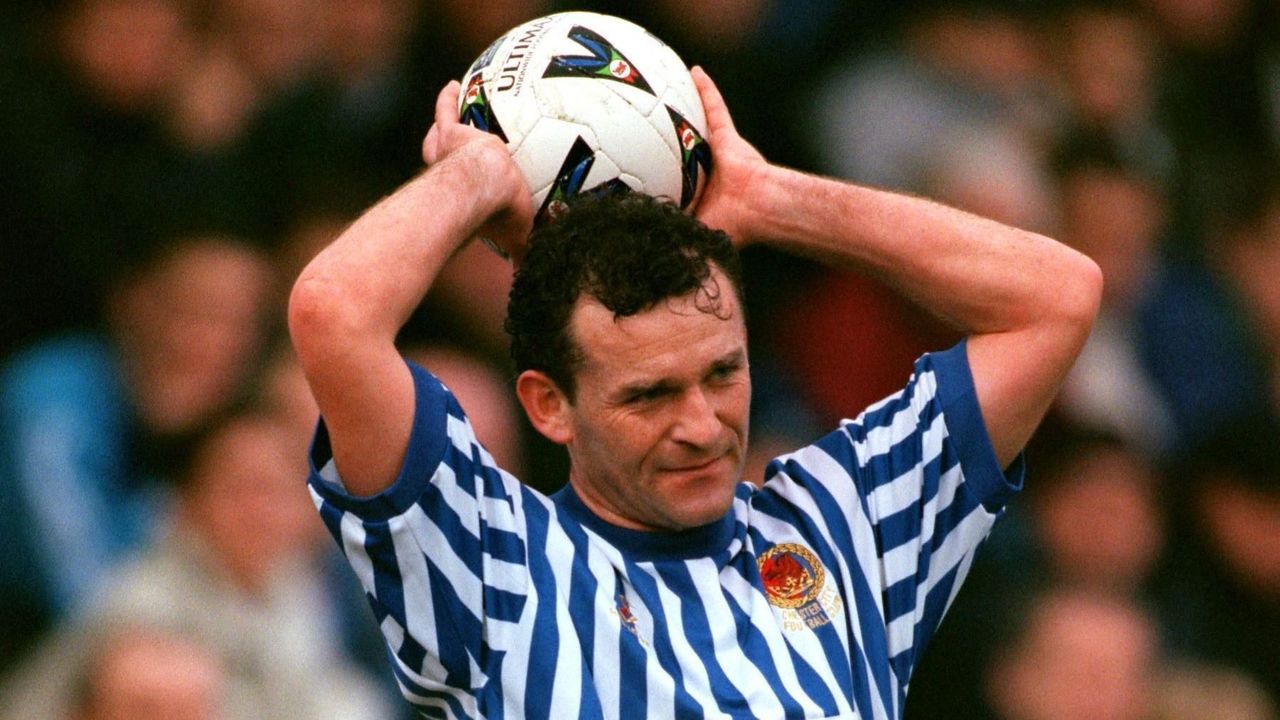 The Icelander's unfortunate audition is one of Ratcliffe's many tales of Smith's transfer dealings. Ratcliffe says Smith signed an amateur player but paid him so little that he struggled to cover the one-hour round trip to training, while one American trialist had to stay the night at a local policeman's house when Smith reneged on a contract offer and abruptly ended the player's hotel reservation.
Smith also apparently decided to sanction the £10,000 sale of Andy Crosby to Brighton & Hove Albion. Ratcliffe said he'd recently rejected an offer worth twice that amount from Brighton.
"His face just turned blue," Ratcliffe recalled of showing Smith the £20,000 bid he received via fax. "It just shows you, if you're not conversing with your manager, you're on a slippery slope."
Ratcliffe thinks Brighton went behind his back because "they knew the state of the club."
'He's going berserk'
Smith sensationally succeeded Ratcliffe at the team's helm, trusting what he'd learned from around two months at the club's training ground.
"All coaching is 90% the same, regardless of the sport," Smith is widely quoted as saying after he assumed his self-assigned role.
"He loved to be in control of everything; hands-on with every single thing. I'd describe him as a bit of a control freak," ex-player Moss shared.
Smith didn't seem to use much of what he observed at Ratcliffe's sessions.
"When Terry came in, the actual focus then shifted from 80% football and 20% set-pieces to 80% set-pieces and 20% football," former midfielder Richardson estimated. Players would wear numerous layers to contend with the increased hours of standing around in the wet English weather.
It wasn't only the strong set-play focus that harkened back to Smith's American football roots. Moss said they played 11-v-11 gridiron in one session, where they threw the ball into the net instead of completing touchdowns. In an effort to boost leadership, Smith elected three captains: one each for defense, midfield, and attack. He also introduced prematch renditions of the Lord's Prayer – a ritual that would be unique in any British sport.
Brooks, Smith's marketing man, credits his friend as the most prepared coach he encountered during his American football career, and Chester's unlikely manager was similarly meticulous in soccer. Moss remembered Smith would leave dossiers under each player's hanger ahead of a match, with details such as set-piece positioning and information on opponents included. Moss said he and his teammates understood Smith worked long hours to prepare the personalized playbooks.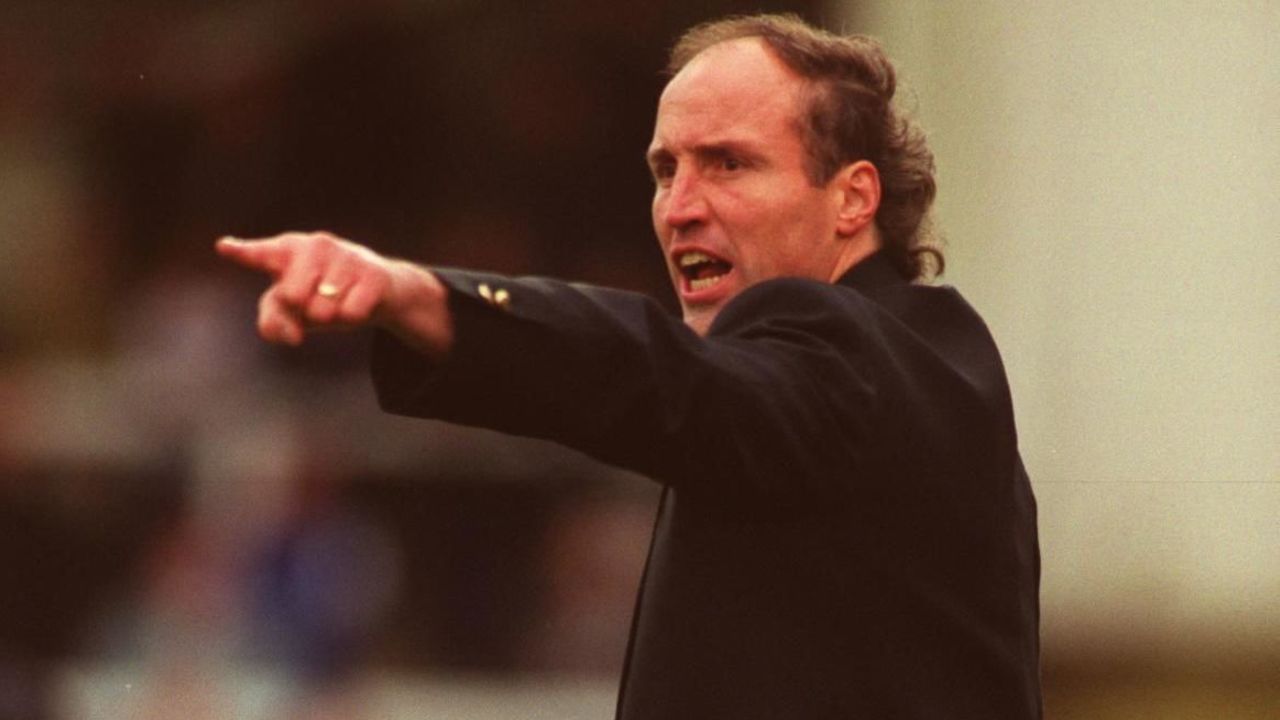 Smith's competitiveness was undeniable and spilled over into him testing his strengths against those of his players. Richardson said there were a few gym sessions when Smith challenged the squad to lift a "fantastical weight," but it would invariably turn into the players watching as Smith outdid everyone on the bench press.
"The bar would be bending," Moss added. "He was a strong fella, to be fair."
But aspects of Smith's management clashed with his will to win.
He was disorganized for someone who tried to fill many roles. Martin Nash, the younger brother of two-time NBA MVP Steve Nash, was briefly on the club's books and remembers there being "shit everywhere" in Smith's car. Numerous people mentioned Smith's office was seldom used and full of unopened letters.
And though the players were given little excuse to lapse on their set-piece routines, the nutritional preparation for games was counterproductive. There are accounts of McDonald's, pizza, and cookies eaten as prematch meals, while Richardson remembered beans on toast at a greasy cafe under the highway before a 5-0 cup loss at top-tier Aston Villa.
The passionate yet rudderless nature of Smith's regime didn't foster respect among the squad. He became a bit of a laughing stock.
Moss describes an incident when someone locked Smith in the gym for an extended period.
"The groundsman heard him banging and came back over to get the keys," Moss said. "He said, 'You're gonna have to get him out. He's going berserk!' I just remember Smith coming out and being red-faced – he was fuming. But he didn't know who (locked him in), so he couldn't put it on anyone.
Another unidentified player slashed Smith's tires, and Richardson said defender Ally Pickering's slapstick impersonation of the manager was a popular dressing-room act.
The poor relations between Smith and his players were unsustainable as the team sunk further into trouble.
'He ran out of the dressing room'
Smith eventually relinquished the reins in January 2000 amid heavy pressure from supporters, after one win, one draw, and eight losses over their previous 10 outings. He expressed disappointment at how certain players and backroom staff let him take the blame for Chester being rooted the bottom of England's professional pyramid, two points adrift of safety.
Ian Atkins – a manager with a strong lower-league resume – was given the unenviable task of trying to keep Chester City afloat under the guise of director of football.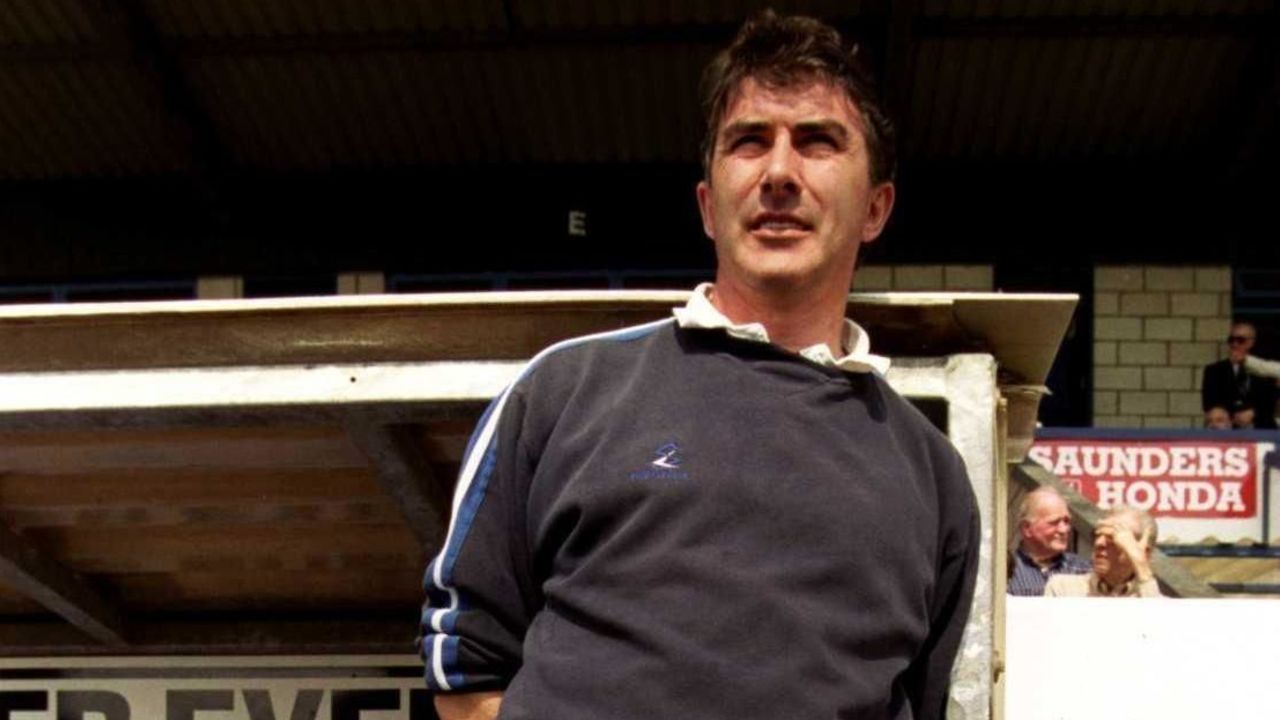 "You were a manager because you ran the team, but Terry wanted that title as a manager," Atkins told theScore.
The job title didn't matter to Atkins. Smith assured him he would be in control of the senior side, and Atkins subsequently oversaw a swift squad overhaul with the support of assistant manager Gary Shelton and well-connected physio Joe Hinnigan. Some players were discarded and seasoned professionals were brought in. The tactical approach became more pragmatic.
Smith still wanted to be involved, though. He preferred to sit in the dugout alongside his coaching staff for matches, and he liked to warm up the goalkeeper before kickoff – even though Smith was often wearing a suit.
"Browny would take the piss," Moss said of his former club colleague Wayne Brown. "Browny would be in goal lashing balls so Terry would have to run after them. Rather than playing them back to (Smith's) feet, he'd zip them in, so he'd miscontrol it. He'd be collecting balls out the stands from the fans."
But Atkins' approach worked. An embarrassing 7-1 home loss to Brighton & Hove Albion in late February sparked a run of five wins and four draws in 12 matches, a spell in which Chester conceded only eight goals. Their fine springtime results remarkably put the Blues on course to avoid relegation on the final day of the season, but Smith was apparently unimpressed with the team's style of play.
"We were having less possession than the opposition but winning," Atkins said. "He couldn't believe that his team were playing so open and having a lot more touches and attacking, but getting walloped every week."
"He loathed the fact that people were giving me credit, Joe and Shelts credit, and the players credit," Atkins added.
In the end, the upturn in results wasn't enough. Chester City were relegated, plummeting out of England's professional leagues for the first time in 69 years.
A lot conspired against them. One of Chester's players decided to join the Trinidad & Tobago squad instead of playing in his club's decisive final-day fixture. On the eve of that same match, another player was imprisoned for his alleged involvement in a fight outside a nightclub.
Meanwhile, Ratcliffe, the former manager now in charge of Shrewsbury, was seeking £200,000 in compensation from Chester.
And it was Ratcliffe's Shrewsbury who won on the final day, securing their Division Three status while Chester lost theirs.
"It was a great feeling for me in one way, but a sad feeling in another," Ratcliffe reflected. "Chester meant a lot to me."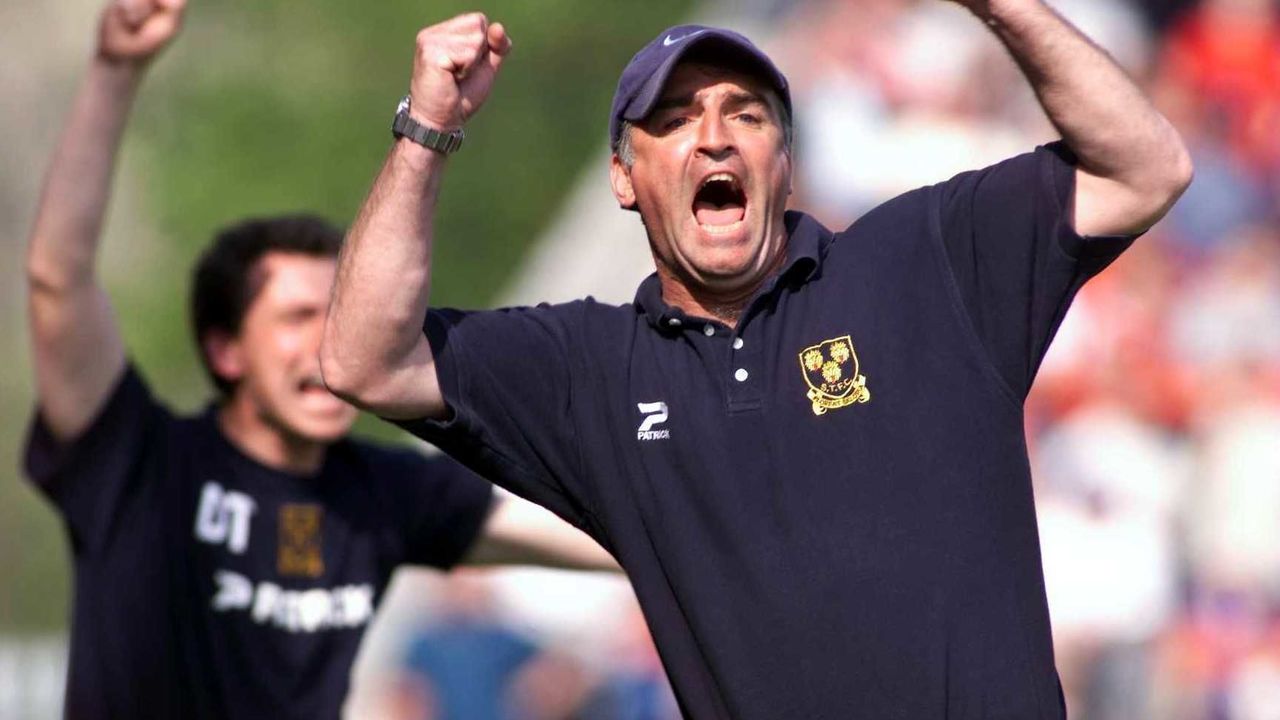 The crestfallen Chester players took exception when Smith tried to offer his post-match thoughts.
"In the dressing room after the game, he started to pipe up and a couple of the lads went for him," Atkins said. "He ran out of the dressing room door and I've never seen him again."
Atkins was already a popular figure with supporters and could've committed for another year with Chester, but felt he couldn't match his ambitions when Smith handled the club's operations. Graham Barrow, who was a fan favorite from his earlier stints as a player and a manager at Chester, was brought in to succeed Atkins, but Smith's regime was already disintegrating.
Brooks is unsure what levels of abuse Smith dealt with from some fans. But the former commercial director told theScore that even he was in the firing line, as hosting press conferences and meetings with supporters had effectively made him "a secondary face of the organization."
"I would get calls and people would be threatening my life and telling me to go home," said Brooks, adding that a window was smashed at his house following the club's relegation.
"I was looking over my shoulder. The threats and intimidation weighed heavily on me. I take things personally. I don't have as thick a skin as some people … I didn't know if (the threats) were going to be followed through or not."
Brooks had an agreement with Smith that gave him an option to leave at the end of his first season, and he snatched at the opportunity. Smith himself was looking to take off when Chester were consigned to non-league football, with Brooks helping arrange meetings with potential buyers.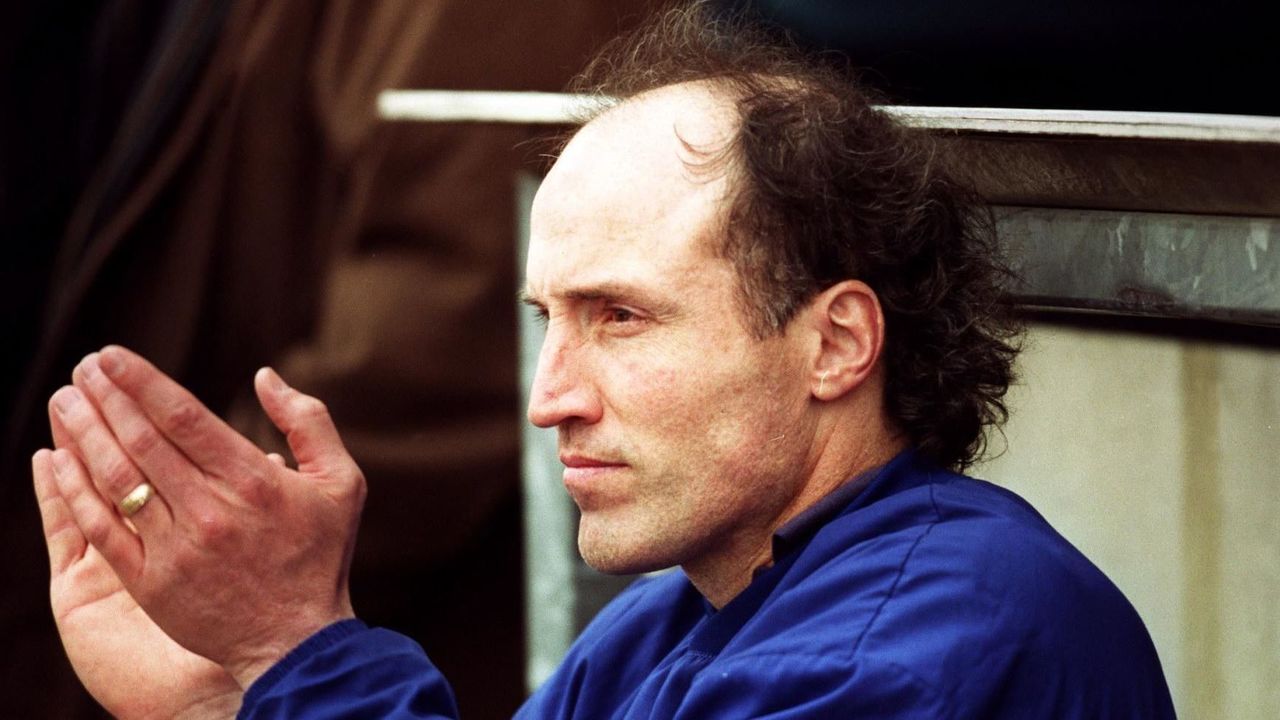 Smith eventually sold the club in October 2001 to Stephen Vaughan, a boxing promoter with links to infamous Liverpool gangsters. Vaughan was jailed for assaulting a police officer in 2013.
Chester City went bust in 2010, three years prior to Vaughan's conviction, but a supporters' group launched phoenix outfit Chester Football Club later that year. They now play in the sixth tier of England's soccer ladder and protect themselves from shady investors by only inviting those who believe in the "ethos and the history of our club" to join the supporter-led ownership group.
Smith's missteps, and those made by the owners that preceded and succeeded the American, can't be made again.
"He didn't realize what football meant to Chester City and the supporters. It was about him. Really, it was about him," Atkins concluded. "He didn't know football. He didn't know anything about the club. He didn't know anything whatsoever about players, how to win games of football.
"He didn't know anything."
Copyright © 2021 Score Media Ventures Inc. All rights reserved. Certain content reproduced under license.