This weekend in European soccer: Previews, predictions for 5 must-see games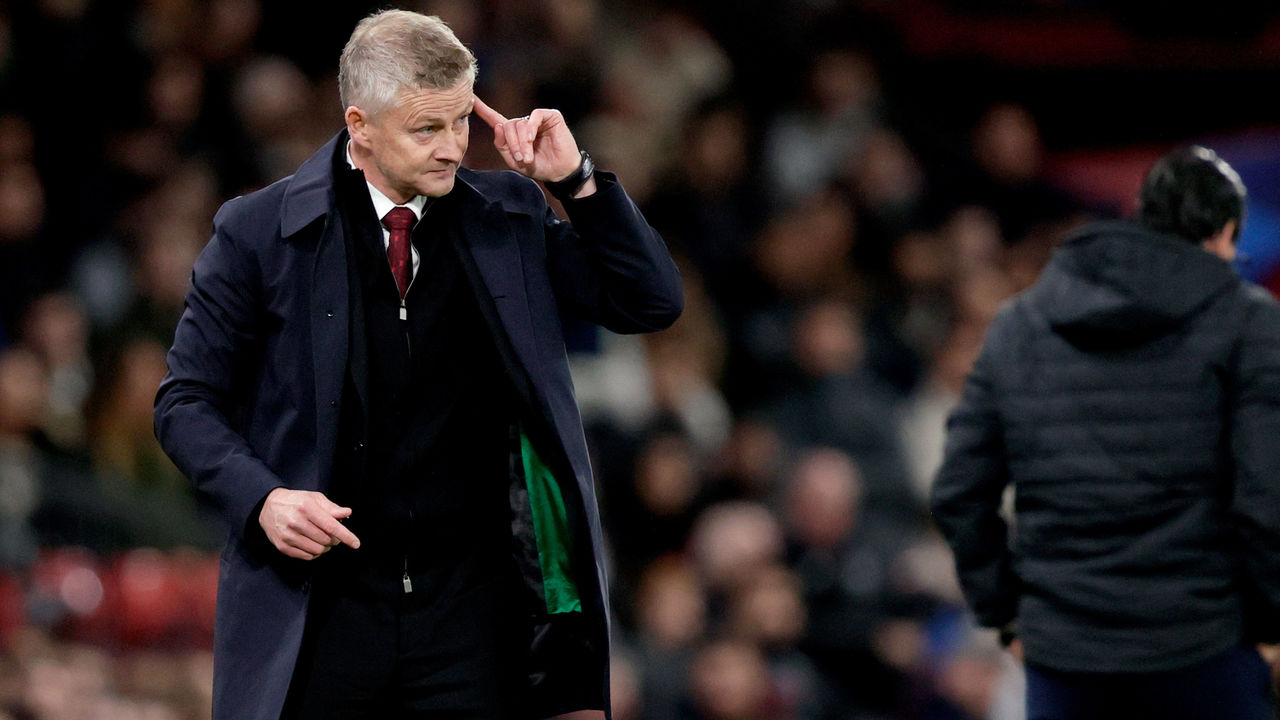 Every week, theScore picks the five most exciting matches to watch in Europe and the U.K. This weekend's slate features a battle of perennial title contenders in England and a meeting of Italy's two most entertaining sides.
Premier League
Manchester United vs. Everton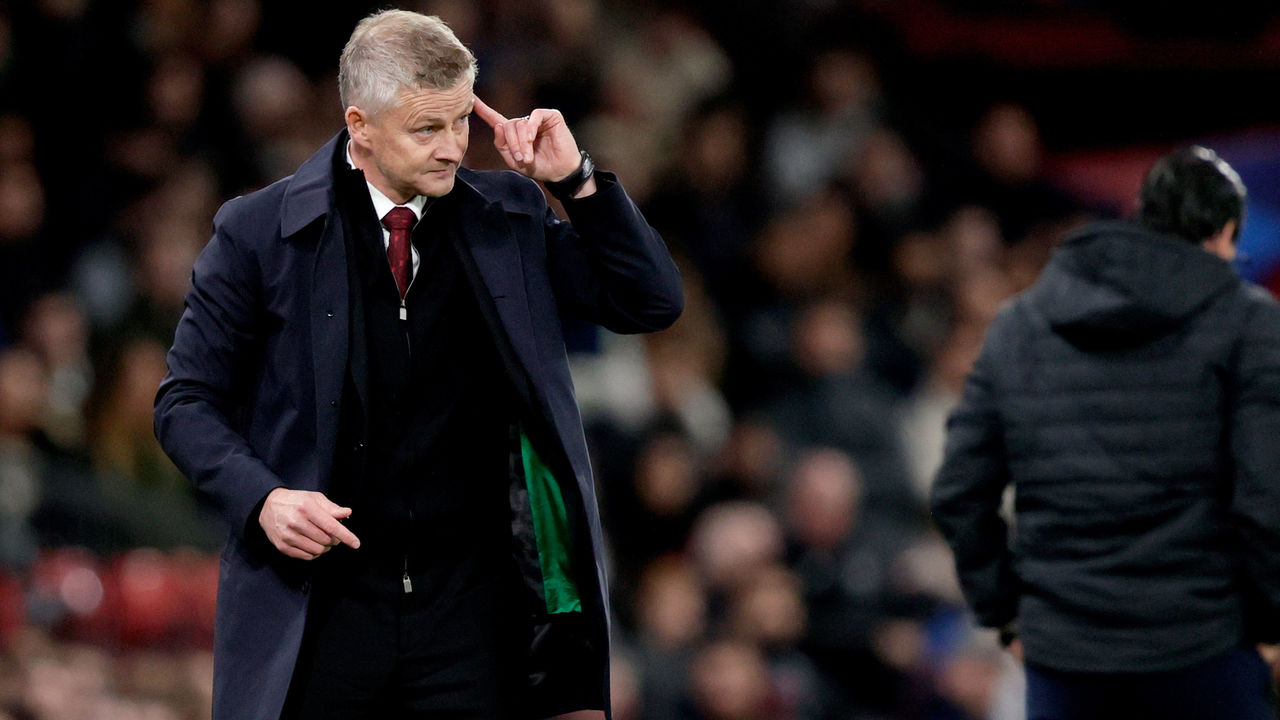 When: Saturday, Oct. 1 (7:30 a.m. ET)
Where to watch: NBCSN (U.S.), DAZN (Canada)
As long as Cristiano Ronaldo is healthy, there's a chance for Manchester United to win. He hasn't even needed a high volume of shots to score decisive goals. His 22.7% conversion rate since joining the Red Devils is easily above Ronaldo's career average. But that could also make it unsustainable. He's overperforming his expected goals average by 1.3 and therefore prone to a correction.
That's bad news for United as they struggle to click elsewhere. Mostly desperation has come from Ole Gunnar Solskjaer's side, and while that provides good drama, it doesn't seem like the making of a Premier League champion.
Last weekend's 1-0 loss to Aston Villa was troubling not because it came against an opponent United had dominated for many years, but because Solskjaer's team lost control of its fate even with 60% possession. Only four of United's 28 shots actually hit the target.
Luckily, Everton are a bit unsure of themselves too. They lost 3-0 to Villa a week prior, and their three victories thus far have come against teams in the bottom five of the table. Rafa Benitez has yet to find the right balance between defense and attack, a vulnerability United know all too well.
Prediction: A high-scoring draw that does neither side any favors.
Liverpool vs. Manchester City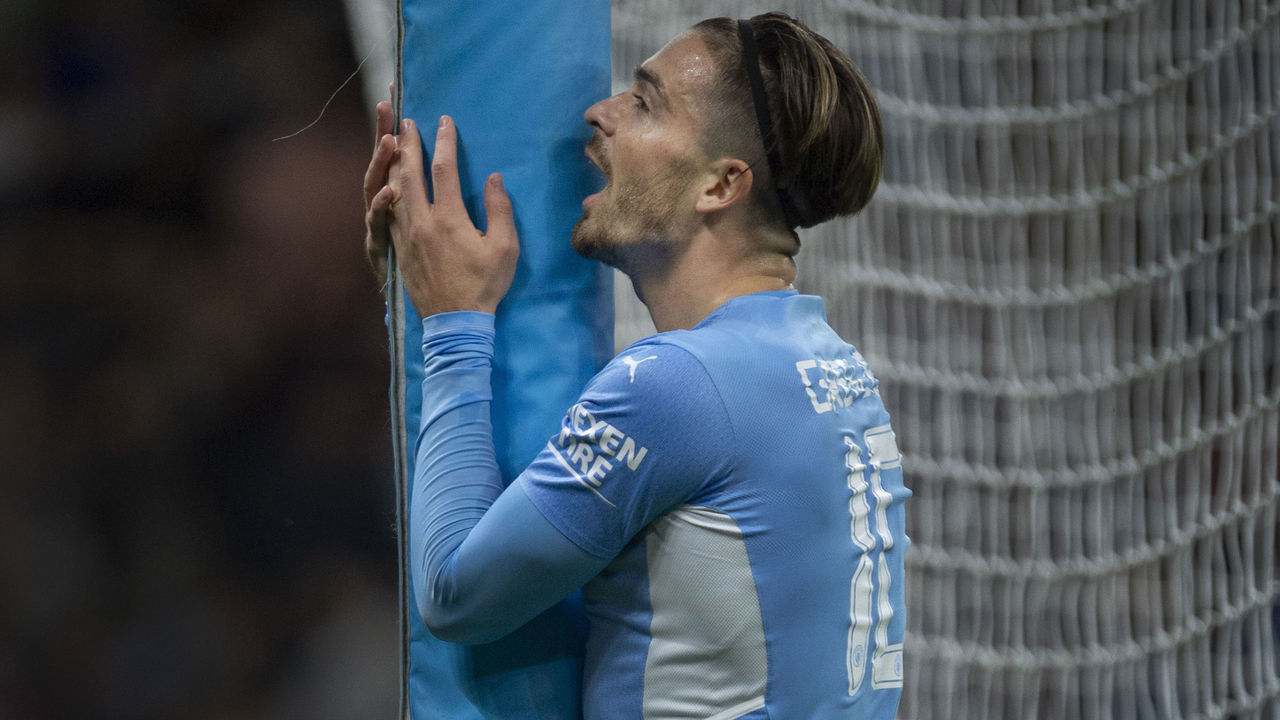 When: Sunday, Oct. 2 (11:30 a.m. ET)
Where to watch: NBCSN (U.S.), DAZN (Canada)
Liverpool and Manchester City are hoping to enter the international break on a high note after a week of ups and downs.
Liverpool canceled out last weekend's topsy-turvy 3-3 draw at Brentford with an emphatic 5-1 victory over Porto in the Champions League. But the opposite was true for City, whose 2-0 loss to Paris Saint-Germain wiped out all the goodwill from a 1-0 result at Chelsea.
Still, Jurgen Klopp's side is in first place in the Premier League, with City sitting just a point behind. Sunday's clash feels like a title-decider, even if it's too early to significantly impact the final standings.
Liverpool have quietly resurfaced as a legitimate contender on all fronts while overcoming a string of earlier 2021 losses to find their mojo again as an all-action unit. They're unbeaten since mid-April – a run of 18 matches across all competitions – and Klopp has shown a greater willingness to rotate, giving 25 players 90-plus minutes this season.
If anything, City are the ones facing scrutiny. The frustration in Paris reignited criticism of the club's transfer policy, and particularly its failure to sign Harry Kane, or any other viable center-forward. Raheem Sterling is still struggling at the domestic level, and even with his winning effort against Chelsea, Gabriel Jesus is fighting for Pep Guardiola's respect. A lot rests on the creative abilities of Bernardo Silva, Kevin De Bruyne, and Jack Grealish.
Prediction: Liverpool's counterattack decides this cagey encounter.
La Liga
Atletico Madrid vs. Barcelona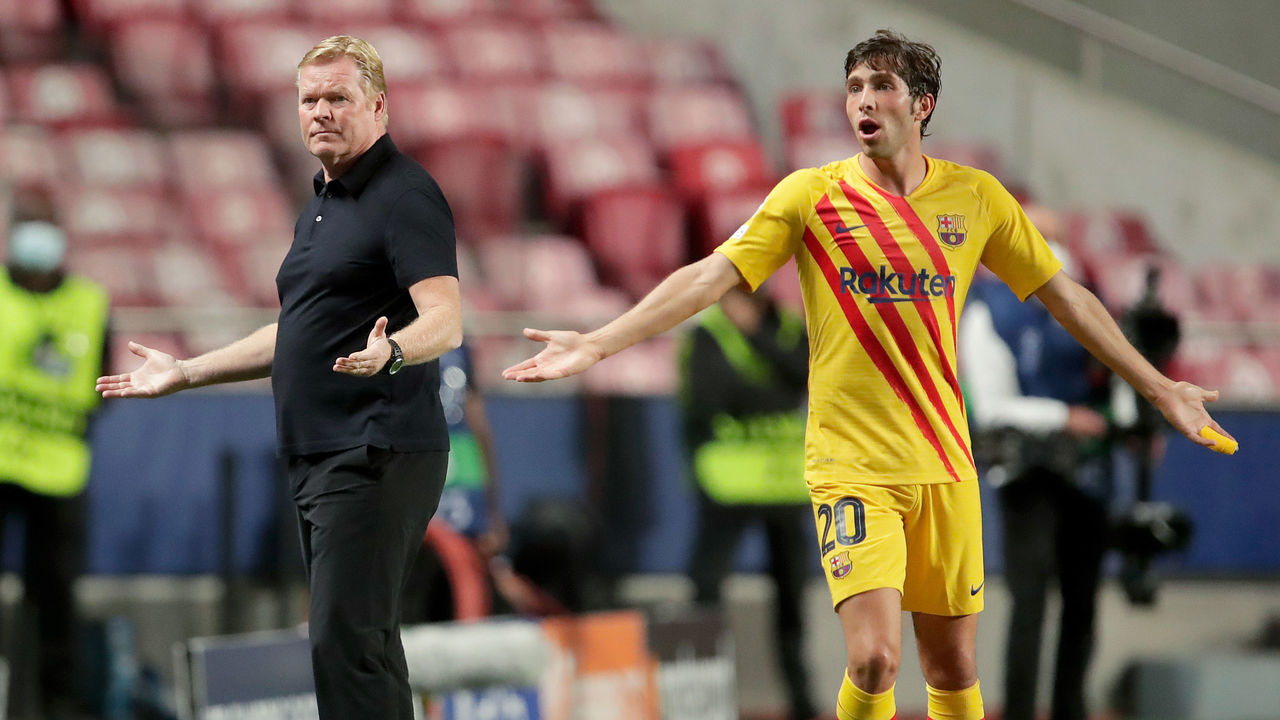 When: Saturday, Oct. 1 (3 p.m. ET)
Where to watch: ESPN+ (U.S.), TSN 5 (Canada)
Ronald Koeman might not get to coach his last match as Barcelona's manager. The Dutchman will serve the second half of his two-game suspension Saturday for reaming out the referee during last week's goalless draw against Cadiz. He's gone from dead man walking to dead man sitting in the bleachers.
A win over Atletico may not even be enough to save Koeman's job. The 58-year-old has publicly jousted with club president Joan Laporta, suggesting he hasn't received enough protection or backing from the higher-ups. All of that may be true, but the on-pitch results are still poor. The players seem demoralized, with Gerard Pique saying recently, "We are what they are." It feels like there's no way of reversing the rot.
Koeman himself has urged the fans to be more realistic about Barcelona's chances of winning anything. But it's not just about victories. Barcelona need an identity on the field, and Koeman has failed to create one with this rag-tag group.
Atletico aren't feeling much better about themselves. They're only two points ahead of the Blaugrana thanks to a humiliating 1-0 loss to bottom side Alavez, and Atletico has scored only seven goals in five league matches. Antoine Griezmann has yet to register a shot on target in La Liga, but his superb goal against AC Milan in the Champions League should provide a confidence boost.
Prediction: A boring goalless draw seals Koeman's fate.
Serie A
Atalanta vs. AC Milan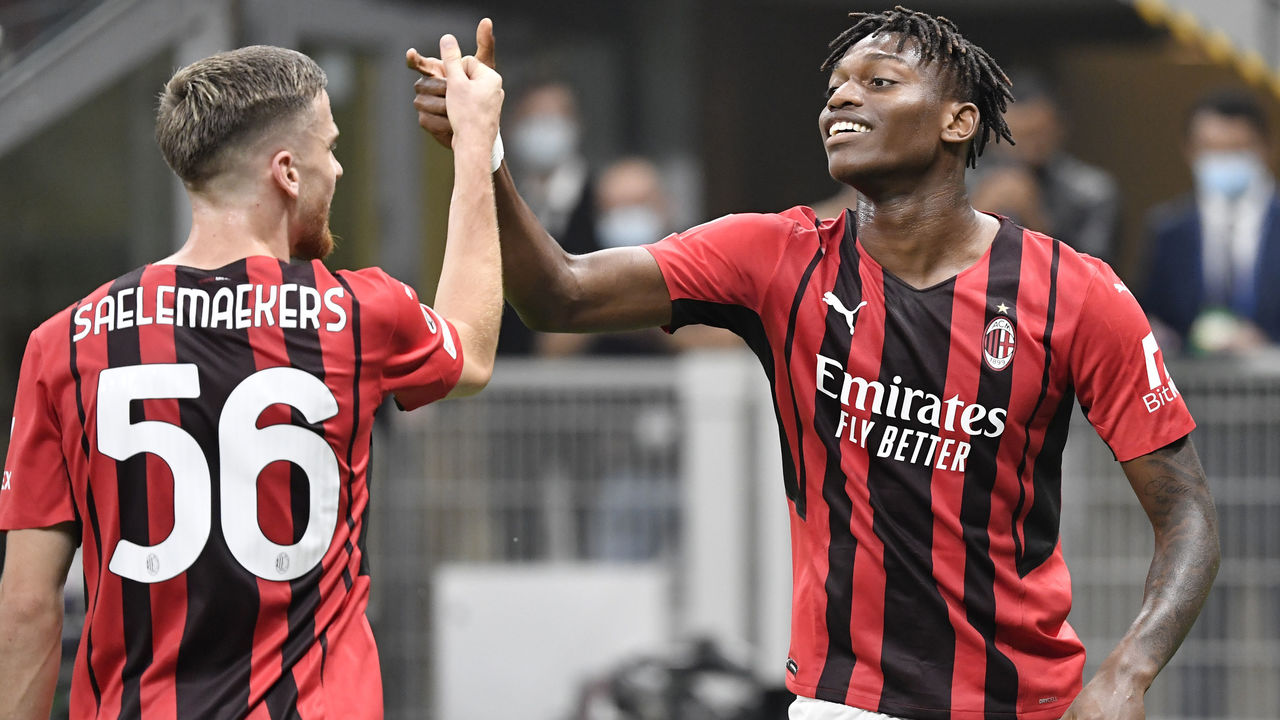 When: Sunday, Oct. 2 (2:45 p.m. ET)
Where to watch: Paramount+ (U.S.), TLN (Canada)
Milan's high-octane approach makes them one of Europe's most fascinating teams, and on Sunday they'll put their credentials on the line against an Atalanta side hoping to recapture the same attacking spirit that made them appointment viewing in recent seasons.
Milan may have lost to Atletico in midweek action, but that was hardly their fault. Dubious refereeing robbed the Rossoneri of its first win in a Champions League match since November 2013. Their performance still stood out, though, with center-back Fikayo Tomori and midfielders Sandro Tonali and Ismael Bennacer showing incredible poise and energy while down a man.
After struggling throughout the 2020-21 campaign, Rafael Leao is also emerging as a protagonist while helping out defensively and scoring goals in big moments. Unlike his first two years in Milan, the 22-year-old has discovered a newfound appetite for tracking back, and he's far more purposeful when in possession.
Atalanta used to put opponents in similar trouble. Unfortunately, manager Gian Piero Gasperini has so far been unable to get his players to produce the same intensity that propelled the provincial side to three consecutive top-four finishes. Losing dynamic full-back Robin Gosens to a long-term injury certainly doesn't help.
Prediction: Leao scores the winner in a back-and-forth affair.
Ligue 1
Lille vs. Marseille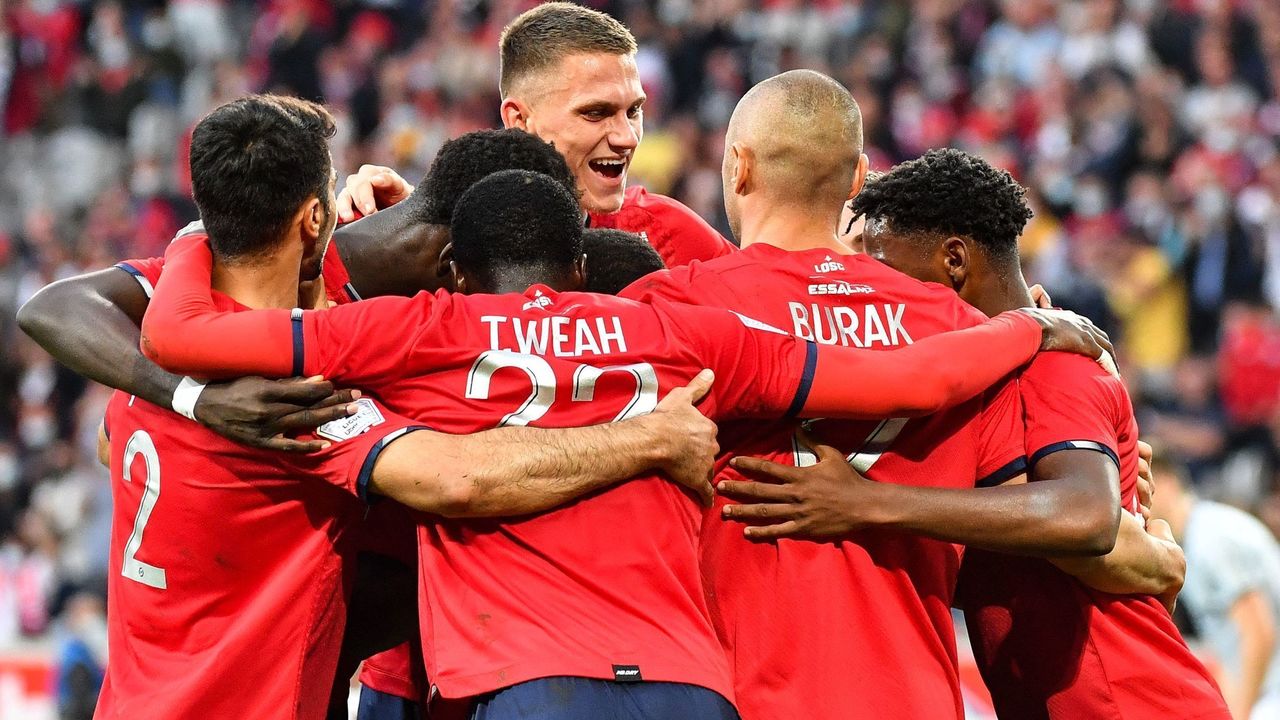 When: Sunday, Oct. 2 (11 a.m. ET)
Where to watch: beIN SPORTS (U.S.), fuboTV (Canada)
Arkadiusz Milik's return from injury comes at the right time. Marseille fired blanks in two of their last three games, getting little to show for their superior possession.
Contrasting the club's recent performances with Milik's from last season, the Polish striker scored nine goals in 15 appearances while converting 21% of shots taken. That should offer supporters hope of a quick turnaround.
Especially against Lille, who have yet to keep a clean sheet in Ligue 1 in 2021-22, despite entering the campaign as defending champions. At 37 years old, Jose Fonte is showing his age, putting more pressure on Sven Botman to shore up Lille's creaky defense.
Lille, however, can still bank on center-forwards Jonathan David and Burak Yilmaz to produce offense. The two start up top in Jocelyn Gourvennec's 4-4-2 formation and have notched eight goals between them in all competitions.
Prediction: Milik and David score in a 1-1 draw.
10 thoughts from this week's Champions League action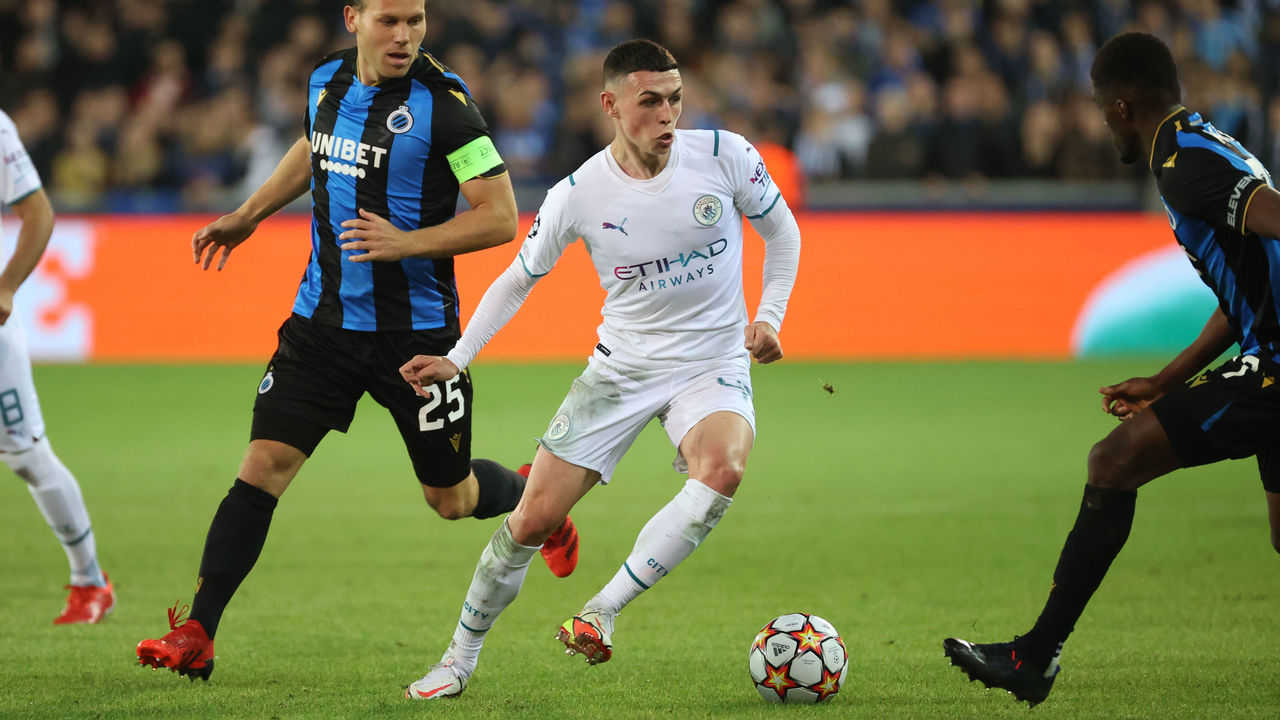 The Champions League rumbled on this week with an entertaining slate of action. Below, we dissect the biggest talking points from Matchday 3 in Europe's premier club competition.
What happens if goals dry up for Liverpool?
Liverpool's exhilarating 3-2 win over Atletico Madrid at the Wanda Metropolitano on Tuesday was arguably the best match of the competition this season. It had a little bit of everything: an electric atmosphere, great goals, a red card, a penalty, and wild swings in momentum.
And though Jurgen Klopp should be enthused by Mohamed Salah's sizzling form and his team's continued ability to fill the net (Liverpool have now scored 18 goals in their last five matches across all competitions), it wasn't all positive for the German tactician.
After a ferocious start in which the Reds rocked Atletico during the first 15 minutes, Diego Simeone's side steadied the ship and was the better team over the remainder of the contest. Looking beyond all the noise – the excellent finishing, Antoine Griezmann's red card, and the late penalty incidents – Atleti probably should have come away with three points; Alisson was forced into some stellar saves on both sides of the halftime interval as Liverpool afforded an uncharacteristic amount of space, especially out wide, to the hosts.
Klopp, who correctly pointed out that winning "dirty" is an important attribute of successful teams, isn't blind to the issues facing his squad at the moment.
"We are not that confident, to be honest," he said after the match. "We know our struggles, we know our problems but we try to ignore them very often."
In their last eight games in all competitions, Liverpool have conceded two or more goals in four of them, looking wobbly at the back against AC Milan, Brentford, Manchester City, and now Atletico. With Salah absolutely destroying his opponents right now, Liverpool can outscore their defensive issues, but at some point, they'll have a spell when the goals don't flow quite so freely. Hopefully, Klopp will have sorted out a suddenly susceptible backline by then.
PSG still lack a clear plan
With seven points from their opening three matches, Paris Saint-Germain are well-positioned to emerge from Group A and reach the knockout stages of the competition. But, not for the first time this season, the star-studded French side lacked cohesion and coherence, relying instead on individual quality from Lionel Messi and Kylian Mbappe to claim a 3-2 comeback win over RB Leipzig on Tuesday.
Mauricio Pochettino obviously has a plan for his team, but outside of scoring early and then using their elite attackers to wreak havoc on the counter, it's been difficult to discern what, exactly, PSG want to do this season. Case in point: PSG had an open-net tap-in on the goal line – Messi's first goal of the match – and still lost the overall expected goals (xG) battle when you exclude penalties from the equation.
Give the ball to Messi and Mbappe, and get the hell out of the way is, in fairness, an approach that will work more often than not. It was enough on Tuesday, after all. Conventional wisdom suggests that plan should be even more fruitful when Neymar is fit and involved, but something is still missing.
Great attacking tridents can carry a team very, very far – we've seen it happen in the past – but more than most sports, football truly is a team game. There needs to be balance all across the pitch, or the system crumbles. Barcelona's famed "MSN" triumvirate, for example, was aided by an elite supporting cast, including a brilliant midfield.
Messi, Mbappe, and Neymar will deliver goals, but what Pochettino does with the rest of his squad will likely determine how successful PSG are this season.
Foden makes Manchester City tick
Amid doubts this season over Manchester City's ability to get results without a traditional No. 9, victory in Belgium was proof that the Premier League club is doing just fine without a center forward in the fold.
In what was another example of Pep Guardiola's tactical prowess, Manchester City produced one of their best attacking performances of the season in Tuesday night's lopsided away win over Club Brugge.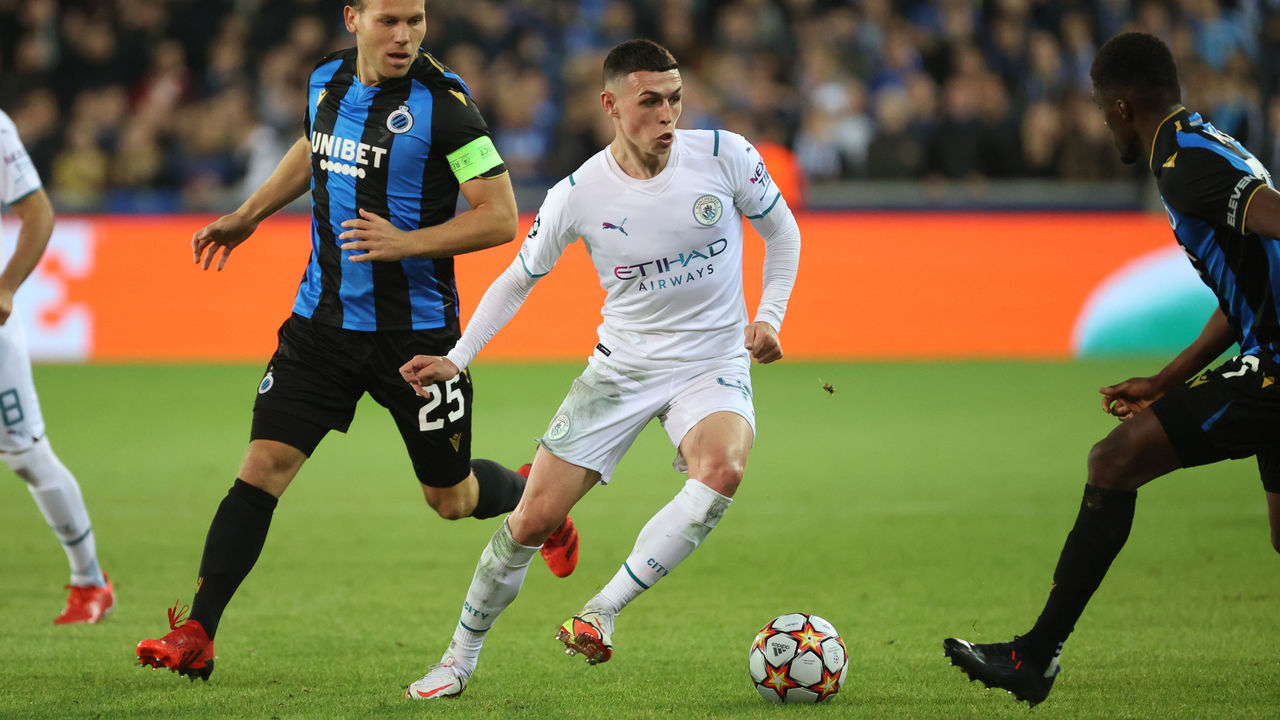 With Phil Foden deployed as a false nine, City dominated en route to a 5-1 victory. The versatile 21-year-old was on another level, as his vision, passing, and movement off the ball caused problems for defenders all night long. This is a quality Brugge side that beat RB Leipzig and held PSG to a draw in its previous Group A matches, so such a thorough hammering is nothing to scoff at.
Foden's confident display was one that City fans have come to expect from the exciting English international – and one that would be nearly impossible for just about any "traditional" striker in the world to replicate. With Ferran Torres out injured and Gabriel Jesus' continued struggles with consistency in front of goal, Foden could be the target man of the future for Guardiola.
Toothless Milan on brink of humbling exit
AC Milan's return to the Champions League has been nothing short of a disaster. Despite their impressive start in Serie A, the Rossoneri have struggled to get their Champions League campaign off the ground and now face the threat of an embarrassing exit after another frustrating night.
Stefano Pioli's men arrived in Portugal with their best opportunity yet to secure their first Champions League point since 2014. Instead, a controversial goal from Luis Diaz lifted FC Porto to victory over the seven-time European champions, who were also the victims of very dubious officiating decisions that factored into their loss to Atletico Madrid on Matchday 2.
Regardless of their poor luck with the officials, Milan now have a mountain to climb just to avoid finishing last in Group B after losing their opening three matches; they sit four points back of Porto and Atletico, and nine behind leaders Liverpool.
The assignment was always going to be difficult given the strength of the quartet. But toothless displays such as the one on Tuesday night – when Milan managed only one shot on target – are likely to result in a humiliating departure from the tournament that fans were so desperate to see the club compete in again.
Just how far can Ajax go this season?
After years of consistently developing prodigious talents and selling them at huge profits, Ajax have often been relegated to underdog status during their recent Champions League endeavors. Based on some of their upsets, it's a role the young Ajax teams of late have cherished.
But Tuesday felt like a turning point.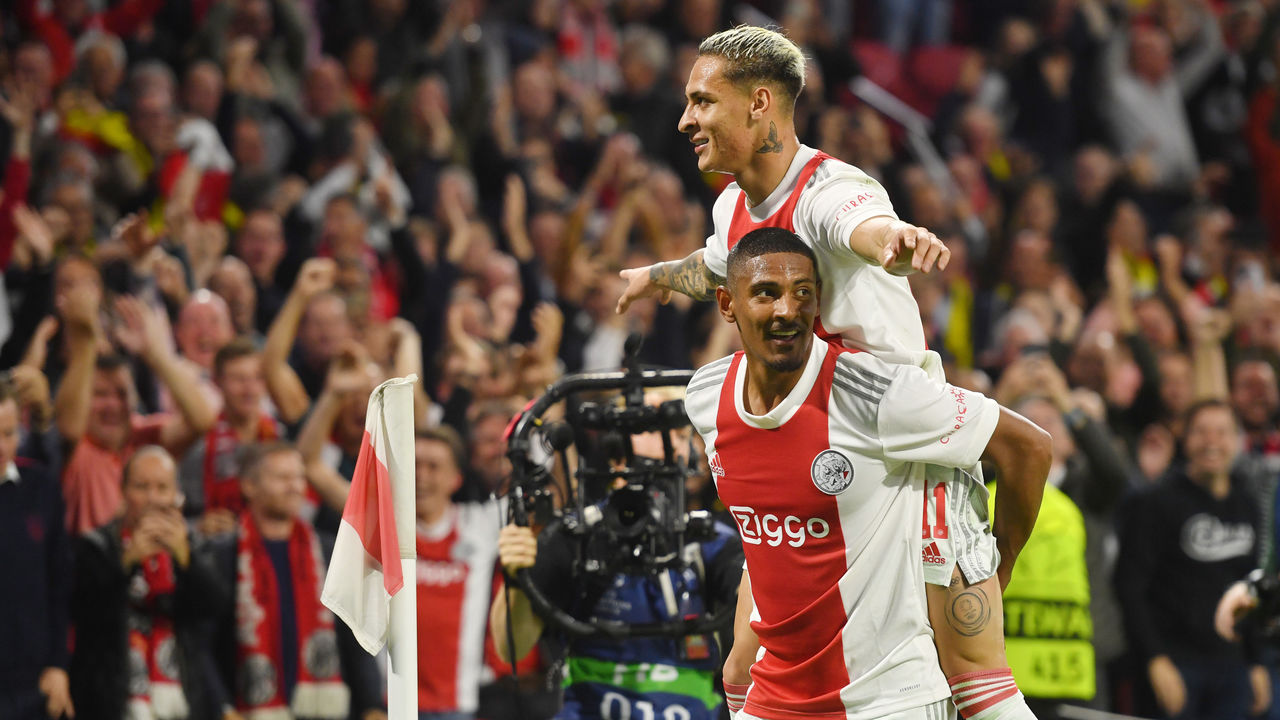 Ajax thwacked Borussia Dortmund, claiming a resounding 4-0 win befitting of a juggernaut, not an underdog. That's exactly what the Dutch side has looked like this season; between the Eredivisie and Champions League, Ajax have racked up 43 goals in 12 games, conceding only three times.
Erik ten Hag's team is supremely skilled in virtually every area on the pitch, and the imposing Sebastien Haller offers a change of pace up front that is, somewhat surprisingly, jiving perfectly with his more technical teammates.
FiveThirtyEight's Soccer Power Index (SPI) has the usual suspects rated as the best teams in this season's Champions League: Manchester City, Bayern Munich, and Liverpool occupy the top three spots at the moment. However, Ajax are fourth.
Until we see evidence to the contrary, the storied club should be viewed as a legitimate candidate to make serious noise in the tournament.
Barca's unspectacular win papers over cracks
It took them until Matchday 3, but Barcelona got their Champions League campaign up and running with a 1-0 win over Dynamo Kyiv on Wednesday.
But the path to victory was rougher than it should have been against a team Barcelona would have historically been heavy favorites to beat. Less than a year after winning 4-0 on a trip to Ukraine, Barca had to grind their way to victory at the Camp Nou.
On an evening when the hosts struggled to generate scoring opportunities, it took the heroics of a defender to decide the match. Gerard Pique scored the winner and became the first player to register a Champions League goal for the club since Lionel Messi's departure.
Despite getting the three points, it was a brutal performance that won't fill fans with confidence ahead of the season's first edition of El Clasico this weekend. If Koeman can't inspire his men ahead of the showdown with Real Madrid, it could spell the end to the Dutchman's time in charge.
Ronaldo rescues Solskjaer … again
Of course.
For the second consecutive Champions League match, Cristiano Ronaldo saved the blushes of Manchester United and manager Ole Gunnar Solskjaer, delivering a late header to cap a stirring 3-2 comeback win over Atalanta.
Villarreal know the feeling, too.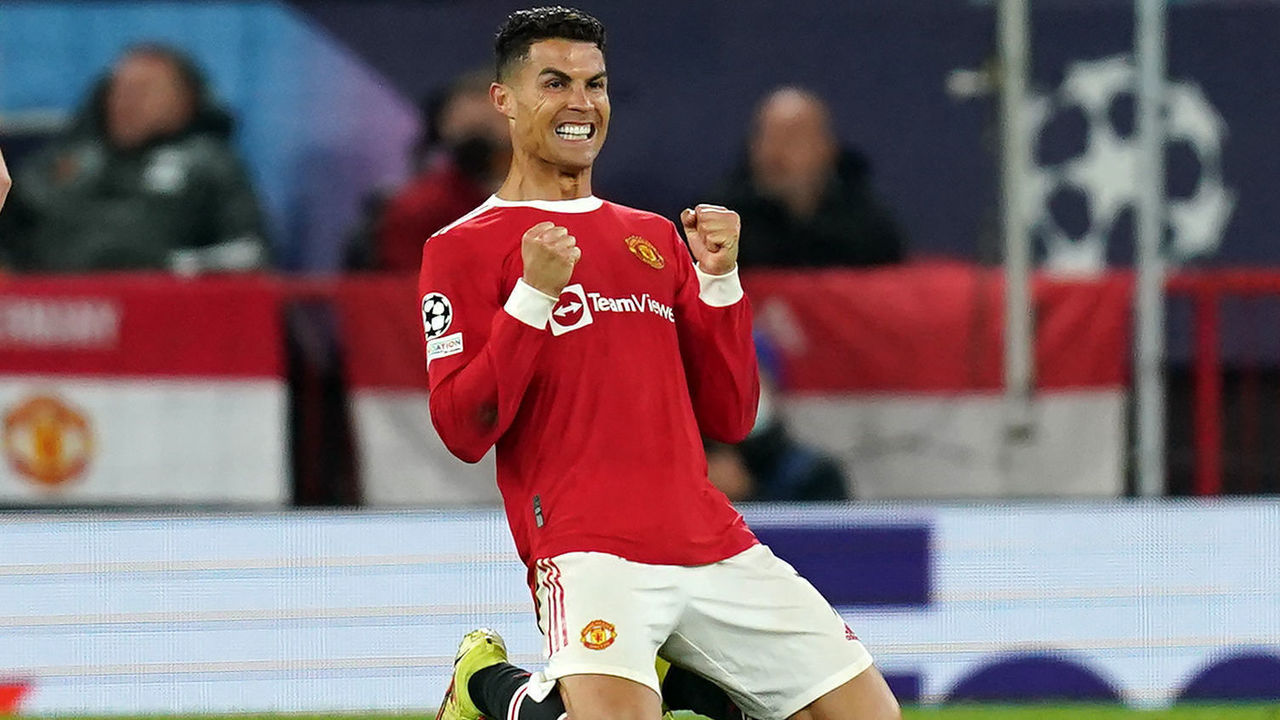 Solskjaer, who has come under increasing pressure amid the club's poor run of form, was surely the most relieved person inside Old Trafford as he watched Ronaldo's header hit the back of the net in the 81st minute. Though United created some chances in the first half, they again looked disorganized in defense and cumbersome overall, and the team, down 2-0 at halftime, was jeered off the pitch. The home crowd was growing restless.
Such a thrilling comeback will surely placate some – being able to turn that game around was no small feat, and praise is warranted – but getting into that situation in the first place should keep the alarm bells ringing. All is not solved, and the same pressing questions remain.
Does Solskjaer have the tactical nous to fix what's ailing the team? Or, as has long been suggested by his detractors, is he more of a cheerleader who needs to make way for a more celebrated tactician who can get the best out of a very talented squad?
Welcome to the De Sciglio renaissance?
Mattia De Sciglio was an afterthought for many Juventus supporters following his return from a loan spell with Lyon, but the versatile Italian has shown in recent matches why Massimiliano Allegri continues to have faith in him.
The 29-year-old, never the most buccaneering full-back, has directly contributed to Juventus' last two goals, whipping in delicious crosses against Roma this past weekend and Zenit St. Petersburg on Wednesday. Juve claimed 1-0 victories in both contests.
De Sciglio is often afforded plenty of space by the opposition, who have clearly identified him as the Bianconeri's least threatening outlet, regardless of which flank he takes up. It's not an unwarranted approach, to be fair, but if he continues to make worthwhile attacking contributions, opposing teams will eventually need to account for a player who some didn't expect to see wearing a black and white shirt at all this season.
Time for Tuchel to get creative
Chelsea cruised to a 4-0 win over Malmo on Wednesday, but any delight was tempered after watching strikers Romelu Lukaku and Timo Werner both leave the contest in the first half with worrying injuries.
Thomas Tuchel said after the victory that the Belgian star twisted his ankle, adding that the German speedster sustained a hamstring issue. He suspects the duo will miss "some games," according to James Olley of ESPN. The extent of their ailments will be learned later this week.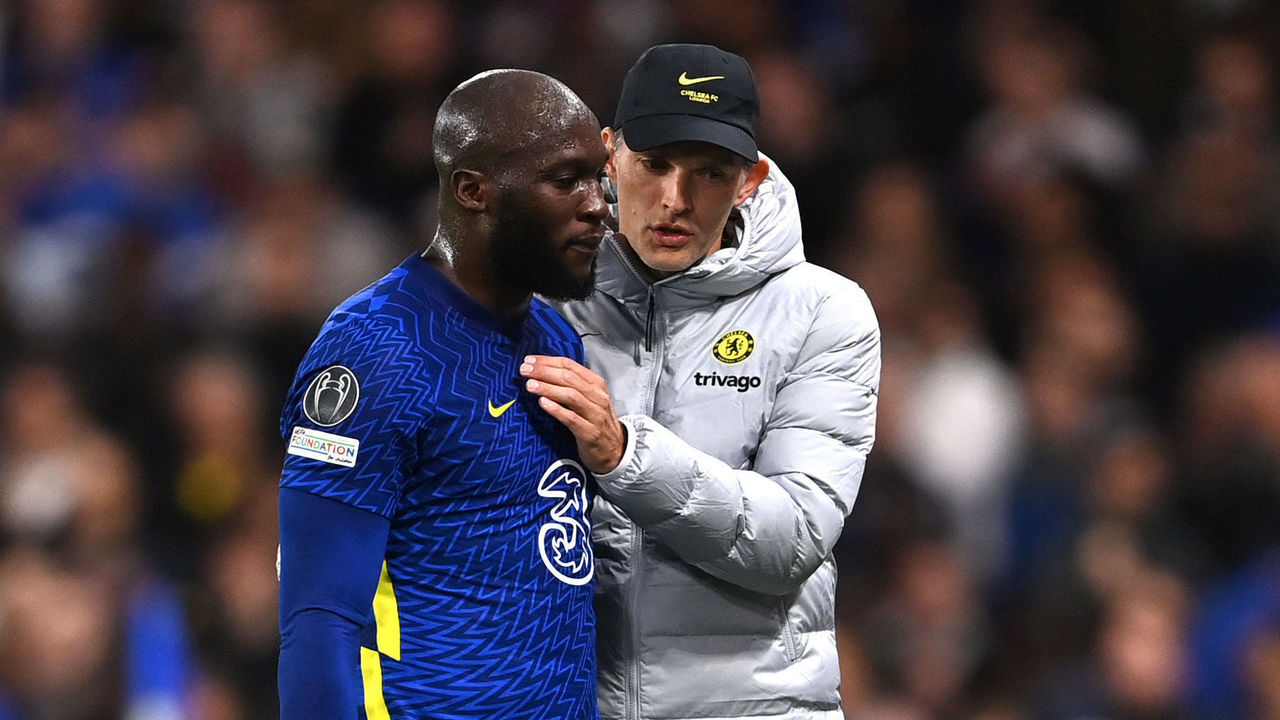 Barring a rapid recovery, Tuchel will need to get crafty with his lineup selections in the coming weeks. Kai Havertz, who found the net in Wednesday's rout, figures to see some time as a false nine.
There's never a good time for injuries, but the Blues will take solace in the fact that Lukaku and Werner's setbacks come during the most favorable portion – at least on paper – of Chelsea's schedule.
Adeyemi ready for big move
Karim Adeyemi will very likely be the subject of a bidding war in January.
The Red Bull Salzburg forward, 19, brought his tally to three goals in as many matches in this season's Champions League, scoring an early marker in his side's 3-1 triumph against Wolfsburg. The Austrian club is now sitting pretty atop Group G and will fancy its chances of reaching the knockout stage.
The German international's explosiveness has been central to Salzburg's success. In addition to his scoring prowess, the teenager has won four penalties in three games. Defenders can't handle him.
Manager Matthias Jaissle should probably enjoy the next couple months while he's able to call upon Adeyemi; a handful of Europe's top clubs are apparently eyeing an opulent transfer for the youngster, who looks destined to be the next big star to come through the vaunted Red Bull pipeline.
Chiesa, Son among 5 Ballon d'Or snubs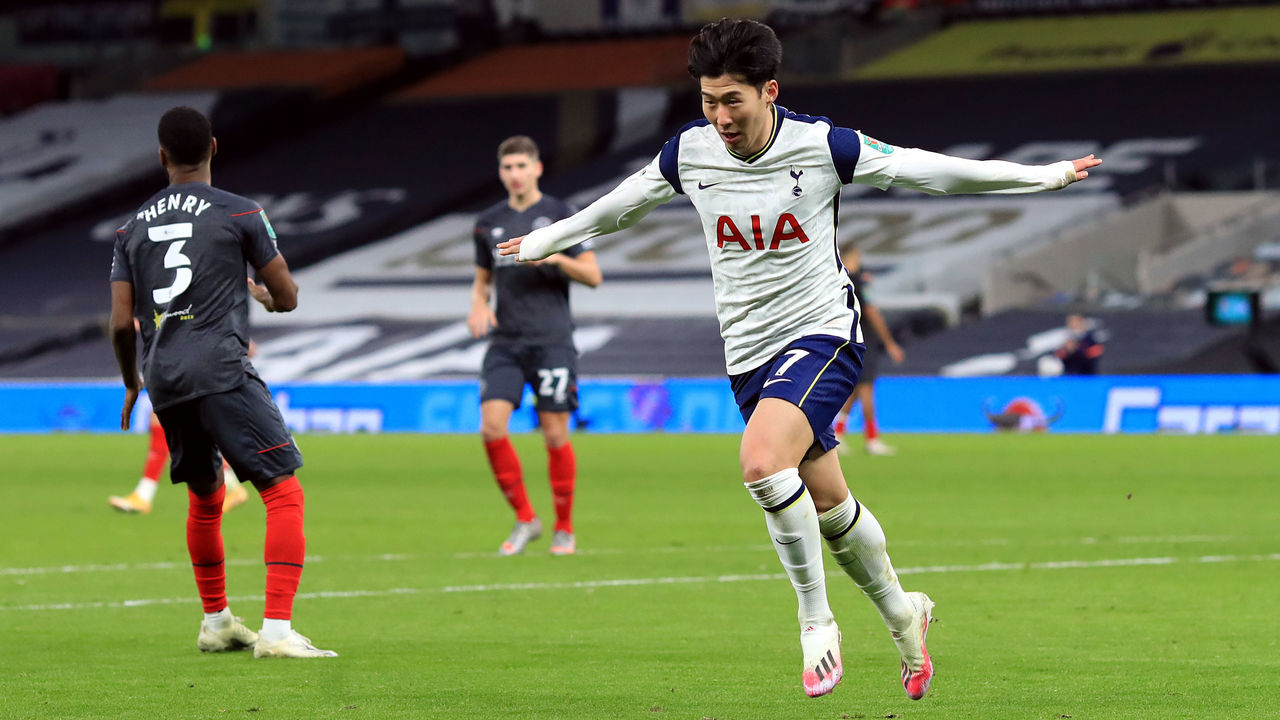 The finalists for the 2021 Ballon d'Or award were unveiled Friday, with many of football's biggest stars occupying a spot on the prestigious list.
As is the case every year after France Football releases its 30-man shortlist, there are a handful of controversial omissions.
Here are five of the biggest snubs for the 2021 Ballon d'Or award:
Heung-min Son (Tottenham/South Korea)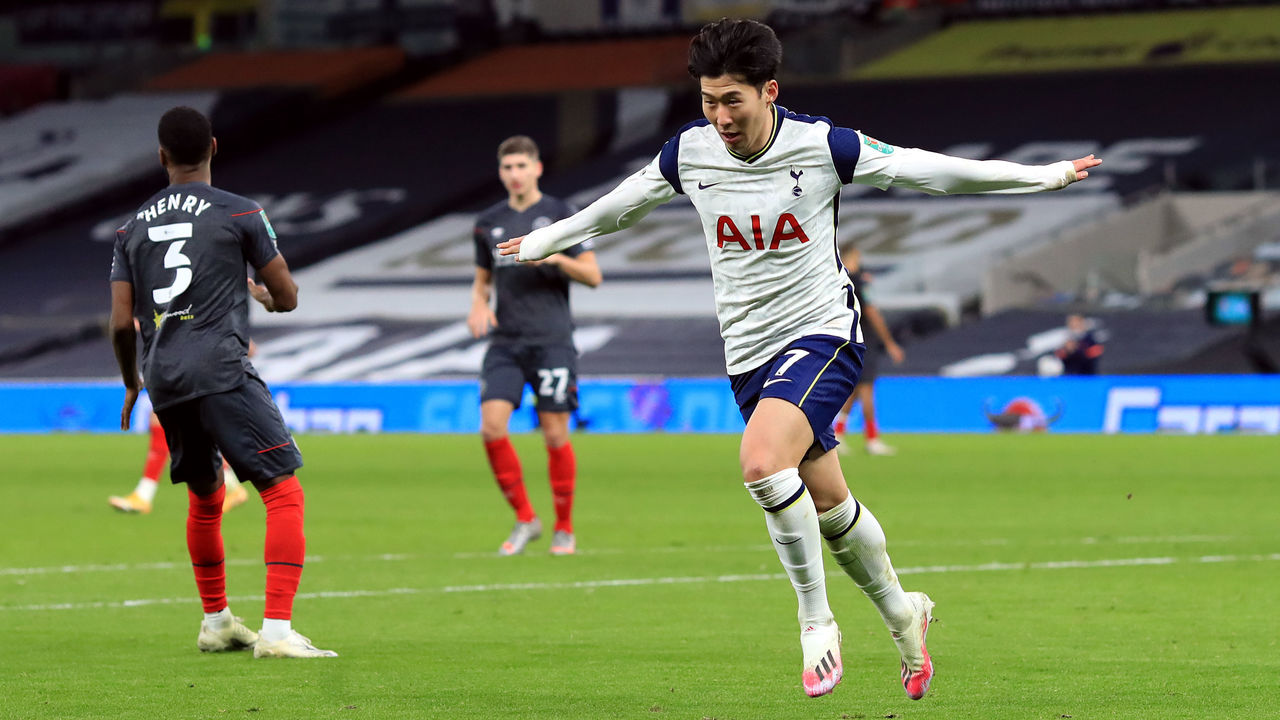 On the heels of another sensational season at Tottenham Hotspur, Heung-min Son somehow failed to make the cut for the revered honor.
Son was brilliant for Spurs last term, forming a dynamic partnership with Harry Kane on his way to finishing the 2020-21 Premier League campaign with 17 goals and 10 assists. But even though his statistics eclipsed the figures that earned him a place in the top 30 two years ago, the South Korean's best season in north London went unrewarded by the French outlet.
Federico Chiesa (Juventus/Italy)
There's not much more Federico Chiesa could've done to earn his place among football's elite.
The 23-year-old winger developed into an integral component for both club and country last season. But even after playing an influential role in spearheading Italy's journey toward capturing the Euro 2020 title and emerging as a star for Juventus, his heroic efforts weren't enough for some, apparently.
Joshua Kimmich (Bayern Munich/Germany)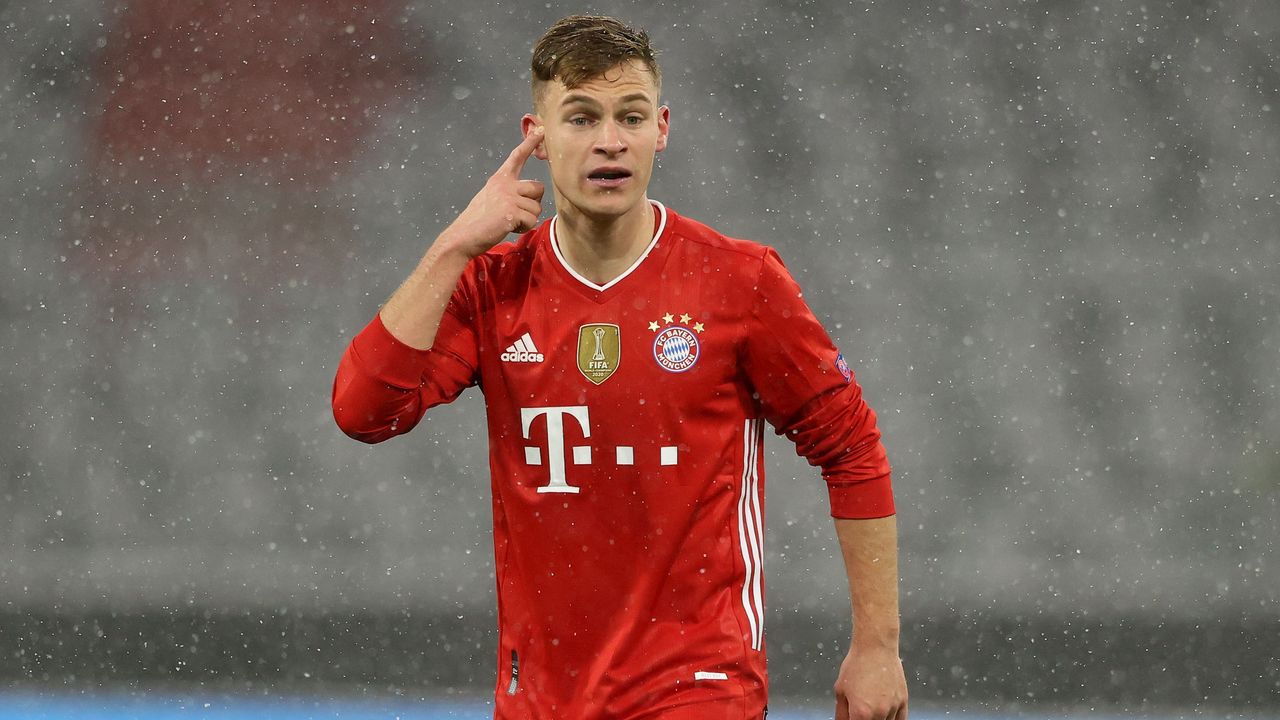 Joshua Kimmich is perhaps the most puzzling omission of the lot. The versatile German is one of Bayern Munich and Germany's most consistent players, yet he's been overlooked by France Football for the second time running.
There's no doubting the 26-year-old will eventually get recognized in the near future. But there's also no doubt that, right now, Kimmich is arguably one of the most important and talented players for a Bayern Munich side that habitually competes for – and wins – titles.
Jan Oblak (Atletico Madrid/Slovenia)
There wasn't any room for Jan Oblak in this year's list of Ballon d'Or contenders, with Italian Gianluigi Donnarumma singled out as the lone representative of the goalkeeping brotherhood.
While there are cases to be made for other goalkeeper snubs – such as Manchester City's Ederson, Liverpool's Alisson, Bayern Munich's Manuel Neuer, and Chelsea's Edouard Mendy – Oblak's exclusion may be the most egregious considering his commanding performances in helping Atletico Madrid end their seven-year wait for a La Liga title.
Marquinhos (Paris Saint-Germain/Brazil)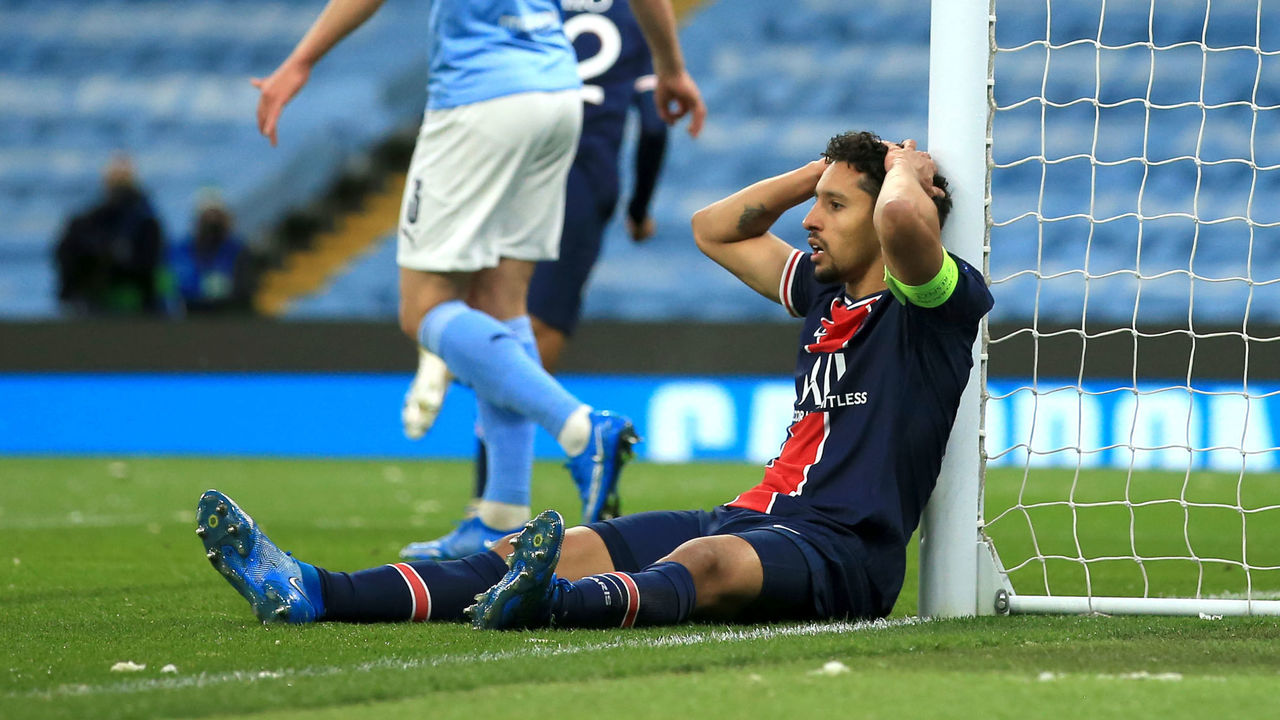 A trophy-less season at Paris Saint-Germain could be one of the explanations for overlooking Marquinhos. But that doesn't mean it's a good reason to omit one of the world's top defenders.
While it was a disappointing season overall for PSG, Marquinhos was a force throughout the campaign before going on to play a vital role during Brazil's journey to the Copa America final last summer.
Honorable mentions: Marcos Llorente (Atletico Madrid/Spain), Thomas Muller (Bayern Munich/Germany), Edouard Mendy (Chelsea/Senegal), Manuel Neuer (Bayern Munich/Germany), Kyle Walker (Manchester City/England)
10 thoughts from this week's Champions League action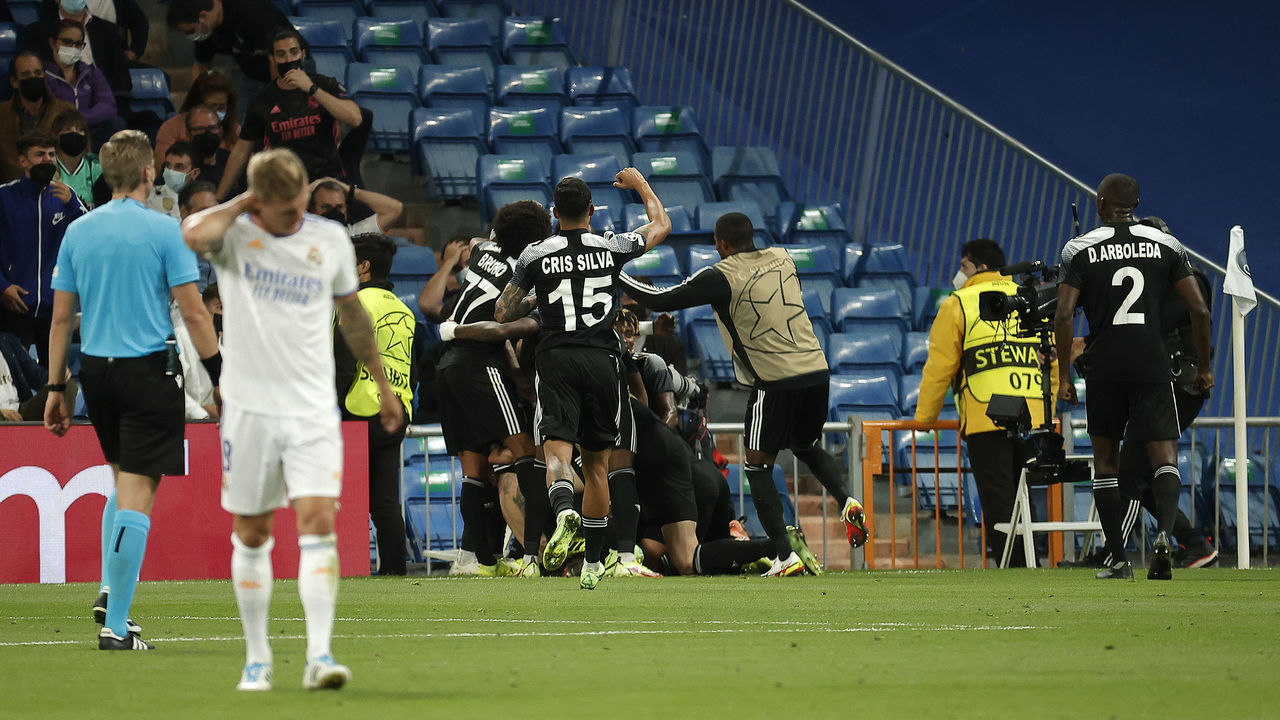 The Champions League rumbled on this week with a dramatic slate of action. Below, we dissect the biggest talking points from Matchday 2 in Europe's premier club competition.
Besiktas' reserves do themselves proud
"Besiktas are looking for a miracle," major Turkish newspaper Hurriyet declared when previewing Tuesday's trip to Ajax. And it wasn't an outlandish statement.
Sergen Yalcin's side traveled to Amsterdam off the back of a sobering defeat to Altay and, most critically, with 11 first-team players unavailable for the tie. The manager had to improvise, nudging promising left-back Ridvan Yilmaz into a more advanced role ahead of Umut Meras, who was starting for the first time this season. Berkay Vardar – an 18-year-old who was making his senior debut and represented the club in the UEFA Youth League earlier in September – later replaced Meras.
Ajax, on the other hand, were flying. In addition to the 5-1 win over Sporting CP to open their Champions League campaign, the Dutch giants boast 30 goals in seven Eredivisie matches.
So, was a 2-0 defeat really so bad given the circumstances? True, Besiktas have no points after their first two matches of the group stage. But collecting four points from their two meetings with Sporting CP plus a point from either of the return fixtures against Ajax (at home) or Dortmund (away) is attainable and would be enough to parachute them into the Europa League knockout rounds.
The performances from Besiktas' backup players should serve as encouragement for the next four contests.
By the numbers: Sheriff's historic victory
Naturally, much of the focus will be on Real Madrid suffering arguably the greatest upset in Champions League history. But Tuesday was Sheriff Tiraspol's day.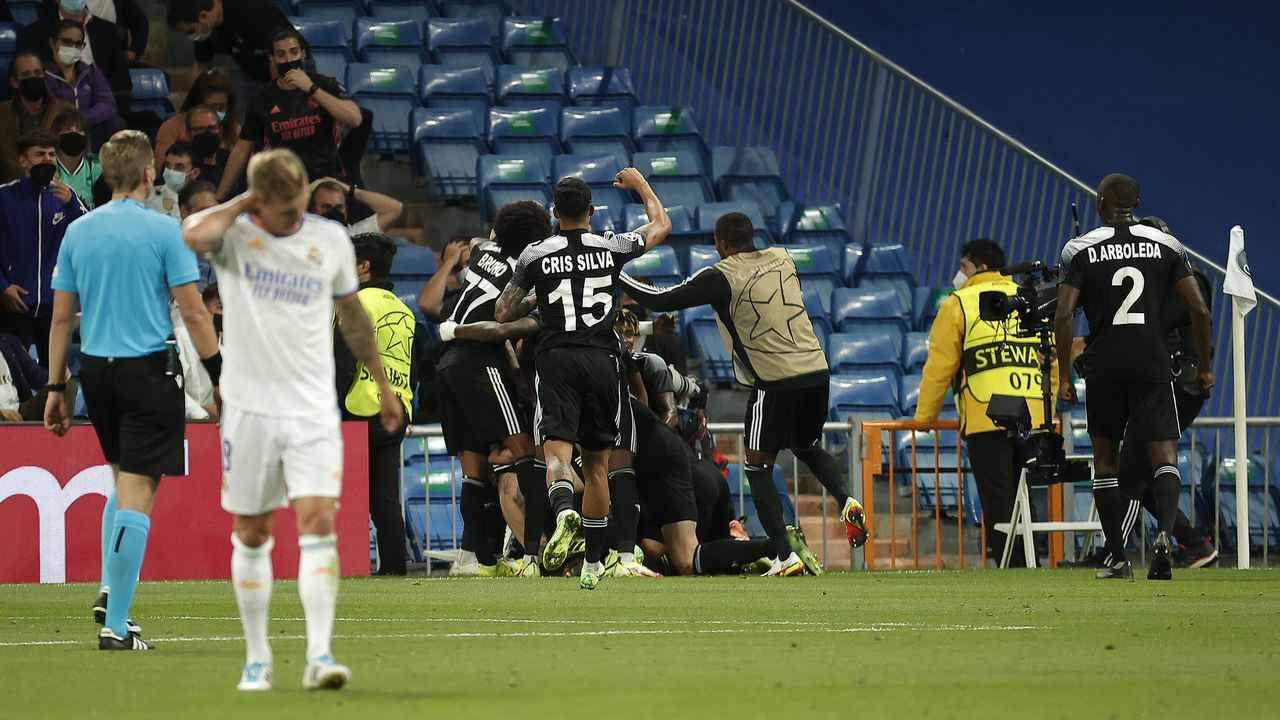 Below are some standout numbers from the Transnistrian club's incredible feat.
1 – Sebastian Thill became the first Luxembourger to score a Champions League goal when he smashed in the 90th-minute winner at the Santiago Bernabeu.
4 – Sheriff are the fourth team to win their first European Cup or Champions League match at Los Blancos' home. Juventus (1962), Arsenal (2006), and Liverpool (2009) beat them to it.
10 – Goalkeeper Georgios Athanasiadis made an incredible 10 saves in Real Madrid's backyard, significantly boosting his reputation during a loan spell from AEK Athens.
24 – Sheriff defenders Gustavo Dulanto and Danilo Arboleda bludgeoned 24 clearances between them. Real Madrid players have collectively cleared the ball 20 times over their past three Champions League fixtures.
€12,000,000 – Approximate value of Sheriff's squad. Real Madrid's David Alaba earns around the same amount in a year.
Florentino Perez takes a big 'L'
When the ill-fated European Super League was birthed – before crumbling in record time – in April, Real Madrid president Florentino Perez, the most outspoken proponent of the breakaway competition, confidently proclaimed that the Champions League group stage was a waste of time.
"The Champions League is attractive from the quarterfinals, that's all," he told Spanish talk show El Chiringuito, via ESPN. "We play against small teams that aren't attractive. Young people prefer to entertain themselves with other things."
Ask any young football fan, though, and they almost certainly found Tuesday's miraculous upset in Madrid entertaining. How could you not?
In Perez's ideal world, the likes of Sheriff Tiraspol would never get the chance to sniff the same air as Real Madrid, let alone bring the 13-time European champions to their knees. At the Santiago Bernabeu, no less.
It served as a stark reminder that the sport, at its core, is for everyone and has the potential to be a great equalizer. That's a point that Perez, more than most, should be reconciling with right now.
More to come from Messi, PSG
Paris Saint-Germain's 2-0 victory over fellow Champions League hopefuls Manchester City, while encouraging, didn't exactly answer all the questions that have been hanging over Mauricio Pochettino's team since the club's lavish summer. The vaunted attacking triumvirate was extremely isolated – PSG often defended with an amusing 7-0-3 formation – and City dominated for large stretches of the match despite being shut out.
There's work to be done for Pochettino, who knows as much.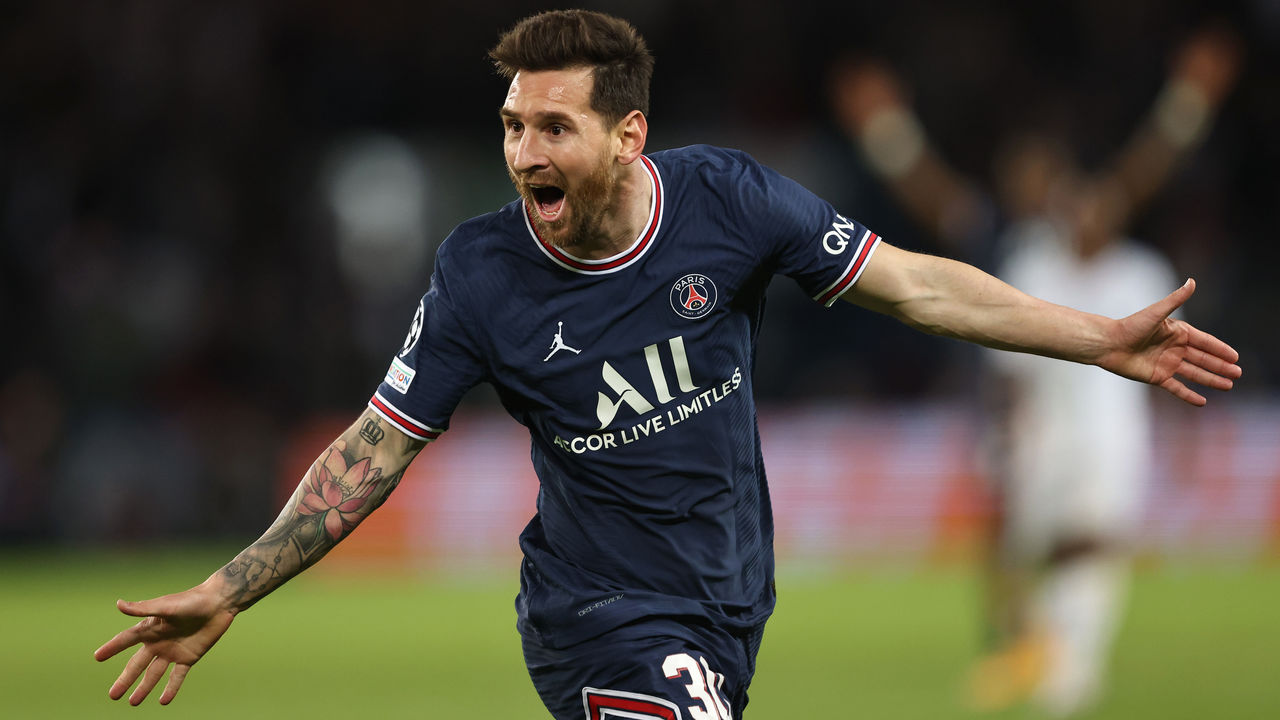 Tuesday's win, however, did provide a glimpse into just how terrifying PSG can be when all the pieces come together. Lionel Messi's gorgeous goal, his first for the side, had some hallmarks of his Barcelona days as the little Argentine went on a long burst, linked up with a fellow attacker on the edge of the box – in this case, Kylian Mbappe – and picked out the top corner.
It was always going to take time for Messi to get acclimated after spending his entire career – and the majority of his life – at Barcelona. It's still very early, but the signs suggest it's just a matter of time.
"I am gradually adapting to my new team, to my teammates," he said after the contest. "The more we play together (with Neymar and Mbappe), the better it will be. We must all grow together, increase our level of play."
Liverpool flying under the radar
The shock of Sheriff's triumph in the Spanish capital and the brilliance of Messi's maiden strike for PSG dominated the headlines on Tuesday, meaning Liverpool's stupendous 5-1 victory at FC Porto didn't get the attention it deserved.
It's not exactly a new storyline – Jurgen Klopp's outfit won its previous two visits to the Estadio do Dragao 5-0 and 4-1 – but there was an understanding among the Reds players and some individual performances that suggest the Merseyside club could go deep in this competition.
Maybe it's time to consider Liverpool as one of the competition's favorites.
Mohamed Salah was incredible once more, bagging a brace in 66 minutes of work. Fabinho made the most of the space Porto afforded to him and spread the ball well from the base of midfield. And Curtis Jones – called into the lineup after Harvey Elliott, Thiago Alcantara, and Naby Keita were injured – was the best of the bunch, having a hand in each of Liverpool's five goals while working hard off the ball to reduce Porto's threat.
Referees get too much protection
Video replay is a good thing. But the people reviewing the footage can't ignore what they're seeing.
Referee Cuneyt Cakir made two dubious calls in AC Milan's 2-1 loss to Atletico Madrid that deserved greater scrutiny from the Video Assistant Referee. Cakir issued a second yellow card to Franck Kessie for a foul that rarely results in a booking at the best of times, but the VAR on duty decided not to recommend a correction, and Cakir chose not to review the footage or verify if he'd made the right interpretation. So Kessie was essentially sent off for clipping a player – or, in other words, doing something that happens several times a game.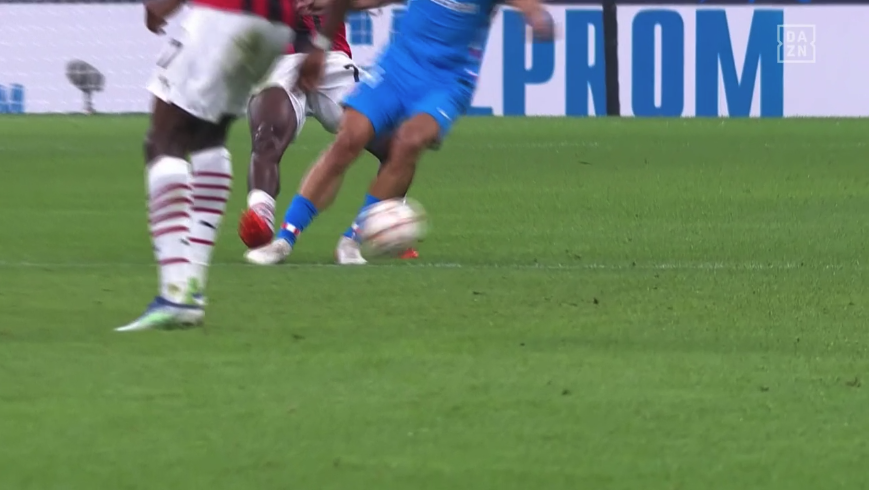 (Courtesy: DAZN)
Later in second-half stoppage time, Atletico's Rodrigo De Paul got away with a clear stamp on Sandro Tonali's foot. To be consistent, Cakir had to give De Paul a yellow card here. He didn't even give a foul.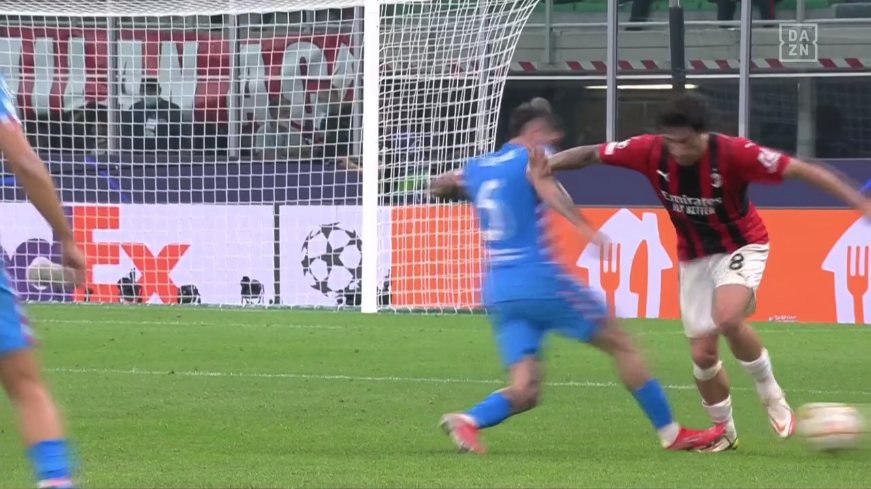 (Courtesy: DAZN)
Finally, Cakir called a penalty in the 93rd minute based on what he determined to be a handball by Milan defender Pierre Kalulu. But replays showed Thomas Lemar had moved his hand toward the ball before Kalulu even made contact.
Instead of taking ownership of the situation and reviewing the incident on the pitchside monitor, Cakir let the VAR relay the information to him. He made no attempt to confirm a call that could've eliminated Milan's chances of advancing to the knockout stage. Cakir had the duty of care to check the penalty himself.
Of course, neither he nor UEFA explained what led to the decision, and there was no attempt to be transparent about the call. Referees, as Brighton captain Lewis Dunk said in February, "hide behind their bubble," while coaches and players have to give interview after interview about it.
Ole's United take time to get going, again
There should've been no better motivation than the Aston Villa defeat. Not only was Saturday's Premier League setback unexpected and embarrassing for Manchester United, Ole Gunnar Solskjaer claimed an offside when Kortney Hause's header found the net, and Emiliano Martinez's antics unsettled Bruno Fernandes before he skied his last-gasp penalty.
These apparent injustices should've fueled United from the first whistle against Villarreal.
But Manchester United's response to the Villa result was slurred, particularly in the first half. Wednesday's 2-1 home win delivered the three points the Red Devils craved after their group-opening loss to Young Boys, but the relief was palpable at Old Trafford.
Villarreal deservedly led at the interval after Arnaut Danjuma dizzied Diogo Dalot with the United midfield largely non-existent – two clear problems that indicated major glitches in Solskjaer's system. United roared back with Alex Telles' beautiful 60th-minute strike and Cristiano Ronaldo's dramatic 95th-minute winner, but it was once again individuals stepping up rather than an all-around team performance.
What could United achieve if they had that late-game intensity from kickoff? Is their tendency to start games poorly a motivational or tactical issue?
Barcelona stuck in reverse
Things are going to get much worse at Barcelona before they get better.
Ronald Koeman's side looked dull and uninterested in Wednesday's 3-0 shellacking against Benfica. In fact, the Portuguese hosts were so superior it hardly felt like an upset. Barcelona showed little desire to win second balls or create anything other than hopeful crosses into the box. Poor Frenkie De Jong, one of the only bright spots in Barcelona's sad-sack midfield, tried to increase the tempo with a couple of defense-splitting passes, but the rest of the team played like it had no intention of winning the match.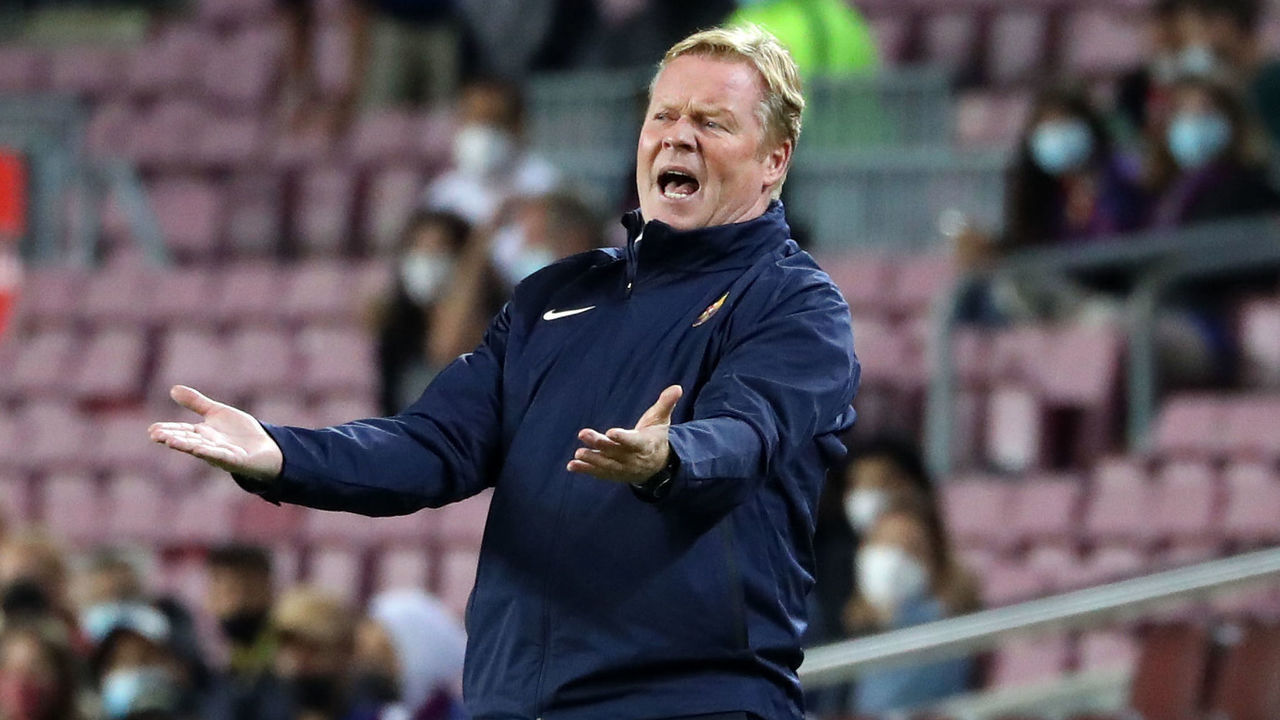 Nothing seemed to work. Benfica's second goal came mere seconds after Koeman brought on Philippe Coutinho, Ansu Fati, and Nico Gonzalez, a triple change that should've injected life in Barcelona's attack. It instead destabilized the team.
Lionel Messi papered over the cracks in this side for so many years, and now, we're seeing just how deep they are. Koeman's probably going to lose his job, but what happens after that? A number of players don't belong at Barcelona, including new signing Eric Garcia, whose blundering performance against Benfica ended mercifully with a red card. Busquets doesn't have the same presence in midfield, and striker Luuk De Jong is too ineffective to lead the line.
Chiesa has taken the leap
There were some eyebrows raised when Juventus opted to allocate €60 million to sign Federico Chiesa in 2020. Undeniably skillful in the extreme, there were factions of fans and pundits who were unsure if the rapid winger could make the jump required to be the guy at one of Europe's top sides.
Less than two full seasons into his Juve career, any lingering concerns have been firmly put to rest.
After announcing himself to the world at Euro 2020, Chiesa has elevated his game at club level, too; the 23-year-old is arguably Juventus' most important player already, providing a unique spark with his combination of blistering pace, trickery, hustle, and an improved finishing ability that he lacked at Fiorentina. All of the Italian's talents were on display Wednesday as he carried an understrength Old Lady to a rousing 1-0 victory over Champions League holders Chelsea, scoring a clinical goal seconds into the second stanza.
"My game has to develop even more and I have to show a lot more," he told Jason Burt of The Telegraph prior to the match. "The demands are getting higher because I have just won a tournament, I am playing at Juve but that is also what I want. I want to give my best."
He's doing just that. Without him, Juve look slow and turgid. With him, there's always a chance he can make something magical happen.
Just a blip for Chelsea?
After looking invulnerable in the opening weeks of the season, Thomas Tuchel is getting his first taste of adversity at Chelsea.
The Blues came out on the wrong end of 1-0 results to Manchester City and Juventus in the last four days, an exceedingly difficult two-game stretch that has coincided with an ill-timed spate of injuries and absences; Mason Mount, N'Golo Kante, and Reece James were all unable to feature in Turin on Wednesday.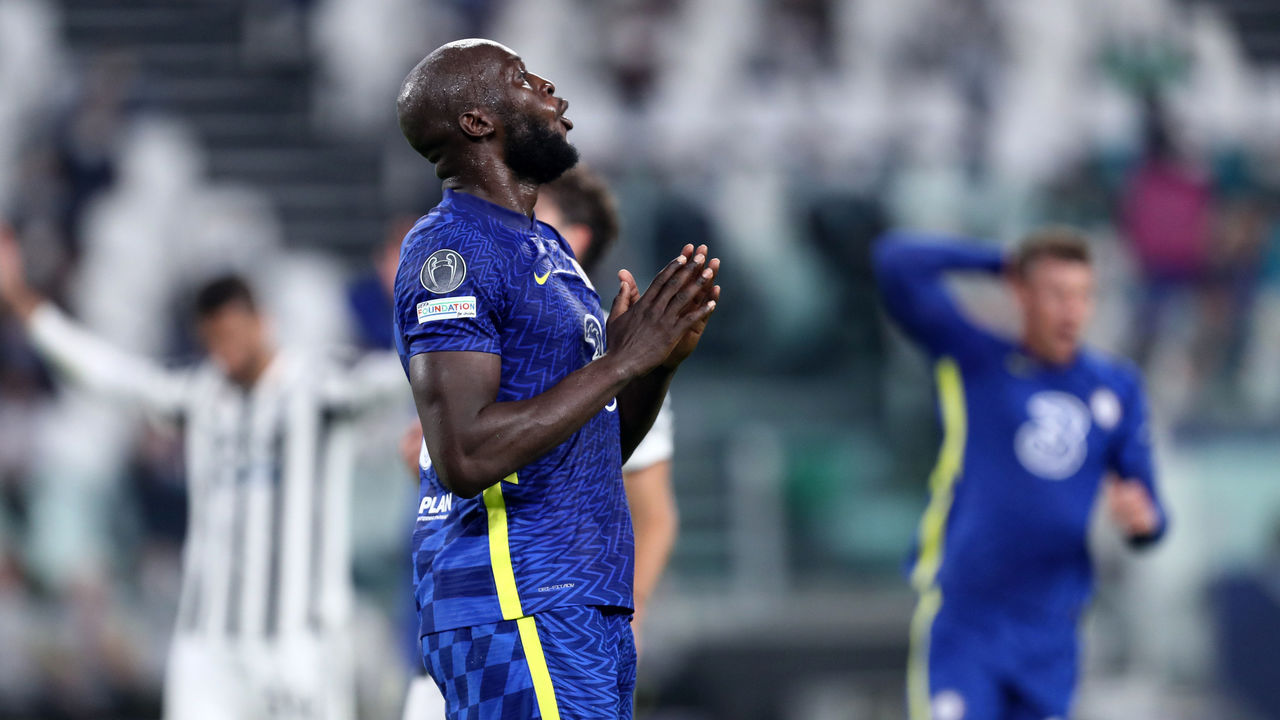 The German bench boss has built up more than enough goodwill to weather this mini storm – winning the damn Champions League will do that for you – but Chelsea's checkered managerial history shows even a grand accomplishment won't save you forever if things deteriorate. Just ask Roberto Di Matteo, who was sacked, coincidentally, after a defeat to Juventus just months after he delivered the big-eared trophy.
A return to full strength will almost certainly see the Blues recover their mojo, but Tuchel has to find solutions for the inevitable stretches of the season when key players are missing. Chelsea, despite dominating possession, managed just a single shot on target at the Allianz Stadium and struggled to get Romelu Lukaku involved until too late in the affair.
There's no reason to panic in west London, but there's still plenty of room for improvement for a team that expects to win multiple trophies this year.