Grading the biggest transfers of the summer so far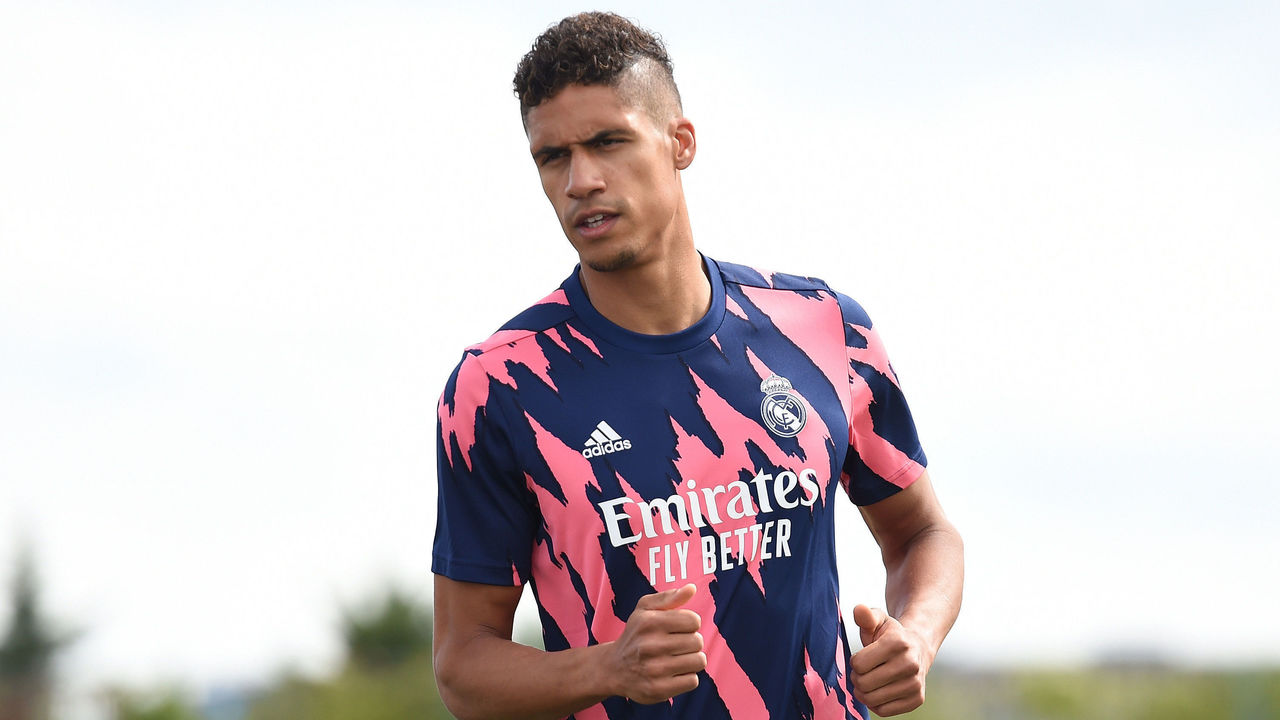 The wheeling and dealing is well underway across Europe. Even as the impact of the pandemic endures, cash is being splashed. Below, we'll grade the marquee deals completed thus far during an eventful summer transfer window.
Jadon Sancho ?? Manchester United
The deal: £73-million transfer (Read more)
Manchester United waited more than a year to sign Sancho, and they saved at least £10 million in doing so. Borussia Dortmund knew they'd have to deal the 21-year-old this summer, or they'd risk losing him on a free transfer in 2022. United – who are usually all too happy to spend big on long-term targets – played the long game, and they played it well.
The English international did his part – he came alive after a difficult start to the 2020-21 season, recording eight goals and eight assists in his final 15 league matches with Dortmund. A right-winger by trade, Sancho played just about everywhere under then-manager Lucien Favre and caretaker boss Edin Terzic, all while supporting Erling Haaland.
Sancho will likely have a more fixed role on the right of United's front line. With Edinson Cavani leading the way and Bruno Fernandes covering the center of the pitch, he will have to provide sufficient crosses along with a good amount of dribbling. But make no mistake: Sancho will complete United's at-times sputtering attack.
Rating: A+
Rodrigo De Paul ?? Atletico Madrid
The deal: €35-million transfer (Read more)
De Paul and Diego Simeone are perhaps the greatest match in recent transfer history. De Paul's relentlessness and versatility fit right into Atletico Madrid's street-fighting ethos.
The 27-year-old is joining Atletico at the perfect time. A two-way midfielder with snarl and panache, De Paul is just as likely to defend as he is to contribute offensively. Atletico can be more than just a defensively solid unit, and De Paul can help them take that next step. Players like Joao Felix and Angel Correa – who are at times held back by their defensive duties – will benefit from their new teammate's all-action style.
Signing such a well-rounded player for a relatively modest €35 million is another victory. Few midfielders on the market possess De Paul's tactical and physical qualities. Just last summer, Atletico sold a similar player in Thomas Partey for €50 million. The capital club is gaming the transfer market once again.
Rating: A
Raphael Varane ?? Manchester United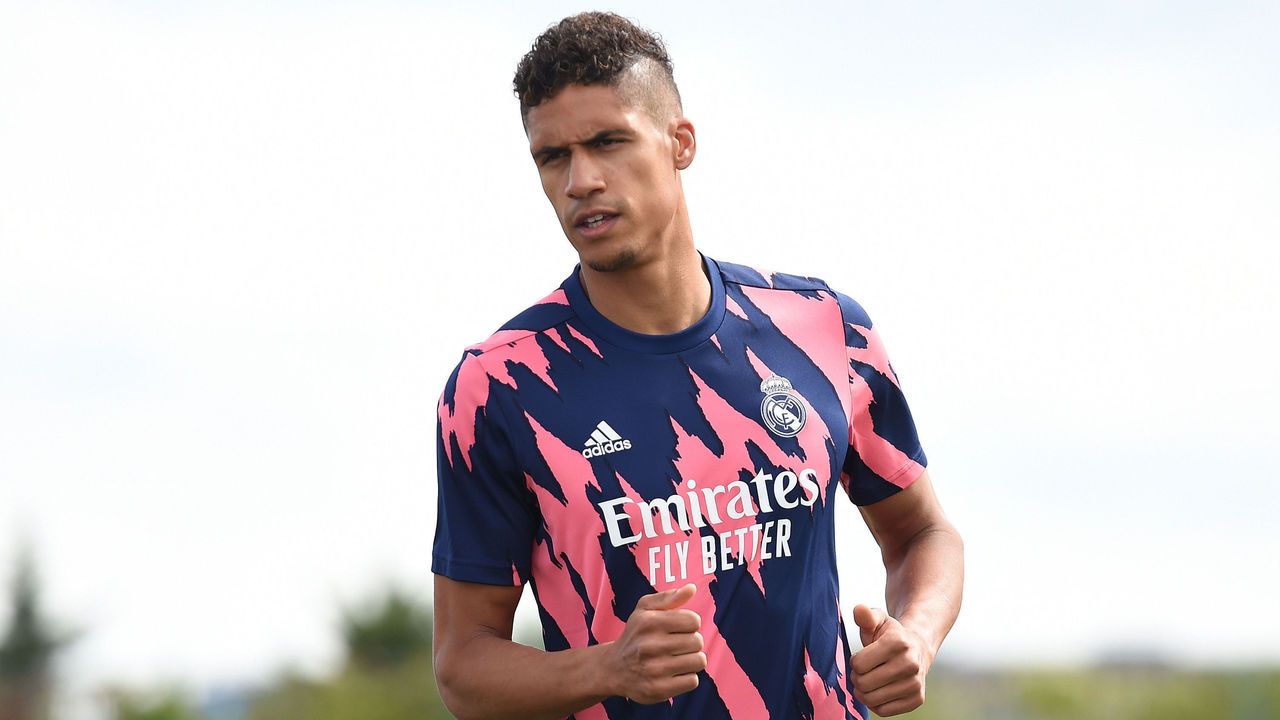 The deal: Reported £34-million transfer (Read more)
Varane is an excellent signing on multiple levels: He's in his prime at 28 years of age, a leader by example, and a serial winner. He's also the perfect partner for Harry Maguire, who can rely on the Frenchman to bail him out if and when he ventures out of position. (Which, as we know, can happen quite a lot.)
Some pundits, including former United defender Rio Ferdinand, question whether Varane can handle the Premier League's intensity. But the defender has four Champions League titles and a World Cup to prove he can. Varane played in the gauntlet that is the Santiago Bernabeu and held his own beside club legend Sergio Ramos. The Frenchman has shown he can meet the demands that come with defending in high-stress situations.
United only had one considerable need to address after signing Sancho, and now that they've covered the center-back position, they could mount a serious challenge for the title. The Red Devils haven't looked this balanced on paper since Sir Alex Ferguson retired as manager in 2013.
Rating: A
Patson Daka ?? Leicester City
The deal: Reported £23-million transfer (Read more)
This may end up being the greatest deal of all when we look back on this transfer window in the near future.
Leicester City being able to pry Daka away from the Red Bull umbrella was a masterstroke. RB Leipzig deciding not to step in and put a stop to it remains baffling, but their loss is the Foxes' enormous gain. The 22-year-old Zambian striker was a scoring machine during his time with Red Bull Salzburg in Austria and has all the tools to excel despite the massive jump in competition level he'll face in the Premier League.
This isn't someone who will wither under the increased pressure and spotlight.
One reason for that is because he won't be thrown to the wolves right away. Daka can play understudy to Jamie Vardy and the resurgent Kelechi Iheanacho this season as he adapts to a new league and country. And that can't be overstated – many talented players don't succeed following a big transfer simply because the club hasn't considered the acclimation process. Leicester deserve credit, not only for identifying an elite young talent but also for putting him in a position to thrive.
Rating: A
Achraf Hakimi ?? Paris Saint-Germain
The deal: Reported €60-million transfer (Read more)
Taking advantage of another team's financial misfortune – or poor planning – is as important as identifying skill in the transfer window. When a golden opportunity arises, you have to pounce. Paris Saint-Germain did exactly that in plucking Hakimi from Inter Milan.
The flying Moroccan wing-back was an essential piece of Antonio Conte's title-winning side last season, but the Nerazzurri's cashflow problems made him an obvious candidate to move. PSG, which started Alessandro Florenzi, Mitchel Bakker, and Abdou Diallo at full-back over two legs of their Champions League semifinal defeat, desperately needed an upgrade at the position and scooped up arguably the most exciting possible option.
The 22-year-old gives PSG yet another electrifying attacking outlet, which will only free up space and make life easier on star duo Kylian Mbappe and Neymar. Hakimi could very well lead Ligue 1 in assists this year, and he may be the final piece the free-spending French giants need to get over the Champions League hump.
Rating: A
Gianluigi Donnarumma ?? Paris Saint-Germain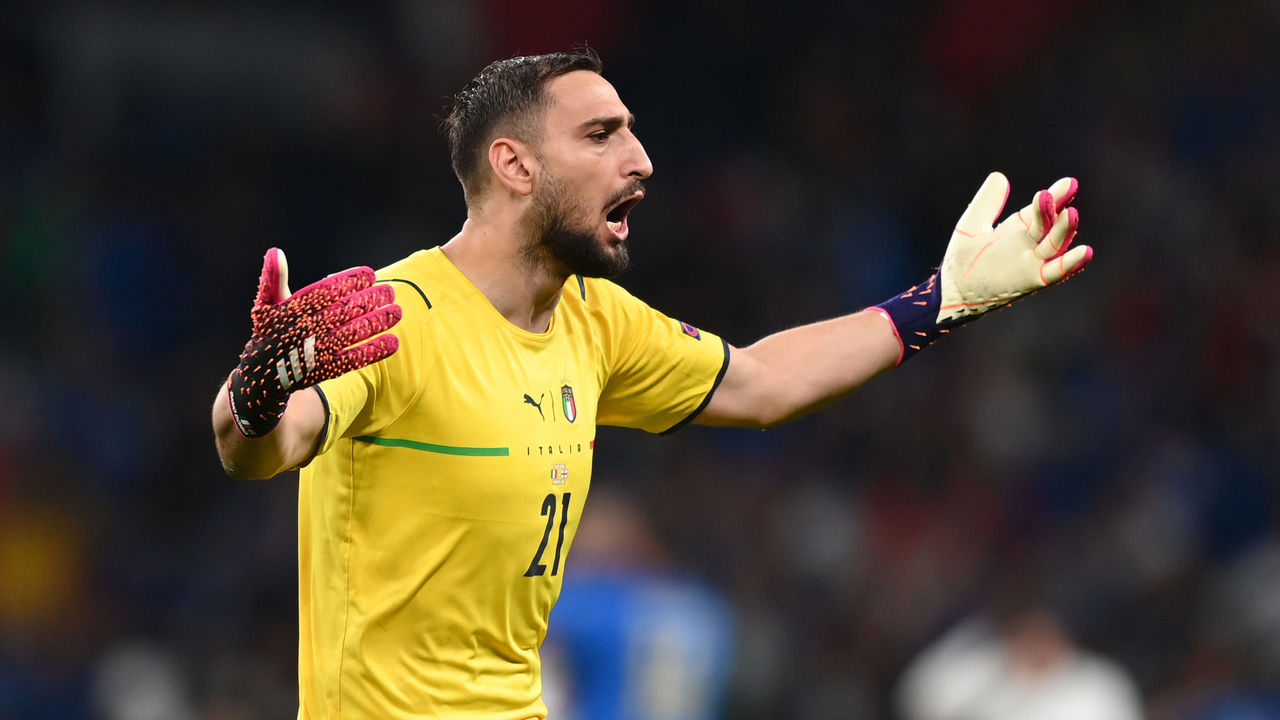 The deal: Free transfer (Read more)
It became clear very early in the summer that Donnarumma would leave AC Milan on a free transfer. But few, if any, clubs could offer him more than the reported €8 million in wages that the Rossoneri were prepared to pay him. Credit must then go to his agent, the notorious Mino Raiola, for finagling a deal worth around €12 million per campaign with PSG.
Donnarumma is a generational goalkeeper and most certainly worth the money. The 22-year-old won Euro 2020 with Italy and claimed the tournament's MVP award. If he continues to win titles, he could even go down as one of the very best, alongside the likes of Gianluigi Buffon and Manuel Neuer.
However, PSG re-signed goalkeeper Keylor Navas only a few months earlier, and with Navas likely to make way for Donnarumma, the squad could split into two camps. Several players – including newcomer and former Real Madrid teammate Ramos – count Navas as a friend. So, while Donnarumma was as close to a no-brainer as you'd find in the transfer market, his arrival could create unnecessary drama.
Rating: A-
David Alaba ?? Real Madrid
The deal: Free transfer (Read more)
Addressing an area of sudden weakness, Real Madrid were preemptive in convincing Alaba to shun plenty of other suitors in favor of the Spanish capital. Good thing, too.
While the brass may have known all along that iconic captain Sergio Ramos was on his way out, the aforementioned Raphael Varane's departure was more of a surprise, and it made the existing decision to recruit Alaba on a free transfer even more critical.
The supremely versatile Austrian footballer figures to slot directly into the heart of Real Madrid's defense this coming season, with the left-back role already belonging to Ferland Mendy. If Alaba's previous spell working with Carlo Ancelotti at Bayern Munich is any indication, the 29-year-old is going to play a lot of minutes under the Italian tactician, who is clearly an admirer.
Rating: B+
Memphis Depay ?? Barcelona
The deal: Free transfer (Read more)
Barcelona's crippling debt has forced the club to hunt for bargains this summer and perhaps well into the future. The financial situation at Camp Nou is, in a word, dire. And yet, they still managed to add an outstanding attacking piece in the form of Depay, who should provide the spark that Antoine Griezmann has never truly delivered since his arrival.
The Dutch forward, 27, is coming off an excellent campaign with Lyon where he put up gaudy raw numbers and, crucially, backed them up with dominant underlying figures. Not including penalties, his expected goals plus assist total last season (25.5) was fifth-best across Europe's top leagues. Depay was behind only Lionel Messi, Robert Lewandowski, Erling Haaland, and Romelu Lukaku in that category. That's some decent company.
And now Depay gets to play for a manager who clearly values his talent and will entrust him with plenty of minutes.
Rating: B
Ben White ?? Arsenal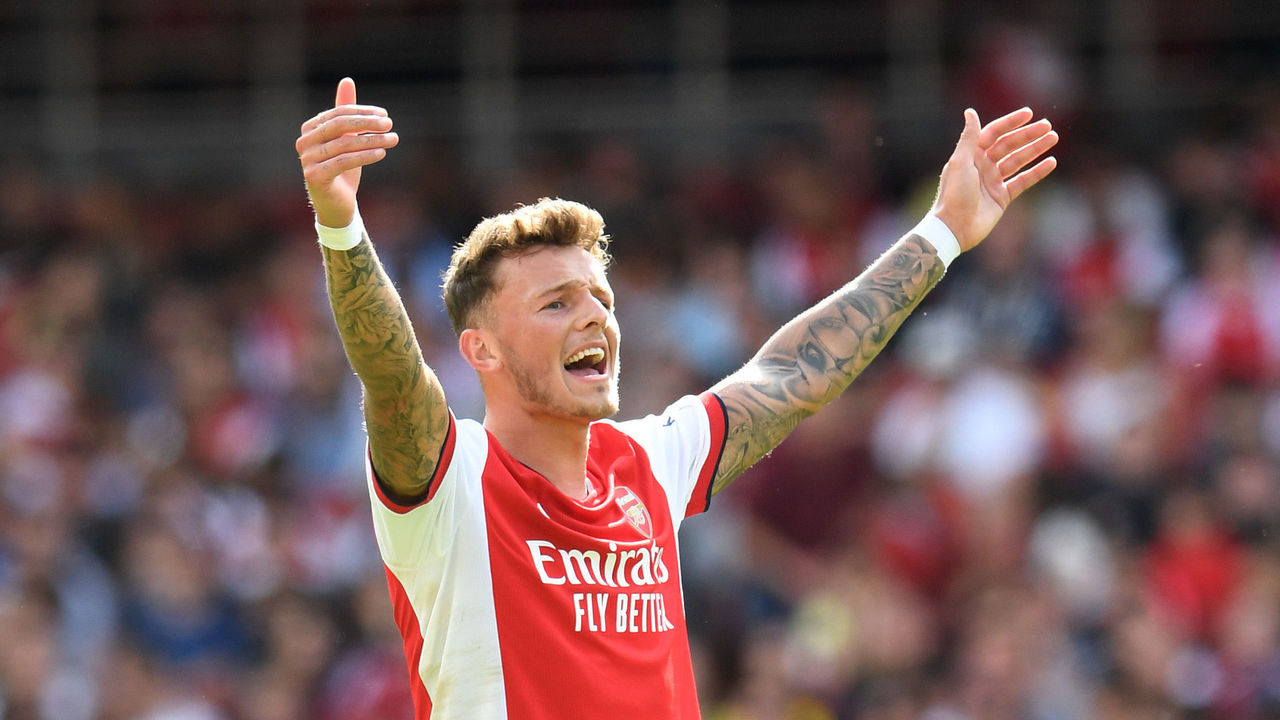 The deal: Reported £50-million transfer (Read more)
After making several blunders in their defensive recruitment over the years – don't spend €20 million on Sokratis Papastathopoulos, kids – Arsenal appear to have finally done something right in this space, signing White from Brighton and Hove Albion.
There's been distress amongst the fan base over the £50-million price tag – especially as the team completed the deal around the same time United secured World Cup winner Varane's services for far less – but it's important to remember the variables at play. At 23, White is younger, had multiple years remaining on his contract, and didn't publicly push for a move away, putting Brighton was in a position of negotiating strength. The premium for Premier League ability, especially within the league, is very real, too.
That's not to say there isn't risk involved – £50 million is a lot of money, of course – but if the English center-back develops into a mainstay over the coming years, the Arsenal brass will be vindicated.
White's speed makes him an ideal fit for Arsenal's high defensive line, but perhaps his comfort on the ball and distribution range, with both feet, are even more vital than his innate abilities at the back. The deal was a little bit rich, but White makes the Gunners better right now and has upside for the future.
Rating: B-
Sergio Ramos ?? Paris Saint-Germain
The deal: Free transfer (Read more)
PSG had no problems giving Ramos a multi-year contract but refused to extend an offer to Thiago Silva, a fan favorite and former club captain. Sporting director Leonardo preferred to reward a 35-year-old who's coming off an injury-ravaged campaign.
None of it makes sense.
Maybe PSG have a case of seller's remorse. Silva went on to win the Champions League with Chelsea, showing plenty of the leadership that PSG lost when they allowed the Brazilian center-back to leave on a free transfer.
Ramos should fill some of the void, but it's unclear how effective he'll actually be on the pitch. The Spaniard suffered many setbacks last season, including several knee and muscle injuries that limited him to just 15 starts in La Liga – his fewest since the 2003-04 campaign with Sevilla.
Rating: C-
4 possible landing spots for Ronaldo amid transfer speculation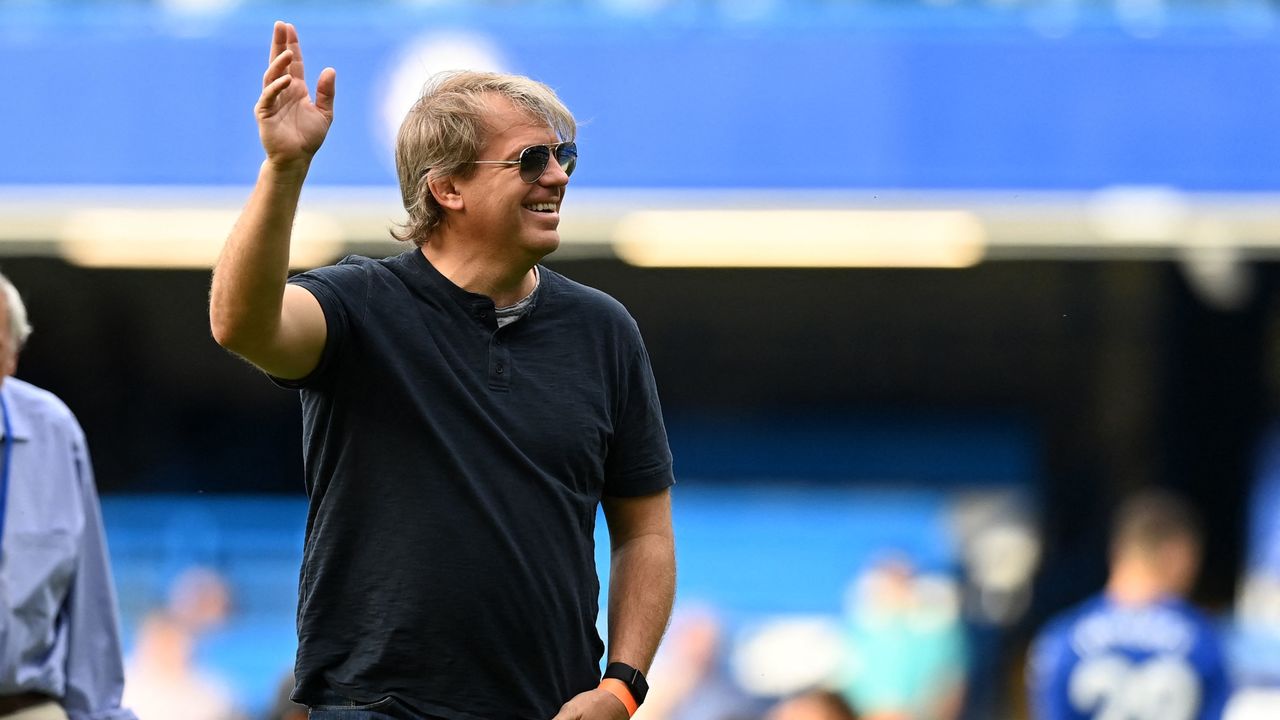 Here we go again.
For the second consecutive summer, Cristiano Ronaldo is attempting to engineer a transfer. Having bolted from Italy to rejoin Manchester United just one year ago, the Portuguese star is now reportedly looking to leave Old Trafford after a disappointing campaign in which the Red Devils failed to secure Champions League football.
The timing of his request isn't particularly helpful – United could have done with a couple extra months to sanction a sale and seek a replacement – but his departure could end up being a blessing for all parties involved. Ronaldo's fit within the squad has been a point of extreme contention since his return, and a rebuilding team under new manager Erik ten Hag would probably benefit from a more holistic approach instead of relying on an aging Ronaldo to be the focal point of an attack that needs rejuvenation.
Publicly, both the club and manager remain adamant United won't sell the 37-year-old. Privately, though, the message is likely very different.
Some of the rumored destinations for Ronaldo have serious flaws for various reasons: He will almost certainly not join Napoli or Roma, return to Sporting CP, or move to Major League Soccer. Meanwhile, Manchester City – who were linked to Ronaldo last year – now have Erling Haaland. With that in mind, here are four other landing spots that could make sense if the decorated forward gets his desired transfer before the Sept. 1 deadline.
Chelsea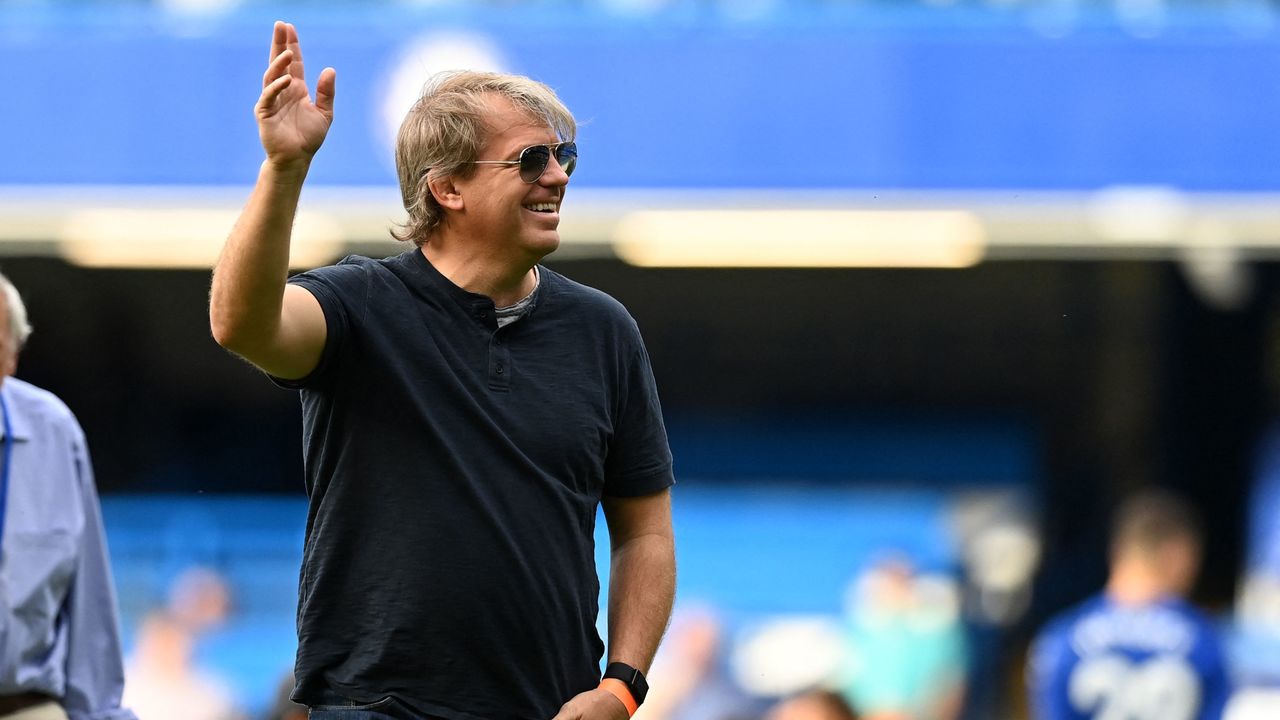 If he really is going to leave Manchester United – don't count out a change of heart just yet – this seems like the most likely option at the moment, regardless of Chelsea's impending deal for Raheem Sterling.
Jorge Mendes, Ronaldo's renowned agent, is making the rounds to convince one of Europe's top clubs to sign his client. Mendes reportedly met with new Chelsea co-owner Todd Boehly last month to discuss the prospect of Ronaldo swapping Manchester for London. Boehly, temporarily in charge of the Blues' transfer dealings amid organizational changes at Stamford Bridge, would surely be tempted to make an enormous statement signing early in his tenure. And from a PR perspective – although perhaps not from an on-pitch performance one – they don't get much bigger than this.
Chelsea have serious defensive issues to address right now in the wake of Antonio Rudiger and Andreas Christensen departing for La Liga. Once they fill the glaring hole in central defense – seemingly with Kalidou Koulibaly – attention can return to the attack. And with it, possibly to Ronaldo.
Paris Saint-Germain
Let's get wild.
One of the great inhibitors in the Ronaldo sweepstakes is, quite simply, cash flow. At most, only a handful of clubs can realistically afford to handle his gargantuan wages even if the Portugal captain is willing to reduce his salary to facilitate a transfer, as he's suggested.
That's the primary reason why Italy – and the likes of Napoli and Roma – can't be considered legitimate suitors. While amid their Serie A dominance, even Juventus felt the strain of paying Ronaldo and balancing that responsibility with other squad-building needs. The other clubs in Italy, then, don't really have the means to make the numbers work.
At Paris Saint-Germain, however, there are no such issues. Financial Fair Play (FFP) has failed to curb the exorbitant spending of state-backs clubs, thus allowing the game's wealthiest teams to largely do as they please in the recruitment space. Financially, PSG has the muscle to pull this off.
Whether it would actually make sense on the pitch and in the locker room is another matter entirely. PSG have reportedly turned down Mendes' advances over concerns about the former.
A veritable pantheon of excellent football minds have tried and failed to get PSG over the Champions League hump in recent years, with Mauricio Pochettino the latest to endure an unceremonious exit. Something is clearly amiss at the Parc des Princes. For so many respected managers to be chewed up and spit out, despite all having an absurd crop of talent at their disposal, suggests something is broken at the core of the club.
Aside from the hilarious tactical imbalance it would create, adding Ronaldo would surely just exasperate that existing issue. Then again, seeing him alongside Lionel Messi on the same team would, of course, be a fitting culmination to their era of dominance.
Bayern Munich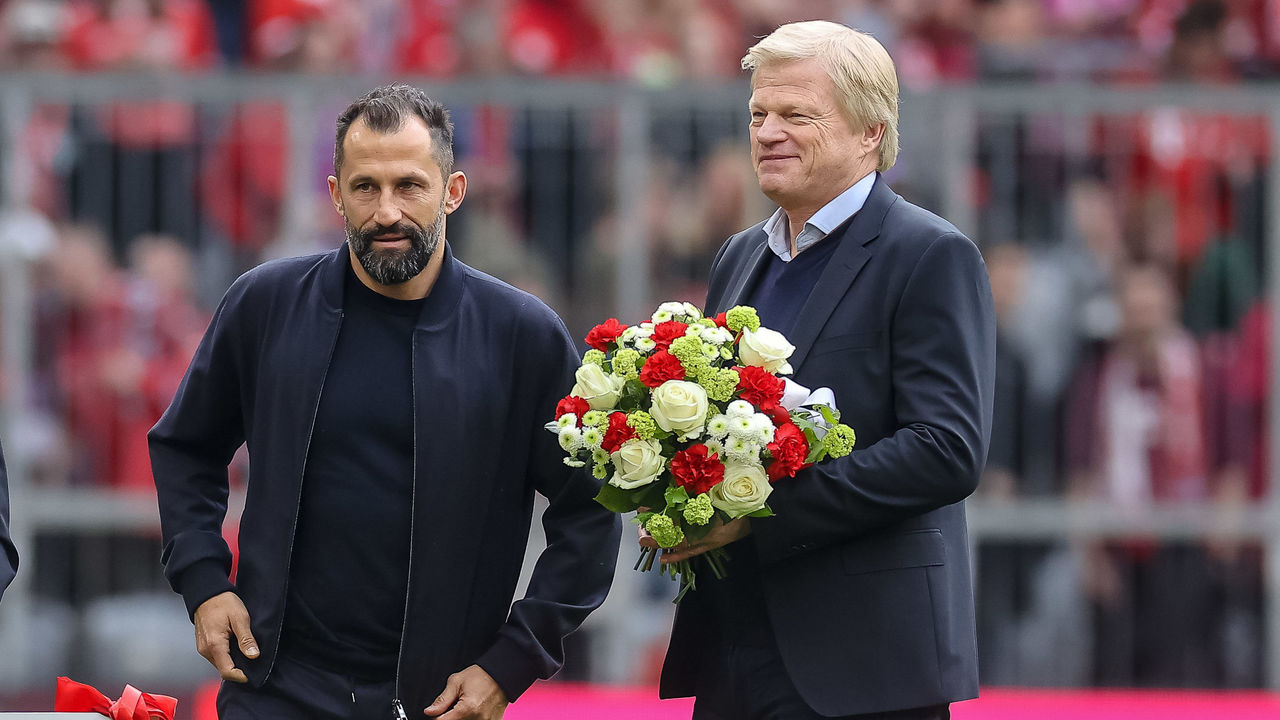 This is all dependent on Robert Lewandowski's future, really. If the prolific Pole stays put, adding Ronaldo is a non-starter.
"As highly as I rate Cristiano Ronaldo as one of the greatest, a transfer wouldn't be a fit with our philosophy," Bayern Munich CEO Oliver Kahn recently told German magazine Kicker, as translated by ESPN.
It's always good practice to be at least a little skeptical of executives when they're discussing transfer matters, but when Kahn says Ronaldo doesn't fit with the club's ethos of signing young talent, he's not lying.
Sadio Mane's addition this summer was the exception rather than the rule. Excluding free transfers and loans, Bayern simply don't allocate transfer capital to outfield players who are 30 or older. Before the Senegalese star, the last signing who fit that bill was Sandro Wagner – that was five years ago. The likes of Ivan Perisic, Douglas Costa, and Eric Maxim Choupo-Moting all arrived at the Allianz Arena either on a temporary basis or via free transfer in recent seasons.
But, again, that all came with the huge caveat that Bayern already employed world football's preeminent goalscorer. If Lewandowski leaves, especially late in the window, perhaps Ronaldo enters the equation.
Barcelona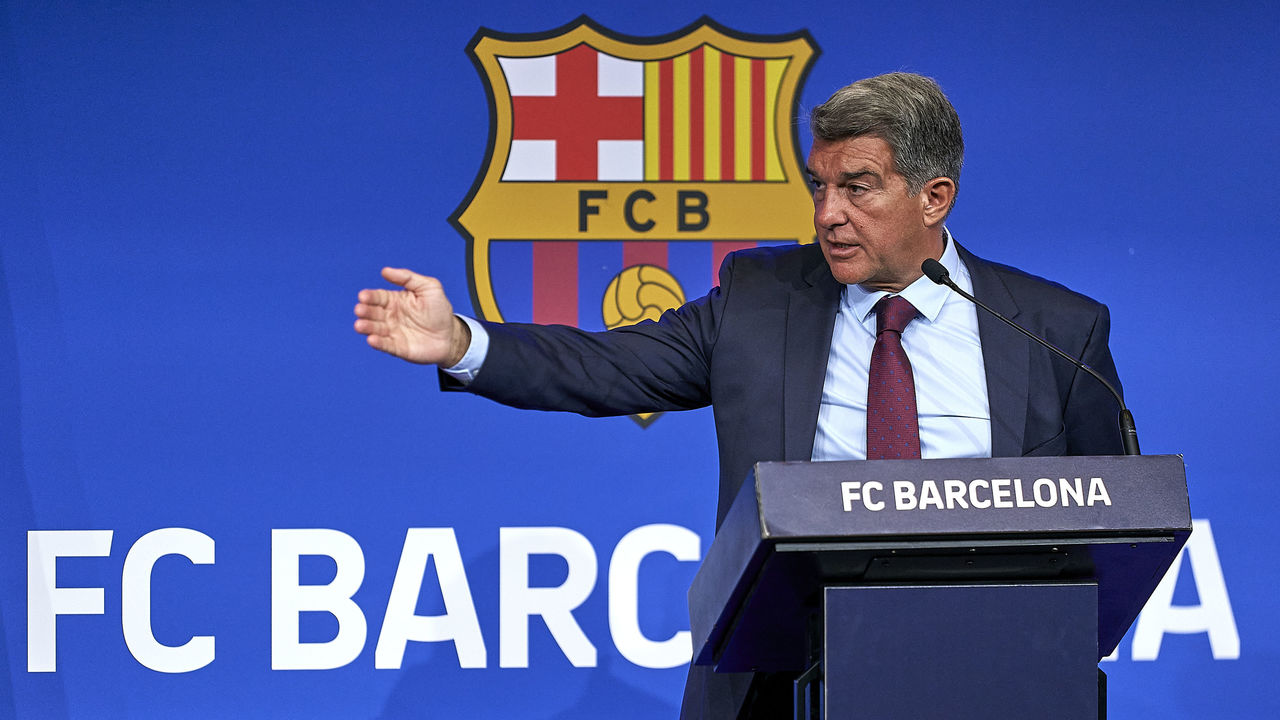 It's wildly unlikely, but this is, objectively, the most amusing option for a multitude of reasons.
The Messi connection is obvious, but more entertaining would be seeing Barcelona try to concoct a way to make the numbers work on any deal as they, quite literally, mortgage their future to bring in new players while apparently trying to avoid honoring deferred wages to current stars. Serious mental gymnastics is happening at the Camp Nou right now.
Also, seeing Ronaldo wearing a Blaugrana kit would just be surreal.
The aforementioned Lewandowski domino looms large here, too. Outspoken Barca president Joan Laporta is very publicly courting the Bayern Munich striker, who himself is seeking a new adventure after eight years in Bavaria.
If Barca – clearly willing to pull every economic lever there is to sign new players, consequences be damned – truly think they can sign Lewandowski, it's not a crazy leap to think they'd view Ronaldo as a realistic option in the event they miss out on Bayern's talisman.
For all our sakes, let's hope this happens.
Rangers stun RB Leipzig to face Frankfurt in Europa League final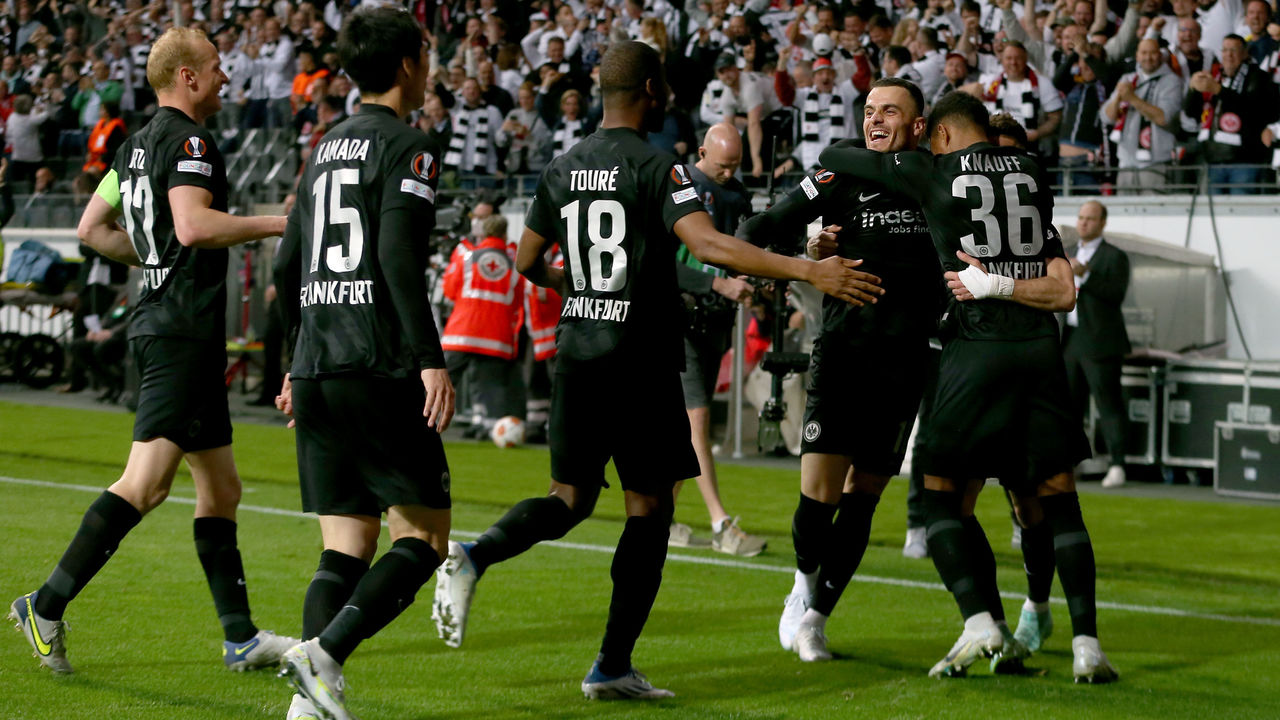 Eintracht Frankfurt hadn't played in a European final in 42 years. Rangers slipped into administration a short decade ago.
Both are now back in the big time.
Frankfurt and Rangers booked their places in the Europa League final after winning their semifinal matchups on Thursday. Frankfurt shut out 10-man West Ham United to advance 3-1 on aggregate, and Rangers overturned a 1-0 first-leg deficit with a thundering 3-1 victory at home to RB Leipzig.
The final will take place at Sevilla's Ramon Sanchez Pizjuan Stadium on May 18.
Aaron Cresswell's red card in the 18th minute all but ended West Ham's hopes of a comeback. The Hammers trailed 2-1 on aggregate after losing the first leg at home and needed to win by two goals on Thursday to progress without the help of penalties. But Frankfurt scored instead, adding insurance with Rafael Borre's strike in the 26th minute.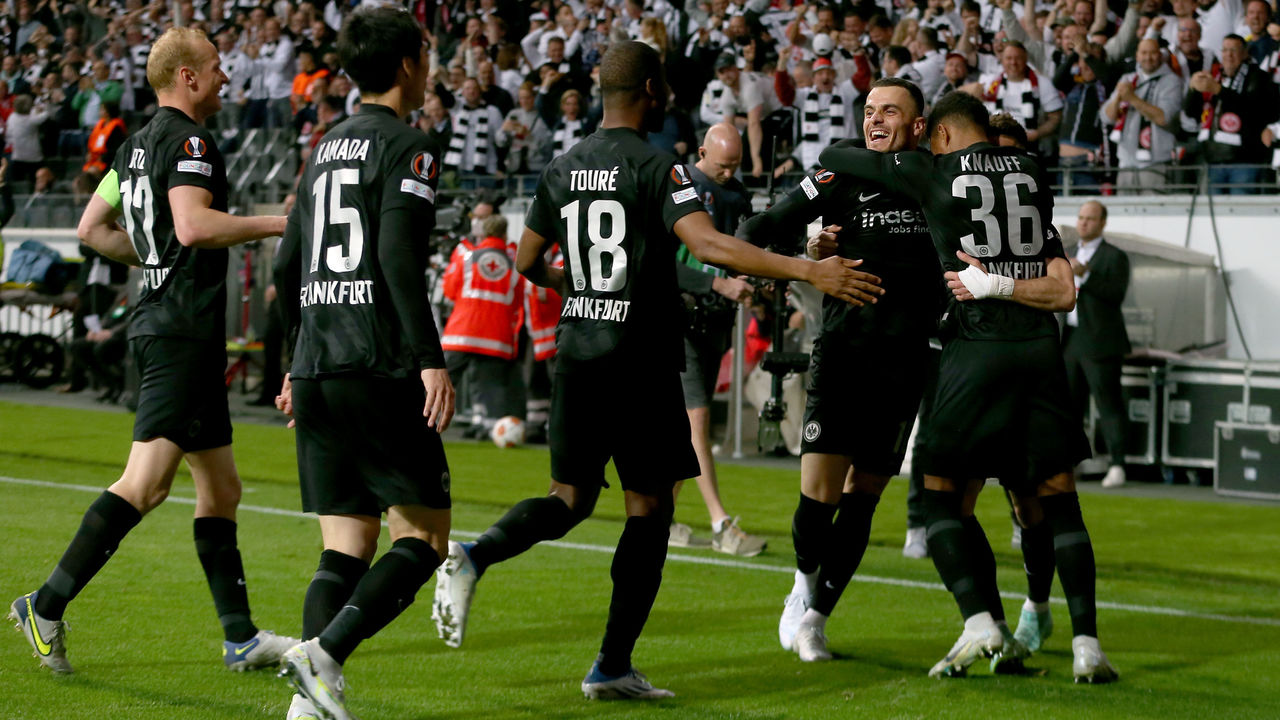 Rangers captain James Tavernier sparked scenes of jubilation in the 19th minute at Ibrox when he buried his Europa League-leading seventh goal of the campaign. Minutes later, Glen Kamara arrowed an accurate left-footed shot into the bottom corner to double the advantage. Rangers held Leipzig goalless until the 71st minute when Christopher Nkunku leveled the tie with a cushioned volley from close range.
But the Scottish side fired back in the 81st minute. As Leipzig scrambled to clear the area, midfielder John Lundstram pounced on the loose ball and slotted it home.
Rangers can now look forward to their first European final since 2008 when they lost to Zenit St. Petersburg in the former UEFA Cup.
Both finalists navigated tough roads to reach the showpiece event. Frankfurt beat Real Betis in the round of 16 before famously eliminating Barcelona in the quarterfinals with a memorable 3-2 win at Camp Nou.
Rangers advanced to the knockout round as the worst of the second-place teams from the group stage. After collecting just eight points from six round-robin matches, the Gers knocked out Borussia Dortmund in the playoffs before beating Red Star Belgrade in the round of 16 and Braga in the quarterfinals.
Steven Gerrard also left the club midway through the campaign, leaving Giovanni van Bronckhorst to take the reins. The Dutchman has compiled a 25-7-6 record since replacing Gerrard in November.
5 biggest storylines from the World Cup draw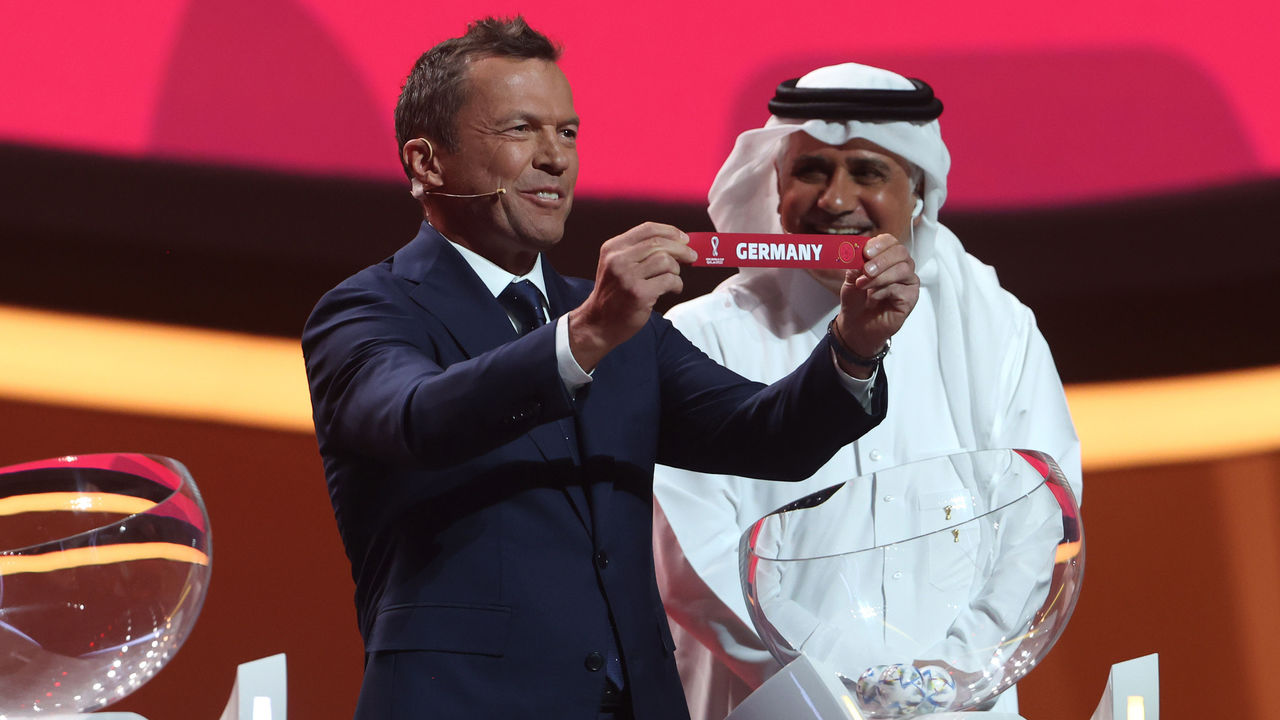 The stage is set for the 2022 World Cup. Below, we examine the five most compelling storylines from Friday's draw.
No definitive Group of Death in Qatar
When Lothar Matthaus plucked Germany out of Pot 2 during Friday's draw in Doha, Qatar, it seemed like he had just set up his country to fail at the 2022 World Cup. Already in the same group as Spain, Germany also faced the possibility of being matched with Africa Cup of Nations champion Senegal and Canada, which finished atop the standings in CONCACAF qualifying.
Germany understands more than most nations the perils of taking the group stage lightly. Losses to Mexico and South Korea eliminated the then-defending World Cup champion in the round robin in 2018, setting into motion a period of soul-searching and uncertainty for Die Mannschaft.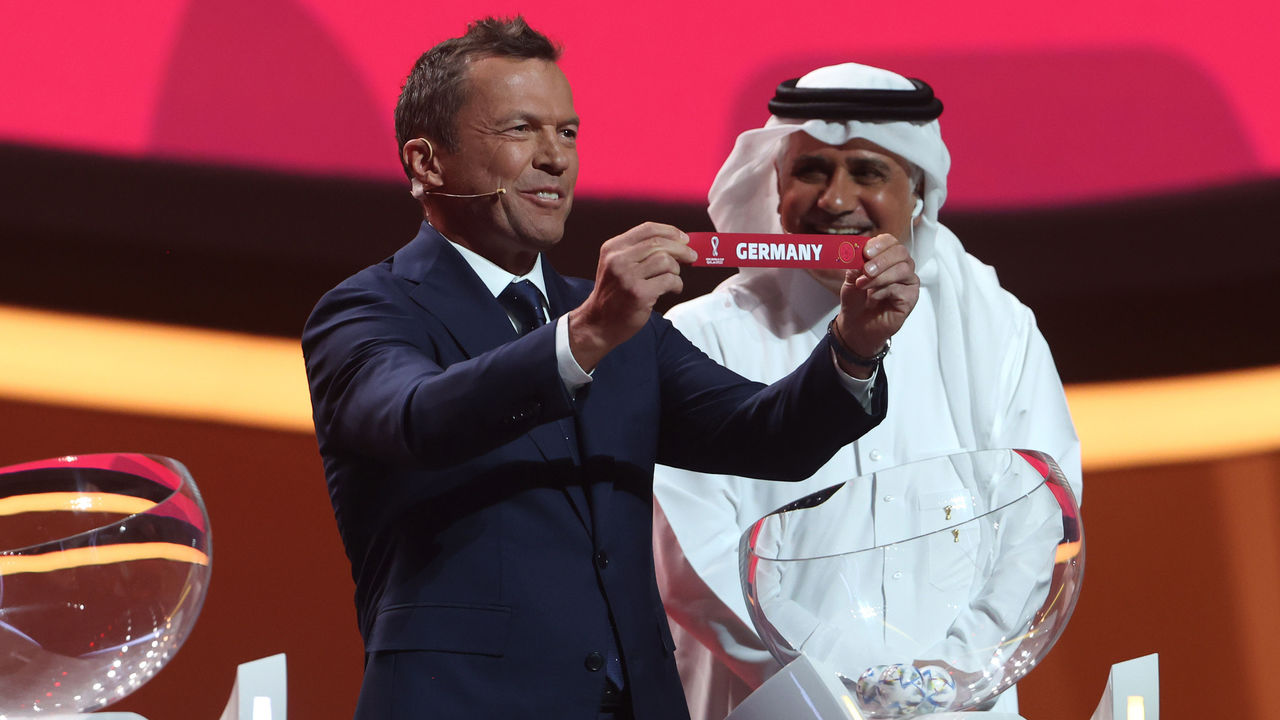 But the rest of the draw went smoothly. Japan – far from the team Keisuke Honda led to the round of 16 in 2010 and 2018 – brings relief as the third team in Group E, and the winner of the intercontinental playoff between Costa Rica and New Zealand will round out the quartet in June.
Spain and Germany will still contest the most exciting match of the group stage, but apart from that, qualifying for the knockout round should be a straightforward assignment for two of Europe's powerhouse nations.
The rest of the groups look fairly balanced. The weakest is undoubtedly Group A, with Qatar and Ecuador likely to serve as cannon fodder to Senegal and the Netherlands. Group H, with Portugal, Uruguay, South Korea, and Ghana, could end up being the Group of Life, as every team has a realistic shot of advancing.
U.S. and England renew old hostilities
The United States will face England on Nov. 25, the day after Thanksgiving, in a rematch of the 1-1 draw between the two rivals in the group stage of the 2010 World Cup. It's also a match that carries political and socioeconomic undertones. The U.S., after all, supplanted Great Britain as a world economic power during the 20th century, and it has since sent many of its sports franchises to the U.K. as a marketing and expansion exercise. But England has always maintained superiority on the pitch.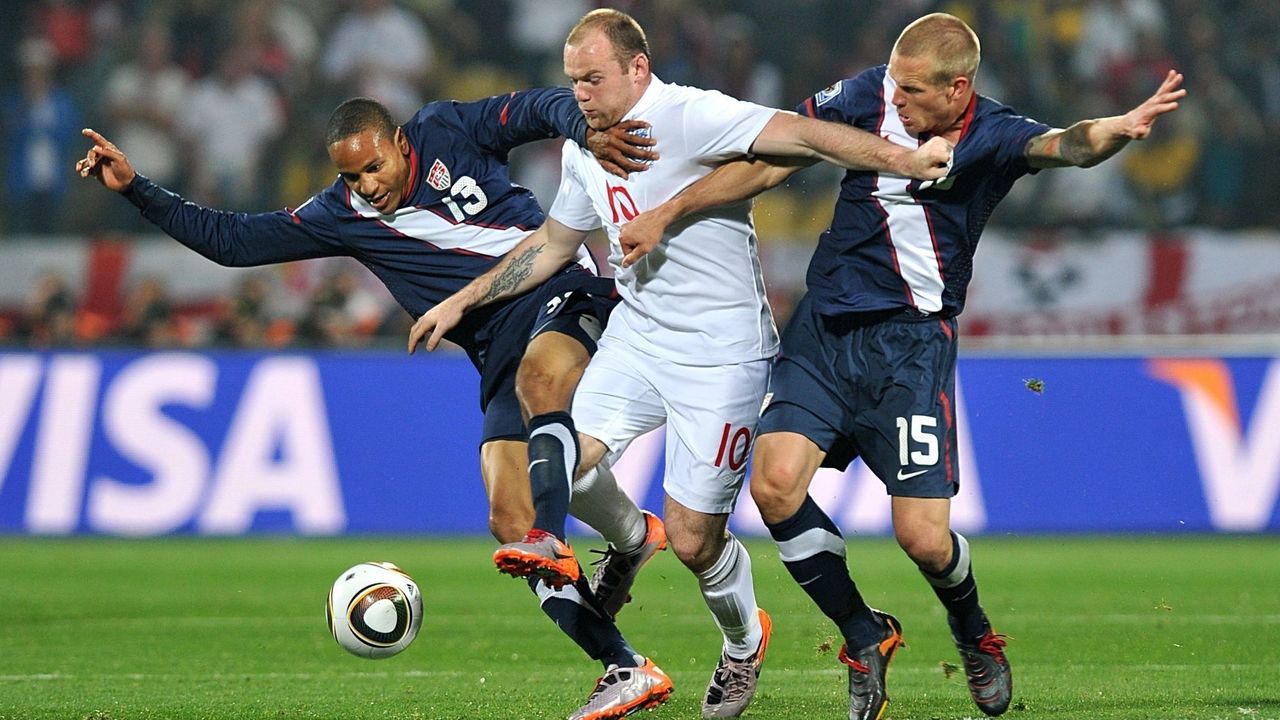 "English encounters with the U.S. are freighted with a strange tension, a superiority complex masking deep-rooted anxiety, because if America ever overtakes us in football, then what, as a country, do we have left?" The Guardian's Tom Dart wrote in 2019.
There's also some history to explore. At the 1950 World Cup, the U.S. – then composed of amateur players who worked mainly as dishwashers, mailmen, and hearse drivers – upset 3-1 favorite England. The shocking 1-0 win barely made a dent in the American public's consciousness – The New York Times devoted just two paragraphs to the game – but it stung the English psyche. Bert Williams, England's goalkeeper for the match, told The Associated Press that it took "a lot of forgetting."
That remains the U.S.' only competitive win over England. It now has a chance to reopen old wounds.
Ghana seeking vengeance
Ghana's out for revenge against Uruguay – and rightfully so. Back in 2010, it was vying to become the first African nation to reach the World Cup semifinals when Luis Suarez swatted away what would've been the winning goal in the 120th minute of play. Although Suarez was sent off for that deliberate handball, Asamoah Gyan missed the subsequent penalty kick, and Uruguay won the ensuing shootout, earning social-pariah status as the team that knocked out Africa's only remaining hope in the first World Cup to ever take place in the continent.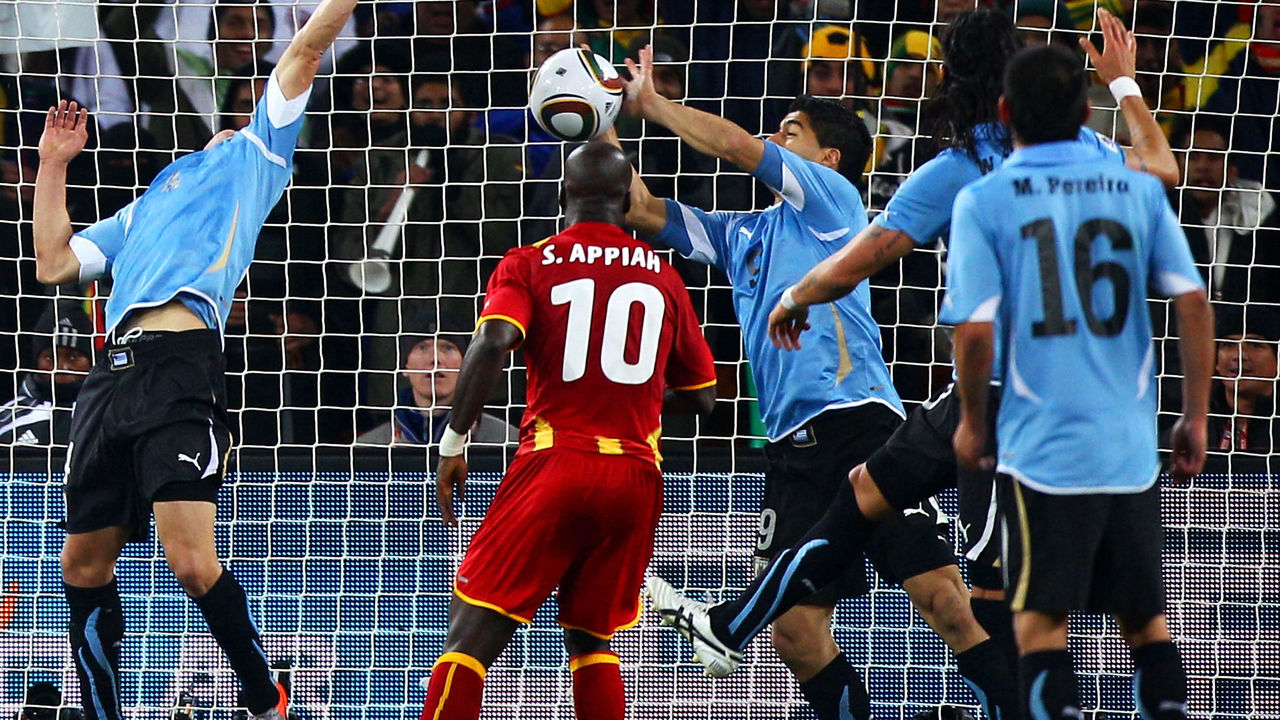 "We thought we had clearly won that particular game but for that save from Suarez," Kurt Okraku, president of Ghana's football association, told BBC Sport Africa on Friday. "It is very interesting for us to pitch against them again, obviously with fond memories (this time around).
"It is important that we all set the record straight."
After that match, Suarez reportedly told the media "the hand of God belongs to me," referencing Diego Maradona's goal against England at the 1986 World Cup.
Canada has upset potential
Canada was arguably the toughest team to come out of Pot 4. Only a loss to Panama on Wednesday – with a heavily rotated starting lineup – denied the Canadians a place in Pot 3. Given the U.S. and Mexico, two of the eight teams in Pot 2, each lost to their northern rivals in CONCACAF qualifying, Canada could've claimed an even higher place in the draw.
This group of players, led by striker Jonathan David and the omnipresent Alphonso Davies, has the talent and willpower to cause an upset in Qatar. That's especially true in Group F, which is more manageable than it looks. Belgium and Croatia will enter as the favorites to advance, but despite holding the No. 1 ranking for much of the past two years, the Belgians remain an aging group that mainly feasts on European minnows.
The same goes for Croatia, which is far from the team that made the 2018 World Cup final. Captain Luka Modric continues to anchor the squad at 36 years old, but without Mario Mandzukic – who retired in 2021 – or Ante Rebic – in exile after a spat with head coach Zlatko Dalic – the national team is entering its endgame.
"Canada, for us, was always a hidden threat," Belgium's head coach, Roberto Martinez, told TSN's Matthew Scianitti after the draw.
Martinez added: "It's been very impressive to see this Canadian team with the consistency, with the energy, with the youth, with the team spirit that they have. … We know that we'll be facing a team that is together."
Morocco has some star power – full-back Achraf Hakimi plays for Paris Saint-Germain, and goalscorer Youssef En-Nesyri leads the line for Sevilla, La Liga's second-placed team – but its recent results don't instill much fear. It recently lost to Egypt – which didn't even qualify for the World Cup – and managed most of its wins against the likes of Sudan and Guinea-Bissau.
Juicy quarterfinal matchups on tap
If things go to plan, the quarterfinals could pit England against France, the Netherlands against Argentina, and Spain against Brazil. That would put six of the top eight betting favorites in an early bind and potentially open a path to the semifinals for Portugal, which could avoid some of the mayhem at the top of the knockout bracket if it finishes atop Group H and enters the bottom half. Portugal would then face either Switzerland or Serbia in the round of 16 before meeting Belgium or Germany. Even then, it's not much of a consolation.
Potential matchups
The quarterfinals four years ago were fairly underwhelming: France beat Uruguay, Belgium upset Brazil, Croatia edged out Russia, and England knocked off Sweden. The prospects are much more tantalizing this time around. Can Lionel Messi avoid disappointment in what is likely to be his last World Cup appearance? Will Brazil be eliminated in the quarterfinals for the fourth time in five tournaments? And is England ready to take the next step?