Preview, predictions for last-16 matches at Euro 2020: Part 2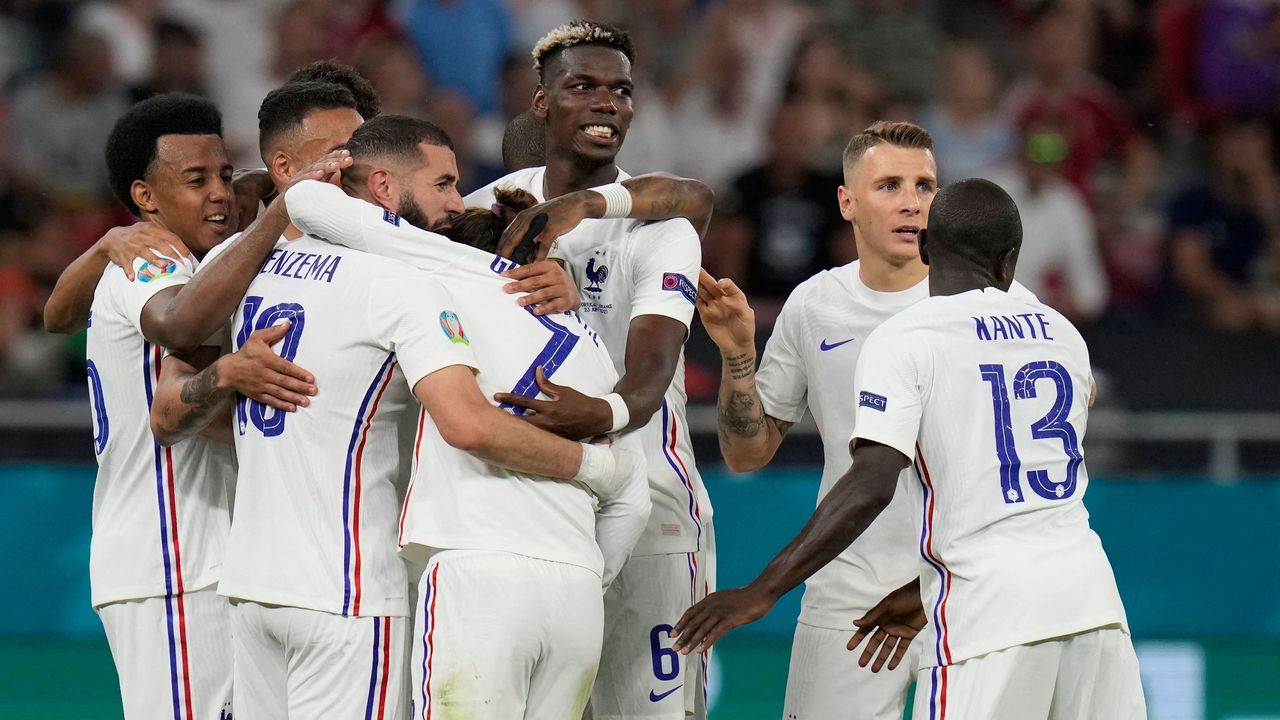 Four down, four to go. Below, we examine the final batch of last-16 matchups on tap at Euro 2020, highlighting some key factors that will determine who advances, along with predictions for the round's remaining fixtures.
Monday, June 28
Croatia vs. Spain (12:00 p.m. ET)
Aided by an agreeable Slovakian side, Spain found its scoring touch after floundering in front of goal in its first two matches. Just in time, too. Luis Enrique's team had been widely criticized, but its dominance in possession and strong underlying numbers suggested only the finishing touch was missing. Against an aging Croatia outfit that appears to be caught between a generational shift, Spain's technical players, especially in attacking midfield, should make the difference.
That's not to say Spain doesn't have issues, of course. The inconsistent Alvaro Morata and Gerard Moreno leading the attack remains a big concern; Morata needs to quickly find both his shooting boots and confidence.
And, as Sweden showed in the group stage, the Spanish defense can be exposed when put under pressure. Whether Croatia has the tools to take advantage, though, remains to be seen. The 2018 World Cup finalist has looked slow and unimaginative for much of the tournament. Outside of Luka Modric – still the driving force – the odd burst from Mateo Kovacic, and Ivan Perisic, there hasn't been much to get excited about. And now Perisic, one of the team's few scoring threats, will miss the match after testing positive for COVID-19. That will likely be too much of an absence to overcome.
Prediction: Spain advances
France vs. Switzerland (3:00 p.m. ET)
Outside of some flashes, France hasn't hit the heights we all expected coming into the tournament. But, as topping the "Group of Death" showed, you can get away with that when you have so much pure talent at basically every position, especially up front. Success in tournament football requires inspirational moments more so than consistent dominance, and France is best equipped to provide them.
Switzerland, meanwhile, is rather short on those game-breaking players. It's difficult to see an area where the underdog has the upper hand here; in their biggest test of the tournament, the Swiss were manhandled by Italy, with primary attacking threats Breel Embolo and Xherdan Shaqiri shut down and the Granit Xhaka-led midfield overrun. And now Xhaka has to stop Paul Pogba from getting on the ball and feeding Kylian Mbappe and Karim Benzema?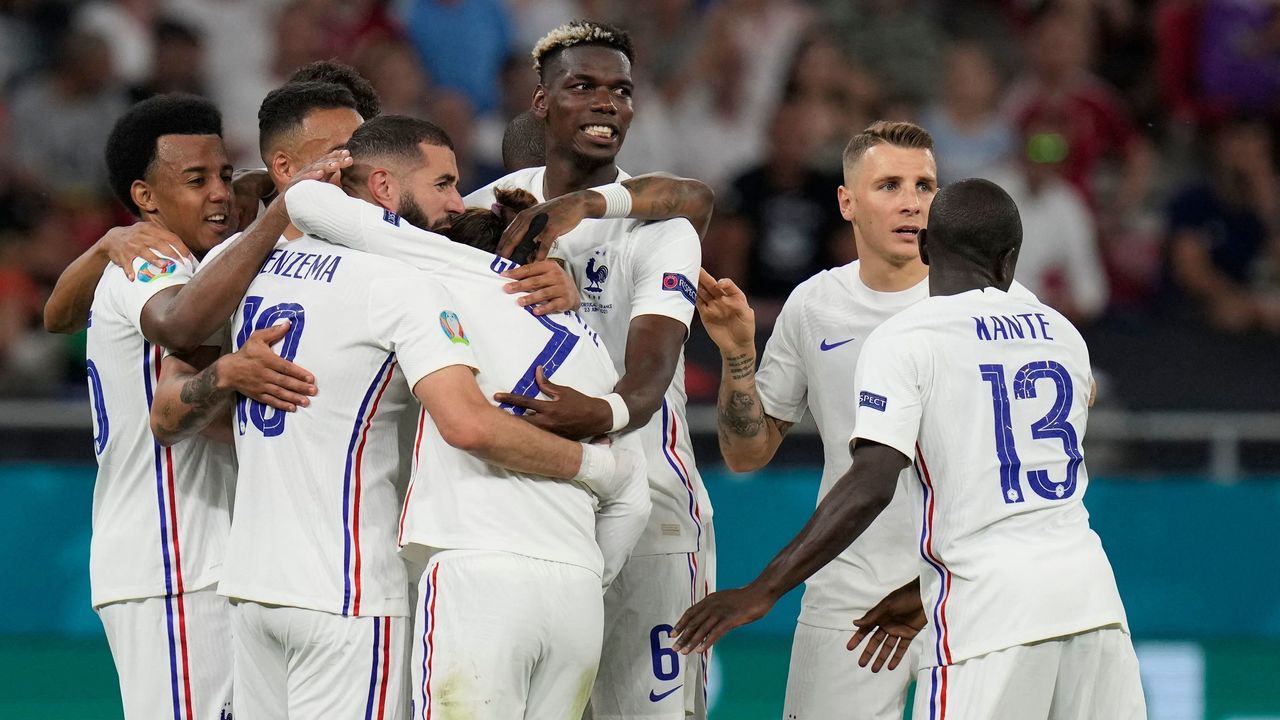 Austria showed Saturday that you can make a tournament favorite very, very nervous if you keep things compact and show some initiative with your pressing, a performance the Swiss can take encouragement from. Vladimir Petkovic's group will be dogged and make the reigning world champions work hard, but France should ultimately have too much firepower, even if it takes a while to find the breakthrough in Bucharest.
Prediction: France advances
Tuesday, June 29
England vs. Germany (12:00 p.m. ET)
Familiar foes meet at Wembley, but this time around it's Germany surrounded by question marks. Yeah, everything is out of whack right now. Germany looks like an unfinished work in progress, while England, though far from inspiring in the group stage, has a defined structure and identity. Ironically, that structure is part of what's causing so much consternation among supporters right now – along with, you know, the country's ingrained pessimism about its national team.
Manager Gareth Southgate is facing calls to be more adventurous and use the full attacking potential at his disposal. He probably should take the handbrake off a bit, but that seems unlikely at this point. So, expect another slow burner of a performance from the Three Lions, regardless of who Southgate picks to support Harry Kane up front.
And honestly, that approach may be more than enough against this unrefined German team. Jogi Low's insistence on using a 3-4-2-1 system that puts Joshua Kimmich, one of the world's best midfielders, at wing-back continues to baffle, even if it's allowing Robin Gosens to thrive. Germany, aside from a whirlwind 30 minutes against Portugal, still seems unsure of itself. That lack of coherence, along with the home crowd, gives England the edge in a matchup of two sides that have a favorable path to the final if they win Tuesday.
Prediction: England advances
Sweden vs. Ukraine (3:00 p.m. ET)
Perhaps the least "sexy" of all the last-16 matches, Sweden and Ukraine close out the round in what should be an intriguing tactical clash between two teams that often cede possession and look to frustrate bigger opposition. Someone has to take the initiative here, though. Which side will play on the front foot?
Both teams have skill in attacking areas of the pitch. Smooth operators Alexander Isak and Emil Forsberg power the Swedes, while veteran Andriy Yarmolenko and aerial threat Roman Yaremchuk have done all of Ukraine's scoring so far.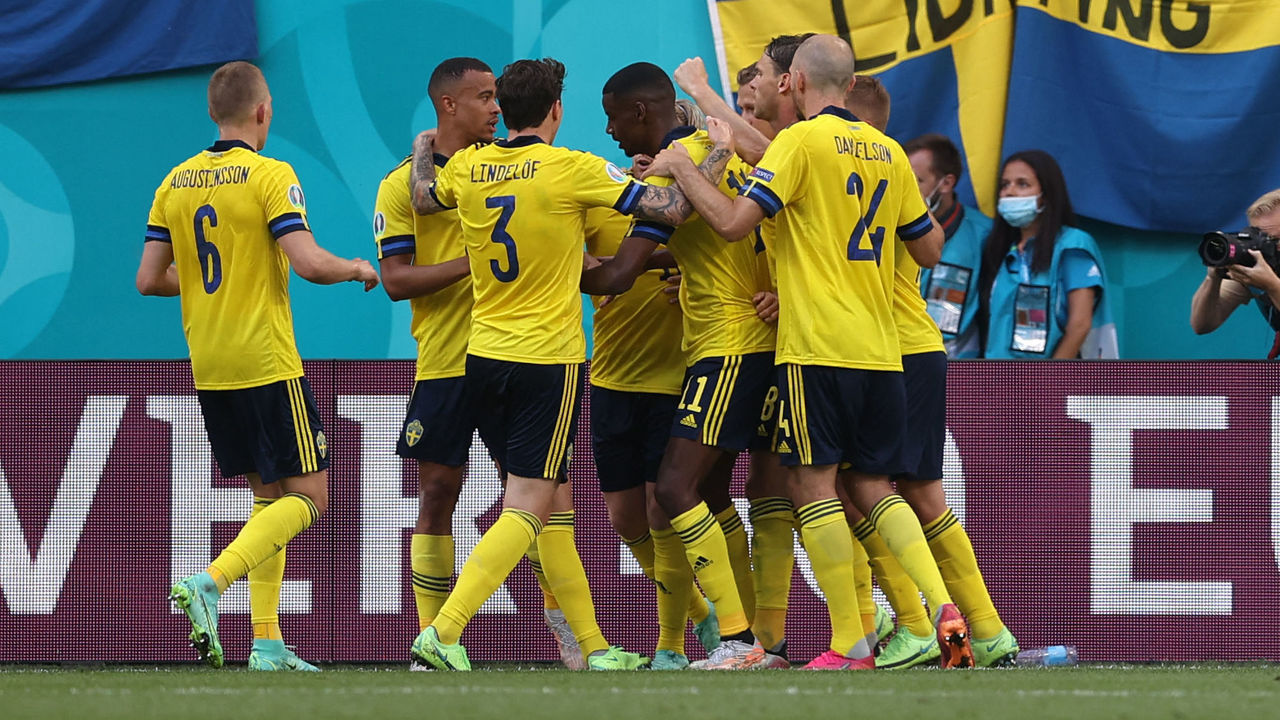 How the respective managers use a pair of Serie A players will be intriguing, and potentially decisive in determining which side marches on. Dejan Kulusevski, having recovered from a positive COVID-19 test, was immaculate in his 35-minute cameo against Poland, setting up two goals and providing the kind of pace and dribbling ability that can cause havoc. Will Janne Andersson give the Juventus youngster the start?
Ukraine boss Andriy Shevchenko, no stranger to Italian football, of course, still needs to figure out how to get the very best out of Ruslan Malinovskyi. The Atalanta star hasn't yet translated his red-hot club form to the Euros. That needs to change if Ukraine is to make an unexpected run to the competition's latter stages.
Prediction: Sweden advances
5 takeaways from eventful final day of Euro 2020 group stage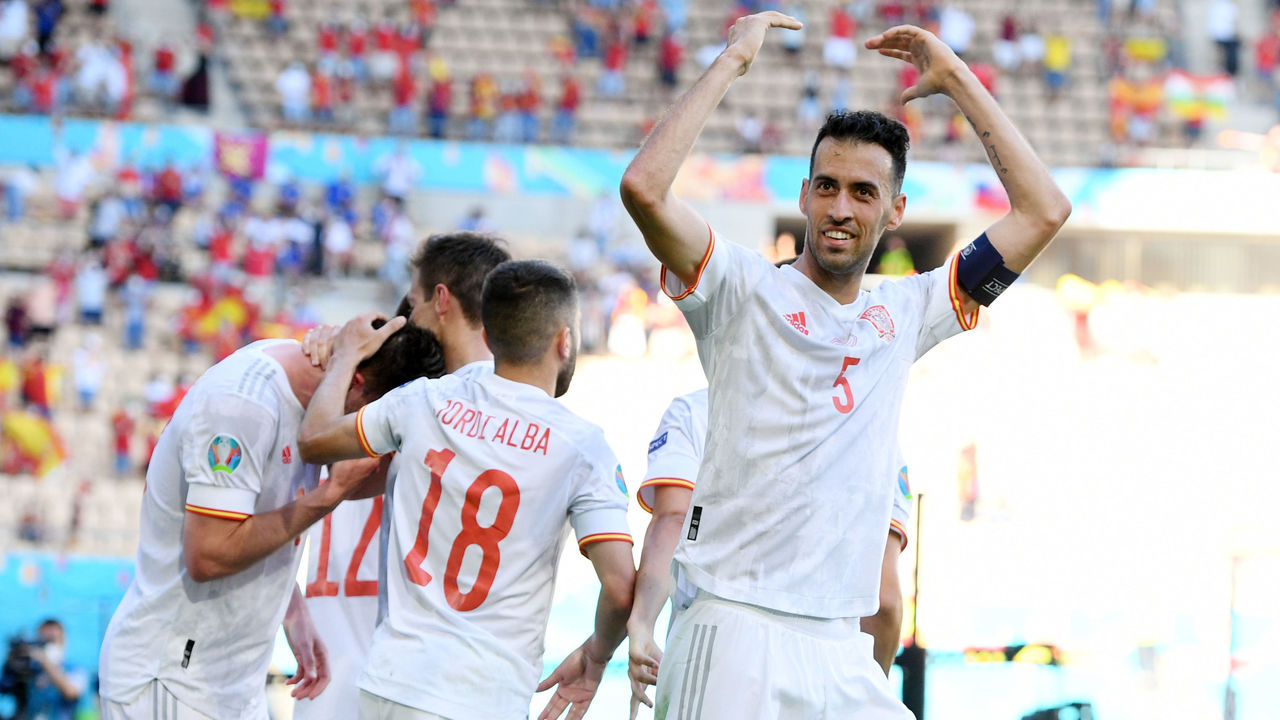 One year later, Euro 2020 is finally underway. At the end of every matchday, we'll be dissecting the biggest talking points from all the action. Below, we look back on Wednesday's games.
Busquets was Spain's missing ingredient
Spain found its groove when it mattered most. After opening Euro 2020 with two draws and just one goal, La Roja kept its campaign alive with a resounding 5-0 victory over Slovakia.
An electric attacking display highlighted what was Spain's biggest ever victory at the Euros. Center-back Aymeric Laporte got his first goal for the country since switching allegiances from France, while Pablo Sarabia and Ferran Torres starred up front, with the latter scoring a lovely backheel goal just seconds after replacing the struggling Alvaro Morata.
Even Barcelona teen Pedri added to his growing reputation with another stellar performance. But all of Spain's attacking stars fell short when it came to selecting the Man of the Match, which instead went to veteran Sergio Busquets, who quietly went about his business with another vintage performance after missing the opening two games due to COVID-19.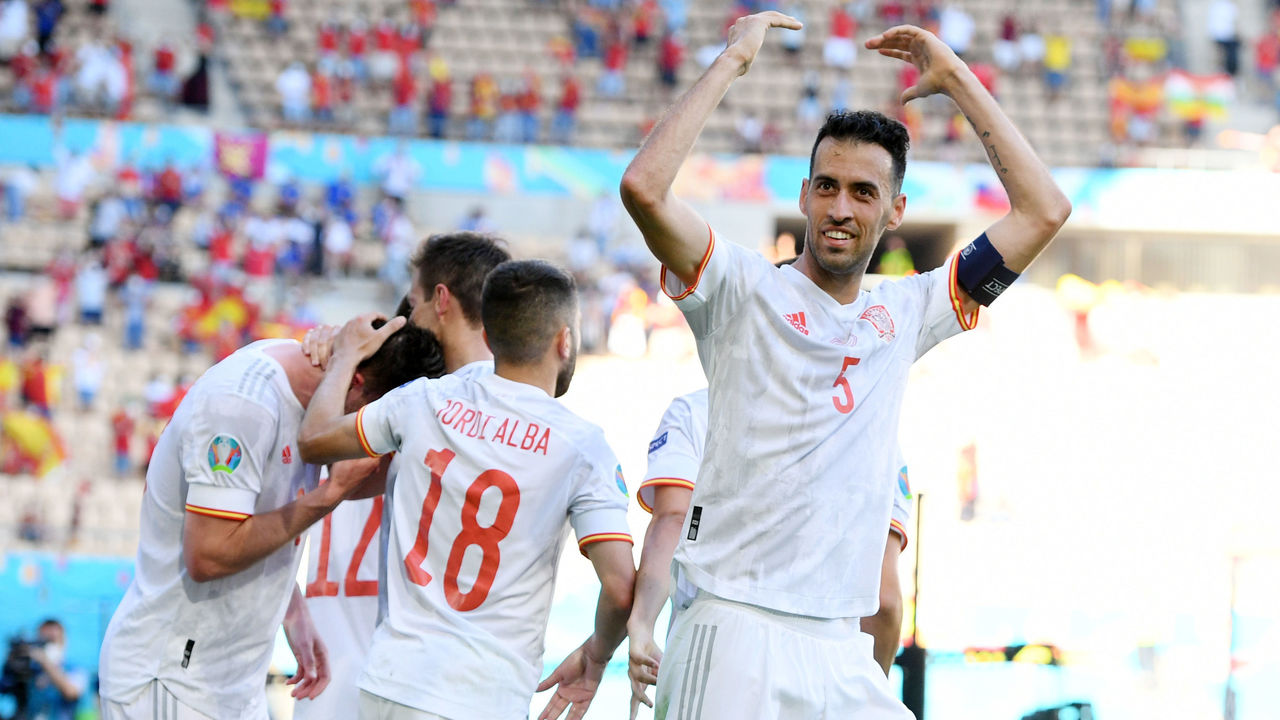 Busquets was the missing ingredient Spain sorely missed during its lackluster start to Euro 2020. He didn't miss a beat in his debut, as his positioning and distribution helped Spain control the game in the most lopsided result at this year's tournament.
The 32-year-old could once again be the key to success in the round of 16 when Spain takes on Croatia in what should be a great tactical battle between two teams built around world-class midfielders.
Lewandowski can only do so much
Poland waited until the final half-hour of its tournament to show up, and even then, it needed Robert Lewandowski – its star man and leader – to do all the heavy lifting. Lewandowski could have had a hat-trick against Sweden – he struck two consecutive headers against the crossbar – but his effort can't be criticized. He's scored 12 times in his last 13 starts for country, and he nearly single-handedly lifted his team to the knockout phase. His side's failures happened in spite of his performance, not because of it.
In reality, a number of costly errors blocked Poland's passage to the round of 16. Wojciech Szczesny's own goal against Slovakia and Grzegorz Krychowiak's subsequent red card sabotaged Poland's most winnable game of the group. The 1-1 draw with Spain was admirable, but given La Roja's relative struggles, Polish supporters could've – and likely would've – expected more.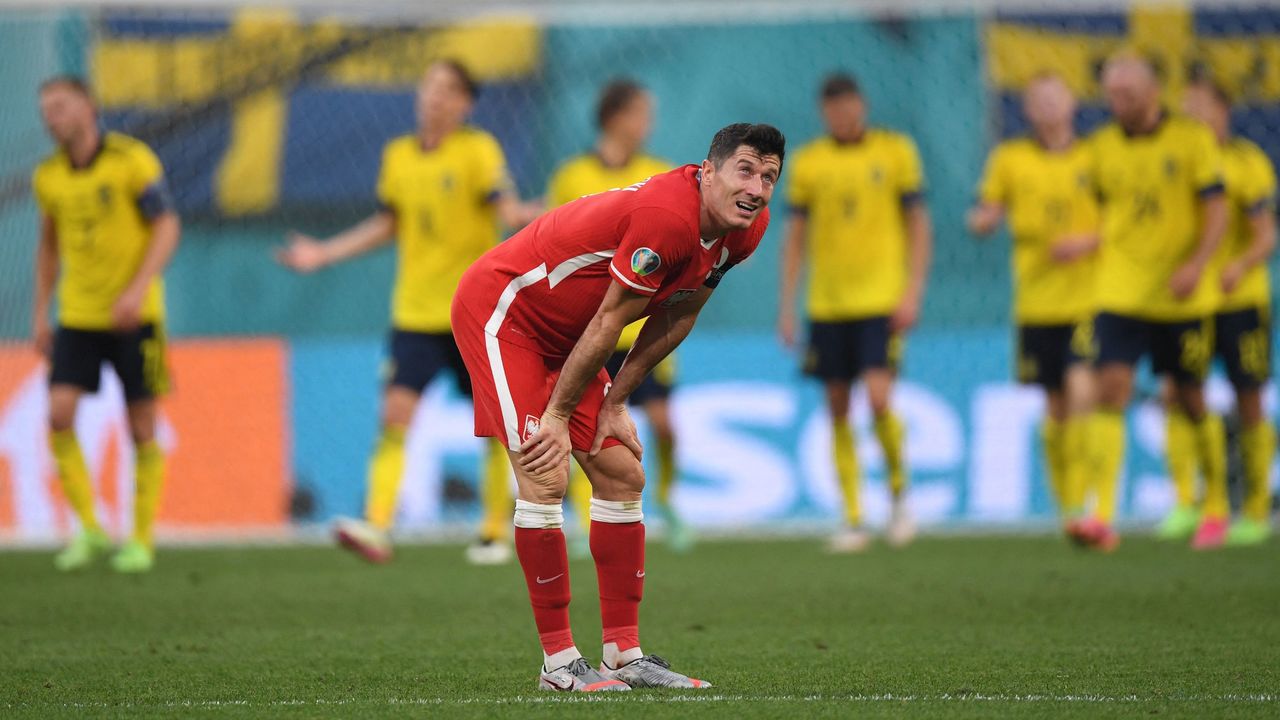 Then came Wednesday's finale against Sweden. Poland again started slow, conceding after just 81 seconds, and it seemed interested in winning only after going 2-0 down. Piotr Zielinski sprang Lewandowski with an excellent through ball that split Sweden's defenders, showing the kind of urgency the team lacked earlier in the group stage. And Poland fired 12 shots in the second half – more than it attempted in the previous 135 minutes of action.
But it was too little, too late.
Poland has now exited in the group stage for the fourth time in five major tournament appearances, an embarrassing record for a so-called dark horse. Sadly, Lewandowski isn't going to be around forever, and his supporting cast is yet to step up.
Lucky Low must learn to adapt
Germany was less than 10 minutes from bowing out of the Euros in embarrassing fashion, as Joachim Low came perilously close to ending his time in charge of Die Mannschaft with a group-stage exit. But it was the man Low overlooked heading into Wednesday's crucial encounter against Hungary who helped Germany escape the Group of Death by the skin of its teeth.
Leon Goretzka came off the bench in place of the struggling Leroy Sane and scored the equalizer that secured Germany's passage to the round of 16 – and a meeting with rival England.
But Germany's unconvincing performance over its opening three matches has raised alarms over Low's stubbornness and refusal to alter his tactics. Both have been cited as major factors in the country's regression since it failed to make it out of the group stage at the 2018 World Cup. Opponents have routinely been happy to absorb pressure and challenge Germany on the counterattack.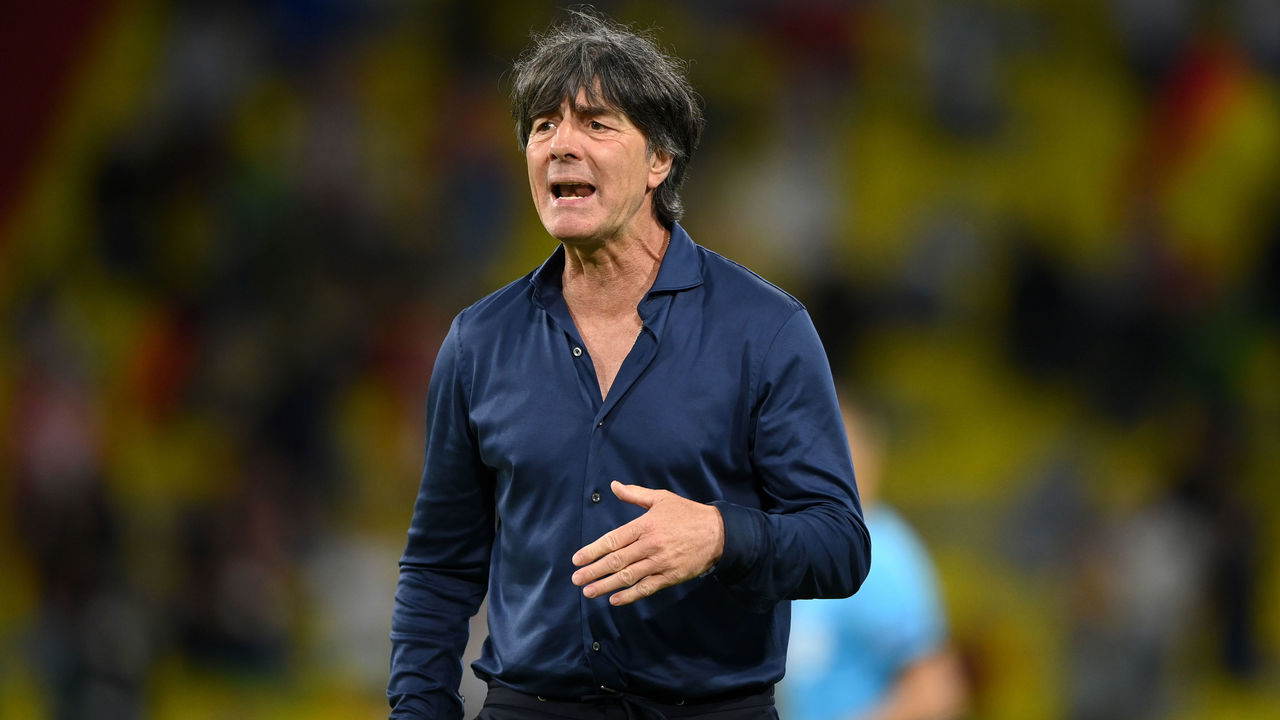 That was the case at the Allianz Arena, as Hungary put on an inspired display that so nearly resulted in the upset of the tournament. But one small tweak appeared to make all the difference, as Joshua Kimmich gave Germany an immediate boost after shifting into the midfield and linking up with Bayern Munich teammate Goretzka.
Considering England's poor record against the Germans, don't be surprised if Gareth Southgate employs a conservative approach – similar to Hungary's – in hopes of sealing a rare victory and ending Low's career on a sour note.
Ronaldo still holds the key for Portugal
After all these years, Portugal continues to rely on Cristiano Ronaldo to deliver the goods. It's not so much a criticism as a fact. After all, why not? Ronaldo is one of the greatest players of all time and still productive at age 36. Cutting him out of the game plan altogether would be foolish.
Ronaldo scored five of Portugal's six goals in the group stage, showing the nerve to convert three penalties and the timing to finish off two other big chances. And his penalty record – often dismissed as a personal crutch – does indeed matter. Portugal hasn't created enough to score consistently from open play, and penalties themselves have been far from automatic in this tournament, with a whopping 41% of spot-kicks missed thus far.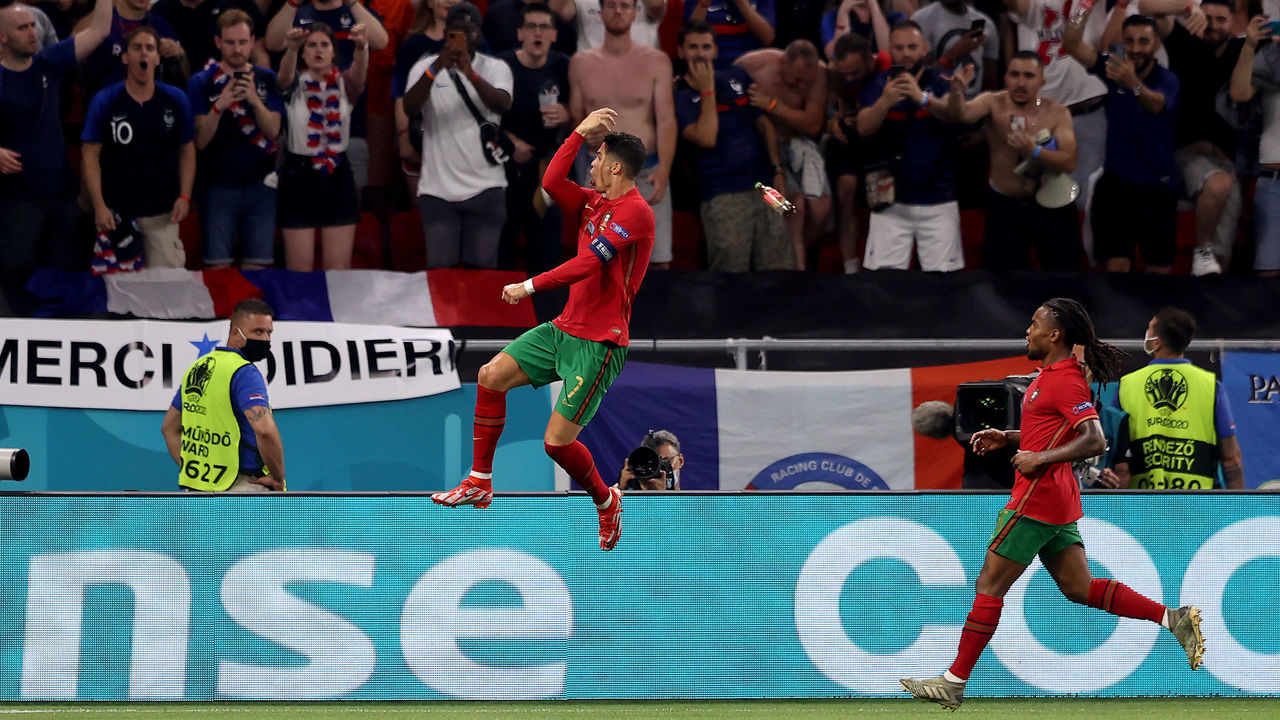 Simply put, there's no way Portugal would have advanced without Ronaldo's influence in the 18-yard box.
That also means there's much to improve on heading into the knockout round. Bruno Fernandes, the nucleus of Portugal's attack, has to respond after dropping to the bench Wednesday against France. Head coach Fernando Santos should expect more from playmakers Bernardo Silva and Diogo Jota as well.
Maybe it's time for the likes of Andre Silva and Rafa Silva to get some valuable minutes. Andre Silva scored 28 league goals during the 2020-21 campaign – more than everyone on the team except Ronaldo. Rafa Silva has offered more immediate evidence of his quality, adding pace and trickery in his two cameo appearances during the group stage.
Ronaldo will always figure into Portugal's success. It'll be that way until he retires. But his teammates can offer him another way of winning.
LGBTQ support strong despite UEFA's orders
UEFA controversially pulled the plug on Munich's plan to illuminate the Allianz Arena in rainbow colors for Hungary's trip to face Germany, but it couldn't erase the Bavarian city's support for the LGBTQ community.
Some fans painted their faces and waved rainbow flags to make it clear what they thought. They wanted to express their disgust at Hungary's new law which forbids anything in schools and on children's television that could be construed as promoting homosexuality. And they wanted to express their disgust at UEFA's subsequent banning of the venue's rainbow lights.
And though the pitch invader who interrupted Hungary's national anthem broke the rules, it was impossible to not appreciate the effort to ensure the LGBTQ community was heard rather than muted. The invader's gesture drew cheers from many in the stadium.
5 takeaways as more Euro 2020 knockout spots are decided in group finales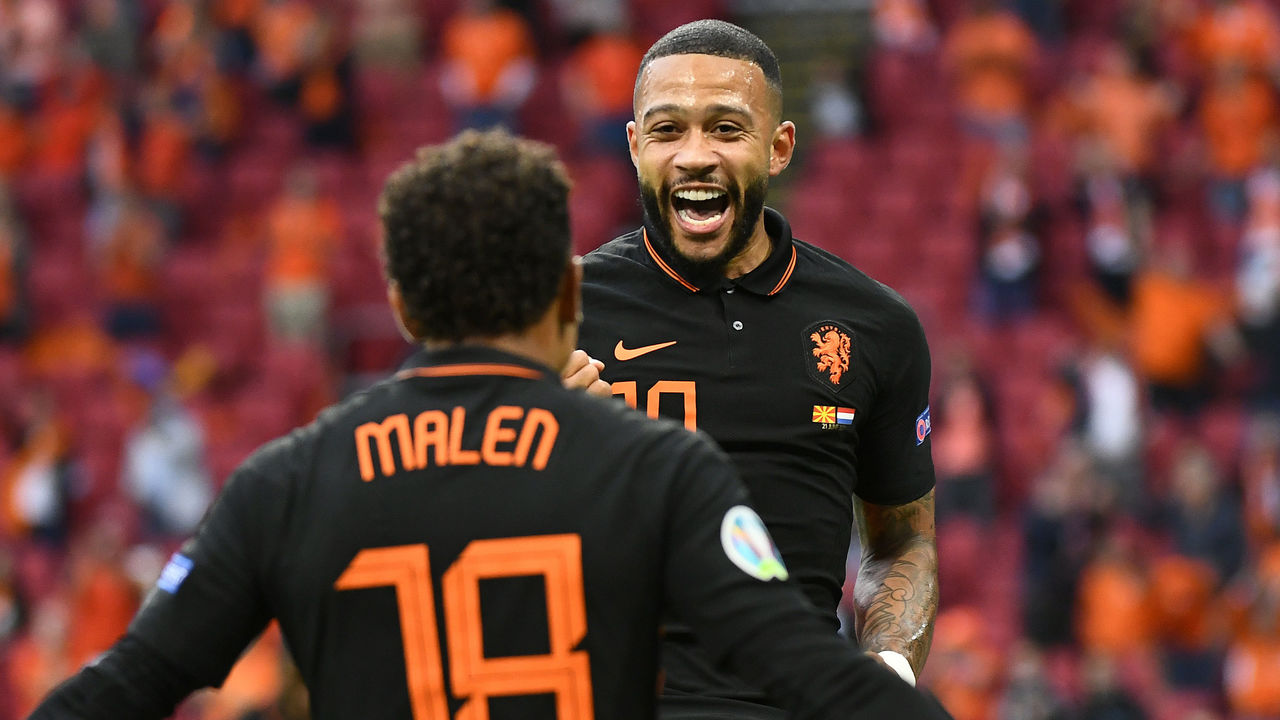 One year later, Euro 2020 is finally underway. At the end of every matchday, we'll be dissecting the biggest talking points from all the action. Below, we look back on Monday's games.
De Boer has big decision to make
The Netherlands already secured top spot in Group C, but Frank de Boer was reluctant to make changes after two rather unconvincing displays to begin the tournament. Nine players kept their places in the XI to face North Macedonia on Monday, as the head coach sought a morale-boosting win to take the Dutch into the knockout rounds.
He got exactly that with a 3-0 victory, but one of the two players given an opportunity in the starting lineup suddenly made his job more challenging. Donyell Malen, the 22-year-old PSV Eindhoven attacker, added a new dimension to the team, creating the most chances in the match (four) and providing an assist for Memphis Depay that underlined the potential of their partnership up front.
Malen gained possession in his own defensive third, surged upfield, and then steered his run down the right channel after offloading the ball to Depay. Malen was at full speed when he got the ball back, but he had the presence of mind to roll it across the 18-yard box to Depay's left foot. It was a superbly executed counter-attack.
"You see that every time they play together, they look for each other; they also get on well," Wesley Sneijder, who has a record 134 caps for the Dutch men's team, told Simon Hughes and James McNicholas of The Athletic before the tournament kicked off. "There's a lot of movement with those two in the front. And I would rather opt for movement, with two players who can dive into the spaces, than a static striker."
The static strikers are obviously Wout Weghorst and Luuk de Jong, two experienced, gangly frontmen who are yet to bring Depay's talents to the fore. There will be pressure for De Boer to start the promising Malen ahead of Weghorst and De Jong in the round of 16 following his impressive 66-minute showing.
Alaba leading Austria into unchartered territory
When Austria needed its talisman most, David Alaba answered the call with a stellar performance in Monday's monumental win over Ukraine.
The Real Madrid-bound superstar simply couldn't be stopped and tormented Ukraine on route to helping Austria clinch its first-ever berth in the knockout round of the European Championship. His phenomenal vision and precision were on full display, as Alaba often joined Austria's attack to put Ukraine's defense under loads of pressure.
Just over 20 minutes into the contest, he was at the center of the biggest goal for Austria at the Euros, teeing up Christoph Baumgartner with a flawless cross from a corner for what would be the winner. It was his second assist of the tournament.
The 1-0 victory – Austria's second-ever win in the tournament – ensured an automatic place in the last 16, during which dependence on Alaba will continue to be massive against an unbeaten Italy side. Italy is undoubtedly the safe bet to advance, but Austria can make things interesting if its star can bring out the best in his teammates with another strong display.
Best is yet to come for Belgium
It was always going to be a tall order for Finland. And, for over an hour, securing an unlikely point against Belgium looked possible until Roberto Martinez's men stepped up late in the match to slam the door on Finland's hopes of securing an automatic spot in the last 16.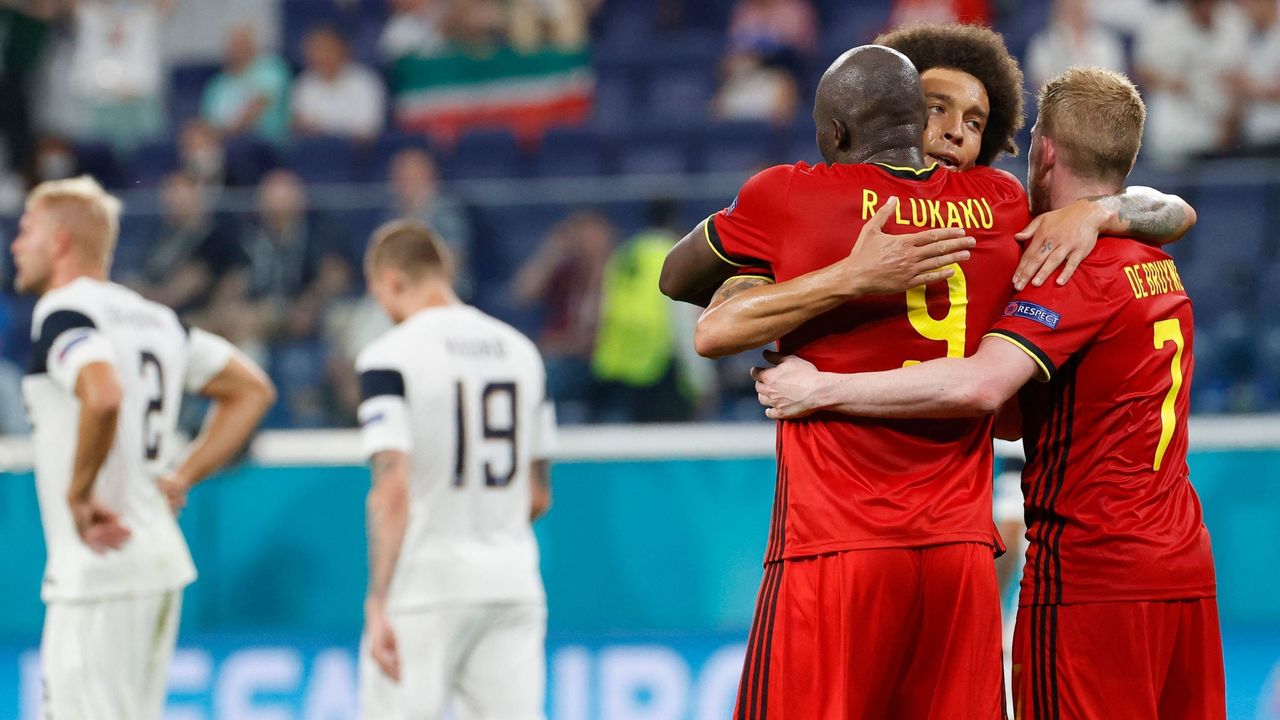 The Red Devils overcame the stubborn challengers with a wonderful attacking display, as Kevin De Bruyne starred once again to help Belgium top its group and finish the opening round with a perfect record.
But the best for Belgium may be on the horizon, especially if De Bruyne – who was named Man of the Match on Monday – can stay healthy and continue to form a lethal partnership with Romelu Lukaku.
Damsgaard rises to occasion for Denmark
It was a setting made for the emergence of a national hero.
With Denmark reeling from Christian Eriksen's collapse in the first group-stage outing against Finland and stuck at the bottom of the quartet on zero points, a packed house at the Parken Stadium pined for something to cheer about.
Eriksen's deputy in the starting XI, Mikkel Damsgaard, shone the brightest in the 2-1 defeat against Belgium on Thursday. And in the spirited 4-1 win over Russia in the Danish capital, Damsgaard propelled his country to a famous victory.
With 38 minutes played in a hotly contested goalless stalemate, Damsgaard received a precise line-breaking pass from Pierre-Emile Hojbjerg in a central position eight yards outside the box. Damsgaard shimmied to his right to create a half-yard of space before firing a swerving rocket beyond the outstretched limbs of Russian 'keeper Matvey Safonov.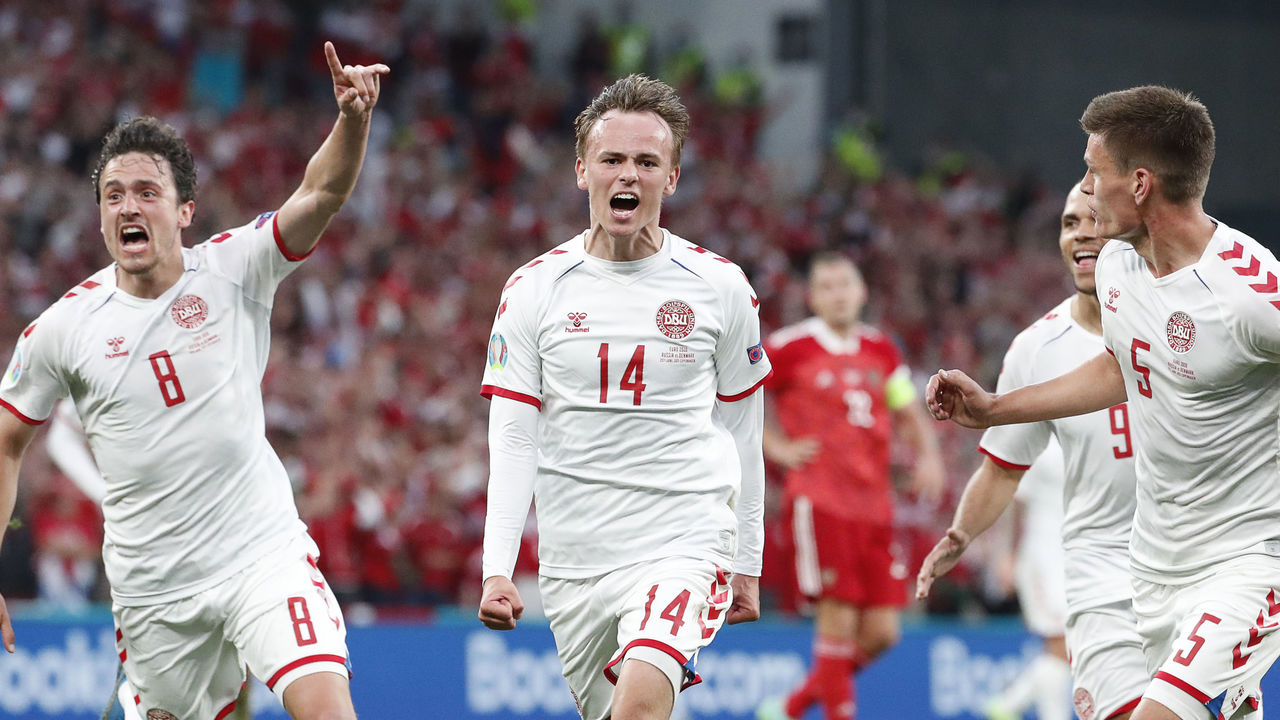 The 20-year-old became the youngest player to score at the European Championship, beating out Austria's Baumgartner, who set the standard earlier Monday against Ukraine. He also became Denmark's youngest-ever goalscorer at a major tournament.
The strike lifted the crowd heading into the interval and sparked an attacking elan within Kasper Hjulmand's side, which has largely been missing in the absence of its main creative contributor. Damsgaard has combined well on the left flank with Atalanta wing-back Joakim Maehle, offering pace and incision while providing support for a front-two of Yusuf Poulsen and Martin Braithwaite.
Suddenly, Denmark is a threat going forward, and much of that is due to the unbridled verve of Damsgaard. His emergence has come at a perfect time for a team that went from the bottom of Group B to harboring realistic quarterfinal ambitions.
Own goal for Hungary's tourism board
Budapest is a beautiful city. Its stunning, varied architecture reflects off the Danube River; spectacular smudged-orange sunsets can be viewed from the Liberty Bridge; and the capital's ruin bars – drinking establishments inside abandoned buildings – offer the opportunity to explore old bathrooms and deserted cinemas with a pint in your hand.
But why would you want to go now?
The abhorrent policies of Hungary's government and alleged behavior of its fans at Euro 2020 have acted as a deterrent to potential visitors to Budapest and the rest of the country.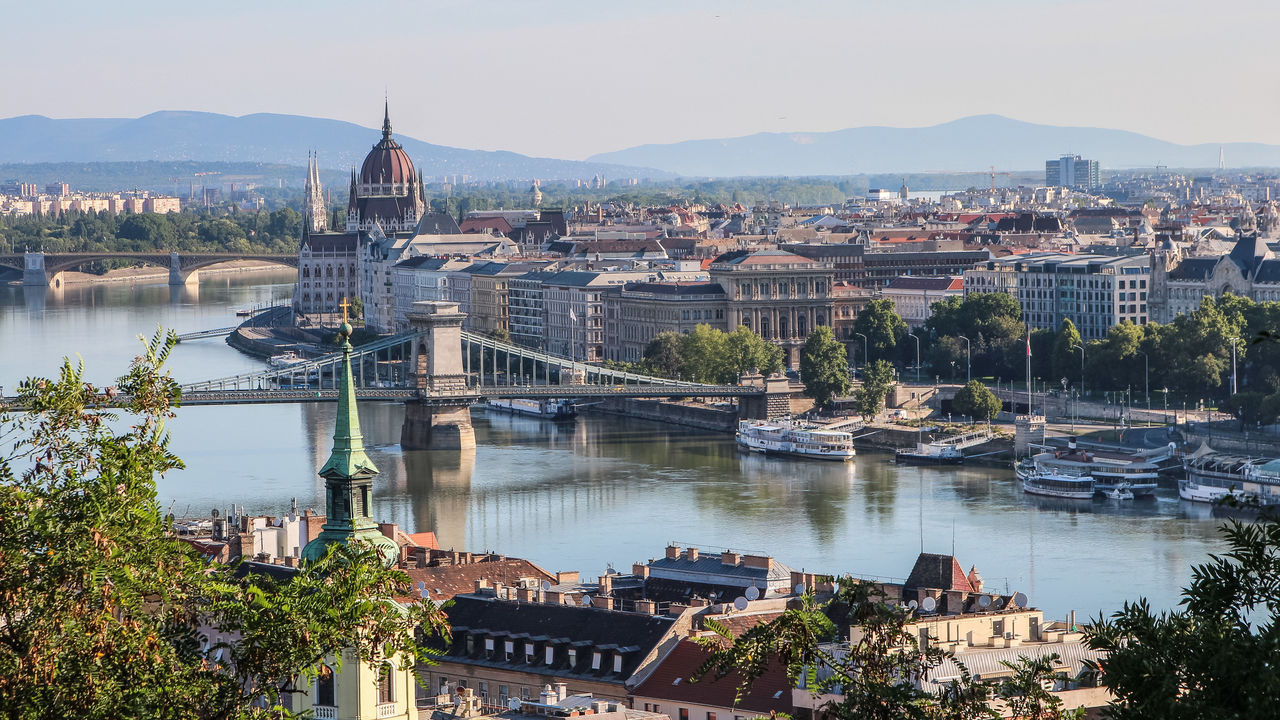 Last week, prime minister Viktor Orban passed a law banning anything in schools and on children's television that could be construed as promoting homosexuality. While this news reached global outlets, Hungary supporters were accused of unfurling a homophobic banner and making monkey noises during the team's first two matches at Budapest's Puskas Arena. UEFA opened an investigation into the matter on Sunday.
So, the local authorities in Munich wanted to make a statement. The German city is awaiting approval from UEFA to light the Allianz Arena in rainbow colors in solidarity with the LGBTQ community for Hungary's visit on Wednesday, and this has unsurprisingly ruffled feathers in the Hungarian government.
"It is extremely harmful and dangerous to mix sports and politics," Hungarian foreign minister Peter Szijjarto said Monday. "Historical experience shows that this is bad, and if anyone, the Germans certainly know this well."
Let's hope UEFA makes the right call. Light that stadium up.
5 takeaways from Tuesday's action at Euro 2020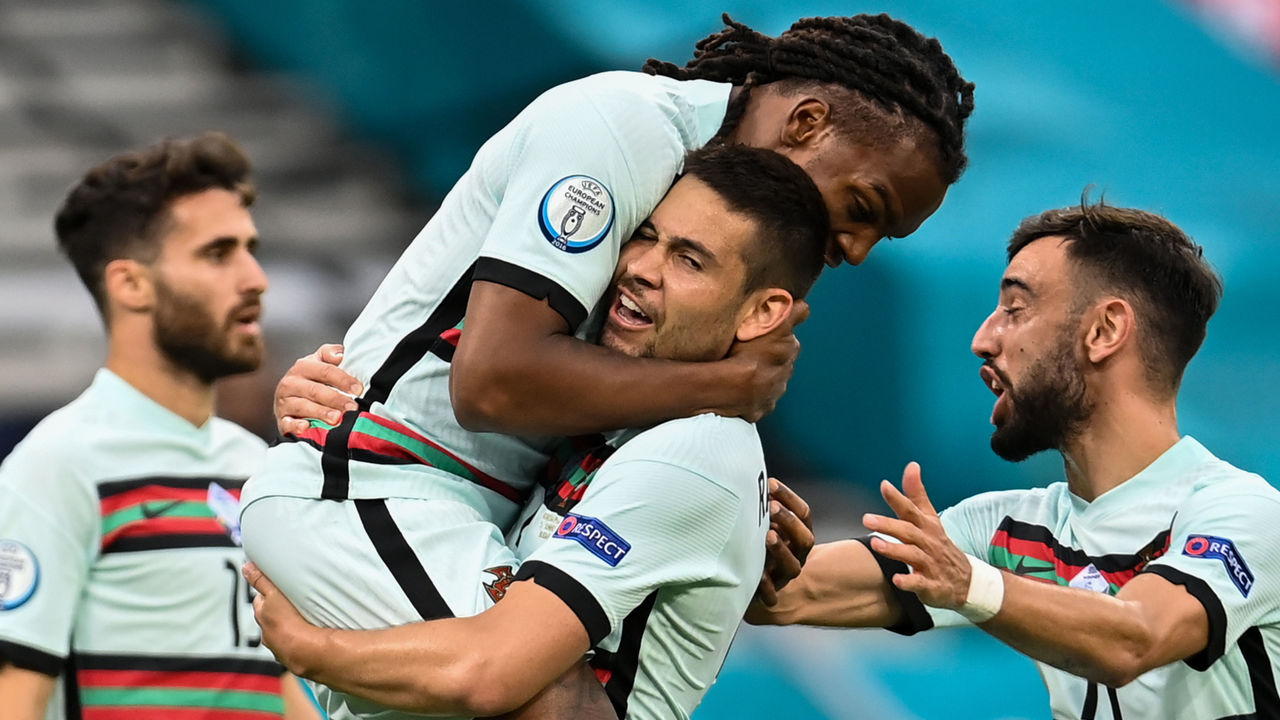 One year later, Euro 2020 is finally underway. At the end of every matchday, we'll be dissecting the biggest talking points from all the action. Below, we look back on Tuesday's riveting matches.
Portugal can't play like it's 2016
Head coach Fernando Santos finally got it right after 80 minutes of futile possession. Portugal exploded to life when Renato Sanches and Andre Silva replaced William Carvalho and Diogo Jota. Sanches earned a penalty with a mazy run down the gut, and Silva's movement broke Hungary's otherwise resolute defense apart. Cristiano Ronaldo did the rest.
Santos handcuffed Portugal for no good reason. Hungary, the weakest team in the uber-talented Group F, was always going to defend with five or six at the back. Yet Santos, perhaps conditioned by the conservative tactics that succeeded at Euro 2016, elected to start a rigid 4-2-3-1 with a pair of destroyers in Carvalho and Danilo at the heart of the operation. Predictably, neither midfielder could do much to unlock Hungary's defense, leaving the full-backs to send a number of hopeful crosses into the area. That would've worked if Portugal had a real target man. Portugal, as we know, doesn't.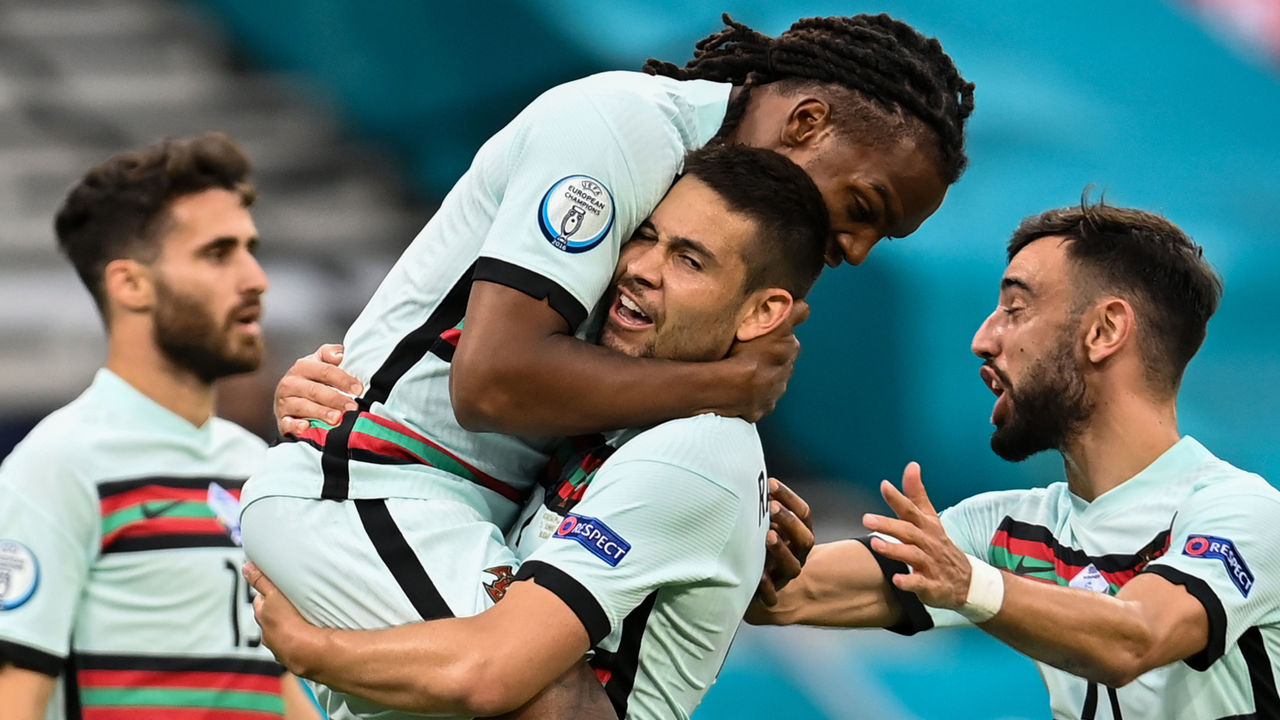 Santos only began to play to the strengths of his team late in the game. Portugal didn't need Carvalho to protect the back four, not against a team of Hungary's defensive makeup. It needed a game-breaker like Sanches more movement up front, and it got that in the last 10 minutes.
Portugal may not face as heavy of a resistance against Germany and France, but Tuesday's slog in Budapest offered some important lessons. This team is way more offensively inclined than the lot that won it all five years ago. The sooner Santos accepts that, the better.
Jogi Low gets it wrong against France
Joachim Low seems intent on employing a system that limits Germany's biggest contributors. Low opted for a 3-4-2-1 setup in the 1-0 defeat against France at the Allianz Arena in Munich, and almost immediately it became clear it wasn't working.
The formation ceded the midfield battle to Les Bleus' unrelenting trio of Adrien Rabiot, Paul Pogba, and N'Golo Kante, while at the same time restricting Joshua Kimmich's powers at wing-back. Granted, Kimmich is one of football's most versatile stars, but his acumen feels wasted out wide. Especially so when Germany's two-man midfield of Toni Kroos and Ilkay Gundogan is too static, with the latter uncharacteristically giving away possession numerous times to make matters worse.
Pogba didn't need the acres of space afforded to him, but he made the most of it, in particular when he played a deft looping ball over the top to find a surging Lucas Hernandez, who fired a bolting cross off Mats Hummels and into the back of the net for the game's lone goal.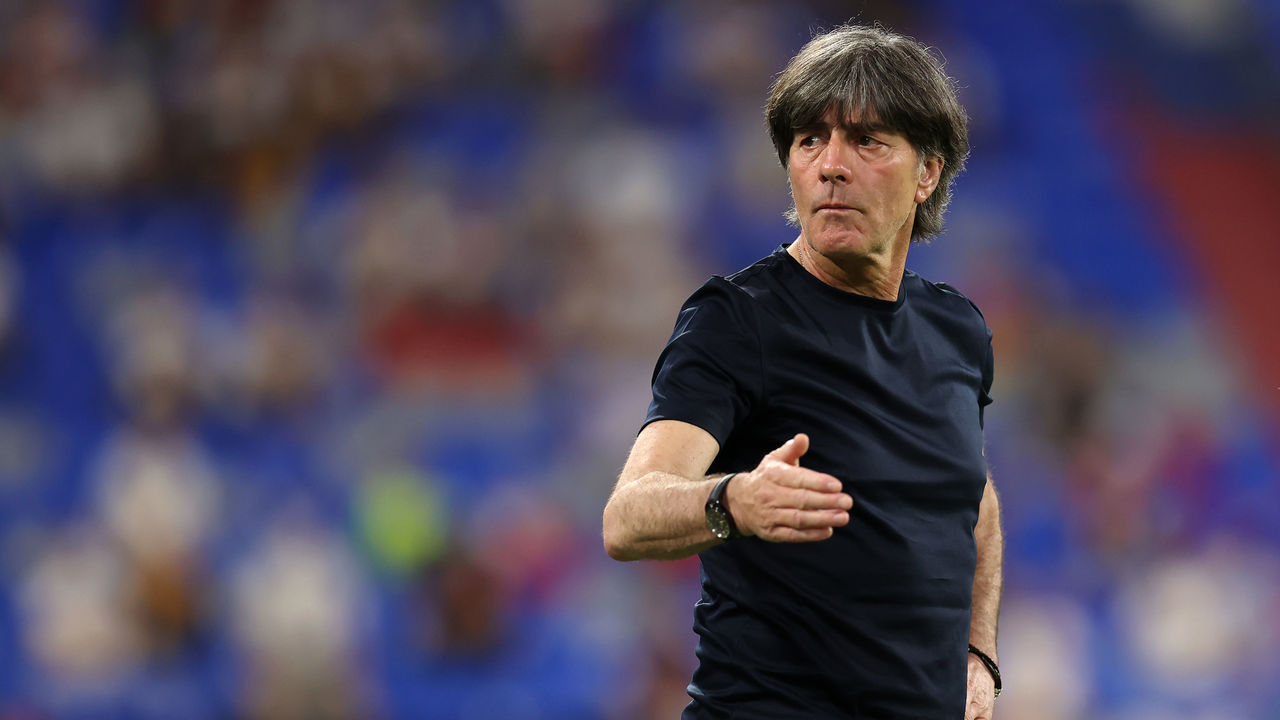 Surely Lukas Klostermann could have played at right wing-back in place of Kimmich, allowing the Bayern Munich star to assume a dynamic midfield role alongside Kroos.
There will also be doubts about Hummels' inclusion. He was never far from France's countless probing attacks. In theory, the 32-year-old, who was wedged between Matthias Ginter and Antonio Rudiger, should have been protected from having his physical limitations exposed, but the opposite occurred. Even with a last-ditch tackle on a late surging run from Kylian Mbappe, Hummels looked to be a liability among a backline severely lacking in pace against Europe's speediest side.
These observations don't even take into account an attacking system that rarely threatened to get behind France's back-four. Simply put, Low got it wrong. The room for error is microscopic in the Group of Death.
France brings out the best in Pogba
Pogba was one of France's best performers against Germany, showing once again at a major international tournament he can handle multiple responsibilities in a two-man midfield. With 12 recoveries, 13 successful duels, and four fouls won, Pogba led in almost every significant category. He also set up the only goal of the game with a delectable pass over the top of the defense.
Yes, he was dispossessed four times, but he was dominant. Some of the best players in the game, including Lionel Messi, lose the ball when they're trying to make something happen. It's just a lot easier to accept when the good outweighs the bad.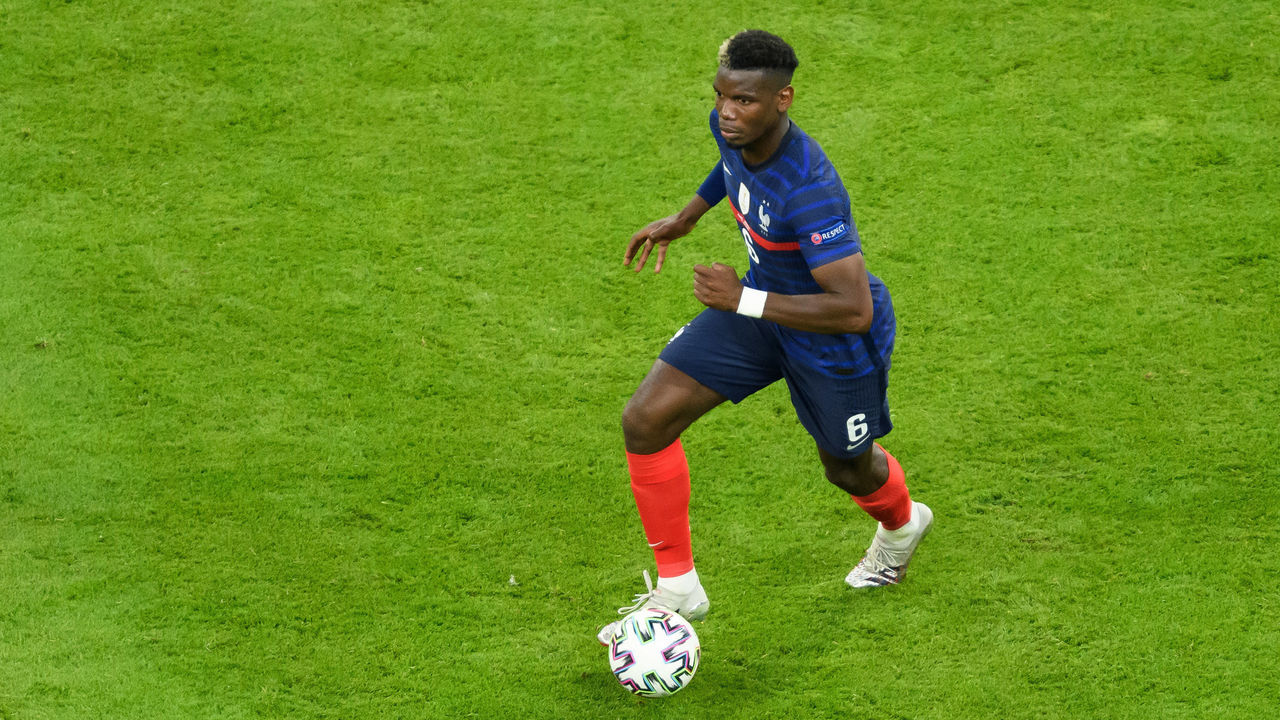 And Pogba's performance was fantastic. He was confident with and without the ball, and he excelled under pressure. At one point in the second half, with Germany pressing for an equalizer, the 28-year-old showed strength and patience in warding off multiple threats near the touchline. Seconds later, Pogba dribbled out of danger and picked out a free teammate with a simple pass. It looked so easy.
Pogba just looks more comfortable playing for France. If he makes a mistake, one of Kante, Rabiot, or Antoine Griezmann is there to clean up. Kante's the perfect partner, Rabiot an effective foil, and even if he sacrifices a bit of offensive production, Griezmann is just as good at tracking back and fishing the ball out of trouble. Pogba can therefore play without the pressure of failing or paying the price for doing too much.
Football still stuck in the stone ages
Entertaining as Tuesday's marquee showdown between France and Germany was – it was totally absorbing – the match provided another stark reminder that the sport still has a long way to go regarding player safety and protocols surrounding head injuries.
French defender Benjamin Pavard was on the wrong end of a scary collision with Robin Gosens in the second half, taking the full brunt of the onrushing German's torso to the side of the head. Pavard appeared to be briefly unconscious and required treatment after the frightening blow – his head smacked the ground after the initial contact.
A couple minutes later, after little more than a squirt of water on the back of his neck, he was back on the pitch.
"I took a hell of a shock," Pavard said after the match, as translated by The Guardian. "I was a little knocked out for 10 to 15 seconds. After that, it was better."
The Bayern Munich right-back ultimately played the entire match. Not for the first time, we're left asking why football is so woefully behind when it comes to head injury and concussion protocols. UEFA and the like can say they care about players all they want, but every action in this space suggests otherwise.
Excuse me, Toni?
Rudiger did his best Luis Suarez impression on Tuesday, and we're still trying to figure out what he was trying to accomplish when he appeared to nibble on Pogba's … back.
International tournaments make footballers hungry, apparently.