Key thoughts and analysis from Saturday's Premier League action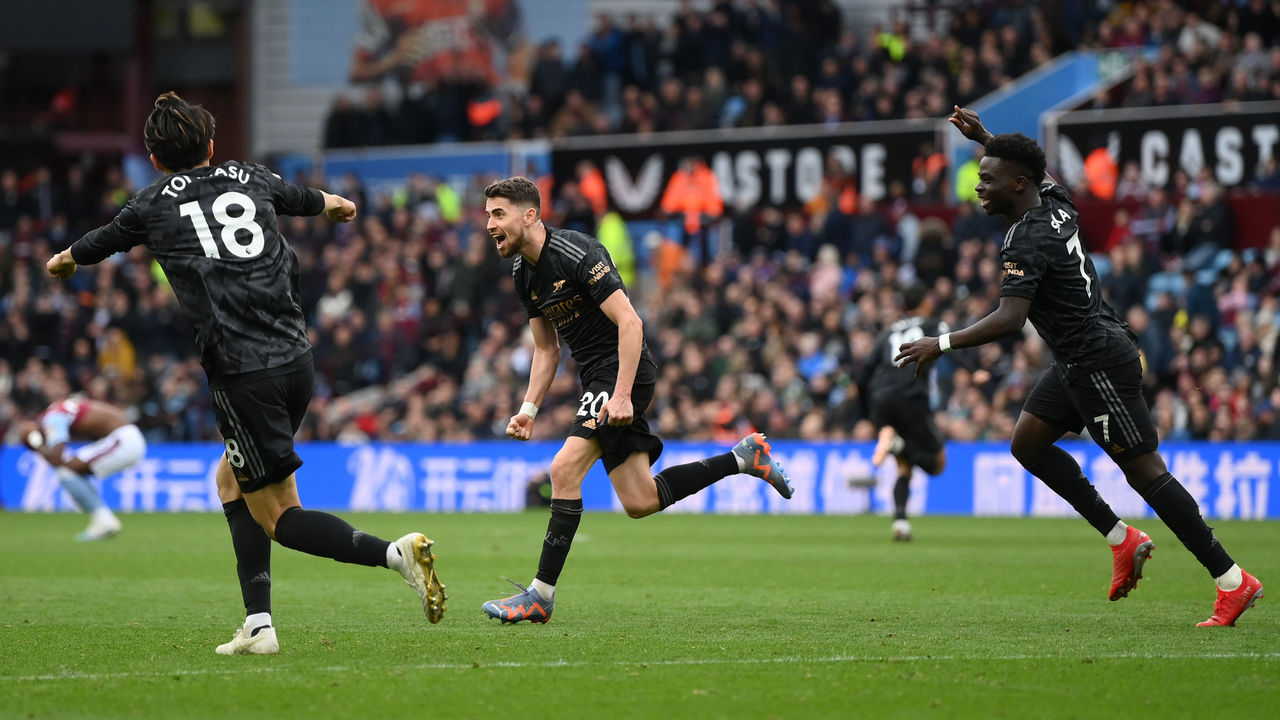 theScore examines the most important developments and biggest talking points from Saturday's slate of action in England's top flight.
Arsenal show their mettle
Arsenal could have wilted. On the back of a dispiriting defeat to Manchester City less than 72 hours earlier, the Gunners were in danger of seeing their blip in form turn into a season-defining slump on Saturday. Winless in three matches and knocked off their perch atop the Premier League table for the first time in several months, Arsenal fell behind in just the fifth minute of the day's early match against Aston Villa.
Their response was telling.
Instead of shrinking, Mikel Arteta's team dug deep on multiple occasions to claim a dramatic 4-2 victory, twice coming from behind at Villa Park before snatching three crucial points with a pair of stoppage-time goals. There was some good fortune involved in the eventual match-winning tally in the 93rd minute – Jorginho's fierce shot smashed the crossbar before careening off Emiliano Martinez's head and back over the line – but, at this stage of a title race, the "how" of collecting points isn't important. Every team that has ever won anything of significance has benefitted from some luck along the way. Perhaps it's too simplistic, but, one way or another, these are the kinds of matches you have to win when chasing a title, by any means necessary.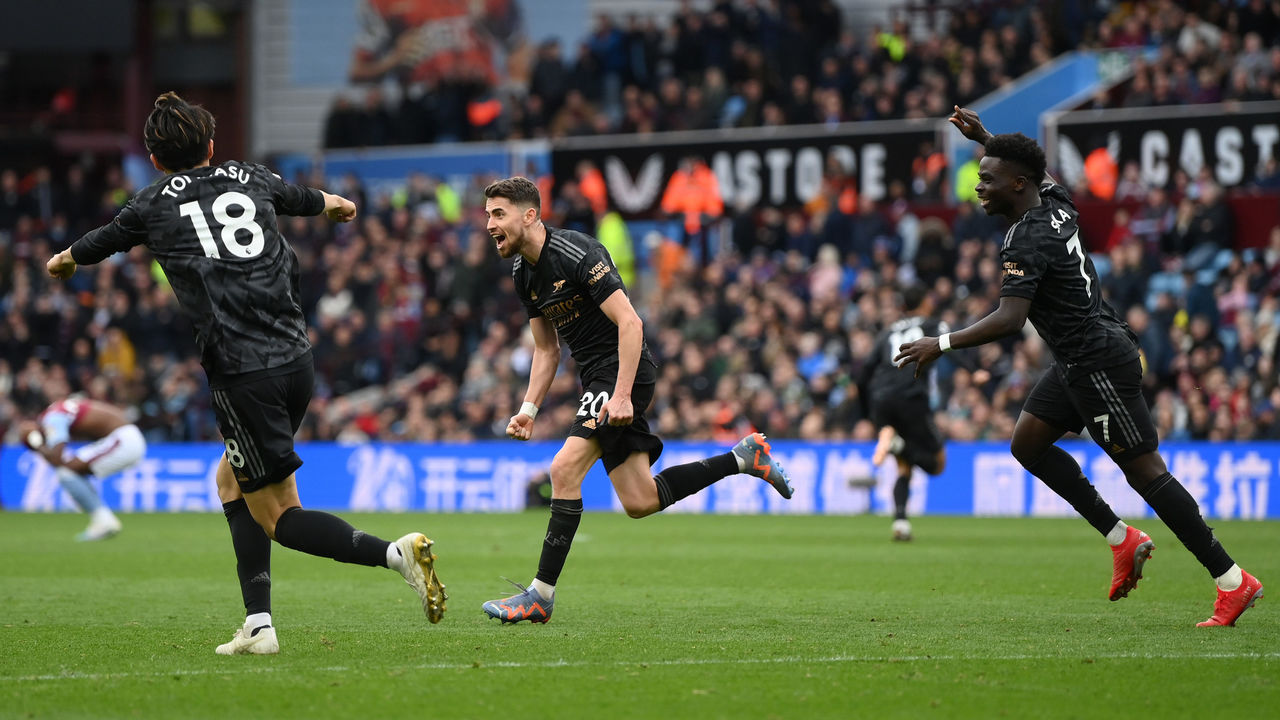 The bigger lesson from Saturday's thrilling contest was Arsenal showing their mettle. On limited rest, against their former manager, and out of rhythm for the first time all season, previous versions of this team would not have displayed the fortitude necessary to get the win.
"This group are such amazing people. They can achieve everything they want if we continue this way, if we keep fighting, keep believing," said Oleksandr Zinchenko, whose guttural roar after scoring a second-half equalizer served as a rallying cry for his teammates. "The reaction from all of us in the second half was perfect."
The resilience they showed became all the more consequential just hours later when Manchester City stumbled, giving Arsenal their place back at the top of the standings.
No more moral victories for Man City
Pep Guardiola thought Manchester City's performance in Saturday's 1-1 draw with Nottingham Forest was "brilliant." He had a point: City controlled 73% of possession, outshot Forest 22-4, and created enough quality chances to win by four or five goals. His players didn't perform badly at all. But they still dropped points in a game they should've won.
City have dropped points before and still won titles. Think of the times they lost to Crystal Palace at home and drew away to Southampton. But those instances were few and far between, anomalies that stuck out like blemishes on an otherwise clean record. The opposite is true this time around: City have dropped points from winning positions six times this season and 15 points away from home thus far. Last term, they conceded just 11 points on their travels.
Saturday's stalemate also came in stark contrast to the battling performance Arsenal showcased just hours earlier. The Gunners found a way to turn what seemed like a frustrating draw – and perhaps even a loss – into an inspiring win that veteran defender Zinchenko described as an important lesson in resilience.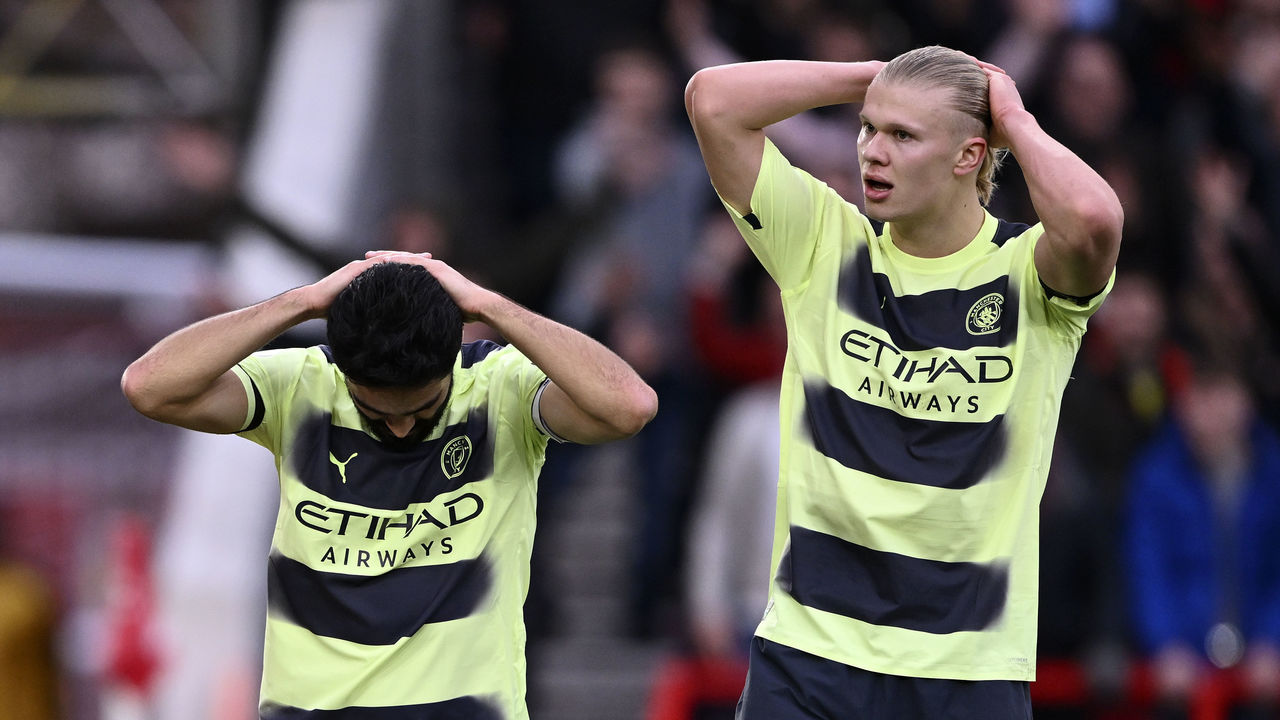 "Win in any context," Arsenal boss Mikel Arteta said afterward. "We've always talked about that. Today we had a really difficult context."
City, meanwhile, have struggled to impose themselves in contexts that should favor them. They monopolized possession against Manchester United – and lost. They outfired Brentford 29-10 – and lost. They controlled 65% of the ball against Tottenham Hotspur – and lost. They had every chance to beat Forest on Saturday, and Erling Haaland missed two clear-cut chances of his own. Still, City couldn't win.
These hiccups are becoming more and more frequent. They have interrupted progress. City's longest winning streak in the Premier League this season has been just three matches. That pales in comparison to the 12-match winning run that allowed them to match Liverpool stride for stride last season. Guardiola can take solace in the fact his team played well, but that may not be enough to win the title this time.
Pope's moment of madness
Nick Pope picked a terrible moment to make a baffling blunder – for multiple reasons.
The typically unflappable Newcastle United goalkeeper, an integral part of the club's outstanding campaign thus far, was sent off in the 22nd minute of Saturday's eventual 2-0 loss to Liverpool for a confounding handball incident. Pope raced well outside of his area to beat Mohamed Salah to a long ball, but, inexplicably, tried to stoop and head the ball away instead of using his feet. Panicking after botching the clearance, a scrambling Pope reached out and grabbed the ball to ensure Salah didn't have a free run at an open goal. The red card inevitably followed.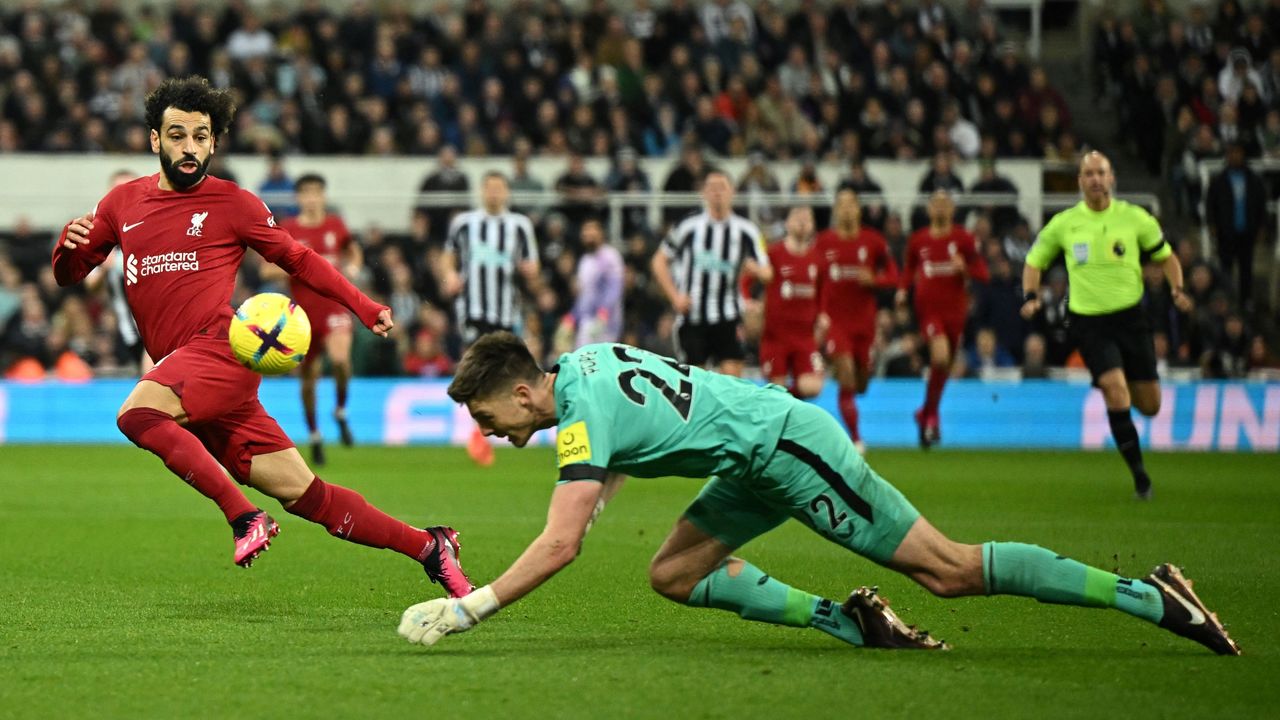 The timing couldn't have been worse. Pope will now be suspended for the League Cup final next weekend against Manchester United – bans for red cards in league play apply to the cup competition. Strike one. England manager Gareth Southgate was in attendance at St. James' Park amid growing calls for Pope to get an opportunity as the Three Lions' starting netminder. Strike two. And, with Newcastle trailing 2-0 at the time of the sending-off, Pope's lapse in judgment effectively torpedoed any hopes his team had of mounting a legitimate comeback attempt. Strike three.
Newcastle were riding a 17-match unbeaten streak in the league heading into Saturday's game. The last team to beat them? Liverpool in August. Eddie Howe's men, sans Pope, will have to dust themselves off quickly and regroup as they head to Wembley looking to claim their first major trophy since 1955.
Quick free-kicks
Liverpool finding their footing
Don't look now, but Liverpool are slowly creeping back into the Champions League race. Saturday's win over Newcastle has the Reds just six points behind the fourth-placed Magpies. Jurgen Klopp's team has a match in hand, too. Even playing against 10 men, the victory wasn't entirely straightforward, as Newcastle created multiple scoring opportunities; Alisson, and the woodwork, kept the home side off the board at St. James' Park. The defensive cracks are still there for Liverpool. But things are trending in the right direction at the other end of the pitch. Darwin Nunez and Cody Gakpo both scored, the latter finding the net for a second consecutive game. Roberto Firmino and Diogo Jota are back. Luis Diaz is training as he nears a return from an injury of his own. Salah looks like the sharp, menacing version of himself that everyone expects. Liverpool, somehow, are right in the hunt for a top-four spot. With enormous matches coming up in the next few weeks – on multiple fronts – this mini resurgence couldn't come at a better time.
Manor Solomon finally feels at home
Fulham have had a number of players step up during their first season back in the Premier League. Tim Ream, once the butt of jokes among fans of the United States men's national team, has been a rock at the back. Willian, the 34-year-old Brazilian who had to terminate contracts with his previous two clubs, has rediscovered his footing. Finally, there is Manor Solomon, who scored for a second match running Saturday at Brighton & Hove Albion to secure another win on Fulham's unexpected quest for European qualification. Solomon's journey has been long and winding – the winger, on loan from Shakhtar Donetsk, suffered a serious knee injury after fleeing the war in Ukraine last year – but is now reaching what he considers its final destination. Solomon's last-gasp winner on Saturday was a blessing, especially with the club's primary scorer, Aleksandar Mitrovic, out injured and unavailable to perform his usual heroics.
Emi Martinez goes rogue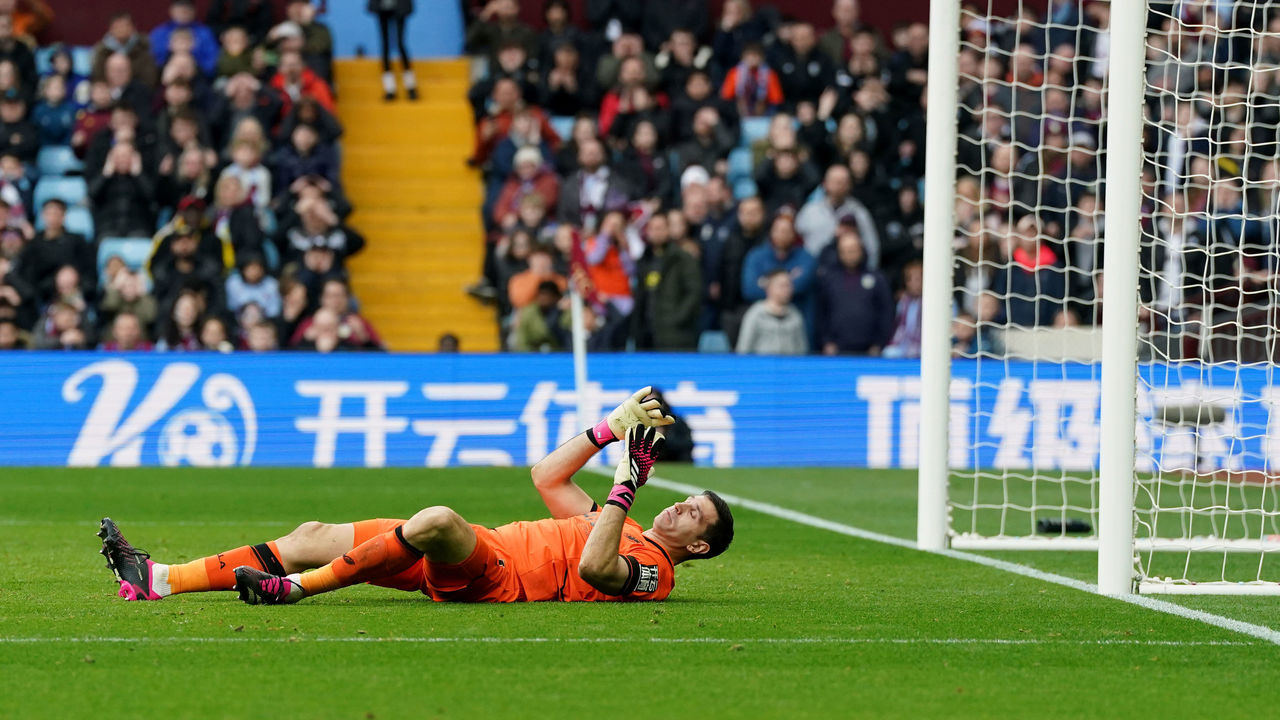 It's not that often that a manager reams out one of his players in public, but that's precisely what Unai Emery did after Aston Villa's loss to Arsenal. The Spanish manager was enraged by Martinez's decision to go forward for a last-minute corner while trailing 3-2 deep into stoppage time. The Gunners cleared the corner kick, and Gabriel Martinelli walked the ball into a gaping net at the other end while Martinez was helplessly running back to his vacated area. Emery made it abundantly clear that he wasn't pleased with the series of events.
"I am embarrassed about the last goal. I have never told my 'keeper to go forward. It's not the spirit," Emery said. "We have to keep our mind clear and be smart. Today he decided it was his decision. He knows now." Martinez has always been a maverick. The antics, which can sometimes cross the line, are part of the deal. Emery and the Argentine shot-stopper will need to find some common ground as they work together going forward.
Leeds don't have a plan for survival
Leeds United are decaying from within. It's a slow and painful process that majority owner Andrea Radrizzani, CEO Angus Kinnear, and sporting director Victor Orta have found no way of stopping. Sacking American head coach Jesse Marsch after signing several U.S.-based players on his recommendation has had a largely negative effect. Fans are now turning their anger toward Radrizzani, whose usually active Twitter account has suddenly fallen quiet now that Leeds are seemingly relegation-bound.
Saturday's 1-0 loss to relegation rivals Everton was absolutely dire, devoid of any of the battling spirit required to stop the rot. No manager seems interested in taking the job, and the man leading the way in the interim, Michael Skubala, seems out of his comfort zone. Leeds don't even have a somewhat reliable striker to bail them out of trouble every now and then. The halcyon days of Marcelo Bielsa, whom Radrizzani unceremoniously sacked last season, seem so far away now.
Stat of the day
How much longer will David Beckham's free-kick record stand?
Tweet of the day
White smoke for Loris Karius after Pope's red card.
Copyright © 2023 Score Media Ventures Inc. All rights reserved. Certain content reproduced under license.
Key thoughts and analysis from Saturday's Premier League action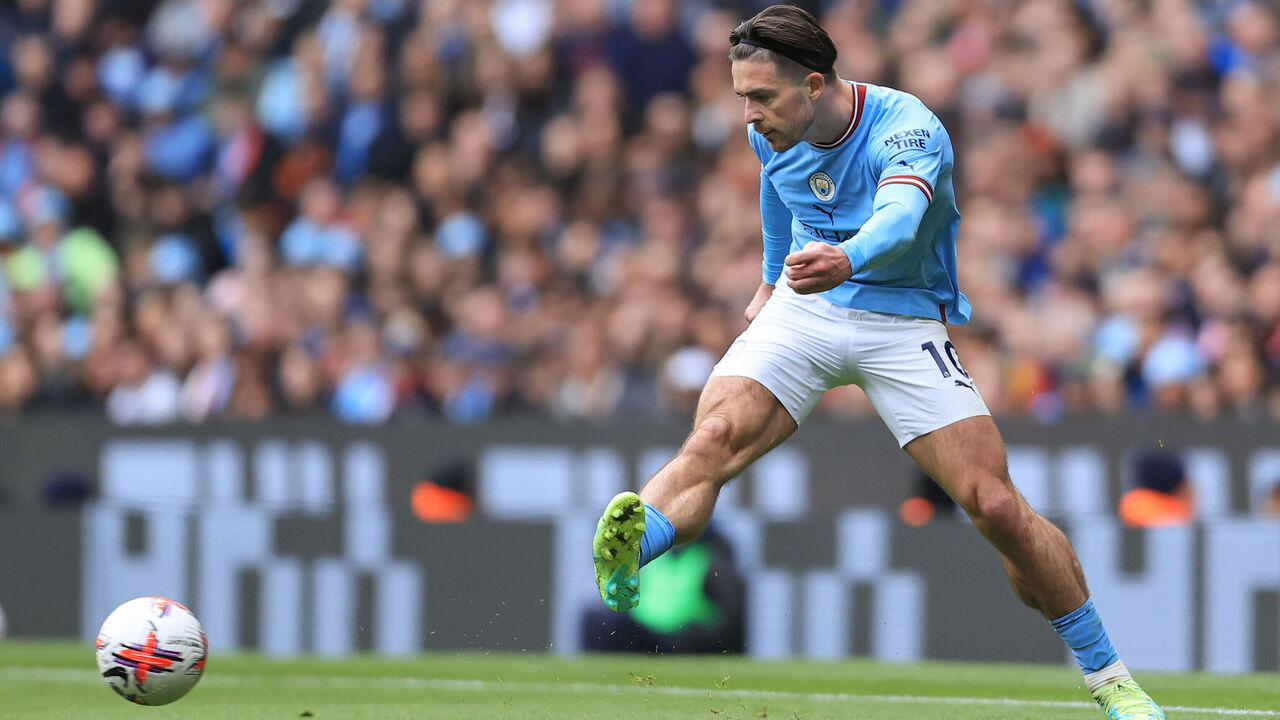 theScore examines the most important developments and biggest talking points from Saturday's slate of action in England's top flight.
Grealish earns starring role
Pep Guardiola's squad rotations have swallowed up some big players at Manchester City. Sergio Aguero had to battle to prove he should be in the lineup, and even Kevin De Bruyne – usually an immovable part of the team – was demoted to the bench twice since the start of February.
That makes Jack Grealish's regular presence in the side even more impressive.
Phil Foden's spells on the sidelines and Cole Palmer's oft-passable cameos have helped Grealish's cause, but it's largely form that has established the Englishman in Guardiola's starting XI. His performance in Saturday's resounding 4-1 victory over Liverpool was the best of Grealish's time at City, as he combined a monstrous work ethic with playfulness and trickery that bamboozled red shirts.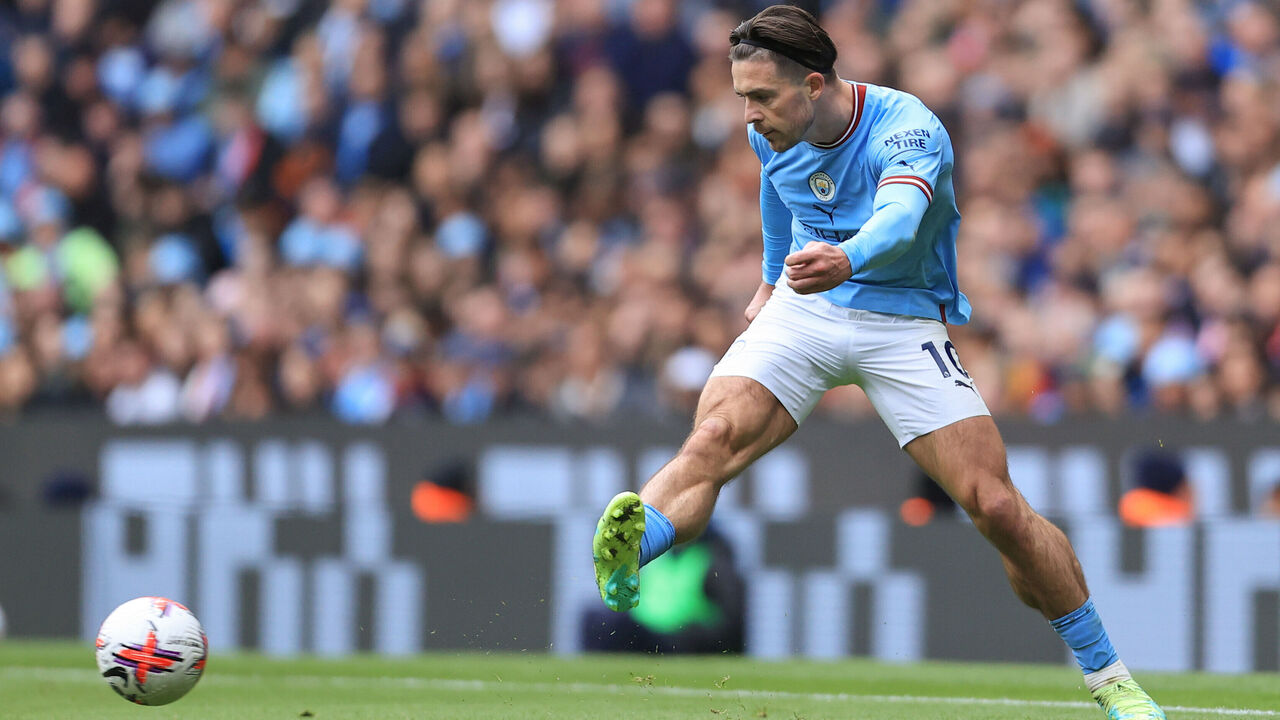 Grealish turned the game in around a minute. Liverpool broke at pace from a City corner and Mohamed Salah was released behind the defense, sprinting toward Ederson's mesh in search of his second goal. But Grealish rapidly tracked back, denying Salah a shooting option and then intercepting the Egyptian's attempted pass to Diogo Jota.
City regrouped, and Andy Robertson's attempt to challenge De Bruyne inside the hosts' half presented an opportunity. Jordan Henderson scampered back to try to cover while Liverpool's backline slid left, opening up space on Grealish's flank. City moved the ball on to the winger, and he instantly nudged the ball inside for Julian Alvarez's leveler.
It could've been 2-0 to Liverpool. Instead, it was 1-1.
Grealish was the match's standout player and deservedly concluded the scoring, but it was a collective effort that allowed City to recover from Salah's goal and record a statement win to begin the title run-in. Numerous City players could be singled out for crucial interventions or general excellence throughout the meeting.
It was a dominant triumph executed without the help of a certain 42-goal striker.
Jesus another difference-maker for Arsenal
Gabriel Jesus is showing no ill-effects of the knee injury that required surgery and cost him upwards of three months on the sidelines.
Making his first league start since sustaining the ailment at the World Cup in December, the Brazilian forward bagged a brace in Arsenal's 4-1 victory over Leeds United on Saturday, winning – and then converting – the penalty that opened the scoring and got the home side back on track after a tepid start in which Leeds looked more dangerous early. His second tally of the contest, Arsenal's third of the day, effectively ended the match.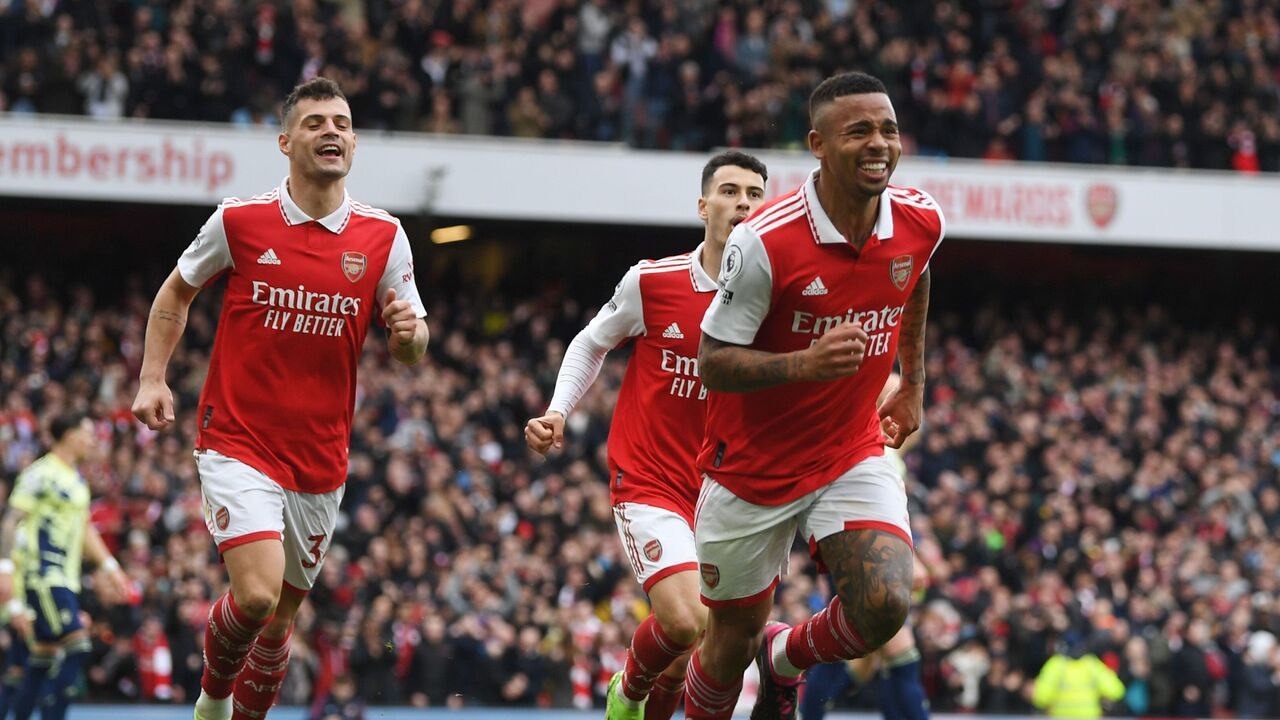 Jesus rediscovering his sharpness almost immediately after returning is an enormous boost for the league leaders as they aim to hold off Manchester City in the title race. The 25-year-old gives Mikel Arteta another inventive attacking player who can unlock the opposing defense on his own. Jesus won the penalty with two exquisite pieces of skill, first dropping Rasmus Kristensen with a devastating shot fake and then putting Luke Ayling on his backside with a quick hesitation move, forcing the latter to take him down inside the area.
Arsenal now have seven consecutive Premier League wins, and they've scored 18 goals in their last five league matches. Already humming along, they now have the benefit of potential rotation up front to keep everyone fresh and firing through the end of the campaign. Star winger Bukayo Saka got some rest on Saturday, starting the game on the bench, while Jesus headlined an attacking trio that included Gabriel Martinelli and Leandro Trossard.
Assuming everyone stays fit, Arteta now has the luxury of using four different players – five when Eddie Nketiah returns from his own ailment – that can all score goals and provide decisive moments during the title run-in.
Pragmatism doesn't mean conservatism for Roy
Vicente Guaita is a decent shot-stopper and the center-back pairing of Marc Guehi and Joachim Andersen should belong to a side competing for a top-six finish, but it's obvious where Crystal Palace's true strength lies. Roy Hodgson recognized that in his return to the dugout: This team isn't built to absorb pressure and steal points – its likeliest route to success is to unleash Wilfried Zaha, Eberechi Eze, and Michael Olise in attack.
Palace went for it. They fired 31 shots during Leicester City's visit and created the same number of chances (22) as they mustered through their previous three-and-a-half matches. Some of their attempts on goal were optimistic – 11 were struck from outside the box – but such attacking intent was welcomed at Selhurst Park after the Eagles failed to register a single shot on target over three straight matches toward the end of Patrick Vieira's reign.
The importance of Saturday's 2-1 defeat of fellow strugglers Leicester City is huge. Jean-Philippe Mateta turned a two-point gap above the relegation zone into a five-point chasm with his slick spin and finish in the 94th minute. However, the result is accompanied by a considerable caveat.
Zaha left the action just before the interval nursing what appeared to be a groin problem. Palace were revolving their play around the London-raised winger more than usual before his enforced withdrawal, quickly pinging passes to his feet and giving him the freedom to aim seven shots on goal, but now face the prospect of not calling on their talisman for upcoming matches against relegation rivals Leeds United, Southampton, Everton, Wolverhampton Wanderers, and West Ham United.
"I can only hope it's not going to be a long-term injury," Hodgson said post-match, according to Premier Injuries' Ben Dinnery.
Hodgson's challenge is to make the good feeling from Mateta's late goal last, even in the absence of Zaha.
Quick free-kicks
Even a goal couldn't lift Liverpool
Manchester City's equalizer was inevitable. Liverpool could explode forward in an instant – they did for Salah's goal and Jurgen Klopp was imploring his team to move the ball quickly – but the confidence in attack didn't instill belief in midfield and defense. When City moved forward, Liverpool panicked. Trent Alexander-Arnold hacked at two clearances and both Virgil van Dijk and Robertson miscued when trying to lift the ball out of their own third, thereby surrendering possession to City and letting them promptly build another attack. The lack of composure in defense was inviting pressure; an extra half-second on the ball to glance forward and pick out a pass to Salah or Jota could've kept the game in Liverpool's favor.
Aston Villa's surge continues
When Unai Emery replaced Steven Gerrard as manager in late October, Aston Villa's immediate concern was simply avoiding relegation. At the time, they were only outside the drop zone via a tiebreaker with Wolves. Things were looking bleak. What a difference a quality manager can make. With Saturday's 2-0 win at Chelsea – their fourth victory in five games – Villa sprung into the top half of the table, ahead of the free-spending Blues and just two points adrift of a European place. Emery, a seasoned tactician with a winning pedigree, has transformed the club since his arrival. Confidence is high, the team has a well-defined structure, and Ollie Watkins, who scored once again, is thriving. Just how high can Villa surge?
Lone bright spot for Chelsea
Chelsea's garbled mess of a season continued with the defeat to Aston Villa, a result that dropped the Blues into the bottom half of the table. Finding any kind of consistency continues to be a struggle for Graham Potter's men. Having N'Golo Kante back might help to rectify that somewhat. The Frenchman came off the bench for his first appearance under Potter after recovering from a serious hamstring injury that had sidelined him since August. The beloved midfielder looked like his energetic self, bursting forward with the ball, covering massive amounts of space, and popping up seemingly everywhere across the pitch. Chelsea's league campaign is just about a write-off at this point, but Kante finding his groove again – and, of course, staying fit – would be a nice building block for Potter.
Podence escapes punishment … for now
Daniel Podence could face a retroactive ban after appearing to spit at Brennan Johnson in Wolves' ill-tempered 1-1 draw with Nottingham Forest. The Portuguese winger avoided punishment on the pitch after a VAR check because the video assistant couldn't clearly see any saliva during the altercation, according to the post-match broadcast. Whether that reasoning holds up against additional scrutiny from the Premier League remains to be seen. If Podence is penalized, his absence would be an enormous blow for a side battling to avoid relegation. The diminutive forward, who netted his team's equalizer at the City Ground, is Wolves' top scorer on the campaign with six goals. For a club that already struggles mightily to score – only Everton have fewer goals this season – losing Podence for any period of time down the stretch could be a death knell. And, worse yet, totally self-imposed.
Stat of the day
The Foxes can't get the job done.
Tweet of the day
It's just not happening for Mykhailo Mudryk at Chelsea so far.
Copyright © 2023 Score Media Ventures Inc. All rights reserved. Certain content reproduced under license.
Predictions for final stretch of riveting Premier League season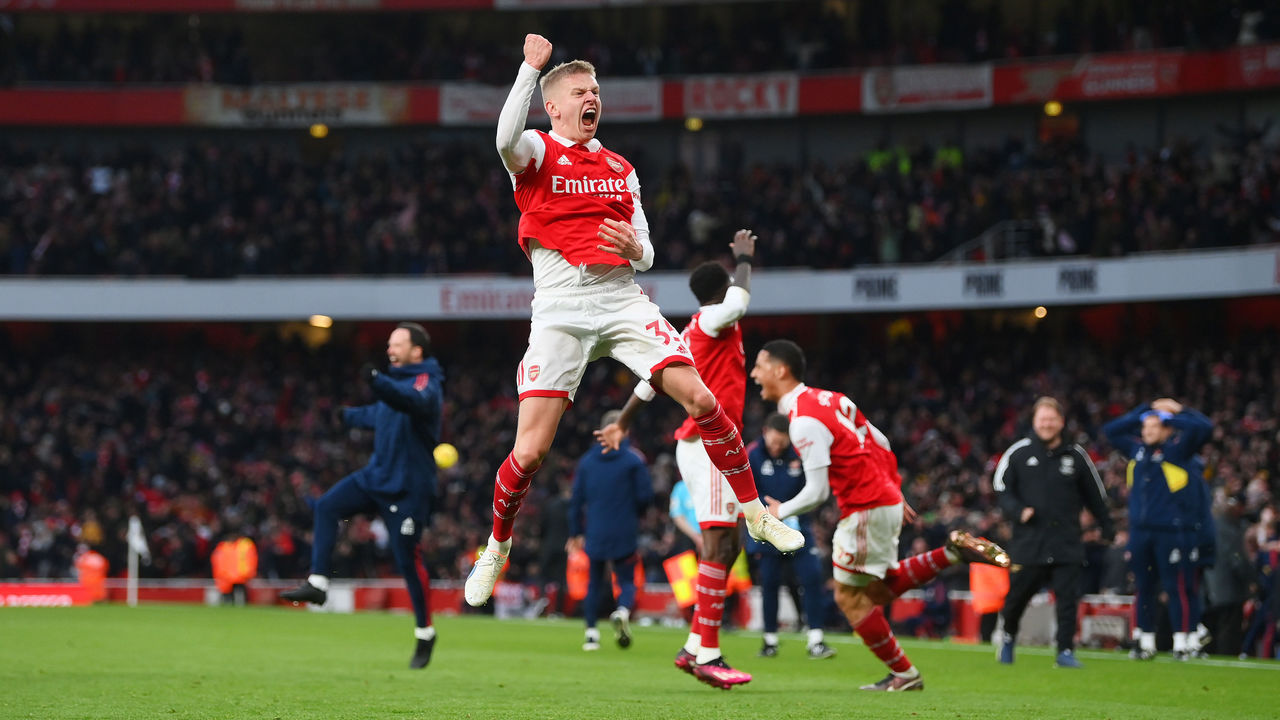 With the March international break now firmly in the rearview mirror, it's full steam ahead in the Premier League until the end of the season. There's still much to be decided over the next two months as an engrossing campaign approaches its denouement. How will it all play out? Here's our best guess.
Arsenal or Man City for the title?
Anthony Lopopolo: Arsenal. There's clearly a feeling within the dressing room that the Gunners can achieve something that seemed nigh impossible just a couple of years ago: win a Premier League title. Much of that's down to Mikel Arteta, who brought order back to the club upon his arrival in 2019. With the help of trusted veterans Granit Xhaka and Oleksandr Zinchenko, Arteta has made a group of young players believe in themselves and in a singular vision. His project is reaching a crescendo just as Arsenal's main rival, Manchester City, struggle for consistency.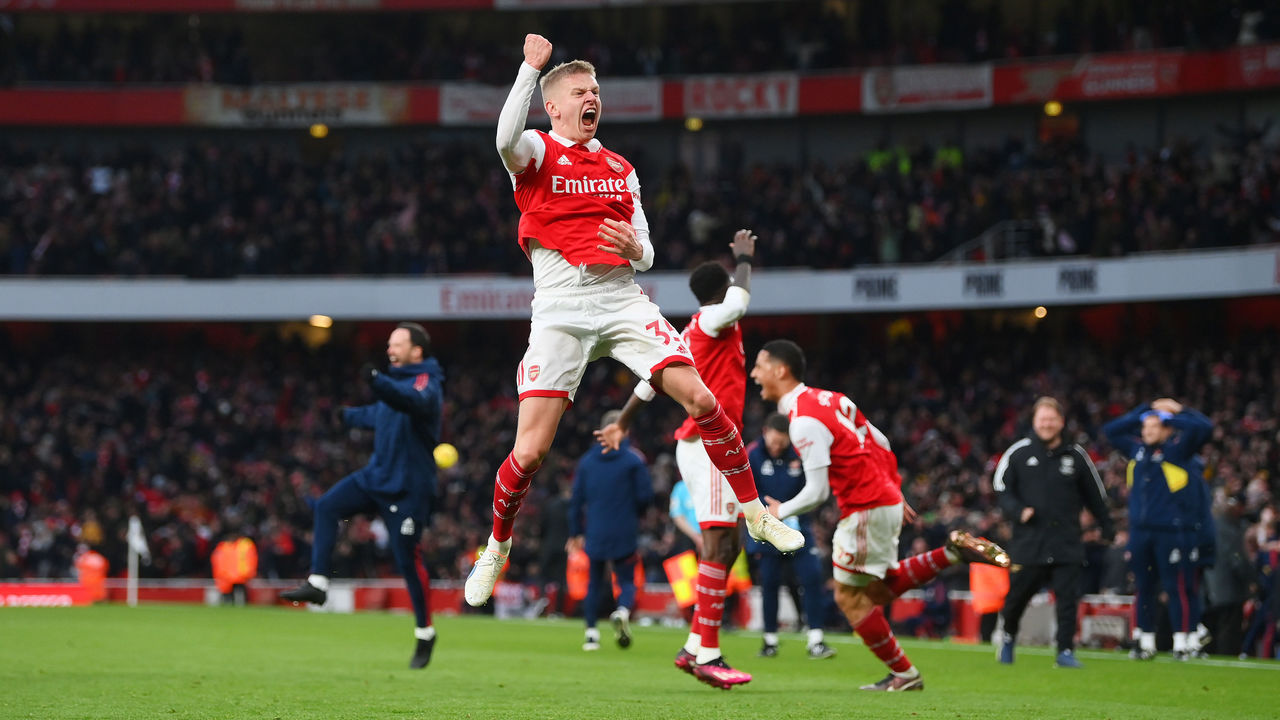 Gianluca Nesci: Arsenal, by a whisker. It's a classic football trope, but the Gunners' Europa League elimination will end up being beneficial here. While Arteta's team can focus its energy solely on seeking a first Premier League title since 2004, Manchester City have multiple cup commitments to be cognizant of, including a colossal Champions League tilt with Bayern Munich, which, if navigated successfully, would lead to another draining continental clash. The cumulative fatigue of those exploits – physical and, especially, mental – can't be overstated, even for a loaded squad like City with extensive title-winning experience. The margins of this title race are so fine that it could make all the difference. Arsenal, by two points, will hoist the trophy again after waiting nearly two decades.
Champions League places
Lopopolo: Arsenal, Manchester City, Manchester United, Newcastle United. The most surprising entry on this list is Newcastle, but that's as much an indication of the club's recent improvements as it is an indictment of its direct rivals. Usually, Liverpool would have no problem qualifying for the Champions League, but Jurgen Klopp's side has been more Hyde than Jekyll in recent months. Unless Tottenham Hotspur can get their act together under interim manager Cristian Stellini, they're equally unlikely to make a legitimate push for qualification. That leaves Newcastle, which have finally found their scoring boots, with only themselves to beat.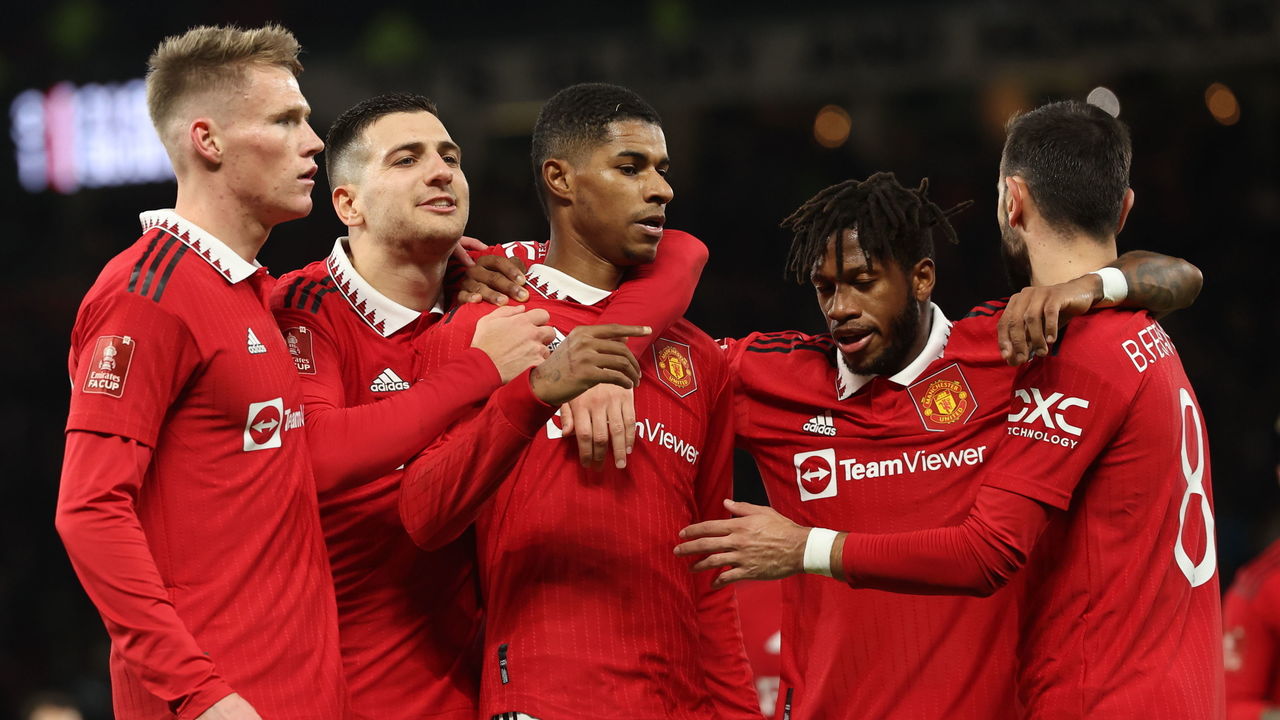 Nesci: Arsenal, Manchester City, Manchester United, Liverpool. The top three spots have long been a foregone conclusion, leaving multiple sides to scrap for one coveted place at Europe's top table. Liverpool, despite their disjointed season and continued defensive frailties, still have the best top-end talent and the highest ceiling of the teams around them. Tottenham are in disarray and could tumble down the table. Brighton & Hove Albion, quietly right in the mix, have a daunting remaining schedule. Newcastle are best positioned to snag fourth place; the defensively stout Magpies are full value for their standing in the table, too. But, against my better judgment based on the unpredictable nature of Liverpool's performances, I just can't shake the belief that Klopp and his star-studded attack will figure it out and finish with a late-season surge to snatch a Champions League berth.
Relegated clubs
Lopopolo: Crystal Palace, Nottingham Forest, Bournemouth. Leicester City will end up scoring their way out of trouble, and both Everton and West Ham – two of the more defensively responsible sides in relegation danger – will collect enough clean sheets to escape the drop. Without much of a hope in attack, Crystal Palace will slip from 12th place to 18th, and Nottingham Forest will run out of time to find their footing. Forest have talent, and homegrown star Brennan Johnson can win games on his own, but Steve Cooper's side will pay for a lack of consistency and become just the latest free-spending Premier League side to suffer immediate relegation.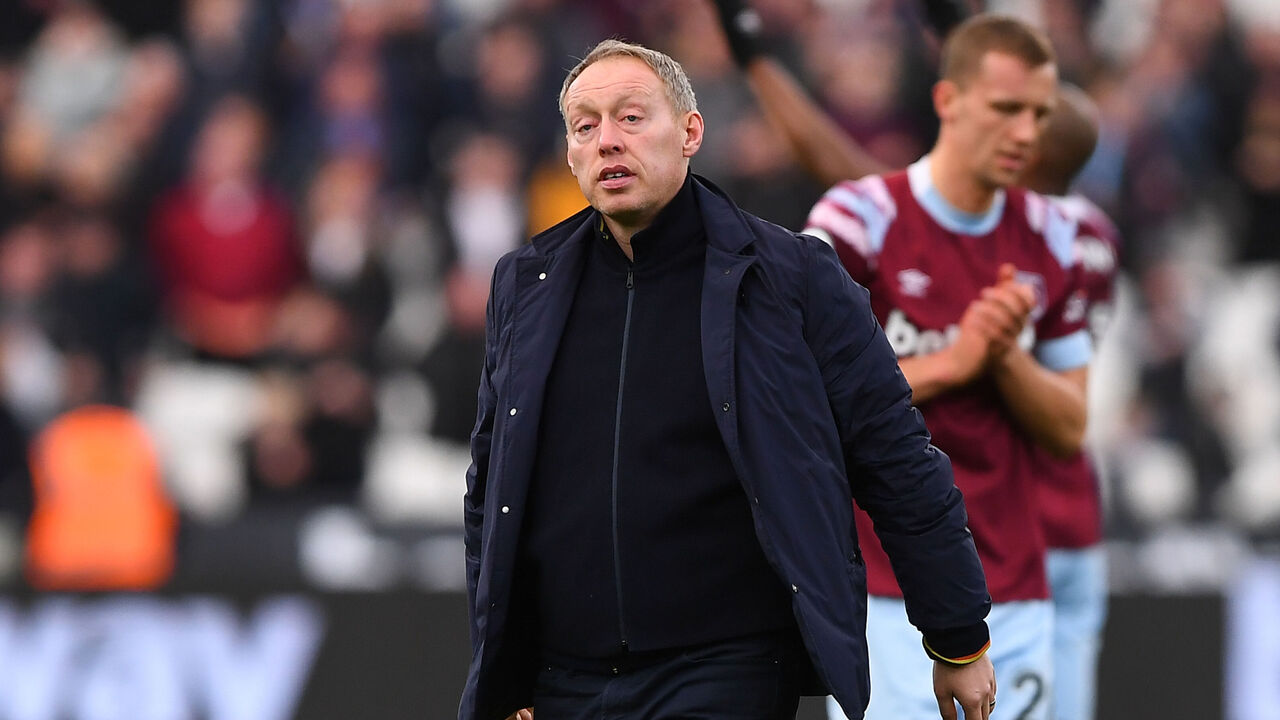 Nesci: Southampton, Nottingham Forest, Wolves. The Saints' aggressive investment in youth ahead of the season was admirable and refreshing, but their disastrous midseason appointment of Nathan Jones will be too much to overcome. Forest were hit with an unfortunate rash of ill-timed injuries during the international break, including a season-ending thigh problem for Chris Wood. And Wolves, who still have to contend with away matches against Brighton, Manchester United, and Arsenal, continue to struggle for goals. Matheus Nunes' three-match ban being rescinded is a huge boon for Julen Lopetegui, but it still won't be enough as Wolves are narrowly beaten out by Bournemouth, who have shown signs of life in recent weeks.
Full predicted table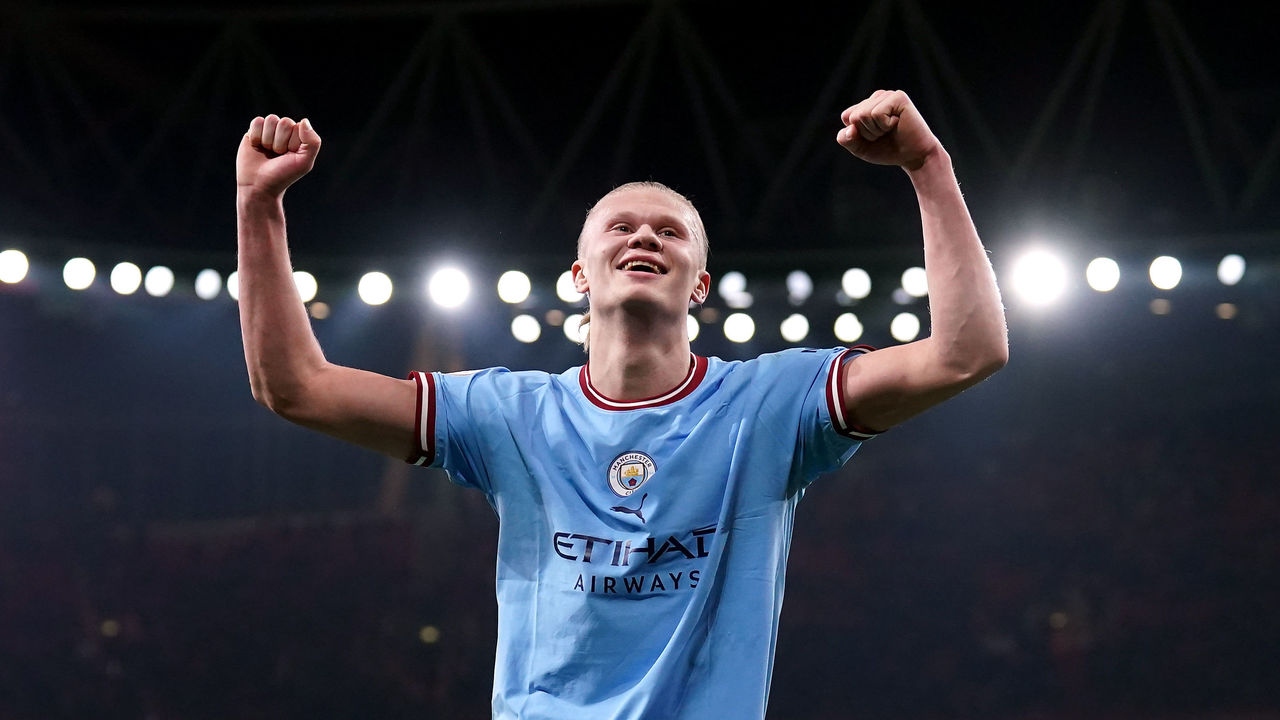 Key thoughts and analysis from Saturday's Premier League action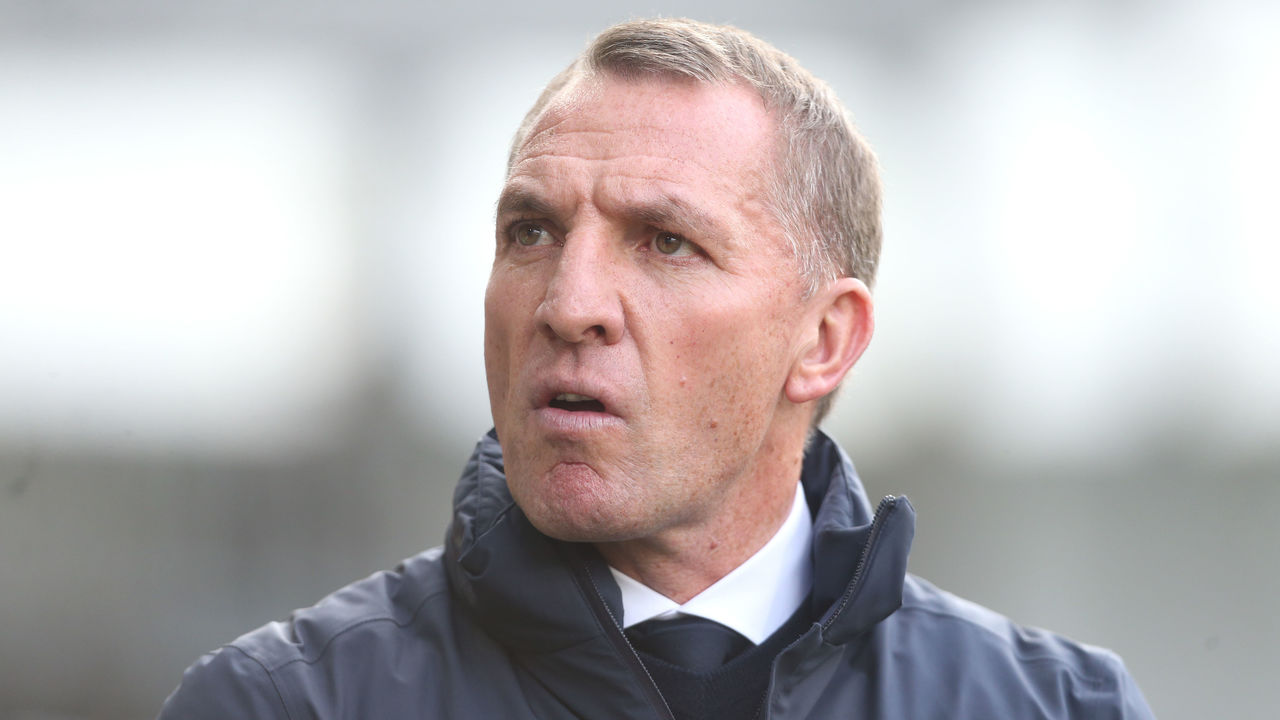 theScore examines the most important developments and biggest talking points from Saturday's slate of action in England's top flight.
Conte's talking himself out of a job
Antonio Conte said Thursday that he didn't think there were any plans for Tottenham Hotspur to sack him before the end of the season.
That might have changed.
"They don't play for something important. They don't want to play under pressure. They don't want to play under stress. It's easy in this way," Conte complained after Saturday's 3-3 draw at Southampton.
"Tottenham's story is this: Twenty years there is the owner (Daniel Levy) and they've never won something. Why?"
Tottenham's collapse on the south coast was another miserable episode in a season that promised so much. Conte was backed with funds in the summer transfer window, but the Italian has sparingly used or ruthlessly criticized most of the new recruits. Or both. With the exception of Harry Kane, Conte's pragmatic approach has dulled Tottenham's attacking talent. The team is often reactive rather than proactive and – as the weekend's draw demonstrated – can be guilty of losing its focus.
Southampton had scored 0.8 goals per game at home before Tottenham came to town. Spurs were cruising with a 3-1 lead with little over 15 minutes left. But then they cowered to a team with greater desire.
It was that simple, and Conte insisted the blame didn't lie solely with him.
"The problem is that we are not a team," Conte said, according to The Guardian's John Brewin. "We are 11 players that go on to the pitch. I see selfish players who don't want to help each other."
To the surprise of very few, entrusting a rebuild project that requires patience and care to one of the most impatient coaches in Europe didn't work. Ciao, Antonio.
Leicester trio crucial to survival bid
The Leicester City players deserved the applause from the corner of away fans after recovering from a dire first-half display to take a commendable 1-1 draw from Brentford. The hosts desperately tried to re-exert their authority, but none of Thomas Frank's substitutions managed to make a positive impact on the game as Leicester dictated play.
So, with the spirited showing in last week's defeat against Chelsea and Saturday's second-half supremacy, are there signs of recovery for Brendan Rodgers' outfit? The old adage of "too good to go down" is inherently false – West Ham United sunk in 2003 and Leeds United dropped in 2004 with strong squads – but Leicester have individuals who possess the quality to pinch crucial goals.
And three of those key figures combined for the Foxes' equalizer.
Kiernan Dewsbury-Hall personified Leicester's performance, putting a poor opening period behind him in an excellent second half. He twisted and ducked his way through three Brentford players before stabbing the ball inside to James Maddison. For the most part, Maddison was crowded out and frustrated in west London, but Dewsbury-Hall's determined work created space for the playmaker. Maddison took one touch, peered at the gap between Brentford's center-backs, and rolled a perfect pass through for Harvey Barnes.
Barnes confidently finished beyond David Raya.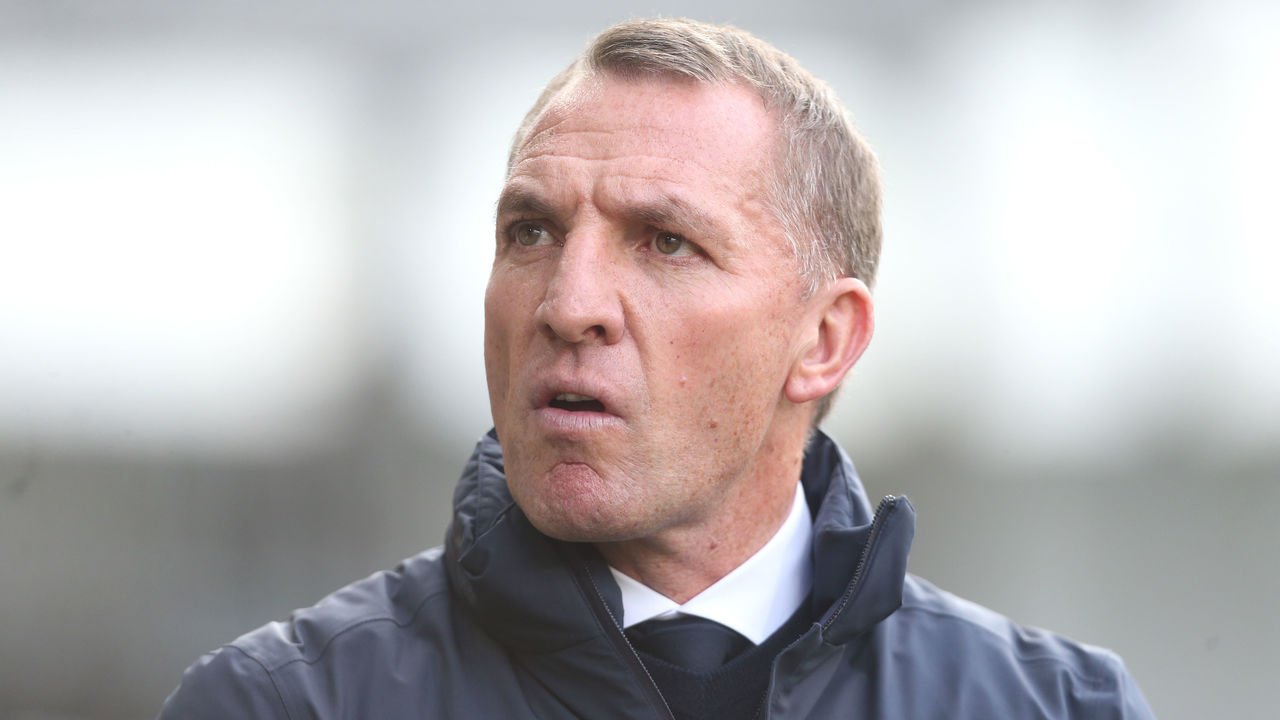 Leicester have the third-worst defense in the league, but this should be corrected. January signing Harry Souttar won six aerial duels and bashed away eight clearances in a promising showing and will soon be joined by Jonny Evans (who's set to return from a calf injury) and Wout Faes (who served a one-game suspension Saturday) in the backline. At long last, Daniel Amartey – an average midfielder who does a poor impersonation of a defender – will be relieved of center-back duties.
The problem with scoring doesn't seem closer to being corrected, though. Kelechi Iheanacho, Patson Daka, and Jamie Vardy have combined for just eight Premier League goals this term, putting extra pressure on Dewsbury-Hall, Maddison, and Barnes to create and finish chances.
They certainly have the ability to carve out results for the club, but only with the assistance of their teammates. Leicester have struggled to play well for two halves all season, and that's why they could be in this relegation scrap until the final day.
Quick free-kicks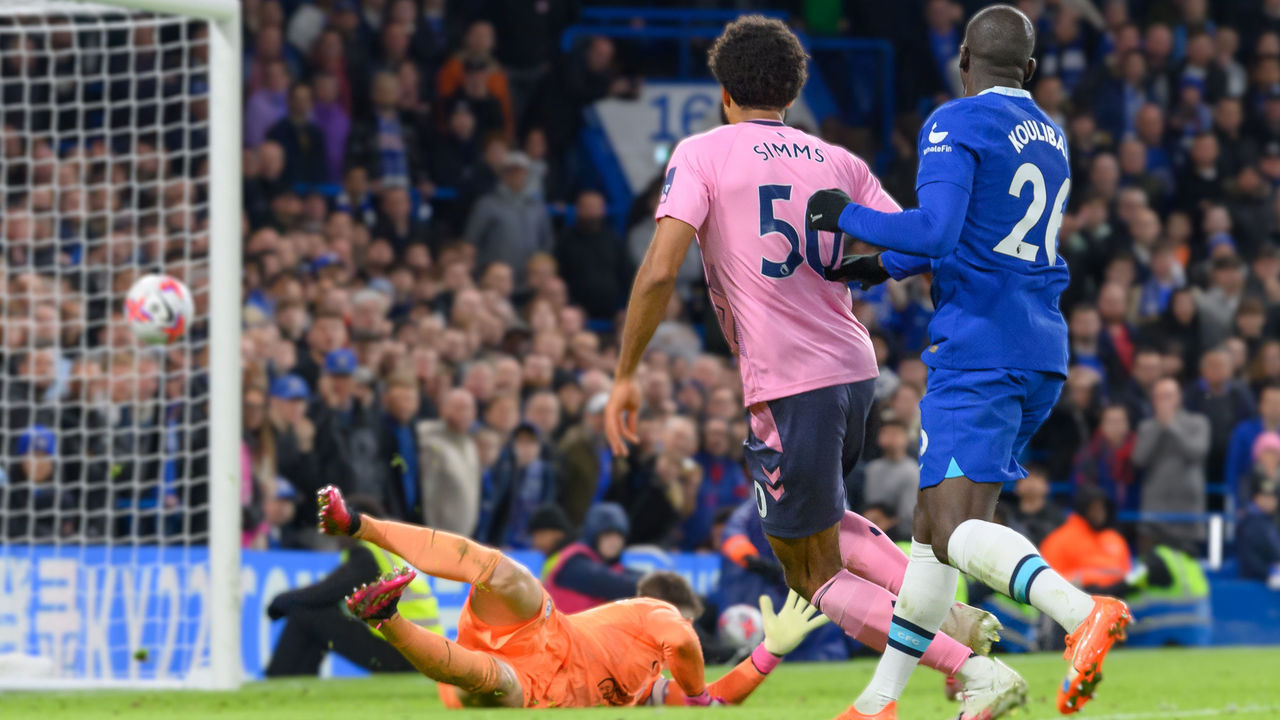 Time to trust Simms?
Ellis Simms' development hit a snag. He was growing into his loan spell at Sunderland, cramming four goals into six Championship outings before former Everton manager Frank Lampard recalled him in January. The relegation-threatened Toffees needed goals, but Simms has started just one match since returning to his parent club and could've been forgiven for wishing he stayed on Wearside. His late leveler in the 2-2 draw at Chelsea should hopefully change that. He surged into the area, impressively outmuscled Kalidou Koulibaly, and steered a shot underneath Kepa Arrizabalaga to give Everton a precious point in their mission to preserve their Premier League status. The first top-flight goal of Simms' career puts him level with the full-season tallies of Dominic Calvert-Lewin and Neal Maupay.
Leeds need Adams back
With six goals scored and four conceded over their last two matches, it's fair to say that Javi Gracia's early attempts to swap chaos for control at Leeds United is failing. And it's difficult to envision that control arriving while Tyler Adams is sidelined. Leeds' 4-2 win at Wolverhampton Wanderers was huge, but their lack of grip in midfield contributed to a 3-0 lead turning into 3-2 in the space of eight second-half minutes. Marc Roca has failed to impress since his summer move from Bayern Munich, and his casual touch of the ball inadvertently teed up Jonny's wonderstrike. Pairing Roca's seemingly distracted play with Weston McKennie's energetic yet erratic approach creates a midfield base that's both incredibly porous and criminally wasteful in possession.
Stat of the day
Kane is heading for another record.
Tweet of the day
Conte's bags might already be packed.
Copyright © 2023 Score Media Ventures Inc. All rights reserved. Certain content reproduced under license.