Robots are coming for all of our sports – the only question is when
After he slalomed between two defenders and one-timed a bouncing stretch pass to the inside corner of the left post, Peter Stone turned toward a teammate, smiled, and celebrated the dazzling sequence with a shrug.
Stone's showing on an indoor soccer pitch in Sydney, Australia, earlier this summer was dominant by any standard, even though the specifics of the match were unconventional. Outfitted in dress shirts, he and four fellow scientists were coasting past a team of wheeled robots, exploiting holes in their defense with shrewd link-up play and timely saunters down the wing.
Even as he scored four goals in the 4-1 win, Stone – the president of the RoboCup Federation, an international collective of academics that arranges this yearly tussle between man and machine – came away impressed by his opponents' teamwork and smarts. The patterns in which the robots shared possession and moved into open spaces were familiar; they resembled the kinds of decisions that underlie any cohesive lineup's attack.
The robots, standing just waist-high against the humans, managed to make this much clear: They knew what they were doing.
"People are still much better than the robots. We can still pass the ball around them," said Stone, an artificial-intelligence researcher at the University of Texas. "(But) every year, it gets a little bit more difficult. We always joke that we're not sure if it's because we're getting older or the robots are getting better."
RoboCup is a scientific entity. It stages soccer tournaments between teams of robots because its members, first and foremost, want to advance the state of robotics research. However, the goal around which the federation orients its work is rooted in sports. By 2050, the scientists want to build a roster of autonomous humanoids that is capable of competing against the most formidable opponent imaginable: the champion of that year's World Cup.
The 2050 benchmark is an objective, but not a prediction. "We learned long ago in artificial intelligence that if you put a date on a challenge like that, you should do it for a date after you're going to retire, because they're very uncertain," Stone said.
Still, there's no time like the present to wonder when this ambition might be realized – and, once it is, how it will affect each and every one of our games.
In 2019, the makings of a future in which humanoids displace professional athletes and technology renders both coaches and referees obsolete is starting to become discernible. Toyota engineers have developed a stationary basketball robot that sinks set shots with unrivaled accuracy. And not long after he departed Arsenal last year, Arsene Wenger speculated that robots could manage soccer clubs within two decades.
Radar technology is already responsible for calling balls and strikes in the independent Atlantic baseball league, which MLB tapped as its testing ground for a slate of experimental rules. Human umpires still relay the calls to the players and the crowd, but their deference to the automated system means that for the first time, a non-human entity occupies a full-time role in a live sports competition.
"(Players) want to have a consistent strike zone," Atlantic League president Rick White said. "They have consistently in the past said to us, 'Tell us what the strike zone is, enforce the strike zone, but don't change that umpire to umpire, day to day, inning by inning,' and so forth. (The automated system) gives them an answer to that."
Given the novelty of the Atlantic League's trial run, we're a ways off from MLB deciding to computerize its own strike zone. Even further away is the prospect of a robot keeping pace with Kylian Mbappe or outshooting Stephen Curry against the added burden of a defender. Present-day humanoids generally struggle to stand upright, which is why it's far more entertaining for RoboCup to pit wheeled competitors against Stone and his colleagues at the federation's annual gathering.
Those RoboCup competitions, which are broken down into several divisions based on the robots' design, illustrate the core challenge of taking aim at the World Cup champs: Robot athletes must be hardwired to not only think like humans, but to move like them, too.
For now, robots are significantly more intelligent than they are mobile. When Stone's team faced the winners of RoboCup's wheeled "middle size" league, which factors physicality out of the equation, the robots scored their lone goal off a perceptive downfield pass from a defender to a striker.
A second robot goal was nullified, somewhat ironically, when replay overruled a human decision because the ball didn't fully cross the line.
Meanwhile, RoboCup's humanoid event brings to life an old soccer witticism – the one about possession-happy teams preferring to walk the ball into the net. It's the surest way to score in a game where the players, limited in their ability to move freely, lumber down the pitch with a minder in tow, kicking only from a standstill to avoid falling over.
The chasm between the humanoid body and mind helps explain the value that researchers see in RoboCup and other similar projects. If the end goal is scientific progress, then sports – with their quantifiable standards of success – are a useful setting through which to pursue that result, and to test boundaries.
Each year, the Federation of International Robot-Sport Association (FIRA) invites roboticists to enter humanoids they've developed into the HuroCup – the decathlon of the robot world. In the sprint event, participants are made to walk 3 meters forward and then backpedal the same distance. They also weight lift, scale ladders and ropes in a spartan race, and compete in a marathon that spans 421.95 meters, one hundred times smaller than a human course.
One event in which humanoids could threaten human preeminence rather soon is archery. Jacky Baltes, the president of FIRA and a robotics researcher at National Taiwan Normal University, said that he and several colleagues from around the world are working to enter a robot archer into next year's Taiwanese national competition in hopes that it will later be able to vie for medals at the World University Games, and then at the Olympics.
In contests that require agility and speed, Baltes thinks robots are bound to make exponential strides, similar to other seminal technologies that took time to flourish. He pointed to cellphones, which were once stodgy and heavy but are now small supercomputers. A more extreme example? In 1903, Orville and Wilbur Wright kept a plane aloft for 260 meters of flight; by 1947, aviation had progressed to the point where test pilot Chuck Yeager could soar faster than the speed of sound.
We might be 40 years out from a humanoid topping a child in a race of any length, Baltes added, but once the basic framework is in place, it's possible no man-made record will be safe.
"From beating a 5-year-old to beating the world champion is only going to be a relatively short time," Baltes said. "Maybe another five years, maybe another 10 years."
Whenever that time comes, British futurist Ian Pearson figures fans won't take much of an interest in watching those humanoids make precision sports, such as archery and shooting, entirely predictable. "Of course a machine can hit the target," he said.
Pearson applies the same logic to golf. It would be dull, after all, if every round consisted of 18 holes-in-one.
Other sports have greater crossover potential. Robot jockeys could supplant the human element in horse racing, allowing the Triple Crown to be decided solely on the horses' merits. Pearson says he'd be surprised if the next 20 years elapsed without humanoids facing tennis pros in showcase matches. (He noted that this brand of exhibition could be short-lived if the robots reach superhuman physical capacity, enabling them to win all the time.)
As for the people tasked with enforcing the rules? The advent of automated home plate umpires in baseball might be a harbinger of what's to come elsewhere. Pearson has written that robot umps could be practical in tennis, where technology has already replaced humans in calling net cords, and Hawk-Eye is used as a backup resource for line calls. He predicted that drone robots could feasibly take over all officiating duties in soccer by as soon as next year, with humanoid referees to follow around 2030.
If that prognosis seems grim for human officiating, it at least comes equipped with a silver lining: the chance that spectators will revolt at the sight of robots getting every single call correct. "Half of the fun of watching a game is arguing with the referee and calling the guy an idiot," Pearson said.
When the robo-athlete breakthrough arrives, many executives who oversee sports will face a moment of reckoning. How will they act in response?
One option would be to bar robots from our established competitions, which is where Baltes' effort to get a humanoid archer admitted to the Olympics may hit a snag. A spokesperson for World Archery, the sport's governing body, said the federation's rulebook doesn't specify that archers must be human, but does include many prohibitions on the use of electronic equipment.
"I would guess this covers robots," the spokesperson, Chris Wells, wrote in an email.
In the opposite scenario, if marketing potential or the desire to innovate leads sports authorities to welcome robots into the fold, limits on their physical capabilities would have to be enacted to prevent them from making a mockery of the games. Disregard, for a moment, the image of primitive humanoids tottering down a soccer pitch; envision in its place a descendant that's programmed to run with abandon and kick a ball several hundred miles per hour.
"You wouldn't be able to follow the play," Pearson said. "Every shot would be a goal, and it just wouldn't be fun watching it."
About a decade ago, this dilemma led Stone and two fellow roboticists to propose, in a chapter of a book called "Soccer and Philosophy," a set of robot-curtailing rule modifications that would ensure fairness and preserve the essence of the sport, which they described as two teams working to beat each other within the confines of limitations that every player on the field shares.
Their suggested rules stipulate that robot soccer players would need to look like humans, with two arms, two legs, and no more than two forward-facing cameras to serve as their eyes. No robot could be bigger than the biggest human player; none could run faster or kick harder than the upper human limit in each category. Nor could any robo-team's combined size, speed, and kick strength and accuracy exceed the best pro team's total dispersion of those qualities.
"If there comes a time when a team of robots defeats a team of humans under these rules, then no spectator will be able to cry 'foul!'" Stone and his colleagues, Michael Quinlan and Todd Hester, wrote in the chapter.
No spectator, that is, except for those who'd protest the validity of the result on philosophical grounds. When a robot athlete engages in a sport such as soccer, these fans might wonder if they're truly playing the game, or if they're merely mimicking a necessarily human activity.
Stone, Quinlan, and Hester sided with the first response to this question. In their chapter, they argued that if a match in which robots oppose a "serious human team" – be it the World Cup champion or five decently fit scientists – is recognizable as soccer, the robots have sufficiently proven their ability to play.
In 2016, sports philosophers Francisco Javier Lopez Frias and Jose Luis Perez Trivino advocated for a more rigorous standard, opining, in a paper, that participating in a sport is not the same as playing it. In sports, they contend, people – unlike any other being – decide to enter the realm of play to learn something about themselves, such as seeing how close they can get, within natural limits, to attaining physical excellence.
"It's not just about following the rules. It's not about exercising some skills," Lopez Frias said in an interview. "(Playing sports is) about adopting a specific attitude toward the game."
For robots to play sports, Lopez Frias added, more about them would need to be human than simply their outward appearance. If they don't share human vulnerabilities, fans won't be able to relate to them, or admire or care about the wondrousness of any physical feats they conjure.
Future robots may beat us on the scoreboard, or ensure that no pitch off the plate is ever mistaken for a strike again. But under this line of thinking, we'd still be the protagonists of our own games.
"Sport is a human phenomenon," Lopez Frias said. "If you eliminate the human component, then you don't have a sport anymore."
– With a file from Jonah Birenbaum
Nick Faris is a features writer at theScore.
Copyright © 2019 Score Media Ventures Inc. All rights reserved. Certain content reproduced under license.
3 thoughts from Saturday's Premier League action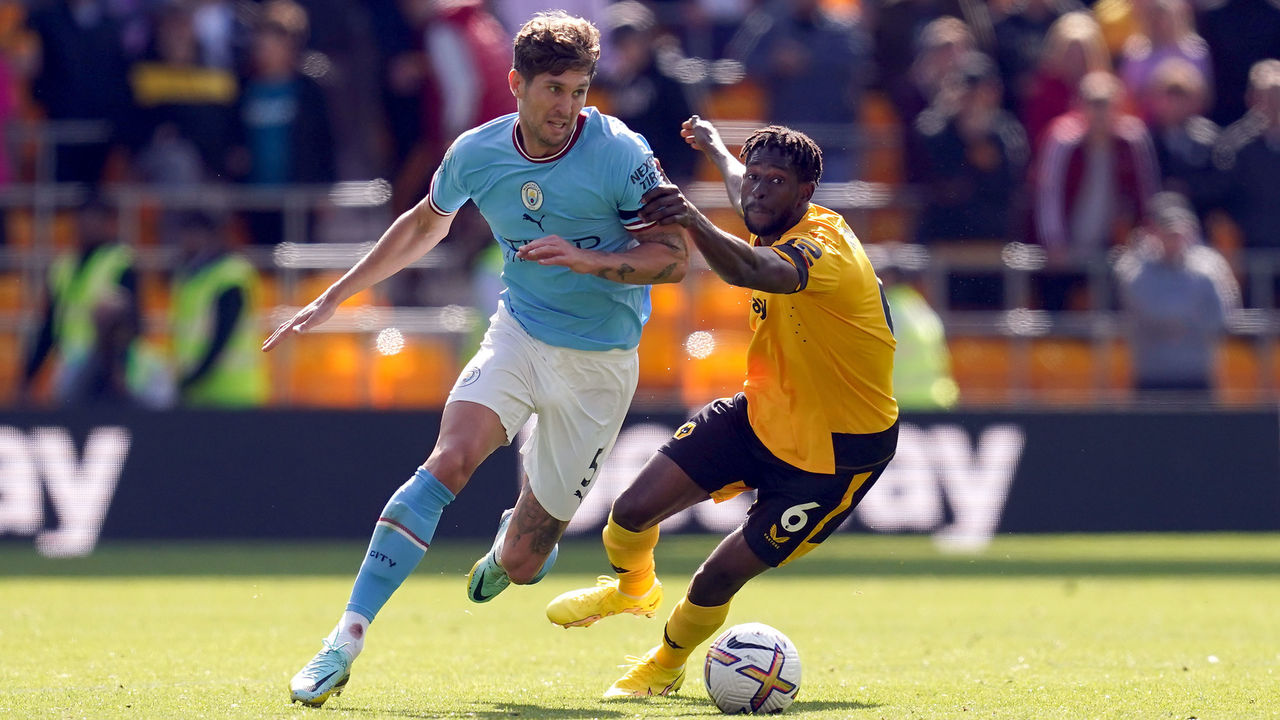 theScore examines the most important developments and discusses the biggest talking points from Saturday's reduced schedule in England's top flight.
Stones is a legitimate right-back option
Maybe this is meant to be a brief thing. While Kyle Walker deals with fitness issues and new left-back Sergio Gomez settles in at the club, John Stones has appeared at right-back in some Manchester City games.
Center-backs filling in at full-back often enact a classic portrayal of the role – Ben White has overlapped Arsenal's right-sided attacker with some success in the season's opening weeks. Stones' interpretation, however, seems more studied. He slides neatly into midfield alongside Rodri when City are in possession, providing protection from counter-attacks and ensuring his side dominates the ball in this area of the pitch. Stones' extra defensive cover on the right also frees up Joao Cancelo for more attacking work down the left.
The ease with which Stones has slotted in as an inverted full-back is impressive. It also indicates that this might be the result of hard hours on the training ground as Pep Guardiola tries to formulate more tactical options for his versatile team.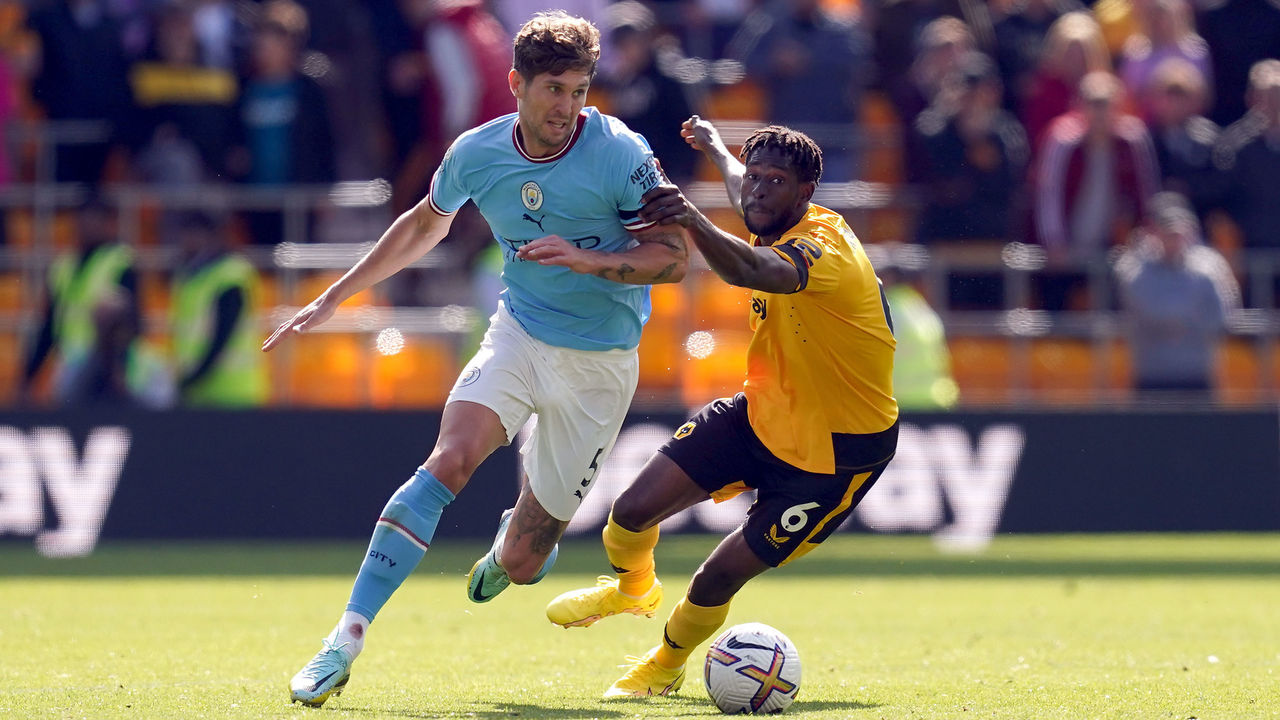 There must be a caveat from Saturday's 3-0 win: it was Wolverhampton Wanderers. This might be the most toothless version of Wolves to play in the Premier League (even less potent than the side that scored a paltry 32 goals, yet still survived, in the 2009-10 season), and their day was made more difficult when Nathan Collins was sent off for a wild challenge on Jack Grealish.
While Stones wasn't overworked at Molineux, he exuded confidence with the ball, linking up the backline and midfield with short passes, and dealt admirably with attacking left-back Rayan Ait-Nouri. He'd already passed a sterner test three days earlier, too. He calmly addressed Borussia Dortmund's threat, which mostly came down his flank, before stepping upfield to unleash a vicious strike that turned the tide of the Champions League group-stage fixture.
And Stones isn't only a viable choice at right-back. He took sole ownership of No. 6 duties when Rodri was substituted in the 81st minute, skipping through challenges and dictating City's tempo with his passing. Given Kalvin Phillips' injury issues, Stones could be asked to deputize for Rodri a few times in the coming weeks.
Newcastle's steep learning curve
Bournemouth were largely negative in their approach at St. James' Park, relying on last-ditch blocks, Neto's goalkeeping, and the woodwork to keep Newcastle United at bay. In the final 10 minutes of the first half alone, the Cherries headed or smashed away seven clearances.
This is what the "big six" deal with most weeks. The Magpies will need to get used to it. They've quickly become one of the division's strongest teams following their Saudi-backed takeover, so opponents have adapted accordingly. The most pragmatic way for bottom-half sides to approach Newcastle matches is to pack bodies in front of their creative players and then try to inflict damage on the break.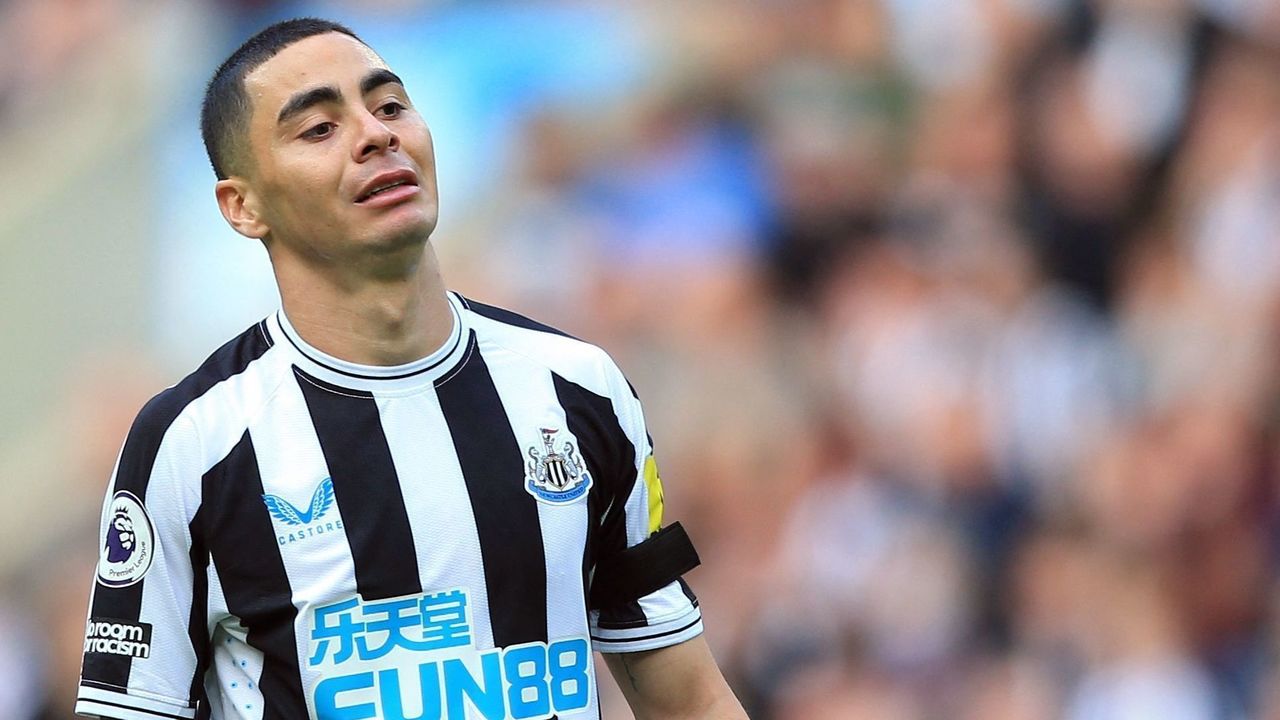 Newcastle's frustrations were beginning to show when Bournemouth took the lead through Philip Billing in the 62nd minute, and they could only respond via Alexander Isak's successful penalty. Eddie Howe's side lacked invention throughout and can't expect a huge uptick in performance when the entertaining yet inconsistent Allan Saint-Maximin returns from injury. The majority of Howe's players appear to lack the guile to unpick low blocks, and the men he called off the bench – Jacob Murphy, Sean Longstaff, and Chris Wood – seemed to be a concession of that weakness. Rather than patiently adhering to their game plan, Newcastle started to play a more direct, cross-heavy game as their desperation grew.
The next stage in Newcastle's transformation has to be signing better playmakers. Miguel Almiron and Ryan Fraser simply don't thrive when their team has the most possession – they're most dangerous in counter-attacks, not against deep-lying defenses – and back-to-back home draws against Crystal Palace and Bournemouth isn't the kind of form that earns top-four finishes.
At long last, the Son is out
"I like that he's a bit angry," Antonio Conte said about Son Heung-Min's goal drought before Leicester City's visit, adding, "he wants to try to change it."
Son was last season's true top scorer. Granted, he did share the Golden Boot with Mohamed Salah, but the Liverpool forward boosted his 23-goal haul with five penalties. Son didn't attempt any throughout Tottenham Hotspur's Premier League campaign, leaving that responsibility to Harry Kane, so reaching his overall tally was an undeniably more impressive feat than Salah's.
The South Korean scored 12 of his goals over his final 10 league appearances of last term, helping Spurs clinch the fourth Champions League place at Arsenal's expense. He was irresistible, marking a stark contrast to his return of no goals from the opening eight matches of this season (in all competitions). Son's alarming dip in productivity threatened to harm his side's ambitions for the campaign.
What an emphatic way to vanquish those concerns.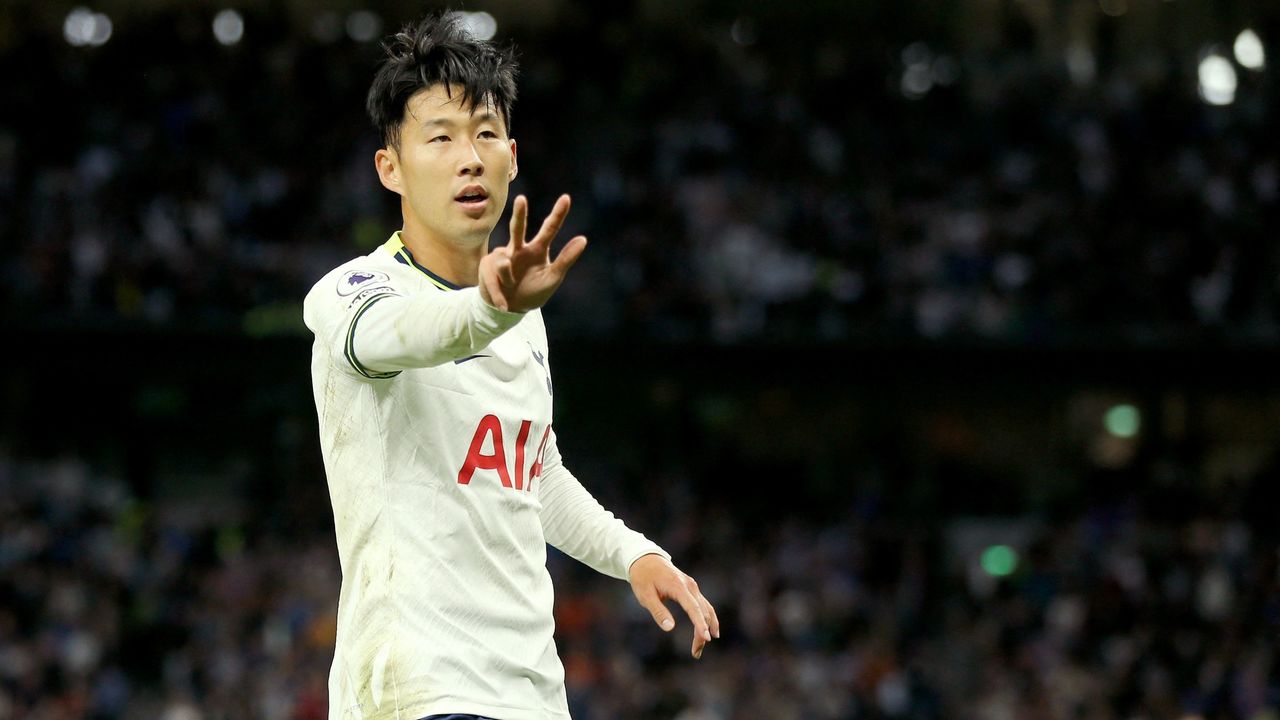 It took around 27 minutes for Son to bag a hat-trick after his introduction on Saturday, making him the first Tottenham substitute to record a Premier League treble. A fine Hugo Lloris save helped Spurs cling on to their one-goal advantage moments before Son was brought on, but the benched forward soon helped his side to a 6-2 victory.
Son's opening goal wasn't the fortuitous, scruffy close-range finish that people tend to associate with a player overcoming a bad run. It was a quintessential Son strike: a powerful run followed by an unstoppable right-footed smash into the top corner from 25 yards. His second was another effort plucked from the archives as he shifted the ball onto his left foot before bending it into the far corner from a near-identical spot as his first goal.
Son rounded off his treble following an exceptionally timed run. His return to form should strike fear into Tottenham's rivals: One of the top flight's deadliest strikers is "angry" and firing, and the proud Korean is also desperate to hit prime condition in time for his country's tough group-stage matches at this winter's World Cup.
Copyright © 2022 Score Media Ventures Inc. All rights reserved. Certain content reproduced under license.
2022 World Cup kits: Bright orange for Netherlands, vibrant look for Brazil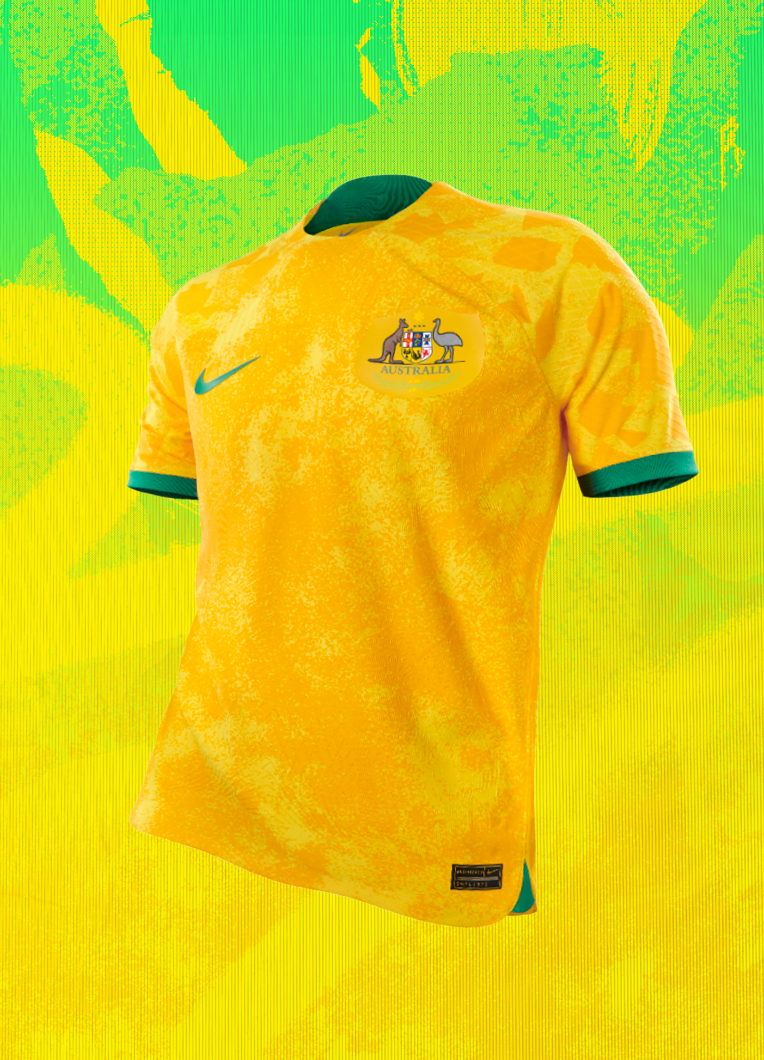 Nike released its line of World Cup jerseys for 12 of its 13 teams Thursday, bringing out vivid colors and an array of designs that characterize the countries they represent.
Nike is the latest manufacturer to reveal outfits for the 2022 World Cup, which begins Nov. 20 in Qatar. Adidas, which supplies seven countries, and Puma, which services six, unveiled their lineups in August.
Fans have criticized the manufacturers for using cookie-cutter designs. Puma came under intense criticism after releasing a lineup of jerseys with the same template, and a number of people have already signed a petition online to protest Nike's USMNT jersey.
England, the only World Cup team in Nike's stable that's yet to officially unveil its uniforms, will reveal its collection on Sept. 21, after the country completes a period of mourning over the death of Queen Elizabeth II.
Here's a closer look at the jerseys Nike revealed Thursday.
Australia
(Courtesy: Nike)
Australia's home shirt takes inspiration from the sandy beaches of the Outback, using a noisy design to convey the coastal vibes that make the country such a hot destination for surfers and oceanographers.
Brazil
(Courtesy: Nike)
Brazil's home shirt is as yellow as ever. Complete with bright green details and a classic collar, it's a stunning representation of the vibrant side of Brazilian life. The jersey also contains hidden symbols, including the nation's flag.
Canada
(Courtesy: Nike)
Canada will wear the same shirts that gave it luck during its historic World Cup qualifying campaign.
Croatia
(Courtesy: Nike)
Croatia's home shirt is unmistakable. But Luka Modric and Co. will wear a variation of the usual chequered pattern we've all come to expect from the Balkan outfit.
France
(Courtesy: Nike)
France dazzles with one of the best collections of the bunch. The away kit features national imagery, while a golden cockerel stands out against the home shirt's deep blue tone.
Korea Republic
(Courtesy: Nike)
South Korea summons the inner tiger in this year's home shirt. The fiery red design, replete with tiger-stripe graphics, gives off a powerful vibe.
The Netherlands
(Courtesy: Nike)
Talk about Orange fever. With perhaps its boldest design in decades, the Netherlands will hit the pitch with a near-gold ensemble that catches the eye. The home shirt also contains a number of subtle symbols and a reference to the country's Total Football tactics.
Poland
(Courtesy: Nike)
Poland's home kit features a feathery design on each sleeve, paying homage to the white eagle that's come to symbolize strength and solidarity in the eastern European nation.
Portugal
(Courtesy: Nike)
Portugal's collection isn't exactly a smash hit. The home shirt includes a diagonal separation of its national colors and aims to mimic the flag as it would sit against the body. The away edition features an off-white tone that offers some separation from the rest of the World Cup's white uniforms.
Qatar
(Courtesy: Nike)
Qatar's logo sits prominently on both of its kits. Classic maroon shading defines the home edition, and the away's sandy design aims to capture the coastal contours of the Gulf nation.
Saudi Arabia
(Courtesy: Nike)
Saudi Arabia truly embraces its national colors. The away shirt comes with a dark green design that packs punch.
United States
(Courtesy: Nike)
Fans and players aren't pleased with Nike's creative input on the United States' World Cup collection. "We just as angry as y'all!!!" forward Tim Weah wrote last month. "Tried to tell them," midfielder Weston McKennie added.
Copyright © 2022 Score Media Ventures Inc. All rights reserved. Certain content reproduced under license.
5 thoughts from Tuesday's Champions League action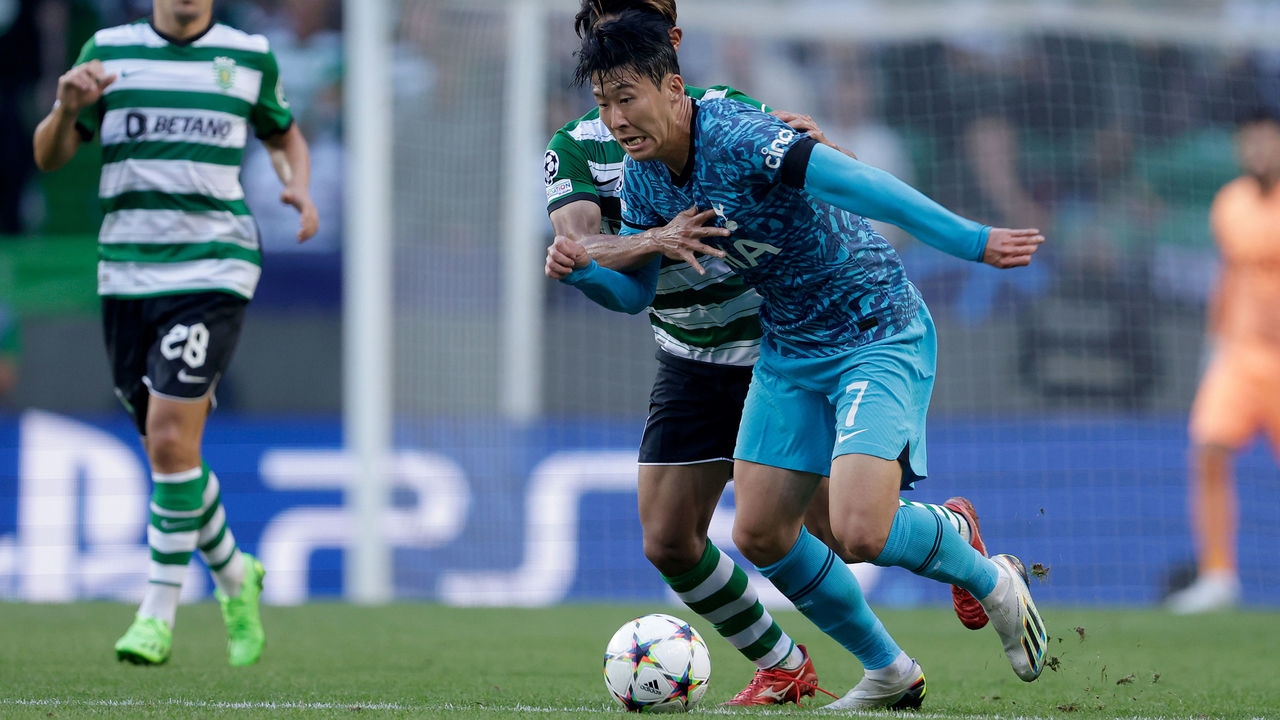 The Champions League rumbles on with Matchday 2 this week. Below, we dissect the biggest talking points from Tuesday's action in Europe's premier club competition.
Son becoming a big problem for Conte
Son Heung-Min has now gone eight games without a goal, and if his performance in Tottenham Hotspur's surprising 2-0 defeat to Sporting CP on Tuesday is any indication, the drought will continue for some time.
Many expected Son to take his game to the next level, and rightfully so. The South Korean forward finished the 2021-22 Premier League season with 12 goals in his final 10 appearances, enough to earn him a share of the Golden Boot award. But his form in front of goal since the start of August has dropped dramatically. Son's failed to convert any of his 18 attempts on goal, and only half of those have been on target.
Son didn't register a single shot Tuesday against Sporting 'keeper Antonio Adan, and one of his only two touches in the penalty area came from an offside position. He just couldn't connect with the rest of his teammates. Clearly frustrated, Spurs boss Antonio Conte replaced him after 72 minutes – and Son's lucky he even lasted that long.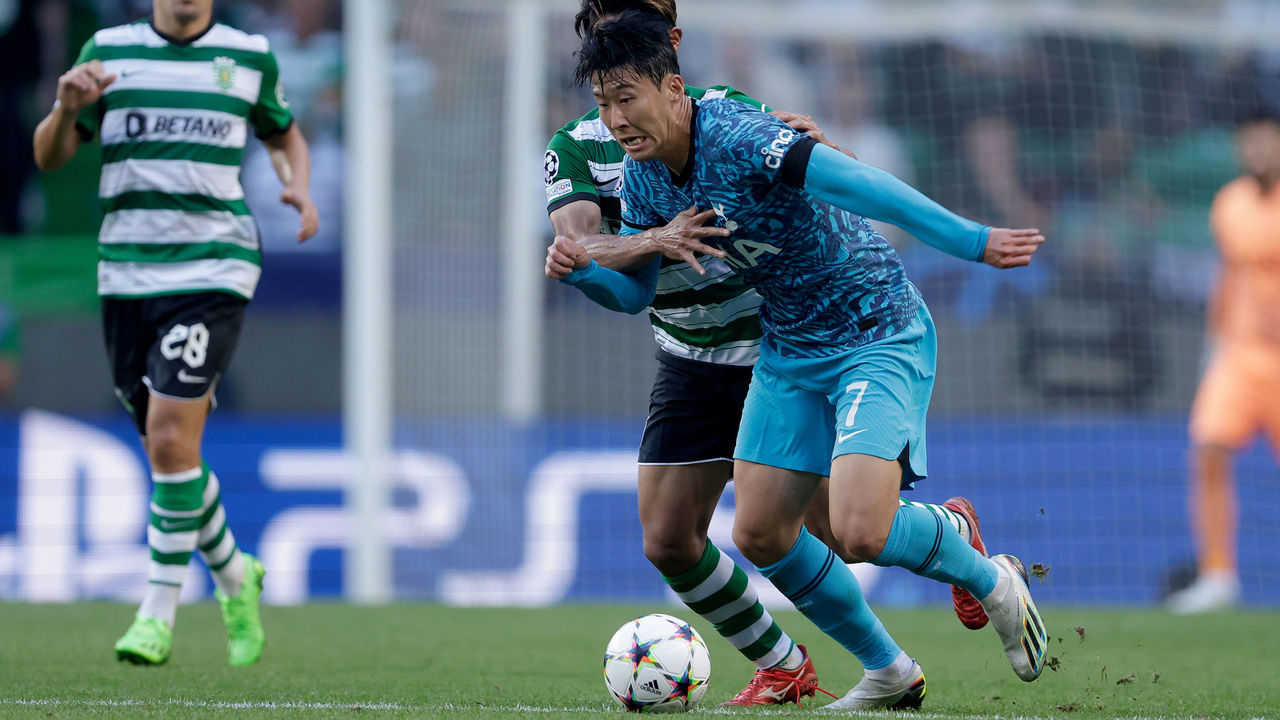 The 30-year-old's substitute Dejan Kulusevski showed much more attacking impetus in the final quarter of an hour, appearing on the left and right to create chances. With Richarlison also comfortable playing on the left wing, Son's place in Conte's starting lineup could, and probably should, come under scrutiny.
Richarlison has played extremely well in his limited time on the pitch, showing greater compatibility with Harry Kane and the will to get into scoring positions. Initially signed to provide depth, the Brazilian forward could now earn a significant run in the team, with Kane up front and Kulusevski returning to his usual place on the right. That spells trouble for Son, whose native South Korea is banking on him to lead the way in the World Cup. But Conte can't afford to wait for anyone – not even one of the Premier League's best players.
That's more like it, Liverpool
Jurgen Klopp got the response he demanded.
In a game Liverpool desperately needed to win after opening their Champions League campaign with an embarrassing defeat, Klopp's men delivered a strong defensive performance on their way to beating Ajax 2-1 and picking up their first three points of the tournament.
The result offered a huge boost for a Liverpool side that was left reeling after last week's abysmal performance in Italy.
In the aftermath of the 4-1 loss to Napoli, there was plenty of uncertainty about the Reds' ability to rebound from what Klopp described as the team's "worst" performance since his arrival. Klopp delivered "four or five days of absolute truth" to his struggling squad.
Although Liverpool's route to victory was anything but direct, the rallying cry seemingly worked. After Mohamed Salah's first-half goal, poor play from Trent Alexander-Arnold and Virgil van Dijk was largely responsible for Ajax's equalizer before halftime. The Reds' attack went sterile after the break until unlikely hero Joel Matip's 89th-minute winner sent Anfield into a frenzy.
Although Liverpool have a ways to go before they're comparable to the outfit that dazzled last season, Tuesday's victory was undoubtedly a relief for a club that's underachieved for much of the season so far.
When heavyweights collide
That was fun.
Bayern Munich and Barcelona, familiar foes in recent seasons, delivered a rousing spectacle in Bavaria on Tuesday. It was only a group-stage affair, but the almost unhinged intensity and elite skill on display were befitting of a final. Both teams pressed fiercely, trying to play on the front foot and not allow their illustrious opposition any time to breathe. Tackles were flying, and bodies were often strewn across the pitch as the two sides went blow-for-blow, racing up and down the field and exchanging rapid attacks peppered with quick, clever passing sequences and exquisite dribbling.
Alphonso Davies and the rejuvenated Ousmane Dembele – and fellow winger Raphinha – engaged in a series of explosive tussles that were as entertaining as the actual match itself. A game within the game. Teenage midfielders Pedri and Gavi were two standout players in the first half as Barcelona, looking to regain their status as Europe's elite footballing institution, played with the incisiveness, inventiveness, and swagger of their peak years. The club's financial future may be tenuous, but things look bright on the pitch.
But Bayern, despite still looking vulnerable defensively when put under pressure, didn't crack. Julian Nagelsmann's decision to introduce Leon Goretzka to begin the second half was vital, and the German juggernaut helped turn the tide in his side's eventual 2-0 victory.
"In the first half we had a lot of chances to score, and when you forgive so much against a team like this, you end up paying for it," Pedri, wise beyond his years, said following the defeat.
Those ebbs and flows are the hallmarks of memorable Champions League nights.
The group stage of Europe's premier club competition has been increasingly neutered as the gulf between football's wealthy elite and everyone else has continued to grow over the years, making it more difficult for Cinderella stories to develop. But Tuesday's clash at the Allianz Arena was a reminder of everything that's still good about the tournament. When heavyweights collide, it's still the most riveting show around.
Lewandowski's rare off night
Captivating as Tuesday's match in Bavaria was, it didn't quite go according to plan for Robert Lewandowski.
The prolific Pole, who scored 344 goals in 375 Bayern appearances before departing for Barcelona this past summer, was given a predominantly warm reception upon his return. But a smattering of boos emanated from a fan base that isn't totally at peace with the acrimonious nature of Lewandowski's departure. Not quite hostile, but there was tension in the air.
"I think for Lewy, it was really an emotional game to come back," said Bayern captain Manuel Neuer after the match. It's impossible to know if that harmed the forward – even the most accomplished veterans can get butterflies – but whatever the reason, Lewandowski was just slightly off at the Allianz Arena. A rare sight over the years.
The 34-year-old spurned two glorious opportunities in the first half, whistling a volley just over the crossbar from inside the box before sending a close-range header at the back post right into Neuer's chest. Another good chance went begging when Noussair Mazraoui made a last-ditch block late in the first half. From there, Bayern's defenders corralled him, and whenever Barca did scamper forward menacingly, Lewandowski couldn't find the right timing and connect with his teammates.
Lewandowski had nine goals in his first six games with Barcelona going into Tuesday's encounter, but his dream start to the season ended with a thud in the one match he was surely more excited about than any other.
What's happening in Group B!?
This comes with the caveat that it's still very early – we're only two games into this campaign's Champions League, after all. But Group B, against all odds, is already shaping up to be a wild ride.
Club Brugge sit atop the quartet with a perfect record after waltzing into the Estadio do Dragao, a typically intimidating venue, and crushing FC Porto on Tuesday. Despite losing Charles De Ketelaere over the summer, the Belgian club certainly wasn't lacking an attacking spark in its 4-0 rout.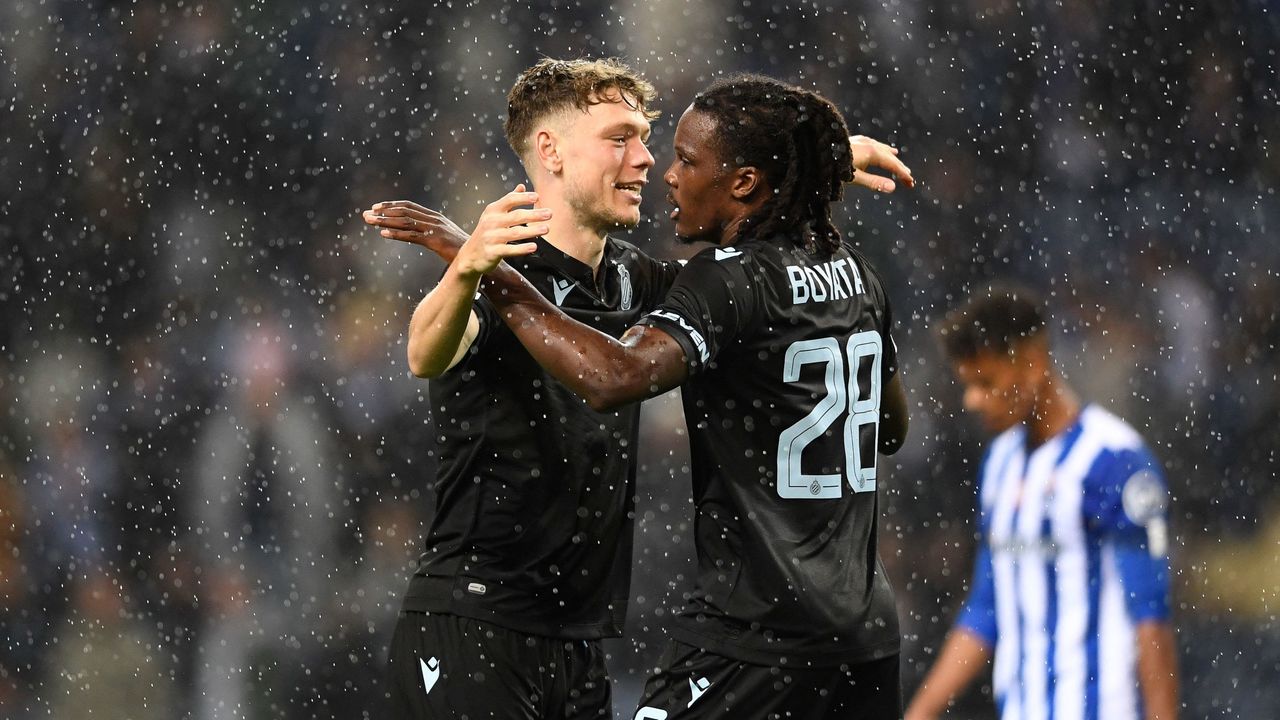 The surprises didn't stop there, though, as Bayer Leverkusen put their woeful early-season form behind them to claim a 2-0 win against overwhelming group favorites Atletico Madrid. Leverkusen went into the match having lost six of their eight games in all competitions to begin the new campaign, so naturally, they shut down Diego Simeone's side. Throw all reason out the window.
Group B, viewed after the draw as lacking much intrigue or excitement, is flipping the script.
Copyright © 2022 Score Media Ventures Inc. All rights reserved. Certain content reproduced under license.