This weekend in European soccer: Previews, predictions for 5 must-see games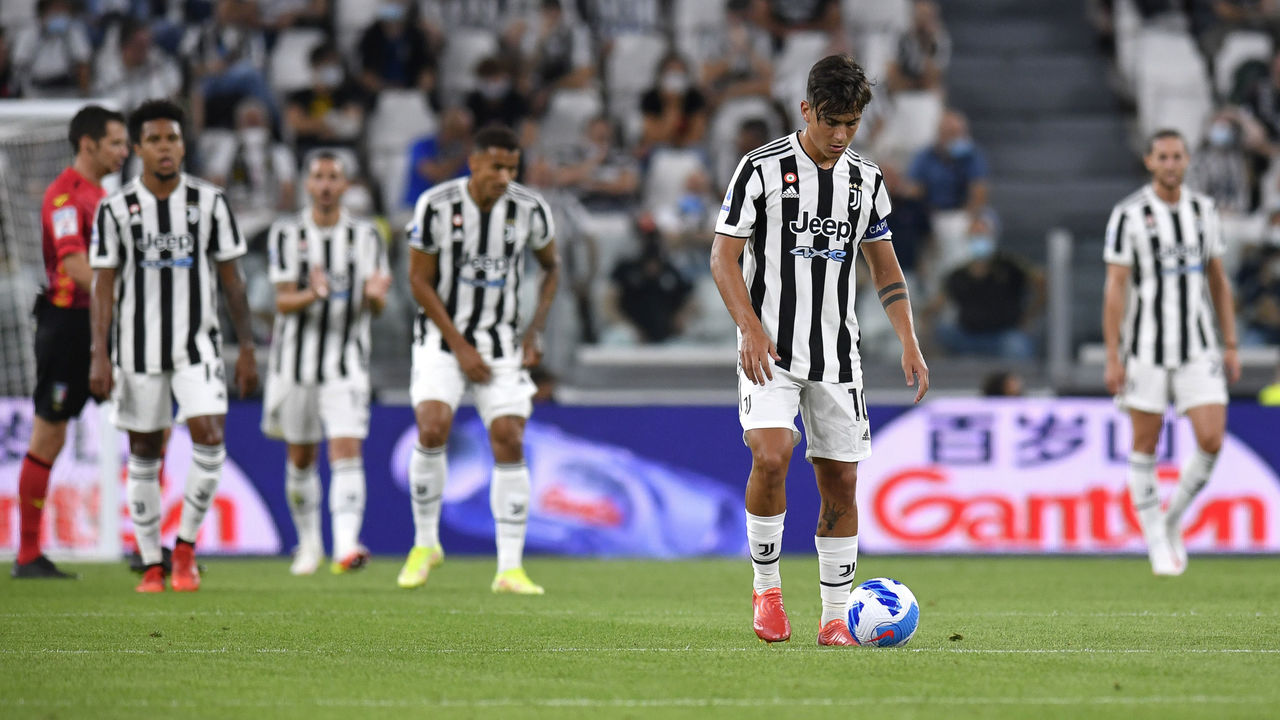 Every week, theScore will pick standout matches to watch across Europe. This weekend's slate is highlighted by a bumper Sunday schedule featuring a classic Italian rivalry and a heated London skirmish.
Serie A
Juventus vs. AC Milan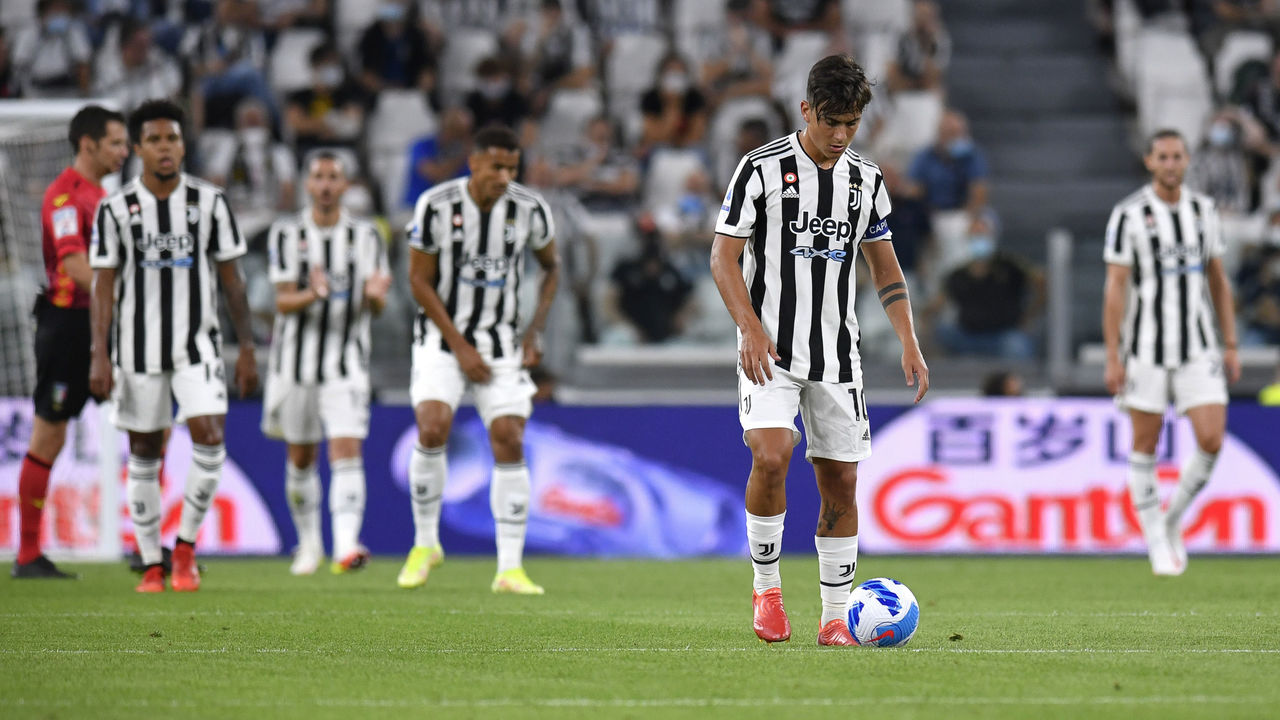 When: Sunday, Sept. 19 (2:45 p.m. ET)
Where to watch: CBS Sports Network (U.S.), FuboTV (Canada)
After a miserable start to the campaign, Juventus finally got on track midweek, putting together an assured Champions League display against Malmo to pick up their first win of the new season. That 3-0 triumph will count for little if the Bianconeri don't back it up with three points Sunday. Juve, sitting on one measly point from three Serie A matches, risk falling 11 points behind Sunday's opposition with a loss.
It's a long season, yes, but that's a potentially whopping gap to try and close.
Meanwhile, AC Milan head into the enticing clash on the back of a defeat to Liverpool, but the nature of that game may actually give the Rossoneri a spring in their step. Making their long-awaited return to the Champions League, Milan recovered after a rocky start at Anfield, even stunning a raucous crowd and taking a shocking lead before ultimately succumbing to a frantic 3-2 defeat. A victory would've been great, of course, but the resiliency and ability to hang with one of the continent's best sides was extremely encouraging, particularly without Zlatan Ibrahimovic, who remains doubtful heading into the weekend due to an Achilles issue.
After many false dawns over the past decade, Milan now have a proper plan in place and appear well on their way to regaining lofty status.
Sunday's game will push the proverbial narrative into overdrive. Either Juventus are truly "back" after a groggy start to Massimiliano Allegri's second stint, or Milan have usurped the Old Lady as one of the title favorites in a season with no clear front-runner in Italy.
Prediction: An entertaining draw with some late penalty drama
Premier League
West Ham United vs. Manchester United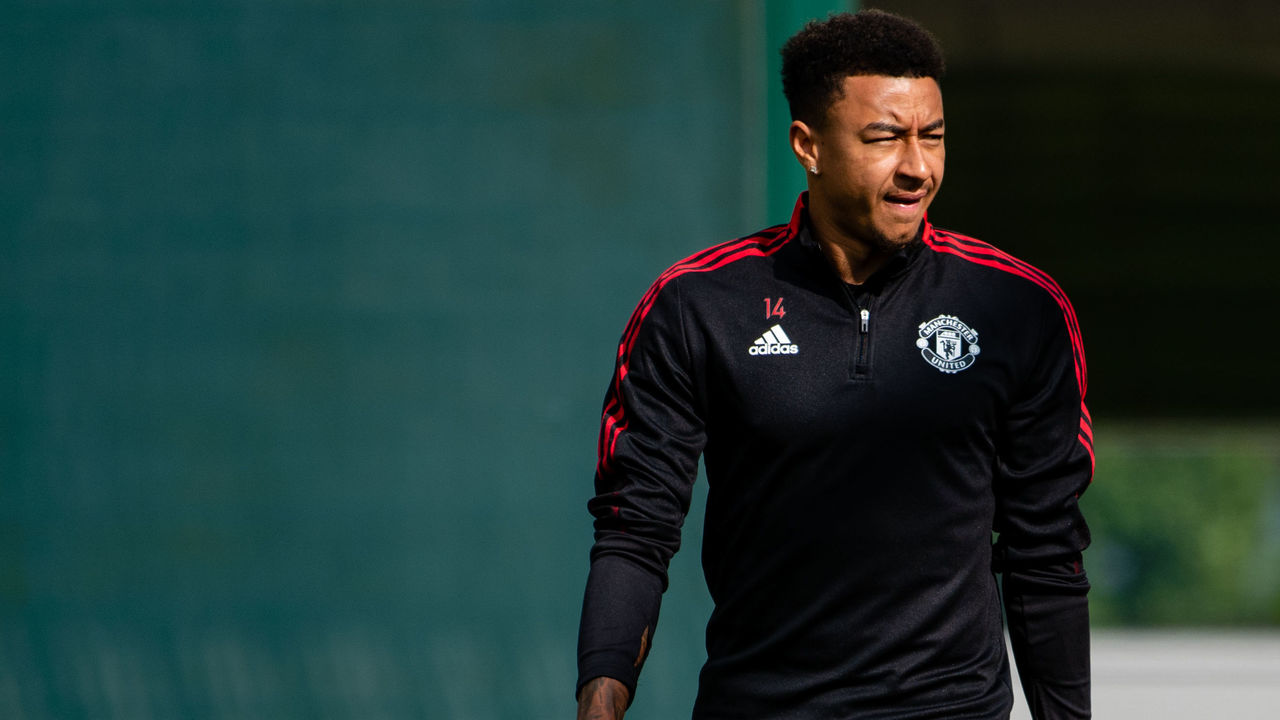 When: Sunday, Sept. 19 (9 a.m. ET)
Where to watch: NBCSN (U.S.), DAZN (Canada)
Manchester United need to bounce back. Ole Gunnar Solskjaer and his team have been lambasted on the back of a last-second defeat to Young Boys in the Champions League and will be looking for an immediate response.
"We know expectations are high, and we expect more of ourselves, the performance wasn't up to our standard," said the manager, after bemoaning what he deemed to be an overzealous response to the setback.
In a delicious twist, Jesse Lingard, whose brutal error gifted the Swiss club its famous victory Tuesday, will be desperate to atone against the team he starred on while on loan last season.
The schedule hasn't been particularly kind to United, though, as David Moyes' West Ham present a difficult challenge; the Hammers haven't tasted defeat this season, racking up 10 goals over four league matches.
However, the Red Devils catch a huge break going into the contest as West Ham will be without talisman Michail Antonio. The red-hot forward, who has five goals in as many games across all competitions this season, was sent off last week against Southampton and will miss Sunday's tilt due to suspension.
Prediction: Manchester United get back on track with slim win
Tottenham Hotspur vs. Chelsea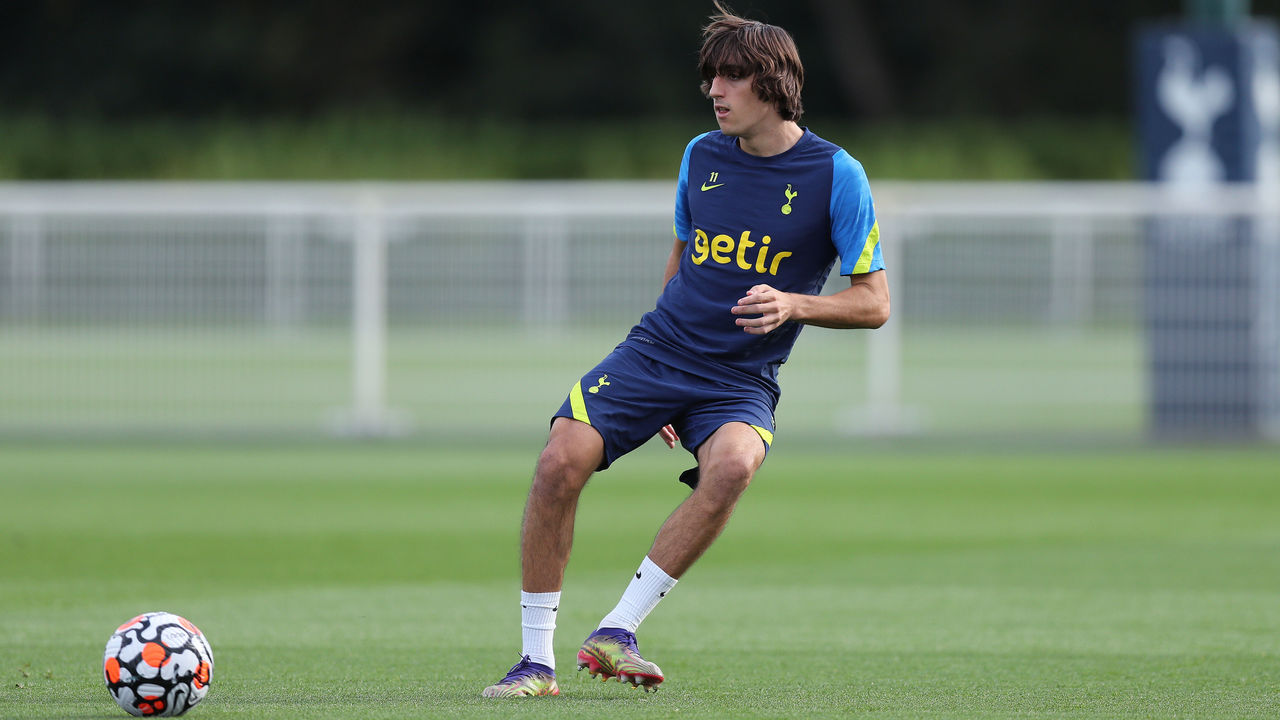 When: Sunday, Sept. 19 (11:30 a.m. ET)
Where to watch: Peacock (U.S.), DAZN (Canada)
The Premier League campaign is only four matches old, but Nuno Espirito Santo already faces his first conundrum: Does his Tottenham Hotspur side have the personnel to defend astutely and furnish chances for Harry Kane, Heung-Min Son, and their other attackers?
Kane worryingly ended last weekend's 3-0 defeat to Crystal Palace without a single shot or touch in the opposition's box.
Despite being on home turf, Nuno's gut instinct should be to protect his defense from Chelsea's rich array of attacking talent. Oliver Skipp has improved exponentially from a season-long loan with Norwich City. Either Skipp or Harry Winks could start alongside Pierre-Emile Hojbjerg, but that means there is only one spot left for someone to complement Kane and Son.
The safest option would be Dele Alli, who only played around 15 minutes Thursday against Rennes as a shuttling box-to-box midfielder. But Nuno's side could be less predictable and more dangerous with the elusive dribbling and vision of Giovani Lo Celso or Tanguy Ndombele, or the raw pace and agility of Bryan Gil. Lucas Moura and Steven Bergwijn are both injured.
It'll be interesting to see if Nuno has the bravery to select one of his more inventive players for Chelsea's visit or whether they're simply called off the bench to respond to Spurs falling a goal or two behind to their London rivals.
Prediction: Chelsea win their third straight away match against Tottenham
Bundesliga
Wolfsburg vs. Eintracht Frankfurt
When: Sunday, Sept. 19 (1:30 p.m. ET)
Where to watch: ESPN+ (U.S.), Sportsnet World (Canada)
It was supposed to be one step backward and two steps forward for Oliver Glasner. However, the Austrian tactician leaving fourth-place finishers Wolfsburg for Europa League-bound Eintracht Frankfurt in the summer hasn't panned out so far.
Mark van Bommel's Wolfsburg sit atop the Bundesliga table with a perfect record, while Glasner's Frankfurt are just above the relegation zone with three points from four outings.
Wolfsburg has played a high-octane style under Glasner, aggressively pressing to win possession in the final third and relying on Wout Weghorst as a focal point when launching direct attacks. But Rafael Borre, who Frankfurt signed this summer to replace Andre Silva, can't provide the same aerial ability and brawn when he's 10 inches shorter than Weghorst, so Glasner mimicking his Wolfsburg success in Hesse could be difficult.
Meanwhile, Van Bommel has sensibly and successfully built on the defensive foundations that Glasner left behind.
"We know the coach, so we know his tactics somewhat, too," Wolfsburg defender Maxence Lacroix told the Bundesliga website. "So we have a bit of an idea of how we can set up against them."
Prediction: Wolfsburg make it five wins in five matches with a narrow victory
Ligue 1
Paris Saint-Germain vs. Lyon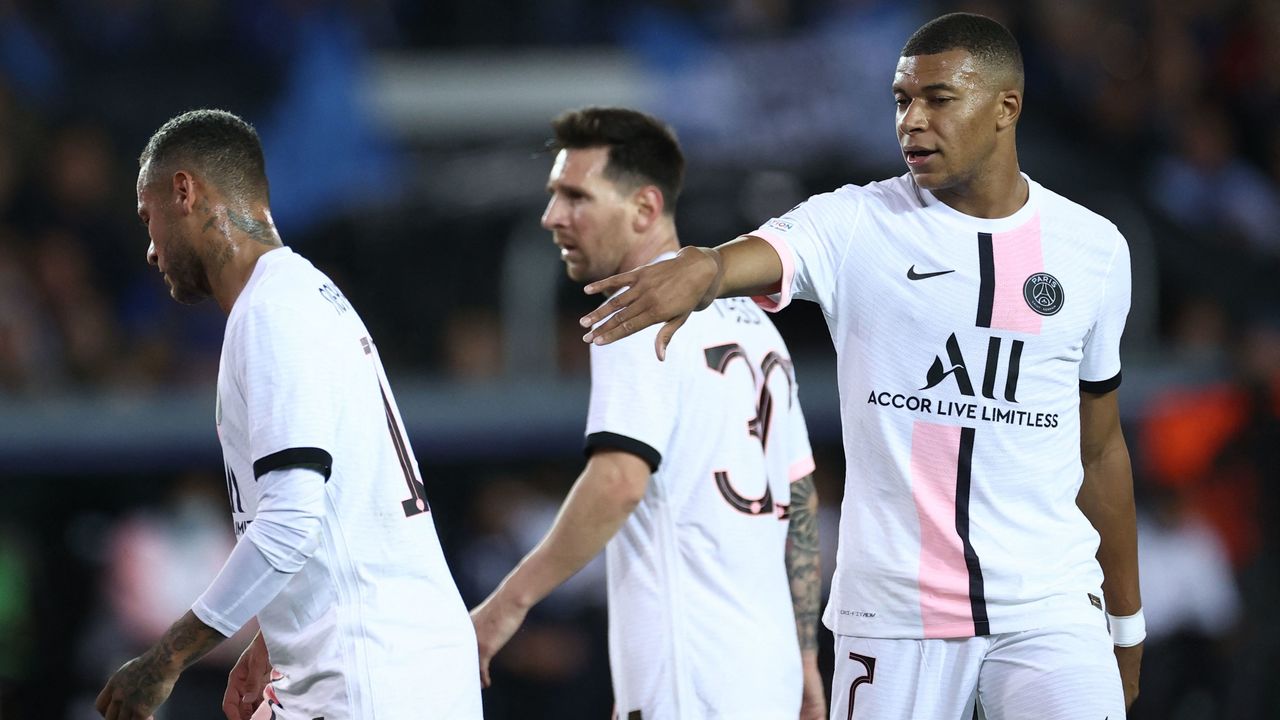 When: Sunday, Sept. 19 (2:45 p.m. ET)
Where to watch: beIN SPORTS (U.S. and Canada), FuboTV (Canada)
After blasting through the field and picking up maximum points from their opening five league matches, Paris Saint-Germain's roaring start hit a wall Wednesday as Club Brugge shut down Lionel Messi, Neymar, and Kylian Mbappe in a 1-1 draw. The acclaimed "MNM" trio, playing together for the first time since Messi's celebrated arrival, looked disjointed. Time on the training ground is needed before the three stars become a cohesive unit.
An ankle injury suffered by Mbappe may delay that chemistry a touch longer. His fitness going into the weekend remains in question.
Finding a balanced tactical structure that can accommodate all three in the same lineup will be Mauricio Pochettino's greatest challenge this season. In that sense, Mbappe's potential absence Sunday may make his life a little easier, at least in the immediate term.
Meanwhile, after a rocky start to the season, including a 3-3 draw with Clermont Foot that prompted jeers from the home fans and a very public dressing down from manager Peter Bosz, Lyon have steadied the ship, winning each of their last three matches in all competitions.
The talented Lyon midfield will be key if Bosz and Co. are to pull off an upset and keep their mini resurgence alive, especially after watching PSG get overrun in the middle of the pitch against Brugge.
Prediction: Messi leads PSG to win with his first goal for the club
Report: Pogba considering offer to return to Juventus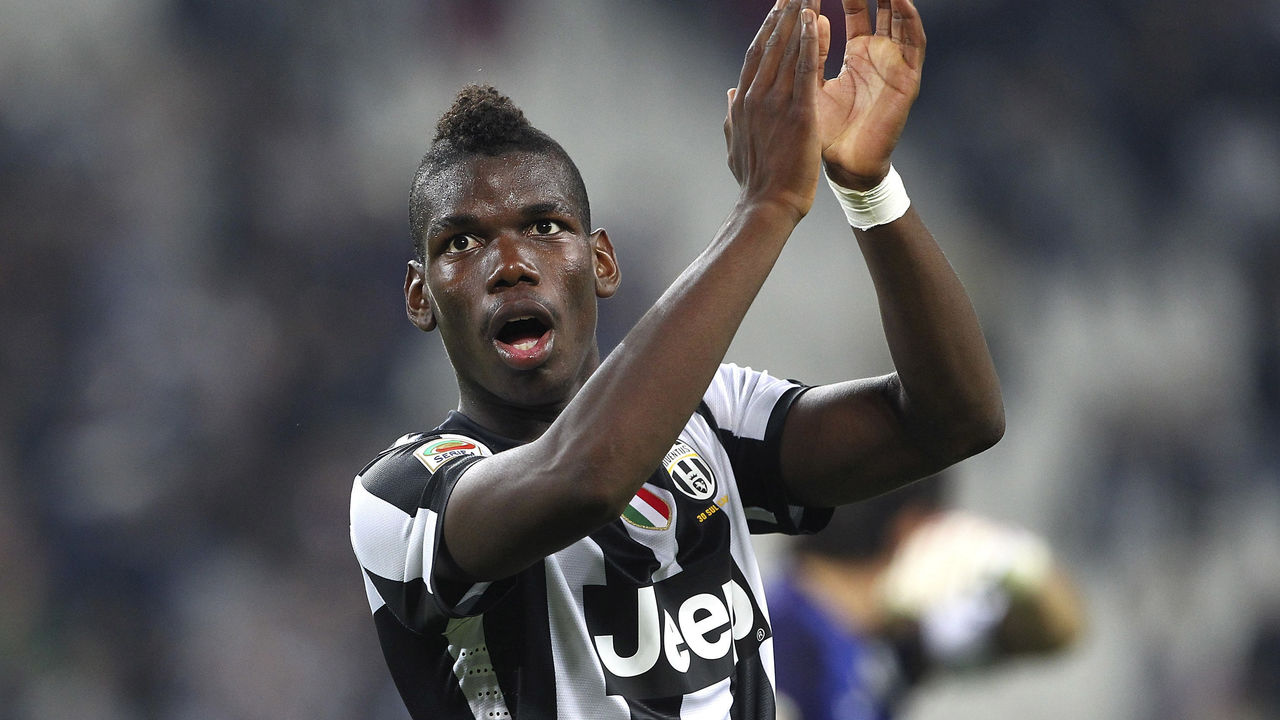 History could repeat itself for Paul Pogba.
The French midfielder is considering an offer to reunite with Juventus after his Manchester United contract expires at the end of June, reports Rob Dawson of ESPN.
Pogba left United for Juventus in 2012, establishing himself as an elite midfielder during a spell in Italy that lasted until 2016. He then rejoined United for an £89.3-million fee – a world record at the time.
He's now contemplating a return to Serie A after receiving a "concrete proposal" that puts Juventus in the lead to sign the World Cup winner, Dawson adds.
The French international has yet to make a final decision, according to Dawson.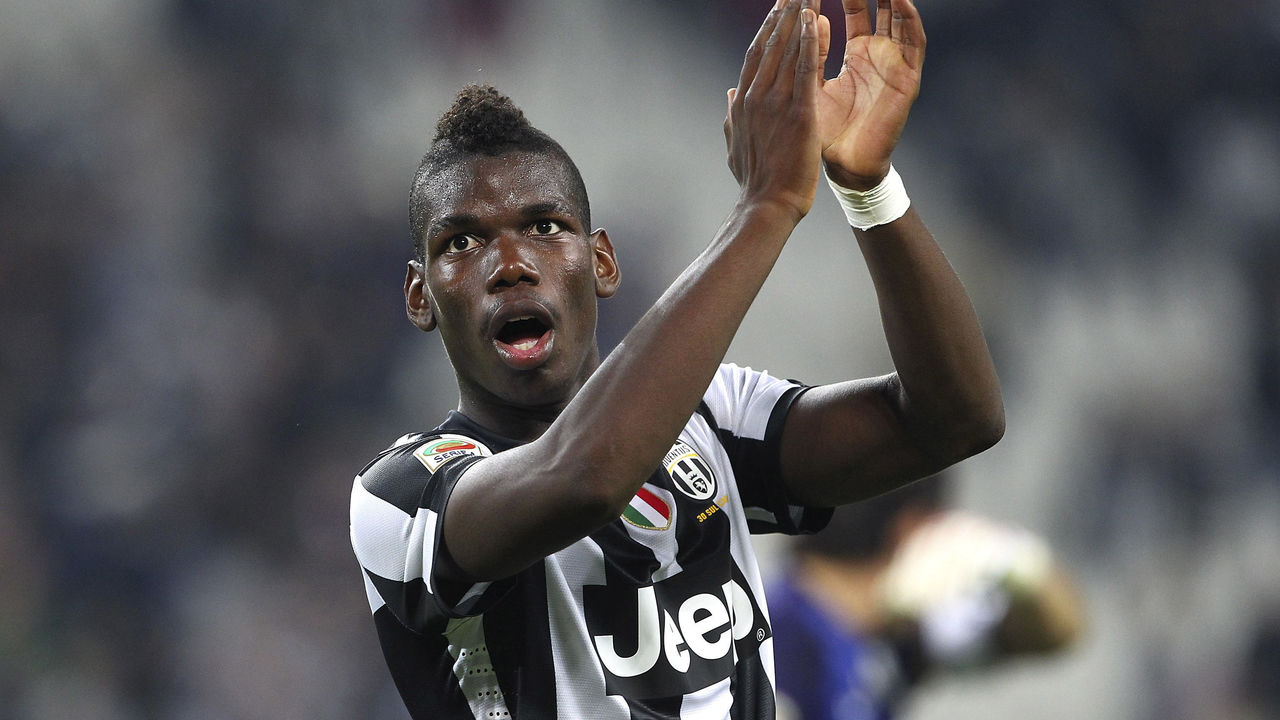 Paris Saint-Germain are also reportedly in contention and could attract Pogba with an offer to play in his home country.
Manchester City were surprise contenders, but Pogba rejected an offer to join Pep Guardiola's squad due to reported concerns about backlash from Manchester United supporters.
Pogba has struggled to consistently replicate the form that made him a star at Juventus in the six years since he returned to Old Trafford; frustrated fans booed him in his last two games against Norwich City and Liverpool.
The 29-year-old recently admitted to experiencing depression, which began during Jose Mourinho's volatile spell as Manchester United manager.
Pogba, who has missed the last four matches with a calf problem, could be in contention to play his final match for Manchester United on Sunday after returning to training.
2022 World Cup draw: Spain meets Germany, all smiles for USMNT and Canada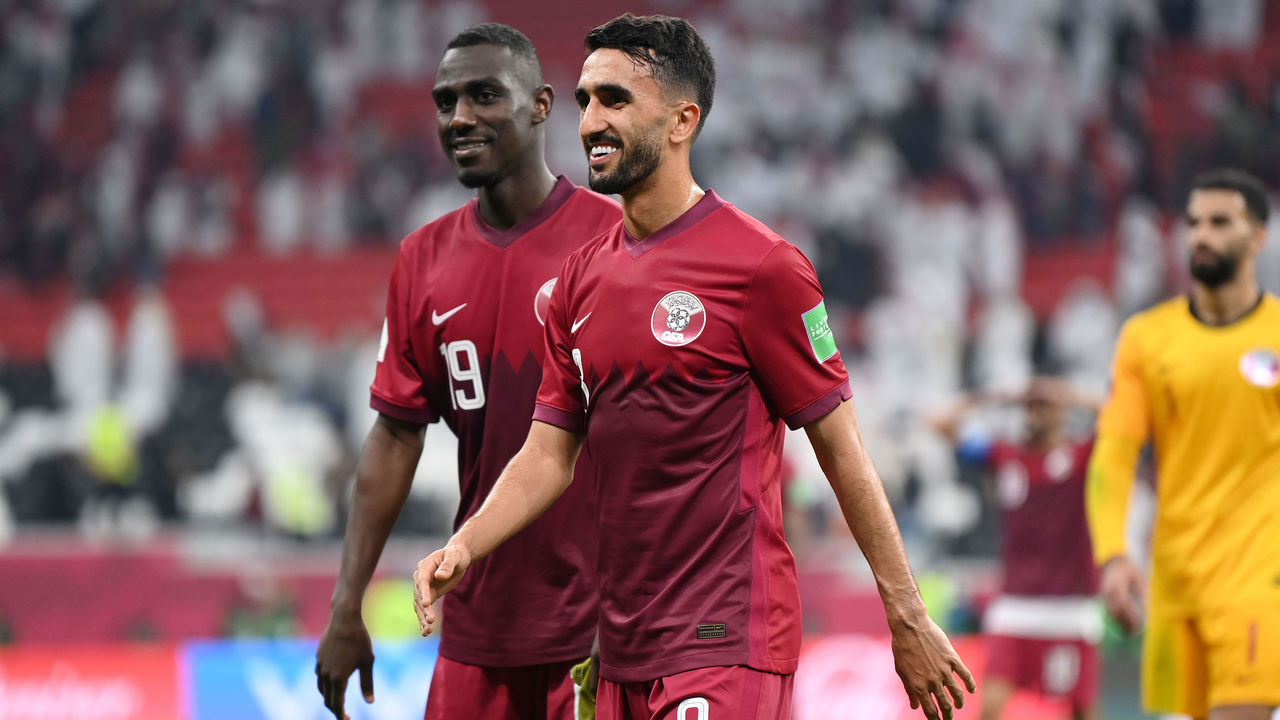 The countdown for November's big kickoff begins.
The group draw for the 2022 World Cup was conducted in Doha, Qatar on Friday. Heavyweight nations Spain and Germany were pitted together in Group E, while the United States and Canada should travel to the Middle East with some optimism given the overall quality in their respective quartets.
Here are the groups in full:
Group A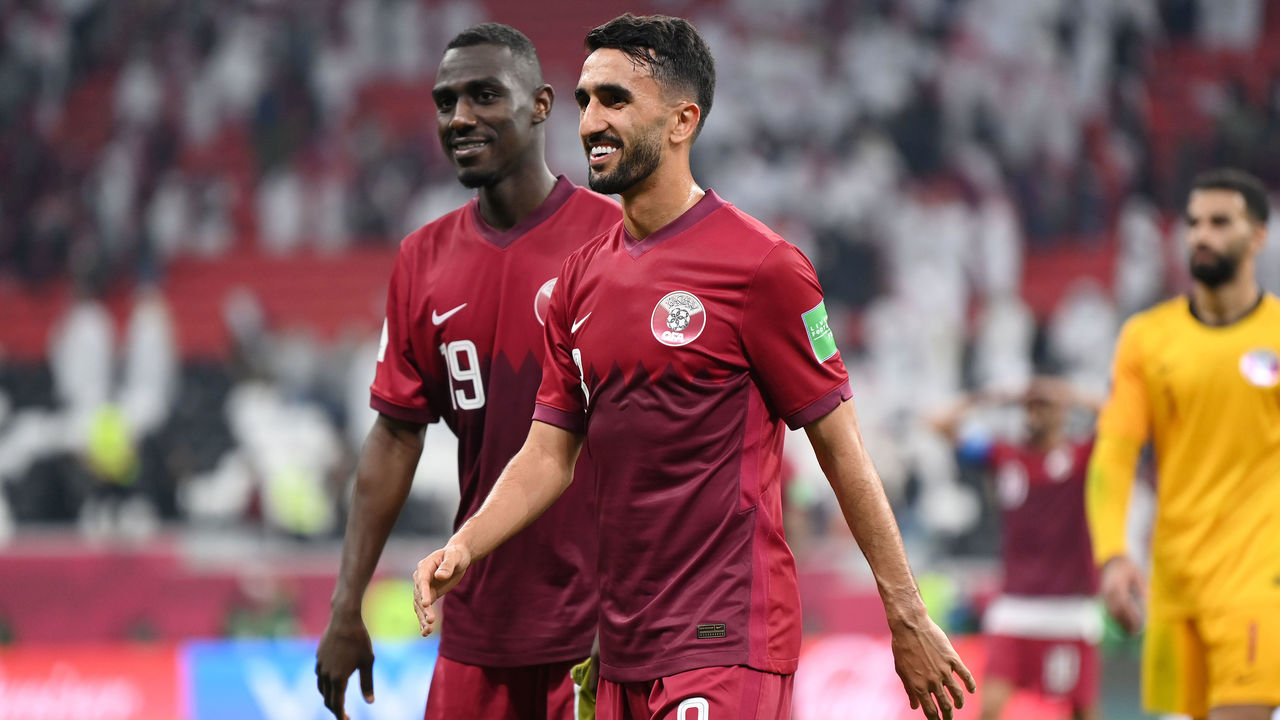 | Slot | Nation | Confederation |
| --- | --- | --- |
| 1 | Qatar | AFC |
| 2 | Ecuador | CONMEBOL |
| 3 | Senegal | CAF |
| 4 | Netherlands | UEFA |
Match schedule
Nov. 21: Senegal vs. Netherlands
Nov. 21: Qatar vs. Ecuador
Nov. 25: Qatar vs. Senegal
Nov. 25: Netherlands vs. Ecuador
Nov. 29: Netherlands vs. Qatar
Nov. 29: Ecuador vs. Senegal
Group B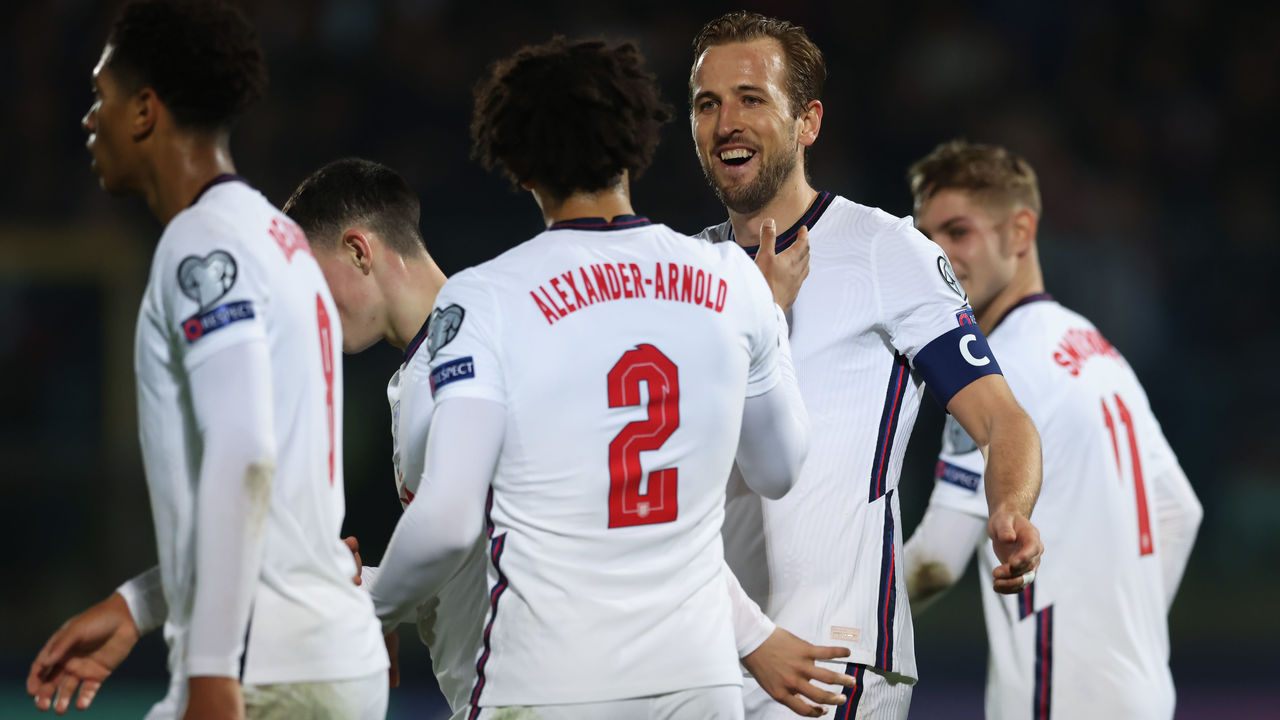 | Slot | Nation | Confederation |
| --- | --- | --- |
| 1 | England | UEFA |
| 2 | Iran | AFC |
| 3 | United States | CONCACAF |
| 4 | Wales/Ukraine/Scotland* | UEFA |
Match schedule
Nov. 21: England vs. Iran
Nov. 21: United States vs. UEFA playoff winner
Nov. 25: UEFA playoff winner vs. Iran
Nov. 25: England vs. United States
Nov. 29: Iran vs. United States
Nov. 29: UEFA playoff winner vs. England
Group C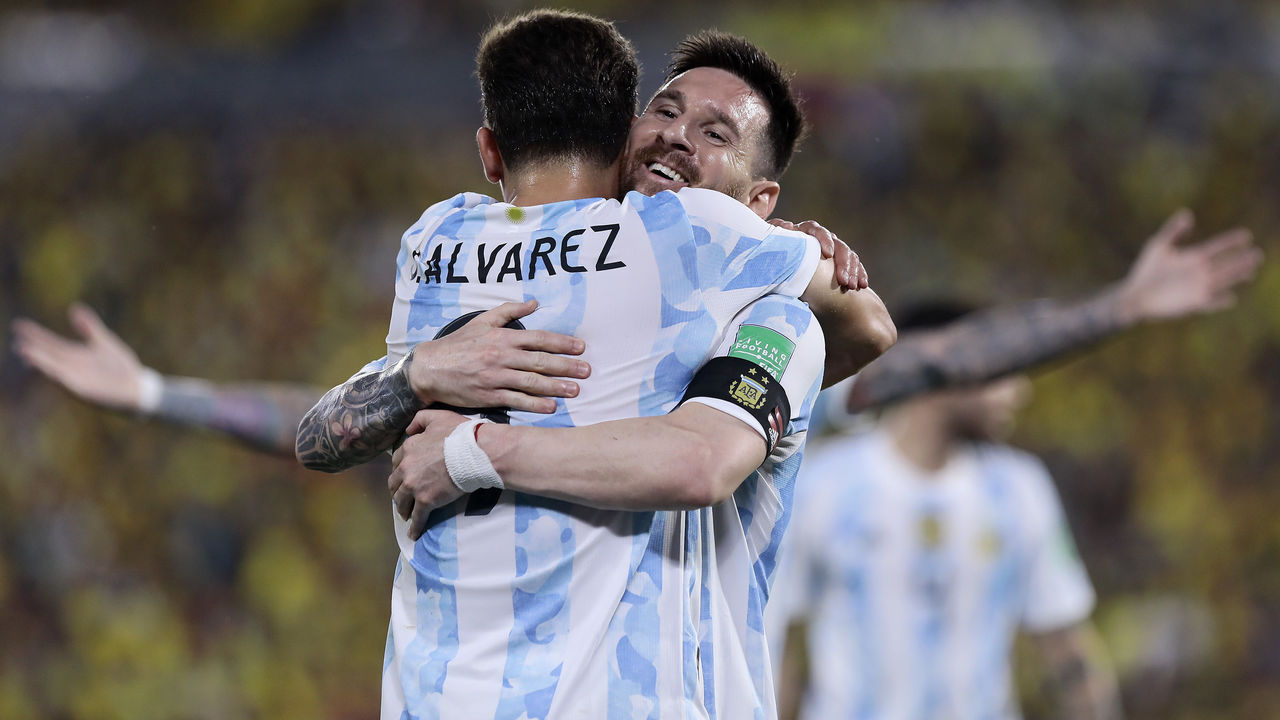 | Slot | Nation | Confederation |
| --- | --- | --- |
| 1 | Argentina | CONMEBOL |
| 2 | Saudi Arabia | AFC |
| 3 | Mexico | CONCACAF |
| 4 | Poland | UEFA |
Match schedule
Nov. 22: Argentina vs. Saudi Arabia
Nov. 22: Mexico vs. Poland
Nov. 26: Argentina vs. Mexico
Nov. 26: Poland vs. Saudi Arabia
Nov. 30: Poland vs. Argentina
Nov. 30: Saudi Arabia vs. Mexico
Group D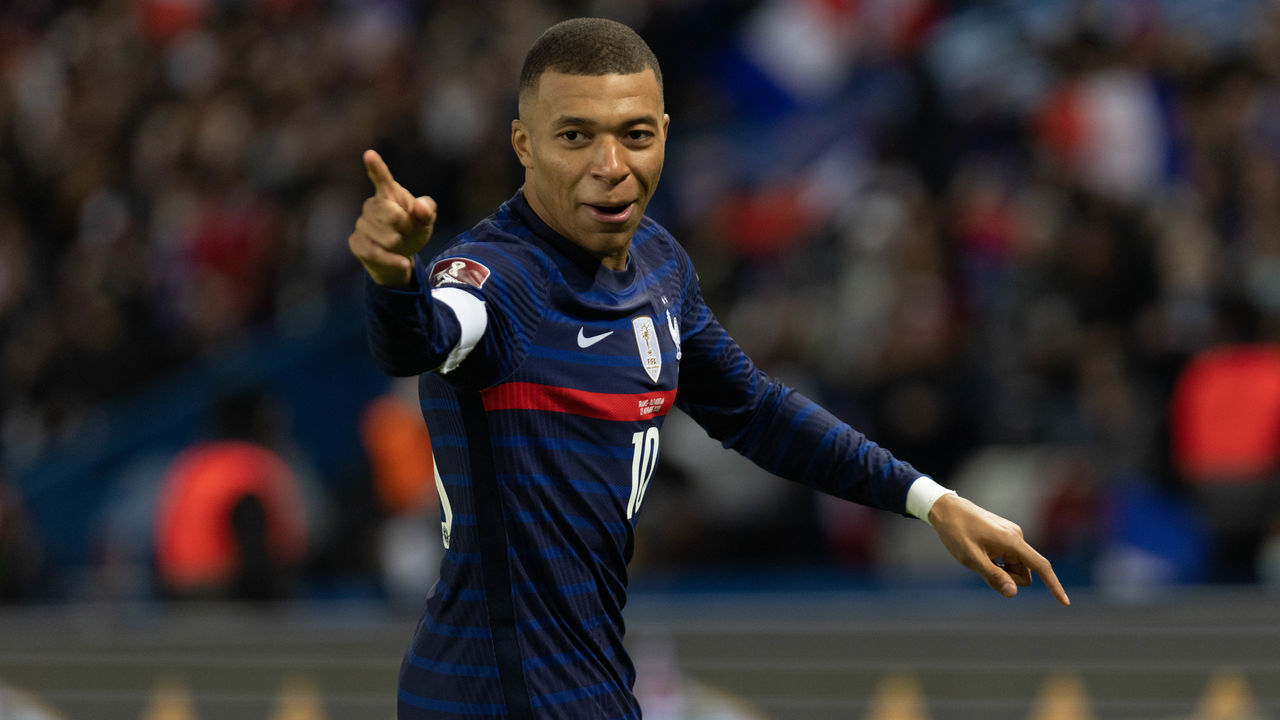 | Slot | Nation | Confederation |
| --- | --- | --- |
| 1 | France | UEFA |
| 2 | Peru/Australia/United Arab Emirates* | CONMEBOL/AFC |
| 3 | Denmark | UEFA |
| 4 | Tunisia | CAF |
Match schedule
Nov. 22: France vs. Intercontinental playoff winner
Nov. 22: Denmark vs. Tunisia
Nov. 26: France vs. Denmark
Nov. 26: Tunisia vs. Intercontinental playoff winner
Nov. 30: Tunisia vs. France
Nov. 30: Intercontinental playoff winner vs. Denmark
Group E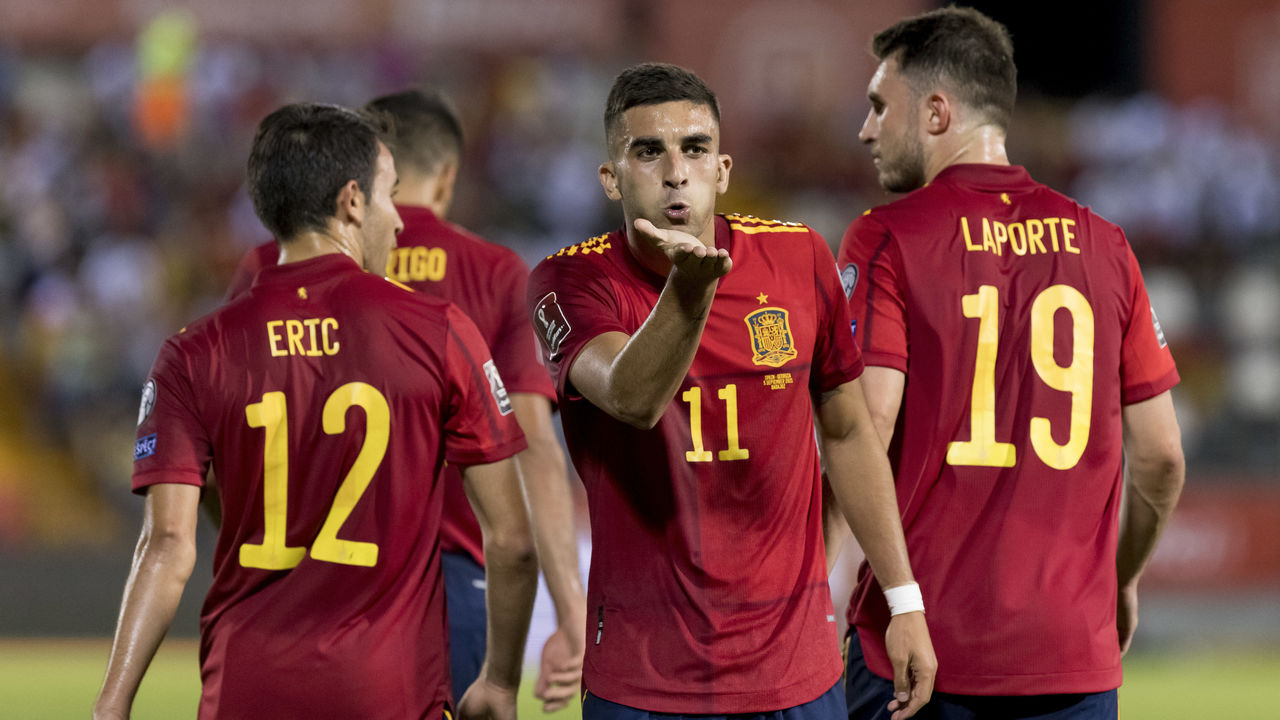 | Slot | Nation | Confederation |
| --- | --- | --- |
| 1 | Spain | UEFA |
| 2 | Costa Rica/New Zealand* | CONCACAF/OFC |
| 3 | Germany | UEFA |
| 4 | Japan | AFC |
Match schedule
Nov. 23: Spain vs. Intercontinental playoff winner
Nov. 23: Germany vs. Japan
Nov. 27: Spain vs. Germany
Nov. 27: Japan vs. Intercontinental playoff winner
Dec. 1: Japan vs. Spain
Dec. 1: Intercontinental playoff winner vs. Germany
Group F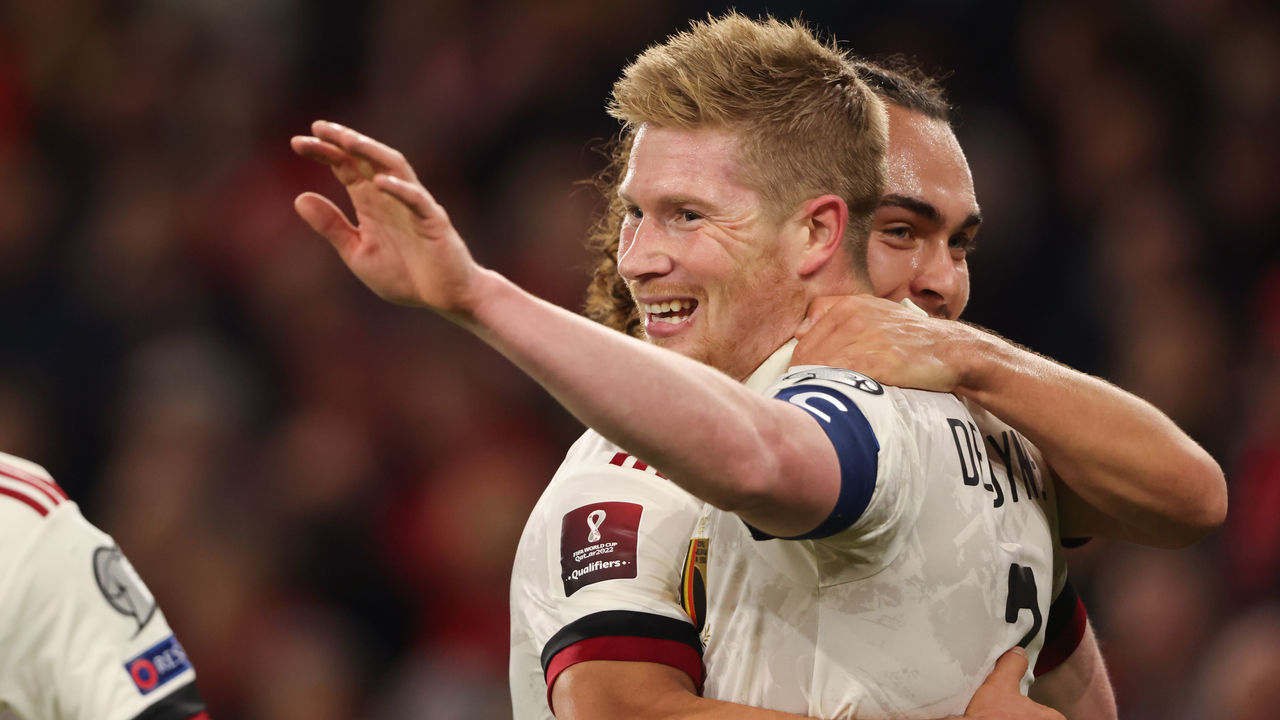 | Slot | Nation | Confederation |
| --- | --- | --- |
| 1 | Belgium | UEFA |
| 2 | Canada | CONCACAF |
| 3 | Morocco | CAF |
| 4 | Croatia | UEFA |
Match schedule
Nov. 23: Belgium vs. Canada
Nov. 23: Morocco vs. Croatia
Nov. 27: Belgium vs. Morocco
Nov. 27: Croatia vs. Canada
Dec. 1: Croatia vs. Belgium
Dec. 1: Canada vs. Morocco
Group G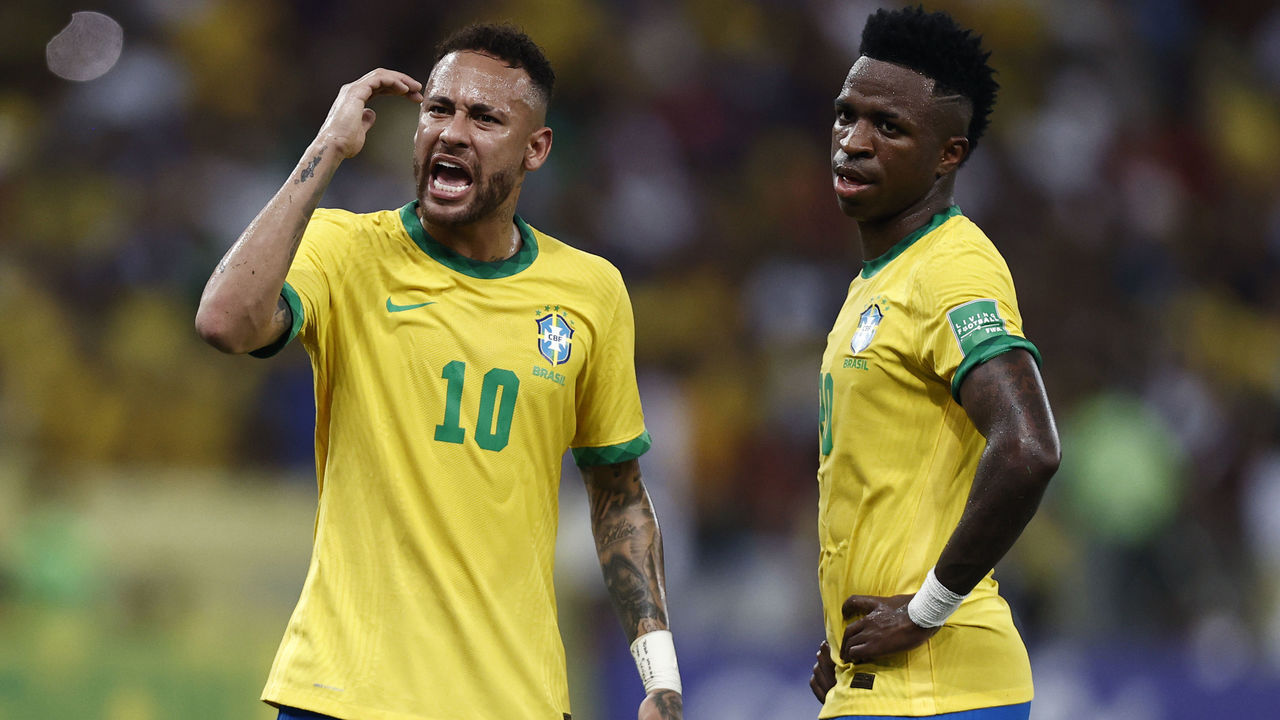 | Slot | Nation | Confederation |
| --- | --- | --- |
| 1 | Brazil | CONMEBOL |
| 2 | Serbia | UEFA |
| 3 | Switzerland | UEFA |
| 4 | Cameroon | CAF |
Match schedule
Nov. 24: Brazil vs. Serbia
Nov. 24: Switzerland vs. Cameroon
Nov. 28: Brazil vs. Switzerland
Nov. 28: Cameroon vs. Serbia
Dec. 2: Cameroon vs. Brazil
Dec. 2: Serbia vs. Switzerland
Group H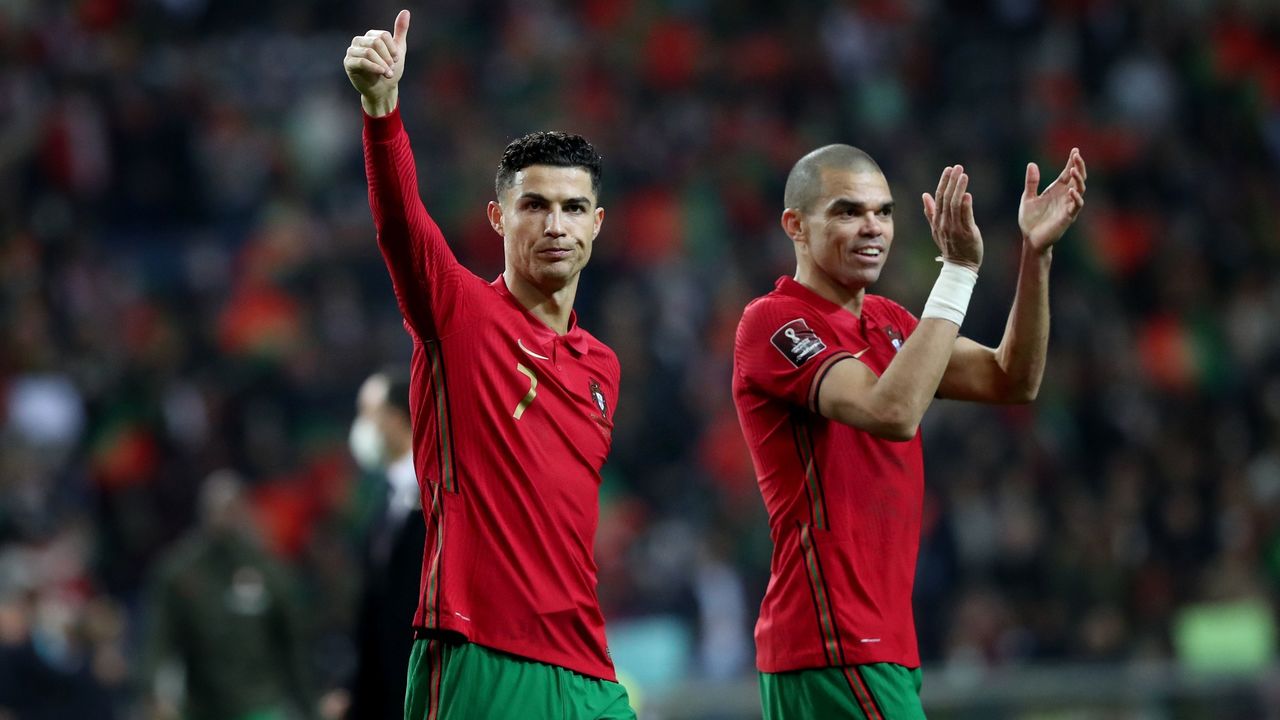 | Slot | Nation | Confederation |
| --- | --- | --- |
| 1 | Portugal | UEFA |
| 2 | Ghana | CAF |
| 3 | Uruguay | CONMEBOL |
| 4 | South Korea | AFC |
Match schedule
Nov. 24: Portugal vs. Ghana
Nov. 24: Uruguay vs. South Korea
Nov. 28: Portugal vs. Uruguay
Nov. 28: South Korea vs. Ghana
Dec. 2: South Korea vs. Portugal
Dec. 2: Ghana vs. Uruguay
* World Cup berth to be decided in June.
The top two nations in each group will advance to the knockout stages of the competition. The full schedule for the knockout stages can be found here.
Why isn't the entire field confirmed?
Three World Cup teams have yet to be determined: one from Europe and two from the intercontinental playoff paths.
Intercontinental playoff: Costa Rica vs. New Zealand
Intercontinental playoff: Peru vs. Australia or the United Arab Emirates
UEFA playoff: Wales vs. Ukraine or Scotland
Ukraine's one-off semifinal against Scotland was postponed after the country was invaded by Russia. That will be played this summer – the exact date is yet to be announced – and the winner will meet Wales for a spot in Qatar.
The intercontinental playoffs were postponed as part of the widespread scheduling delays created by the COVID-19 pandemic. Those games are slated for June 13 and 14 in Qatar, at which point the entire 32-team World Cup field should be finalized.
4 takeaways from Tuesday's Champions League action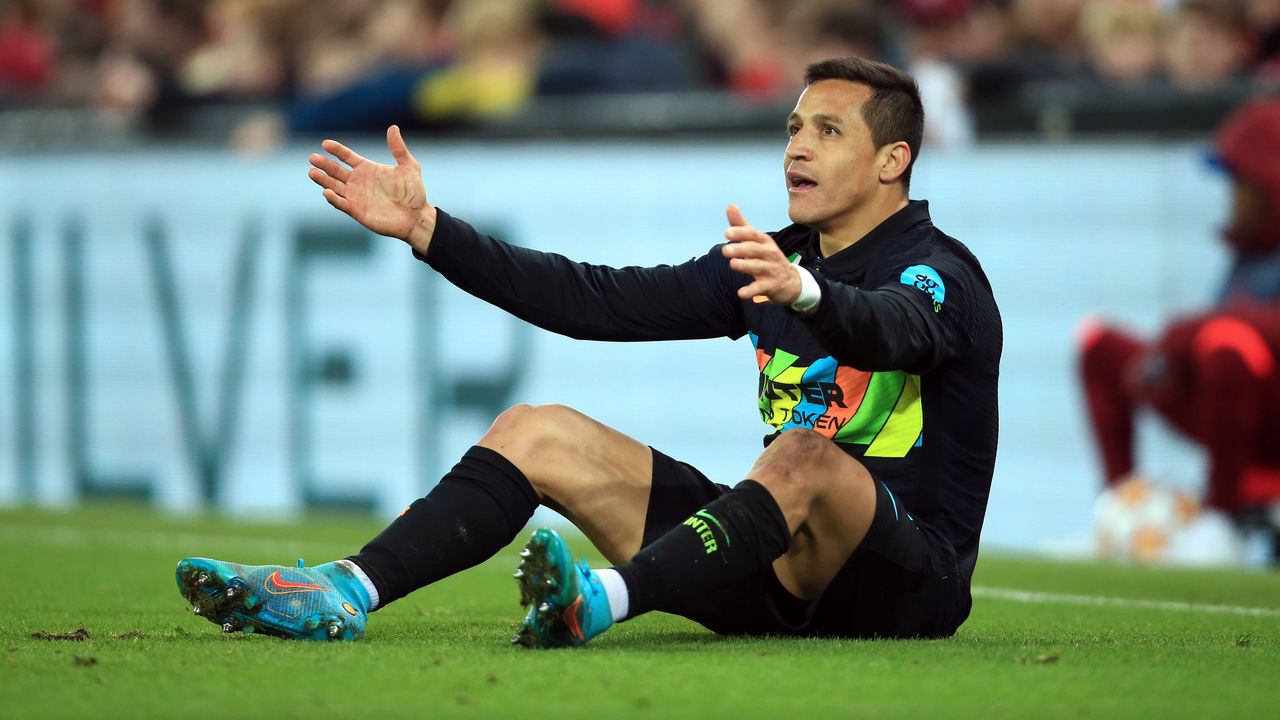 The Champions League last 16 rumbled on this week with the opening batch of second-leg matches. Below, we dissect the biggest talking points from Tuesday's games in Europe's premier club competition.
Inzaghi and Sanchez let Inter down
Alexis Sanchez's red card spoiled what could've been a memorable night for Inter Milan. Lucky to escape with just a warning when he slid studs-first into Thiago Alcantara to end the first half, Sanchez was sent off for another overzealous tackle on Fabinho in the second. The red card – brandished minutes after Lautaro Martinez's wonderful goal had offered Inter hope of an unlikely comeback – came at the worst possible time. Up a man for the remaining 25 minutes, Liverpool wrestled control of the tie and advanced 2-1 on aggregate.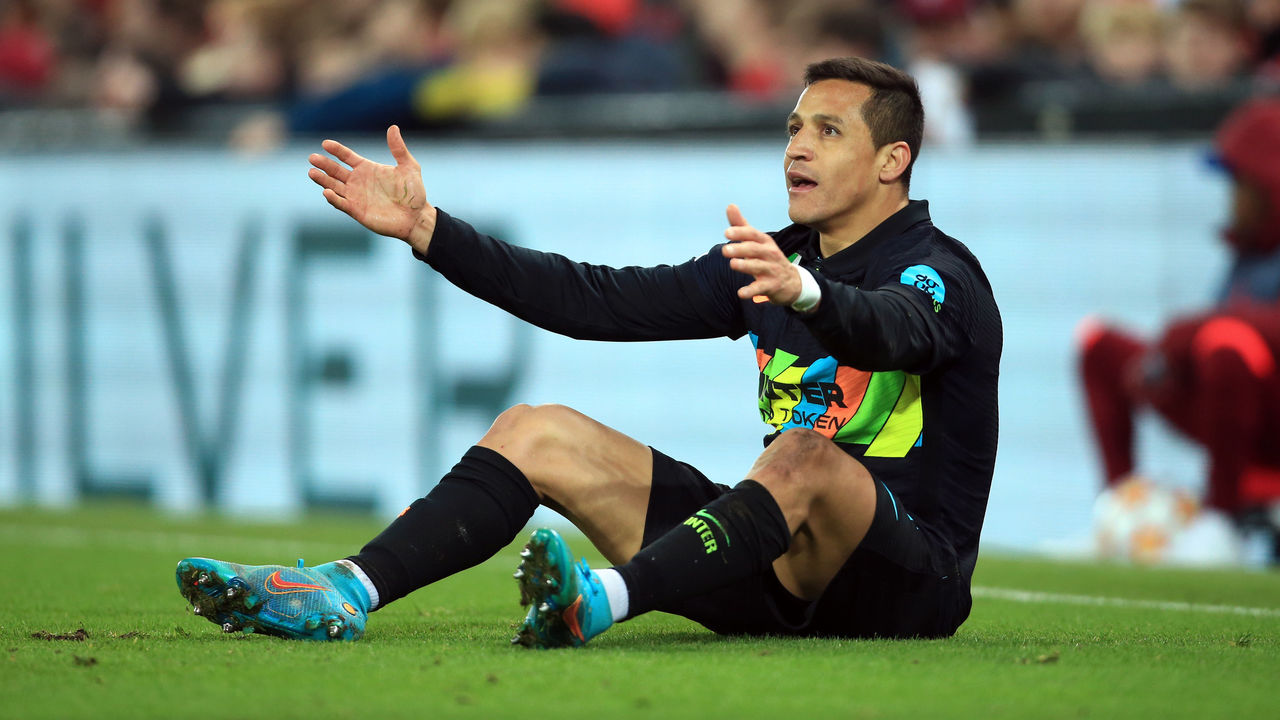 Sanchez may have cost his team, but manager Simone Inzaghi allowed the situation to spiral out of control. By choosing to keep Sanchez on the pitch, Inzaghi overlooked his panicky play and the team's lack of offensive production; Edin Dzeko, the club's leading scorer with 16 goals in all competitions, remained on the bench. Joaquin Correa, a similar darting presence to Sanchez, could've offered the same speed and pressing ability, and with Inter needing goals, Dzeko, an expert in the air, could've offered them an additional outlet up top.
In the end, Inter finished with just six shots – only half of them on target – on a night they needed to score twice just to have a chance of reaching the quarterfinals. Meanwhile, Liverpool hit the woodwork three times. It could've been so different for the reigning Serie A champions, who still won on the night but ultimately paid too little attention to detail to get past Jurgen Klopp's side.
Mane slipping in big matches
Sadio Mane has four goals in his last eight appearances for Liverpool, which isn't exactly a drought, but his production against top opponents belies his recent scoring record.
Mane struggled on the left of Liverpool's front three Tuesday, with the majority of his touches coming well outside of the 18-yard box. Though his arching pass to Mohamed Salah in the 76th minute should've resulted in a goal, the Senegalese international still produced little substance in the most dangerous area of the pitch.
His performance echoed his relatively quiet outing in the first leg at the Stadio Giuseppe Meazza. Mane missed a clear header before making way for Luis Diaz in the 59th minute of that game, and he could only watch on the sidelines as his teammates, playing with renewed spirit, scored twice to win 2-0.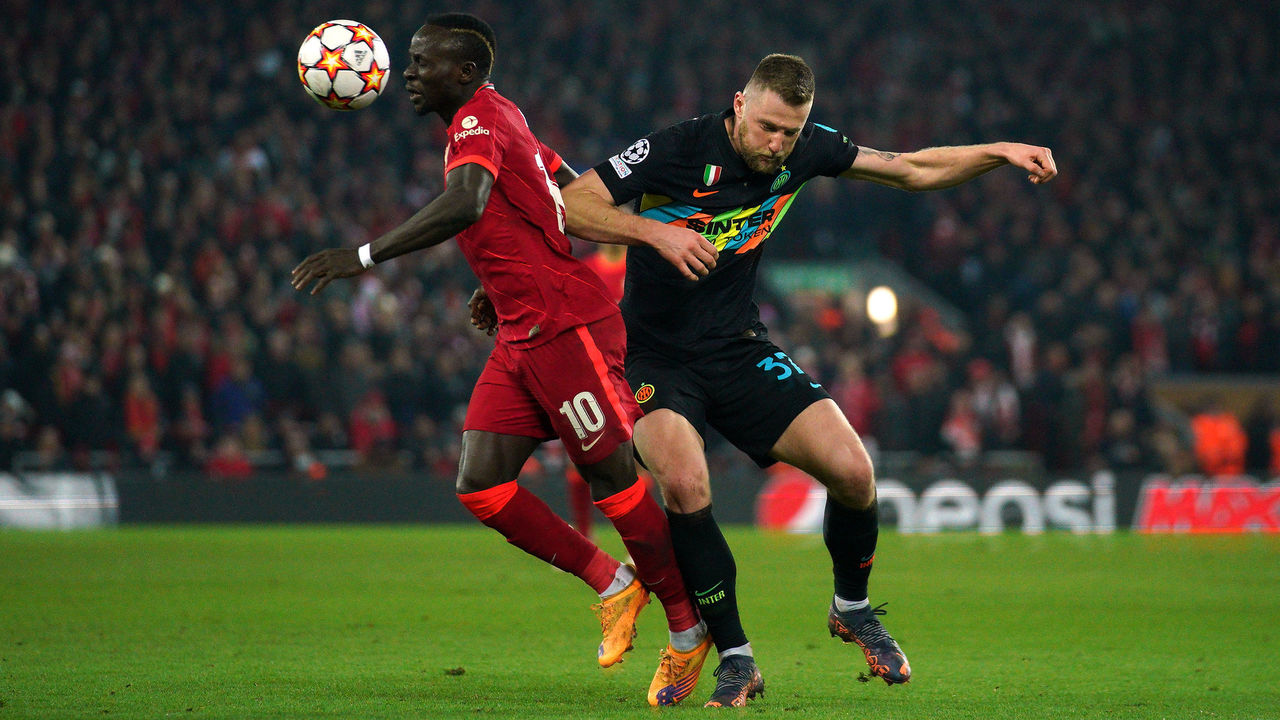 A similar storyline played out in the League Cup final against Chelsea. Mane registered just two shots playing as a No. 9 – one woefully wide – before coming off again in the second half.
Mane's struggles predate the Africa Cup of Nations in January: he was ineffectual in games against Leicester and AC Milan and went goalless from the end of November to the end of December.
With Diaz raring to go, Mane can ill afford to go missing down the stretch. Scoring against the likes of Leeds United and Norwich City isn't enough anymore. Liverpool have the depth to cope – and perhaps even play better – with Mane out of the starting lineup.
Bayern's brashness can't last
Julian Nagelsmann did it again. Kingsley Coman, Leroy Sane, Thomas Muller, and Serge Gnabry buzzed behind Robert Lewandowski just as they had in the first leg, with merely a midfield duo and defensive trio for protection.
It was an approach that indicated Bayern Munich wanted to rain punches from the first whistle, leaving Red Bull Salzburg bloodied and dazed before they could pick at the same vulnerabilities they exposed in the 1-1 draw to open the doubleheader.
Nagelsmann's options were somewhat limited. Midfielders Leon Goretzka and Corentin Tolisso are injured, and the only senior attack-minded players on the bench were Eric Maxim Choupo-Moting and Marcel Sabitzer. But it still took extreme bravery for the head coach not to dilute his ambitious plan.
Bayern were given a scare before two minutes elapsed. Karim Adeyemi stole the ball from Jamal Musiala – still learning on the job in a deeper midfield role – and cut it back for Nicolas Capaldo, whose straightforward finish was thwarted by Coman's heroic block.
That was it, though. The German champions were soon on their way to a 7-1 win. However, this wasn't necessarily a sign of things to come: Salzburg's individual errors and overall weakness certainly helped disguise an imbalanced and defensively susceptible lineup. Bayern can't afford to be so cavalier when they face a European heavyweight in this competition.
A victorious Champions League run requires a little more caution.
Lewandowski's unrivaled consistency
It wasn't a vintage hat-trick, but Lewandowski continues to produce numbers and prove he's one of the greatest strikers in the sport's history.
Lewandowski won both of his penalties through his technical excellence and slippery movement. The Polish marksman tickled a tricky pass with the bottom of his left foot and tempted Maximilian Wober into a clumsy challenge for the first spot-kick. For the second penalty, Lewandowski called the same unfortunate defender into action when he stepped across Wober and spun near the edge of the box.
The goal to complete his treble needed bounces off his shins and the woodwork before he tapped in – but can that be deemed fortunate when he's hounding defenders and so often in the right position? His finish took him to an incredible 42 strikes with little under three months of the season remaining. He's now scored 40 or more goals in seven straight seasons.
And at 33, there's little evidence he's slowing down.