Why Monchi snubbed Arsenal for a return to rudderless Sevilla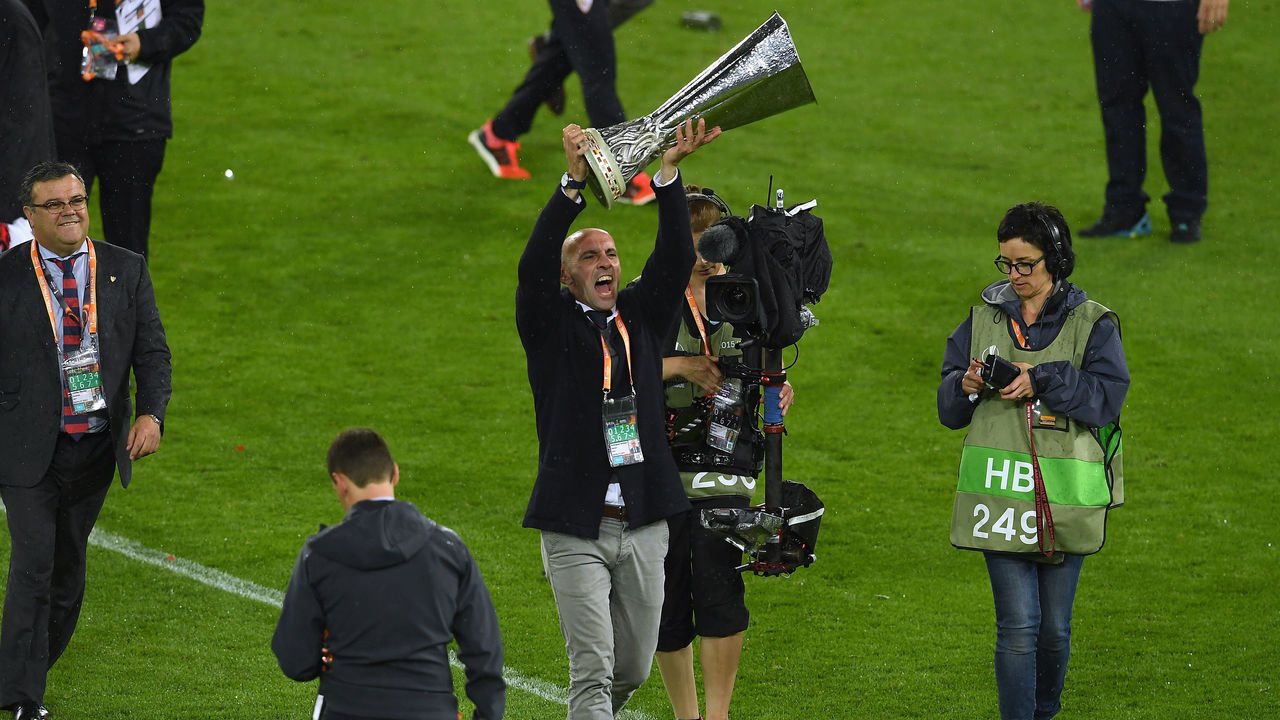 SEVILLE – If Roma miss out on Serie A's top three for the first time in five years, Monchi will be apportioned most of the blame. Giallorossi owner James Pallotta accused the sporting director of lacking a plan B this season and therefore leaving the club hamstrung by injuries and the supposedly ineffectual coaching of Eusebio Di Francesco.
Monchi arrived in the Italian capital with acclaim for being an expert recruiter and logistical mastermind at football clubs. When Monchi left in March – a day after Di Francesco was sacked – his stock had taken a hit.
His reception upon his return to Andalusia, however, was at odds with his 22-month Roma stint. His exalted status at Sevilla was already unique for a club director, and his popularity was further elevated by him snubbing Arsenal in favor of a second term at the Estadio Ramon Sanchez Pizjuan.
"I can tell you that Monchi, to me as a journalist (and) to a lot of fans in Seville, is the most important person in Sevilla FC history," Ignacio Caceres Dastis of ElDesmarque told theScore. "He's been in all the trophies, he's been in all the seasons, he's got the team from the second division to European finals and trophies. He's helped the club grow. He's a legend."
Without Monchi, Sevilla were true to their own reputation by prospering in cup competitions. The five-time Europa League winners reached the quarterfinals of the Champions League for the first time in their history last season and competed in the 2018 Copa del Rey final.
But their seventh-placed finish in La Liga was evidence that all was not well behind the scenes.
"There was no chief. It was a bit of a mess with signings," Caceres said. "All the pressure that came from the media and fans, I think Sevilla was really sensitive to this and acted really quickly without reflection … There was no plan if things went wrong."
Monchi won nine major trophies during his first 17-year stint as sporting director, overseeing nine managers and sacking five of them. In the brief time that Monchi was in Rome, Sevilla fired four managers.
In terms of transfer activity post-Monchi, bringing back Ever Banega and Jesus Navas were rather obvious deals to pursue. The only purchase somewhat reminiscent of Monchi's business was a move for Simon Kjaer but, at 30, it's unlikely Sevilla will get any return on their €12.5-million investment. The current standout attackers for Sevilla, Wissam Ben Yedder and Pablo Sarabia, were both signed by Monchi and key in last season's Champions League run.
Sevilla now have a throwback look. Joaquin Caparros, the genial tactician who is, sadly, battling chronic leukemia, moved back into the dugout to clear the way for Monchi. The 63-year-old nurtured talent like Sergio Ramos, Dani Alves, Jose Antonio Reyes, and Julio Baptista while working under Monchi between 2000 and 2005, and is often credited with laying the groundwork for Sevilla's continental successes.
Given Caparros' health and age, he may be a stopgap hire. Nevertheless, Caceres believes promises were made to Monchi to coax him into returning to the Sanchez Pizjuan: he will be given the resources to tweak a squad that performed admirably amid a managerial merry-go-round and should be given the autonomy of his previous reign.
At Arsenal, meanwhile, there are budgetary concerns. Former Rojiblancos boss Emery wasn't granted funds in the January transfer window, so instead sought loan deals that culminated in temporary terms for ex-Sevilla loanee Denis Suarez. With these restraints, Monchi couldn't be confident of receiving the money needed to shape the north London outfit in his image.
The organization of Arsenal is also perplexing: owner Stan Kroenke is regularly accused of neglecting the Gunners, chief executive Ivan Gazidis scampered off to an equivalent role at AC Milan in 2018, and Sven Mislintat lasted 14 months as head of recruitment before he exited in February. Raul Sanllehi and Vinai Venkatesham are yet to convince in their roles as director of football and managing director, respectively.
Arsenal's apparent power struggles wouldn't give Monchi assurances that he would be able to pull the strings at the Emirates Stadium. At Sevilla, he already knows the job.
"Monchi used to be a goalkeeper here, Monchi has lived in the city for 30 years, Monchi understands the club, understands the mentality, understands the fans' ambition, understands the whole thing. He's the chief here," Caceres explained.
The respect Monchi demands at Sevilla will be rewarded with patience – a commodity that was lacking at Roma. Also, with European heavyweights looking to prey on Atletico Madrid's best players, Real Madrid in a state of flux, and Barcelona more reliant on Lionel Messi than ever before, could this be an opportunity for La Liga's also-rans to compete at the top?
"Many people outside of Seville have told me that I've made the wrong choice, that sequels are never good," Monchi said when he was hired for the second time.
Monchi shouldn't concern himself with outside noise. Juan Araujo and Jose Antonio Reyes enjoyed box-office returns, while Caparros, Navas, and Banega are currently boosting their reputations in their second comings with Los Rojiblancos.
Monchi's own sequel could be a blockbuster.
Copyright © 2019 Score Media Ventures Inc. All rights reserved. Certain content reproduced under license.
Premier League exit survey: The good, bad, and ugly this season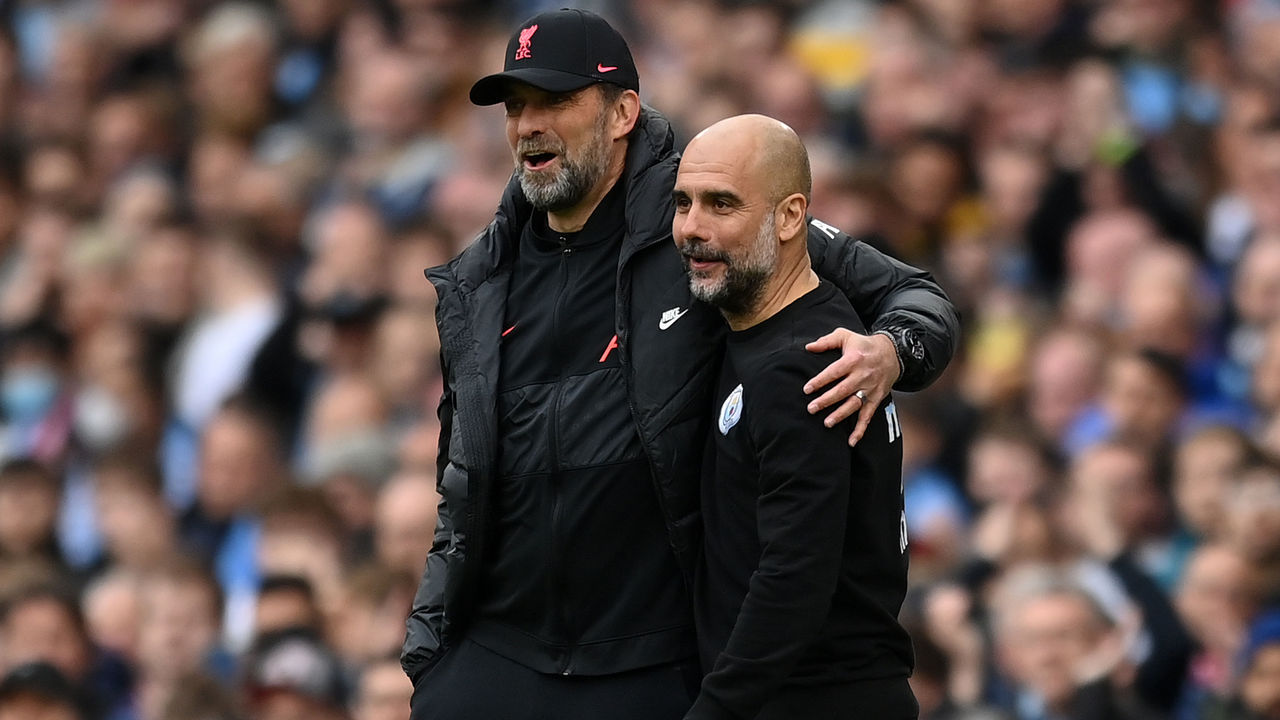 The final whistle has been blown, the final goal scored, and the trophy hoisted after a captivating campaign that saw Manchester City stave off Liverpool in dramatic circumstances. theScore looks back on it all, breaking down the best – and worst – the Premier League had to offer over the past season.
What's your biggest takeaway from the 2021-22 season?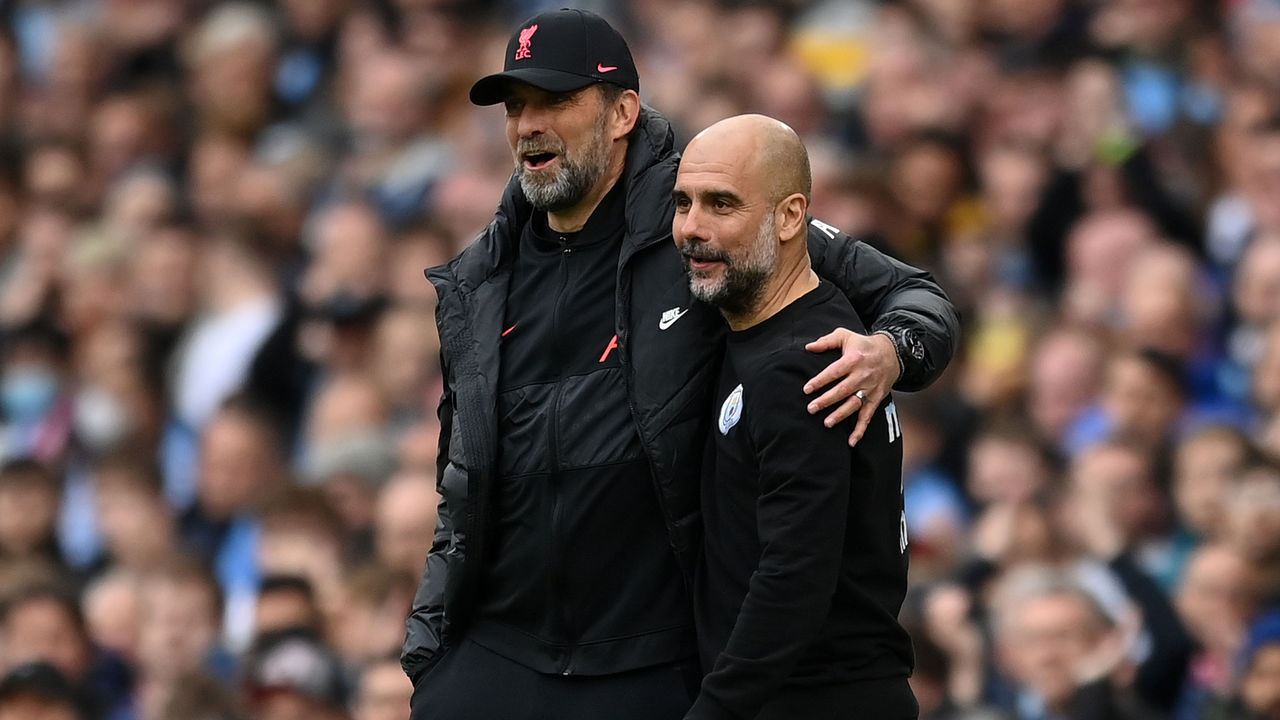 Anthony Lopopolo: Midseason hirings yield mixed results. Despite claims to the contrary, clubs don't always see an uptick in form when they swap managers. Norwich City and Watford couldn't escape relegation despite changing coaches in November and January, respectively. Burnley waited until mid-April to fire longtime manager Sean Dyche and suffered the same fate. Aston Villa, Everton, and Leeds United did enough to avoid the drop, but none of them played much better under new managers.
Gianluca Nesci: We're witnessing football's great new rivalry. Manchester City and Liverpool are, by some margin, the two most dynamic teams in both England and Europe. Watching them go blow-for-blow each week is engrossing, and their direct matchups are essential viewing. There's clearly respect between Pep Guardiola and Jurgen Klopp but also some bubbling animosity that can only be born when a competitor pushes you to the absolute limit. Long may it last.
Daniel Rouse: January signings can work. The midseason market is usually rife with panic purchases that fluster rather than fortify squads, but this season was different. Eddie Howe resisted the urge to rush a revolution at Newcastle United; sensible buys such as Dan Burn, Bruno Guimaraes, and (briefly) Kieran Trippier were all key in pulling the Magpies toward midtable. Christian Eriksen, Luis Diaz, and Dejan Kulusevski also hit the ground running at their respective clubs.
What was your favorite moment or storyline?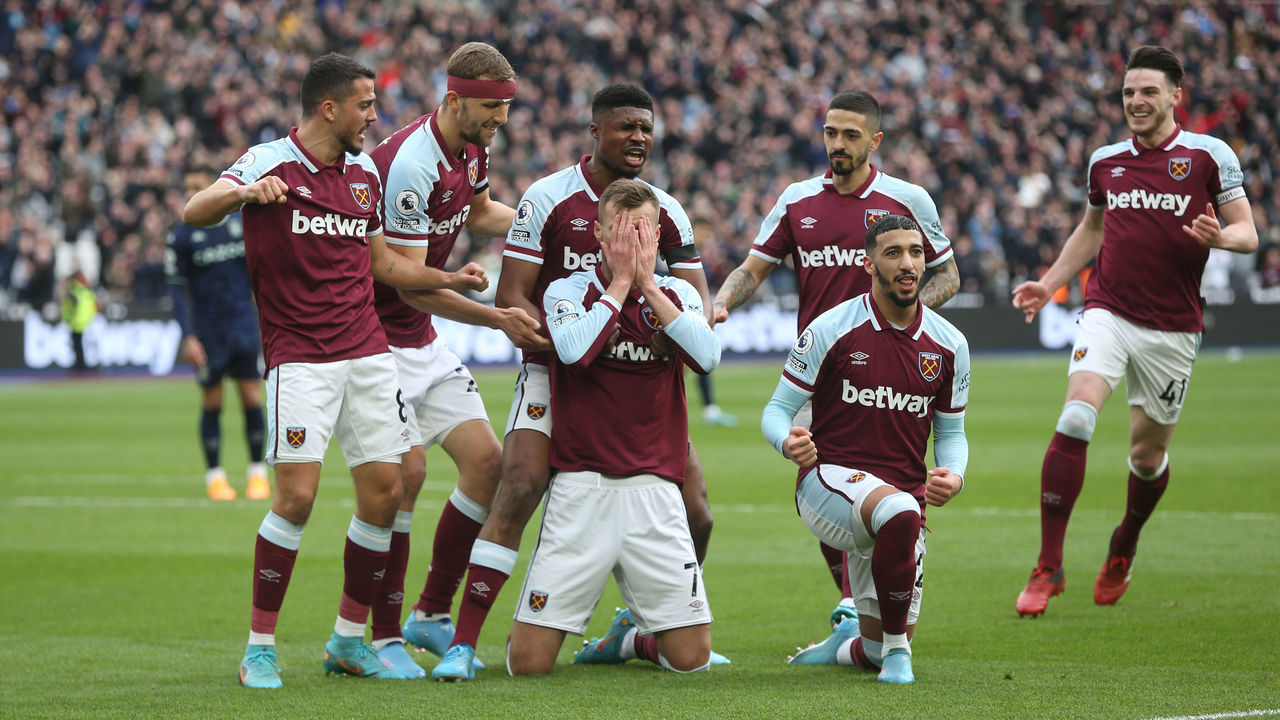 Lopopolo: Andriy Yarmolenko's winner. The Ukrainian international missed four games in February and March as he digested the news about Russia's invasion of his homeland. West Ham United granted Yarmolenko compassionate leave, and he received a standing ovation when he returned and later scored in a 2-1 win over Aston Villa. In tears, the 32-year-old dropped to his knees and pointed to the sky, reflecting on all the terror his relatives faced in Ukraine and his own difficulties. The goal was his first in the Premier League since July 2020.
Nesci: Eriksen's emotional return. Football, so often a tribal and divisive sport, can, on occasion, bring people together to celebrate something objectively uplifting. Few moments were as unifying as seeing the Danish midfielder resume his career in late February, 259 days after his harrowing collapse at Euro 2020. He was greeted by thunderous applause from the crowd and opposing players, and he went on to become an integral member of Brentford's squad. "I'm one happy man," Eriksen said after his first appearance for the club. Same, Christian. Same.
Rouse: David Moyes' resurgence. The Scot was that close. Another poor tenure and he would be filed alongside Tony Pulis, Alan Pardew, and the other uninspiring British bosses who lived on the managerial carousel. But then Moyes slowly changed the mood at the London Stadium with wise investments from the EFL and Eastern Europe. He's forged a squad that was two points from pipping United to sixth place and also reached the Europa League semifinals. Good for you, Moyes.
What about your biggest disappointment?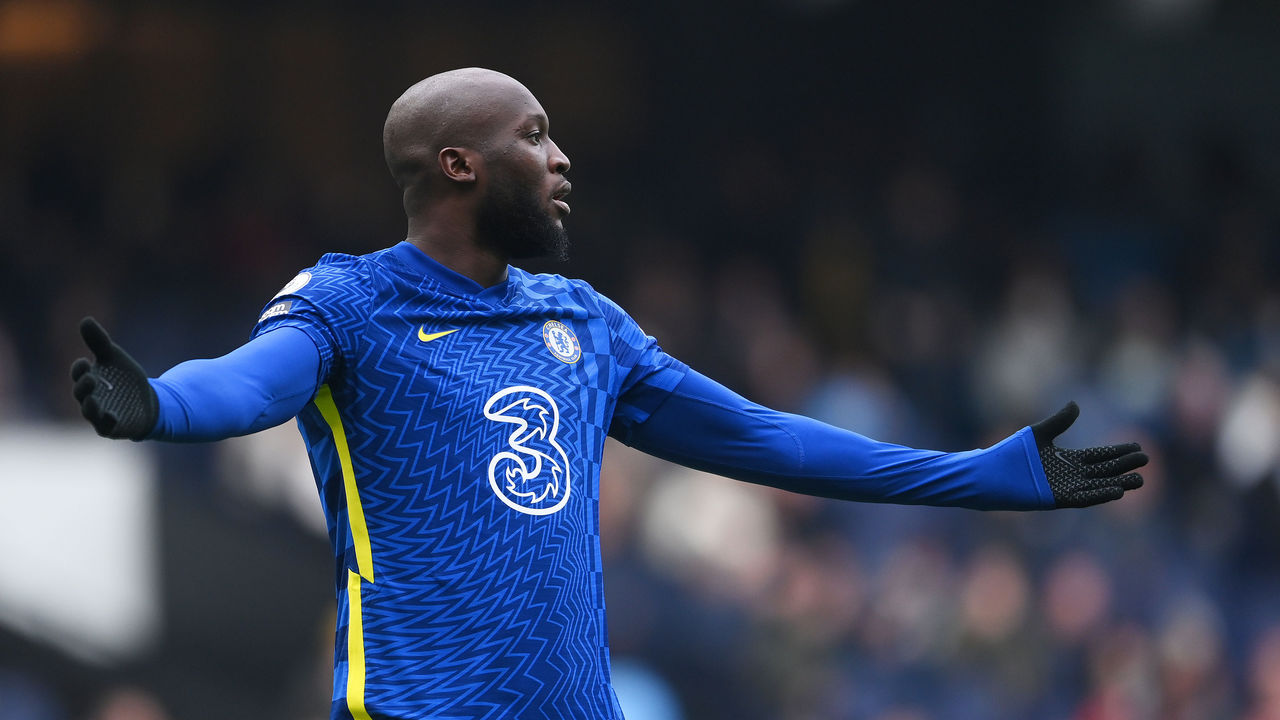 Lopopolo: Romelu Lukaku. Chelsea spent £97.5 million to bring Lukaku back to Stamford Bridge last summer. All they have to show for it is a hefty bill. Lukaku made headlines for all the wrong reasons when he openly questioned manager Thomas Tuchel's tactics in an unauthorized interview with Italian TV in February. In the end, he scored just eight goals in 16 starts in the Premier League.
Nesci: Fan violence. A spate of late-season pitch invasions heightened the issue, but incidents involving supporters have seemingly been on the rise since stadiums were opened to patrons following the COVID-19 lockdown. "As a coach, manager, player, or staff, we want to be safe in our workplace," Crystal Palace manager Patrick Vieira said after his own altercation with a fan at Goodison Park. He's right, of course. Nobody should feel unsafe doing their job. This isn't unique to England – Ligue 1, in particular, has been marred by problems in the stands of late – but it's undeniably something the FA needs to devote time and resources to eradicating.
Rouse: Norwich. In 12 months from now, will we all be greatly underwhelmed by the news that, once again, the Canaries have flown back into the Premier League? This latest attempt to stay in the top flight was pitiful as Norwich scored 23 times while conceding three or more goals in 16 of their games.
Who was this season's MVP?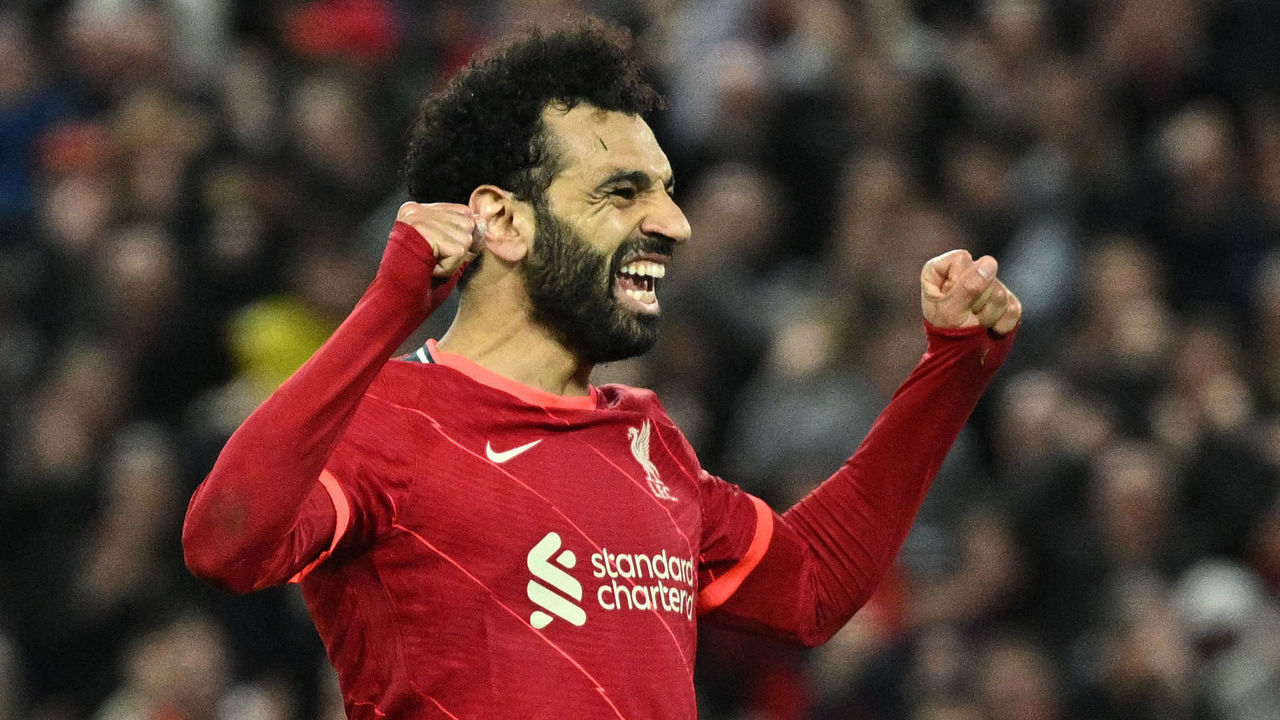 Lopopolo: Heung-Min Son. Not even Antonio Conte can explain why Son is so good with both of his feet. The South Korean scored 12 goals with his left foot and 11 with his right to finish as the Premier League's joint-top scorer alongside Mohamed Salah. He starred for Tottenham Hotspur down the stretch, scoring 12 times in his final 10 league appearances to help Spurs finish above Arsenal in the fourth and final Champions League spot.
Nesci: Kevin De Bruyne. The best, most influential player on the best team in the Premier League. Chalk, yes, but it's impossible to overstate how vital the Belgian wizard is to Manchester City. Quite simply: Guardiola's team wouldn't have held off Liverpool for the crown without De Bruyne orchestrating operations. It was fitting that he set up the title-clinching goal in Sunday's manic finale.
Rouse: Mohamed Salah. Granted, the Egyptian attacker had a slight dip in productivity after the Africa Cup of Nations, but he was easily the best player on the planet over the opening half of the Premier League campaign. He scored 16 goals and assisted nine times over his first 20 appearances.
Best signing of the season?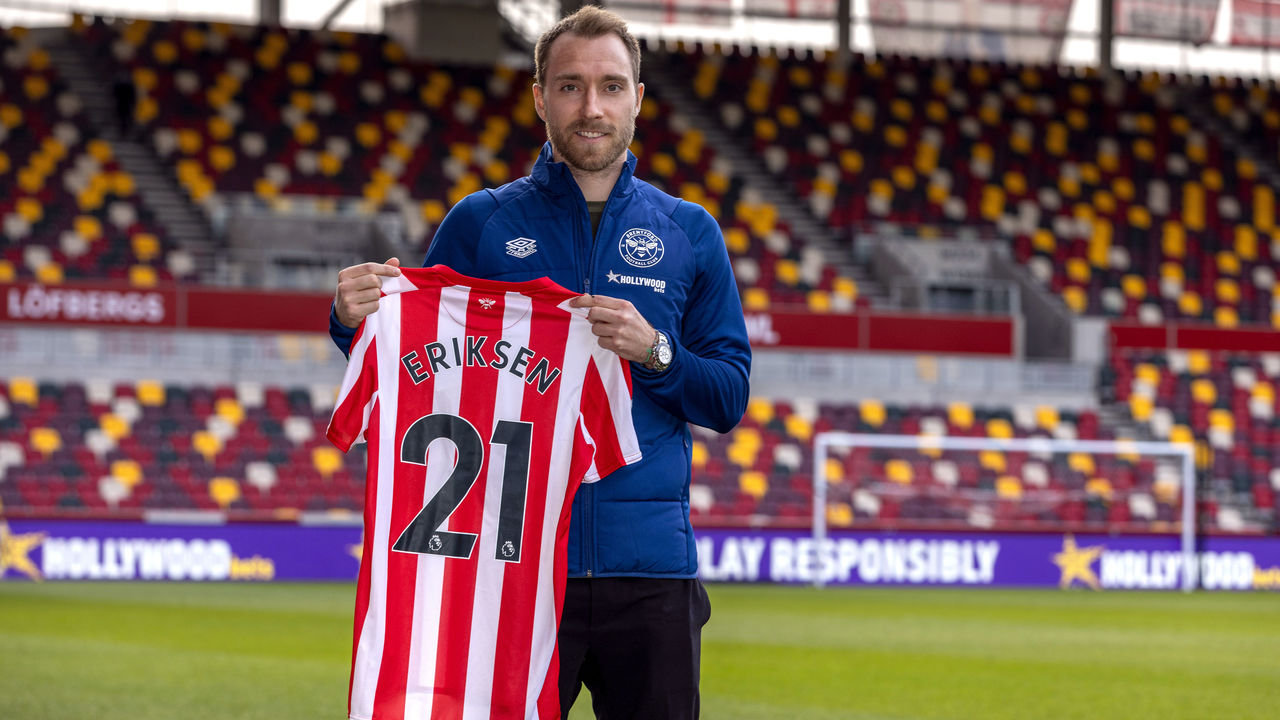 Lopopolo: Eriksen. The 30-year-old made an astonishing return to competitive top-flight football in February, turning out for Brentford eight months after suffering cardiac arrest at Euro 2020. But he ended up doing more for Brentford than they could've ever imagined. Joining on a free transfer after terminating his contract with Inter Milan, Eriksen led the Bees out of a midseason funk and on to a winning run that culminated in a 4-1 victory at Chelsea. The playmaker finished the season with one goal and four assists in 11 appearances, and Brentford staved off relegation.
Nesci: Luis Diaz. It's exceedingly rare that a January addition turns out to be the most prominent of all, but Diaz fit seamlessly into Klopp's team upon his arrival from Porto for an initial £37.5 million. He added an extra spark whenever the Reds labored and helped take some of the creative and scoring burdens off his new teammates. Guimaraes and Jose Sa deserve consideration here too, but Diaz was the standout signing.
Rouse: Marc Cucurella. The £15.4-million fee that Brighton & Hove Albion paid to acquire the wild-haired wing-back proved to be one of the bargains of last summer. His boundless energy and quality in both defensive and attacking situations has led to links to a move to Manchester City.
Worst signing of the season?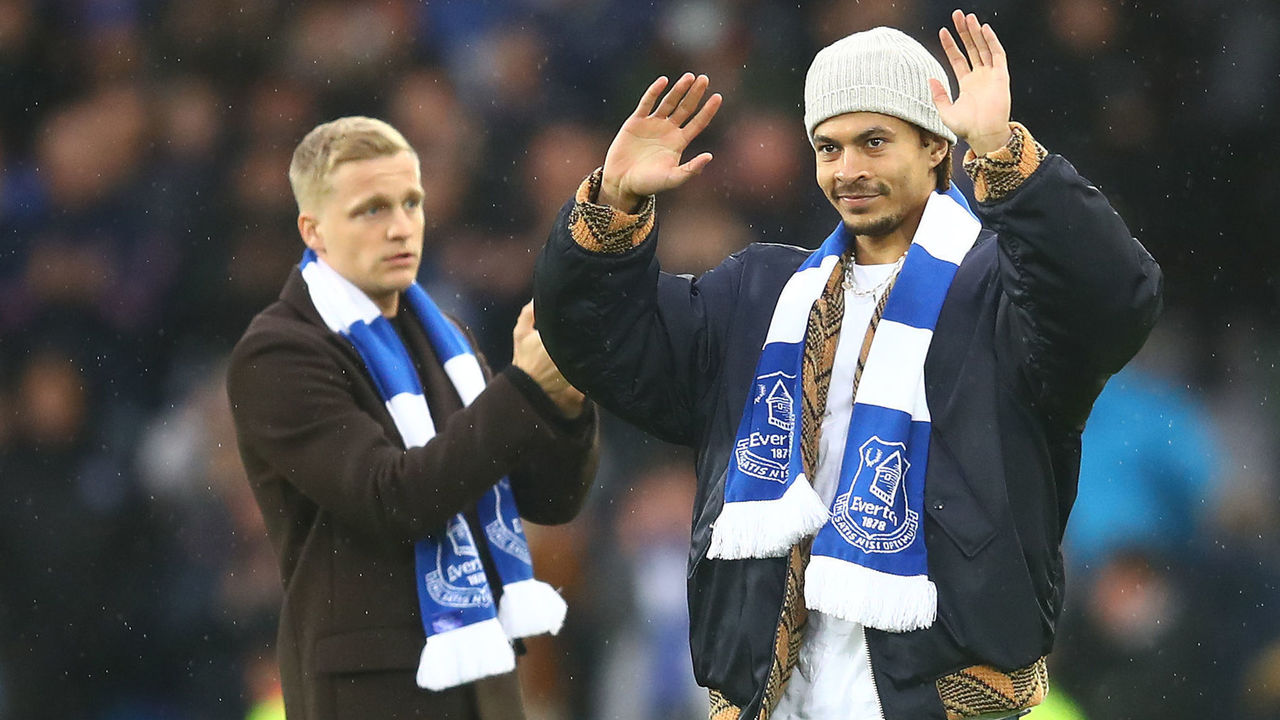 Lopopolo: Jadon Sancho. Manchester United dropped £73 million on the 22-year-old with the expectation he'd form a formidable front line with Marcus Rashford, Cristiano Ronaldo, and Bruno Fernandes. Apart from scoring a consolation goal in United's 4-1 loss to Manchester City, Sancho achieved little in his first season back in England. Anthony Elanga, a homegrown talent who shares duties on the left wing, has shown more promise than his high-priced teammate.
Nesci: Bryan Gil. Remember him? Tottenham reportedly paid €25 million – and parted with Erik Lamela – to secure the services of the Spanish winger from Sevilla. He made nine league appearances, totaling just 94 minutes, didn't score a goal, and attempted only one shot before being sent back to La Liga on loan. Spurs then promptly signed Kulusevski in January, a superior winger who effectively renders Gil useless.
Rouse: Dele Alli. The 26-year-old was famously branded "a f—— lazy guy in training" by Jose Mourinho in Amazon's "All Or Nothing" docuseries on Spurs' 2019-20 season. He's not the kind of player you want for a relegation battle, which explains his zero starts until Everton secured safety, and there's been little indication over the past four seasons that he's worth the £40 million he'll cost the Toffees if he hits all of his appearance targets.
Which 'outsider' is likeliest to crack the top six next year?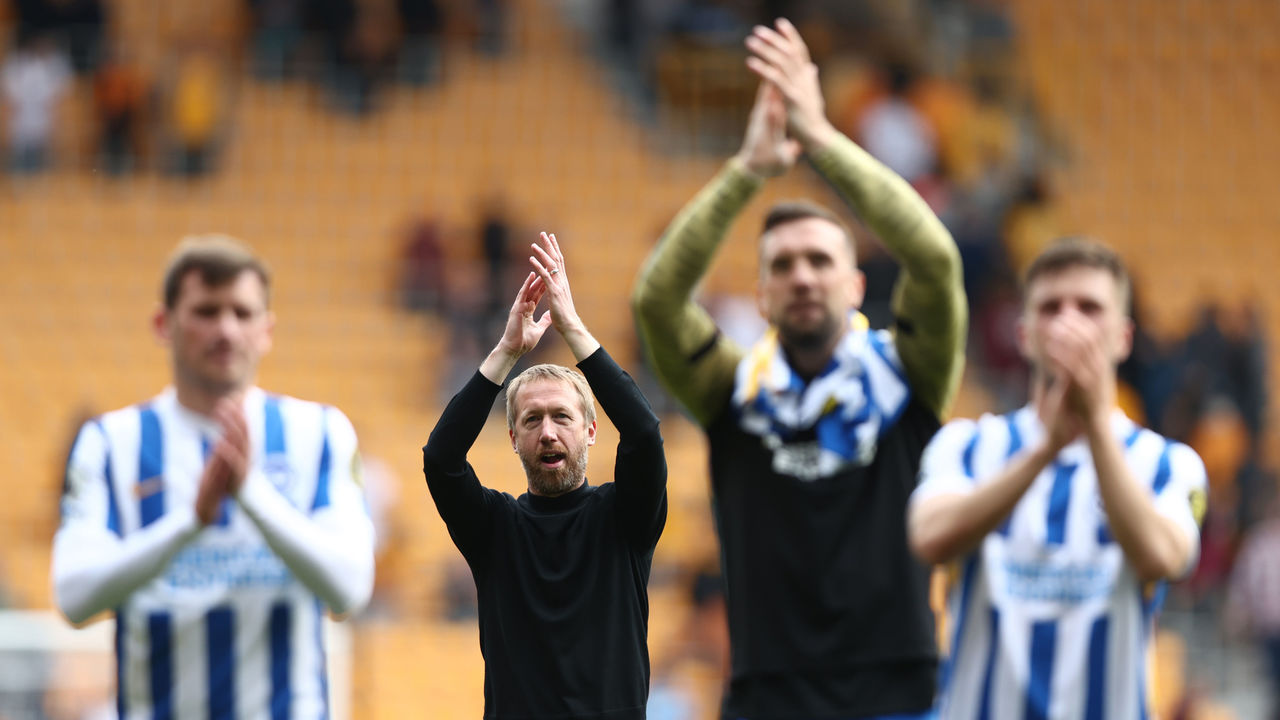 Lopopolo: Brighton. Graham Potter is building a credible project in the south coast of England. He led the Seagulls to ninth place in 2021-22 – their highest-ever finish in the Premier League – and helped them post impressive victories over Tottenham Hotspur, Arsenal, and Manchester United late in the season. Leandro Trossard scored a single-season career-high eight goals, and even Danny Welbeck found the net with greater regularity. A few more targeted signings could push Brighton into Europe.
Nesci: West Ham. Were it not for Conor Gallagher's impending return to Chelsea, Crystal Palace would have been the selection here – Vieira's team, despite finishing 12th in the table, produced the sixth-best expected goal difference in the league this season. But West Ham, having come so close to pipping Manchester United to a Europa League place, already have the foundation in place to go one better in '22-23. Keeping hold of Declan Rice will be essential if the Hammers are going to make that leap.
Rouse: Leicester City. The Foxes had a wretched time with injuries. Wesley Fofana was missed most of all during his prolonged spell on the sidelines, James Justin and Wilfred Ndidi dealt with lengthy absences, and Jamie Vardy raced to 15 Premier League goals despite missing 13 games. If his most important players can stay fit, Brendan Rodgers can guide his team into Europe once more.
Are you going to miss any of the relegated sides?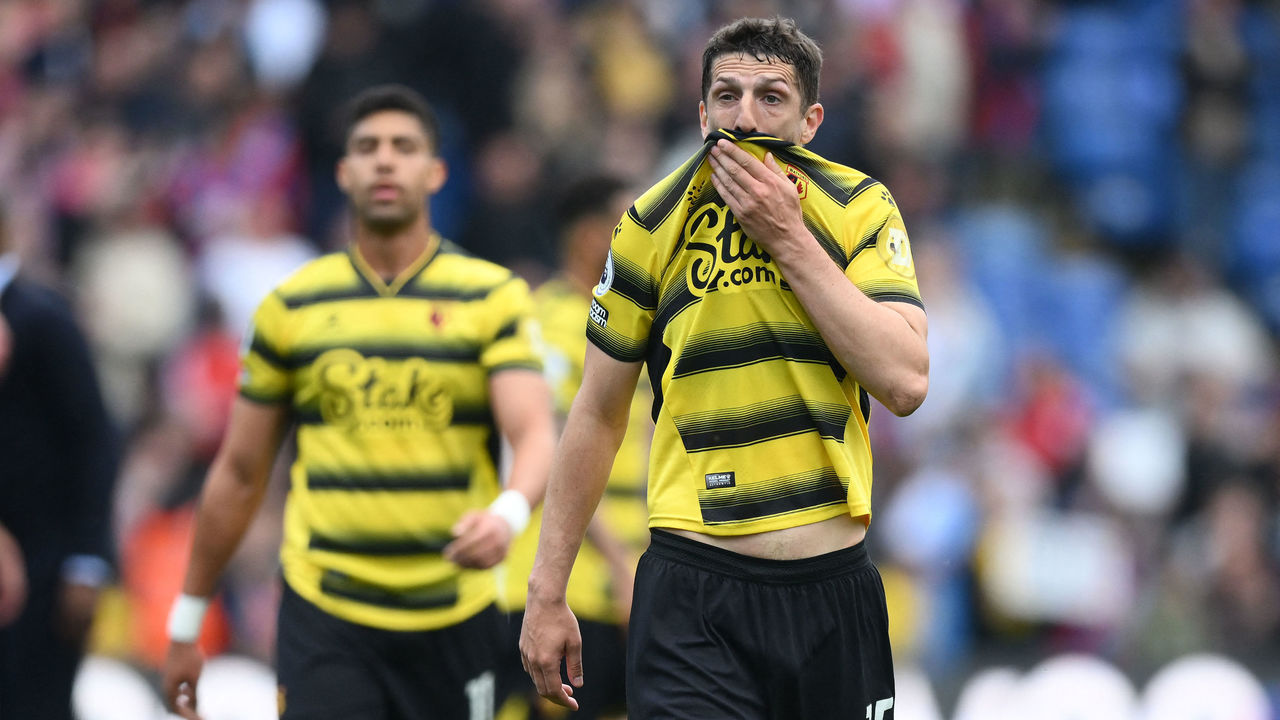 Lopopolo: No. Burnley's expiration date had long passed, Watford couldn't win at home, and Norwich City were as good as done in December.
Nesci: Negative. Having correctly predicted the three clubs to be relegated prior to the campaign, I've been ready to wave goodbye to them for quite some time. As an aside, please don't look at any of my other preseason predictions. They were all good and correct, honest.
Rouse: Nope. Leeds United are a huge club blessed with a passionate fan base, and they've largely played entertaining football since they belatedly returned to the top flight in 2020. They survived, so all was good with the world.
Which club intrigues you most going into the transfer window?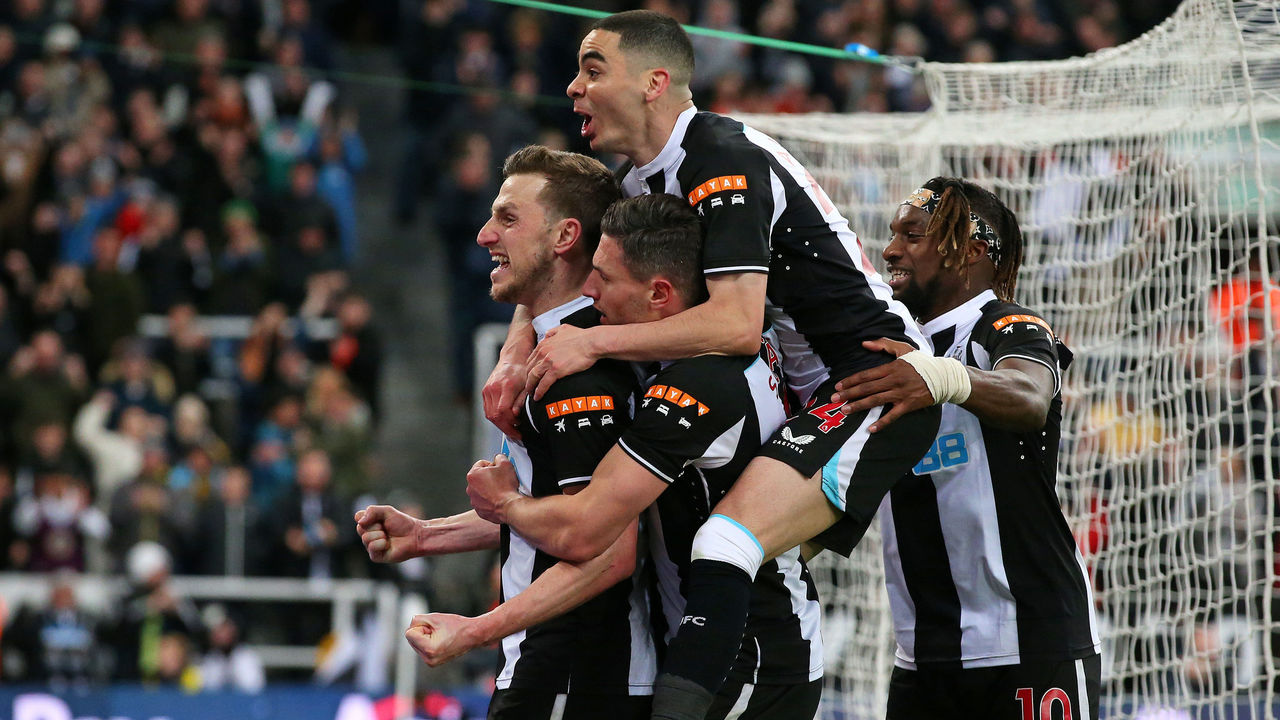 Lopopolo: Newcastle. The budget is there, but how will they spend it? Manager Eddie Howe has certainly done enough to gain significant backing in the transfer window, and the club's new Saudi owners will have more time than they did in January to splash the cash. They can probably do better than Chris Wood up front, and they'll likely need more help at the back.
Nesci: Manchester United. There's a prevailing thought that retooling a squad takes several transfer windows. That may be true in some cases, especially when financial limitations are at play, but Manchester United are able to operate outside of that realm. Independent of the Premier League's financial might, this is one of the most commercially powerful clubs in the world. That means new manager Erik Ten Hag can revamp quickly if United hit the mark with their summer signings.
Rouse: Wolverhampton Wanderers. If it wasn't for Jose Sa – winner of the players' Player of the Season award – who knows how this season would've fared. Wolves' promising period around the turn of the year has descended into relegation form. Changes are needed.
Is Erik ten Hag the man to turn around United's fortunes?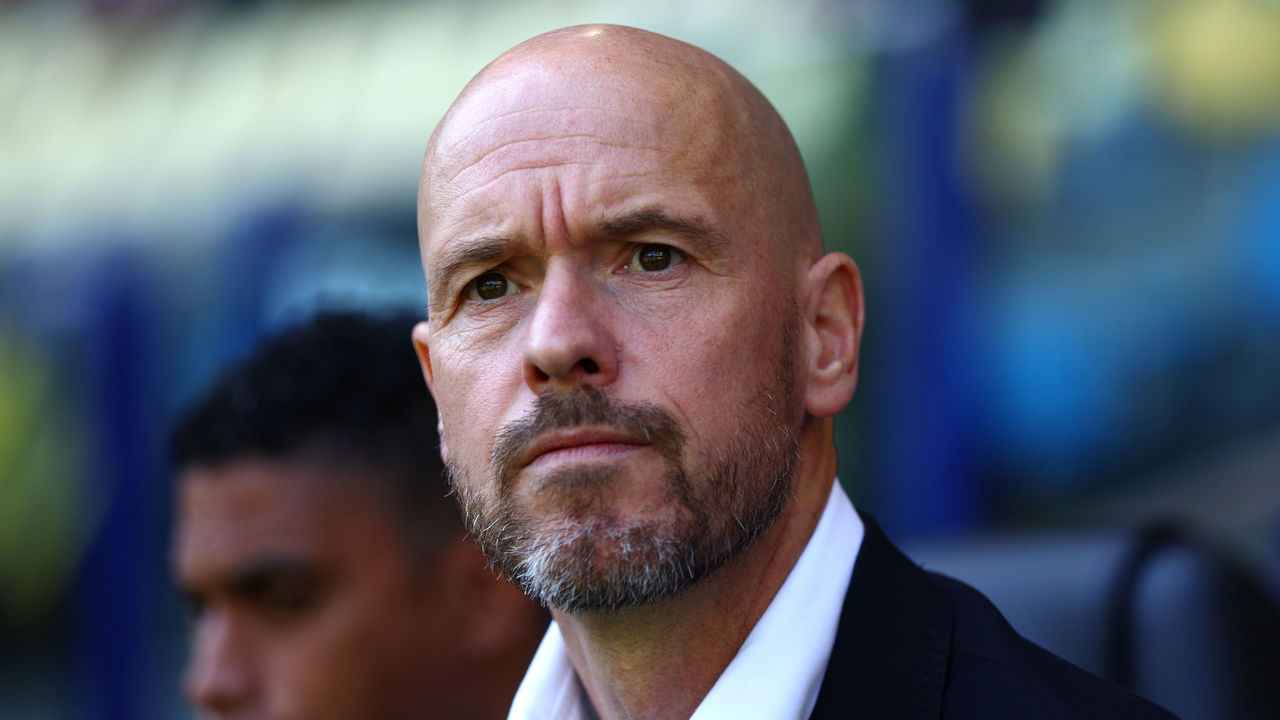 Lopopolo: Who knows. Ten Hag is undoubtedly a capable manager who can develop young talent. He's also an attack-first coach who fits into Manchester United's ethos. But this job is about more than coaching. It's politics. He'll need to establish a culture of accountability at United and push out the passengers in this side. Easier said than done.
Nesci: Manchester United damn well hope so! The Red Devils can't afford a repeat of the disjointed, garbled mess of a season they just endured. If there's a willingness at the executive level to let the Dutch tactician implement his philosophy – and crucially, some patience – Ten Hag can be the manager who brings the club back to the upper echelon of the Premier League.
Rouse: Unless Ten Hag suddenly develops a knack for psychokinesis, nobody can confidently answer "yes" to this question. The main thing that will dictate the success of the Dutchman's tenure will be his relationships at the club. Holism is so important during a rebuild. Ten Hag must also be given time to restore belief in an unhappy squad.
How long will Chelsea's rebuild take?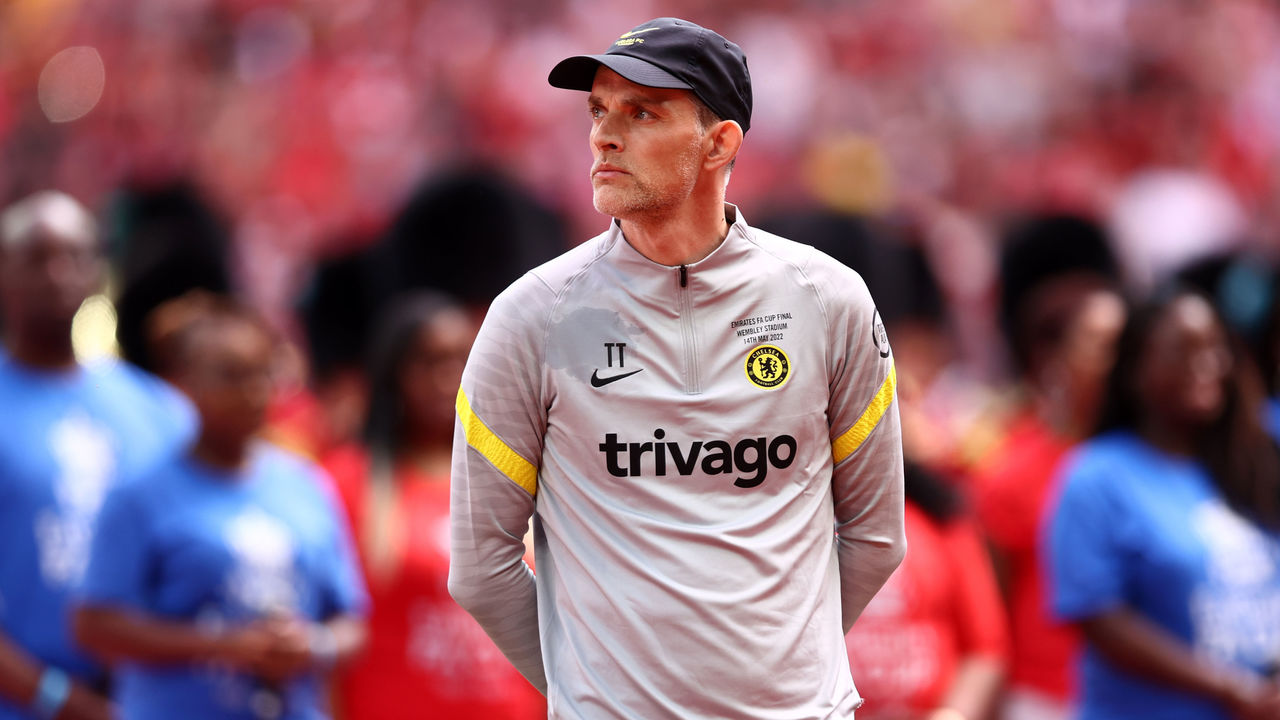 Lopopolo: It all depends on ownership. If the U.K. government approves the U.S. consortium's £4.25-billion takeover and allows Chelsea to operate normally in the transfer market, the club could turn it around in a year. But maybe the new owners will decide to take a more holistic approach. Thomas Tuchel has a fairly young squad at his disposal, and he may fancy the opportunity to build from there.
Nesci: Not long. Their season fizzled out badly, but this isn't exactly a club stuck in the doldrums, regardless of the uncertainty surrounding the ownership situation; Chelsea, at least for another few days, are the reigning European champions, remember. The team is still loaded, even if defensive reinforcements are needed, and Tuchel is an elite manager. If all else fails, the Blues can lean on their "loan army" to help alleviate lingering squad concerns.
Rouse: We don't even know when the purse strings will be loosened for Tuchel. The sale narrative has been topsy-turvy and tiresome. If it's sorted with time to conduct business in the transfer window, it could take just a couple of months. Even after this summer's departures, it's a stacked squad awash with cup-winning experience.
Copyright © 2022 Score Media Ventures Inc. All rights reserved. Certain content reproduced under license.
Manchester City beat Liverpool to EPL title after miraculous comeback win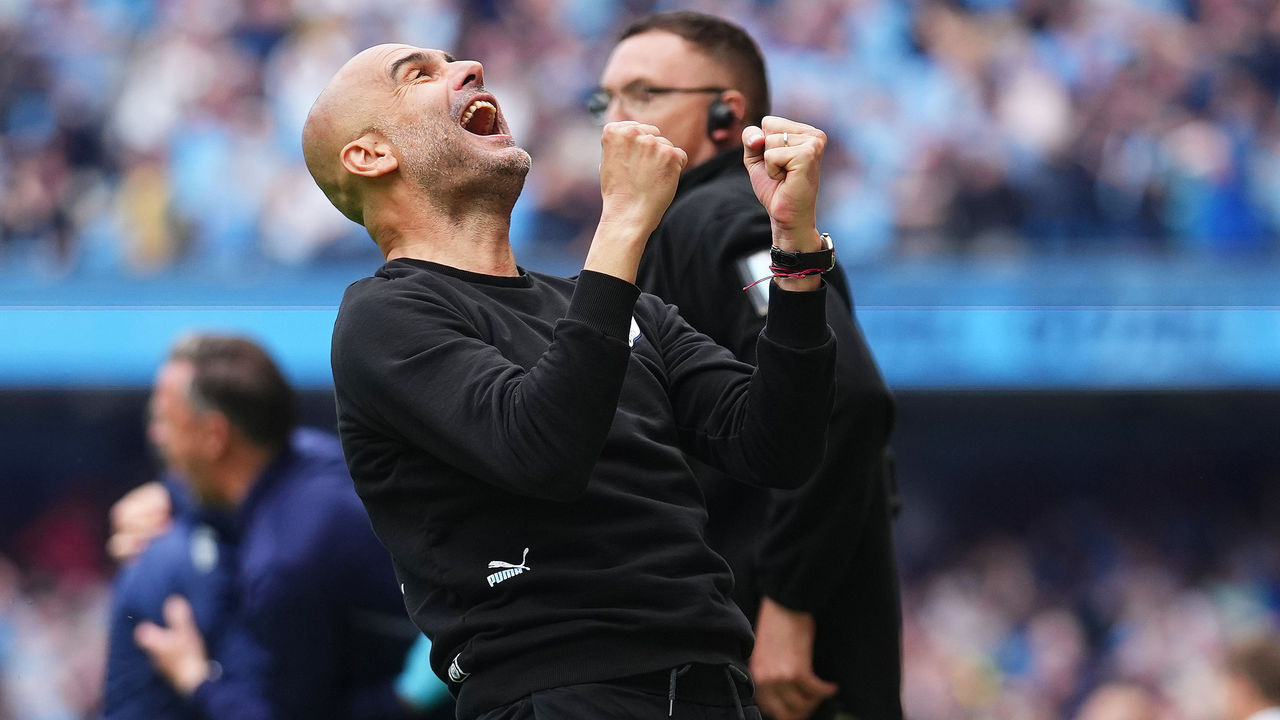 Manchester City dragged their supporters through a gamut of emotions before capturing their fourth Premier League title in five years with a stirring 3-2 win over Aston Villa on Sunday.
On one of the most intense final days in Premier League history, Kevin De Bruyne had the presence of mind to slide the ball across for Ilkay Gundogan to score the 81st-minute goal that would eventually secure City's breathless comeback victory. Five minutes earlier, City were two goals down to Steven Gerrard's side and facing the prospect of surrendering the title in deeply embarrassing circumstances.
The result meant Liverpool's nervy 3-1 home win over Wolverhampton Wanderers couldn't trouble Pep Guardiola's side in first place. City won the title by a single point.
City weren't themselves for the majority of Villa's visit. Fernandinho, in his last appearance for the club, was vulnerable at center-back. City's attackers struggled to make an impression while the Villans defended stoutly. And Aston Villa threatened to burst forward each time they got hold of the ball and resisted the home team's press.
It was a swift attack that put City on the back foot. Aston Villa quickly moved up the gears from defense before Lucas Digne's teasing cross was powered home by Matty Cash's head.
City still had a tentative grip on top spot at halftime despite the one-goal deficit. With Liverpool only drawing 1-1 against an out-of-form Wolves on Merseyside, Guardiola's outfit was ahead of their northwest rivals on goal difference.
But City made it more difficult for themselves. They entered the second half with more impetus, stronger for Oleksandr Zinchenko replacing Fernandinho at the break, until former Liverpool favorite Phillippe Coutinho punctured the hosts' growing belief and stunned the Etihad Stadium.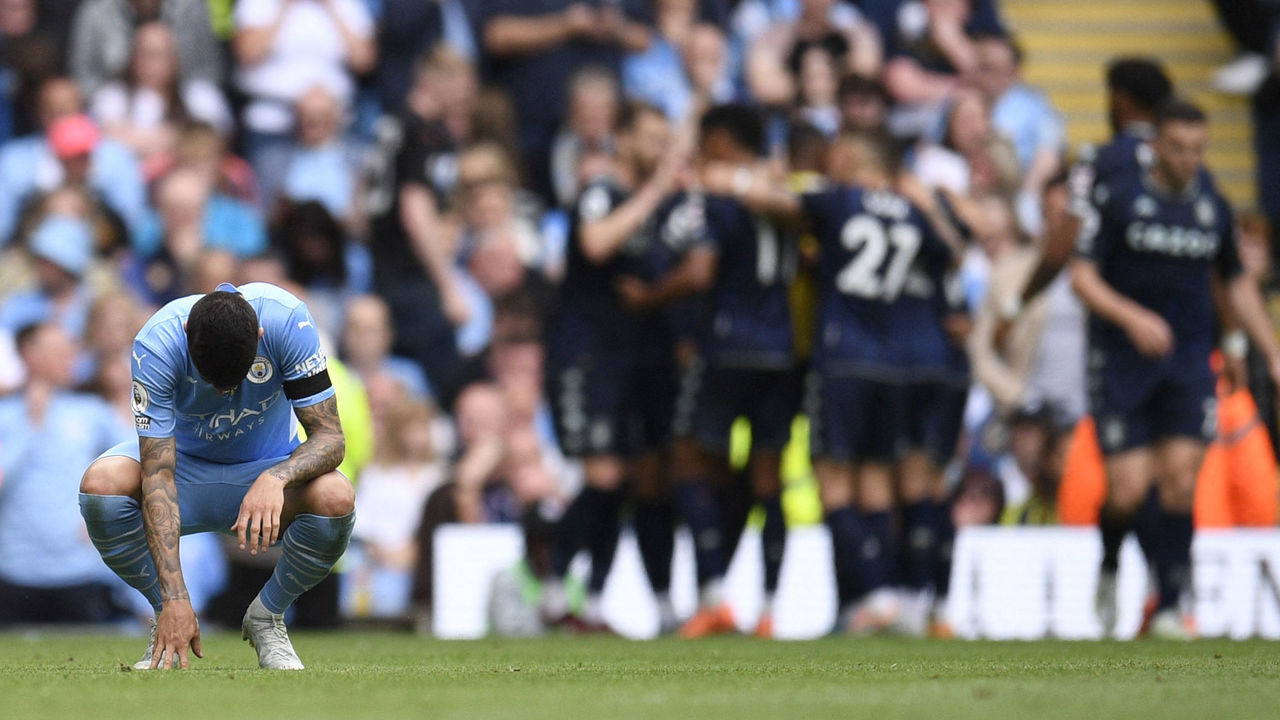 Robin Olsen smashed his goal-kick long upfield, Ollie Watkins beat Rodri to flick the ball on, and Coutinho skipped inside Aymeric Laporte before putting Villa 2-0 ahead in the 69th minute.
Liverpool were still level with Wolves but a goal from the Reds seemed an inevitability. City's title, after being 14 points ahead in mid-January, was slipping away.
But City evoked memories of their comeback against Queens Park Rangers from a decade earlier, offering a three-goal punch which began in the 76th minute.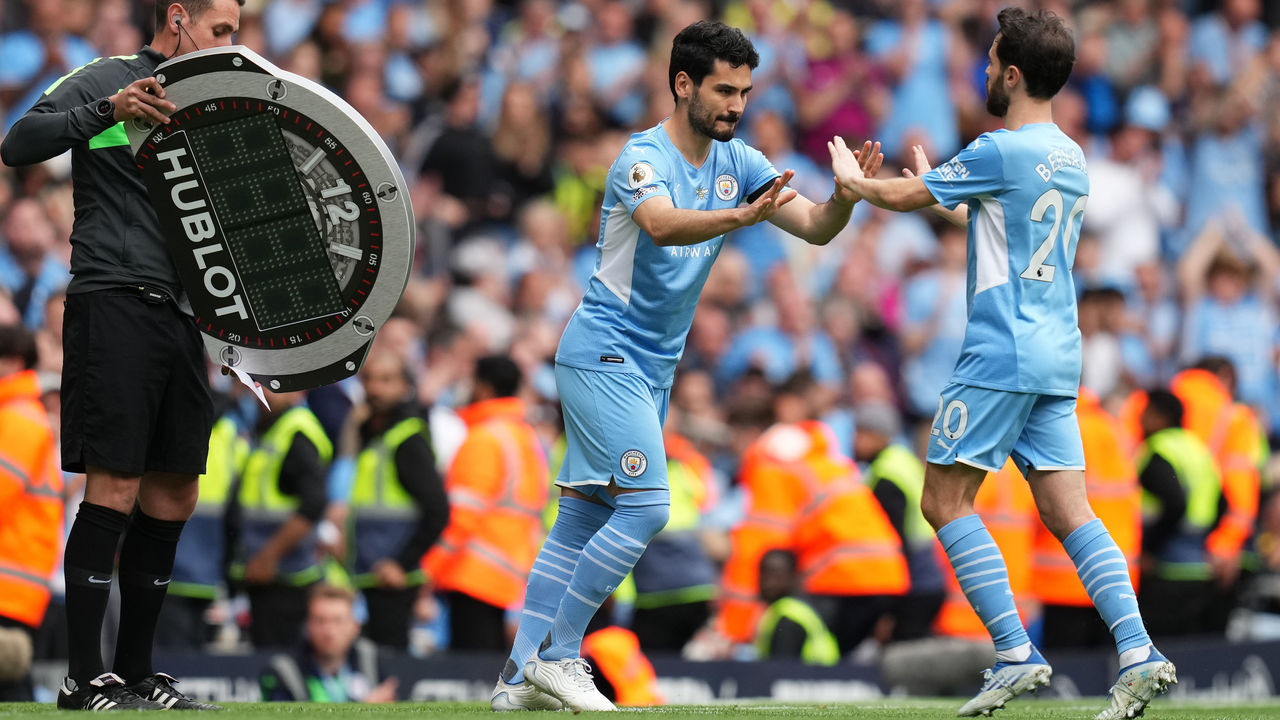 Gundogan, who was brought on in Bernardo Silva's stead just moments before Coutinho's goal, started the fightback when he rose at the far post to meet Raheem Sterling's cross with a bullet header.
Rodri leveled the game. Zinchenko wriggled his way toward the box from the left flank before picking out the Spaniard on the edge of the box. Rather than a customary smash from Rodri, he coolly side-footed the ball into the bottom corner.
Then, everything that went on down the M62 in Liverpool wouldn't matter. De Bruyne collected a spillage from the edge of the area, powered through three Villa players, and passed the ball across the goal. Gundogan tapped home, firmly establishing himself as a legendary figure in Manchester City's history.
Copyright © 2022 Score Media Ventures Inc. All rights reserved. Certain content reproduced under license.
What's at stake on the final day of the Premier League season?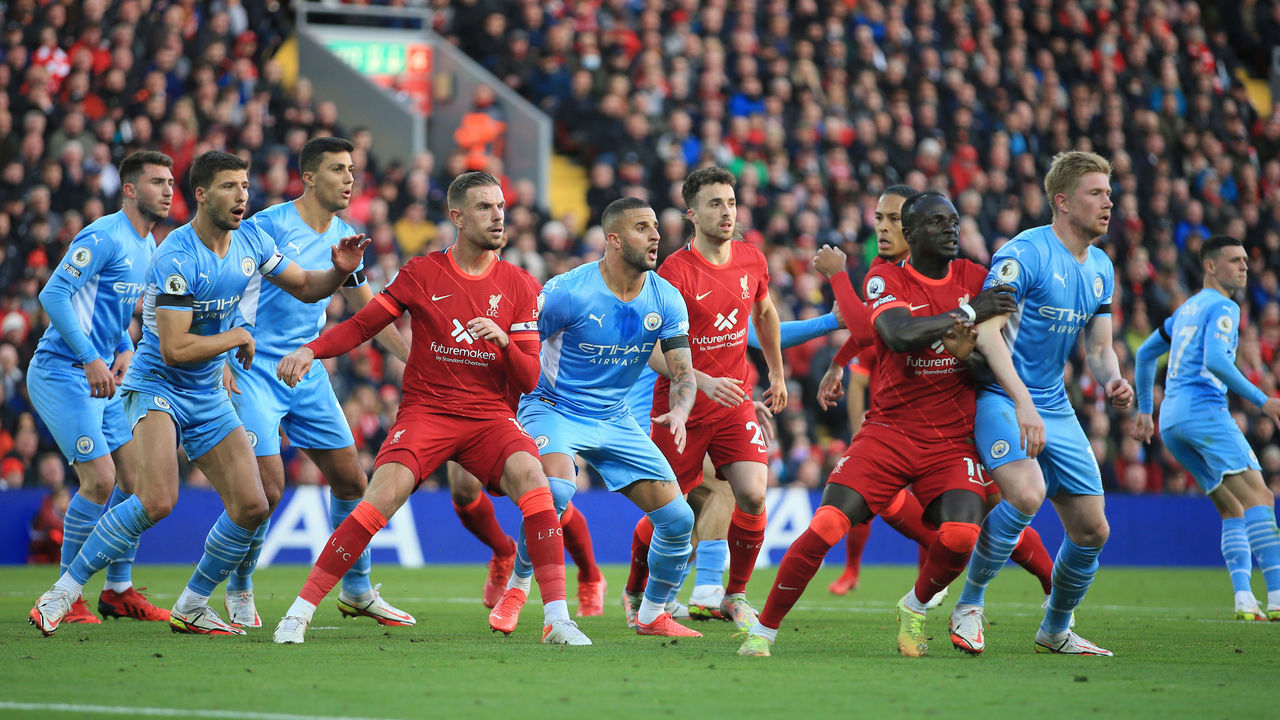 The exhilarating 2021-22 Premier League season comes to a close Sunday, with plenty still at stake as all 20 clubs take the pitch at 11 a.m. ET. Below, we examine what's left to play for heading into the final matchday.
Title race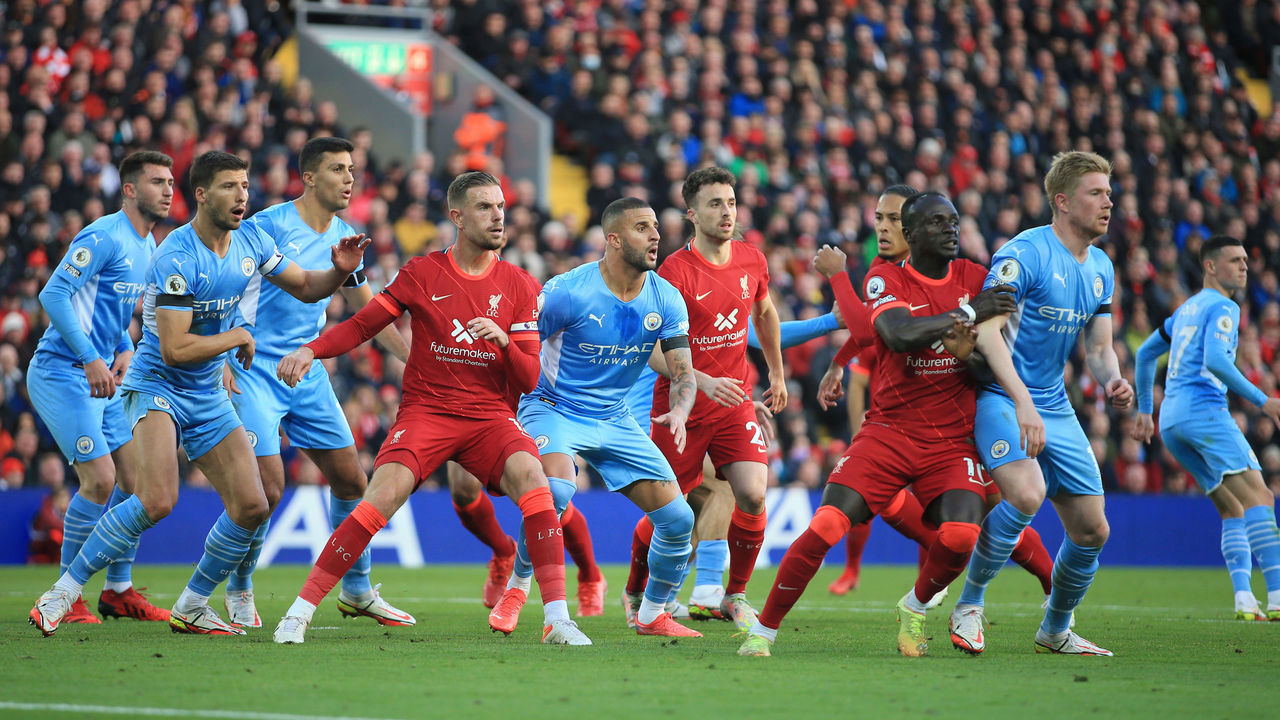 The big one.
An engrossing scrap between Europe's two most dynamic teams comes to an end Sunday, with Manchester City looking to retain their domestic crown and, in the process, scupper Liverpool's pursuit of a historic quadruple.
The battle, overseen by Pep Guardiola and Jurgen Klopp, has quickly developed into the Premier League's best modern rivalry. While there's still much to play for elsewhere in the table, most eyes will be on the Etihad Stadium and Anfield this weekend.
Matches:
Manchester City vs. Aston Villa
Liverpool vs. Wolves
| POSITION | CLUB | GD | POINTS |
| --- | --- | --- | --- |
| 1 | Manchester City | +72 | 90 |
| 2 | Liverpool | +66 | 89 |
City, who have 21 goals in their last five league matches, control their own destiny. They'll be crowned champions once again with a victory over Aston Villa, regardless of what happens at Anfield. In a delicious twist, Villa boss Steven Gerrard, a Liverpool icon who famously never lifted the Premier League trophy with the Reds, could play a key role in delivering a league crown to Merseyside after all.
Liverpool, who still have the Champions League final on the horizon, will be scoreboard watching and hoping for a favor. Whatever happens, this will go down as one of the most captivating races in recent memory.
The Premier League went to a 38-match schedule beginning in 1995-96. Since then, a haul of 92 points – Liverpool's total if they win Sunday – would've been enough to win the title in all but five campaigns, excluding this season. That highlights how brilliant both teams have been this year; Liverpool have lost just two league matches, yet City, who are approaching the 100-goal mark for the campaign, are still keeping them at bay. It's been a titanic tussle. It's a shame it has to end.
Champions League qualification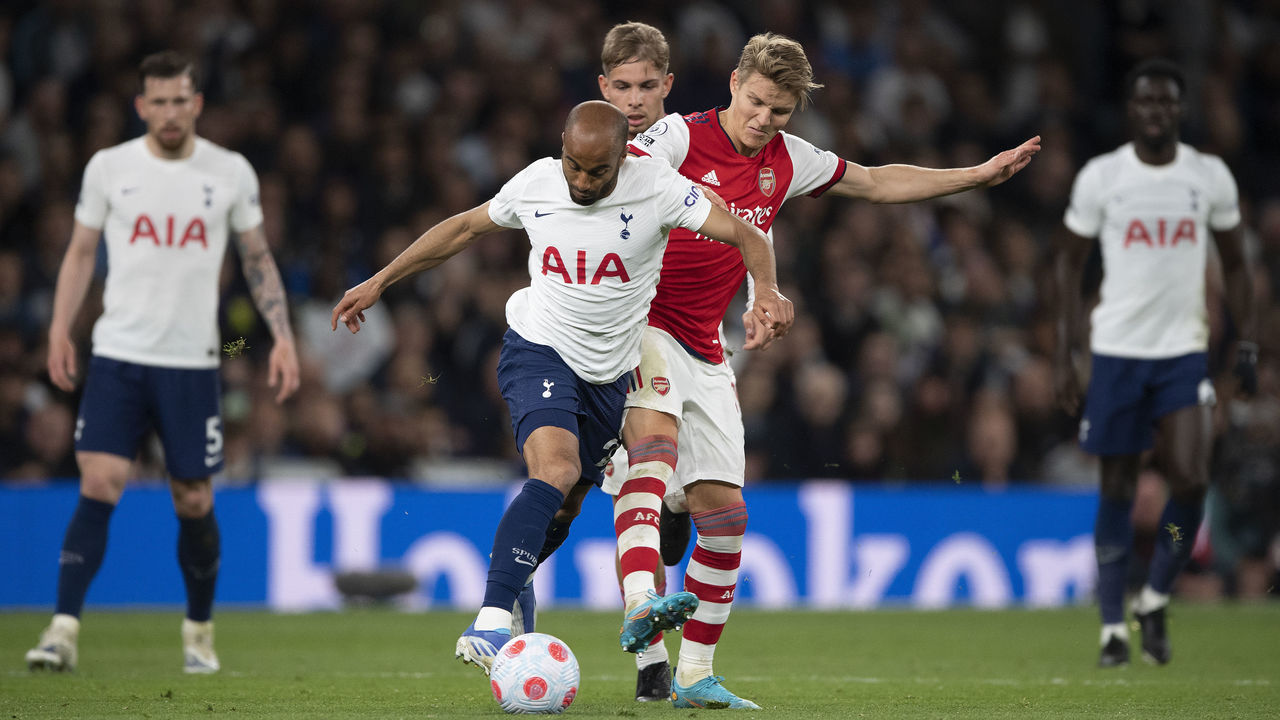 There's only one Champions League place left up for grabs heading into Sunday's concurrent fixtures, with the bitter north London foes Tottenham Hotspur and Arsenal set to conclude what's been an erratic, back-and-forth battle for fourth place.
The Gunners, in a position of extreme strength just a week ago, have crumbled down the stretch, losing consecutive matches – including a 3-0 setback against Spurs – to give their rivals the advantage. The situation for Antonio Conte and Tottenham is, therefore, painfully simple: don't lose to the worst team in the league Sunday, and you're in the Champions League.
Matches:
Norwich City vs. Tottenham
Arsenal vs. Everton
| POSITION | CLUB | GD | POINTS |
| --- | --- | --- | --- |
| 4 | Tottenham | +24 | 68 |
| 5 | Arsenal | +9 | 66 |
Even a draw will be enough for Spurs, who boast an enormous advantage on goal difference; should the two sides finish level on 69 points, Tottenham will snatch fourth via that tiebreaker, barring an inconceivable 15-goal swing.
Conte, hired in November to replace the floundering Nuno Espirito Santo, has faced a checkered spell at Tottenham – often by his own making through a series of interesting soundbites and interviews. However, he looks destined to accomplish a feat that appeared nigh impossible when he arrived at the club.
Whoever misses out on fourth place will go into next season's Europa League.
European places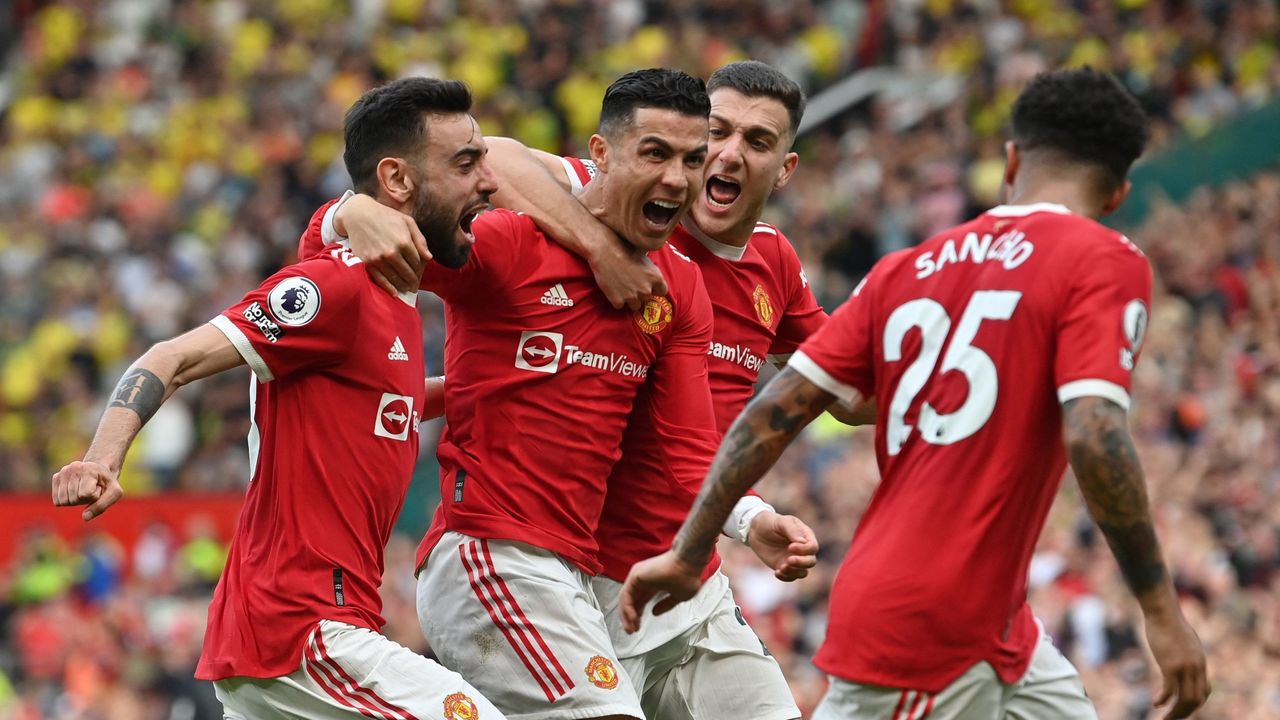 It's not much in the grand scheme, but Manchester United have a chance to salvage their season by clinching sixth place and a berth in the Europa League. West Ham United, who at times threatened to blow up the top-four hegemony before eventually dropping off the pace, could yet upset the applecart and head to the south coast knowing there's still hope.
Matches:
Crystal Palace vs. Manchester United
Brighton vs. West Ham
| POSITION | CLUB | GD | POINTS |
| --- | --- | --- | --- |
| 6 | Manchester United | +1 | 58 |
| 7 | West Ham | +11 | 56 |
The Red Devils travel to Selhurst Park in full control of their own fate. A win will end Ralf Rangnick's erratic coaching tenure on a high note and give incoming bench boss Erik ten Hag another target to obtain next season. A failure to win, though, gives the Hammers a golden opportunity to run it back after their impressive Europa League adventure this season.
If the two teams finish level on points, David Moyes' squad will pip United to sixth by virtue of a superior goal difference. Cristiano Ronaldo and Co. haven't taken the pitch since May 7, when they were thumped 4-0 by Brighton. Will the break prove beneficial?
Whichever team finishes seventh will play in next year's Europa Conference League, ensuring that, one way or another, continental football beckons for both clubs.
Relegation battle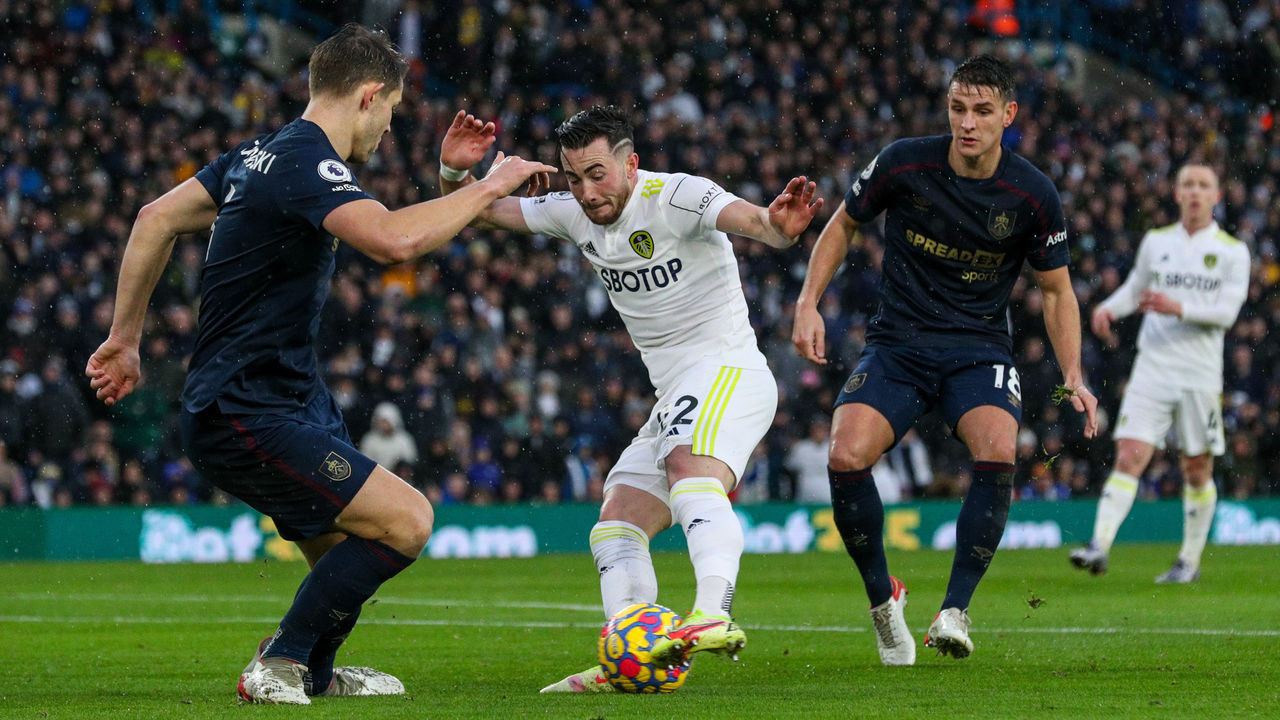 And then there were two.
Everton secured their Premier League safety with a miraculous 3-2 win over Crystal Palace on Thursday, coming back from two goals down in the second half to ensure they won't suffer a humbling relegation to the Championship.
The manic celebrations at Goodison Park – fans invaded the pitch before the full-time whistle to celebrate Dominic Calvert-Lewin's match-winning goal – were met with disdain in Lancashire and West Yorkshire. Everton's desperate escape means one of Burnley or Leeds United will finish 18th and drop to England's second tier next season.
Matches:
Burnley vs. Newcastle
Brentford vs. Leeds
| POSITION | CLUB | GD | POINTS |
| --- | --- | --- | --- |
| 17 | Burnley | -18 | 35 |
| 18 | Leeds | -38 | 35 |
Burnley, who earned a potentially invaluable point against Aston Villa on Thursday, boast a superior goal difference and only need to match Leeds' result Sunday to survive. Neither team has won since April. There is, quite literally, no better time for either club to break that slump.
Copyright © 2022 Score Media Ventures Inc. All rights reserved. Certain content reproduced under license.