World Cup roundup: Unpacking the drama as Brazil falls, Argentina escapes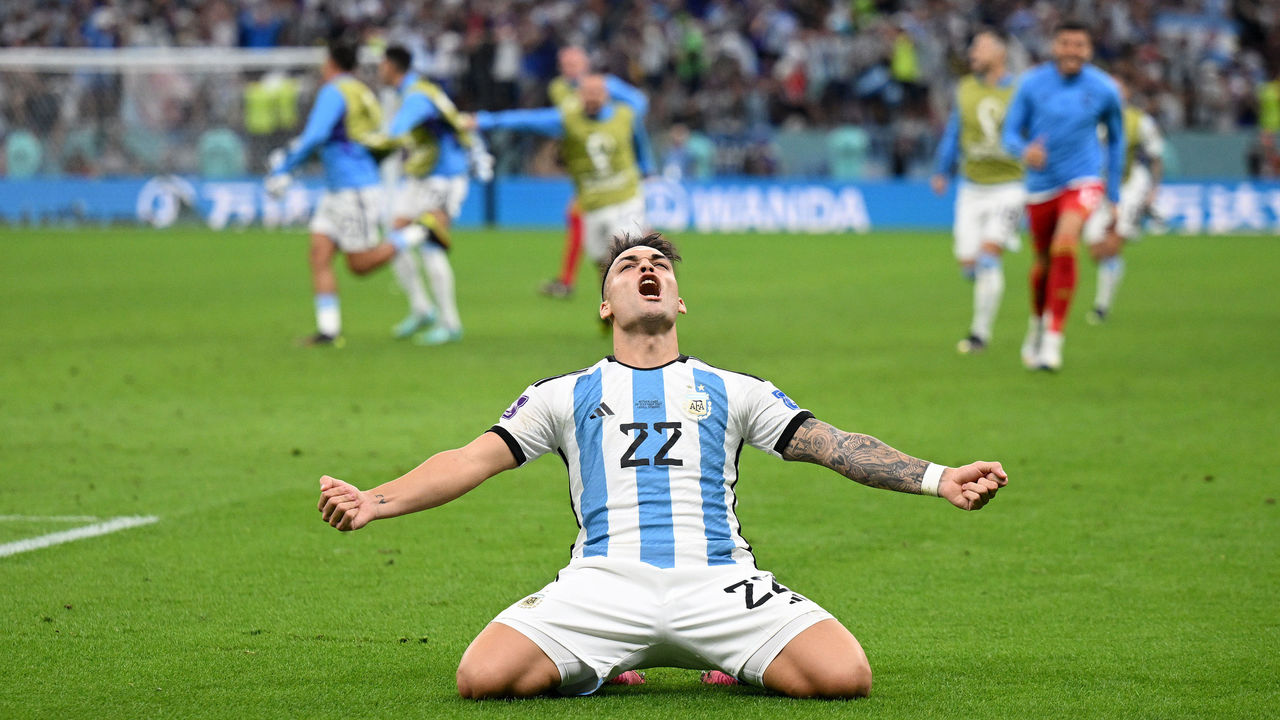 The 2022 World Cup is in full swing. At the end of every matchday, we'll review the biggest talking points emanating from Qatar and break down all the action on the pitch. Below, we look back on Friday's epic quarterfinal games.
Brazil, Neymar genuinely unlucky
Neymar's defining moment was, ultimately, fleeting.
It's moot now, but there's an alternate universe where Neymar's spectacular extra-time goal against Croatia – which tied Pele's scoring record for Brazil's men's national team – goes down as the seminal sequence of his career. Imagine this: In scoring one of the great goals of the tournament, Neymar's spark of inspiration helps lead Brazil to its record-extending sixth World Cup title and allows the 30-year-old to sign off from Selecao duty, garnering the admiration he desperately craves in his homeland.
Instead, his breathtaking tally is a footnote in Croatia's improbable comeback victory. A goal of such quality – that showcased Neymar's unique blend of quickness, agility, balance, composure, and skill – deserved better. Brazil, frankly, deserved better than a 4-2 shootout defeat.
Croatia, of course, deserves immense credit for again showcasing a stubborn unwillingness to lose. Zlatko Dalic's team, gritty and experienced, is exceedingly difficult to beat. Brazil is the latest nation to learn that lesson in heartbreaking fashion. But, while it counts for absolutely nothing now, Brazil really should have won the tense affair at Education City Stadium.
Tite's side peppered Dominik Livakovic's goal, recording 11 shots on target over 120 minutes. Croatia had just one: Bruno Petkovic's 117th-minute equalizer, a scuffed effort from the big striker that took a wicked deflection and spun into the net beyond Alisson's outstretched arm.
Luck is often viewed in sporting parlance as a dirty word; it's as if being lucky decreases the value of winning. But every team to ever win a title, at international or club level, needs luck at some point along the way. Brazil didn't have it Friday.
The Selecao became the first team to lose a World Cup knockout match after taking a 1-0 lead in extra time. And it was in a game they had no business losing. And in what could have been a crowning moment of Neymar's career. This one will be difficult to digest in Brazil for years to come.
Will Modric ever age?
Vedran Corluka and Mario Mandzukic were among those celebrating with Luka Modric when Croatia emerged victorious from the penalty shootout. Both retired from playing in 2021 after at least two years of their stiffening limbs offering diminishing on-pitch returns. Both have since appeared on Dalic's coaching staff. And incredibly, both are several months younger than Modric.
The midfielder's effervescence is well known. At 37, Modric is still as slippery and technically gifted as he was over a decade ago. He's since drawn confidence and composure from a career awash with individual honors and club trophies. But his occasional omnipresence defies science. Despite his advanced years, he was everywhere against Brazil. He filled space between the lines, drew five fouls, and even chipped in with three tackles and two blocked shots.
Modric effortlessly evaded opponents throughout the 120 minutes. In the second period of extra time, he left Fred – who only came on minutes earlier – dumbfounded with a sublime dummy that won a corner. He was also involved in Petkovic's dramatic equalizer as he rolled a physical challenge from former Real Madrid teammate Casemiro before the ball spilled to Nikola Vlasic through the middle. Two passes later, Croatia was level.
Being Croatian, Modric is used to working overtime. Eight of the national team's last nine knockout matches needed an additional 30 minutes – the only exception being the 2018 World Cup final defeat to France. Nevertheless, a dominant question going into the semifinals will be the fitness of Modric and Croatia's other elder statesmen after their considerable workload.
But if we've learned something from Croatia's recent tournaments, it's that it can never be written off. Judging from Modric's inspirational display against Brazil, he's still not ready to retire to a seat beside Dalic in the technical area.
Unforgettable day of World Cup theater
What. A. Day.
You didn't have to be a fan of any of the four teams playing Friday to feel the unparalleled drama of the World Cup. With Brazil crashing out of Qatar at the hands of Croatia hours before its biggest rival, Argentina, narrowly avoided a similar fate against the Netherlands, Dec. 9 may end up as the best day of the 2022 World Cup.
There'd already been plenty of action in Qatar to keep fans entertained before the quarterfinals kicked off with a bang. Most of the excitement stemmed from the group stage, with Japan upsetting Spain en route to topping its group on the same day as South Korea's surprise victory over Portugal. Morocco's triumph over Spain in the round of 16 also ranks right up there as one of the most memorable games in Qatar.
But Friday was different.
Brazil and Argentina – two of the sport's most successful competitors with seven World Cup titles between them – were on the ropes just hours apart in their respective quarterfinal matchups. Both seemed destined for a semifinal berth before disaster struck under eerily similar circumstances. Both battled stubborn opponents who refused to go down without a fight. But only one survived.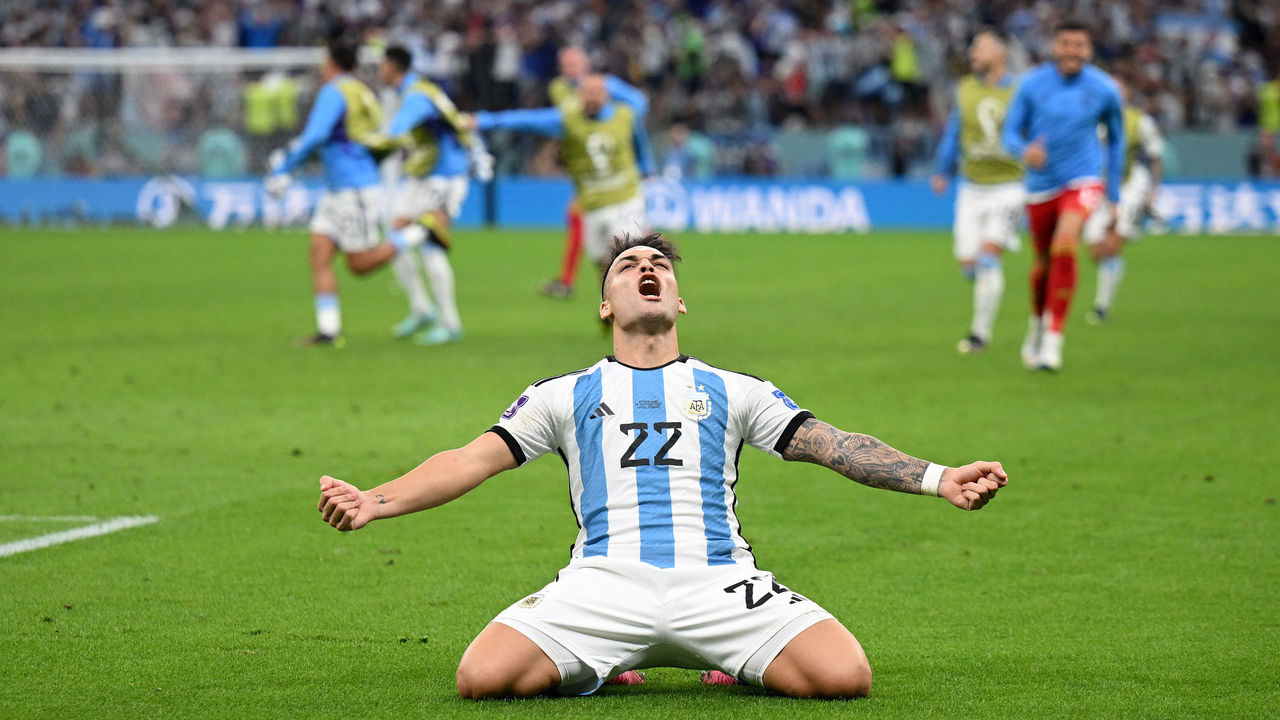 In the early contest, it was Brazil against a battle-tested Croatia side fresh off of finishing second in 2018. The five-time winner appeared to seal a place in the semis after Neymar's historic go-ahead goal in the first half of extra time. But Croatia came roaring back to score an equalizer before Livakovic denied the Selecao early in the shootout. Marquinhos' miss on Brazil's fourth attempt ultimately doomed Tite's side and ended any hope of a mouthwatering semifinal against Argentina.
But Argentina's spot in the semis was anything but guaranteed against a resilient Netherlands outfit. La Albiceleste supporters were already buzzing after learning of Brazil's shock elimination. The stadium was rocking after kickoff when Nahuel Molina and Lionel Messi gave Argentina a 2-0 lead. But the Dutch silenced the boisterous South American fans with a dramatic equalizer, a 101st-minute equalizer.
In the shootout, after seemingly learning from Brazil's mistake when Neymar was picked to shoot last, Messi stepped up to take the first penalty, delivering a composed strike to set the tone. Argentina's path to victory in the shootout wasn't straightforward from there, but the two-time World Cup winner ultimately prevailed to play another day. A date with Croatia awaits.
Quick free-kicks
Why didn't Neymar take a penalty?
As a shattered Neymar looked on in despair, tears flooding from his eyes, it was impossible not to question why, as Brazil's best penalty taker, he didn't step up to the spot in the shootout. It brought a familiar debate back to the forefront: What is the ideal way to allocate your penalties in a shootout? "The fifth (shot) is the decisive one, there is more pressure, and players more mentally prepared are ones to take this last penalty kick," Brazil manager Tite said after the match when asked why Neymar was saved for the last penalty, which, as it turned out, he never got the chance to take. Having Neymar go first is the sensible decision. If not that, then perhaps fourth? All too often, the fifth penalty never comes to fruition. The shootout is over before it can get to that point, as was the case Friday. There's something undeniably grand and satisfying about having your superstar convert the final, winning kick. But the risk is too great. This was just another example. The dichotomy was hammered home when, later in the day, Messi stepped up to take – and converted – Argentina's first shootout attempt.
Livakovic, Juranovic in the shop window
Croatia's goalkeeping choices were supposed to be an Achilles heel at this tournament, but the reputation of Dinamo Zagreb's Livakovic has skyrocketed in Qatar. Following his three penalty shootout saves against Japan, the 27-year-old produced more heroics with 11 stops – seven of which were shot inside his own area – and an extra save in spot-kicks against Brazil. However, Livakovic might not be the most sought-after player in Dalic's ensemble. Josip Juranovic, expected to be available for transfer after Celtic signed fellow defender Alistair Johnston last week, was arguably Croatia's second-best player (after Modric) at Education City Stadium. The right-back halted Vinicius Junior on numerous occasions and ambitiously ran at Danilo or through the middle whenever he had the ball. Every time he surged forward, it felt like his asking price raised by a few million.
That's more than enough, Mateu
Regular La Liga viewers all likely nodded in unison with every yellow card Mateu Lahoz handed out at Lusail Stadium. This was no surprise to them. They probably had sore necks by the end of it all. The eccentric Spanish referee, infamous for making himself a central figure in any match he oversees, showed 18 total cards in Argentina's chaotic victory over the Netherlands. Of course, some of that wasn't his fault. Leandro Paredes smashing the ball into the Dutch bench from point-blank range, which started a brouhaha, was out of Lahoz's control. But the Spaniard too often brings commotion upon himself within matches with questionable decisions and a lack of consistency. Clear bookable offenses slide right on by, while less serious infractions result in Lahoz reaching for his pocket. It's confounding. Messi and Emiliano Martinez slammed the referee's performance after Friday's match, with the latter calling him "useless." With Spain out of the tournament, there's a possibility Lahoz, who took charge of the 2021 Champions League final, could be the man in the middle for the World Cup final. That would be to the detriment of the tournament.
Launch it to the big man
Louis van Gaal and the Dutch purists have been at odds for much of his current tenure. His style of football – which ditched the nation's beloved 4-3-3 system – was dubbed too defensive, too reactionary, and, crucially, not aesthetically pleasing. Van Gaal, never one to cower in the face of critics, refuted claims that his team was "boring" and pointed to the results as many coaches do. The Netherlands, until Friday, was winning. Against that backdrop, there would have been something delicious – and hilarious – about Wout Weghorst emerging as the hero if his unlikely late brace in normal time had culminated in a Dutch victory. The gigantic forward is the antithesis of the silky football of Johan Cruyff, Marco van Basten, and Arjen Robben. But he was damn effective against Argentina, scoring twice with his first 10 touches after coming off the bench, including the latest second-half goal in a World Cup knockout game in recorded history (101st minute). Launching the ball forward to a hulking center-forward is dismissed by many as antiquated, but, as Van Gaal and the Netherlands proved, it can work. That tactic very nearly saved the Netherlands.
Stat of the day
Messi's assist for Molina, in which he created a passing lane out of thin air by nutmegging Nathan Ake, was out of this world.
Tweet of the day
"And then to penalties. Which they always win."
Team of the tournament: Best XI at 2022 World Cup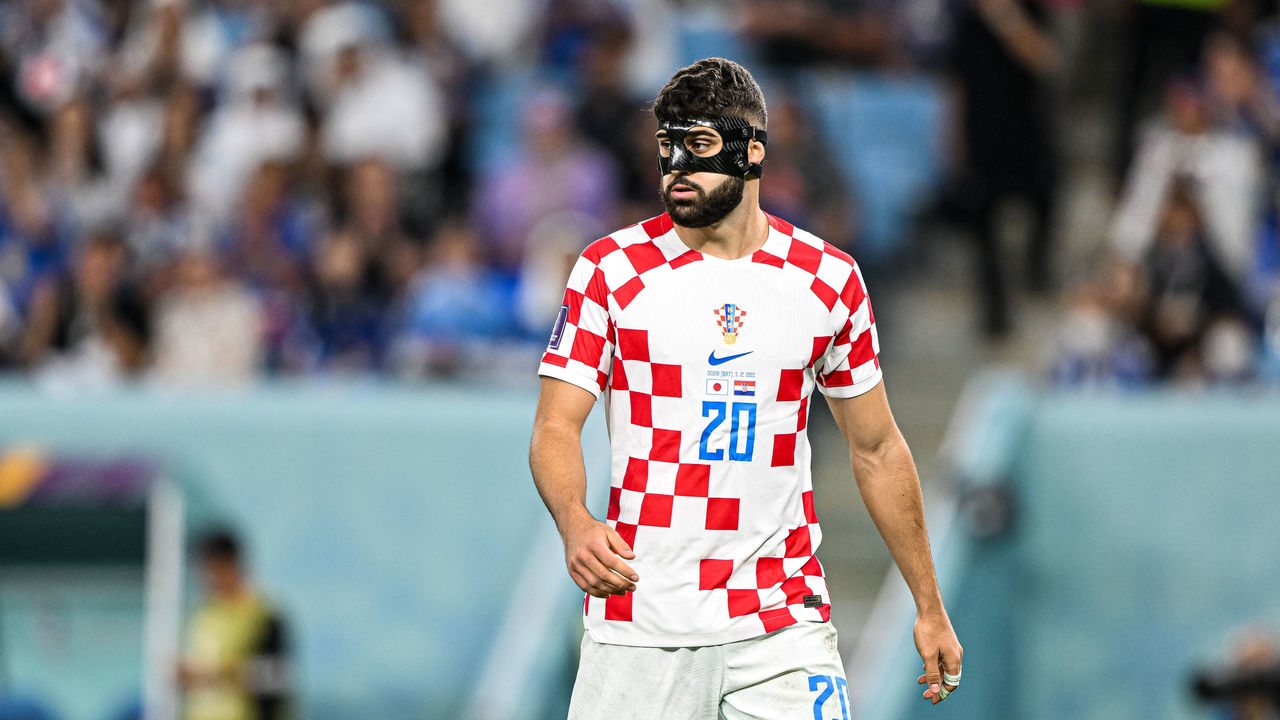 With the 2022 World Cup coming to an end, theScore assembles the competition's best lineup with the tournament's top-performing stars.
Emiliano Martinez ??
Whenever Argentina needed him, he was there. That statement is true of Lionel Messi, of course, but it also applies to Martinez, who rescued his team on multiple occasions en route to winning the World Cup. When Australia had a chance to equalize in the last 16, Martinez stood tall. When the Netherlands threatened to complete an improbable comeback in a shootout, Martinez stepped up. And when France had a golden opportunity to rip the title away in the final with almost the last kick of extra time, Martinez was there, making one of the biggest saves in tournament history.
Honorable mention: Dominik Livakovic (Croatia)
Theo Hernandez ??
Hernandez made his World Cup debut when Lucas, his older brother, tore his ACL. Lucas suffered the injury on the play that led to Australia's shocking opener against France, leaving Theo as the obvious replacement at the left-back position. Theo wasted no time, needing just 14 minutes to set up the equalizer, and spent the rest of that 4-1 win commanding that left flank. Theo consolidated his place in the starting lineup, and after conceding a cheap penalty in the quarterfinals, the AC Milan full-back recovered to score early in the semifinal against Morocco.
Honorable mention: Aziz Behich (Australia)
Josko Gvardiol ??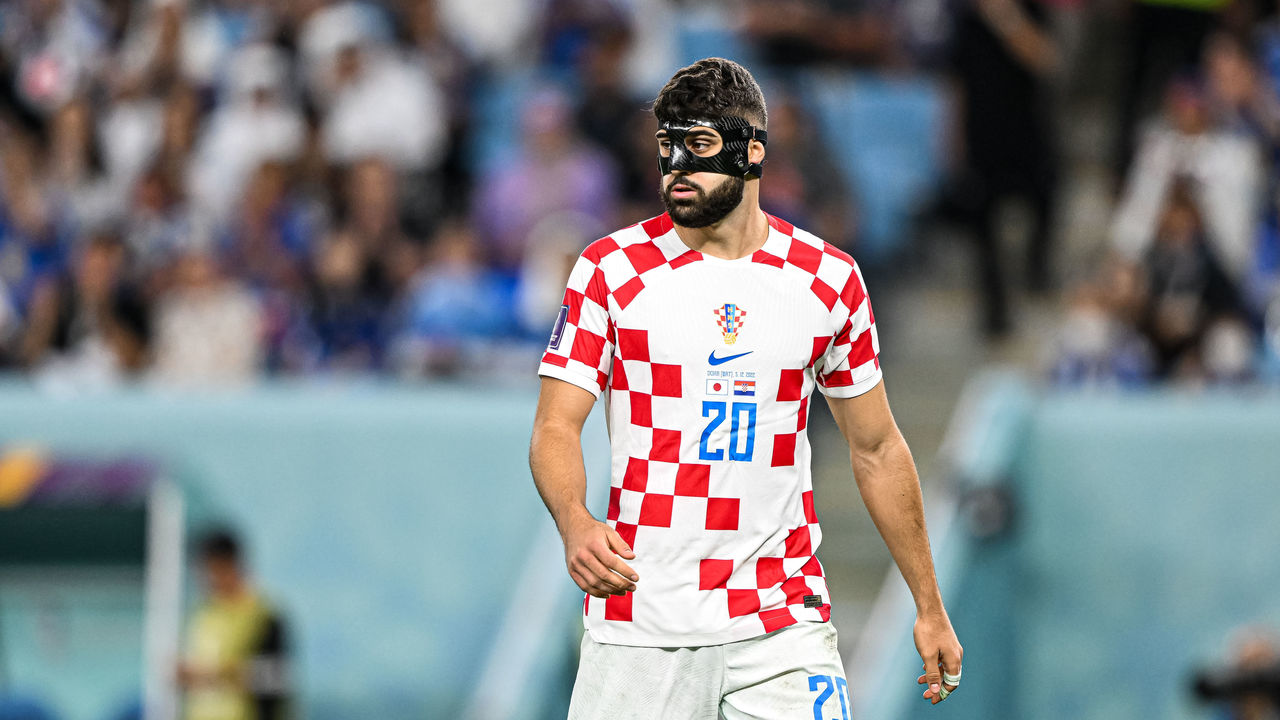 Gvardiol already reads the game like a grizzled veteran at the age of 20, and his intimidating physicality – he's broad-shouldered, 6-foot-1, and a fierce competitor – is paired with supreme ability with the ball at his feet. Only France's Aurelien Tchouameni produced more interceptions at the World Cup than Gvardiol, and the defender ranked third for total passes by a Croatian behind Marcelo Brozovic and Luka Modric. RB Leipzig were already demanding a huge transfer fee for Gvardiol, but his price tag has skyrocketed courtesy of his authoritative showings in Zlatko Dalic's backline.
Honorable mention: Nathan Ake (Netherlands)
Nicolas Otamendi ??
Only two outfield players featured in every single minute of Argentina's victorious World Cup campaign. You can probably guess the first one, but Otamendi likely wouldn't immediately come to mind as the other. The veteran defender, 34, was ever-present for Lionel Scaloni's team, anchoring a rugged backline in what was likely his final World Cup. Once a rash and undisciplined player susceptible to glaring mistakes, Otamendi was the most tranquil of Argentina's defenders in Qatar, trading in wild tackles for well-timed interceptions that helped the Albiceleste get on the front foot.
Honorable mention: Harry Maguire (England)
Achraf Hakimi ??
Hakimi's lung-busting runs down the right usually draw the most attention, but he was a defensive rock in Qatar. He led the tournament with 26 completed tackles and produced the third-most interceptions by a defender (nine). That's not to write off his work as unadventurous: He attempted 15 dribbles and was Morocco's second-most creative player with six key passes. The 24-year-old's confidence was overflowing as one of Morocco's main men, and he cheekily downed Spain – where he was born and raised – with a Panenka penalty to conclude the shootout in the round of 16.
Honorable mention: Josip Juranovic (Croatia)
Sofyan Amrabat ??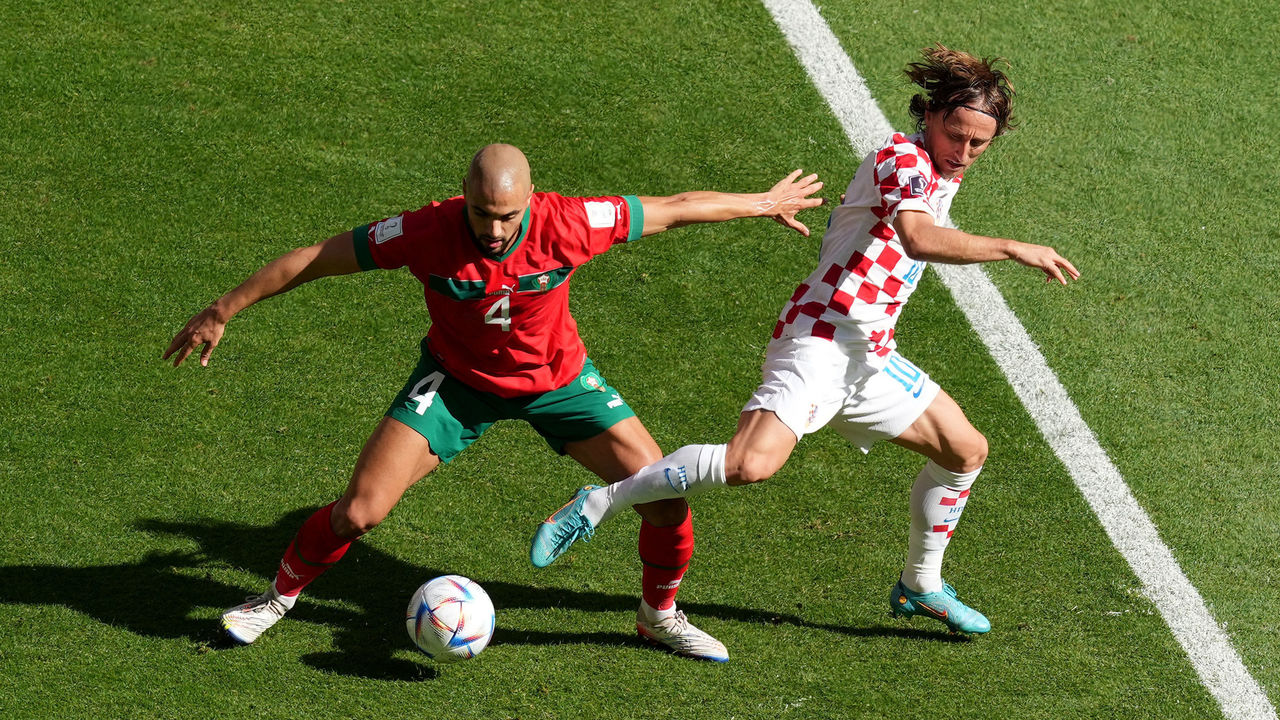 Morocco asked Amrabat to do a bit of everything, and every time, he delivered. The 26-year-old breathed down the necks of his opponents and negotiated ways out of danger without breaking a sweat. His stock rose further as Morocco beat Belgium, Spain, and Portugal, displaying to a wider audience what many in Italy had already gathered. Rarely putting a foot wrong, the Fiorentina midfielder ended the tournament with just one yellow card to his name, a worthwhile achievement for a player who found himself in the trenches for seven matches.
Honorable mention: Enzo Fernandez (Argentina)
Luka Modric ??
Modric seemed human in the round of 16. With 99 minutes gone in Croatia's meeting with Japan, the fleet-footed midfielder was clearly fatigued when he was substituted. At 37, that's to be expected. But from nowhere, Modric found extra energy reserves for the knockout matches against Brazil and Argentina, seeming omnipresent while he swept up defensively and created chances at the other end. In what was likely his last World Cup appearance, the Real Madrid star reminded everybody why he's one of the greatest midfielders of all time while playing 656 out of a possible 690 minutes.
Honorable mention: Jude Bellingham (England)
Antoine Griezmann ??
When France lost N'Golo Kante and Paul Pogba to injury, head coach Didier Deschamps turned to Griezmann. He knew the star center-forward could handle the workload in midfield. Few players have ever been as reliable to a single cause: Griezmann's played in each of France's last 73 matches, and he's filled various roles in the five-and-a-half years since his streak began. France wouldn't have made as deep of a run in Qatar without Griezmann's work rate, off-the-ball movement, and defensive awareness.
Honorable mention: Bruno Fernandes (Portugal)
Kylian Mbappe ??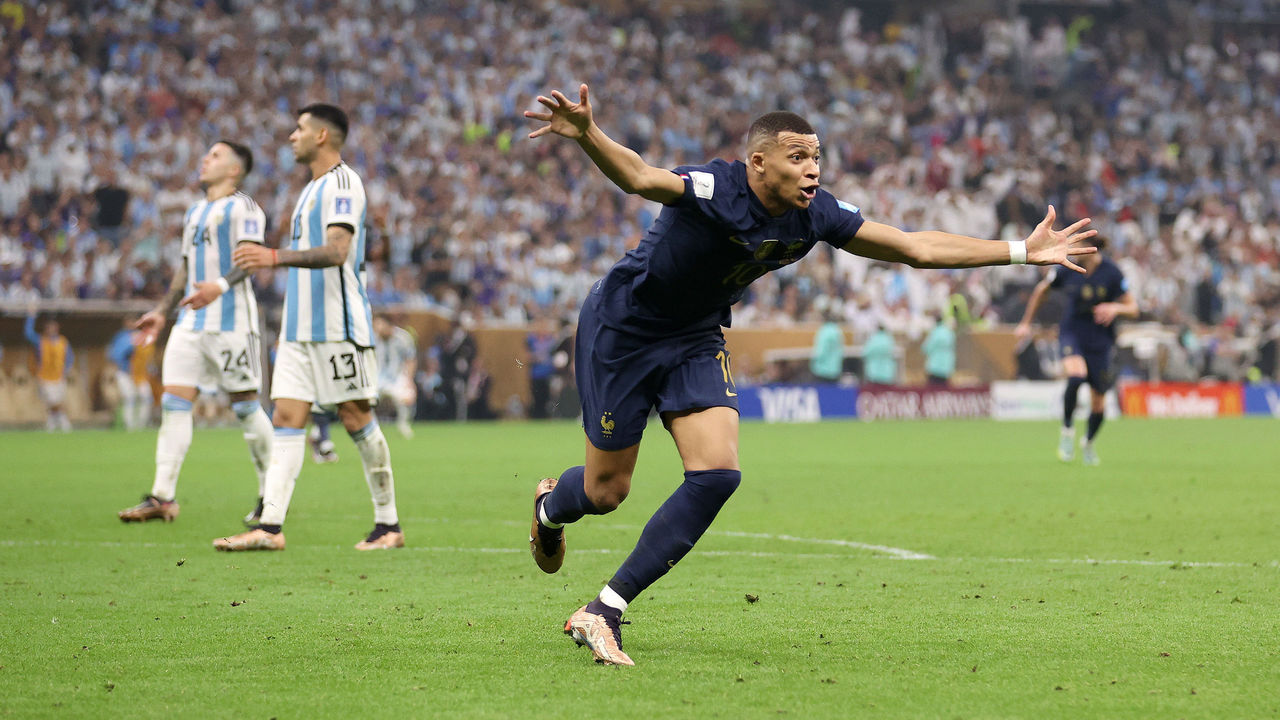 Nobody was more electrifying during the World Cup than Mbappe. France had no business pushing the final against Argentina to extra time, let alone a shootout, but the insatiable forward took it upon himself to will Les Bleus to within a whisker of successive titles. His 97-second brace, even in a losing cause, will live long in the memory. The Golden Boot winner with eight goals, including his remarkable hat-trick in the final, Mbappe has now found the net 12 times in just two tournaments. He turns 24 tomorrow. The men's all-time World Cup scoring record is in serious jeopardy.
Honorable mention: Richarlison (Brazil)
Julian Alvarez ??
Prior to the World Cup, Alvarez was tipped to blossom into a superstar for Argentina. It just wasn't supposed to happen this quickly at this tournament. With Lautaro Martinez struggling, the 22-year-old was thrust into the spotlight. He excelled in the role, scoring four goals in five starts and, crucially, doing huge amounts of work off the ball to both win possession back and free up space for his teammates. His youthful zest was vital to Argentina's success. Messi himself said Alvarez's impact on the team was "absolutely spectacular." Looking back now, it's impossible to picture Argentina without him.
Honorable mention: Olivier Giroud (France)
Lionel Messi ??
Save the best – of the tournament and of all time – for last. Messi dazzled all month long in Qatar, but as the matches grew in significance, his performances followed suit. The Golden Ball winner always rose to the occasion. He got Argentina back on track in the group stage, scored in every knockout round – including twice in the final – and, in the tensest possible moment, his nonchalant penalty helped kick off the shootout against France and calm his team's jangling nerves. His seven goals were second only to Mbappe, and nobody had more assists. A brilliant artist's finest work.
Honorable mention: Cody Gakpo (Netherlands)
Even in a World Cup of twists and turns, it came down to Messi and Mbappe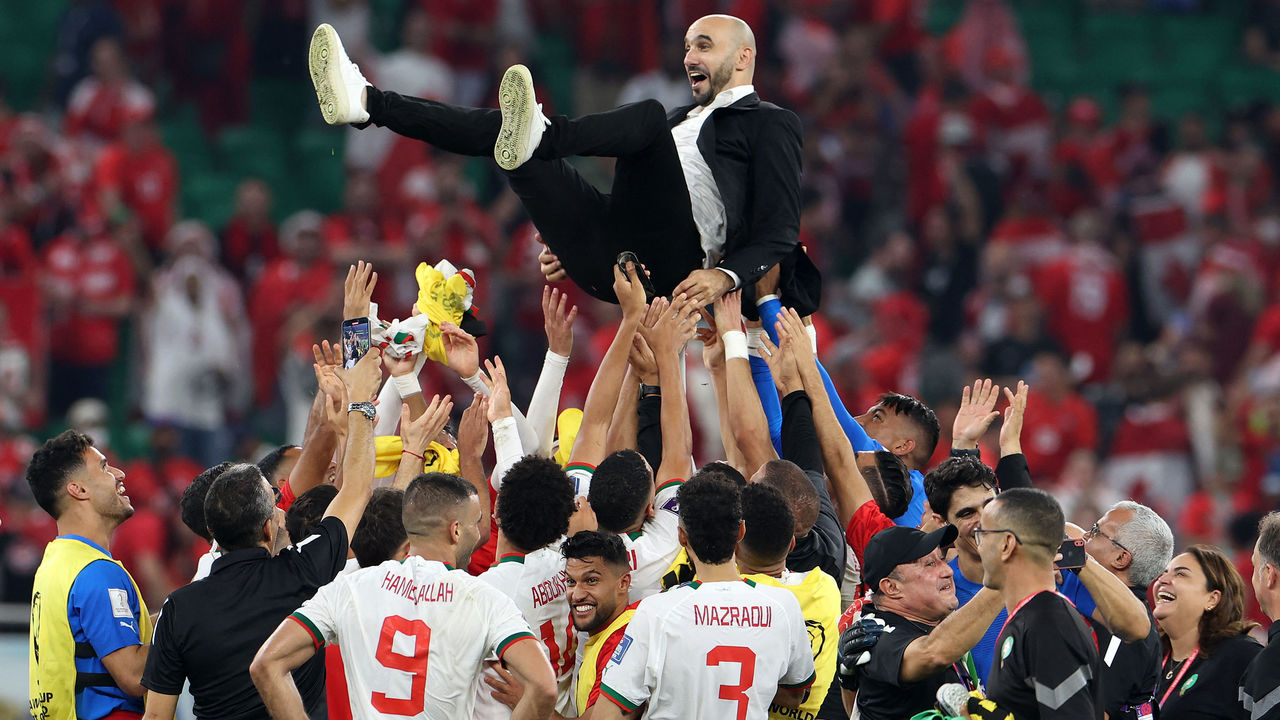 As Sunday's World Cup final entered the final half hour of regular time, the partisan crowd at Lusail Stadium began to sing ballads. Argentina moved the ball with alarming ease, and 40,000 or so of its compatriots in the stands coronated each pass. "Ole," they chanted as their heroes completed attempt after attempt. "Ole, ole, ole."
Up until that final half hour, France had failed to record a single shot on target. It had barely made a foray into Argentina's penalty area. The flu virus that had afflicted the French in the days before the final seemed to have sapped all of their energy. Argentina's 2-0 lead seemed as secure as anything ever recorded in history.
Except it wasn't. The essence of this tournament was about to be revealed.
All it took was a turnover, a hopeful pass forward, and a run-in behind defender Nicolas Otamendi for Randal Kolo Muani, one of France's speculative substitutes, to win a penalty in the 79th minute. That set into motion the most spectacular game of football ever played in a World Cup final.
Everything changed the moment Kylian Mbappe converted that penalty. Momentum swung violently the other way, and suddenly France seemed like the clear favorite to win. Mbappe equalized 97 seconds later, leaving Argentina wobbling on the canvas. A routine affair became a dog fight.
The World Cup had to end the way it started: amidst absolute chaos. The only thing that stayed on script Sunday was the fact that it went off it. These 28 days in Qatar proved that the best don't always win, and that moments make champions, not necessarily talent alone. If something could happen, it did.
Saudi Arabia scored twice against Argentina to win a match in which it was expected to score 0.1 goals. Japan overcame 1-0 deficits to defeat both Germany and Spain. Morocco ousted Belgium, Spain, and Portugal with a ragtag ensemble and a coach who'd only taken the reins three months prior. No amount of backroom scheming and tactical planning could legislate for any of that. It just kind of happened.
Didier Deschamps' team was a case study in improvisation. It started the tournament without six of its starters, including Karim Benzema, who won the Ballon d'Or as the world's greatest player weeks before kickoff. France needed Harry Kane to miss the second of two penalties to have a chance of advancing from the quarterfinals, and it needed several players, including starters Adrien Rabiot and Dayot Upamecano, to recover from a flu bug in time to log significant minutes in the final.
The French also needed Olivier Giroud, for so long considered a liability by his own people, to convert the few chances that fell his way, and they needed Antoine Griezmann, a center-forward by trade, to sacrifice himself in midfield.
But two constants emerged amidst the wreckage. Argentina had Lionel Messi, and France had Mbappe. As the tournament cycled through the rounds, as the teams trudged toward the promised land, these two became more and more integral to this twisting tale. A certain air of invincibility followed them.
Messi and Mbappe were the heavyweights of the competition but also anomalies, putting all the tournament's unsung heroes back in their place. No matter how close Argentina cut it, Messi always seemed the likeliest to determine its fate. No matter how desperate France had become, Mbappe always seemed to have a solution.
Messi didn't just score, he created, and he took on defenders like it was 2017, turning Croatia's Josko Gvardiol – the World Cup's standout center-back – inside out with the same craftiness that turned Bayern Munich's Jerome Boateng into a meme years ago. Mbappe ran like a gazelle, probed for openings, and found space even as multiple defenders descended on him with growling menace. Then, as one does, Mbappe went and scored a hat-trick in the World Cup final. Not even Pele could manage such a feat.
Messi and Mbappe remained fixtures as the World Cup became more and more of a wild card. The most important game of a tournament of seemingly unyielding vagary came down to the sport's two main characters: the greatest of all time, and the potentially soon-to-be greatest.
Even when things that should've happened didn't actually happen, Messi and Mbappe delivered as expected. Little else went according to plan. No one expected Morocco to fly the flag for Africa or Brazil to lose to Croatia in the quarterfinals. No one suspected a thing when the "oles" broke out Sunday, when Argentina's traveling contingent swayed in the stands with a 2-0 lead and chanted with absolute glee.
Just as nothing made sense, Messi and Mbappe did. They scored five of the six goals in the final and converted the first of their penalty kicks. They did everything they were supposed to do. And the World Cup of twists and turns had the only ending anyone had ever expected.
3 thoughts from Argentina's win over France in legendary World Cup final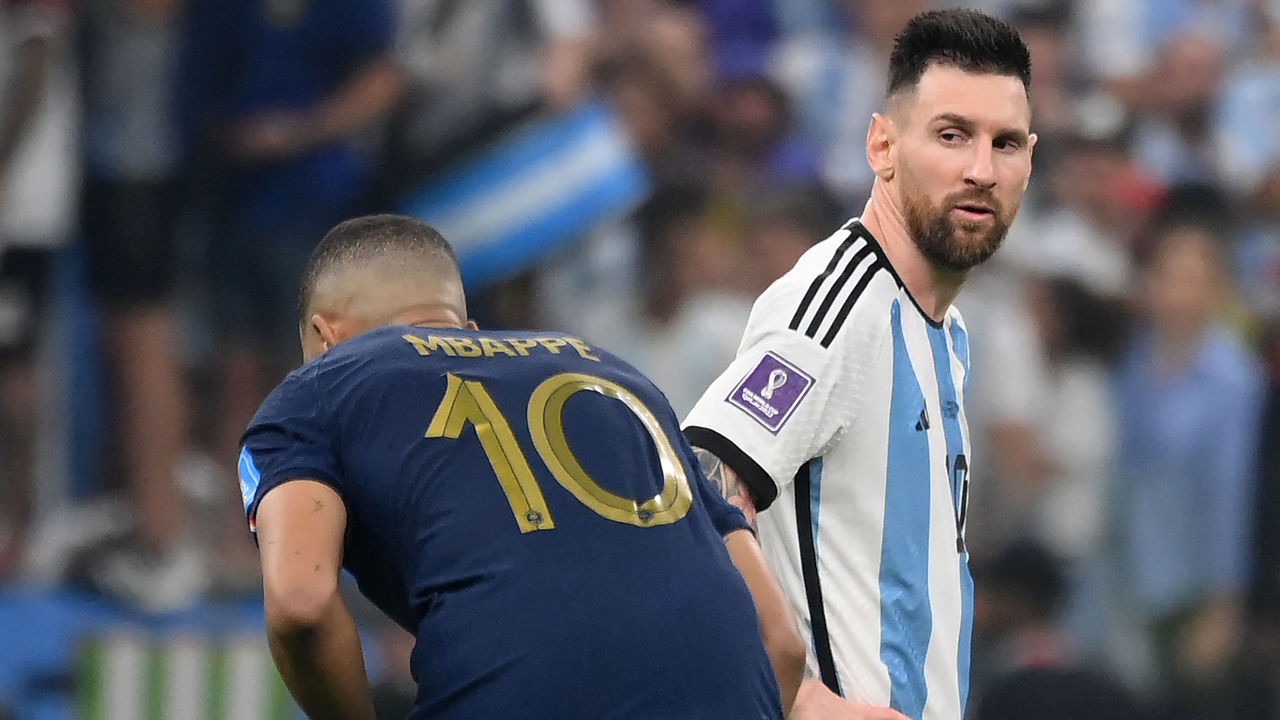 How do we make sense of such bedlam?
Lionel Messi almost led Argentina to World Cup glory in normal time – and then in extra time – but Sunday's gripping final ended 3-3 after 120 minutes before the South Americans finally edged France on penalties.
Kylian Mbappe notched a hat-trick and struck a successful spot-kick in the shootout, but his clinical and mature display wasn't enough to earn the superstar his second World Cup winners' medal.
Here are three takeaways from an unforgettable final to conclude the 2022 World Cup:
Di Maria wreaks havoc
Discussions around Jules Kounde during the tournament indicated the right-back slot was completely alien to him. It seemed an awkward fix – something akin to solving an antique dining table's wobble with a few soggy beer mats under a leg.
But that wasn't strictly true given the minutes Kounde spent in that position for Julen Lopetegui at Sevilla and now Xavi at Barcelona. He's not a novice at full-back. But it is reasonable to suggest he's significantly better at center-back. In hindsight, perhaps Benjamin Pavard – a more dependable player on the right of a back-four – would have been the better choice in that role.
Angel Di Maria taunted Kounde in the first half. The Frenchman distractedly glanced over at midfield runners while Di Maria jinked his way down the flank and, at one point, desperately dragged the winger down after being beaten. Kounde was overwhelmed – his head muddled by the decisions he faced and his body knotted by the 34-year-old wideman's footwork. And no one stepped up to help their bewildered teammate.
Kounde was caught in a narrow position for the move that led to Argentina's penalty. His preoccupation with Argentina's forward-thinking midfielders and Julian Alvarez meant Di Maria only had Ousmane Dembele to beat, and his chop created the space to carve out a route into the box before Dembele clipped his heels.
Messi made no mistake from 12 yards.
Kounde wasn't part of France's attack before Argentina's second goal, so he should have been well-placed to deal with the Albiceleste's speedy transition. But Dayot Upamecano was caught high up the pitch while Raphael Varane tried to engage with Messi, forcing Kounde to leave his position and close down goal-bound Alexis Mac Allister. Mac Allister then rolled an inviting pass to an unoccupied Di Maria for one of the finest goals of the 2022 World Cup.
To France's relief, Di Maria only lasted a little over an hour before being substituted for Marcos Acuna. Di Maria – now a scorer in the finals of the 2008 Olympics, 2021 Copa America, 2022 Finalissima, and the 2022 World Cup – could have helped put the match out of reach if he was fully fit – or just younger.
Messi, Mbappe put on a show
It was unavoidable in the buildup to the final. This was a battle between the master – perhaps the greatest player of all time – and a potential heir to his throne.
And how Messi and Mbappe delivered.
Here are some standout numbers following the superstars' enthralling performances in a staggering final:
1 – At just 23, Mbappe is the top scorer in World Cup finals history with four goals.
2 – Messi is the second-oldest player to score in a World Cup final at 35 years and 177 days. Sweden's Nils Liedholm converted against Brazil in the 1958 showpiece at 35 years and 264 days.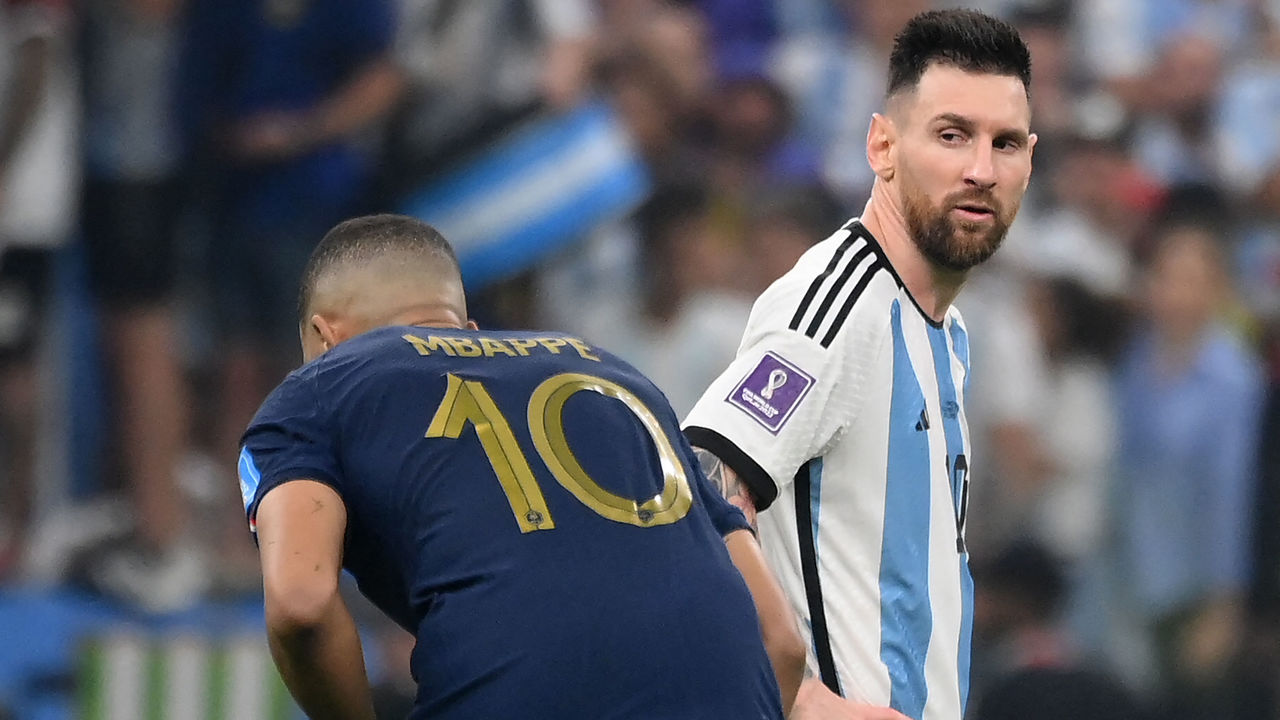 3 – Mbappe's treble made him the second male player to score a hat-trick in a World Cup final. Geoff Hurst previously stood alone with that record thanks to his legendary display in England's 1966 triumph.
4 – Argentina's No. 10 scored four penalties in Qatar (excluding the shootout against the Netherlands in the quarterfinals). Only Dutch winger Rob Rensenbrink in 1978 and Portuguese icon Eusebio in 1966 have tucked away that many spot-kicks in a single tournament.
7 – Messi had never scored a World Cup knockout goal until this month. He spread his seven goals at the 2022 edition across the group stage, last-16, quarterfinals, semifinals, and final, meaning he's the first player to score in each round of a single World Cup campaign.
8 – The last time a male player scored eight goals at a single World Cup was in 2002; Mbappe matched Ronaldo's mark from Brazil's success two decades ago.
10 – Messi and Mbappe both registered 10 goal involvements at the World Cup: Messi totaled seven goals and three assists, while Mbappe claimed eight strikes and two assists. The last player to reach that mark was Diego Maradona, who scored five and set up five during Argentina's victorious 1986 campaign.
26 – Messi set a record with his 26th goal across his appearances on football's biggest stage and his country's continental competition. Brazil's Ronaldo previously held the record with 25 goals scored at World Cup and Copa America outings.
100 – Messi's second strike – and Argentina's third – was his 100th career goal with his right foot.
A fitting end
Argentina was cruising, tapping the ball around the middle of the park to the soundtrack of "oles" from the crowd. The French players, chasing shadows around Lusail, appeared more tired than the annual debates over whether "Die Hard" is a Christmas movie or not.
It seemed to be a procession toward the trophy for the Albiceleste. So – naturally, for this tournament – the scene descended into blissful chaos.
From nowhere, Mbappe scored twice in 97 seconds – a penalty and a stunning lashed volley – to wipe out Argentina's two-goal advantage by the 81st minute.
It's impossible to ignore the atrocities that Qatar and FIFA tried to gloss over at this World Cup, including migrant worker deaths and abuses and the abhorrent treatment of the LGBTQ+ community in the Gulf state. But it's also impossible to deny this was a marvelous tournament: There were surprise results -including, of course, Saudi Arabia's win over Argentina – several miraculous tournament runs highlighted by Morocco's, and many other timeless individual and team performances.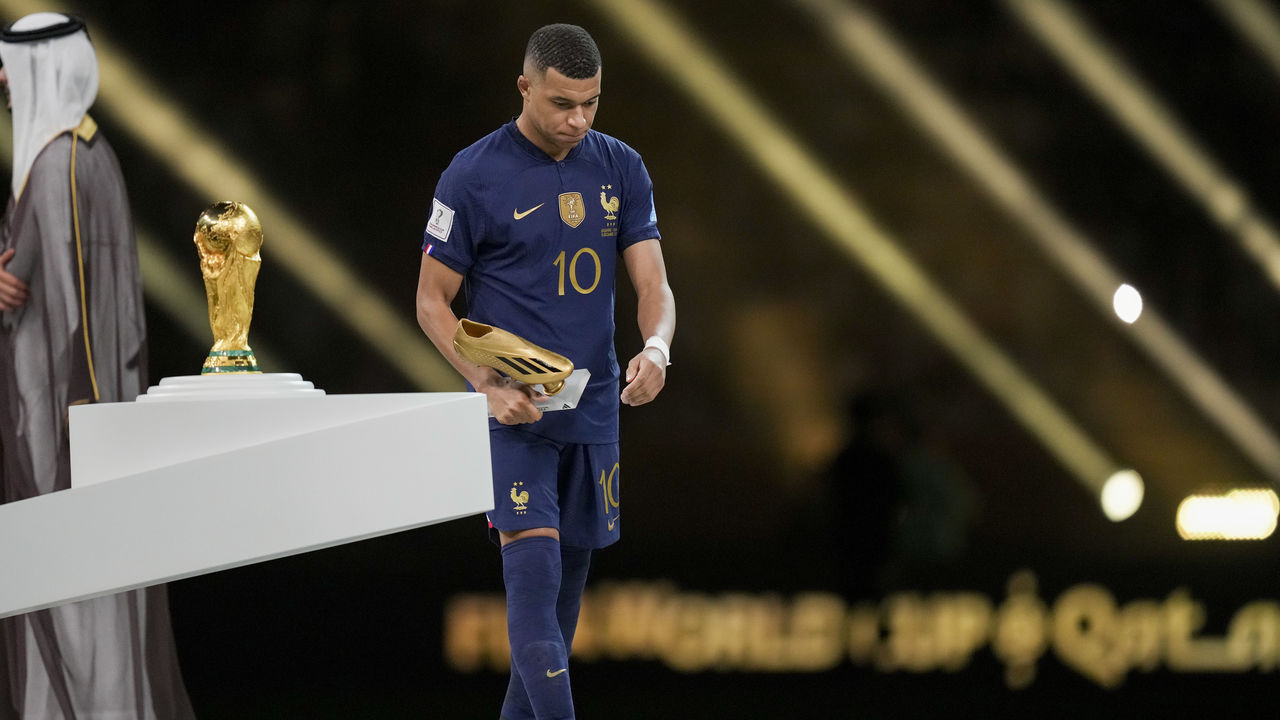 The final kept up appearances. Mbappe's quick-paced double salvo wasn't even close to the peak of Sunday's shock and suspense. Messi thought he'd won it when he scored in the 109th minute, but tears of happiness on the Argentine bench became tears of despair when Mbappe scored from the penalty spot following Gonzalo Montiel's handball.
Even then, there was more drama to unfold. Randal Kolo Muani was inches from scoring the winner with his head, but that wasn't his best late chance. The Eintracht Frankfurt forward was one-on-one with Emiliano Martinez in the 123rd minute, but his shot was spectacularly saved by Martinez's foot; Lautaro Martinez then wastefully headed wide after one last sprint upfield from the Argentines.
It was breathless action to conclude a memorable World Cup, and Montiel's game-winning penalty in the shootout tied a bow on one of the greatest matches in the old sport's history.