10 storylines emerging after critical World Cup tuneup matches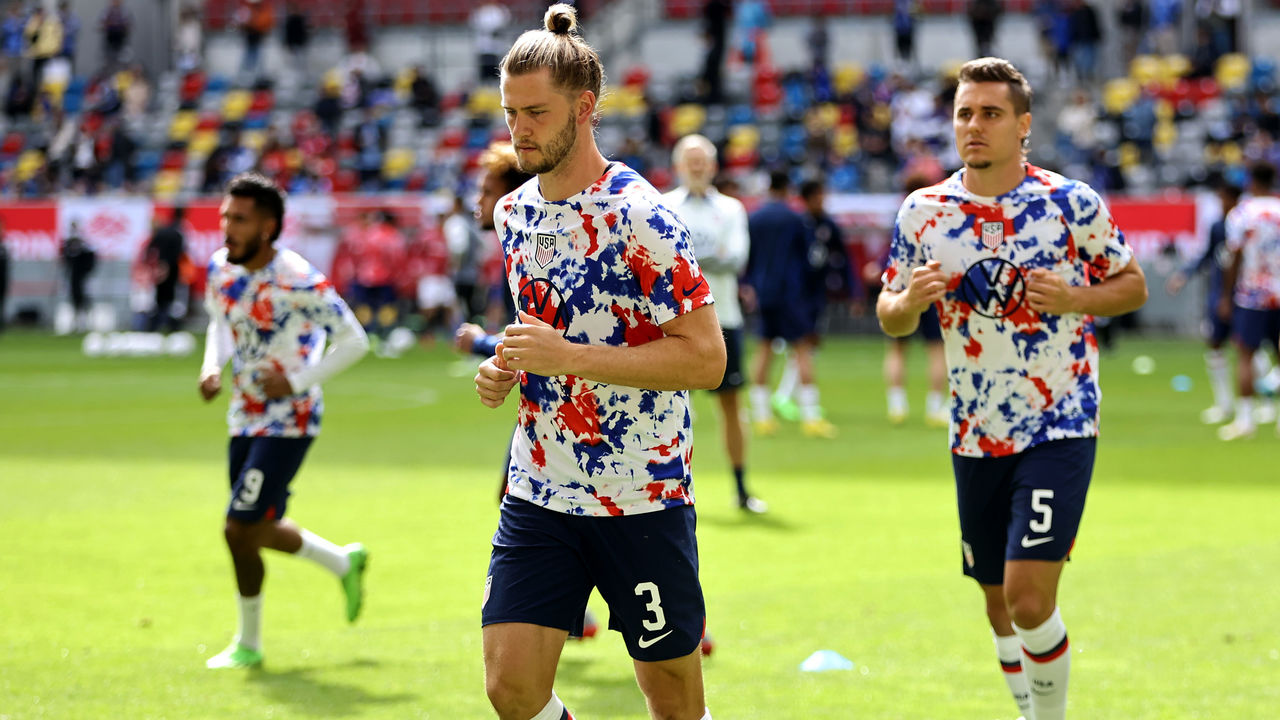 The preparations are nearly complete. Though some nations have scheduled warmup matches in the days just before the World Cup begins in November, many of the world's preeminent sides completed their pre-tournament itineraries during the recent international window. With that in mind and kickoff in Qatar fast approaching, we examine the most noteworthy storylines to emerge from the past week across the globe.
Goalkeeper debate settled, but USMNT unsettled
Christian Pulisic, Antonee Robinson, Yunus Musah, and Tim Weah missed last Friday's sobering 2-0 defeat to Japan. However, it wouldn't be outrageous to say that Miles Robinson – the Atlanta United defender who forged a strong partnership with Walker Zimmerman until rupturing his Achilles tendon in May – remains the biggest absentee for Gregg Berhalter's side.
Japan's aggressive press unnerved the United States, forcing the Americans to lose possession in their own half 54 times in the opening half alone. The midfield played inexcusably poor – Weston McKennie's performance was cringeworthy – but Zimmerman's and Aaron Long's passing from defense was wretched. It's difficult to imagine Miles Robinson playing any worse against Japan's press. He's quicker, more agile, and, most crucially, a better passer than Zimmerman and Long.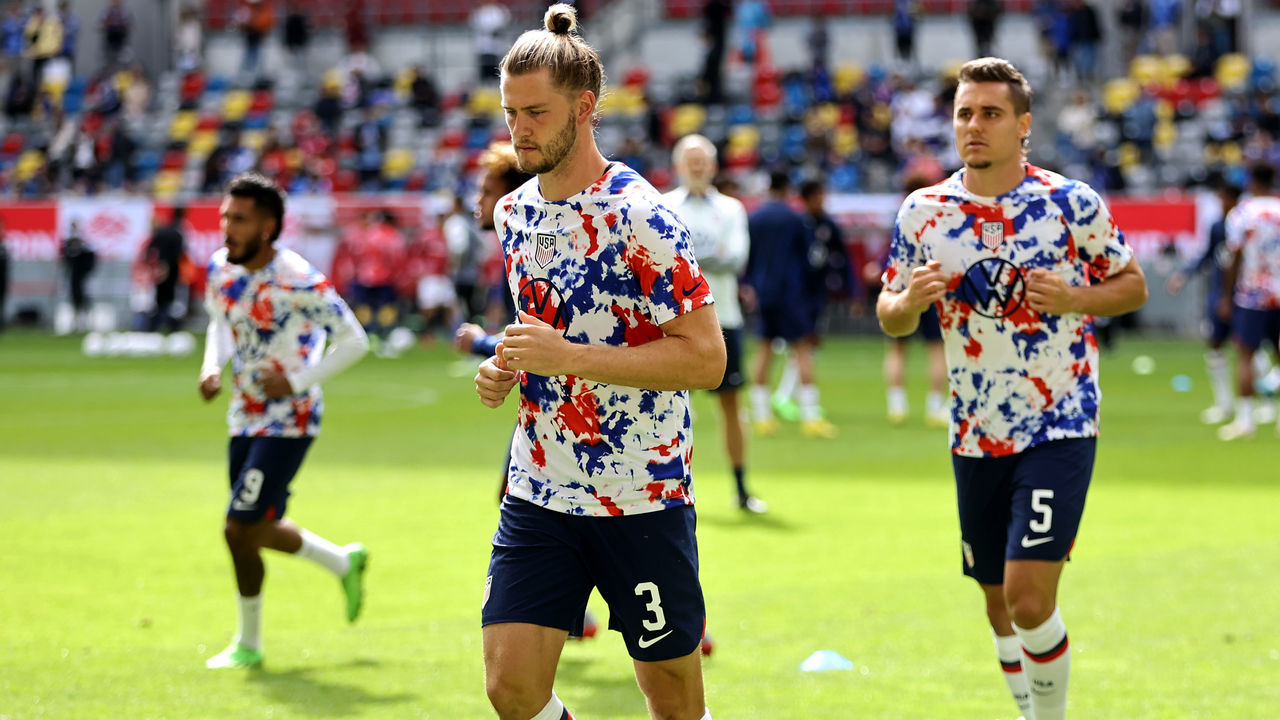 Unless Miles Robinson heals fast, Berhalter faces a tough call over who starts alongside Zimmerman in Qatar. In its Group B tilt with England, the U.S. will need more composure at the back against energetic attackers like Phil Foden and Raheem Sterling. Tuesday's 0-0 draw against Saudi Arabia underlined that the U.S. also needs to find a higher tempo in games when it has the most possession, and that can start with a defender like Miles Robinson, who can push quick passes to the midfielders' feet. The U.S. could have the majority of the ball in its other World Cup group matches against Wales and Iran.
At least Matt Turner spared Berhalter of another hard decision. The No. 1 battle has been a drawn-out debate for U.S. fans, complicated by surprising acts of heroism from different goalkeepers in recent years. But Arsenal's Turner should now get the nod between the sticks. He was excellent against Japan, producing six saves, including a stop on Daichi Kamada during a one-on-one. He then shut out Saudi Arabia four days later.
Is Canada ready for the jump in quality?
It's difficult to glean too much from Canada's 2-0 win over Qatar in the team's first friendly of the international window. The World Cup host, frankly, isn't talented enough to adequately test John Herdman's group.
The 2-0 defeat to Uruguay, though, was a much more instructive and beneficial affair. Yes, Canada seemed to struggle, at least initially, with the pace of play and overall quality that Uruguay offered. That wasn't entirely surprising; Uruguay, led by the likes of Darwin Nunez and Federico Valverde, is the best team Canada has played in quite some time. It's one thing to prepare for that jump in quality, but it's another thing entirely to actually live it. Canada looked a little overwhelmed defensively when Uruguay upped the intensity, something Herdman and his staff will need to rectify quickly ahead of the team's opening World Cup test against Belgium.
But there were plenty of positives to take from the tuneup match, too. Canada didn't abandon its identity, pressed high up the pitch, and crafted several quality chances after playing through Uruguay's own aggressive press. With more sharpness inside the area, the Canadians would have gotten on the scoresheet. Tajon Buchanan returned to the fold after an injury layoff, rising star Ismael Kone came off the bench to show he can be a serious X-factor in Qatar, and Herdman should have Jonathan Osorio and Atiba Hutchinson, two key players that didn't feature during this international window, at his disposal come November. All told, there were more than enough signs to suggest that Canada will be a serious thorn in the side of its Group F opponents.
Southgate's fitted a glass ceiling at England
Apparently, it doesn't matter how often Fikayo Tomori subdues Serie A attackers and how important he was to AC Milan winning their first Scudetto in 11 years. Gareth Southgate prioritizes loyalty over wisdom, so Harry Maguire, Eric Dier, John Stones, Kyle Walker (a right-back), Marc Guehi, and even Conor Coady are above Tomori in the center-back pecking order.
And that's it.
"Clearly, it's not an ideal situation," Southgate admitted last week about Maguire starting two out of seven Premier League matches for Manchester United during a prolonged spell of poor form.
"You want your best players playing regularly so that they're physically in a good place and mentally in a good place. But he is an important player for us. I think it's important to back our best players."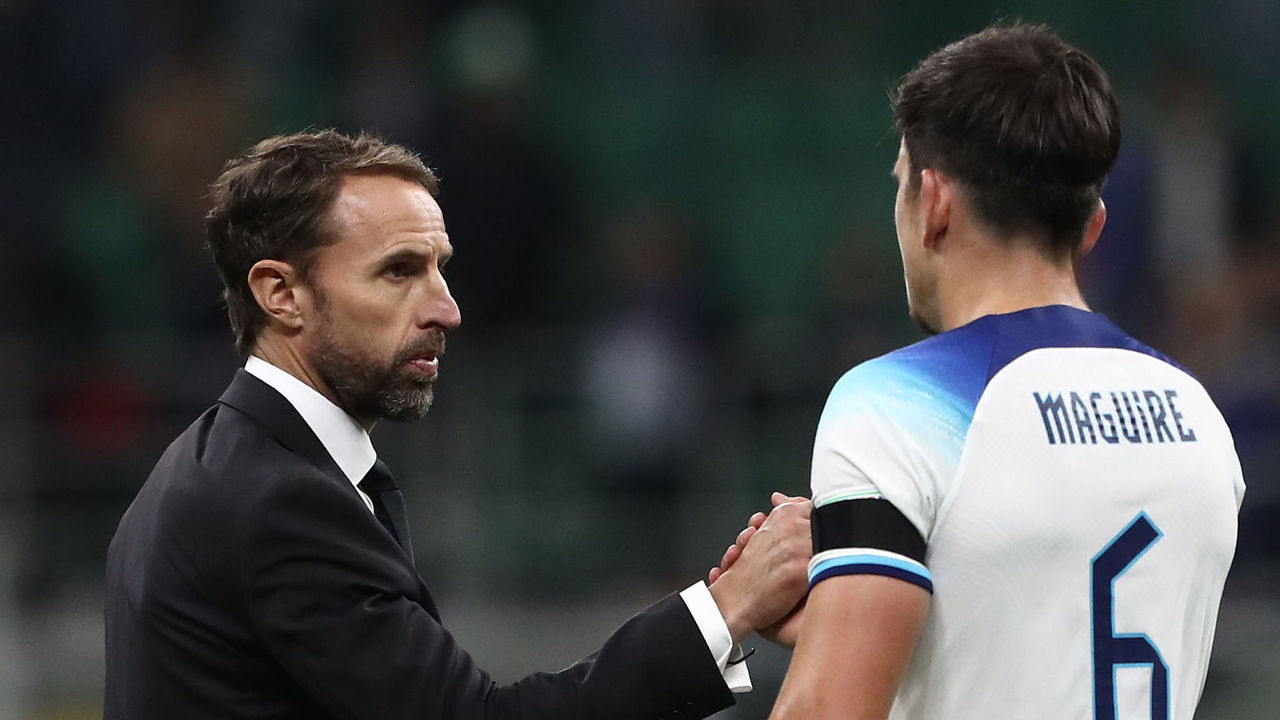 Is Maguire really one of England's best players? His lapse and subsequent tackle that gifted Germany a penalty in Monday's 3-3 draw suggests otherwise. And besides, Southgate seemingly disregarding how Englishmen perform for their clubs contradicts his earlier claim that he'd "never pick on reputation" and that form matters.
As it stands, Tomori, Ivan Toney, and others have little hope of breaking into the England XI. Southgate's loyalty to Maguire & Co. could boost confidence among his starters and encourage them to fight for their manager's cause. But it could be potentially ruinous for the morale of those on the fringes of the boss' plans.
Germany relying on individual brilliance
Germany has long had the reputation of a team that can simply get the job done, no matter what. When the chips are down, Germany finds a way to deliver. Football is a simple game, as Gary Lineker famously said.
But, ironically, that presents a problem for Hansi Flick, who can't quite seem to get his team playing the up-tempo, quick passing game that he desires, especially against opposition that defends deep. In international football, where one moment of brilliance is enough to swing a match and potentially a tournament, steadfast self-belief can sometimes be enough. But relying solely on inspirational individual plays isn't a solid recipe for sustained success.
Flick knows that.
Germany's manic 3-3 draw against England was a prime example of the issues plaguing his side. Germany has a bevy of impressive players, especially in attacking midfield and wide areas, but it lacks a focal point up front who can anchor the team. Kai Havertz scored a spectacular goal at Wembley and will likely head to Qatar as the de facto No. 9, but he too can drift through matches, almost looking a little disinterested at times.
That kind of general malaise is clouding the whole squad right now.
One-sided battle for Brazil's No. 9 shirt
Brazil justified its status as a favorite to win the World Cup with straightforward victories over Ghana and Tunisia. Tite's men have won their last seven outings and are unbeaten over 15 matches.
Richarlison has arguably shone more than any other Brazilian in 2022, scoring seven goals and assisting once over six Canarinho appearances. Pair his international exploits with his club form, where he's impressed for Tottenham Hotspur after helping Everton preserve their Premier League status, and it's easy to understand why it'll only take an injury for him to surrender Brazil's coveted No. 9 shirt.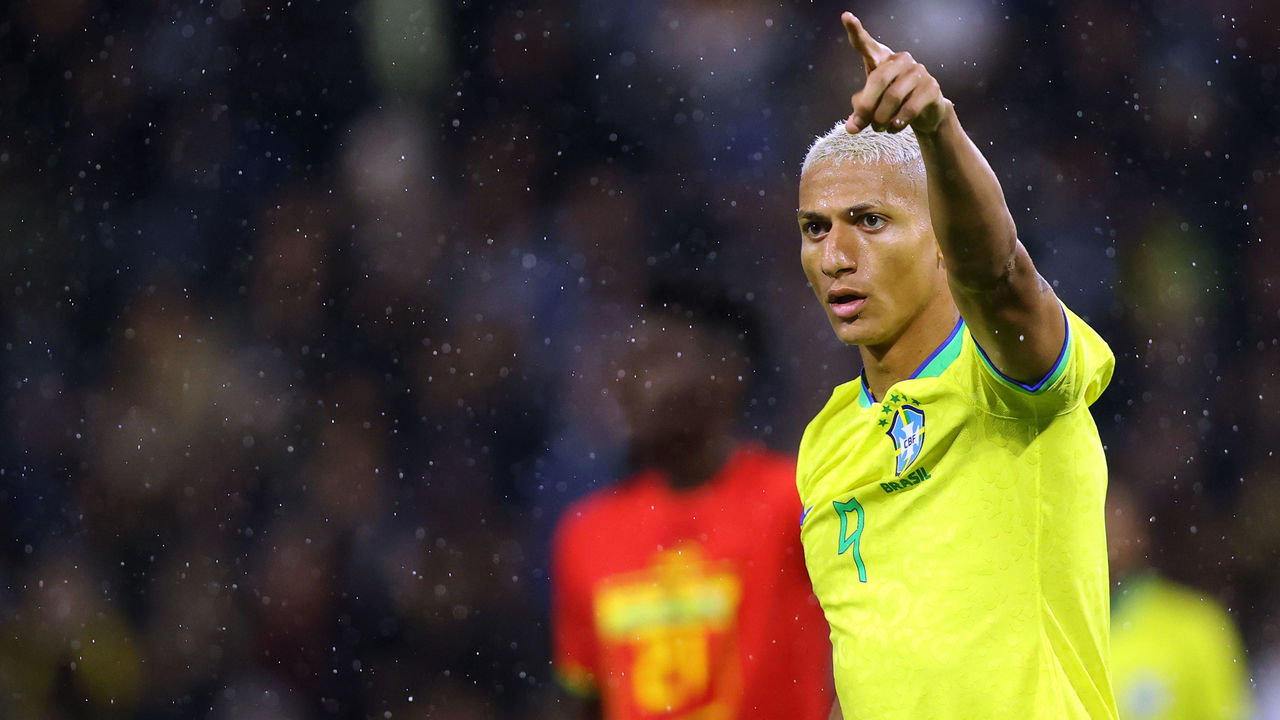 It's not like he lacks competition for the jersey. Gabriel Jesus is enjoying an explosive start to life at Arsenal but was surprisingly omitted from Tite's squad for September's fixtures. Roberto Firmino is experienced and has recently shown flashes of his best form with Liverpool. And Flamengo's Pedro is proven as a lone forward. However, Atletico Madrid's Matheus Cunha hasn't scored a competitive goal since May and could find his place in the squad threatened.
But Richarlison offers something no other attacker does: a workmanlike grit that sees him hound down loose balls and keenly compete in 50-50 challenges. His style is almost anti-Brazilian – a nation renowned for flamboyance and beauty. However, Richarlison perfectly complements the direct, risk-taking play of his attacking colleagues like Neymar and Raphinha.
Messi's best chance to win World Cup
Argentina's turnaround under Lionel Scaloni has been nothing short of remarkable, especially considering the fragmented disaster of a team he inherited after Argentina's nightmarish 2018 World Cup.
Following a pair of 3-0 friendly wins over Honduras and Jamaica, respectively, the rejuvenated South American giant is enjoying a 35-match unbeaten run that includes a Copa America title, a classy World Cup qualifying campaign, and a dominant win over European champion Italy in the "Finalissima."
And most importantly, Scaloni's implemented a possession-based system that gets the best out of his diminutive namesake. For the first time, perhaps ever, Lionel Messi genuinely looks happier and more comfortable playing for his country than his club; Messi scored four of Argentina's six goals over the past week. Whatever other improvements Scaloni has made – and there have been plenty, particularly in defense – getting the best out of Messi remains his most vital accomplishment.
Argentina is a cohesive and collective unit instead of a jumbled, imbalanced assortment of players. That should make every other World Cup contender very, very nervous.
"I see Argentina above the rest and Brazil, too," Spain boss Luis Enrique recently admitted. "Well above the rest."
Unsettled France gives Deschamps headaches
Though Gareth Southgate may beg to differ, Didier Deschamps has more headaches right now than perhaps any other manager going into the World Cup. Being the defending world champion brings its own unique pressure that would weigh on anyone. But in addition, the French bench boss is dealing with an injury-ravaged team and a variety of off-field issues that threaten to derail France's title defense before Les Bleus even arrive in Qatar.
France, which narrowly avoided Nations League relegation, was without Hugo Lloris, Jules Kounde, N'Golo Kante, Ousmane Dembele, Karim Benzema, and Paul Pogba through injury for its final game before the World Cup, a 2-0 defeat to Denmark. Pogba, a vital part of the 2018 World Cup-winning side, is working his way back from knee surgery and could miss the tournament. Off the pitch, he's also mired in a bizarre extortion investigation involving his brother, Mathias.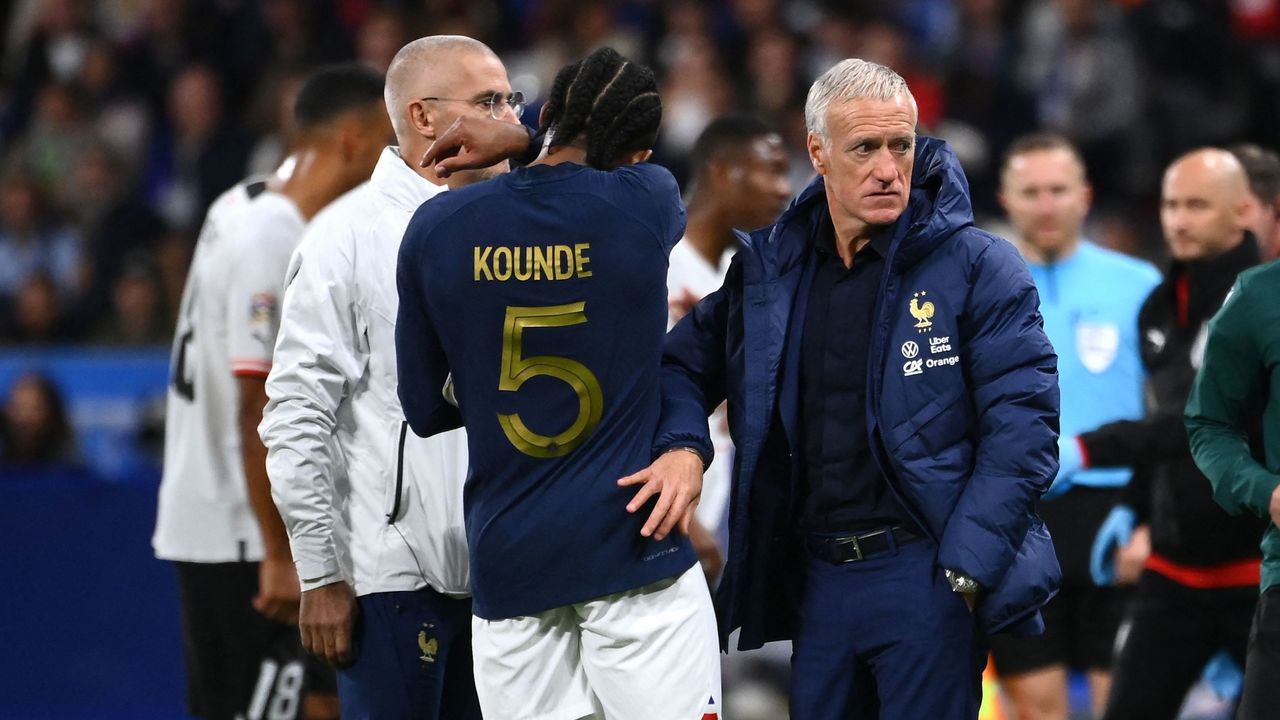 "The important thing is to be able to recover all our strength in the next two months," Deschamps said of his team's rocky preparation.
Any roster built around Kylian Mbappe is capable of extraordinary things, to say nothing of all the other obscenely talented stars France has at its disposal. But right now, the vibes around the team are far more reminiscent of the mutinous 2010 squad that infamously capitulated rather than the 2018 outfit that brought home the trophy.
Frustration building for Mexico
Chaos continues to reign for Mexico.
Manager Gerardo "Tata" Martino, already under enormous pressure from an increasingly frustrated fan base, isn't inspiring confidence. Performances under his watch have been stale at best and totally wayward at worst, while injuries are piling up and forcing constant lineup changes that only further create disharmony on the pitch. Not exactly ideal preparation.
El Tri's second-half collapse against Colombia on Tuesday, in which they turned a 2-0 halftime lead into a chastening 3-2 defeat, only served to make an already hostile situation worse. Mexico now has just two wins in its last seven matches, and those came against Suriname and Peru. The latter was only procured through a late goal from Hirving Lozano.
Martino and Mexico have two more friendlies scheduled for November ahead of the World Cup against Iraq and Sweden, respectively. The optimist will say those provide an opportunity to turn things around and head to Qatar on a high note. Right now, though, it's not inconceivable that those two games could actually make things seem more dire before the tournament starts.
System over sense for Spain?
Luis Enrique leaves out big-name players he believes won't suit his system. There's a hitch, though. He doesn't seem to have a clear idea of which Spaniards actually fit into his vision.
One notable omission from his squads is Celta Vigo's Iago Aspas, who's long been the most productive Spanish forward on the globe. Aspas' lack of defensive contribution is a reasonable concern. But freezing him out is baffling, especially when Enrique has yet to settle on a player in that position. Marco Asensio, Borja Iglesias, Alvaro Morata, Ferran Torres, and Raul de Tomas have all appeared at center-forward since June.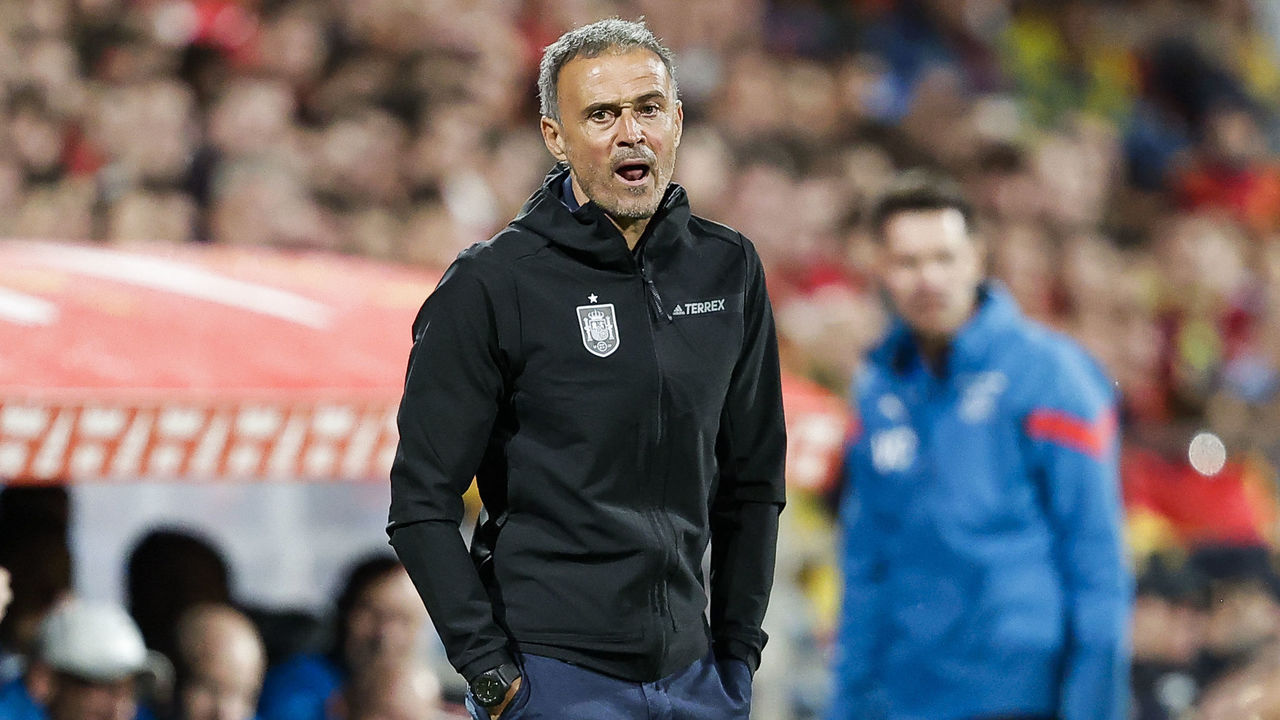 And there's little consistency in Enrique's defensive selection. Over the past two-and-a-half years – a stretch of 40 contests – the only center-back to start more than three straight matches for Spain is Aymeric Laporte, who recently underwent knee surgery. Cesar Azpilicueta is the only full-back to exceed three consecutive starts since the 2018 World Cup group stage – a 53-game run. But he's now 33 and, like many of his international teammates, isn't playing regularly for his club.
Enrique can't expect to rely on either of those players at the World Cup. Nor can he expect his defense to have great organization and understanding due to his constant personnel switching.
Don't be fooled by their spot in the Nations League finals. La Furia Roja could play like strangers in Qatar.
Same old problem for Portugal
It was painstakingly obvious a long time ago, but nothing's changed. Fernando Santos still isn't the right man to oversee Portugal.
There's an abundance of attacking talent at Santos' disposal. Rafael Leao is one of the most exciting widemen on the planet. Bernardo Silva is a mesmeric mover and almost impossible to knock off the ball. Bruno Fernandes is hitting his form at the right time. There's also wandering full-back Joao Cancelo, forward Diogo Jota … you get the picture.
However, when the attackers deliver, it's always in spite of Santos. Rather than set his team up to play to its strengths, it's designed to absorb pressure and counterattack, often with the ponderous William Carvalho as its nucleus. The explosiveness is also lacking up front when 37-year-old Cristiano Ronaldo is trundling his way through another 90 minutes.
Portugal should be tormenting its opponents. Instead, the Selecao are blunted by Santos' negativity.
Missing out on a place in the Nations League finals isn't the end of the world, but Tuesday's 1-0 defeat to Spain in Braga signals desperate times for a lot of Portugal fans. There was an opportunity to dismiss Santos following last November's 2-1 home defeat to Serbia. Now it's extremely unlikely the country's football federation will pull the trigger when Portugal's World Cup opener is under two months away.
A generation that should be delighting onlookers with daring, dominant attacking football could be wasted.
World Cup roundup: Milestone for Messi, USMNT runs out of steam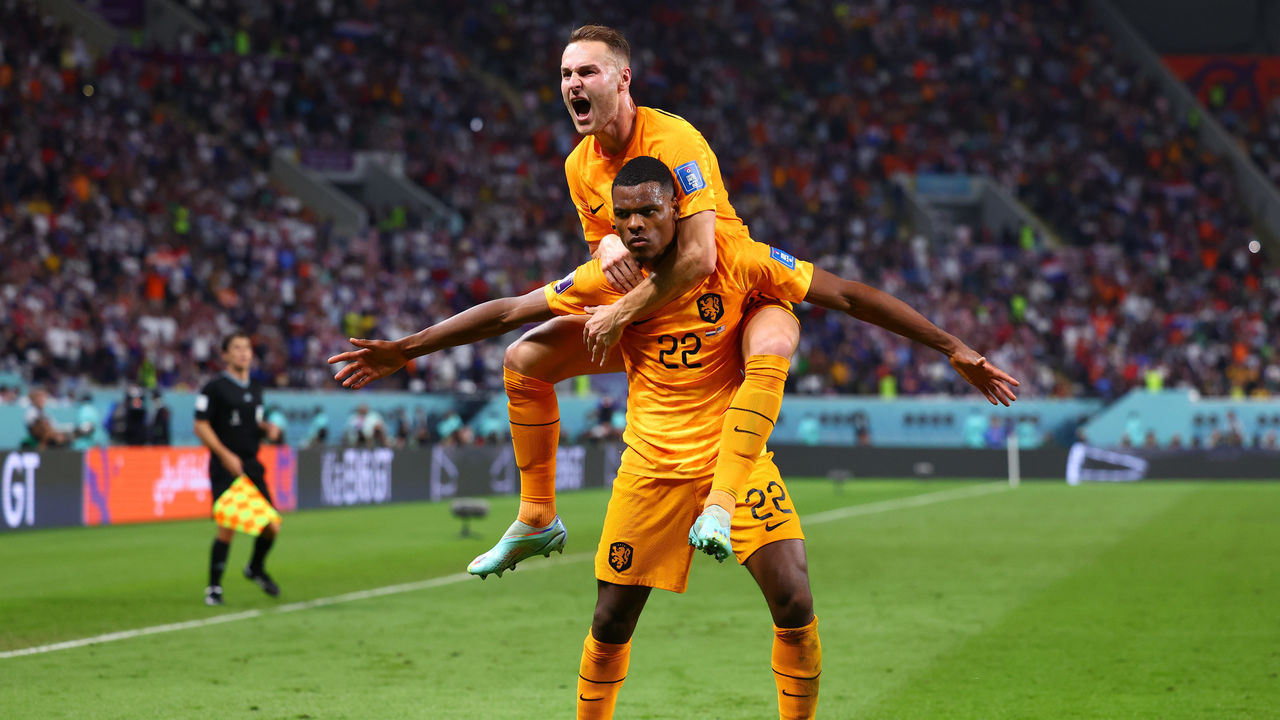 The 2022 World Cup is in full swing. At the end of every matchday, we'll review the biggest talking points emanating from Qatar and break down all the action on the pitch. Below, we look back on Saturday's last-16 games.
Lack of depth costs USMNT
Gregg Berhalter's resources were drained.
The central trio of Tyler Adams, Weston McKennie, and Yunus Musah served the United States so well during the group stage, but none of those players managed a successful tackle in the 3-1 loss to the Netherlands. Musah was the first of the three midfielders to complete a dribble – and that came in the 92nd minute. Only Adams kept the ball well.
Meanwhile, the U.S. defenders' ball-watching was sometimes so pronounced that it seemed trance-like. The backline's weariness eased the finishes for each of the Netherlands' three goals. Antonee Robinson was among his country's best players in Qatar, but he performed his defensive duties in a rather groggy manner on the third Dutch goal. Robinson mindlessly joined Tim Ream in tracking Cody Gakpo, leaving the back stick wide open for Denzel Dumfries' header.
Despite the starters' low energy, Berhalter didn't seem to have much belief in the defenders and midfielders waiting in reserve. Aaron Long, a defender who habitually saves the New York Red Bulls with last-ditch blocks and tackles, was a strong candidate to start in Qatar. He ended the campaign with no minutes. Midfielders Luca de la Torre and Cristian Roldan also went unused.
But there was an awkward chunk of the second half where the Netherlands painfully exposed perhaps the thinnest area of Berhalter's squad. Young winger Gio Reyna, a pacey dribbler not known for his physicality, played up front with his back to goal after replacing Jesus Ferreira at halftime. Haji Wright appeared off the bench after Reyna toiled as an ersatz No. 9 for over 20 minutes, making his most meaningful contribution in time as a creator, not a finisher, when he set up McKennie for a shot.
The youthfulness of this group and the increased competitiveness of domestic football in the States should mean its national team program is in fine fettle ahead of the 2026 World Cup. Sadly, the 2022 tournament was little more than a steep learning curve and a chance to test Berhalter's credentials to be the person to oversee the nation at the next World Cup.
Netherlands growing into tournament
Questions over the Netherlands' ability to make a deep tournament run were justified going into the knockout stage in Qatar. Despite benefitting from a favorable draw, the Dutch largely underwhelmed in their first three games, relying too heavily on Cody Gakpo to provide all of the team's offense.
But there were signs Saturday that Louis van Gaal's side is growing into the competition. Even though the United States carried much of the play at Khalifa International Stadium, that was by design. The Netherlands never seemed out of control or overly flustered, happy to cede possession, defend as a unit, and then meticulously pick the U.S. apart on the break and down the flanks when spaces opened.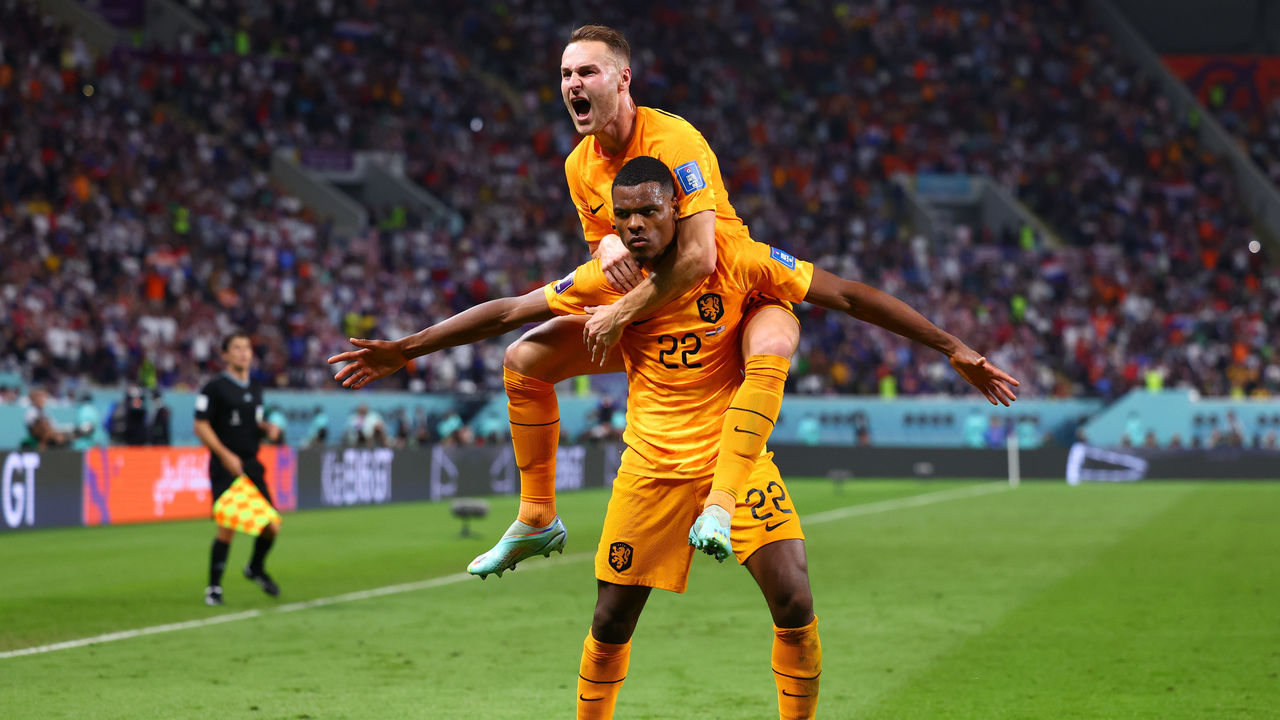 Van Gaal's plan of attack was clear, and it worked.
"In the first few games, they (critics) were right; we didn't play our best football," defender Nathan Ake told reporters Saturday. "But we knew we had to play better, and today we showed much more what we can do in different phases. In some situations, we had to defend a little bit more, but we know that we're very dangerous on the counterattack."
This edition of the Oranje didn't inspire confidence amongst fans due to a perceived lack of overall talent. But with Memphis Depay returning to full fitness, Frenkie de Jong having more freedom to roam about the pitch, Xavi Simons providing a spark off the bench, and the wing-backs generating attacking thrust, the Dutch are rounding into form at exactly the right time. They're showing they can play the type of attractive football the country demands. But it isn't all attritional defending. Depay's opening goal against the USMNT came after a sweeping 20-pass move.
This team, for all its critics, is still undefeated since Van Gaal returned to the bench, too. The Dutch will be tough to beat.
By the numbers: Messi hits 1,000
To the surprise of absolutely nobody, Lionel Messi marked his 1,000th appearance in professional football with yet another goal in a marvelous career, opening the scoring in Argentina's 2-1 win over Australia. The 35-year-old said in October that this would be his final World Cup.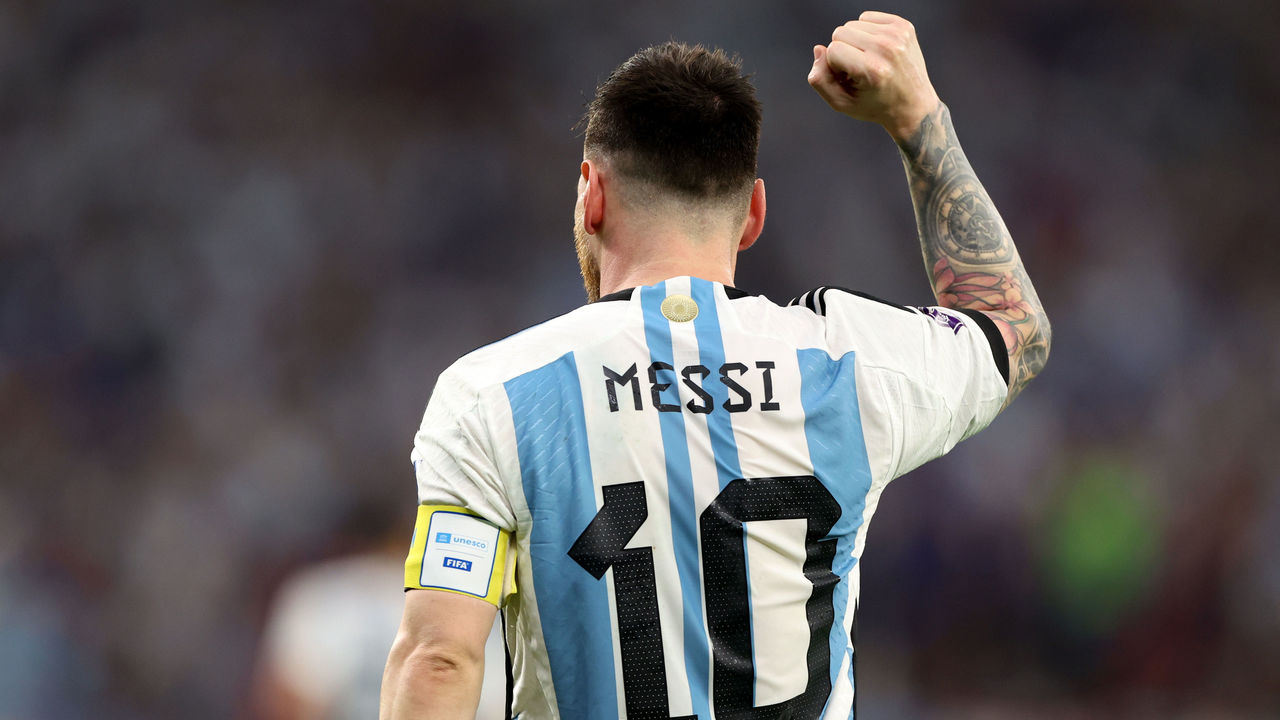 Here are some eye-catching numbers relating to Messi's last-16 performance:
1 – At the ninth time of asking, Messi tallied his first goal in the knockout stages of a World Cup.
5 – Age of Argentina's Enzo Fernandez and Thiago Almada when Messi scored his first World Cup goal. Alexis Mac Allister was also younger than Kevin McCallister in "Home Alone."
6 – Messi has opened the scoring in six World Cup matches. No player has done it more.
9 – Messi has nine overall goals at World Cups. His precise finish against Australia pushed him above Diego Maradona and Guillermo Stabile in Argentina's list of World Cup scorers and put him one shy of Gabriel Batistuta's record of 10.
22 – Messi's return of 22 goals at major tournaments is the same as Cristiano Ronaldo's haul.
789 – Messi has recorded 789 goals over 1,000 appearances. Take a bow, Messi.
Quick free-kicks
Dumfries vital to Dutch attack
Dumfries was feeling it Saturday. Yes, the irrepressible wing-back benefitted from huge amounts of space afforded to him by the United States – especially on his goal, where the Americans, incomprehensibly, seemed to forget about him standing alone at the back post. But even when the U.S. defense was set, Dumfries was a menace. He set up the first two Dutch goals with pinpoint deliveries and was a constant outlet who his teammates looked for throughout the match. The Inter Milan star became the first Dutchman since 1978 to be directly involved in three goals in a single World Cup match. Only Rob Rensenbrink and late national icon Johan Cruyff had previously accomplished that feat. Decent company.
Alvarez's ceiling is so high
It was a gift from Mat Ryan, but few players would've been as decisive as Julian Alvarez. Others would've taken too long to think or steady themselves, but the 22-year-old rode the hapless goalkeeper's challenge and, while appearing to be off-balance, gently rolled the ball into the far corner. Alvarez became the first Argentine to score in his first two World Cup starts since Hernan Crespo in 2006 and is the fifth youngest player from his country to score in the competition's knockout rounds. The young attacker isn't just a clinical finisher. His goal was a just reward for his excellent off-the-ball work against the Aussies.
Can South Korea trouble injury-hit Brazil?
Tite's squad rotation to conclude Brazil's group-stage slate backfired. Gabriel Jesus and Alex Telles both injured their right legs in Friday's 1-0 defeat to Cameroon, and the latter absence means Brazil now has an issue at full-back. Telles joins Alex Sandro, the first-choice left-back, on the sidelines, potentially forcing Danilo (who's not fully fit) to move to the left and 39-year-old Dani Alves to take on Heung-Min Son on the other side. Is the scene set for South Korea to shock the world Monday?
Aussies, Arnold made entire nation proud
When Australia failed to secure an automatic berth at this World Cup and was forced to go through the qualification playoffs, Graham Arnold was nearly sacked. Even when the Aussies finally punched their tickets to Qatar – after a marathon 20-match qualifying campaign that spanned over 1,000 days – Arnold's team wasn't expected to make much impact, if any, at the tournament. But his squad, built on trust and togetherness, set new milestones for the program, recording back-to-back World Cup wins for the first time ever and reaching the knockout stage for the first time since 2006. If it weren't for a point-blank save in the 97th minute by Emiliano Martinez, Australia would have pushed heavily favored Argentina and Messi to extra time. From there, who knows what would have been possible. "I felt we did a good job. I wanted to say how proud I am of them and the sacrifices they've made through the campaign," the amiable Arnold said after the 2-1 defeat. "Everyone said before we came here we were the worst Socceroo team ever and to qualify for a World Cup – but that's gone now – we've done exceptionally well."
Stat of the day
If it weren't for an excellent save from Martinez in the dying seconds of Australia's last-16 defeat to Argentina, Newcastle United-bound Garang Kuol would've been the second youngest goalscorer in World Cup history (after Pele, of course).
Tweet of the day
Memphis Depay kept the receipts after NBA analyst Charles Barkley said the United States would beat the Netherlands.
Re-ranking the World Cup field entering the knockout stage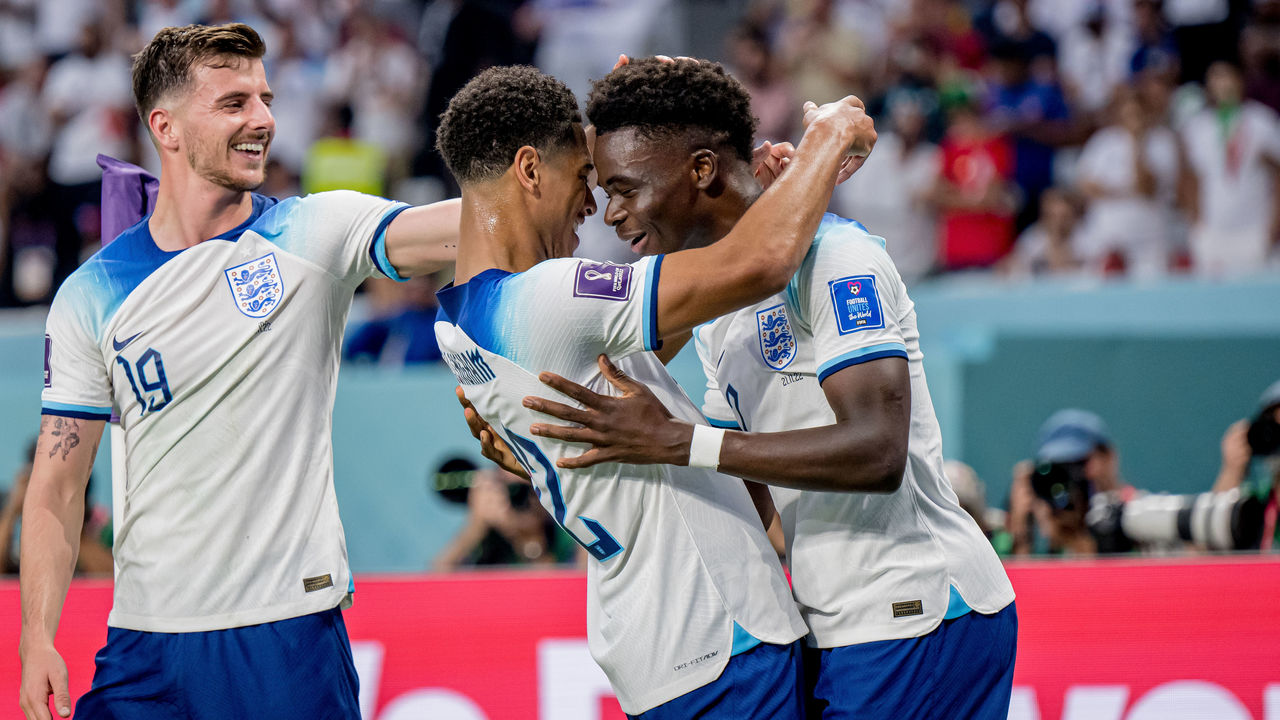 With an epic World Cup group stage in the rearview, it's time to take stock heading into the knockout rounds. After sizing up the field ahead of the tournament, here's how we think the 16 remaining title hopefuls stack up going into the next phase of the competition.
1. France ??
Pre-tournament Rank: 4
Don't allow the 1-0 loss to Tunisia to cloud your judgment. Didier Deschamps made nine changes to his preferred starting lineup for that game, rested his biggest stars, and made Eduardo Camavinga play an unfamiliar left-back role. We won't see any of that again. Of the teams remaining, France compiled the best expected goal difference in the group stage. Led by the irrepressible Kylian Mbappe, the reigning champion can run over anyone.
2. Brazil ??
Pre-tournament Rank: 1
The uncertainty over Neymar's status is a big concern here. It remains unclear if he'll play again in the tournament. Brazil is talented enough to weather his absence to a point. But against elite opposition, it creates problems when you don't have the player around which your entire system is built. For all the attacking riches Tite has, nobody can replicate what Neymar provides. It's too late in the game to alter the entire approach. To win the World Cup, Brazil needs Neymar.
3. Argentina ??
Pre-tournament Rank: 2
Argentina recovered nicely after a shock to the system in its opener against Saudi Arabia. The team hasn't quite replicated the fluidity in Qatar that we saw during its 36-match unbeaten run. However, Argentina seemed to really find its groove against Poland in the group finale, which offers plenty of encouragement for the Albiceleste's prospects going forward. Lionel Messi's dream of capturing the elusive golden trophy remains very much alive.
4. Spain ??
Pre-tournament Rank: 3
Spain is the most difficult team in the tournament to evaluate. No side can look totally dominant one minute and then crumble when its possession game gets disrupted the next. The tiki-taka approach that has been so fruitful for La Roja sometimes backfires. Luis Enrique still isn't completely decided on his best lineup. And Alvaro Morata, despite his group stage goals, doesn't always convince up front. Despite all that, Spain hits highs few others can reach.
5. England ?gbeng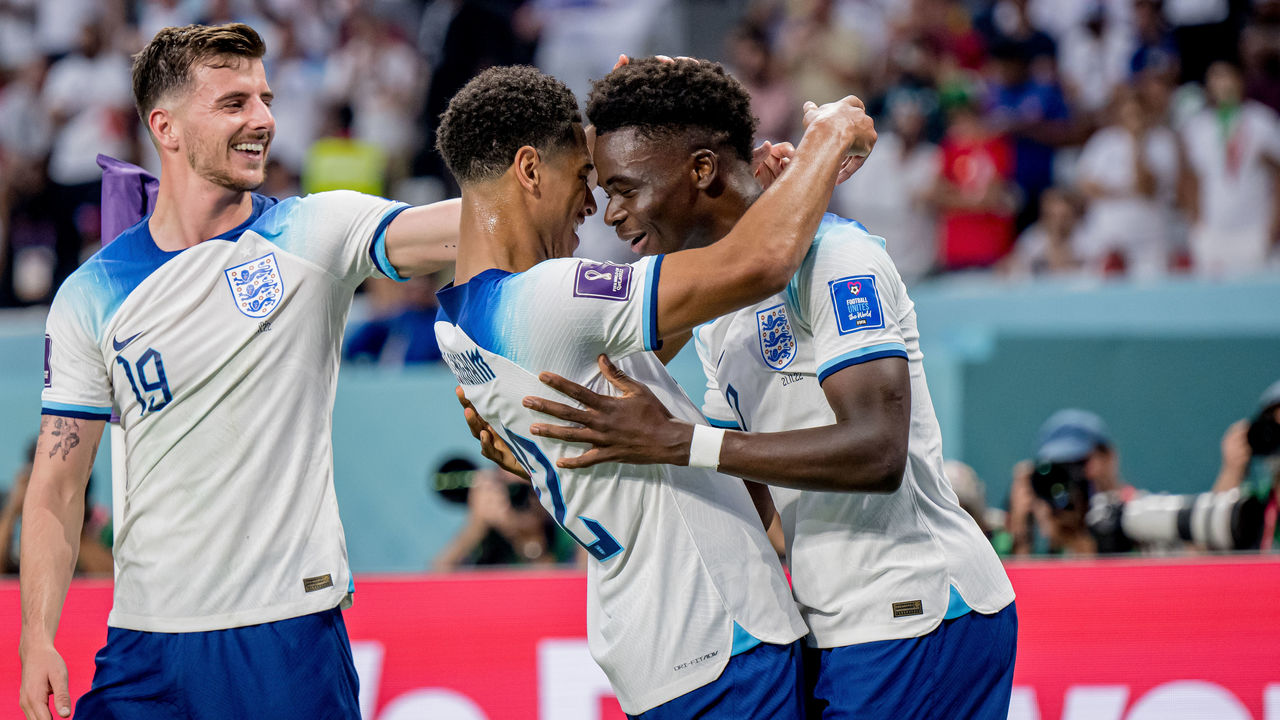 Pre-tournament Rank: 8
A rip-roaring win to open the tournament gave way to a turgid display in England's second match. That's all it took for the familiar questions about Gareth Southgate's managerial skills to come flooding back. He quieted the critics, to some extent, by making changes that the country was clamoring for – namely by introducing Phil Foden – in the group finale. Southgate now has to ensure he gets his lineup selections correct the rest of the way.
6. Japan ??
Pre-tournament Rank: 25
No team exceeded expectations in the group stage like Japan. Pitted against Spain and Germany, most tipped the Samurai Blue – us included! – to put forth a good effort but ultimately fall short against the European heavyweights. Instead, they beat them both. In comeback fashion, no less. Hajime Moriyasu's substitutions have been masterful in this tournament, helping turn the tide in the two upset wins. Japan is never out of any match.
7. Morocco ??
Pre-tournament Rank: 20
Speaking of shocking the world. With its solid foundation at the back, spirited midfield, and unpredictable wide attackers, Morocco was the deserved winner of Group F after shutting down Croatia and outplaying – and beating – Belgium. The Atlas Lions are arguably the most organized outfit in Qatar. That's quite the accomplishment considering Morocco appointed manager Walid Regragui in the summer, just months before the World Cup.
8. Portugal ??
Pre-tournament Rank: 7
Portugal has been wholly unconvincing thus far. Its expected goal difference of plus-0.7 is decidedly average, which is probably the best way to describe a team that, at the moment, is less than the sum of its parts. Cristiano Ronaldo has looked slightly off the pace, and that's having a knock-on effect. Despite Bruno Fernandes' best efforts to lift his squad, Portugal hasn't hit its stride and failed to convince in wins over Ghana and Uruguay.
9. Netherlands ??
Pre-tournament Rank: 10
If it weren't for Cody Gakpo, the Netherlands might not have even made it out of Group A, never mind topping the quartet. But Louis van Gaal, in a feisty mood since arriving in Qatar, appeared to discover a solution to the Oranje's malaise in the final group match; Introducing Marten de Roon at the base of midfield liberated Frenkie de Jong. For the Dutch to succeed, De Jong needs that same freedom to push forward in the knockout round.
10. United States ??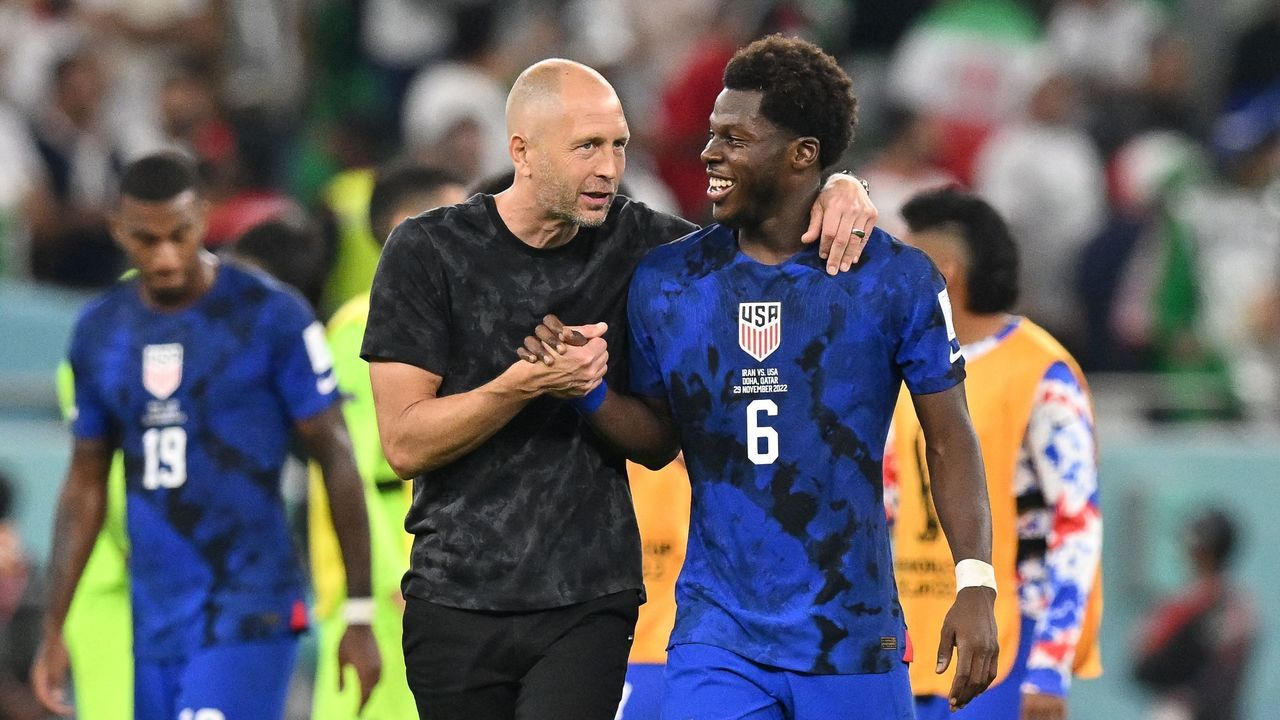 Pre-tournament Rank: 18
There's a sense that something special could be brewing with this zestful group of American players. The United States, which dodged a bullet when Christian Pulisic avoided serious injury while scoring the winning goal against Iran, is riding a wave of positivity heading into the knockout stage. Gregg Berhalter's youthful team plays with gusto, and that enthusiasm is infectious. Is it enough to unsettle and upset more seasoned opponents?
11. Croatia ??
Pre-tournament Rank: 13
Croatia created nothing of note in its opener against Morocco. It overwhelmed an overmatched Canadian squad in the following game. And then the team had Romelu Lukaku's woeful finishing to thank for a fortuitous goalless draw against Belgium that extended the stay in Qatar for Zlatko Dalic's squad. It's all been a bit uneven and inconsistent. But it's hard to overlook that majestic midfield trio who can take over a match at any moment.
12. Switzerland ??
Pre-tournament Rank: 14
Solid but unspectacular for so long, Switzerland showed more pizzazz in its group finale against Serbia. Remo Freuler's match-winning goal in the contest was a sumptuous move that wouldn't have looked out of place were it produced by Brazil or France. Breel Embolo has come into his own during the tournament, leading the Swiss attack in a way he hasn't done before. The Swiss, as always, are capable of pulling off an upset in the knockout stage.
13. Senegal ??
Pre-tournament Rank: 11
When the chips were down and Senegal needed a result to march on, the Lions of Teranga delivered their best performance of the group stage to beat Ecuador. In the absence of star forward Sadio Mane, Aliou Cisse's team has adopted an egalitarian approach to offense. Five different players have scored Senegal's five goals in the tournament. The most important of those came from captain Kalidou Koulibaly, who has been immense thus far.
14. South Korea ??
Pre-tournament Rank: 23
With his country on the verge of a narrow World Cup exit, Son Heung-Min stepped up to help author an indelible moment for South Korea. With time running down and several Portuguese defenders in his way, he slipped a perfect ball through to Hwang Hee-chan, who did the rest. Euphoria. As stakes get higher, tournament games tend to get scrappier and tighter. Having a star like Son who can conjure up something special is vital in that setting.
15. Poland ??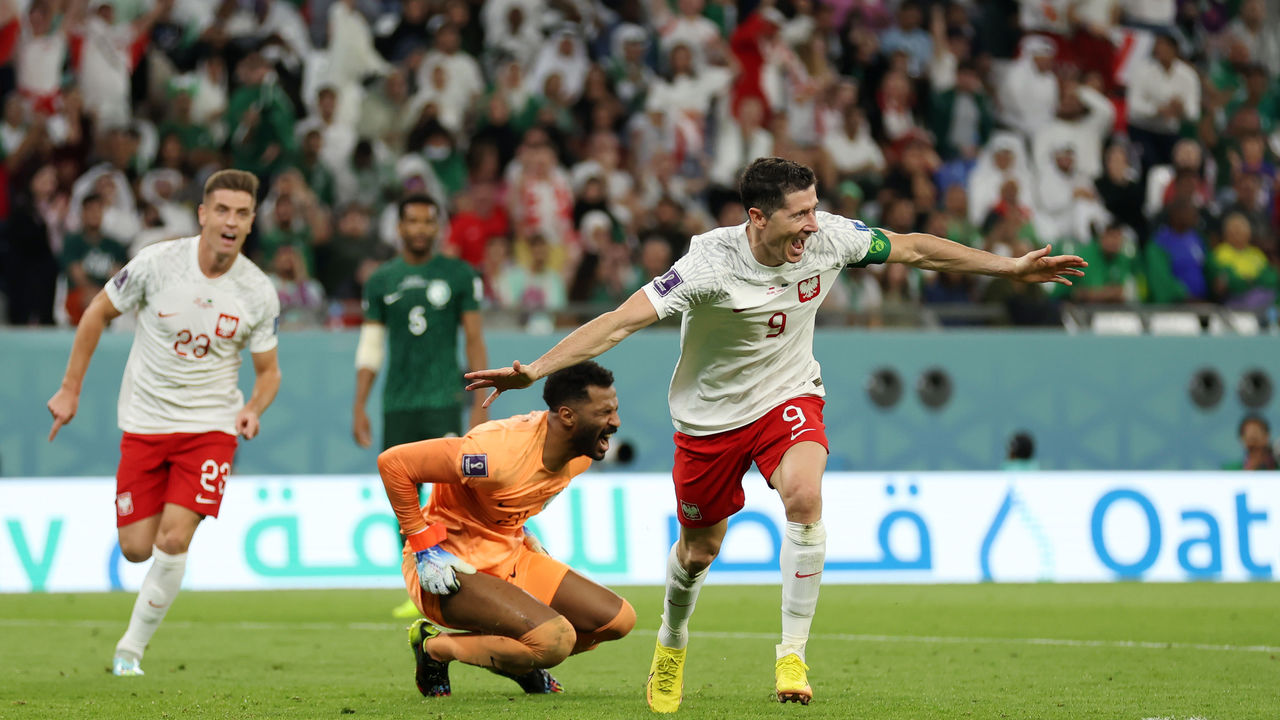 Pre-tournament Rank: 16
That showing against Argentina left a bad taste in everyone's mouth. Despite boasting one of the most prolific scorers in history, Poland was unwilling to support Robert Lewandowski and take any risks in attack. The Poles are indebted to Wojciech Szczesny, whose monumental performances between the sticks are the only reason the team escaped the group stage. Poland's run won't last very long using the same unadventurous approach.
16. Australia ??
Pre-tournament Rank: 27
"How far can vibes carry a World Cup team?" That was the question we asked of Australia ahead of the tournament. Turns out, vibes can get you to at least the last 16! The Socceroos delivered an excellent performance against Denmark to get out of Group D, and Graham Arnold's industrious outfit is now playing with house money. The pressure is off for Australia. How much further can the good vibes take Arnold and his men?
World Cup roundup, Day 9: Brazil needs Neymar, Adams wise beyond his years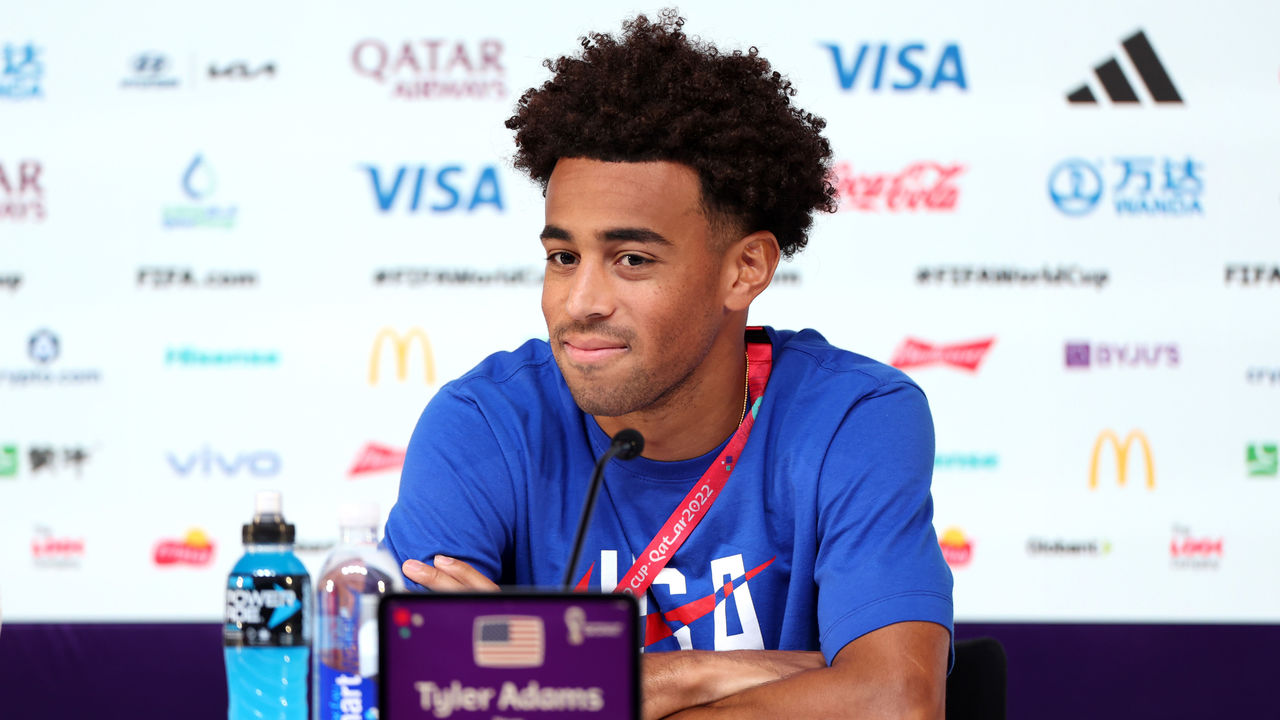 The 2022 World Cup is in full swing. At the end of every matchday, we'll review the biggest talking points emanating from Qatar and break down all the action on the pitch. Below, we look back on Day 9 of the tournament.
Neymar's absence zaps Brazil
Neymar, nursing a grotesquely swollen ankle after a series of heavy tackles in the match against Serbia, is confident that he'll be able to return at some point during the World Cup. Brazil better hope he's right.
The tournament favorite has spent this entire World Cup cycle orbiting around the 30-year-old; the team's style of play is designed with Neymar's unique skills in mind. His dribbling, in particular, opens up space for everyone else, and Richarlison's bullish presence up front complements the Paris Saint-Germain superstar because he stays up high and doesn't occupy the same areas of the pitch. With Vinicius Junior and Raphinha on the wings, Brazil is a menacing force. Without him, though, things get bogged down. Despite bringing an abundance of attacking talent to Qatar, Tite doesn't have anyone who can replicate Neymar's unique skill set.
That was apparent on Monday when Brazil labored to a 1-0 win over Switzerland that required a wicked late strike from Casemiro, of all people, to break the deadlock. Tite brought Fred into the starting lineup and asked Lucas Paqueta to take on a more creative midfield role. It didn't really work.
If Neymar is going to miss additional time, which seems likely considering the state of his ankle, Tite will need to make more sweeping changes. Playing a Neymar-centric system is great until the man himself isn't there. Vinicius is explosive enough to carry the attack, but not in the same way; the Real Madrid star does his damage from the left wing, whereas Neymar drifts all across the pitch, finding pockets of space and exploiting them.
Already qualified for the knockout stage, Brazil's group finale against Cameroon could be a chance for Tite to make broader changes and prepare more thoroughly in case Neymar isn't fit in time for the last 16.
Kudus' stock on the rise
Of all the players whose stocks will rise after successful World Cup campaigns, Mohammed Kudus' could soar the highest by the time things wrap up for Ghana in Qatar.
While casual fans may not have heard the name before Monday, one of the biggest stars in the world, Neymar, certainly knew who Kudus was before an eye-opening outing against South Korea. After the pair were involved in a heated exchange during an international friendly in September, the Ghanaian star added fuel to the rivalry with an audacious remark about the Brazilian.
"He's not better than me. He's just a higher profile player, that's all," the supremely confident Kudus said before the World Cup.
The 22-year-old backed up his words days later, introducing himself to the wider world with a brace to take down South Korea in Ghana's 3-2 victory. In a bonkers match full of action and twists, he exhibited the qualities that Ajax supporters have come to love this season.
Kudus, who was sidelined for most of last season with a knee injury, doubled the Black Stars' lead in the second half with a glancing header after getting on the end of Jordan Ayew's exceptional ball into the box. Following South Korea's frantic comeback, Kudus came to Ghana's rescue in the 68th minute with a composed finish under pressure to record his second World Cup goal. The strike proved decisive, delivering a blow to the Asian nation's World Cup hopes and keeping Ghana alive heading into the final group match.
The worldwide exposure is undoubtedly huge for Kudus' career. But Ajax won't appreciate the increased interest in a player big European clubs will have undoubtedly noticed by now. At this rate, it would hardly be a surprise if there's a lucrative transfer offer that leads to his departure from the Dutch giants over the next two transfer windows, especially after a move to Everton was close this past summer.
Thoughtful Adams shows true leadership
Tyler Adams handled a delicate situation with respect and poise. Ahead of the United States' politically charged meeting with Iran on Tuesday, the USMNT captain was pressed on a variety of topics by media members during the pre-match press conference.
In particular, Adams, who is Black, was asked by an Iranian journalist to defend the United States' treatment of Black people and admonished by the same reporter for his improper pronunciation of the upcoming opponent – the 23-year-old referred to the country as "Eye-ran" instead of "E-ran." Others may have failed to find the correct words in response to the pointed question and critique. But Adams offered a considered response.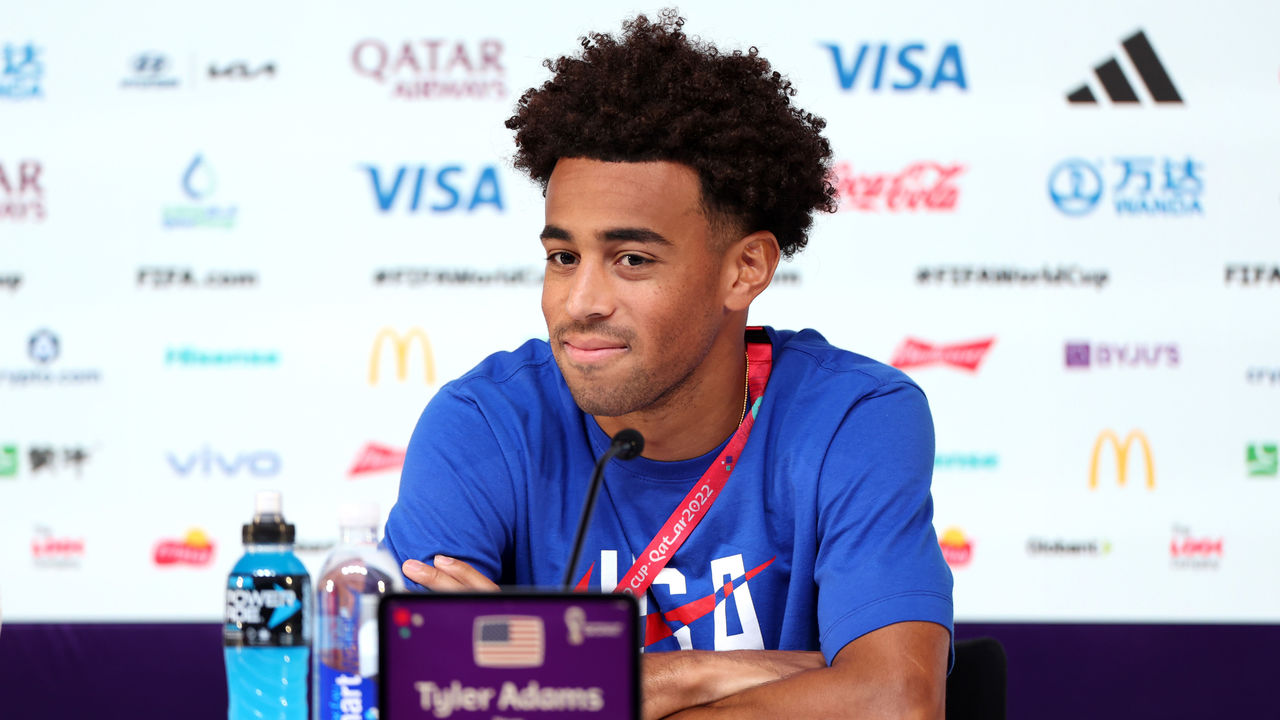 "One thing that I've learned, especially from living abroad in the past years and having to fit in in different cultures and kind of assimilate into different cultures, is that in the U.S., we're continuing to make progress every single day," Adams said, citing the need for continued education in his homeland and across the globe. "Like you just educated me now on the pronunciation of your country. So, yeah, it's a process. I think as long as you see progress, that's the most important thing."
It was an impressive moment from someone tasked with being the face and voice of the American team. That comes with unique challenges, which get amplified considering the history between the United States and Iran. Politics, whether Gianni Infantino likes it or not, are inevitably intertwined with sport. Especially at the World Cup.
Quick free-kicks
Will Ronaldo ever cede free-kick duty?
Ha. Just kidding. We all know the answer to that, right? When Cristiano Ronaldo stood over a free-kick in the first half of Portugal's eventual 2-0 win over Uruguay, precedent suggested there was very little chance the net would be rippled. He went for it anyway. He promptly smacked the ball into the Uruguayan wall, just as many expected. The evidence mounts that he has no business taking free-kicks for his country. Good luck telling him that, though.
Portugal protecting penalty spot
It was only a footnote in the game – Portugal likely would have held on for the win regardless – but after being awarded a stoppage-time penalty to seal the victory over Uruguay, several Portuguese players formed a semi-circle in an apparent effort to thwart any Uruguayan counterparts from sabotaging the penalty spot. It's surprising that this type of calculated effort by multiple players at once doesn't happen more often. Bruno Fernandes, with a hop, skip, and jump, coolly converted the effort from 12 yards out to complete his brace and cap the victory. Ronaldo, who earlier tried to claim a goal that was awarded to Fernandes, could only watch from the bench. The current Manchester United player, and not the former one, is powering Portugal right now, as Fernandes already has two goals and two assists in Qatar.
Onana booted from Cameroon squad
Monday's action started with a big surprise between the sticks for Cameroon: Andre Onana was replaced by backup Devis Epassy. Onana, the undisputed starter for the Indomitable Lions, wasn't even on the bench. What gives? It appears as though a disagreement between the Inter Milan shot-stopper and manager Rigobert Song resulted in Onana's omission from the squad for the hectic 3-3 draw against Serbia. Officially, he was dropped for "disciplinary reasons." Song wants Onana, who's adept with his feet, to take fewer risks playing the ball out from the back. The 26-year-old, a disciple of the Barcelona and Ajax footballing philosophies, disagrees. "For the time being, I've had to wait, and we'll see if he's going to stay with us," Song said of the situation. "It's up to him as well, to a certain extent. So, you're going to have to agree to respect the rules to perhaps come back into the squad."
Subs change games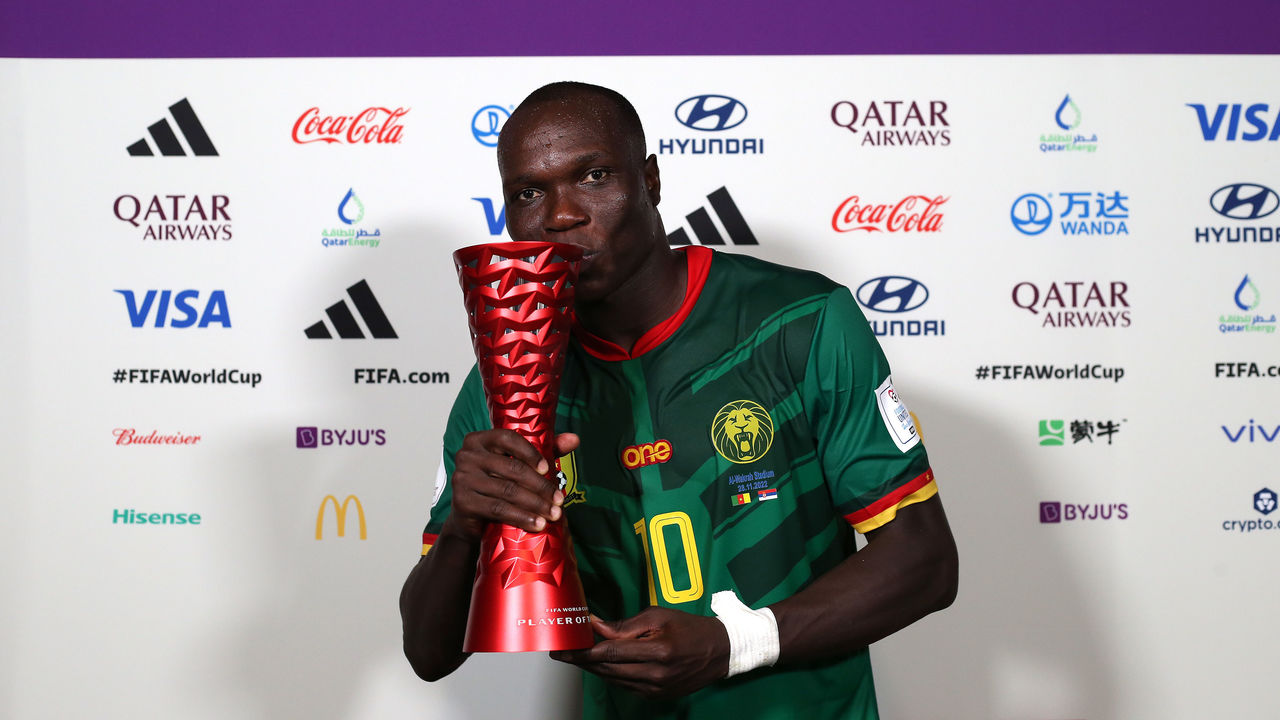 A pair of substitutions – one enforced, one overdue – changed the course of Monday's match between Serbia and Cameroon. With Serbia leading 3-1 and looking in complete control, the African side introduced striker Vincent Aboubakar off the bench in the 55th minute. Roughly 60 seconds later, Serbian defender Strahinja Pavlovic, who had already scored a goal and was putting forth a commanding physical performance, was forced out of the contest with an apparent injury. Just 10 minutes later, the match was knotted at three apiece. Serbia's defense crumbled after Pavlovic, a 21-year-old garnering significant transfer interest, had to come off. Aboubakar, whose absence from the starting XI has been baffling considering his scoring prowess this year for Cameroon, took full advantage, scoring an audacious scoop shot to cut the deficit in half before setting up the equalizer in the manic 3-3 draw. With deeper benches for this tournament and more subs available to coaches, in-game changes have never been more influential.
Canelo vs. Messi, Round 1
Lionel Messi already has to worry about being targeted by defenders every time he steps on the pitch. Now he apparently has a world-champion boxer after him, too. Mexican pugilist Saul "Canelo" Alvarez took aim at Messi on social media, accusing the Argentine superstar of disrespecting his country following the Albiceleste's much-needed 2-0 win over the weekend. While removing his shoe in the dressing room after the match, Messi appeared to inadvertently nudge a Mexican jersey that was on the floor. "He better ask God not to run into me," Canelo tweeted, clearly perceiving the incident to be an insult worthy of fisticuffs. Sergio Aguero and Cesc Fabregas both rushed to Messi's defense, with the latter retorting that Canelo doesn't understand "how a locker room works" after a football match. If you had "Messi versus Canelo" on your World Cup bingo card, collect your winnings.
Stat of the day
After so many drab goalless matches at both this World Cup and previous editions of the tournament, we deserved today's scoring outburst.
Tweet of the day
Gio Reyna and geopolitics are both on Gregg Berhalter's mind right now.