Team of the tournament: Best XI at 2022 World Cup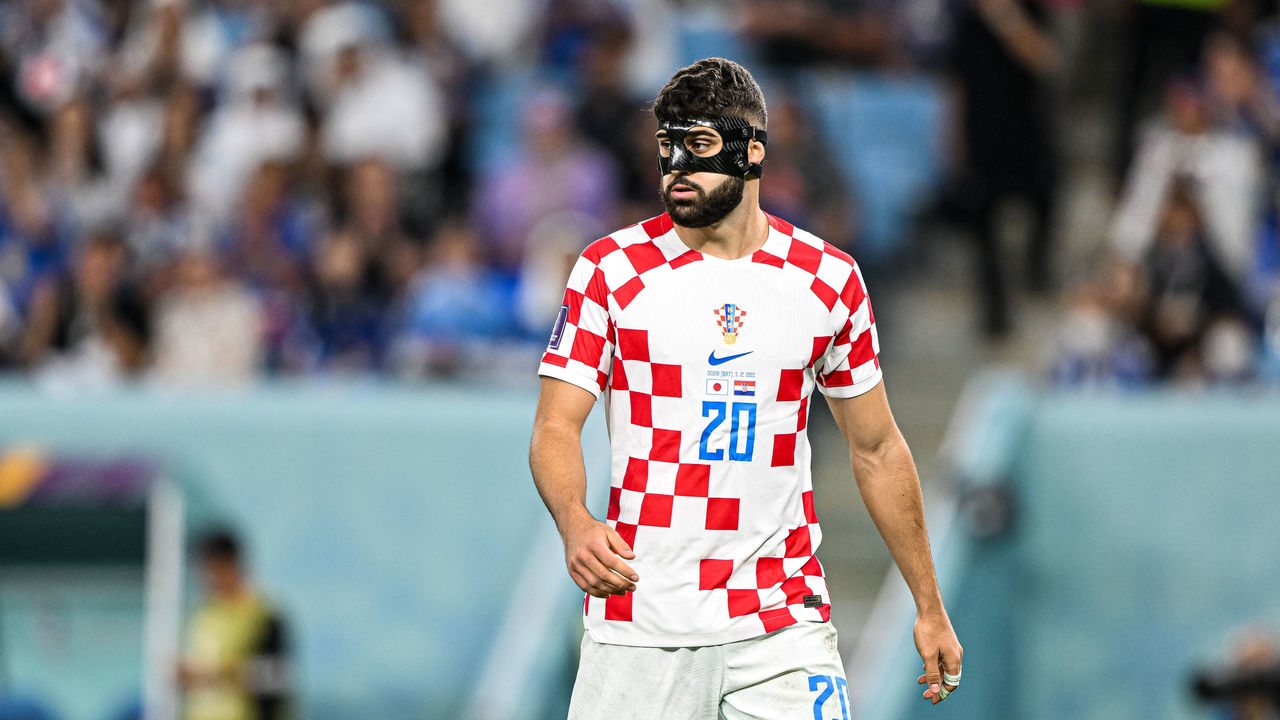 With the 2022 World Cup coming to an end, theScore assembles the competition's best lineup with the tournament's top-performing stars.
Emiliano Martinez ??
Whenever Argentina needed him, he was there. That statement is true of Lionel Messi, of course, but it also applies to Martinez, who rescued his team on multiple occasions en route to winning the World Cup. When Australia had a chance to equalize in the last 16, Martinez stood tall. When the Netherlands threatened to complete an improbable comeback in a shootout, Martinez stepped up. And when France had a golden opportunity to rip the title away in the final with almost the last kick of extra time, Martinez was there, making one of the biggest saves in tournament history.
Honorable mention: Dominik Livakovic (Croatia)
Theo Hernandez ??
Hernandez made his World Cup debut when Lucas, his older brother, tore his ACL. Lucas suffered the injury on the play that led to Australia's shocking opener against France, leaving Theo as the obvious replacement at the left-back position. Theo wasted no time, needing just 14 minutes to set up the equalizer, and spent the rest of that 4-1 win commanding that left flank. Theo consolidated his place in the starting lineup, and after conceding a cheap penalty in the quarterfinals, the AC Milan full-back recovered to score early in the semifinal against Morocco.
Honorable mention: Aziz Behich (Australia)
Josko Gvardiol ??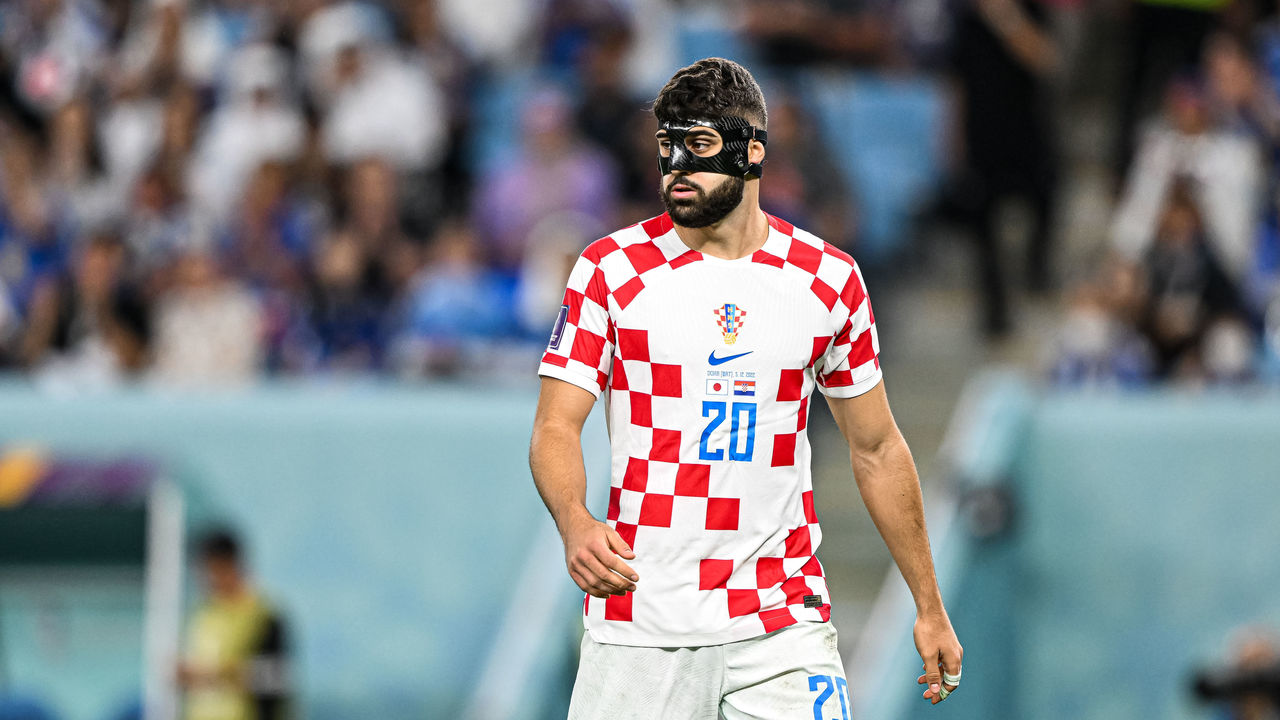 Gvardiol already reads the game like a grizzled veteran at the age of 20, and his intimidating physicality – he's broad-shouldered, 6-foot-1, and a fierce competitor – is paired with supreme ability with the ball at his feet. Only France's Aurelien Tchouameni produced more interceptions at the World Cup than Gvardiol, and the defender ranked third for total passes by a Croatian behind Marcelo Brozovic and Luka Modric. RB Leipzig were already demanding a huge transfer fee for Gvardiol, but his price tag has skyrocketed courtesy of his authoritative showings in Zlatko Dalic's backline.
Honorable mention: Nathan Ake (Netherlands)
Nicolas Otamendi ??
Only two outfield players featured in every single minute of Argentina's victorious World Cup campaign. You can probably guess the first one, but Otamendi likely wouldn't immediately come to mind as the other. The veteran defender, 34, was ever-present for Lionel Scaloni's team, anchoring a rugged backline in what was likely his final World Cup. Once a rash and undisciplined player susceptible to glaring mistakes, Otamendi was the most tranquil of Argentina's defenders in Qatar, trading in wild tackles for well-timed interceptions that helped the Albiceleste get on the front foot.
Honorable mention: Harry Maguire (England)
Achraf Hakimi ??
Hakimi's lung-busting runs down the right usually draw the most attention, but he was a defensive rock in Qatar. He led the tournament with 26 completed tackles and produced the third-most interceptions by a defender (nine). That's not to write off his work as unadventurous: He attempted 15 dribbles and was Morocco's second-most creative player with six key passes. The 24-year-old's confidence was overflowing as one of Morocco's main men, and he cheekily downed Spain – where he was born and raised – with a Panenka penalty to conclude the shootout in the round of 16.
Honorable mention: Josip Juranovic (Croatia)
Sofyan Amrabat ??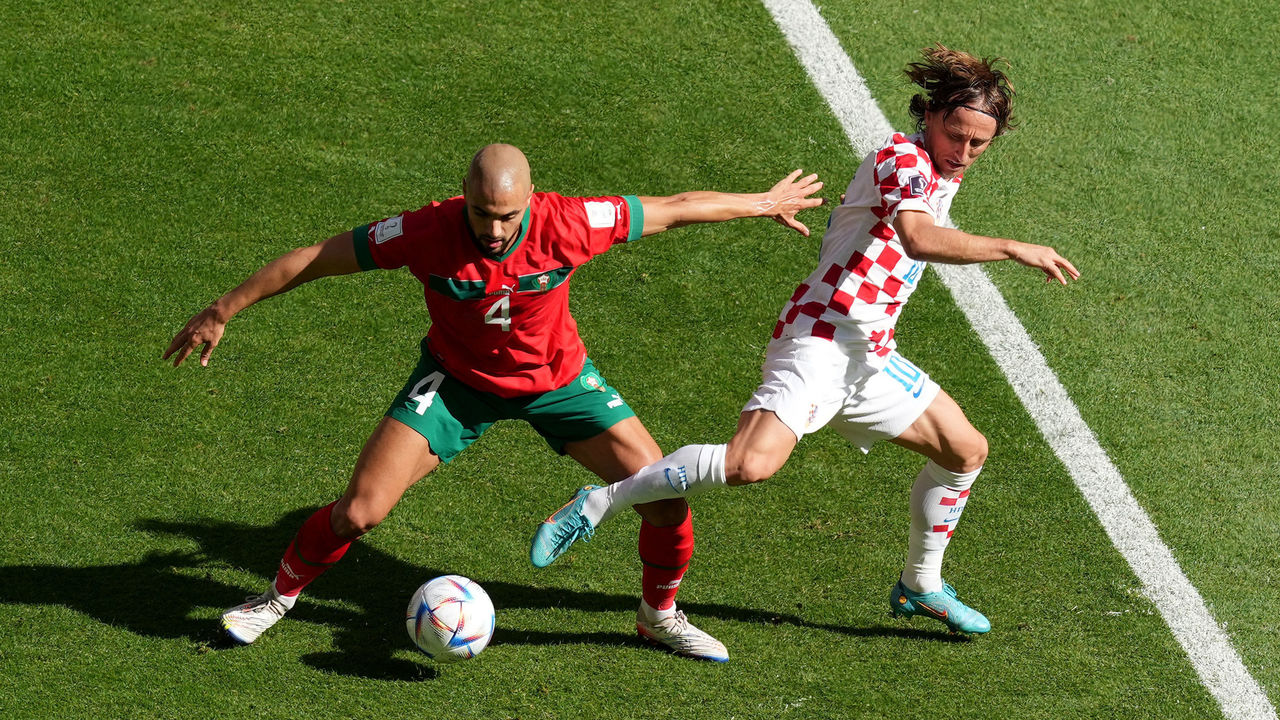 Morocco asked Amrabat to do a bit of everything, and every time, he delivered. The 26-year-old breathed down the necks of his opponents and negotiated ways out of danger without breaking a sweat. His stock rose further as Morocco beat Belgium, Spain, and Portugal, displaying to a wider audience what many in Italy had already gathered. Rarely putting a foot wrong, the Fiorentina midfielder ended the tournament with just one yellow card to his name, a worthwhile achievement for a player who found himself in the trenches for seven matches.
Honorable mention: Enzo Fernandez (Argentina)
Luka Modric ??
Modric seemed human in the round of 16. With 99 minutes gone in Croatia's meeting with Japan, the fleet-footed midfielder was clearly fatigued when he was substituted. At 37, that's to be expected. But from nowhere, Modric found extra energy reserves for the knockout matches against Brazil and Argentina, seeming omnipresent while he swept up defensively and created chances at the other end. In what was likely his last World Cup appearance, the Real Madrid star reminded everybody why he's one of the greatest midfielders of all time while playing 656 out of a possible 690 minutes.
Honorable mention: Jude Bellingham (England)
Antoine Griezmann ??
When France lost N'Golo Kante and Paul Pogba to injury, head coach Didier Deschamps turned to Griezmann. He knew the star center-forward could handle the workload in midfield. Few players have ever been as reliable to a single cause: Griezmann's played in each of France's last 73 matches, and he's filled various roles in the five-and-a-half years since his streak began. France wouldn't have made as deep of a run in Qatar without Griezmann's work rate, off-the-ball movement, and defensive awareness.
Honorable mention: Bruno Fernandes (Portugal)
Kylian Mbappe ??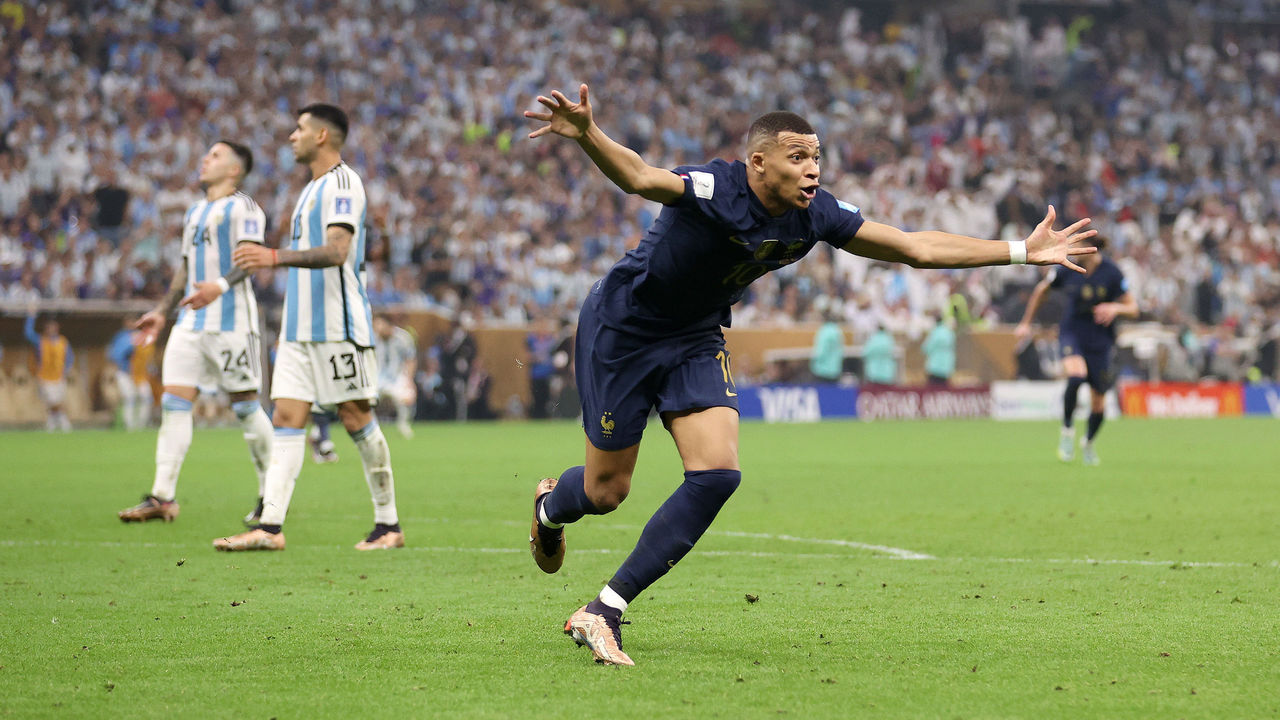 Nobody was more electrifying during the World Cup than Mbappe. France had no business pushing the final against Argentina to extra time, let alone a shootout, but the insatiable forward took it upon himself to will Les Bleus to within a whisker of successive titles. His 97-second brace, even in a losing cause, will live long in the memory. The Golden Boot winner with eight goals, including his remarkable hat-trick in the final, Mbappe has now found the net 12 times in just two tournaments. He turns 24 tomorrow. The men's all-time World Cup scoring record is in serious jeopardy.
Honorable mention: Richarlison (Brazil)
Julian Alvarez ??
Prior to the World Cup, Alvarez was tipped to blossom into a superstar for Argentina. It just wasn't supposed to happen this quickly at this tournament. With Lautaro Martinez struggling, the 22-year-old was thrust into the spotlight. He excelled in the role, scoring four goals in five starts and, crucially, doing huge amounts of work off the ball to both win possession back and free up space for his teammates. His youthful zest was vital to Argentina's success. Messi himself said Alvarez's impact on the team was "absolutely spectacular." Looking back now, it's impossible to picture Argentina without him.
Honorable mention: Olivier Giroud (France)
Lionel Messi ??
Save the best – of the tournament and of all time – for last. Messi dazzled all month long in Qatar, but as the matches grew in significance, his performances followed suit. The Golden Ball winner always rose to the occasion. He got Argentina back on track in the group stage, scored in every knockout round – including twice in the final – and, in the tensest possible moment, his nonchalant penalty helped kick off the shootout against France and calm his team's jangling nerves. His seven goals were second only to Mbappe, and nobody had more assists. A brilliant artist's finest work.
Honorable mention: Cody Gakpo (Netherlands)
Even in a World Cup of twists and turns, it came down to Messi and Mbappe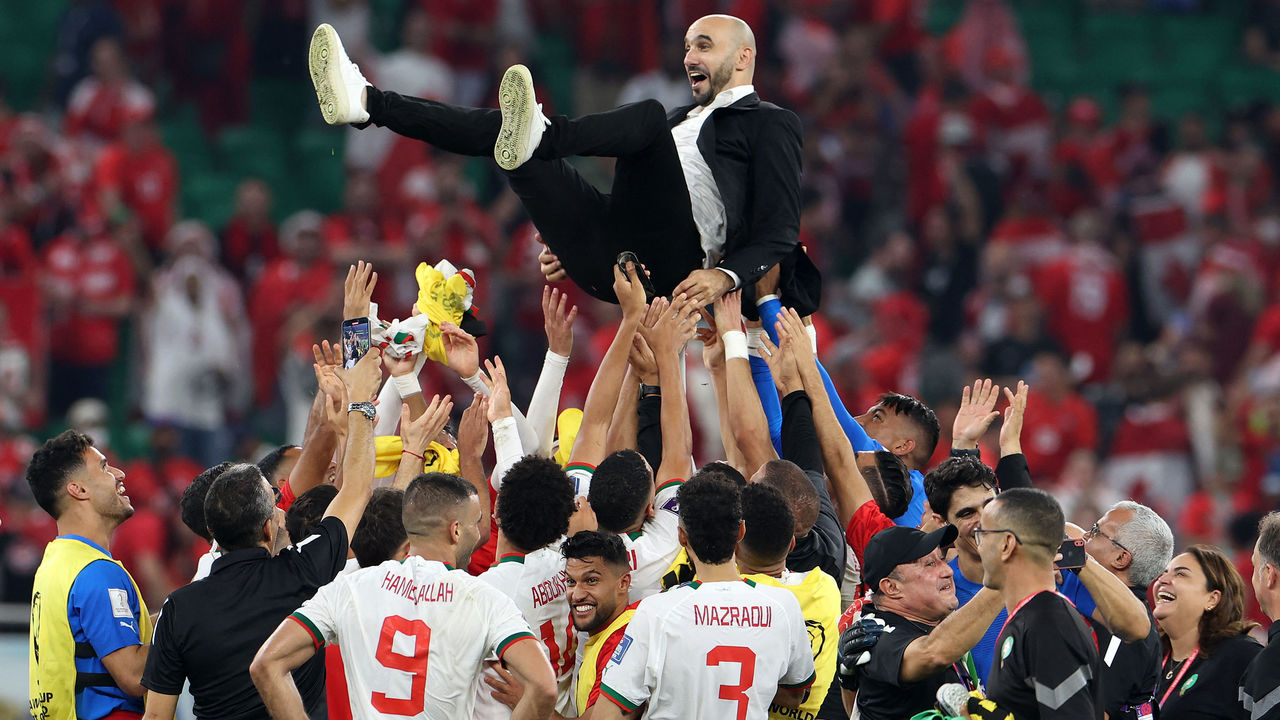 As Sunday's World Cup final entered the final half hour of regular time, the partisan crowd at Lusail Stadium began to sing ballads. Argentina moved the ball with alarming ease, and 40,000 or so of its compatriots in the stands coronated each pass. "Ole," they chanted as their heroes completed attempt after attempt. "Ole, ole, ole."
Up until that final half hour, France had failed to record a single shot on target. It had barely made a foray into Argentina's penalty area. The flu virus that had afflicted the French in the days before the final seemed to have sapped all of their energy. Argentina's 2-0 lead seemed as secure as anything ever recorded in history.
Except it wasn't. The essence of this tournament was about to be revealed.
All it took was a turnover, a hopeful pass forward, and a run-in behind defender Nicolas Otamendi for Randal Kolo Muani, one of France's speculative substitutes, to win a penalty in the 79th minute. That set into motion the most spectacular game of football ever played in a World Cup final.
Everything changed the moment Kylian Mbappe converted that penalty. Momentum swung violently the other way, and suddenly France seemed like the clear favorite to win. Mbappe equalized 97 seconds later, leaving Argentina wobbling on the canvas. A routine affair became a dog fight.
The World Cup had to end the way it started: amidst absolute chaos. The only thing that stayed on script Sunday was the fact that it went off it. These 28 days in Qatar proved that the best don't always win, and that moments make champions, not necessarily talent alone. If something could happen, it did.
Saudi Arabia scored twice against Argentina to win a match in which it was expected to score 0.1 goals. Japan overcame 1-0 deficits to defeat both Germany and Spain. Morocco ousted Belgium, Spain, and Portugal with a ragtag ensemble and a coach who'd only taken the reins three months prior. No amount of backroom scheming and tactical planning could legislate for any of that. It just kind of happened.
Didier Deschamps' team was a case study in improvisation. It started the tournament without six of its starters, including Karim Benzema, who won the Ballon d'Or as the world's greatest player weeks before kickoff. France needed Harry Kane to miss the second of two penalties to have a chance of advancing from the quarterfinals, and it needed several players, including starters Adrien Rabiot and Dayot Upamecano, to recover from a flu bug in time to log significant minutes in the final.
The French also needed Olivier Giroud, for so long considered a liability by his own people, to convert the few chances that fell his way, and they needed Antoine Griezmann, a center-forward by trade, to sacrifice himself in midfield.
But two constants emerged amidst the wreckage. Argentina had Lionel Messi, and France had Mbappe. As the tournament cycled through the rounds, as the teams trudged toward the promised land, these two became more and more integral to this twisting tale. A certain air of invincibility followed them.
Messi and Mbappe were the heavyweights of the competition but also anomalies, putting all the tournament's unsung heroes back in their place. No matter how close Argentina cut it, Messi always seemed the likeliest to determine its fate. No matter how desperate France had become, Mbappe always seemed to have a solution.
Messi didn't just score, he created, and he took on defenders like it was 2017, turning Croatia's Josko Gvardiol – the World Cup's standout center-back – inside out with the same craftiness that turned Bayern Munich's Jerome Boateng into a meme years ago. Mbappe ran like a gazelle, probed for openings, and found space even as multiple defenders descended on him with growling menace. Then, as one does, Mbappe went and scored a hat-trick in the World Cup final. Not even Pele could manage such a feat.
Messi and Mbappe remained fixtures as the World Cup became more and more of a wild card. The most important game of a tournament of seemingly unyielding vagary came down to the sport's two main characters: the greatest of all time, and the potentially soon-to-be greatest.
Even when things that should've happened didn't actually happen, Messi and Mbappe delivered as expected. Little else went according to plan. No one expected Morocco to fly the flag for Africa or Brazil to lose to Croatia in the quarterfinals. No one suspected a thing when the "oles" broke out Sunday, when Argentina's traveling contingent swayed in the stands with a 2-0 lead and chanted with absolute glee.
Just as nothing made sense, Messi and Mbappe did. They scored five of the six goals in the final and converted the first of their penalty kicks. They did everything they were supposed to do. And the World Cup of twists and turns had the only ending anyone had ever expected.
3 thoughts from Argentina's win over France in legendary World Cup final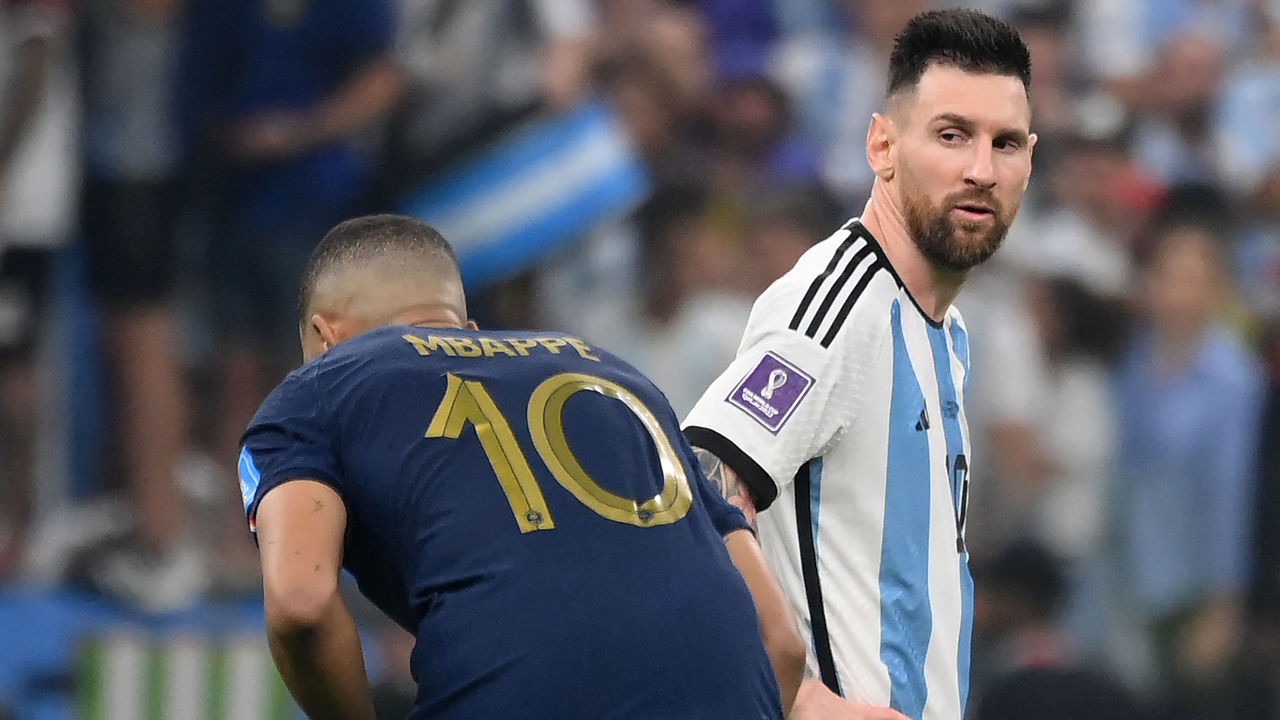 How do we make sense of such bedlam?
Lionel Messi almost led Argentina to World Cup glory in normal time – and then in extra time – but Sunday's gripping final ended 3-3 after 120 minutes before the South Americans finally edged France on penalties.
Kylian Mbappe notched a hat-trick and struck a successful spot-kick in the shootout, but his clinical and mature display wasn't enough to earn the superstar his second World Cup winners' medal.
Here are three takeaways from an unforgettable final to conclude the 2022 World Cup:
Di Maria wreaks havoc
Discussions around Jules Kounde during the tournament indicated the right-back slot was completely alien to him. It seemed an awkward fix – something akin to solving an antique dining table's wobble with a few soggy beer mats under a leg.
But that wasn't strictly true given the minutes Kounde spent in that position for Julen Lopetegui at Sevilla and now Xavi at Barcelona. He's not a novice at full-back. But it is reasonable to suggest he's significantly better at center-back. In hindsight, perhaps Benjamin Pavard – a more dependable player on the right of a back-four – would have been the better choice in that role.
Angel Di Maria taunted Kounde in the first half. The Frenchman distractedly glanced over at midfield runners while Di Maria jinked his way down the flank and, at one point, desperately dragged the winger down after being beaten. Kounde was overwhelmed – his head muddled by the decisions he faced and his body knotted by the 34-year-old wideman's footwork. And no one stepped up to help their bewildered teammate.
Kounde was caught in a narrow position for the move that led to Argentina's penalty. His preoccupation with Argentina's forward-thinking midfielders and Julian Alvarez meant Di Maria only had Ousmane Dembele to beat, and his chop created the space to carve out a route into the box before Dembele clipped his heels.
Messi made no mistake from 12 yards.
Kounde wasn't part of France's attack before Argentina's second goal, so he should have been well-placed to deal with the Albiceleste's speedy transition. But Dayot Upamecano was caught high up the pitch while Raphael Varane tried to engage with Messi, forcing Kounde to leave his position and close down goal-bound Alexis Mac Allister. Mac Allister then rolled an inviting pass to an unoccupied Di Maria for one of the finest goals of the 2022 World Cup.
To France's relief, Di Maria only lasted a little over an hour before being substituted for Marcos Acuna. Di Maria – now a scorer in the finals of the 2008 Olympics, 2021 Copa America, 2022 Finalissima, and the 2022 World Cup – could have helped put the match out of reach if he was fully fit – or just younger.
Messi, Mbappe put on a show
It was unavoidable in the buildup to the final. This was a battle between the master – perhaps the greatest player of all time – and a potential heir to his throne.
And how Messi and Mbappe delivered.
Here are some standout numbers following the superstars' enthralling performances in a staggering final:
1 – At just 23, Mbappe is the top scorer in World Cup finals history with four goals.
2 – Messi is the second-oldest player to score in a World Cup final at 35 years and 177 days. Sweden's Nils Liedholm converted against Brazil in the 1958 showpiece at 35 years and 264 days.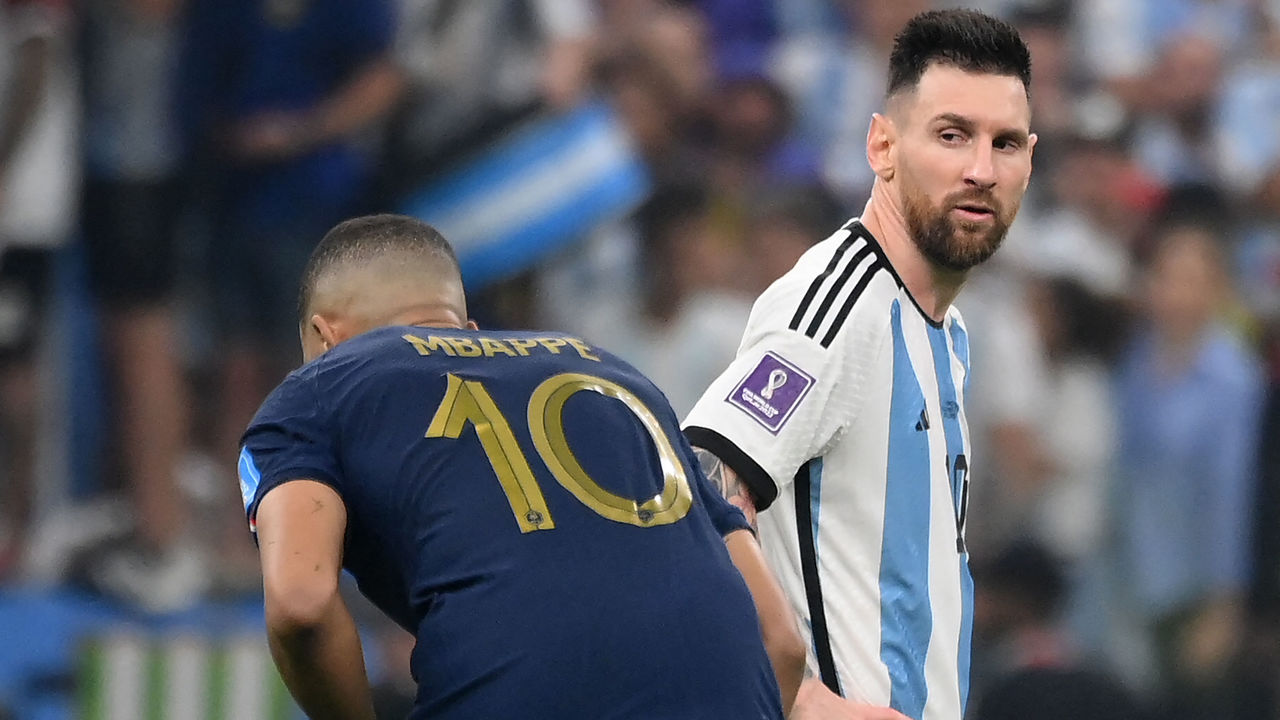 3 – Mbappe's treble made him the second male player to score a hat-trick in a World Cup final. Geoff Hurst previously stood alone with that record thanks to his legendary display in England's 1966 triumph.
4 – Argentina's No. 10 scored four penalties in Qatar (excluding the shootout against the Netherlands in the quarterfinals). Only Dutch winger Rob Rensenbrink in 1978 and Portuguese icon Eusebio in 1966 have tucked away that many spot-kicks in a single tournament.
7 – Messi had never scored a World Cup knockout goal until this month. He spread his seven goals at the 2022 edition across the group stage, last-16, quarterfinals, semifinals, and final, meaning he's the first player to score in each round of a single World Cup campaign.
8 – The last time a male player scored eight goals at a single World Cup was in 2002; Mbappe matched Ronaldo's mark from Brazil's success two decades ago.
10 – Messi and Mbappe both registered 10 goal involvements at the World Cup: Messi totaled seven goals and three assists, while Mbappe claimed eight strikes and two assists. The last player to reach that mark was Diego Maradona, who scored five and set up five during Argentina's victorious 1986 campaign.
26 – Messi set a record with his 26th goal across his appearances on football's biggest stage and his country's continental competition. Brazil's Ronaldo previously held the record with 25 goals scored at World Cup and Copa America outings.
100 – Messi's second strike – and Argentina's third – was his 100th career goal with his right foot.
A fitting end
Argentina was cruising, tapping the ball around the middle of the park to the soundtrack of "oles" from the crowd. The French players, chasing shadows around Lusail, appeared more tired than the annual debates over whether "Die Hard" is a Christmas movie or not.
It seemed to be a procession toward the trophy for the Albiceleste. So – naturally, for this tournament – the scene descended into blissful chaos.
From nowhere, Mbappe scored twice in 97 seconds – a penalty and a stunning lashed volley – to wipe out Argentina's two-goal advantage by the 81st minute.
It's impossible to ignore the atrocities that Qatar and FIFA tried to gloss over at this World Cup, including migrant worker deaths and abuses and the abhorrent treatment of the LGBTQ+ community in the Gulf state. But it's also impossible to deny this was a marvelous tournament: There were surprise results -including, of course, Saudi Arabia's win over Argentina – several miraculous tournament runs highlighted by Morocco's, and many other timeless individual and team performances.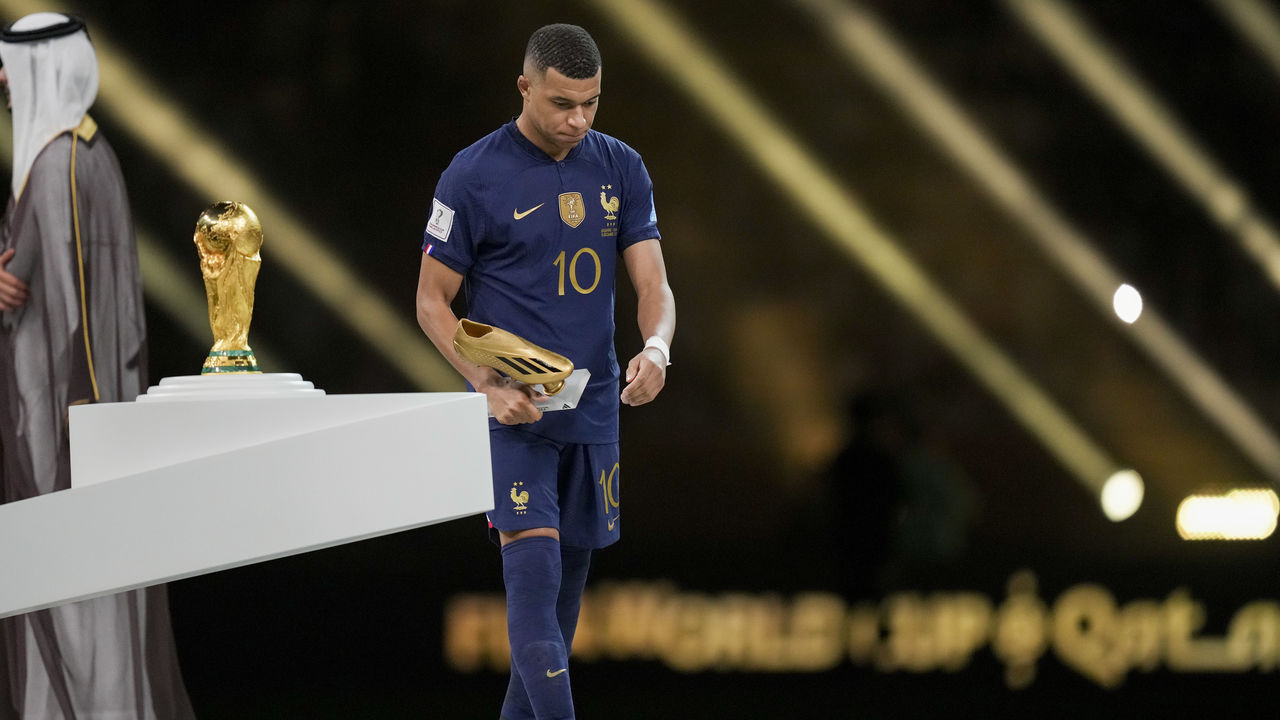 The final kept up appearances. Mbappe's quick-paced double salvo wasn't even close to the peak of Sunday's shock and suspense. Messi thought he'd won it when he scored in the 109th minute, but tears of happiness on the Argentine bench became tears of despair when Mbappe scored from the penalty spot following Gonzalo Montiel's handball.
Even then, there was more drama to unfold. Randal Kolo Muani was inches from scoring the winner with his head, but that wasn't his best late chance. The Eintracht Frankfurt forward was one-on-one with Emiliano Martinez in the 123rd minute, but his shot was spectacularly saved by Martinez's foot; Lautaro Martinez then wastefully headed wide after one last sprint upfield from the Argentines.
It was breathless action to conclude a memorable World Cup, and Montiel's game-winning penalty in the shootout tied a bow on one of the greatest matches in the old sport's history.
World Cup final preview: Key questions, prediction for Argentina vs. France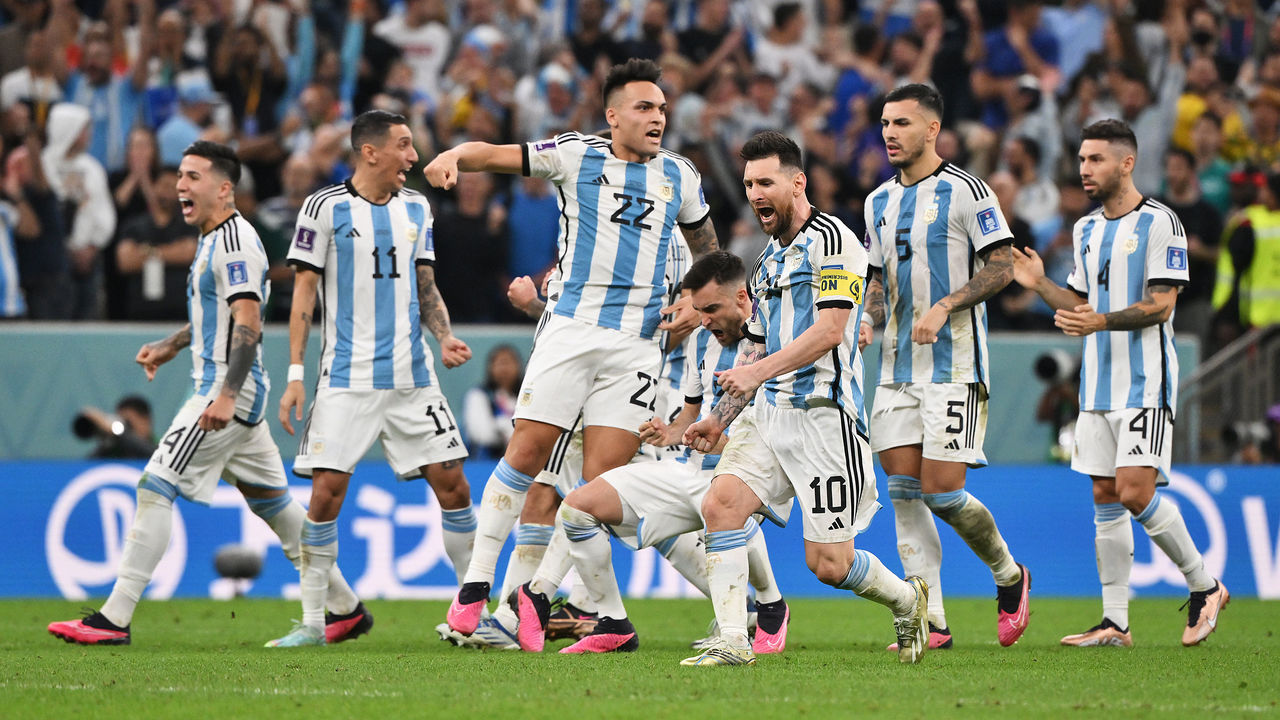 Get ready for Sunday's World Cup final with theScore's comprehensive preview. Below, we examine the key questions and tactical battles that'll determine whether Argentina or France hoists the iconic trophy, along with a prediction for the showpiece match.
How to watch
When: Sunday, Dec. 18 at 10:00 a.m. ET
Where: Lusail Stadium (Qatar)
Referee: Szymon Marciniak (Poland)
TV: FOX, Telemundo, and Universo (U.S.), TSN and CTV (Canada)
Stream: fuboTV (U.S.), TSN GO (Canada)
Betting odds: Argentina +175; France +175
Projected lineups
Argentina (4-4-2): E. Martinez; Acuna, Otamendi, Romero, Molina; Mac Allister, Fernandez, Paredes, De Paul; Alvarez, Messi
France (4-3-3): Lloris; T. Hernandez, Upamecano, Varane, Kounde; Rabiot, Tchouameni, Griezmann; Mbappe, Giroud, Dembele
By the numbers
Comparing 2022 World Cup statistics for the tournament's two finalists.
| Argentina | | France |
| --- | --- | --- |
| 4-1-1* | Record | 5-0-1 |
| 12 | Goals Scored | 13 |
| 5 | Goals Against | 5 |
| 11.8 | Expected Goals (xG) | 11.6 |
| 2.4 | xG Against | 6.7 |
*Argentina's shootout victory over the Netherlands in the quarterfinals, for FIFA's record-keeping purposes, is recorded as a draw.
Key questions
Which formation will Argentina use?
Lionel Messi, naturally, is getting nearly all of the attention leading up to Sunday's final. But an impending decision by his namesake, Argentina manager Lionel Scaloni, could end up being equally important as anything the Argentine captain does on the pitch. Perhaps more so?
Scaloni's biggest selection conundrum heading into the match revolves around Angel Di Maria. The winger, 34, has struggled with muscular ailments all tournament long, playing just nine minutes over the previous two rounds after limping out of the victory over Poland; he didn't feature in the semifinal triumph against Croatia. Training regularly ahead of the final, Di Maria's potential return to the starting lineup creates options for Scaloni.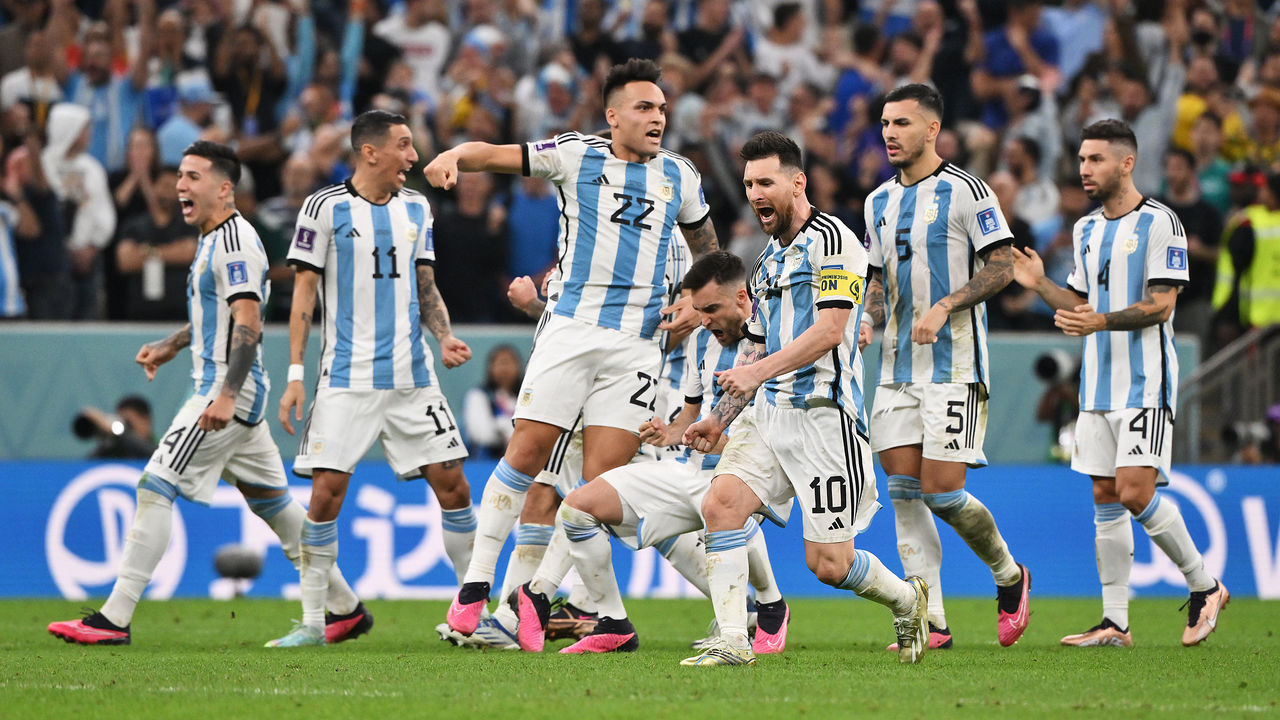 The ostensible 4-4-2 used to such great effect against Croatia – which operated more as a shape-shifting 4-3-3 with Alexis Mac Allister pushing up from the left side in support of Messi and Julian Alvarez – will likely be utilized again if Di Maria isn't capable of starting the contest. If he is, though, Argentina could return to a more traditional 4-3-3 setup, with the sinewy veteran – on the right side – and Alvarez flanking a roaming Messi, who can play through the middle and drop deep to pick up the ball and orchestrate. Alvarez, then, could stay high on the left wing, as Jules Kounde, a makeshift right-back for France, will very rarely vacate his defensive position.
Who comes out of midfield, though? Mac Allister has provided graft and guile throughout the tournament, while the on-ball composure of Leandro Paredes was vital against Croatia. Enzo Fernandez and Rodrigo De Paul are assured of their starting places, so Mac Allister or Paredes would need to make way for Di Maria. The risk of burning an early sub if he needs to come off prematurely can't be ignored, though the five-substitute era lessens that concern to a degree. Formations, for the most part, can be overblown. These things are all fluid. But personnel decisions are magnified in big matches, and there are none bigger than the World Cup final. Scaloni has a big call to make.
Will France be at full strength?
An ill-timed virus has ripped through Didier Deschamps' France squad, with Raphael Varane, Ibrahima Konate, and Kingsley Coman all missing training on Friday. Adrien Rabiot and Dayot Upamecano, two pillars of the side in Qatar, were unavailable for the semifinal due to the same illness. Rabiot, in particular, has been a monstrous presence in midfield.
"We are trying to take as many precautions as possible, to adapt as necessary and get on with it," Deschamps said on the eve of the match, while noting that everyone trained on Saturday. "Obviously, it would be better if this wasn't happening, but we are handling it as well as possible with our medical staff."
All of them could play on Sunday. None could be available. Some combination could feature. Much remains up in the air. In a way, it's a fitting end to the tournament for the reigning champion, which has been beset by a series of significant injuries that would have rocked any other team to its core.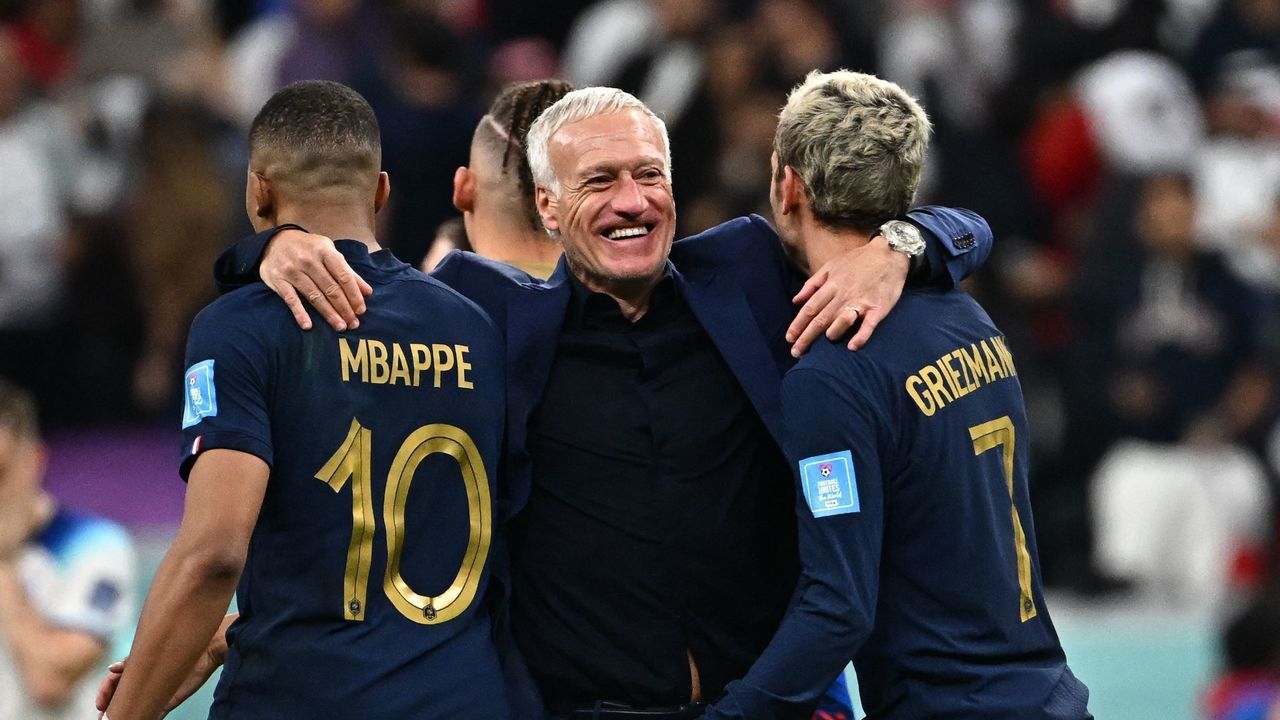 That, in part, is why it's so difficult to levy any genuine criticism at Deschamps for France's paradoxical approach. Les Bleus, by design, still haven't hit top gear, allowing each match to come to them and then pouncing when the opportunity arises. And they're still winning, even if the margins are becoming ever slimmer in the knockout stage. There's a certain haughtiness that comes with never needing to be at your incandescent best and still succeeding. At this point, you have to respect it. France's obscene collection of talent has justified that approach. Losing Karim Benzema – the reigning Ballon d'Or holder – N'Golo Kante, Paul Pogba, Christopher Nkunku, Lucas Hernandez, and Presnel Kimpembe, among others, would be a death knell for any other team. France just keeps motoring along. The football itself has been reactive – especially against England and Morocco, where that passivity was nearly costly – but at this point, it's a winning formula. How you win doesn't go into the record books, ultimately. Just that you win.
Regardless of who plays on Sunday, France will use its trusted approach as it looks to enter dynastic territory by becoming the first nation in 60 years to win consecutive World Cup titles.
Is this Messi's crowning moment?
It's perhaps a little too crude to say this Argentine squad is Messi and 25 other players; this isn't exactly 2014, when the diminutive magician dragged an unbalanced and largely underwhelming team to within a whisker of the title before Mario Gotze scored that goal. This version of the Albiceleste is significantly better. Alvarez, full of energy and verve, ripped away the starting spot up front and – quite literally, against Croatia – ran with it. Fernandez has announced himself to the world over the past month. De Paul and Nahuel Molina have shaken off a scrappy season with Atletico Madrid to thrive in Qatar. Emiliano Martinez, one of the vocal leaders of Scaloni's team, provides backbone and swagger. Argentina is very good. This team didn't go 36 matches unbeaten coming into the tournament for nothing.
And yet, on a simpler level, this really is Messi and 25 other dudes. It's impossible to ignore the narrative drama of it all. Aside from all the tactics, lineup decisions, and individual battles, that's what this sport, and especially this match – the biggest one of all – can deliver.
The only title to ever elude Messi's grasp is, once again, one victory away. At 35 years old, this is his final chance to hoist the World Cup and, whatever you think about the exhausting GOAT debate, put a stake through it for good. Messi may have more help than ever before on the international stage, but he's still leading Argentina in more ways than one. He's the joint-leading scorer in Qatar – level with Kylian Mbappe on five goals – and nobody has more assists, either. Two of those helpers were more spellbinding than any goal that's been scored in the tournament thus far.
Messi, more than any other player – perhaps in history – can feel the game. He can see things others only recognize after they happen; for opposing defenders, after it's too late. Take his assist against the Netherlands, for example. If he can conjure up one more breathtaking moment and lead his country to its first World Cup title since 1986 – something much of the world outside of France (and maybe Brazil) is willing him toward – the already rarified air he breathes will reach another level. He won't have to share it with anyone.
Can Mbappe rip the baton away?
Four years ago in Russia, Mbappe's career took a gigantic leap forward – at Messi's expense, no less. Then 19, Mbappe transformed from burgeoning teenager to full-blown superstar when, in the manic 4-3 win over Argentina in the round of 16, he scored twice and created another goal with a searing, scintillating 70-yard run that no other player on earth could dream of replicating. You could sense the changing of the guard was slowly beginning.
Messi, to his immense credit, has made his Paris Saint-Germain teammate wait longer than expected to assume the mantle exclusively. But, this being Messi's final World Cup, that moment is coming. Father Time never loses. The tournament in Qatar, also the last for Cristiano Ronaldo, will signal a passing of the baton after nearly two decades of the Messi-Ronaldo duopoly.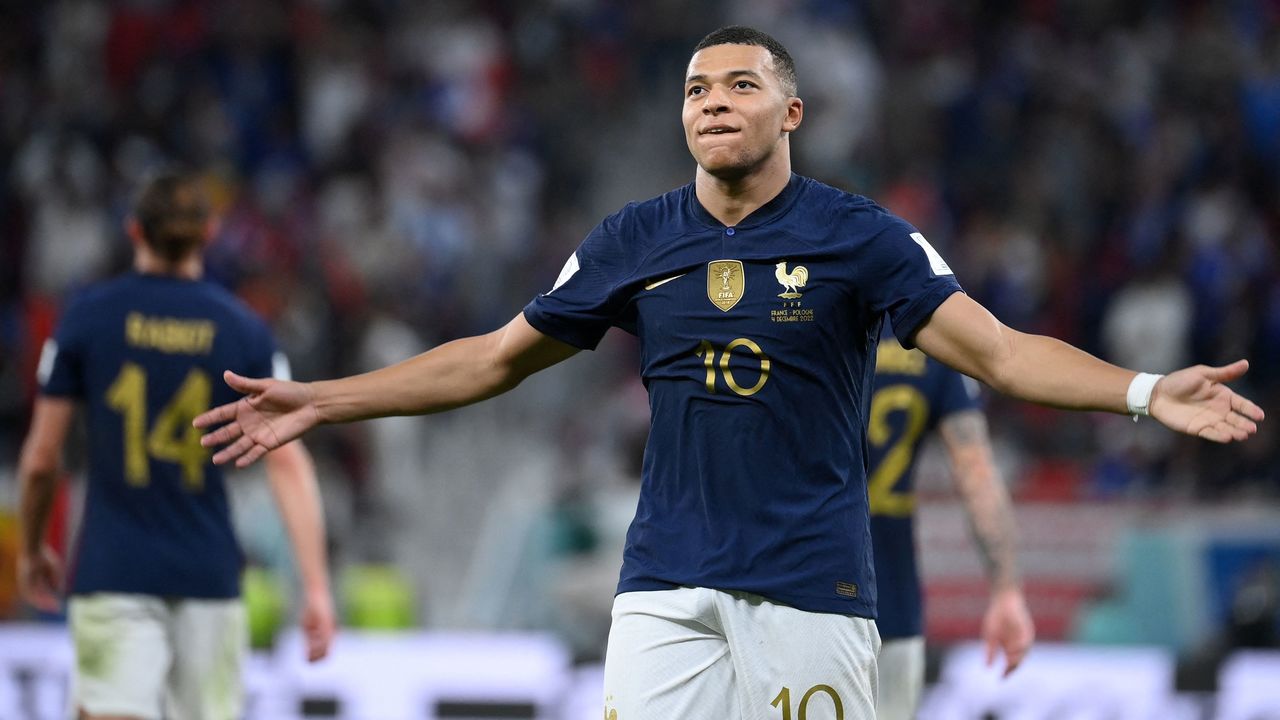 Mbappe has a legitimate chance at obliterating every record set by his illustrious predecessors. Winning a second World Cup at 23 years old – he turns 24 next week – would accelerate that process. He already has nine World Cup goals; more than both Portugal's Ronaldo and Diego Maradona. All five of his efforts in Qatar have come from open play, too. He's a singular attacking force of nature. Overall for club and country, Mbappe's found the net 250 times in just 362 matches. Absurd. He's a cheat code.
"It's difficult to see the limit for Kylian," French captain Hugo Lloris said of his explosive compatriot. "He's capable of breaking all records. It's amazing to have a teammate like him."
He's right. Barring injury, there is truly no limit to what Mbappe can achieve.
Battles to watch
Mbappe vs. Molina: In the previous two rounds, England and Morocco took different approaches to try and stymie Mbappe. The Three Lions asked Kyle Walker to forgo his attacking duties, sit deep, and shadow Mbappe so he couldn't get out into open space. The Atlas Lions, meanwhile, allowed Achraf Hakimi more freedom to get forward, with Sofyan Amrabat sliding over to marshal Mbappe. Each plan worked, to a certain extent. Until it didn't. Walker ventured up once in the first half against France, and Mbappe helped deliver the opening goal of the match at that moment. Against Morocco, he played a role in both French goals, including creating the insurance tally with some dazzling footwork inside the area while surrounded by a handful of defenders. Your turn, Argentina. Molina isn't as quick as Walker or Hakimi – few are, in truth – so tasking him alone with tracking Mbappe's blistering runs isn't a recipe for success. The Argentine is also an important outlet in the attack, as outlined by his goal against the Netherlands. Cristian Romero, Argentina's most athletic defender who excels at eating up open space, is likely going to be very busy on Sunday.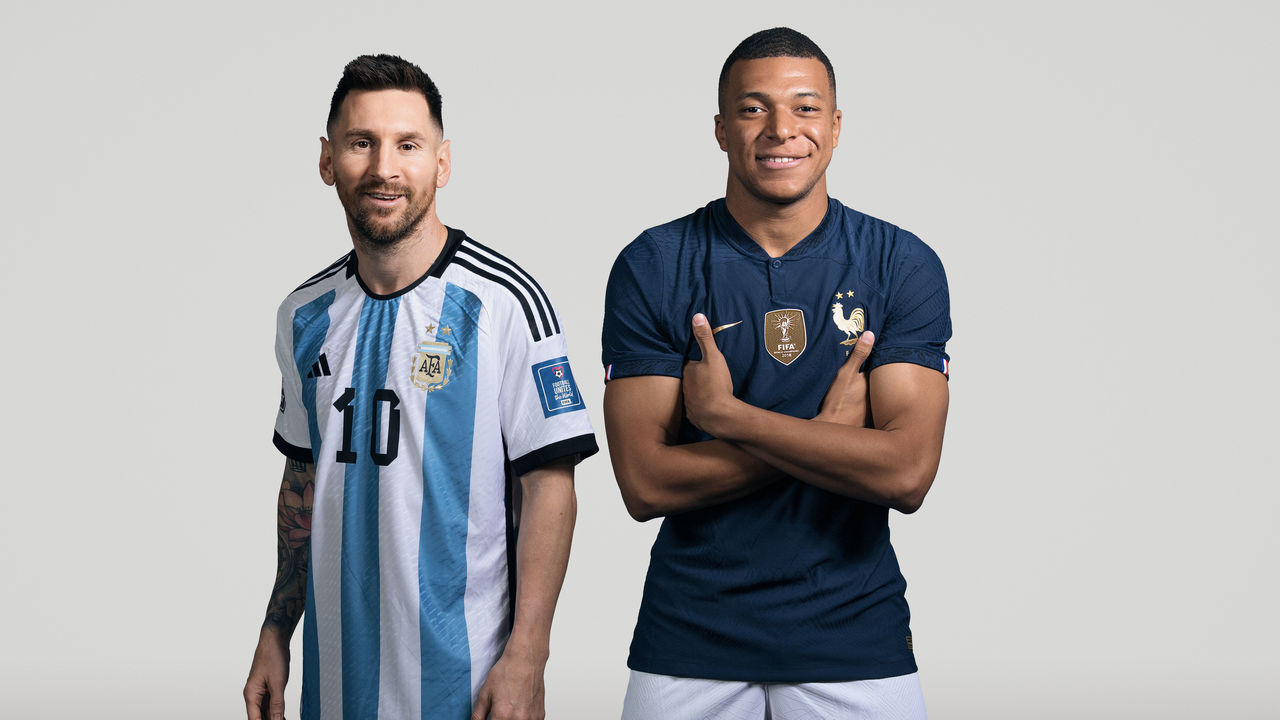 Messi vs. Hernandez: In an emotional sense, this final is, understandably, being billed as Messi vs. Mbappe. As outlined above, another title for the Frenchman and all bets are off in the inevitable GOAT conversations that will be had by future generations. But Mbappe himself won't be alone in determining what the oral histories say about his career. Theo Hernandez will have an outsize role in that discussion, at least as it relates to Sunday's game. The rampaging left-back, who scored the eventual winner in the semifinal against Morocco, will have the primary task of slowing down Messi, who occupies and thrives in the spaces that Mbappe vacates defensively. Deschamps allows his star attacker to float up high, asking him to do little defensive work – bordering on none – to help facilitate the types of counterattacks that make France so devastating. The brunt of the responsibility, then, will fall on Hernandez, who himself can be rash defensively, as he's shown in this competition already. An 18-wheeler barreling down a hill when he's trucking forward with a full head of steam, Hernandez isn't as impressive going in the other direction. How he deals with Messi, and how France's midfielders shift over to that side of the pitch to help him, will go a long way to determining who lifts the trophy at Lusail Stadium.
Griezmann vs. Fernandez: Arguably the two most important players for each team – in the non-Messi and Mbappe divisions, of course. X-factors, as it were. Antoine Griezmann's reinvention as a central midfielder has been one of the great revelations of the tournament. The one-time forward has been the creative fulcrum for Les Bleus; no player has crafted more scoring chances for his teammates over the past month in Qatar. Fernandez, meanwhile, has quickly established himself as the beating heart of Argentina's midfield, both on the ball and off it. He's feisty and combative, capable of disrupting the opposition with a well-timed tackle or interception. He can also cut them open with a perfect pass or incisive run into the channel. As he showed with his sumptuous curling strike against Mexico, the 21-year-old knows where the net is, too. With France likely ceding possession and looking to strike quickly on the break, Fernandez will be at the center of everything for Argentina on Sunday, both in the attacking and defensive phases.
Prediction: Argentina wins 1-0 in normal time